With all of the ideas floating around the internet, decorating for Halloween has never been easier. If you're anything like me, dressing up your home in cute pumpkins and ghastly skeletons makes this my favorite time of year. One thing that makes decorating for Halloween so fun is the fact that the possibilities are endless. The colors, patterns, and themes to choose from are so vast, and nothing is off limits.
50 Must-See Halloween Table Decorations to Try This Year

You can choose colorful pumpkins, friendly monsters, and cute ghosts for a fun kid-friendly theme. Or, you can go a completely different route and choose eclectic pieces for a creepy castle effect.
We have searched and narrowed down our top 50 favorite Halloween table decorations. From simple and sweet to a little more complex and creepy, you are certain to find some great ideas. Another great thing about these creations is some can be used to decorate extra counter space or your living room coffee table. The hardest part about decorating your table for Halloween this year will be deciding which one to try!
We hope you enjoy this list of the best Halloween table decorations! If you decide to incorporate one of the ideas into your Halloween decor, be sure to send us a picture!
1. Flying Pumpkins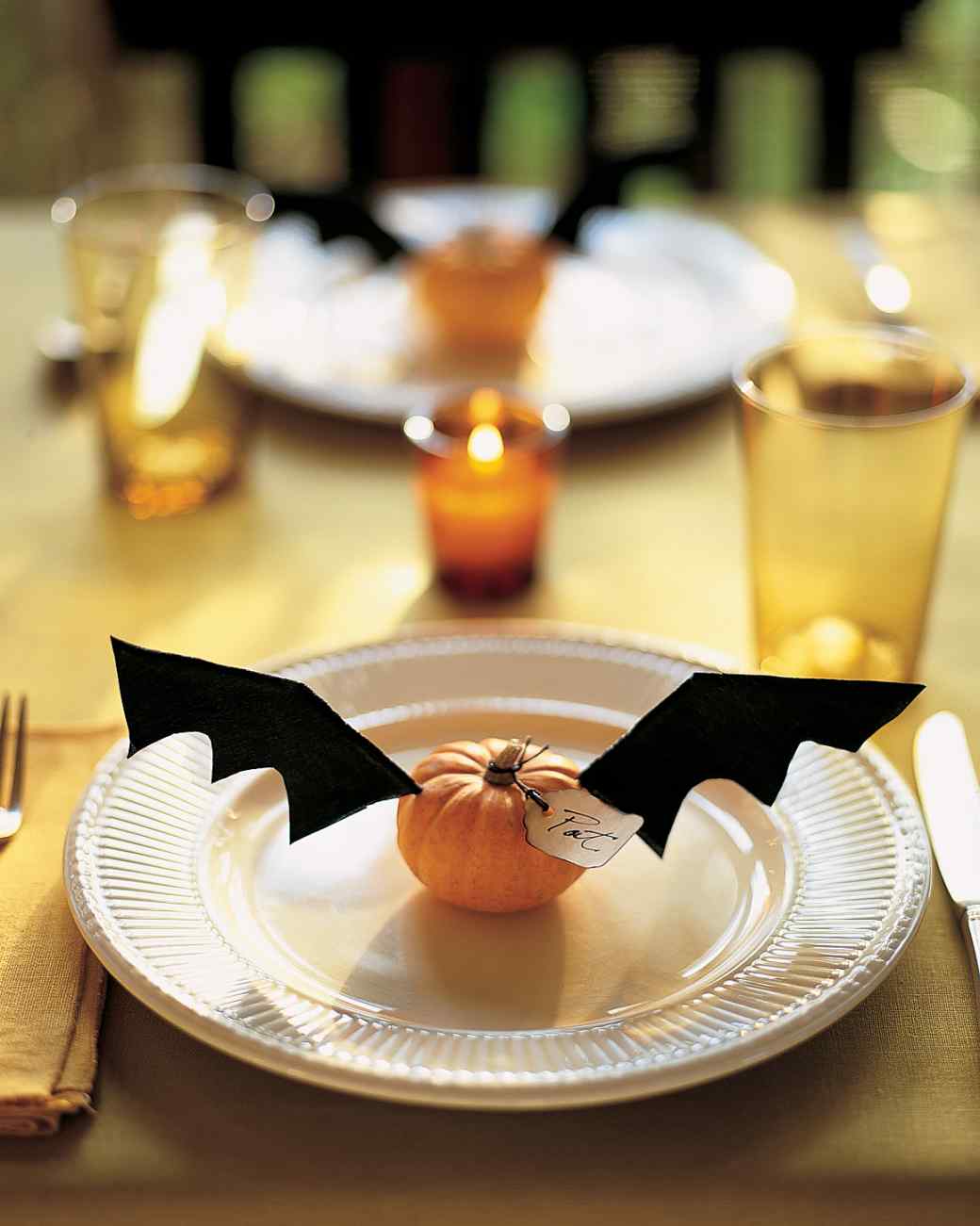 Attaching a pair of 'bat wings' to a tiny pumpkin makes an adorable nameplate. Using black construction paper or felt, cut out a pair of wings. Punch tiny holes for the wings, tie a small tag and add a name. So easy and cute, guests will love their batty pumpkins!
2. You Must Join Me for Dinner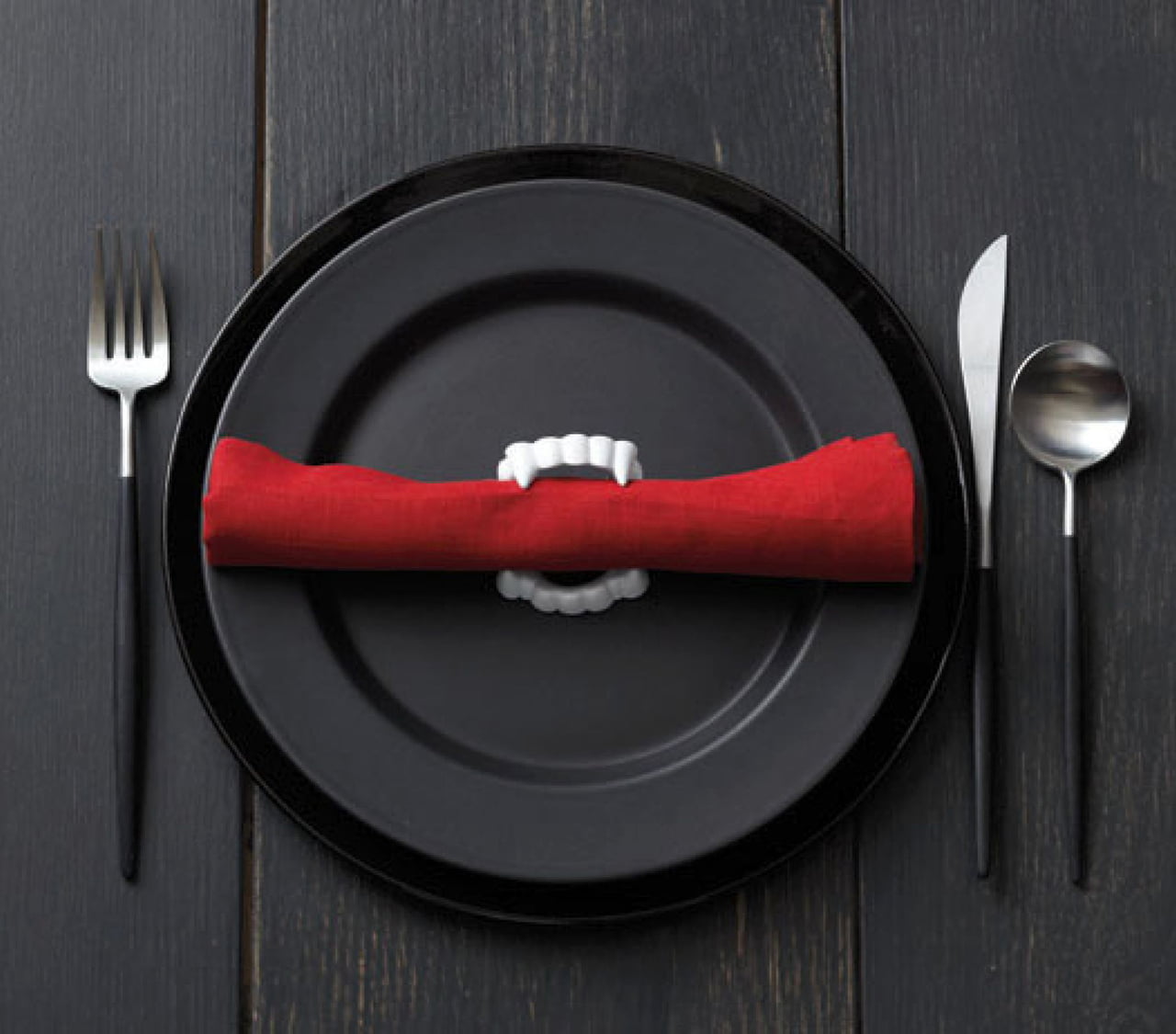 If you have found yourself needing a quick table setting idea at the last minute, this idea is perfect. It's simple and affordable, yet it creates just the right amount of spook with a touch of elegance. How is it possible to even put those two words in the same sentence? I love the red napkin against the black dinnerware. And, honestly, what other colors would a pair of vampire teeth be chomping down on? Your guests will love this place setting!
3. Spools of Spooks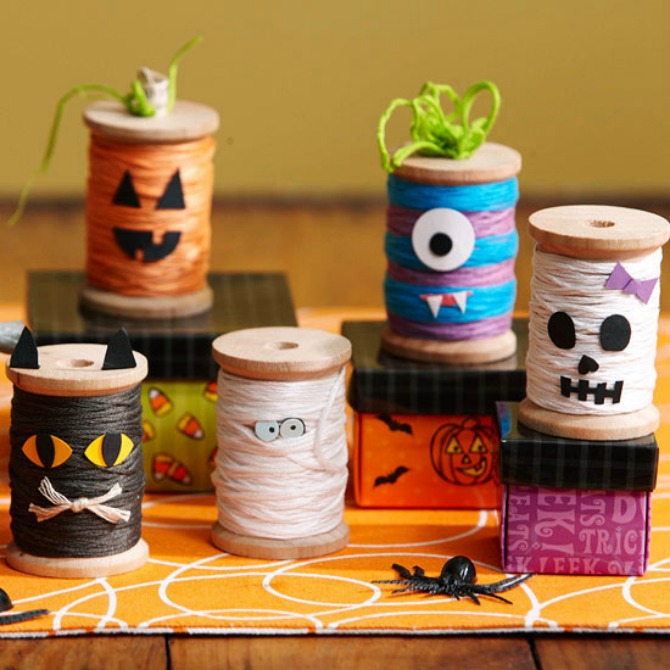 What an adorable idea! The only things required to make these little monsters are a few spools of thread, some felt or construction paper, and your imagination. The tiny Halloween boxes make a perfect platform for arranging these little spooks. Toss around a few spiders and you've got the perfect decoration to use as a place setting or any place that needs a little Halloween decor.
4. A Mesh of Pumpkins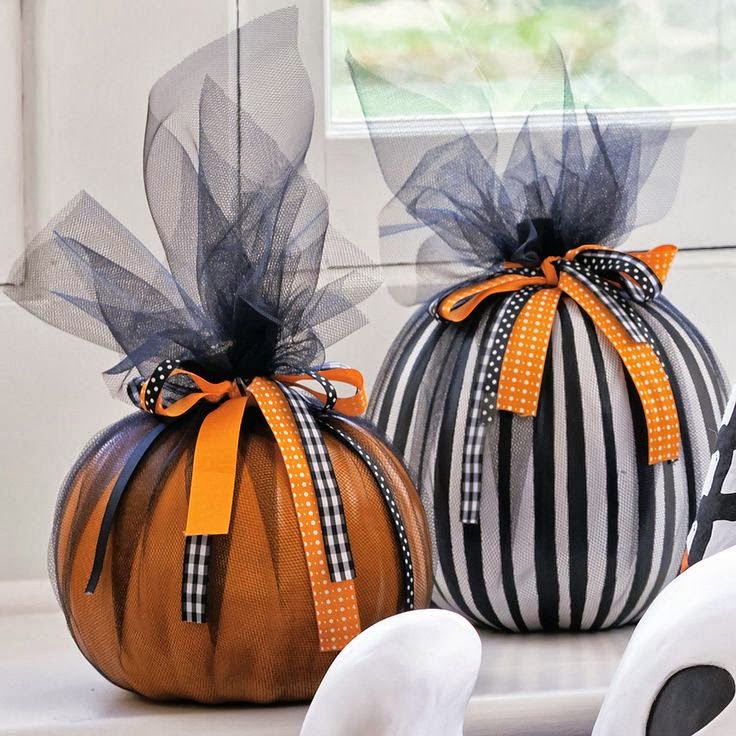 We love these whimsical pumpkins! They add the perfect touch of decor for those who don't care for ghouls and ghosts. A couple of pumpkins, black mesh material, paint, and ribbon are all you need to recreate this design. They can be used as a table centerpiece or placed in your foyer. Your friends will love them and will most likely want you to make a pair for them as well!
5. Stackable Skulls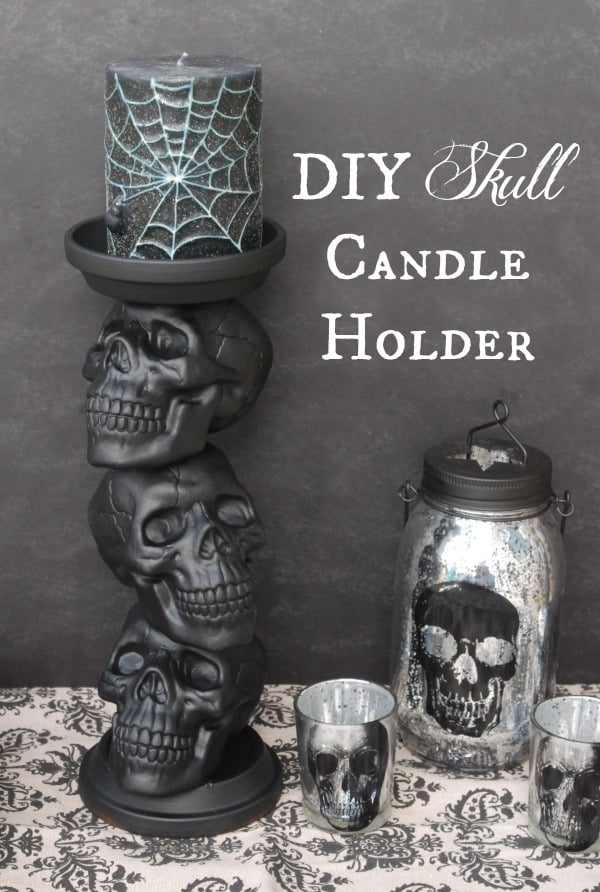 We think this idea is absolutely fantastic! Not only does it make a perfect Halloween decoration to blend in with any theme, it also looks so fun to make! You can get the skulls at just about any craft store, and while you're there grab a couple of terra cotta plant saucers for the top and bottom. Grab your hot glue gun and a can of black spray paint and voila! You have a perfect table centerpiece. Actually, it will go in any room and look great. The skull candleholder will blend perfectly with any Halloween decor theme.
6. Not Your Usual Pumpkin Patch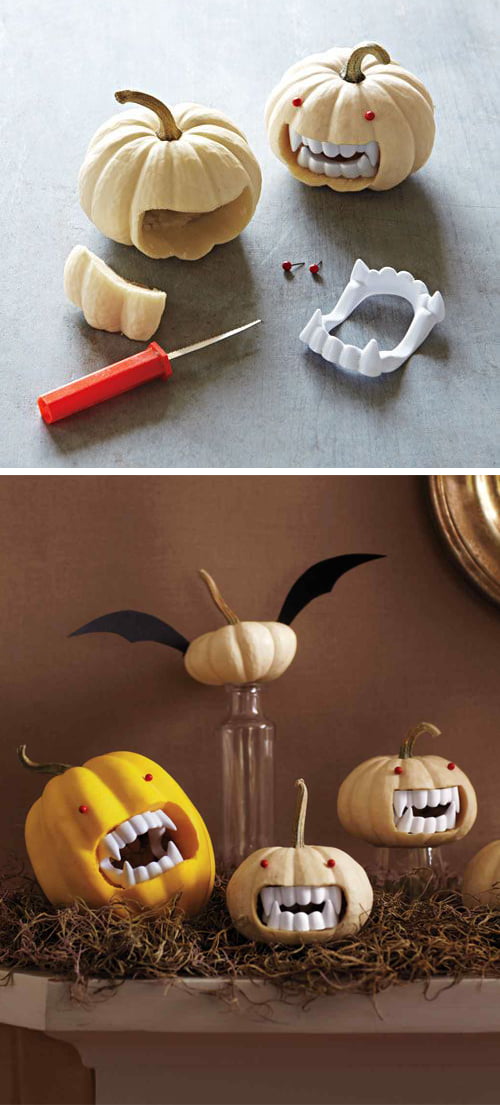 When you think of pumpkins, you usually don't imagine them to look like terrifying little monster vegetables. But, that's exactly what these little guys are. Your kids will love this idea and will be eager to help. Purchase several tiny pumpkins at your local craft or dollar store because you may need to play around with the perfect size to carve out for the fangs. Tiny red pushpins make perfect eyes. Set them on a layer of straw for the perfect spooky pumpkin patch.
7. A Slithering Effect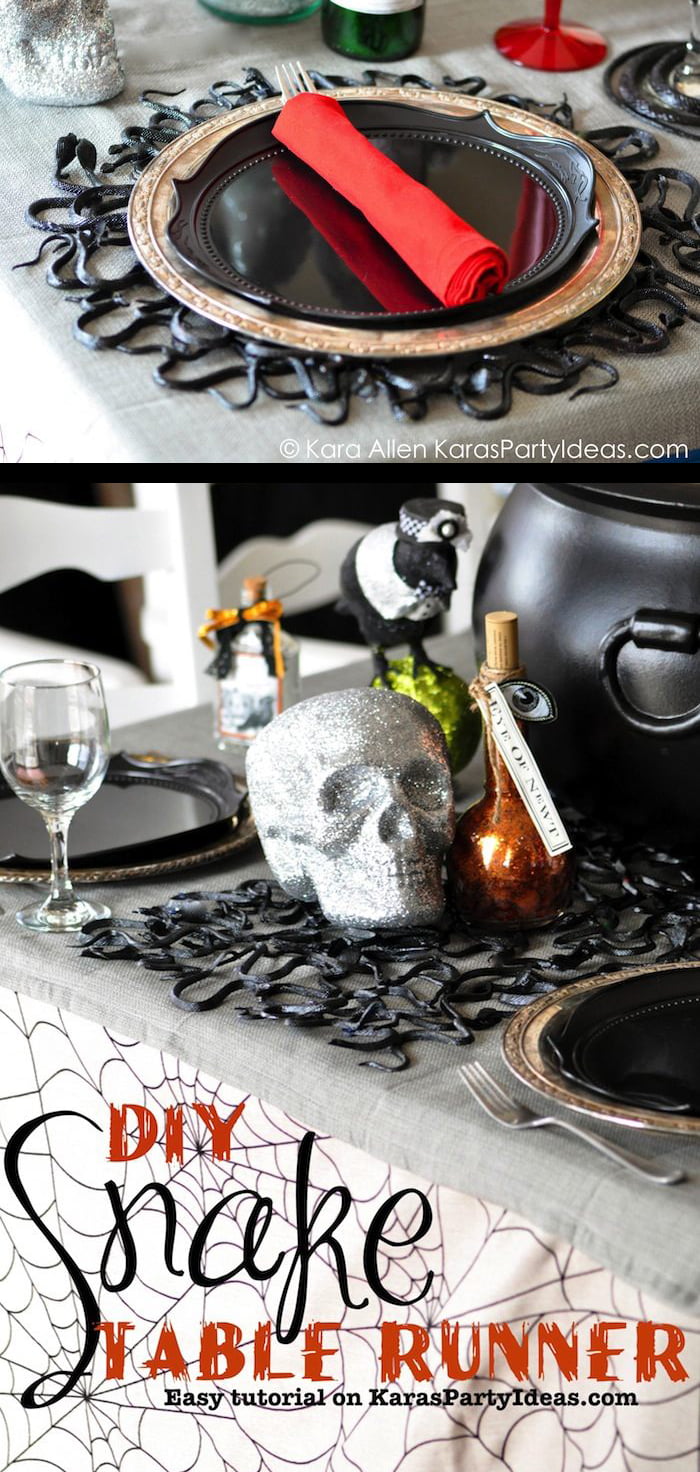 If you like to have friends over for a Halloween get together, this is perfect. You'll need several cheap rubber snakes and creepy crawlies if you want. Spray paint everything black and allow to completely dry. Place a large sheet of paper and lay out the snakes in the design you would like your table runner or charger plate to be. Super glue the snakes together. It will not be very durable so handle with extra care when moving it around. It will definitely be a great addition to any Halloween table setting.
8. I'll Get You My Pretty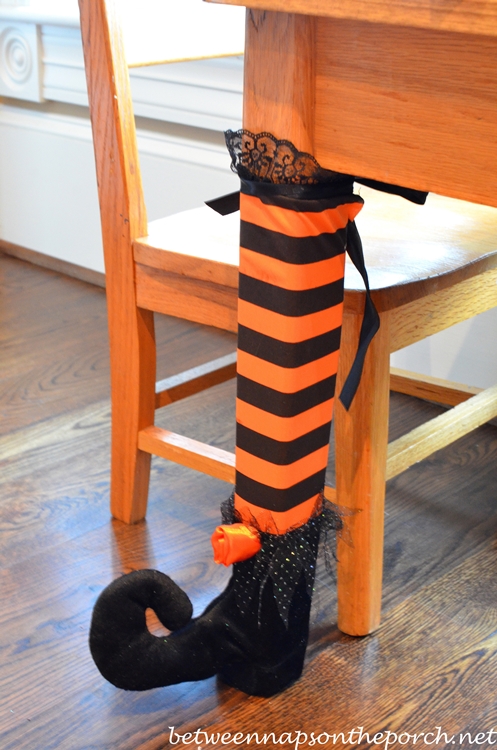 Who says table legs have to miss out on the decorating fun? This cute witch stocking placed on the table leg is a fun addition to any Halloween decor. You can use part of an old Halloween costume or design your own with ribbon and fabric.
9. Roses and Cobwebs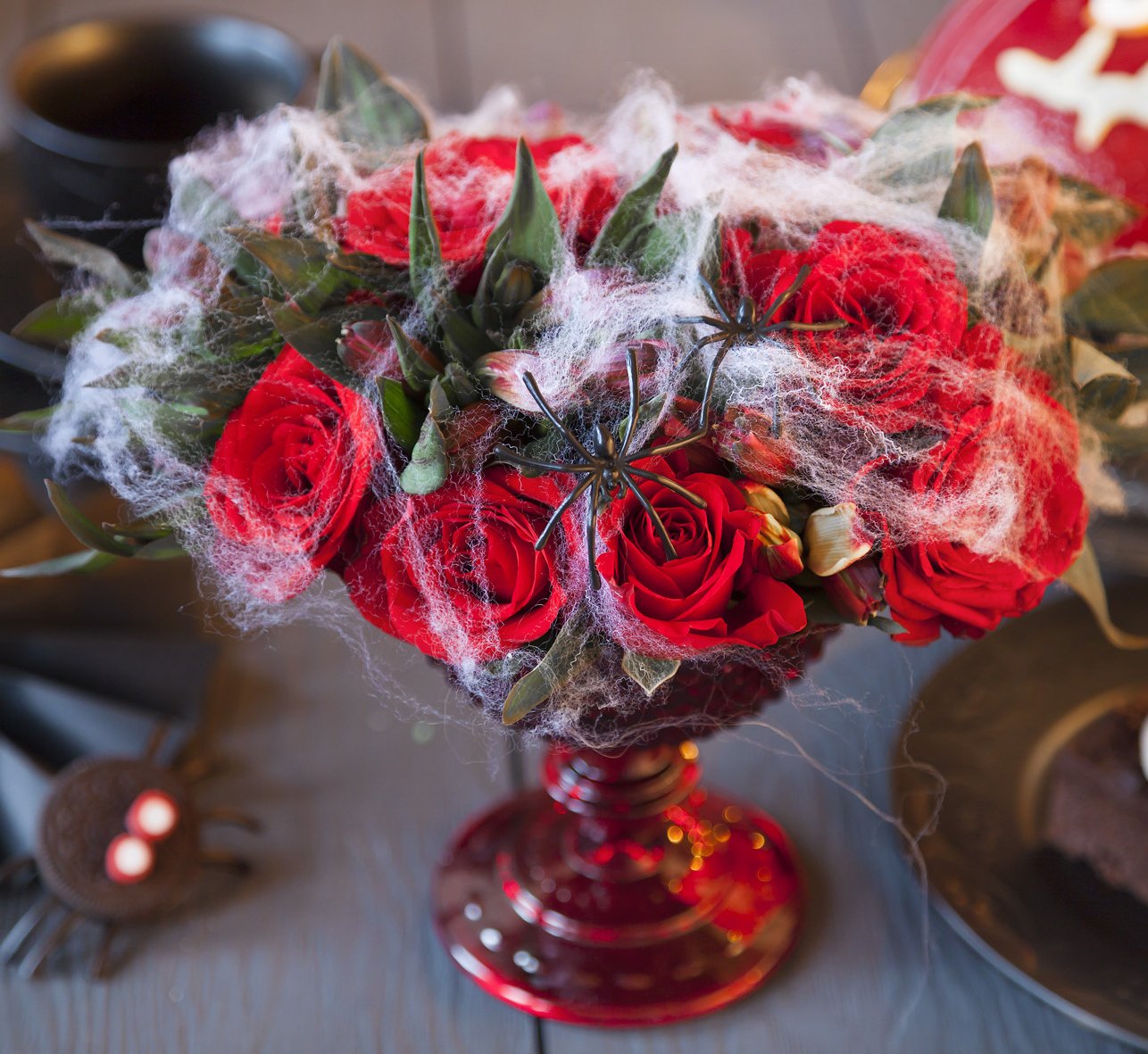 This is such a simple yet effective Halloween table decoration. We absolutely love it! Upon seeing this elegant vase of roses covered in spiders and spiderwebs, we instantly thought of old creepy mansions in the movies. There's just something about this decor that brings to mind a house once cared for that is now left to fall apart and gather dust. It makes a perfect centerpiece, and it's so easy to put together!
10. Tim Burton Inspired Centerpiece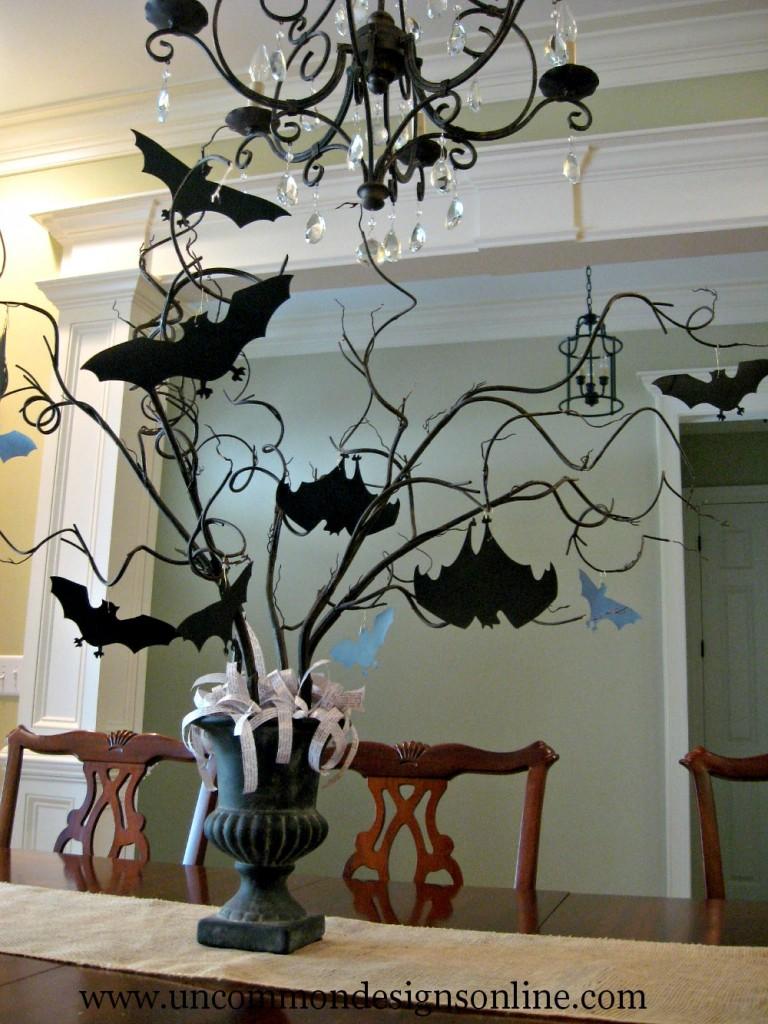 These twisted black branches look like something straight out of 'A Nightmare Before Christmas'. It's a perfect idea to match any theme. When you add the paper bats, the kids will love it too. You may want to use a smaller vase for your table, or if you want, you can use a larger vase and set it in the foyer. The great thing about this idea is that it can be changed up any way you like. You can add little ghosts instead of bats or even hang little skeletons from the branches.
11. Country Halloween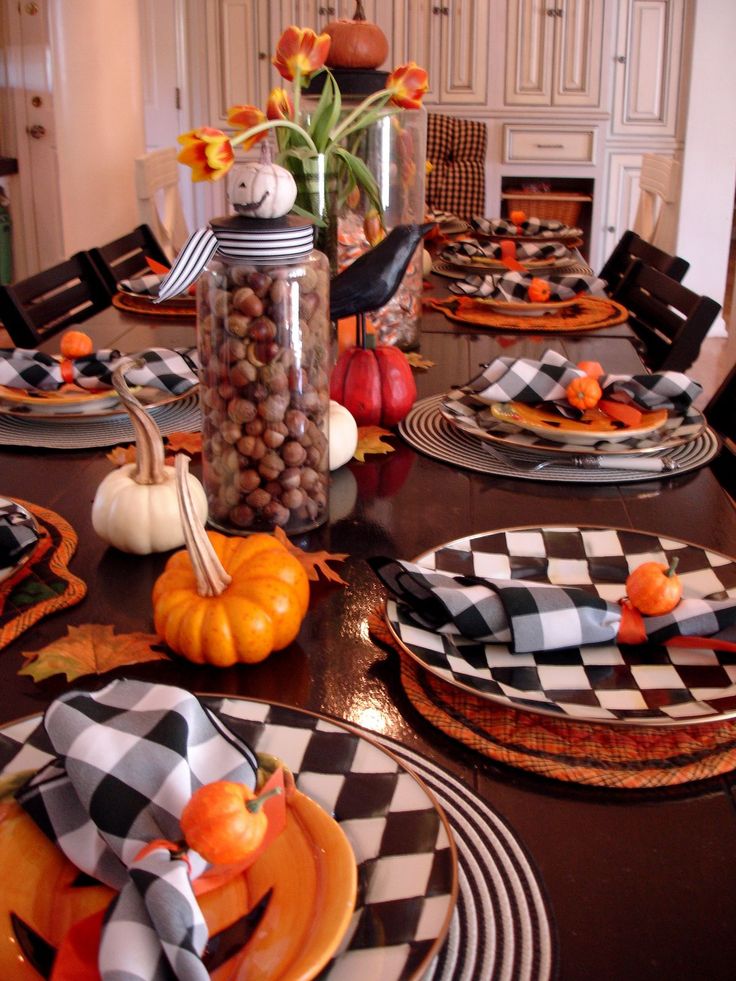 This Halloween table setting just may be the cutest we've ever seen. Combining black and white checkered table settings with orange creates a fun welcome vibe. Fabulous little touches such as the pumpkin napkin holders and leaves and small pumpkins spread throughout are perfect. Add in some fall flowers, a black bird, and a vase full of acorns, and you've got the ideal Halloween table decoration for your family to enjoy.
12. Black Veiled Candleholders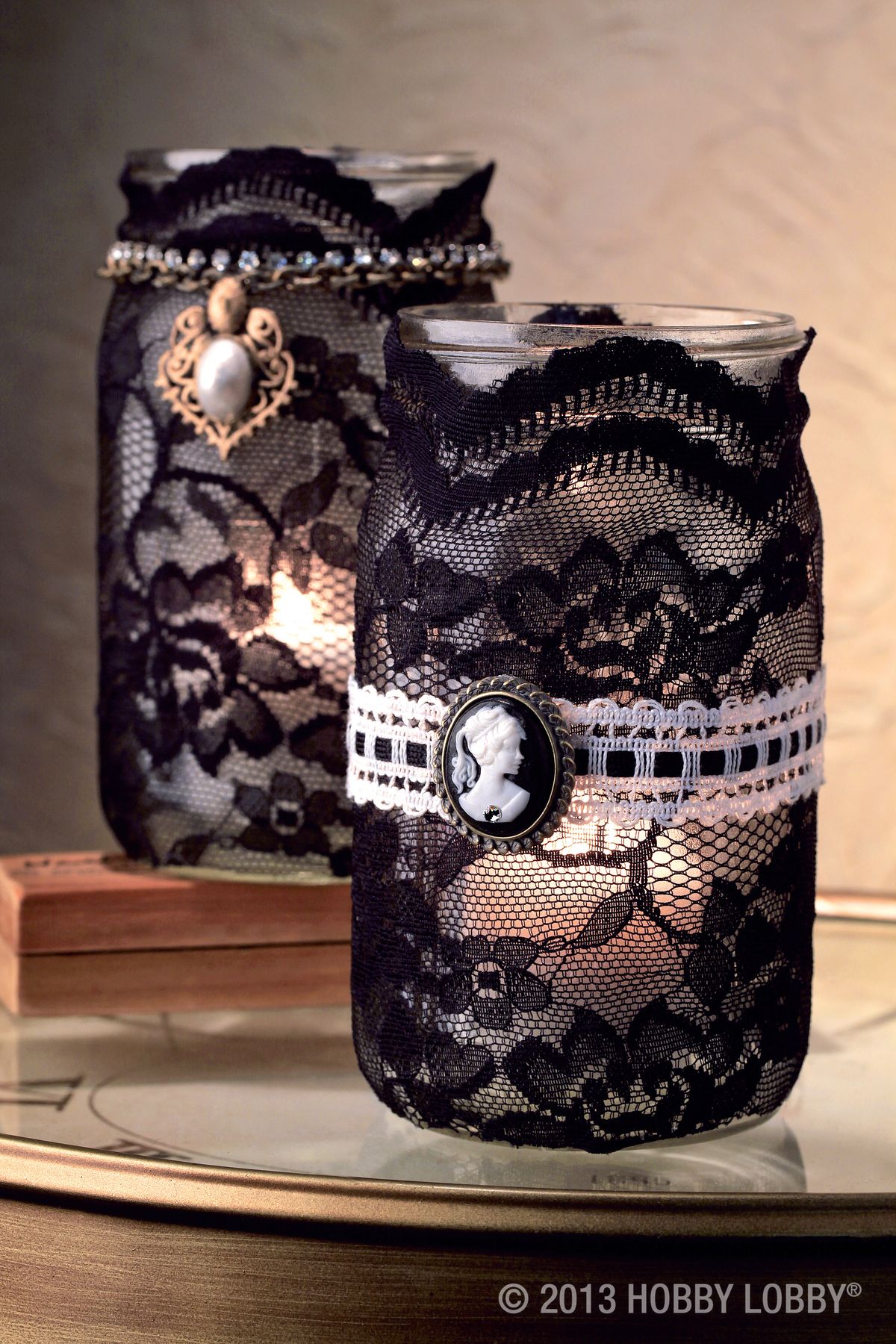 Another great idea to incorporate into a 'haunted mansion' type theme are these delicate-laced jars. All you need is black lace material, a couple of jars, some adornments or findings, and your imagination. Add in a small votive candle, and you've got another decoration to add to your table or mantle.
13. Gold is the New Orange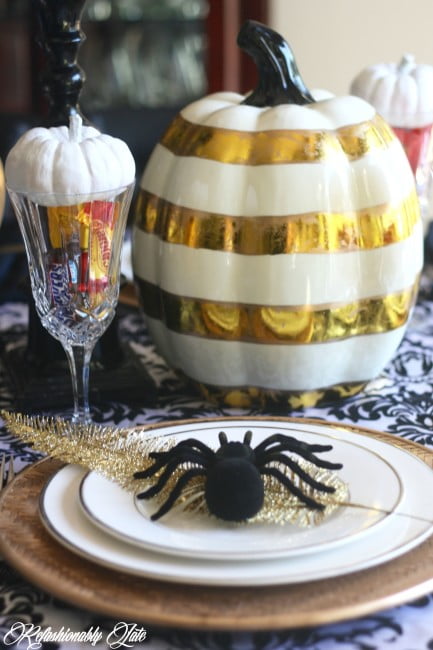 You may have noticed gold made a huge comeback last fall and winter, and we love it. This is a gorgeous table setting idea with the spider giving it just the right amount of spook. It's easily put together, and you can change it up to fit your taste. We also love the gold feather and the candy-filled glass topped off with a little pumpkin.
14. The Better to See You With

This is so fun and so easy! We love using purple in Halloween decor. It can be used with a light Halloween theme or a very creepy theme. All you need is a vase with flowers and a couple of eyeballs you may have laying around. Or, you can grab a couple at your local craft store. This would make a great table centerpiece!
More Halloween table decorations on the next page…