15. Small But Stylish Meeting Place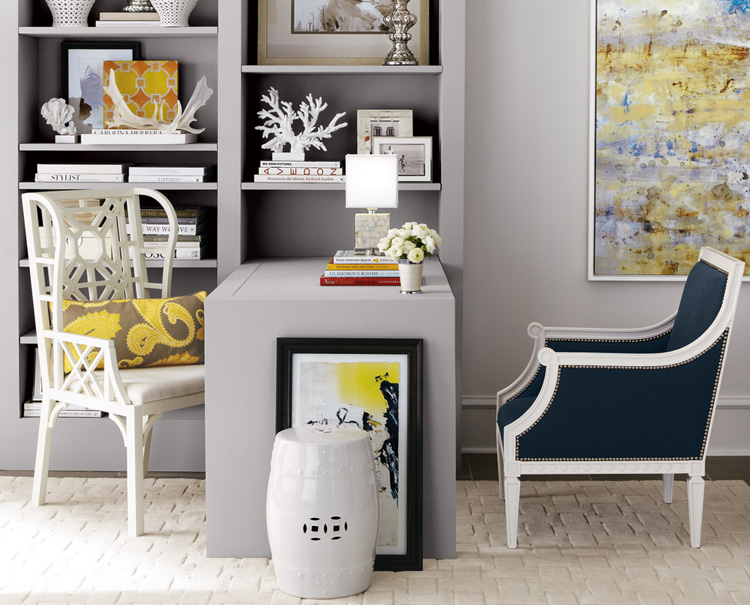 Don't let a small home make you feel like you can't invite clients into your space. This picture shows that, with the right home decor, even a small space can accommodate a client meeting. The key to the room's success is having a small work space for you to use and a larger, comfortable chair for your client to sit in. By placing the same small pop of color – in this case yellow – you're able to tie all elements of the space together.
16. Corkboard Visions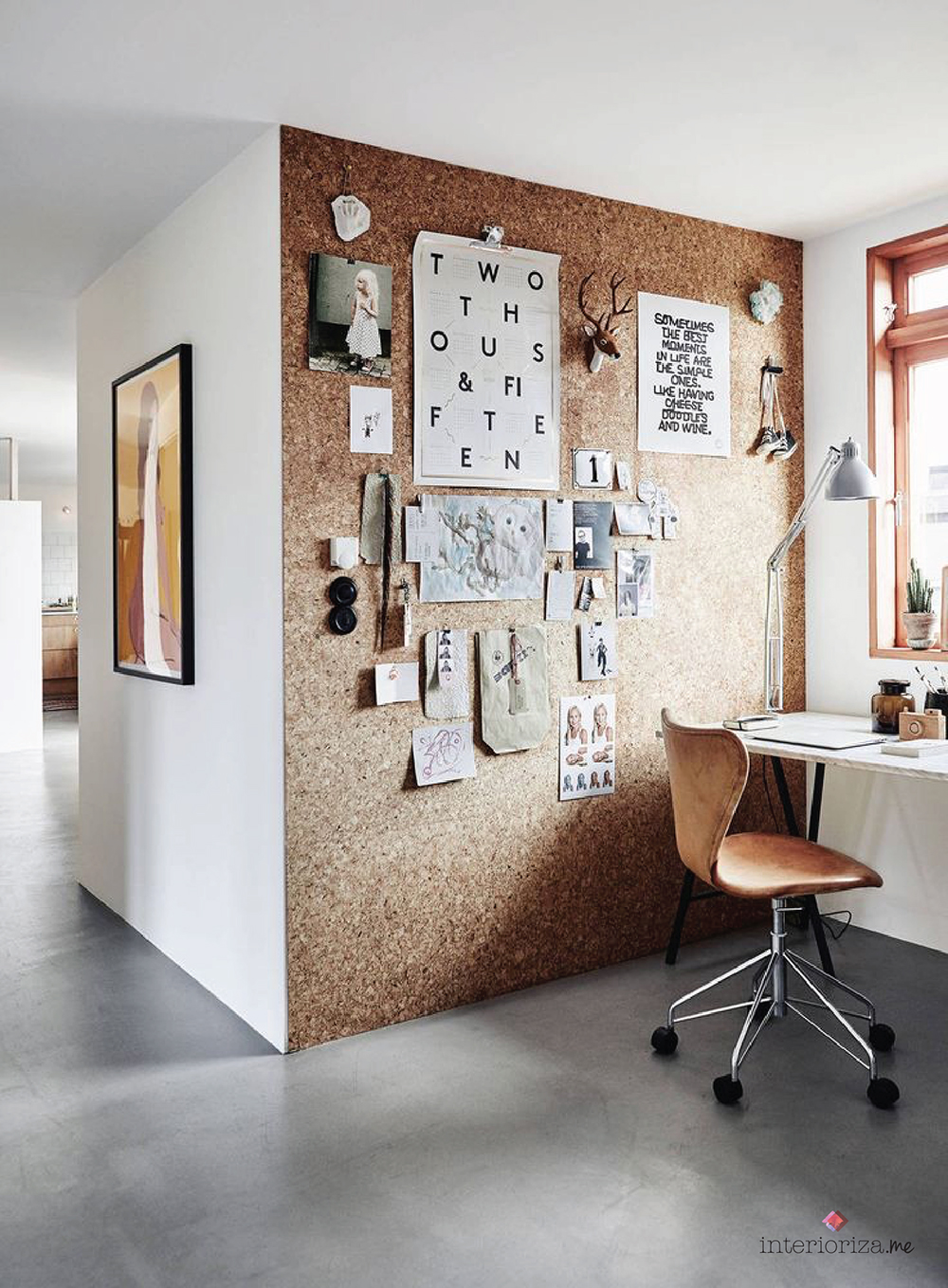 This picture just goes to show that if you have a little nook, you can have a workable office space. What's lovely about this is its simplicity – all you need is a basic desk and chair. Adding corkboard to the full wall is an inspired move. Use it to hang things that will motivate you to do your best work. Treat it like a vision board, showing pictures of the things you want most in life. Since it's just corkboard, it's easy to swap out your pictures from time to time as your dreams and motivations change.
17. Clear Out a Space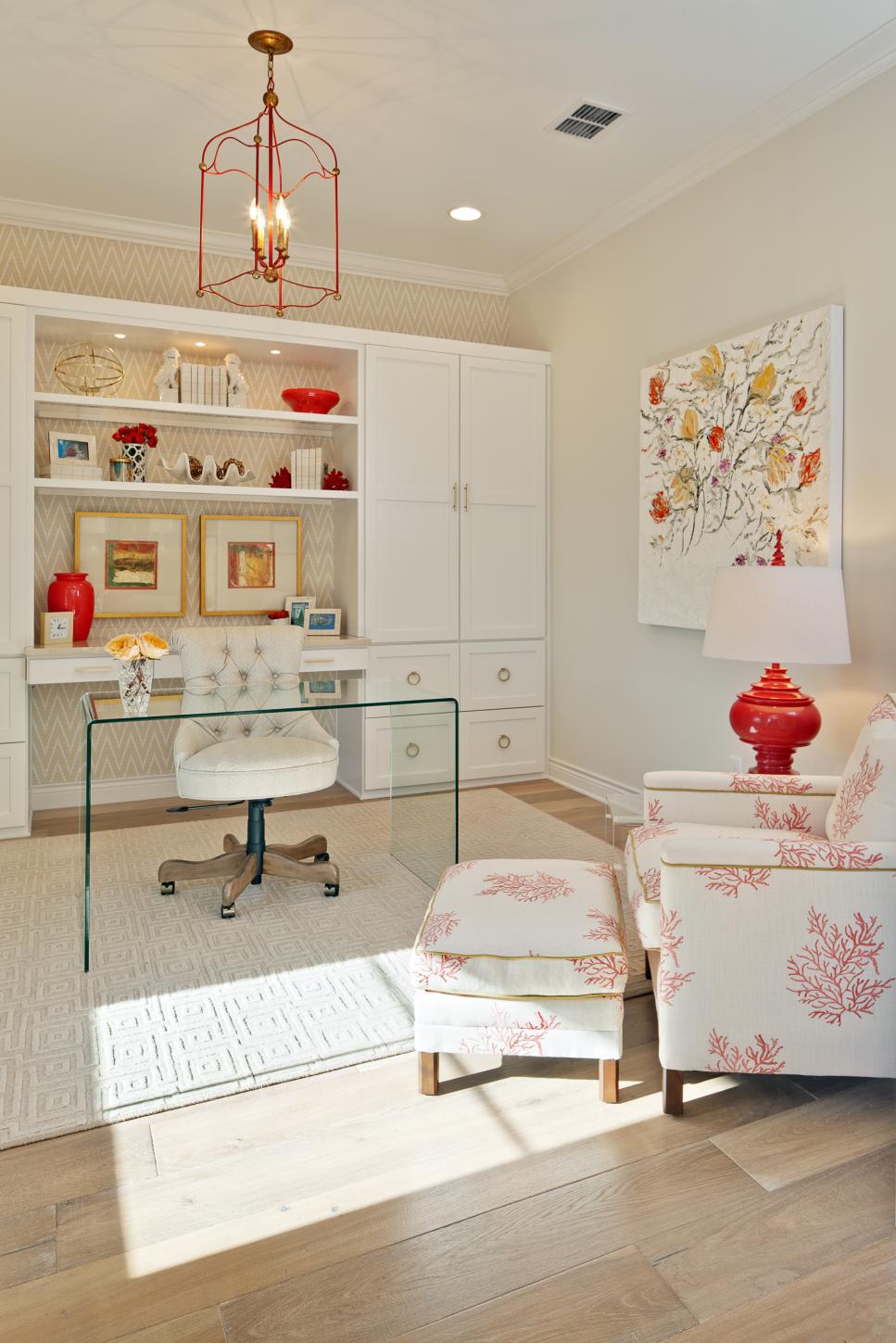 With a large, dedicated workspace like this, you'll love coming to work and be able to get a lot of work done. Furnishing a space at home means that you can look for home office furniture that's unique, like the glass desk shown here. Small red accents throughout the space – in the lounge chair, the light fixture, the lamp, the artwork, and flowers – give it an energizing feel and really make the office feel complete. The textured design on the back wall adds a subtle interest; it works since it continues behind the shelving.
18. Modern Wood Paneling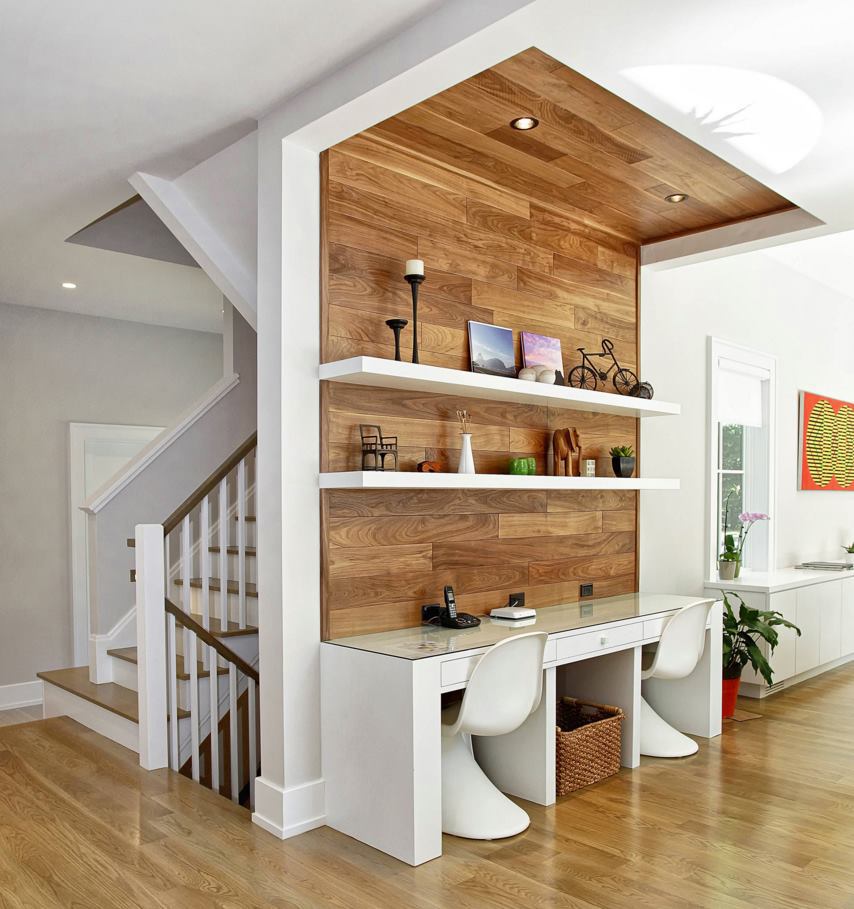 Wood paneling was popular in the '60s and '70s, and most people think of it as being an outdated style. You can clearly see here how the look has been updated for the modern age. Paneling on the walls sets this office apart, while the white accents and mid-century modern chairs connect the space to the rest of the home design. This is key when you are setting up your office in a common space. You want the area to feel like a separate space while still flowing well with other areas of the home. This designed nailed that concept.
19. A Study in Contrasts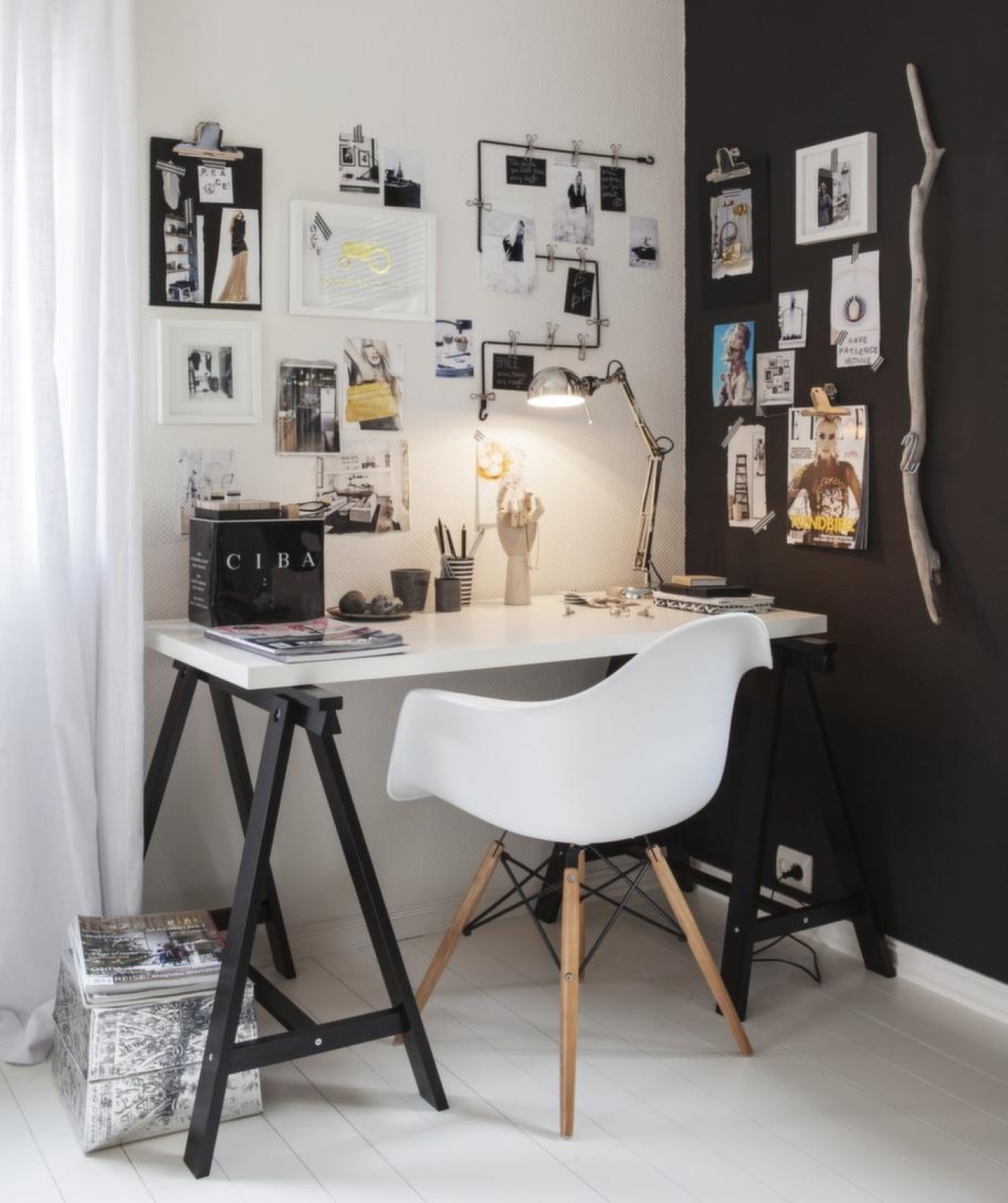 Most of the time, home office design focuses on having light colored walls to give the room a professional feel. That's what makes the choice of black so compelling. Yet, when paired with the stark white of the wall next to it, it obviously works. Each element in this space has been carefully chosen in either black or white, down to the pencils in the holder. On the walls, clipboards and clothespins hold things up, which is a fantastic idea for those who might want to swap things out frequently or use the wall space to keep track of a to-do list.
20. Orange You Glad You Work From Home?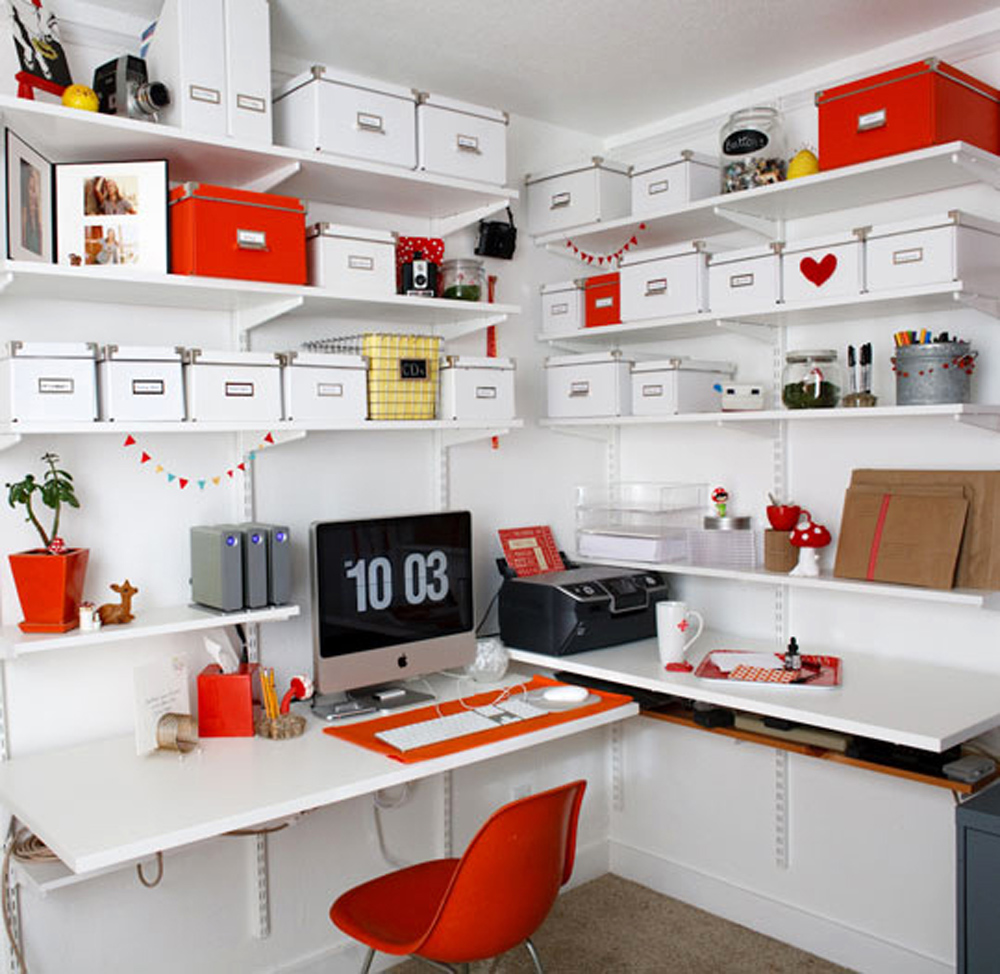 White almost always makes a small space feel open and airy, and when you need home office ideas for a smaller space, it's a pretty safe choice. However, it can get a bit boring. Jazz it up a bit by choosing a bright color and adding small accents in that color throughout the space. In this small office, they've chosen a bright orange and incorporated into just a few elements, such as the boxes, the tissue box cover, the chair and the plant's pot. It's not overwhelming, but the energy it gives to the space works well.
21. Chic Geometric Look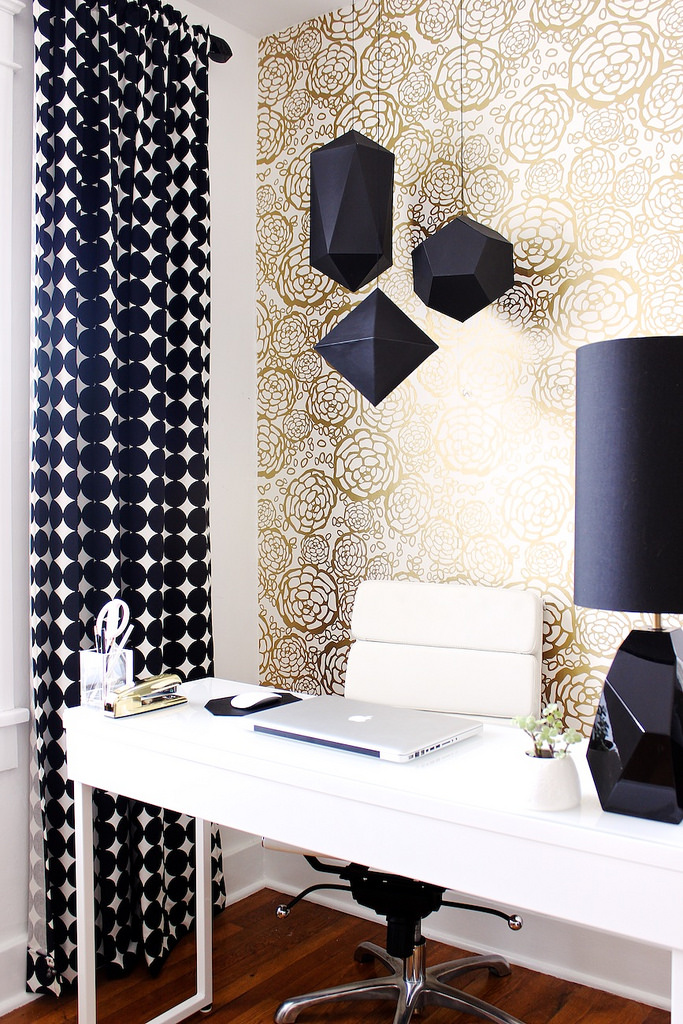 A gold-leaf patterned wallpaper sets the space apart and adds a touch of refinement to the sleek white style of the desk. With the blacker-than-black accents in the hanging geometric solids and the interestingly shaped lamp, you'll feel like a real pro. When you're setting an office area in a small corner of another room, you might have a tendency to save space by sticking the desk in the corner and facing the wall. In this picture, you'll see that when you set it just a bit away from the wall, you'll take up the same space while having a much better view.
22. Window Seat Office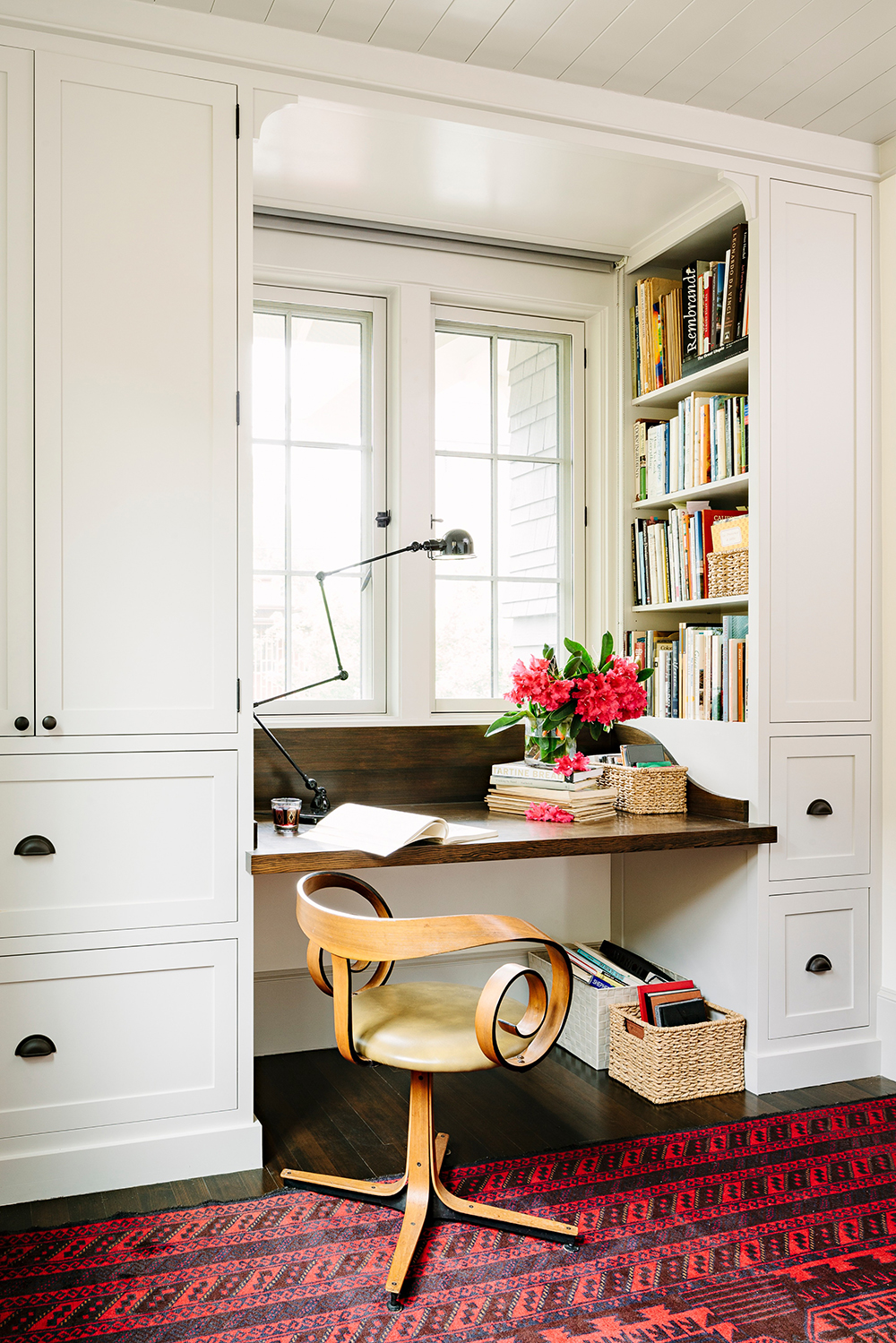 Window seats are a lovely feature often found in older homes, and many people enjoy sitting there while reading a book and sitting in the sunlight. If you have one that's going unused, this picture shows how you can easily transform that space into a usable home office that fits right in with the design of the home. Simply raise the seat up to desk level. Bookshelves facing in toward the desk make good use of that space, while the cupboards and drawers on the sides are perfect for other types of storage.
23. Plush Office Oasis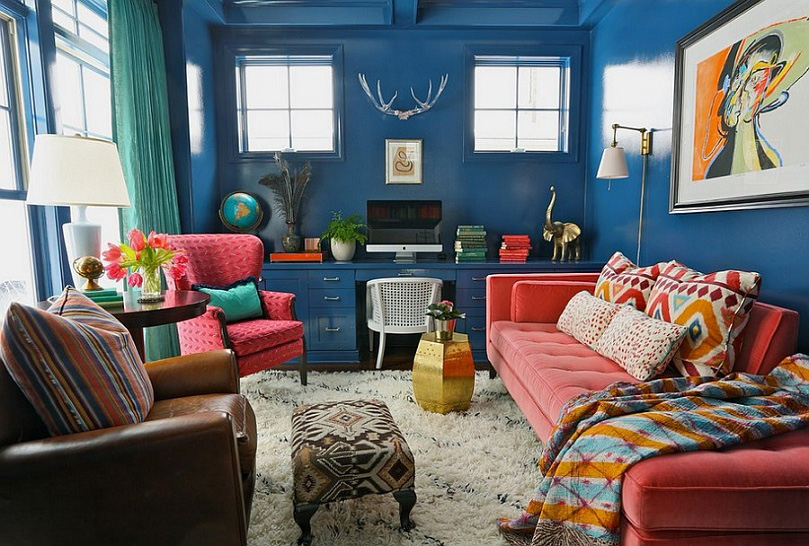 If you're looking for home office design ideas that serve a variety of work purposes, check out this great space. The bright blue color encompasses the walls, desk, and ceiling, and it's both surprising and exciting – a great color for sparking creative ideas. The shag carpet is cozy and inviting, making you feel happy to spend long hours working in this room. Best of all, the room has a large couch with comfortable sitting chairs across the room. This gives you a more comfortable space for relaxing while reading for work or pleasure and acts as a great casual meeting space for co-workers and friends.
More home office decorations on the next page…