Designing a video game room in your house dedicated solely to the love of playing games can offer some unique and fresh decorating ideas. For some rooms, the space can be completely transformed to make the play experience more comfortable and enjoyable, while in other circumstances the room must be able to quickly adapt to multiple functions.
Many gamers take the opportunity of showcasing their love for playing video games. Other gamer room ideas are more traditional, focusing more on boardgames, pinball machines, and non-electronic games of the past.
What do you need for a video game room?
Creating the ultimate video game room is an exciting venture, blending both passion and style. Whether you're working with a cozy corner in your home or transforming a vast space like a basement or garage, there's a design out there that's perfect for you. Here's how you can craft an amazing gaming haven using different themes and aesthetics:
Basement Gaming Lair: Basements offer ample space and seclusion, ideal for an immersive gaming experience. Go for a modern design with smart lighting that can change colors based on the game you're playing. Add in comfortable seating and multiple screens for a truly epic setup.
Mansion-Style Gaming Room: If you're lucky enough to have a large space, embrace a mansion-like aesthetic. Think big: large screens, an extensive sound system, and luxurious furniture. This setup is all about making a statement with its grandeur and high-tech features.
Minimalist Home Gaming Setup: Not everyone wants or has space for an extravagant gaming room. A minimalist approach focuses on the essentials – a high-quality screen, a comfortable chair, and a sleek, uncluttered design. This style is perfect for smaller rooms, ensuring the space doesn't feel cramped.
Garage Conversion: Transforming a garage into a gaming room is an excellent idea for those who need more space. With a retro aesthetic, you can mix the old with the new – think vintage posters, neon lights, and classic arcade machines alongside your modern gaming consoles.
Cool and Compact: For small spaces, it's all about maximizing what you have. Wall-mounted screens, foldable furniture, and smart storage solutions can make a small room feel spacious and cool. Add some personalized decor to make it uniquely yours.
Retro Vibes: Embrace nostalgia with a retro-themed gaming room. Classic gaming systems can create a fun and unique space. Pair this with modern gaming equipment for a room that's the best of both worlds.
Related: 50 Man Cave Ideas that Turn the Basement into a Getaway Spot
Each of these ideas brings something special to the table. The key is to match the design with your personal style and the space you have available.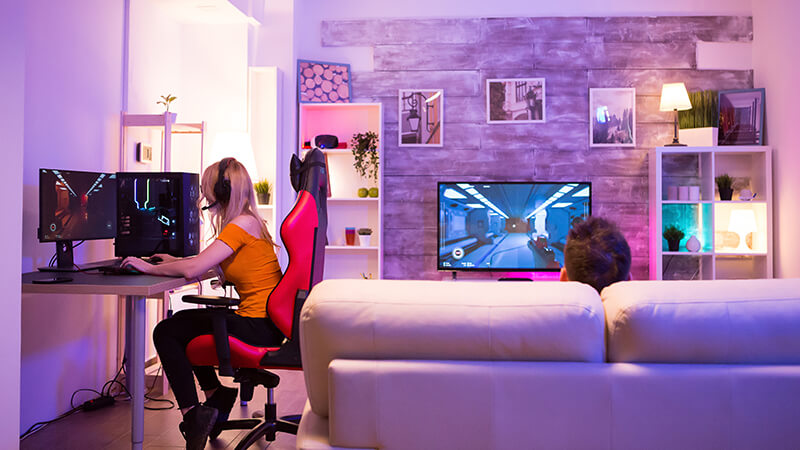 Image credit: © DC Studio
48 Gamer Room Ideas to Create the Perfect Getaway Spot
1. Star Wars-themed Video Game Room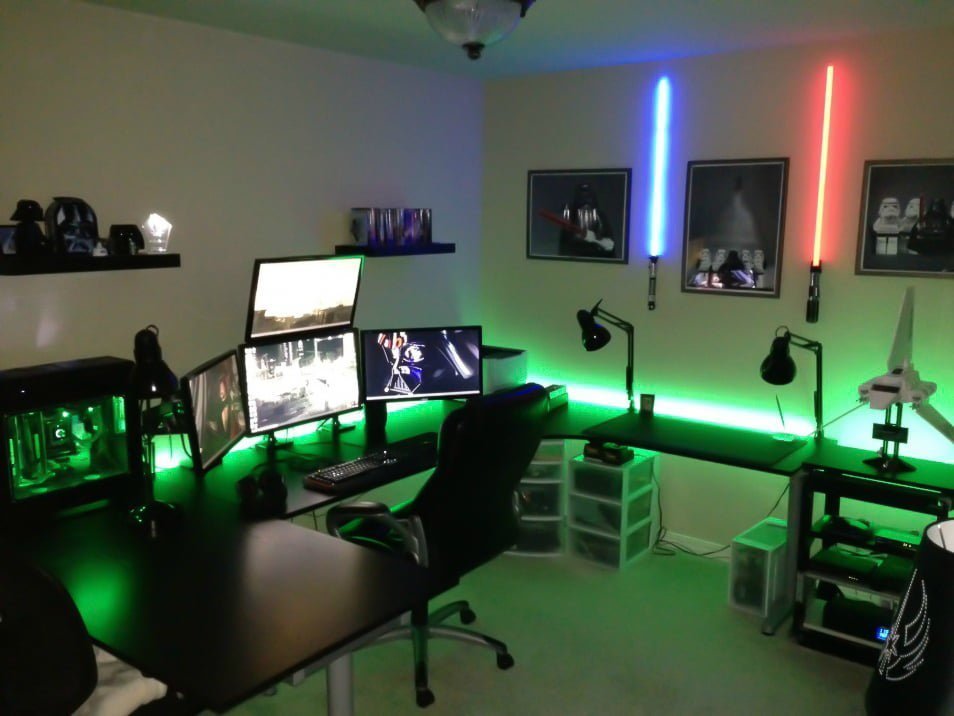 Source: The original source is not available anymore.
A lot of video game enthusiasts are also fans of the Star Wars franchise. If this applies to you, a great video game room idea is to use the concept of a lightsaber to create unique lighting. Two lightsabers function as wall sconces, while fluorescent lighting forms a thematic background. Tie the whole concept together with action figures, scale replicas, and other of your favorite Star Wars merchandise to give your game room its own unique stamp.
2. Video Game Room with a Library of Games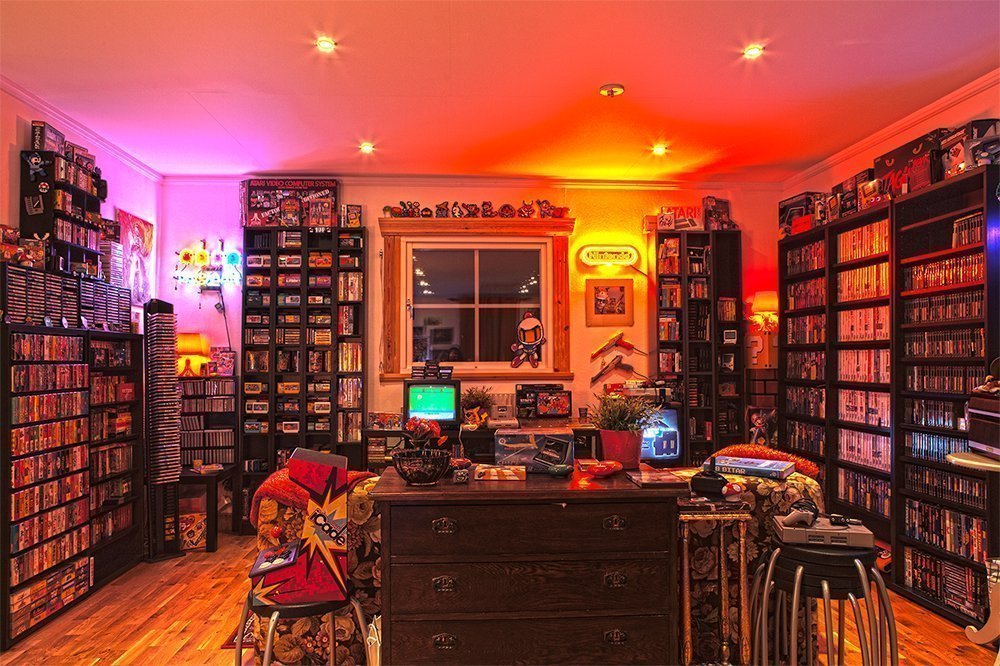 Serious gamers often get a vast collection of their favorite games, consoles, and other assorted merchandise. For the serious gaming enthusiast, one of the best game room ideas is to convert a space to an elegant library. Bookshelves, CD racks, and wall-mounted items allow you to display and access your entire collection. Note the clever use of the mantel above the window, as well as unique thematic lighting in the form of video game manufacturer logos. Sprinkle in a few toys and game-related merchandise and your game room library will be a marvelous sight to behold.
3. Sensational Surround Sound in the Gamer Room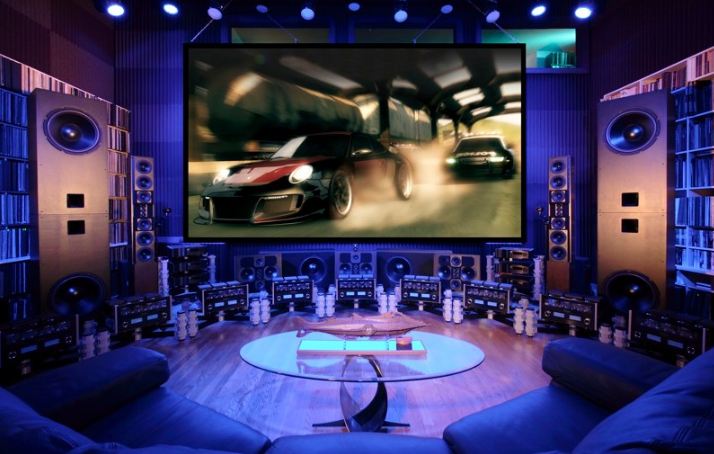 If your budget can accommodate it, one of the best ways to amplify the gaming experience is to maximize the aural and visual experience. A large viewing screen can wow an entire room of players, but note the clever game room decor idea of using a panoply of different-sized speakers as a decorative element.
With such a large video screen dominating the interior lighting, it's a good idea to add in a few accent spotlights to help improve the ambient lighting and reduce eyestrain. A circular couch and elegant glass table help tie this room together, with a demonstrative focus on the gaming action.
4. Modern and Sleek Video Game Room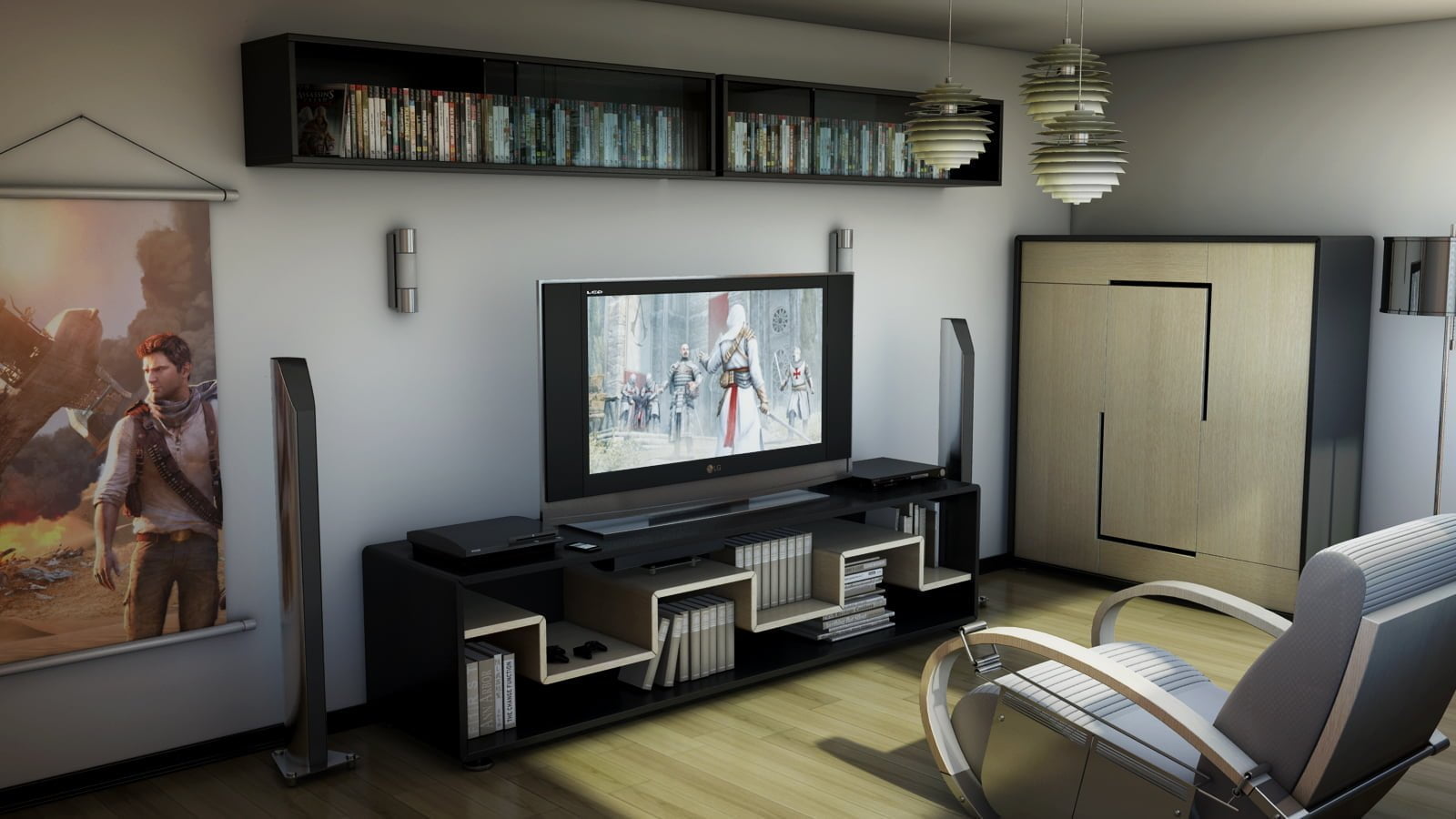 For some players, game room decor is just as important as the games themselves. Instead of creating a cluttered space, this room takes advantage of modern shelving to discretely store games. Two thin tower speakers provide plenty of aural excitement without distracting the eye from the screen. Note the elegant use of a large poster depicting a favorite game, subtly portraying that this interior space is dedicated to gaming. Color-matched furniture in soft earth tones also helps draw the eye toward the black-framed screen where all the action is taking place.
5. Making a Small Space an Immersive Video Game Room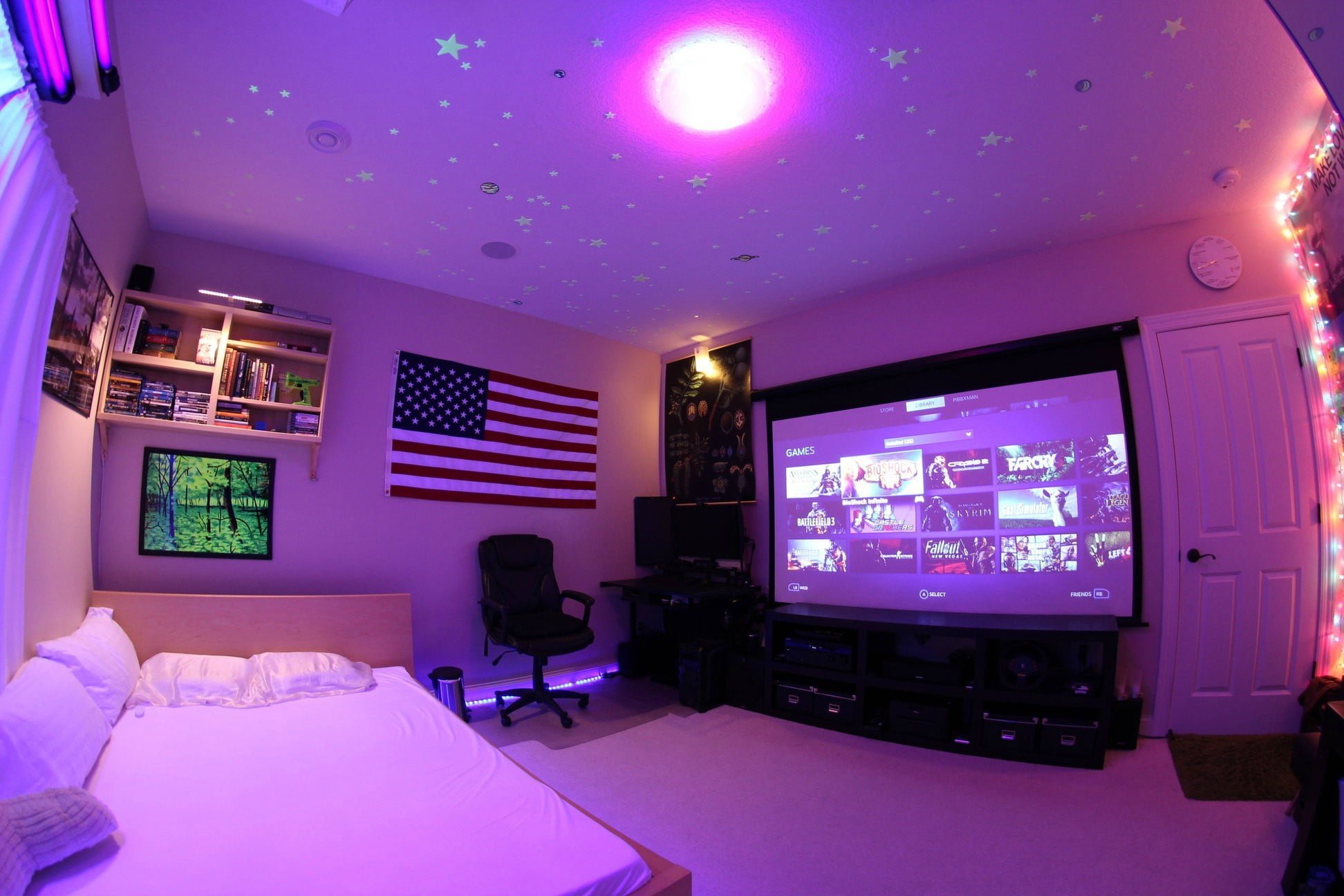 Source: The original source is not available anymore.
Some of the best video game room ideas spring from necessity, such as when a very large screen completely dominates a small interior space. The clever use of parti-colored lights around the door frame, and the strip lighting along the baseboard add the right amount of ambient background light.
A powerful UV light transforms the abundant use of white textures into an experience, while the clever use of glow stars on the ceiling adds a vital amount of verticality to this otherwise cramped room. If your budget doesn't accommodate the addition of gaming-themed merchandise and other items, use everyday items like a flag or framed print to help add extra visual texture to a small space.
6. Minimalist in White Video Game Room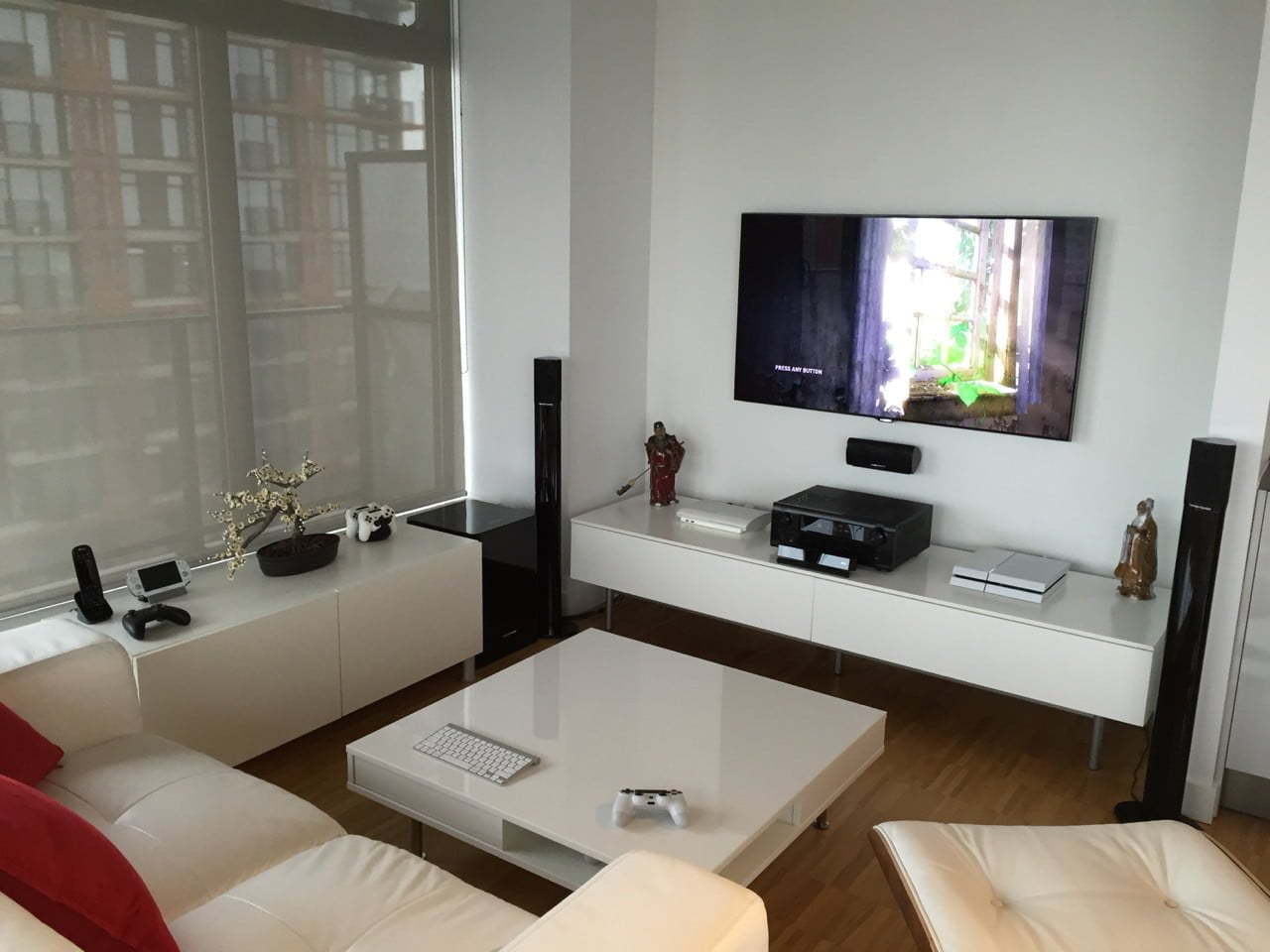 Source: The original source is not available anymore.
Some of the best game room designs minimize the fact that a given space is dedicated to gaming, allowing greater functionality to the room. Sleek, square white lines keep this room from being cluttered, while a few motif touches like statuettes add just the right splash of video game theme to the space. Although the photo reveals an plenty of natural light in the room, it's always important to take into consideration that the primary illumination source – when playing – must come from the screen itself. A comfortable couch and more seating elements allow the room to be enjoyed both for solo gaming as well as transforming play into a spectator event.
7. Clever Use of Dormer Rooms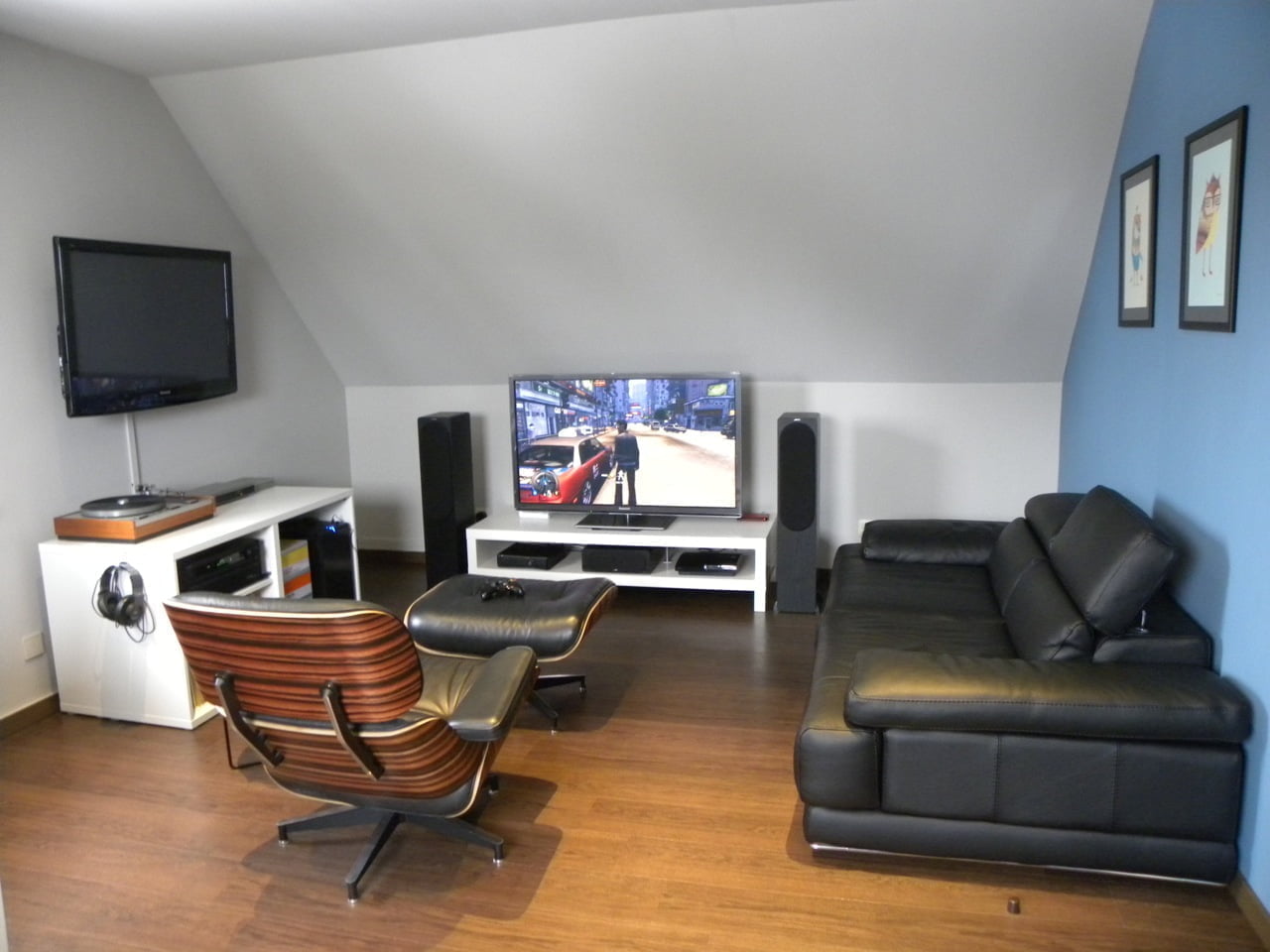 Source: The original source is not available anymore.
In many homes, making clever use of a low or oddly angled ceiling can be a real challenge for interior decorators. You can see how this dormer room has been adapted for dual-screen use, with half the furniture facing the gaming apparatus and the other half of the furniture facing the traditional entertainment center.
A handy footstool and comfortable chair allow for extended gaming sessions, while a matching sofa provides for group settings when consuming more traditional forms of entertainment. The smart use of light colors for the walls in contrast to the darker furniture and speakers draws the eye towards the action on the screen.
8. All Ears on the Action in this Video Game Room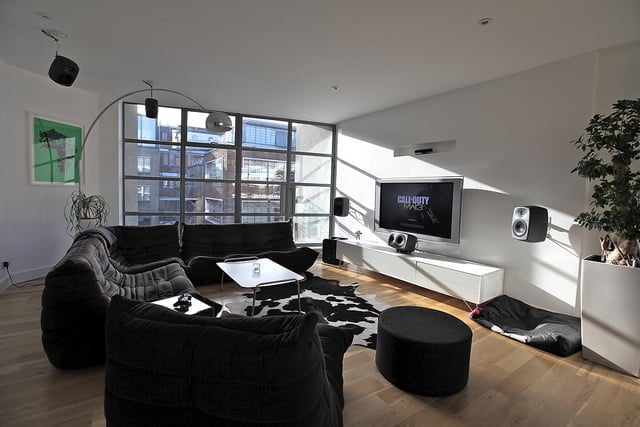 Source: The original source is not available anymore.
You can see how the video game room decor takes advantage of spherical positioning to draw both the eyes and ears toward the action on the screen. Small but powerful speakers in front blend with ceiling-mounted speakers behind to create a surround sound gaming experience.
The angled walls are compensated by a clustering of furniture in a hemispheric arrangement, centered on the screen. The light-colored walls and shelving framing the screen are contrasted with the clever use of dark furniture and accent pieces, further enhancing the eye's focus on the action playing out on the screen.
9. Adding a Video Game Corner to a Living Room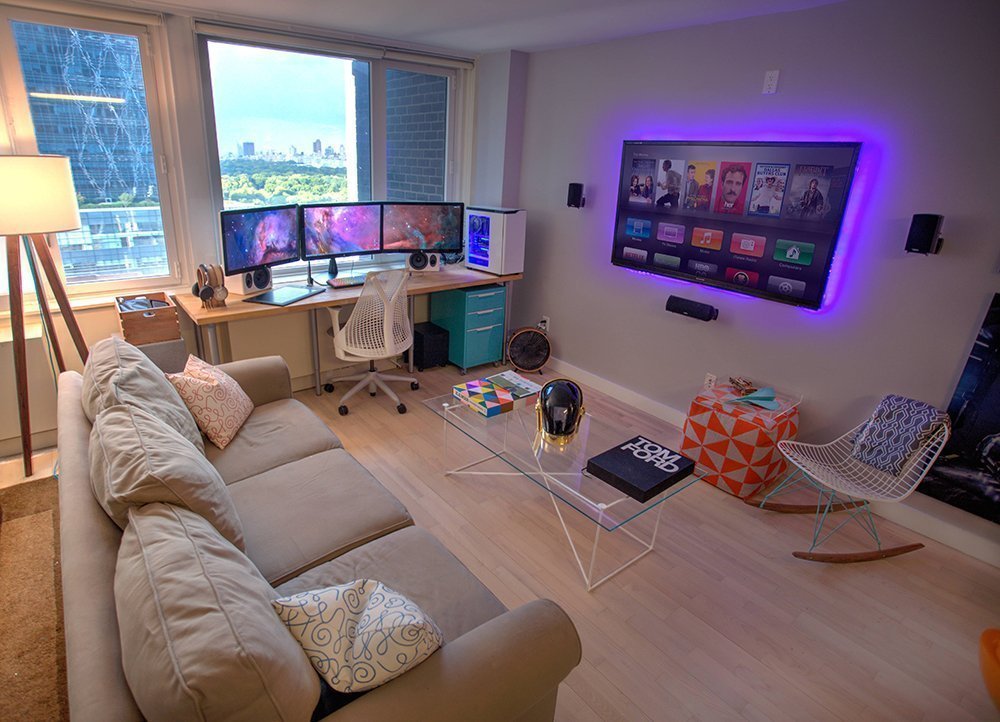 Source: The original source is not available anymore.
In many homes, an existing living room is already dominated by decor designed to focus on the television. The existing arrangements have been left unchanged while a desk and chair have been slotted into the corner to add a cozy place to enjoy gaming.
By adding colored lighting in the frame around the television, in conjunction with an elegant floor lamp, an excellent background lighting ambiance has been obtained.
The smart use of accessories, such as the headphones stand, keeps the interior space uncluttered.
10. Blue is the Coolest Color for a Video Game Room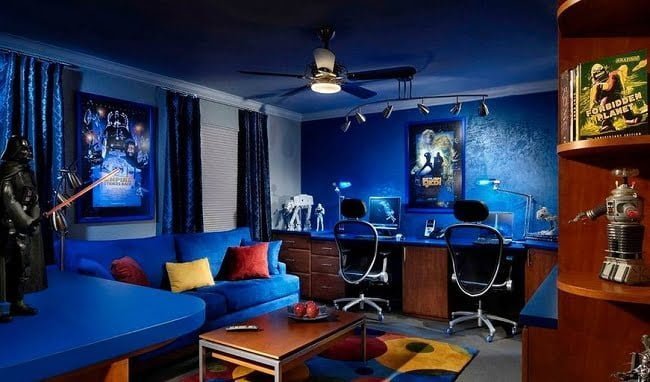 Gaming room design can be a challenge, especially when establishing a theme in an interior space. In this photo, the use of dark blue in the furniture, ceiling, and curtains, adds a unique underwater intimacy to the room. A light mounted in the ceiling fan, in conjunction with staggered spotlights, adds the right amount of background ambient lighting.
Corner shelves and other small unoccupied spaces have been accented with movie and television paraphernalia, adding a small whimsical touch that emphasizes that this space is for play. Game room pictures on otherwise empty vertical spaces further help to amplify the intimate feeling of the room.
11. Accent Lighting Makes All the Difference
In small gamer rooms, it can be a real challenge to provide the right amount of ambient background lighting.
Offset spotlights on the ceiling work together with the recessed lighting in the shelves to help improve illumination in the space without distracting from the action on the screen. Dark-colored furniture and other muted color tones will further help amplify the emphasis gameplay on the screen. A comfortable sofa and elegant table provide for an enjoyable spectator experience.
12. Bedrooms Can Be Excellent Game Rooms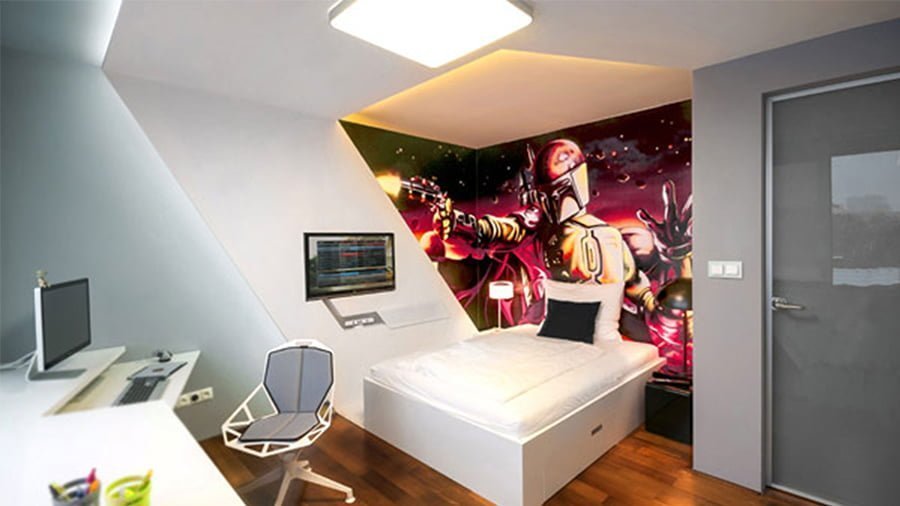 Source: The original source is not available anymore.
It's quite often the case that the only available space for an area dedicated to gaming is a bedroom. In this photo, you can see how a large and evocative wall mural on the opposite side of the computer helps maximize the visual depth of this small space while adding a playful theme to an otherwise minimalist design. For increased convenience, a second screen has been mounted on a swing arm for more intimate gaming experiences while in bed. Small personal touches like the sci-fi chair also help put a bold stamp on the space, unambiguously announcing that this is a gamer room.
13. Combining Work and Play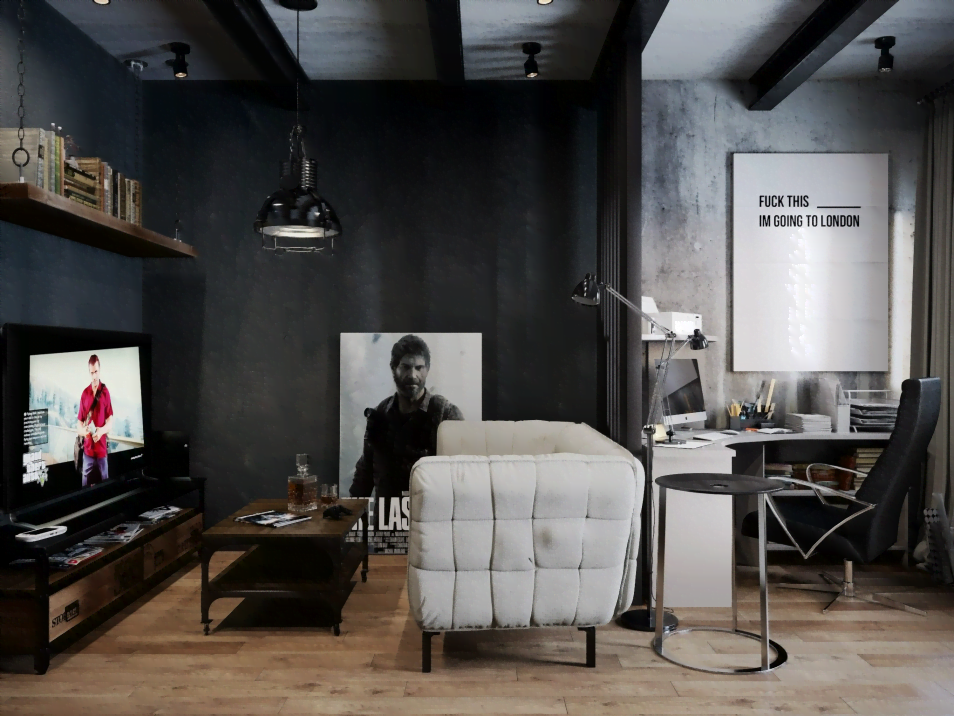 Source: The original source is not available anymore.
Many people now maintain an office in their home, and this space can be ideal for adding a space for gaming. The clever use of a small room divider helps demarcate the line between business and play, while the work monitor is smartly angled to minimize distractions from the gaming screen. The high ceilings are minimized vertically by the use of hanging lights and shelving, thus transforming the game room design into a more intimate experience. Adding a few game room pictures on an otherwise unadorned wall helps add emphasis that this gamer room is for play, while the office decor is contrasted with motivational prints and work accessories.
14. Simple but Fun Wall Decorations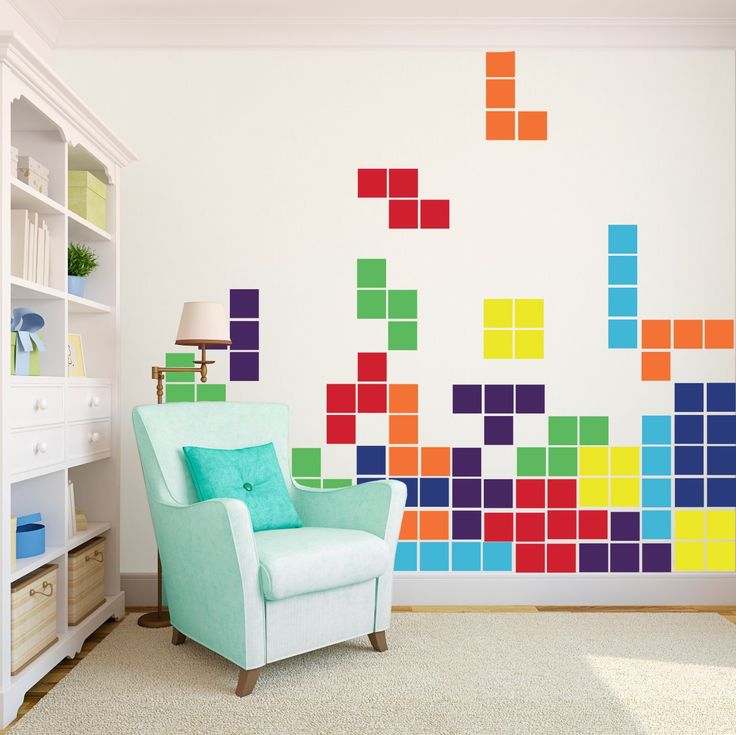 Sometimes the most whimsical game room decorating ideas come directly from the games itself. In this photo, you can see how a popular puzzle game has been used as the inspiration for a clever and fun wall design. Buying a few square tiles in a variety of colors, and then affixing them to the wall helps make an instantly bold statement that this space is for play. The smart use of contrasting white, as well as fun pastels for the furniture and shelving accessories, further helps bolster the high energy and playfulness of this play room.
15. Using Theme Background Elements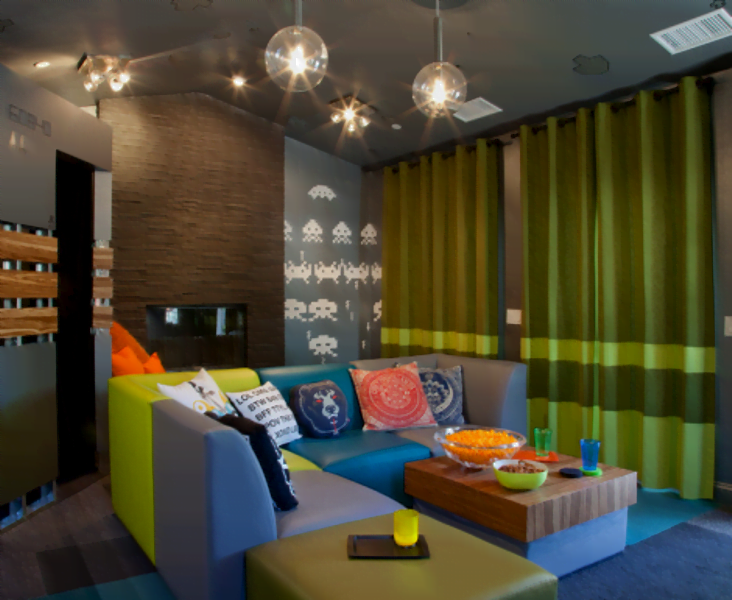 Source: The original source is not available anymore.
This otherwise simple room takes advantage of a wall decoration picturing a classic game to function as a unique form of video game room decor. The rest of this oddly-shaped interior space is cleverly decorated in contrasting whimsical colors to emphasize that it is being used for play and entertainment. Funky throw pillows with bold printed statements add another splash of personality, while the constellation of overhead lighting fixtures add an adjustable amount of ambient background illumination. Colorful drapes maintain the overall theme while blocking out natural light during game play, helping to focus the eye on the action unfolding on the screen.
16. Super Game Room Decorating Idea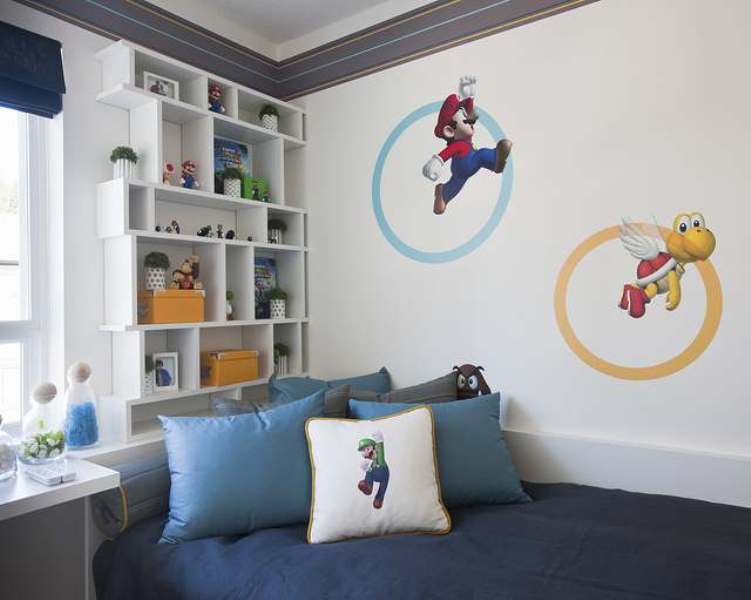 With just a bit of effort, this room has been transformed into an intimate space proudly proclaiming a love for classic video games. A theme throw pillow, in combination with matching statuettes strategically placed on the shelving, help add emphasis to the colorful wall decoration. Large video game stickers have been given additional visual texture with the use of large circles, adding a playful element of action and energy to the room. A prized plush figure from the game series adds an additional splash of whimsy to this exuberant room.
17. The Angry Birds Room Decor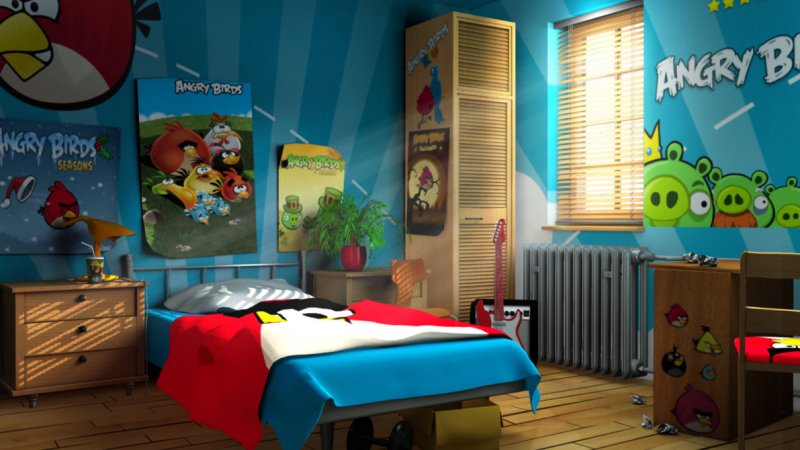 Source: The original source is not available anymore.
For the truly passionate players of games, it is possible to combine various media to transform a space into a gaming sanctuary. Bed linen adds a unique horizontal texture to the strong vertical elements of wall paintings and framed prints. Stickers and decals on the desk and freestanding closet add further testimony to this room's playful function. By adding matching background colors to the walls, the overall theme of the room is further tied together while the clouds and sky elements make this otherwise small space feel larger and more airy.
18. Make the Walls a Second Screen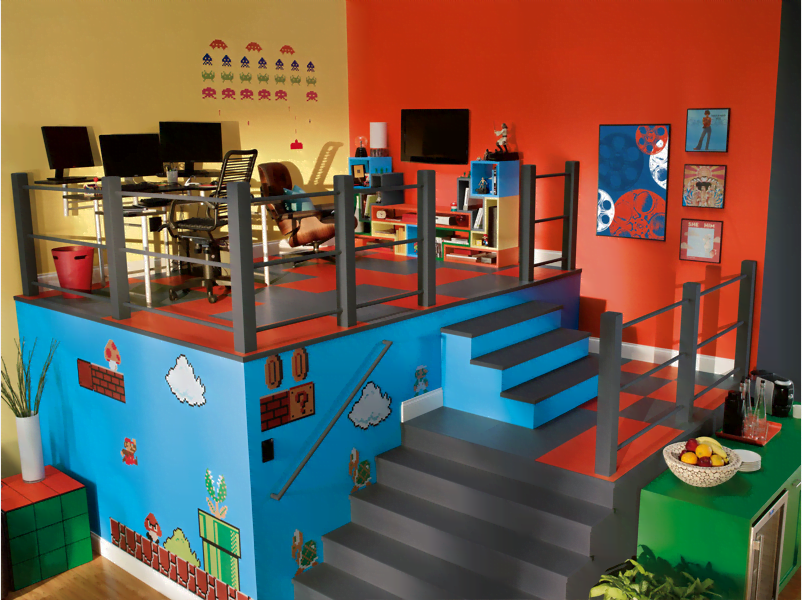 This room makes clever use of a unique multi-level room layout to add video game themes to otherwise unused vertical spaces. The full-sized wall spaces have been further transformed to resemble screenshots from classic games, while the subtle use of a partial checkerboard on the landing adds additional emphasis to the gaming room design. Other whimsical accent pieces such as the small night stand painted to resemble a popular game cube, as well as the bold mix of primary colors, making this interior space eligible for the title of the ultimate gaming room.
19. Light Bars for Ambience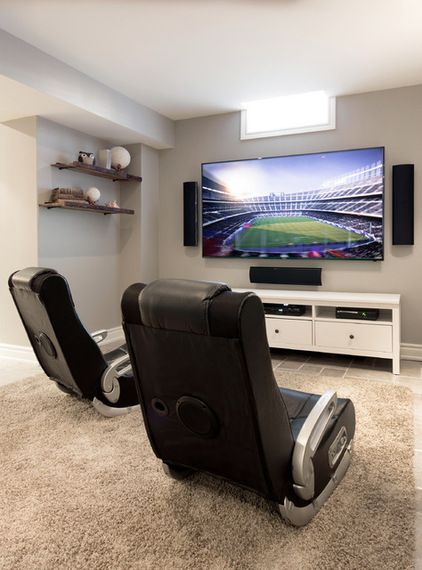 Source: The original source is not available anymore.
In small spaces, it can be difficult to provide enough proper background illumination to prevent the eye from being overwhelmed by the light coming from the main playing screen. In this room, a large light bar has been installed above the viewing screen, adding energy and brightness to what otherwise would be a very cramped space. The clever use of light colors and pale earth tones adds an additional layer of airiness to this small room, while two dedicated gaming chairs allow for hours of uninterrupted play enjoyment. The speakers have been mounted to frame the main screen, nicely complimenting the light bar above, adding an additional subtle focus on the action unfurling on the screen.
20. Adapted Video Game Room Furniture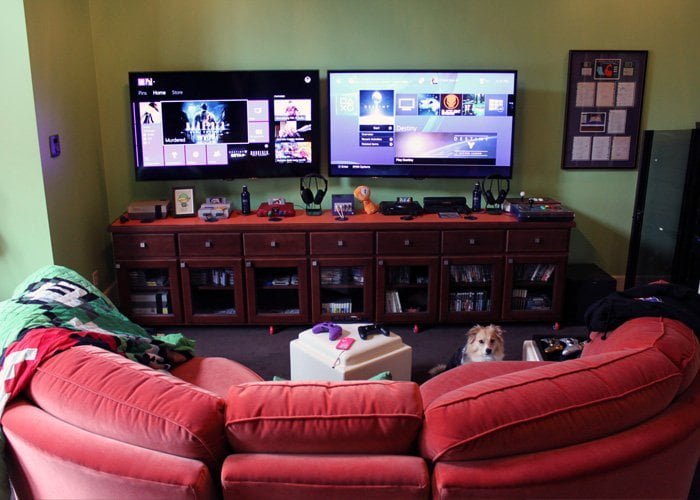 Sometimes, the budget for creating the ultimate gaming room isn't enough to cover brand new pieces. In this photo, an existing cabinet piece has been adapted to serve as the focal point for the gaming experience. Everything from headphones to gaming-themed merchandise adds a subtle emphasis to the action on the screen, while an existing hemispherical couch and two screens allow the whole family to enjoy an enhanced spectator experience. By taking advantage of an existing recess in the wall, the room is exposed to plenty of natural light without shining directly on the gaming screens.
21. The Aficionado's Den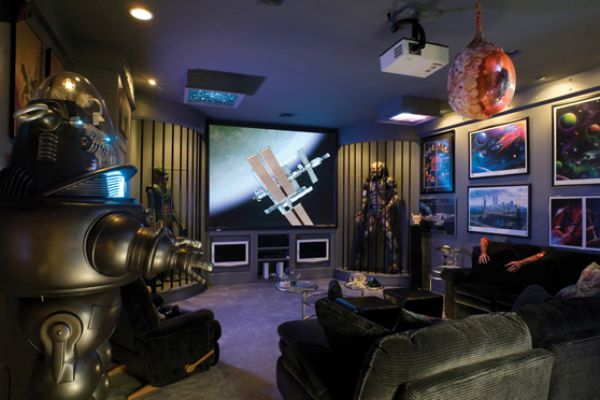 Source: The original source is not available anymore.
For truly passionate aficionados of games and popular entertainment culture, coming up gaming room setup ideas can be a really fun challenge. In this room, every available space has been cleverly used with different visual textures, including the multiple use of full-sized statues flanking the screen, the funky ceiling fixture and illuminated robot figure. Ambient lighting has been provided for by the unique use of recessed lighting in the ceiling as well as accent spotlights on the multiple theme prints on the wall. An overhead projector nicely compliments the full three dimensionality of the space, leaving no one in doubt that this space is competing for the title of the ultimate gaming room.
22. The Arcade Experience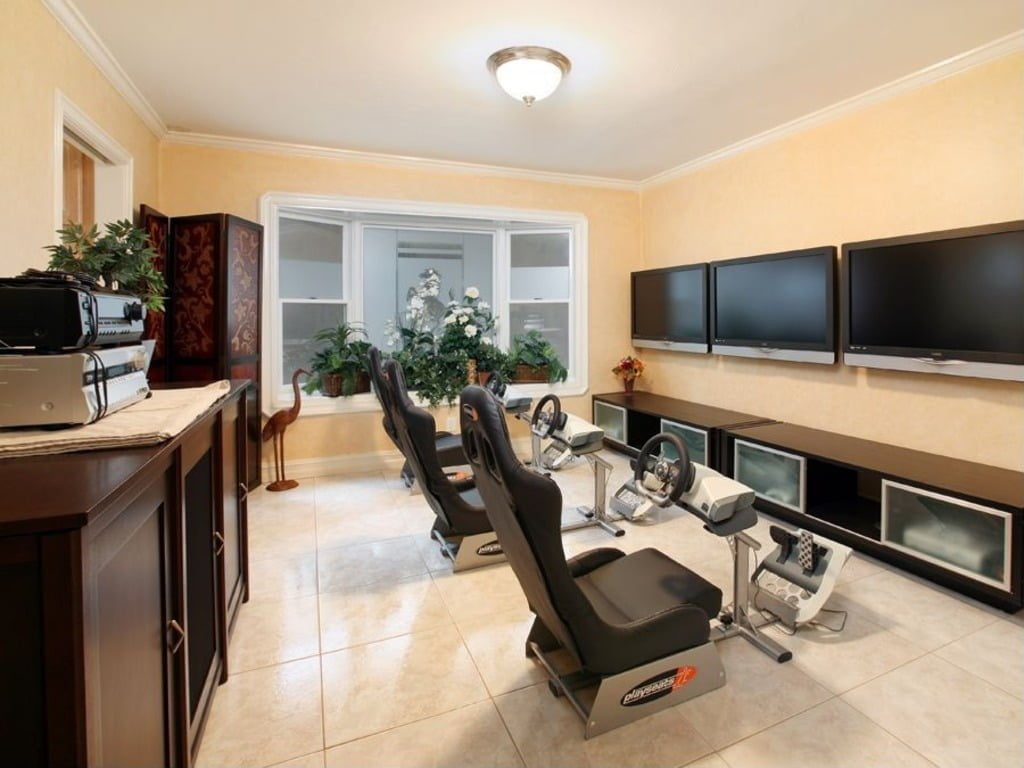 Source: The original source is not available anymore.
Even in small spaces, the right use of video game room furniture can transform an otherwise neutral corner of the house into an immersive arcade experience. While keeping the decor to a bare minimum, the use of multiple screens and side-by-side driving simulators allow for competitive gaming excitement in this otherwise bland games room. Light pastel colors and flooring design in this brightly illuminated room help draw the eye towards the wall-mounted screens, while a minimalist use of the space allows it to be quickly transformed for non-gaming use.
23. The Gamer's Interactive Museum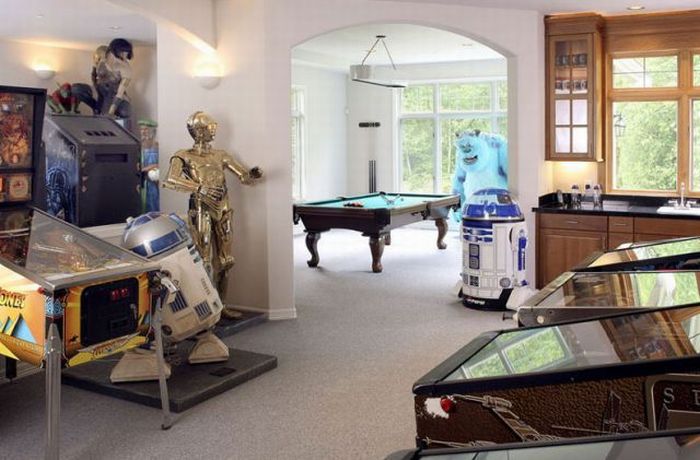 Source: The original source is not available anymore.
Some of the best game room ideas incorporate many different modalities of play, combining centuries-old classic games with pinball machines and other non-computerized forms of gaming entertainment. The fun use of full-sized figures from popular movies and television add an additional layer of three dimensionality to this space, all tied together neatly with a sink and mini kitchen for entertaining visitors during extended play sessions.
24. When Less is More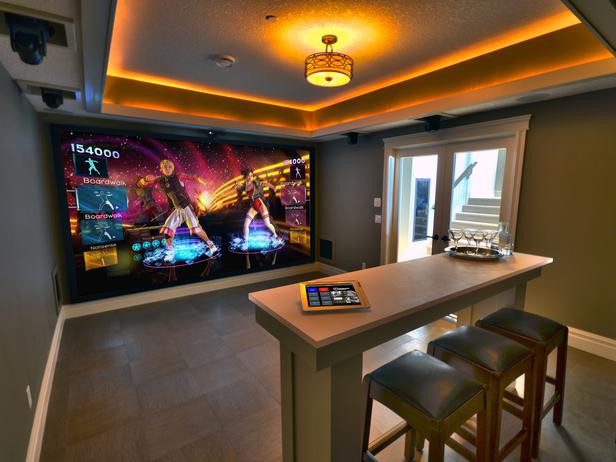 Many gaming room setup ideas have to contend with the necessity of having interior spaces be available for mixed use. In this photo, a couple of stools and table help keep this room minimally cluttered, while an enormous wall-mounted screen allow for an immersive play experience. Recessed ceiling lighting and minimal natural light allow for plenty of ambient illumination without overwhelming the action on the screen. Ceiling-mounted speakers also help make this room instantly ready to be transformed for other purposes, while remaining ready for the next round of game play.
25. The Classic Games Room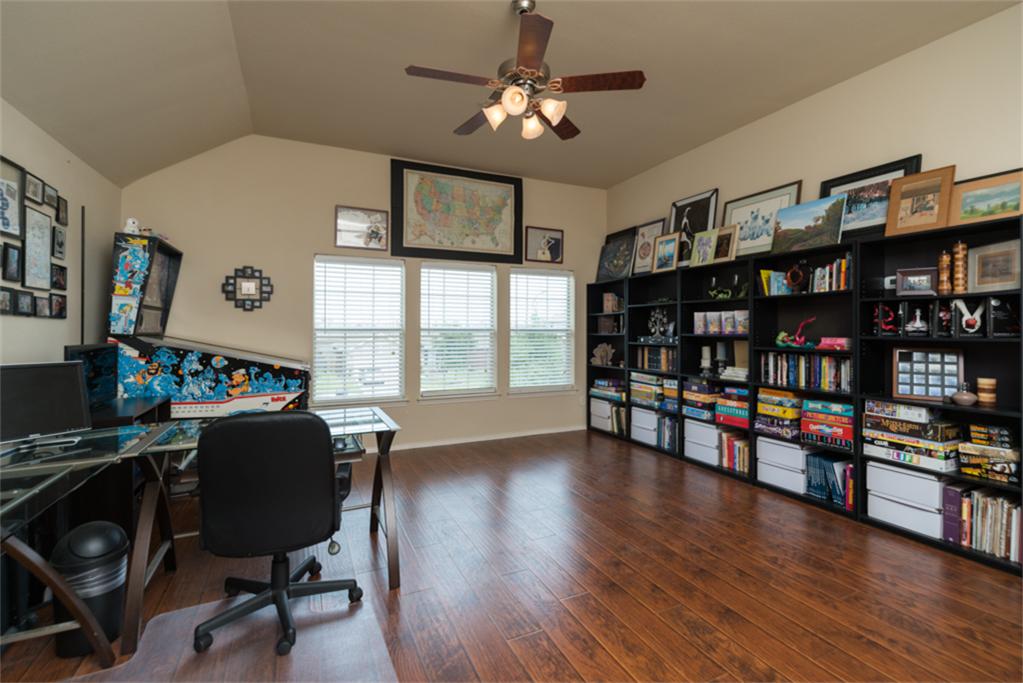 Source: The original source is not available anymore.
Not all game room ideas are centered around the use of electronic games. In this photo, a generous series of shelves house a variety of classic board games, while an unused corner space is dedicated to a machine from the classic era of pinball games. The rest of this large room is left open and uncluttered, allowing for rapid transformation to whatever gaming experience is desired, while plenty of framed pictures and prints add a subtle stamp of personality. Windows with blinds, in combination with overhead lighting, allow for flexible adjustment of ambient lighting, while the light walls and multiple windows allow for full natural light when the room is being used for work purposes.
26. The Home Pub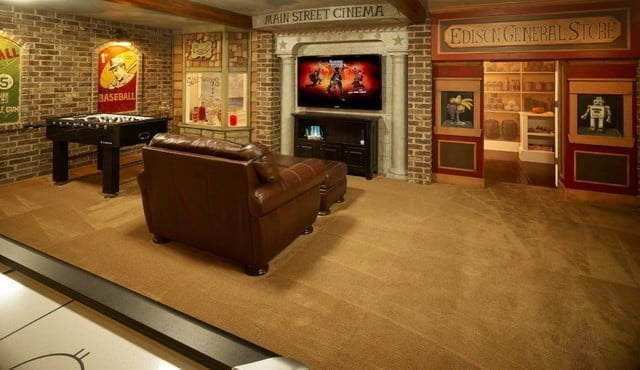 Source: The original source is not available anymore.
In this room, the gaming theme has been uniquely transformed to match the decor of a classic pub, or local sports bar. Antique signs hung high near the ceiling nicely match the framed prints of toys and games below. One area of the room is dedicated to more traditional games, smartly indicated by old-timey sports prints, while the center of the room is adapted for more modern forms of play. An old fireplace has been refurbished to accommodate the large screen without interfering with the open spaciousness of the room.
27. The Minimalist Approach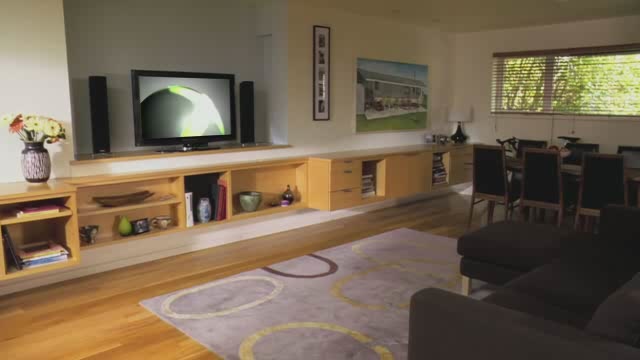 Not every home has the budget or ability to focus an entire interior space on gaming. In cases where gaming is best maintain discretely, it is possible to camouflage the use of the space by adapting it to the existing room structure in place. In this photo, you can see how a large living room and dining room give no outward indication that gaming takes place, yet upon further scrutiny, the entertainment nook is ready to be used at a moment's notice for exciting game play.
28. Using Dark Colors Intelligently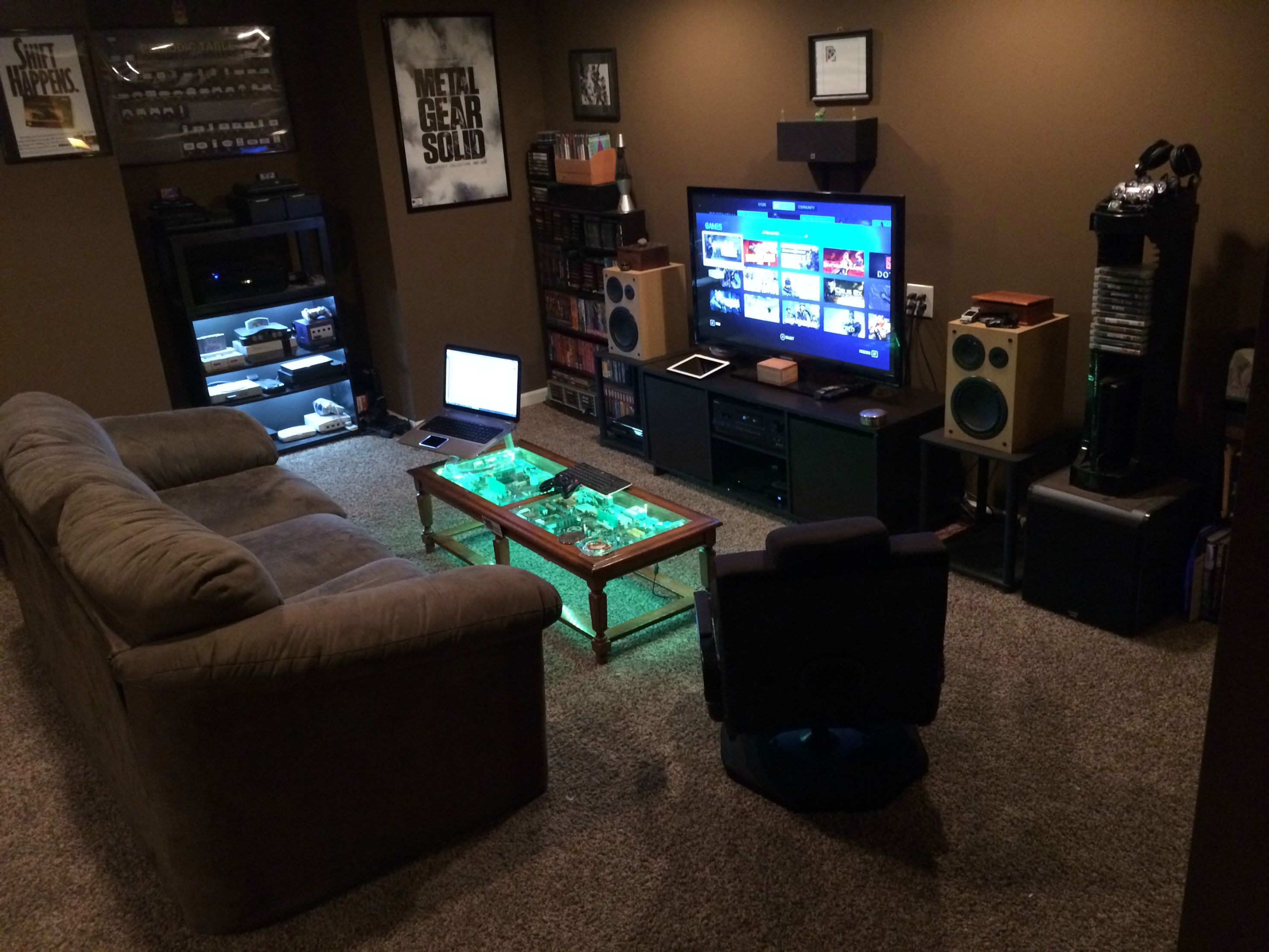 Source: The original source is not available anymore.
One of the great challenges for designing a room for game play is how to come up with adequate ambient background illumination. In this photo, dark-colored walls and furniture create a strong negative space, which can easily overwhelm the eye with strong lighting coming from the main screen. But the clever use of recessed lighting in the shelving and recessed spotlights on the ceiling nicely serve to add intimacy. The illuminated coffee table is an especially useful idea, as it helps add background light ambience while simultaneously aiding players in seeing the keys and buttons on the game controls.
29. The Bedroom Gaming Lair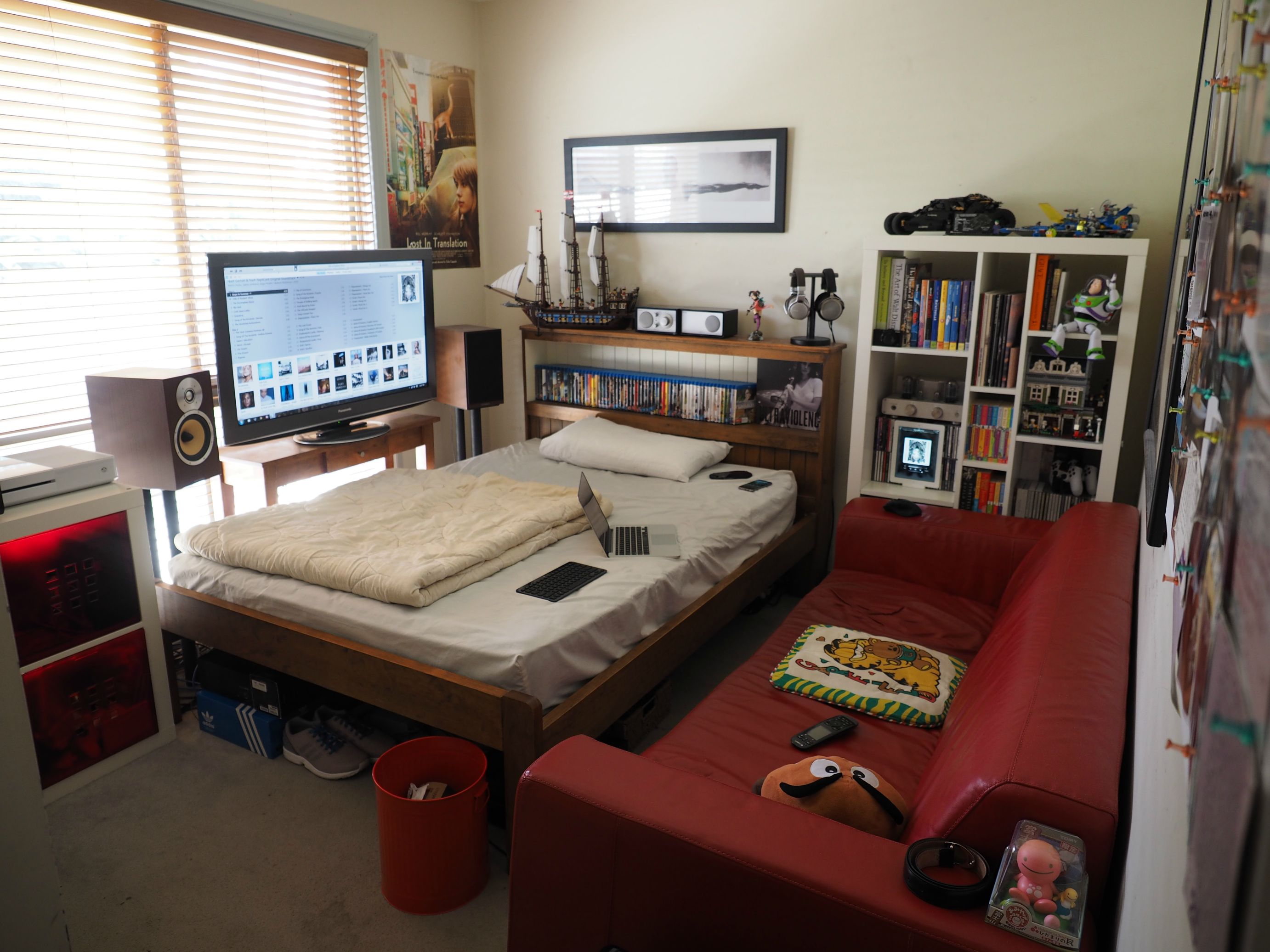 In some circumstances, a dedicated gamer may have no other available space than the bedroom in which to set up the necessary equipment for play. In this photo, the necessary existence of a large bed has been bypassed by framing it with the couch on one end and a large viewing screen on the other, transforming the bed into a virtual table during game play. A few gaming-related collectibles and theme items on the couch and nearby shelves add further emphasis to its function as a place for enjoying video games.
30. The Importance of a Coffee Table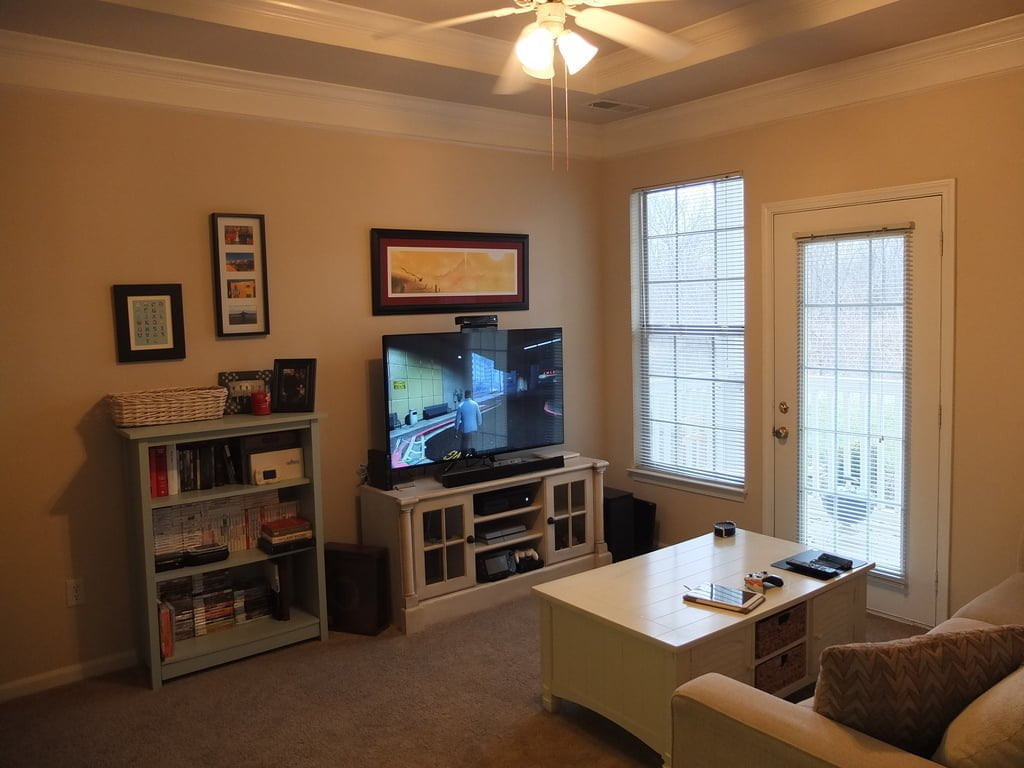 Many gamers have no other choice but to piggyback their play equipment to existing media centers in multi-modal rooms. In this photo, the exterior end of a living room has been established as a common viewing space, with a comfortable couch and nicely matched furniture. By using the coffee table as a mixed-use piece of furniture, perfectly adapted to hosting visitors or to lay down gaming controls, the room is instantly ready for single or group game play without compromising the neutrality of a space designed for public use. Elegant media center cabinetry keeps clutter and games out of sight, while non-gaming decor completes this space with a homey, welcoming tone.
31. Making the Best of a Basement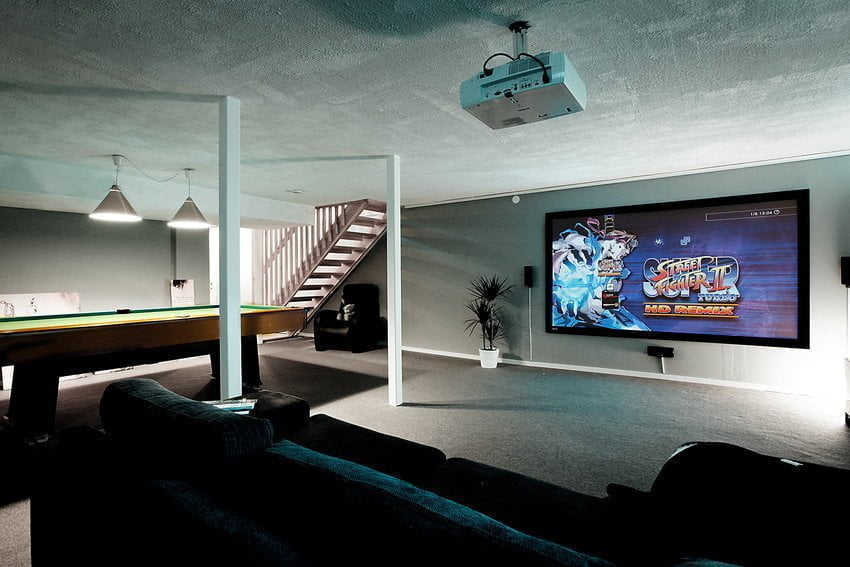 In this photo, the basement area has been transformed from a neutral, poured concrete space to a sleek and modern area adapted for exciting game play. Traditional games like billiards occupy one end of the large space, while an overhead projector allows for more modern play without making the room feel cluttered or messy. Plenty of matching furniture allows for group fun, while the wall-mounted speakers ensure that the rest of the household won't be disturbed by electronic noises. The underground space is given a further boost by the use throughout of white and light colors, making the room feel intimate and airy.
32. The Semiotics of Play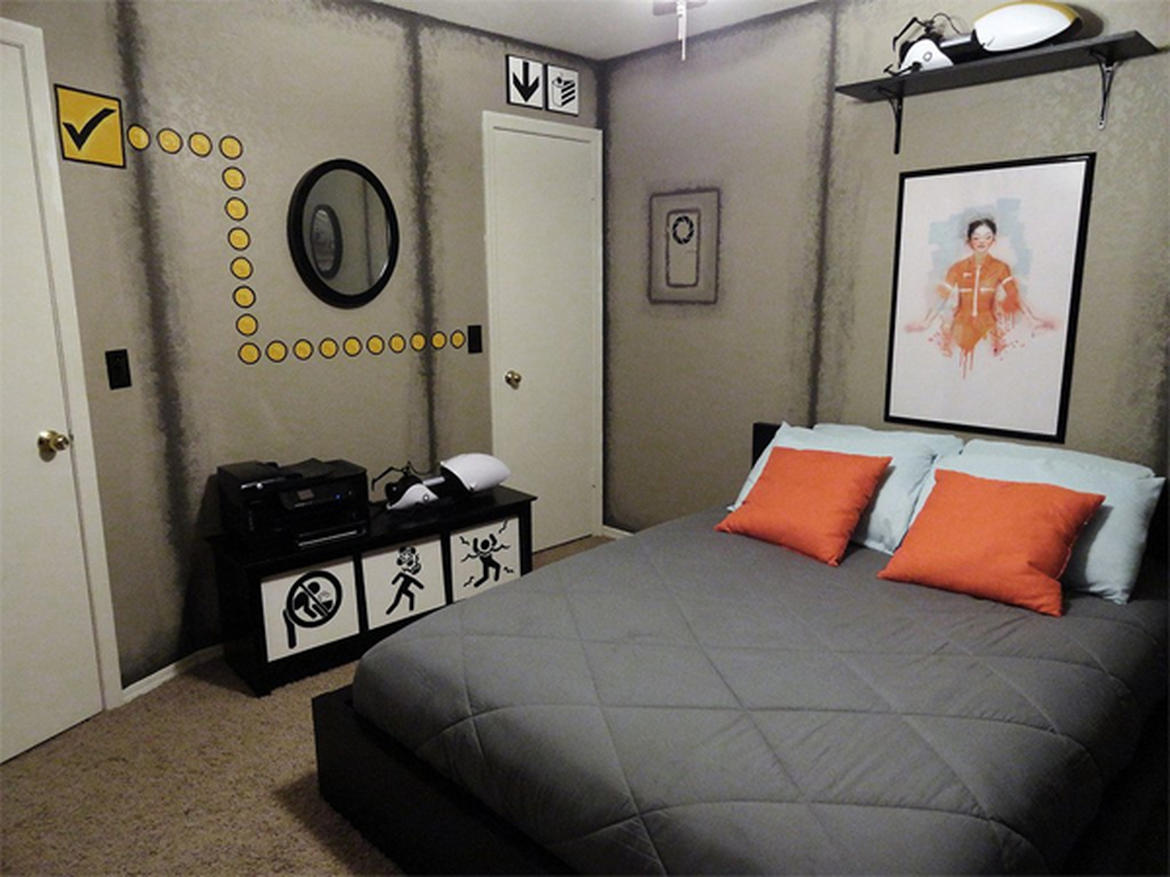 Source: The original source is not available anymore.
In some cases, game play may necessarily occur elsewhere in the house, but gamers want to decorate their own personal space with motifs, signs, and symbols that demonstrate their love of play. In this photo, whimsical symbols have been placed on free vertical spaces, using contrast and color to add rather than to subtract from the simple color tones in use in the room. A large watercolor print above the bed, in addition to futuristic paraphernalia, reinforce that the occupant is an enthusiast of games created overseas.
33. More Screens to Create Space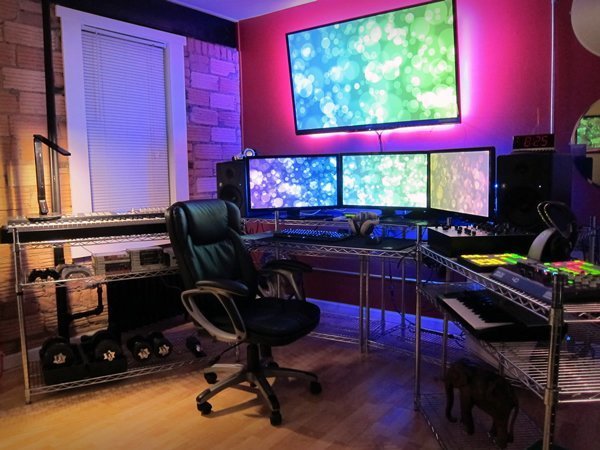 Source: The original source is not available anymore.
Sometimes, only a small space is available to dedicate to game play, but this can be ameliorated by the addition of multiple screens, functioning much like virtual windows. In this room, the illusion of open space is further reinforced by the clever use of a bold primary color on the far wall, contrasting with the neutral tones in use elsewhere. Gaming, audio, and other gear is neatly organized by the use of industrial shelving units, while a comfortable office chair with casters allows for rapid access to every component.
34. Using Blues and Reds for a Unique Look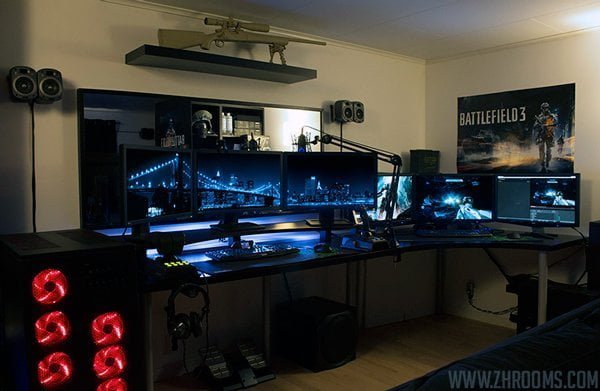 Source: The original source is not available anymore.
Ambient lighting is always a challenge for enthusiasts of modern game play, but this room takes advantage of this requirement by using alternative colors for illumination. Few other spaces in the home allow for bold reds and cold blues for ambient lighting, but in spaces dedicated to play, it can be a very effective choices. A framed print and a replica weapon further help reinforce the statement that this room is intended for play, while retaining a standard white overhead light provides for circumstances other than game play.
35. Use Shelves Smartly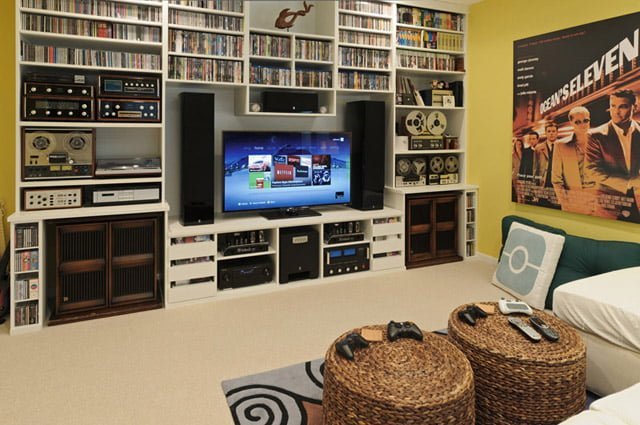 Source: The original source is not available anymore.
Serious game players eventually acquire hundreds, or even thousands, of titles, making access to these games difficult without good organization. In this photo, you can see how the extensive use of custom shelving helps arrange games and other forms of media in a format that is open and accessible. The use of white as the central color is nicely contrasted with the far wall in a pastel color, adding a different visual texture with the use of a large poster.
36. Video Gamer Room Inspired by Street Art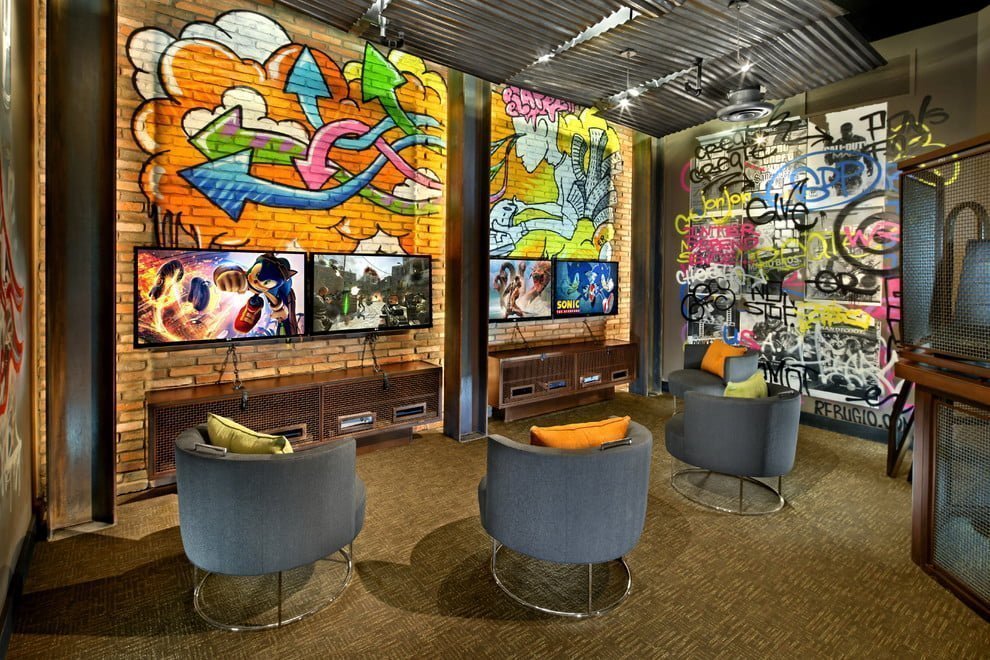 Source: The original source is not available anymore.
While many gamers stick to symbols, characters, and graphics from their favorite games to inspire the way they decorate interior spaces, one bold idea is to add whimsy and energy by adapting street art to the room. In this photo, a conventional arrangement of modern games is nicely contrasted with a painted backdrop consisting of bright primary colors ordinarily seen only in outdoor settings. Pastel throw pillows help add a splash of energy and vivaciousness to the room, while generous overhead lighting keeps the room feeling bright and airy.
37. The Future is Now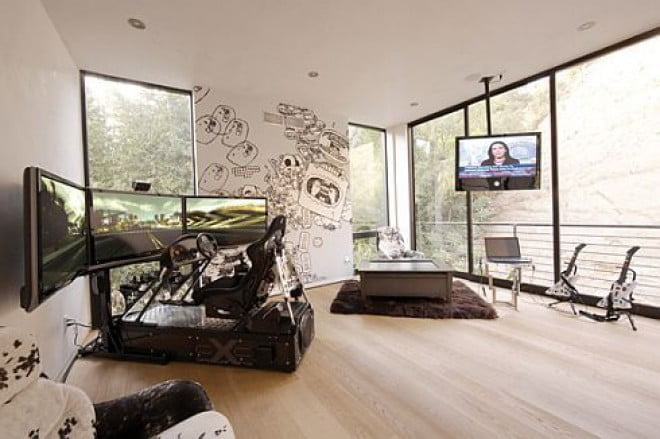 Source: The original source is not available anymore.
Although many decorators would take a modern, open space such as the one pictured and keep the lines simple and sleek, this gaming room takes advantage of an unused corner to add additional visual texture by the use of three wraparound screens. Dedicated gaming equipment keeps the eye away from the expansive views outdoors, and focuses on the play closer to hand. Whimsical living room wall art and matching furniture help keep this room looking modern, while a ceiling mounted screen helps keeps the floor space free of clutter.
38. Strong Colors Add Excitement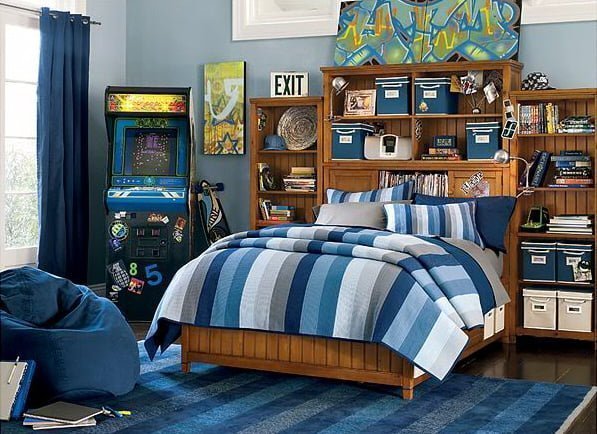 Source: The original source is not available anymore.
In this photo, the smart use of varying shades of blue throughout adds a powerful intimate energy to the space. Matching storage boxes and secondary items of furniture continue the theme, while a piece of reproduction street art adds a fun flair. A striped floor rug helps continue the excitement, all pointing to the exciting game play to be found in the corner with the presence of a classic arcade machine.
39. Green Ambient Gamer Room Lighting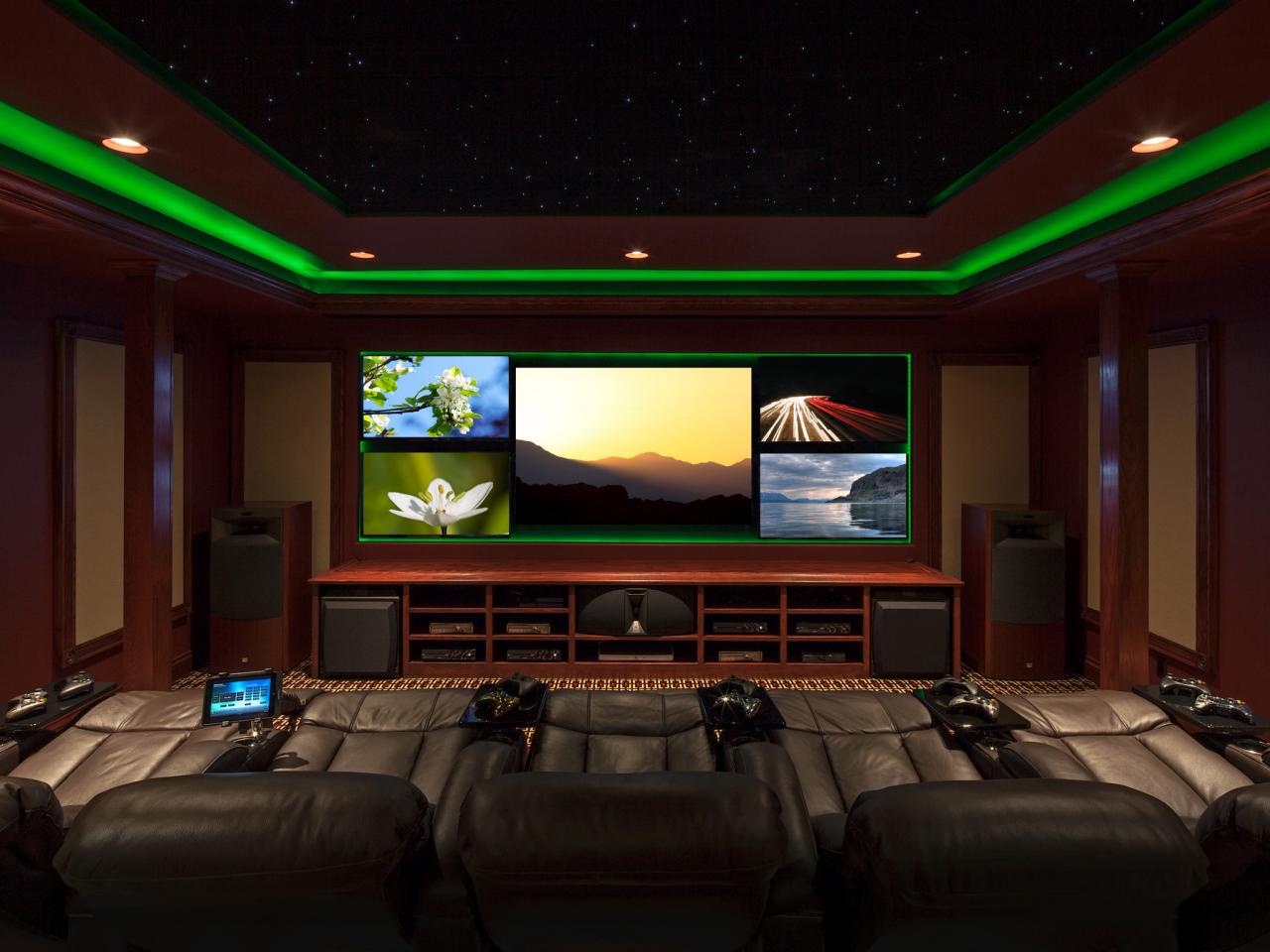 Source: The original source is not available anymore.
The somber dark earth tones used with the furniture and wood paneling throughout are nicely contrasted with recessed green ambient lighting, adding a unique energy to this gaming space. An enormous screen and upwards of five gaming chairs boldly announce the purpose of this room, amplified by the complete absence of any items unrelated to gaming. Special armrests allow for the tidy storage of controller devices, while a complete sound package ensures that play is transformed into a fully immersive experience.
40. Inspired by Starship Decor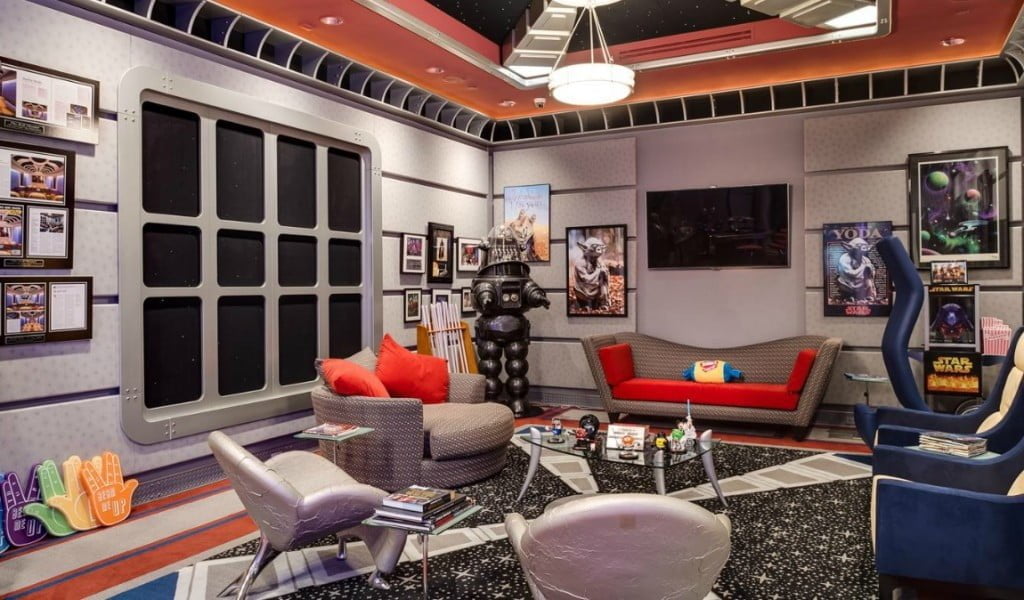 Source: The original source is not available anymore.
While most rooms for gamers are dedicated to play, this room instead has been transformed to resemble the interior of a starship. The clever use of futuristic recessed faux windows is nicely complimented by space gray furniture and color use throughout. Multiple framed prints from popular entertainment and a theme carpet help tie this space together, with a full-sized robot in the corner further augmenting the futuristic concept. Special attention has been given to the recessed ceiling design, truly making this room appear as though it is hurtling through deep space.
41. A Hodgepodge of Screens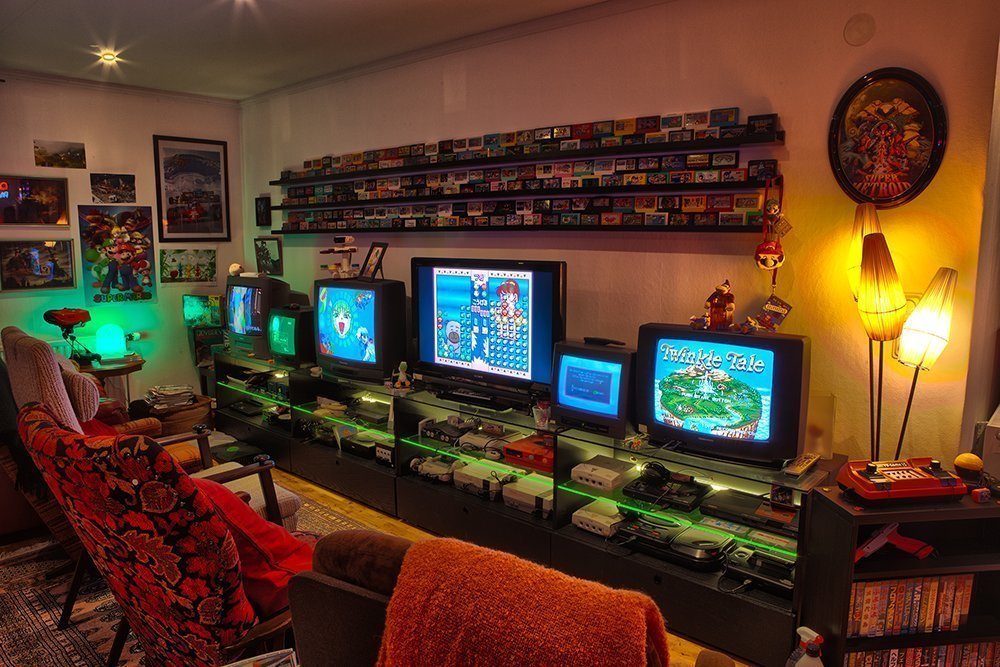 Truly dedicated consumers of games often find that older console models require unique connections or screen ports to properly function. In this room, one multi-use screen has been abandoned for the installation of a half a dozen screens, allowing for plenty of space to store and connect a large collection of consoles. Framed prints and paraphernalia help tie the room together, while an ad hoc collection of furniture allows for rapid access to any given screen.
42. Bold Colors from the Classic Era of Gaming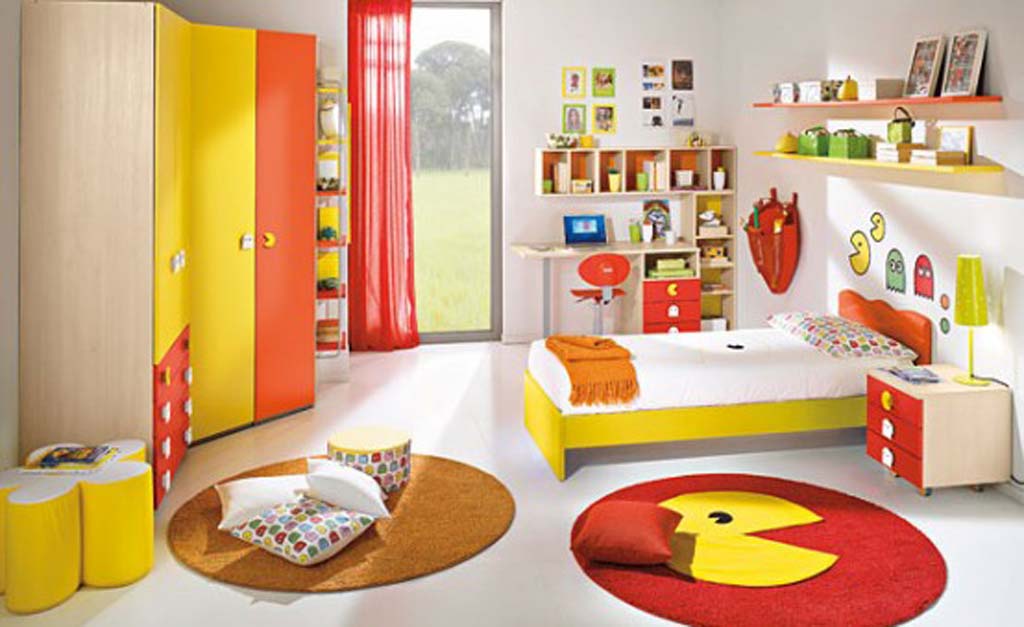 Source: The original source is not available anymore.
In this room, a single repeating motif from one of the legendary games of the classic era add a fun, fresh energy to the space. A homemade felt decoration adds life to an otherwise simple circular floor rug, while craft stencils and custom shelving knobs further amplify the theme. Where the game's red and yellow is not present, light colors and plenty of open space help keep this room feeling light and spacious.
43. Using Blocks to Create Depth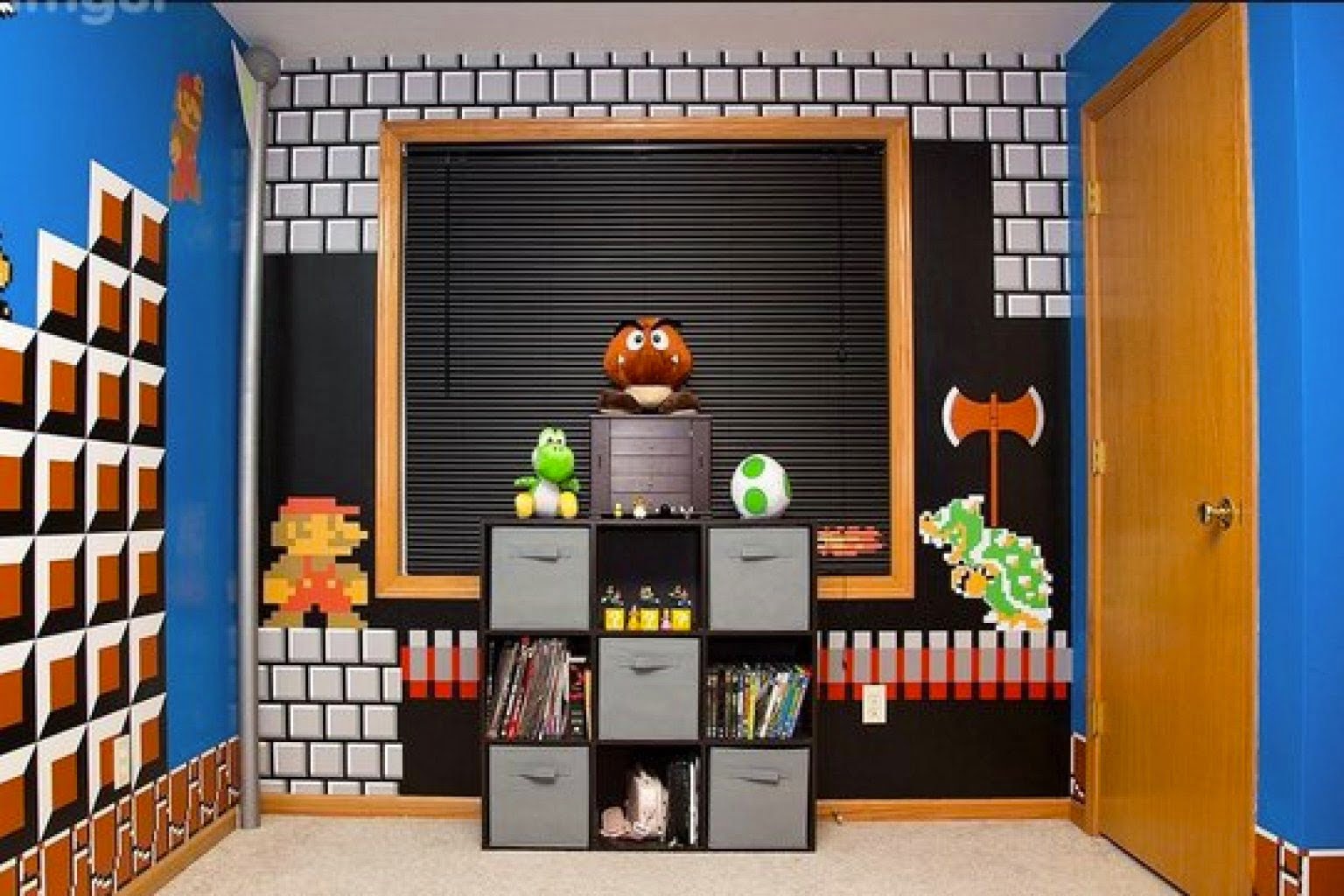 Source: The original source is not available anymore.
There is little evidence of actual play going on in this room, but it is abundantly obvious that the occupant is a gaming enthusiast. By smartly using staggered geometric shapes inspired by a classic game, this tiny space is given tremendous visual depth. Plush paraphernalia from the game neatly compliment the similar-sized visual representations on the wall, blending seamlessly together to make the space feel immersed inside the world of game play.
44. A New Hope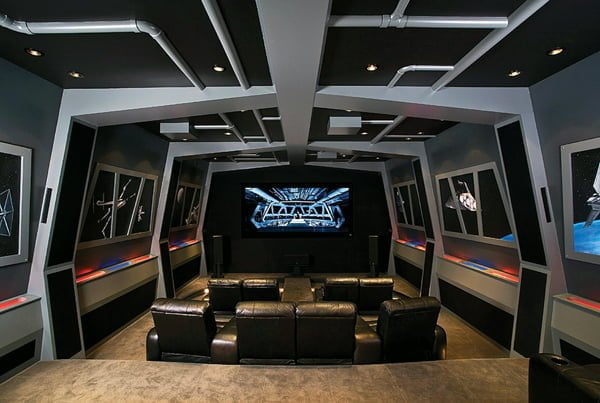 Source: The original source is not available anymore.
This room makes strong use of horizontal space to recreate the penultimate scene of a popular movie, smartly using printed frames from the film to simulate windows. The elaborate use of space gray and simulated bulkheads further reinforces the illusion of a tunnel, with the eye inexorably drawn towards the play unfolding on the large central screen. Multiple spotlights and colorful futuristic simulacra add plenty of ambient lighting, with abundant furniture in place to welcome spectators and fellow players.
45. Daytime Play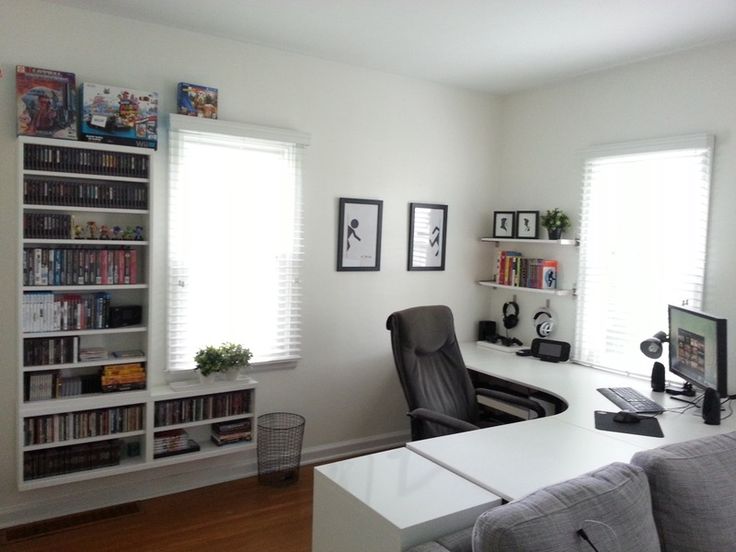 Some gamers prefer to indulge their passions during the daytime, choosing a brighter, more airy approach in contrast with cozy, intimate spaces. In this photo, the abundant use of white throughout, in combination with bountiful natural light, helps keep this somewhat limited space feeling clean and spacious. A single desk corner is enough to store the gaming equipment, with adequate shelving discretely storing additional titles and paraphernalia.
46. Framing for Focal Effect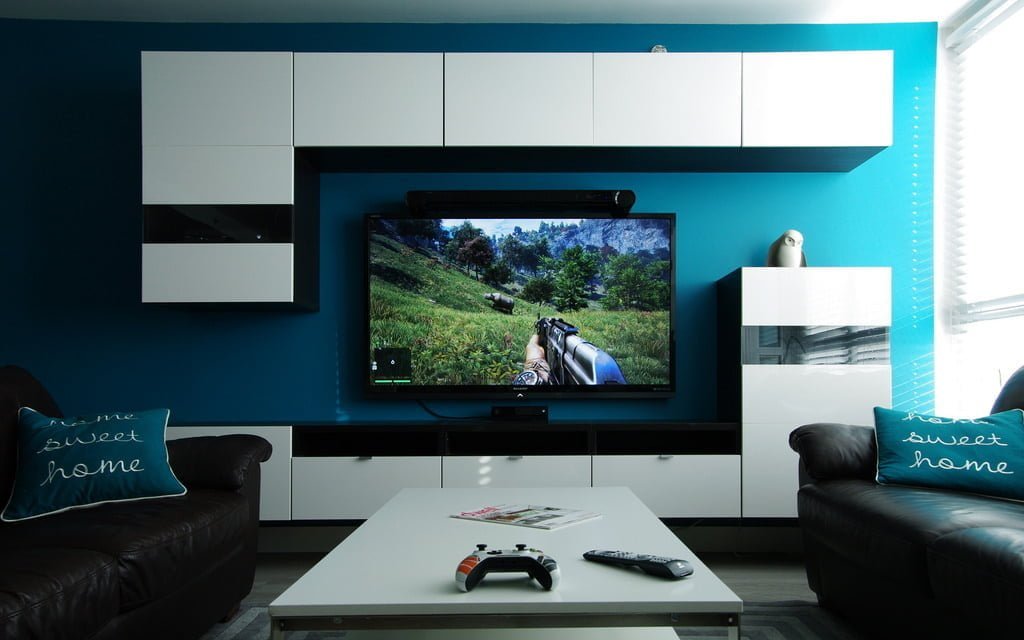 A large screen provides plenty of focus on the action at hand, but the clever use of framing helps further reinforce the screen as the visual apex of the room. The dark color of the screen is further reinforced by the smart use of a dark primary color for the wall, and the contrasting white of the custom shelving to add even more emphasis. A few matching throw pillows and abundant seating allow for plenty of group enjoyment, either as spectators or competing players.
47. Using Flooring to Add the Illusion of Space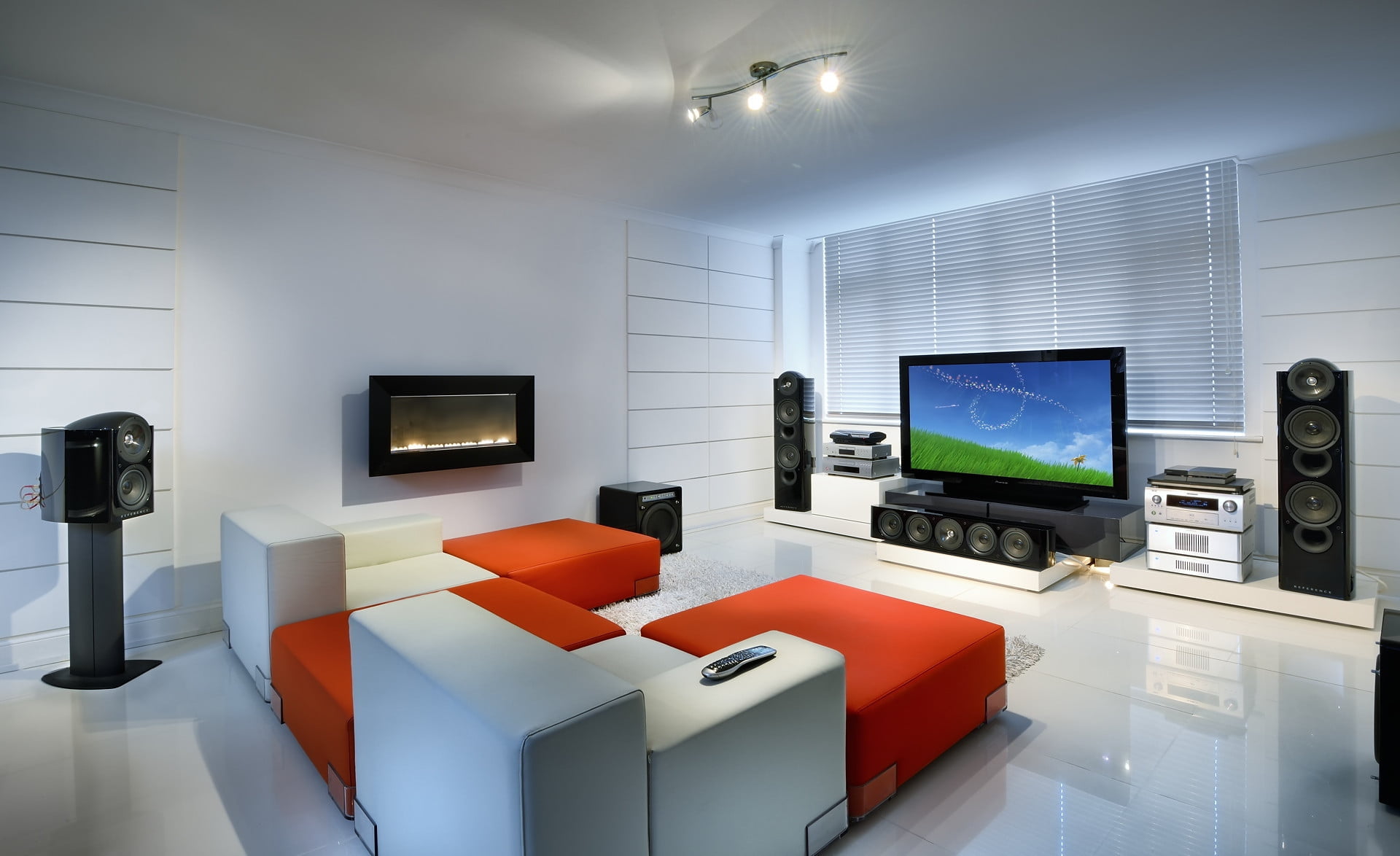 Source: The original source is not available anymore.
This somewhat small space has been given the appearance of additional space by the smart use of a light colored, reflective flooring, functioning much like a mirror to add greater visual depth to the room. Modular furniture adds futuristic yet functional comfort to the game play experience, while a second screen adds liveliness and ambient light to the room. Dark colored speakers surrounding the seating area help anchor the room while simultaneously amplifying the immersive aspect of the game play experience.
48. Simple but Beautiful Gamer Room Idea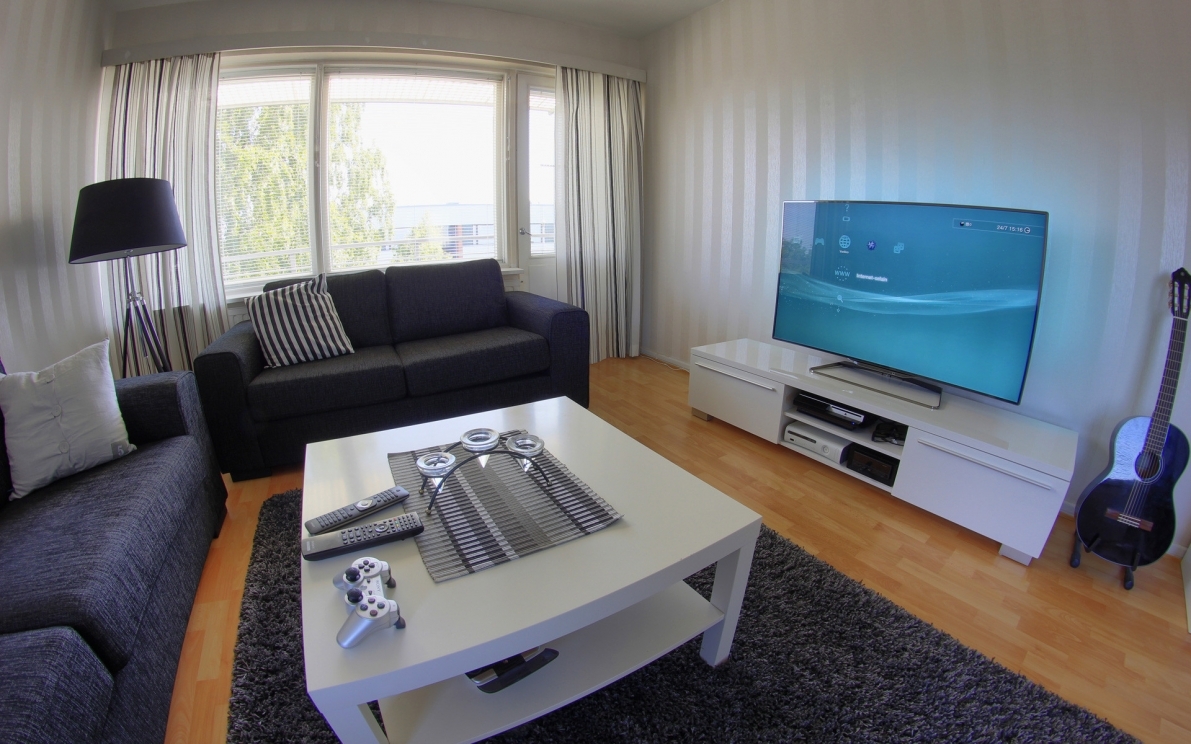 Not all game spaces need to be boldly thematic, with strong motifs about game play. In this room, tasteful contemporary decor naturally lends itself to the accommodation of a media center, with a white coffee table allowing for the discrete storage of remotes and controllers. Abundant seating allows the room to be used for a variety of purposes, while a musical instrument on a stand denotes that the space is intended for entertainment.
Summary
Setting up a room dedicated to video games can be a lot of fun, so be creative! You can choose a theme based on your favorite game, or incorporate some other elements that you love like a favorite movie or book series. Some video game room designs focus more on the individual player, while other gamer rooms are set up to incorporate multiple players and spectators. Most people spend a significant amount of time in their video game rooms, so it's worth taking the time to arrange the decor, coloring, and overall theme to truly impress.
Regardless of your budget, designing a play room can be a lot of fun, allowing you to truly express your creativity in crafting video game room ideas. Unlike other interior spaces in the house, games room ideas can be centered around viewing screens, giving you plenty of unique opportunities to work with custom lighting designs. Open windows and a lot of sunlight are anathema for most game room designs, so focus on novel ways to provide enough background and theme lighting to maximize your gaming experience.