15. A Christmas Ball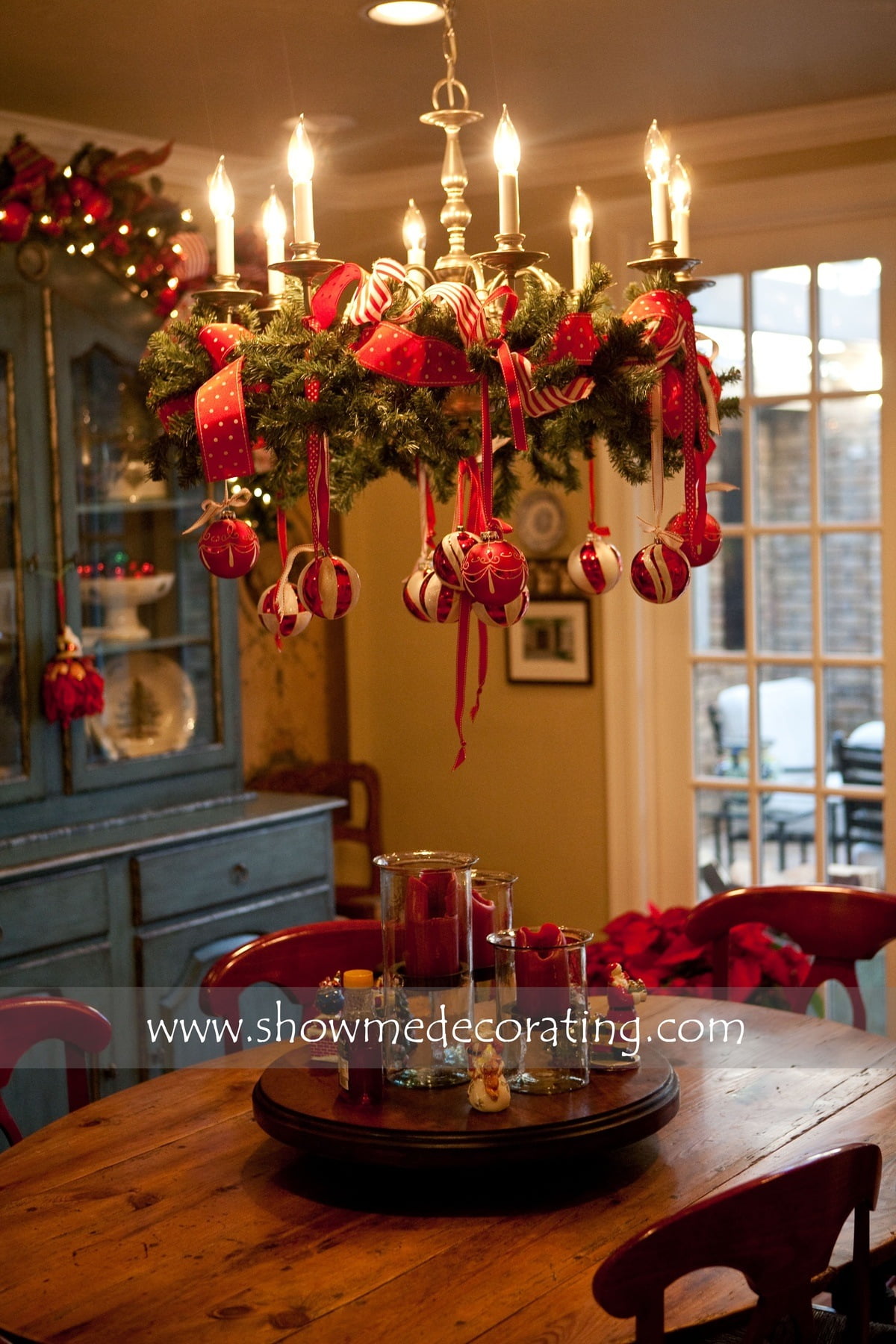 Another way to add a bit of Christmas decor to your dining area is to utilize Christmas ornaments and ribbon to create a festive chandelier that will wow your guests on Christmas day. The first step that you will need to do to create this design idea is to intertwine evergreen trimmings into the light fixture to create a wreath-like decoration that looks like it was purchased from the store. Then, attach ribbons to the wreath and dangle red and white Christmas balls from the light fixture that is above the table. Poinsettias placed around the dining area and strands of light will look amazing.
16. Stairway to the Holidays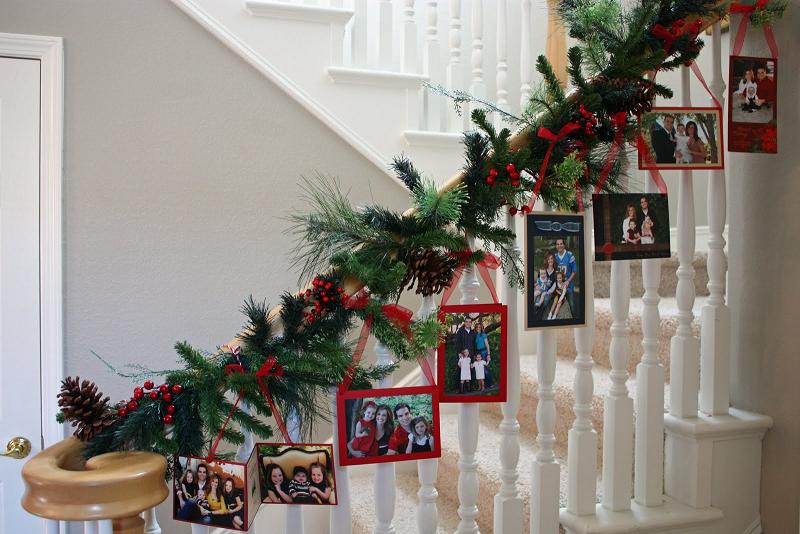 If you live in a home that has a stairway, then this DIY Christmas idea is perfect for you to decorate. This is one of the decor ideas that is easy to do, and it will also be an eye catcher for relatives who visit your home during the holiday season. Start by wrapping garland around the banister of the staircase. One that you create using branches of evergreen trees, pinecones, and berries will look amazing, but store bought garland will also work. Find pictures of family members that you cherish, and use a red ribbon to dangle them from the banister.
17. Plaid Christmas Creations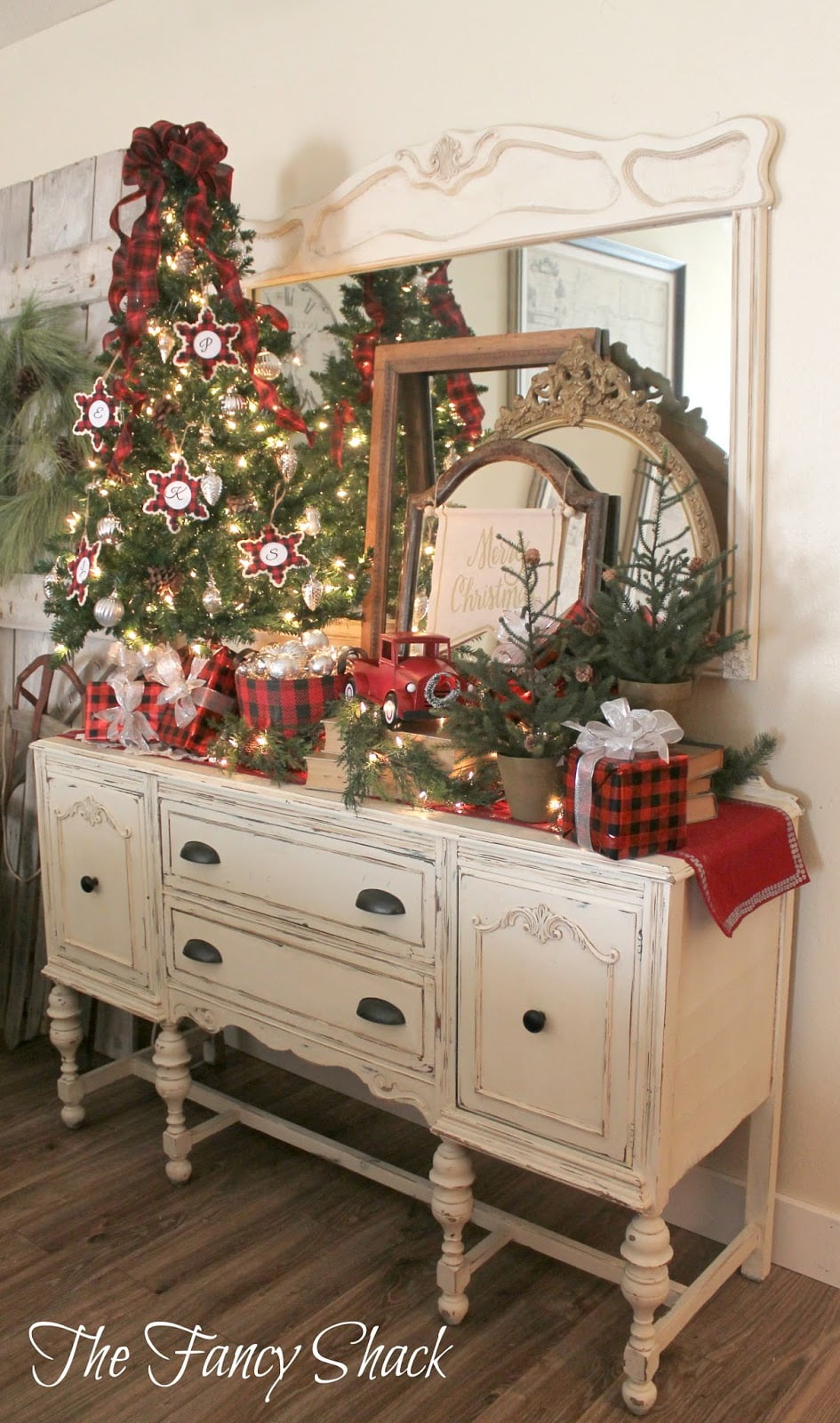 Your Christmas indoor decorating ideas often utilize items that are red or green, but sometimes you want to be more creative with your holiday creations. This idea utilizes red plaid instead of sticking to the traditional red and green of the holidays. Plaid can be used on the bow and ribbons that are part of your Christmas tree or it can be incorporated into the boxes and the wrapping paper that you use for the presents that you place under the tree.
18. Stocking Display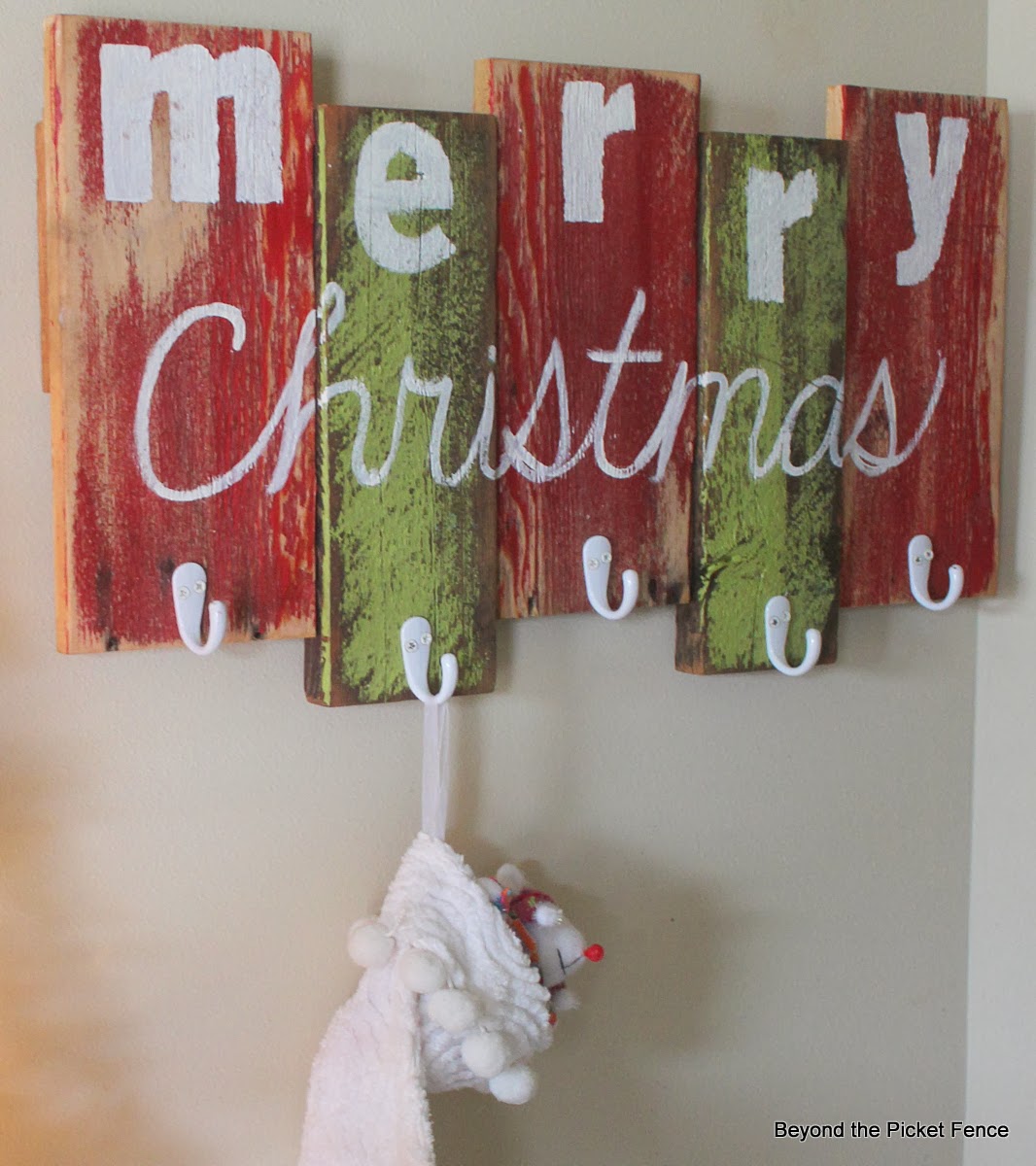 Not every home has a mantle by the fireplace to hang Christmas stockings. In fact, some homes really do not have a set location to hang Christmas stockings, but this next indoor Christmas decoration idea is one that creates the perfect location for your family's stockings to be hung from with care. Simply paint five wooden slates, two green and two red, and then sand them down to make them look older than they are. Place them on your wall with alternating colors, and paint the words Merry Christmas across them. Attach a few hooks, and you have a place that your Christmas stockings can call home.
19. Ribbon Christmas Planner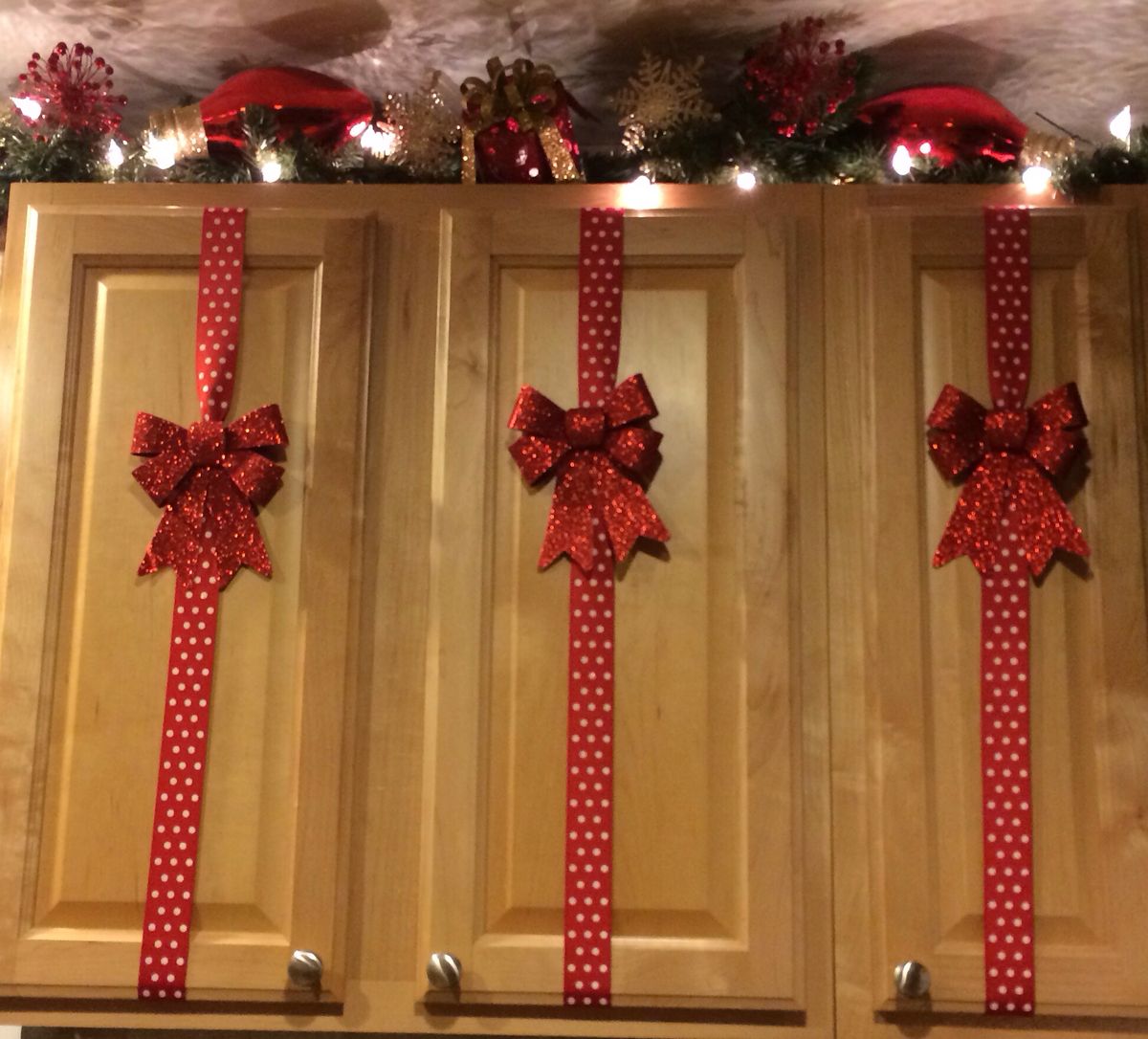 This next indoor Christmas decoration idea is one that gives you a lot of options when you do not have a lot of space to decorate the way that you desire. Start with the cabinets in your kitchen. They are often bare and unused during the holiday season; to include them into your Christmas décor, you can wrap ribbons around each cabinet in a vertical fashion. Once the ribbon is in place, simply attach a bow to the center of the design. Make sure to utilize the space above the cabinets as well.
20. A Tree of Cards from Loved Ones

If you find that your home is lacking indoor Christmas decoration ideas, then this next gallery idea is the perfect way to add decorations as well as a tree into your home without bringing all of the messy needles into your living space. To start, you will need a green tape to create the outline of the tree on your wall, and then a red star that you place on the very top of the tree. The tree needs to be decorated, so alternate making rows with different types of garland. When Christmas cards from your family and friends start arriving in the mail, you can begin attaching them to this tree.
21. Burlap Sign of Holiday Cheer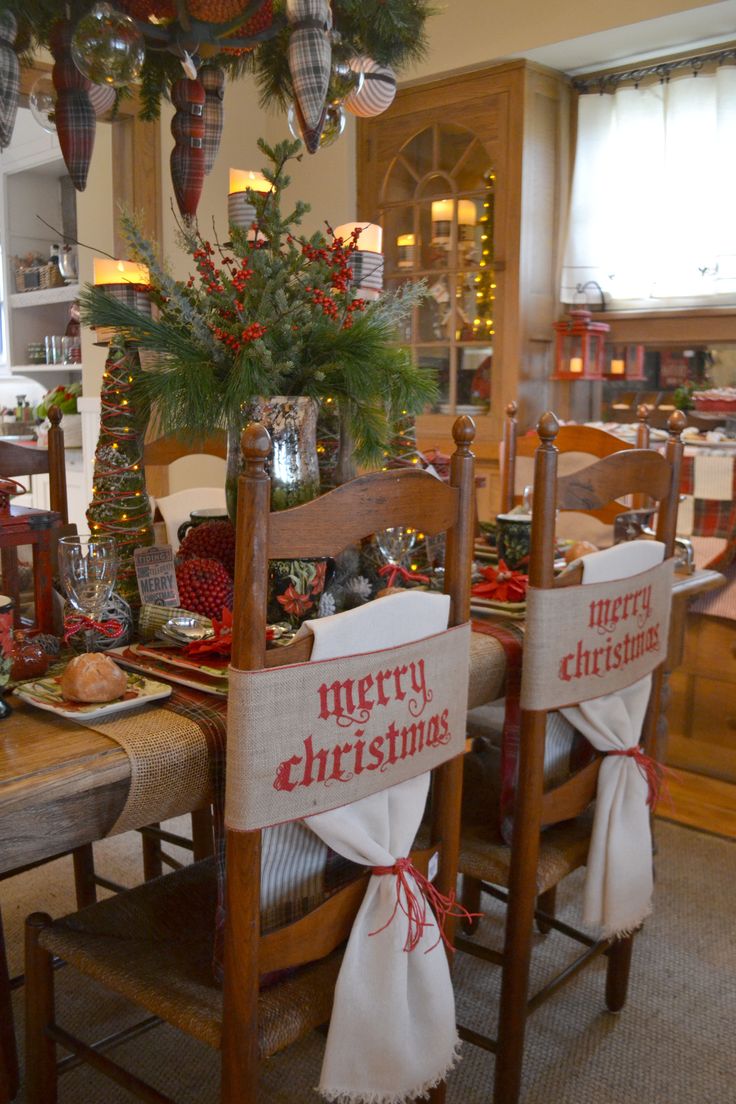 Burlap is a great fabric to use when you want to create a beautiful, yet unique indoor decoration idea for your dining room on Christmas day. This idea features a lovely burlap table cover that also has red plaid details. The centerpiece incorporates an evergreen display that adds contrast to the table and the chairs all have beautiful burlap wraps around the chair backs. The light fixture also sports a wreath display that can easily become a DIY Christmas project.
22. Santa's Sleigh Bells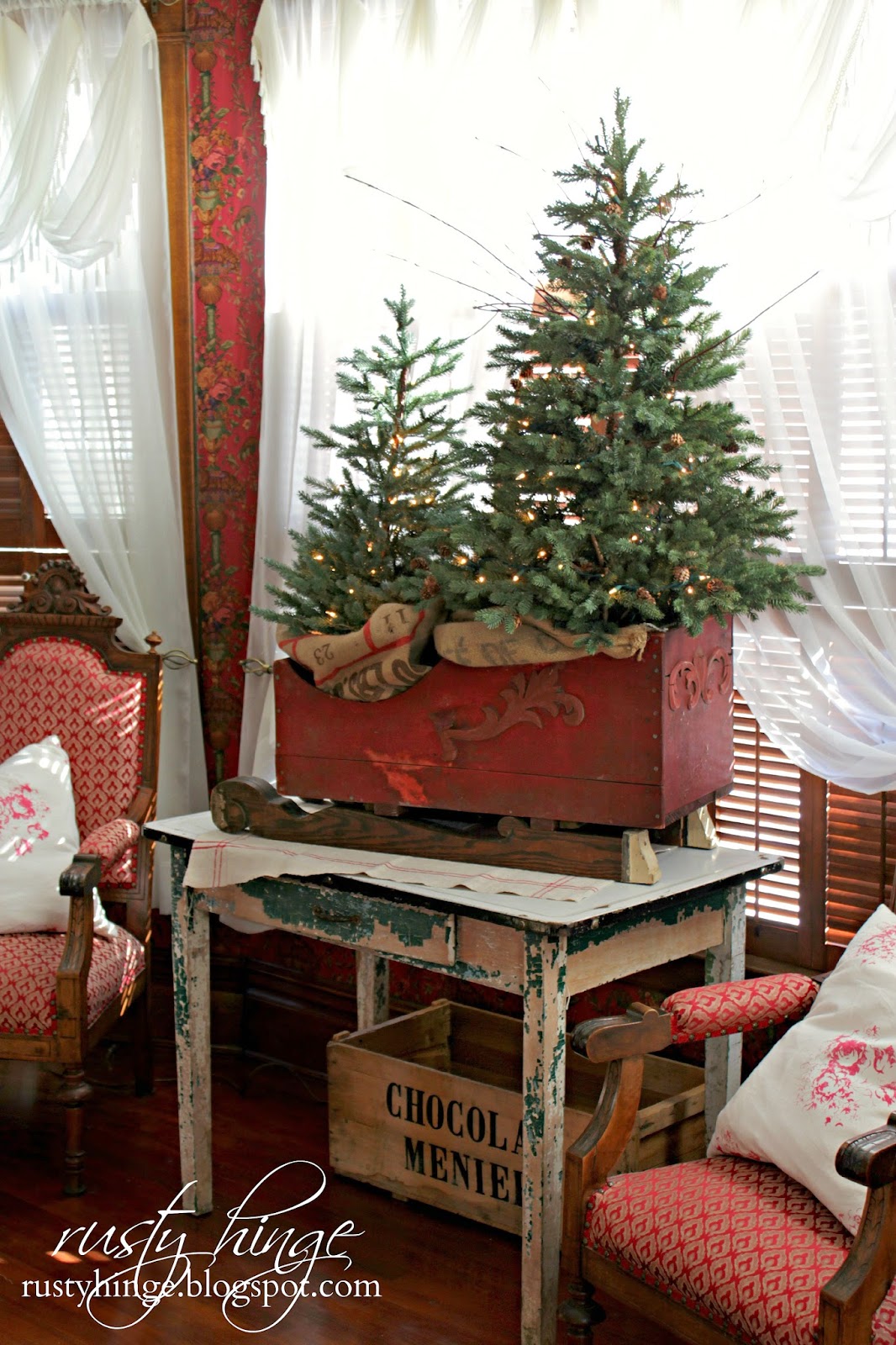 Christmas is a time when children everywhere look for Santa to arrive in a red sleigh to deliver toys to them. This Christmas indoor decorating idea is one that incorporates this beloved sleigh into the design. Instead of a traditional tree, you can even use this idea instead, if you set the sleigh on the top of a table. The sleigh should be designed from wood that you may have around the home, if you have no wood, then a few two by fours will do the trick. Create a sleigh, and then place small evergreen trees in the sleigh.
23. Create Your Own Holiday Cheer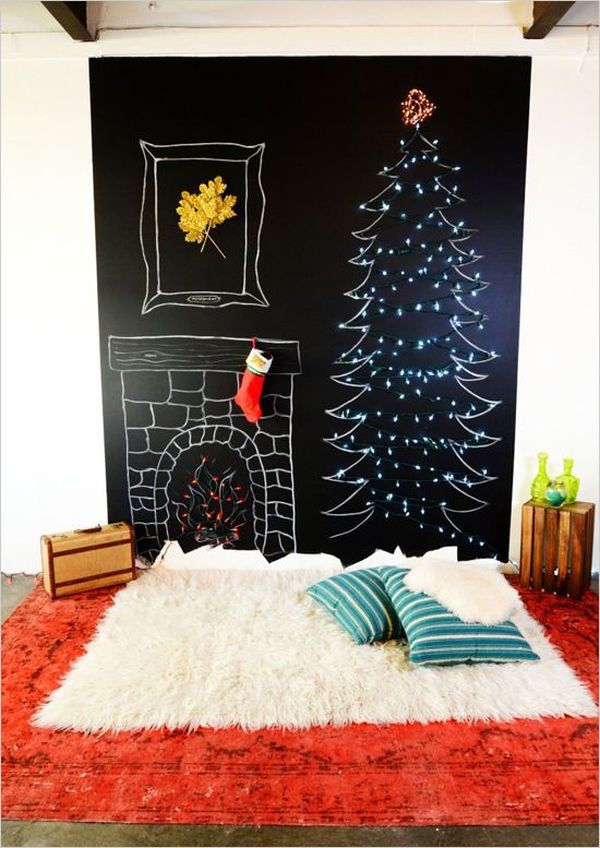 Is the space in your apartment limited so much that you do not have room for a real Christmas tree? If so, then this indoor Christmas decoration idea is perfect to ensure that your home is ready for the holidays. Place a large chalk board on the wall of your home, and create a two dimensional Christmas display that includes anything that you want. It can have a tree, a fire place, and even a mantle where you can easily hang your Christmas stocking. If you want to make this Christmas decor an even cozier idea, place a plush carpet in the front of the chalk board.
More indoor Christmas design ideas on the next page…