42. Regal Display of Christmas Balls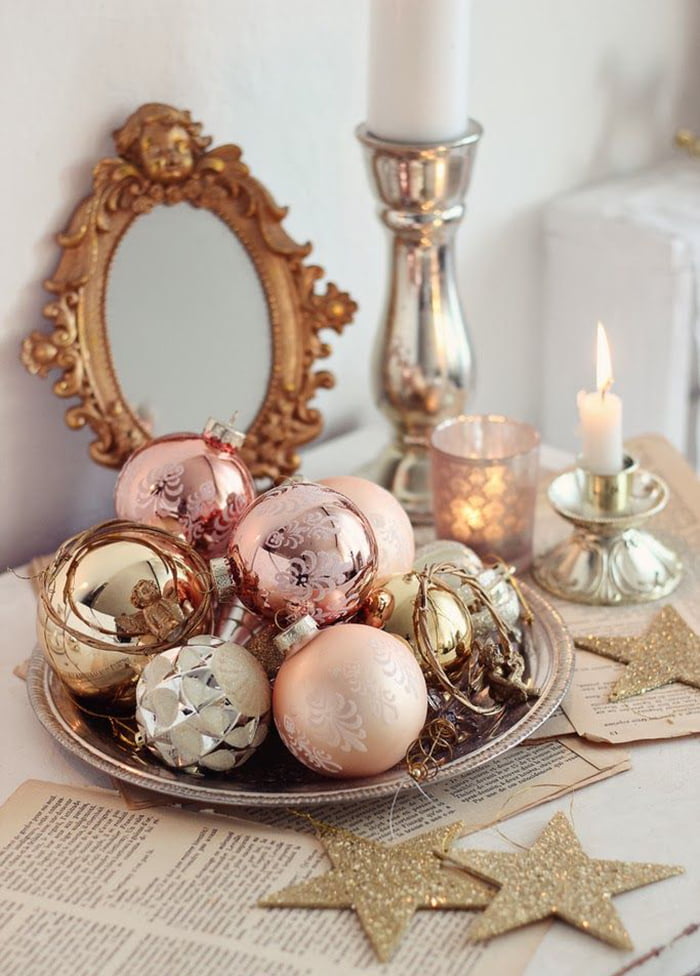 Not all of your indoor Christmas decoration ideas need to be done in traditional Christmas colors like red and green. This display utilizes a lot of gold tones that will look amazing with almost all of your other Christmas indoor decorations. The gold and rose colored Christmas balls are positioned on a plate that adds elegance to the table. The plate is surrounded by candles, each of which is placed in a gold holder of some type. There are gold stars dangling from the plate, and there is a vintage style mirror placed behind the Christmas balls.
43. Poinsettia Perfection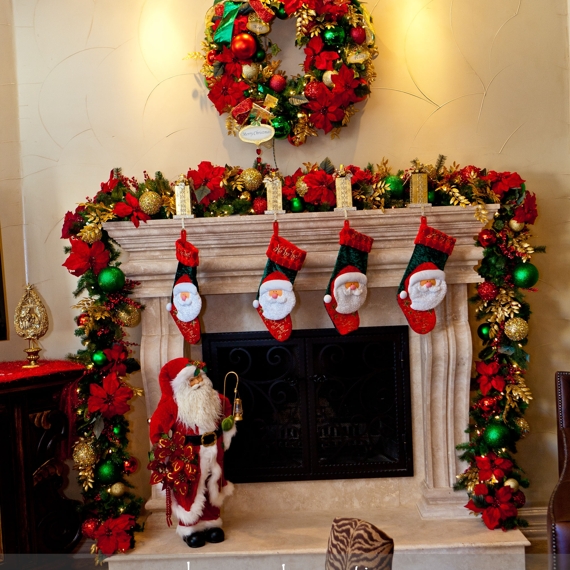 If you are looking for Christmas indoor decorating ideas for around your fireplace, then here is an easy DIY Christmas idea that you can create. The mantle of the fireplace is draped with an evergreen and poinsettia garland that is enhanced with Christmas balls and bows. The stockings are hung on the mantle with care and a tiny Saint Nicholas is positioned beside the fireplace. The mantle also has candles that are positioned perfectly to hold the stockings in place, and there is a wreath that matches the poinsettia and evergreen garland that is positioned directly above the mantle.
44. DIY Christmas Creation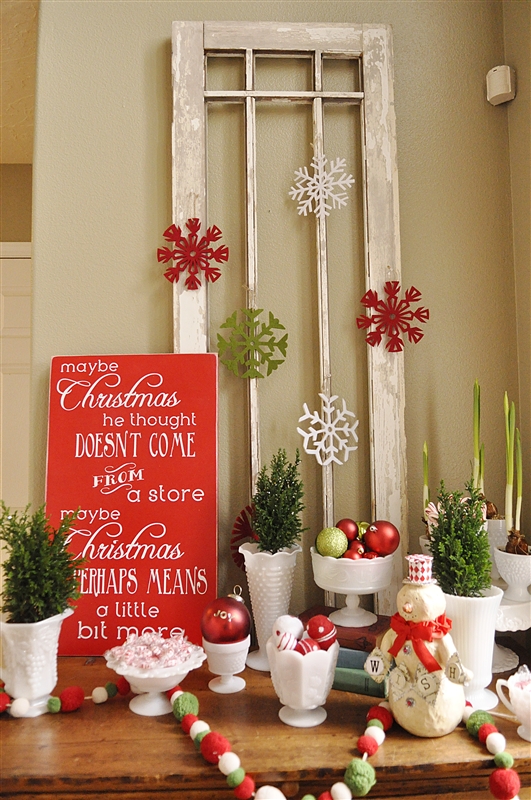 When you are looking for decor ideas for your home during the Christmas holiday, there are ample amounts of DIY Christmas creations that you can create to make your home feel more festive. Placing Christmas balls in a dish or even starlight mints placed around your home can add that touch of red that your home needs during the holiday season. Small evergreen plants enhance the look of the design and add a fresh aroma to the air as well. You can even create a strand of garland or colorful snowflakes to make the design look more festive.
45. Stairway of Creation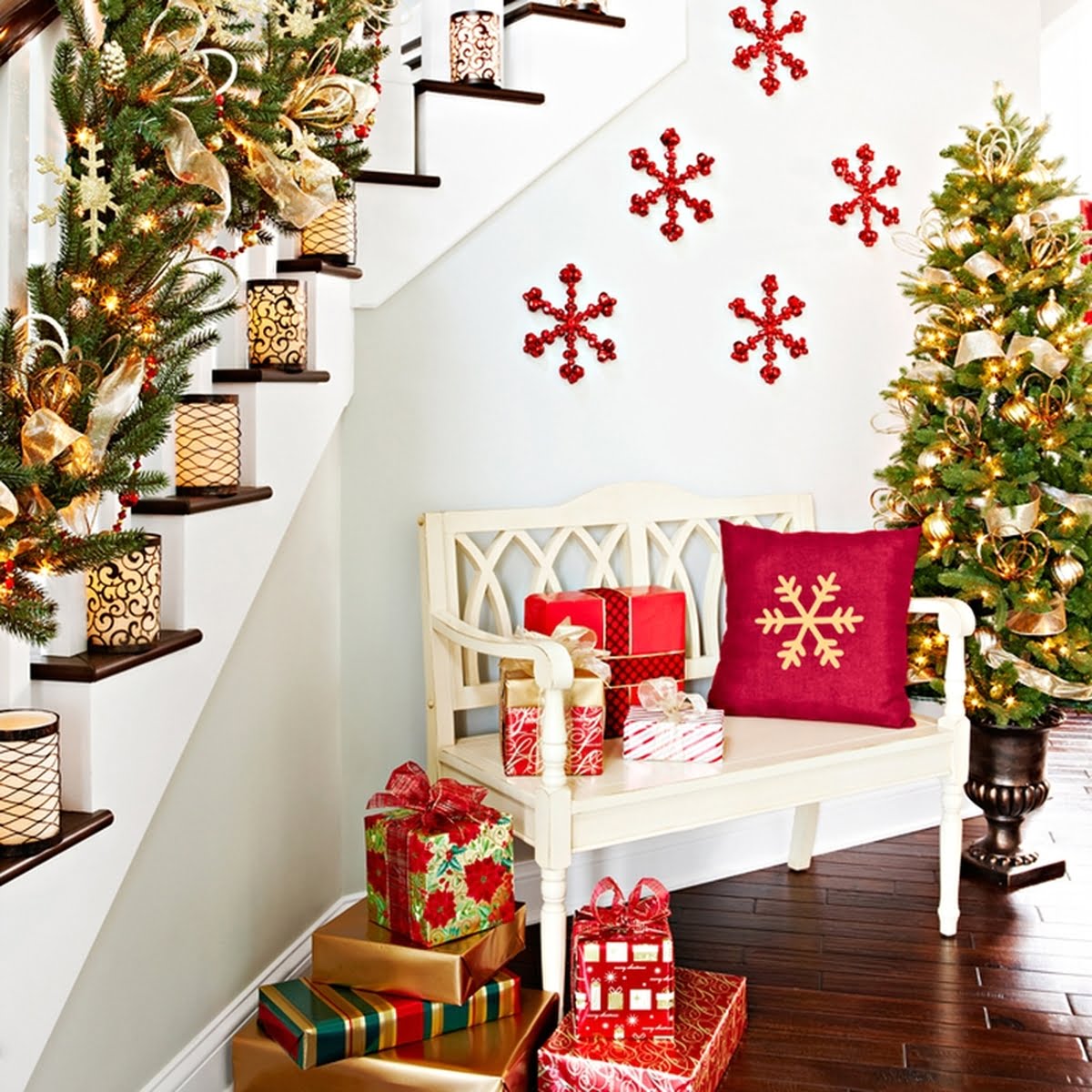 When you have an open staircase in your home, the decor ideas that you can create are virtually endless. You can wrap Christmas lights and garland around the banister or tie bows to the banister posts as they make their way to the second floor. The edge of the stairs can become the home to flameless candles, and the wall by the stairs on the first floor of your home can be decorated with snowflakes. If you have the space, a tree with presents under its branches will look amazing against the wall as well.
46. Starry Night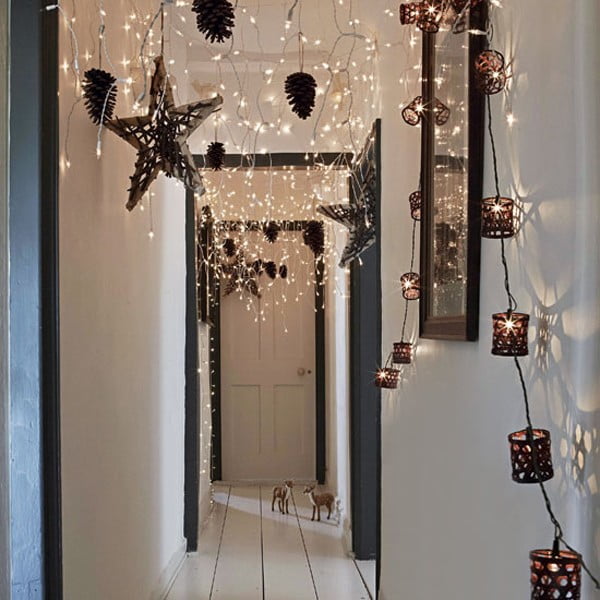 Christmas lights are a great way to create a specific Christmas decor around your living space, but instead of draping them across your walls, have you ever considered dangling them from the ceiling? This gallery idea does just that, and the icicle Christmas lights create the perfect starry atmosphere for a dark hallway during the holiday season. If you like to create your own decorations, then dangle some pinecones and large stars as well. Don't forget to still add lights to the walls to create a unique immersive experience when you walk down the hall.
47. Simple Birchwood Candle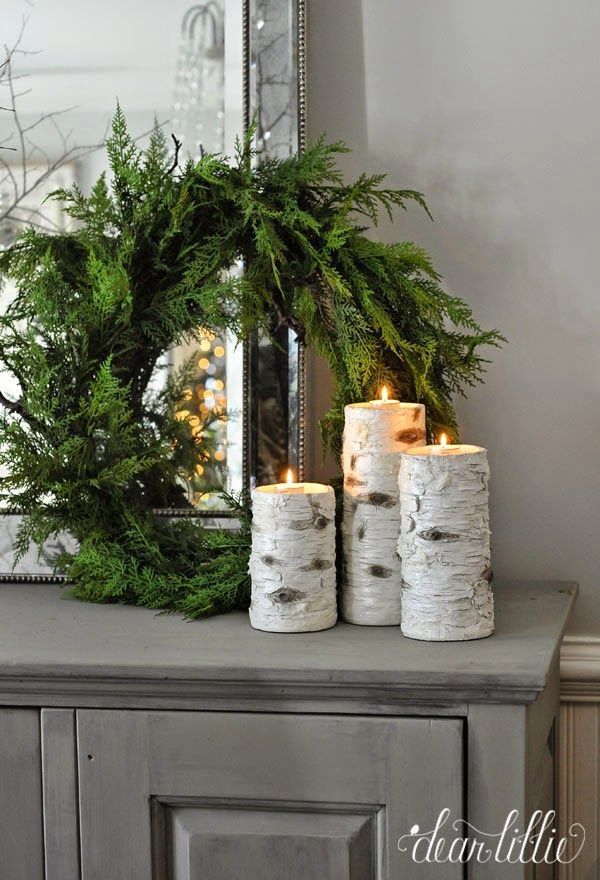 If you are looking for a few simple decor ideas to bring the holiday spirit into your bedroom or another quiet living space, then this idea is simple and easy to construct. Birchwood is a lovely winter decoration, so take hollowed Birchwood logs and place a candle in the center of each. You will want to adjust the size of the hollowed candle holder before using it. A simple wreathe made from evergreen branches will compliment the simplicity of this design and add a touch of elegance that only nature can bring to the Christmas holidays.
48. Mason Jar Centerpiece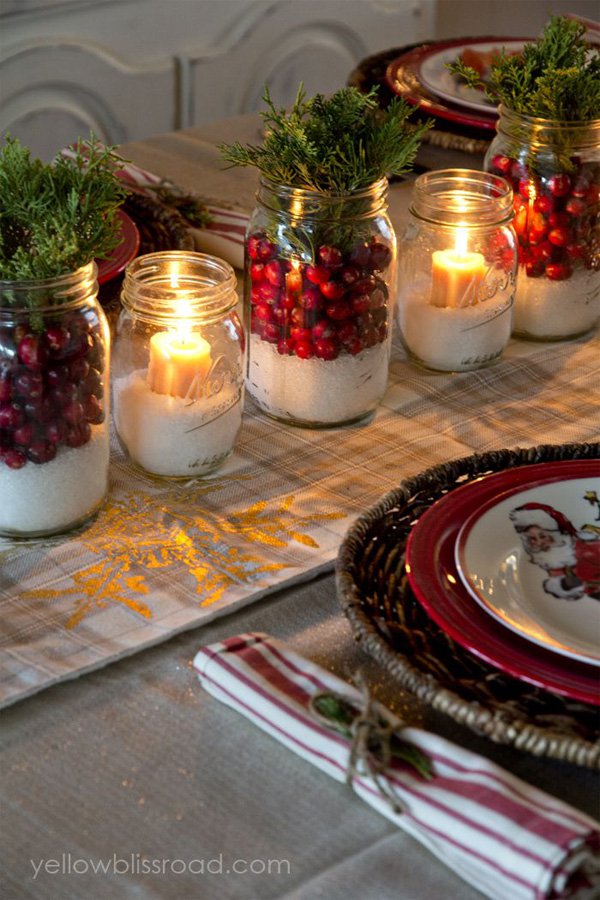 Indoor Christmas decorations ideas are important to add a touch of holiday cheer to every aspect of your home. If you are having guests over for Christmas dinner, then you need to create a lovely centerpiece for the table that everyone will find festive. The base of the centerpiece can be a simple tablecloth that is folded to create a border that is displayed down the center of the table. This centerpiece is simple; fill mason jars with sugar, and place berries and evergreen trimmings in every other one as you go down the table. A small white or green votive can be placed in the remaining jars. Make sure to light the candles if your meal is towards evening to create an atmosphere that your guests will love.
49. Starlight from Above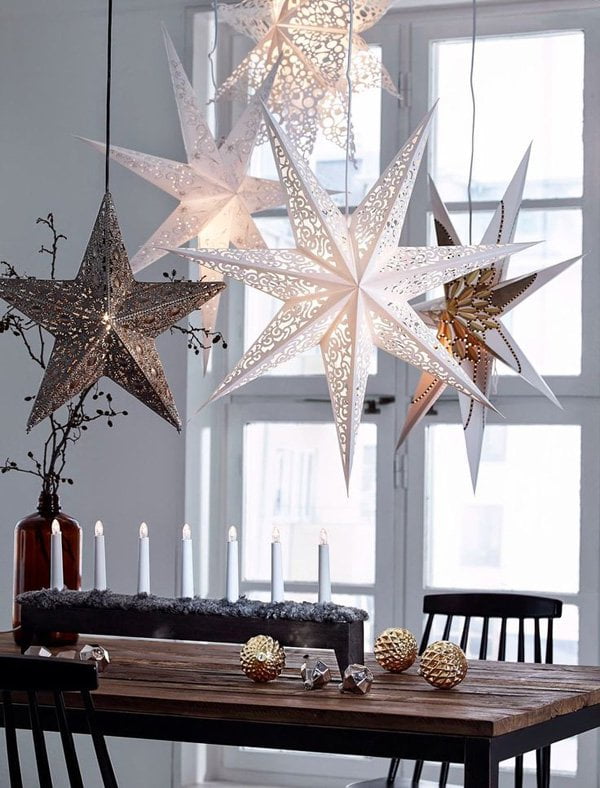 Stars are often used as a symbol during the Christmas season. They light the top of our Christmas trees, but they can also be come the light fixtures above out kitchen table. These stars are attached to lights that are dangling from the ceiling. The stars are not designed to be solid, so that the light shines through them. If you cannot find these types of ornaments, they can easily be crafted from paper. The candles in the center of the table add a stylish touch to the gold and silver elements of this Christmas indoor decoration.
50. Simple Mantle Decorations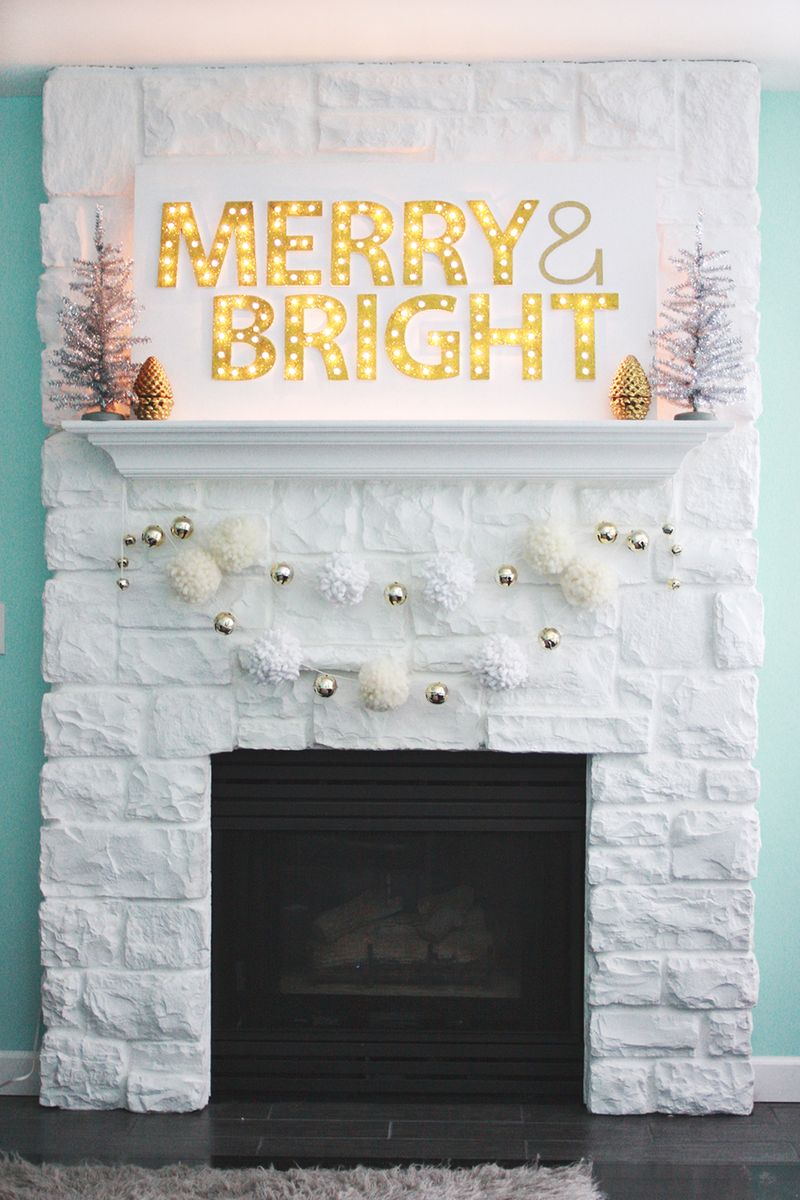 If you are trying to keep your Christmas indoor decorating simple this year, then the final idea in this gallery is one that is perfect for your living space, but it only works if you have a mantle or a shelf on your wall. On the mantle you will see small evergreen trees that have been dusted with silver glitter to make them look like a fresh snow has just fallen. Next to the trees, there are small golden pinecones that shimmer in the light that is being created from the festive sign behind the mantle. This sign can have any message that you desire to spread holiday cheer. You can even dangle a line of gold bells from the mantle to complete this simplistic indoor Christmas decoration idea.
Need Decoration Ideas this Holiday Season? Check Out These 50 Inspirational Ideas!
Christmas is a time for decorating and creating festive decor ideas that your friends and family can enjoy when they visit your home during the holidays. In this gallery, we have explored designs that can enhance the mantle of your fireplace, the stairway to the second floor, and wall creations that are easy to create at home. If you are looking for new indoor Christmas decoration ideas, then take a look through these ideas. You will find ideas that utilize snowmen, stars, holly, candles, and evergreen trees, which are all traditional holiday decorations that many people purchase, but these ideas are Christmas creations that you can make at home.