After the workweek comes to an end and you can finally find the freedom from stress that you desperately need, why not unwind at the lake house? Perched in the great outdoors within such a serene setting, a lake house is one of the best ways to kick back and relax after a long week at the office.
18 Ways to Create the Perfect Backdrop in Your Laid Back Lake House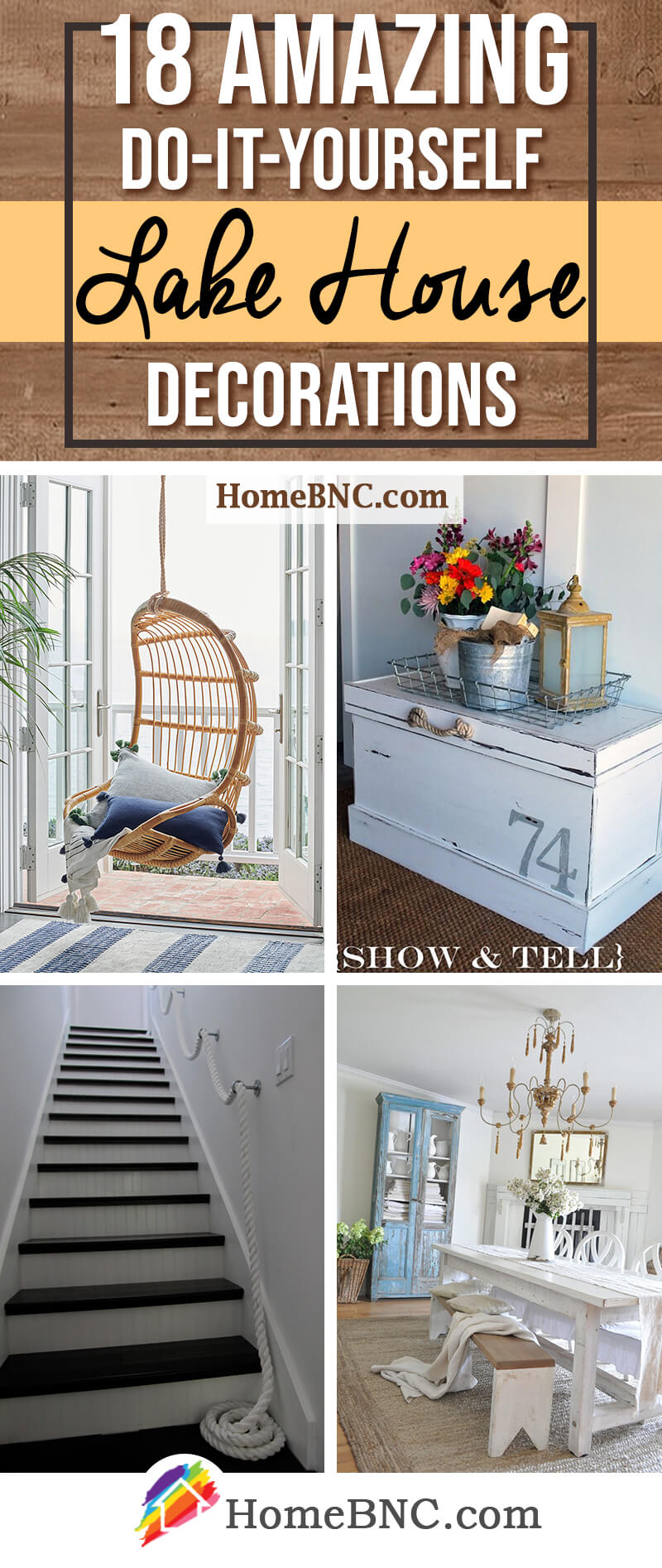 While you are heading to the lake house, why not bring a little extra charm by adding some warm and boat-friendly themed design elements into space. From reclaimed and earthy wood to showcase the warmth of nature's brown hues, to bright white to achieve that coastal cottage vibe, there are a variety of choices to fit your creative vision.
The options are nearly endless since you can incorporate repurposed items like oars to reused wood turned into signs for sprucing up your relaxing space. You can't go wrong with the list of 18 amazing lake house decor ideas listed below.
1. Reclaimed Earthy Warm Brown Wooden Mantle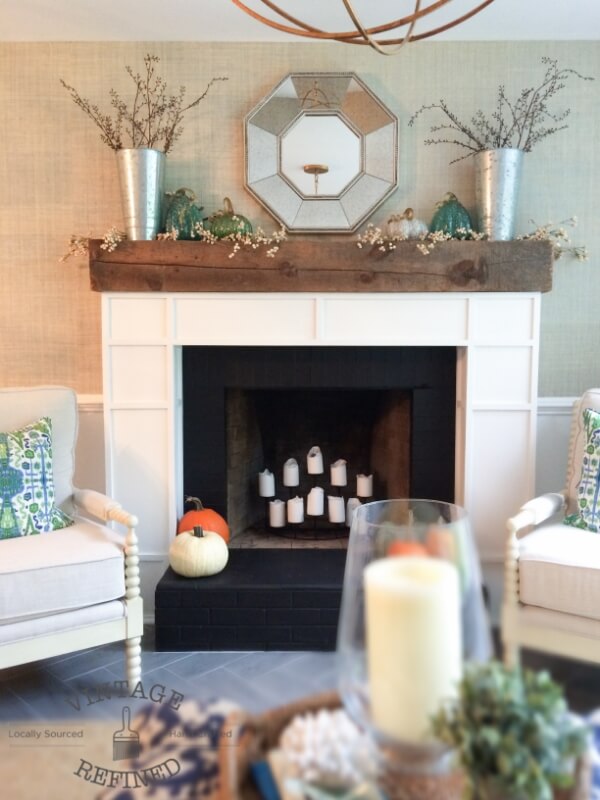 Bring a little bit of the great outdoors inside with this beautiful and unique reclaimed wooden mantle. This large hunk of wood is sure to add a large chunk of character into your lake house design. From the cracks to the knots weaving throughout the piece, this gorgeous mantle adds the perfect touch to the existing fireplace. Set amid a white interior space, the warm brown tones in this large piece of wood create an atmosphere of ambiance that is a great way to bring some warmth into space even when the fire isn't burning.
2. Traditional White Fireplace Hearth with Crown Molding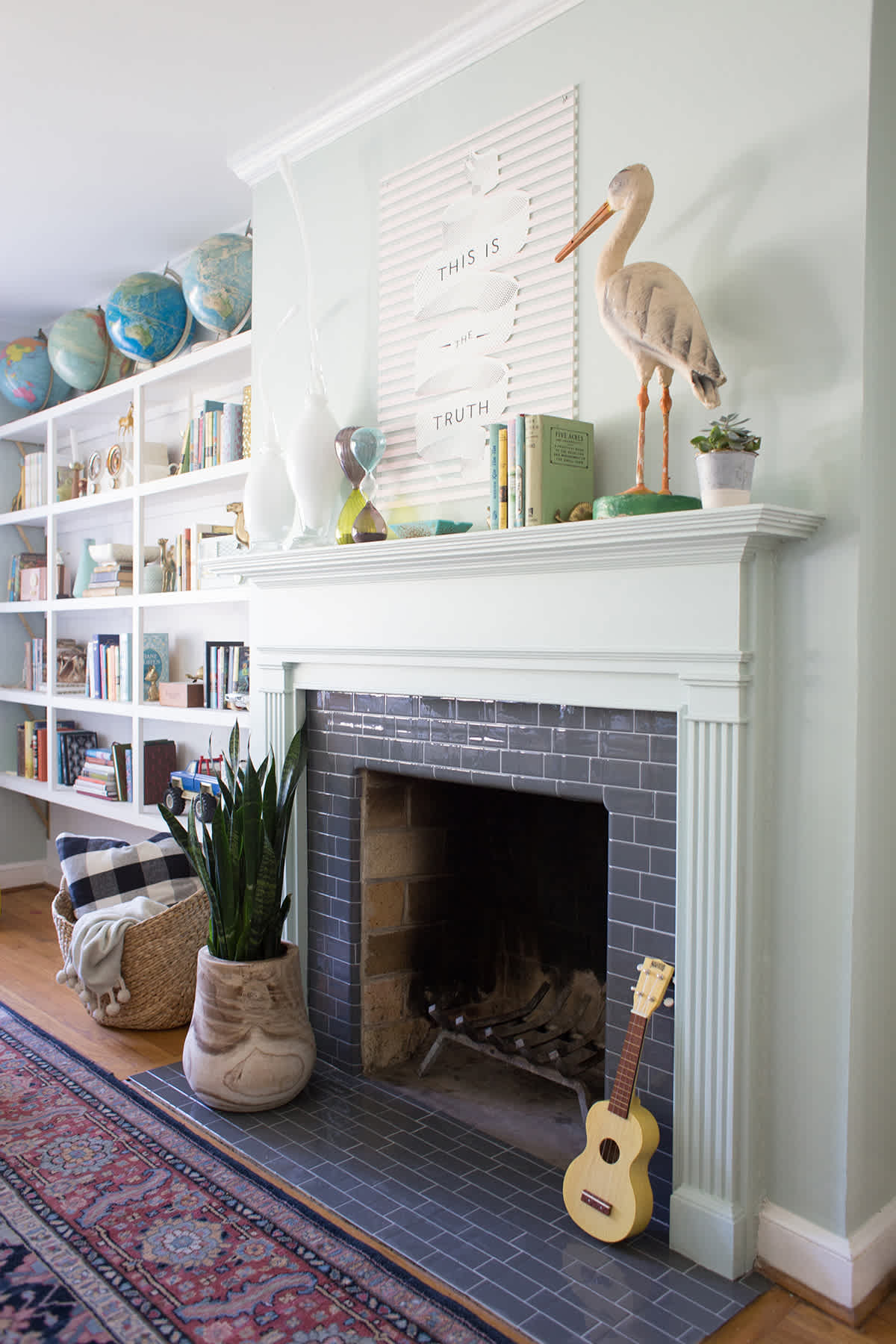 Think classic and traditional style and you'll be right at home with this crisp white fireplace hearth. Every lake house needs a warm and cozy fireplace as a central hub in the home where the family can warm up after a cool evening outdoors. Maybe you have taken a trip in the middle of winter to watch the snowflakes fall on the frozen lake. Or perhaps you just want to come in after a long evening of lake fishing and warm up by the fire. Either way, this traditional white hearth is just what you've been searching for in terms of function and style.
3. Distressed Edges White Treasure Chest No. 74 with Knotted Handle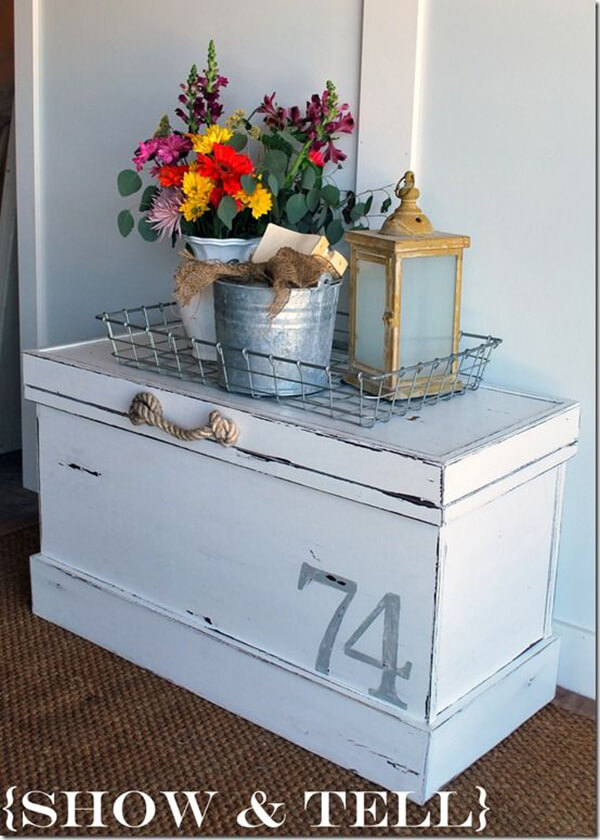 The organization is always important in any space and a lake house is no exception to this rule. Reimagine storage with this rectangular treasure box that puts the fun in function! Finished in a white palette with roughed-up edges to add character, the addition of the number 74 in the bottom corner also adds some charm to the piece. One of the best uses of lake house style, the sea knot works perfectly as the handle piece for this trunk. Why not throw your extra blankets or bedding in this treasure chest? The possibilities are endless and treasure chest 74 is a great way to incorporate some organizational elements into your decorating scheme.
4. White Farmhouse Dining Table with Bench Seating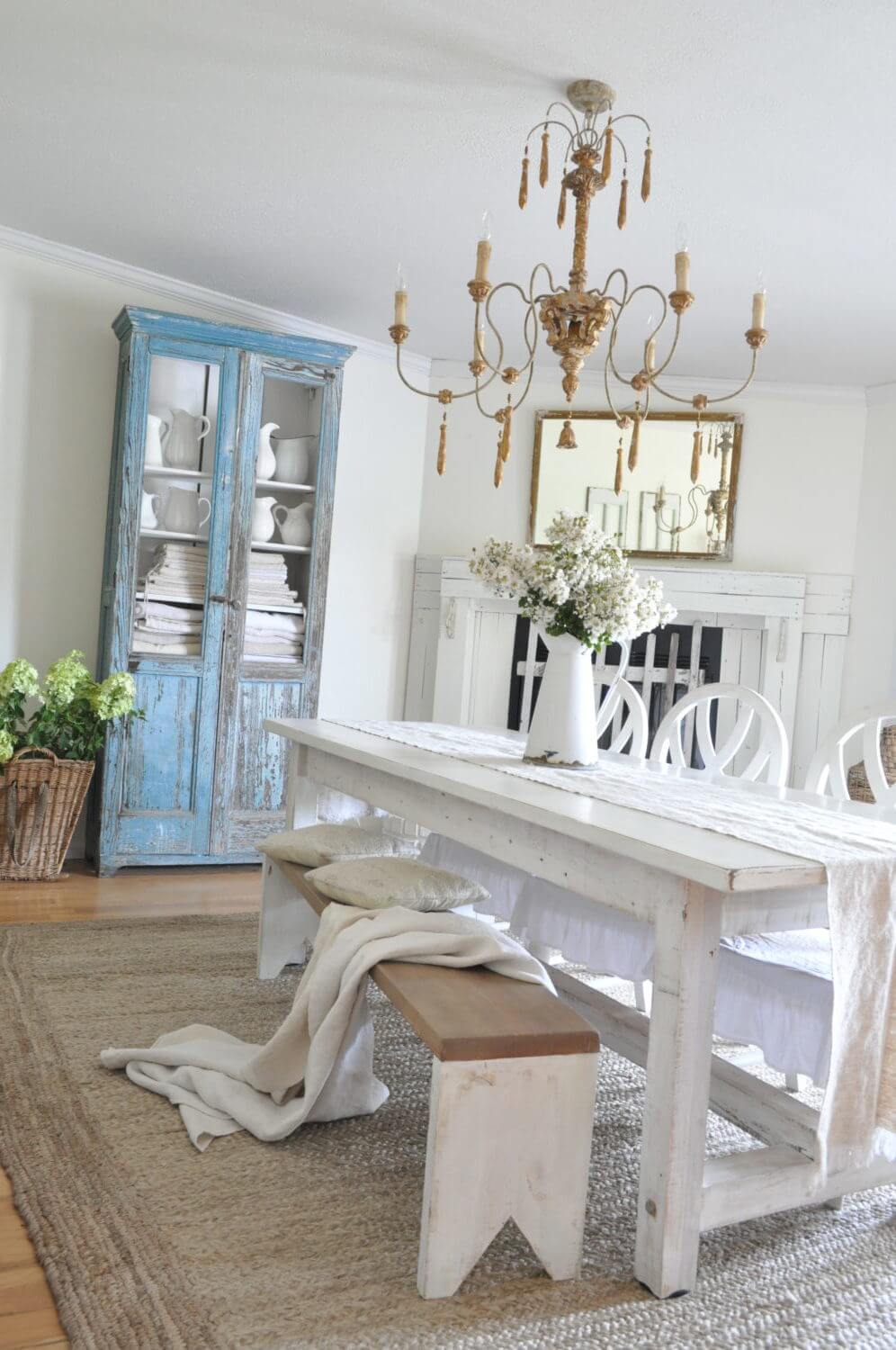 Put a personal touch in your lake house with plenty of seating for dinner time! This straight-forward farmhouse table is no-frill and fuss-free in terms of design and structure. Utilize some leftover wood from a decking project and create this useful piece of furniture in a weekend warrior project. Finished in a white patina, this traditional dining table, and seating is a wonderful addition to a comforting lake house where family and friends will delight in gathering.
5. Sea Blue Glass Subway Tile for Lake House Bathroom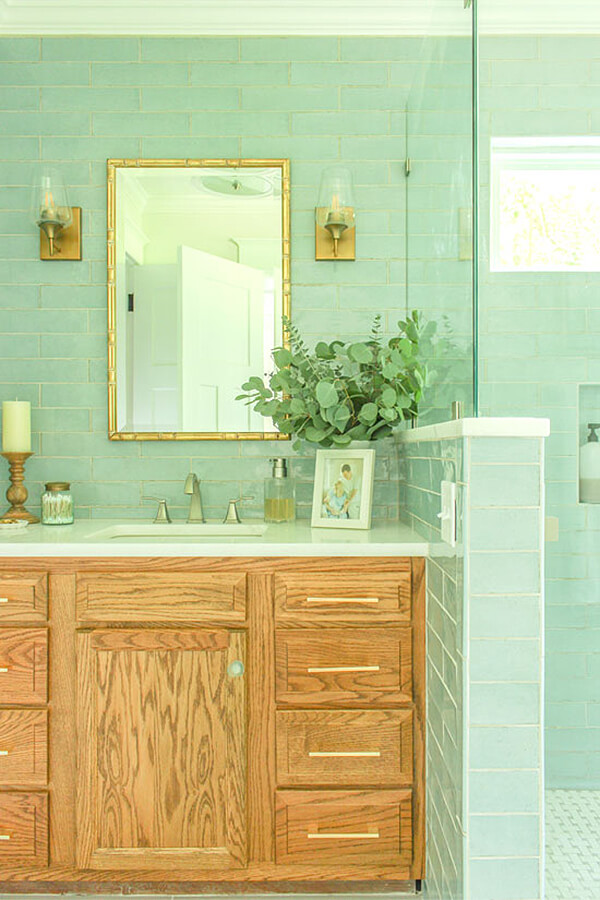 Imagine this wall-to-wall design of a subway tile filling up your bathroom space with refreshing sea blue tones. A pretty and popular pattern of tilework, the glass tile used here creates a fresh and clean space that is perfect for any bathroom retreat. Using the cool tones of sea blue with hints of green is a fresh way to bring the element of water into the lake house design of your space. Filling the entire space from the shower and wrapping around into the space behind the sink, the continuous use of tile is the key to the awesome feeling of this bathroom that is sure to welcome everyone who enters.
6. White to Blue Fish Trio on Wood Planks with Black Frame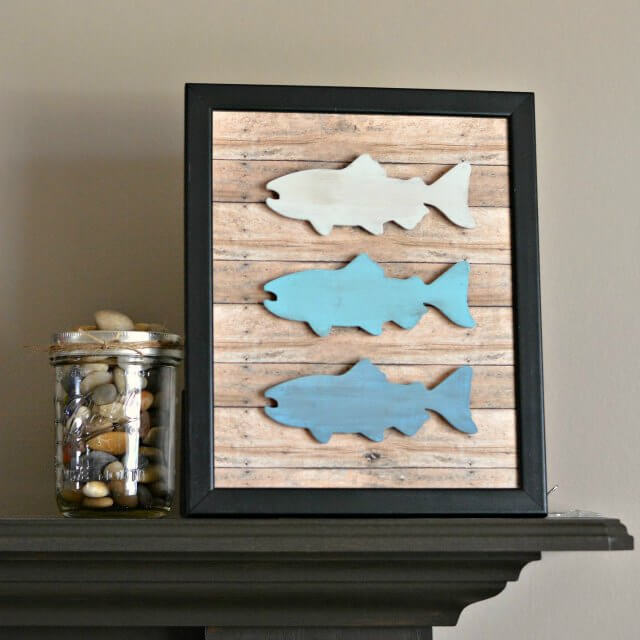 Take some old wooden planks and piece them together to create the ideal backdrop for this fish sign. Add some contrast by painting the wooden frame in black color for dramatic visual interest. The trio of fish draws the eye vertically on this lake house sign. With an almost ombre effect, each fish is painted a different color: white, light turquoise, and blue. Get the most out of this sign as you can repurpose those unused flooring or decking pieces to create this fisherman friendly piece of artwork to update your lake house design.
7. Easy Repurposed Water Skis as Stair Case Spindles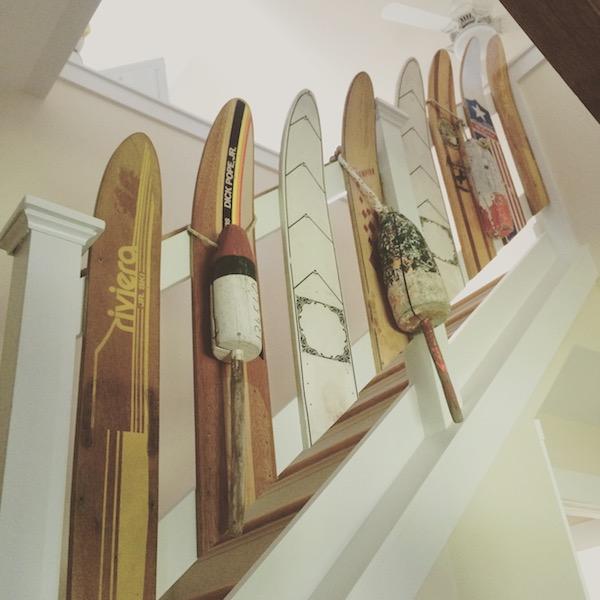 Here is a perfect way to kill two birds with one stone. The first bird is repurposing, as in re-imagining the purpose for these broken, worn out or unused water skis. The second is a way to add charm and character to your existing lake space. As the kids and adults alike bustle up and down the stairs, the added interest of various ski pieces used as spindles will definitely be noticed. Why not adorn a few with some buoys on ropes for that special extra touch? Measure twice and cut once is the carpenter's mantra so grab your skis and arrange them on your stairs before deciding which one goes where. Secure them with the proper screws to ensure safe and proper assistance for everyone to use as they wander up and down the steps.
8. Beach House White Washed Trunk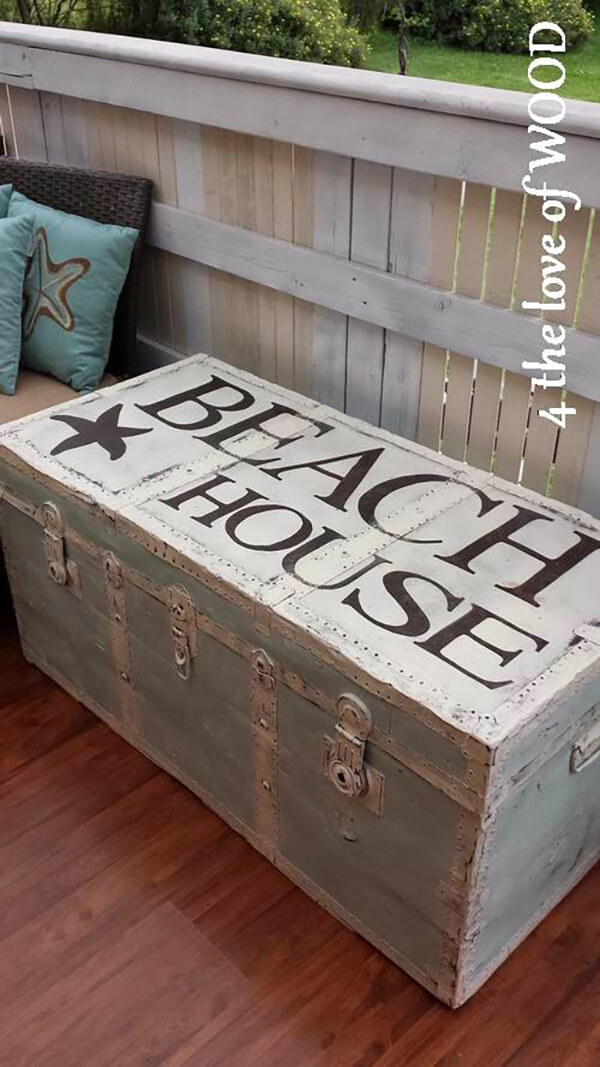 Everyone can always use extra storage which makes this beach house trunk an ideal decoration for your summer lake house. Scan the flea market to find the perfect sized trunk and grab some supplies to turn it into the treasure chest in your mind! A coat or two of white washing will have your old, worn out and weathered trunk transformed into a new decor piece in no time. A fun embellishment of a sea star is a cool way to add some extra character to your storage project. No matter if your new treasure chest calls your deck home or finds a nice resting spot inside, this easy DIY project produces a practical piece of the home organization while keeping on-trend with your lake house theme.
9. Thick White Sea Rope Stair Rail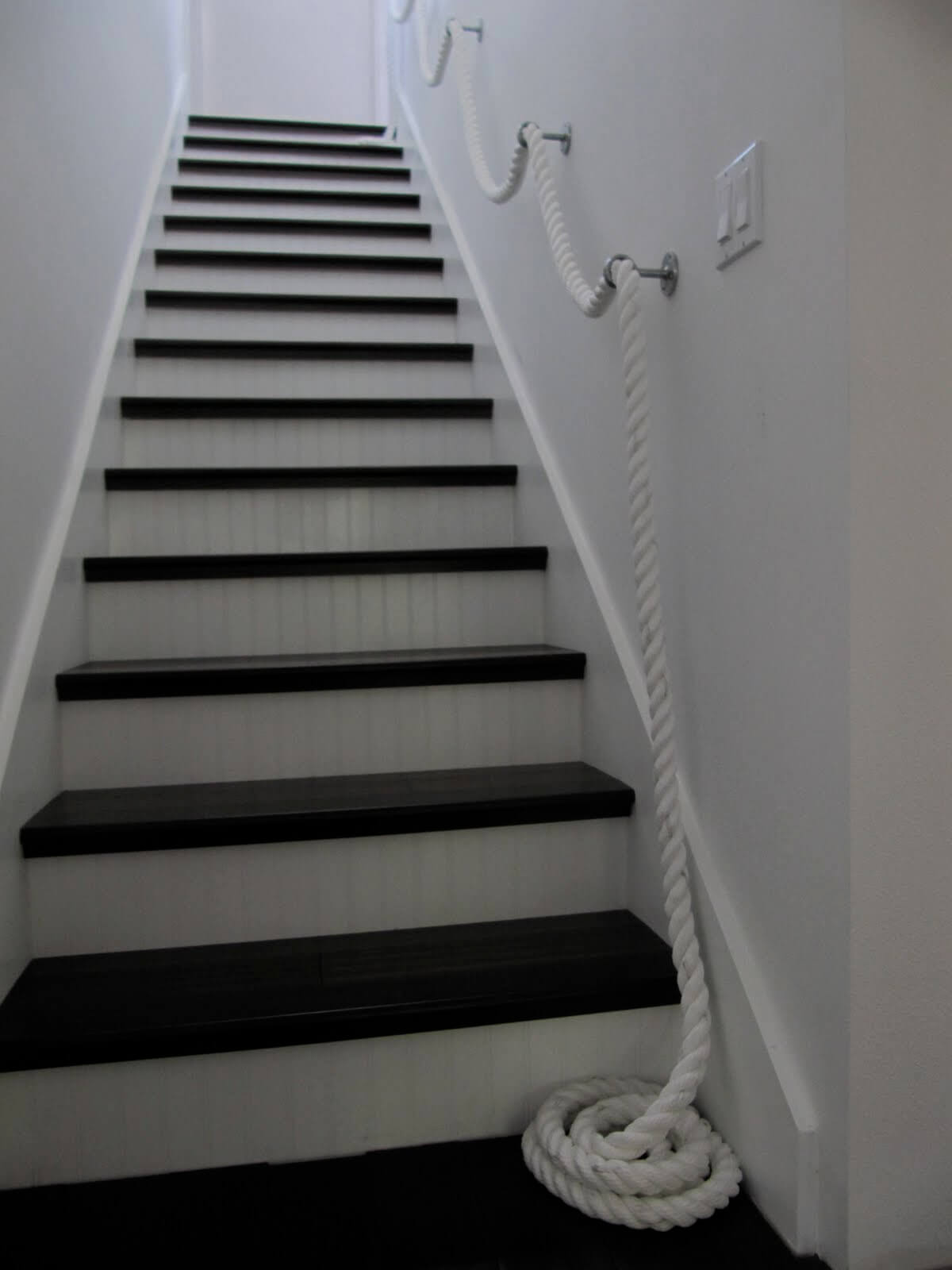 Take a step off the beaten path and find a new way to add a stair rail to your existing staircase. Silver rings mounted on the wall provide the base for housing this unique stair railing of thick, white sea rope. As the sea rope winds down the staircase wall, it will eventually find itself curled up on the floor at the bottom. Use a heavy, weighted rope to add more function and usefulness to this design and be sure to find silver rings that can handle the rope's weight. This is a way to add a charming nautical vibe into your home without going overboard.
10. Hanging Tear Drop Tan Wicker Chair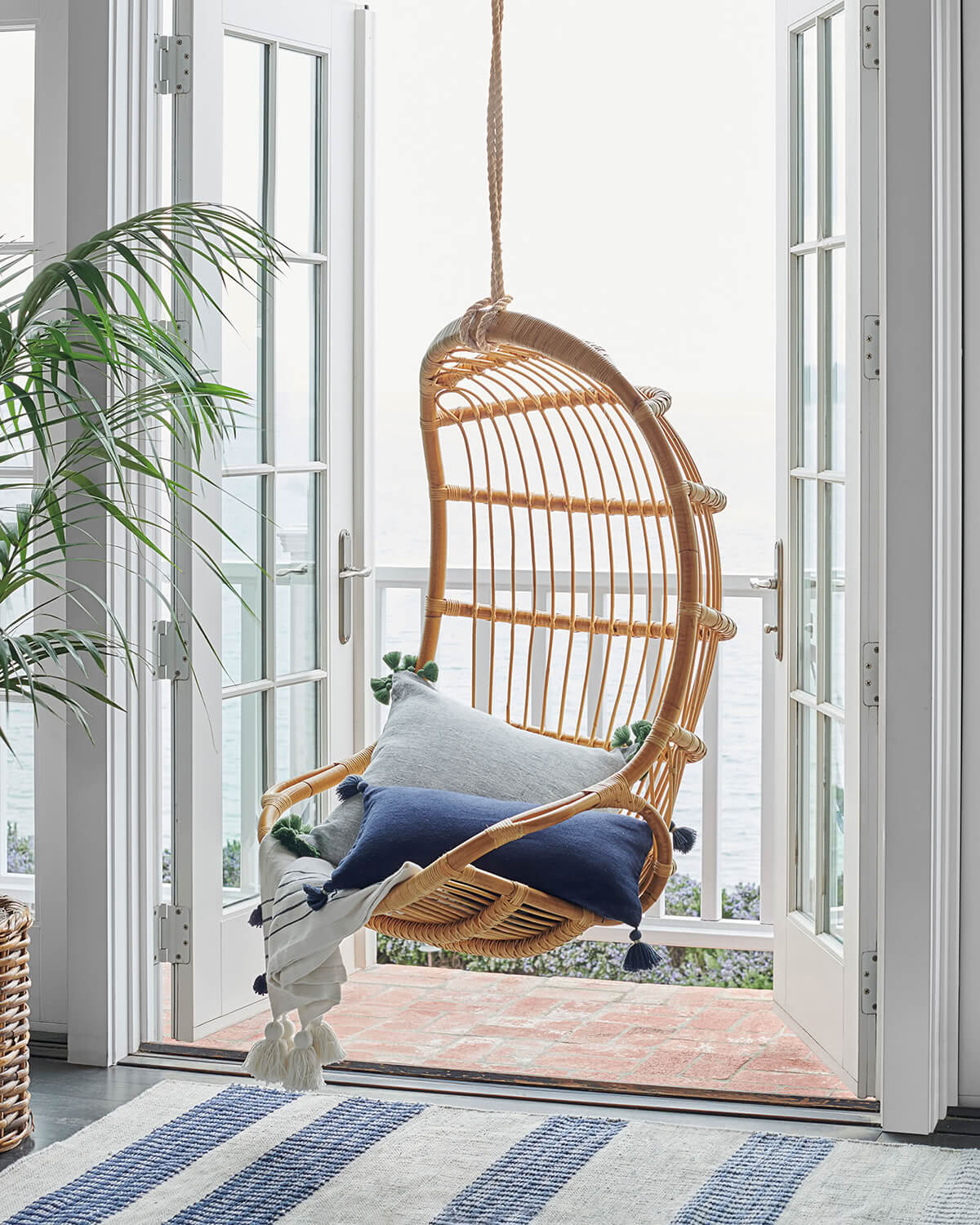 Create the coolest hangout around with this fun and free-spirited hanging chair. Shaped like a teardrop or egg, this wicker chair features a padded cushion for comfort so you can hang out in style and relax at the same time. Kids of all ages will fight over this cool chair, so consider more than one for your lake house space. It would be amazing to chill in this cocoon outside on the deck while observing nature or inside in a nice and cozy nook for cuddling up with a good book. The choice is yours so unleash your inner hippie with this retro and totally rad hanging wicker chair.
11. Reclaimed Wood Family Lake House Sign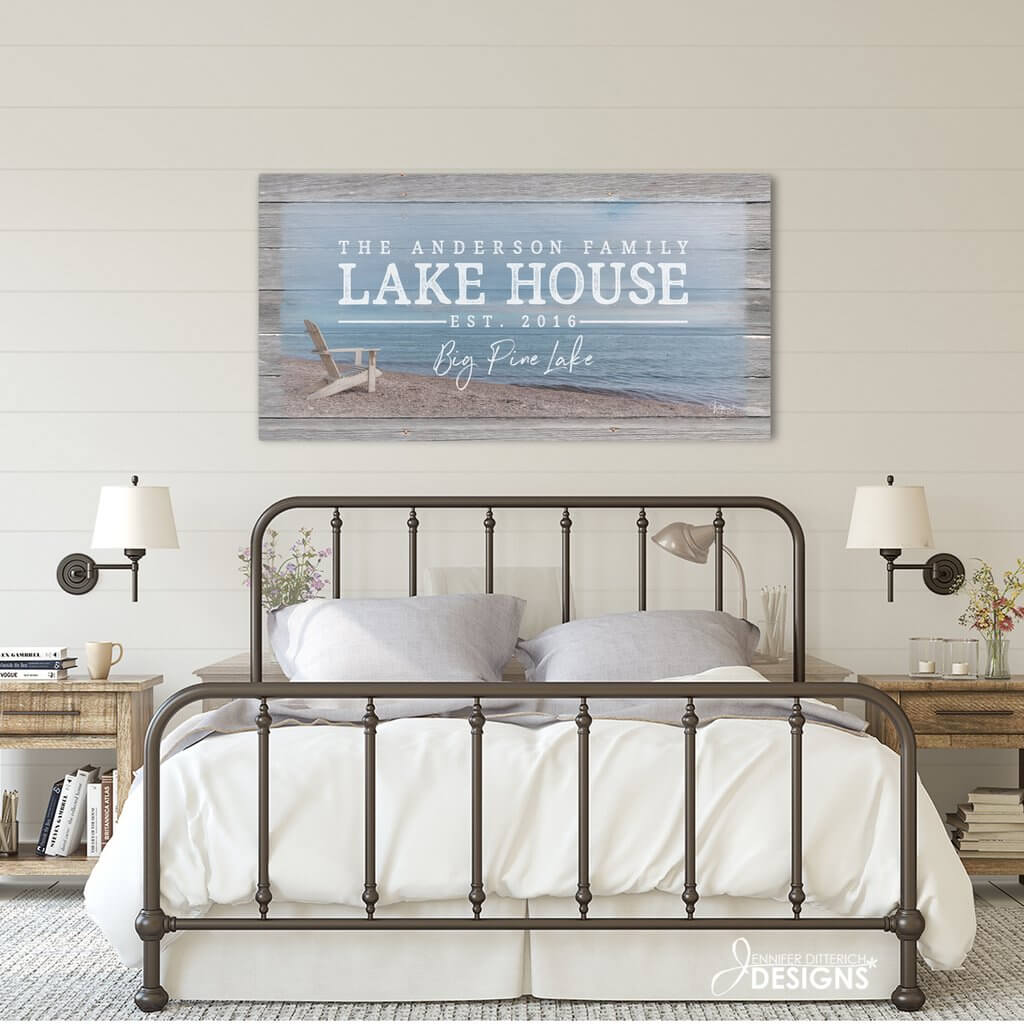 Bring the boathouseü feel inside your home with this interesting and appealing sign. Featuring the family name and date of wedded bliss, this sign is very personal as it also includes the specific name of the family's coveted watering hole. While no two signs will be alike due to the ability of making it your own, the message remains the same. It's a message of family and memories captured in a one-of-a-kind style. This wooden sign has the warmth of brown wood tones in the background as the blue ocean and tan sand are the home to a relaxing Adirondack chair. Display this large piece of living room wall art behind the couch or above the hearth to give it the love and attention it so rightly deserves.
12. Vinyl Graphic Oars and "On Lake Time" Wall Decals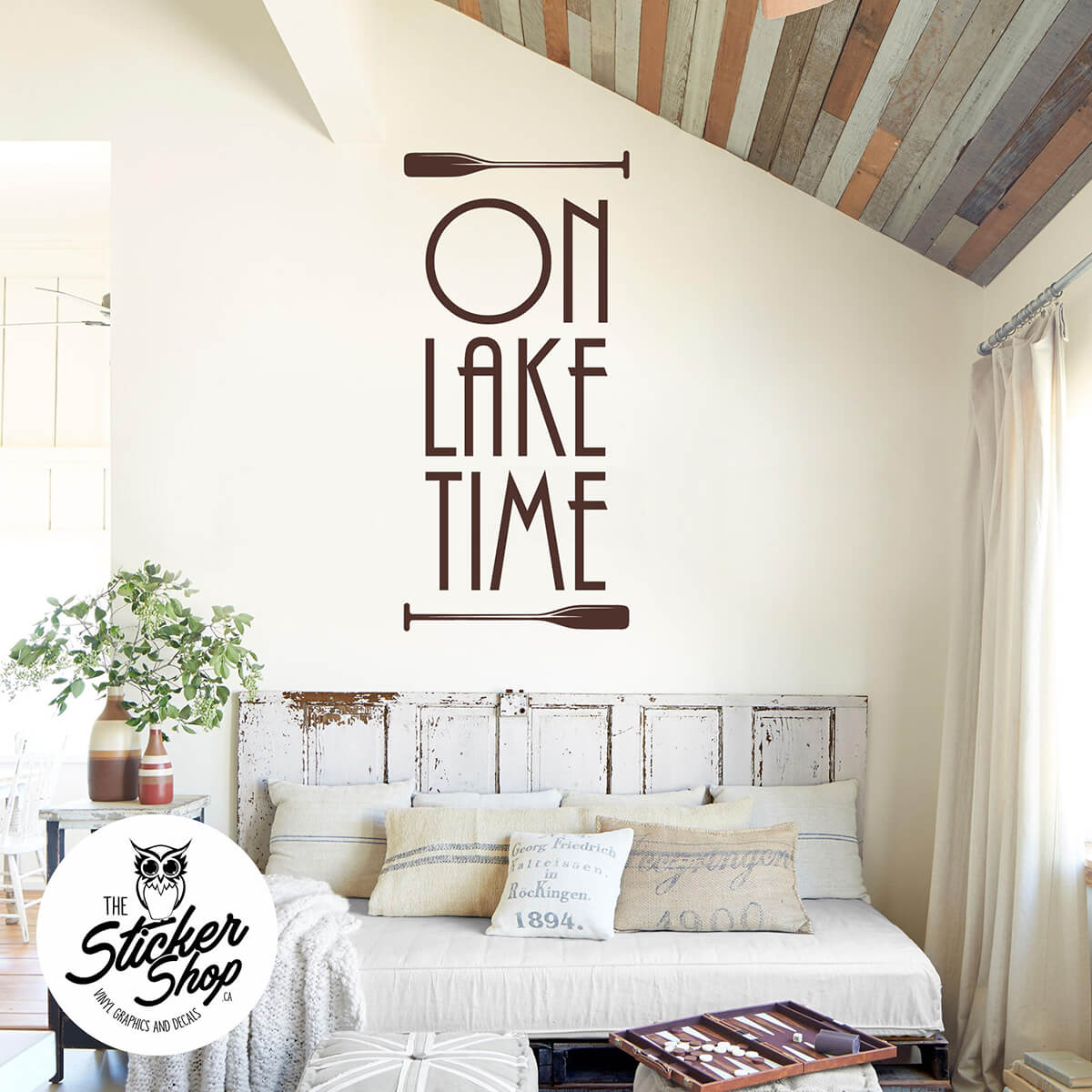 Created in a rich and vibrant brown, the vinyl oars and phrase of this graphic wall art are a wonderful compliment to any lake house decor. Channeling one of the most important small boat accessories, these oars provide a fun addition to make a simple phrase simply spectacular as one of the best lake house decorating ideas. With one oar on top and the other on the bottom, these boat BFFs frame the phrase "On Lake Time" to create extra visual interest. What an inviting way to welcome each and every guest as they see this displayed on the wall as soon as they enter the house! This would also make a great partnership with an actual working clock to create a gallery wall along the hallway of the home.
13. This Way to the Lake Distressed and Full of Character Sign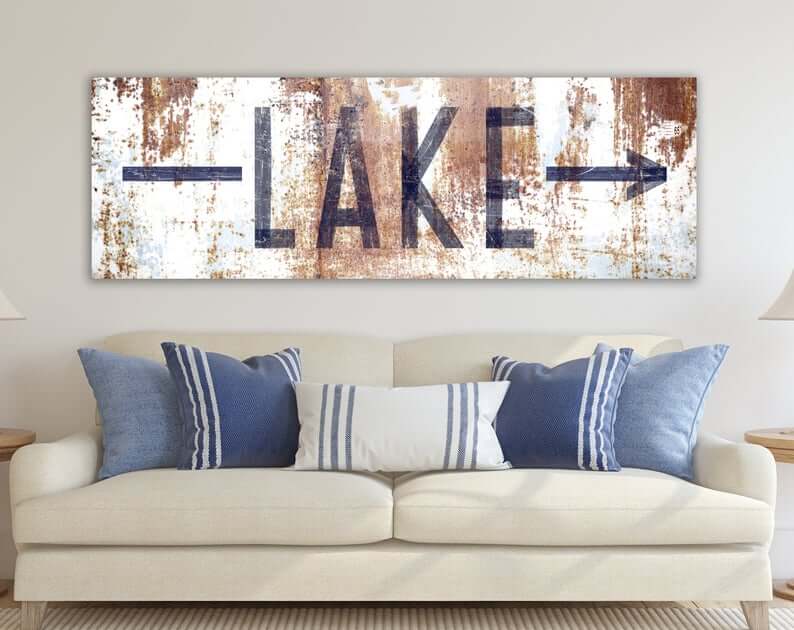 Sometimes we all need a little direction in life, so why not make it crystal clear with an oversized sign that easily shows the way to the lake. Written in bold, all capital letters, this sign features the word "LAKE" set amid an arrow proudly displaying the direction needed to go. With an original finish filled with loads of character, the black letters nearly pop off the background of a very distressed and rustic white and brown sign. Hang this beauty on your porch or in the kitchen. Either way, it is a cute and nice addition to any lake home decor.
14. Gray Lakin It Easy Lake Home Decor Sign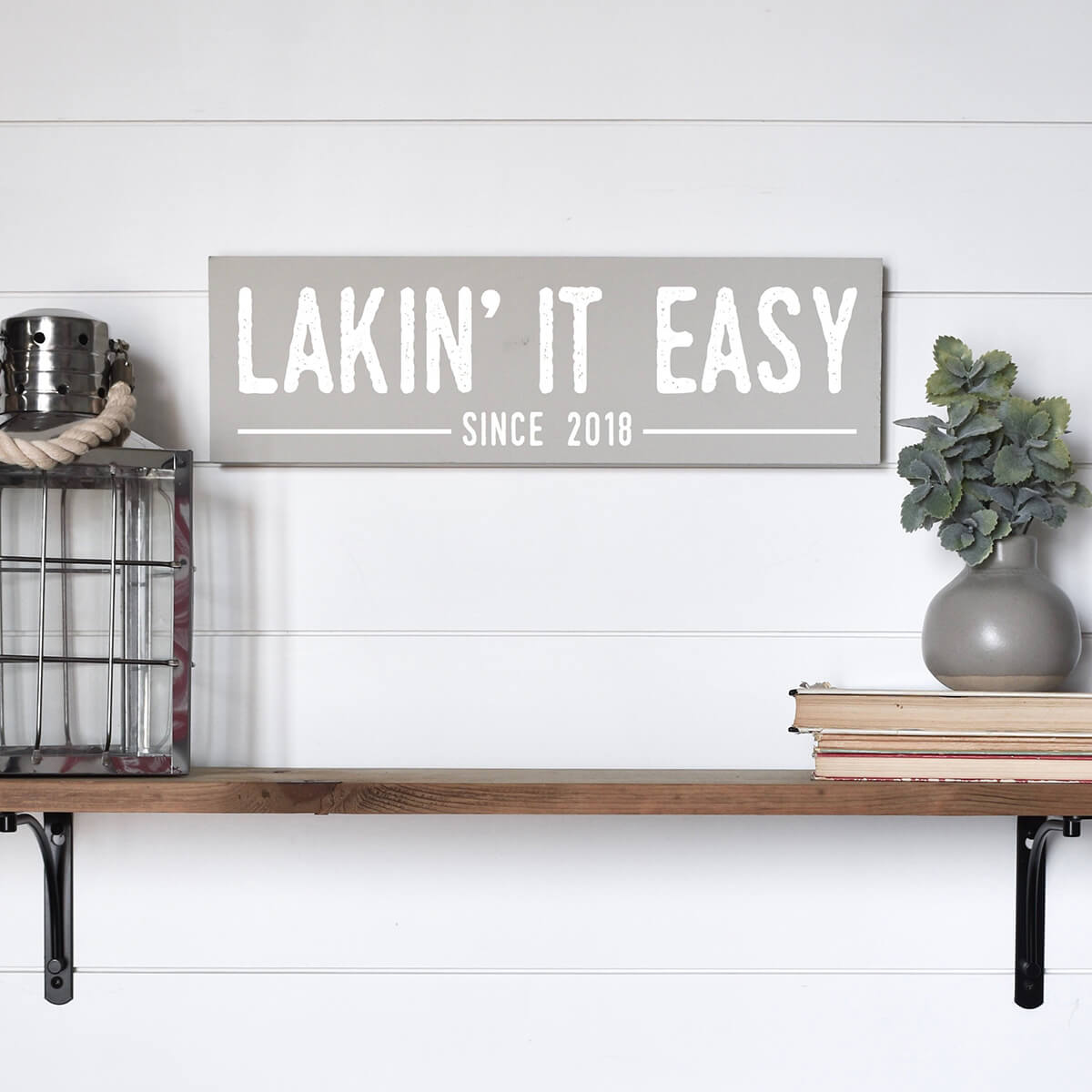 Here's an awesome idea for adding a mixture of modern with classic in this laid back attitude sign. The modern gray colored background gently holds the classic white lettering to display "Lakin' It Easy" with the year of establishment included too. It's a blend of fun and flair making most any lake home a little more laid back with this eccentric home decoration. Let it rest on the large wall down your hallway space or on the focal wall as you enter the home. It makes a great gift too for the retiree who intends to spend a lot of leisure on the lake or the newly wedded couple whose hearts are always on the water.
15. Fun and Feisty Lake House Rules Wall Art Sign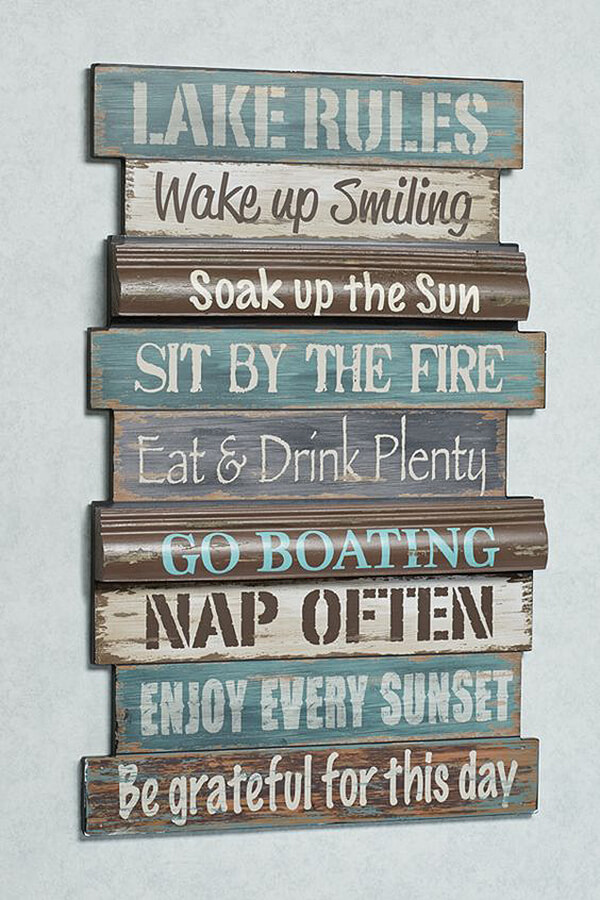 Keep it simple and understated at the lake house as you allow this fun sign to get your point across! It's a gentle reminder to begin the day with a smile and remember to get plenty of rest as napping is encouraged here! Next, be sure to enjoy all the amenities of the lake home from boating adventures to soaking up the sun! And above anything else, don't forget to be grateful for each and every day of your life. Remember, it's called the present for a reason because it really is a gift! The cool grays and blues are just the right use of color in a cute lakehouse home decoration sign. Hang it near the back door or right inside the bathroom so everyone is sure to see it!
16. Metal Sailboat Plant Shelf and Beautiful Black Oars Lake House Decor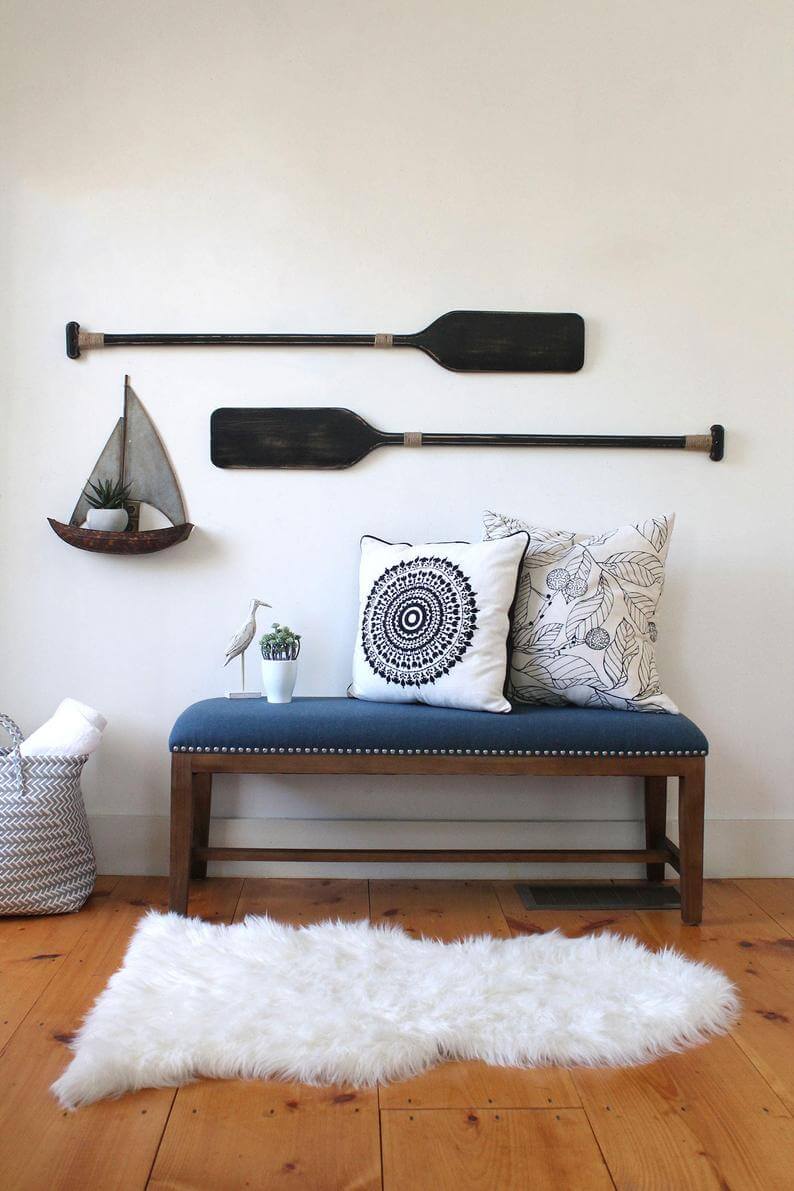 Bring a little of nature's beauty right inside your home with this adorable sailboat plant shelf! It's really the best place to add a little (and much needed) greenery to the room and don't forget to accompany it alongside this gorgeous set of black oars. Between the boat, oars and real plant life, this definitely is one of the best lake house decorating ideas out there! Make it feel at home in your space by mixing it into an already established gallery wall or work its magic alongside yours in the kitchen. No matter where you choose to display this beautiful lake house decor, you can't go wrong. It will feel right at home wherever you decide!
17. Popular Water Destination Wood and Rope Sign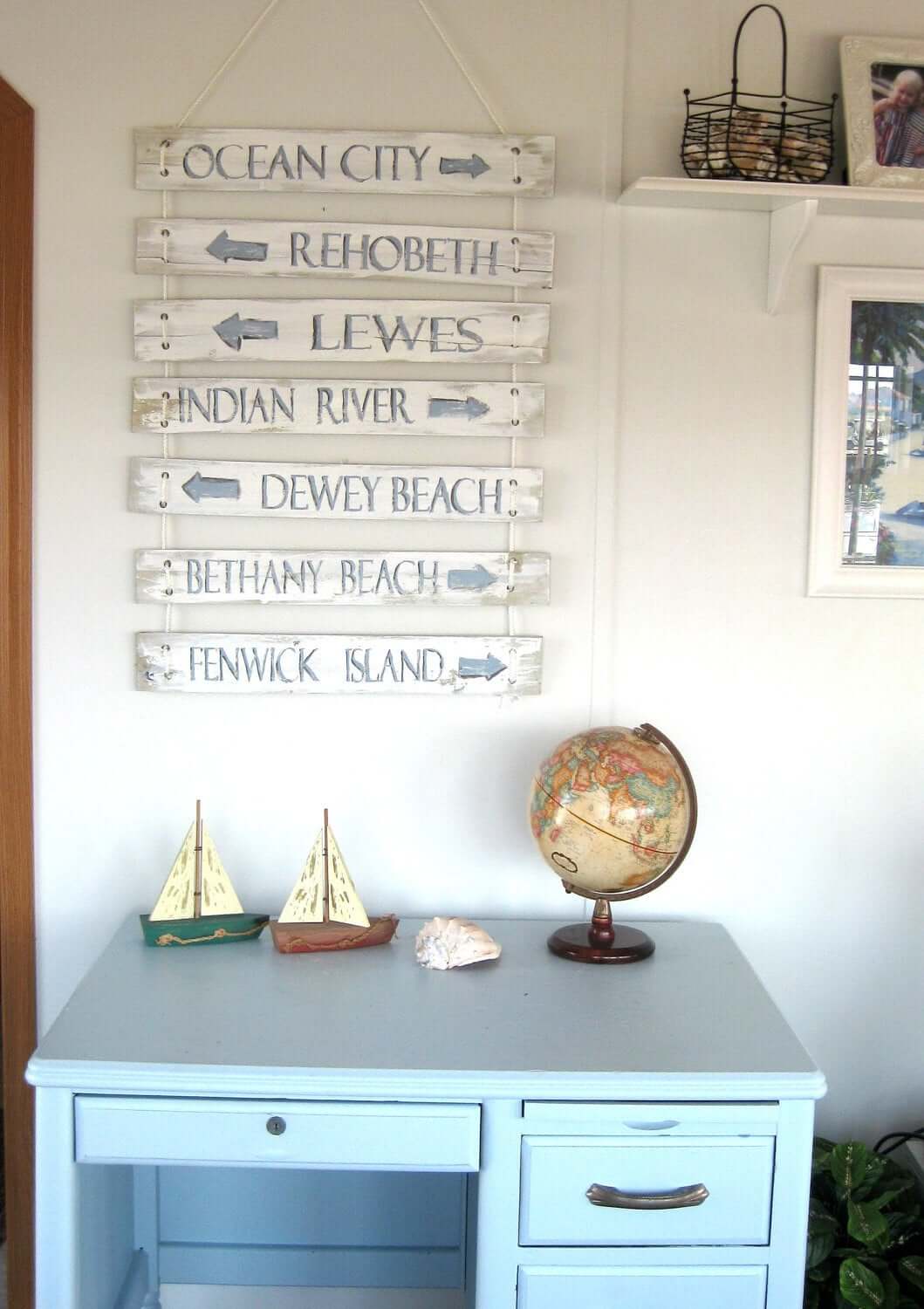 Suspended by white nautical rope, this wooden sign takes some of the best water destination locations and shows you which direction to find them! From Ocean City to Fenwick Island, the list of travel destinations gives everyone something to smile about. The utilization of white nautical rope as the hanger for this wooden sign is the absolute perfect touch to make function blend-in seamlessly with this lake home decor. This awesome idea looks just as great in the half bath or guest bedroom. Trade-in your old AAA map for this simple wooden sign to guide your guests in the right direction.
18. Black Metal Collapsible Lobster Cage Repurposed Pendant Light Fixture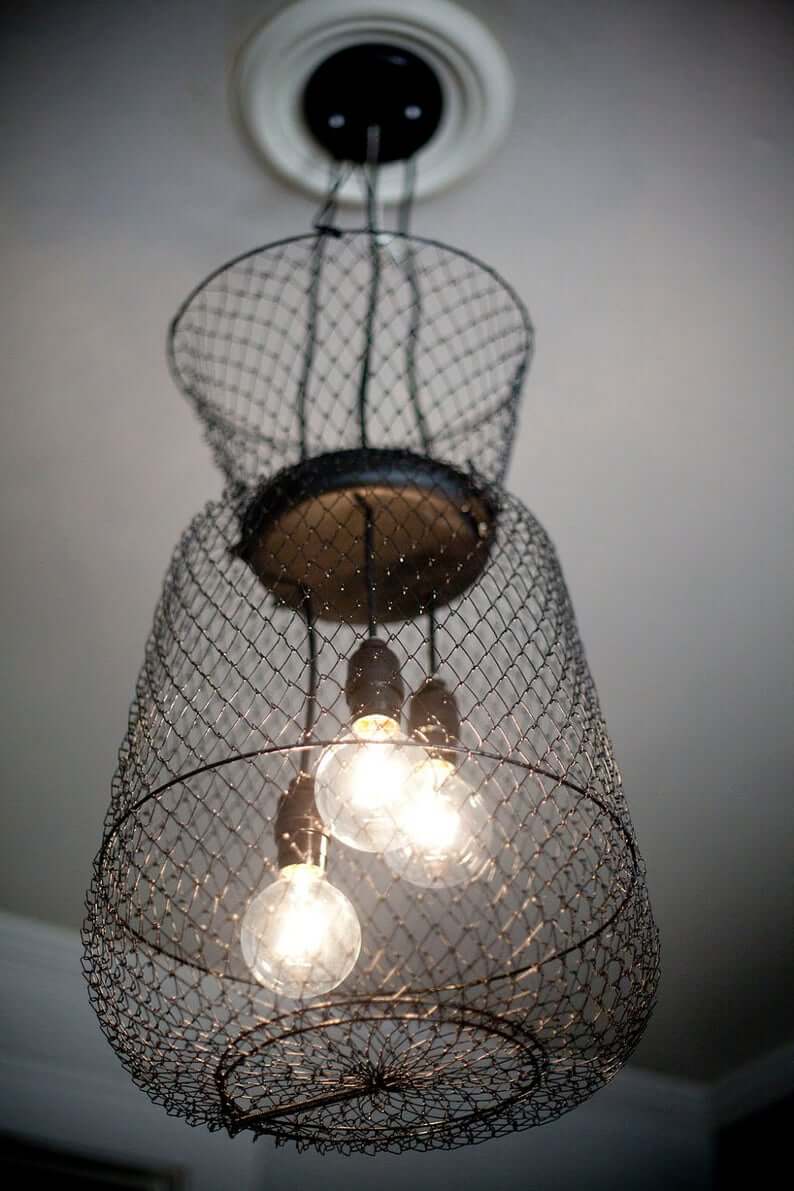 Talk about a conversation piece- that is what you will have on your hands as you mount this unique pendant lighting fixture on the overhead space in your lake house kitchen! A truly one-of-a-kind piece, this lighting fixture re-envisions an ordinary lobster cage and transforms it into a fun and interesting pendant kitchen light. The black finish works with any decor and its utterly original nature ranks it at the top of the best lake house decorating ideas list.
18 Easy DIY Decor Ideas that will Make Your Lake House Even More Charming
Living in a world full of hustle and bustle, we all need a place to relax and unwind. The lake house is the way to go and even if you don't have the separate building space on the lake, you can still bring the serenity into your own home with the entire fun lake house decorating ideas here.
From reclaimed wood to vinyl letters, you can add as much character and charm into your relaxing lake time-space as you please! Incorporate some nautical ropes as sign hangers, trunk handles, or even staircase rails to make your vision of the lake house lifestyle a reality.
Write the name of your favorite water entity and family surname to your sign so you can make it a permanent reminder of fond memories. Organize your space with the use of old trunks that enable storing your treasures easy inside the home and outside on the porch or deck. You can't make a bad decision when you choose any of these amazing and best lake house decorating ideas!
Our Favorite Rustic Entryway Decorations to buy on Amazon