Mason jars are one of the most versatile DIY décor accents you can decorate your home with. They are so practical, easy to style and can be used in more ways than one. There's a reason mason jars are all over the internet; you can find them in any size, they're inexpensive and with just a few supplies you can create just about anything. Paint, glitter, burlap, ribbons, orange flowers and more can be used to decorate your lovely centerpieces. Mason jars can add the perfect touch to your home décor. You can display them for your parties, family gatherings or even weddings and other special events. They are such an easy do it yourself craft for any occasion.
15 Easy Mason Jar Table Decorations and Centerpieces Anyone Can Make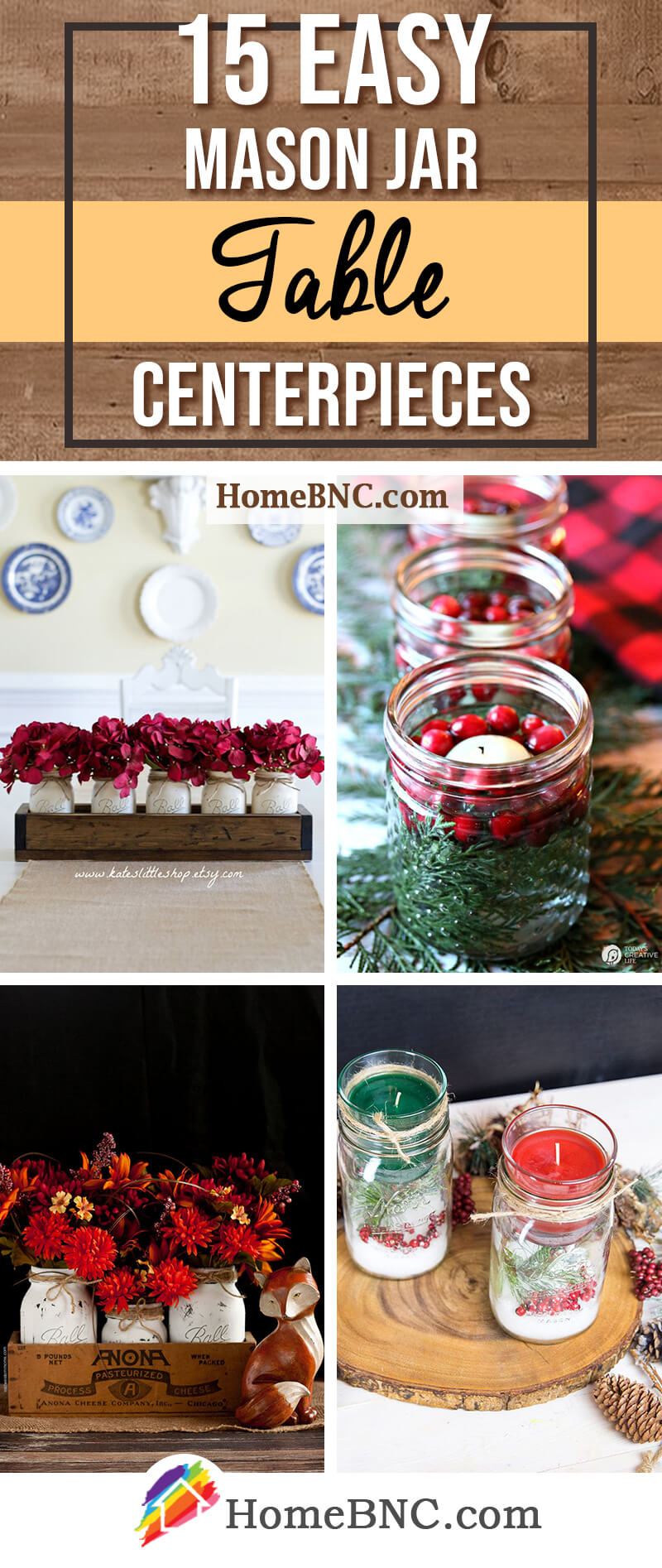 Whether you are decorating for the holidays or just for traditional home décor, mason jars are a fun way to spruce up your space. The following mason jar table decorations and centerpieces can be utilized for different occasions, holidays or for any other decorative ideas you can think of. So go out and grab all of the mason jars you can find because you're going to want to make every single one of these gorgeous centerpieces.
1. Rustic Fall Floral Burlap Centerpiece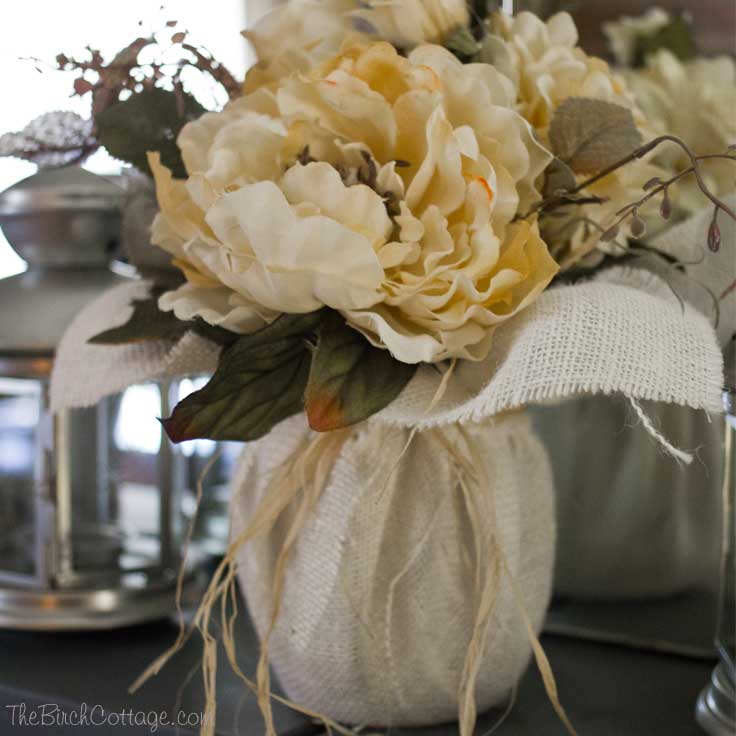 Burlap has such a rustic, yet upscale look to it. Burlap has been a trending décor accent piece for years and is most popular during the fall. From table runners and curtains to lampshades and mason jars it's such an accessory that can update any room. This burlap covered mason jar has such a rustic vibe paired with neutral florals.
2. Scents of the Season Candlelight Décor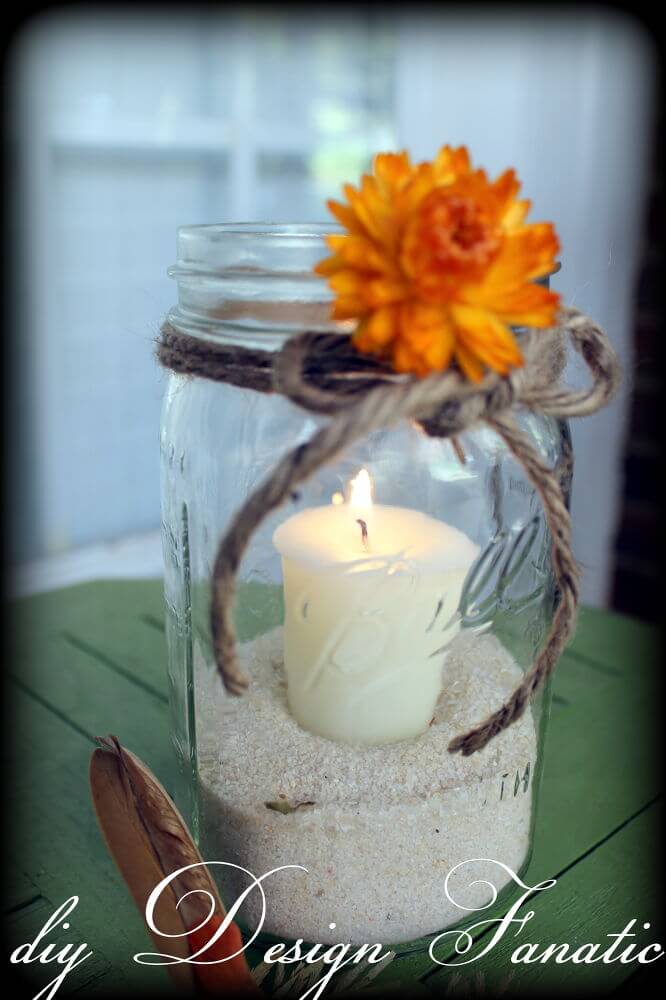 This candle in a mason jar is totally customizable to your personal décor style. In less than five minutes, you can add sand, a small candle, some burlap ribbon, and a flower to complete this rustic DIY fall centerpiece. This mason jar candlelight décor would also look great on a fireplace mantle during the fall.
3. Farmhouse Flower Filled Mason Jars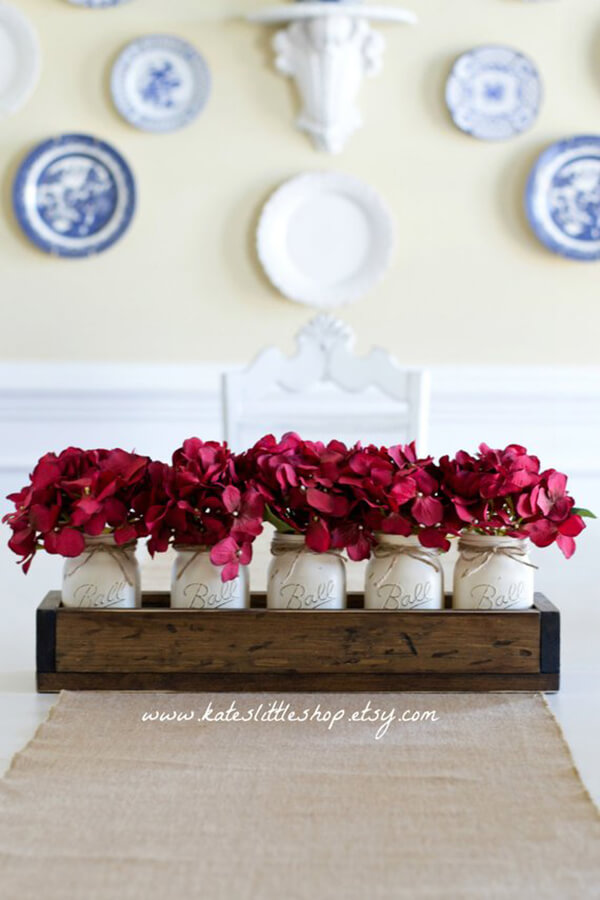 A classic feature of farmhouse décor involves stylish uses for mason jars. Any flower can look stunning arranged in the jars and really takes your décor to new heights. These farmhouse-inspired flower-filled mason jars are a great centerpiece for the dining room table featuring white paint and burlap ribbon. Switch out the flowers according to the season and you have a transitional piece that is sure to spark up the conversation at family dinners.
4. A Holly Jolly Candlelight Winter Arrangement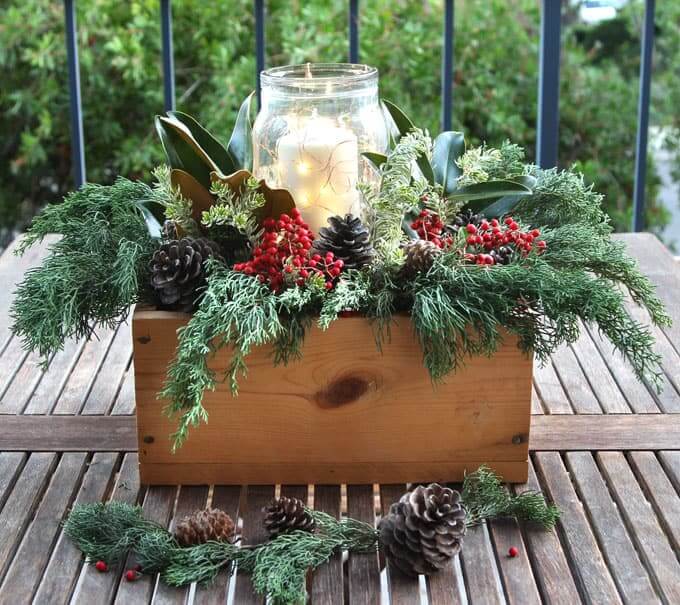 Ring in the holiday season with this candlelight winter arrangement. Featuring pine cones, holly berries, and winter greenery, this beautiful mason jar candle inside a wooden planter box is the perfect centerpiece idea for the holidays. This is such a simple DIY, yet look so elegant and well thought out.
5. Tis the Season for Holly Luminaries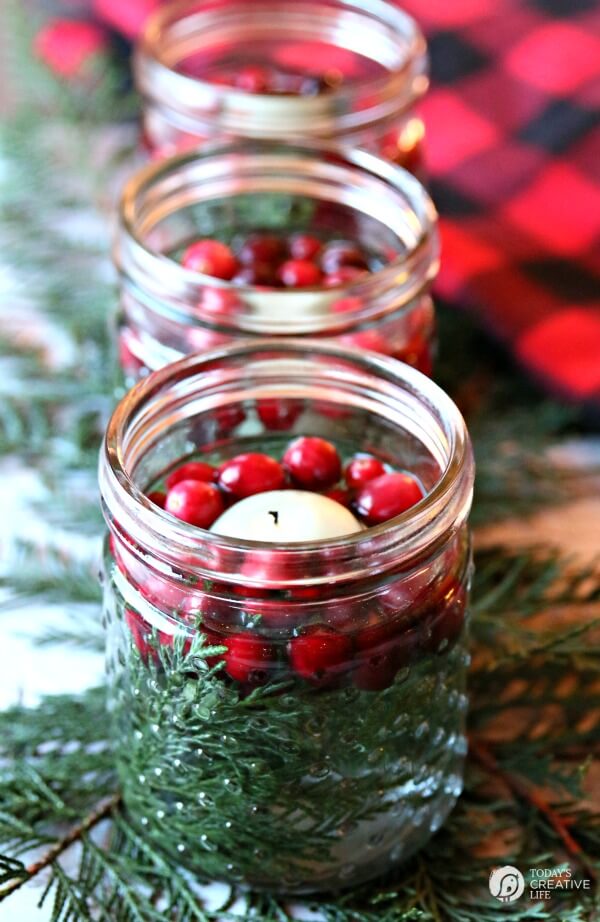 Holly leaves, berries and tea light candles make this centerpiece a holiday favorite. These jars make the perfect centerpiece for a holiday get together, family dinner or winter décor. With only a few materials, you can easily recreate this look for your next holiday gathering, whether you decide to take the party indoors or outdoors.
6. Festive Mason Jar Candle Display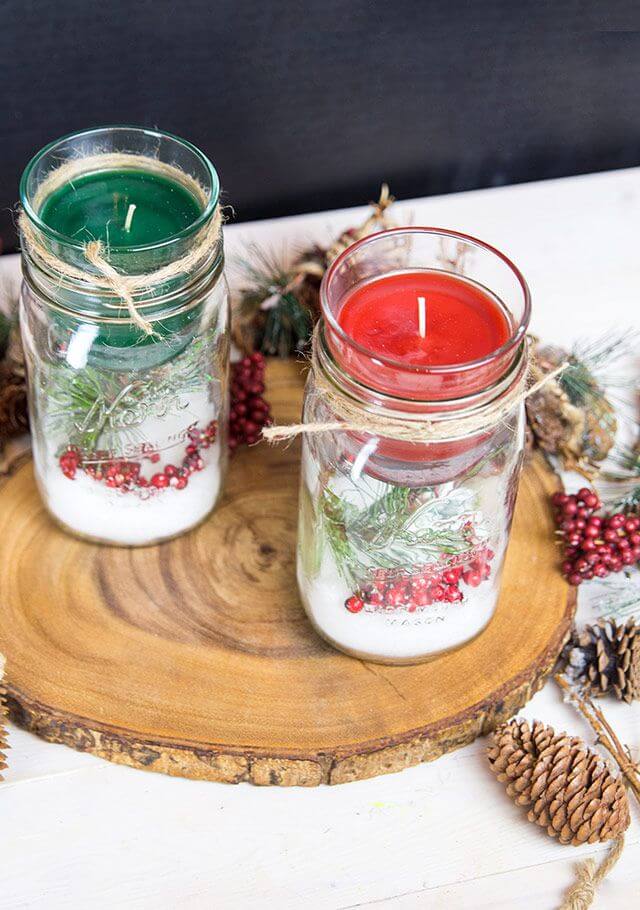 One way to get into the holiday spirit is by lighting some of your favorite scented candles. These festive candle displays will have your guests feeling like they're in a winter wonderland with the snow-like bottom and added foam cranberries and pine sprigs. Set them on a round wooden base for the perfect centerpiece décor for your family table.
7. All That Glitters is Gold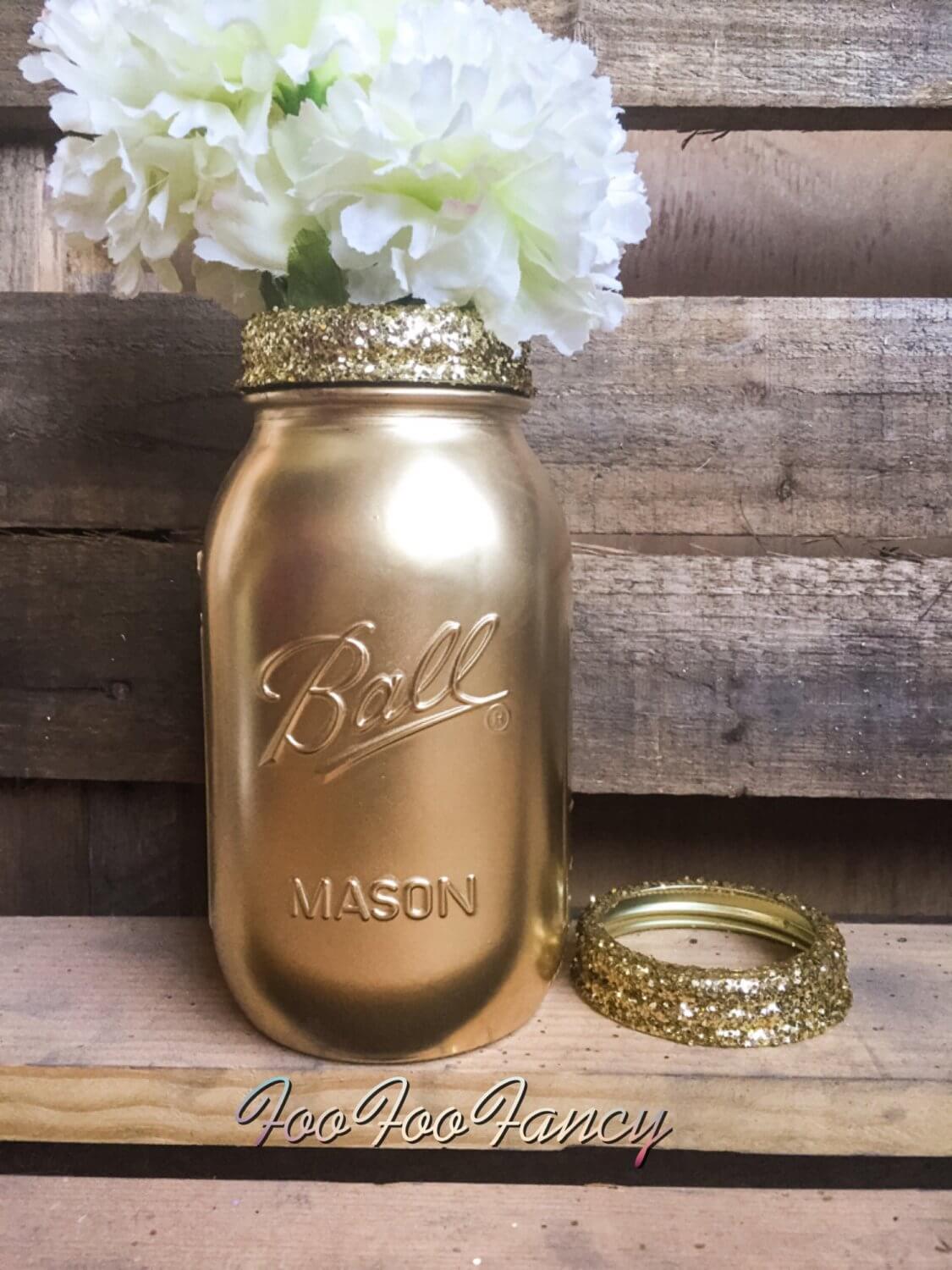 This metallic gold mason jar features a gold glittered rim and a white floral bouquet. This is a super simple DIY that serves as the perfect centerpiece for your table, mantle or even wedding décor. This super chic and elegant piece can also be placed all year around by switching out the flowers for versatility.
8. Picture Frame Mason Jar Keepsake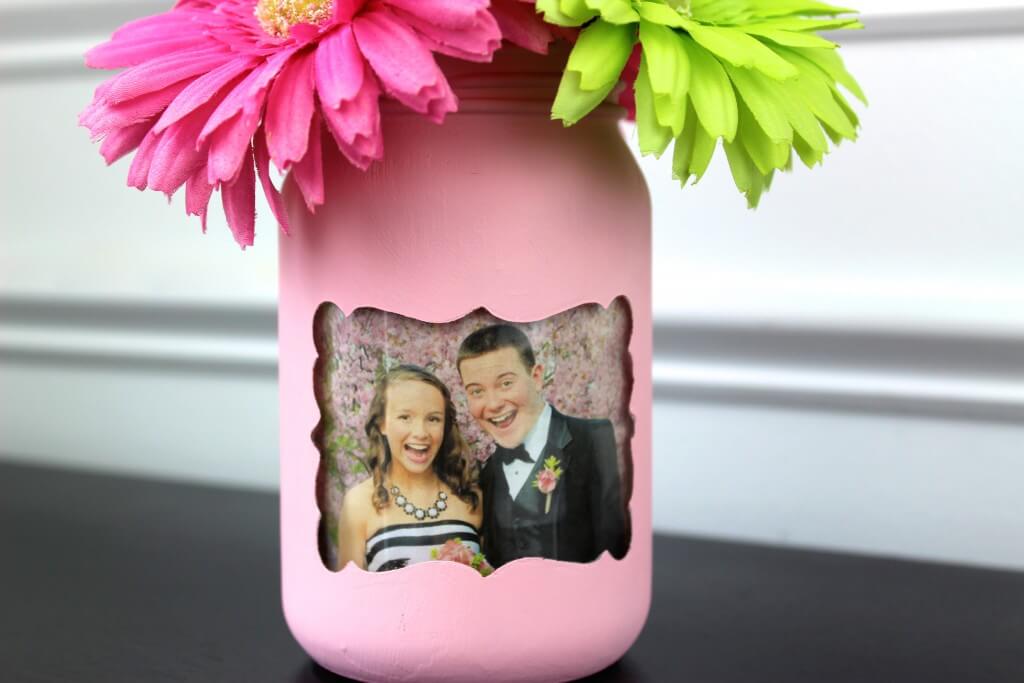 Mason jars are so versatile and you can customize them any way you want to with various colors, designs, flowers and more. For this mason jar keepsake, you can simply switch out the photo as often as you'd like for a quick update and change out the flowers for every season.
9. A Thankful, Grateful & Blessed Centerpiece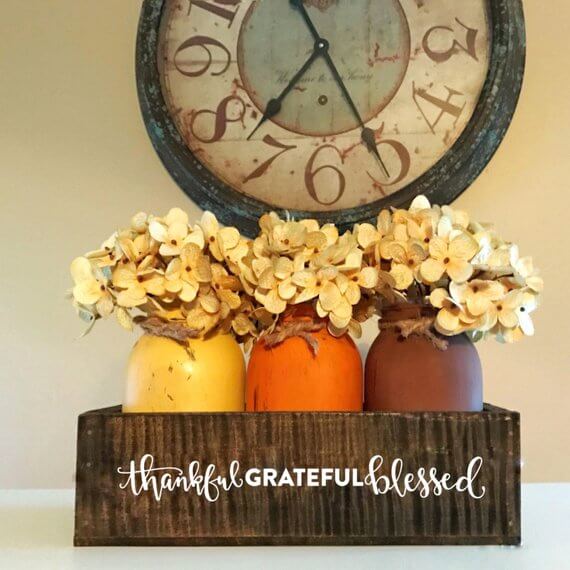 These mason jar table decorations are perfect for your home. The autumn colored jars fit perfectly into this stylish and handcrafted planter box. The fall florals and burlap string really add a rustic farmhouse feel to this beautiful centerpiece. The thankful, grateful and blessed text adds a creative touch that is sure to spark up the conversation during Thanksgiving dinner.
10. Shabby Chic Mason Jar Floral Arrangement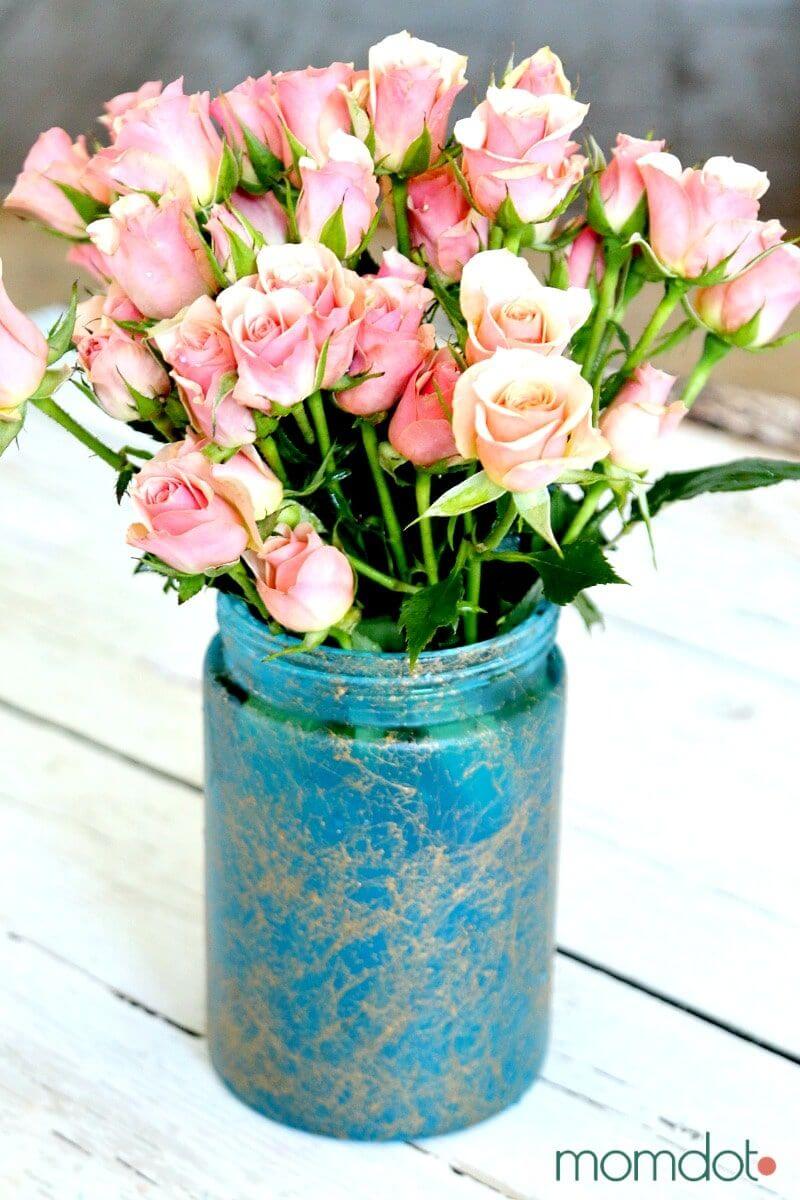 With an antique-like finish, this shabby chic mason jar centerpiece is the perfect gift for mom or to simply make for your own tabletop décor. It features a marbleized gold and aqua finish topped with beautiful spring flowers. Switch up the flower arrangement to fit any season and you've got one shabby chic, rustic centerpiece.
11. Rustic Glam Meets Modern Romance Centerpiece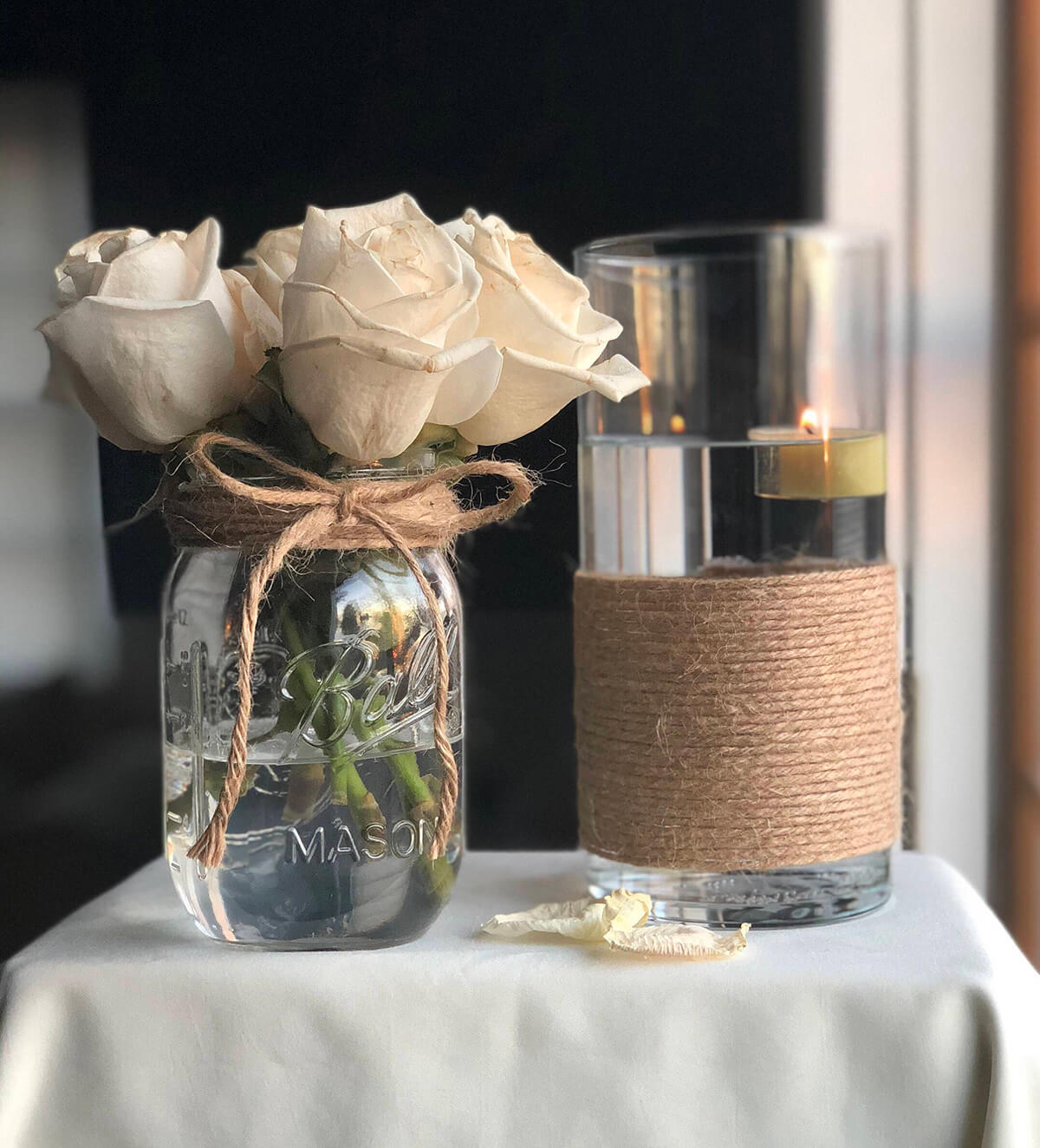 This super simple, rustic glam mason jar centerpiece would be the perfect addition to your table décor. The white roses add a romantic touch and the burlap string brings a country feel to your décor. I love how you can place this centerpiece in any room and add fresh flowers for a more relaxing environment.
12. Distressed Fall Inspired Mason Jars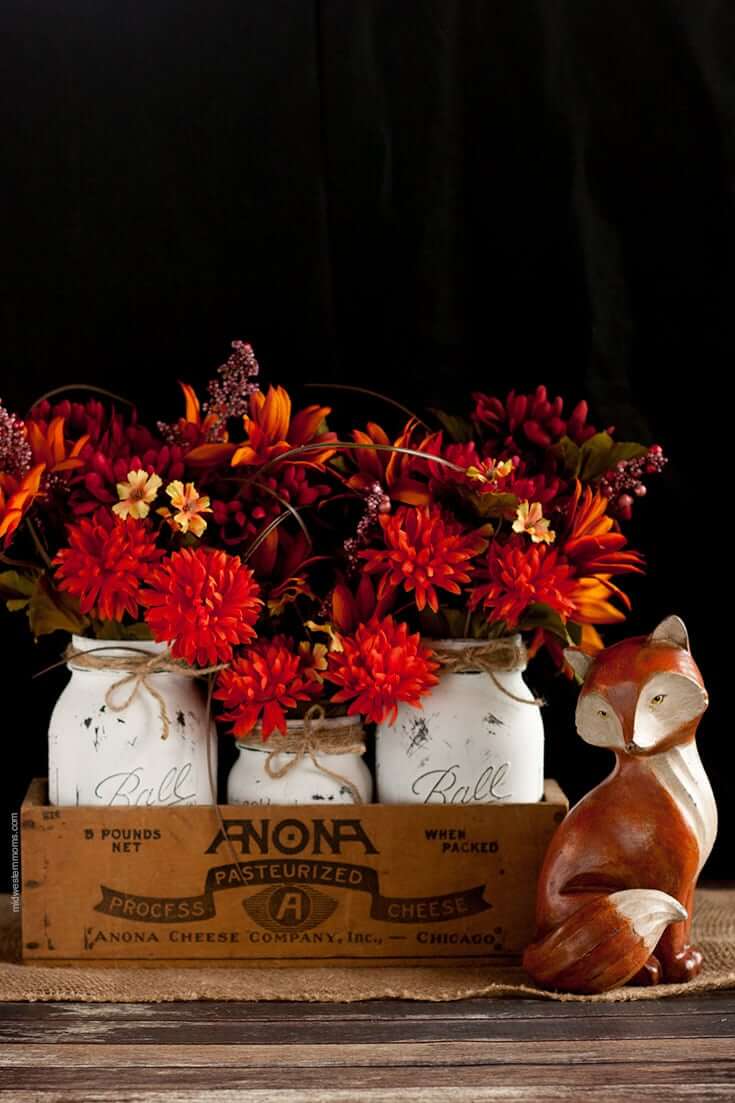 Perfect for autumn, these mason jar centerpieces are an inspiring arrangement for your home. The warm autumn colors really tie in the nature of the outdoors. The distressed vintage white chalk paint adds a rustic feel that brightens up the room. This centerpiece can easily be changed throughout the year by simply switching up the flowers.
13. Pop of Color Vintage Lace Detailing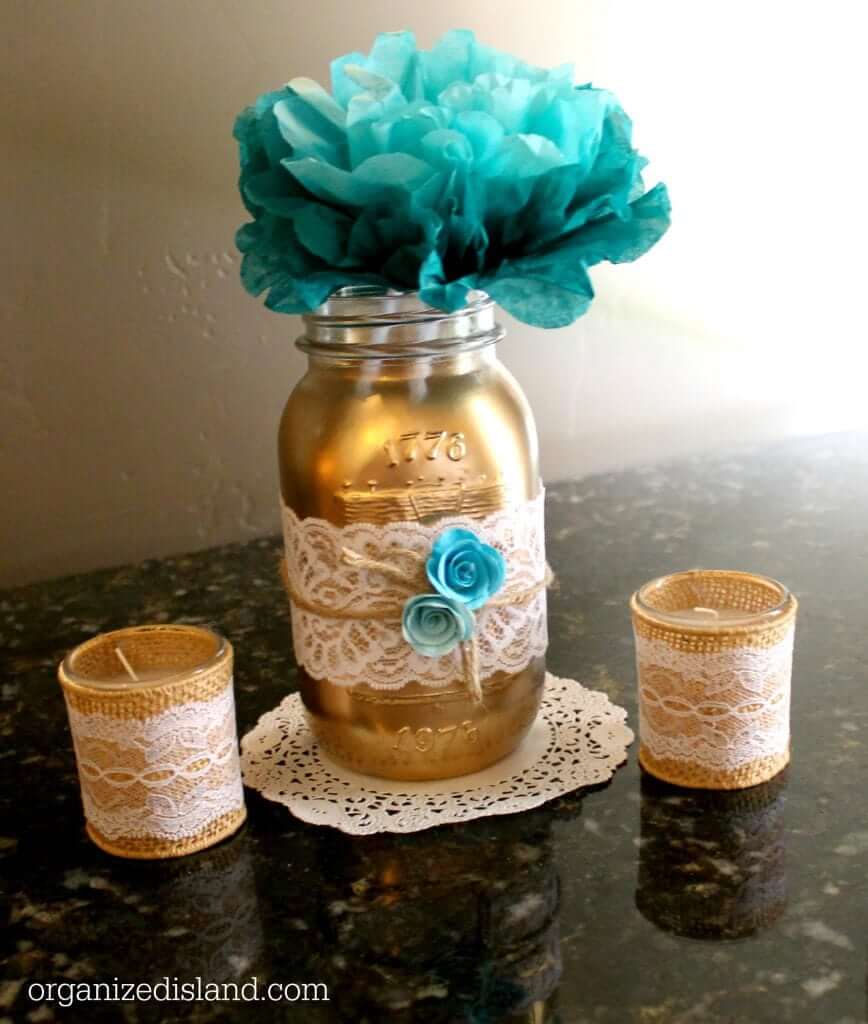 Mason jars have become such a popular piece of décor over the years. This burlap lace and teal centerpiece adds such a fun pop of color while still looking chic and elegant. The detailing here is sophisticated and on trend. This centerpiece adds the perfect touch to your home table décor and is easy to create with only a few materials.
14. Southern Charm DIY Mason Jar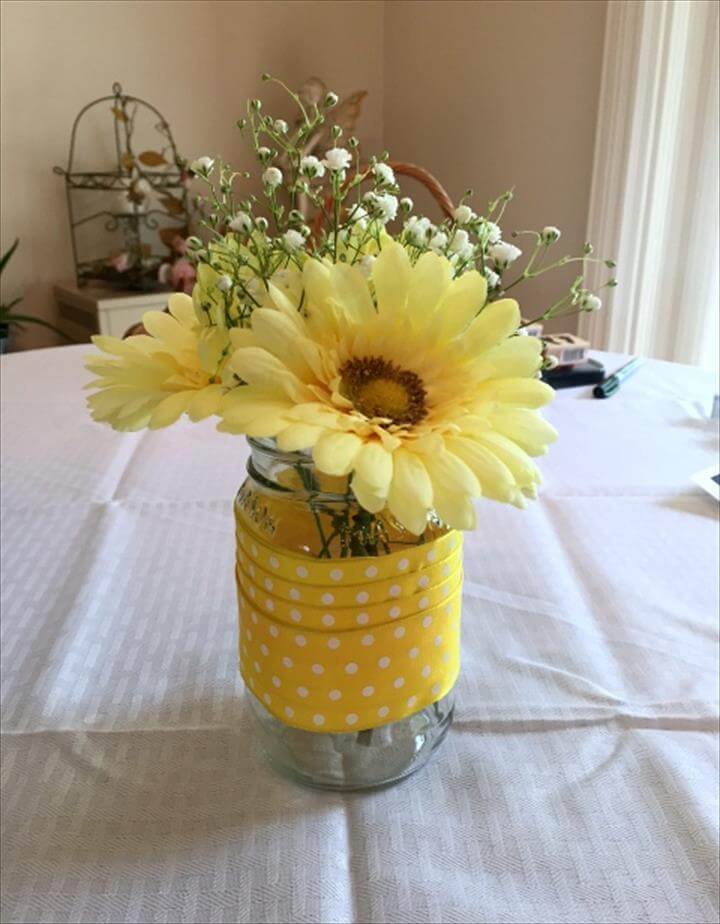 Creating a simple centerpiece that provides southern charm is easier than ever. Featuring bright yellow ribbon with polka dot detailing and a few artificial flowers is an easy DIY you can make in minutes. This centerpiece would be perfect for baby showers, weddings or in the home.
15. Mason Jar Fairy Lights Lamp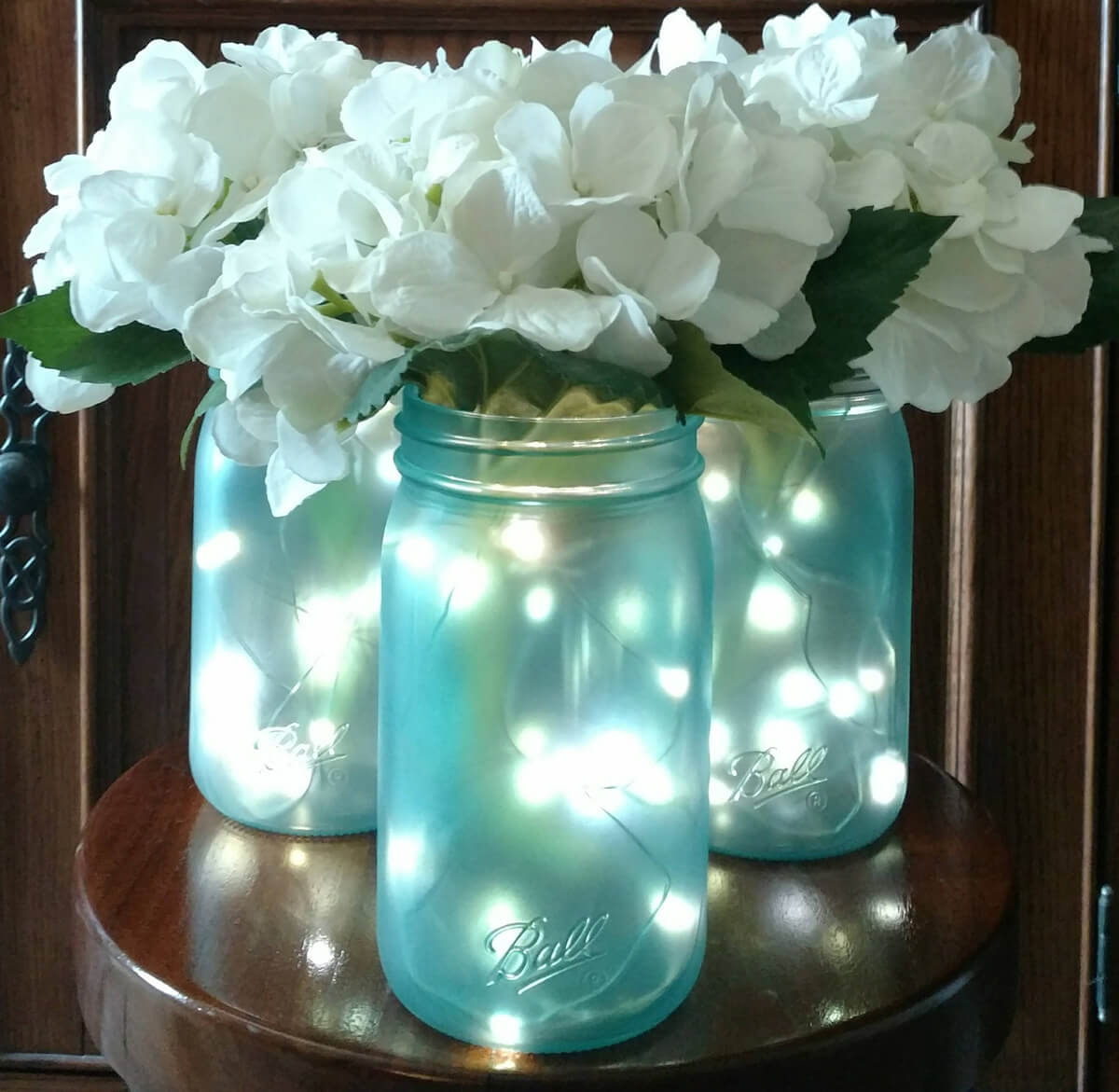 This creative mason jar idea uses battery operated fairy lights and white artificial flowers to light up the room. It provides an elegant and sophisticated feel that is unique and creative, yet easy to do yourself. These DIY mason jar lights have gained tons of popularity lately, which I can see why!