Have a few old frames laying around? You can easily upcycle all of your old or unused picture frames in so many ways to create gorgeous and unique pieces of home décor. Other than just displaying pictures inside, frames can also be repurposed into key holders, cake stands, storage, signs, and other useful items for any area of your home. There's something so fascinating about finding ways to bring new life into old things and picture frames are one of the easiest items to use to recreate beautiful décor in all shapes and sizes.
19 Amazing and Creative Ways to Use Old Picture Frames as Home Décor

Upcycling not only minimizes the amount of discarded materials, it also reduces the need to produce new or raw materials which ultimately helps our environment. Since many people just throw away their old picture frames, repurposing them into something new is a great way to not only create fun and unique decor pieces, but also is a great way to recycle. We also often get a sense of accomplishment when we create something handmade for our home, especially when it's a low-cost, or even free project.
So get ready to raid your attic, stop by a few garage sales or declutter your garage because you are going to want to check out these creative ways to recycle those old picture frames and turn them into something new.
1. Bulletin Board Organizational Project Using a Frame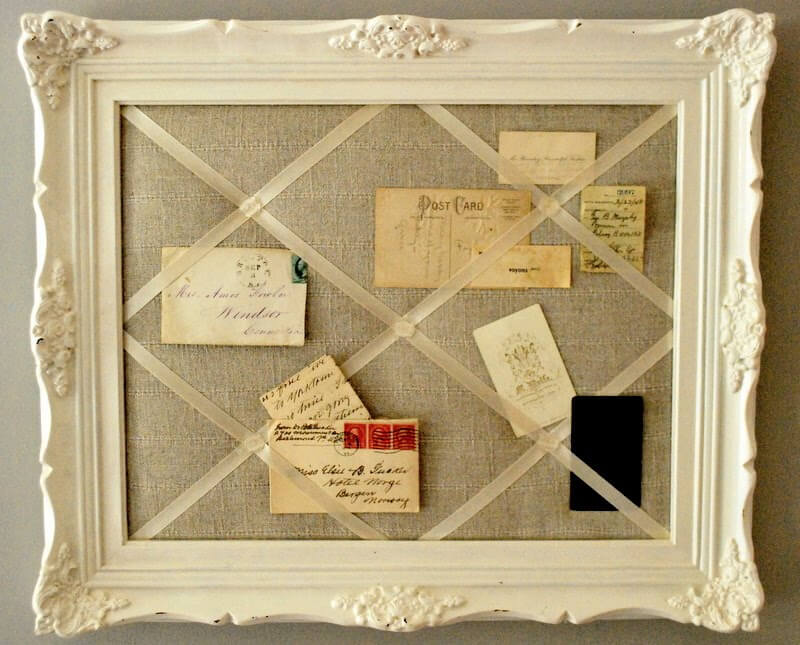 Bulletin boards can be pretty plain and boring, but they don't have to be. With a touch of paint added to an old frame and a few other materials, you can create a beautiful bulletin board for your home office or organizational wall. Hang up photos, reminder notes or even vintage post cards for a super cute and useful piece of décor.
2. Old Wooden Picture Frame Beach Décor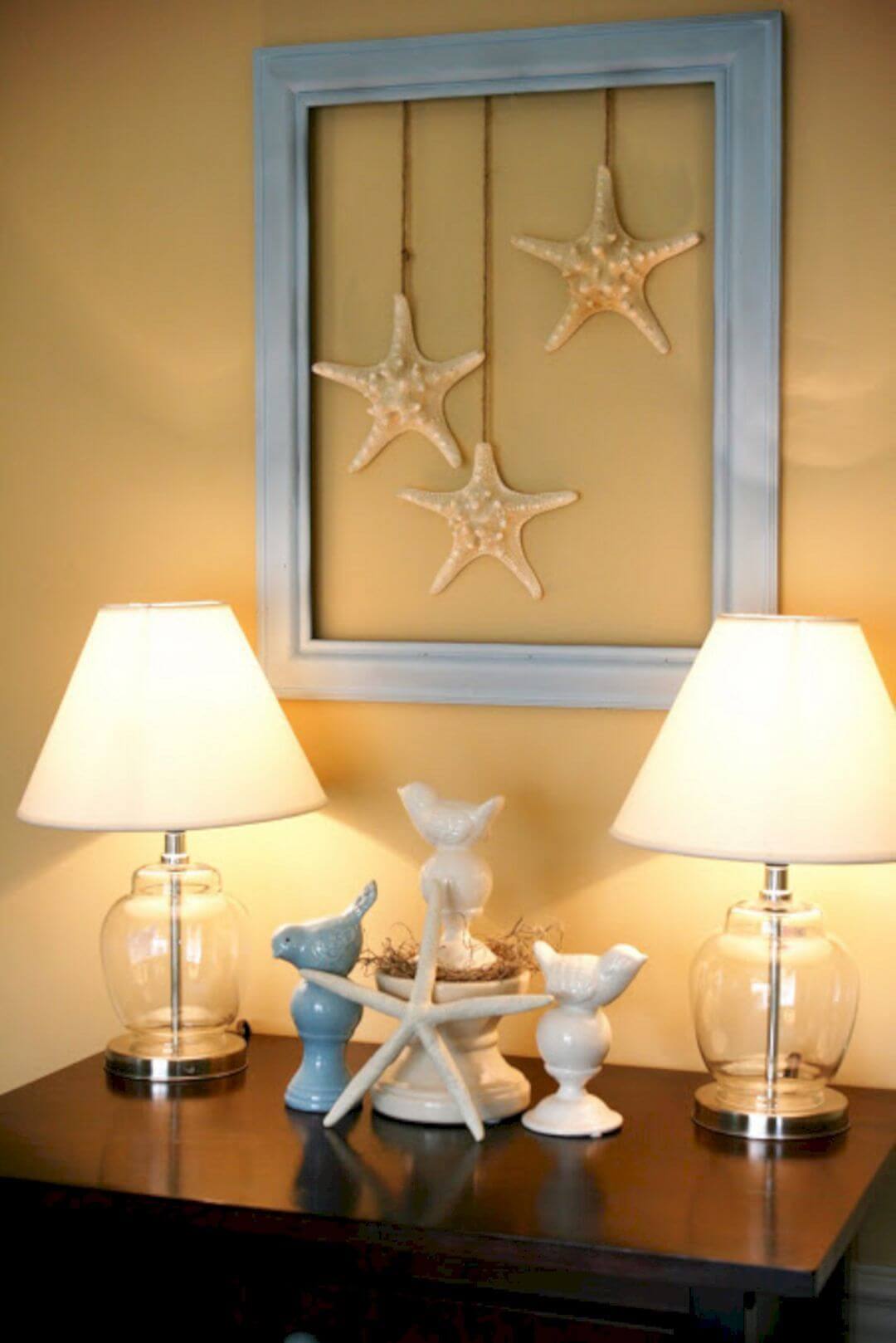 Whether you have a beach house, beach-themed room in your home or simply just love the serenity beach décor brings, this easy project is definitely for you. I love that you can add any item to this old wooden frame to put your own personality into your creation. The starfish, string and seaside blue frame really pulls the whole look together with very little effort.
3. Upcycled Chalkboard Frame with Motivational Quote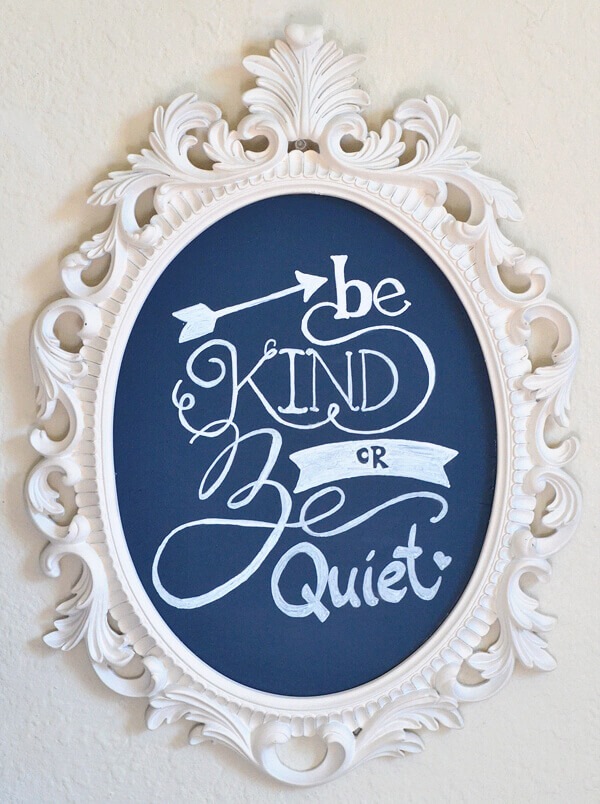 Who doesn't love a super cute chalkboard sign just waiting to be personalized and drawn on? Chalkboards are huge right now in the home décor arena, so this upcycled frame is perfect for this trendy project. Use your new chalkboard frame to write down your favorite quotes, activities or events for the week or even use it as a fun menu for dinner planning.
4. Old Picture Frame with Vinyl Decal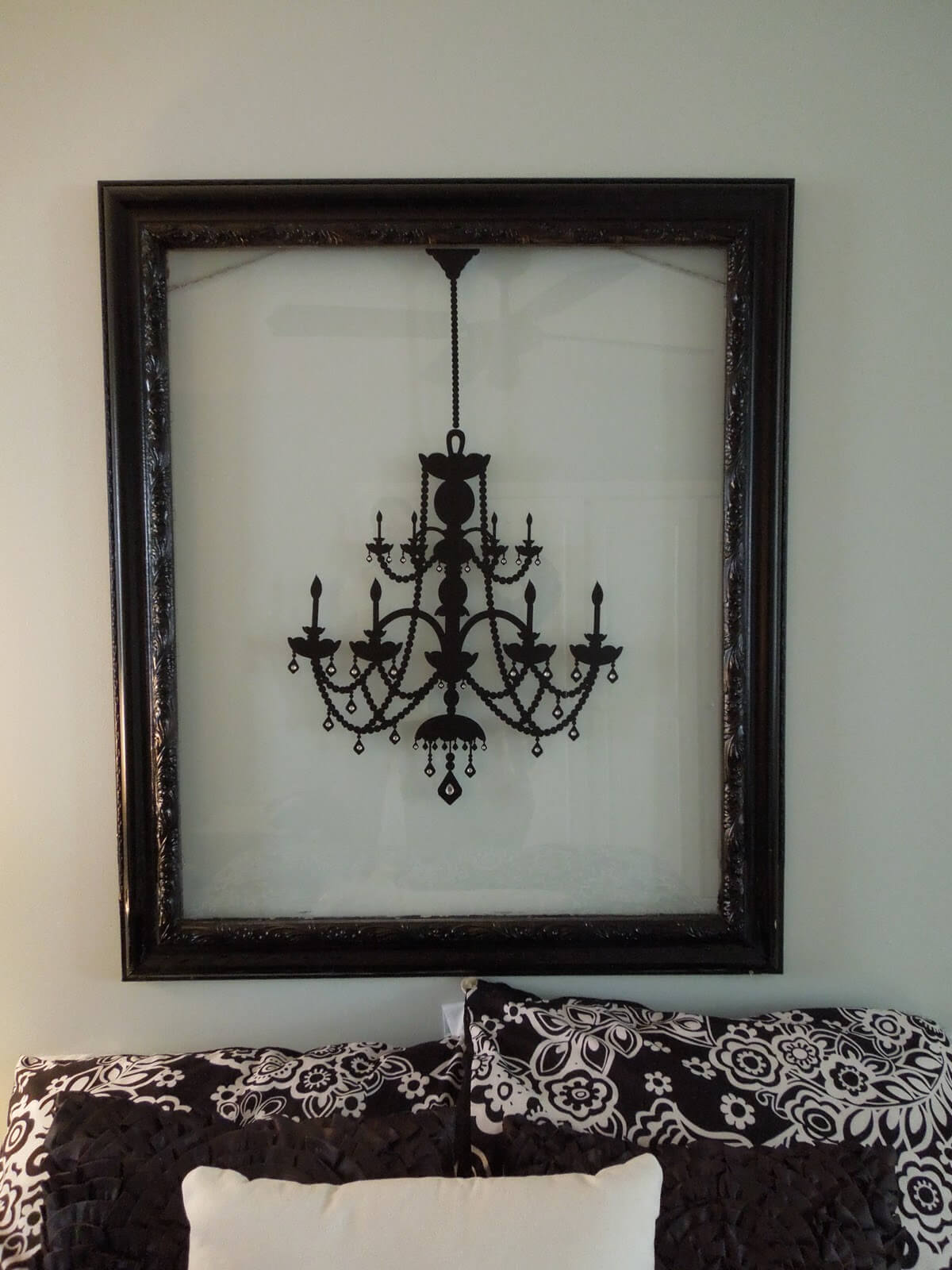 If you're looking for a quick and easy wall art project, look no further. This old frame was painted black and features a vinyl decal sticker on the front of the glass frame. The chandelier decal is very elegant, but the possibilities are truly endless with the variety of decals available. You are sure to find one to fit your own style and personality.
5. Decorative Flea Market Frame Tray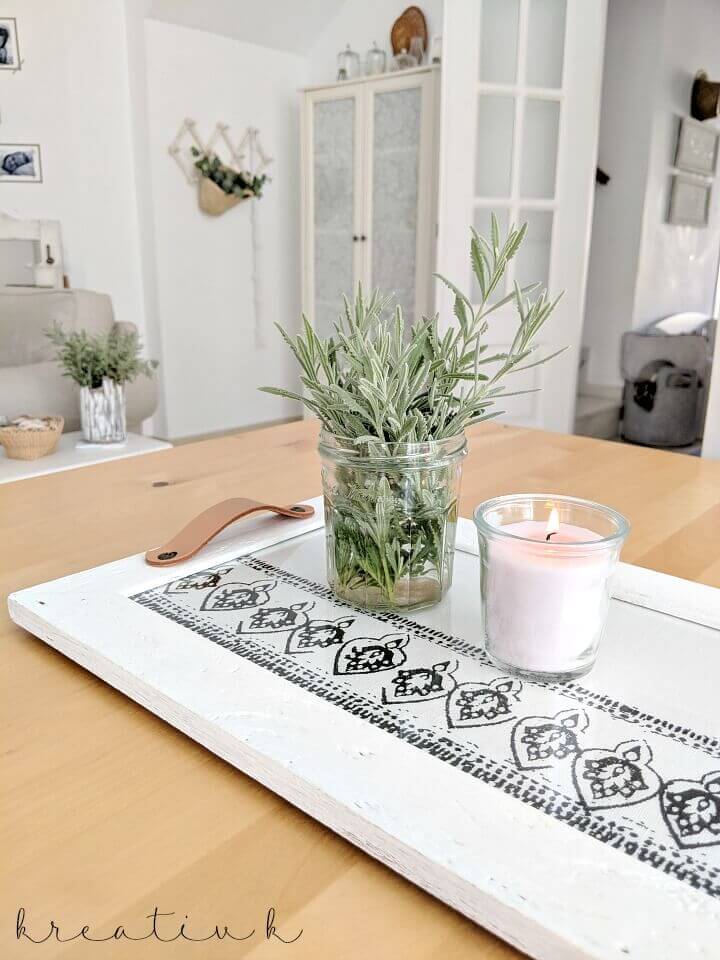 This old wooden flea market frame was turned into a gorgeous table tray and centerpiece with just a few additional items. The mixed textures of the wood, glass, leather handles and tea towel really bring this old frame to life. Think about all the endless possibilities you can recreate with this DIY frame.
6. Add Rustic Charm with a Framed Light Fixture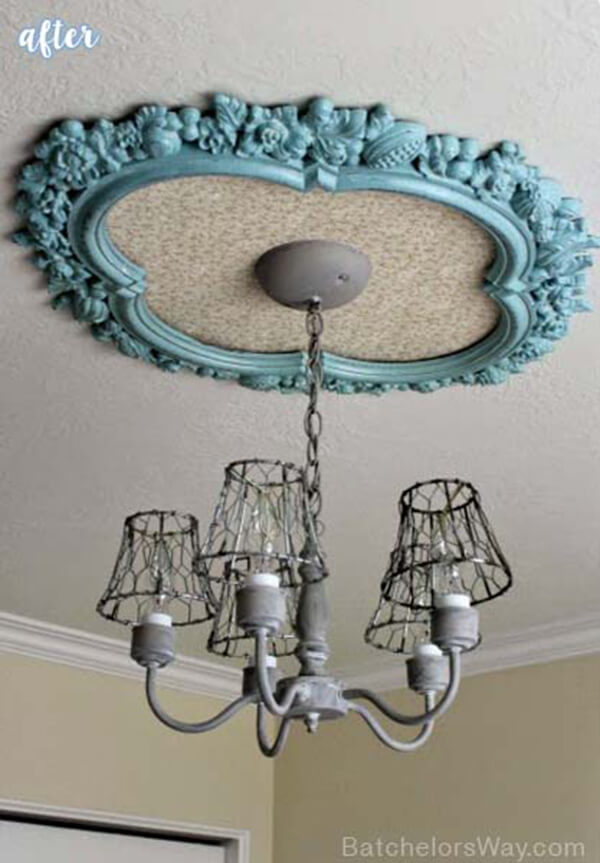 Spruce up your bedroom light fixture by adding an old frame to the ceiling. This uniquely shaped frame is perfect for drawing attention to the updated light fixture. It adds rustic charm and gives the room a little feminine flair. No matter what shape of frame you use, this is sure to be a statement piece in any room of your home.
7. A New Take on a Modern Day Mirror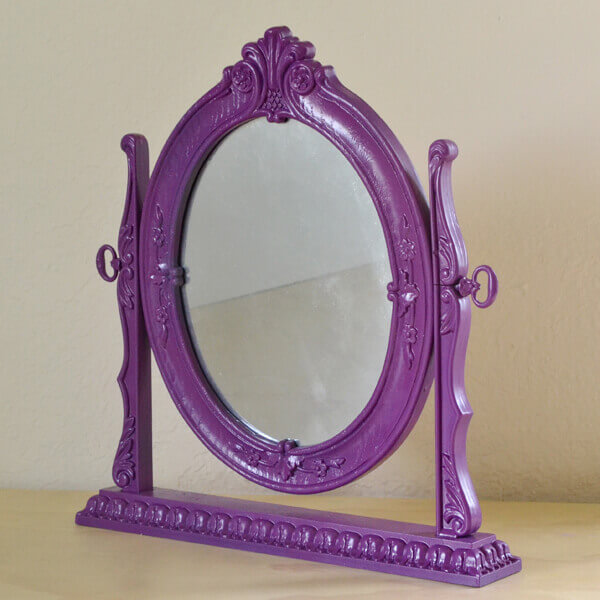 Turn an old, vintage picture frame into a super chic desktop flip mirror. This little mirror is perfect for a little girl's bedroom, displayed on your dresser or a simple desk décor feature. With a little paint, this once old and unused frame has been turned into something new and rather useful.
8. Shabby Chic Framed Earring Display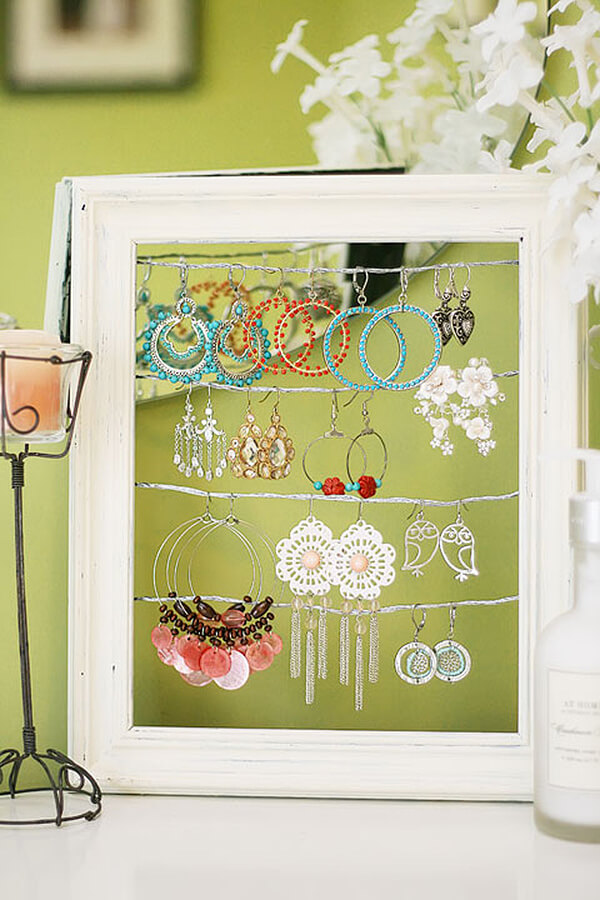 Need a fun way to display your jewelry? This repurposed wooden frame now serves as a super cute shabby chic earring display. This display not only works well for holding your earrings, but also serves as a beautiful table top décor feature in your bedroom. Who knew your earring collection could turn into a gorgeous statement piece?
9. Table Top Organizer Using a Dollar Frame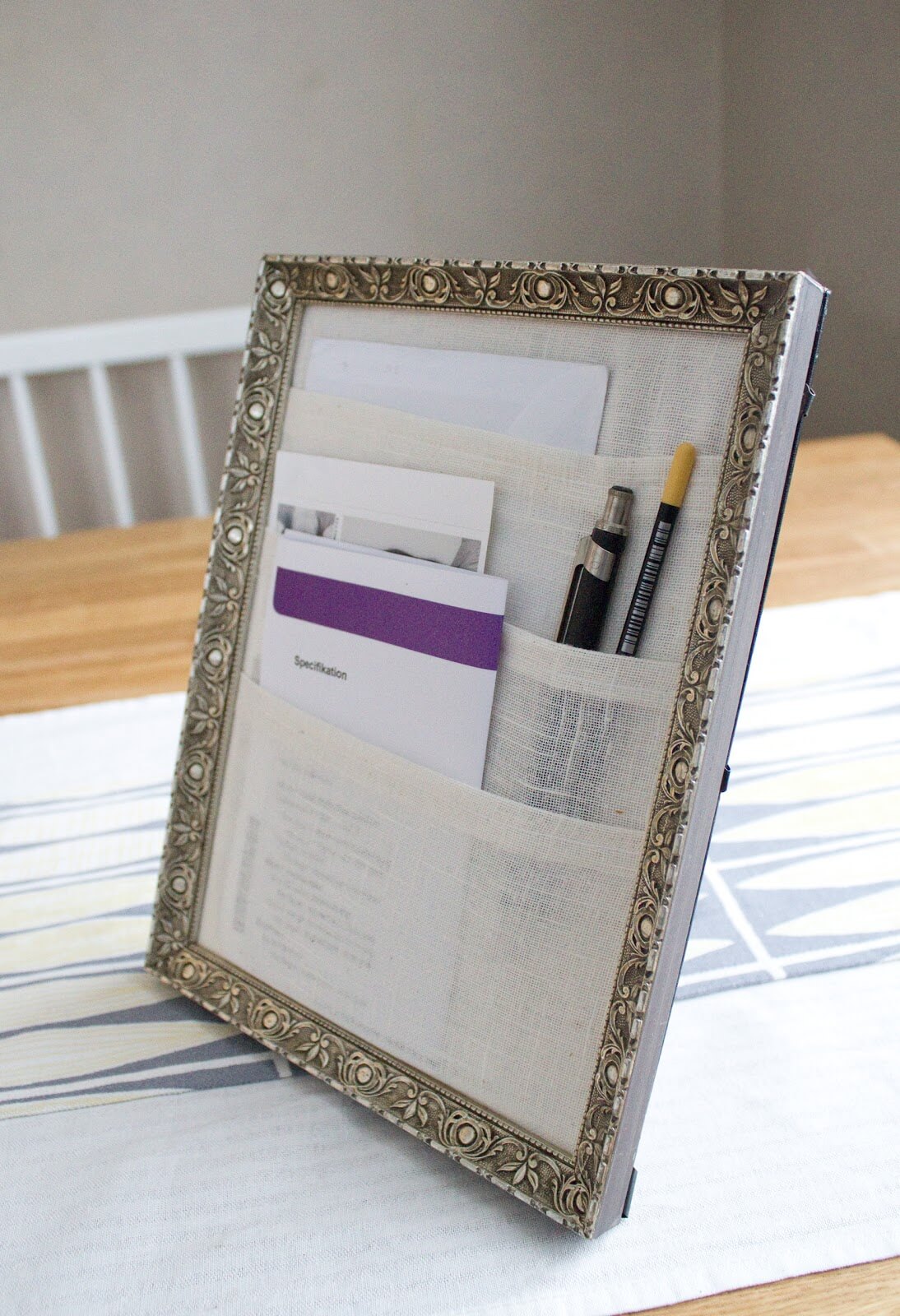 One of the great things about using frames for these fun projects is that either you already have a few laying around the house, or they are very inexpensive to purchase at your local dollar store or thrift shop. This table top organizer is also a great way to use scrap fabric you have on hand by layering the pieces to fit your office supplies inside perfectly.
10. Picture Frame Luminaires Perfect for Gifting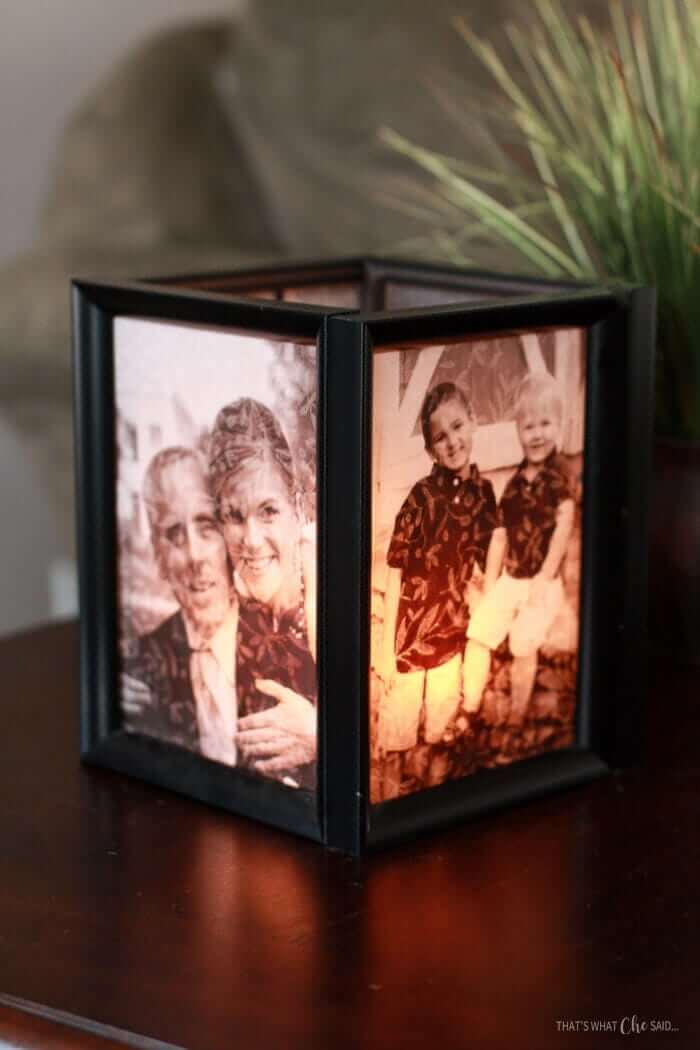 This beautiful handmade picture frame luminaire is such a unique centerpiece idea made using four recycled frames. Customize your frames with your family photographs, printable quotes, decorative stationery or even seasonal add-ons for a more festive look. These make the perfect gifts for holidays, weddings, anniversaries or any other special occasion.
11. Decorative DIY Hooks for Bathroom Décor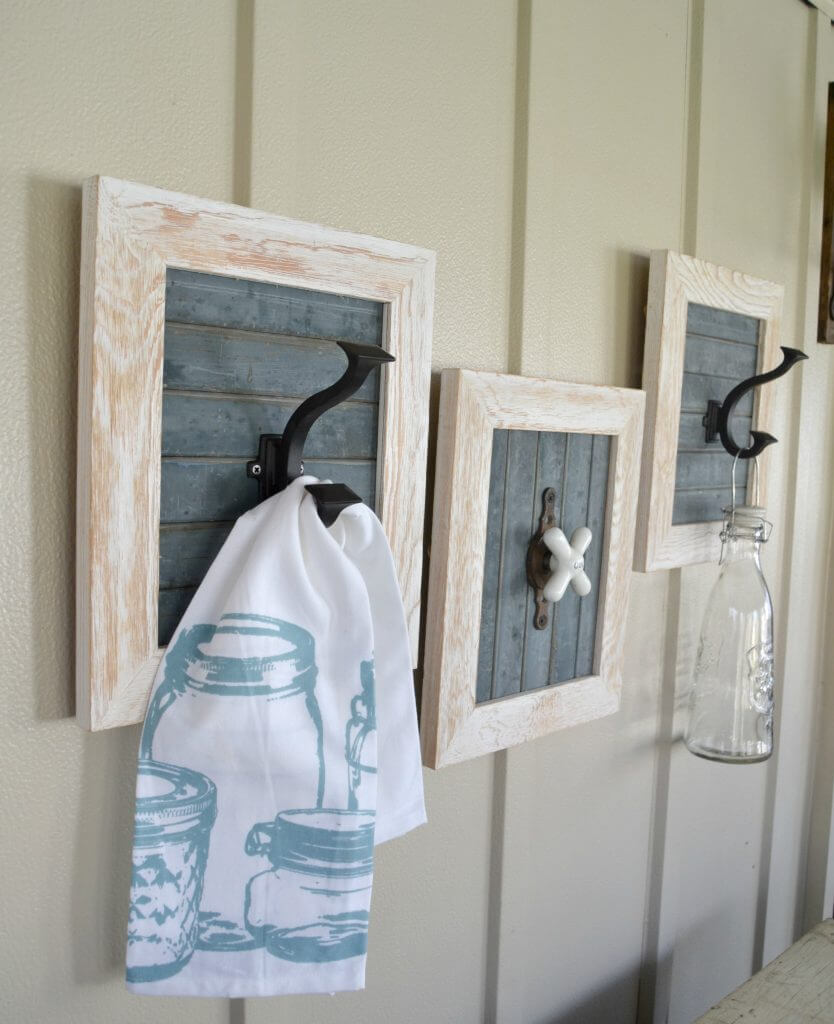 These decorative and functional hooks are a stunning addition to your bathroom décor. Using random hardware pieces for hooks, you can simply place each one into a frame, hang on the wall and leave them as is for a rustic wall art feature or put them to good use and hang a towel on them. The possibilities are endless with this quick and easy project and can fit any home design style.
12. A Beautifully Framed Succulent Garden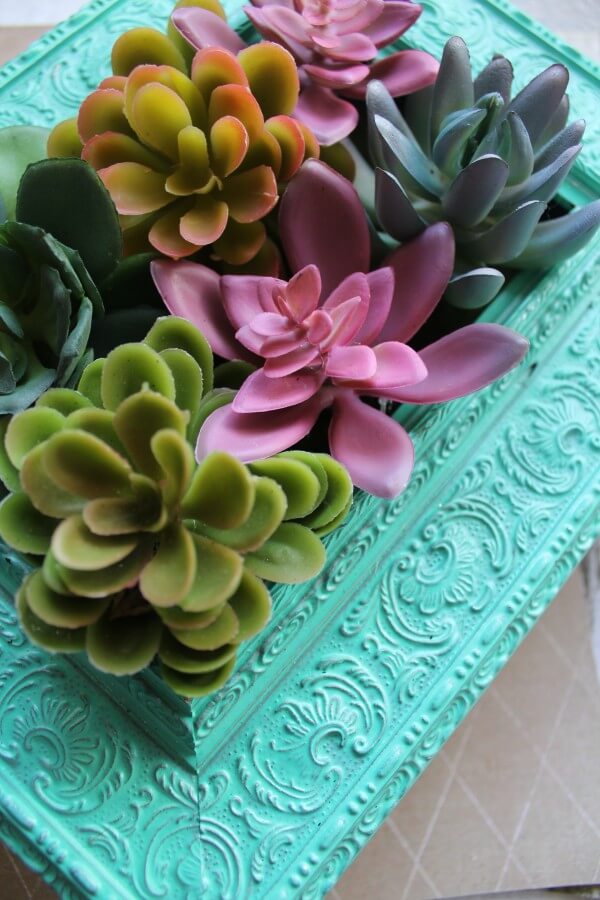 Succulents are all the hype right now. They are super easy to care for and even the faux succulents look realistic. They are perfect for any décor style and are a creative way to bring some greenery into your home. The faux moss backdrop inside the frame really pulls it all together nicely. Place your framed succulent garden on a table, propped against the mantle or hang it on the wall.
13. Greenhouse Terrarium with Assorted Picture Frames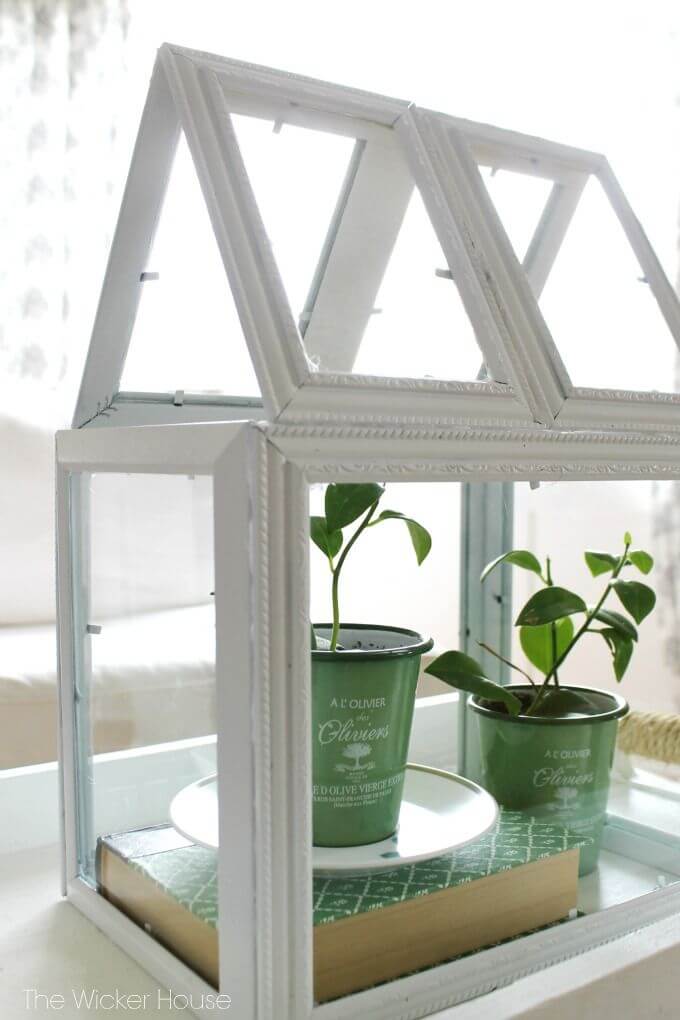 This DIY greenhouse terrarium made using a variety of picture frame sizes serves as a beautiful display case for your plants, whether real or fake. Plants placed in terrariums are easy to maintain since they can hold moisture with minimal watering. This adds so much warmth and earthiness to a room, it's hard to believe it's made using cheap picture frames.
14. DIY Hanging Lantern Using Clear Frames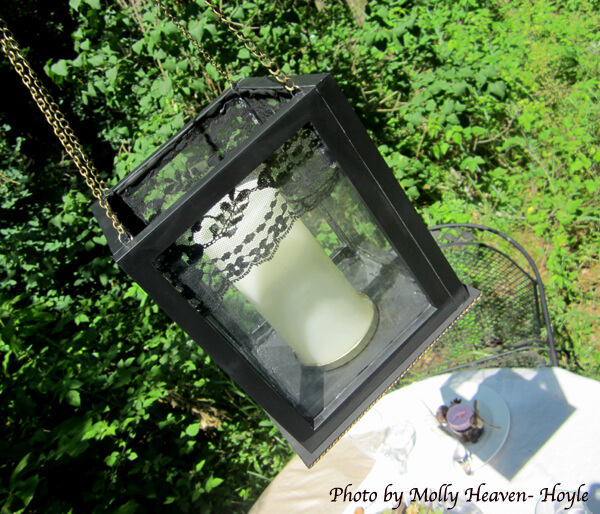 No matter what the occasion, lighting is everything. This unique, handmade lantern features painted black frames, stenciled in lace for a romantic vibe and a candle. Choosing a flameless candle is the best choice for added safety as well as effortless cleaning and upkeep. Take your lantern outdoors for evening star gazing or bring it inside for a table top display.
15. Vintage Burlap Frame Featuring Stacked Platters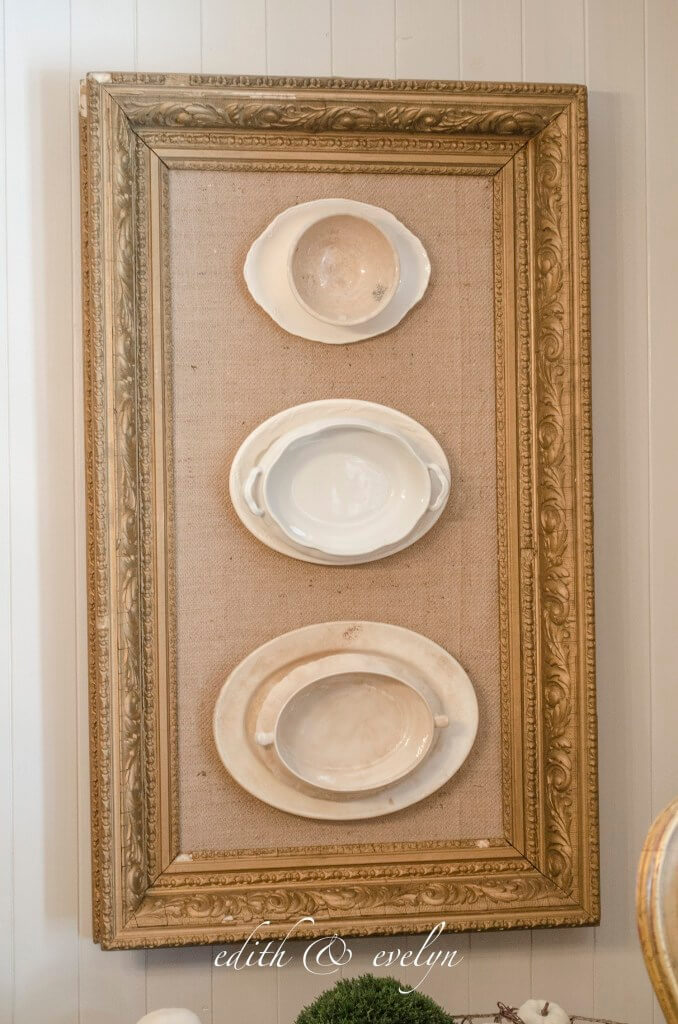 Decorating with plates as wall art is a great way to add dimension to a bare wall in your home. Hanging plates has become a popular decorative trend that showcases your personality and creates a focal point in any space. Placing a few plates and platters inside a frame adds instant glam and provides a more simplistic theme to your wall décor.
16. Framed Wreath Front Porch Décor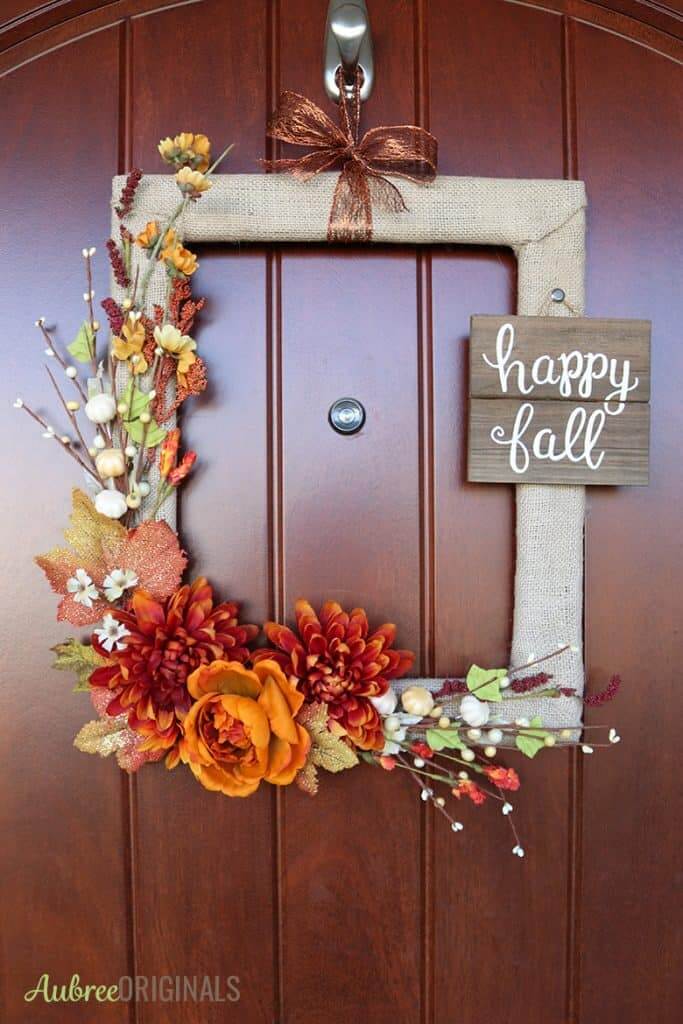 Wreaths are a beautiful way to make your home feel warm and inviting. They add great curb appeal to your home and come in an assortment of styles and colors. This burlap framed wreath is the perfect project to spruce up your door on a budget. Switch up the floral and accessories during each season for a more festive look.
17. Decorative Frame Rack for Storage Display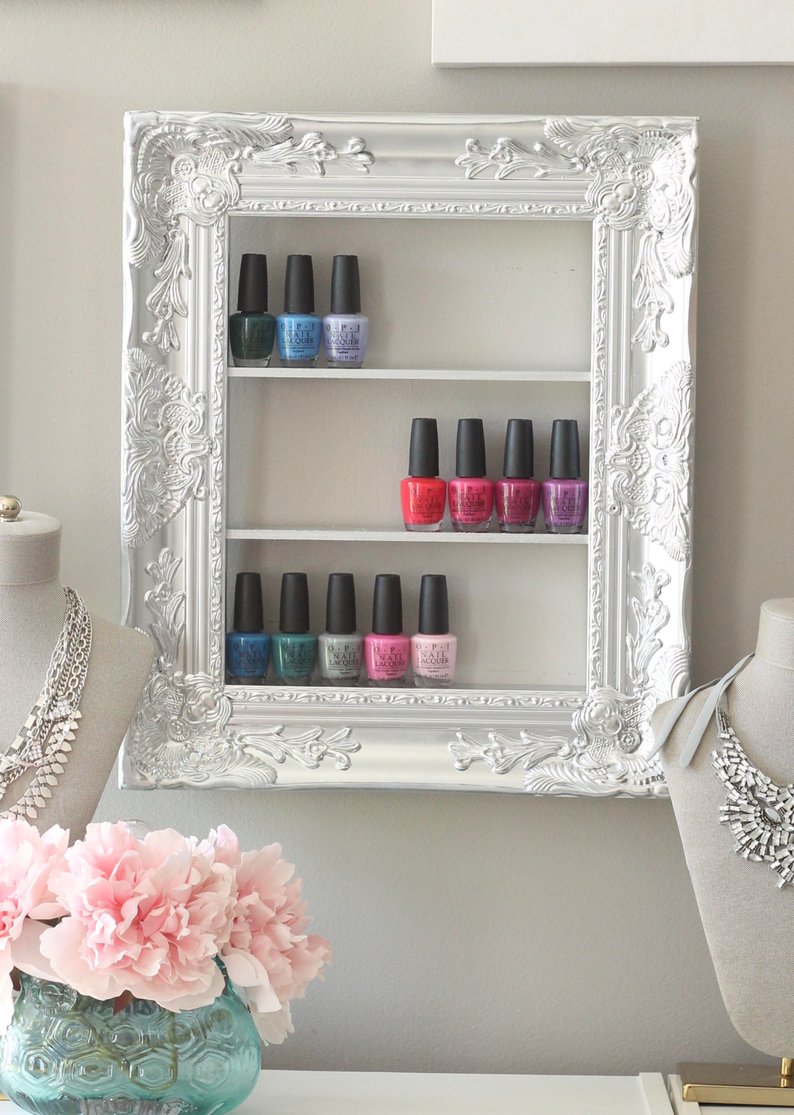 This upcycled frame idea is perfect for storing your nail polishes, essential oils, spices, perfumes and more. It serves as a gorgeous display case for a gallery wall in your home or office. This gorgeous shelving system would also fit perfectly in your bathroom as a cosmetic shelving unit to display your favorite products neatly.
18. Cute and Creative Shadow Box Frame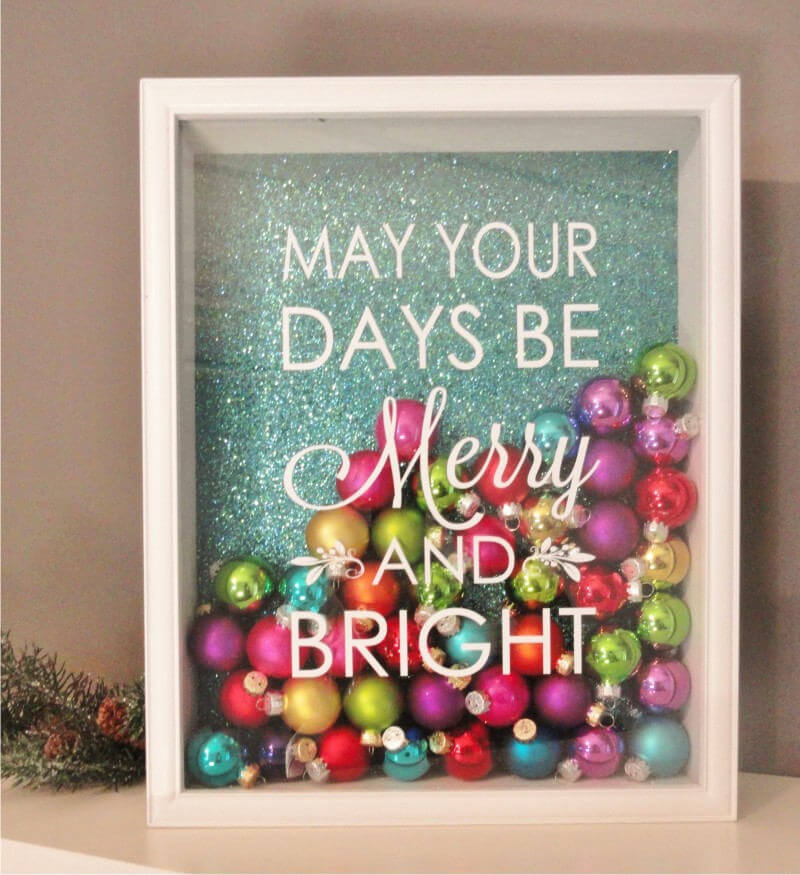 Shadow boxes are a great way to display all your memorable moments and keepsakes into one neat case. They are a wonderful combination of memories and decoration. Whether you create a shadow box frame that's festive, is full of seashells from your last vacation, filled with baby milestones or simply used for a more decorative theme, these cute and creative boxes add a personalized touch to your living space and are quite simple to make yourself.
19. Framed Succulent Wall Planter Garden Art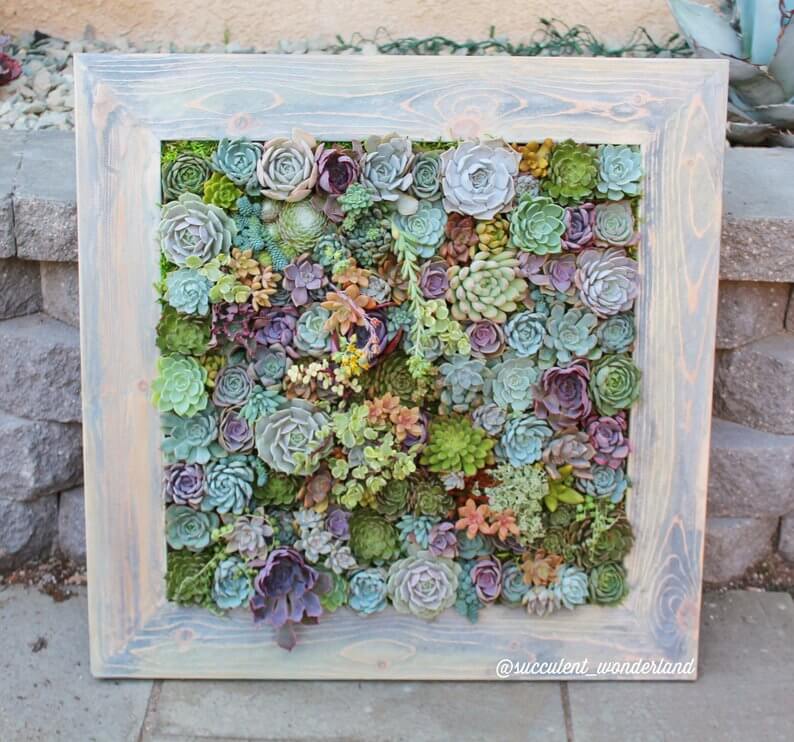 This succulent wall planter is a visually stunning and unique work of art that's easy to create and will liven up the walls of your home. Making this framed succulent garden adds charm and greenery to your living space that will take your plant aesthetics to a whole new level.
Choose Rustic Wall Decor Ideas to Make Your Home Warm and Inviting