Using old windows to accent your outdoor décor is a fun new trend. It is a nice way to reuse unwanted leftovers from remodeling or replacing your windows.
40+ Charming Old Window Outdoor Decor Ideas to Accent Your Space

There are many creative ways to use an old window in your outdoor décor. You can hang the window with or without the glass for a variety of different looks. Without the glass, you can frame various decorative elements like plants or candle holders. One particularly cute frame holds an assortment of succulents.
The glass itself provides a canvas for your creativity when it comes to painting. House numbers and initials are great when painted on the glass. If you have an extra artistic touch, you could paint a whole garden scene on the glass, like the hummingbird and flower scene pictured below.
Window frames can be made into useful and decorative furniture. With a glass top, a French door can be a dining table. You can construct mini greenhouses and potting benches with window frames.
These old window outdoor decor ideas will give your space a gracious, old-fashioned touch. Try some of these charming design ideas in your own garden and show off your personal sense of style.
1. Window Pane and Watering Can Porch Display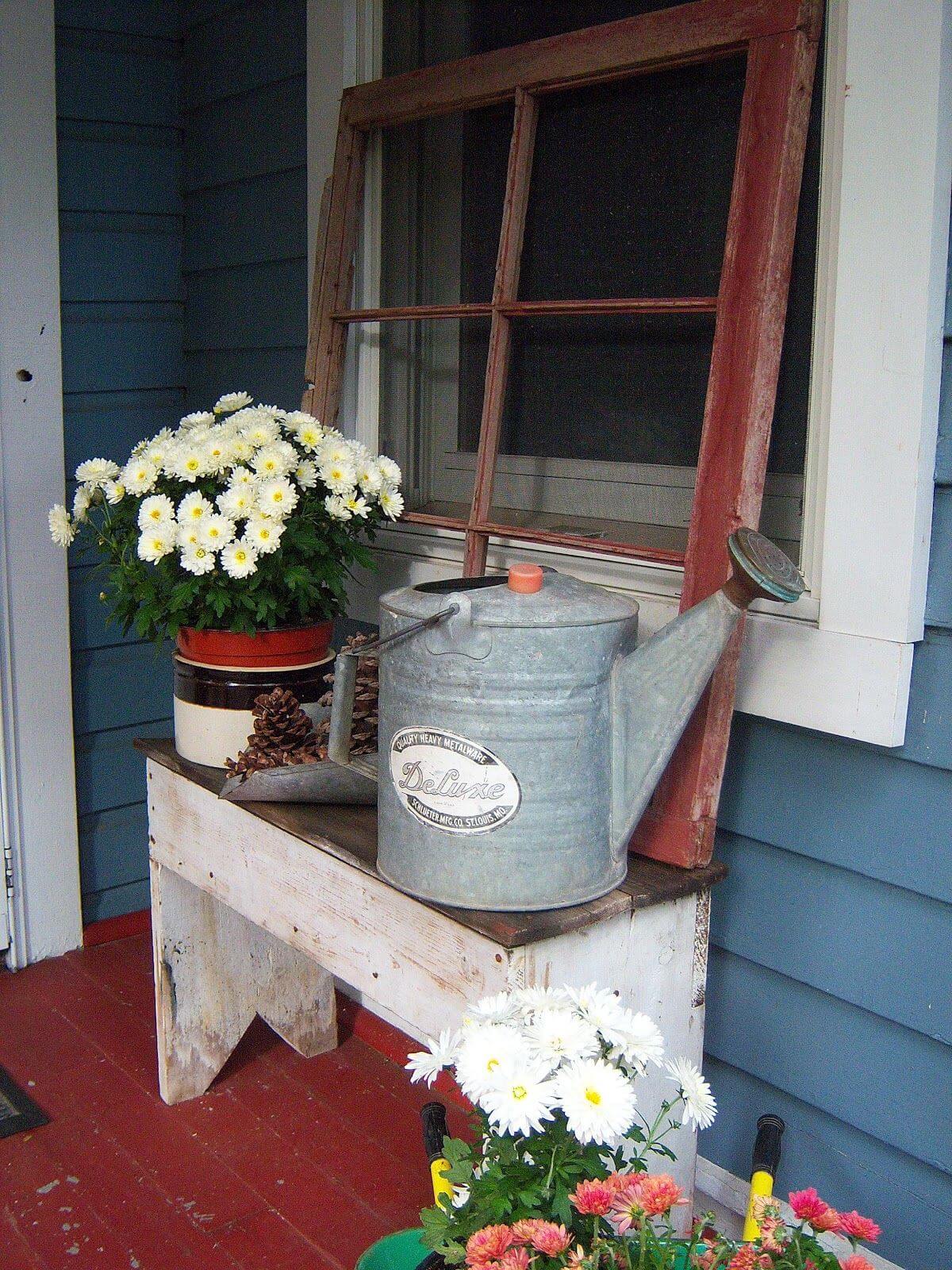 Bring your favorite past times into your porch decor with this summertime display. The simple life is seen in the beauty of everyday items that transform into fun and homey porch decorations. From the worn window pane backdrop to the garden goodies on the bench, guests will be greeted by all things enjoyed about the season of the sun.
2. Rustic Outdoor Window Pane Wall Art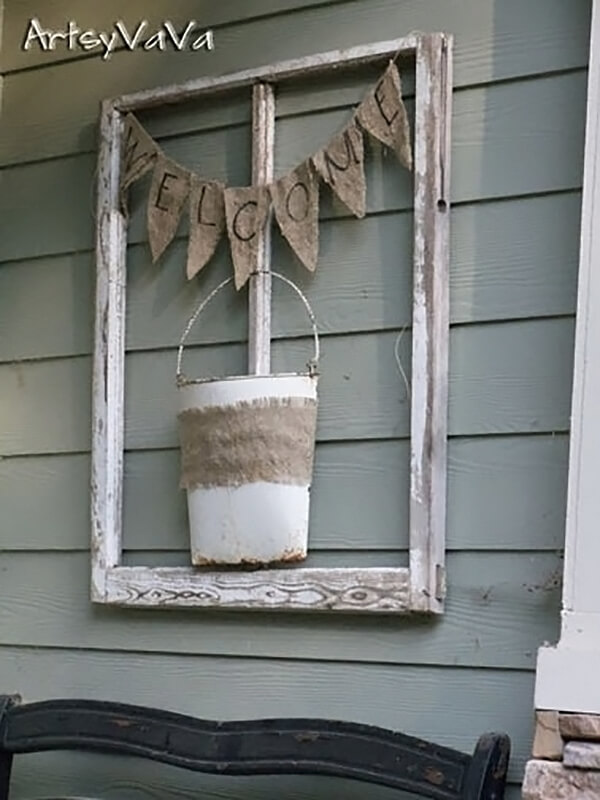 Greet guests as they enter your back porch with this repurposed old window pane that's been reinvented as a charming rustic welcome sign. The vast character from such a distressed and shabby chic piece lends an air to the laid-back lifestyle reminiscent of going to grandma and grandpa's house on Sunday afternoons. Enjoy this large welcome sign on your back porch or on the side of your gardening shed to decorate your backyard.
3. Outdoor Window Ledge Shelf Unit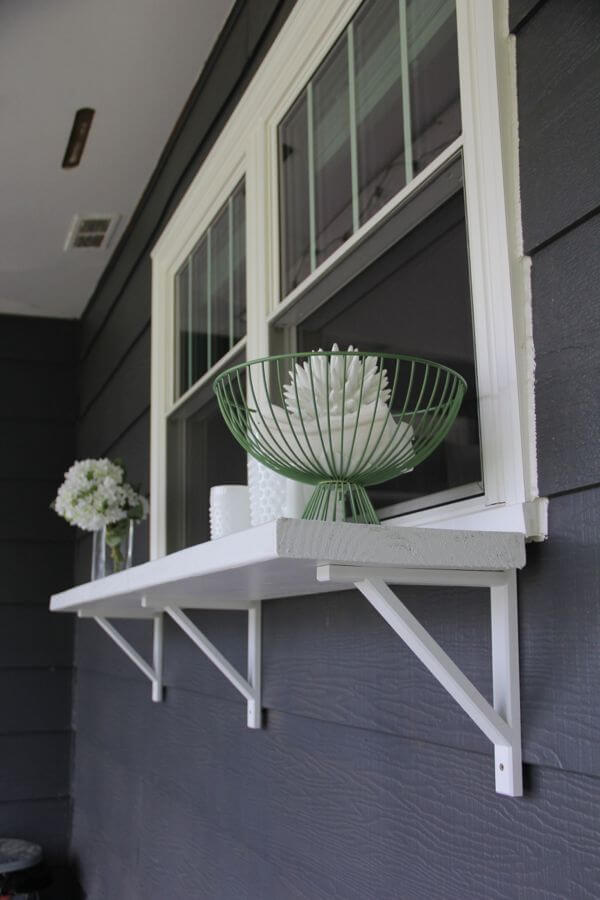 Give your succulents and small outdoor plants a new place to perch with this window ledge outdoor shelf. Resting snuggly under your large kitchen window, from the outside you'll be able to enjoy the shelving space for displaying some more fragile decorations along with your tiny plant friends. During backyard barbecues, it even offers a space to set napkins, plates, and condiments so little hands and paws can't reach them.
4. Long and Lean Glass Greenhouse Home Addition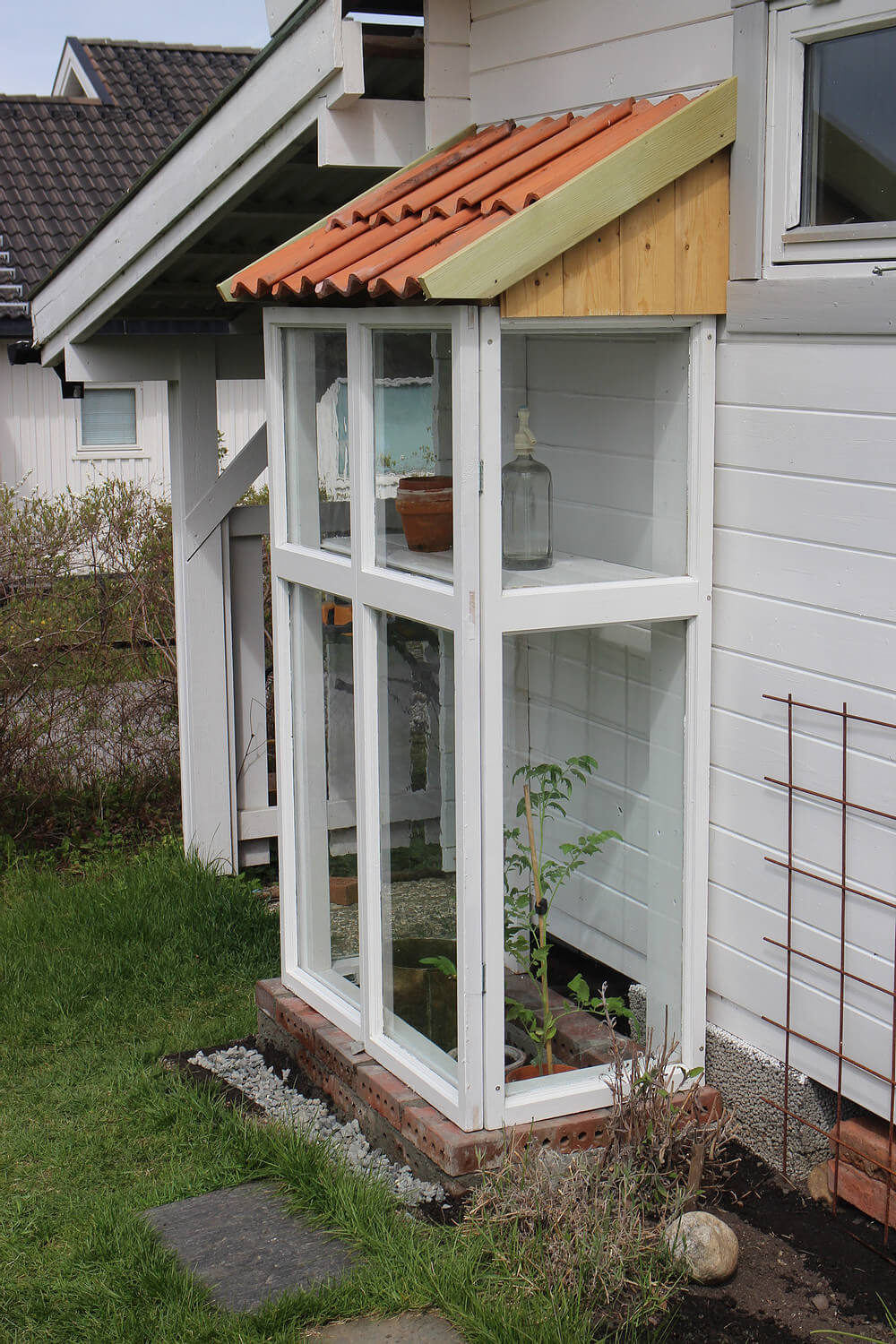 If you're short on backyard space, don't worry. You can extend your home to include a pint-sized greenhouse that gets the job done. Long and lean windows form the three sides of this gardening home as they are positioned against the back of your house to make efficient use of a small space. You'll add a little charm and a whole lot of flavor when you enjoy the harvest of the garden goodness in this extension of your home.
5. Reclaimed Window Miniature Personal Greenhouse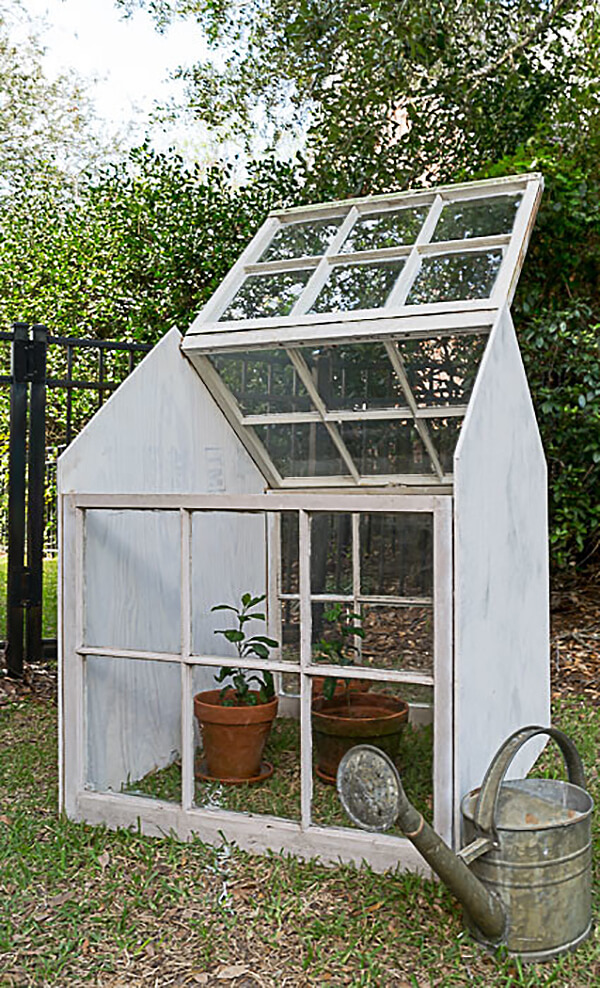 What's not to love about this cute, miniature-sized greenhouse? Not only does it add beauty to your backyard, but you'll also be able to keep your favorite potted plants safe during the threat of frost. Growing your seeds never looked better than safely housing them in this wonderful window-constructed home that's the perfect size to meet your family's needs. Give the young folks a lesson on the greenhouse effect as they see firsthand how the process really works.
6. Eclectic Vintage Window Outdoor Garden Station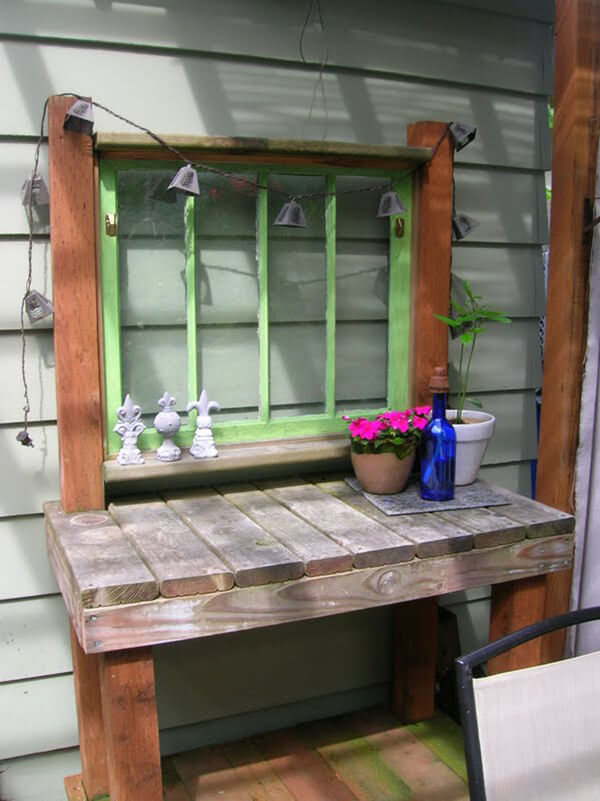 Getting your hands in the dirt is a feeling like no other and what better way to make the most of your time in the garden than with a functional and friendly outdoor garden station. This lovely vintage design gives you the center for all of your go-to gardening supplies. It even offers counter space for planting your potted pretties. As you get your hands dirty, you'll relish in the cozy charm of the station's design as it holds an old window pane to add to the delightful outdoor experience.
7. Wonderful Window Backdrop Porch Decor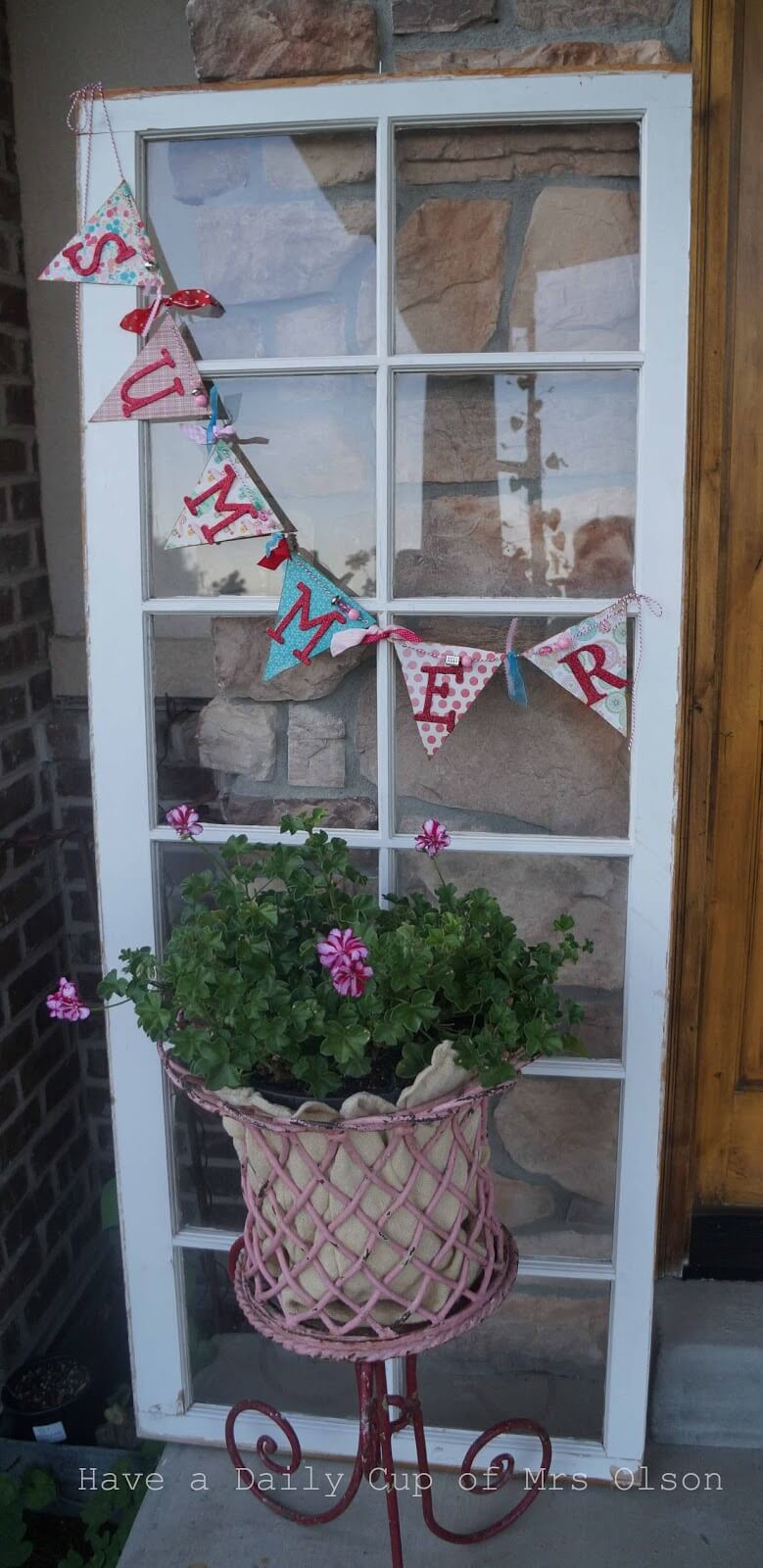 Increase your curb appeal by setting the stage with a unique and welcoming window pane backdrop. Your pink plants will steal the show as they are set to front and center in this thoroughly thought-out porch arrangement. Nestled in the corner, the window backdrop adds depth and character to make decorating for the warm weather even more fun. Drape a pennant or flowered garland across the corner to add even more charm to this fabulous front porch decoration.
8. White Window Trio Plant Holder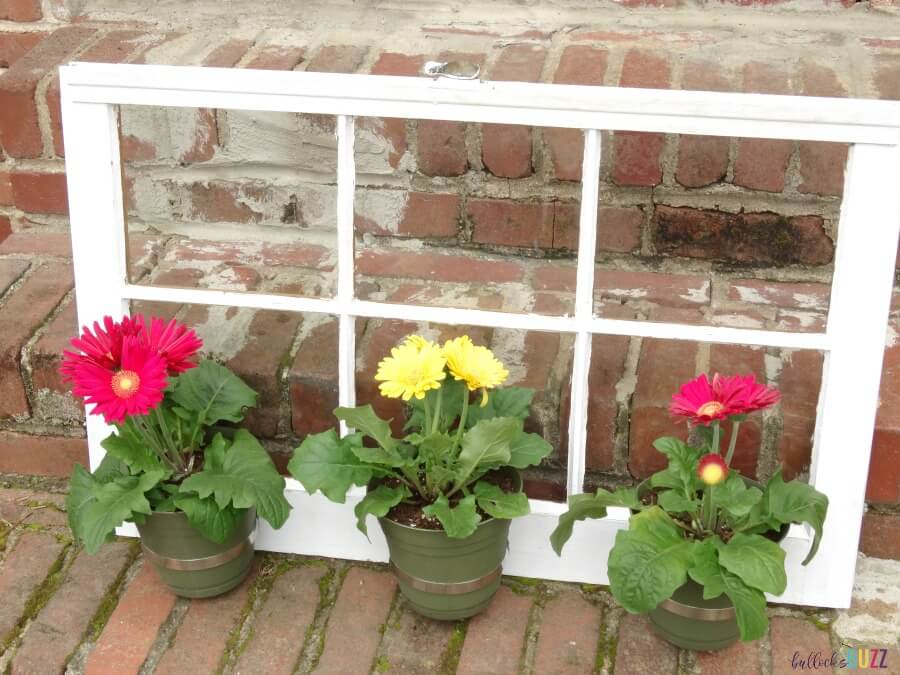 Clean and crisp, this white window plant holder makes the perfect contrast to your bright and beautiful flowers. With three rings to hold your favorite planters, you'll create a magnificent flower display in little time. Easily remove the pots to change each season or water daily. The window plant holder is versatile as you can hang it on your shed or garage, or simply lean it on the back porch.
9. Various Hanging Window Backdrop Creation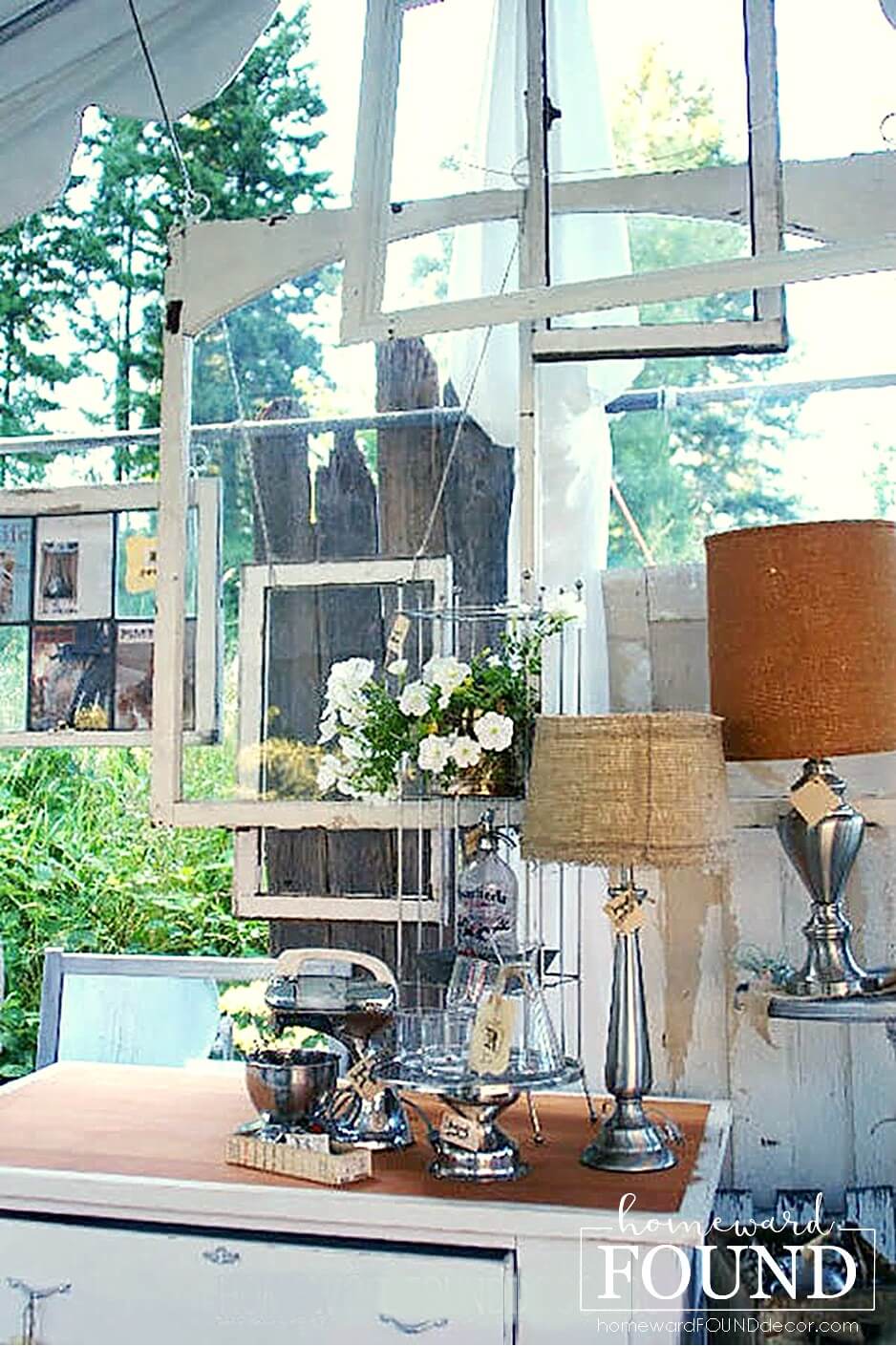 Draw attention to a display with this incredible and earth-friendly window backdrop. The display features a wide variety of windows to captivate its unique and attention-grabbing design. While some of the windows have their glass in-tact, others don't and together they create an amazing arrangement that is pleasing to the eye. Hang them in differing heights to make the most of your look. This would be a breathtaking backdrop for the cake cutting at a wedding reception.
10. Reclaimed Window Miniature Decorative Greenhouse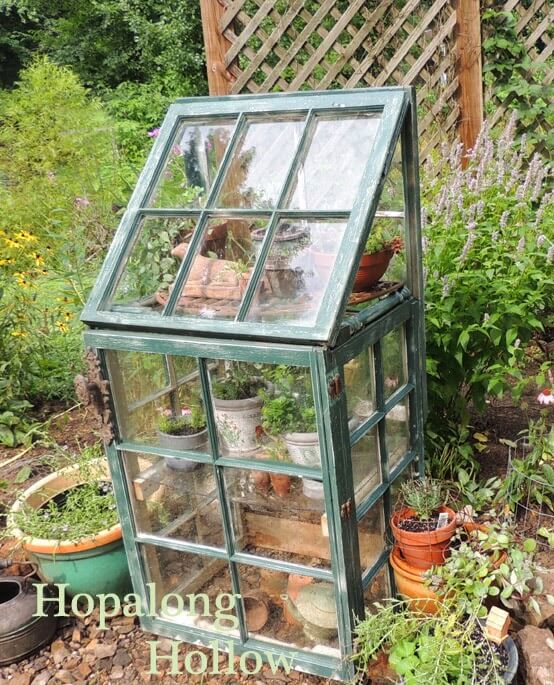 Add some functional beauty to your backyard garden area with this reclaimed window greenhouse. Making the most out of unused windows, this miniature greenhouse keeps your plants warm while allowing you to see their green beauty. House your herb garden here or use it for growing seedlings. Either way, it's a functional piece that doubles as pretty backyard gardening furniture.
11. Old Window Transformed Outdoor Accent Table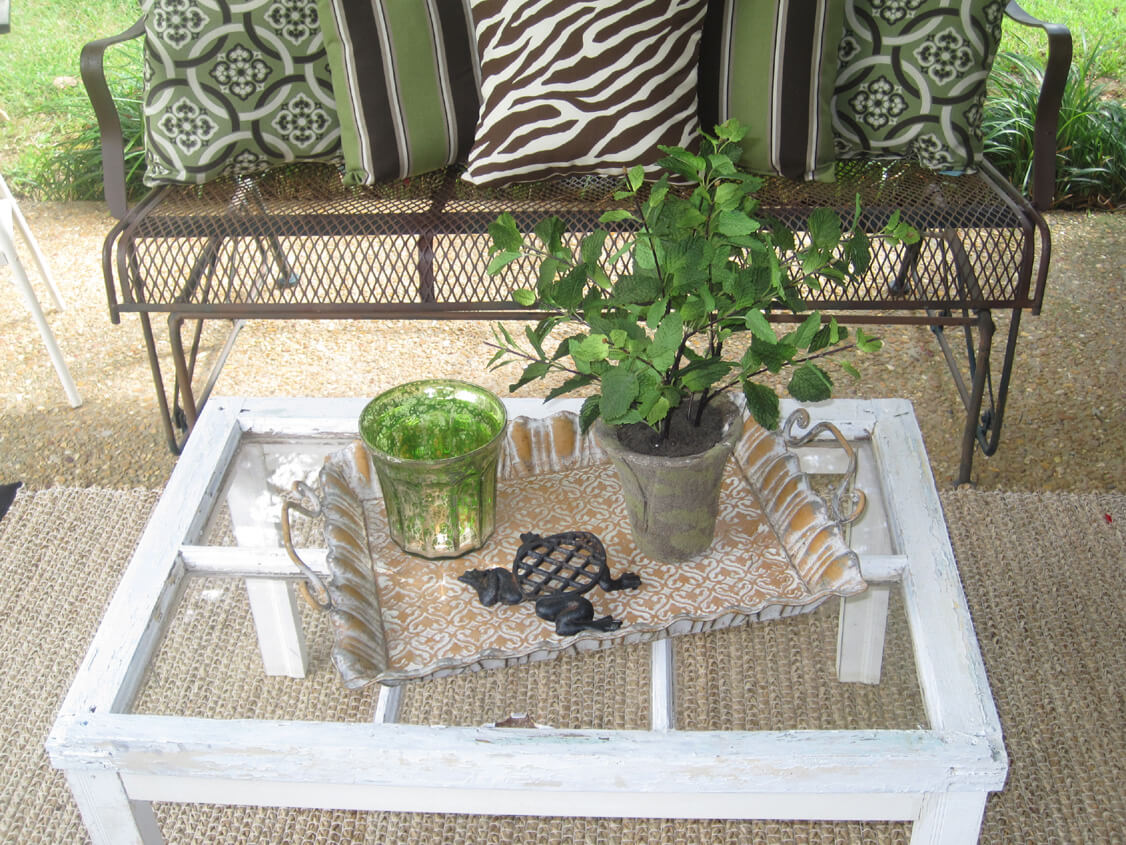 Here's a fun spin on an unused window pane. Instead of reimagining it as a decorative element, give it some purpose as a functional table. The separate panes add some character and charm to this amazing outdoor coffee table that's the perfect addition to your outdoor living room. A cute decorative tray completes the look and invites your friends to many long conversations this summer.
12. Repurposed Etched Glass Window Pane Decor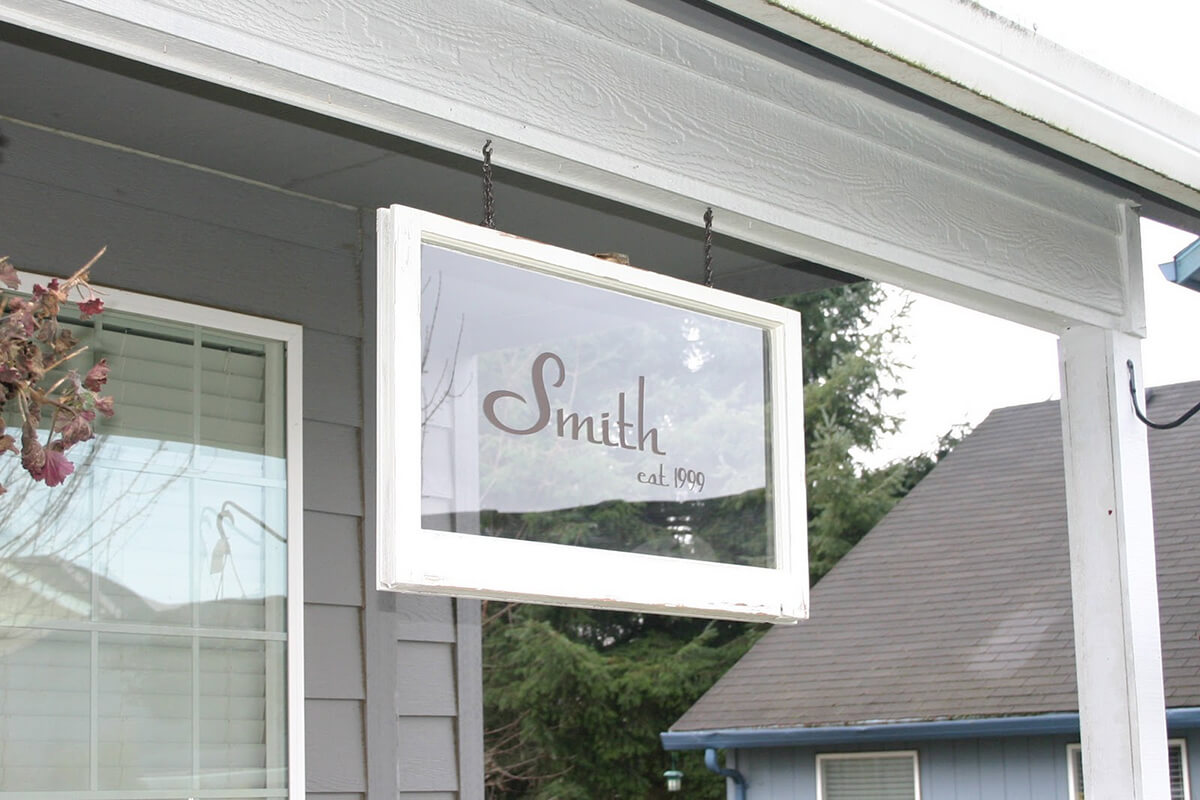 Add some nostalgia to your front porch while giving a second chance at life to an old window pane. This vintage window pane has a fresh coat of white paint on its frame while the glass inside provides the perfect canvas for a family sign. Carefully etched, the family surname and date of wedded bliss are showcased on this repurposed beauty. Hang it on the front porch for all passersby to see and enjoy its simplistic style as part of your porch decor.
13. Star of the Show Wire Framed Art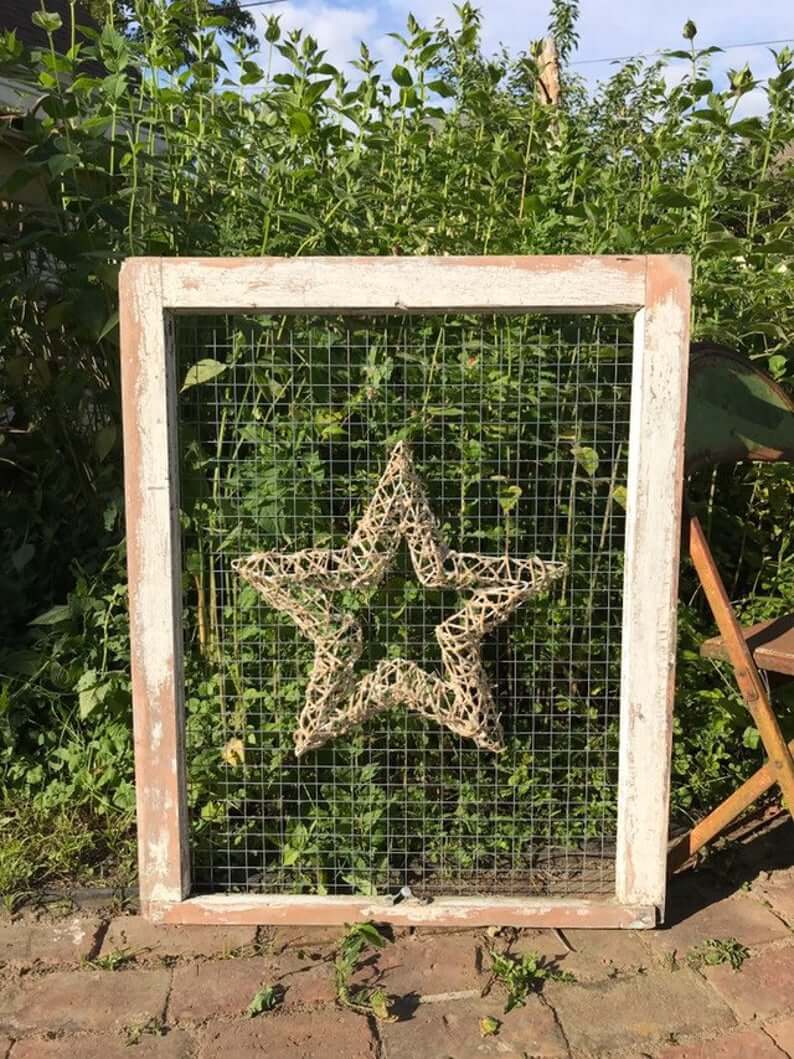 Big and bold, this wired art proudly displays a star in the center to add some interest and character to your outdoor decor. On the porch or within the flower garden, this interesting framed artwork is a nice contrast to the lush green of the great outdoors. The wired background works as a trellis for any climbing plants you might have to add even more visual interest.
14. Creative and Artistic Decorative Glass Garden Hub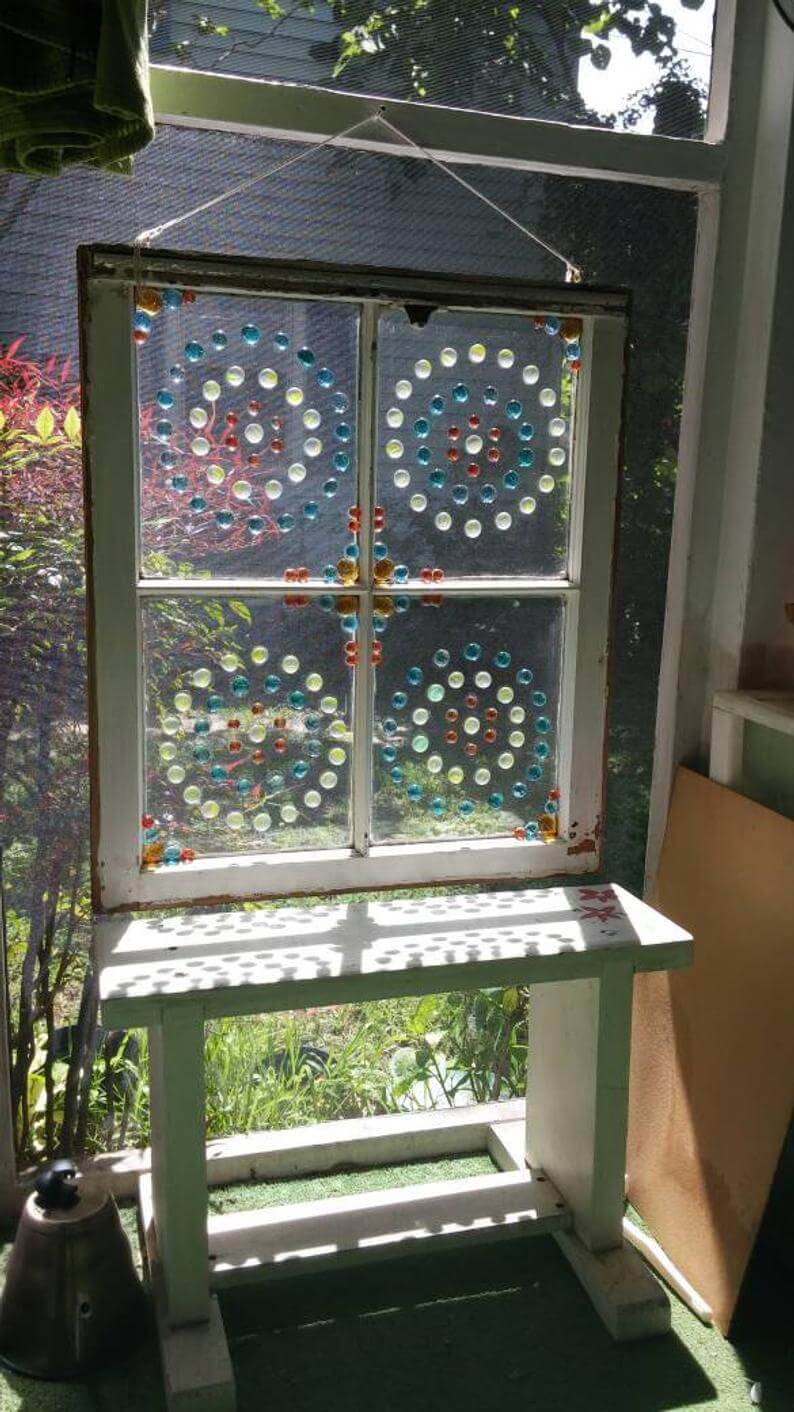 Closely resembling the timeless beauty of stained glass, this large window has been decorated with colored glass stones to enhance the beauty in this gardening hub. You'll revile in soil and seeds as you have a perfect place to get your garden growing. Perhaps the best part is how much joy and beauty this garden station adds even when it's not in use.
15. Beautifully Hand Painted Floral Window Wall Art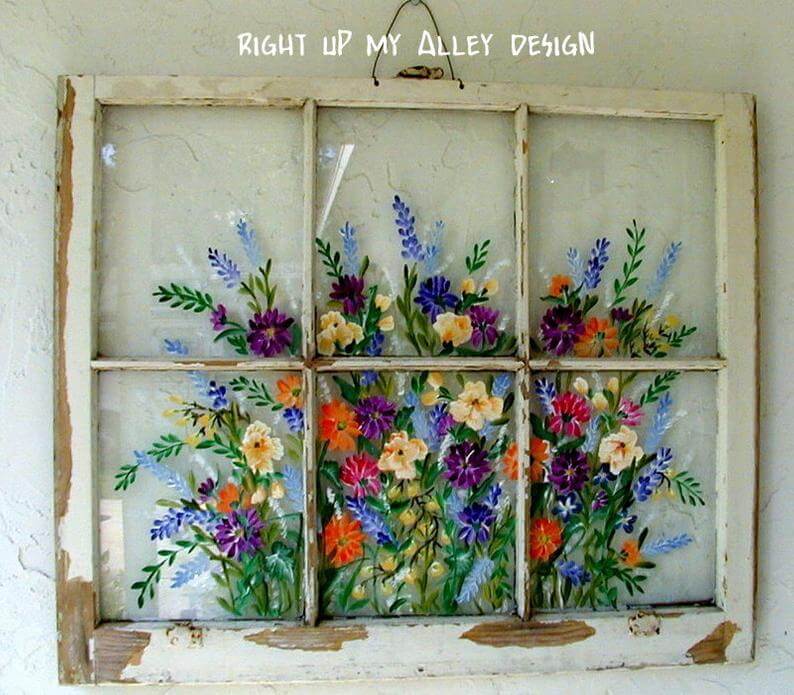 They say one person's trash is another's a treasure and this is a great example. Here an old, dated window becomes the artist's canvas. You can add depth, texture, and style to your farmhouse home with this beautiful wall hanging. Hand-painted flowers in a multitude of colors add richness and vibrancy to your home. Such a masterpiece would look great both indoors and outdoors.
16. Picture Imposed Window Pane Decoration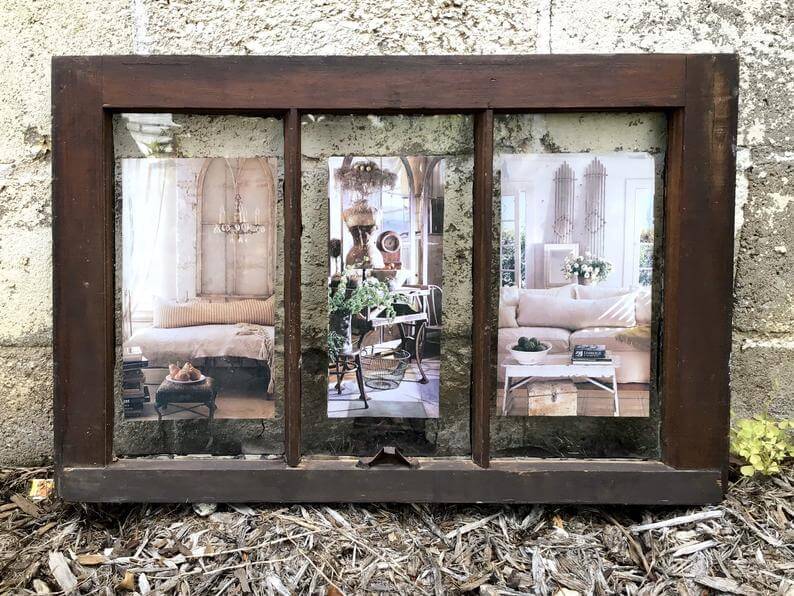 This interesting and unique window decoration nearly lets you sneak a peek into the interior world of three amazing designs. Each of the three glass window inserts features a different snapshot of amazing interior design. You can customize until your heart's content with this creation can be changed for seasonal enjoyment. Make it personal with photos of family homes from long ago to create a one-of-a-kind gift for a special family member.
17. Worn and Weathered Window Outdoor Decor Trellis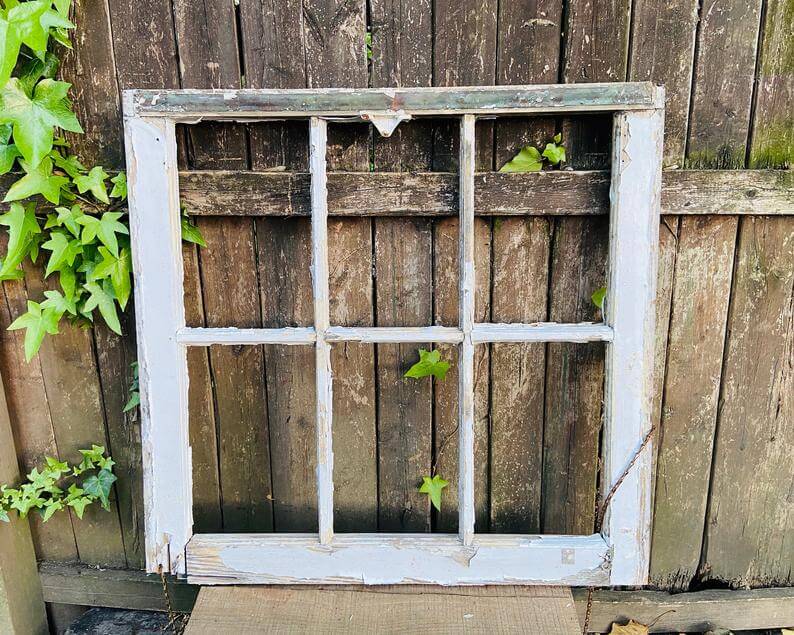 Sometimes a simple piece like a worn-out window can become a useful and decorative design for your backyard. Placed near the shed, this weathered window is the perfect item for a nice ivy to weave its magic throughout. Even one of the favorite climbers, the clematis, would breathe a breath of fresh air into this otherwise wood pile-worthy item.
18. Wine Glass Window and Shutter Outdoor Decor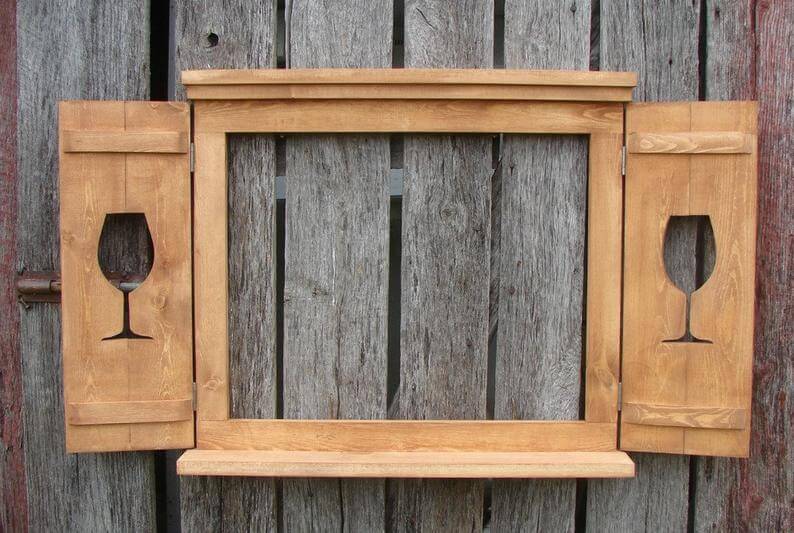 Your friends will enjoy your backyard entertainment accompanied by this fun and unique wine glass window and shutter decor. Featuring a wine glass cut-out on each shutter, this window opens up to take up a nice bold space in your exterior entertaining space. Serving up a relaxing evening of wine under the stars is a fun experience with your special someone or a group of friends, so add this decoration to highlight such an enjoyable time.
19. Window Frame for Hanging Plant Pots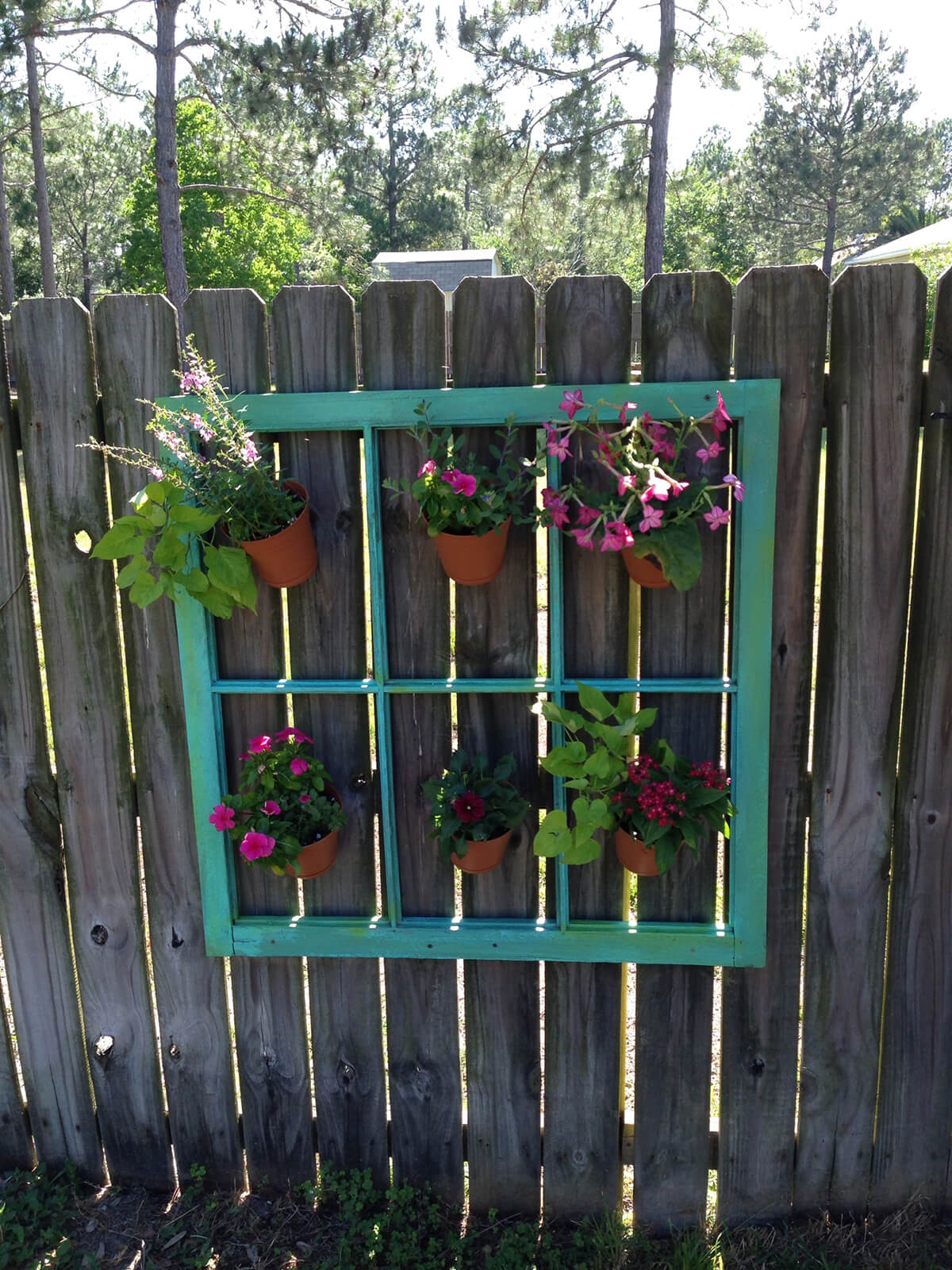 20. Cute Display with Wreath and Window Box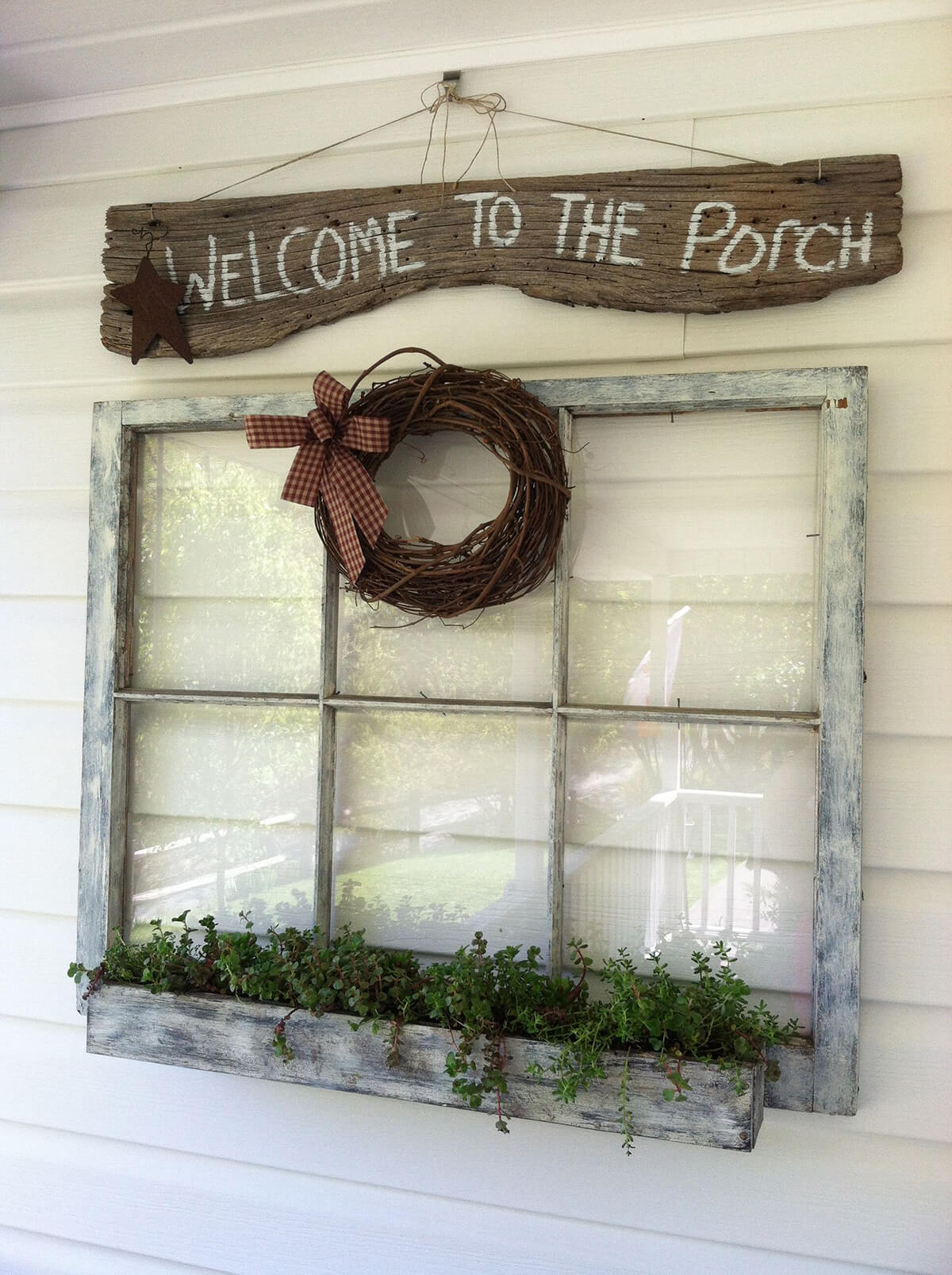 21. Old Windows Made Into a Greenhouse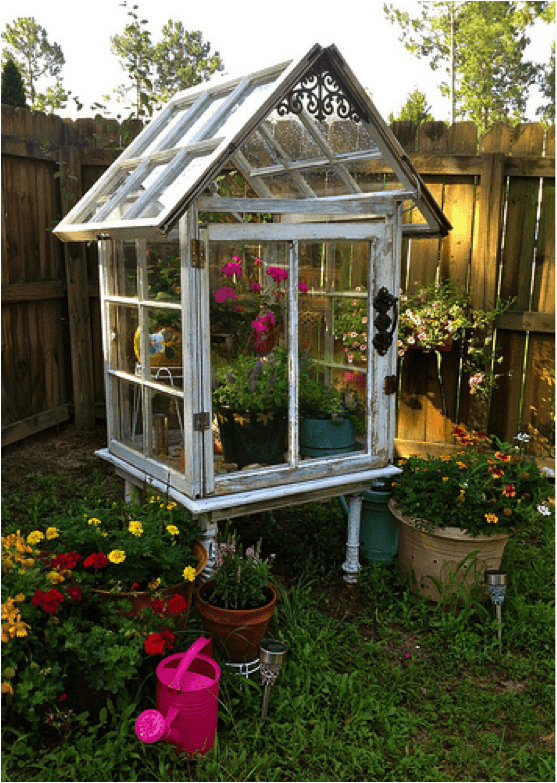 22. Wall Frame for Pretty Succulents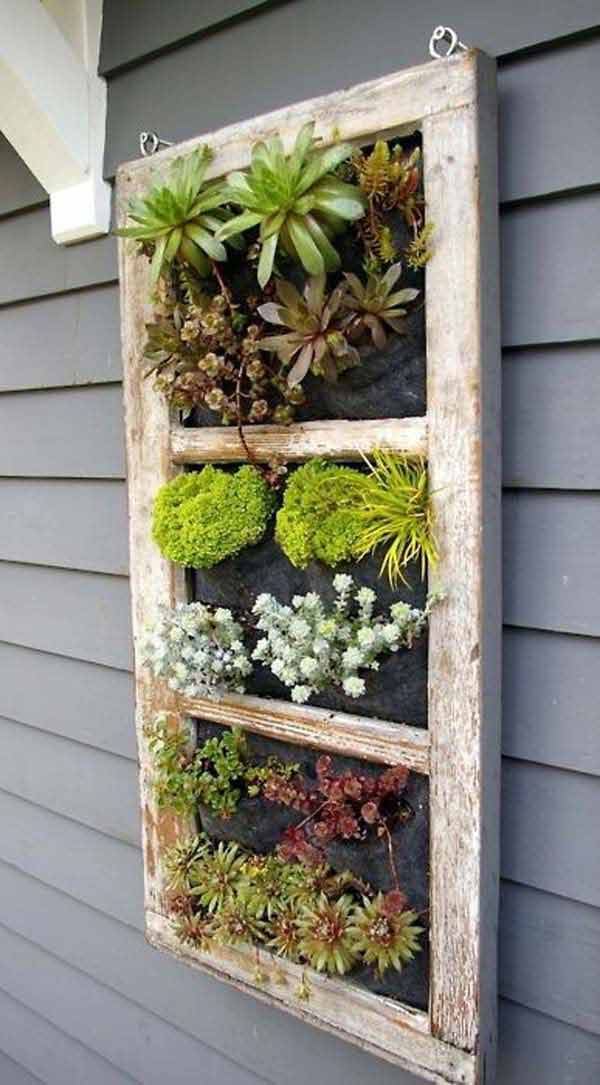 23. Bee Themed Painted Window with Herbs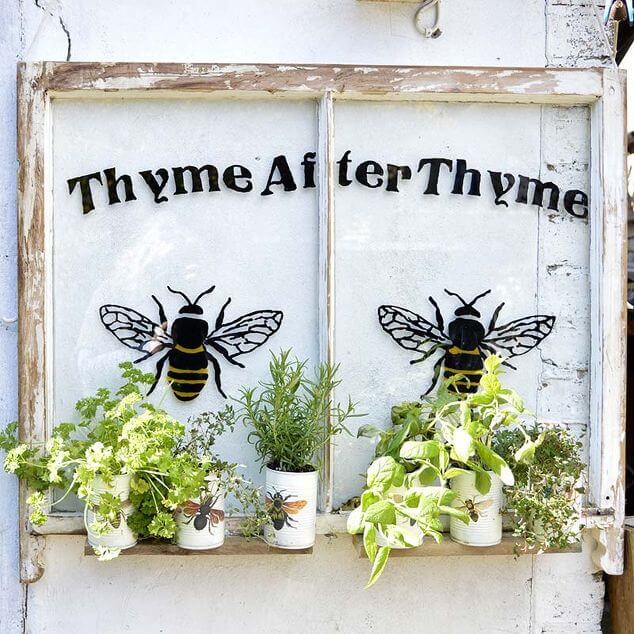 24. Make an Old French Door Dining Table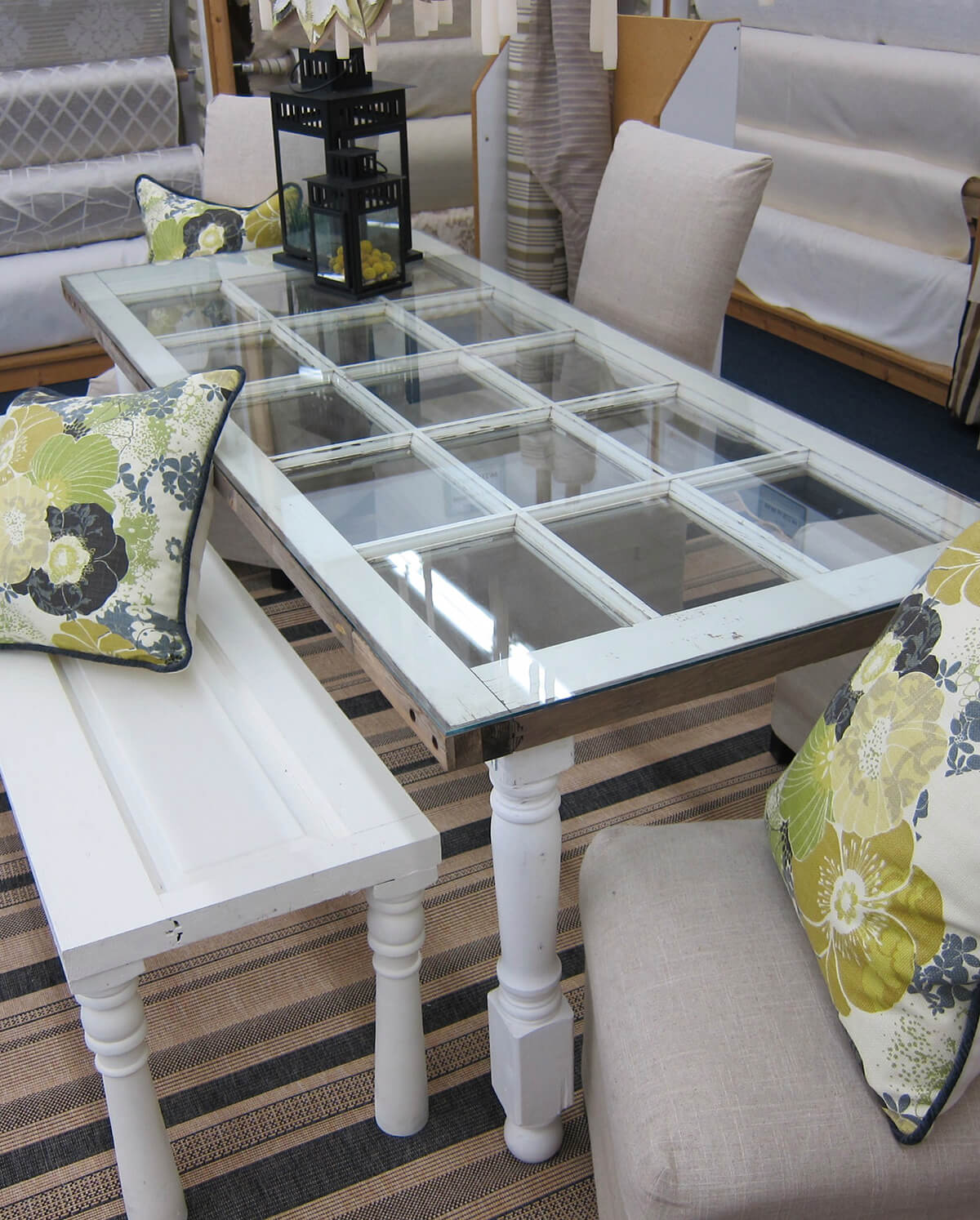 25. Shuttered Window on the Fence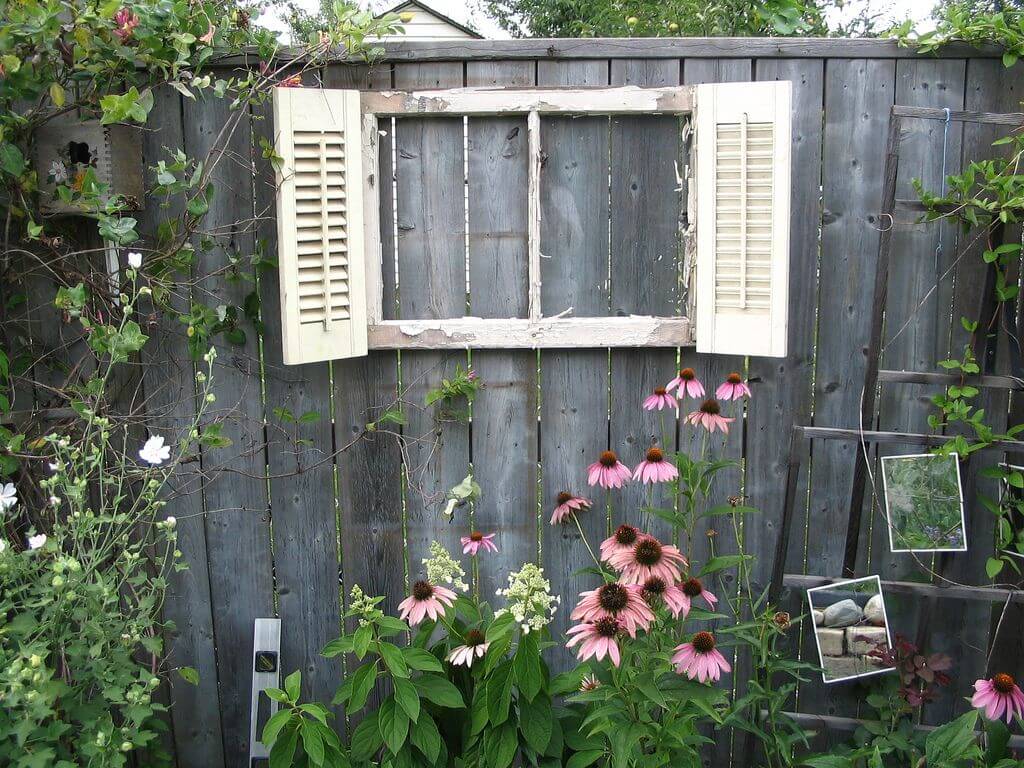 26. Window Frame with Family Photos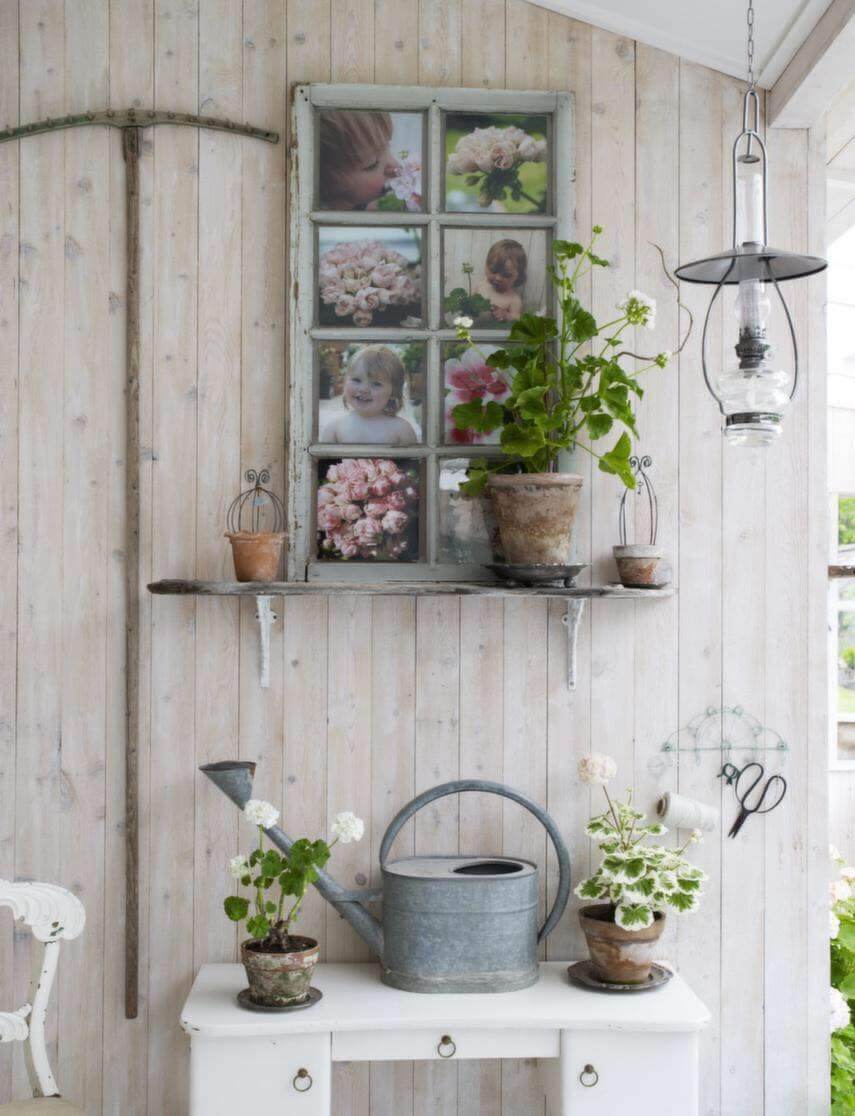 27. Mirror Frames Reflect Your Garden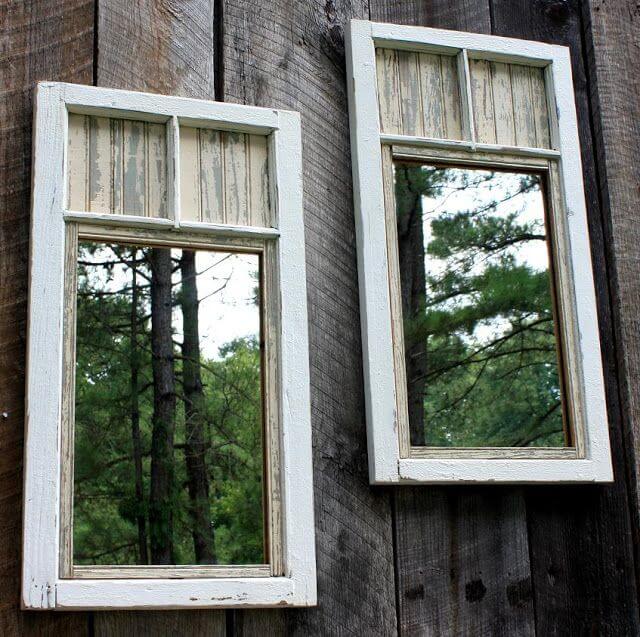 28. Glorious Painted Window Hanging by the Swing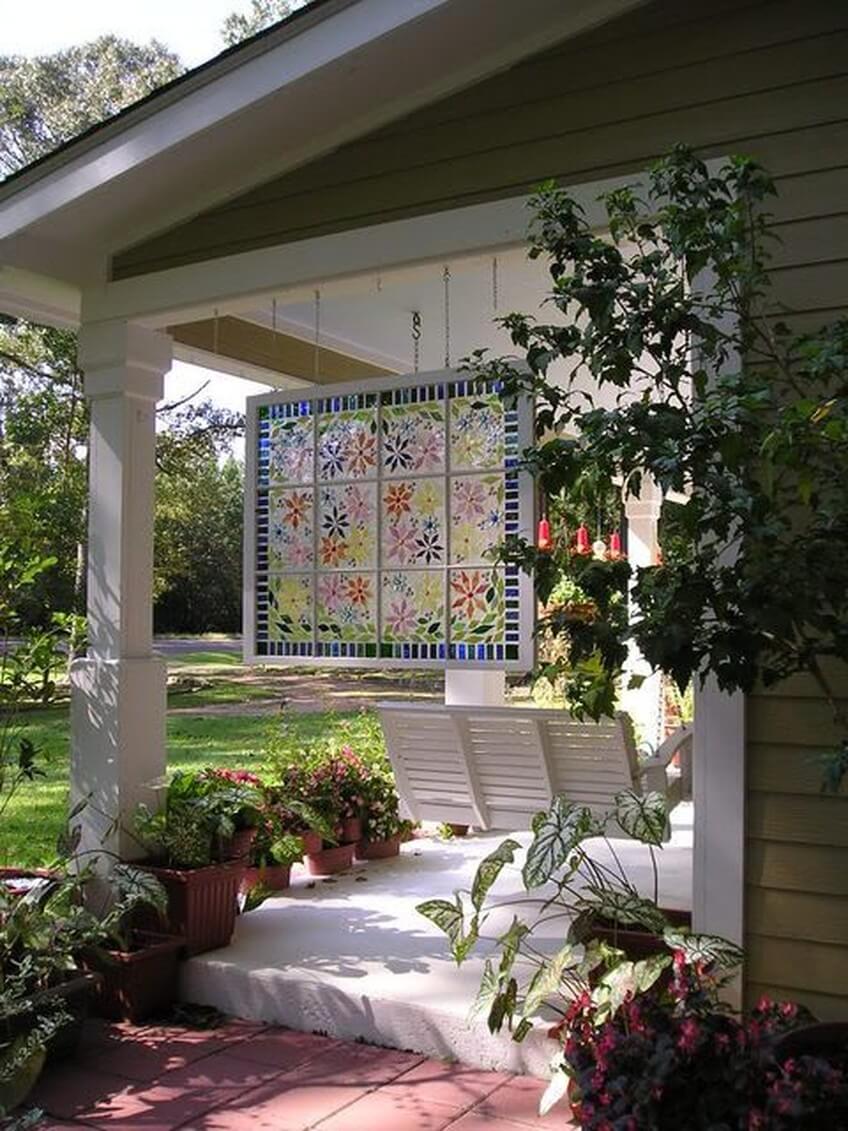 29. Upcycled Window Frame with Blooming Flowers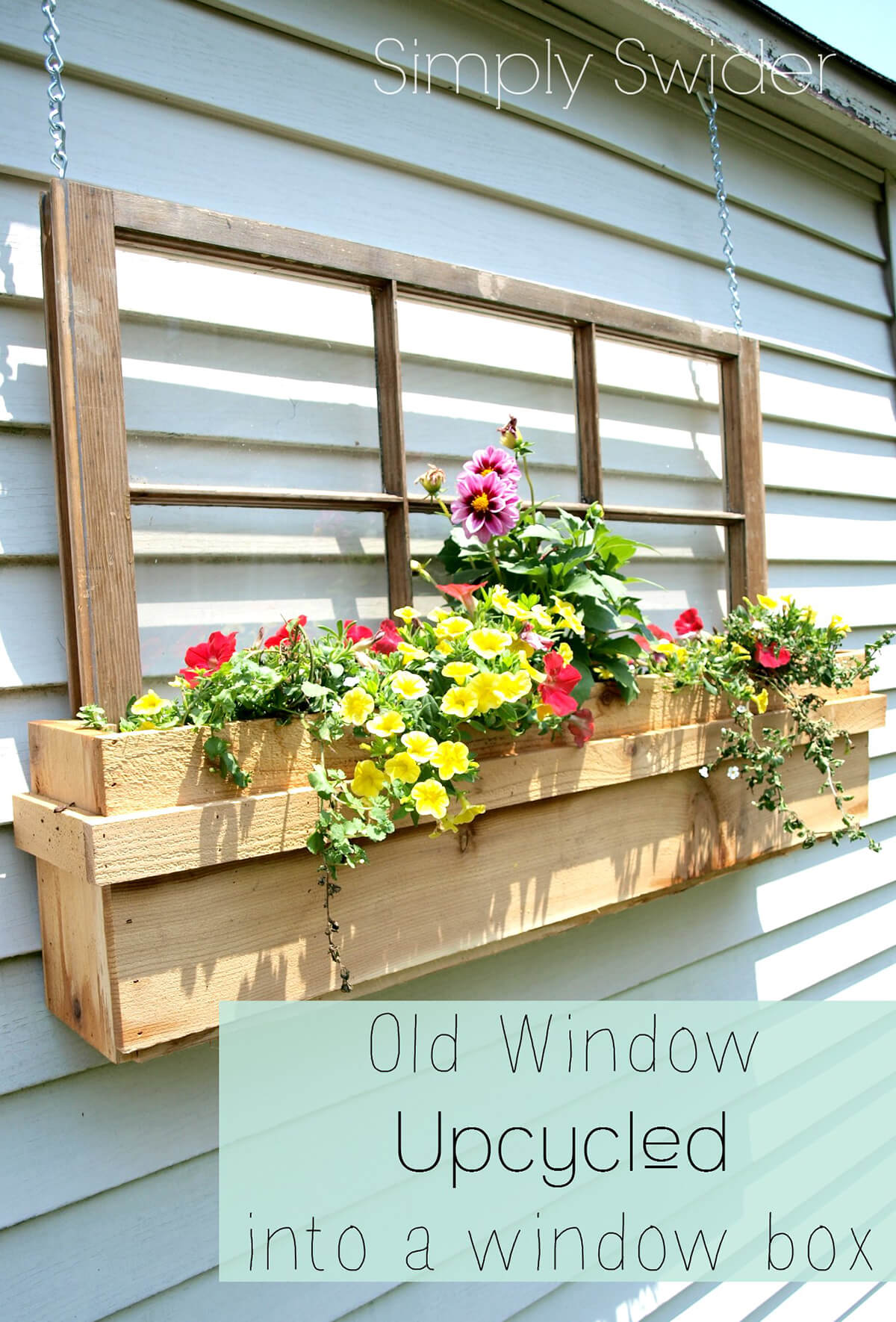 30. House Number Window with Metal Star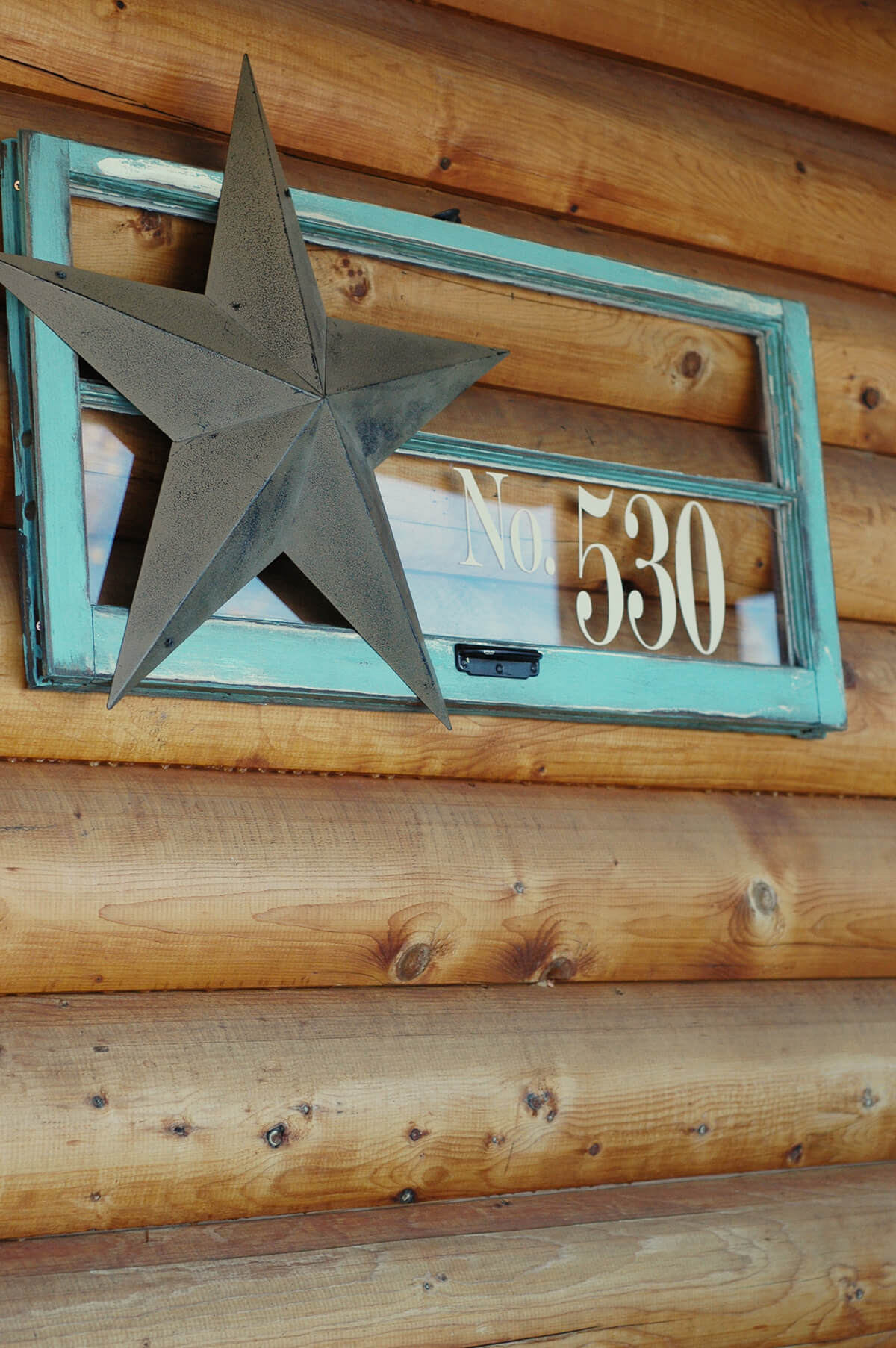 31. Mirrors Make Your Garage Stand Out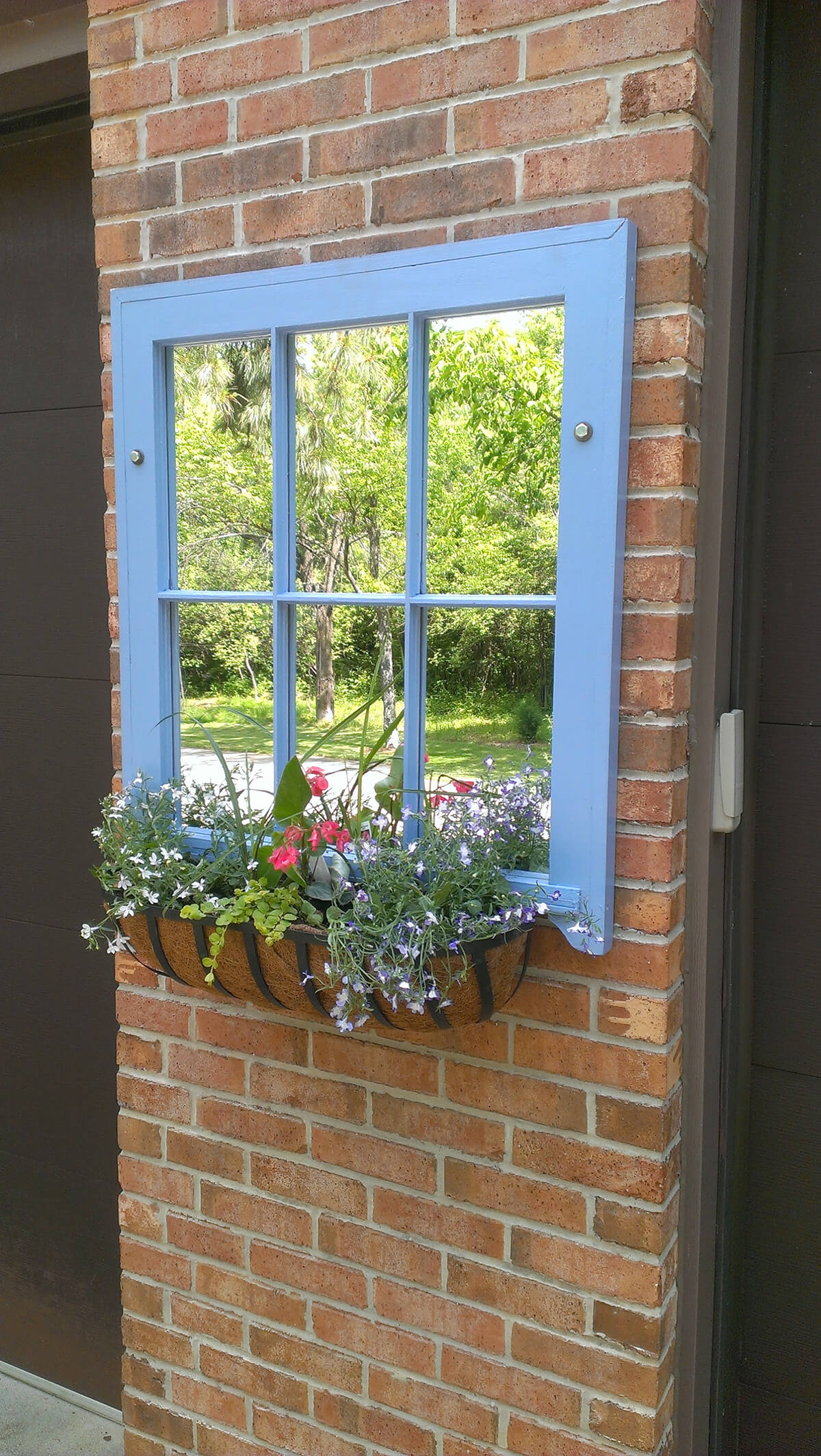 32. Lovely Hanging Petunias on a Rustic Window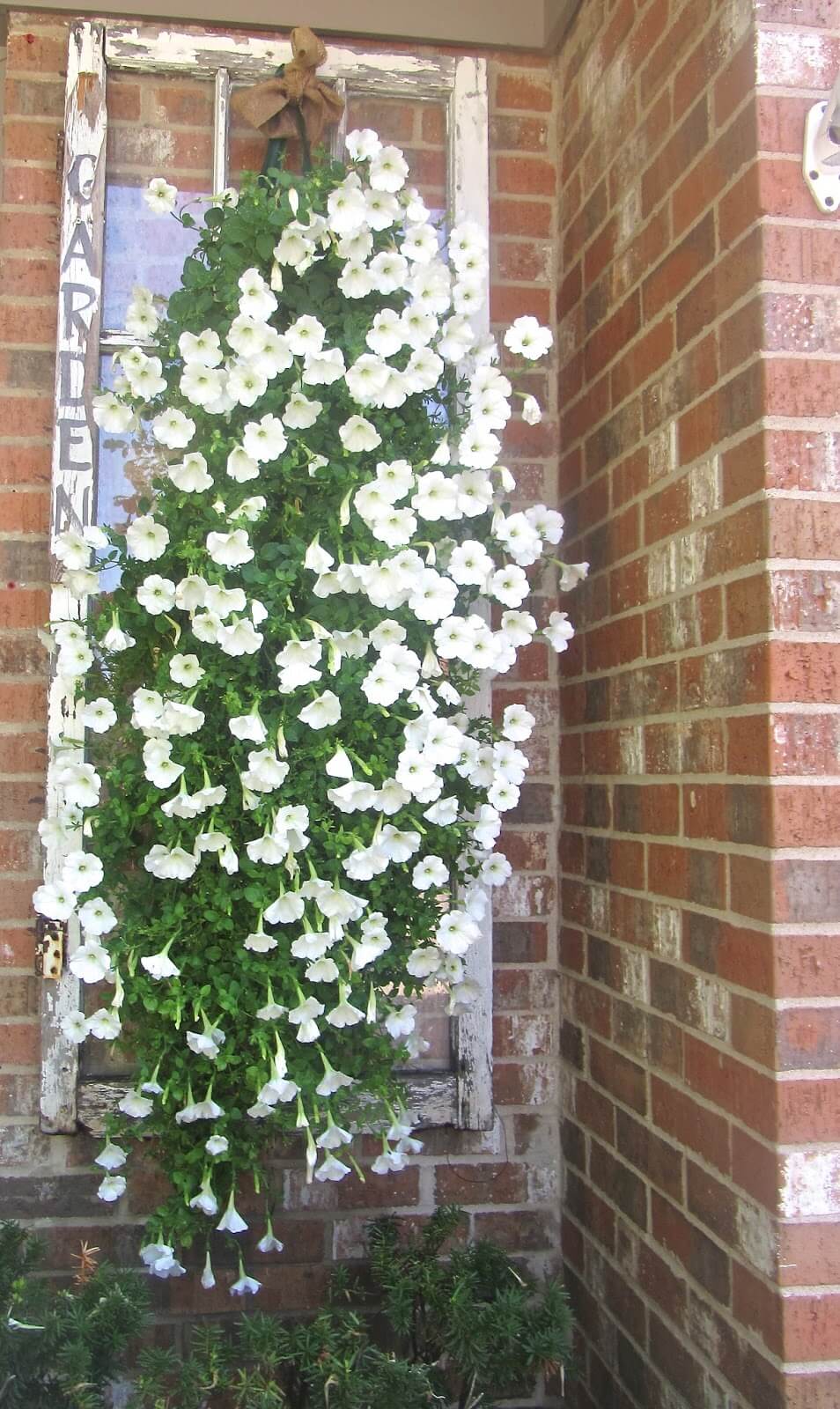 33. Old Window Outdoor Decor Idea for Benches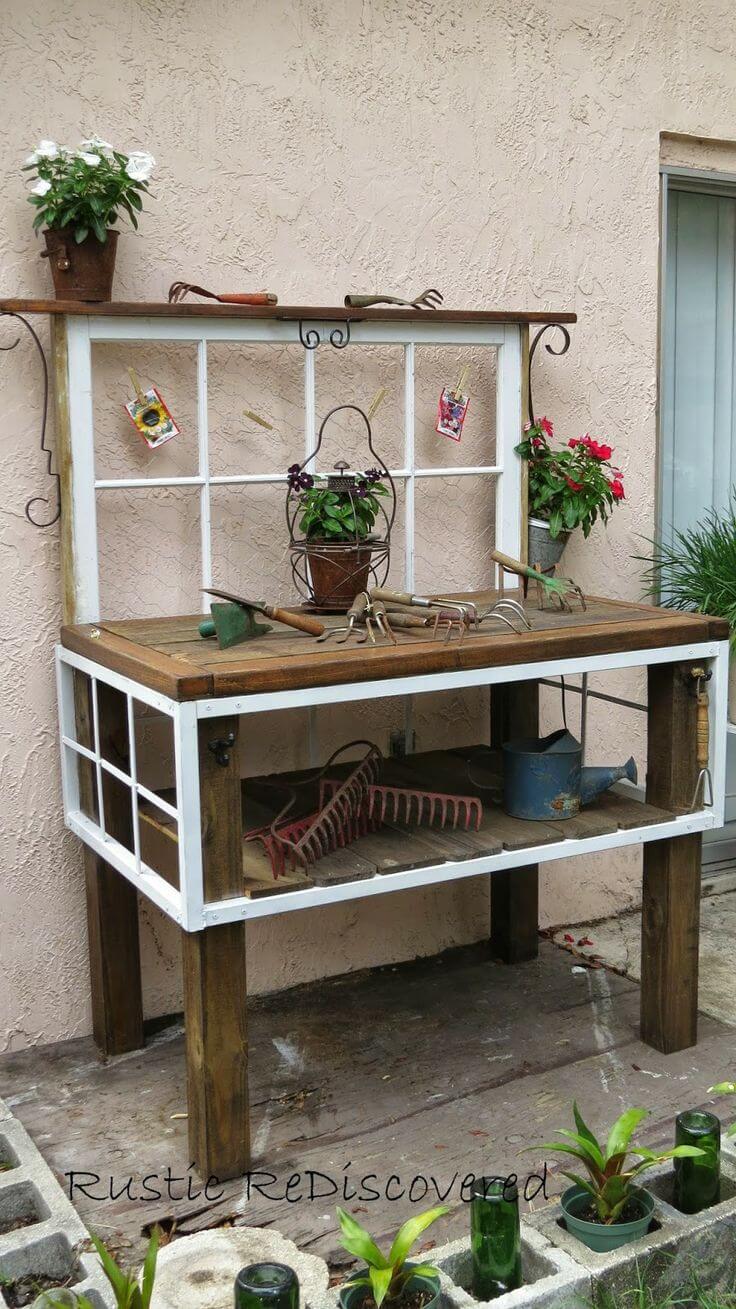 34. Hang Window Frames on the Front Porch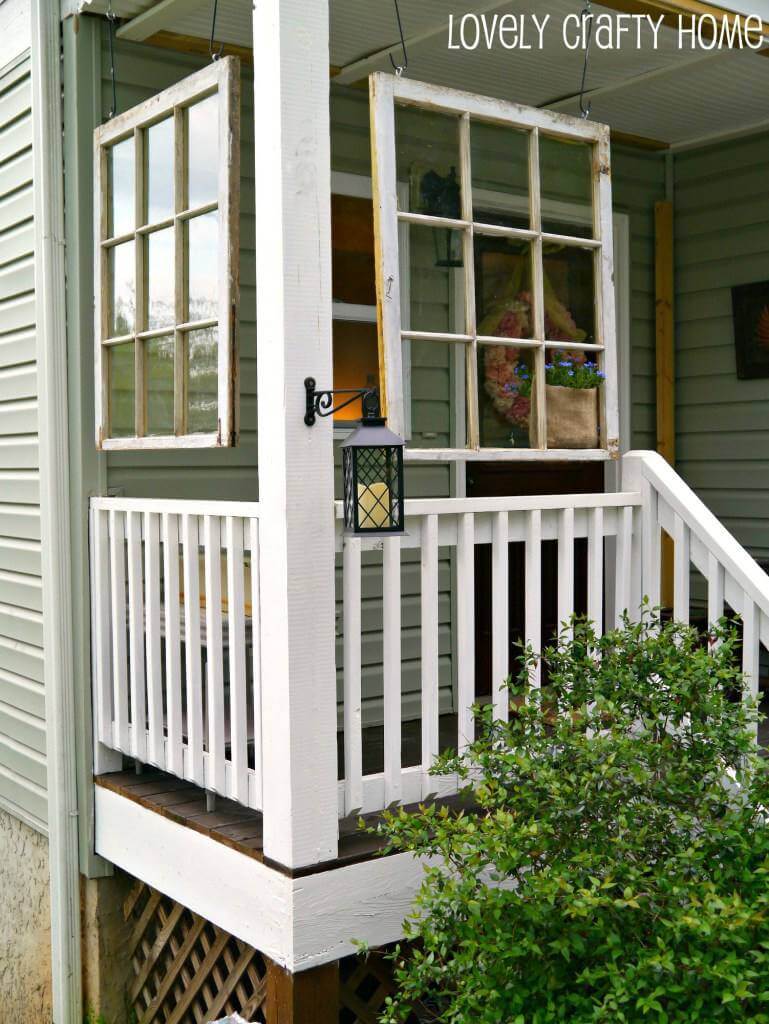 35. Make Cold Frames with Old Windows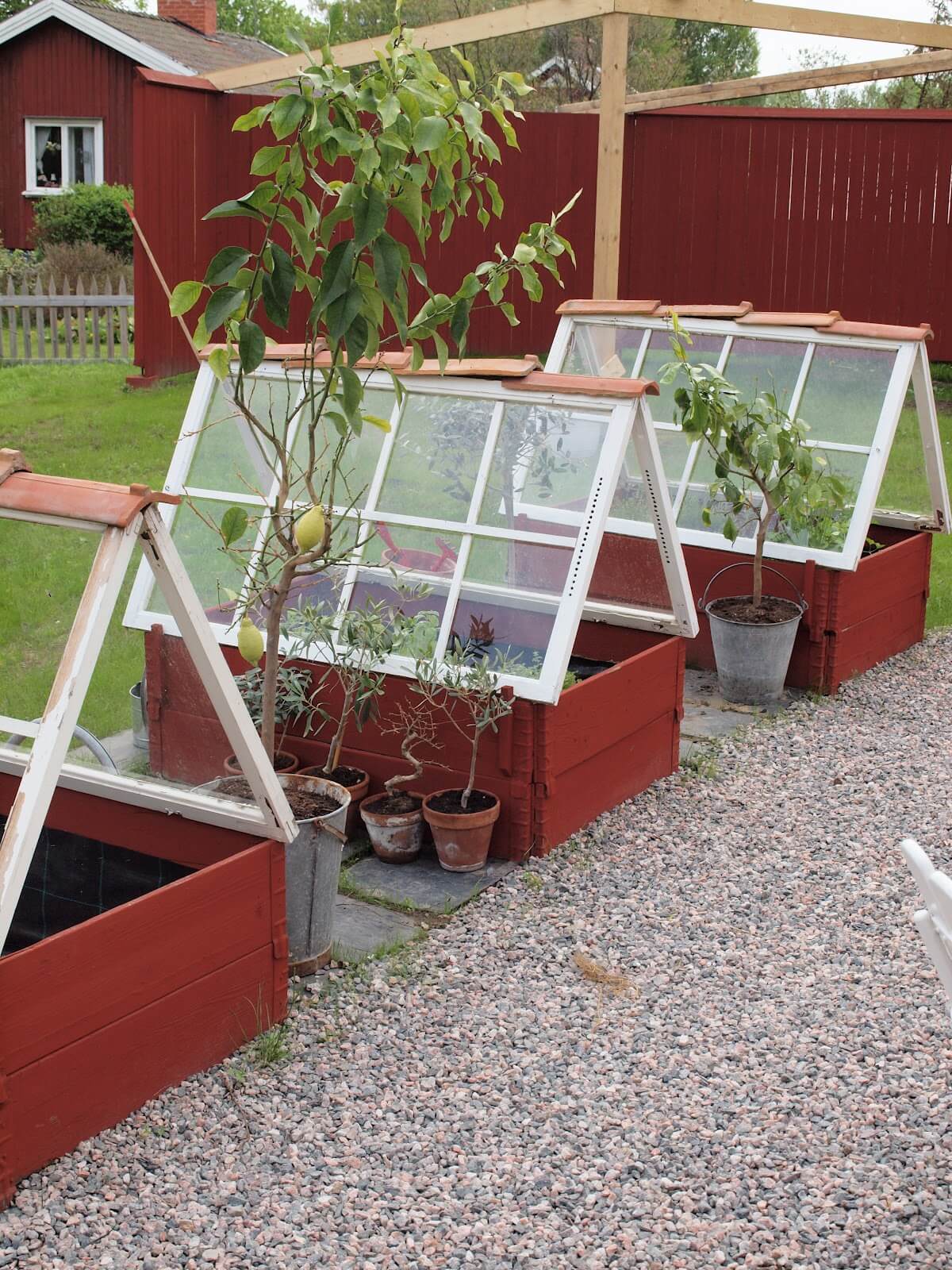 36. Decorate an Arbor with Window Frames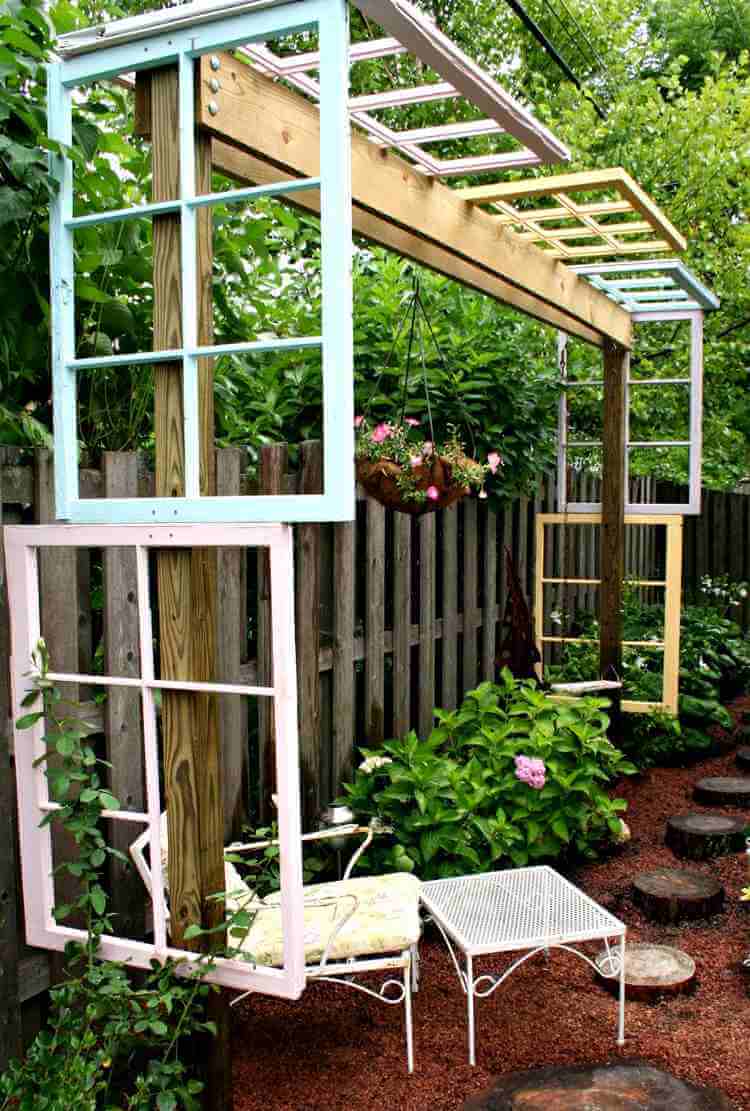 37. Create a Cute Greenhouse with Window Frames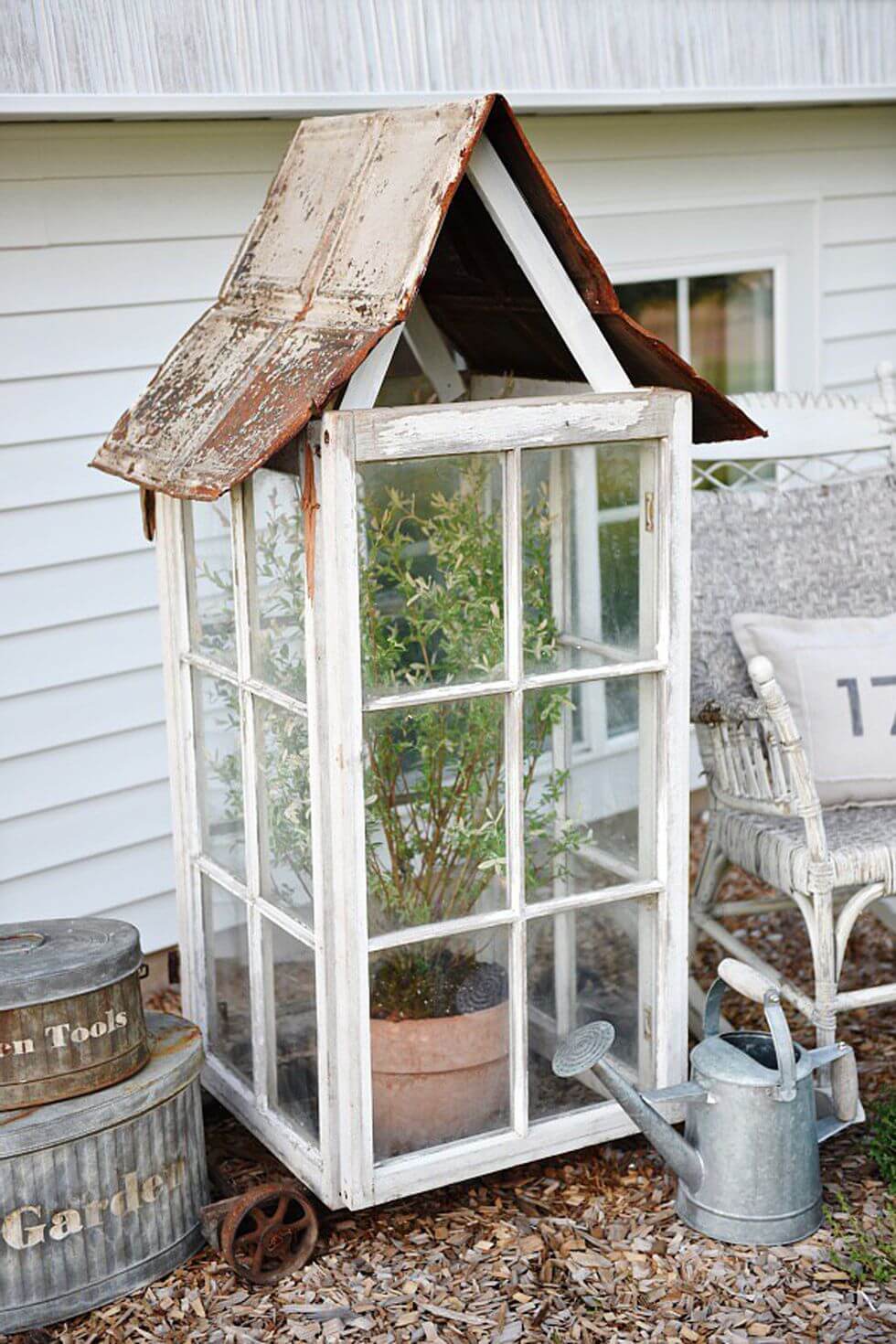 38. Paint a Pretty Initial on a Window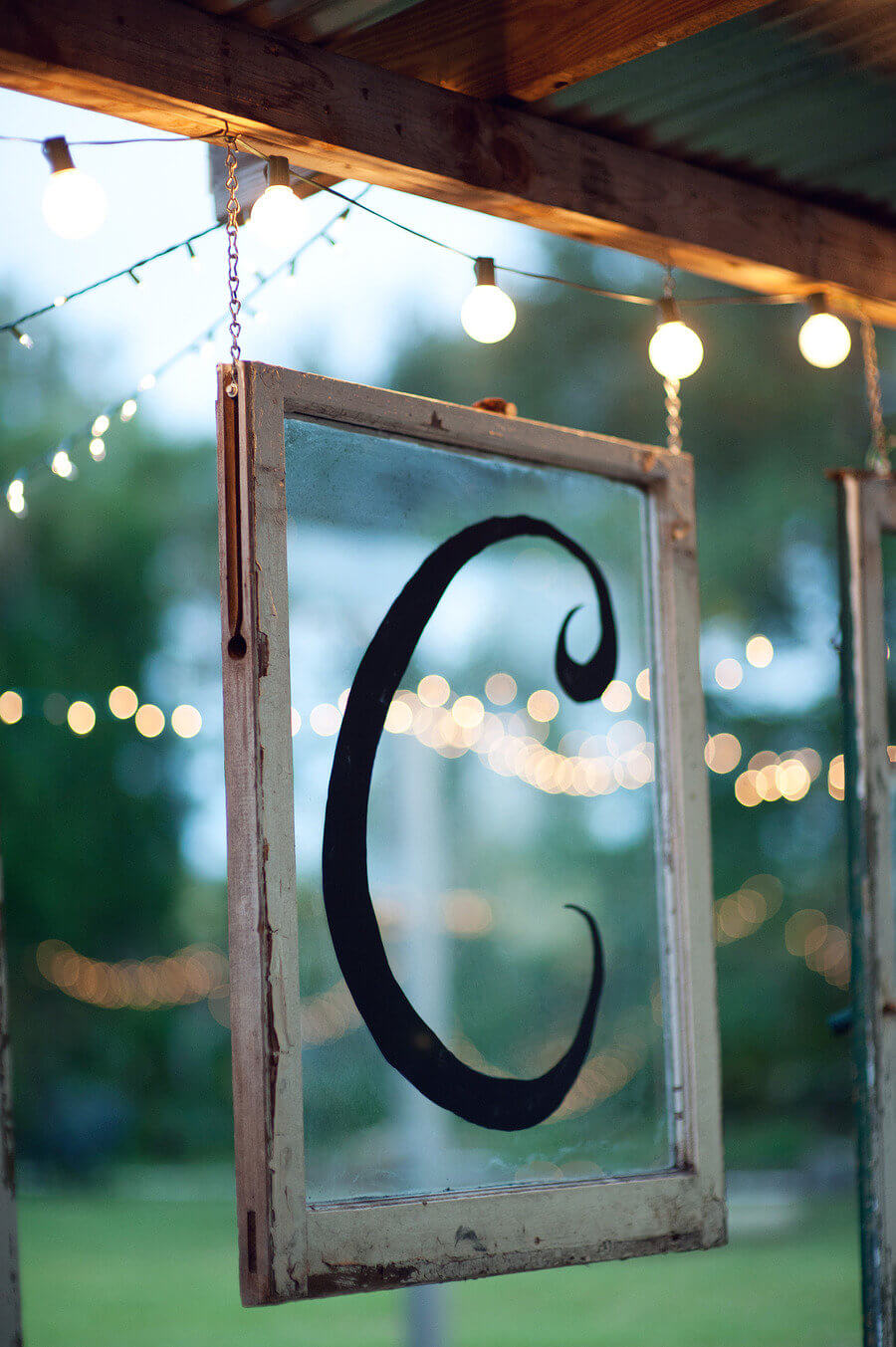 39. Magical Fairy Lights and Hanging Flowers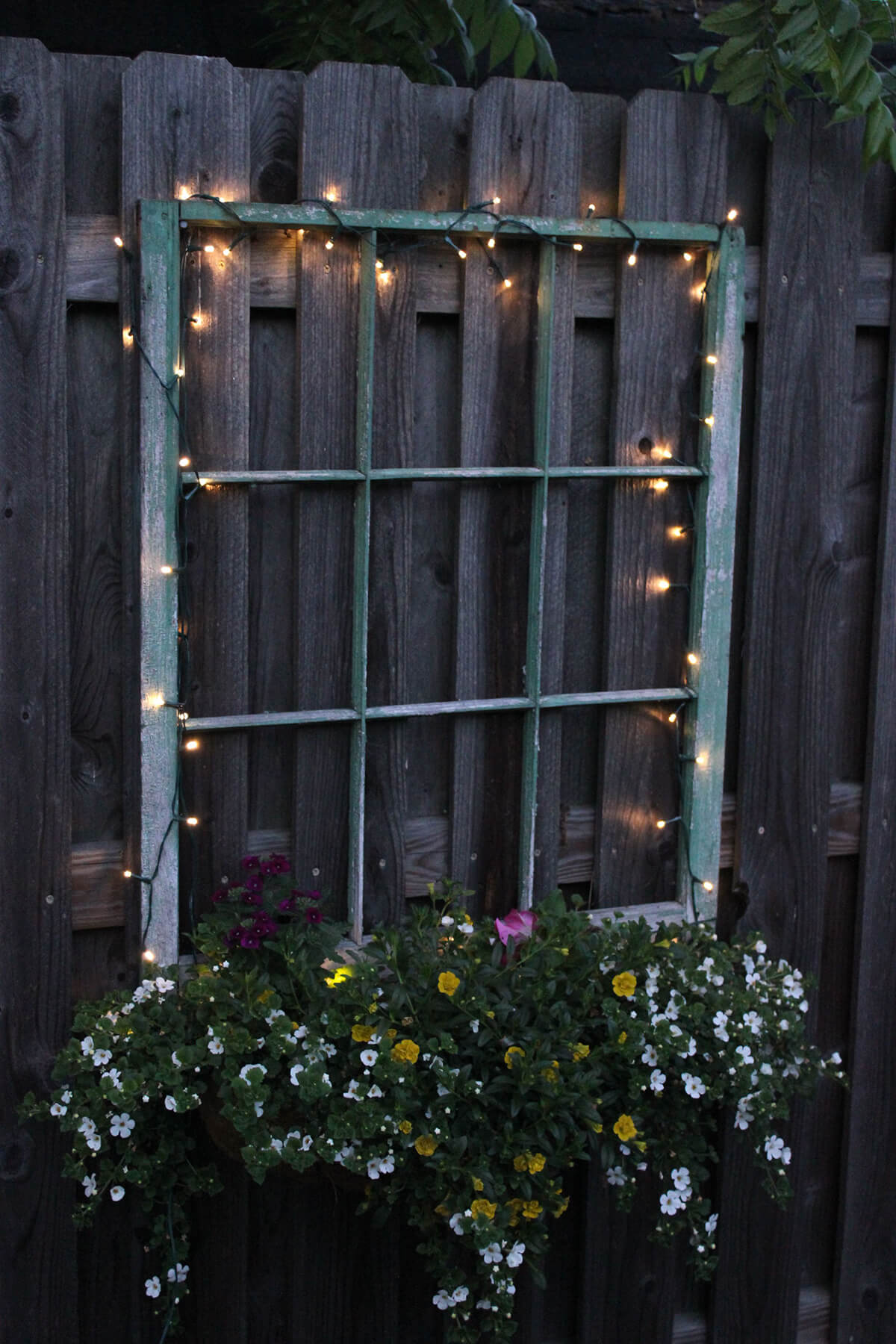 40. Graceful Recycled French Doors as a Room Divider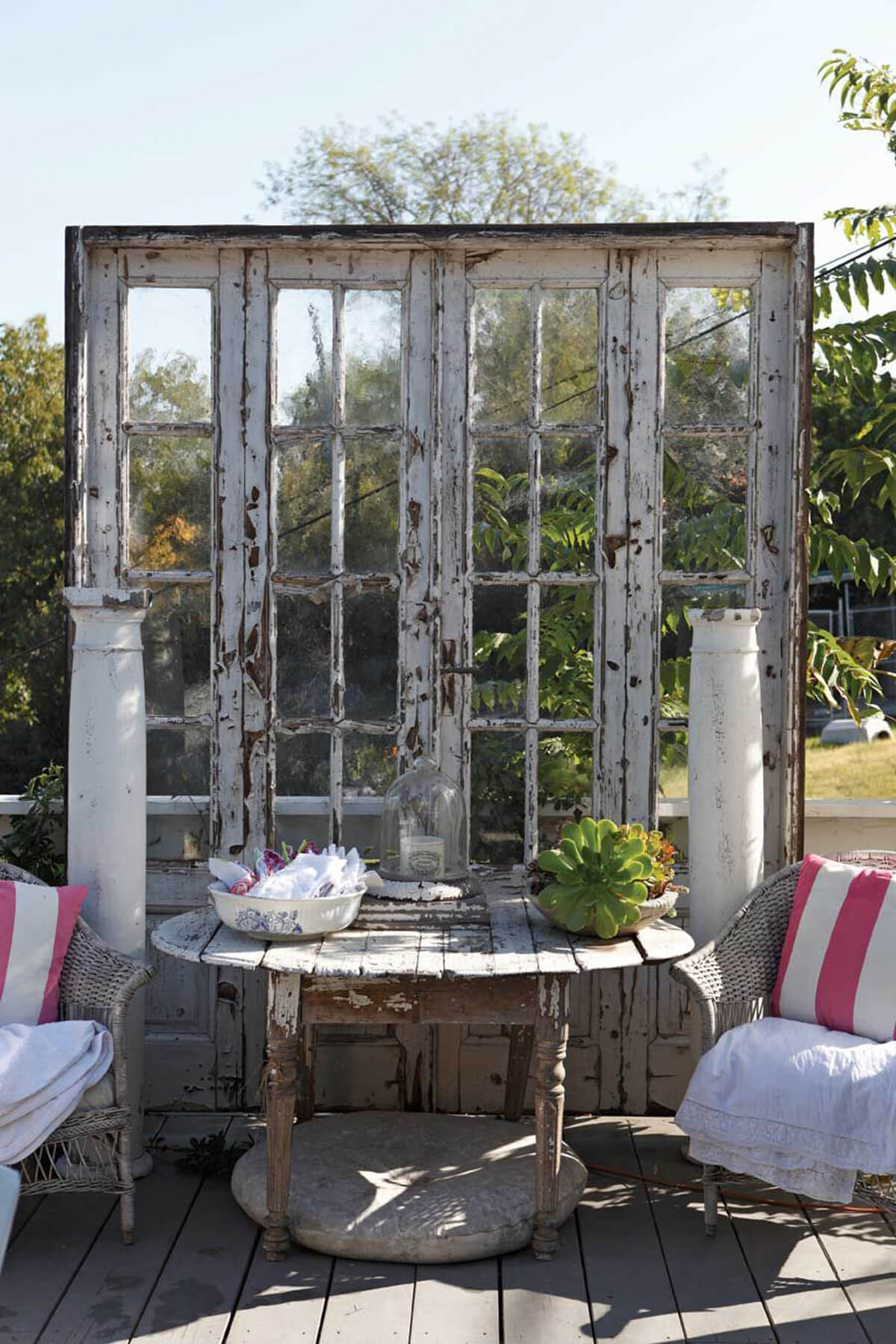 41. Frames with Mason Jar Tea Light Holders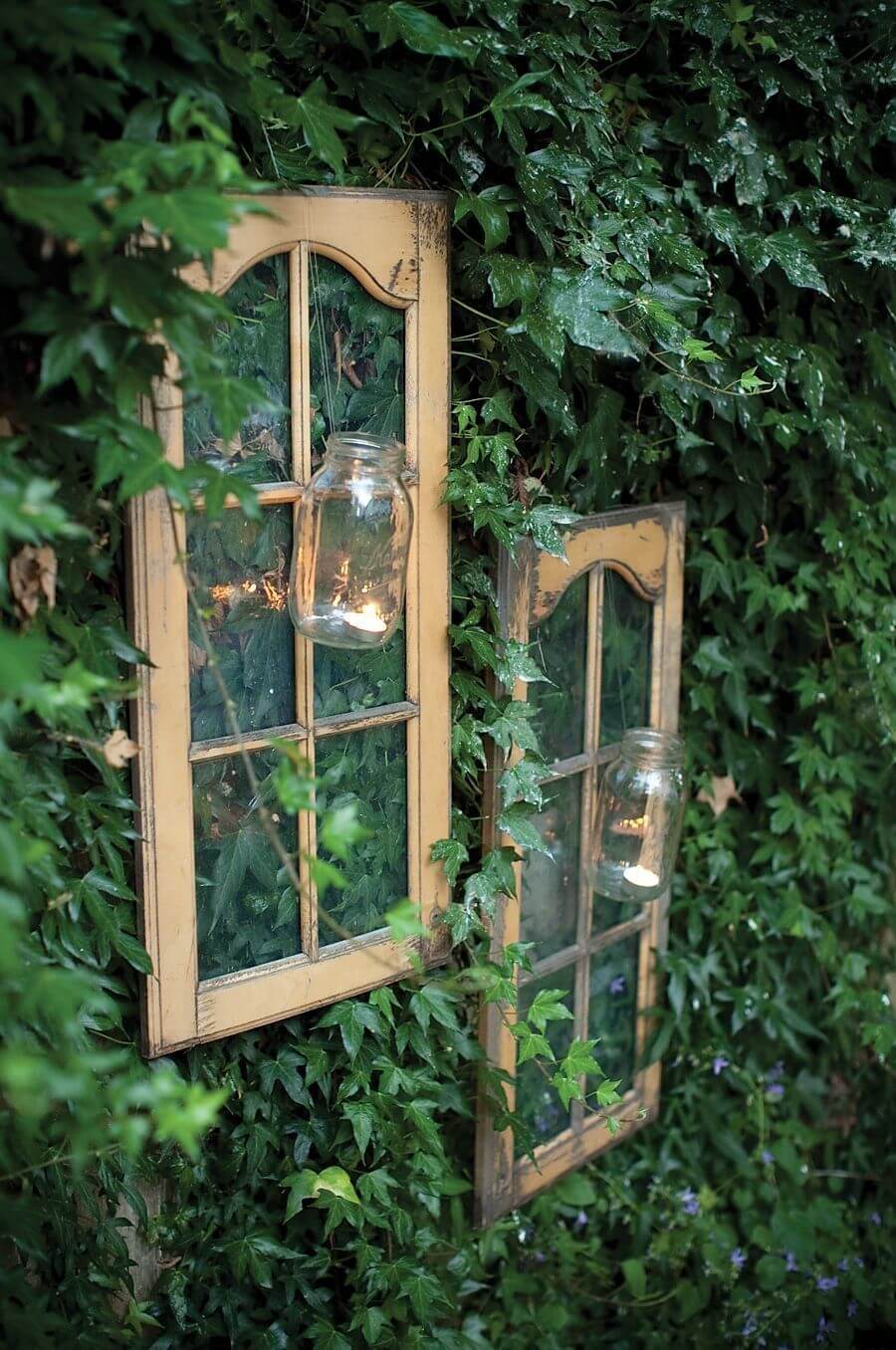 42. Old Window Outdoor Decor Idea with Names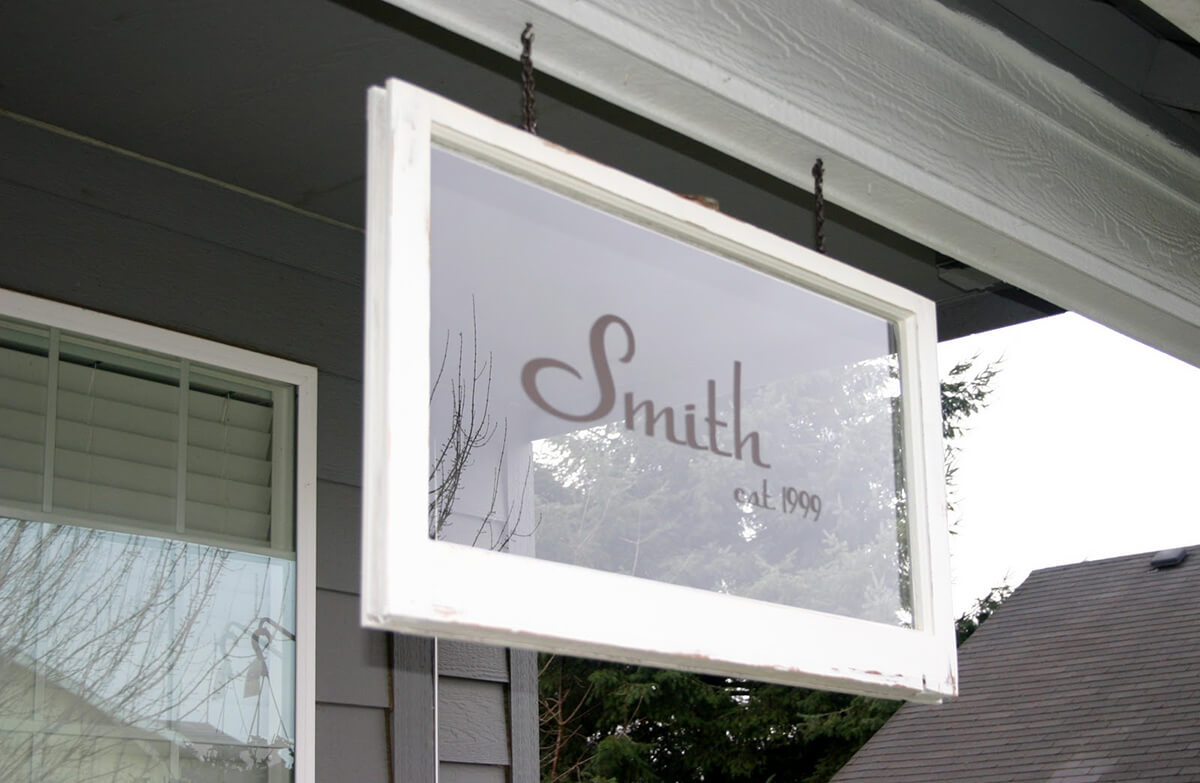 43. Stand a Window in a Tub of Soil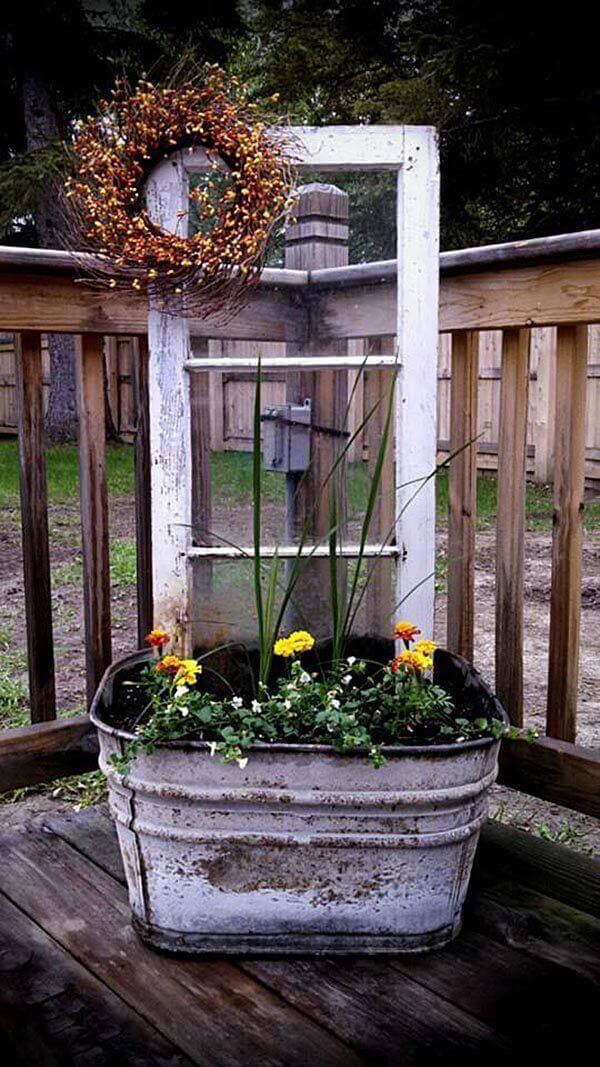 44. Useful Potting Bench with Window Accents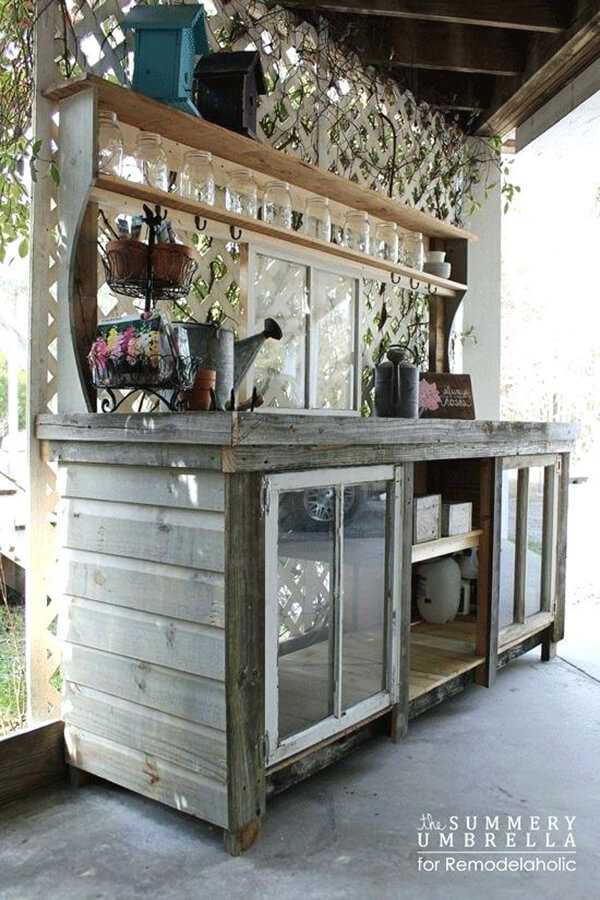 45. Chicken Wire Frames Hold Hanging Decorations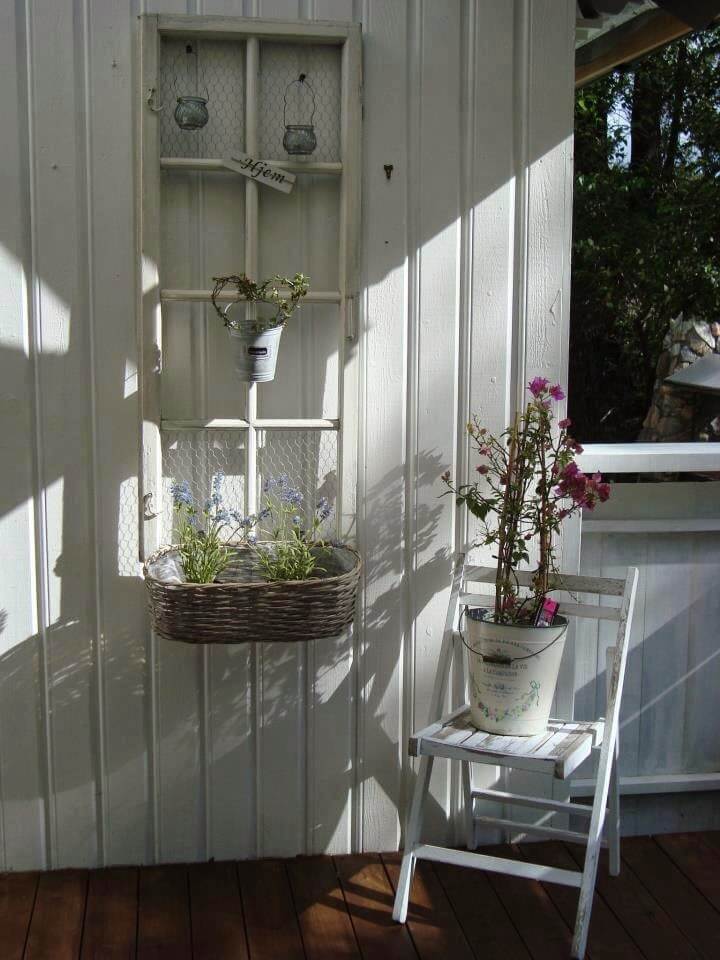 46. Frame a Cute Birdhouse on the Fence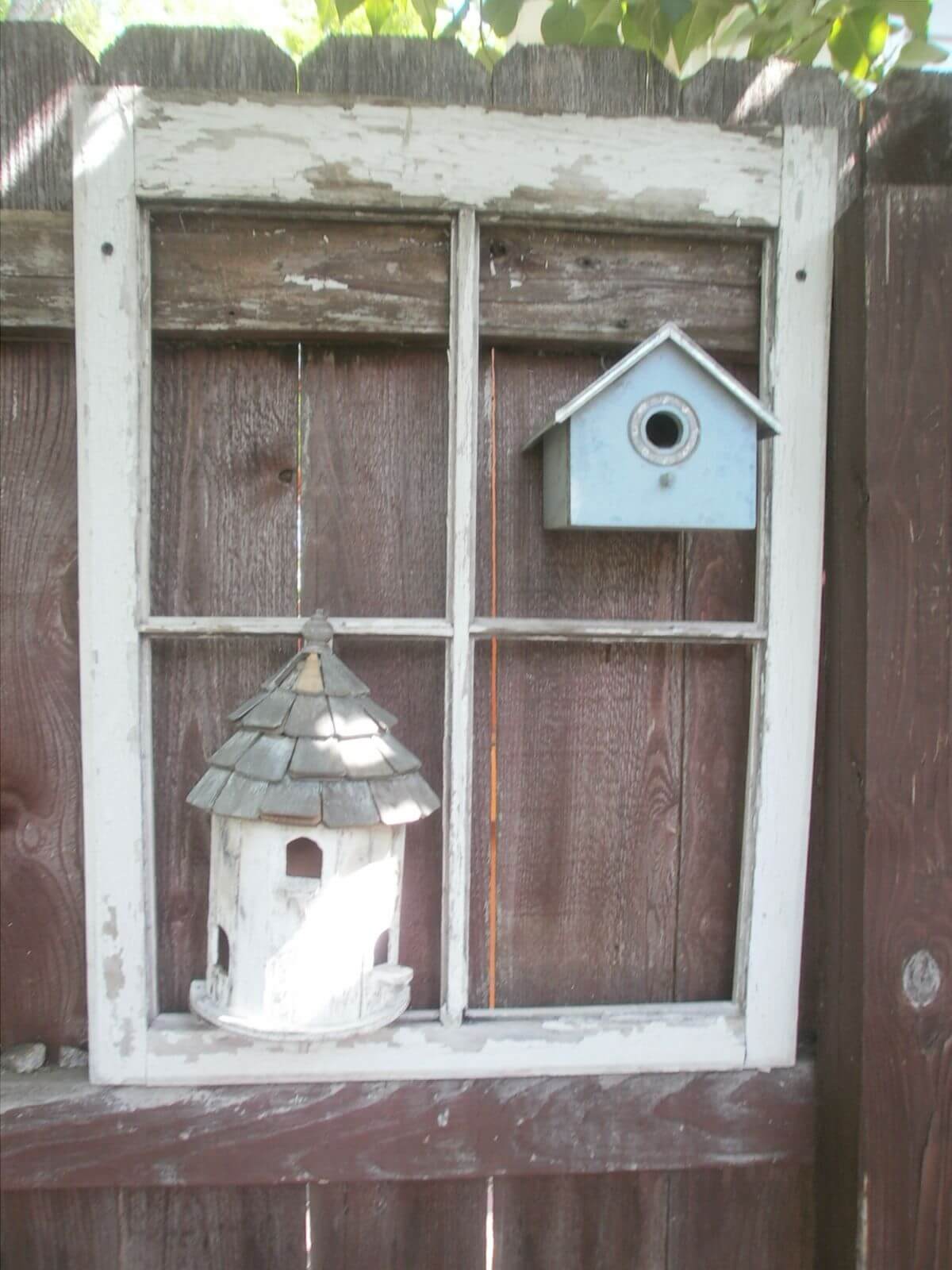 47. Hang Assorted Frames Under your Deck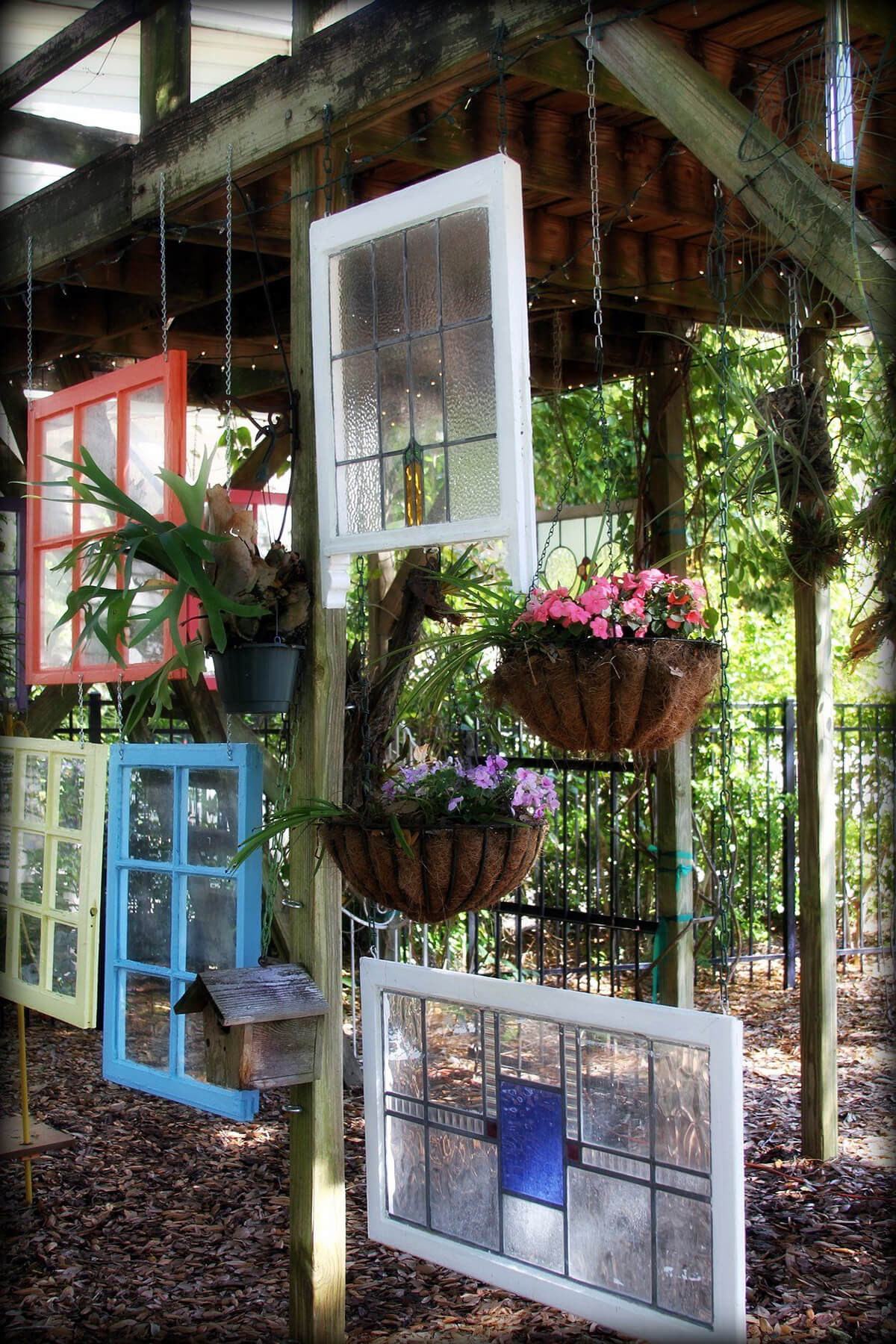 48. Stained Glass Window over a Seating Area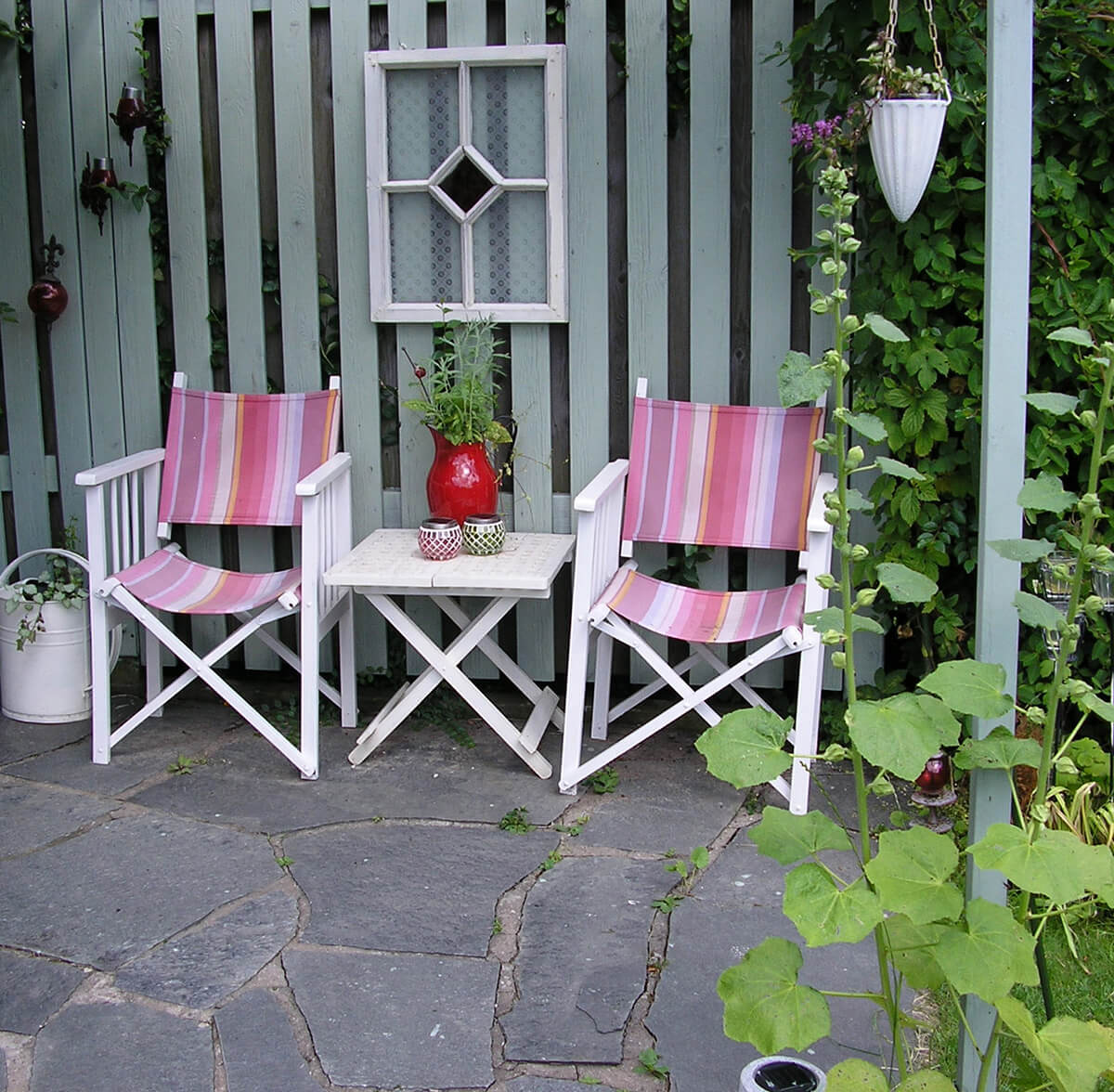 49. Put a Window on your Patio Fence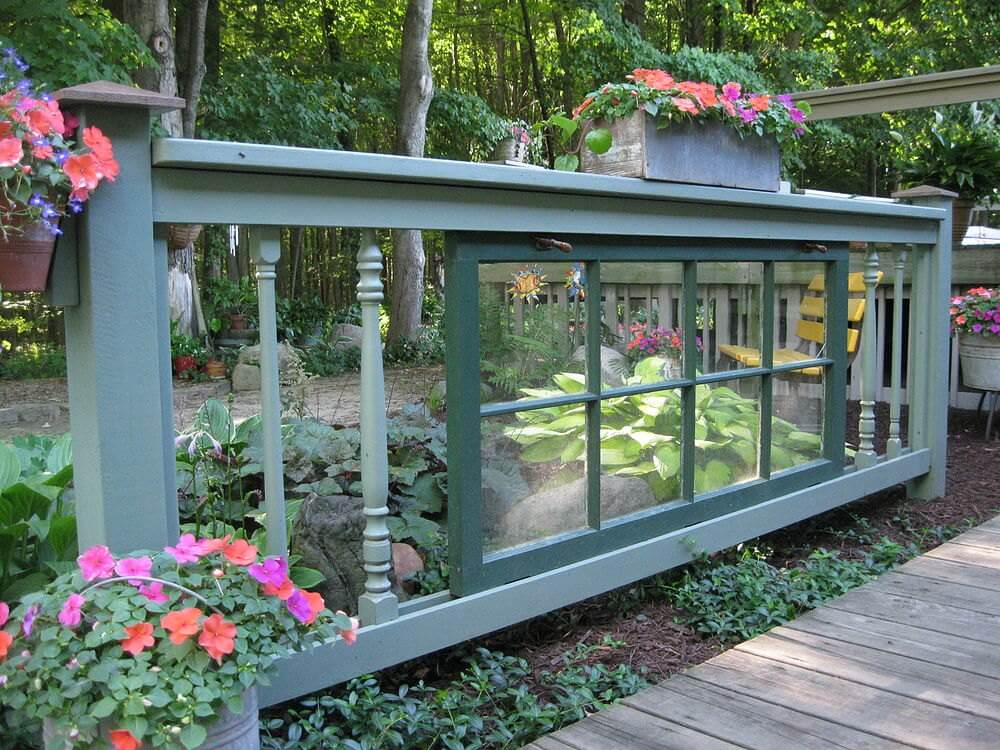 Choose Rustic Wall Decor Ideas to Make Your Home Warm and Inviting