Do you have an outdoor space that you would just love to brighten up with reclaimed wood DIY outdoor projects? Reclaimed wood is pretty easy to come by, but the ideas of what to make with it are not as easy to find. This list will help you figure out what to do with those piles of gorgeous reclaimed wood that have just been waiting for you to create something new with them.
17 Fabulous Reclaimed Wood DIY Outdoor Projects that will Definitely Turn Heads

You will find excellent directions here for the best DIY reclaimed wood projects. If you are not feeling very creative, simply follow the directions as they are. If you do enjoy adding your own creative touch, then there is definitely room to add your own style by changing things up a bit. When you are looking through the ideas, remember that you can always add stain or paint to change the look. You can also change the sizes of most of the projects pretty easily to fit the space that you have available. Find your inspiration here and run with it.
Whether your outdoor space is large or small, you will find the perfect project for it here. There are cool planters in all shapes and sizes that are perfect for tucking in beside a door or for adorning a large patio. Do you have a deck? There are some really unique wooden cutout ideas for sprucing up your deck area. If you have a pool, then you will really enjoy the outdoor shower. It showcases reclaimed wood as the backdrop for the shower head, knobs and spout. Do you have an air conditioning unit that is an eye sore? There are directions here for a great cover up to hide the unit and showcase beautiful reclaimed wood. These are just a few of the awesome ideas that you will find here, so read on for some more of the best DIY reclaimed wood projects.
1. DIY Reclaimed Wood Potting Bench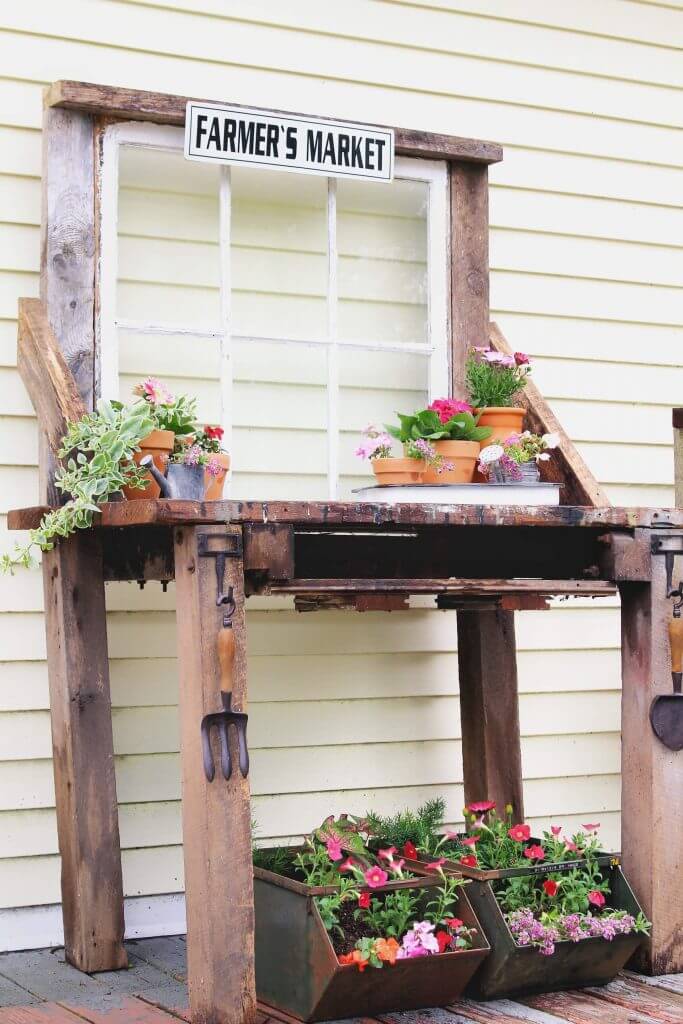 This gorgeous piece makes a statement all on its own. It can be used as an actual potting bench, or it can be used as a display for favorite potted flowers and plants. This piece includes a beautiful feature with its window. By trimming it out in wood, it looks very natural. The cute little farmer's market sign at the top adds a nice touch. Flower pots and watering cans filled with greens and flowers complete the top of the bench. More flowers are potted and placed underneath. A small trowel and rake adorn the front to complete the look.
2. Patio Chair Reclaimed Wood Upcycle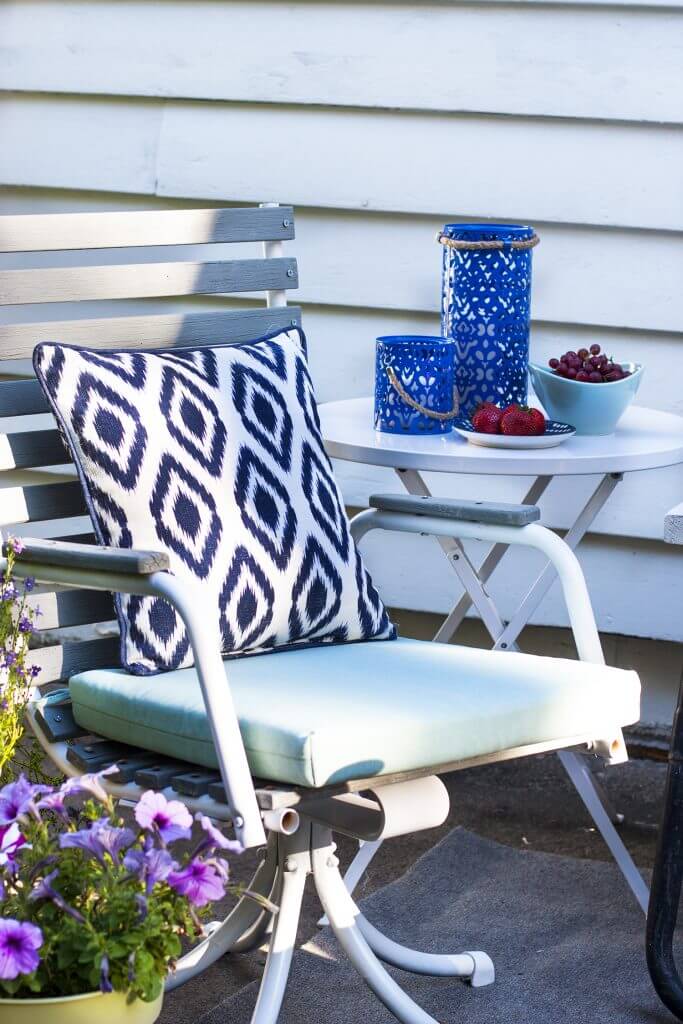 These chairs look brand new, but they are simply part of an amazing upcycle. The slats are made of wood, but they were in bad shape. Some of the wood had been falling apart, and the metal was rusting in spots. They could have gone to the dump, but they were saved with a little bit of love and a whole of elbow grease. The slats were all removed, and the ones that could be salvaged were simply repainted and prepared for the weather. Matching ones were purchased to fill in where needed for a fantastic DIY overhaul.
3. Best DIY Reclaimed Wood Projects Outdoor Shower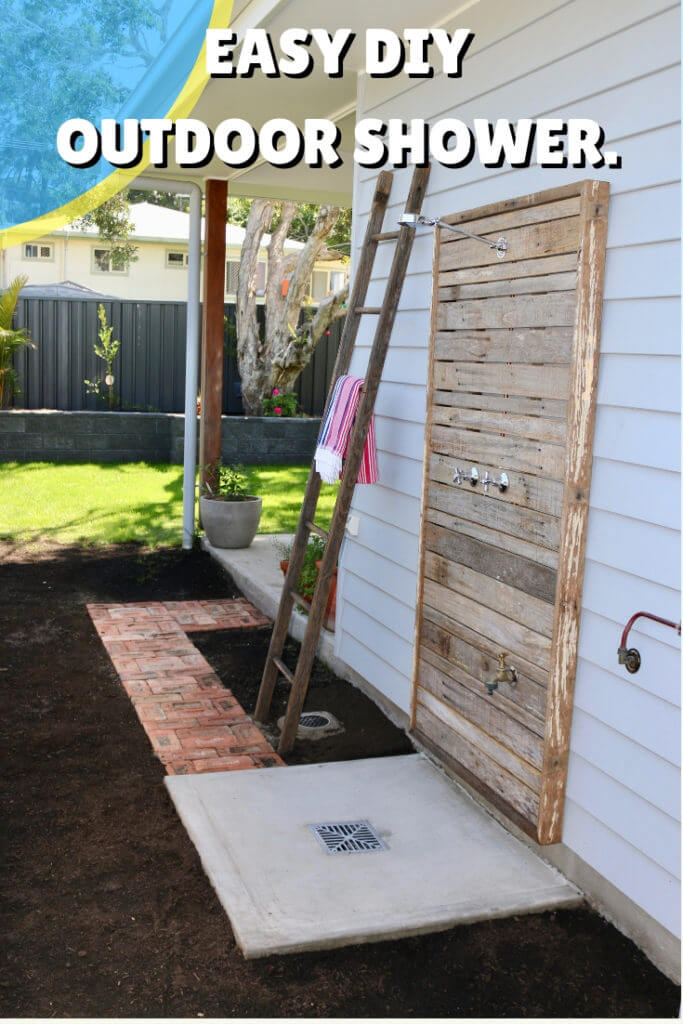 Who would not love an outdoor shower? They are perfect for muddy dogs, dirty kids, sweaty significant others and even just to enjoy those warm rays of sunshine. If you have some reclaimed wood that you were not sure what to do with, this unique shower would be perfect for showing it off. Before hiring someone, consider making this your DIY project this year. The directions are very detailed, so you could easily make sense of them and finish it in time for summer. Your reclaimed wood will be beautifully displayed, and you can enjoy a sunny shower.
4. Unique Hexagon-Shaped Outdoor Wooden Planters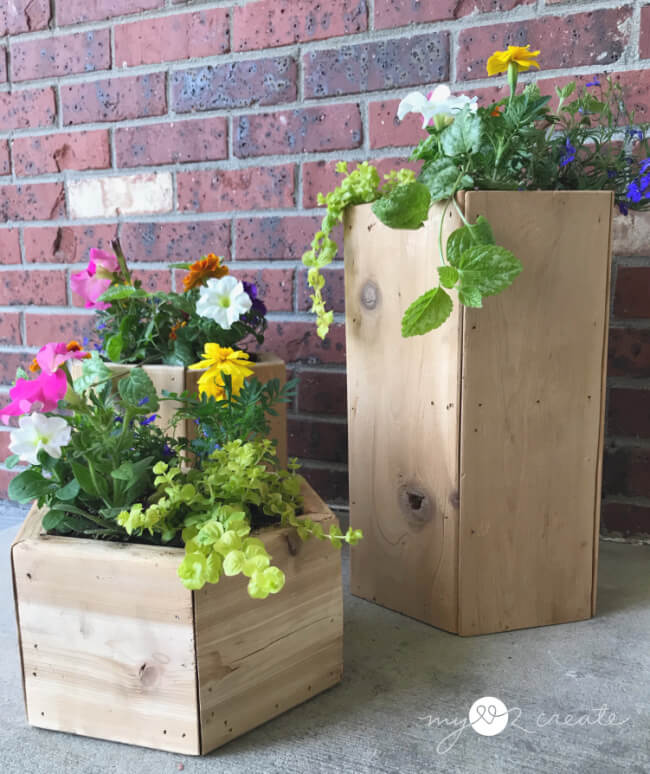 Regular rectangular planters are fine, but these cool six-sided shapes makes for great conversation pieces. These can be made in different heights and widths to go with any part of your outdoor décor. Using different sizes adds depth to your overall look. Each planter only requires a small amount of wood, so if you have some reclaimed on-hand, then it would be perfect. Simply make the cuts following the guide and attach. Keep the wood raw for an outdoorsy look or paint or stain it to match the rest of your décor. Add favorite flowers or greens and have an instant statement piece.
5. DIY Square Planters with Finials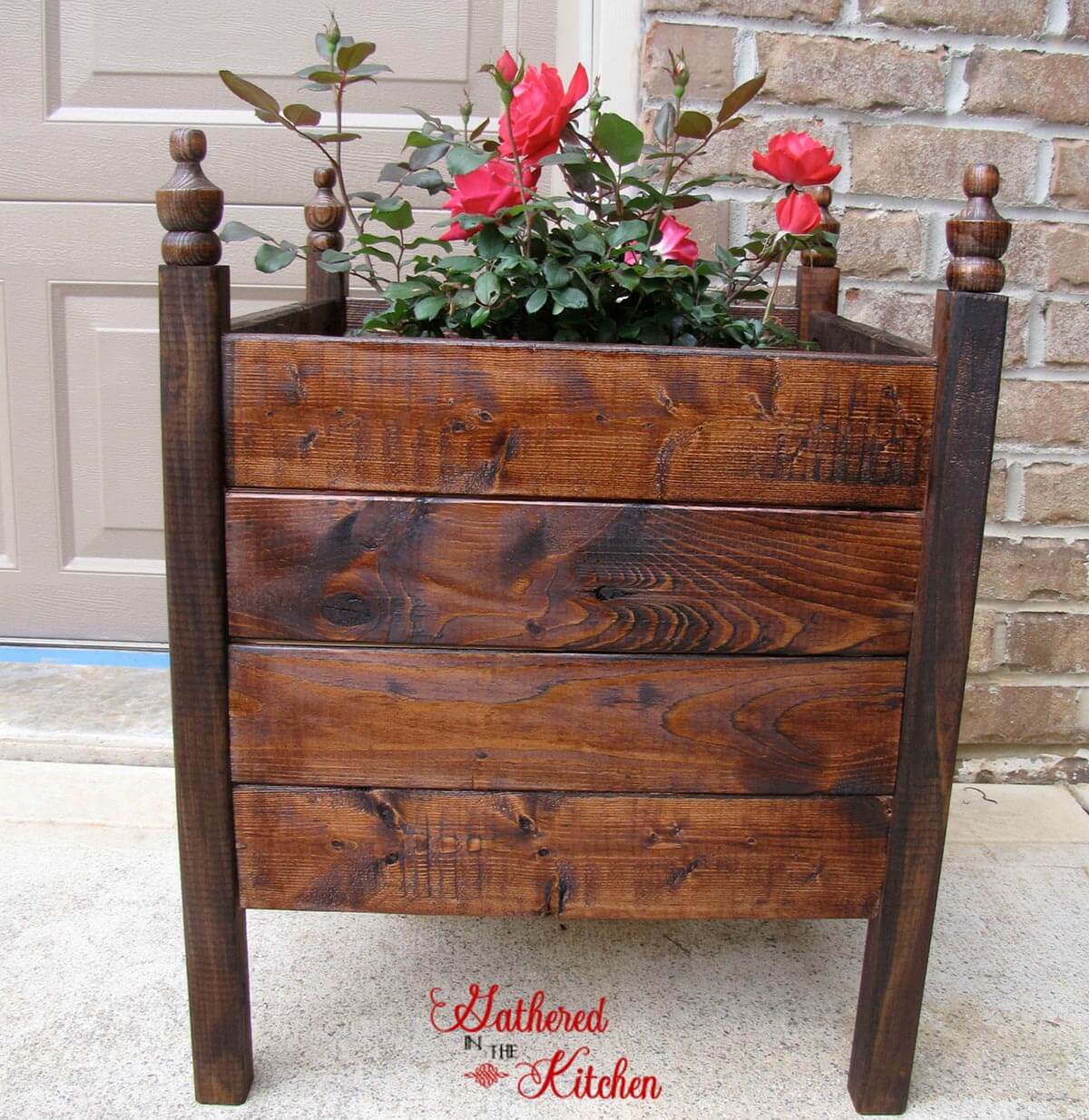 This outdoor DIY wood project puts a unique twist on the traditional rectangular planters. First of all, the square shape is modern and sleek. Also, the additional of the finials gives it an upscale look that you may not normally achieve with just reclaimed wood. Add these to the corner of a backyard deck or patio or put one on each side of your front door to bring some life to your current décor. They would also look great beside a pool. These planters are large enough to have a nice mix of seasonal flowers or a selection of mixed greens.
6. Reclaimed Fence Slat Outdoor Planter Box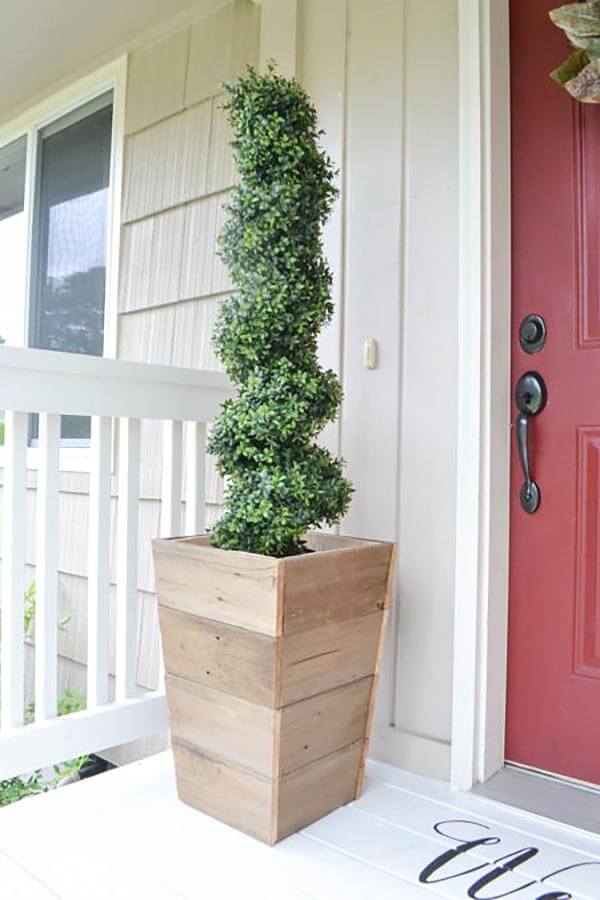 This beautiful home decoration is the perfect piece for a small space. It stands tall, but it is not very wide. It is perfect for a pencil tree or a small flowering tree. It would also work well for a small flowering bush like forsythia or tall flowers like gladiolas. If you do not have any old fence slats, other reclaimed wood can also be used. That happened to be what the original creator had on-hand. This planter could be dressed up if desired by adding some stain. It could also be made to fit a country chic décor with some chalk paint.
7. Best DIY Reclaimed Wood Projects Poppy Painting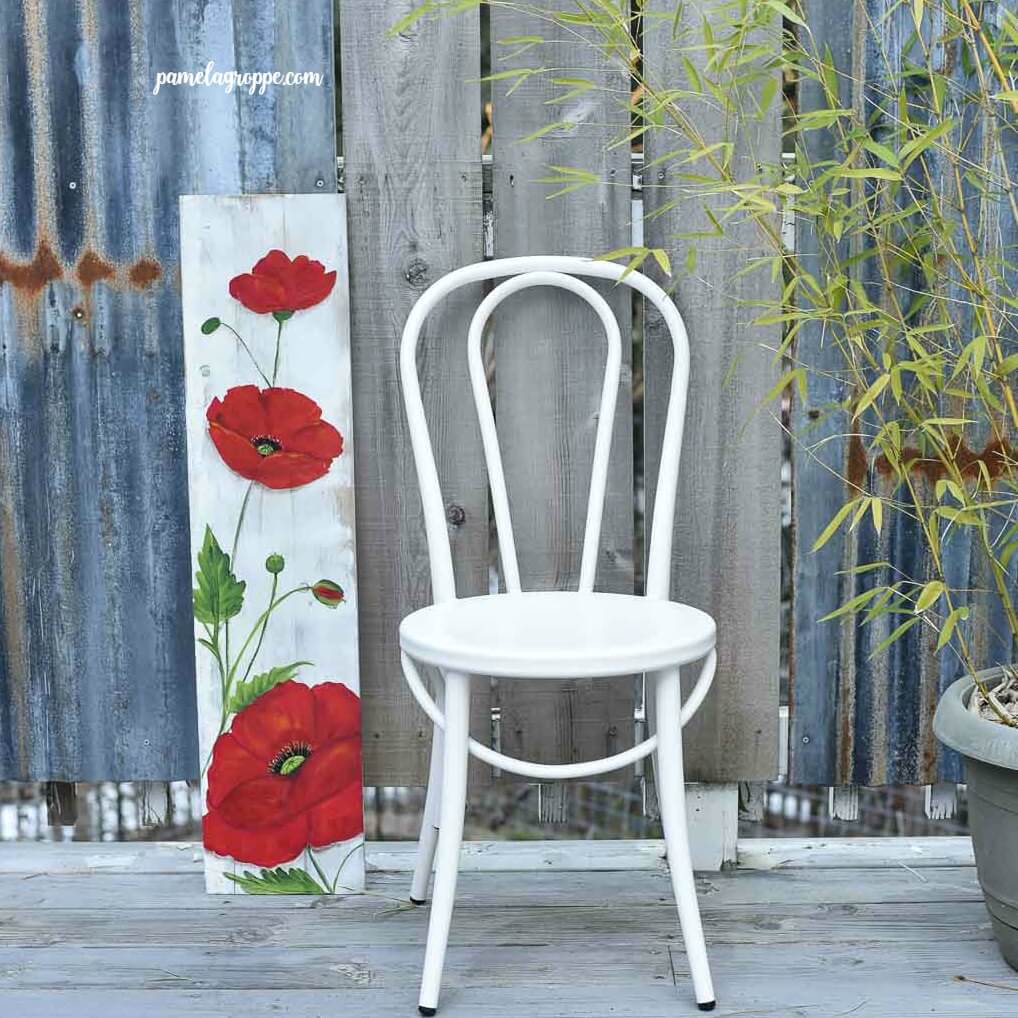 Signs are super popular right now. Signs can be made from any old piece of wood. The can be painted to look sleek or stained to look rustic. You can make them look weathered with chalk paint as well. They can be with painted with words, pictures or both. This one is has beautiful poppies painted on it to brighten up any of your outdoor spaces. It would look fantastic on a shed or a fence. It would look great leaning on the side of the home. Follow the simple steps to learn how to paint like a professional.
8. Wooden Ladder Signs with Painted Cutouts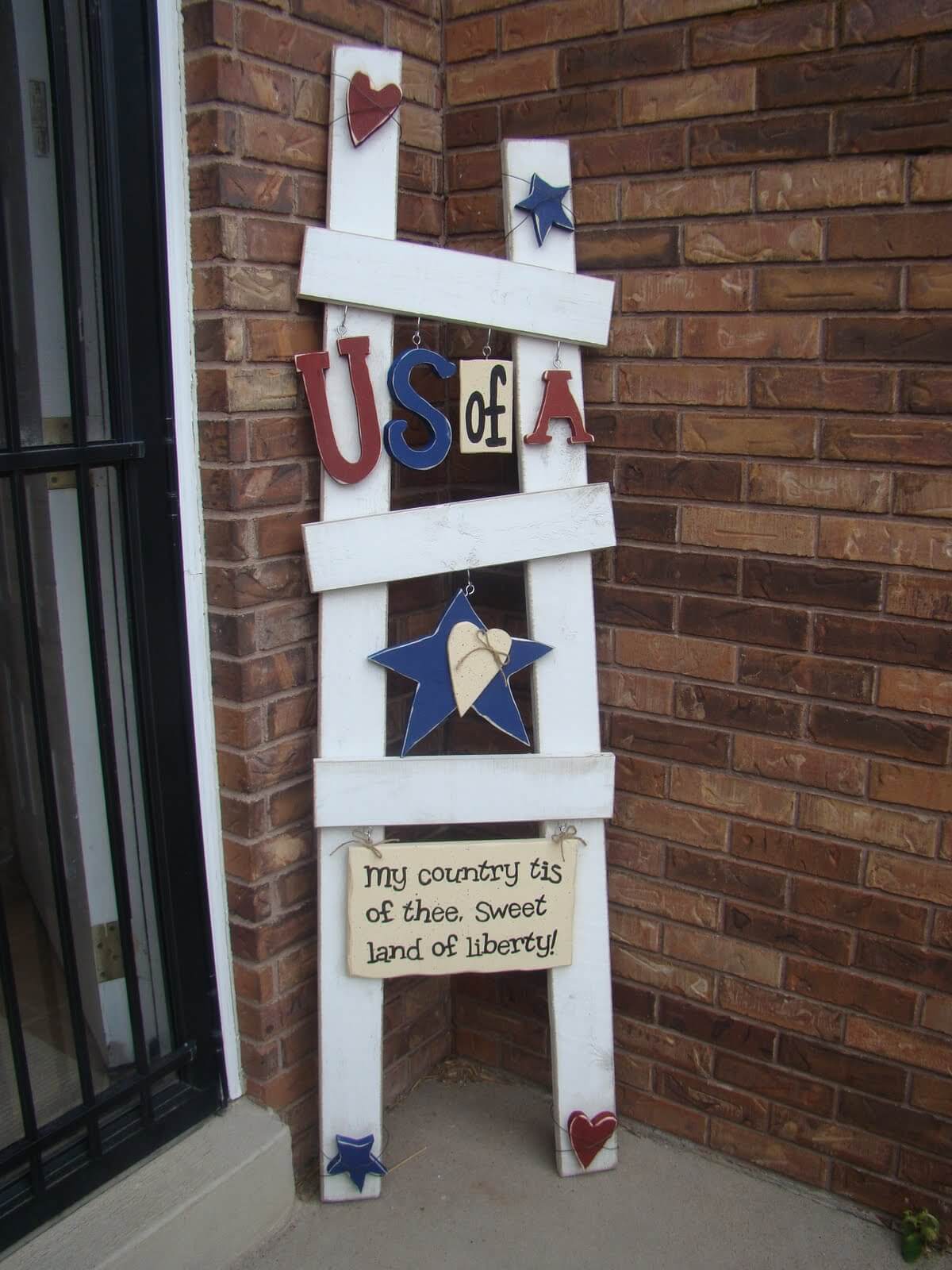 You can use this cute ladder to celebrate all of your favorite holidays. It is designed to simply lean up against the home, but you could adapt it to hang if that is your preference. The ladder is designed to be a little crooked, which gives it a whimsical look. The three rungs have hooks so that you can interchange the painted cutouts. In addition to cutouts for holidays, you could make cutouts for your favorite sports teams. You could even announce the arrival of a baby or simply welcome guests. Once you have it set up, your options for additions are endless.
9. Chaise Lounge Outdoor DIY Wood Project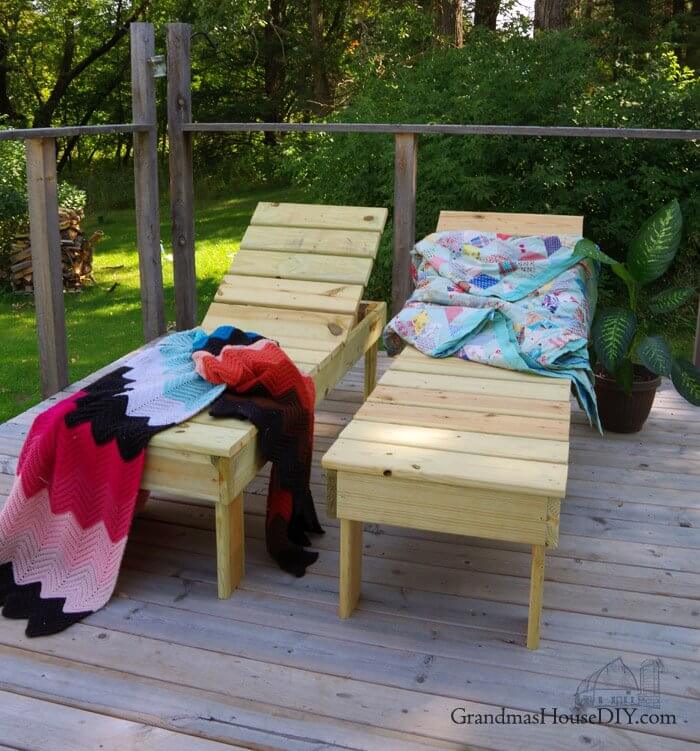 This chaise lounge is a great way to use up a larger supply of reclaimed wood. The design is simple and easy to execute. It is basically a simple lounge bench with a reclined back. The wood slats add a charming farmhouse look and they also allow for water to drain through if you are using them poolside. You could add some cushions for some pops of color, or simply rely on the beach towels for a splash of design. The chaise lounge provides a nice way to enjoy the sunshine and get some fresh air while relaxing in your own space.
10. Rustic DIY Firefly Home Decoration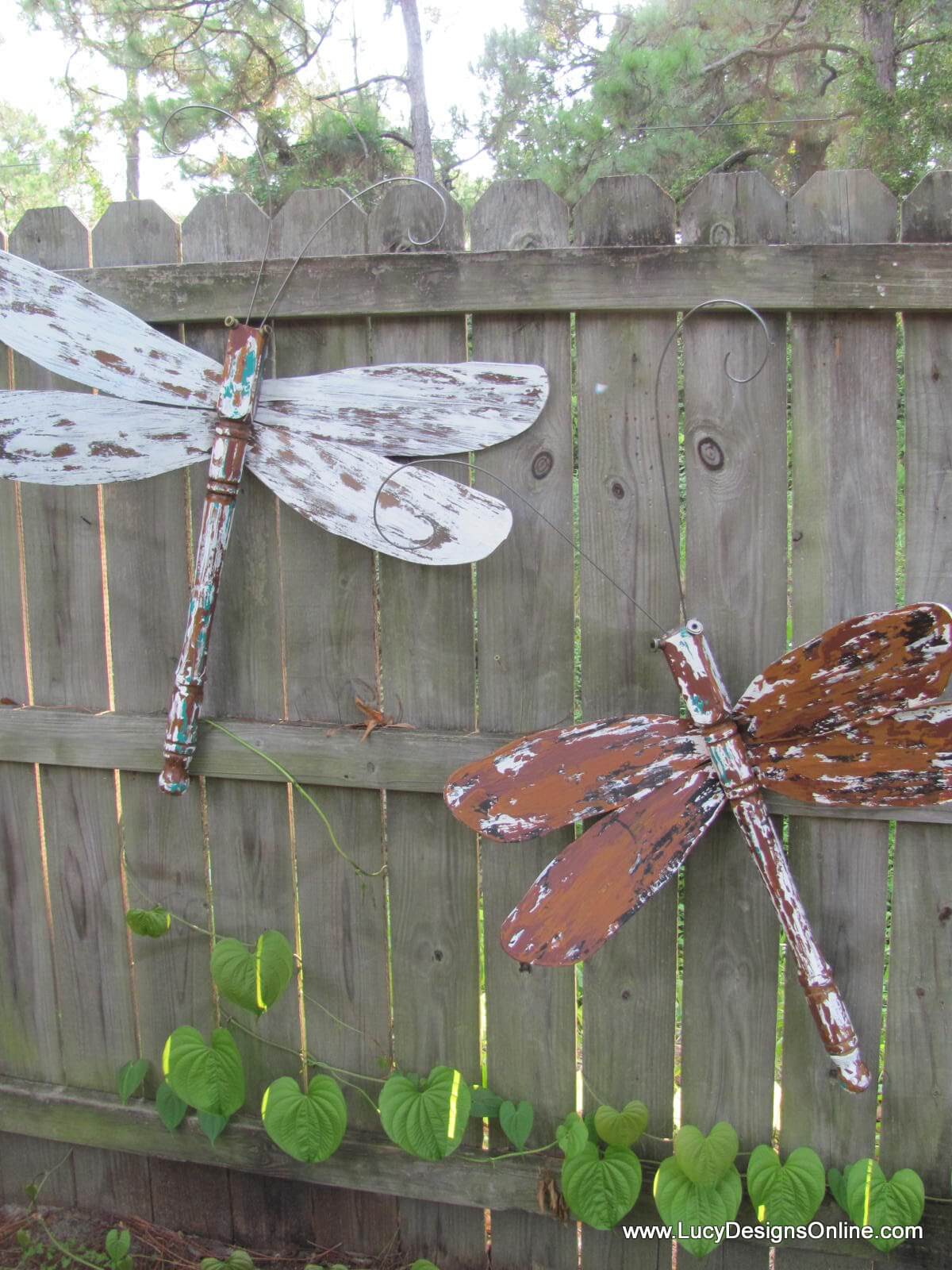 This awesome idea uses both reclaimed wood and reclaimed metal together to create a beautiful work of art. The dragonfly body is made from wood and the wings and antennae are made from metal and wire. The directions provide you with many different looks to copy from colorful and whimsical to distressed and rustic. Be inspired to create one in the colors and designs that suits your décor style and proudly display it. It can be made in many different sizes to fit any spot. It looks really spectacular on a fence but would also look nice on your home.
11. Towels and Suits Reclaimed Wood Sign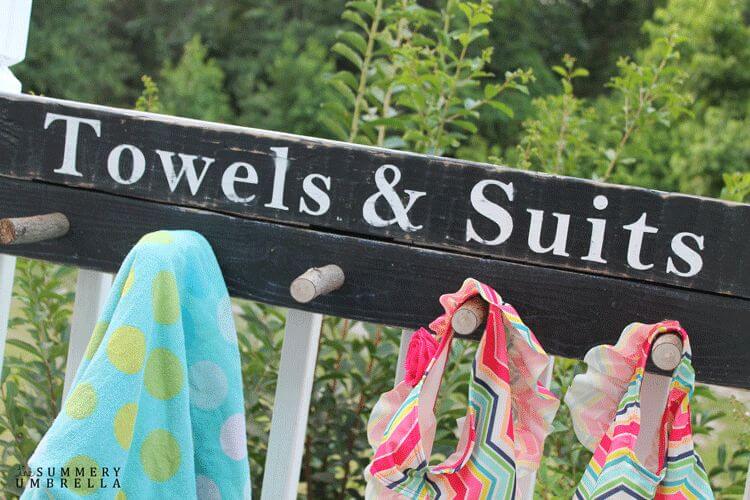 This sign is one of the best DIY reclaimed wood projects that you can make for your family to use. It is not just a great looking sign, but also a place to hang their beach towels and swimming suits to dry after a great afternoon of swimming. This one is also easy to make and is customizable as well. If you have a large family, make a longer sign with more hooks. You can even add names to each hook so everyone knows where their towel and suit will hang. This will be the perfect addition to your poolside deck.
12. Wooden Cover for Air Conditioning Unit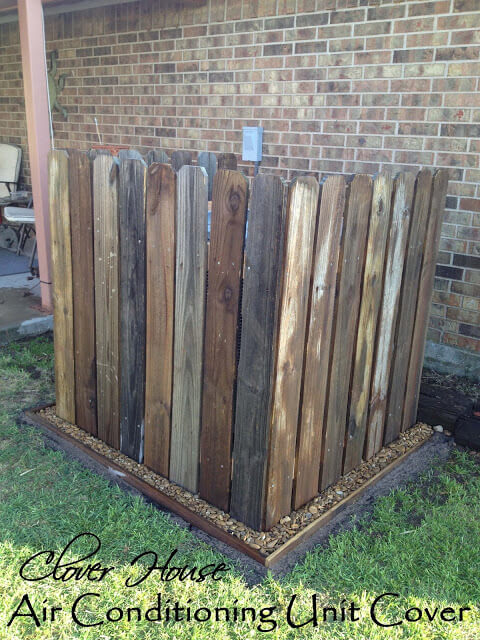 This unique cover is designed to look like an adorable picket fence. The top is left open to allow for venting and easy access to the unit. It has a sturdy base that is also aesthetically pleasing. A small trough runs around the base of the cover and holds small pebbles. This makes it look more purposeful and adds some extra beauty to the design. If you have actual fence slats, they would be perfect for this project. You can also cut down larger pieces into slats. Finally, depending on the look you desire, you may wish to add stain or paint.
13. DIY Wooden Shed for Fire Wood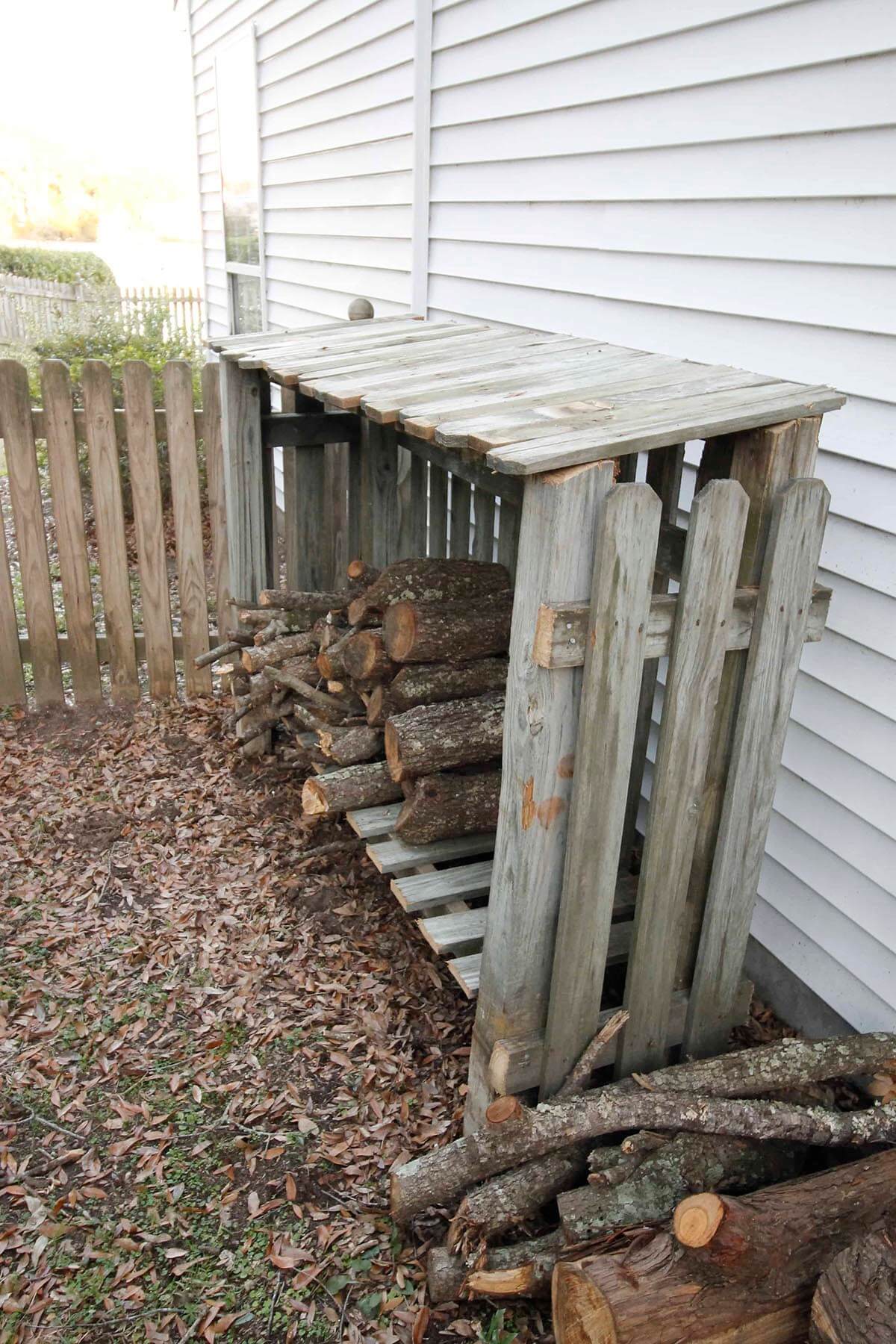 Keep your firewood nicely stacked in this fire wood shed. It is made from old fence slats and is easy to assemble. It has legs that keep the floor up off the ground so that the wood can more easily dry out and be ready to use. The slats allow for rain to filter through so the wood is not soaking in water. You can make this piece as tall or as long as you want by tweaking the measurements given. You can also leave it all natural to blend with the wood, or you can paint or stain it if you want to showcase it.
14. Arrow Sign Outdoor DIY Wood Project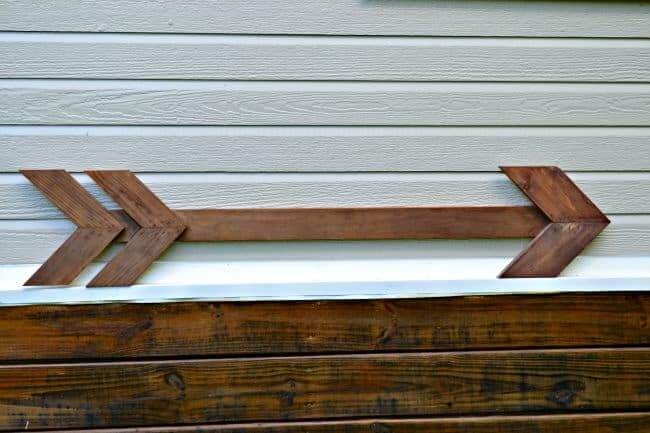 Arrows are huge in decorating. You can find them in all shapes, sizes and types of materials. Why not join the arrow décor movement and make some signs for your outdoor spaces? This simple arrow uses small slats of wood and is easily put together. Follow the directions to learn how to cut and assemble the wood, add stain, and you are finished. If you want to be a bit more creative, feel free to use this as a guide and tweak the measurements to make it bigger or smaller. Take some creative license and paint it with your family name.
15. Best DIY Reclaimed Wood Projects Tree Bench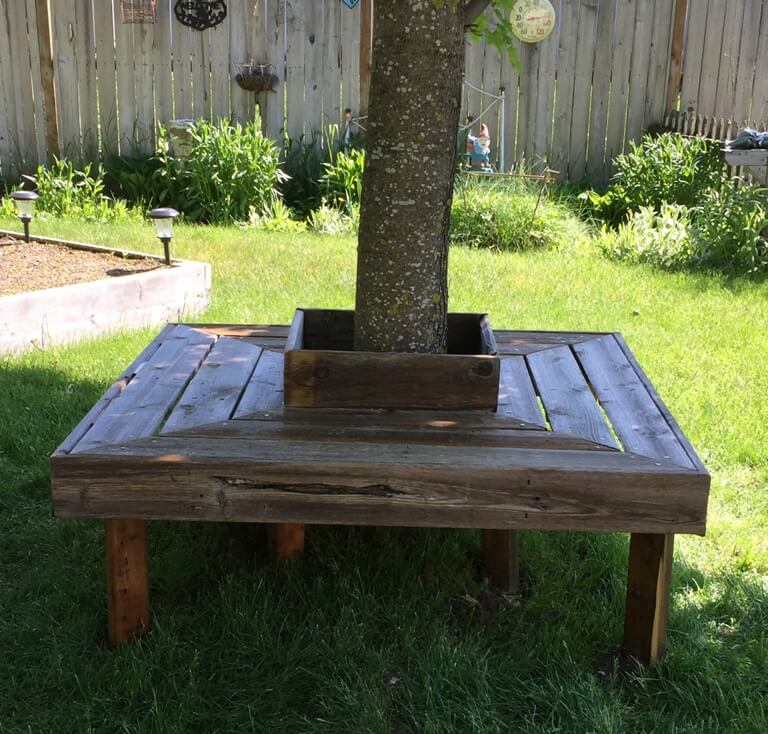 One of the best things to do on a nice, hot day is to find a tree to sit under to enjoy the shade. Trees have been used as a place to read books, talks with friends and have picnics for centuries. Now you can turn your favorite tree into a spot to be used like this anytime, even in the snow if you want. Adding a bench all the way around the tree allows you to sit under it even the ground is cold, wet or muddy. Follow the user-friendly directions to create a bench that will be used and loved for a lifetime.
16. Outdoor Wood Lanterns with Finials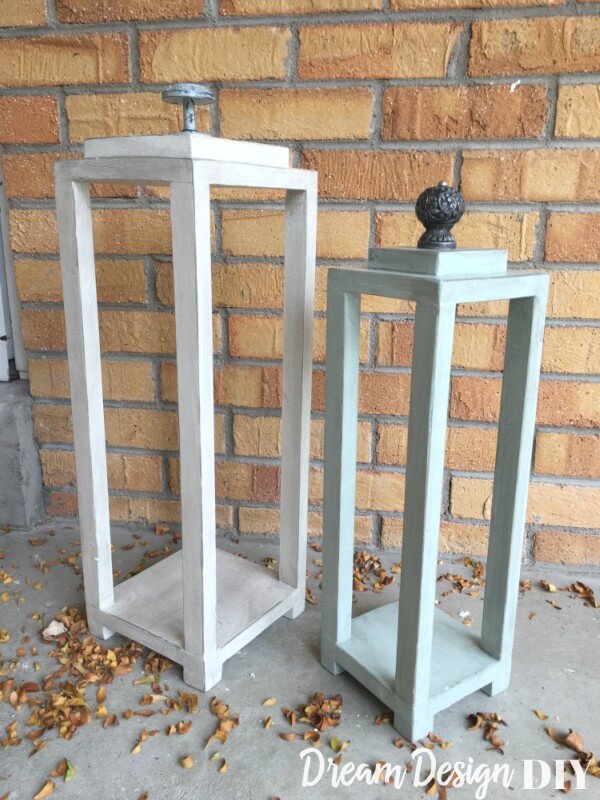 These lanterns are gorgeous and will be the ideal addition to any outdoor space. They are simply framed out, so they do not have glass sides. This is ideal for something that you are keeping outside in the weather. They most certainly fit into all décor styles, and they can be made to look even more like one style over another by the type of finials you add or whether or not you paint them. The lanterns are super easy to make and can sit on the floor of your patio or on a table. Their versatility makes them a favorite.
17. DIY Table from Wood Pallets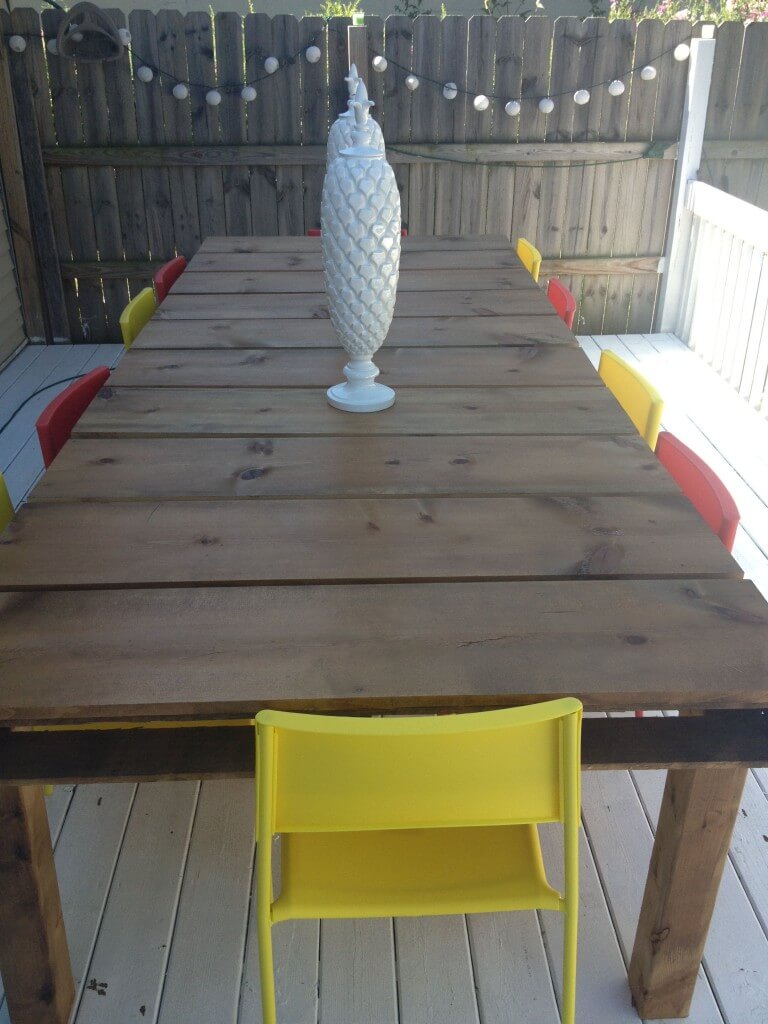 This table looks fantastic. It is not obvious that it is made from wood pallets at all. It would look great on a porch, deck or patio. You can usually get wood pallets for free from businesses. You will also need some planks, posts, finishing nails and wax. All-in-all this project has few supplies and is easy to make. Follow the simple directions and complete this awesome table that seats ten. With space for the whole family, you will want to spend more time outdoors together. It is also nice for entertaining and makes a good gathering place for enjoying snacks and drinks.
17 Reclaimed Wood DIY Outdoor Projects that are Stylish and Budget-friendly
With so many wonderful DIY reclaimed wood projects, we hope that you have found some that you love and will try to make. Many are very inexpensive to make and fit well in all spaces. Remember that you can always do some customizing by changing the size. You can also add paint or stain to change up the look of the examples too. If you have family, get them involved in choosing and making the projects. It will be great time spent together. Also, with the addition of some of these items, you may find that the family even enjoys being outside more.
From tree benches to dining tables, you can really overhaul your outdoor spaces with the items listed above. You can add personal touches by painting your family name on one of the signs or by planting flowers that have a special meaning to you. A well decorated outdoor space welcomes others to your home before you even answer the door. Share that heartwarming feeling by making some of these projects. No matter what projects you choose, they are sure to bring life and energy to your home. Have fun coming up with new ideas for decorating your outdoor spaces and enjoy making wonderful projects that your family and friends will love.
Our Favorite Front Door Flower Pots to buy on Amazon