If you're searching for deck ideas, we've got plenty to share here. We understand the necessity of building a beautiful deck that you will be proud of, that the neighbors will appreciate, and that offers comfortable entertainment space for family and friends. We also understand that each home- and each family- has their own specific requirements to meet these needs.
Whether you live in a tiny home in a crowded residential neighborhood or own a large acreage with ample space, there are deck plans and designs that can increase your curb appeal, property value, and ability to entertain guests.
20 Great Deck Ideas to take Summer Entertaining to the Next Level

In the sections that follow, we will discuss the features that make a beautiful and useful deck and describe some of our favorite deck ideas from around the internet.
Outdoor decks are tricky. Often, we forget that they are a valuable part of the home and they become catch-alls for yard toys, bikes, shoes, and more clutter and never get to experience their intended purpose as an outdoor living space.
If you are in the works to revamp your deck or considering building a new one, you've come to the right place. We fully believe that the best designs for decks are those that create a space that is an extension of your home.
Throughout the years, deck trends have changed. If you drive through a residential area, you're likely to see a number of decks that are designed very differently depending on the era of the work. Older homes used balconies and built decks onto rooftops from upstairs rooms. In the mid-century, decks were mostly ground level and built from stone or brick.
As time has gone by, wood has reached the forefront of decking material options, but that doesn't necessarily mean it's the best. A great deck is one that adds character to the home and invites people to gather and spend time with one another.
Your deck should feel like an extra room in your house- not just a porch or a place for the kids to kick off their shoes. Using this belief, we have gathered gorgeous examples of decks done right to share with you for inspiration and guidance.
We have searched throughout the internet for our favorite ideas for designing outdoor decks and entertaining spaces. Using these designs for decks, we have put together a simple guide to get your started with brainstorming your own outdoor living space project!
The ideas for deck design that we have included range from how to decorate your deck to building plans and even deck stain and paint. You can use one idea or combine multiple into your own personal masterpiece that will be perfect for showing off your artistic and creative ability to family and friends.
1. Go Long to Increase Space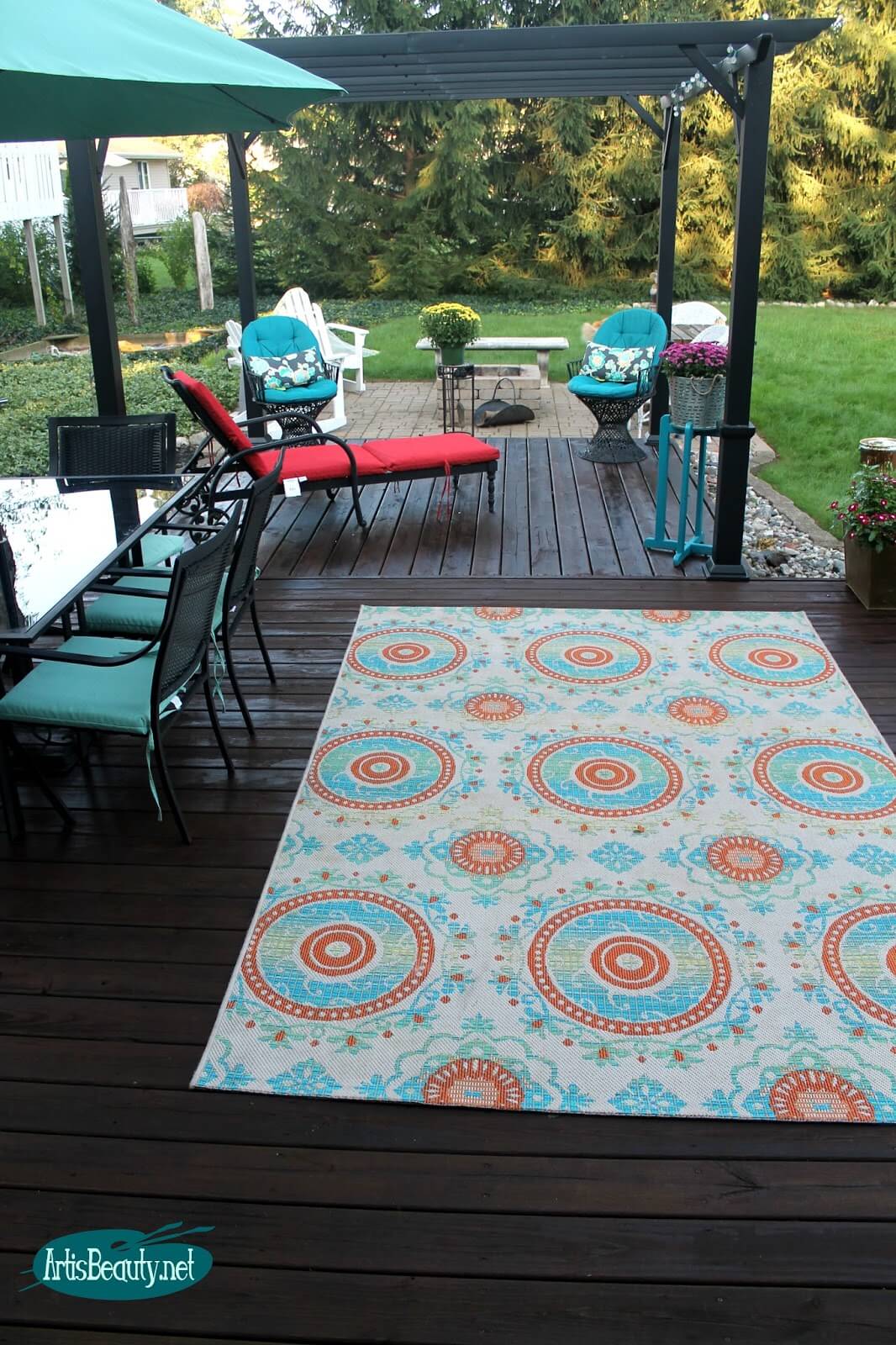 There aren't many deck decor ideas for odd-sized or shaped yards, but this one is a good idea for just such a situation. If you aren't able to create a wrap-around deck or a wide entertaining area, go long instead. This deck adds dimension to the yard and is still aesthetically pleasing enough to keep your neighbors from complaining. Patterning your floor panels can also make it feel wider than it is. Accent it with umbrellas and bright furniture to give it an even more inviting feel.
2. Decorate Your Deck Like an Extra Room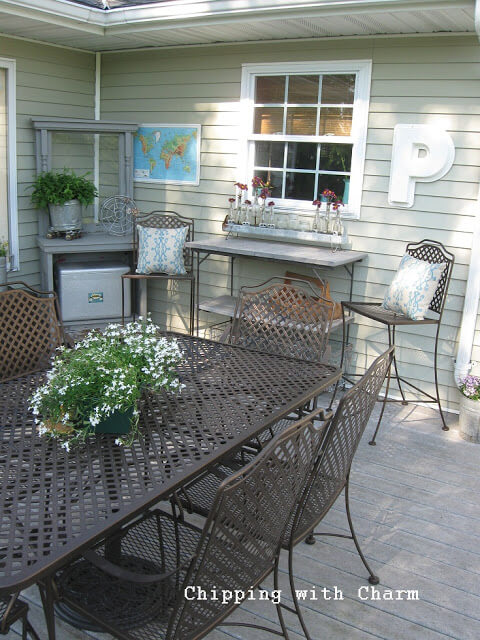 No matter what other ideas for deck design you find, it's important to remember that your deck is not an addition to your home- it's a part of it. Decorate it as if it is a room in your house to inspire you to spend more time outside and to help your guests feel like they've been invited into your home- not just to hang out on the porch.
3. Add Pops of Color Using Fresh Flowers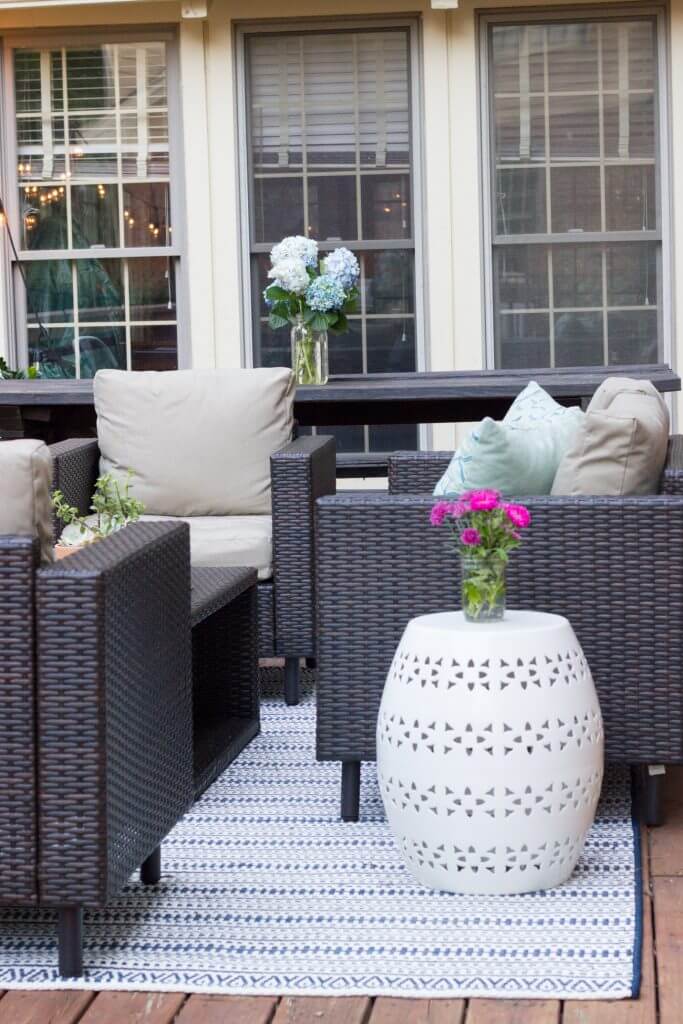 Most deck design ideas will call for potted plants or flowers, but a few fresh flowers in a vase will have the same effect without the extra work of more plants. Use cut flowers from your already-thriving flower beds to pull the look from the yard to the deck and appear more uniform.
4. Take Cover for Year-Round Entertaining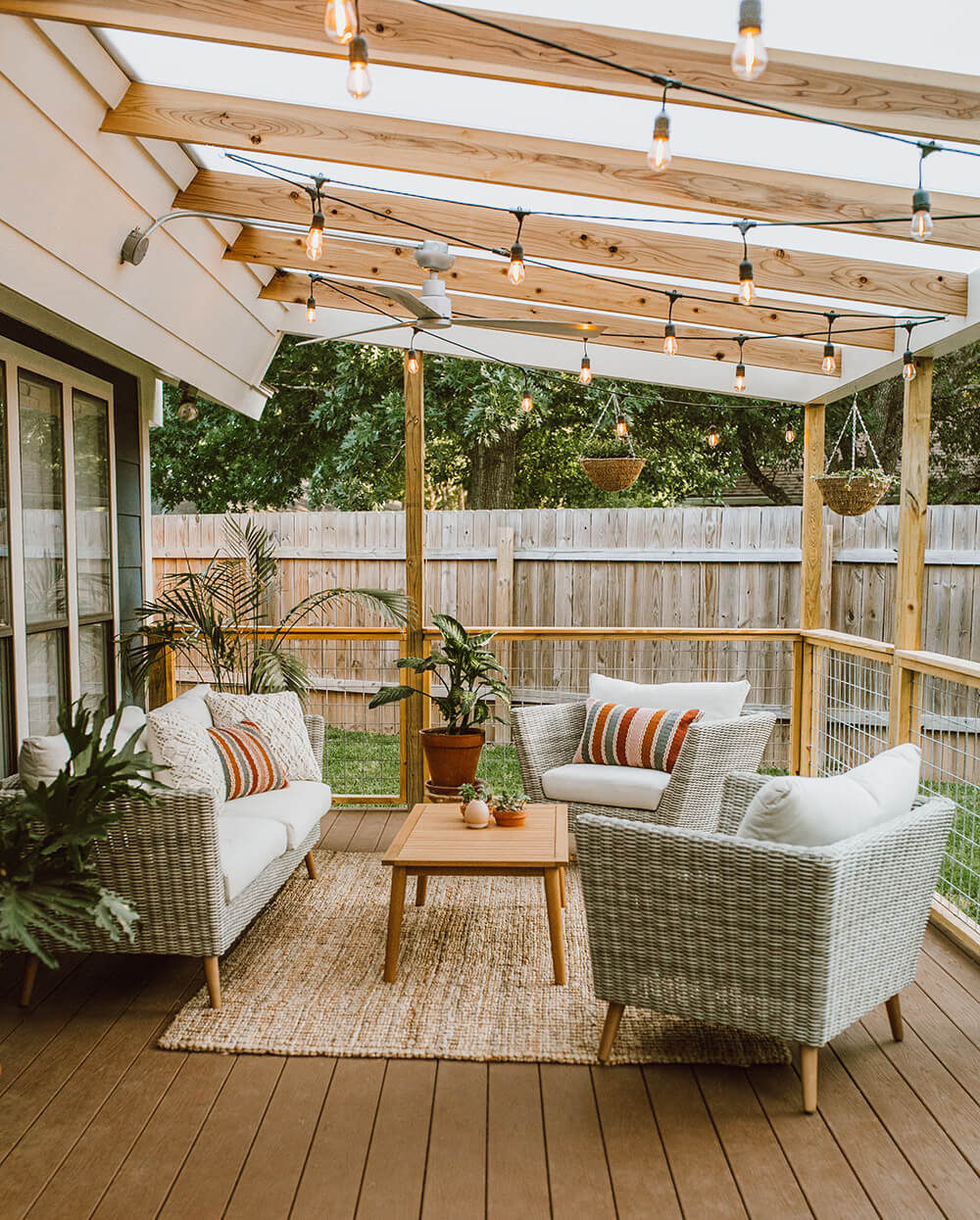 If you are looking for deck ideas that will help you entertain more often, don't disregard this suggestion of a slanted roof extension. Use clear plexiglass or similar material to allow the sun to continue to shine on the deck while shielding you from the rain and hang up a few lights in case of overcast. This beautiful deck idea is set up for entertaining even when the elements are trying to rain out the party. Bonus: a rainy afternoon alone sipping coffee on this deck seems heavenly.
5. Who Says it Has to Be Attached?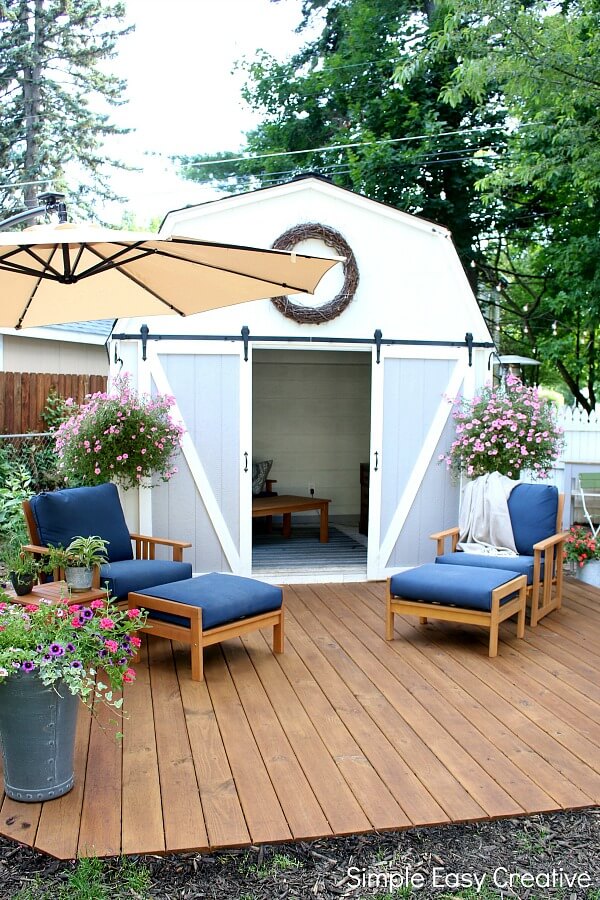 There are all kinds of designs for decks and this one is a unique consideration for anyone who doesn't have much space near the entrance or exit of their home. These homeowners have used a shed to create a sheltered gathering place and a ground-level deck with shading at the door of the shed. This separates the party from the main house, which is probably why many don't consider this idea themselves. It is a great option, though, for anyone who needs to get creative with their space.
6. Rattan Makes Everything Better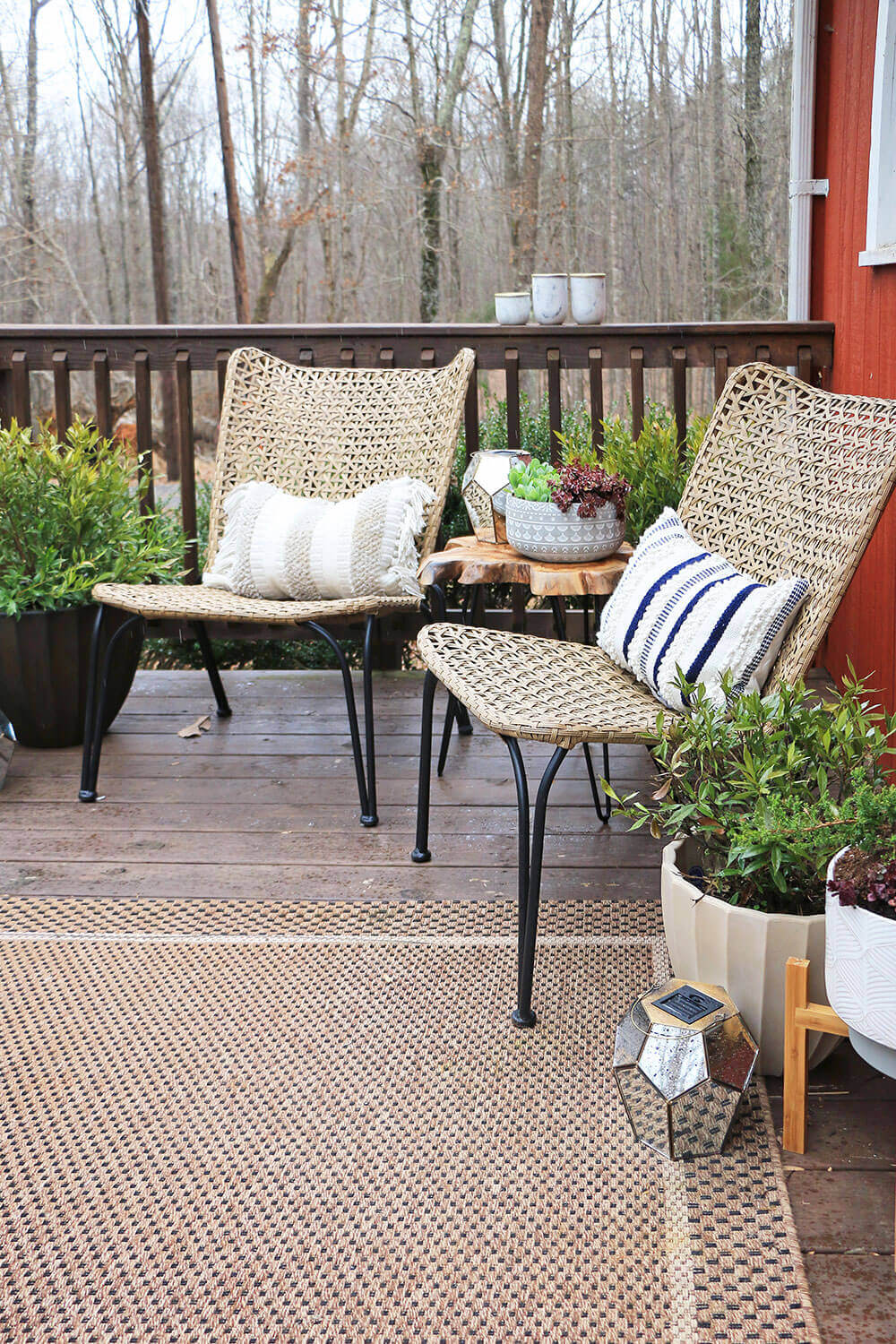 Rattan is King among deck design ideas. The weather-hardy material is more expensive than wicker and holds up better, too. Using rattan furniture, rugs, and lots of greenery you can give your deck a bohemian inspired look that is easy to keep clean and comfortable. Rattan is an all-natural fiber source that is both globally conscious and stylish. It can be used indoors or outdoors and stands up well to rain and other elements.
7. Mix Up Railing Materials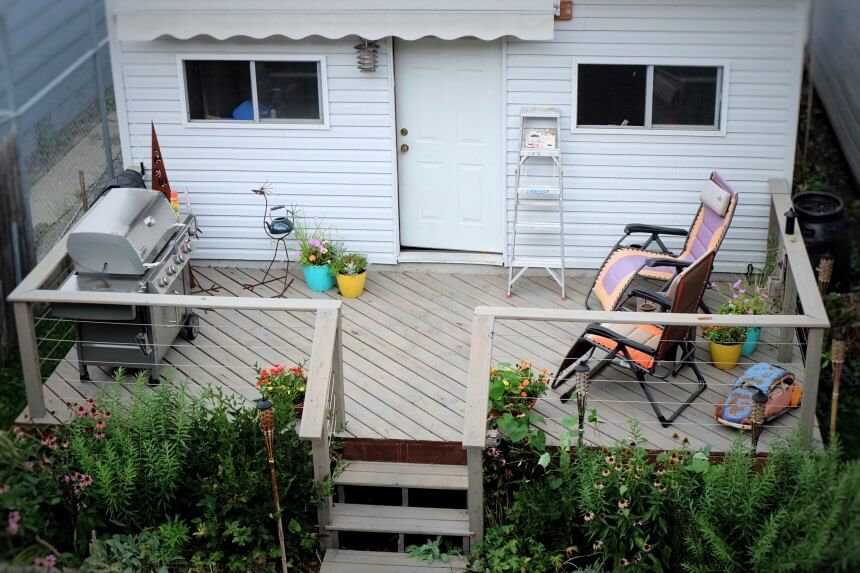 When building railings around raised decks, don't fall into the trap of believing you have to stick to wood only. Give your deck dimension by using wire or metal in your railing framing. Depending on the materials you use, you can make your deck look larger or cozier. You can also make it easier to keep clean. The featured photo is using a thick metal wire for the inner lines of the railing, creating a more open look that is still safe and secure. Other items for railing materials are metal picketing, plexiglass, concrete, rope, or even actual glass if your climate supports it safely. Climates that get a lot of wind or hurricane weather are probably not great candidates for extra glass features.
8. Take a Good Look Around You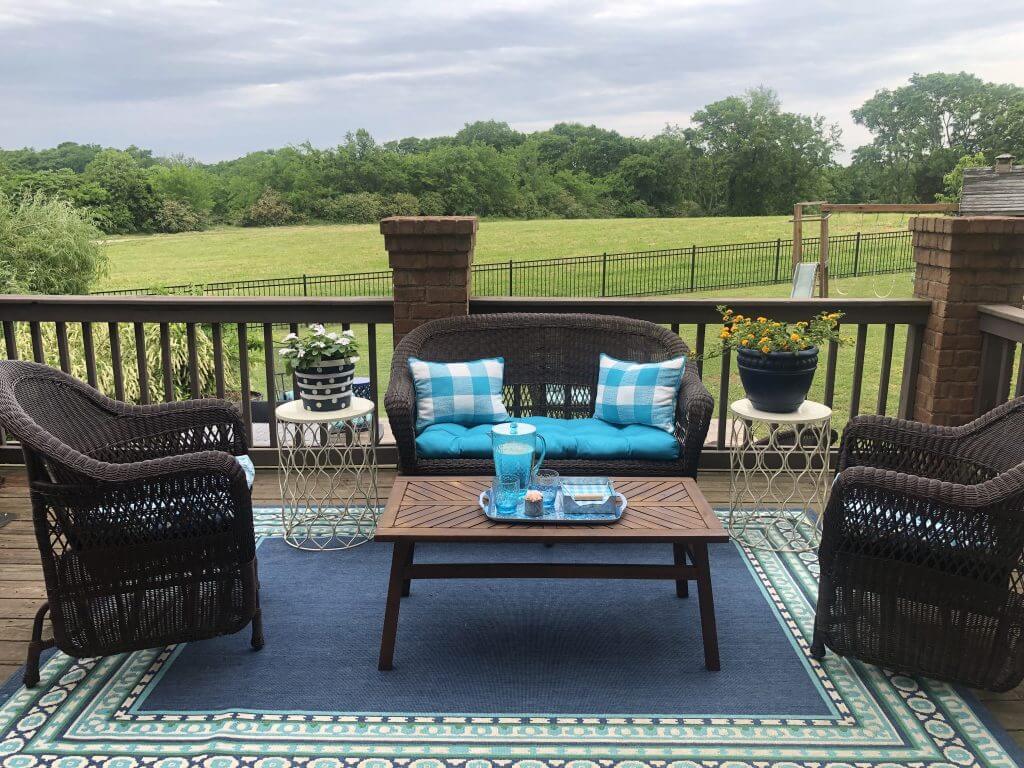 Particularly with raised decks and outdoor decks, it's important to mind the view. You might decide on a different placement for your deck depending on where you are looking. There is nothing worse than spending your time, muscle, and money to build a raised deck only to realize you're going to be watching your neighbor's nude Yoga at dinner time every day. Look for a view that offers you (and others) privacy and will make you feel like you're in your own personal oasis. This will keep you coming out to enjoy the fresh air again and again.
9. Romantic Deck Design Ideas include Stringed Lights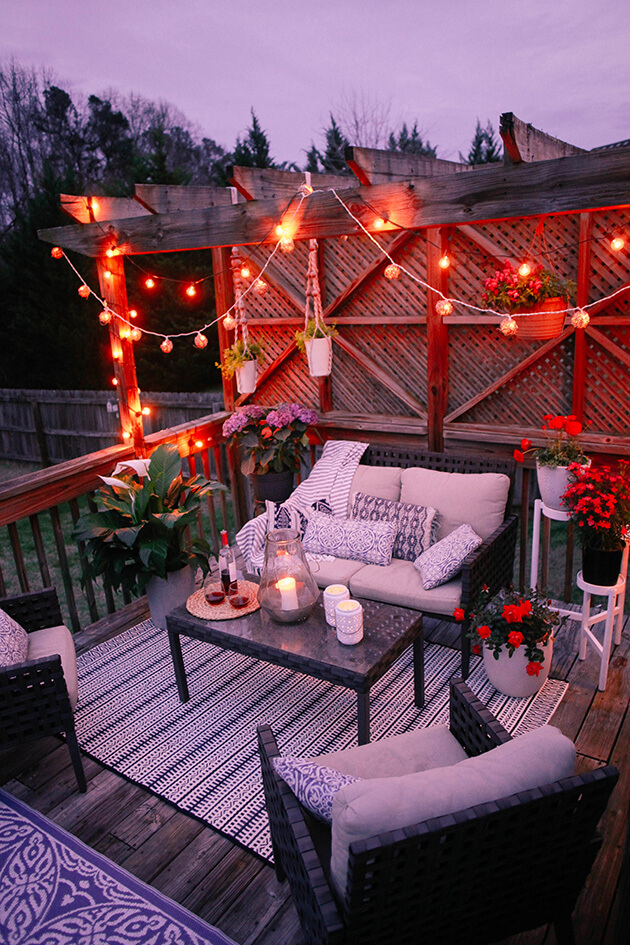 This beautiful backyard deck idea features a variety of stringed lights hanging loosely above a cozy seating area. A candle in a vase on the table helps carry the warm light throughout. While these warm gold lights are beautiful, this is a versatile decorating idea. You can use different colors or shapes of lights to decorate your deck to your own personal taste. Adding accents to match the lights, like the orange potted flowers in the photo, will help tie it all together and look more like an extension of your home.
10. High Railing and Uniform Seating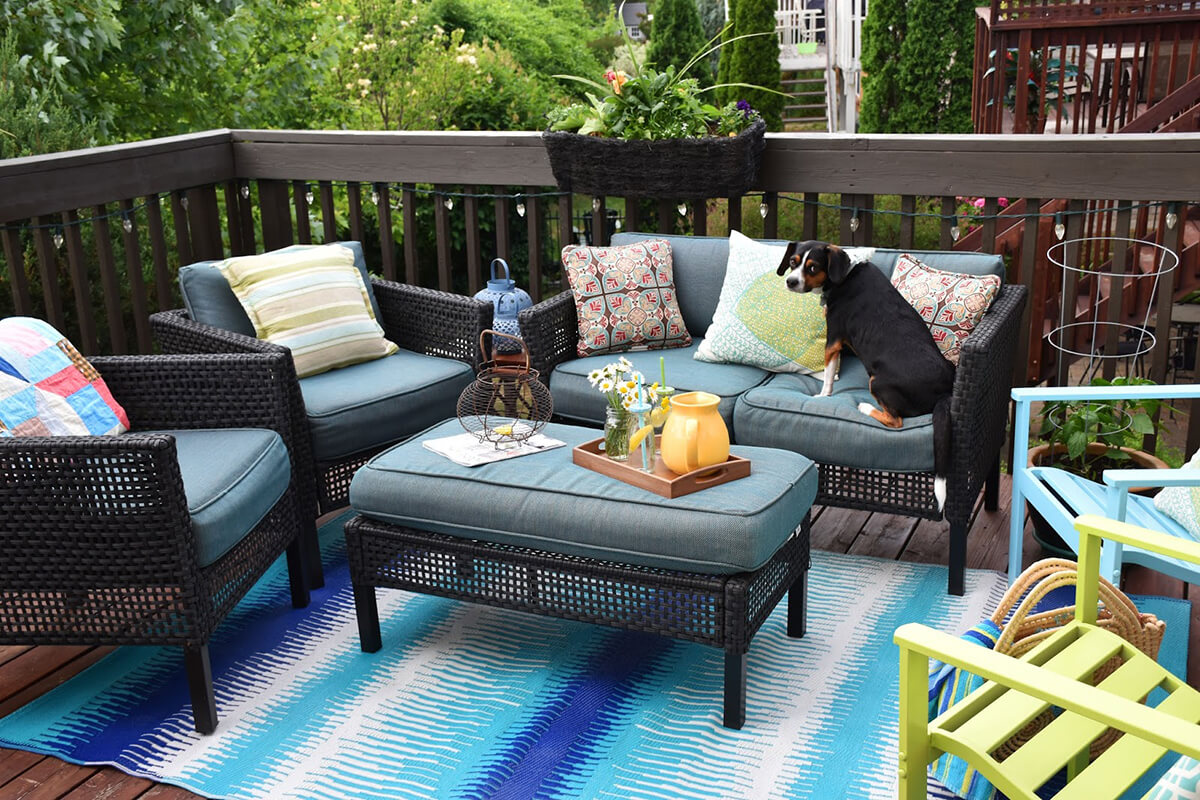 This look combines two great deck design ideas: high railings and uniform deck decor. The blue furniture, combined with the blue rug and stylish accent pillows creates a beautiful seating space to hang out with the family or friends (or a sweet dog!) The high rails help enclose the deck, making it feel less like a porch and more like a part of the home. Stringed lights and hanging flower boxes wrap the look up into a homey outdoor living space.
11. Sometimes, Less is More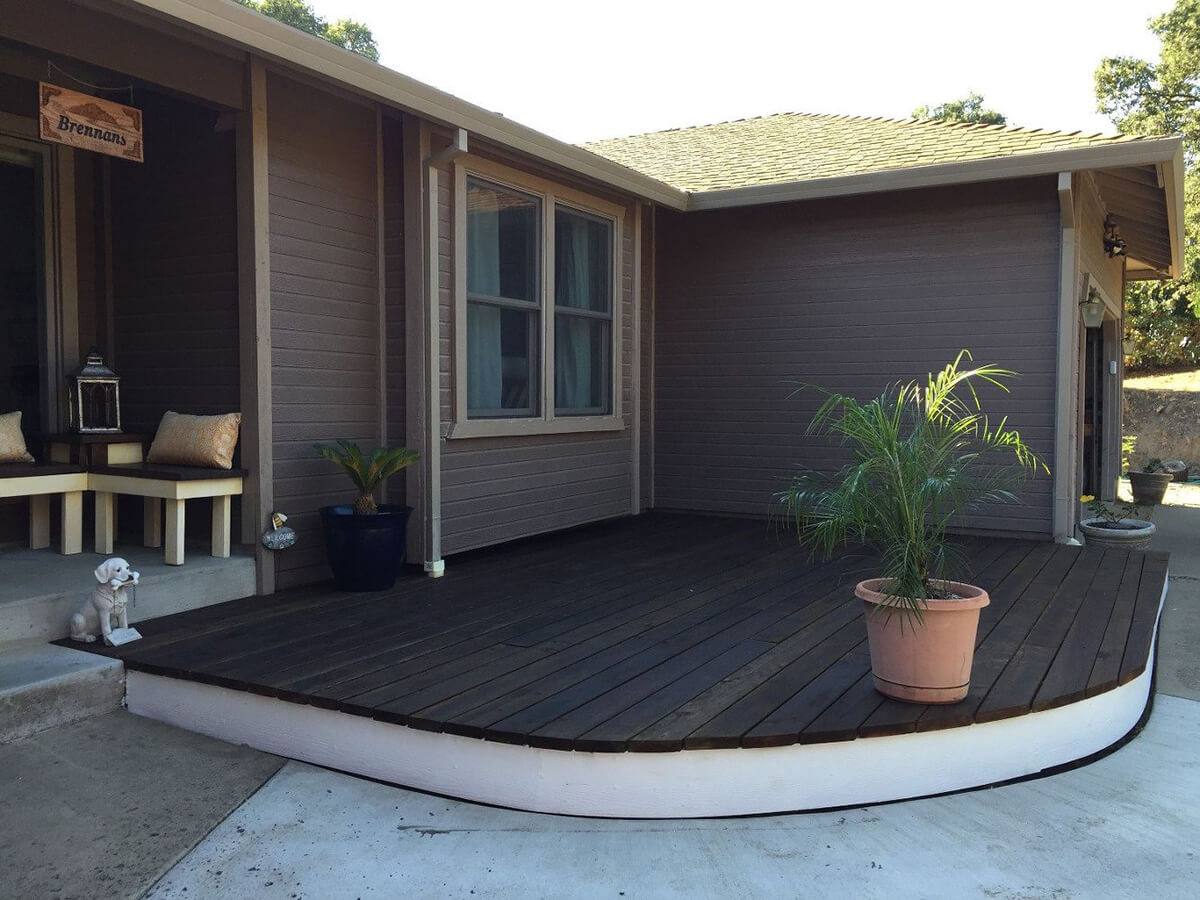 This simple, lower level design is popular among deck ideas for small yards. If you are limited on space, keep your deck small and low. When not in use, keep it mostly empty with only a few potted plants so it won't look crowded. When in use, only bring out what you need. This is an efficient and useful deck without taking up valuable yard space or requiring much maintenance. It can also serve as a safe, flat surface to set a wading pool, portable sandbox, or other items as your family grows and transforms.
12. Water Down Paint for a Subdued Tint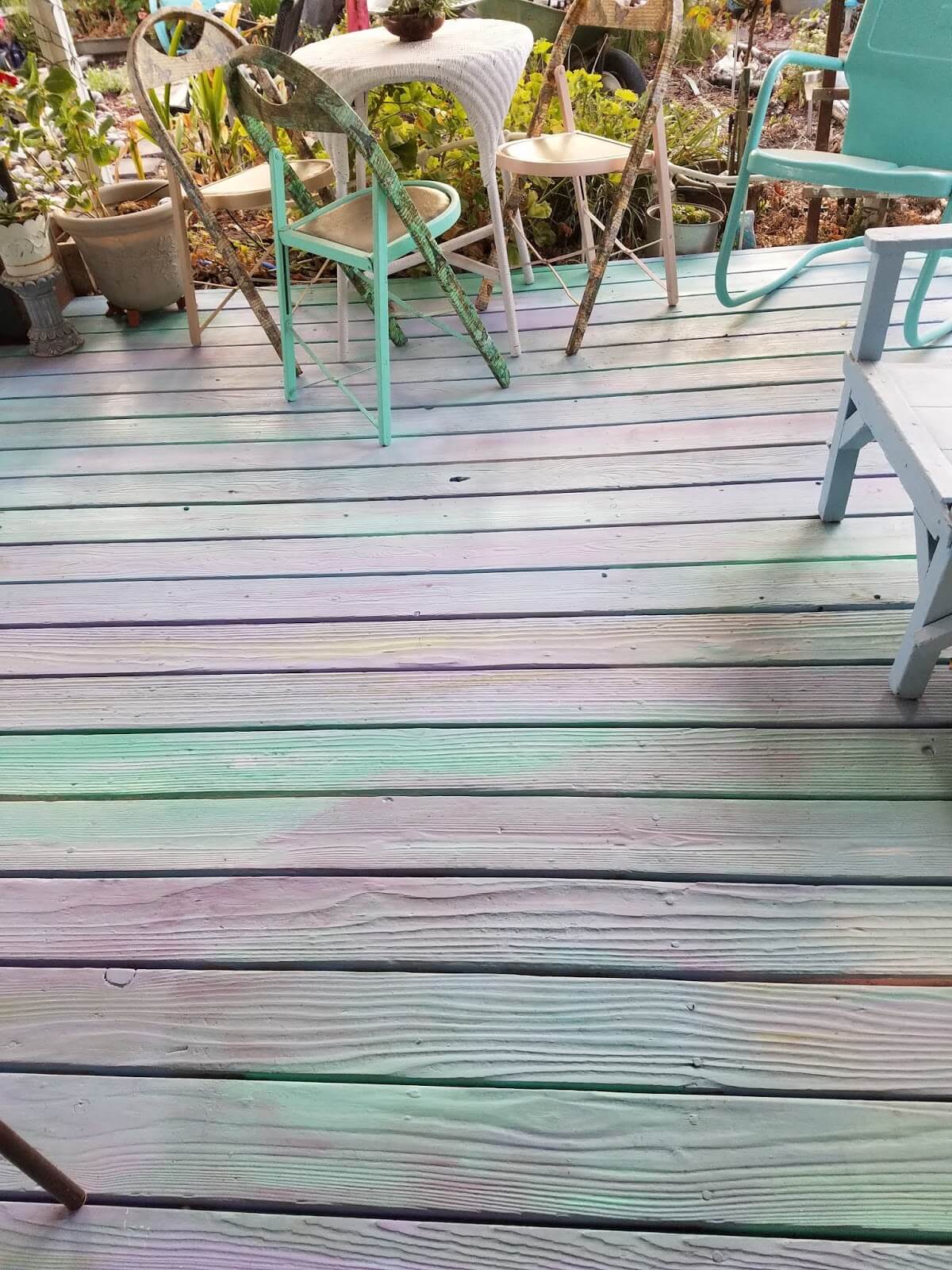 Staining and painting are the most popular deck ideas when considering the coloring of your outdoor entertaining area. Why not combine both by using watered down paint that accents your home, then sealing it with a clear coat of weather sealing stain? This creates an aged, rustic look that falls short of looking worn out. You will accent your home and wow your guests. We promise!
13. Add Dimension to Your Deck with Paint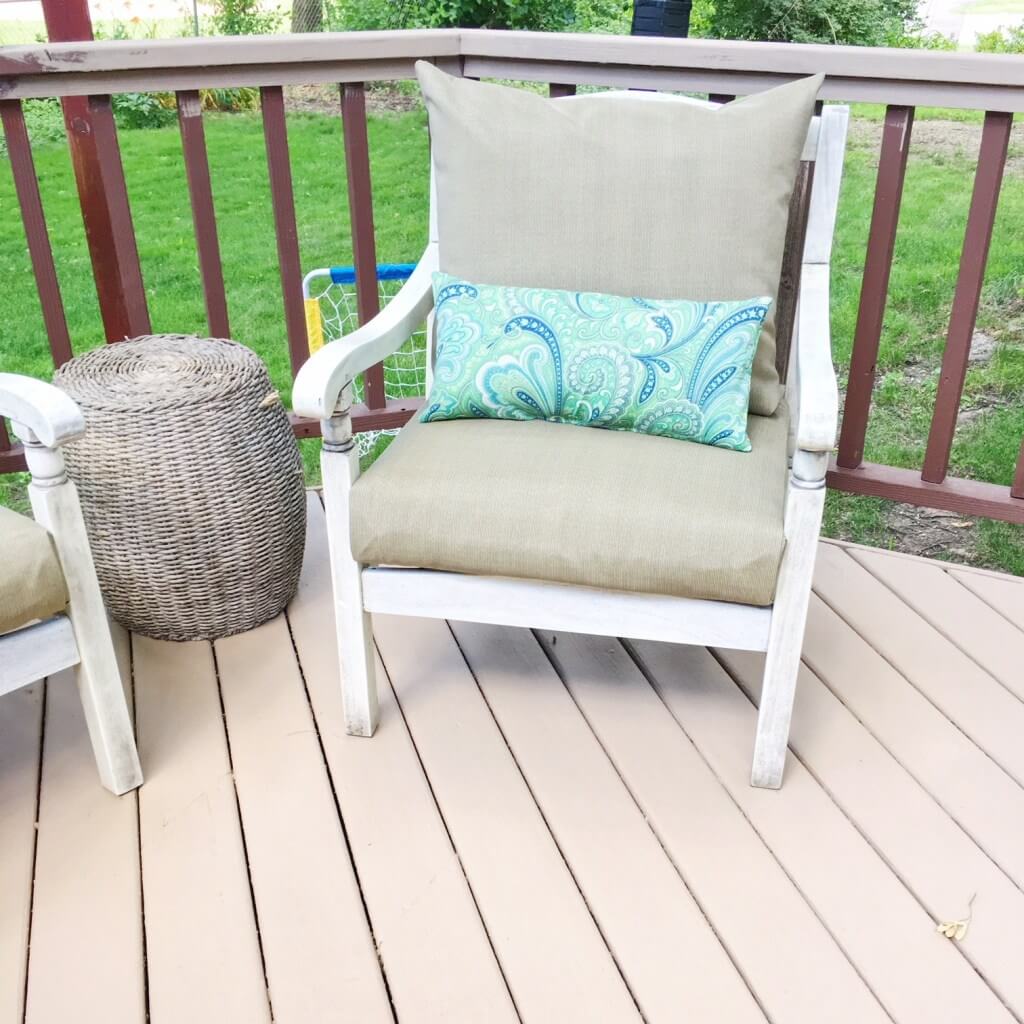 This painted decking idea is sure to turn heads. To match their patio furniture, the homeowners have used two different colors of paint on their deck. The hand rail and deck flooring look almost whitewashed while the rails have a deeper brown color. This adds a subdued look to the deck and helps tie the furniture and decor in with the overall look. One word of caution is to make sure you don't paint your deck too closely to your house color. This can make things look overdone.
14. Swap Out Railings for Vegetation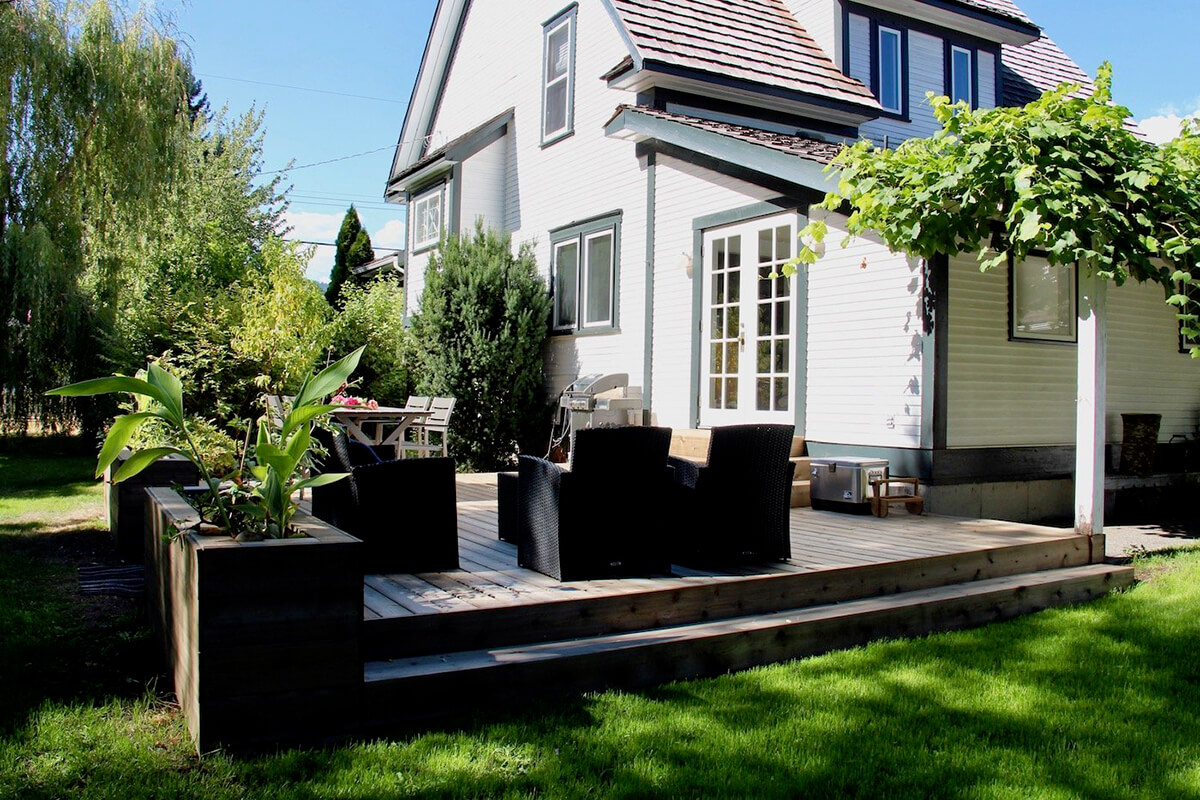 Railing is always one of the base ideas for deck design, but what if you decided to forego them this time? This deck does not have a railing. Instead, the homeowner opted for some tall plant boxes with stylish vegetation. This makes the deck look bigger and more open and actually helps accentuate the landscaping of the yard, as well. Just be careful about your homeowner's insurance requirements on safety.
15. Chandeliers are Never Extra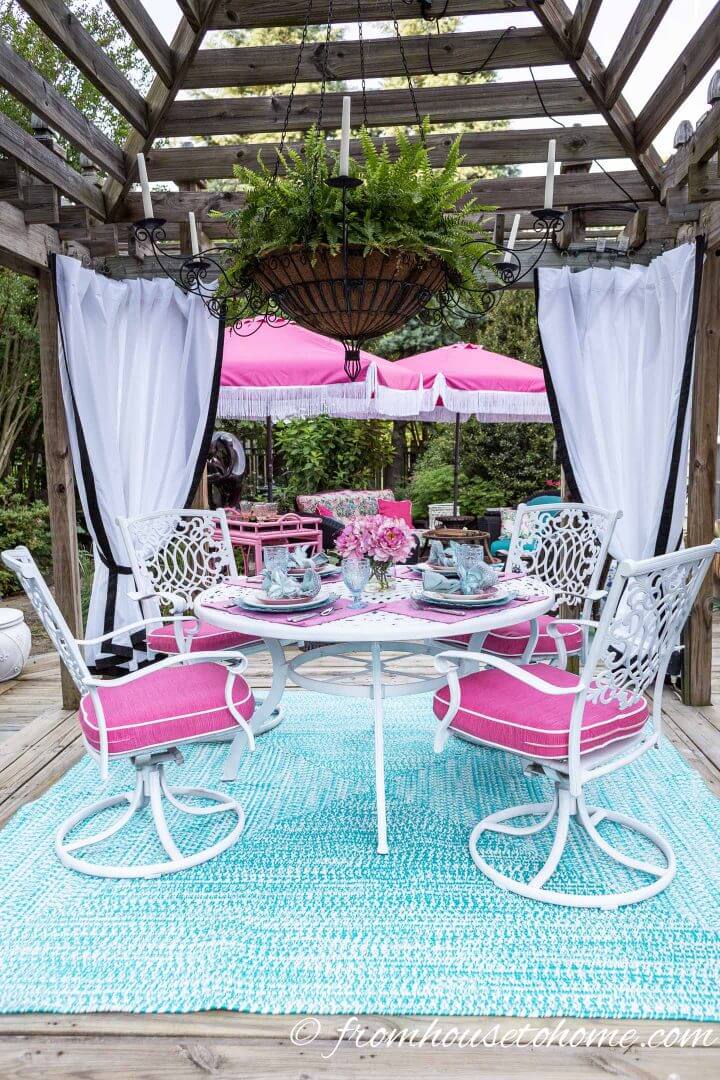 Why hang a foliage chandelier on your deck? The real question is, "Why not?" You can find multiple plans available online when searching deck design ideas for deck roofs or coverings, which will allow you to hang a beautiful chandelier piece over your seating area. This will make your deck look bigger and more impressive when you invite the Joneses over for dinner.
16. Mix Up Your Seating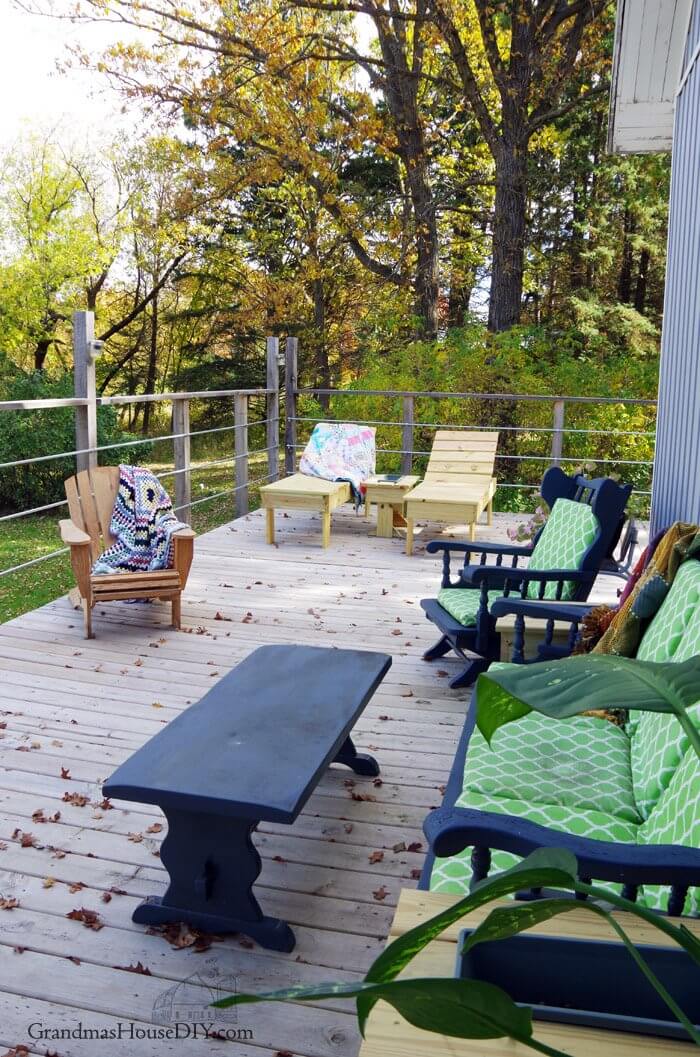 In this example of glorious deck decor ideas, the homeowner has used various styles and designs of seating to create a relaxing place to entertain. In the foreground, we see a set of gliders with a matching coffee table. Further back, there is a lounge chair, then a pair of sunbathers with table between. This has created a situation where various party guests can congregate in groups during large outdoor celebrations. It also is all close enough together that one conversation can still be shared if a smaller crowd has gathered.
17. Go Au Natural for Rustic Appeal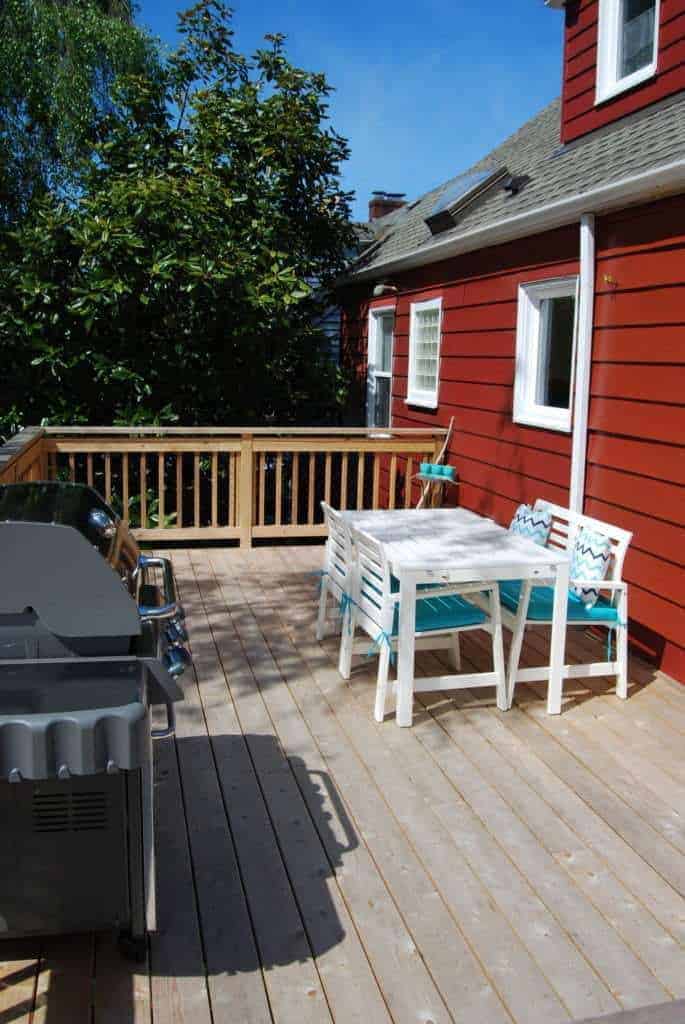 This decking idea calls for no staining on the deck wood. A simple weather seal is plenty and you won't have to worry about matching the deck stain to your home or vice versa if you decide to repaint your home at a later date. This is a great look for small decks, in particular, because it keeps them from looking too overdone or "flashy." Minimal decoration in the deck itself leaves room for more colors and decor in the furniture, plants, and other features that you will use to make your deck feel like an extension of your beautiful home.
18. Keep it Cozy and Cute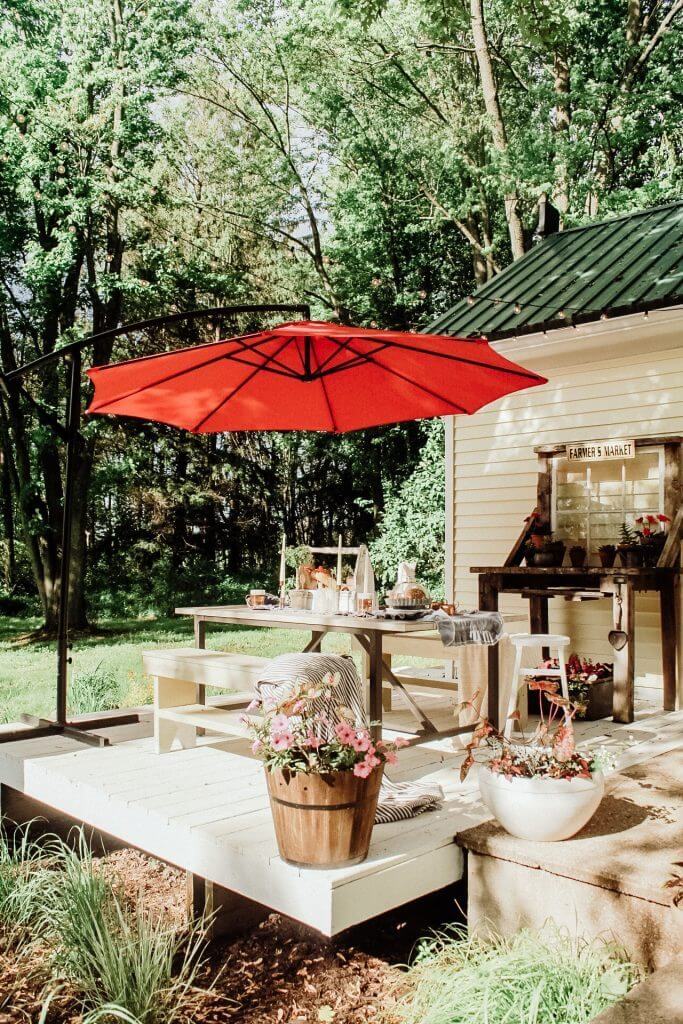 Umbrellas and old desks make a great start when shopping deck decor ideas. An old desk and hutch turns beautifully into a gardening center while a simple red umbrella can keep the shade off the family during outdoor dining at a simple picnic table. This small desk is packed with homey appeal thanks to the smart decor choices of the homeowner.
19. Build in Seating to Save Space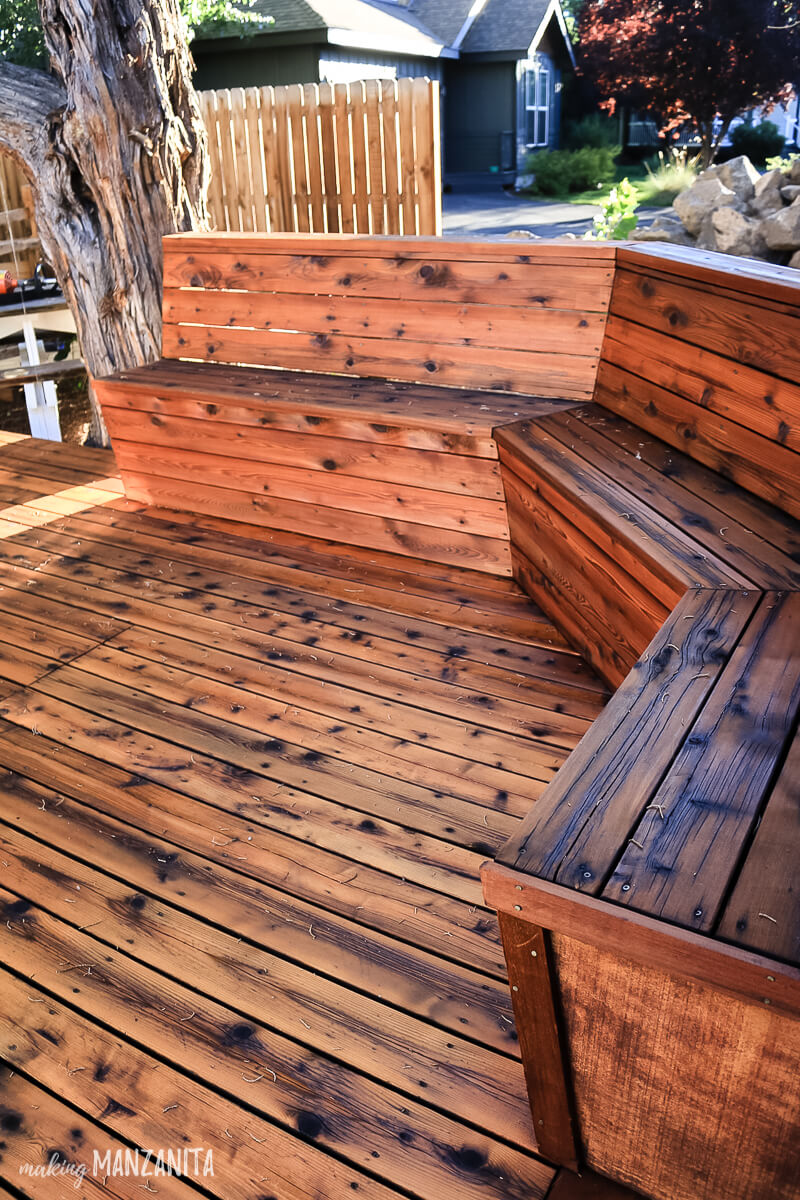 A favorite trend of ours in raised decks is to forego the railing for built-in seating. This eliminates the need to buy additional patio furniture, keeps the insurance company happy, and helps present a uniform style throughout the decking. This is an especially fun idea for decking attached to the pool or a hot tub. You can also build in a table for added convenience.
20. Watch Your Step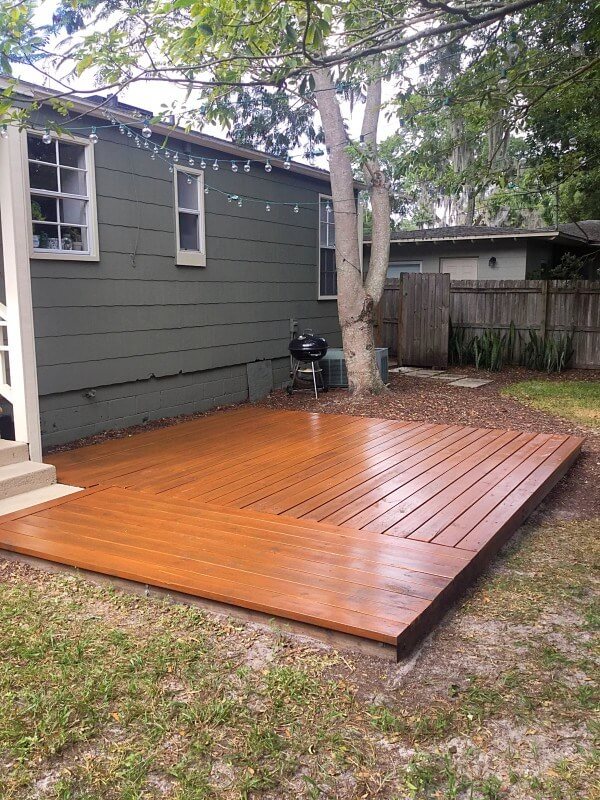 This simple, ground-level decking idea lines up evenly with the bottom step of the home. Instead of worrying about railings and homeowner insurance coding, this designer opted for a simple, ground level design. This is perfect for entertaining guests or spending a day out playing with the kids- and there's no fear of anyone toppling off.
Ground level decks are perfect for those concerned with safety or budget as they are also very inexpensive to build.
20 Beautiful Deck Ideas to Impress Your Friends
All of the deck ideas featured in this list have been sourced with versatility in mind. Your personal style and sense of home will be different from anyone else's, so don't feel like you have to like every deck idea featured here. It stands to reason that there will be some you adored and some you see very little value in.
The important thing when designing your own deck project is to make sure it speaks to who you are. Your home- including your deck- is a valuable representation of your own self.
We hope that this list has left you feeling inspired and more ready than ever to tackle that finicky space in your home. The deck can be a difficult feature to work with, but with the right care and consideration it can also be a beautiful place for you to relax and enjoy time and fresh air among friends and family.
Whether you choose a raised deck with an outdoor grill kitchen or a simple, ground-level design with rustic furnishings, know that we are excited for you and rooting you on during this fun adventure in decorating.
Our Favorite Outdoor Decorations to buy on Amazon