Those with a rustic home know how important it can be to find the right ideas for your bathroom vanity to make everything fit together with the rest of the house. This is especially true if you are in the process of changing over your décor style or remodeling your home. If you feel like your bathroom just isn't fitting with the rest of your home décor, you might be considering a remodel. However, finding the right idea can be time-consuming and often difficult, and we all know that time is limited.
35 Rustic Bathroom Vanity Ideas that are Simply Unforgettable

Those looking for the best bathroom ideas know just how crazy it can be to find the right rough wood, paint to distress, and even the right knobs to tie the entire vanity together along with the rest of your décor, and if you have a budget, it can be especially difficult to find things that don't cost you an arm and a leg.
Luckily, we have curated 35 unique and simple rustic bathroom vanity ideas to help you take your bathroom from drab to that rustic farmhouse dream. Many of the options in this article are simple options that will make it easy for you to find the right wood hue, paint color, and style to fit your taste. Not only can you find great color options, but even sink and countertop ideas can be found in our list. Here is what you need to know to help you choose the right ideas to fit your home, your style, and even your space size.
1. Rustic Bathroom Vanity Idea with Dark Wood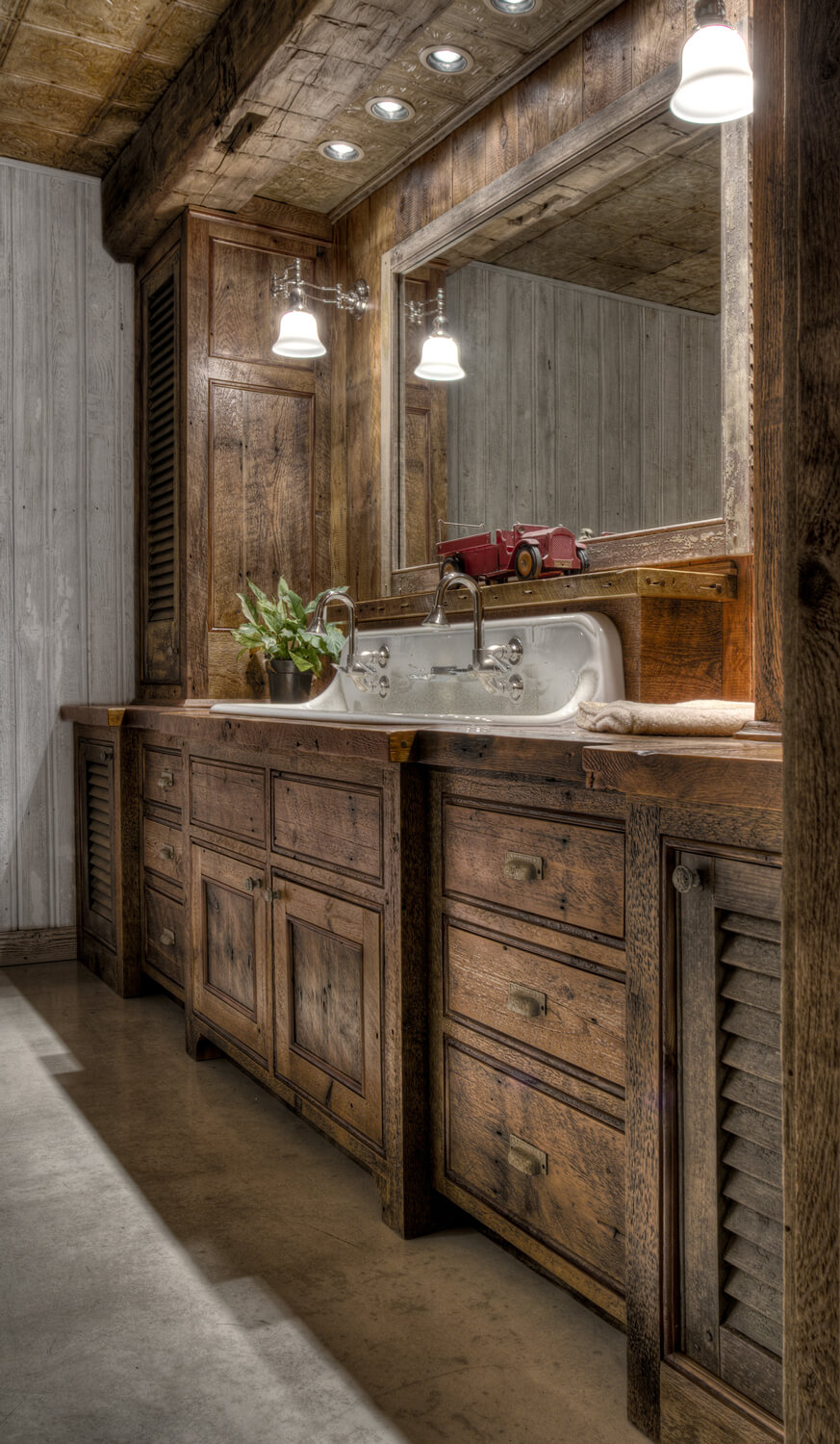 This custom-made vanity crafted from antique timber showcases one of the core components of the rustic aesthetic: wood's natural beauty. A large piece of dark furniture can easily overwhelm a space, but bright lighting and greenery achieve an uplifting effect. The red truck is a fun-filled final touch.
2. Raw Wood with Iron Handles for Bathrooms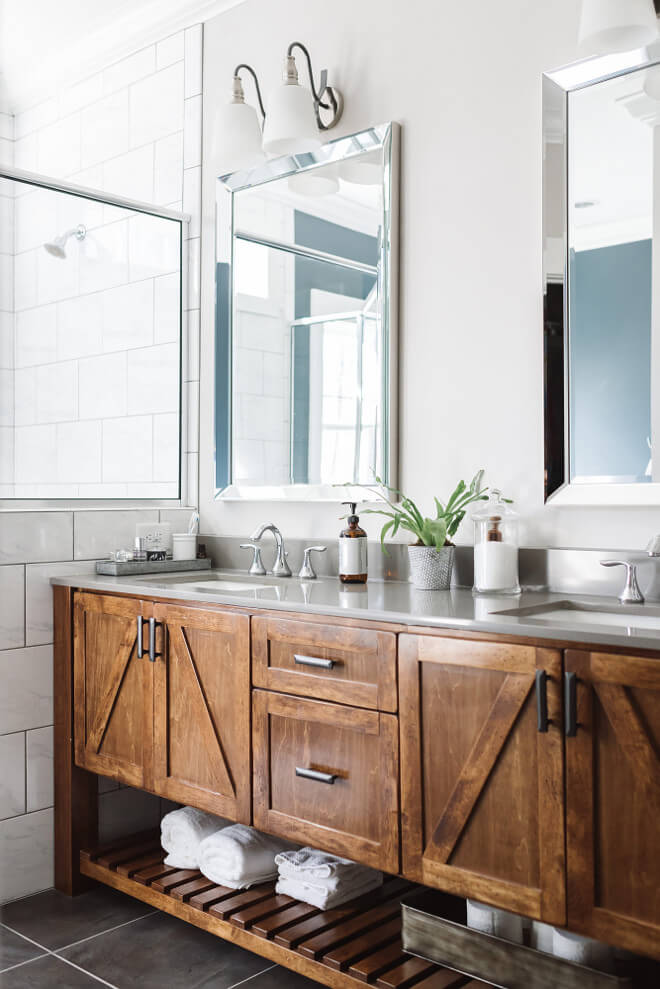 In a master bathroom framed by white stone and reflective silver, all focus goes to the beautiful wood vanity. While the cabinet doors are detailed like a barn, chic modern handles cultivate a look steeped in rustic sophistication. The towel rack beneath adds the perfect touch of functionality.
3. Towel Closet with Tin and Wood
Mixing wood and tin is a classic way to achieve a homestyle rustic atmosphere. For maximum authenticity, this vanity is made from wood and tin reclaimed from a barn. Because a countertop is not included, you can customize this vanity to fit your style.
4. Light Barn Wood Simple Style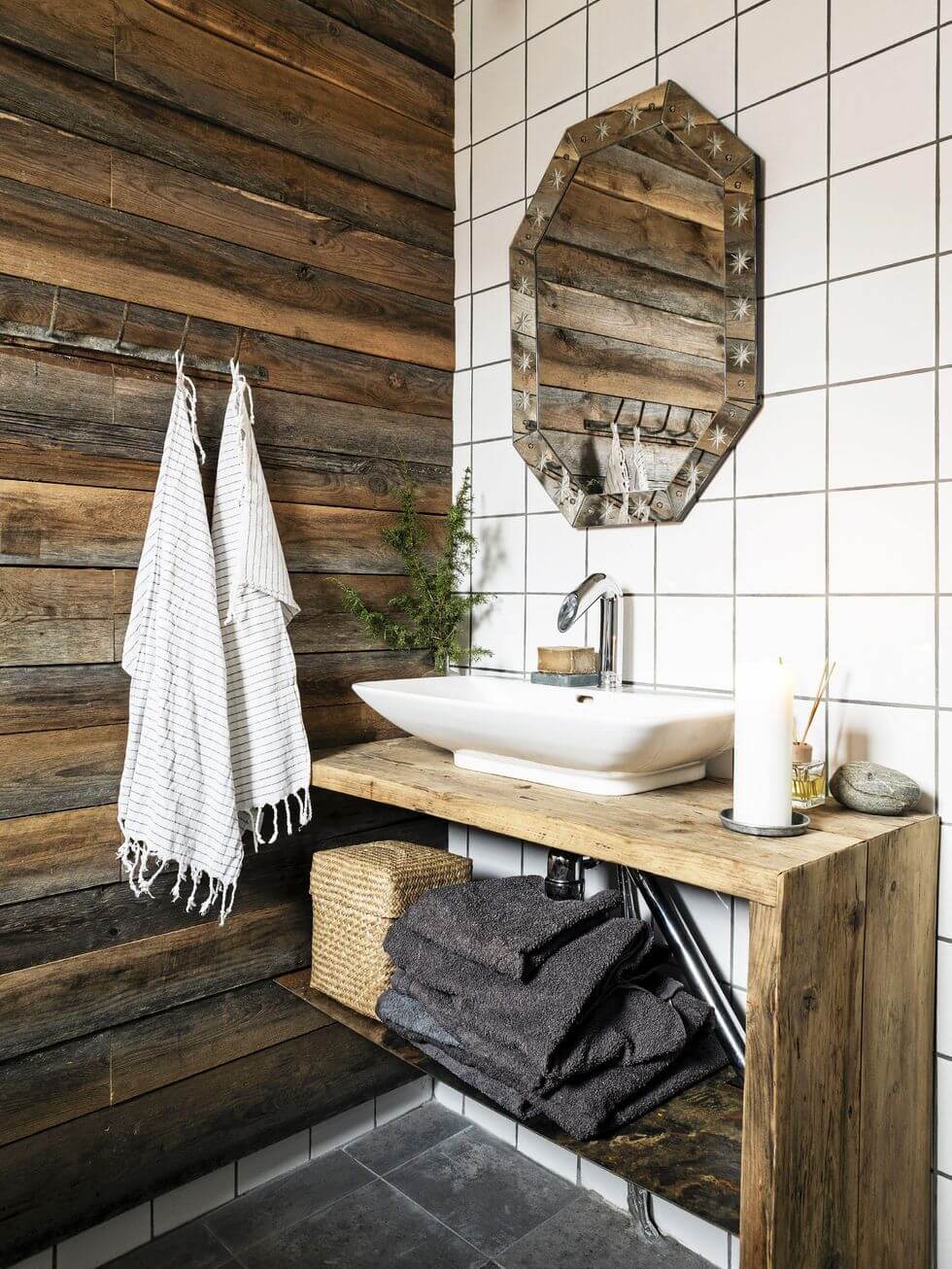 Imagine the perfect balance between rustic and minimalist chic. While the textures in this example are all rustic, the sink's design and vanity's lines channel sleek geometry. A sprig of greenery and a faceted frameless mirror ties the two styles together.
5. Weathered Wood with Barn Doors
Two wood tones mean that this vanity creates its own contrast. A sliding barn door gives you both privacy and easy access to the inner cabinet. If this sink is too modern for your definition of rustic, you can pick a countertop and sink that fit your aesthetic better.
6. Simple Rustic and Modern Vanity for Bathrooms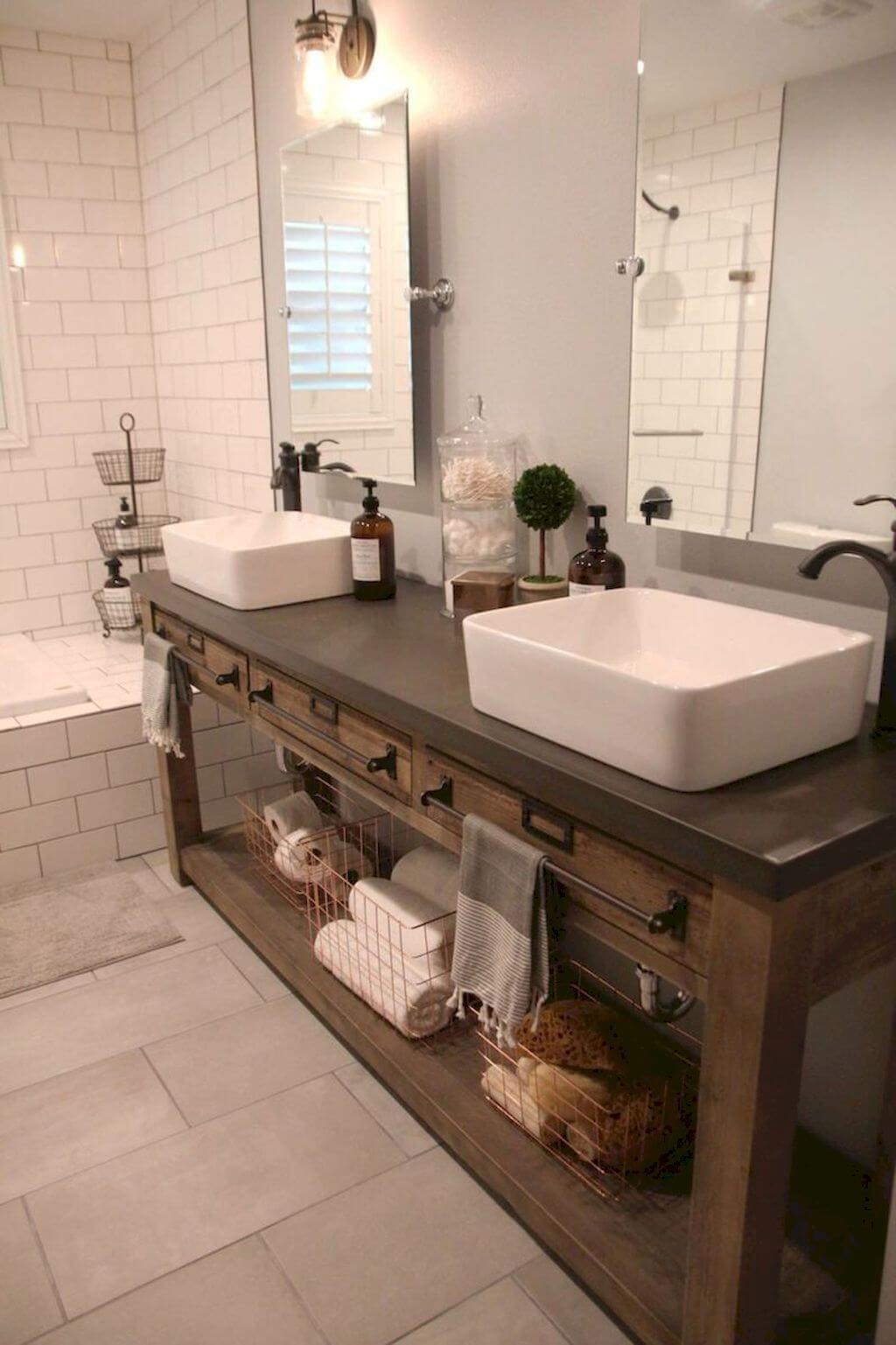 With an open design, this vanity offers plenty of versatility to store anything you need. This image shows copper baskets holding a variety of toiletries. Because they double as towel holders, even the drawer pulls are a practical feature on this rustic bathroom vanity.
7. Dark Weathered Wood with Dark Sink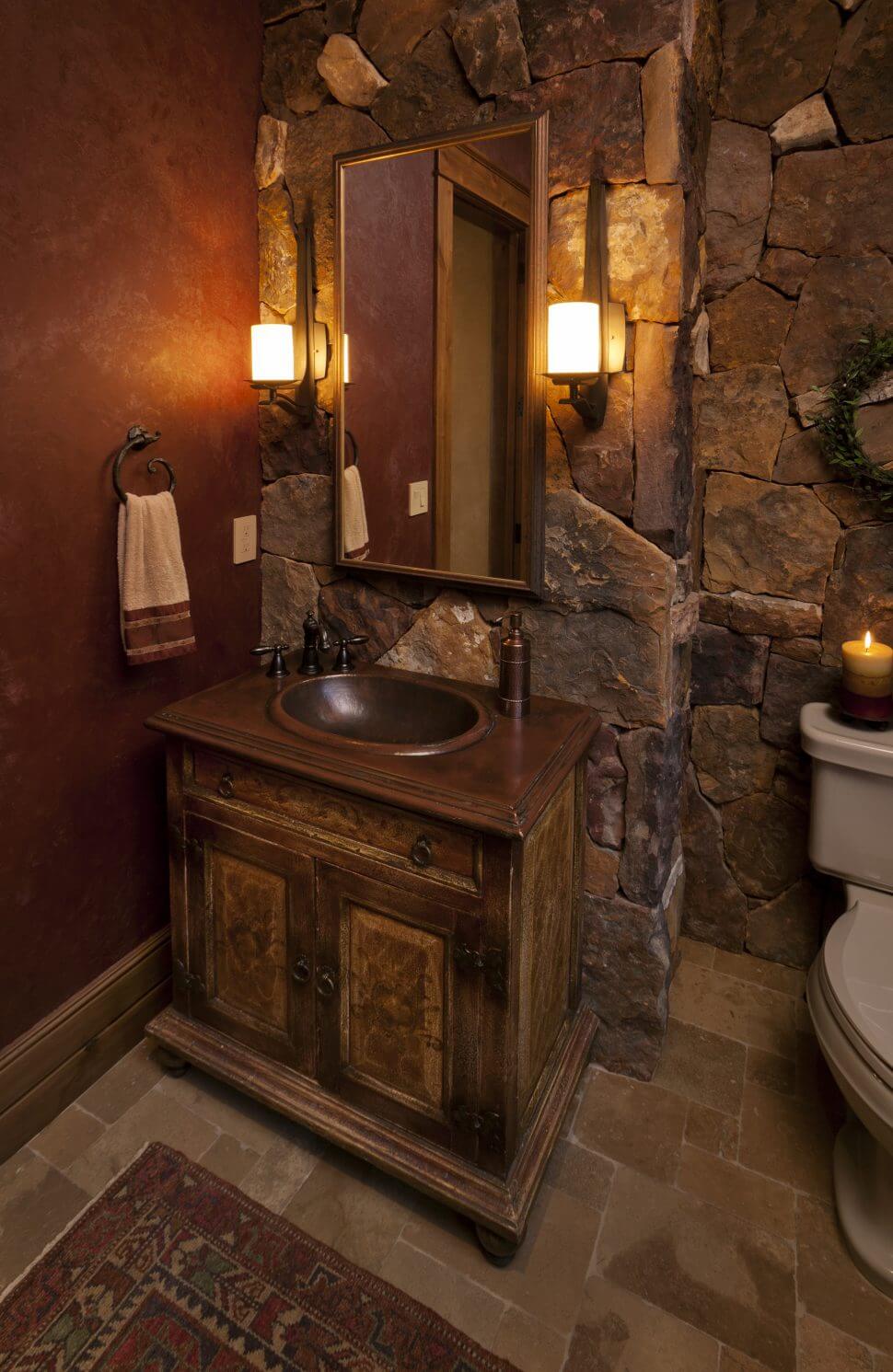 Often, a light-colored sink is used to create contrast with a dark-colored vanity. However, this metal single sink vanity breaks those rules to create a study in texture. A metal sink bowl, dark weathered wood, and rough stone facade create the perfect cozy corner.
8. Distressed Teal and Brown Vanity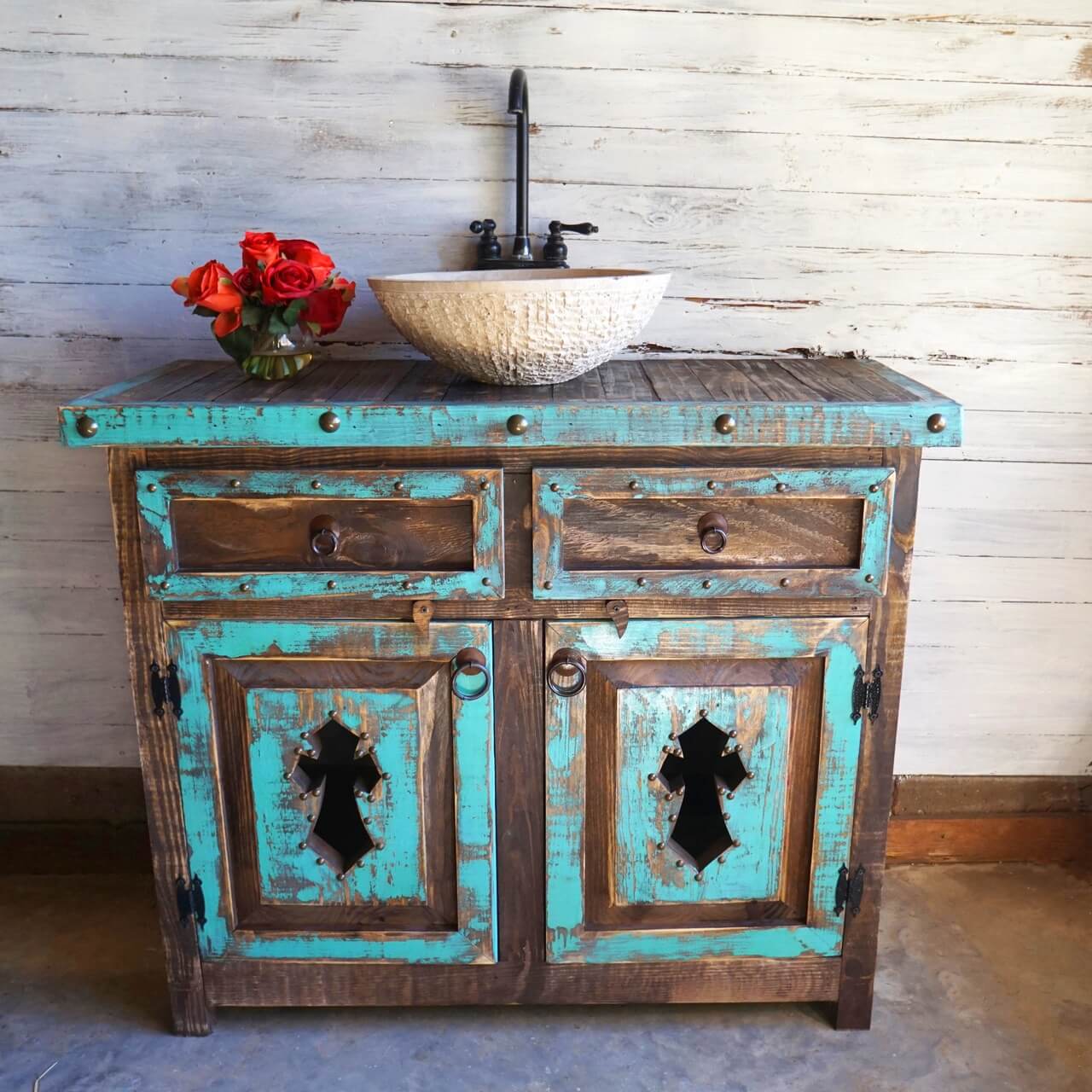 Made from solid wood, this rustic bathroom vanity will be an heirloom for generations to come. The distressed turquoise paint is the perfect accent for a rustic room with a beachy spin. Stylized crosses are a bold touch that shows what matters most.
9. Dark Wood Bathroom with White Countertop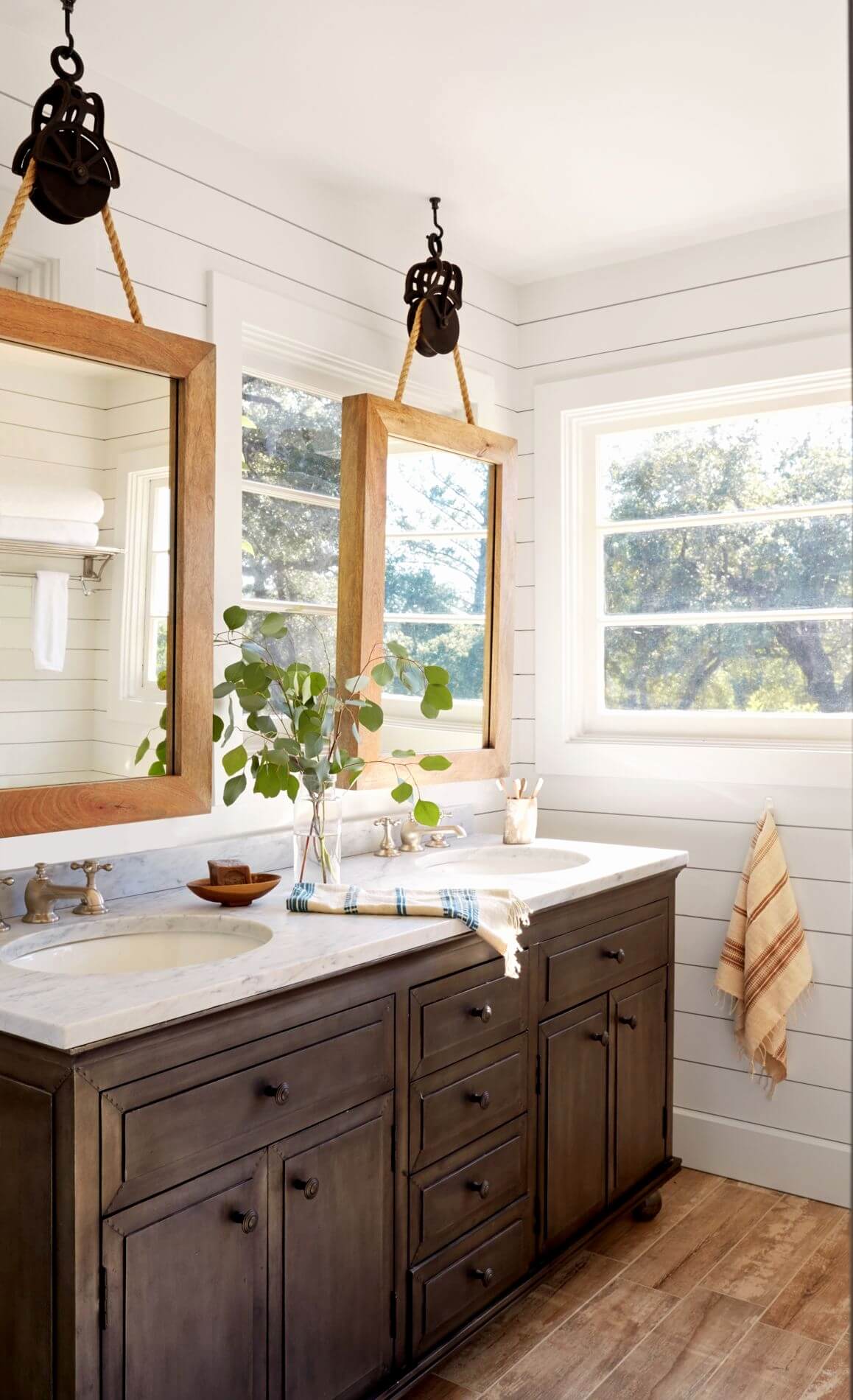 For a sophisticated take on rustic decor, draw inspiration from this elegant example. A white marble countertop adds a touch of luxury. Because this versatile vanity would look at home in nearly any space, pairing it with these unique mirrors is a great way to help it read as rustic.
10. Barn Door and Weathered Dark Wood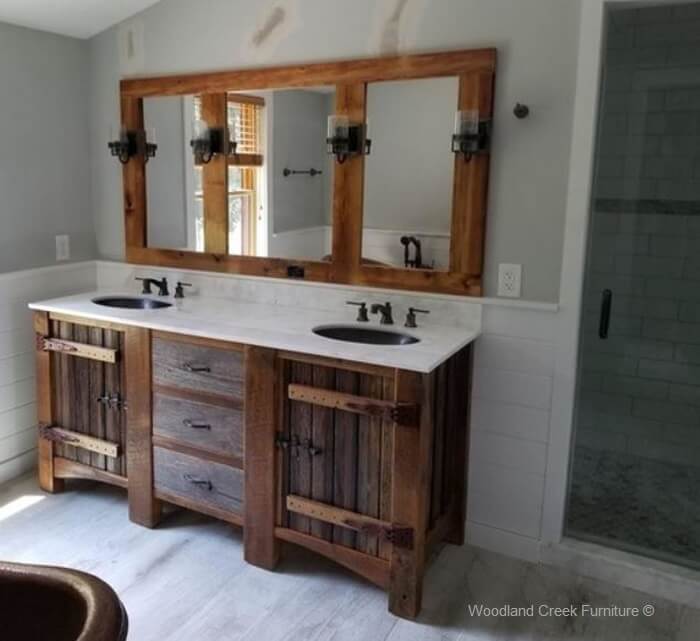 From barn doors to rustic light sconces, this weathered wood vanity and mirror has it all. Because of the generous ratio of countertop to sinks, the number of sinks in this vanity does not feel overwhelming. The variety of wood tones offers a feast of rustic texture.
11. Light Wood Distressed Small Bathroom Toilet-table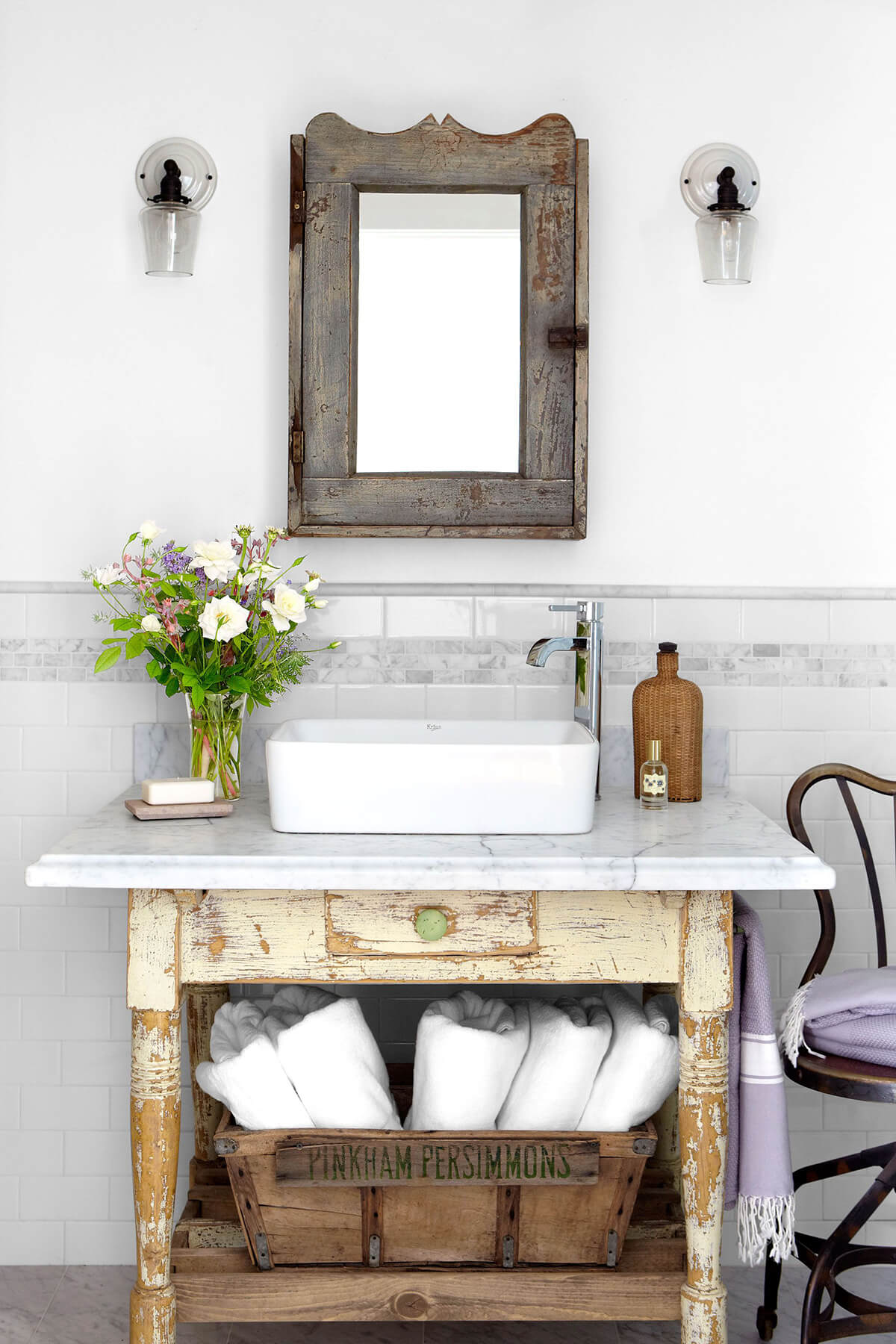 Small bathrooms need to make the most of every square foot of space, and this repurposed desk is the perfect size to become a single sink vanity. By pairing a marble countertop with heavily chipped paint, you achieve an intriguing juxtaposition that only adds character to your bathroom.
12. Dark Rustic Bathroom Table with Bowl Sinks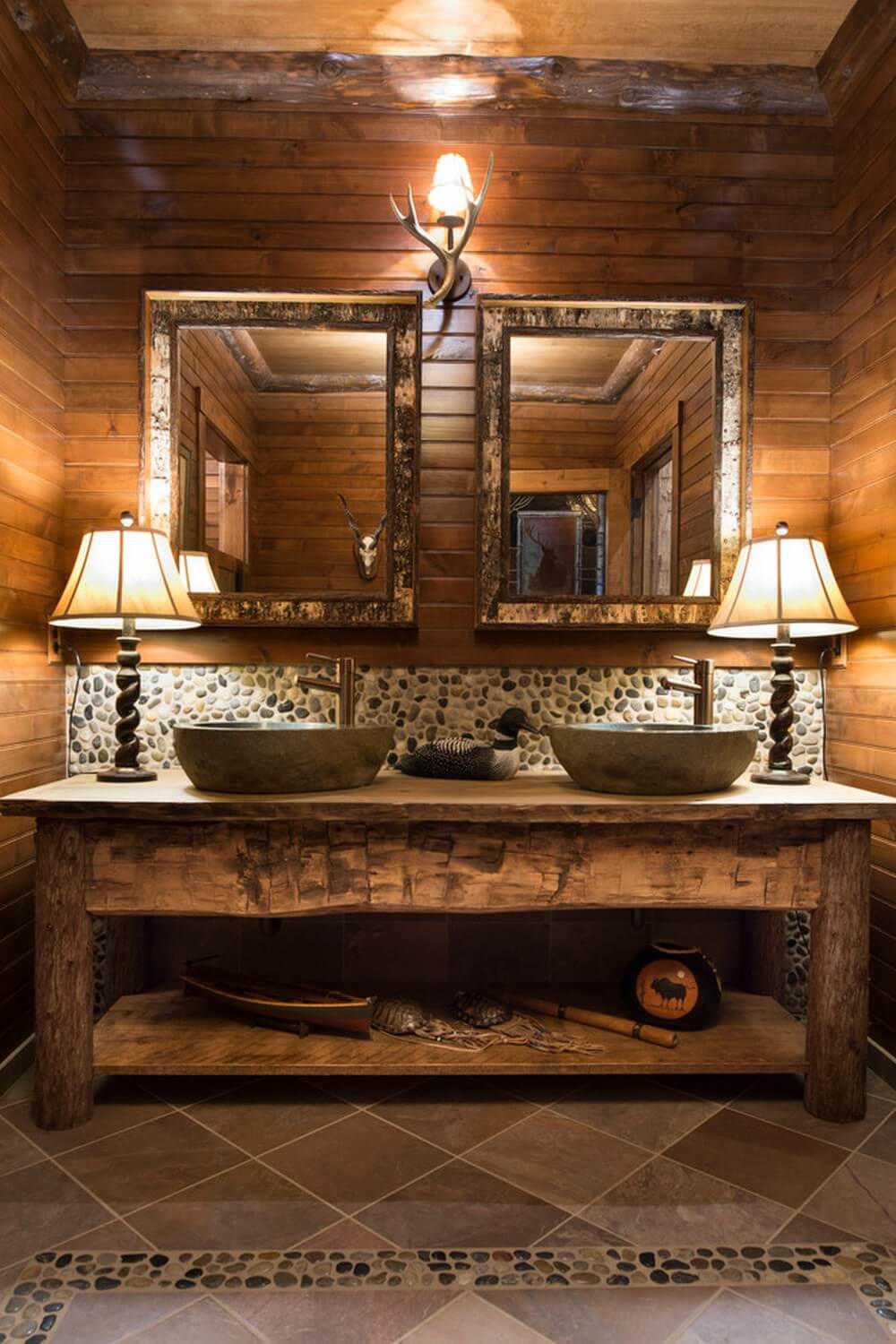 Some styles require rustic bathroom vanities that settle on the rough side of decorative. The wood's rough-hewn finish gives it a little handcrafted charm that is delightfully offset by the modern faucets. Asymmetrical bowl sinks give this piece cohesive energy perfect for pioneering decorators.
13. Simple Rustic Vanity with Iron Handles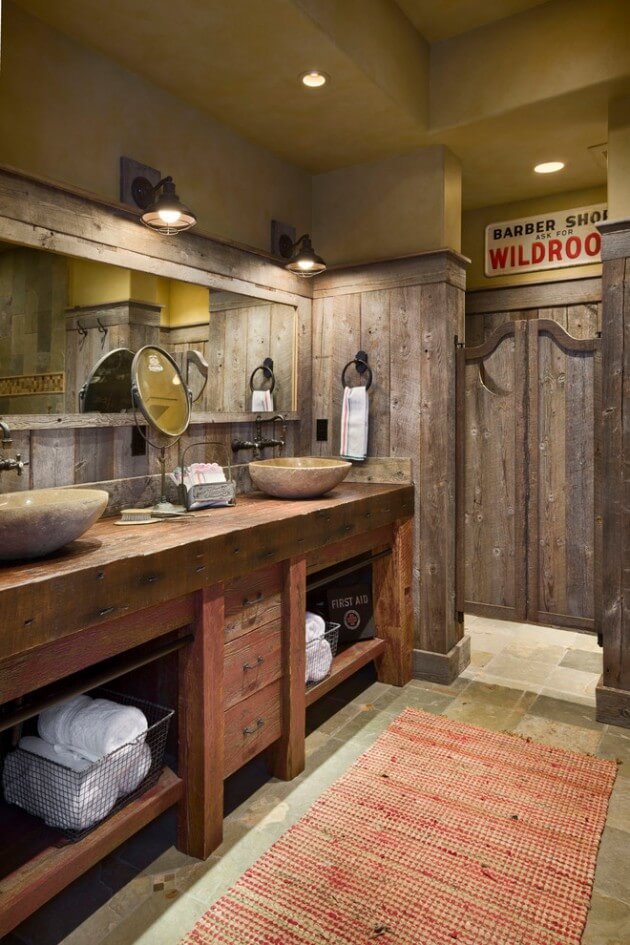 With solid construction and sturdy iron handles, this rustic vanity looks like it will hold up for another century. Because the wood is already distressed, there is no need to worry about small dings that add character. When paired with a saloon door, this bathroom exudes rugged cowboy charm.
14. His and Hers Rustic Weathered Wood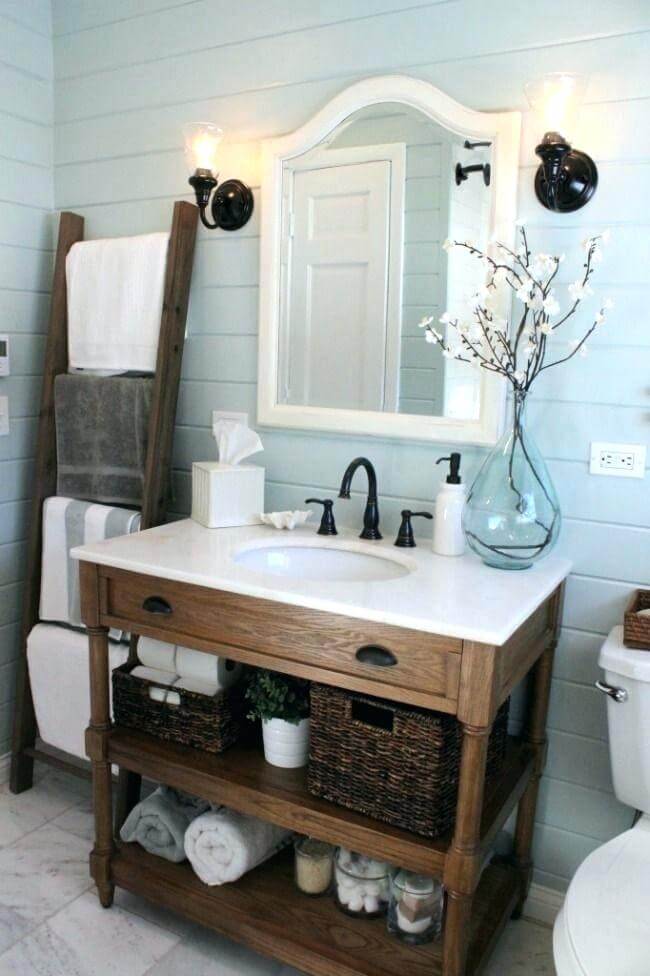 When multiple people regularly use the same bathroom, there are inevitable storage challenges. Using woven baskets and glass apothecary jars to hold all the necessary toiletries is an excellent way to keep the clutter at bay. Black, white, gray, and wood make a handsome palette that emanates class.
15. Small and Simple Rustic Gray Wood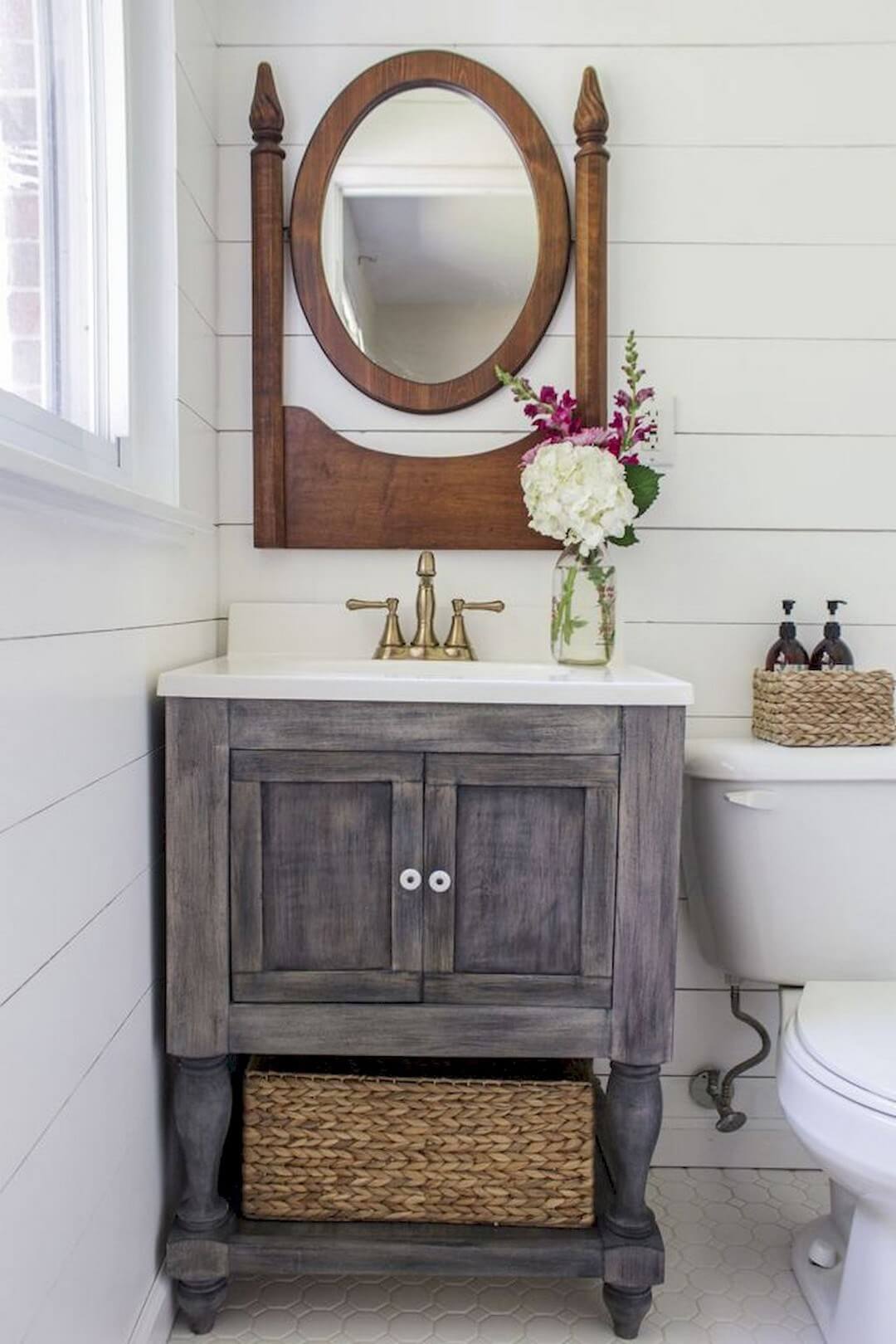 Creating a sense of flow between the master bedroom and bathroom is important, and this tutorial steps you through how easy it is. If you want to cool a space down, try using a gray stain as shown here. This hardware and a woven storage basket add a little warmth.
16. Weathered Table with Farmhouse Sink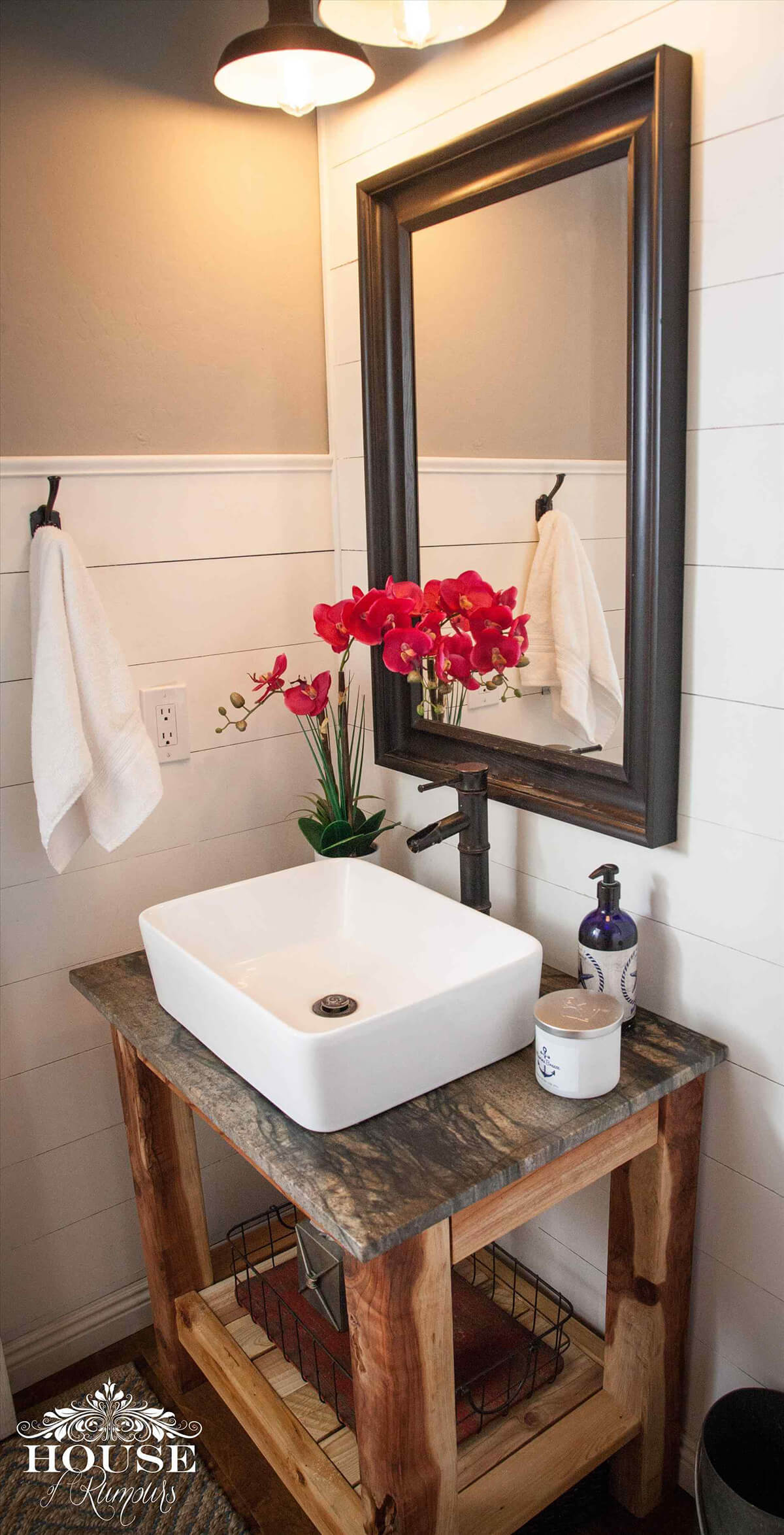 Yes, it is possible to come across a piece of lumber that is already magnificently distressed and filled with character. In this image, you can see how the wavy naturally-occurring tones in the wood are complemented by the pattern in the granite countertop. A farmhouse sink anchors this vanity.
17. Bathroom Vanity with Distressed Weathered Look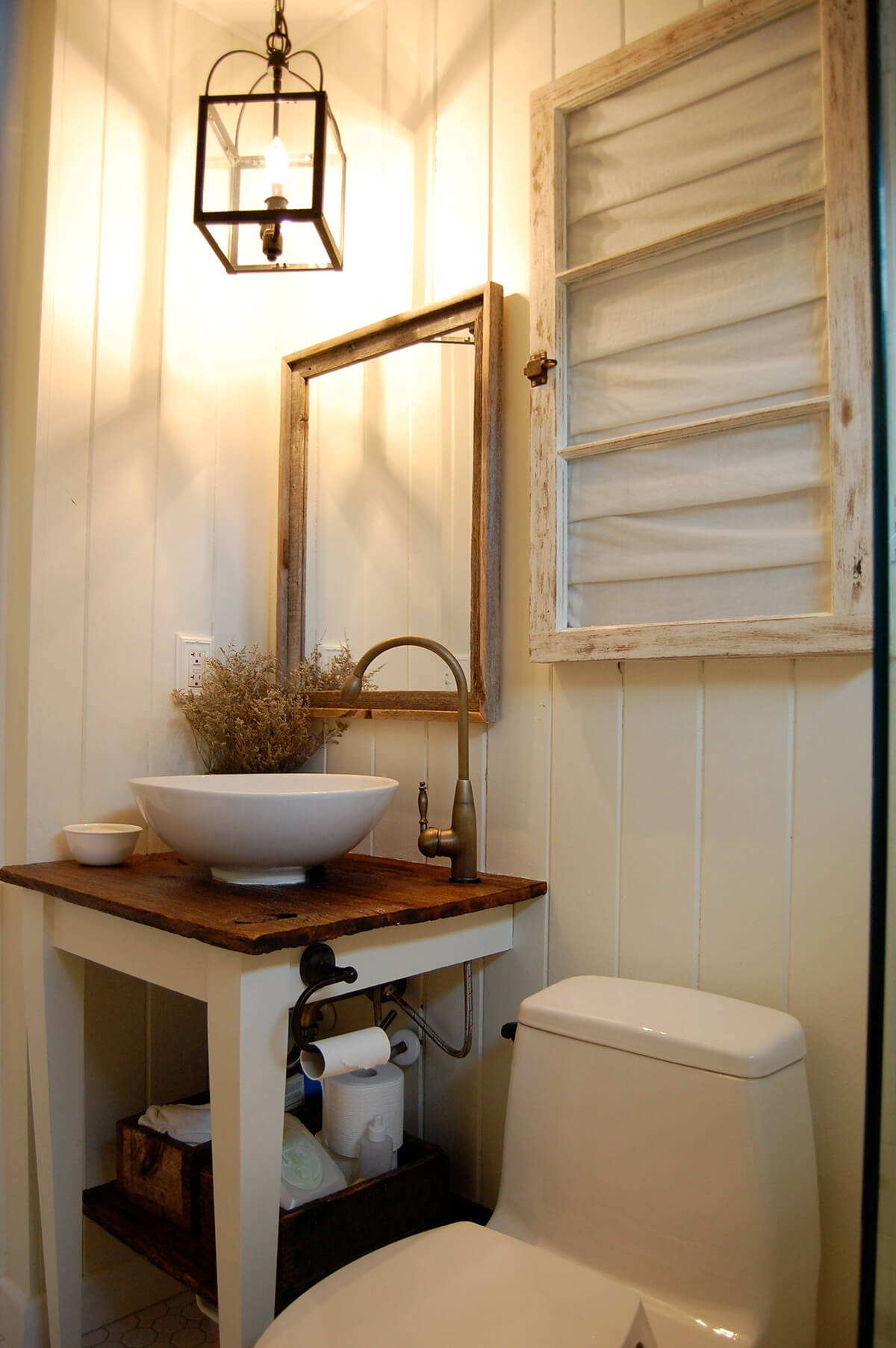 Building a restroom with lots of personality often starts with the right rustic bathroom vanity. The vanity in this image features a show-stopping slab of wood filled with knots and small imperfections. A smooth bowl-style porcelain sink with swooping curves is the perfect balance to the uneven wood countertop.
18. Rustic His and Hers Table with Towel Holders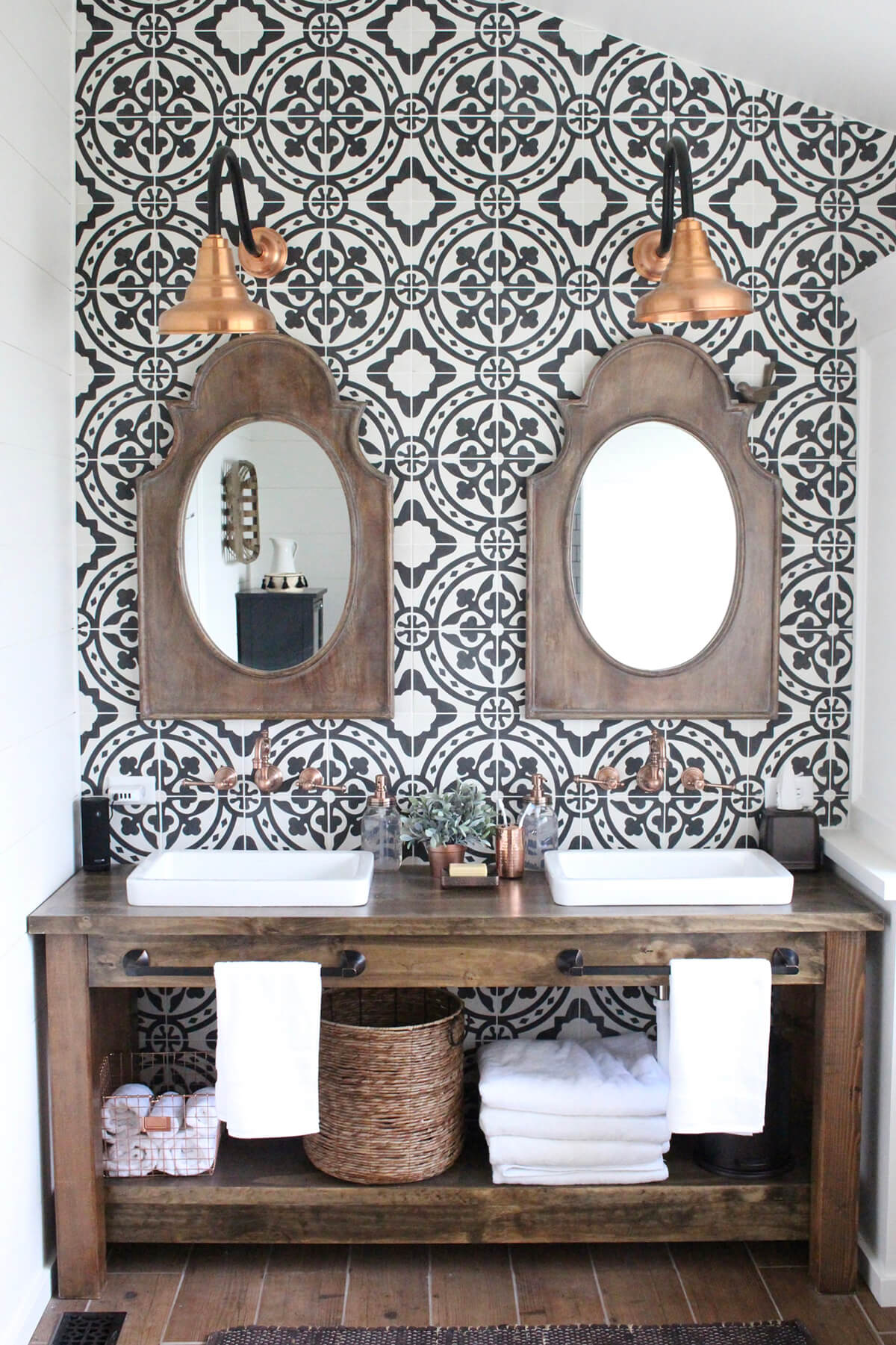 Even when it is black and white, boldly patterned tile makes a statement. A sturdy wooden vanity with simple lines tones the wall down while copper hardware and accessories give the space a warmly welcoming touch. White sinks and fluffy towels incorporate this vanity beautifully with the exciting tile party.
19. Barn Wood Rustic Toilet-table for Bathrooms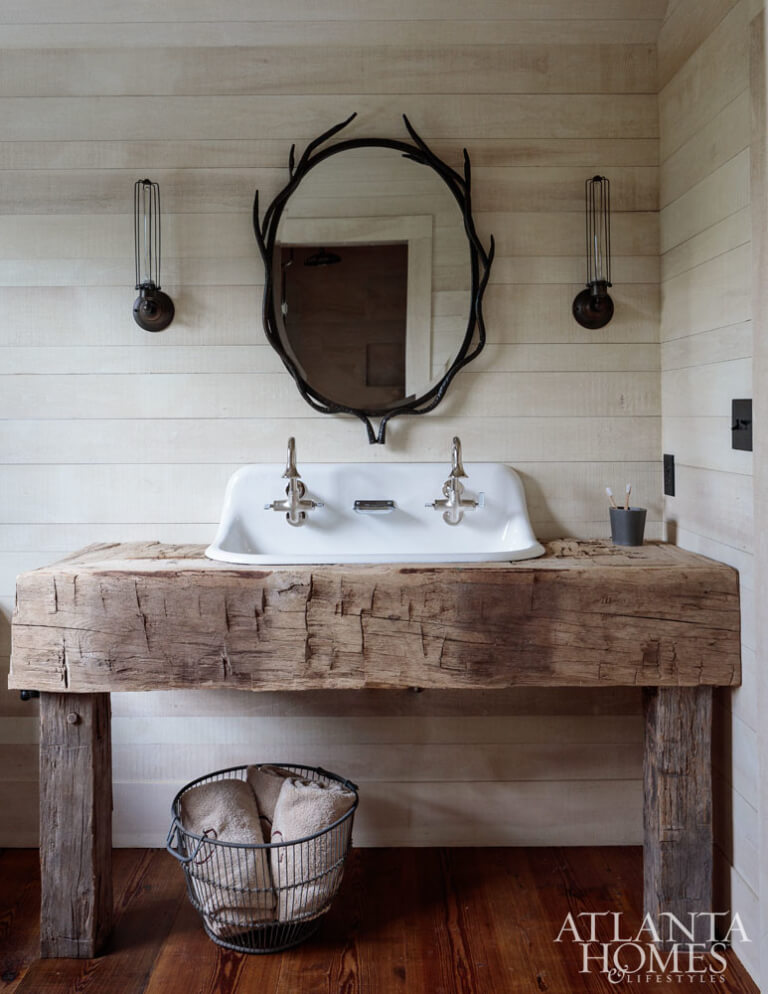 Instead of sanding and painting this weather-beaten wood, this bathroom embraces the wood's natural rugged charm. Beyond the rustic bathroom vanity, this example keeps it simple with a minimalist approach. The only items visible are necessary and give the space a straightforward elegance.
20. Dark Blue and Raw Wood Idea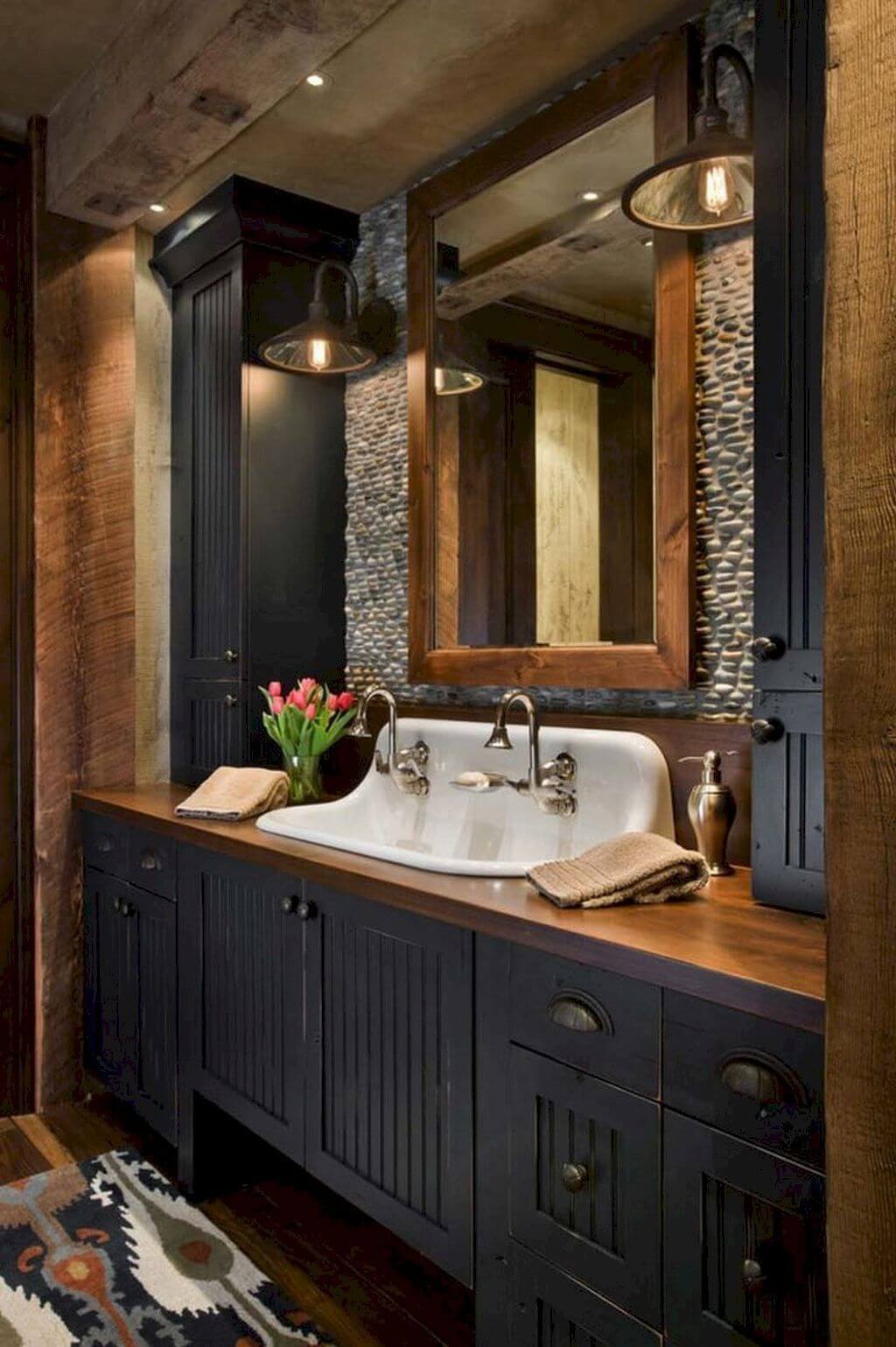 Rustic does not mean natural wood only – you can definitely have some fun with color! With the pebble backsplash, rough-cut beams, and hardwood floor, there are plenty of rustic elements already in this space. Add a double farmhouse sink with dark cabinets, and you have a design dream come true.
21. Simple Vanity with Dark Wood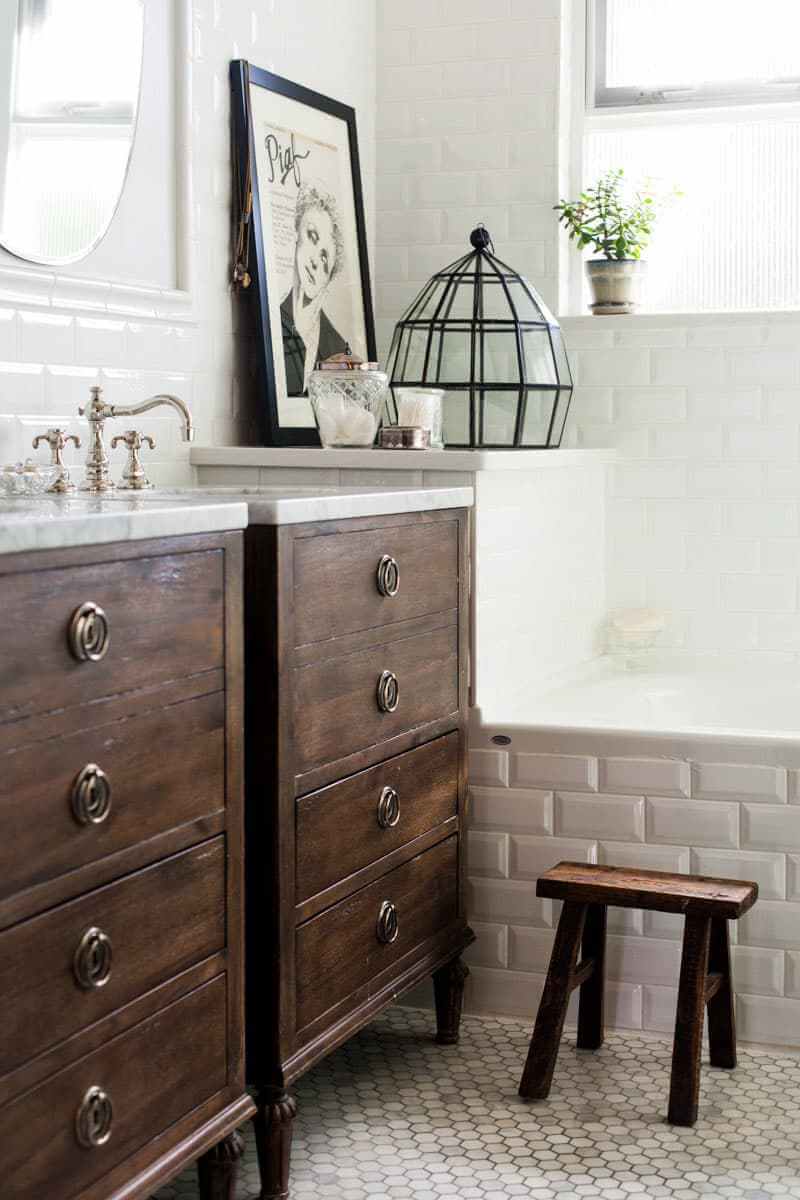 Rustic bathroom vanities do not need to have rough surfaces to shine. This example showcases a simple design with an opulent marble countertop. Dark wood accents in an otherwise white bathroom provide an anchor as well as a welcoming ambiance.
22. Tiny Vanity with Light Counter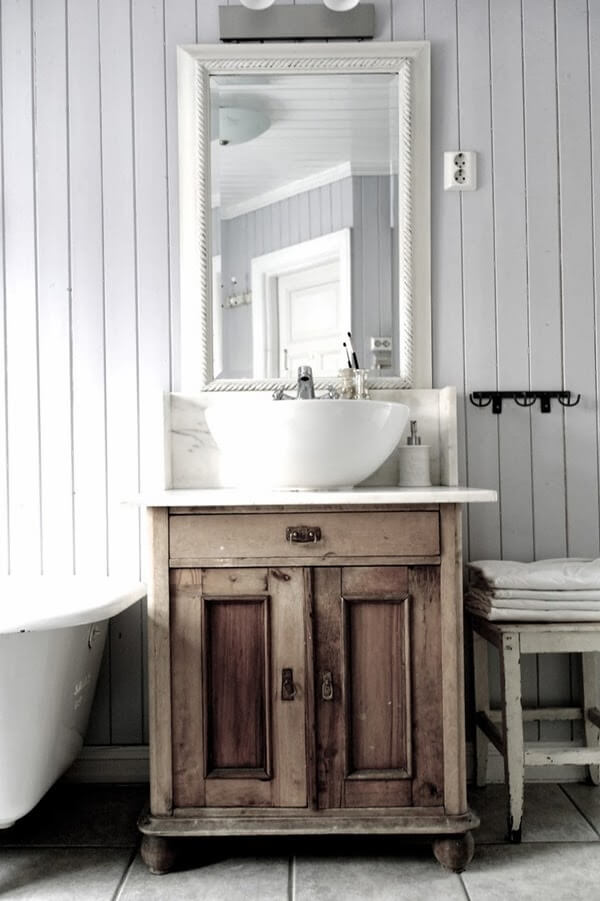 Because this vanity is only a little wider than the sink it contains, it is a fantastic option for smaller bathrooms. A marble backsplash gives the wall a little protection and serves to frame the sink. Distressed wood gives this rustic vanity some character as well as some interesting texture.
23. Old Barn Wood Bathroom Table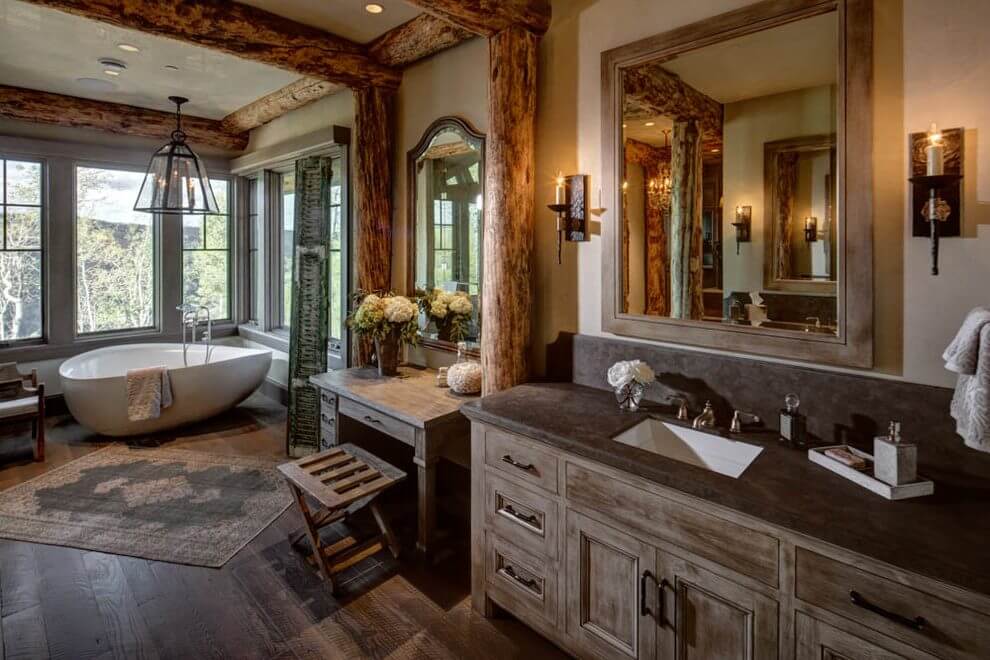 If your bathroom is large enough to host multiple vanities, you can achieve the sanctuary effect achieved in this image. If you need a larger number of sinks, this vanity could easily accommodate a his-and-hers setup. Exposed wood beams add an extra layer of rustic appeal.
24. Bowl Sink Bathroom Toilet-table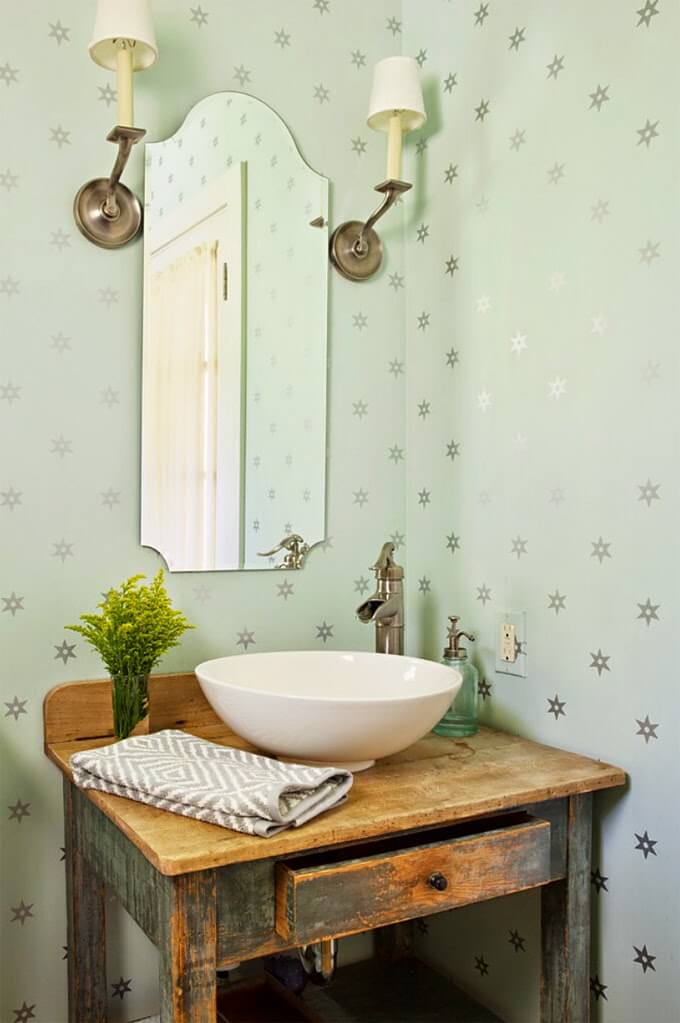 Rustic furniture and Americana-inspired designs work incredibly well together. This retro wallpaper and weathered wooden vanity look impeccable together and appear timeless. The decorations on this toilet table are simple and tie in with the mint color in the wallpaper. A frameless mirror is the perfect final touch.
25. One-Sink Bathroom Table with Dark Wood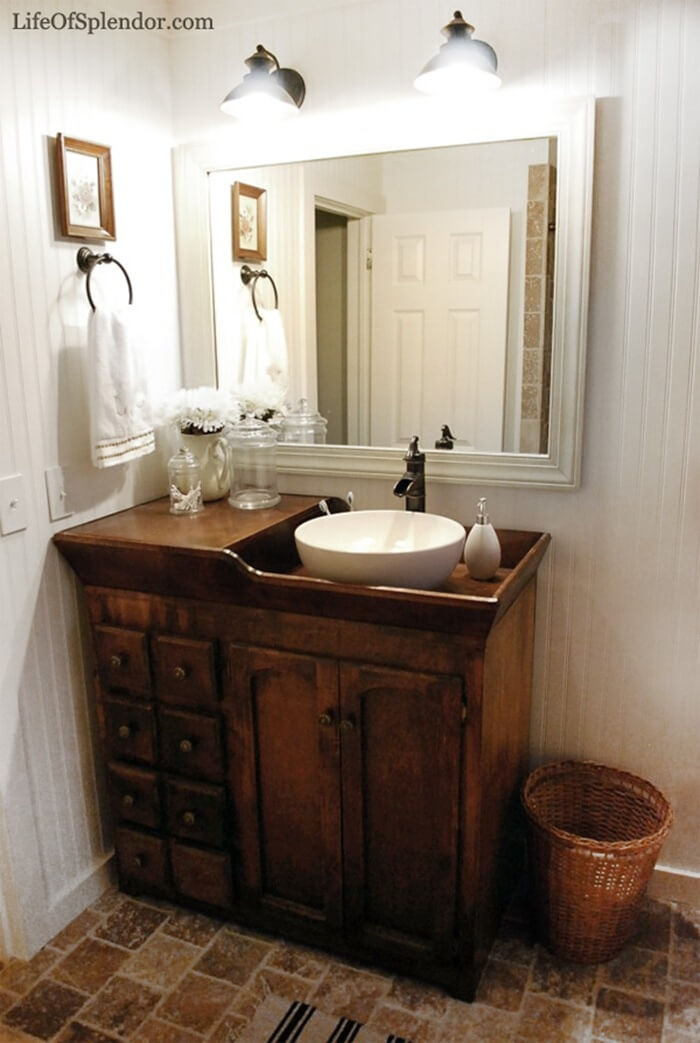 Before its current life as a rustic vanity, this antique was known as a dry sink and imbues this bathroom with a little Victorian elegance. However, unlike baroque Victorian decor, this vanity is made from a simple dark wood that fits beautifully within a rustic aesthetic.
26. Large Rustic Vanity with Weathered Wood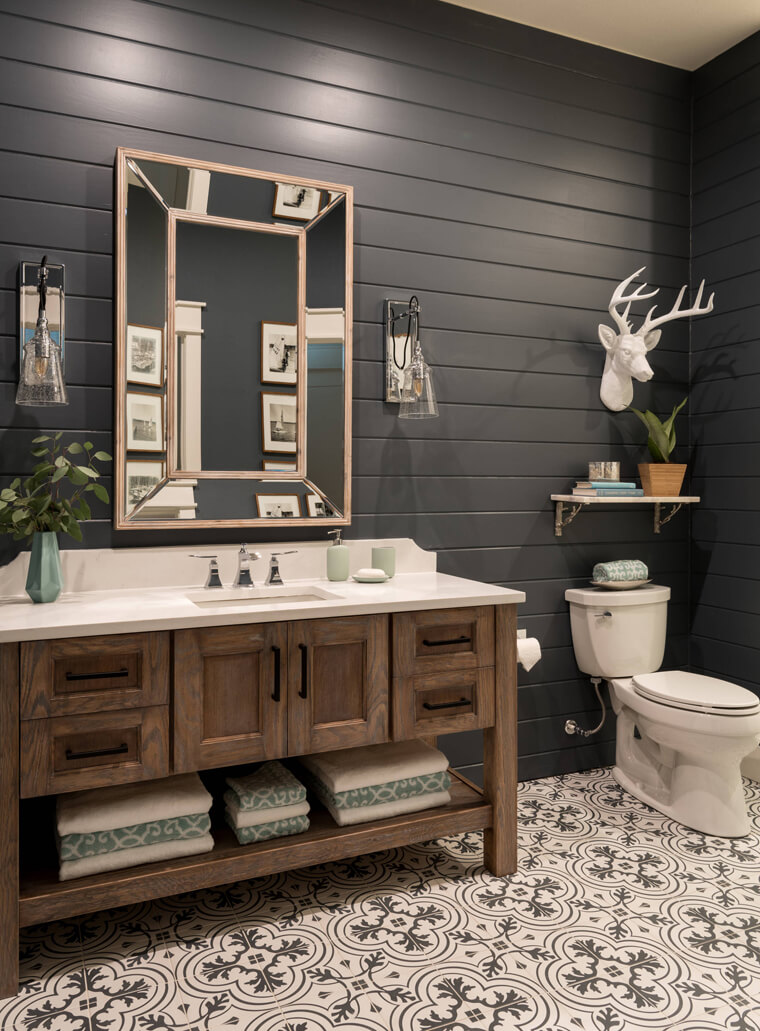 With lots of straight lines, this rustic bathroom vanity is ready to add energy to any bathroom. While the gray shiplap and exhilarating tile floor add a great deal of personality to this room, the vanity's wood finish feels warm and welcoming.
27. Small Space Idea with Raw Wood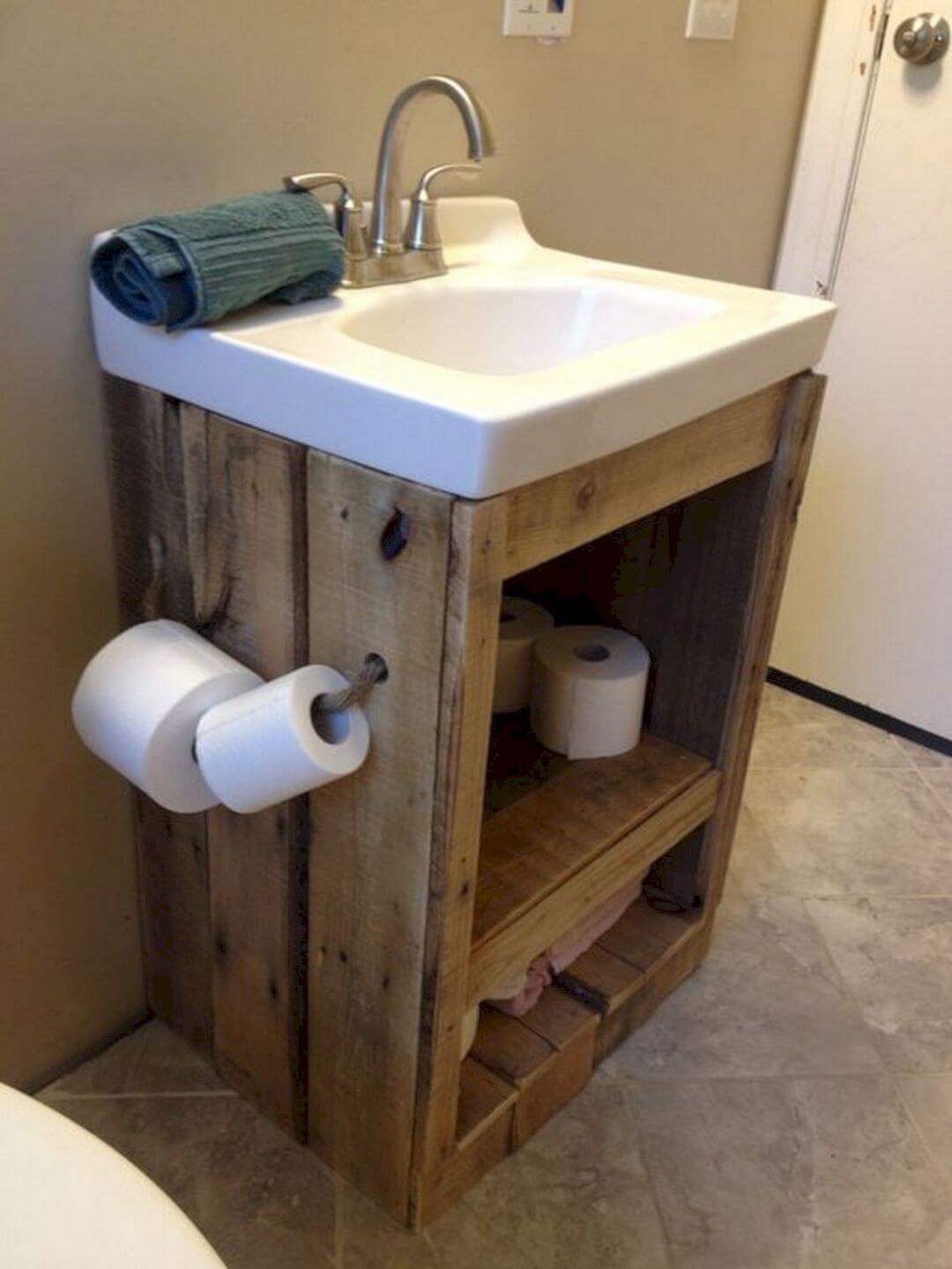 The key to creating a look similar to this petite vanity is to choose a sink with the right shape and dimensions. While only taking up a small amount of space, the unfinished wood feels ruggedly charismatic. A rustic rope toilet paper holder is a fantastic space-saving option.
28. Rustic Wood Double Bathroom Table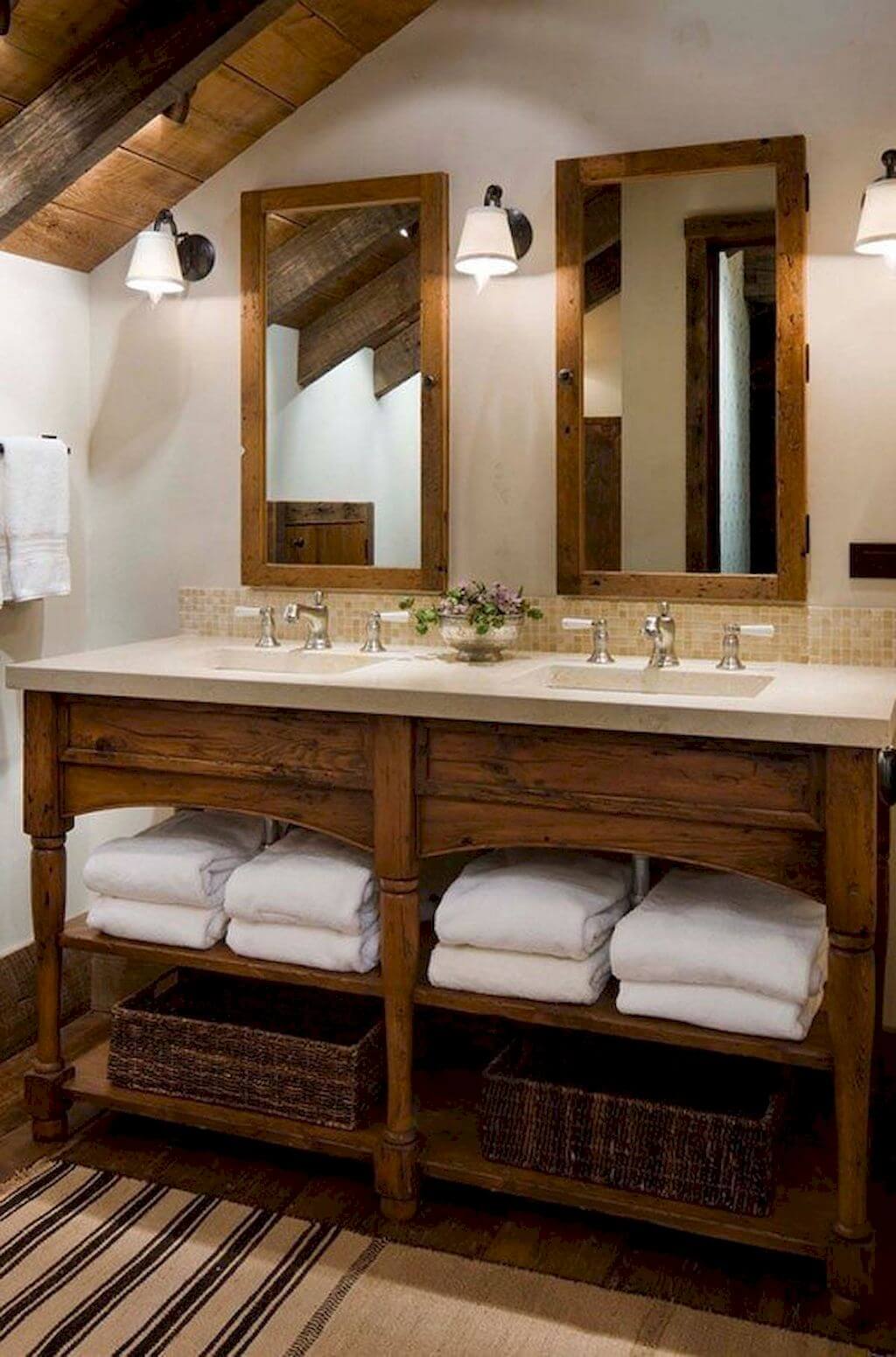 Symmetry reigns in this soothing double vanity design. Instead of detracting from the beauty, knotty wood adds a gentle organic vibe. Neatly folded white towels and dark wicker baskets soften the look without adding clutter. A silver bowl filled with purple flowers is the perfect centerpiece.
29. Light Barn Wood Idea with Farmhouse Sink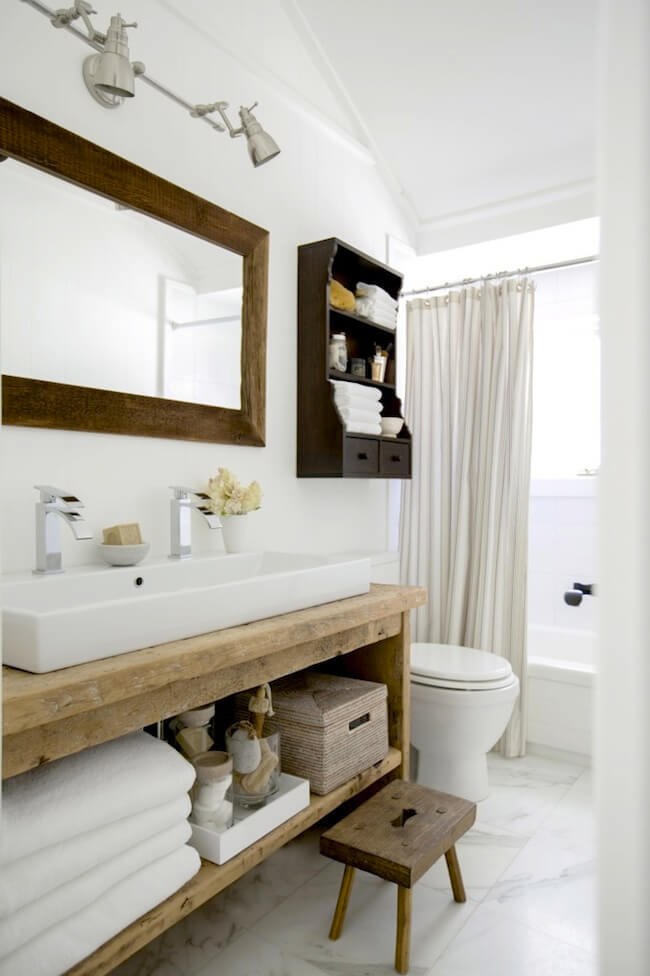 While choosing dark wood can be beautiful, sometimes the right choice is natural-looking wood. For those who enjoy a Scandinavian twist on rustic decor, blonde wood might be the way to go. This rustic bathroom vanity features a trough-like sink that highlights the joys of farmhouse decor.
30. Dark Wood Bathroom Idea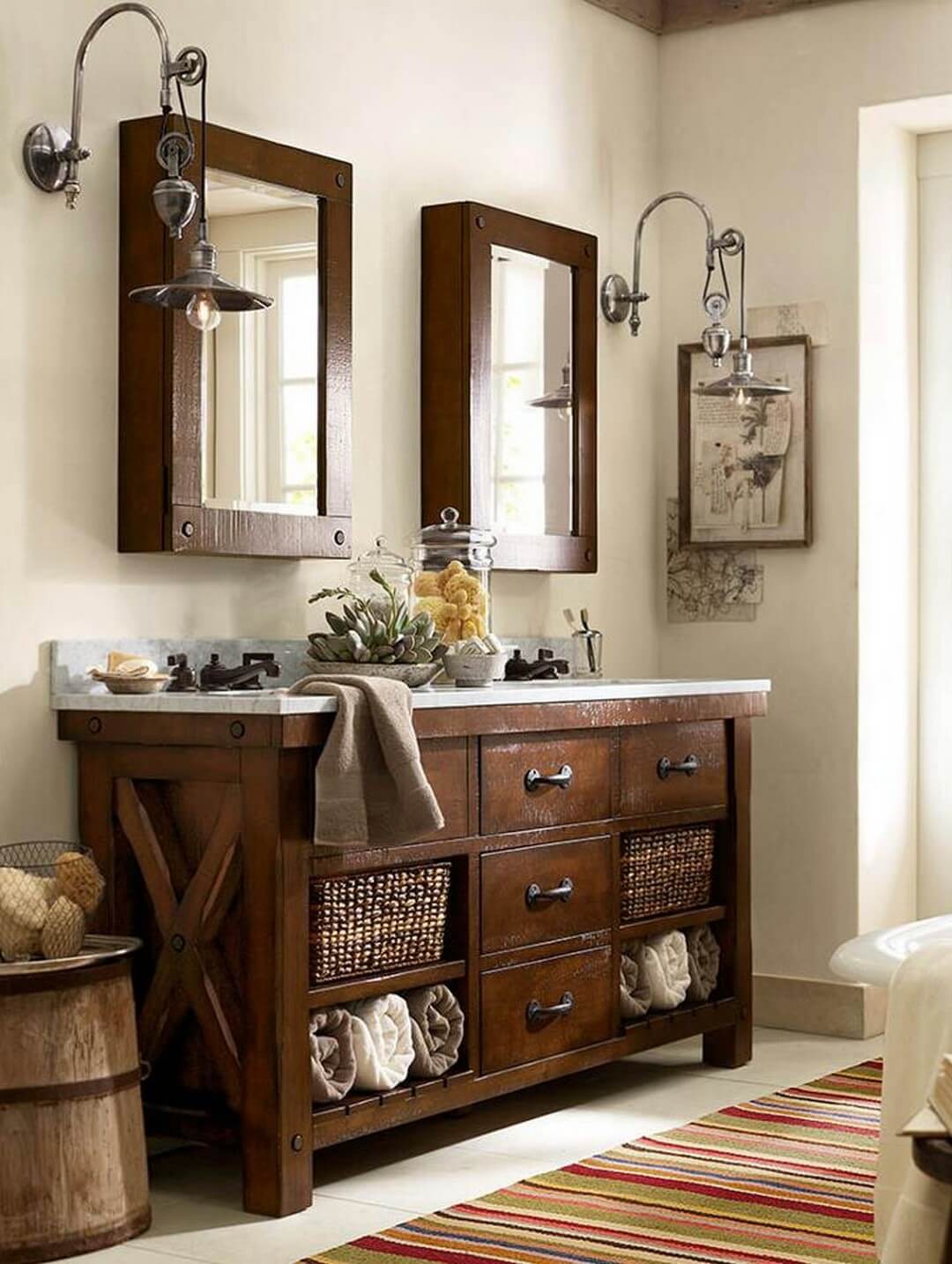 Rustic bathroom vanities that offer an abundance of drawers have so much storage potential. If you would prefer a more open look, try switching out drawers for rolled towels or baskets. Molding in the iconic X-shape means that this vanity immediately feels like a rustic farmhouse.
31. Rustic Rough Wood with Bowl Sink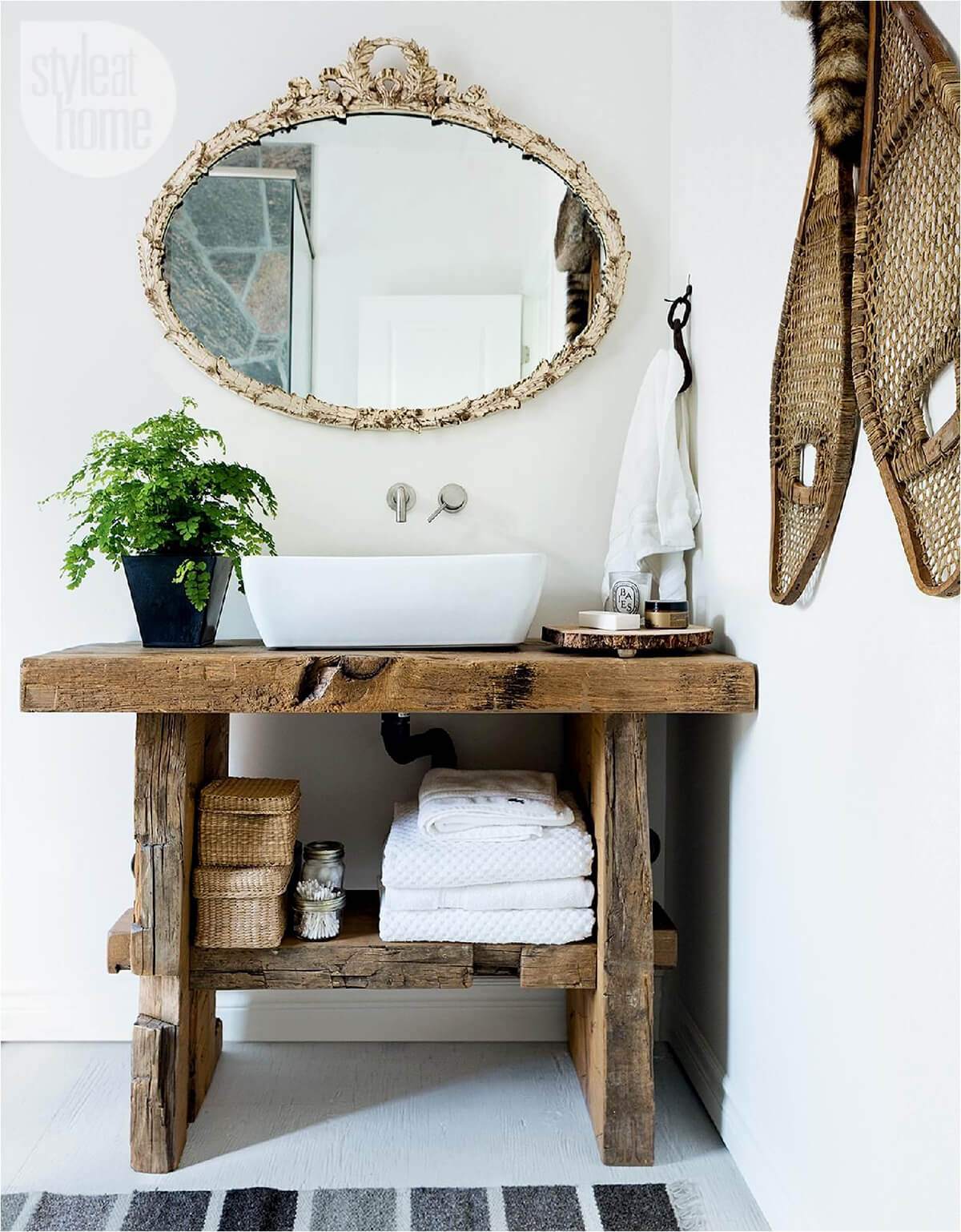 Unlike rustic bathroom vanities that are symmetrical and sanded smooth, this vanity showcases missing chunks and a natural finish. This outdoorsy feel is echoed by the snowshoes on the wall and the cut-log tray. A chic bowl-style sink is a modern touch that marries luxury and rough rusticity.
32. Large Dark Wood Bathroom Idea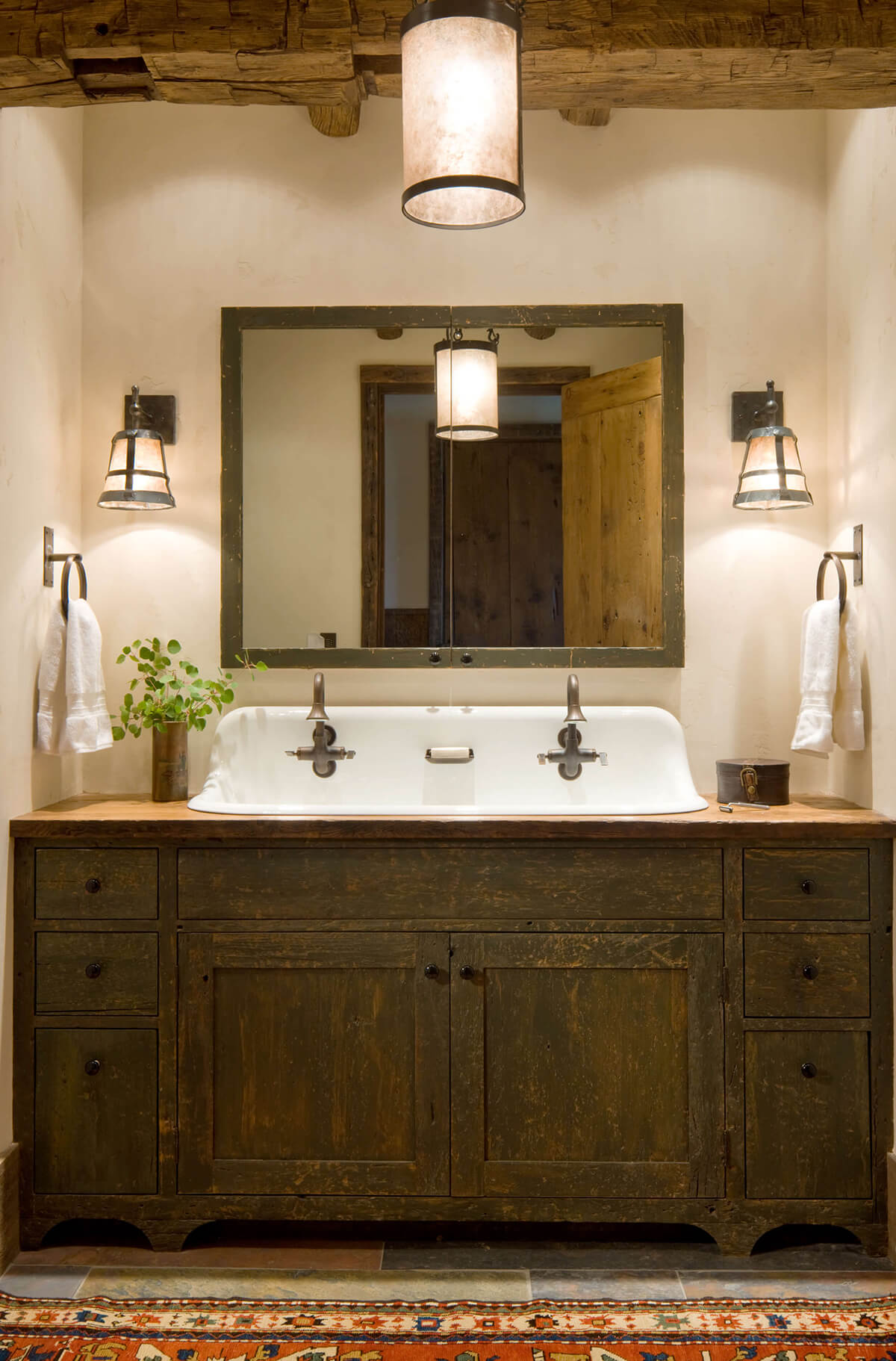 One of the best elements of rustic decor is how each piece of furniture tells a story. Like this piece, rustic bathroom vanities with lots of dings and scratches fill a space with history. Of course, if your preferred flavor of rustic is less chipped, pick a different finish.
33. Dark Weathered Barn Wood Vanity

Because antique rustic bathroom vanities are not ubiquitous, you might need to make your own. This tutorial explains in both English and Spanish how to make that happen. A dark wood stain with a slightly weathered finish is the true magic of this simple vanity.
34. Bowl Sink Rustic Vanity with Storage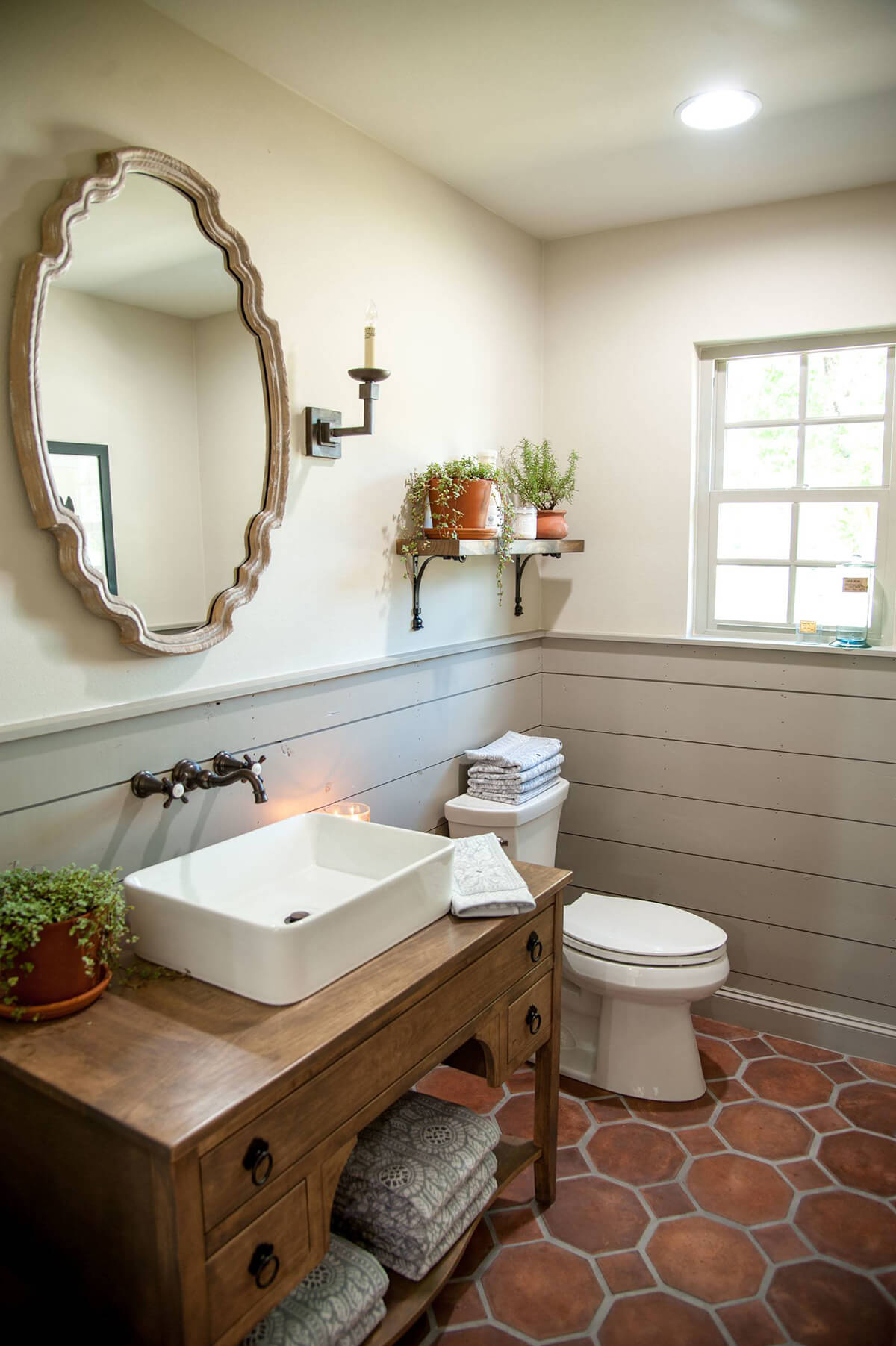 Storage can be an issue in any room, but this rustic bathroom vanity helps ease this headache. A lower shelf provides a landing place for linens and bulky items, while the drawers offer privacy. A large bowl sink offers plenty of space for practical hand washing.
35. Gray Distressed and Weathered Wood Idea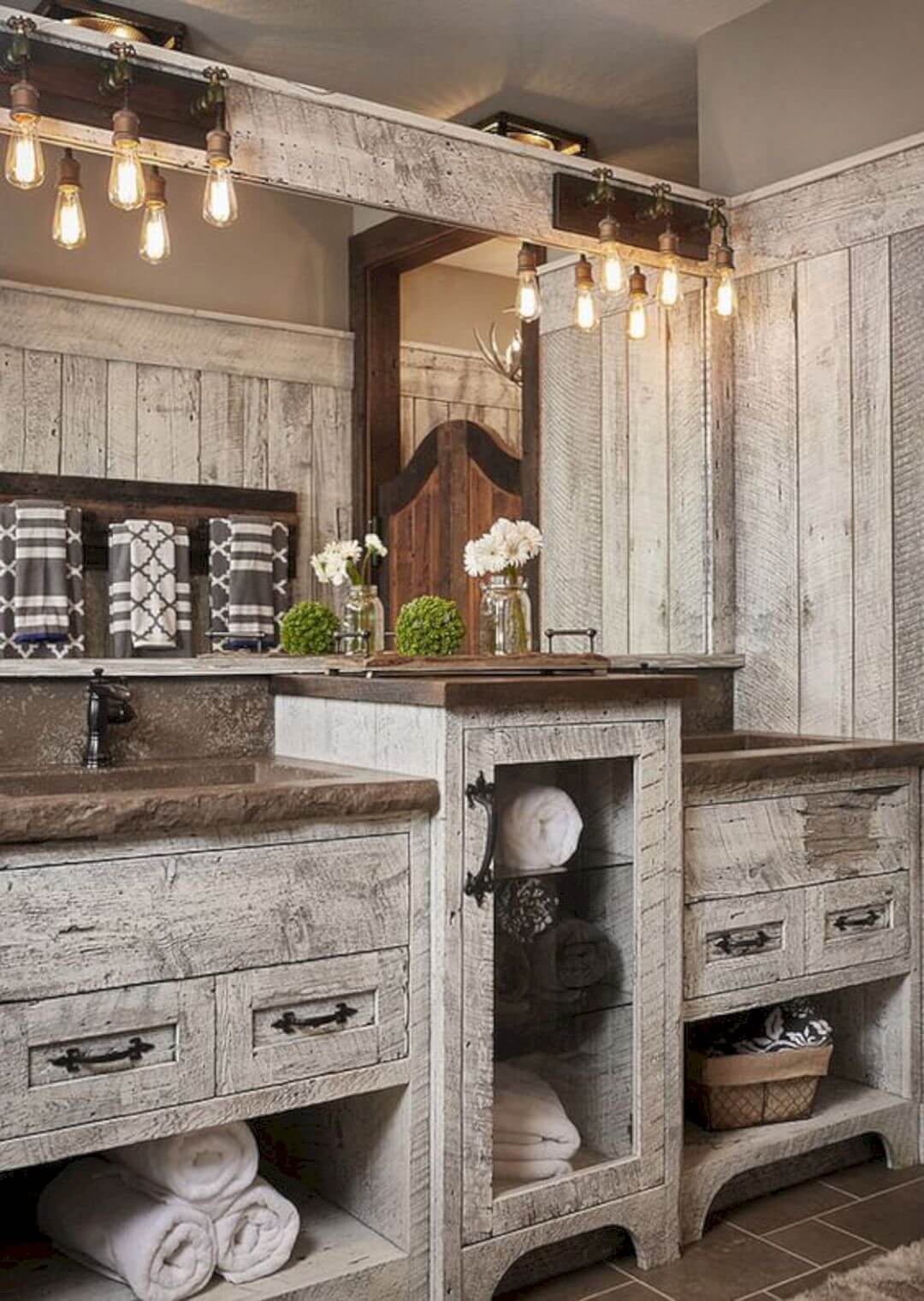 Because they take up so much space, large rustic bathroom vanities can be an intimidating piece to include in a design. However, this design makes the most of every inch and provides a variety of storage options. Most notably, a glass-fronted cabinet door adds a splash of sophistication.
Our Favorite Farmhouse Furniture to buy on Amazon