Whether you're decorating a house in the country or just want to create the lived-in, homey feel of rustic décor, achieving that look is all about texture. Reclaimed wood, galvanized metal, rough stone and cast iron are all part of rustic bathroom decor ideas. These natural, less polished materials provide a sense of one-of-a-kind craftsmanship and will give any room an immediate sense of character. This is especially true in a bathroom, where you can make a big impact with just a few subtle elements.
50+ Ways to Add Rustic Flair to Your Bathroom

Because it can be unusual to see anything but gleaming tile in a bathroom, adding a single shelf made of barn wood or an antique orchard ladder used as a towel rack makes it an immediate focal piece. Don't be afraid to bring in rustic flair with bigger design elements as well; decorative beams, a reclaimed wood accent wall, or heavy wrought-iron hardware can turn your bath into a mountain getaway or historic cottage. Just be sure to consider your bathroom's lighting. Natural materials, with their rougher textures, don't bounce as much light as polished surfaces like tile, and this can make a room seem dark, especially if it's not very big. Keep things light and bright by using a light whitewash on reclaimed wood and scaling up your vanity mirror to reflect more light. Check out these gorgeous rustic bathroom design ideas to get started!
1. Rustic Bathroom Mirror Mixes with Modern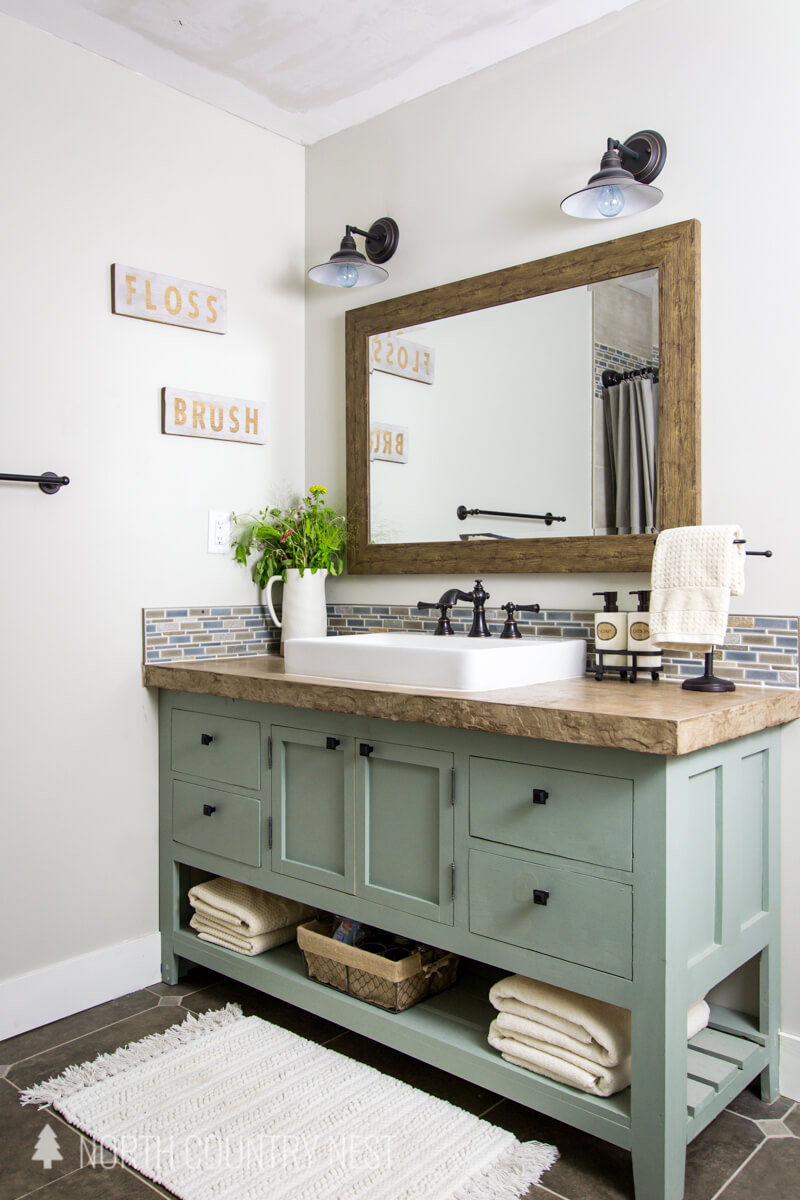 You can have your cake and eat it too in this modern rustic bathroom. Combining both elements is as easy as pie with the addition of this rustic wood framed vanity mirror. The character of this mirror adds some roughed up charm to this otherwise modern and new bathroom. Farm lighting fixtures and the slab countertop further connect this rustic feel in a modern way. Choosing the hue of blue vanity creates an extra layer of warmth and comfort to this updated space.
2. Above the Toilet Wooden Ladder Shelf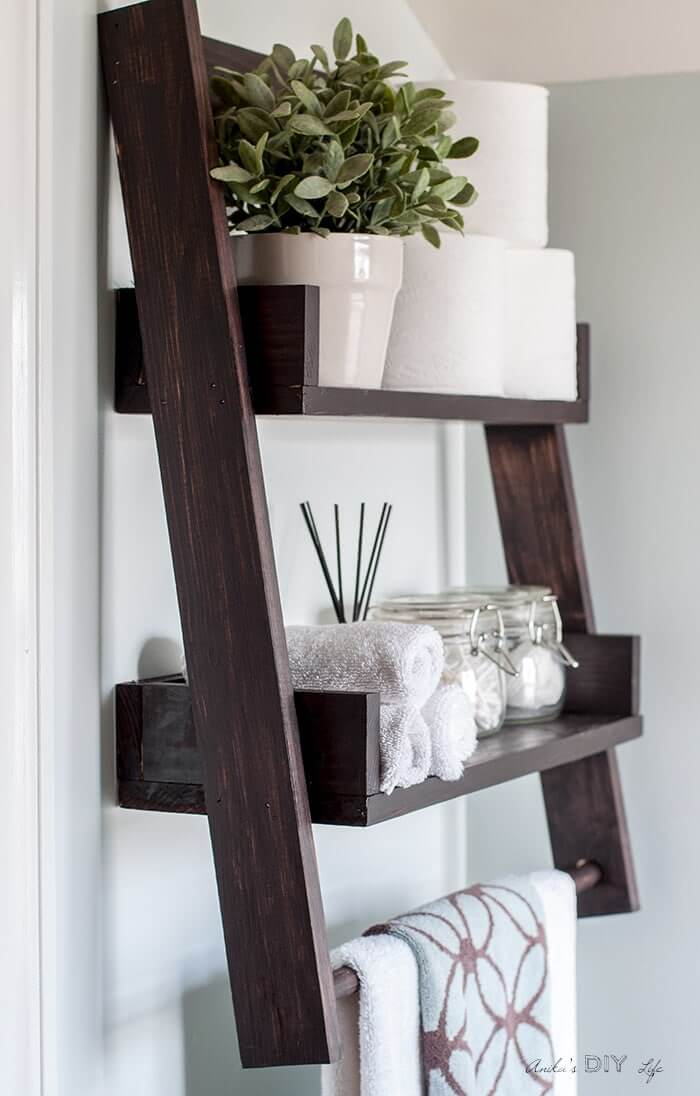 Maximize your space by going up! This wooden ladder shelf is a fantastic way to organize and arrange some fun decorations in your bathroom space. One shelf can be an easy-to-reach spare roll holder, making it easier than ever to change the toilet paper roll. A scented candle is another perfect occupant for taking up residence on this shelf. And you can't go wrong with a small house plant that doubles as a pretty piece and air purification system. Fold a few hand towels and add some decorative glass jars to hold your go-to bathroom essentials and you've completed the look of your wooden ladder wall shelf.
3. Wood and White Rustic Charm Bathroom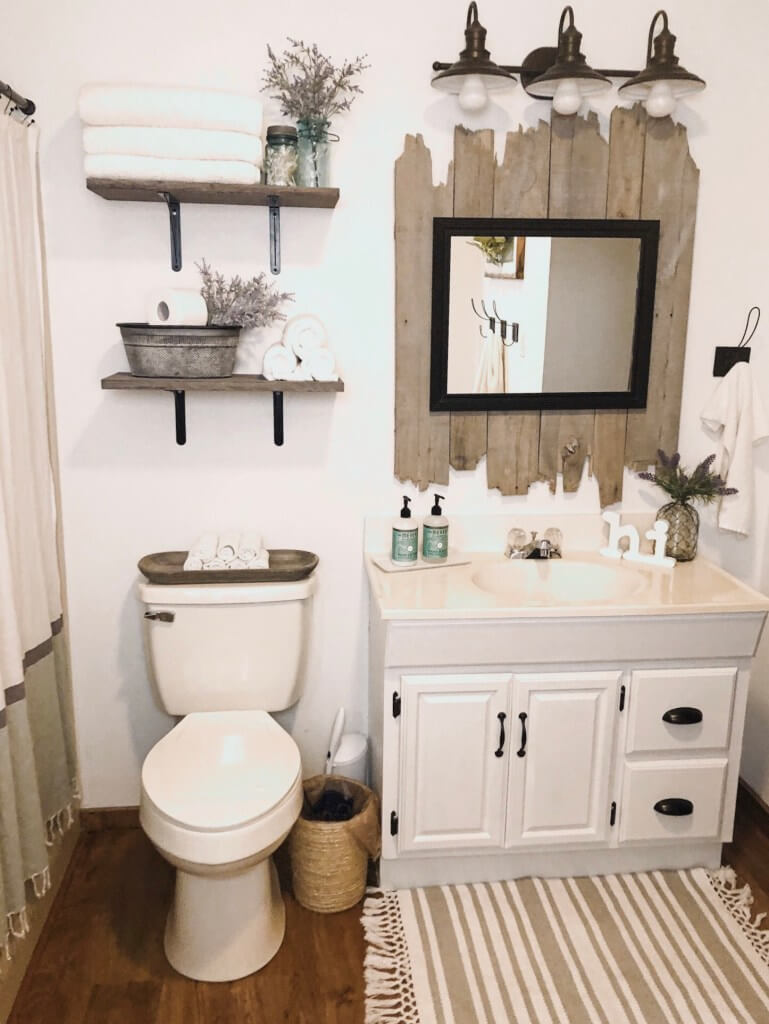 Source: The original source is not available anymore.
Want an alternative to shiplap? Look no further than this backdrop for your bathroom sink mirror. Ripped up and rugged wooden boards join together to create an interesting and unique way to display your simple mirror. Set on a solid white wall, the worn and weathered brown color adds a lot of character to the room. This rugged wood look is carried to the toilet topper catch-all and the shelves overhead. Natural elements, like the sprigs of herbs, add a cozy and homey feeling while the tin organizers keep the rustic vibe flowing.
4. Mason Jar Lights and Rustic Wooden Features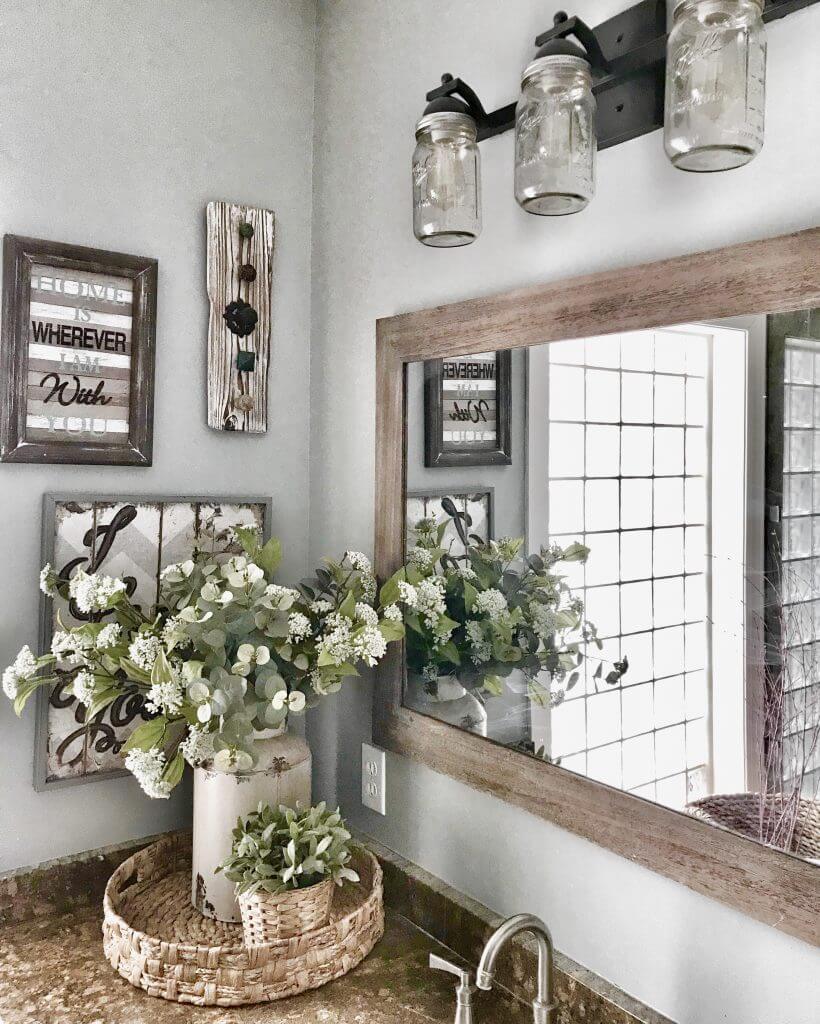 Work that inner earth-loving guru and reimagine some of your on-hand items like this Mason jar lighting fixture. When canning days are through, what better way to use all of those remaining jars? Truly a farmhouse staple, these jars pair nicely within a room filled with rustic, wooden features. Decorating this space with a touch of gray and white lends it to a more modern rustic feel that is perfect for those seeking a modern farmhouse look.
5. Rustic, Metal, and Blue Bathroom Decor
Don't be afraid to mix it up in terms of decor styles when it comes to your family bathroom. The metal industrial vanity lights feature sleek cylinder globes for a modern edge while rustic wood frames the mirror to perfection. Nestle a corner cabinet to serve as your storage go-to unit that holds all of your bath time essentials while staying out of the way. The color combination of white, blue, and distressed gray pairs perfectly alongside the metal and sleek glass. An abundance of storage is seen throughout as you'll enjoy your basket of everyday items housed neatly and conveniently underneath your sink.
6. Modern Meets Rustic in the Southwest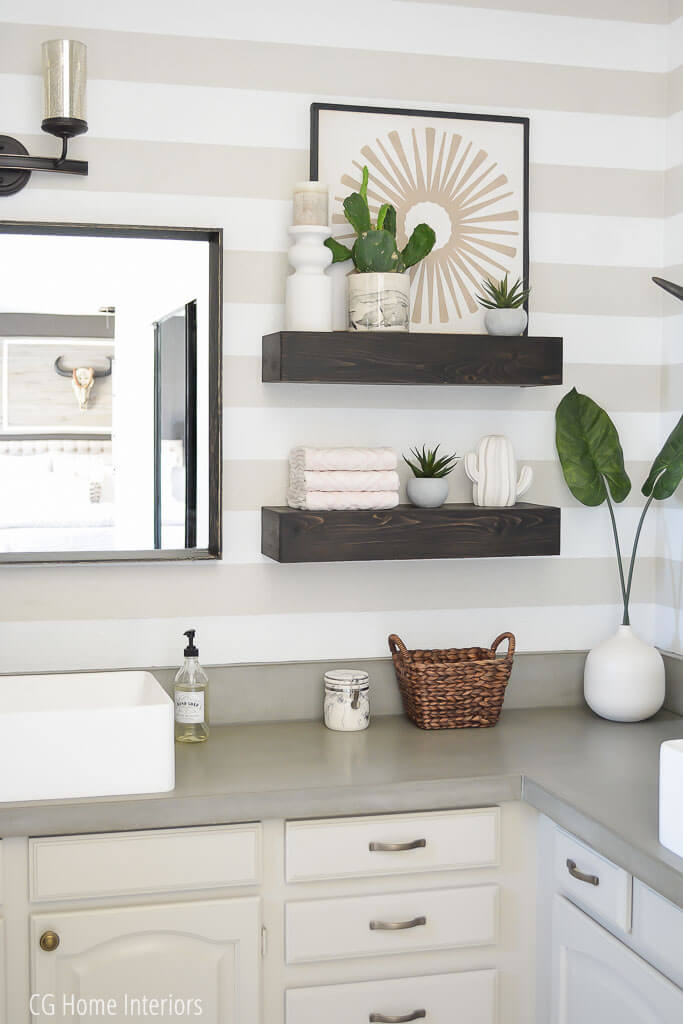 Source: The original source is not available anymore.
No matter which section of the country you reside in, anyone can delight in the allure and beauty of the Southwest. Incorporate some of the warmth and beauty of this desert area with some white cactus decorations, small house plants, and an animal skull mounted on the wall. The large white sink rests on the gray countertop and connects the striped walls neatly into the overall scheme of the room. Free-floating wooden shelves lend a rustic feel to this modern Southwest bathroom.
7. Corner Catchall Vintage Bathroom Hub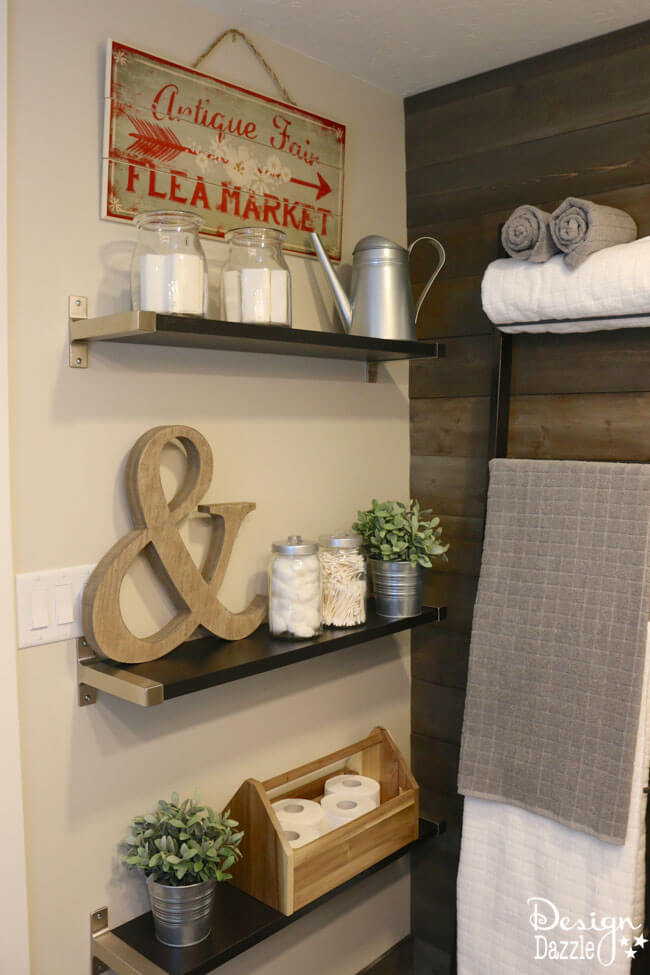 Don't waste a single inch of your bathroom space by utilizing your corner from top to bottom. A blanket ladder is reimagined as a towel rack to hang your drying necessity where it's always within reach. Sleek metal-ended shelving takes the storage space up another notch with the ideal location for your everyday items as well as the extras you need to keep on hand. Galvanized metal cups serve as practical and pretty organizers. Rev up the vintage appeal with an old sign hanging on the wall and a featured warm brown wooden shiplap wall.
8. Shabby Chic DIY Painted Glass Jar
Just a little bit of leftover paint and a Mason jar is all you'll need to try your hand at this interesting crafter or DIY lover's dream! A splash of paint into the jar and a little swirling around is how you'll be on your way to this unique and quirky way to use a Mason jar as a home decoration. Once your creation is complete, you'll be able to feature your favorite handful of flowers in it. Place a smaller and simpler plain glass jar right beside it to hold some Q-tips and you have a little function along with a little beauty.
9. Black Wrought Iron and Wood Wall Shelves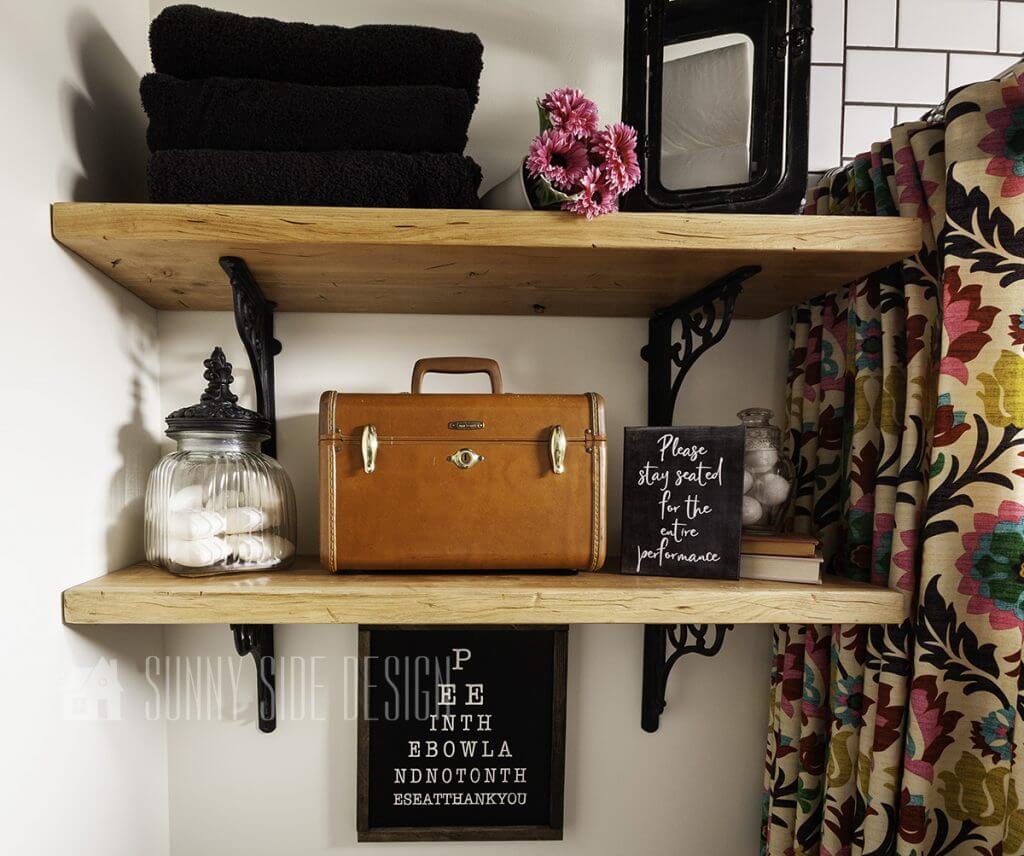 Large and sturdy black wrought iron provides a solid foundation for holding these thick wooden shelves that are a practical way to display your unique personality in your home's restroom. Vintage apothecary jars, an old train case, and some quirky signs give an eclectic vibe to this wall space.
10. God of Wonders Wave Wall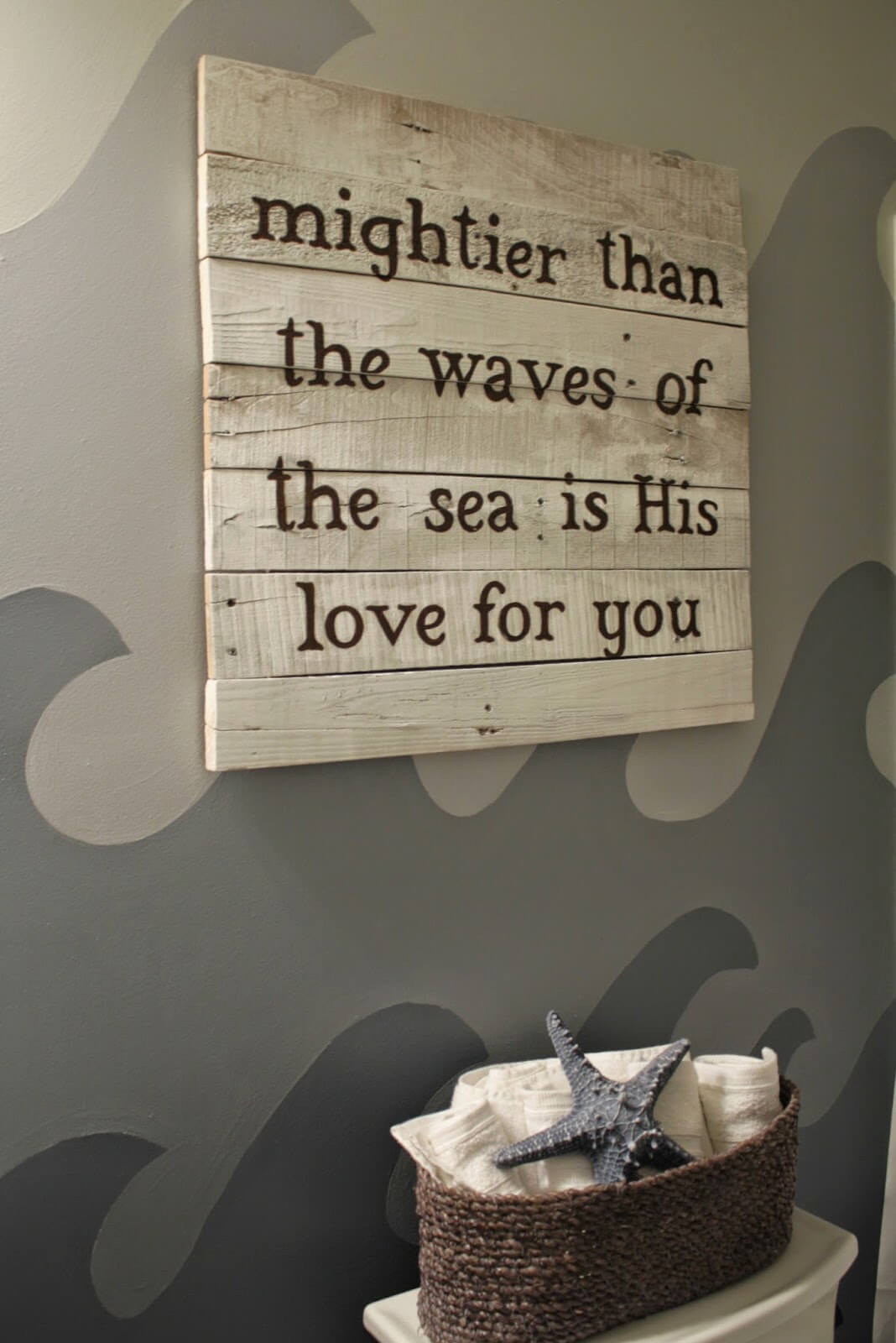 Source: The original source is not available anymore.
Color and pattern make the perfect couple in this wonderful wave wall. The waves roll across the wall in a smooth pattern while the shades spill from light to dark as they make their way from the ceiling to the floor. A quaint woven basket looks nice and neat with its large sea star. The powerful phrase reminding you of God's love is set amid a rustic white wooden sign to add some rustic appeal to this beachy look. Using a collection of the best shades of gray updates this space with some modern colors as well.
11. Wired for Organizing Your Bathroom Goodies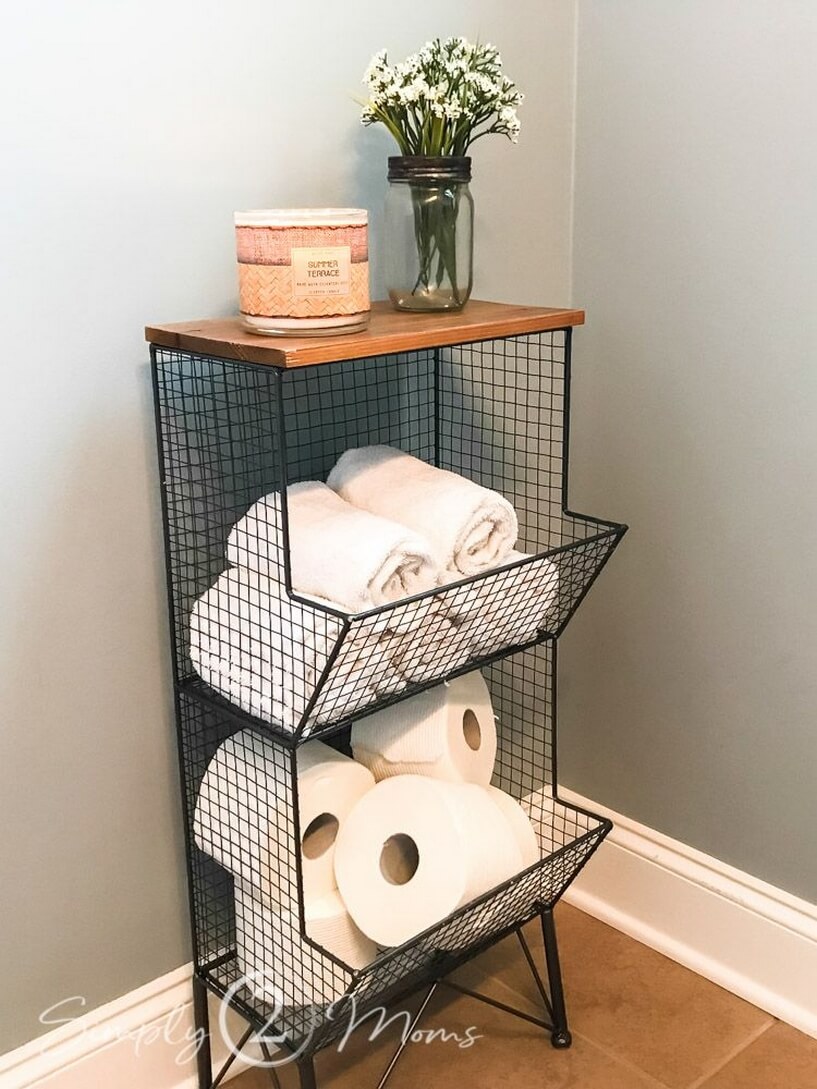 Check out the unique design of this black metal wired organizer. The double bin format offers more than enough room for your extra rolls of toilet paper or a gathering of your towels all rolled neatly and snug together. On top, the durable wooden countertop is ready for your lit candle, potted plant friend, or any other extra items you choose to curate into this bathroom space. The lines of the wired bin nearly resemble a chicken feeder which plays nicely into the farmhouse or rustic design you desire.
12. Farm Friendly Feed Sack Shower Curtain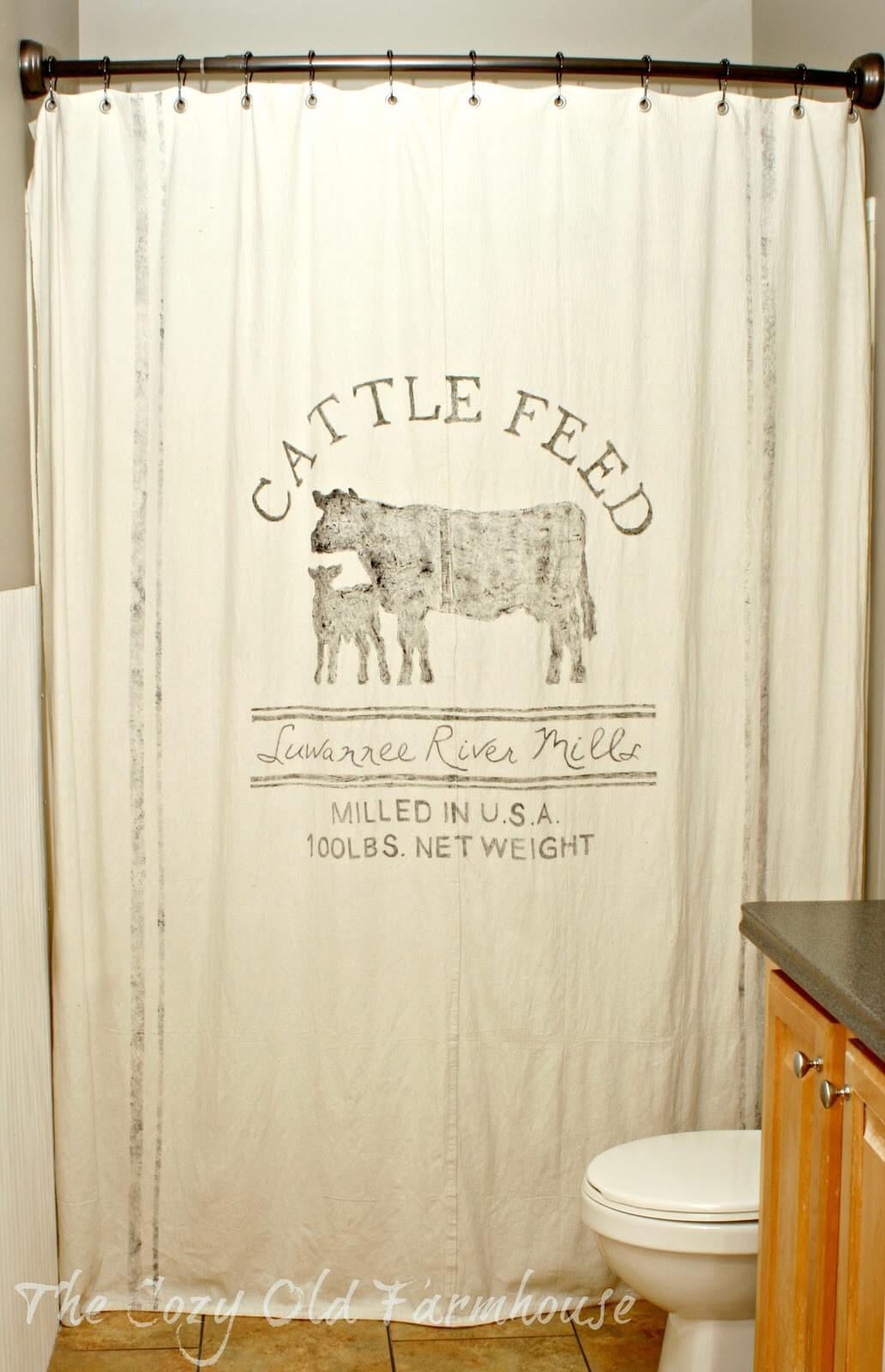 Feed sacks aren't only useful to the animals they keep alive: they can become home decorations with enough creativity. Inside your bathroom, you'll enjoy this feed sack inspired shower curtain to infuse some true farmhouse appeal into your family's dwelling, regardless if you're in a rural or suburban setting. Placing this feed sack shower curtain prominently in your bathroom helps you speak life into your design without saying a word. Hang it on a deep bronze rod to further increase its dramatic appeal. If you wish to make a small upgrade without breaking the bank, changing out your shower curtain is a definite winner and game-changer as it redefines the entire space.
13. Toilet Paper Tree and Watering Can Decoration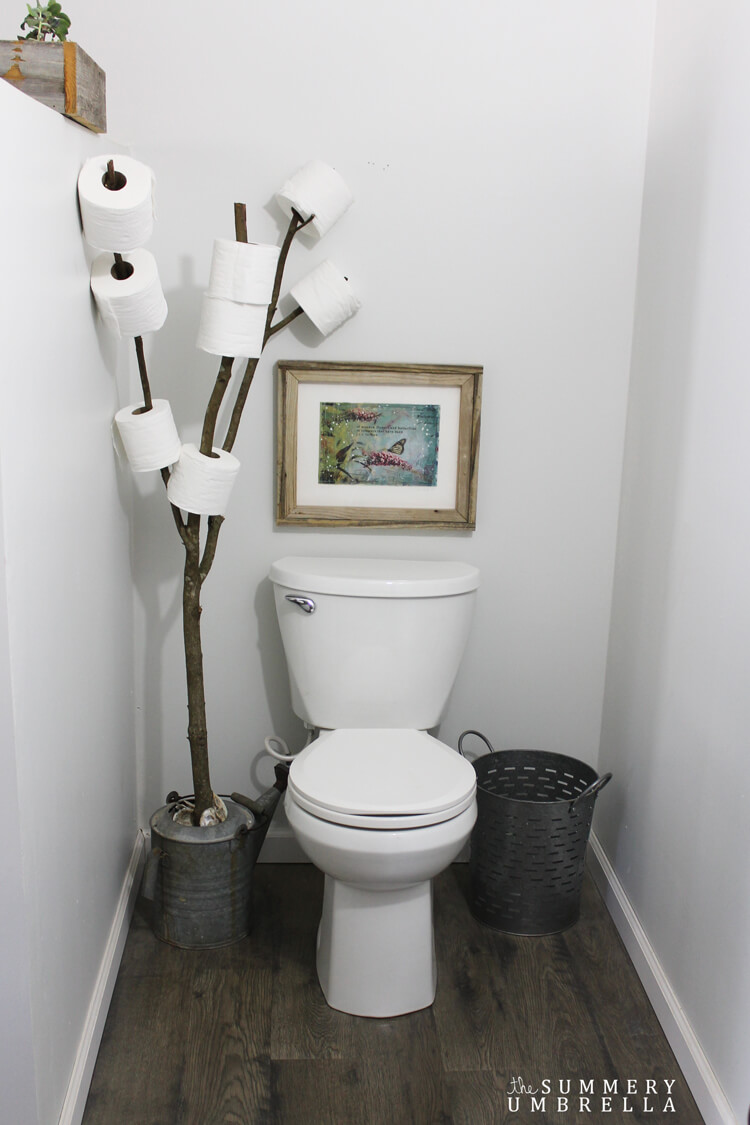 Hit the woods to find an oversized tree branch that is the perfect size for making this DIY toilet paper holder. This might be the only time you'll take delight in toilet paper in one of your trees so make the most of it. The branches are great for holding a couple of rolls and the base is secured in a metal watering can complete the rustic and shabby chic look. The extra metal waste bin offers just enough of an extra metal piece to make the rustic feel more like home.
14. Gray Blue Budget-Friendly Bathroom Update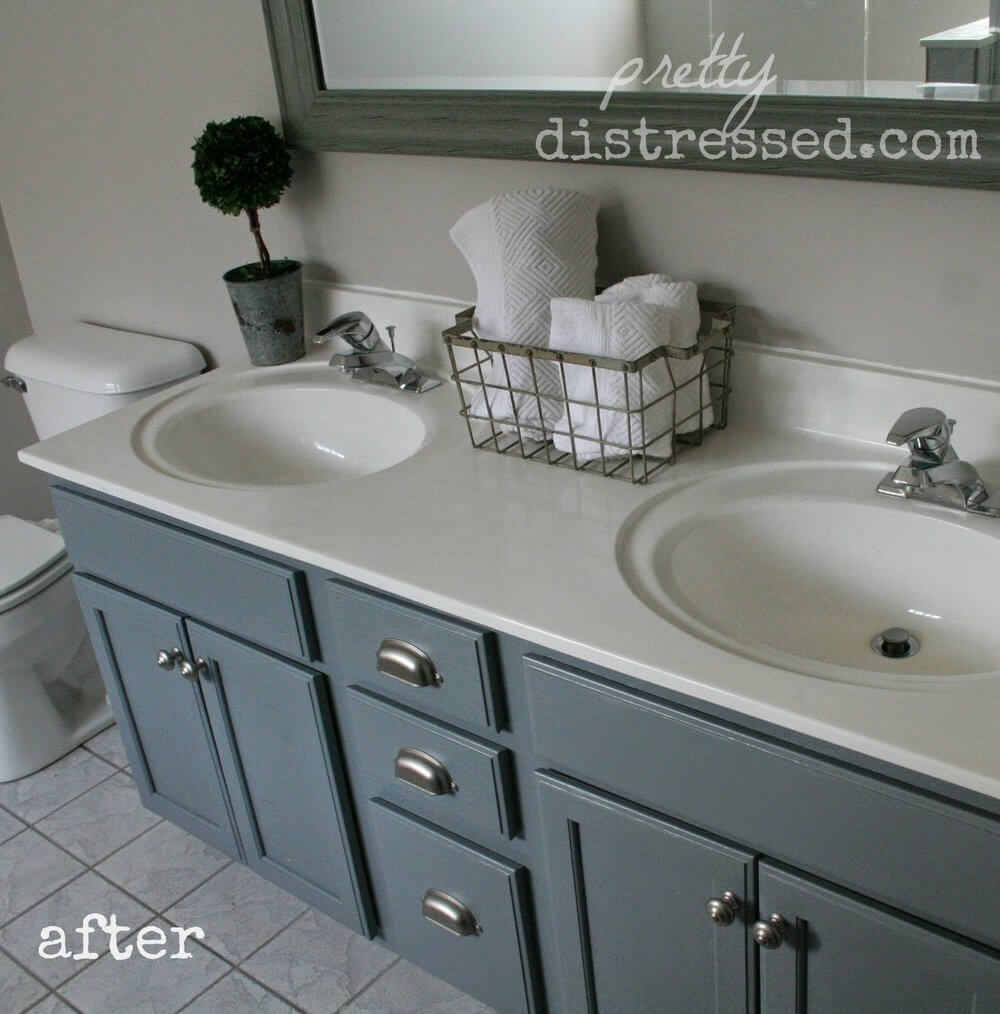 Don't break the bank when you want to update your bathroom. A can of paint is a cheap way to change your cabinets into the modern masterpieces you need. Rounding out the sink with a small metal bin makes the spare towels a sensational decorative accessory. Wrapping the large mirror with pieces of distressed boards, the rustic wood is a highlighted feature of this entire bathroom space. Removing and replacing the cabinet hardware is an additional way to make a big impact while remaining on a small budget.
15. Bold Herringbone Patterned Rich Brown Wooden Flooring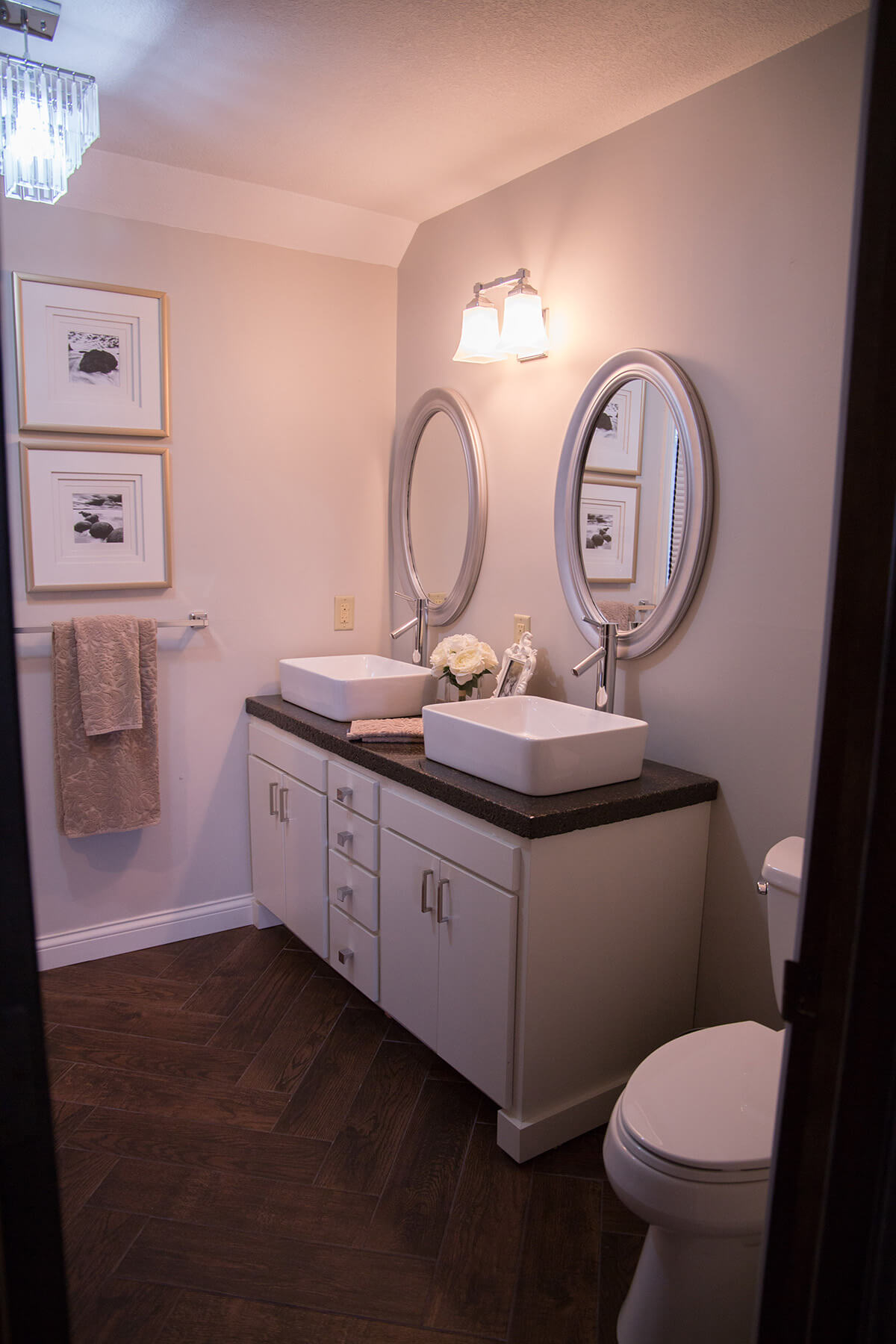 Perhaps you've watched one too many home improvement or design shows and are craving an update to your own space. Why not start by updating the foundation of the room by switching into a new floor. Hardwood floors are durable, look amazing, and should last for years to come so they are a solid investment. Lay them out in a fun pattern like this herringbone one to make an even bolder impact. The rich brown in this wood makes a great contrast too for the pale gray and white bath decor. Keeping the decorations to a minimum is a perfect way to make this an elegant, rustic rest area.
16. Old Style Water Spicket Sign for Bathroom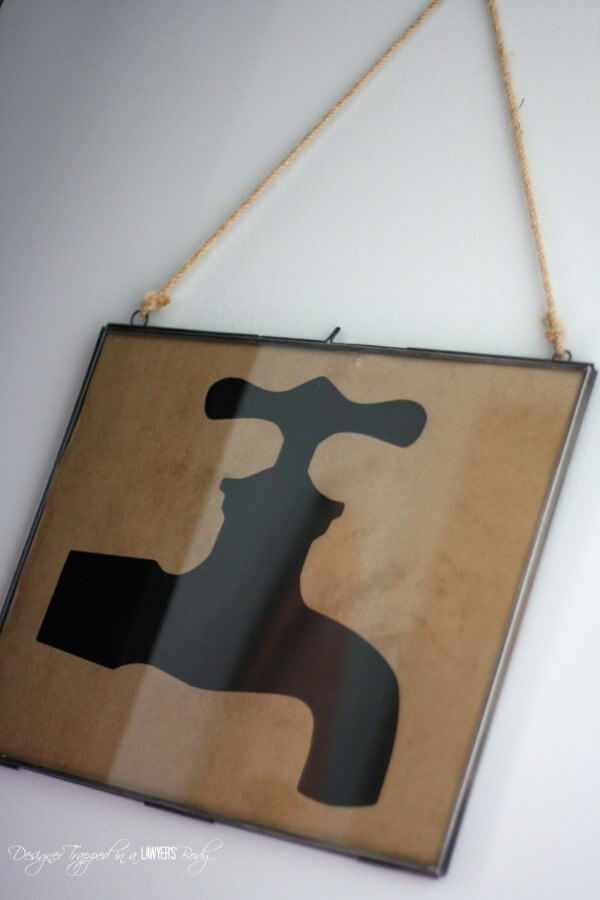 Make it easy for your guests to find your bathroom with a simple sign. It's super easy to hang this small and old-fashioned-looking sign on the outside of the door. As guests glide down the hall, it's easy to find their way to your washroom. Using an old-style water spicket sign gives a fun twist on the traditional powder room or silhouette of a man and woman sign. A sign like this would also be cute placed near your gardening shed in the backyard. It lends an industrial feel with its homage to pipes and metal.
17. Funny Change the Toilet Paper Bathroom Sign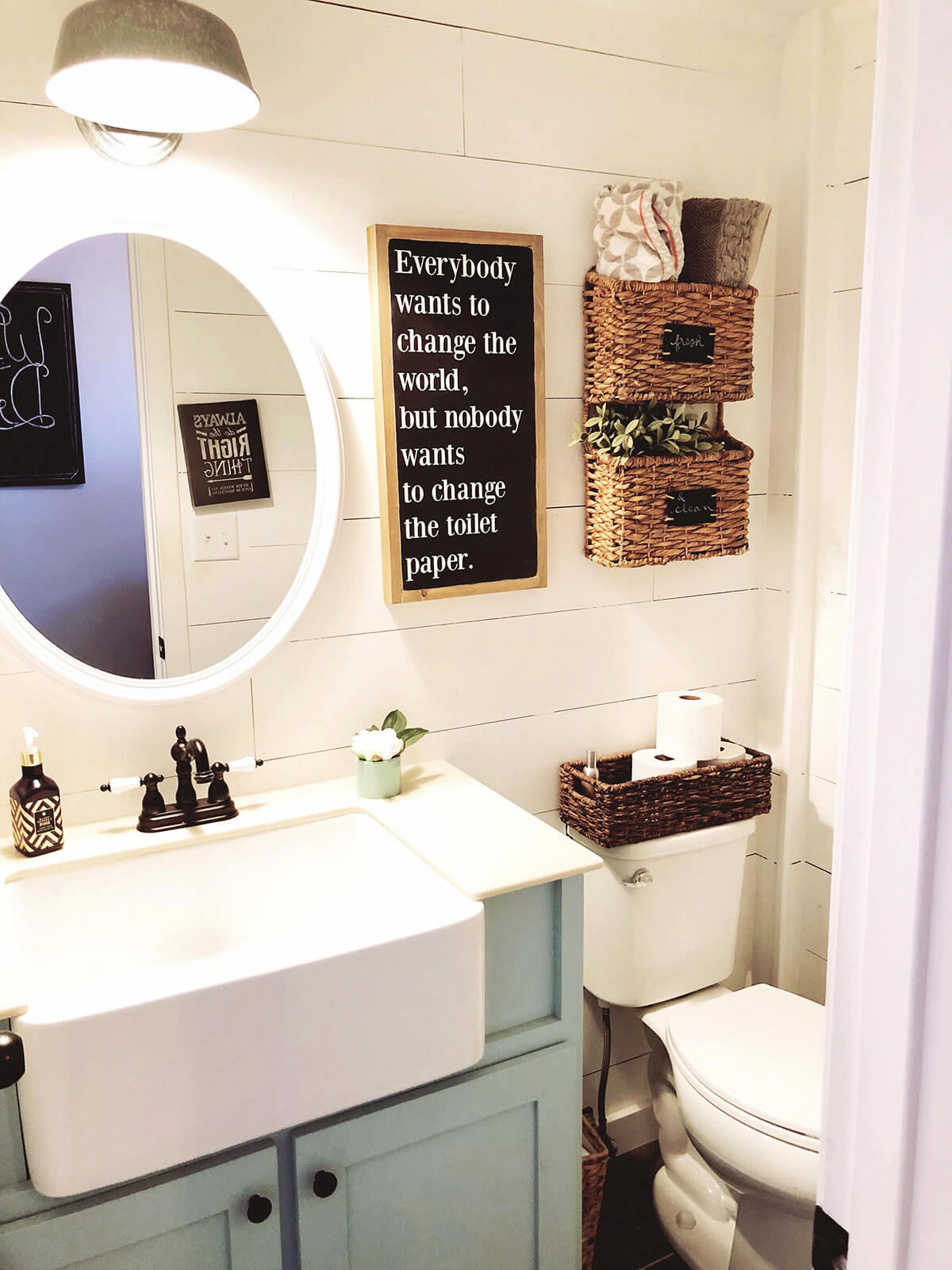 Slap some shiplap on the back wall in this cozy bathroom to start the ball rolling on your bathroom update. The large, white farmhouse style sink carries the modern farmhouse feel into the room. Hanging brown baskets offer extra texture and provide lots of storage simultaneously. For the faucet, a rich, modern bronze finish ties nicely into the rich wooden floor and deep brown baskets. Throwing up a fun "everybody wants to change the world, but no one wants to change the toilet paper" sign is a pleasant touch to make the newly renovated space still feel like home.
18. Wood Works Wonders in this Rustic Bathroom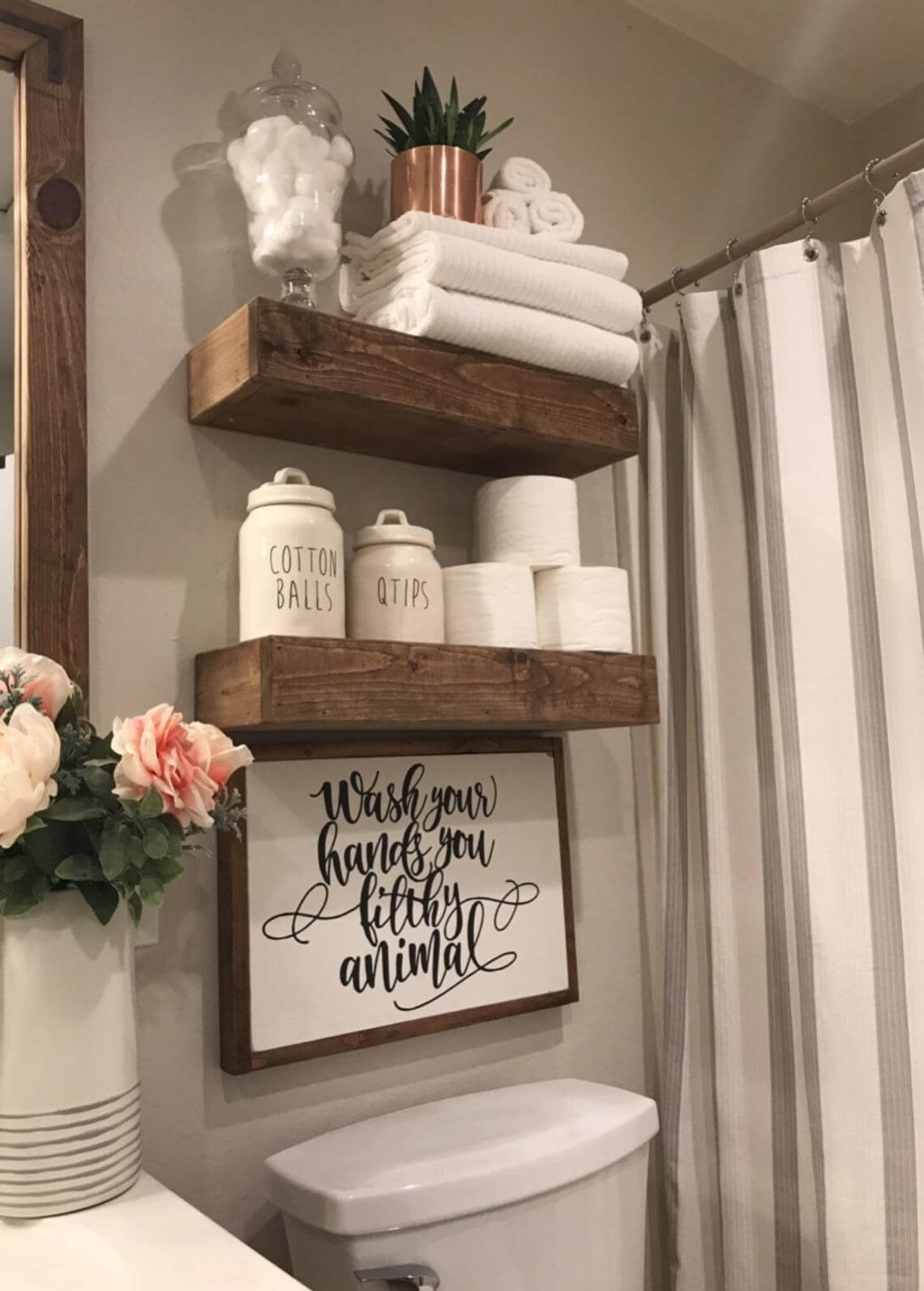 Styling your bathroom space with the same wood palette throughout is a clever way to make everything work together for a custom designer look. From the framing of the sink mirror to the floating shelves, the rustic wood adds an earthy element to the room. The two shelves provide the perfect amount of space to house some of your everyday necessities and a few decorations as well. Incorporating a fun hand-written sign in black and white makes it feel on-trend and up-to-date without much effort. And before you finish your business, don't forget to wash your hands- you filthy animal!
19. Simplicity in Wires and Wood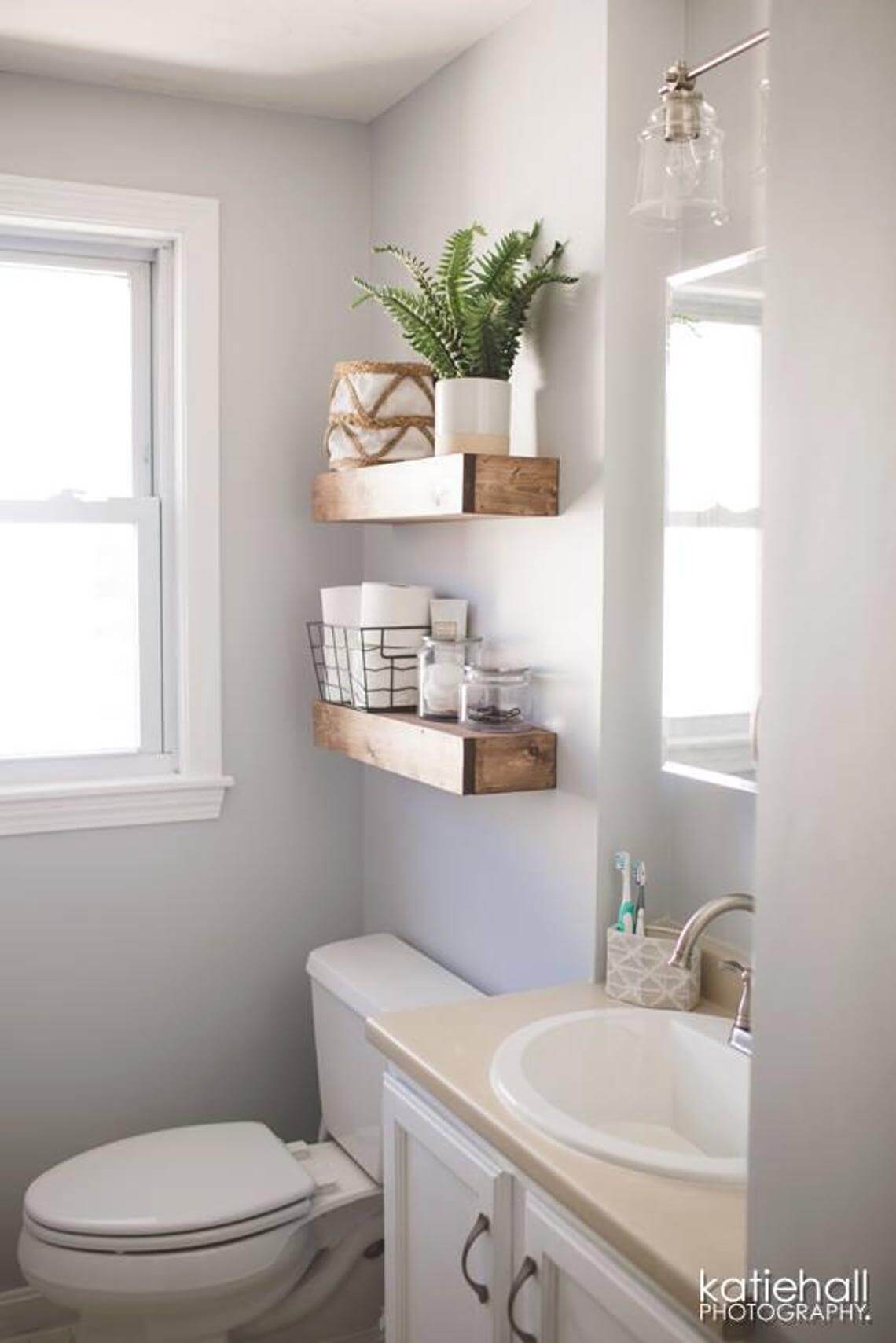 Keep it simple with minimal design and ultra-modern cool gray when you update your bathroom. A fresh coat of this amazing neutral gray hue is a fabulous backdrop for placing your personal touch inside your bathroom. Hang a pair of rustic wood floating shelves above the toilet to increase storage space without taking up floor space. A few glass jars, a wire basket, and a potted plant are happy companions for this new update for your family pit stop. On the sink top, a geometric patterned gray and white toothbrush caddy neatly keeps your brushing partner close, while blending in the two-room colors quite nicely.
20. Simple and Industrial Large Wooden Wall Shelf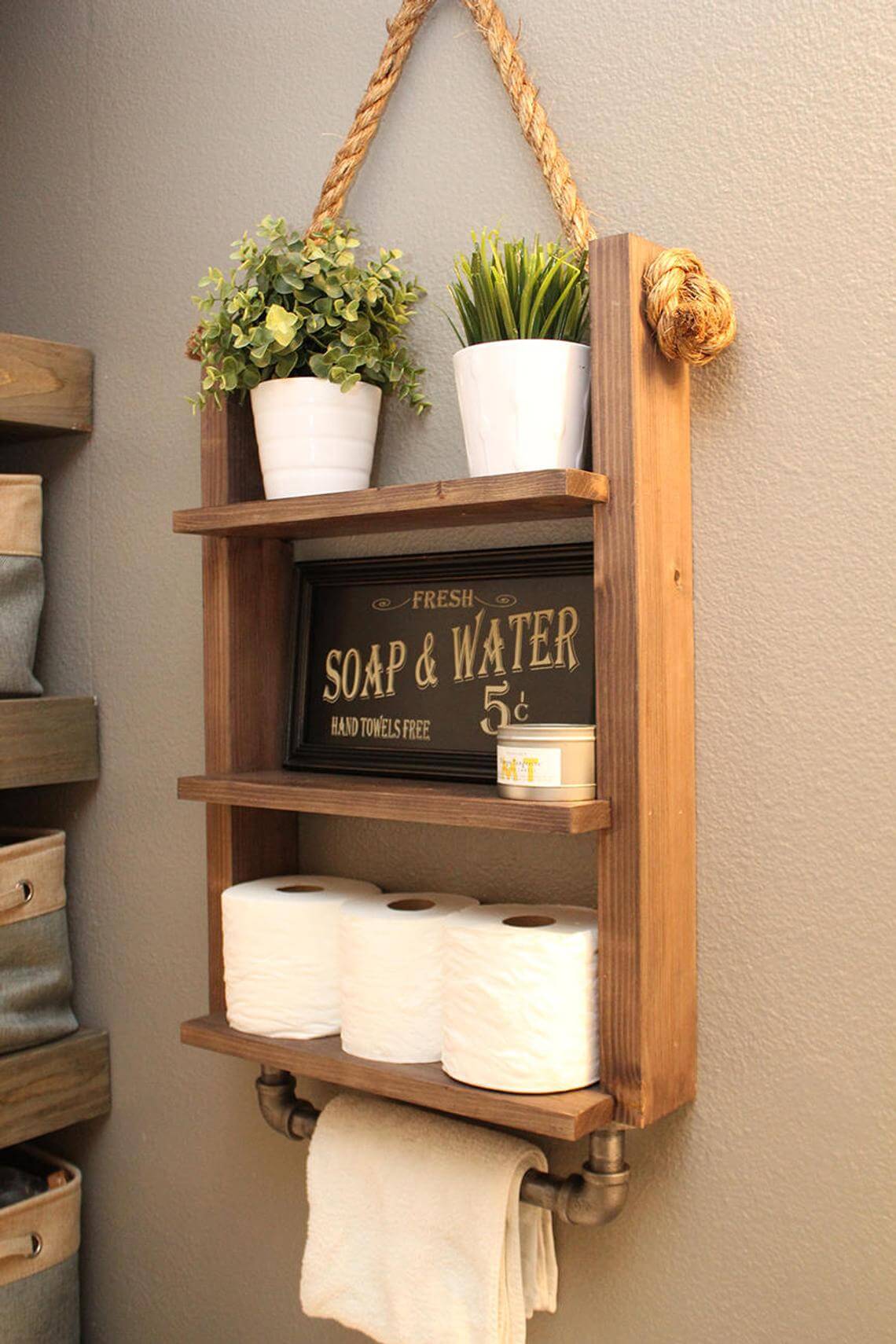 Forget those worn out and tired cabinets above your toilet and opt for this large and simple wooden shelf that hones in on industrial design with its immense DIY appeal. The solid construction of this sturdy wooden shelf affords plenty of room for extra toiletries, some simple decor, and a few house plants. Below you'll notice a practical towel bar constructed by using an industrial metal pipe.
21. Get Your Gorgeous On in this Bathroom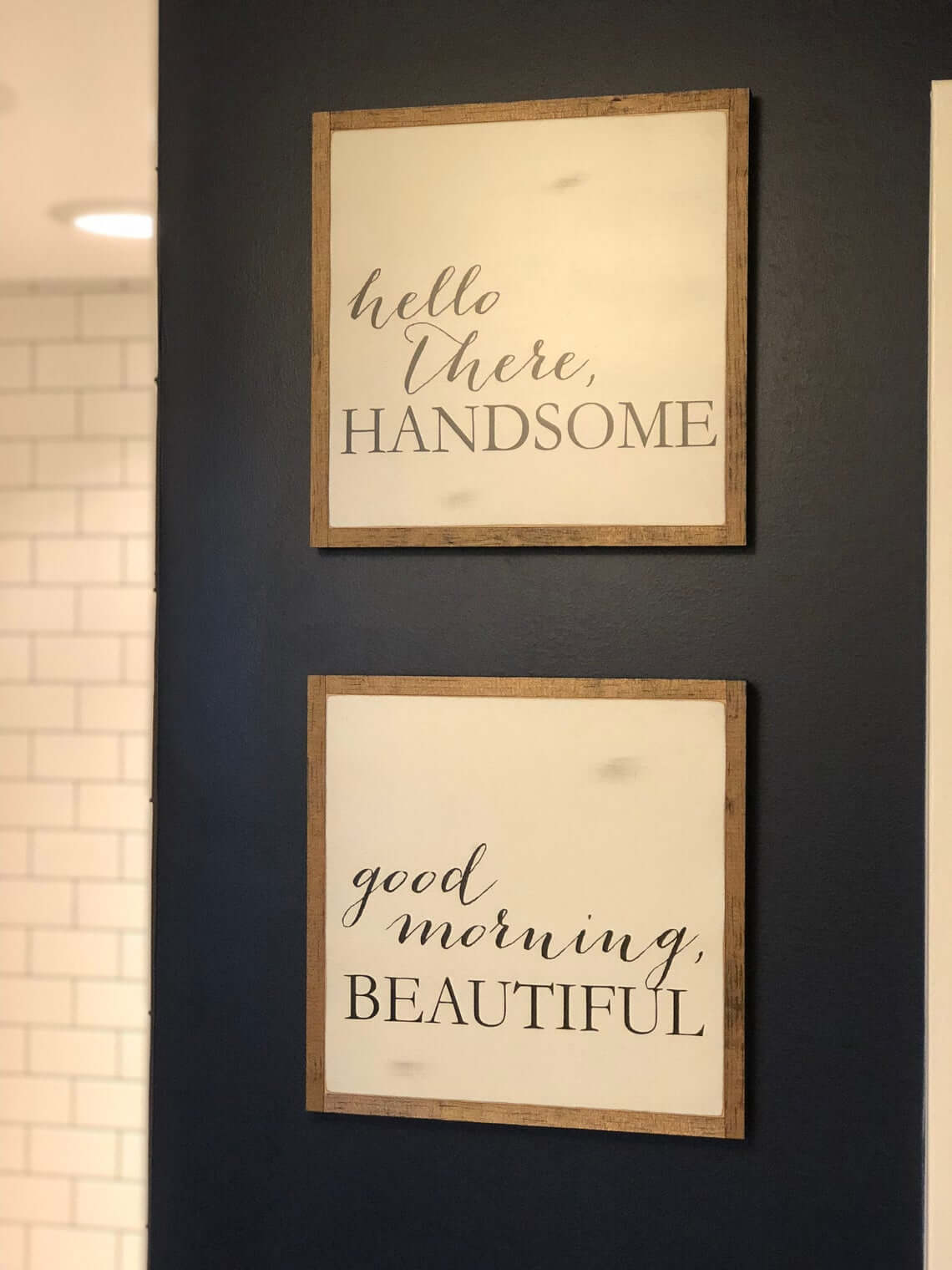 After a good night's sleep, the best way to turn your Manic Monday into a Magic Monday starts with a good start to the day. A fabulous way to get on the right path to this magical day is with a toothy grinned greeting from some fun and modern signs. The set of his and hers signs for the master bath is an ingenious way to begin your day. Created in a gorgeous hand-written script, these black and white signs pop as they are set on a deep and dark navy blue wall.
22. Breakfast in Bed Tray for the Bathroom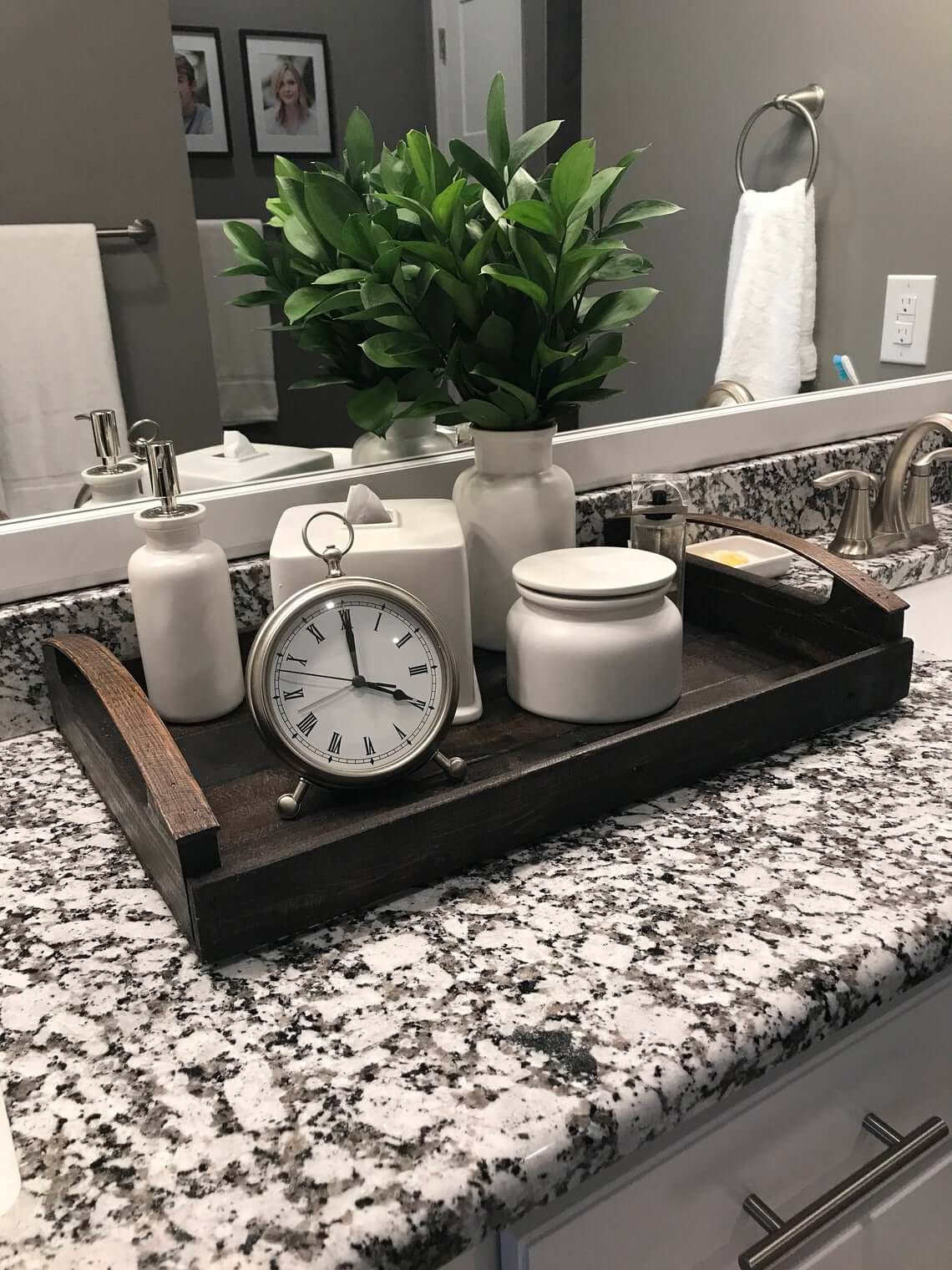 Forget the mess left in the kitchen from some sophisticated attempt at a delicious breakfast in bed, and rehouse the tray into the countertop space of your master bathroom. This large serving tray can serve many purposes, so why not try it as a neat base for all of your bathroom goodies. With a collection of white pieces, the display works wonderfully as the hub for all of your essentials from soap dispenser to tissue holder. Work in a little greenery with a small plant and don't forget to keep tabs on the clock, so you won't be late for work!
23. Scalloped Vintage Metal Bath Shelf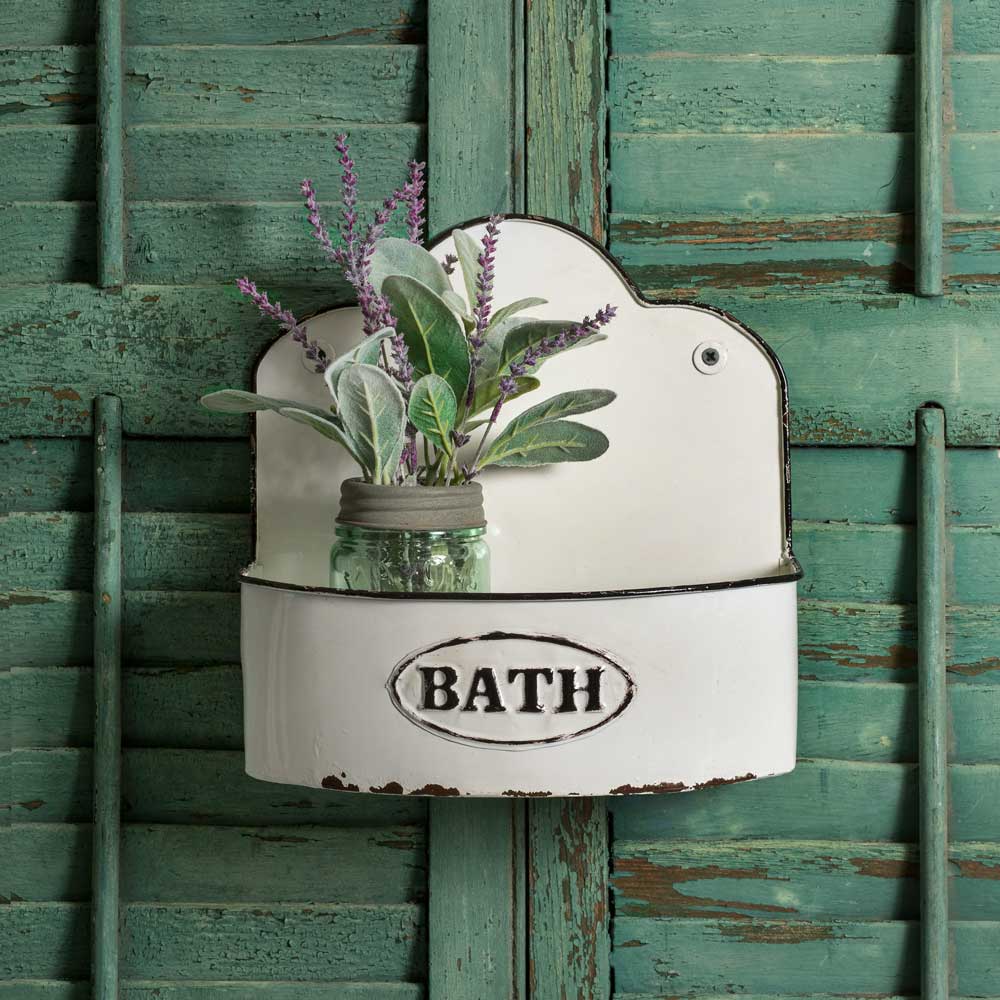 Bring a little bit of the past back into the present with a vintage-looking metal shelf with a scalloped edge. With a white finish, the edges have some distressing to add some character and charm into the shelf without taking away from its unique charm. Within the space its built-in shelf provides, you can choose for it to hold some of your favorite things or to use it as a planter where you'd fill it with some of your favorite vining green buddies. You may choose to hang this on the door or wall space of your restroom to feel right at home.
24. I Love Your Face Rustic Bathroom Sign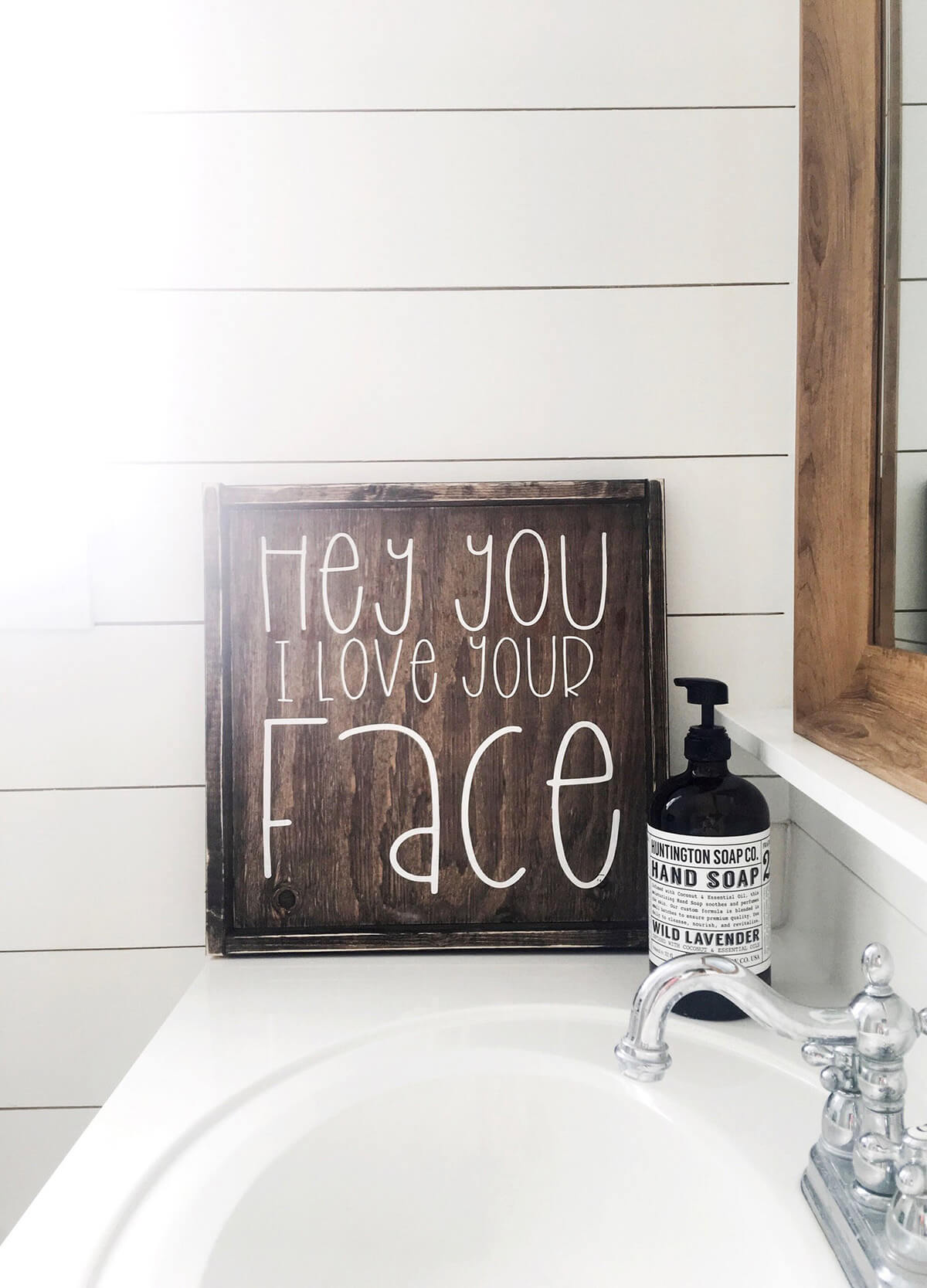 Welcome some happy smiles to all those who enter with this charming and cute "Hey, you- I love your face" sign. The white shiplap wall needs a brown counterpart and this sign provides just that. It further ties the space together with its rustic wooden frame used around the sink mirror. It's always a good idea to add a smile to someone's face and this sign brings that upturned lip you need at the end of the day. Another creative use for this sign would be to tuck inside the belongings when moving your son or daughter to college or his or her first apartment. It's a fun way to send a gentle reminder to someone when away and homesickness sneaks in and creeps onto the scene.
25. Rustic Wooden Towel Rack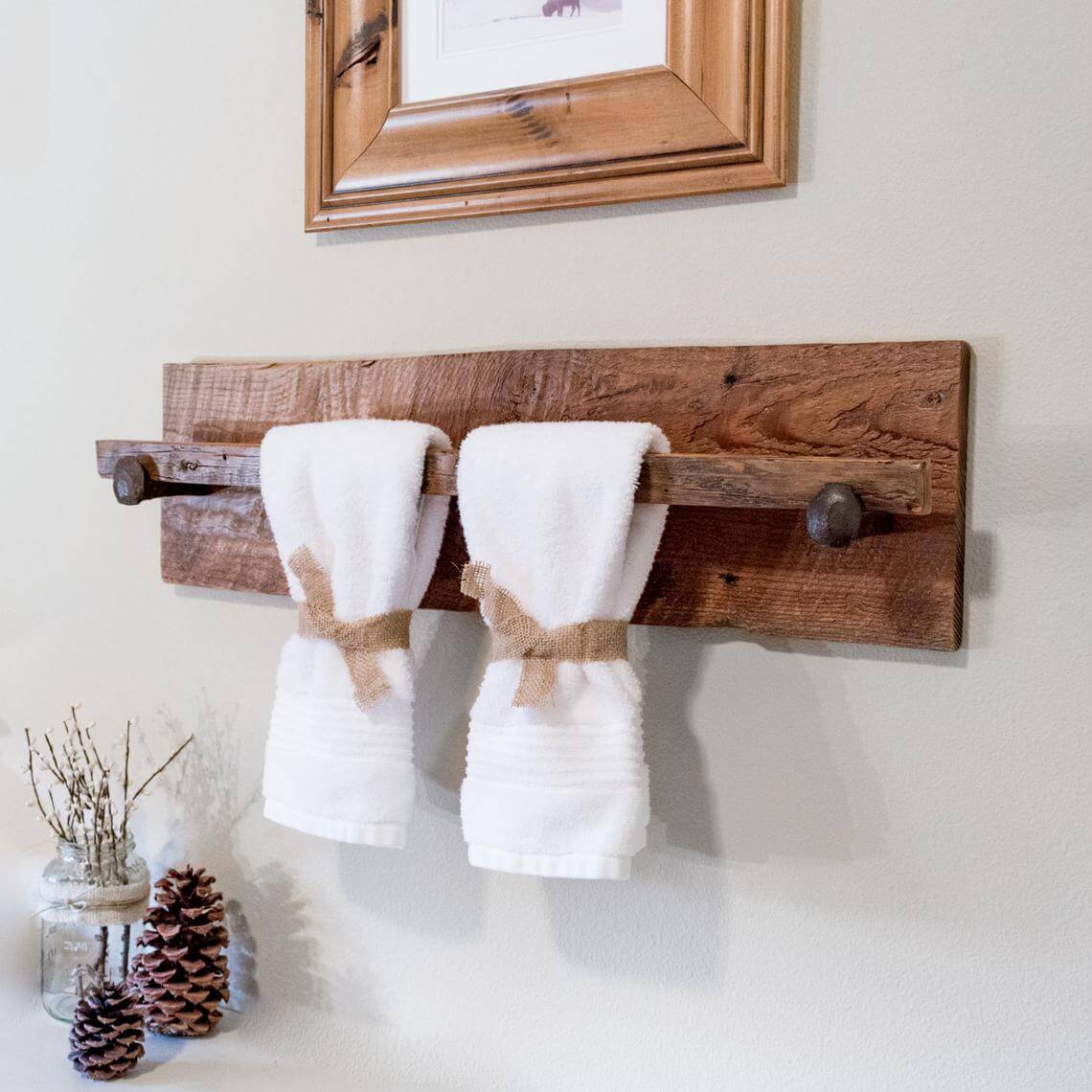 Don't be stuck without a spot to hang your towel. This easy DIY project looks great in a cabin or country bath where rustic flair is seen everywhere. It makes a statement while getting the job done. The old, worn railroad nails give this the extra character it needs. Tie some burlap strips around your decorative towels for a cute country display. It's not only a great bathroom towel rack but would work well in the kitchen too. You could even place this in your mudroom to hang up some of your weathered or wet items as you come in to clean up from the day.
26. Fresh Soap and Water Farmhouse Bath Decor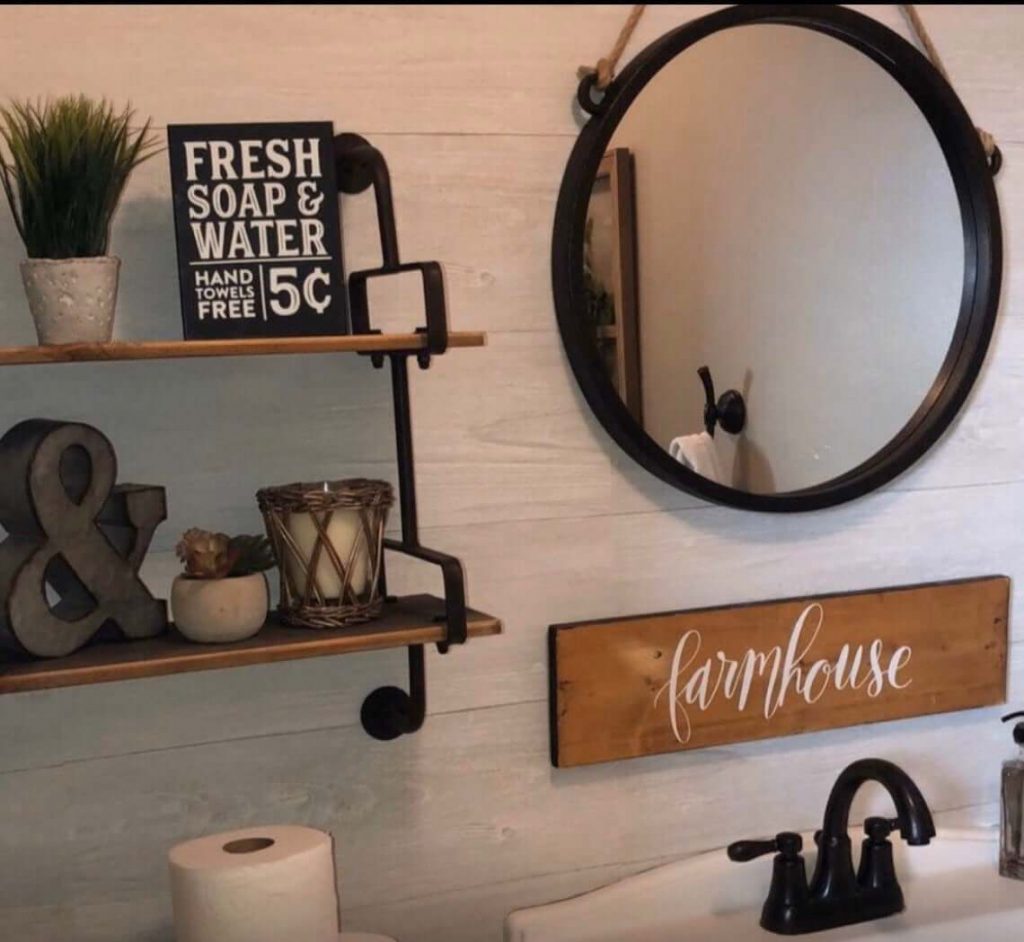 Wrap your bath in an overload of farmhouse decor with these industrial and shiplap filled ideas. The metal and wooden industrial shelf keeps the integrity while looking good. The slim wooden shelves offer the perfect ledge for all of your farmhouse decor items and plants. Deep bronze finishes abound from the mirror to the faucet, to the shelf making everything look like it's been customized from a top designer. Mixing the elements of wood and metal along with neutral tones is a win-win!
27. Steel Pipes and Wooden Shelving Modern Bath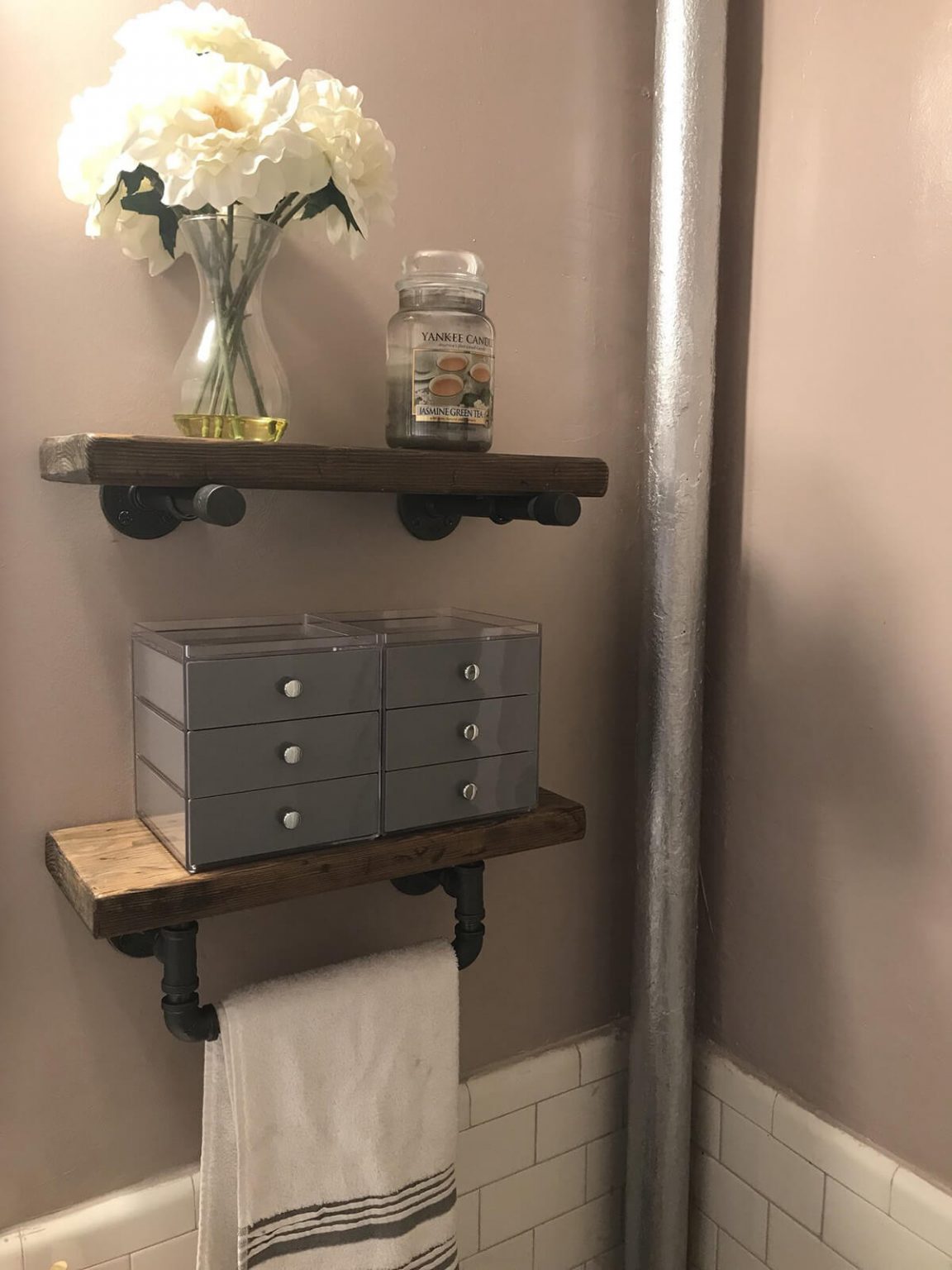 A dark rose gold wall adds just enough color to this bathroom space to lend it a soft, feminine feel. White subway tile at the bottom half anchors the whole room with a neutral foundation. The top wooden shelf has enough headroom to house most any height objects and is ideal for a vase filled with flowers. The bottom shelf works double duty as a shelf and towel rack. These great shelves would be a much-wanted addition to a bachelor pad or city loft too as they seamlessly transition from the bath to the main living space of the home.
28. Rustic Bathroom Décor with Concrete Sinks and Barn Door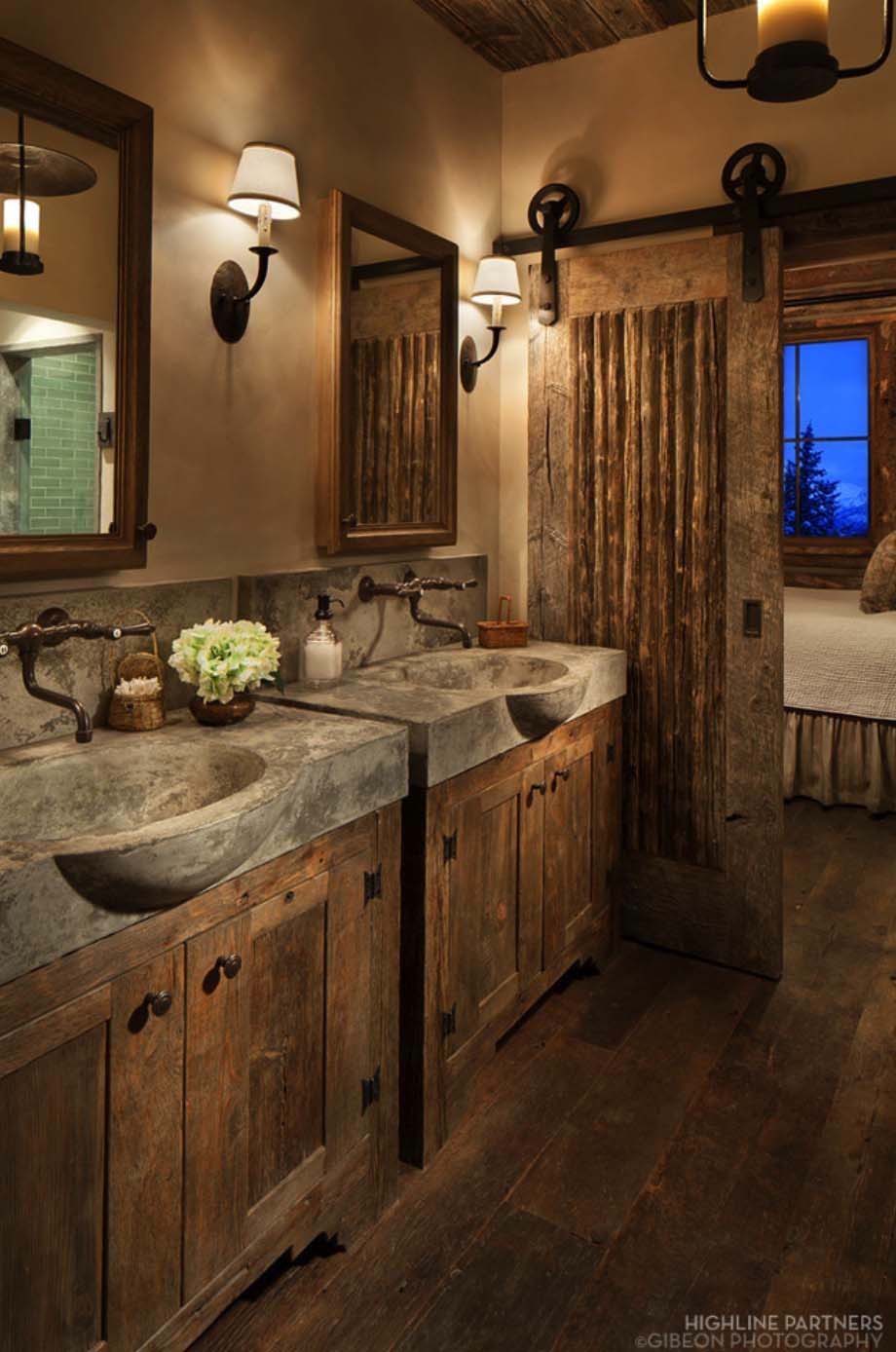 This ensuite bathroom is the perfect rustic bathroom idea for a cabin or lodge style home. The walls are painted a warm, creamy color that prevents the room from feeling like a dungeon. It complements the dark colors of the stained wood plank floors, wood cabinets, and wood on the ceiling. A beautiful sliding barn door with a fabric panel, stone sinks, and farmhouse-style fixtures give this bathroom a warm and cozy feeling that is natural, yet luxurious. Black iron sconces provide the perfect lighting for this lovely bathroom.
29. Open Barn Wood Shelving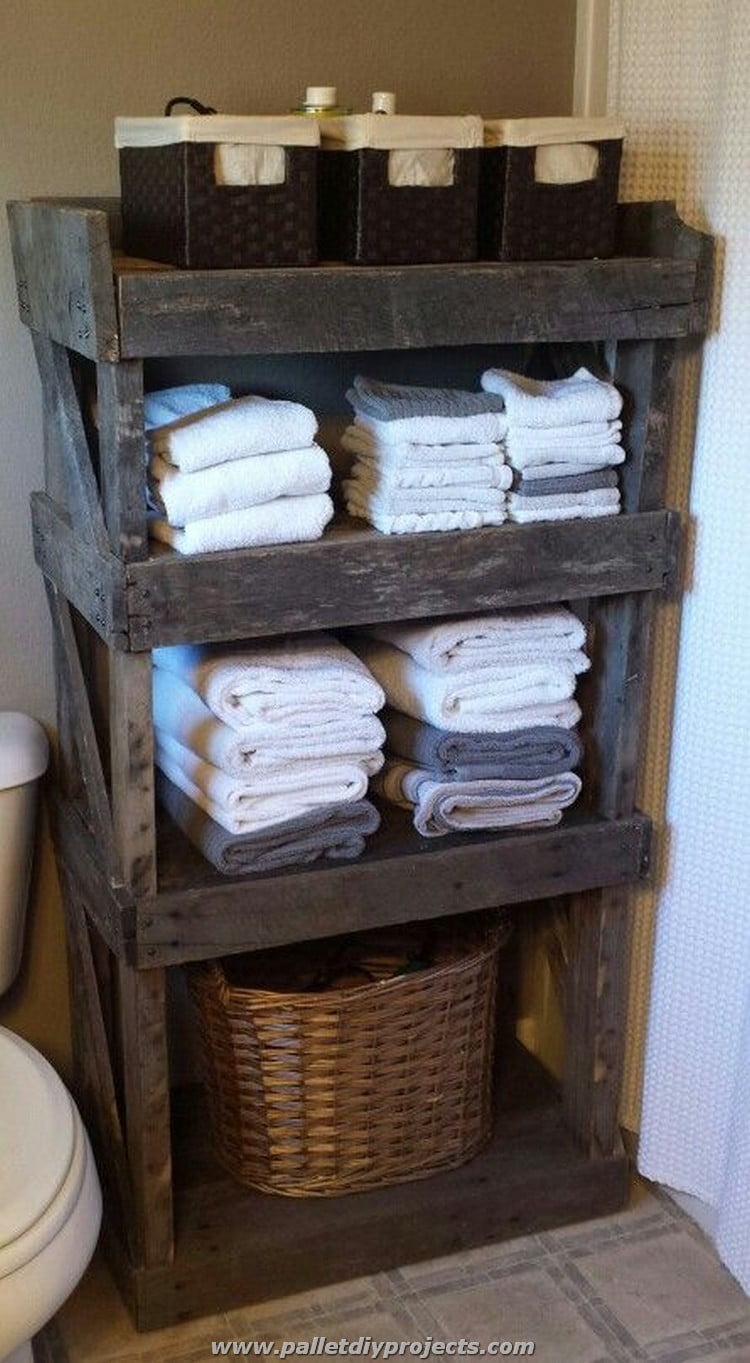 Source: palletdiyprojects.com
If you want to add just a touch of rustic charm into your bathroom, this rustic bathroom decor is perfect for dressing up your dull bathroom. It will add additional easily accessible storage as well. Recycled and weathered pallet or crate wood can be used to build this charming little shelf which is perfect for storing toiletries or towels. To give the wood more character, stain that accents your existing decor can be applied to the wood and sanded around the edges and distressed. The stain will pick up color based on the unique character of each wood plank.
30. Heavy Plank Shelves with Industrial Hardware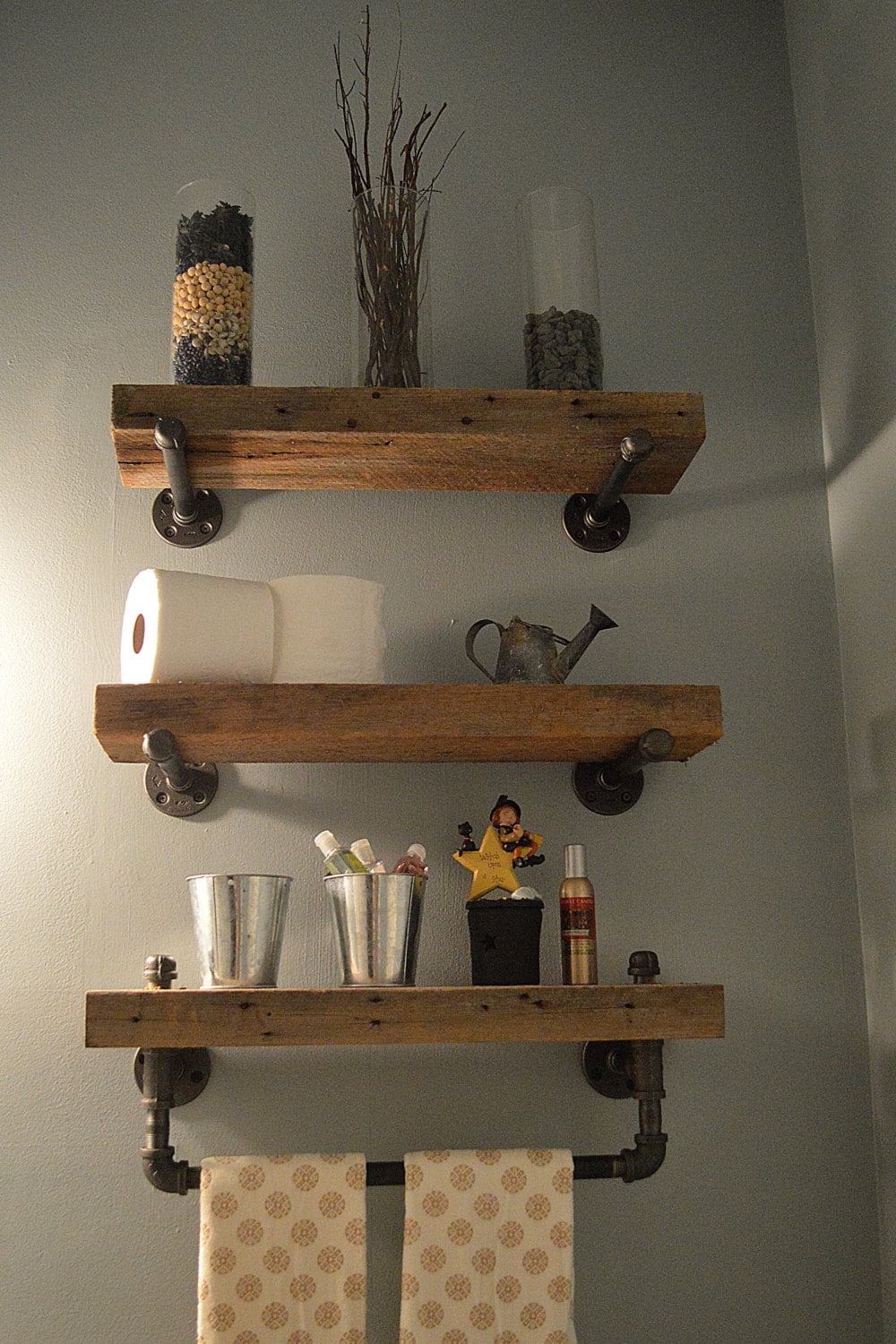 These shelves are another simple and effective rustic bathroom idea. Plumbing hardware and pipes are assembled and installed as the brackets for these simple wood shelves. More plumbing hardware and piping is used to create a towel holder on the bottom shelf. These shelves can be built in any size and installed near a sink or above the toilet, where items stored on the shelves are convenient for guest. The plumbing pipe can be painted with spray paint for metal or installed as is for different looks. The wood shelves can also be stained and distressed to enhance the overall effect.
31. Cottage Bath with Painted Shiplap and Vintage Hardware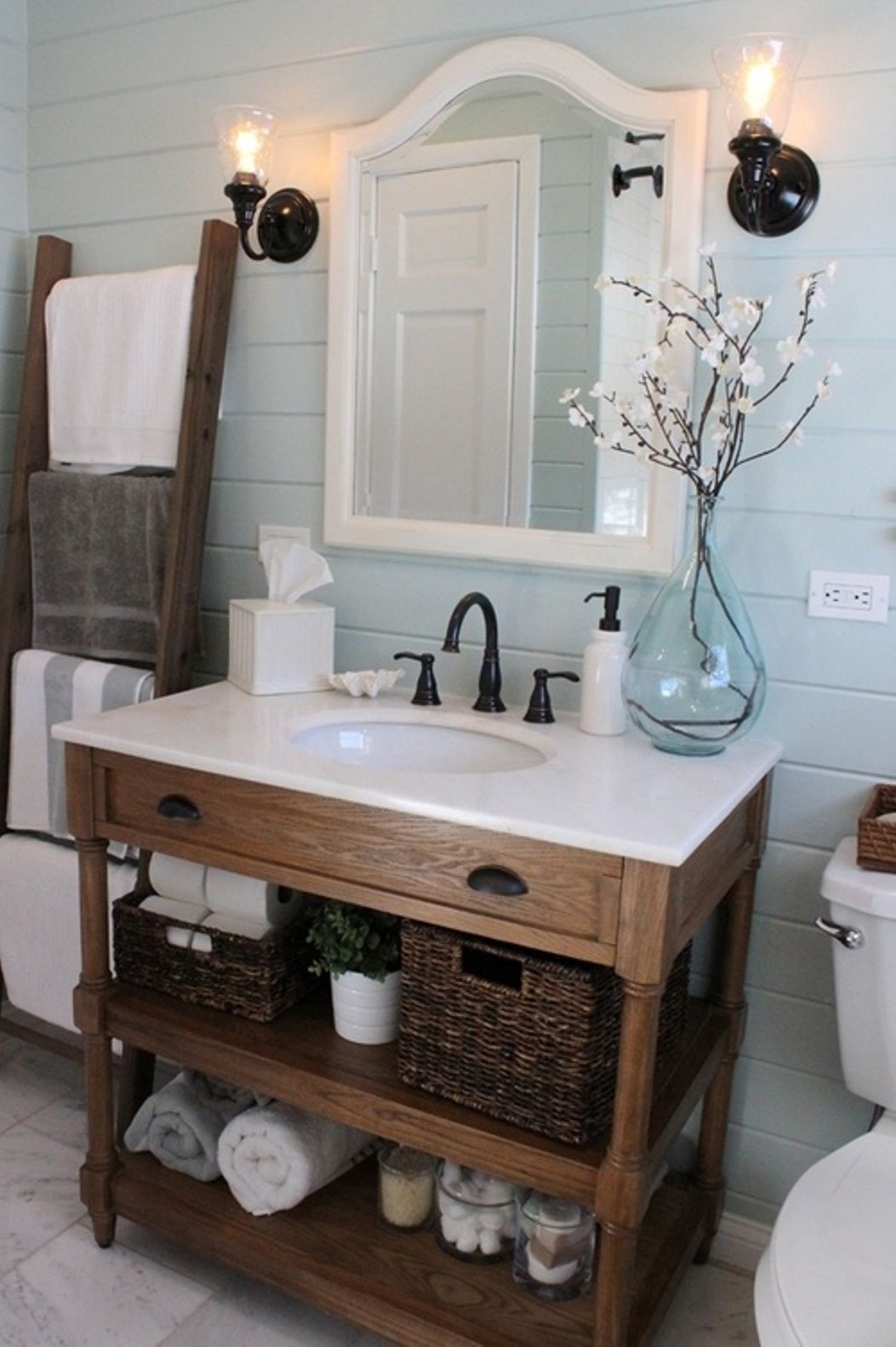 Source: The original source is not available anymore.
This bright and fresh bathroom is one of many bathroom design ideas that help you to incorporate rustic bathroom decor while keeping the colors fresh and bright. A wood table is repurposed into the base of a sink and keeps the feel of the room very open and inviting. Horizontal wood paneled walls are painted a light, powdery blue for a fresh look and feel. Dark wood tones and oiled bronze or black glossy fixtures pop in this design, while the white trim helps everything to look clean and fresh. The contrast of these accessories is truly breathtaking.
32. Stone Lodge Bathroom Featuring a Camo-edged Mirror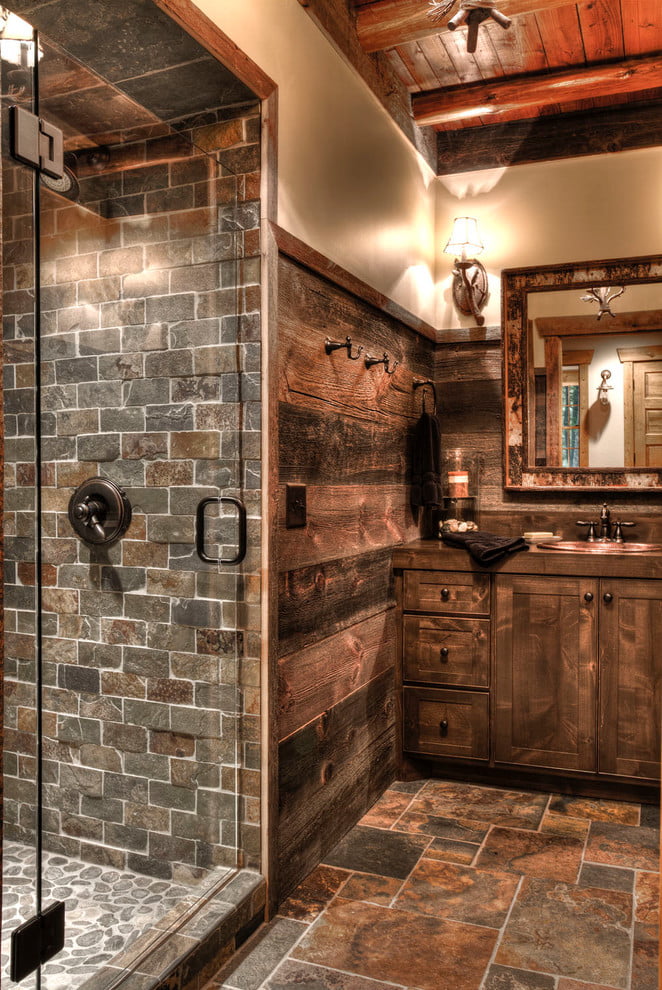 This bathroom uses the natural color of the stone and woodwork to combine several different materials in this rustic bathroom design. Weathered wood planks are used on the lower two-thirds of the walls, while beautiful stonework in shades of brown and gray are used in the walk-in shower and the tiled floors. A warm, rich wood ceiling with exposed beams and cream colored paint keep the room warm and fresh. The modern bronze and copper plumbing fixtures and rustic natural wood lighting add contrasting elements that bring the whole room together.
33. Reclaimed Hardware Towel Hook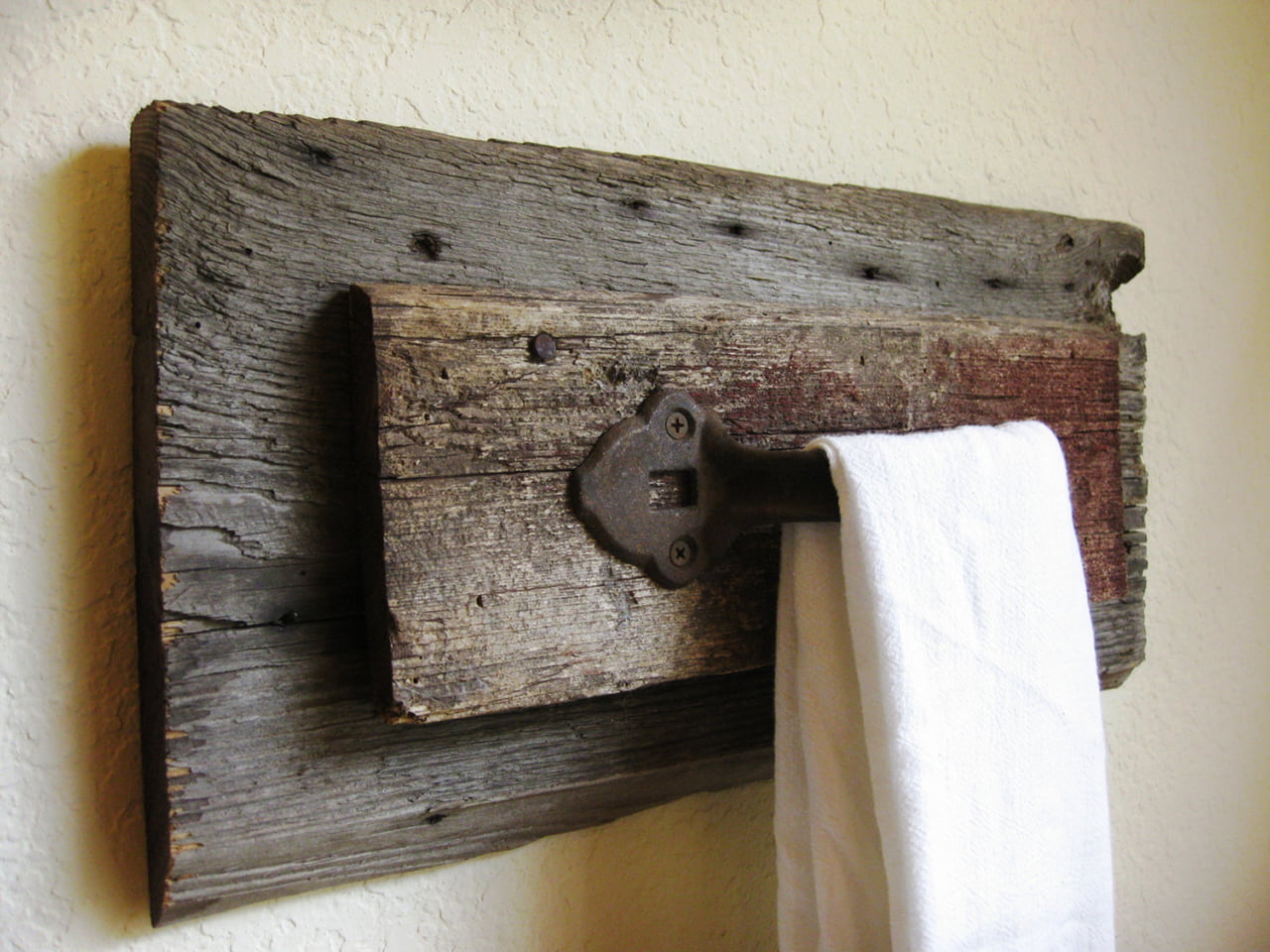 Rustic bathroom decor can add a lot of interest in small bathrooms. This towel holder manages to keep things simple and stand out on the white, textured wall. Two different sizes of wood planks are attached to one another and a simple antique iron door handle is added to make a unique towel holder with character. This simple towel holder is proof that when it comes to rustic design, simple designs used in unusual ways can make a huge impact. If your bathroom is small or a major remodel is not in the budget, small ideas like this will make a big difference in small spaces.
34. Pallet Wood Mirror Frame with Storage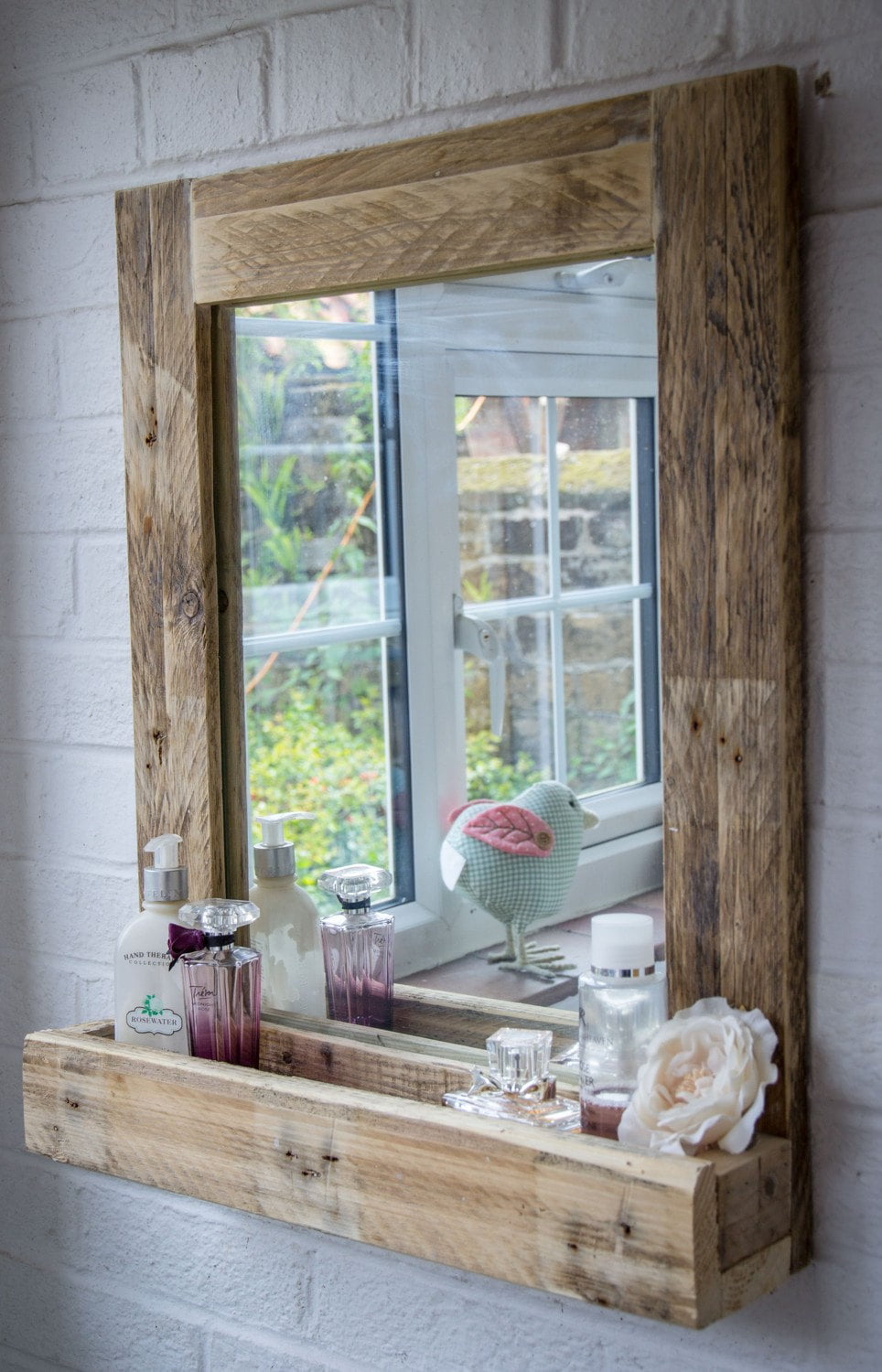 Source: The original source is not available anymore.
This mirror is a great way to bring ideas that are typically seen outside the home and bring them indoors. This rustic bathroom decor features a mirror that is framed with weathered lumber that resembles a window with a traditional "window box." The box makes a great place to store your perfumes and other items for a quick touch up before you leave the bathroom. If your bathroom is small, this box will provide a little extra storage, which can go a long way in a small space. The flower adds some softness and femininity to the overall design.
35. Rolling Barn Door with Black Iron Hardware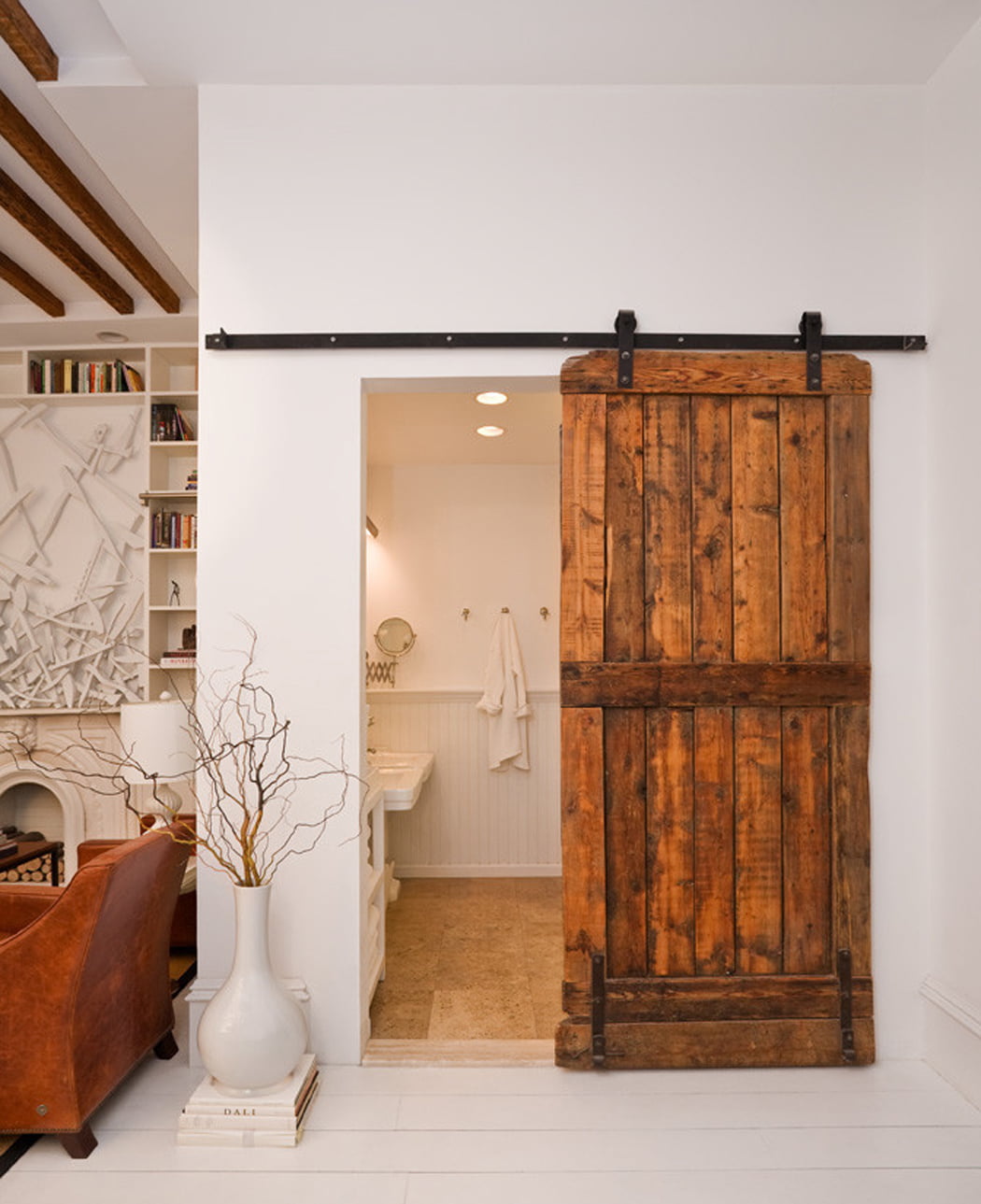 You do not have to go to extremes to make the most of your rustic bathroom design. This design keeps it simple with a rich and rustic honey colored sliding barn door and white walls and accents. The hardware on the door combined with the colors of the leather chair, wood in the vase, and exposed wood beams make these rustic features stand out in a very modern home design. This design keeps it simple and makes a big statement with subtle accents and follows the examples found in nature. These natural elements are what make this room work so well.
36. Hunter's Bathroom Featuring Shiplap and Hunting Trophy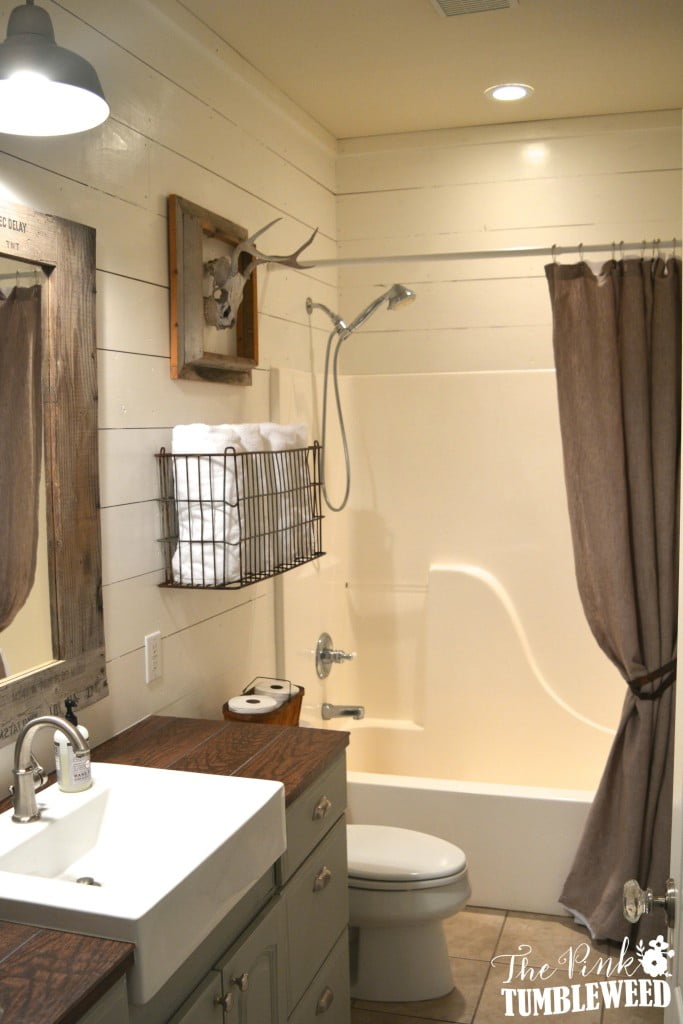 Source: thepinktumbleweed.com
If you think rustic design has to use shades of brown, you are mistaken. Gray is also a very natural color that is dominating bathroom design ideas. In this bathroom, wood plank walls are painted a glossy white and accented with gray wood and accents. This gives the bathroom an almost wintery beach look and feel. Modern cabinetry, hardware, and tile flooring blend seamlessly with this design. The wood mirror frame adds a lot of character to this room with its stamps and color. Repurposed shipping crates can be stained and used for a similar effect.
37. Slate Mosaic Accent Wall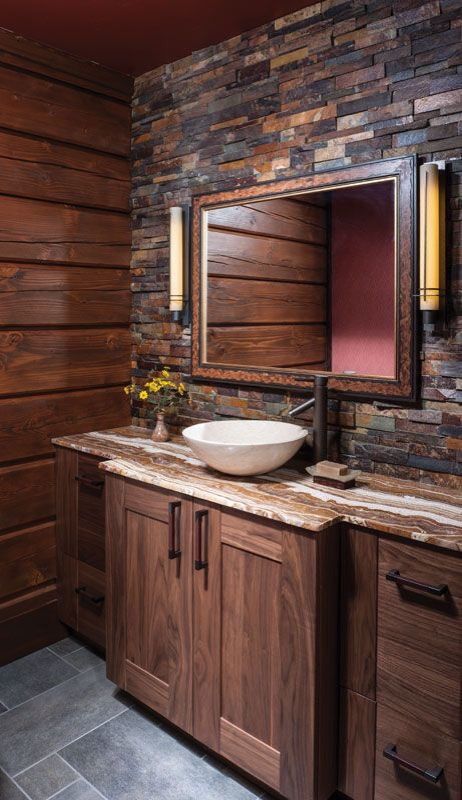 Source: The original source is not available anymore.
This rustic bathroom idea offers a polished and refined option that seems more like a luxury ski resort than a cozy cabin. Rich red cherry wood and stained plank walls work well with a marble countertop and a rich stone accent wall. A stone sink basin adds some contrast while the long, soft lights on either side of the mirror keep things warm and cozy. A tasteful rustic spout is a nice touch for a faucet at the sink. Rich dusty rose red walls create a relaxing atmosphere where you would enjoy taking a warm bath in style and comfort.
38. Mason Jar Light Fixtures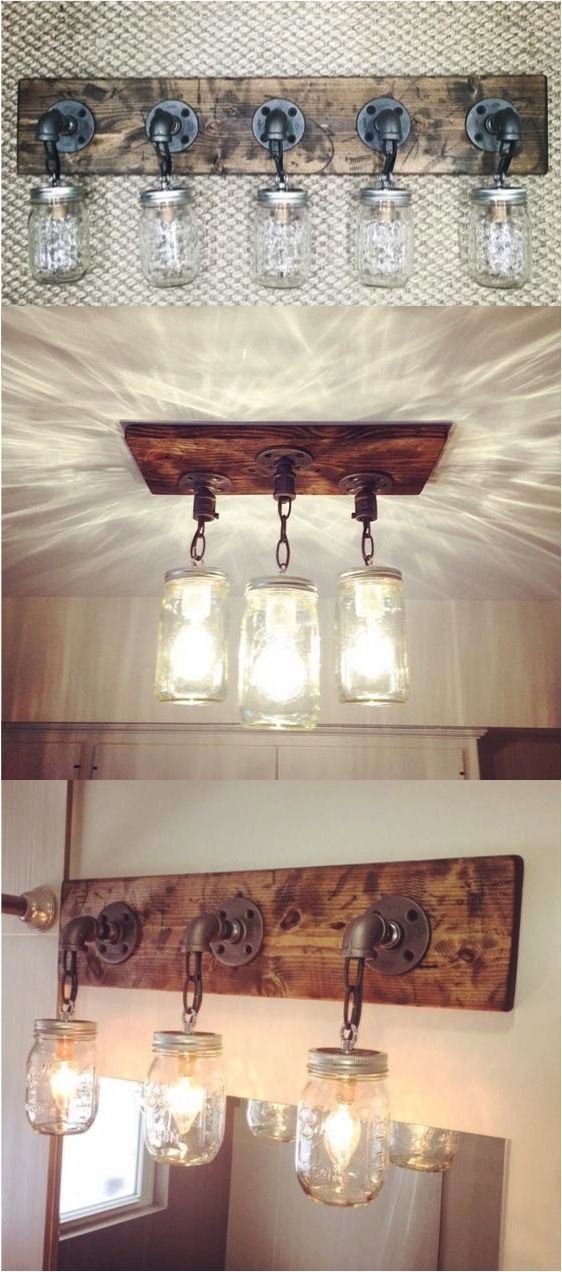 Source: The original source is not available anymore.
An easy way to update almost any room in your house is to update your lighting fixtures. If you are intending to include rustic bathroom decor in your home, this case is very true. These Mason jar vanity lights are the perfect way to bring a little bit of rustic decor into your bathroom without committing to a full remodel. For this lighting, planks are cut to the desired width and stained. Holes are drilled for wiring and plumbing fixtures cover the hole. Chains are fed through the plumbing pipe to support the weight of the mason jars, then wiring and Mason jars with lights are added.
39. Converted Whiskey Barrel Sink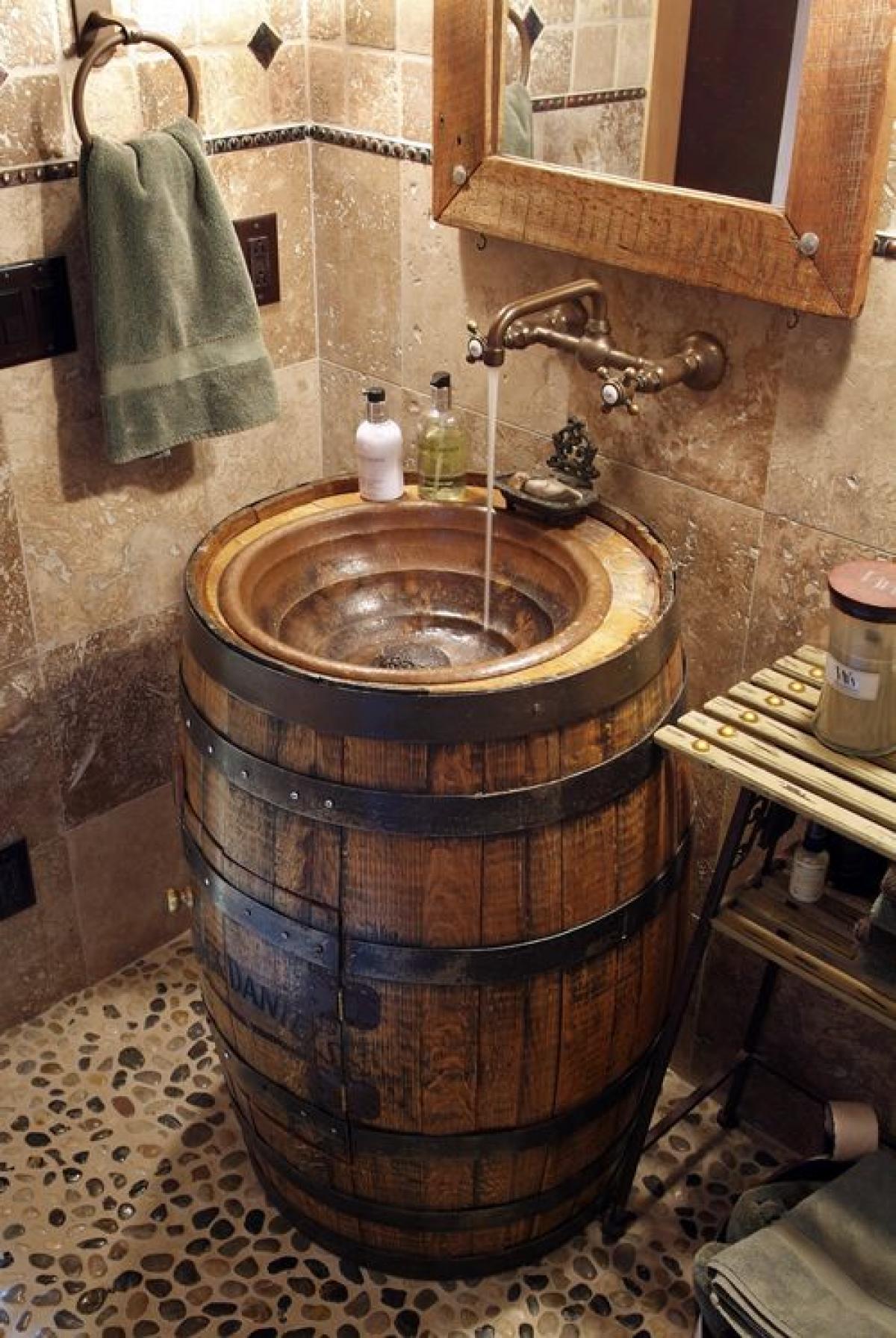 The great part about rustic bathroom design is that it lets you think out of the box and repurpose items used for a variety of other purposes. This is a great example of repurposing a non-traditional item and making it work in your rustic bathroom. A whiskey barrel makes a perfect base for a sink. A copper basin is fitted into one end of the barrel and a door has been cut out of the barrel to allow easy access to plumbing and makes it possible to utilize the inside of the barrel as storage space. Retro plumbing finishes off this great design idea.
40. Reclaimed Cornice Shelving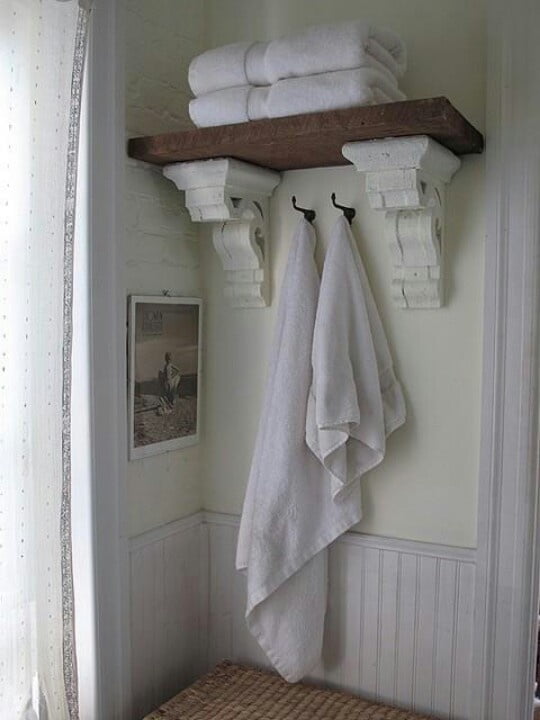 In this design, corbels are painted a creamy white and distressed to bring out their detail and add interest in this rustic bathroom decor. The shelf is a simple stained wooden shelf that can be purchased at any hardware store. The shelf is installed in a corner that may otherwise remain unused. Two hooks hang beneath the shelf and are a great place to hang your towels. The bead board and molding are painted a crisp white, whereas the corbels are painted the same creamy color as the wall. This adds more interest to the room and draws your attention to the architecture.
41. Rough Beam Cornice Box for Shower Curtains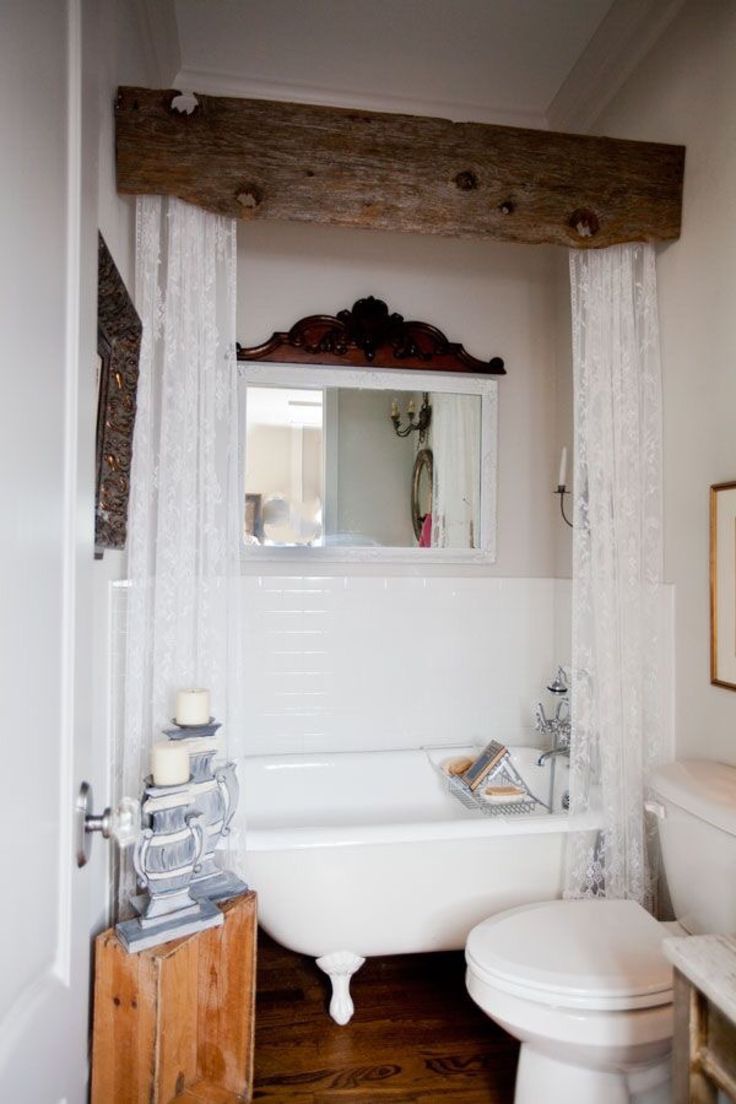 Source: The original source is not available anymore.
Simple, white bathrooms beg for rustic elements. This rough piece of weathered lumber acts as a box cornice for white lace curtains. This rustic bathroom idea uses rustic elements such as antique wood frames and boxes and combines Victorian elements such as the claw foot tub, lace, and candle holders. Traditional subway tile and rich wood floors and crown moldings work well in this tiny bathroom. The wood accents and variety of textures in this room are the elements that keep this design from being boring and make this bathroom inviting.
Our Favorite Farmhouse Storage Items to buy on Amazon

42. Stone Double Sink and Barn Wood Paneling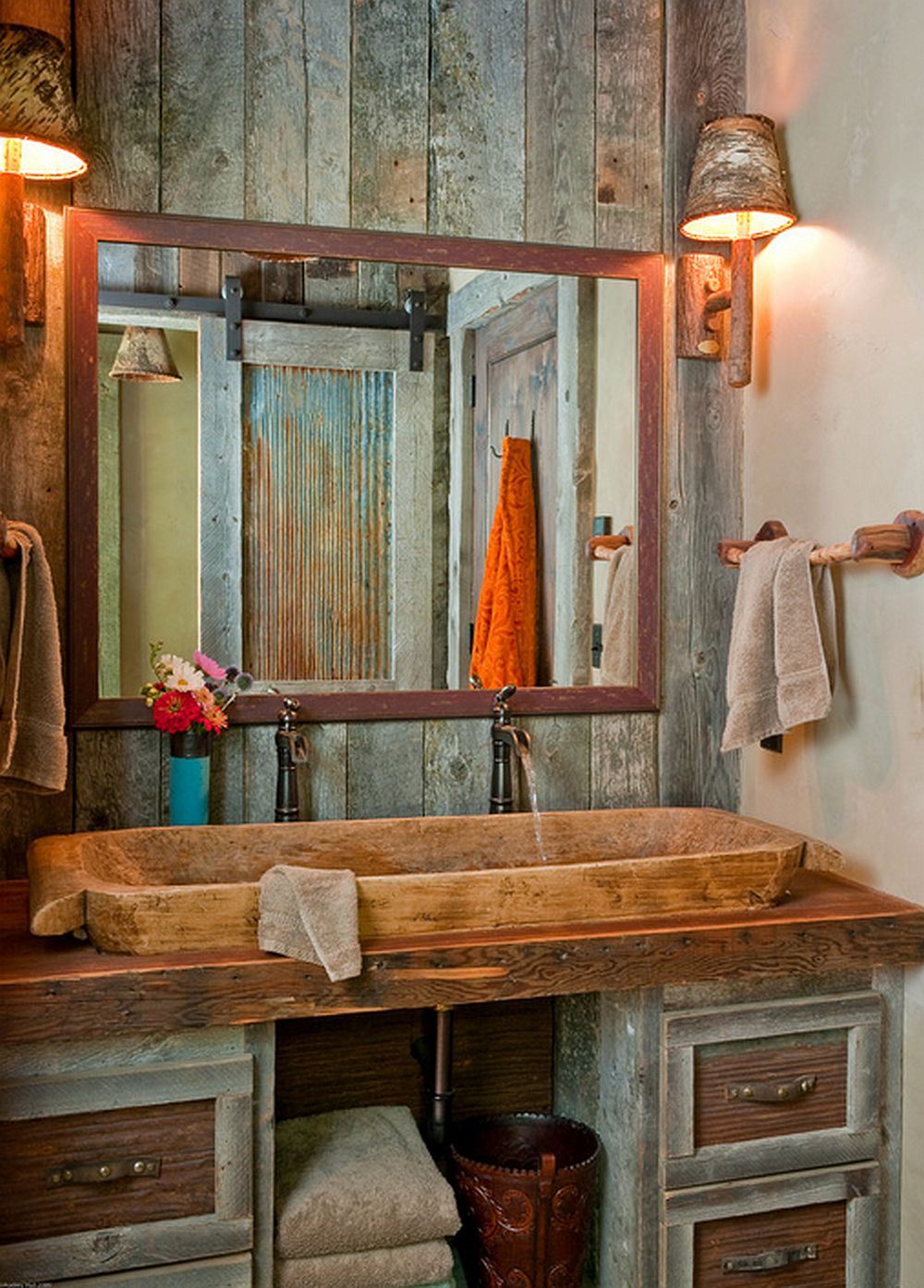 This bathroom uses contrasting shades of weathered wood and rusted metal to make a statement. This rustic bathroom idea features some of the most popular trends in rustic home decor including a sliding barn door, this one with washboard style tin as a center panel, and wood plank walls. The varying shades of wood and metal in this design create architectural interest and keep the design from being monotone and boring. A natural wash basin with twin retro centerset waterfall faucets and leather handles on the cabinet drawers add an additional touch of the past to the room.
43. Luxurious Rustic Bathroom Decoration Ideas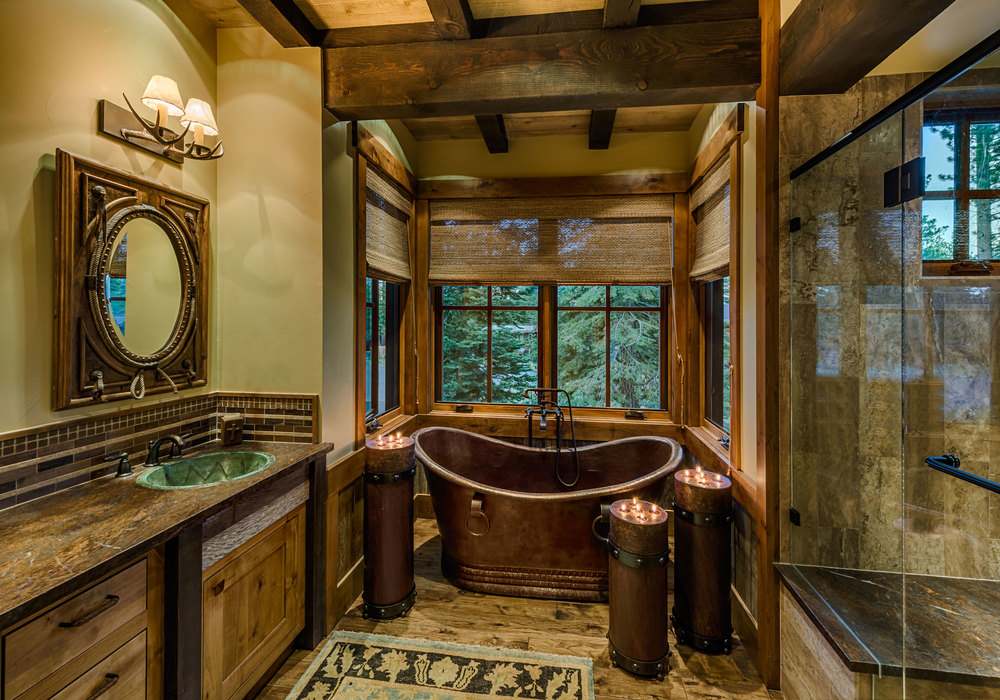 Exposed wood beams in the ceiling, antlered sconces, and a copper bathtub surrounded by windows with a view of nature result in the beauty that is this rustic bathroom design. The clean, straight lines are broken once your eyes reach the curved bathtub in its nook at the back of the room. Wood, natural stone, and a warm neutral paint all work together to bring warmth and harmony into this luxury bathroom design. The cylinder copper stands around the tub covered in candles make this into a room you want to relax in every night.
44. Vintage Wooden Framed Storage Shelves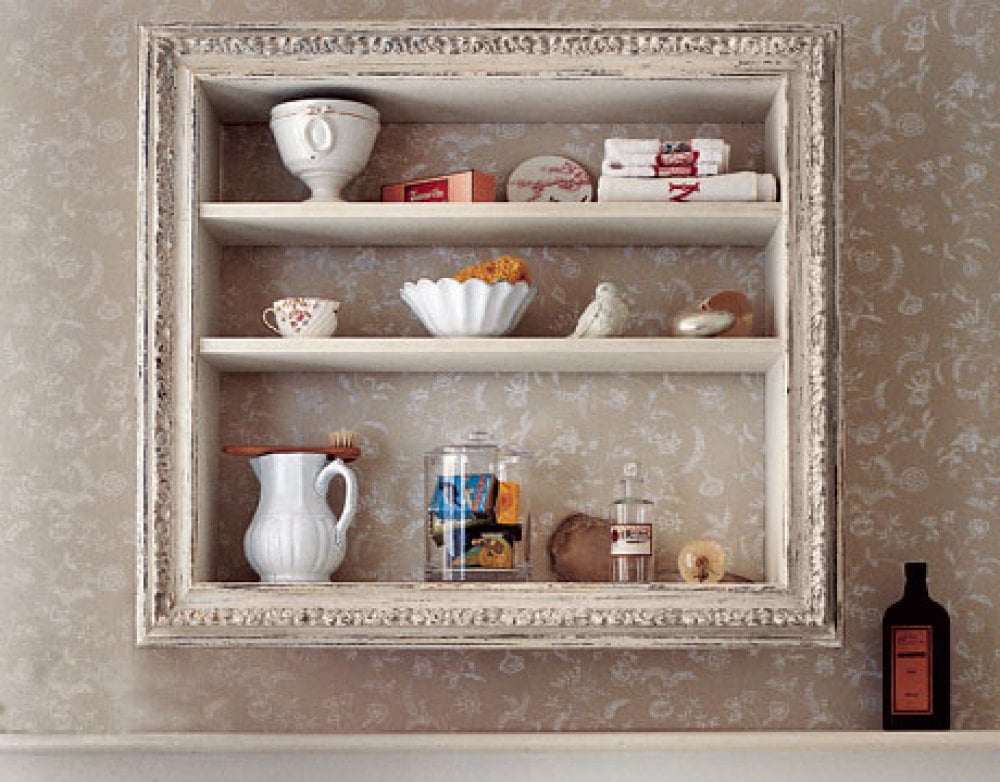 Source: The original source is not available anymore.
Rustic bathroom decor doesn't have to be a natural wood tone to be considered rustic. This picture frame was used as the border for shallow shelving unit. It was painted white and distressed to bring out the design detail in the woodwork. This is a great way to add a touch of rustic design and storage space to any bathroom. The wallpaper on the wall makes a great background for items you wish to display on the shelves. Distressing of the white paint on the frame softens the look significantly and makes it more feminine.
45. Hanging Shelves with Wrought Iron Hardware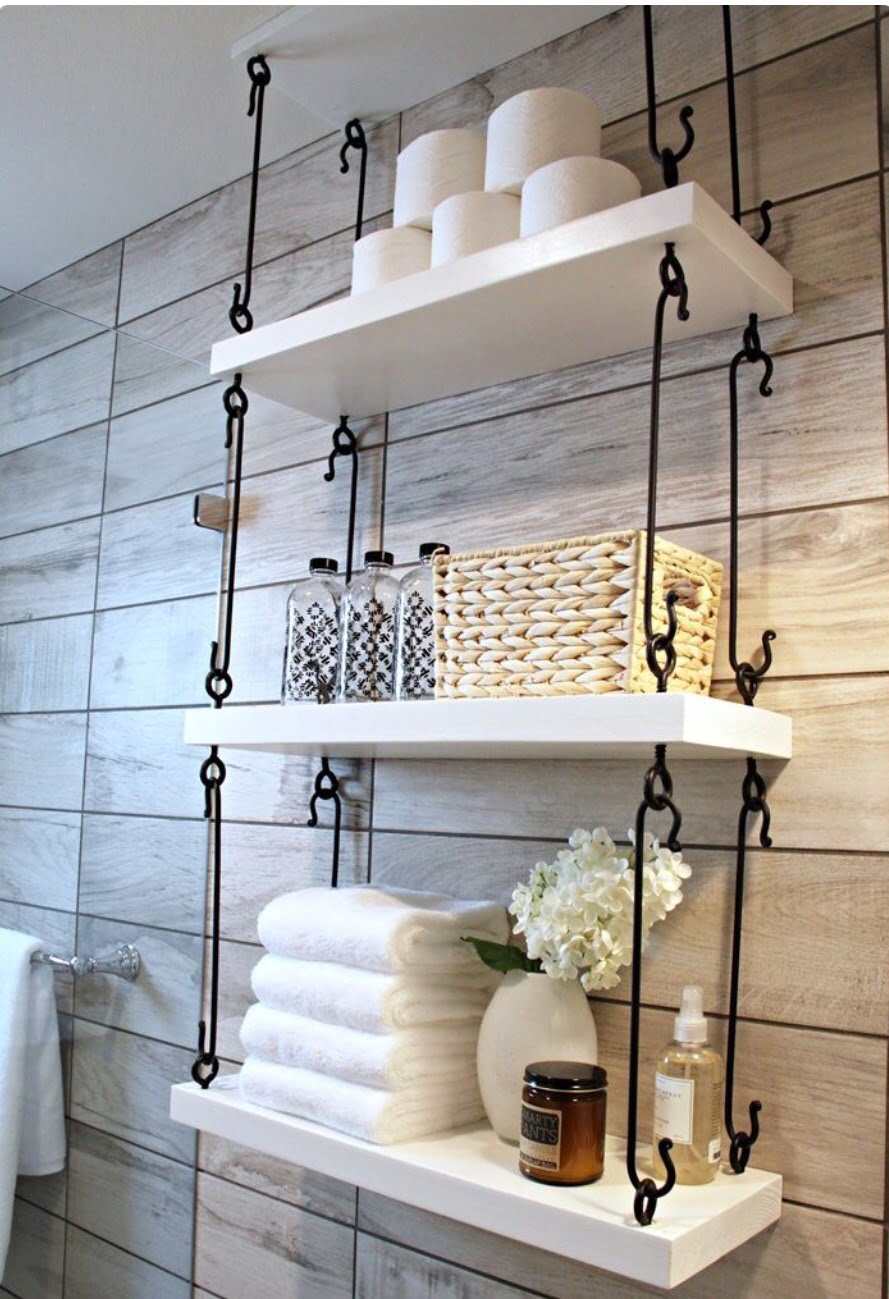 Rustic bathroom design doesn't have to be old or weathered. In this case, rustic hardware made out of iron is used for a simple hanging shelf unit. A series of eyepins are installed through each corner of the white shelves and into the ceiling mount. Iron hooks are then used to link the shelves together and suspend them from the mount. If you are low on floor space in your bathroom or just want to try something different and slightly rustic that catches the eye, this idea is perfect for you. It is a simple and effective way to make a visual impact and solve a storage space issue.
46. Giant Half-barrel Soaking Tub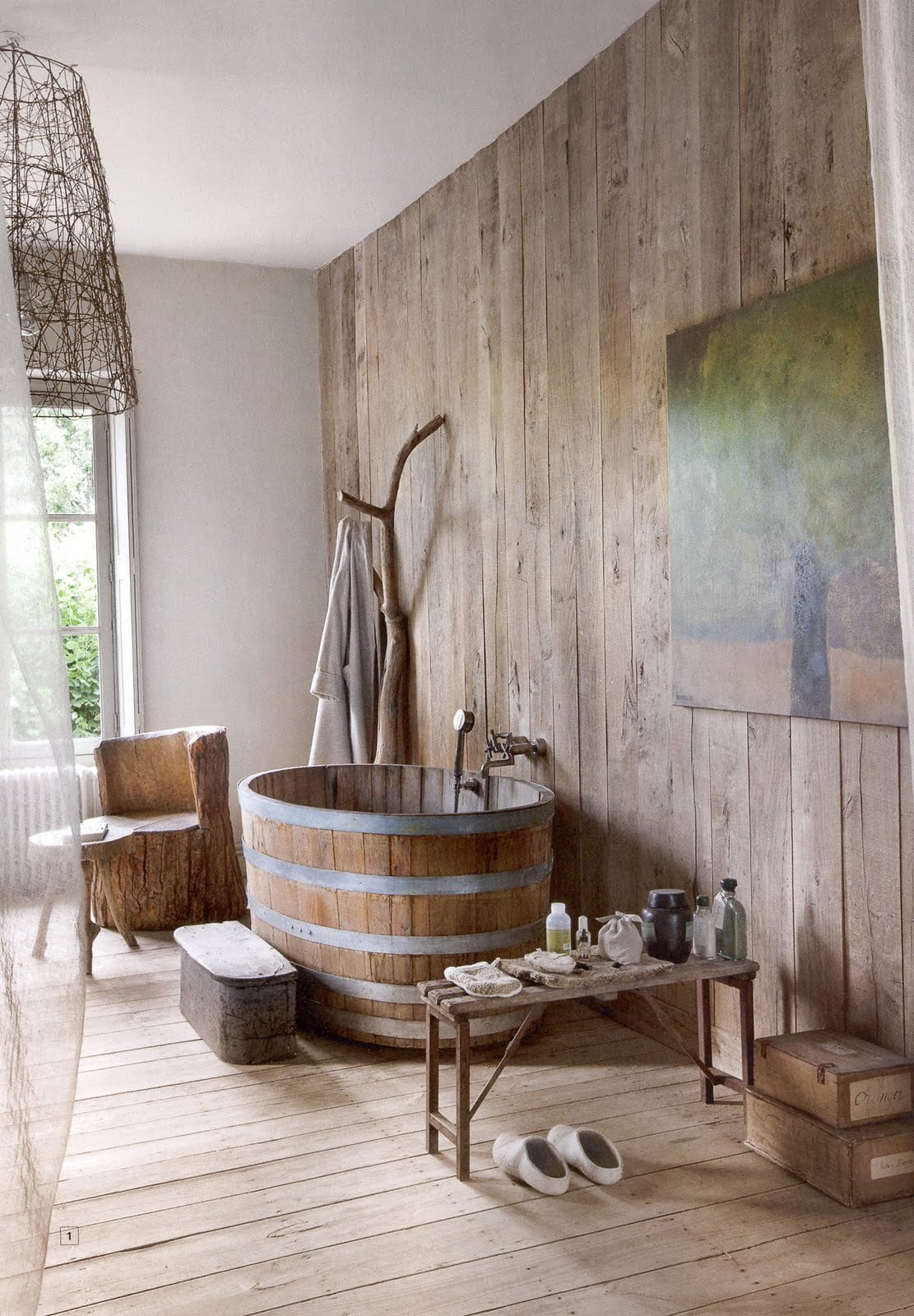 Source: The original source is not available anymore.
This rustic bathroom idea involves several elements of rustic design. A chair and table are carved from a log, wood plank walls and wood floors that envelop you, and a light shade woven from sticks combine to create an earthy, but pleasant feel. The only hint that this room is a bathroom is the large barrel style bathtub in the center of the picture, which immediately catches your attention. The plumbing hardware is kept traditionally rustic and a natural style coat rack holding a robe makes you feel like you've stepped back in time, but also gives you the benefit of modern day luxury.
47. Double Sink Converted from Galvanized Washtubs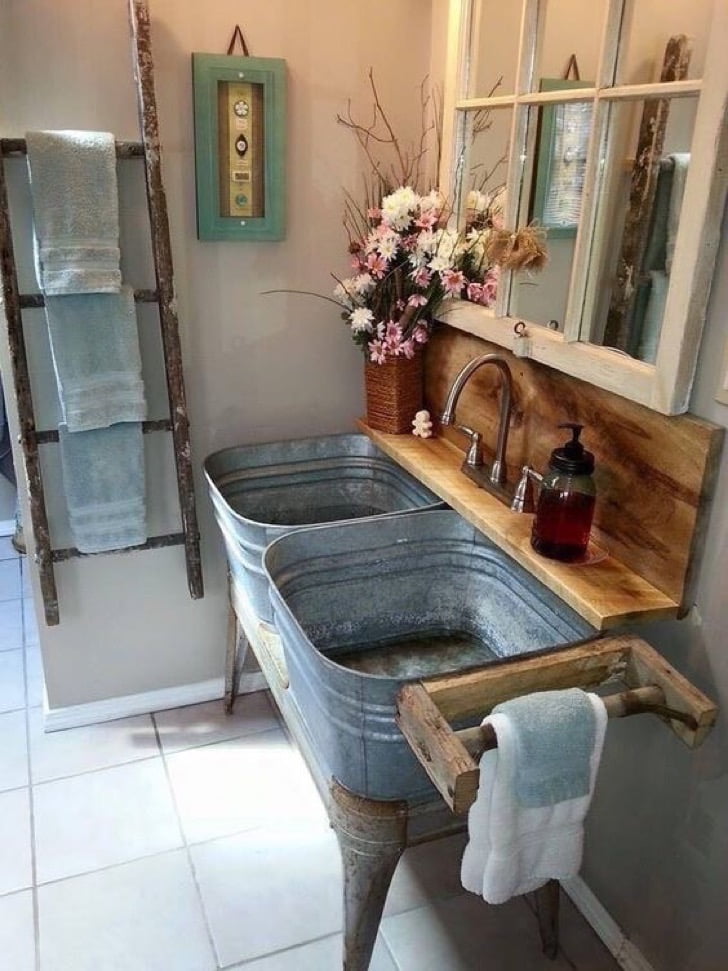 Galvanized steel tubs are the first thing you notice in this bathroom. Once your eyes wonder a bit, you realize the towel rack is really an antique ladder that has been repurposed. Then, you notice that the mirror was once a window frame that has found a new life. These little surprises found in rustic bathroom design ideas are just part of the appeal of rustic bathroom decor. The ingenuity used in this design completely distracts you from the modern elements of the bathroom, such as the baseboards and ceramic tile. These elements will make you feel as if you could be in a countryside cozy cottage instead of a modern home in a subdivision or a city apartment.
48. Dark Paneled Vanity Backsplash with Vintage-style Double Mirrors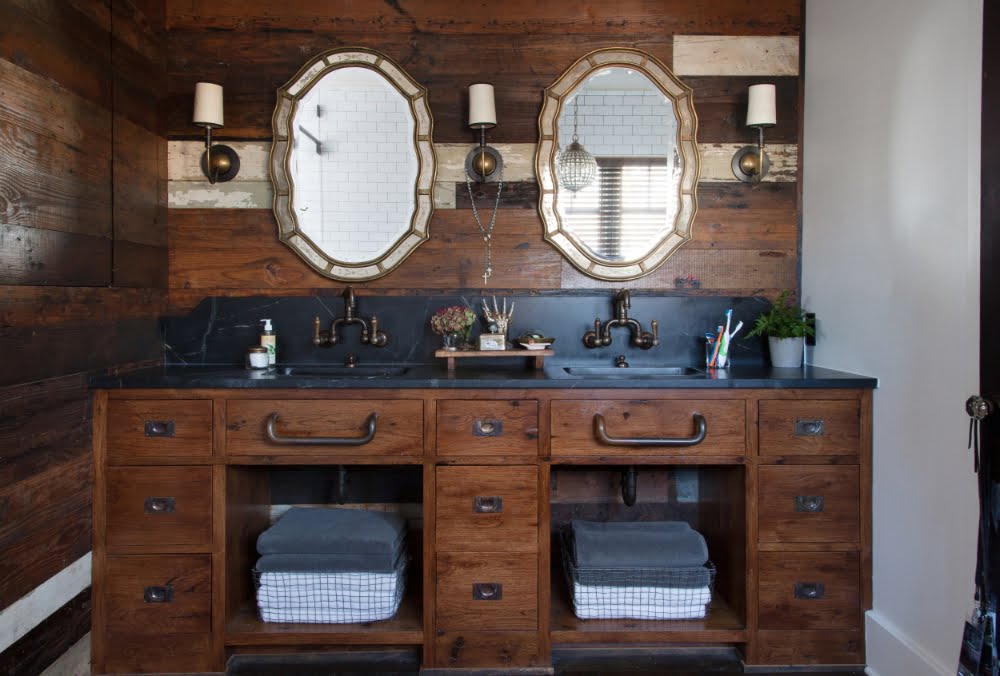 This rustic bathroom idea is very masculine. It features dark stained wood plank walls, cabinets that are stained the same color as the wall, a dark marble countertop, and rustic plumbing fixtures and hardware. There are a few things that work to brighten up this dark room. The mirrors reflect light, one wall is painted white, and the white lamp shades carry that white contrast to the darkest area of the room. The gray and white towels that are folded in baskets beneath each sink also catch the eye and add a little extra contrast and softness to the room.
49. Three-tiered Metal Storage and Display Rack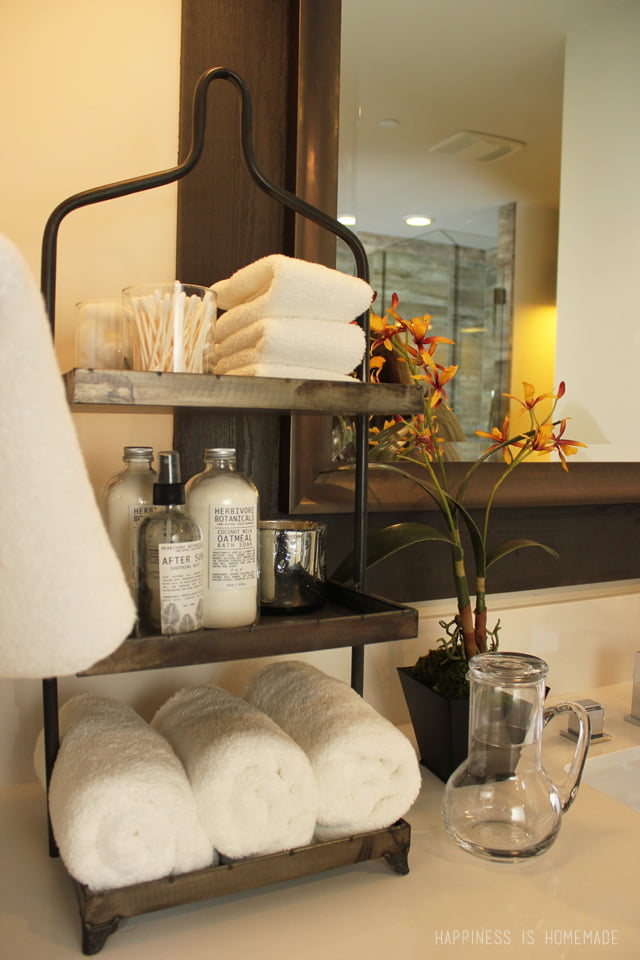 Modern design and rustic accessories work well together in this large luxury bathroom. Rustic bathroom decor provides contrast to the warm, creamy walls, bronze mirror frame, and orchid on the countertop near the sink. The rustic wood uses colors of the stonework that are visible in the mirror and carries it to the other side of the room. The shelves of the caddy also add vertical storage space to prevent the countertop from becoming cluttered and will make it easy for guests to locate towels and toiletries. Simple glass jars with plain labels and silver accents keep this design clean and classy.
50. Mixed Stone Cabin Bathroom with Walk-in Shower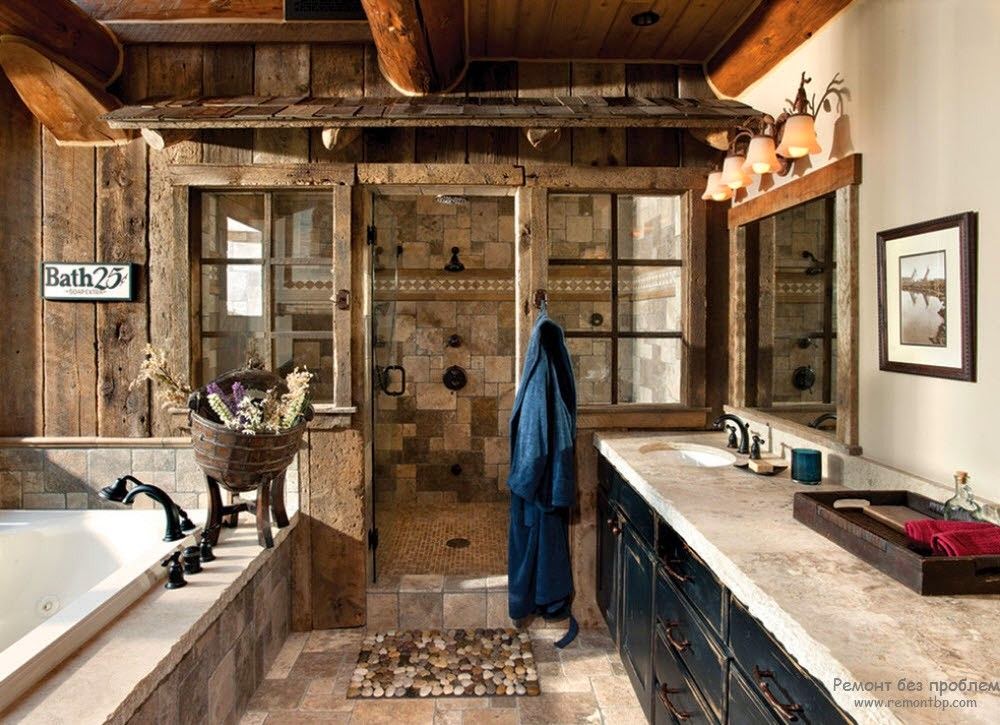 Bathroom design ideas can come from anywhere. This room gives you a barn-like feel but offers modern luxury too. Exposed wood beams, weathered wood plank walls, and stonework create rustic and natural elements in this beautiful bathroom. The modern bathtub and shower look right at home, nestled into the design. Small things help give this room character. A vintage sign hangs over the bathtub and a basket stands at the corner of the bath with fall decor. A picture above the countertop on the right uses all of the colors in the room and brings them together in perfect harmony.
51. Rough Stone Accent Wall With Solid Beam Vanity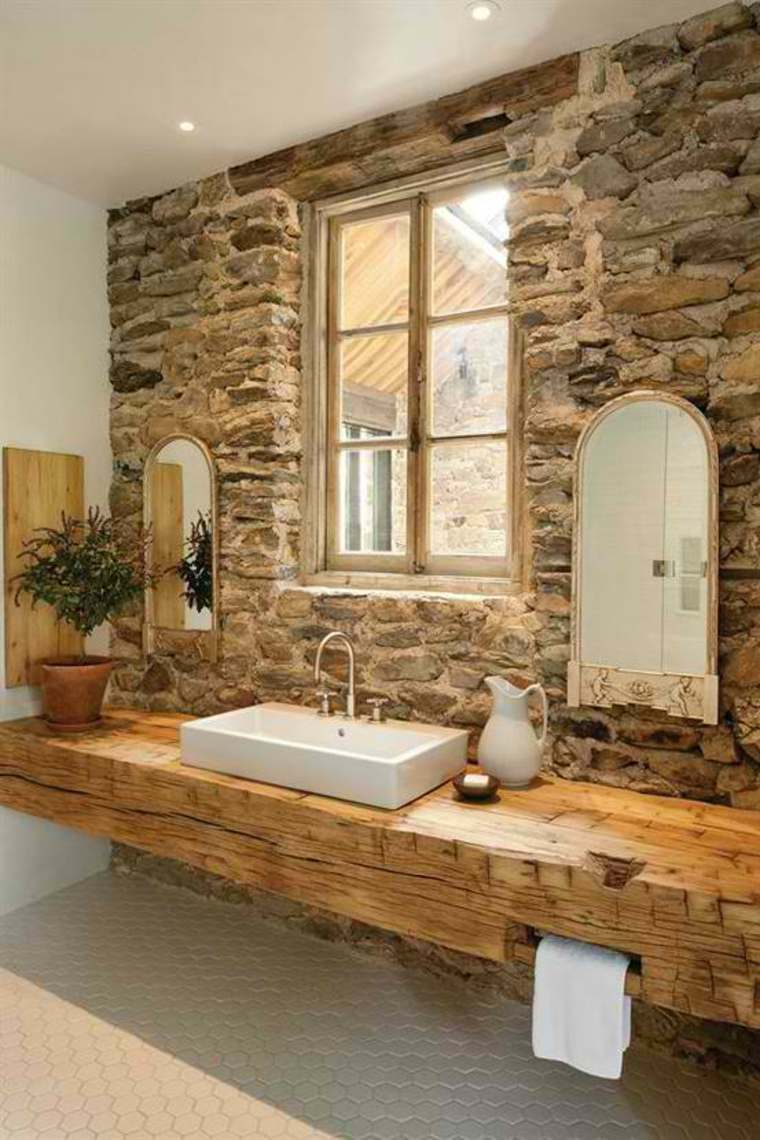 A stone wall and wood countertop make this rustic bathroom idea stand out in an otherwise bland white bathroom. The wood is kept a very natural maple shade that picks up the color from the stonework. A white, modern rectangular sink draws the eye under the window. Mirrors are framed with the same natural wood and reflect light and brightness from across the room. A white pitcher and hand towel work together to bring some of the crisp white color to the accent wall and unite the design of the room.
52. Distressed Vanity Cabinet and Wood-framed Mirror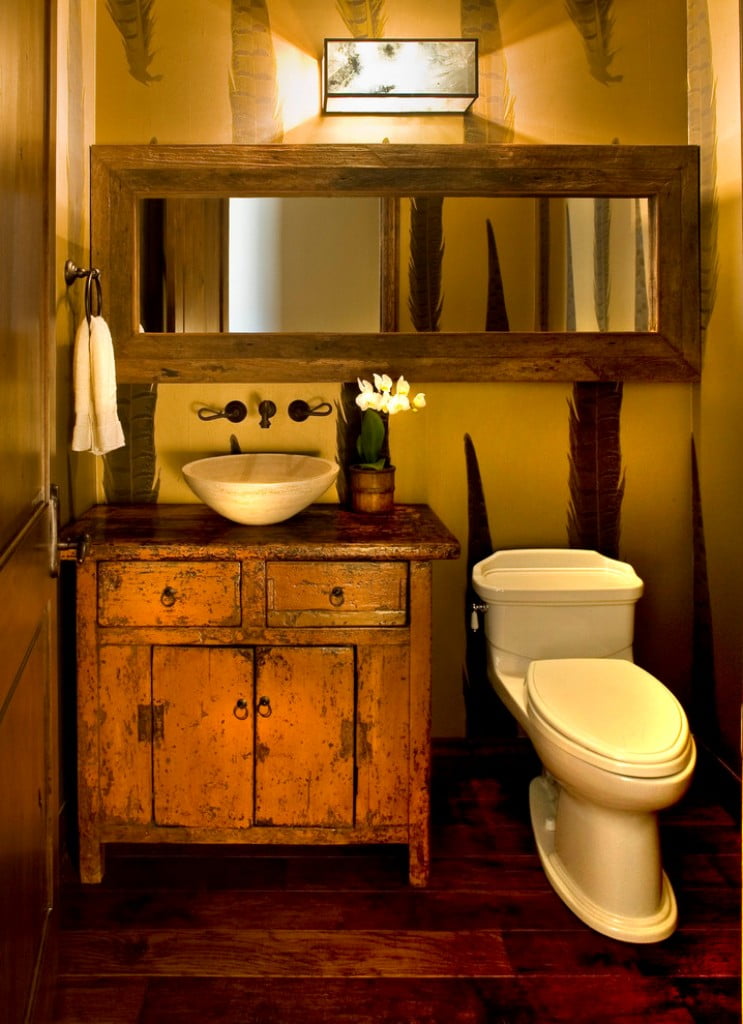 A recycled cabinet and rustic mirror frame bring all of the elements of this design together. Rich warm woods provide the foundation for this design while a leaf themed wall paper adds a bit of nature to the room. Pops of white from the modern elements and flowers in the room provide the contrast needed to pull off this design. If you need some bathroom design ideas, don't be afraid to look to nature for cues on how to bring all of the design elements together into one harmonious vision. Rustic design often involves natural finishes, which welcome additional natural details like the leaves on the wallpaper or the orchid near the sink.
53. Antique Basket Converted to Hanging Storage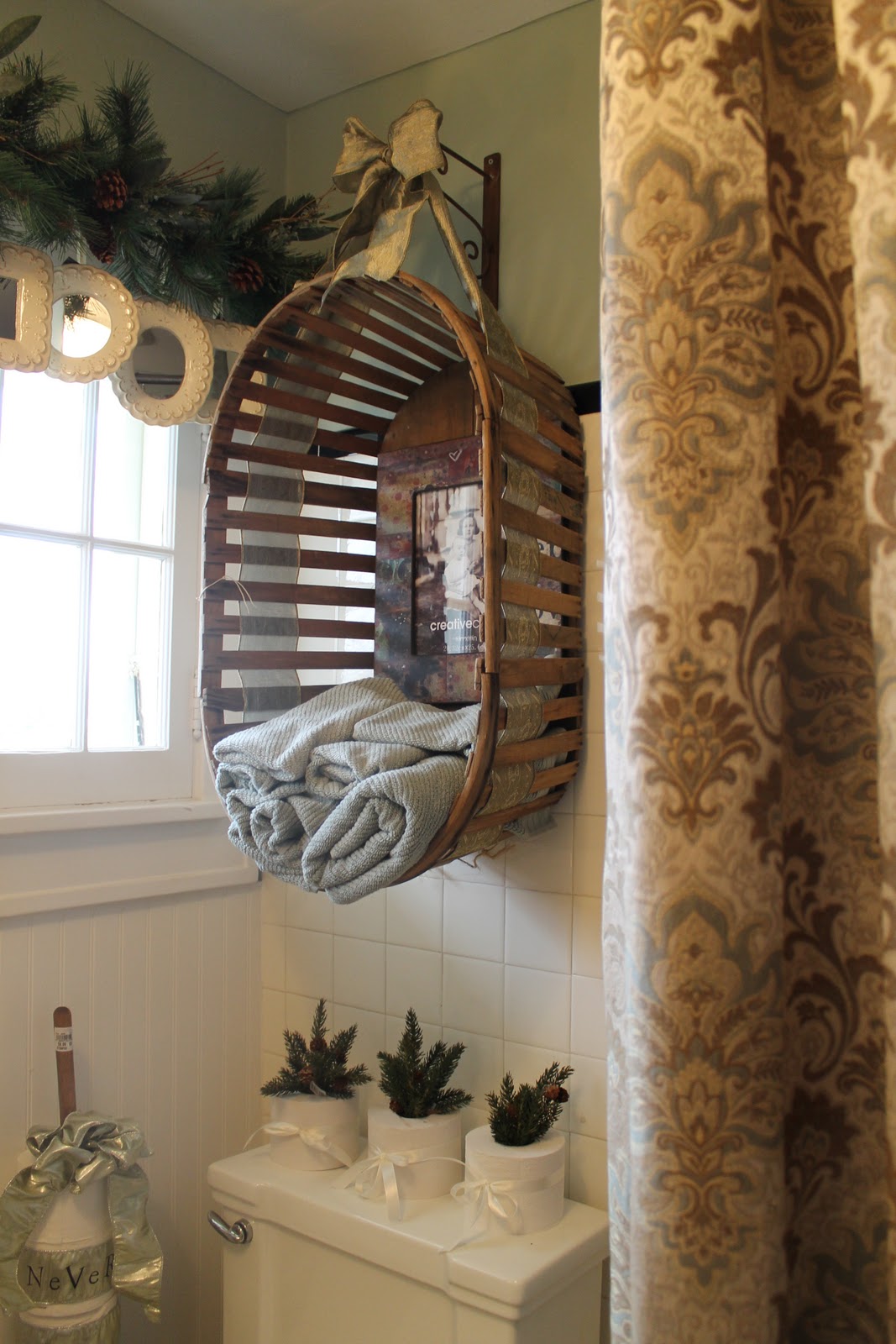 An antique laundry basket hung in an area where space is limited makes a great place for additional storage and helps a modern bathroom use rustic decor to make a statement. Rustic design doesn't have to be complicated to work. The idea of hanging a basket or crate on a wall and using it for vertical storage is a simple, yet effective design decision. Any wood basket or wooden crate can make a similar statement. You can also be stain them any shade that you like in order for them to work with your pre-existing bathroom decor.
54. Masculine Bath with Dark Stone and Walk-in Shower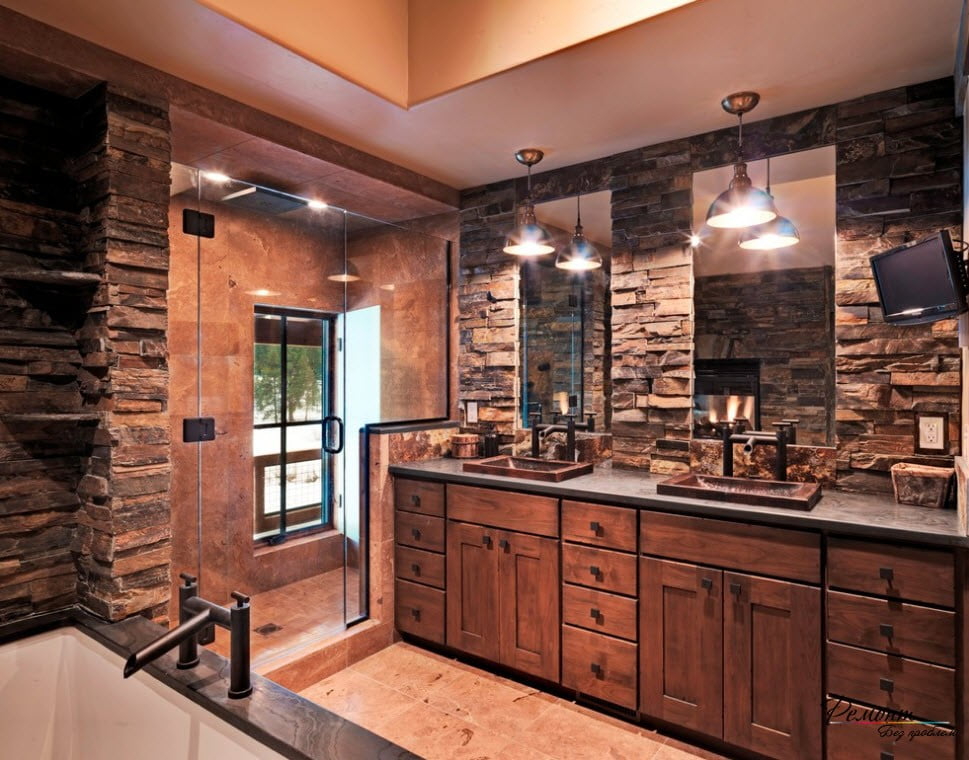 Although this bathroom is decidedly rustic, it is also clearly modern and full of modern luxury. Natural stonework is used on the walls, while rich, wood cabinets draw from the color of the stone. Inset shelves in the area of the bathtub are made using natural rock in the masonry design. Rustic bathroom design ideas don't have to avoid modern luxury. That is the theory behind this example. All of the elements work so well together that you hardly notice that there is a television in the room so that you can watch it from the bathtub or shower.
55. Upscale Boathouse Bath with Shiplap Paneling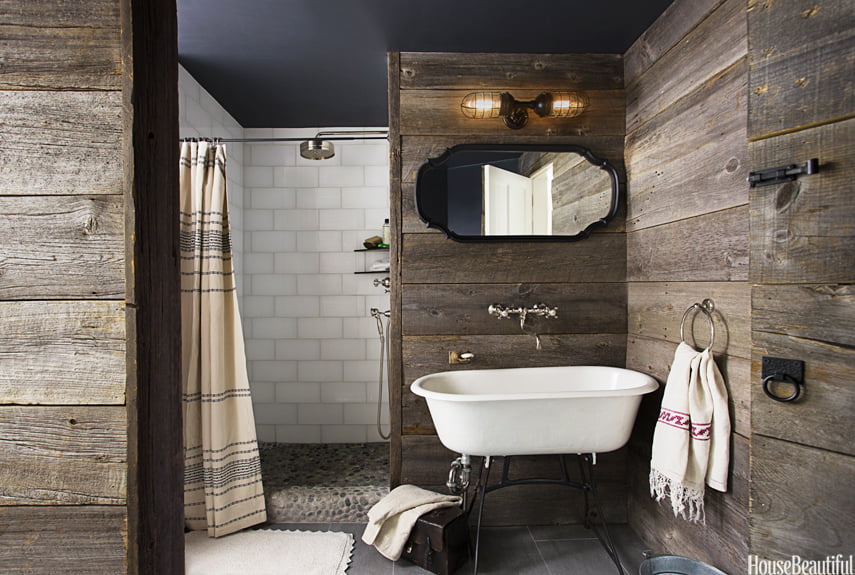 Weathered lumber in a gray tone is used in this rustic bathroom idea. It gives the room a much more rustic vibe, but creates a comfortable foundation where you can kick back and relax. The antique marine light fixture above the wash basin is a perfect industrial touch. It is not something you would expect to see, but is a great addition to this room. Stainless steel plumbing fixtures in this bathroom create a bit of a modern touch to this rustic room. Dark hardware and subway tile round up this bathroom design and make it feel very old, yet warm and inviting.
56. Pipe-fitting Toilet Paper Holder with Shelf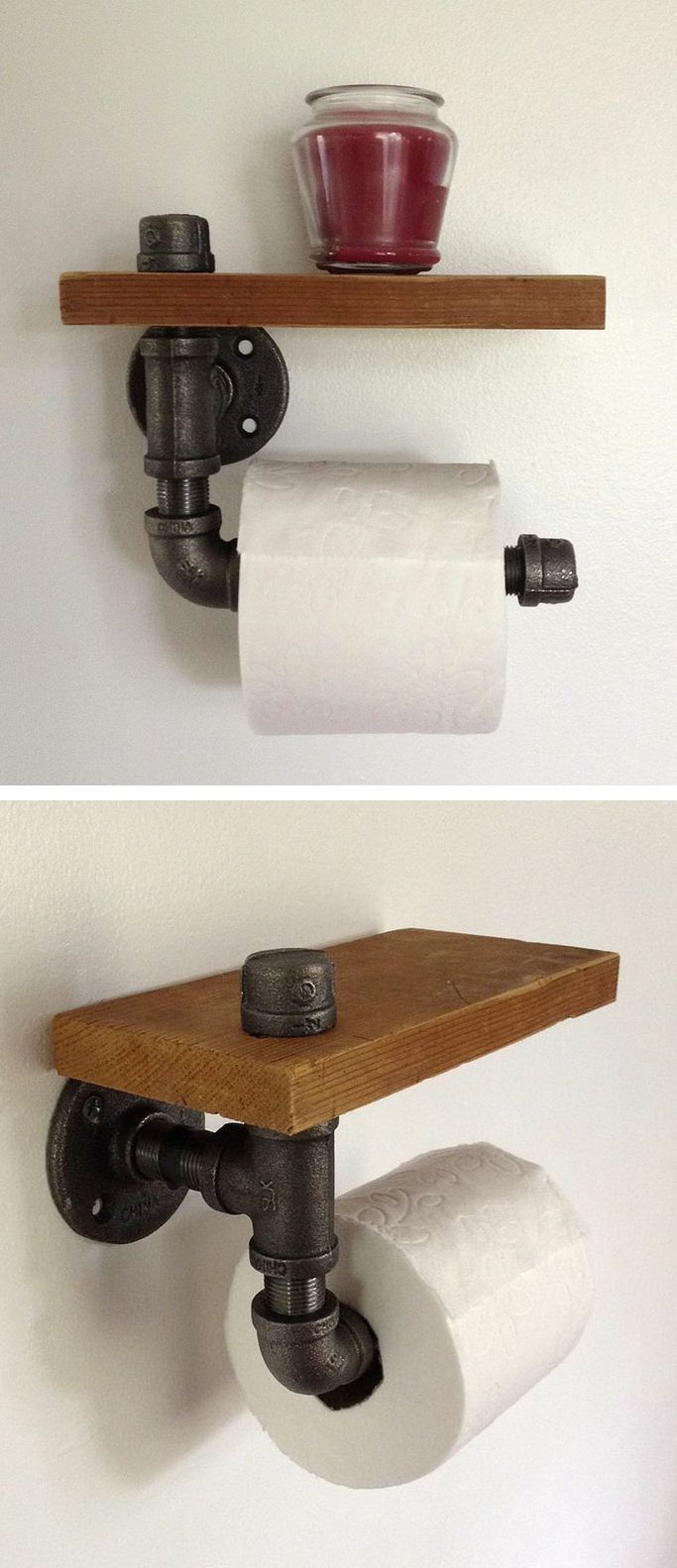 Source: The original source is not available anymore.
This toilet paper holder and shelf is another great, yet simple way to add rustic decor to your bathroom. A simple wood shelf is fitted with plumbing pipe for a rustic industrial feel. It will definitely make an impact with your guests and catch their eye. The dark color of the pipe and richness of the wood really make this piece pop. This rustic piece also very functional and provides a small shelf where you can store air fresheners or candle where you need them most.
57. Rustic Bathroom Decorations with Honey-toned Wood and Dark Stone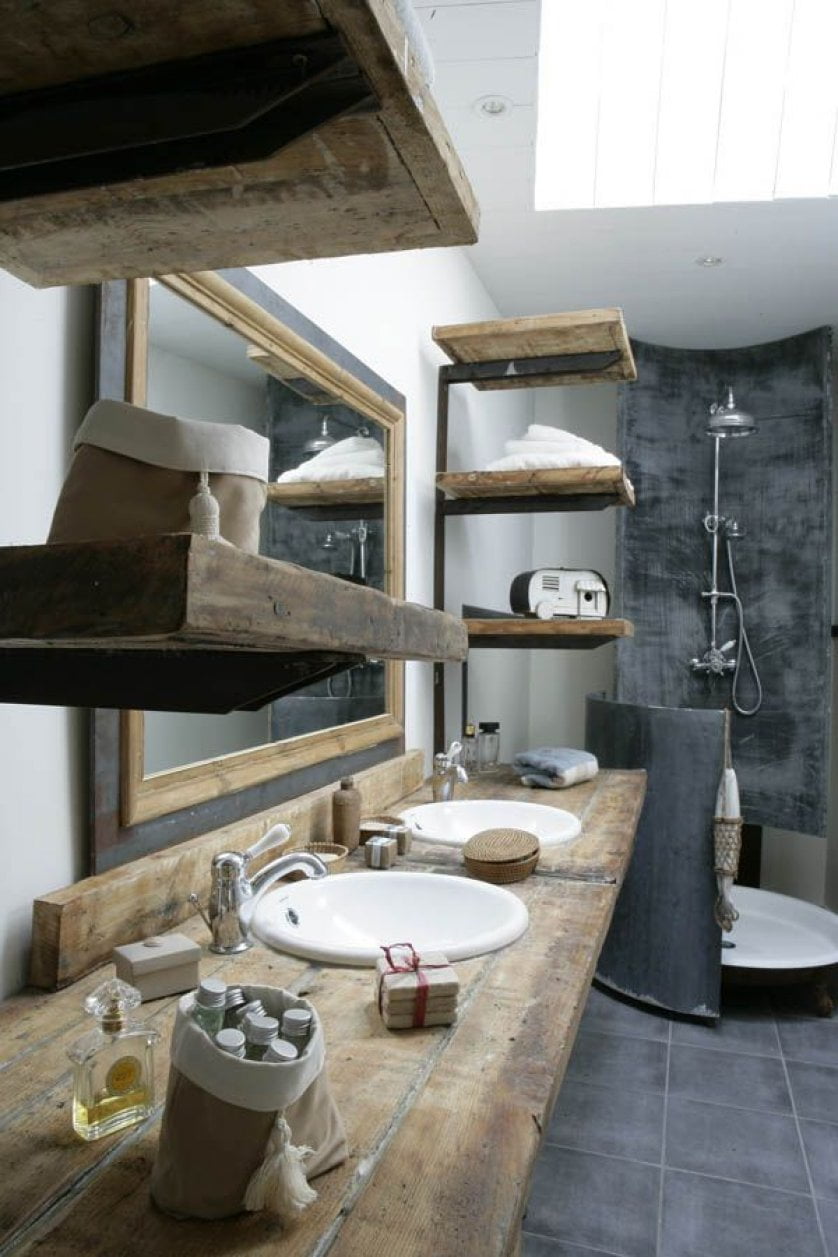 Source: The original source is not available anymore.
This room incorporates rustic design and creates another very masculine rustic bathroom idea. It uses a weathered wood to provide interest to what would otherwise be a very modern and cold, industrial bathroom. The wood stands apart from all of the gray colors in the room and gives it that needed warmth. The modern, yet rustic hardware used to hang the shelving also stands out in this bathroom, adding additional interest and contrast to the room. The effect is an inviting bathroom that is masculine, but warm and inviting.
50+ Unique Rustic Bathroom Decor Ideas
When considering all of the unique bathroom design ideas that have been shown in these beautiful rustic bathrooms, it is important to understand how you want your final design to look and feel. You will need to understand the intended function of the bathroom as well as the general purpose of your design. Whether you prefer more feminine touches for your bathroom or enjoy a more masculine or modern industrial design, there are different rustic elements to consider. If you want a room that appears very modern, you can still create a rustic atmosphere through the use of natural and antique materials that have been repurposed.
Your budget and bathroom size will also affect the type of design that you will be creating. You won't be able to use a lot of stonework in your bathroom if you have a shoestring budget to work with, so plan wisely and use accessories and accent pieces instead of tackling the entire room. For small bathrooms, a little rustic charm will go a long way.