Toilet paper: rippled, quilted, or triple-ply, it's (hopefully) in every bathroom you'll ever use, and certainly every bathroom you'll ever decorate. While it's not a staple you would ever want to run out of, toilet paper can also be a hassle to store. Bulky and oddly shaped, those rolls can clutter up the space under the sink, or gather dust sitting on the back of the toilet, but they don't have to be an eyesore. Whether you're looking for something subtle that keeps a few extra rolls on hand and out of sight, something that provides storage for other bathroom essentials, or a big statement piece, there are plenty of toilet paper holders that fit your style.
45+ Toilet Paper Holders to Finish off Your Bathroom Décor

In cramped spaces, consider using wall-mounted storage baskets to keep a few rolls conveniently nearby, while stashing the rest with other paper goods in a pantry or linen closet. Adding slim cabinets or storage towers might make sense in larger bathrooms, especially those already lacking storage space. If vintage is your style, keep an eye out for unusual containers that you can repurpose, like baskets and buckets, or old hardware that can be put to new uses. There are even DIY options for the crafty decorator. With these 45+ toilet paper holder ideas for inspiration, there's only one question left: how will you roll?
1. Simple Sink-Side Cabinet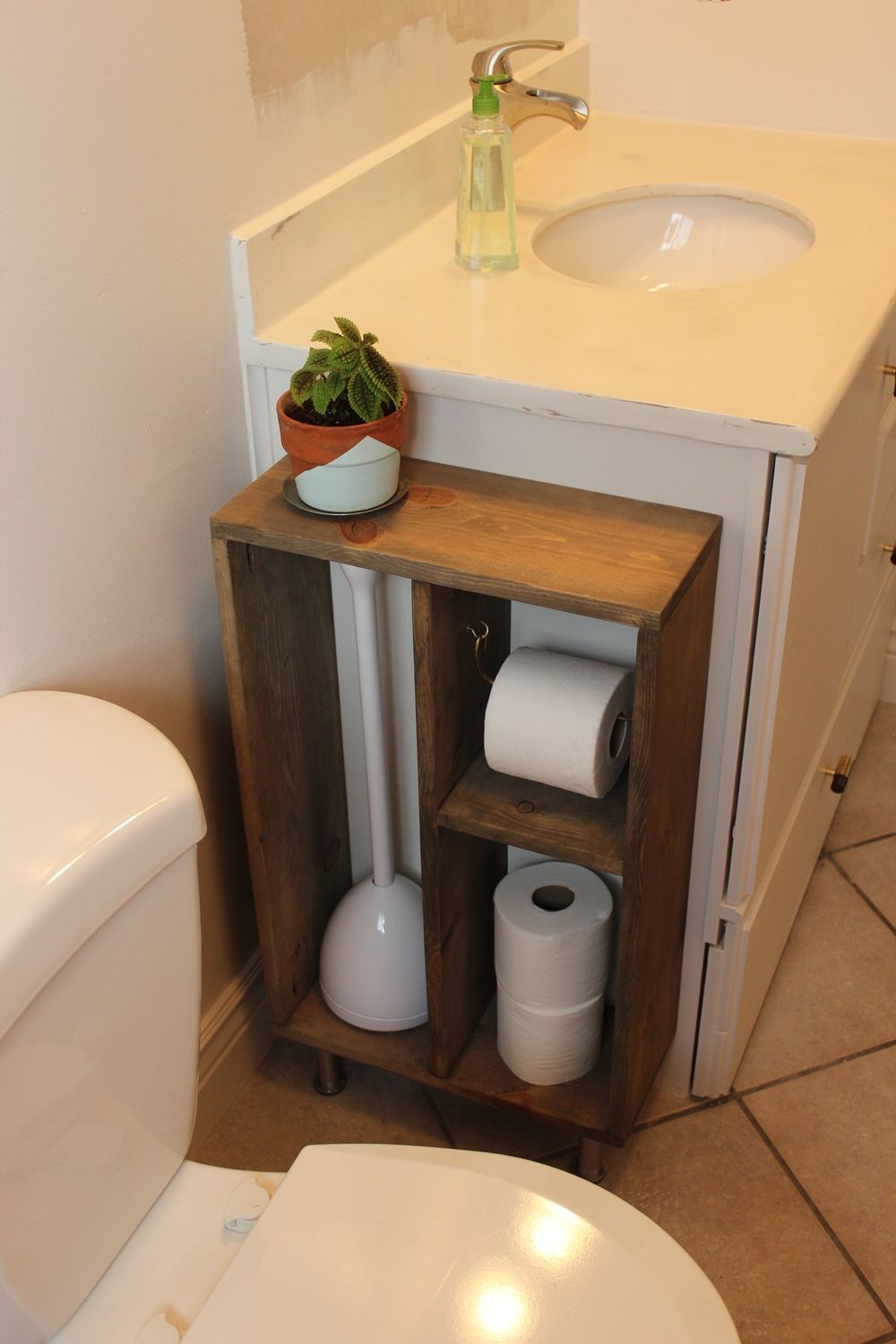 Extra storage is always helpful, especially in the bathroom. The handy person in your family can quickly put together this simple sink-side cabinet if you have such a bathroom setup. Reclaimed wood can coordinate with other wooden accessories, for the bathroom and beyond. With a window or proper lighting, this holder can easily display small houseplants to help improve the air.
2. Wall-mounted Wire Storage Baskets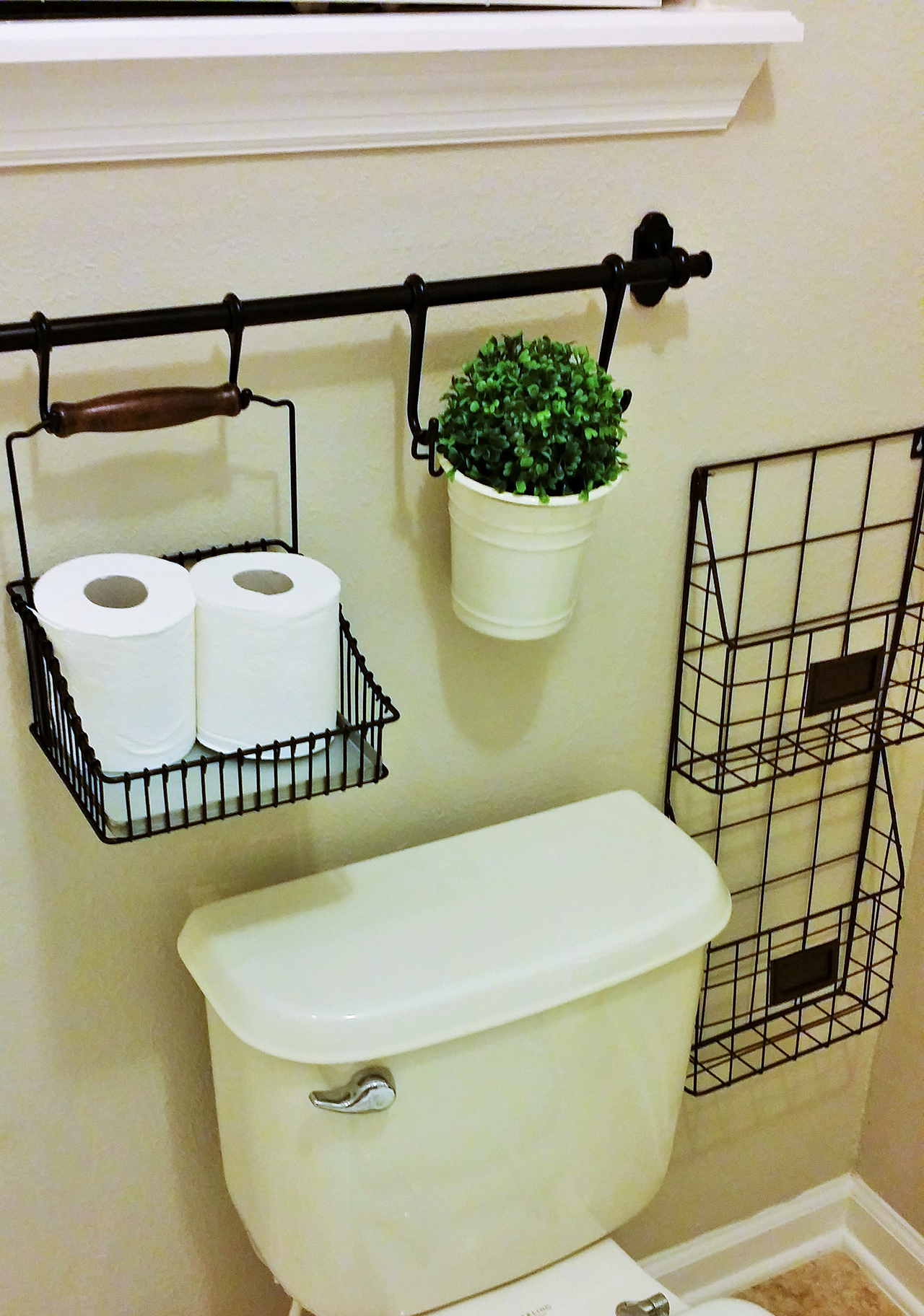 Baskets, especially wire baskets, make a statement when adequately mounted and matched with similar décor. A clean and interesting design provides extra storage and the perfect place to hold the rolls. Add more wire baskets throughout your home, for consistency with your decorating scheme. Alternate items in open storage occasionally to keep your look fresh.
3. Combination of Toilet Paper Dispenser and Storage Basket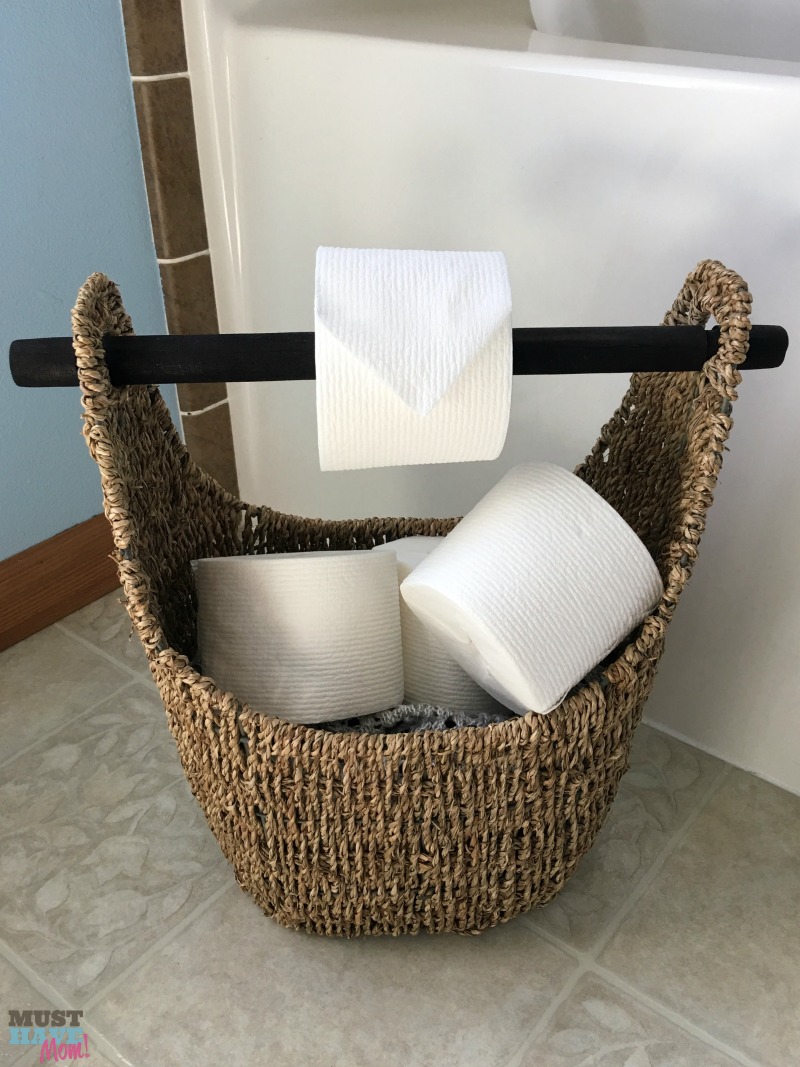 There is always a place for baskets in your decorating scheme. Different shapes, styles, and weaves make your home look put together and unique. Effective even in the bathroom, where this basket offers storage and a rolling rod for this necessity. Pair with other baskets of different sizes for bathroom countertop storage. Expand their use into the attached bedroom and beyond.
4. Square Floating Bathroom Shelf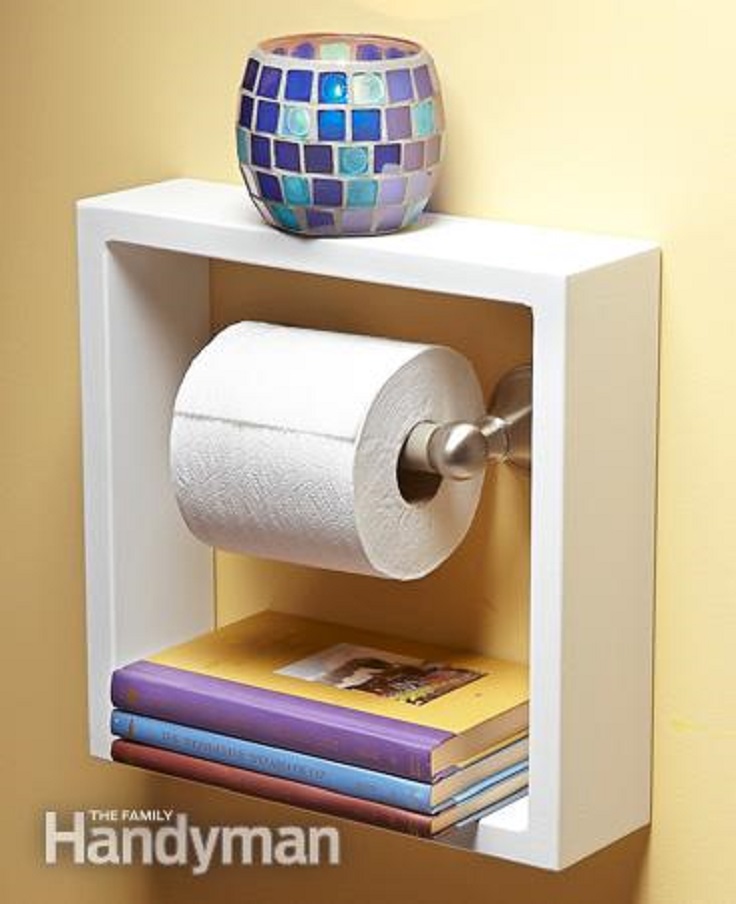 Another DIY project to include storage with the tp dispenser, this floating shelf fits on any wall within your reach. A great way to store reading material or display those favorite trinkets. A creative project with cubicles optional, but not too complicated for the woodworker who's good with a saw and a hammer.
5. Toilet-Mounted Wire Storage Rack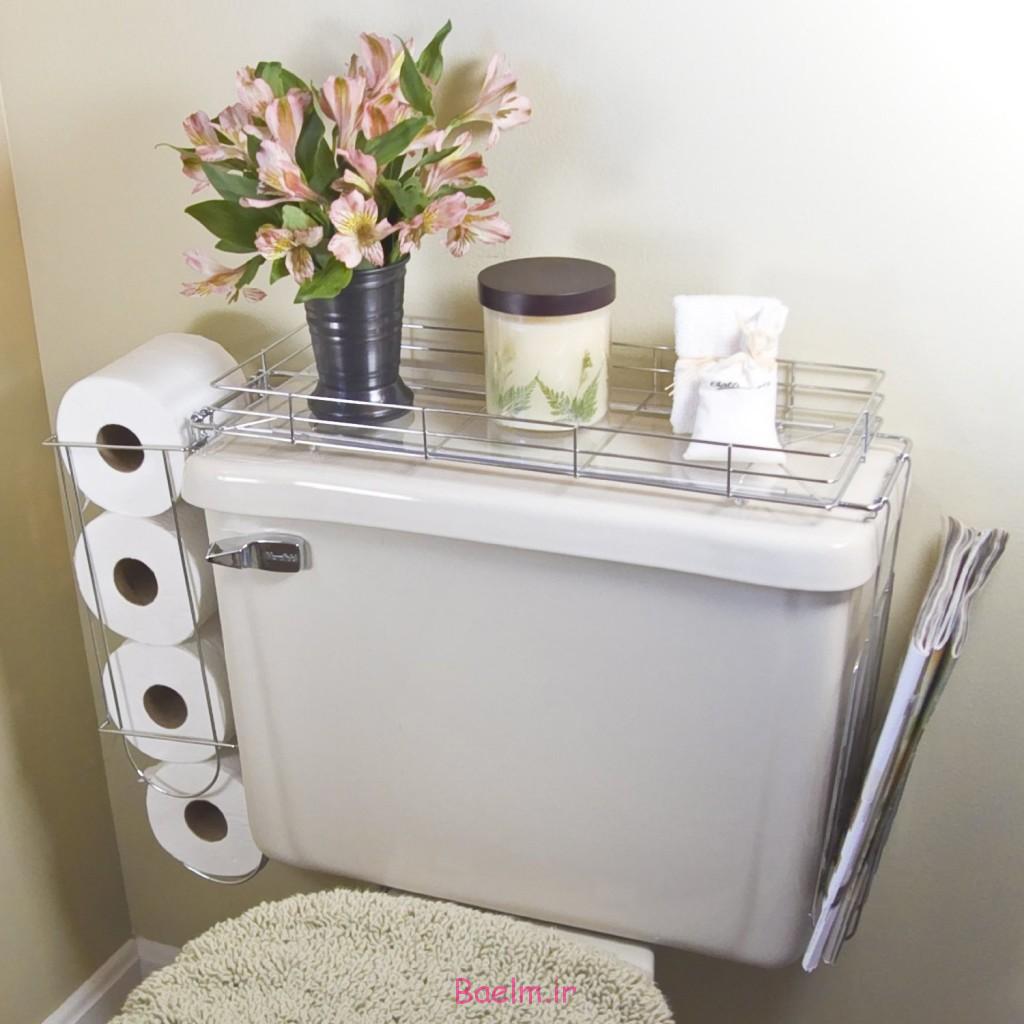 Seldom moved, this lid is another perfect use for a wire tp holder. Also, a convenient place for other essentials you might need in this private space. Use it for additional storage if your bathroom cabinet room is limited. Add hanging storage on the side, you know it will be used. Coordinate with other wire items in your modern décor.
6. Reclaimed Wood Statement Shelf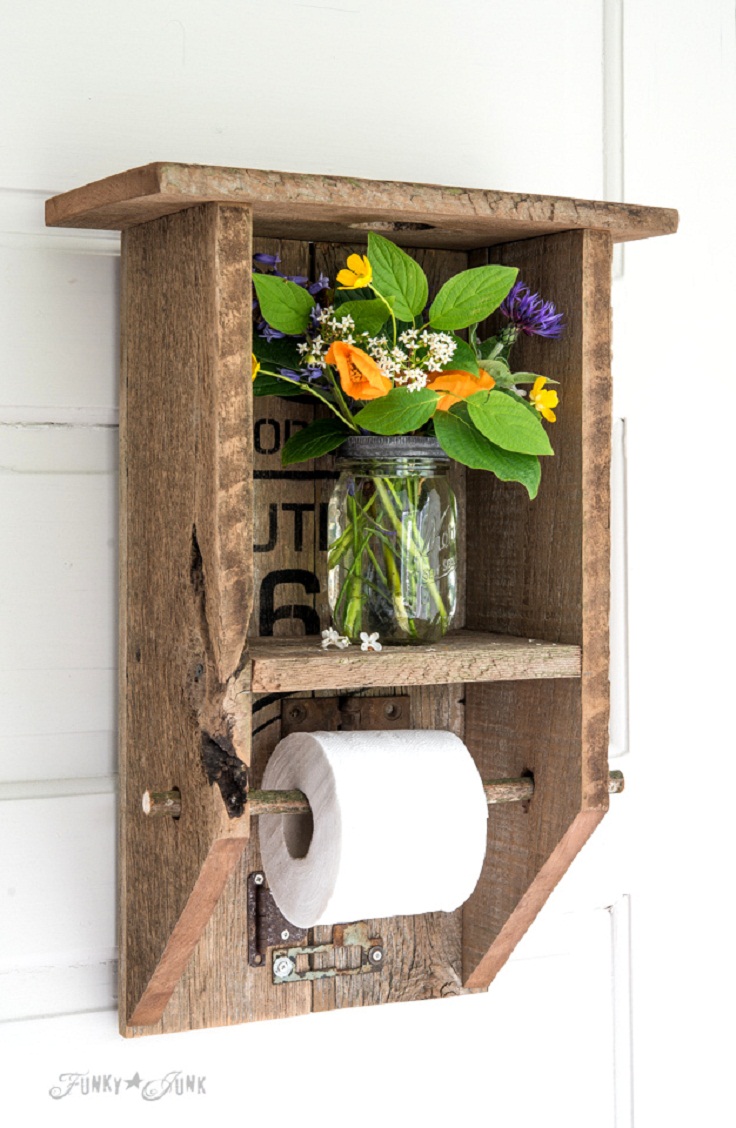 The perfect way to display a favorite treasure, and in a spot where you're guaranteed to see it each day. Add those just cut flowers from the garden in a short vase or display a favorite piece of pottery. Make it sturdy enough to hold a couple of books. Use that odd-shaped piece of reclaimed wood as a backing for this unusual holder.
7. DIY Fabric Spare Toilet Paper Holder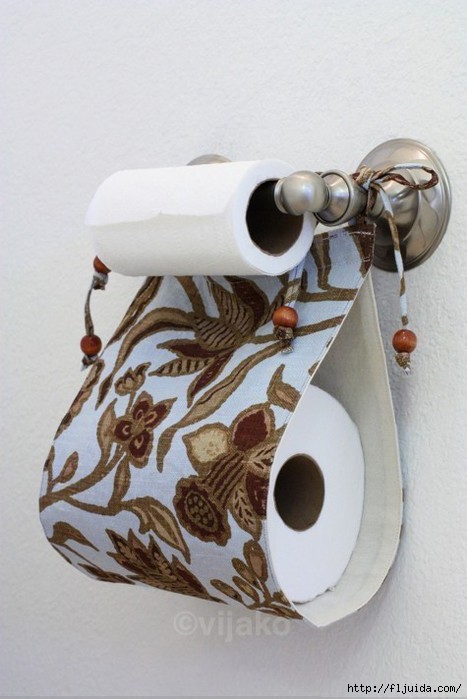 Fabric adds a unique storage spot for that extra roll while coordinating with the walls and even the curtains. Your bathroom is an essential extension of the entire home, keep it matching and organized. Add the same fabric throughout the house in various spots.
8. Industrial Pipe Toilet Paper Dispenser with Spare Roll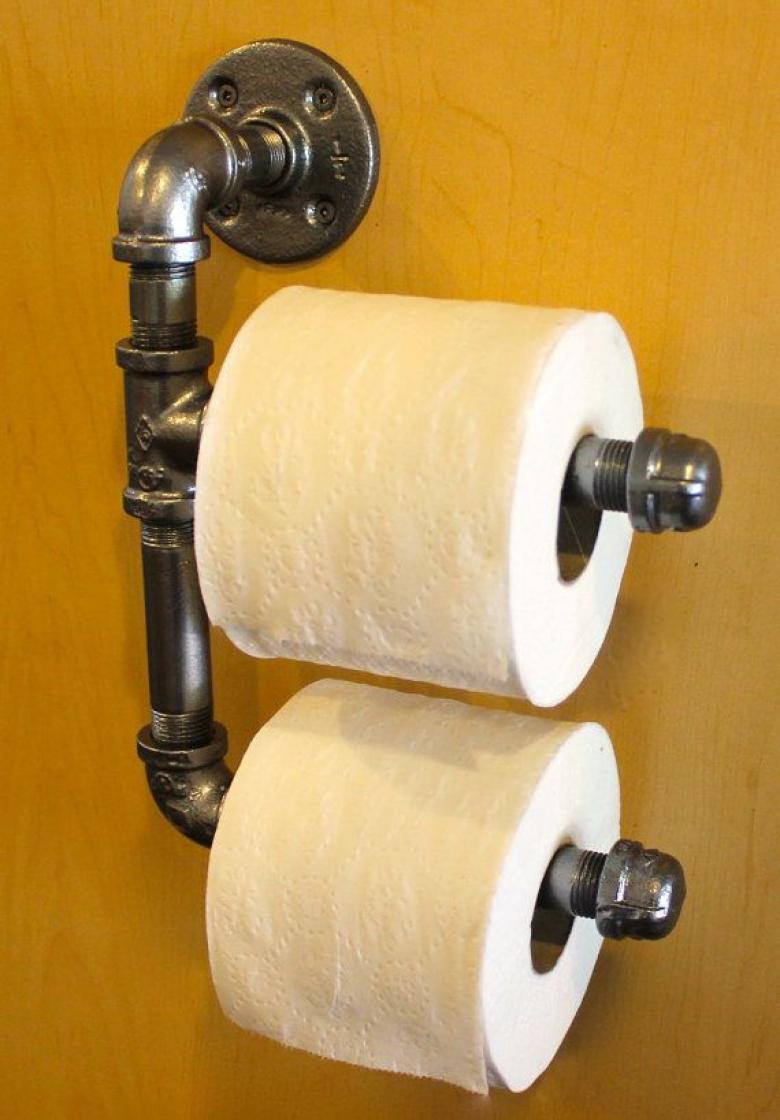 This innovative dispenser does double duty as a stay-in-place holder for two rolls. Use a similar industrial pipe fitting for a unique addition to your bathroom. Matchup other accessories in bronze or silver, like your soap dish and glass. Use these colors for light fixture plates to create a consistent look for your décor.
9. Wall Art Toilet Paper Cloud Shelf

Make a cloud in your bathroom w2ith this unusual holder. This one is made from concrete, an artistic design. The experienced crafter can make one from hypertufa if they can find a mold.
10. Upcycled License Plate Rustic Bathroom Shelf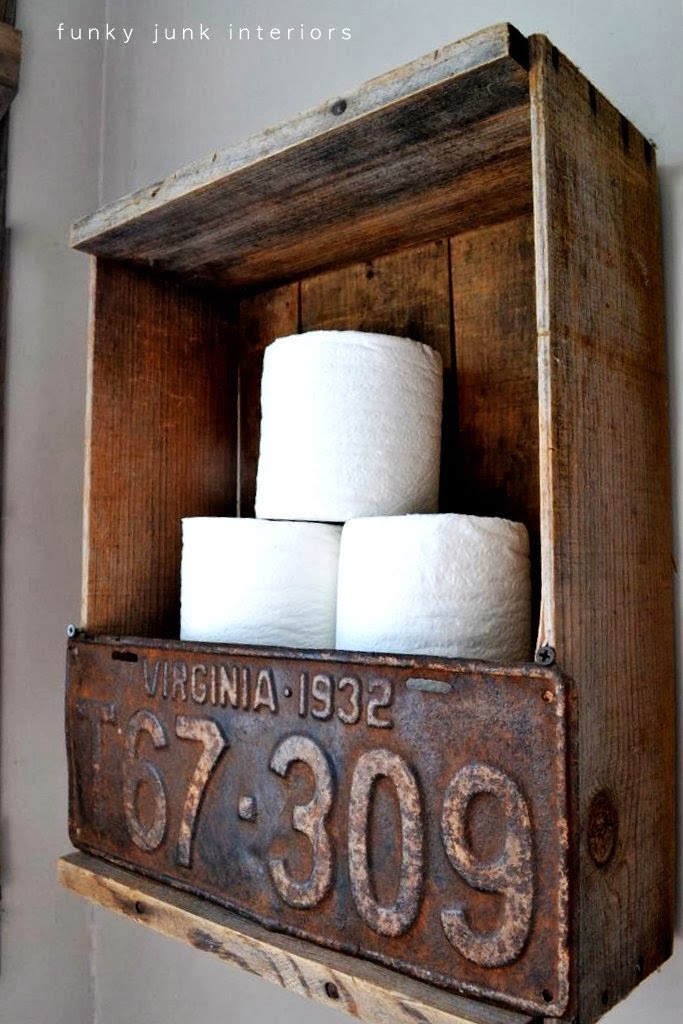 Show off your crafting skills and re-purpose old items, like this license plate built into the holder. Perfect to include with antiques in your rustic or farmhouse décor. The weathered look helps provide tranquility, and perhaps fond memories as you relax in the steaming tub and stress melts away.
11. Whitewashed Shutter Storage Basket and Toilet Paper Dispenser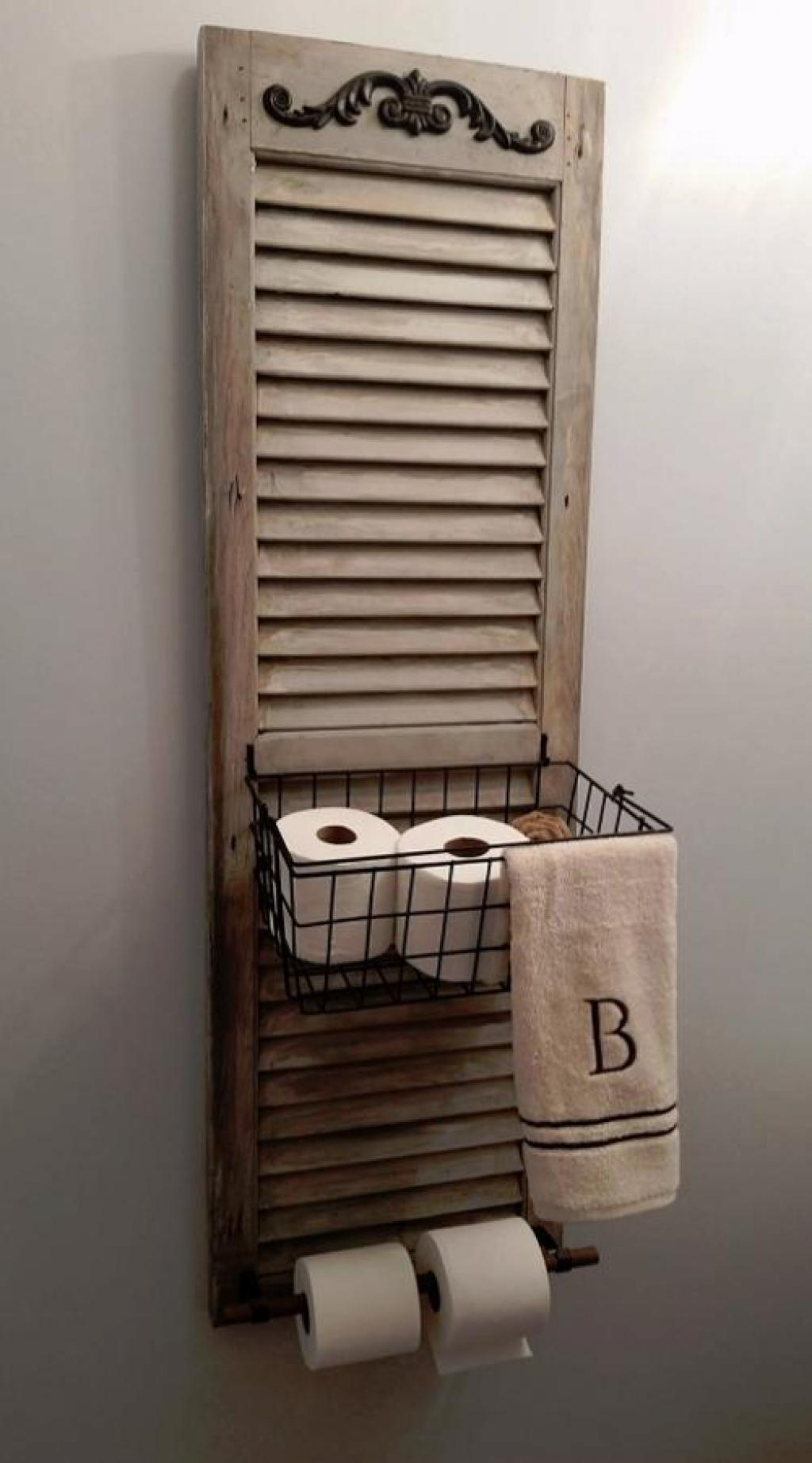 Innovative and interesting use for those cast-off shutters. Build them in or hang on the wall and insert your tp holder. Add basket at a convenient level and even a towel bar near the top. There are so many possibilities in your farmhouse décor scheme when using such a piece.
12. Floating Shelf with Built-in Roll Holder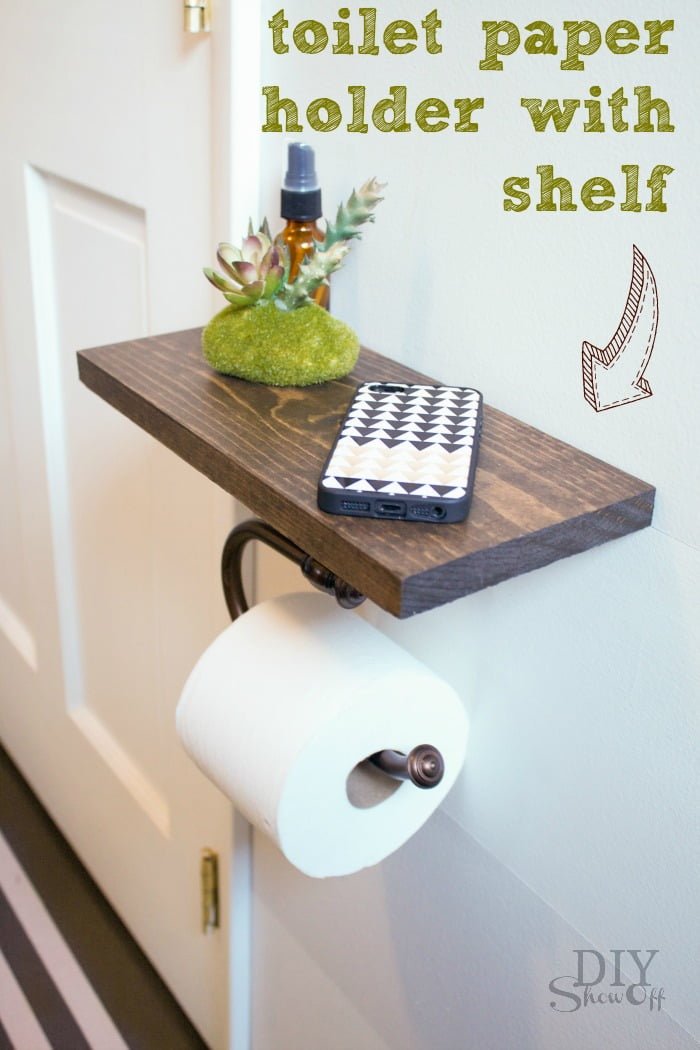 Another floating shelf for wall decor with built-in roll holder. This simple design offers a safe spot to place the phone and a bit of a floral hint to perk up the bath. If you have the space on the wall, make a set of three and stagger them upward. Use your imagination for storage in that small, but necessary, bathroom.
13. Vintage Bucket Repurposed for Storage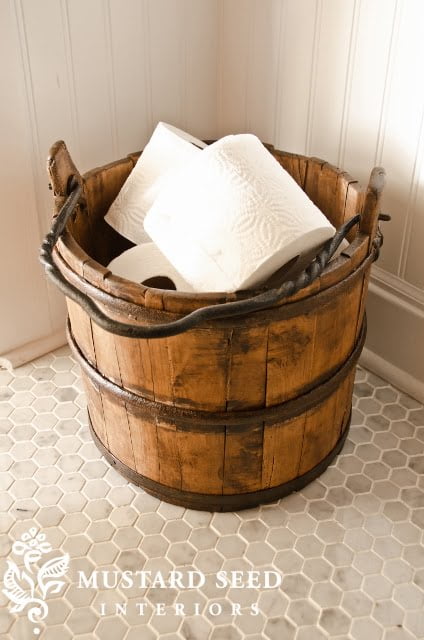 Another unusual place to store the paper, and it blends right in with your rustic décor scheme. Find items similar to this vintage bucket for more storage in the attached bedroom, living room, even in the kitchen. Extra storage is usually necessary in all places and these great buckets hold many items.
14. Recessed Wall Niche Roll Holder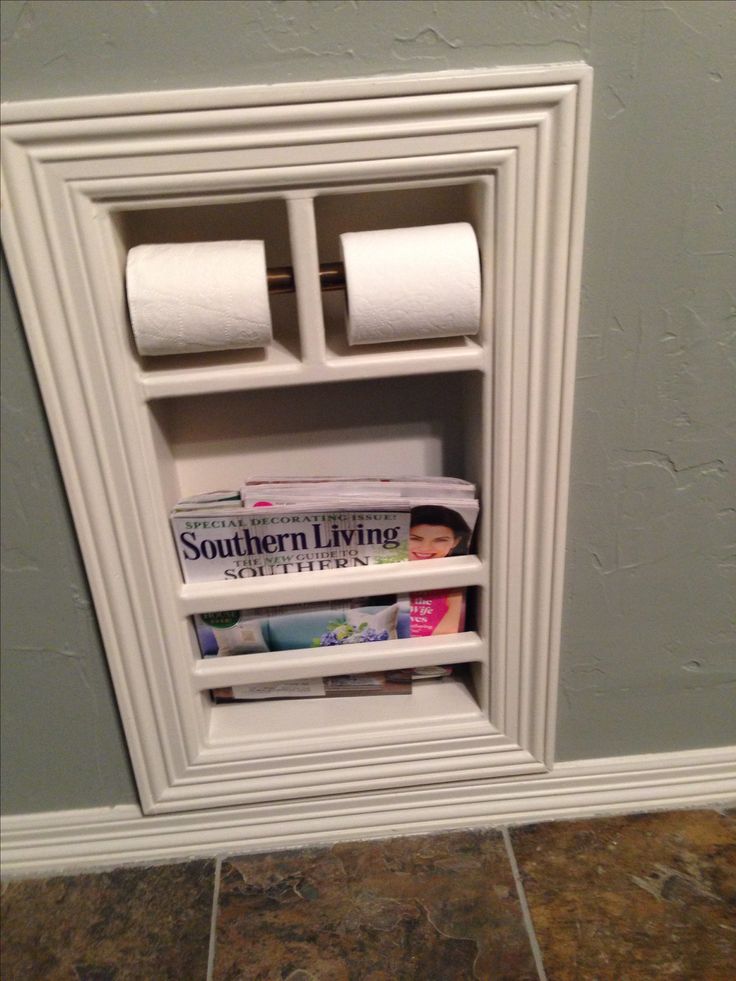 Take advantage of a tight space to add this built in holder and magazine rack. Excellent place for those new magazines or even your daily devotional book. Can also be used for extra storage for more tissue when placed in a busy bathroom. Paint to coordinate with other home shelving.
More toilet paper holder ideas on the next page…