Toilet paper: rippled, quilted, or triple-ply, it's (hopefully) in every bathroom you'll ever use, and certainly every bathroom you'll ever decorate. While it's not a staple you would ever want to run out of, toilet paper can also be a hassle to store. Bulky and oddly shaped, those rolls can clutter up the space under the sink, or gather dust sitting on the back of the toilet, but they don't have to be an eyesore. Whether you're looking for something subtle that keeps a few extra rolls on hand and out of sight, something that provides storage for other bathroom essentials, or a big statement piece, there are plenty of toilet paper holders that fit your style.
45+ Toilet Paper Holders to Finish off Your Bathroom Décor

In cramped spaces, consider using wall-mounted storage baskets to keep a few rolls conveniently nearby, while stashing the rest with other paper goods in a pantry or linen closet. Adding slim cabinets or storage towers might make sense in larger bathrooms, especially those already lacking storage space. If vintage is your style, keep an eye out for unusual containers that you can repurpose, like baskets and buckets, or old hardware that can be put to new uses. There are even DIY options for the crafty decorator. With these 45+ toilet paper holder ideas for inspiration, there's only one question left: how will you roll?
1. Simple Sink-Side Cabinet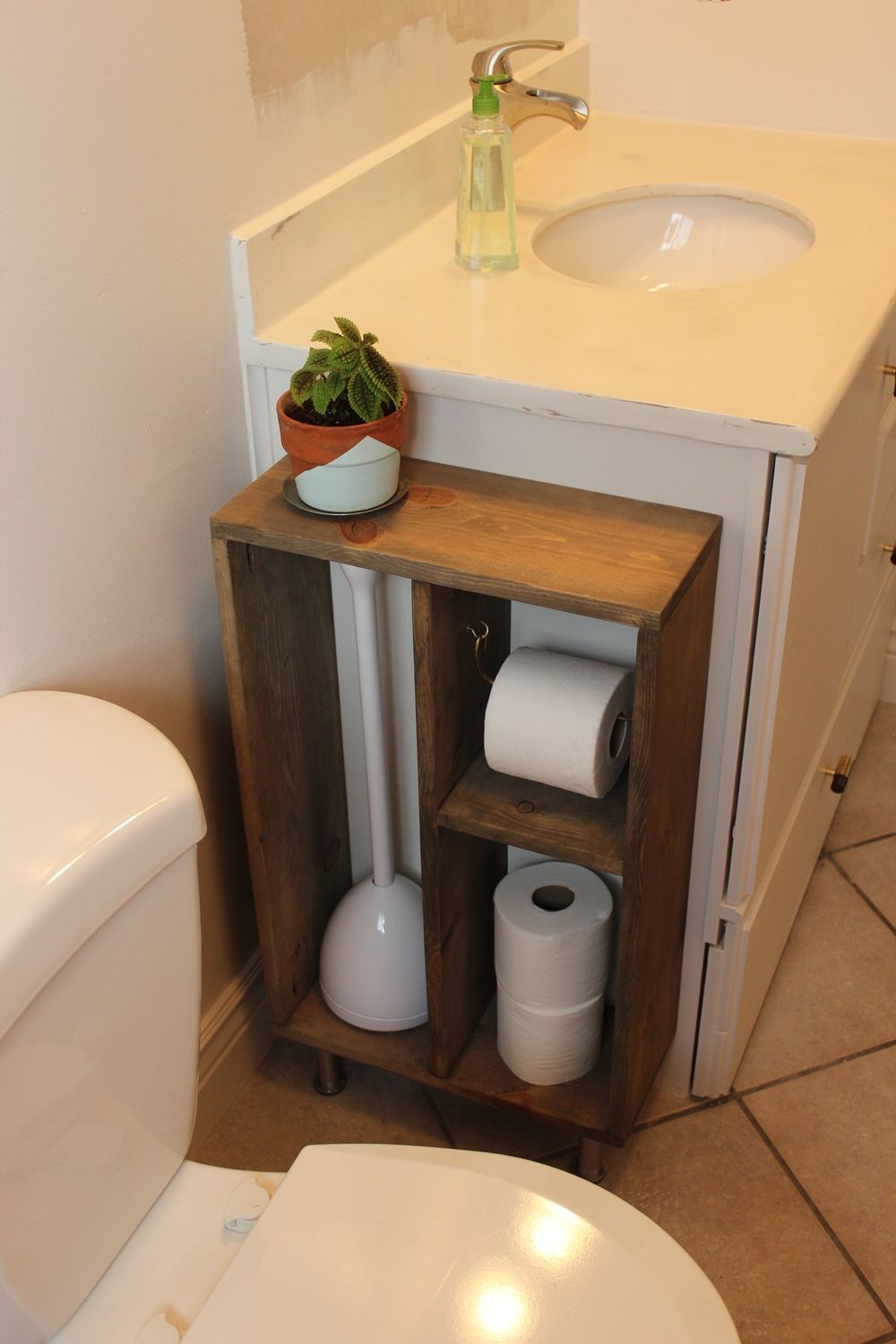 Extra storage is always helpful, especially in the bathroom. The handy person in your family can quickly put together this simple sink-side cabinet if you have such a bathroom setup. Reclaimed wood can coordinate with other wooden accessories, for the bathroom and beyond. With a window or proper lighting, this holder can easily display small houseplants to help improve the air.
2. Wall-mounted Wire Storage Baskets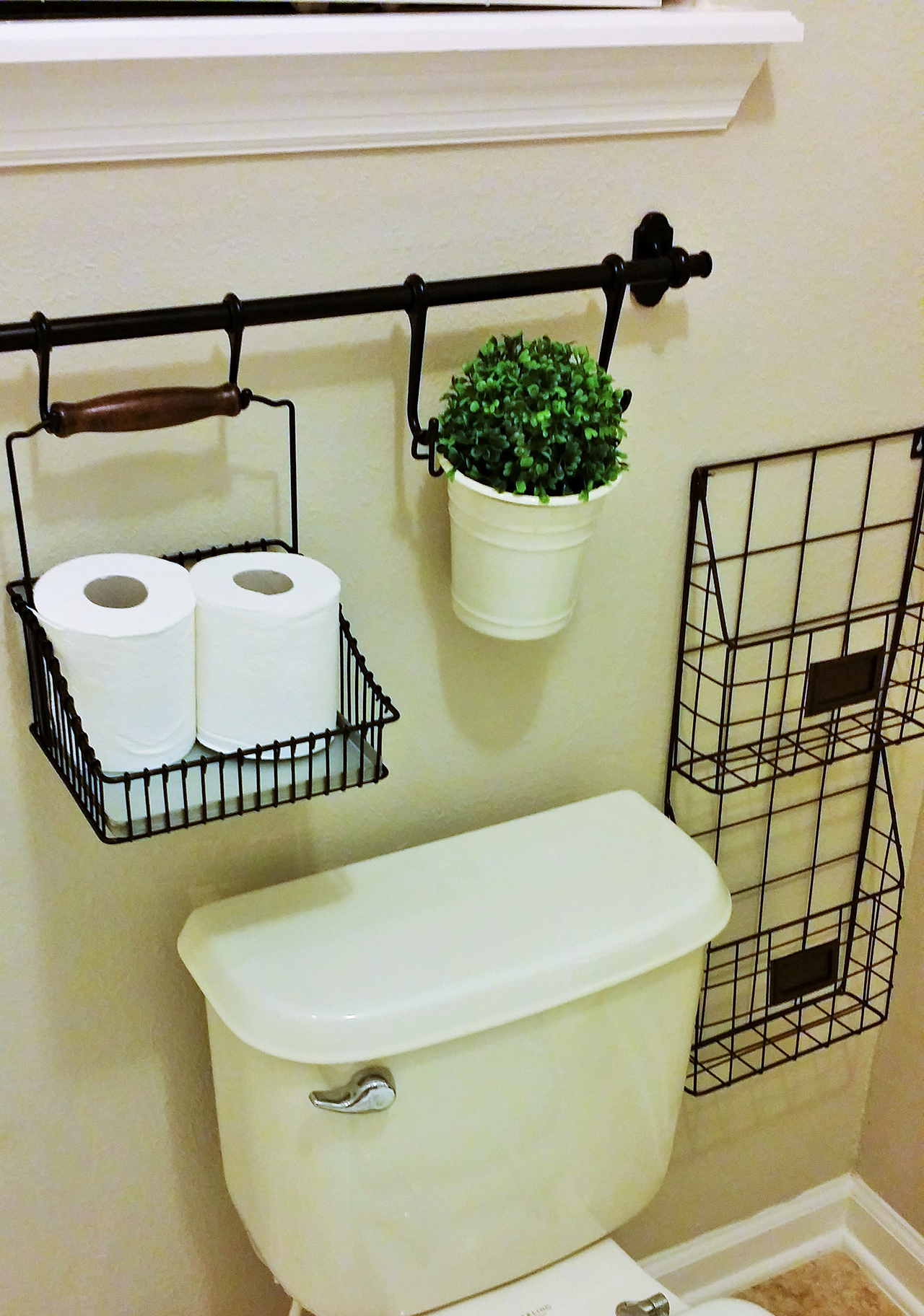 Source: The original source is not available anymore.
Baskets, especially wire baskets, make a statement when adequately mounted and matched with similar décor. A clean and interesting design provides extra storage and the perfect place to hold the rolls. Add more wire baskets throughout your home, for consistency with your decorating scheme. Alternate items in open storage occasionally to keep your look fresh.
3. Combination of Toilet Paper Dispenser and Storage Basket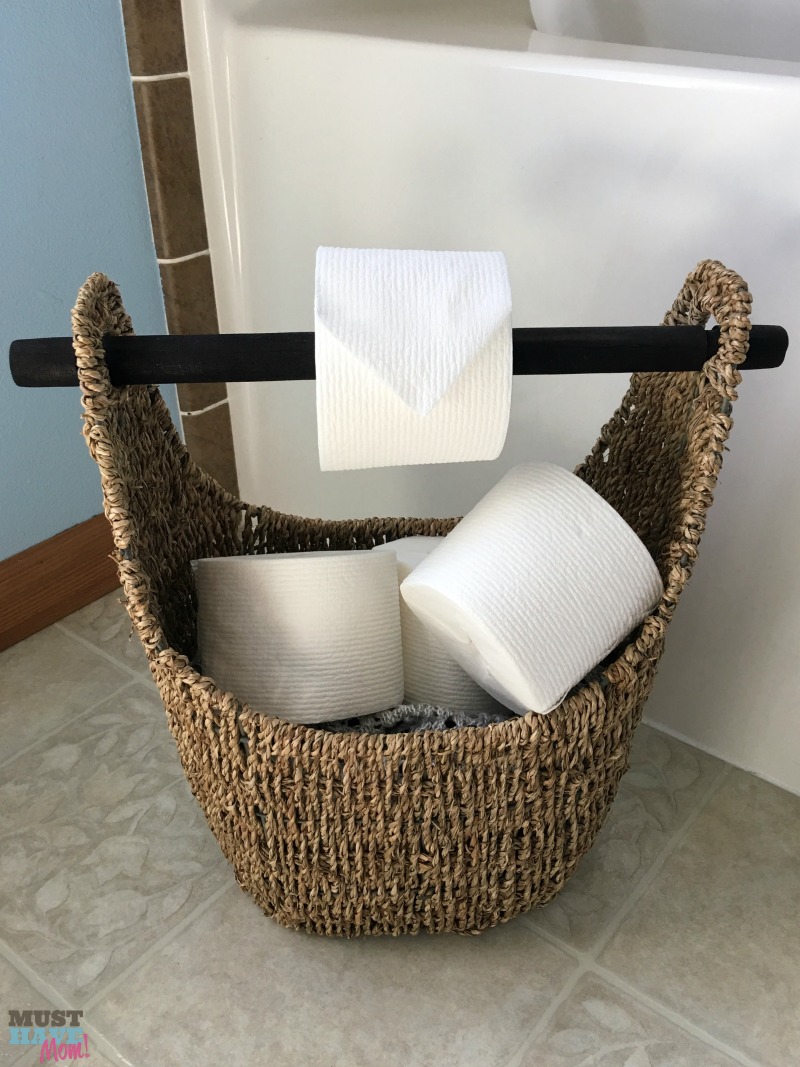 There is always a place for baskets in your decorating scheme. Different shapes, styles, and weaves make your home look put together and unique. Effective even in the bathroom, where this basket offers storage and a rolling rod for this necessity. Pair with other baskets of different sizes for bathroom countertop storage. Expand their use into the attached bedroom and beyond.
4. Square Floating Bathroom Shelf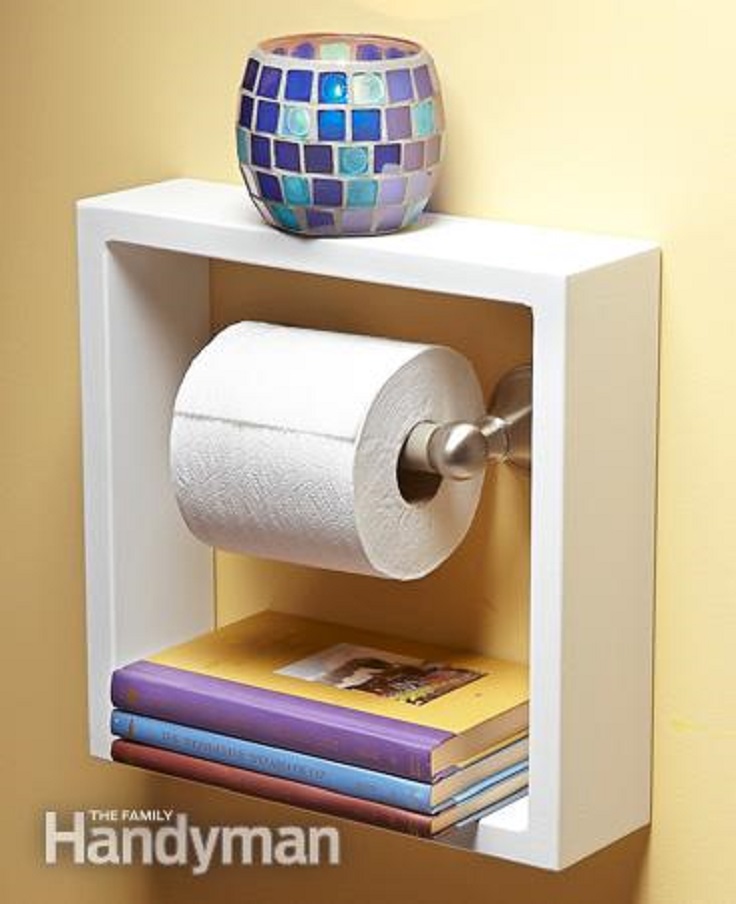 Another DIY project to include storage with the tp dispenser, this floating shelf fits on any wall within your reach. A great way to store reading material or display those favorite trinkets. A creative project with cubicles optional, but not too complicated for the woodworker who's good with a saw and a hammer.
5. Toilet-Mounted Wire Storage Rack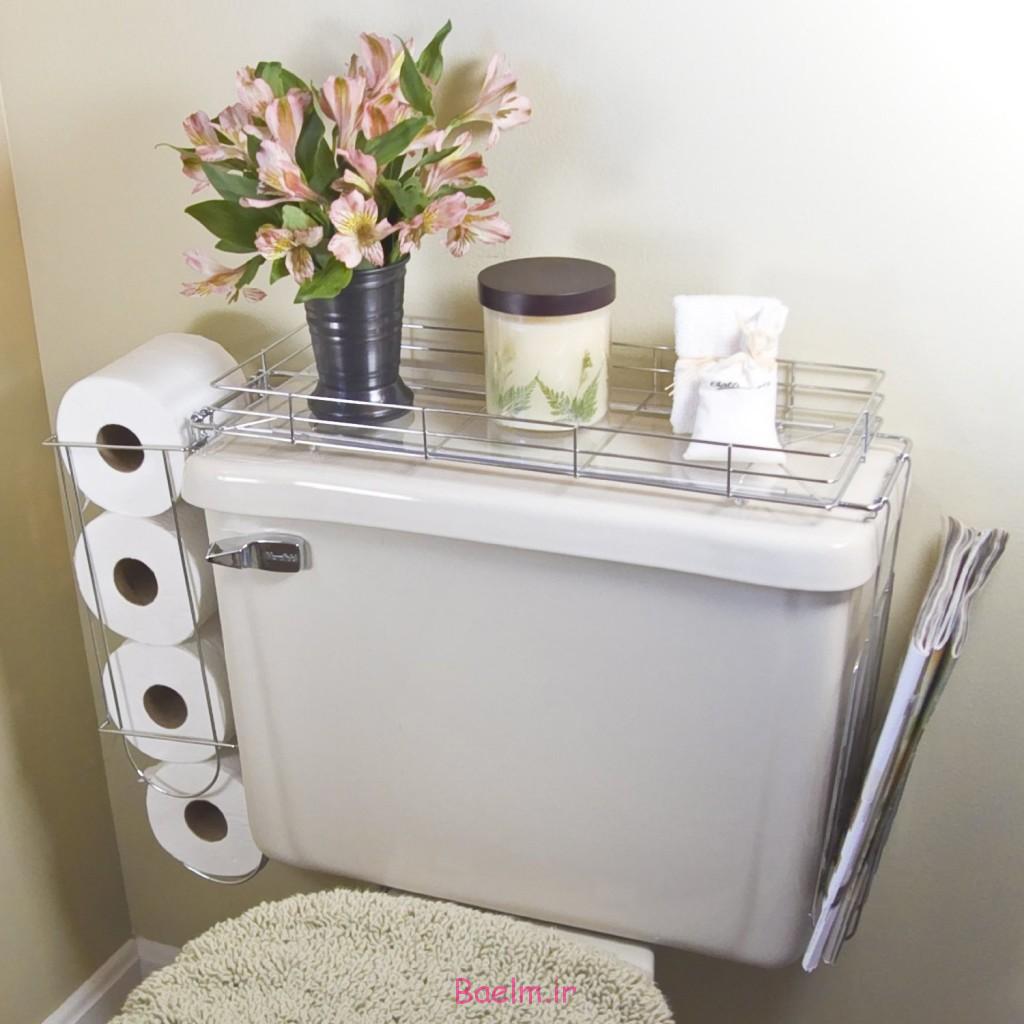 Source: The original source is not available anymore.
Seldom moved, this lid is another perfect use for a wire tp holder. Also, a convenient place for other essentials you might need in this private space. Use it for additional storage if your bathroom cabinet room is limited. Add hanging storage on the side, you know it will be used. Coordinate with other wire items in your modern décor.
6. Reclaimed Wood Statement Shelf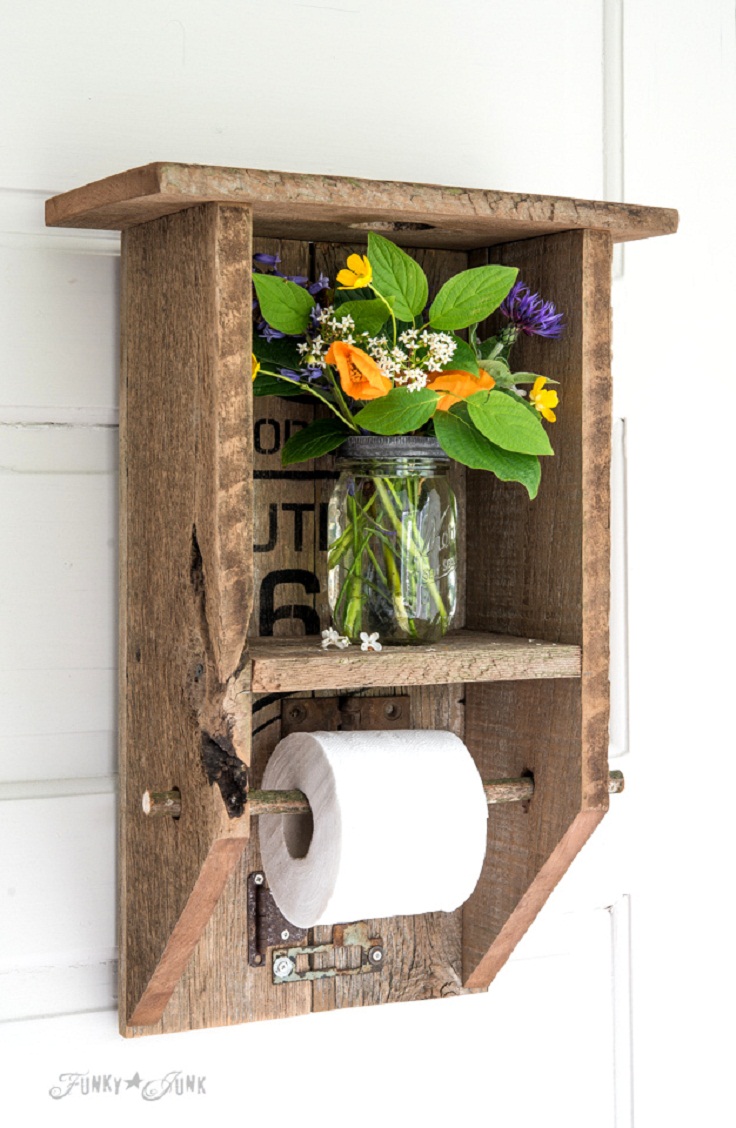 The perfect way to display a favorite treasure, and in a spot where you're guaranteed to see it each day. Add those just cut flowers from the garden in a short vase or display a favorite piece of pottery. Make it sturdy enough to hold a couple of books. Use that odd-shaped piece of reclaimed wood as a backing for this unusual holder.
7. DIY Fabric Spare Toilet Paper Holder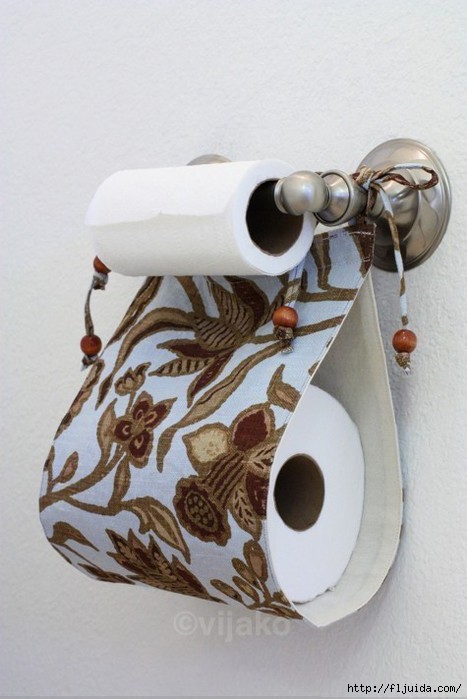 Source: fljuida.com
Fabric adds a unique storage spot for that extra roll while coordinating with the walls and even the curtains. Your bathroom is an essential extension of the entire home, keep it matching and organized. Add the same fabric throughout the house in various spots.
8. Industrial Pipe Toilet Paper Dispenser with Spare Roll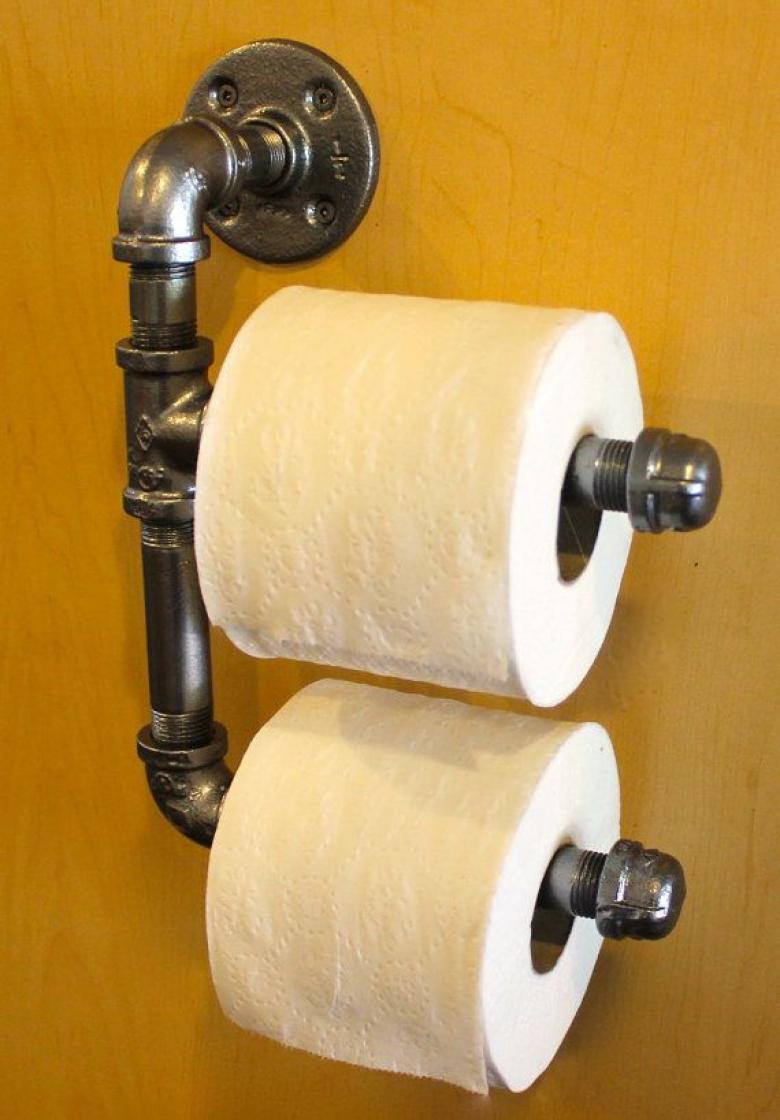 Source: The original source is not available anymore.
This innovative dispenser does double duty as a stay-in-place holder for two rolls. Use a similar industrial pipe fitting for a unique addition to your bathroom. Matchup other accessories in bronze or silver, like your soap dish and glass. Use these colors for light fixture plates to create a consistent look for your décor.
9. Wall Art Toilet Paper Cloud Shelf

Source: The original source is not available anymore.
Make a cloud in your bathroom w2ith this unusual holder. This one is made from concrete, an artistic design. The experienced crafter can make one from hypertufa if they can find a mold.
10. Upcycled License Plate Rustic Bathroom Shelf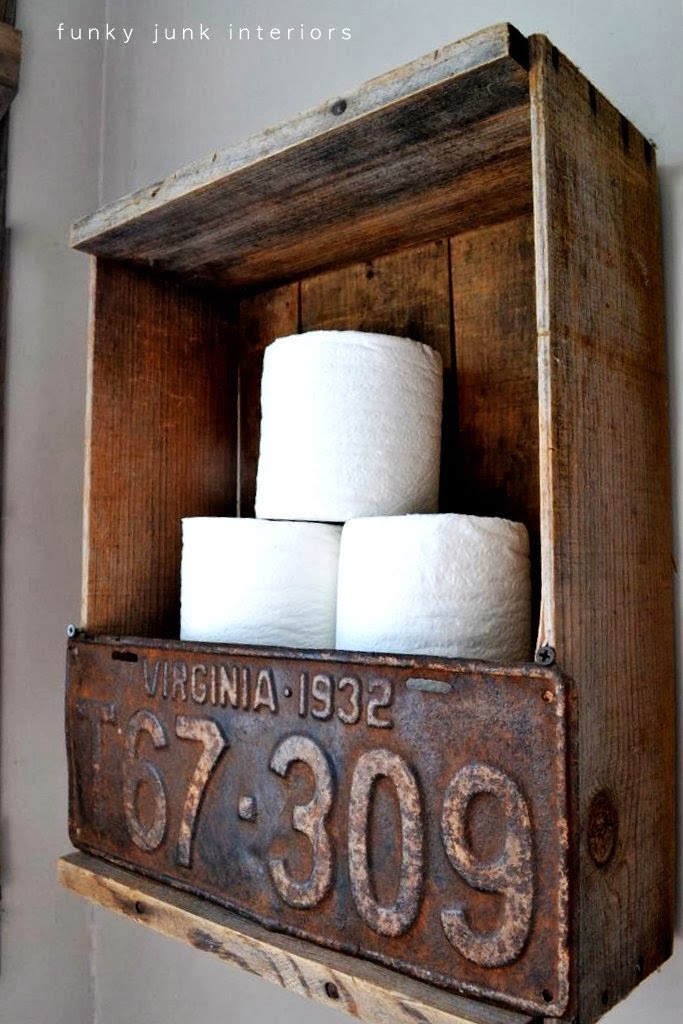 Show off your crafting skills and re-purpose old items, like this license plate built into the holder. Perfect to include with antiques in your rustic or farmhouse décor. The weathered look helps provide tranquility, and perhaps fond memories as you relax in the steaming tub and stress melts away.
11. Whitewashed Shutter Storage Basket and Toilet Paper Dispenser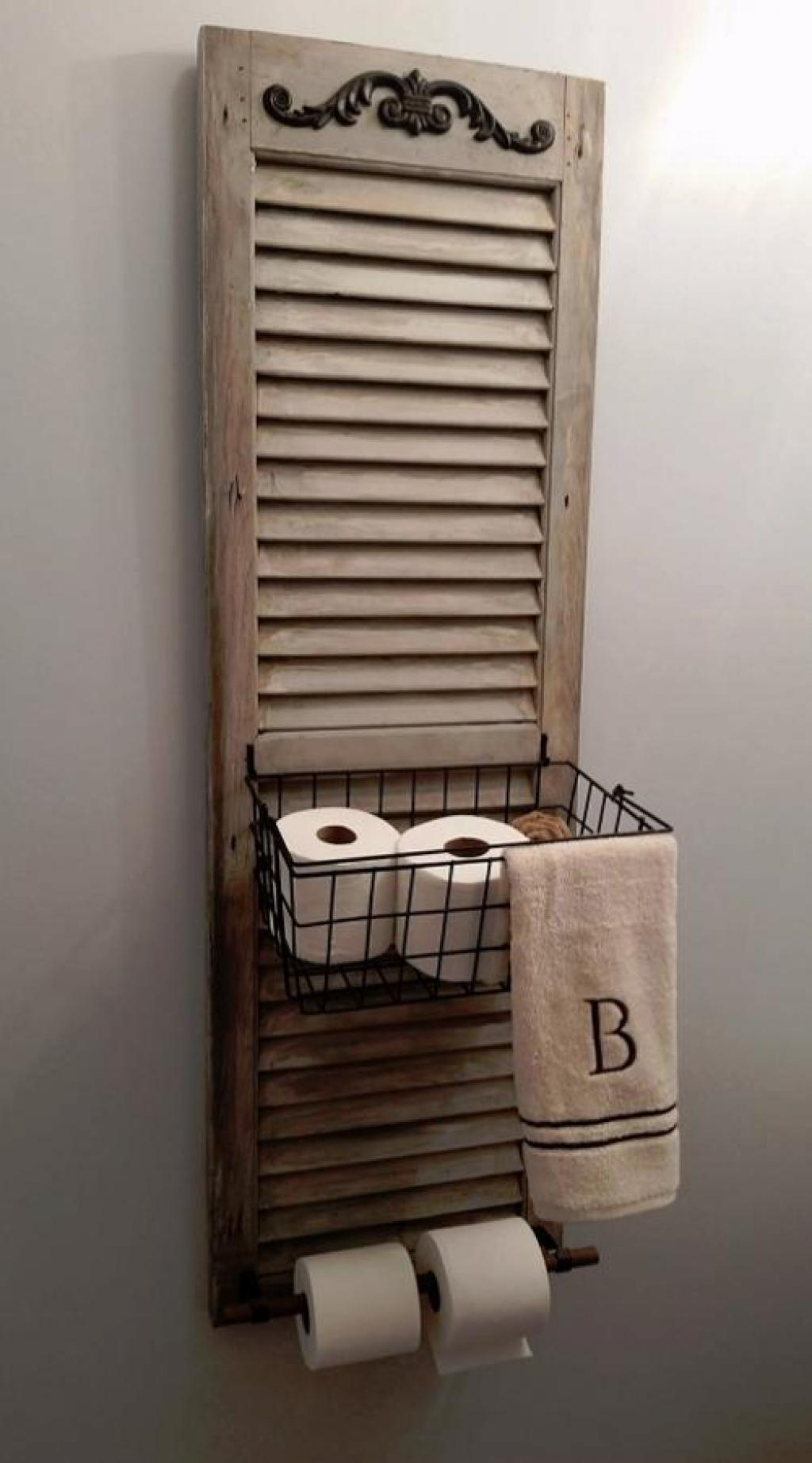 Source: The original source is not available anymore.
Innovative and interesting use for those cast-off shutters. Build them in or hang on the wall and insert your tp holder. Add basket at a convenient level and even a towel bar near the top. There are so many possibilities in your farmhouse décor scheme when using such a piece.
12. Floating Shelf with Built-in Roll Holder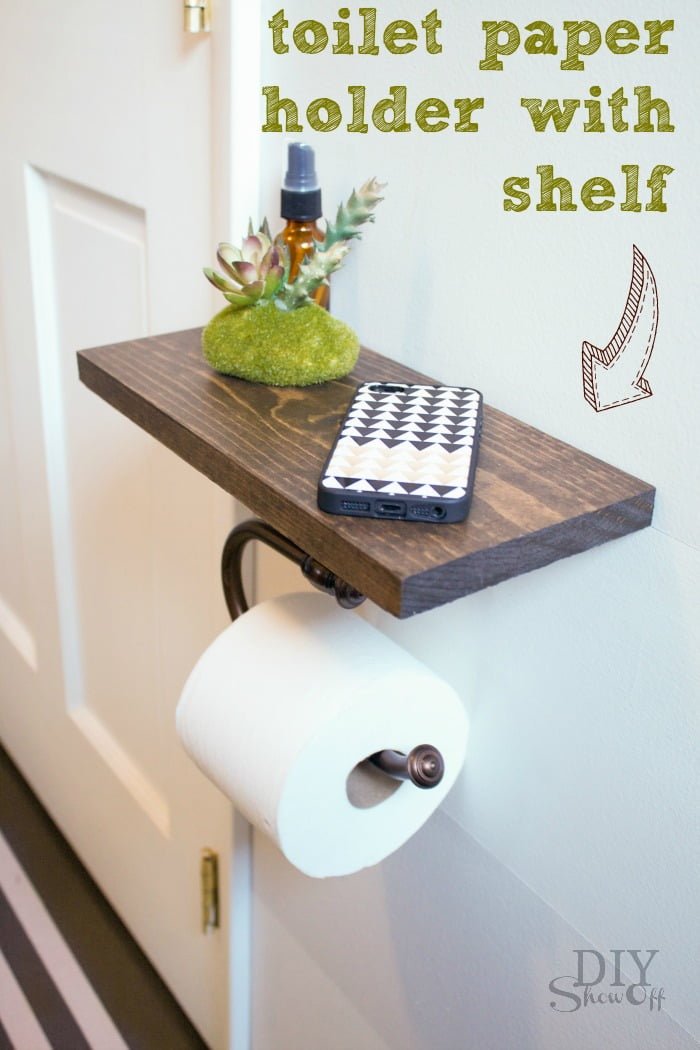 Another floating shelf for wall decor with built-in roll holder. This simple design offers a safe spot to place the phone and a bit of a floral hint to perk up the bath. If you have the space on the wall, make a set of three and stagger them upward. Use your imagination for storage in that small, but necessary, bathroom.
13. Vintage Bucket Repurposed for Storage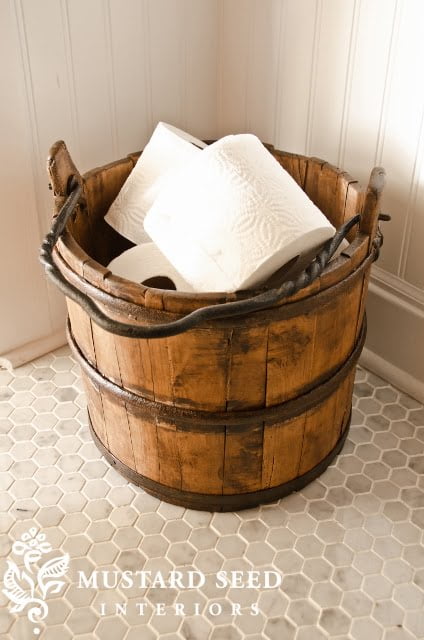 Another unusual place to store the paper, and it blends right in with your rustic décor scheme. Find items similar to this vintage bucket for more storage in the attached bedroom, living room, even in the kitchen. Extra storage is usually necessary in all places and these great buckets hold many items.
14. Recessed Wall Niche Roll Holder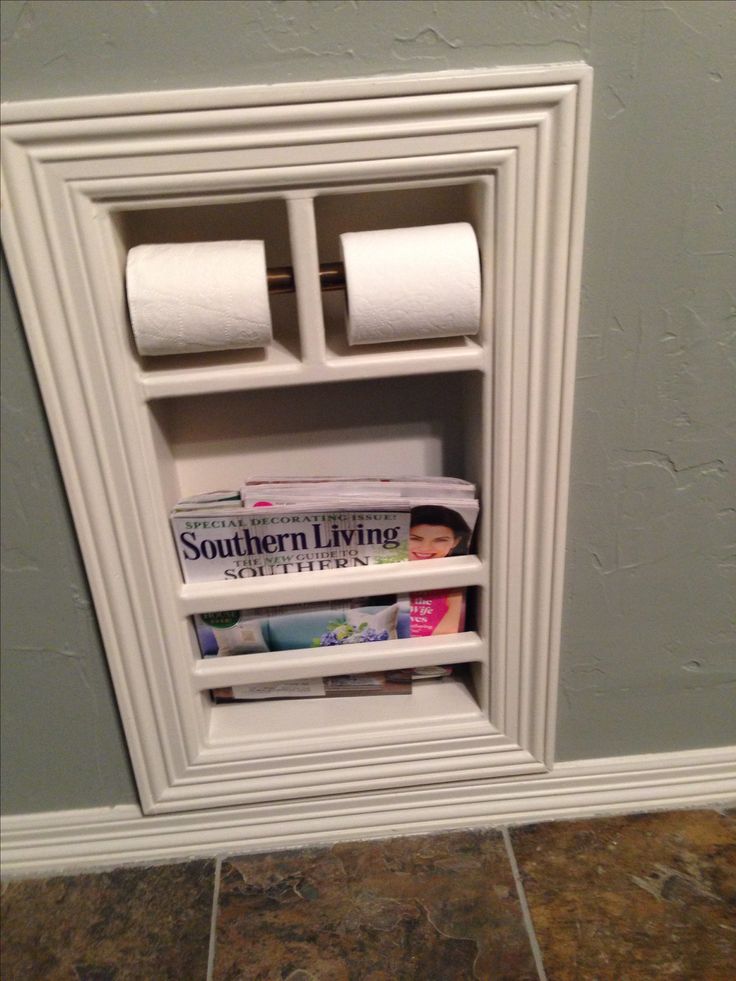 Take advantage of a tight space to add this built in holder and magazine rack. Excellent place for those new magazines or even your daily devotional book. Can also be used for extra storage for more tissue when placed in a busy bathroom. Paint to coordinate with other home shelving.
15. Whitewashed Storage Rack with Towel Bar Hooks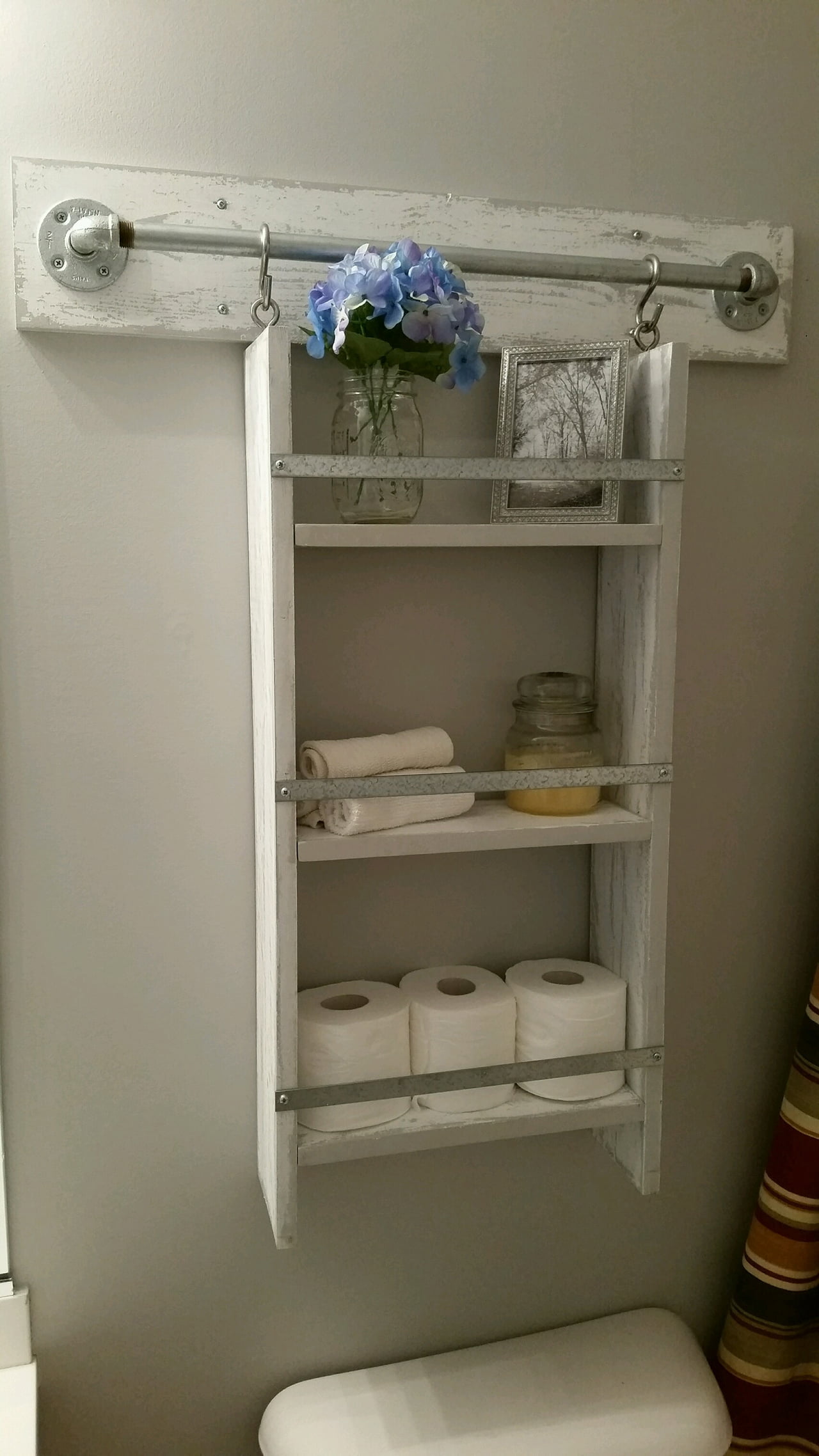 Hang the holder on this industrial rack, sturdy enough to hold your necessities for the bath and your pretties, as well. These whitewashed boards, simple to put together, provide that often necessary room to store your stuff. Use similar racks for towel holders and expand this unique idea to other bathrooms in your home.
16. Braided Leather Toilet Paper Dispenser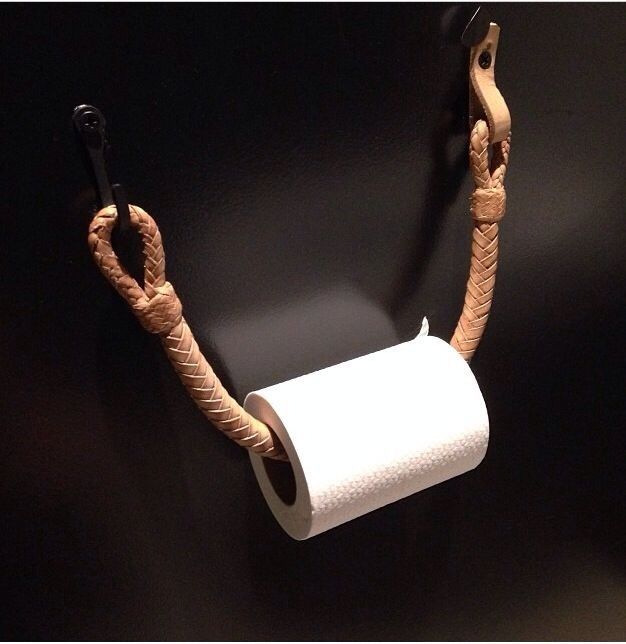 Source: The original source is not available anymore.
Braided leather hanging from simple hooks makes the perfect place to hold the roll. Braided leather is relatively easy to find at most craft stores or on Etsy, where it comes in a range of colors. Prices vary, but most are inexpensive. Humidity in the bathroom helps keep the leather from getting brittle.
17. Heavy Wooden Storage Tower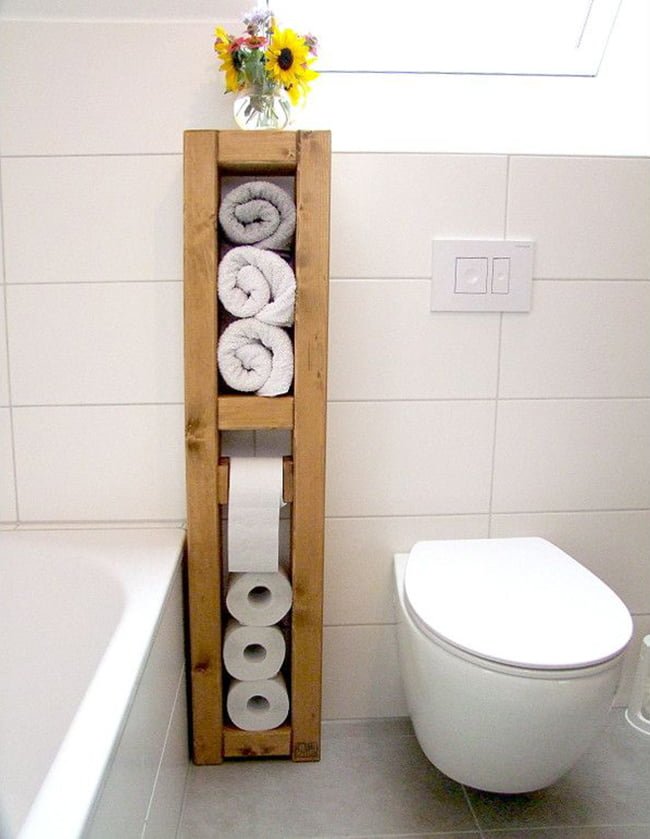 Source: The original source is not available anymore.
Sturdy and convenient for small space storage. Roll up those towels; hand towels, bath towels, even washcloths can fit. Thick, heavy boards for this simple project make it capable of holding a plant on top. Combine the tower with other wooden décor items throughout the bathroom and the entire household.
18. Repurposed Magazine Holder Turned Toilet Paper Storage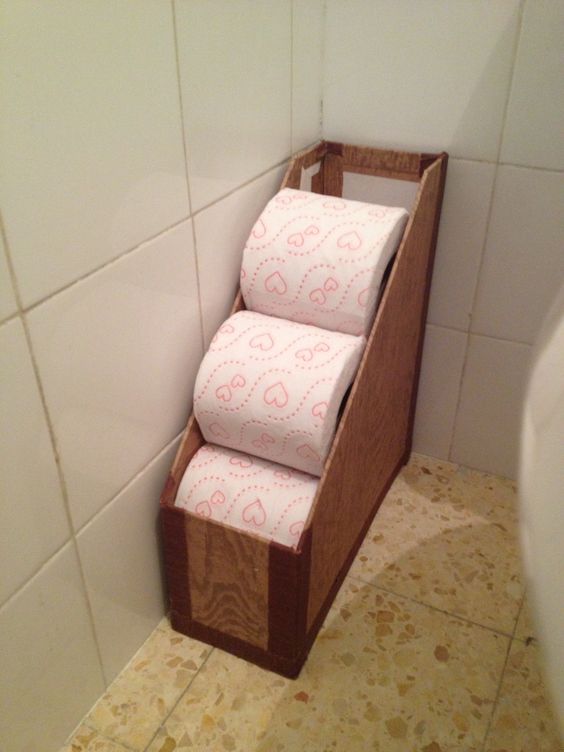 Repurpose your items, such as an old magazine rack to store the paper. If it looks dilapidated, add a coat of varnish, but remember, shabby is chic in some of today's decorating themes. Upcycle anything that's the right size to hold the rolls. Try other items and if they don't work out, use them in another location.
19. Beachy Raffia Bathroom Storage Baskets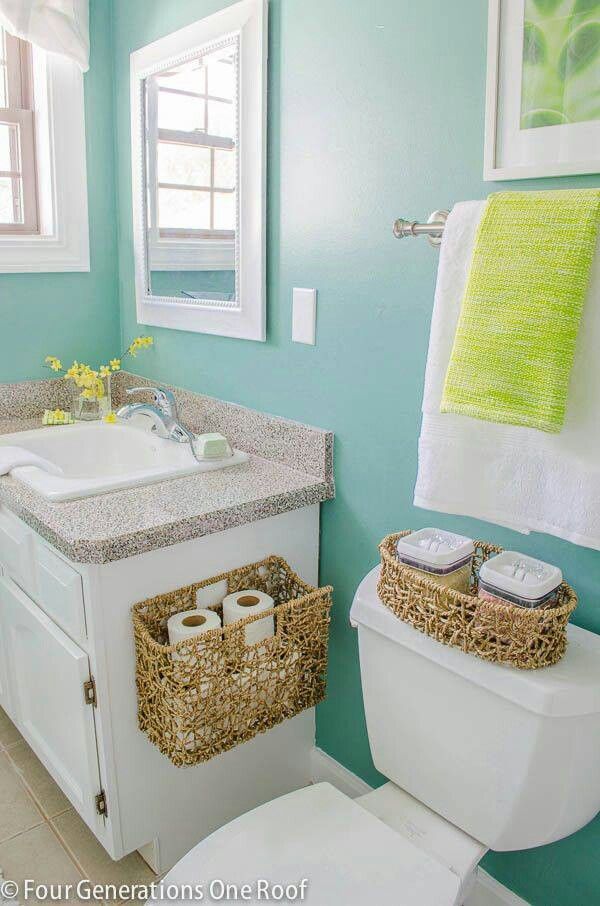 Use this beachy raffia basket to keep and dispense the tp. Coordinate it with a raffia throw rug, as Martha Stewart recommends. You'll find it looks great when used consistently through your home or just the bathroom. Add raffia wall hangings, along with seashells and seahorses, even a lighthouse figure to promote the feeling of an ocean breeze.
20. Wall Art Toilet Paper Tree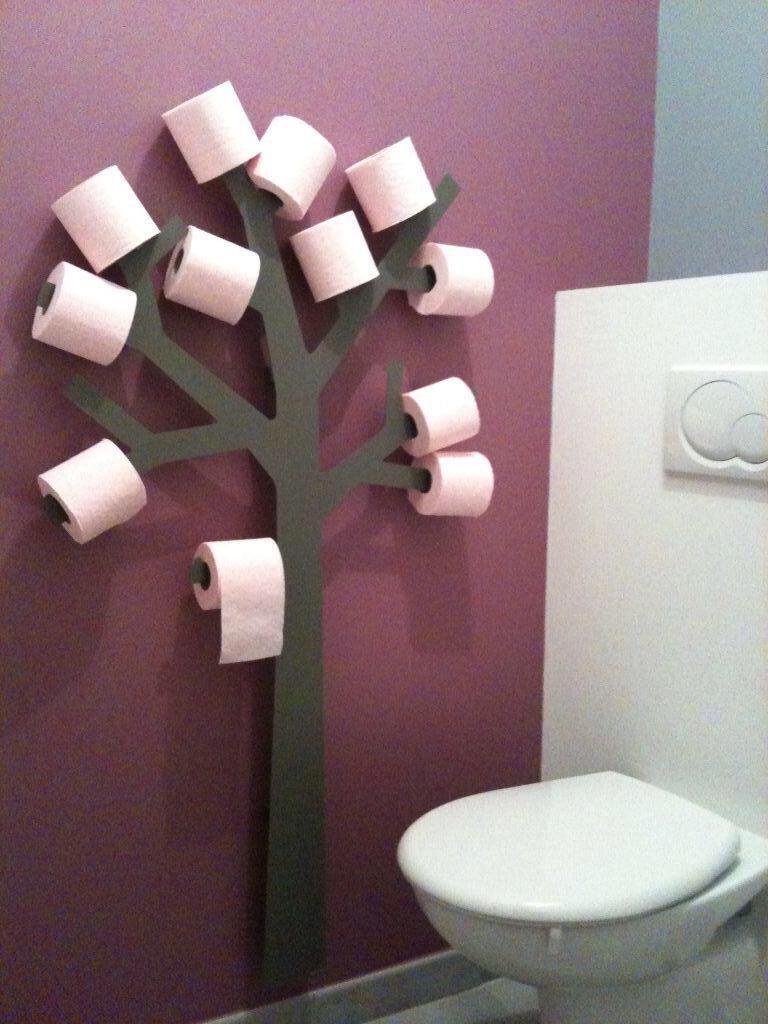 Source: The original source is not available anymore.
Another fun storage idea you can use throughout the home. Use a smaller version for hanging jewelry or find one to use as an attractive wall hanging. Paint this in a matching or even a contrasting color to make it stand out. Add one in the entry for coat and hat hanging. Your tp storage will give visiting guests a chuckle, while they comment on your creativity.
21. One of the Easiest DIY Toilet Paper Holder Ideas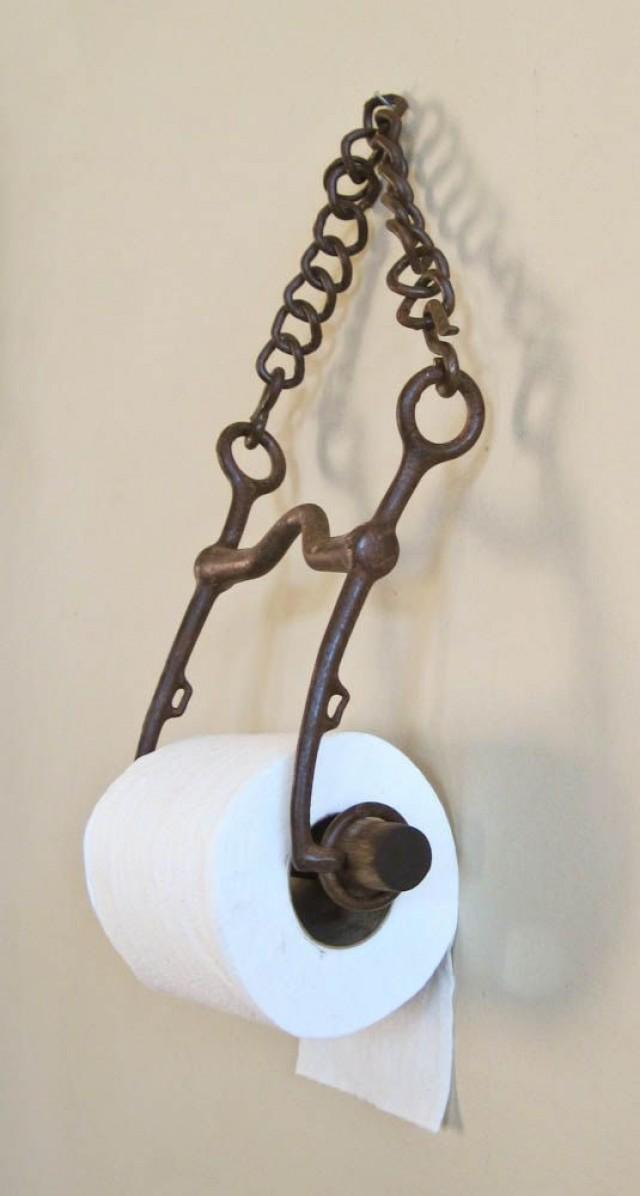 Chain it up, as you use this horse bit to hold your paper. Perfect for the punk rocker décor you might need in a bedroom. Use chains for hanging plants, and as wall art in a frame. Add a pair of handcuffs as a conversation piece (just make sure you have a key). Add some leather pieces and a Green Day album cover.
22. Galvanized Wall-Pocket Toilet Paper Holder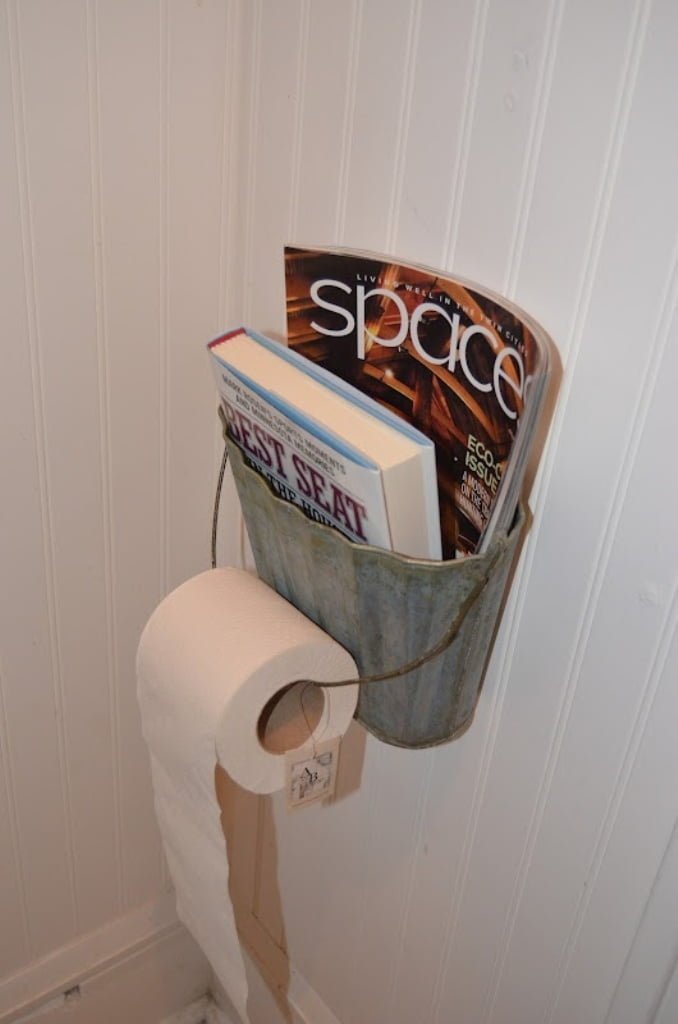 Source: The original source is not available anymore.
Find an old wall pocket, add a holder and you'll have unique tp dispensation, with a spot for your reading material. Careful, though, before you make any changes to it. Your wall pocket may be a valuable collector's item. That can make it an enjoyable conversation piece. Who knew?
23. Chic Wire Storage Basket with Chalkboard Label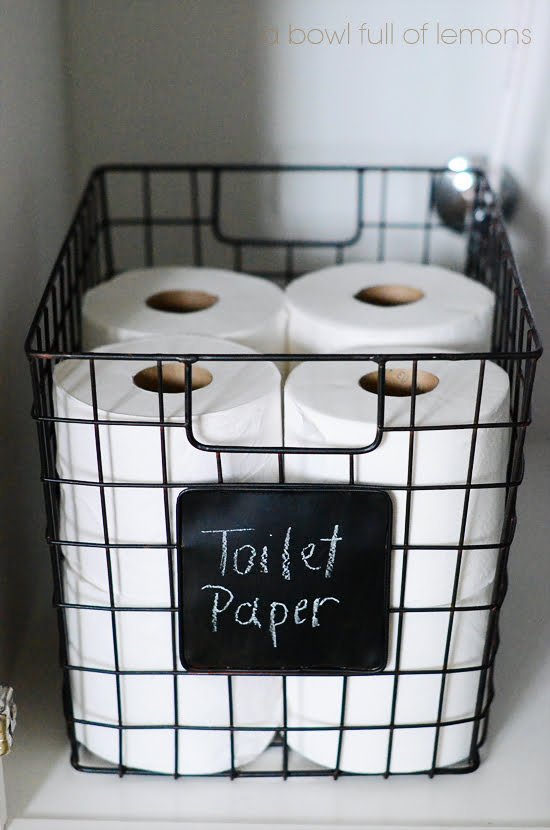 Here's another twist on the wire basket, this one has a chalkboard. Find other items with a chalkboard theme, if you like, or just use this basket for storage. You can hide other bath items behind the rolls if needed and nobody will even know they're there.
24. Wire Storage on a Vintage Orchard Ladder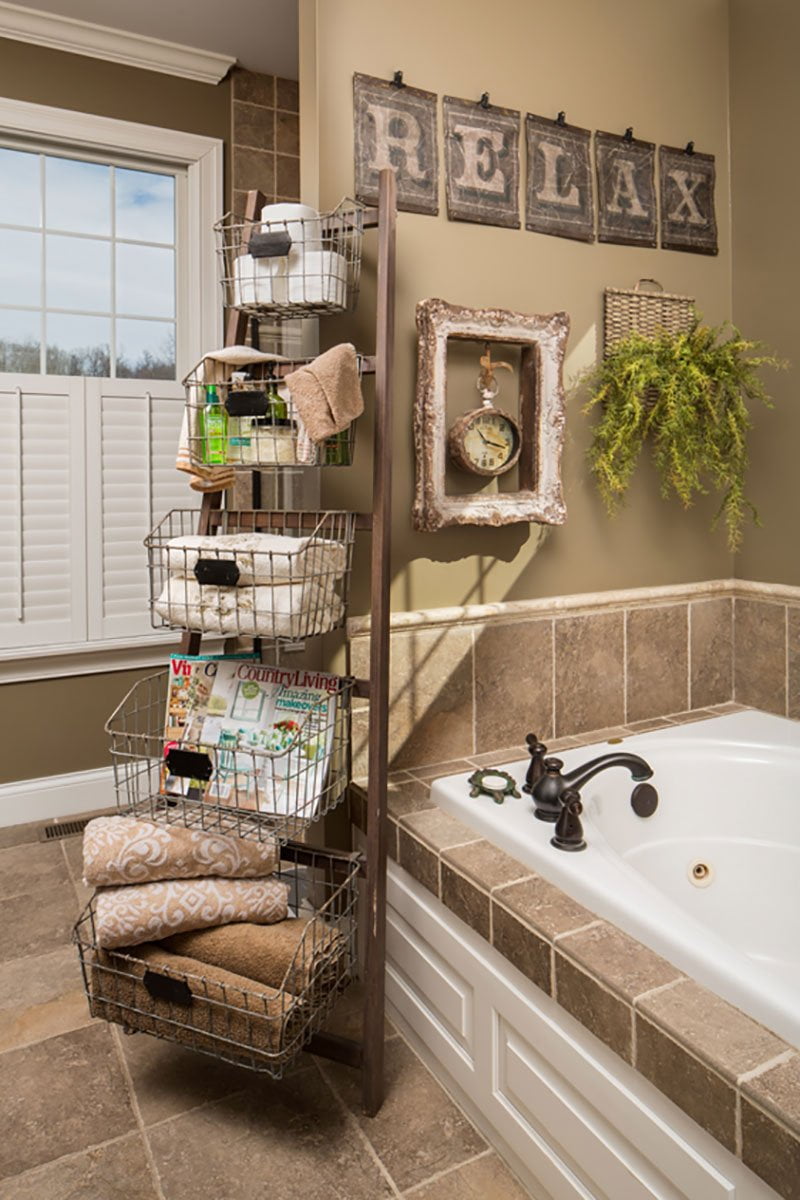 Source: The original source is not available anymore.
An exceptional combination of a small wooden ladder and, you guessed it, wire baskets. Any rustic farmhouse bathroom will benefit from such a piece. Store the towels, bath products, any extras with all these easy to reach baskets.
25. Easy Hanging Storage Basket with Bathroom-matching Fixtures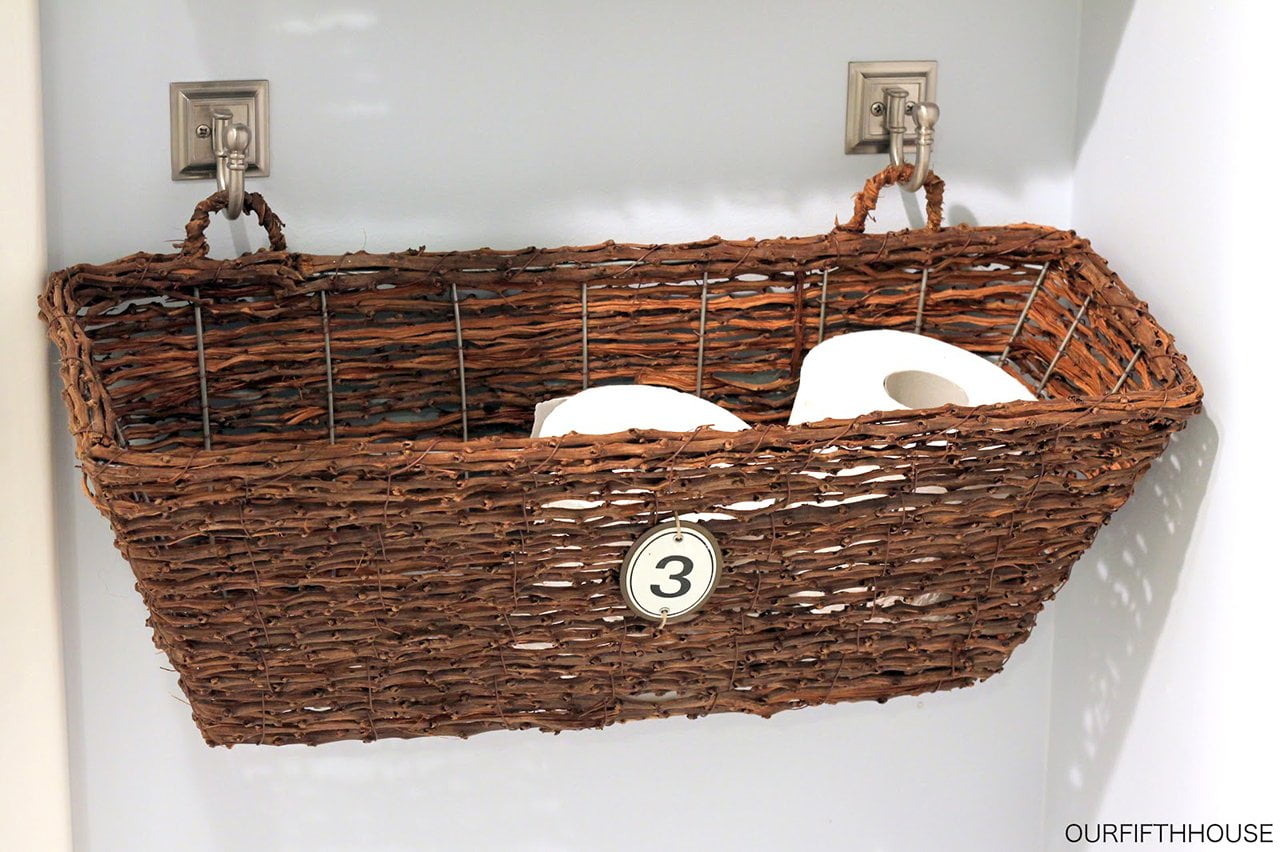 Perhaps the easiest of all, your choice of the basket attached with matching hooks. Make sure to match them to other hooks and fixtures in your bath. Use a similar type of basket, whether woven or wire, throughout your home. Stay on top of your decorating scheme. Consistency can help make this most relaxing room in your house.
26. Macrame Hanging Toilet Paper Roll Holder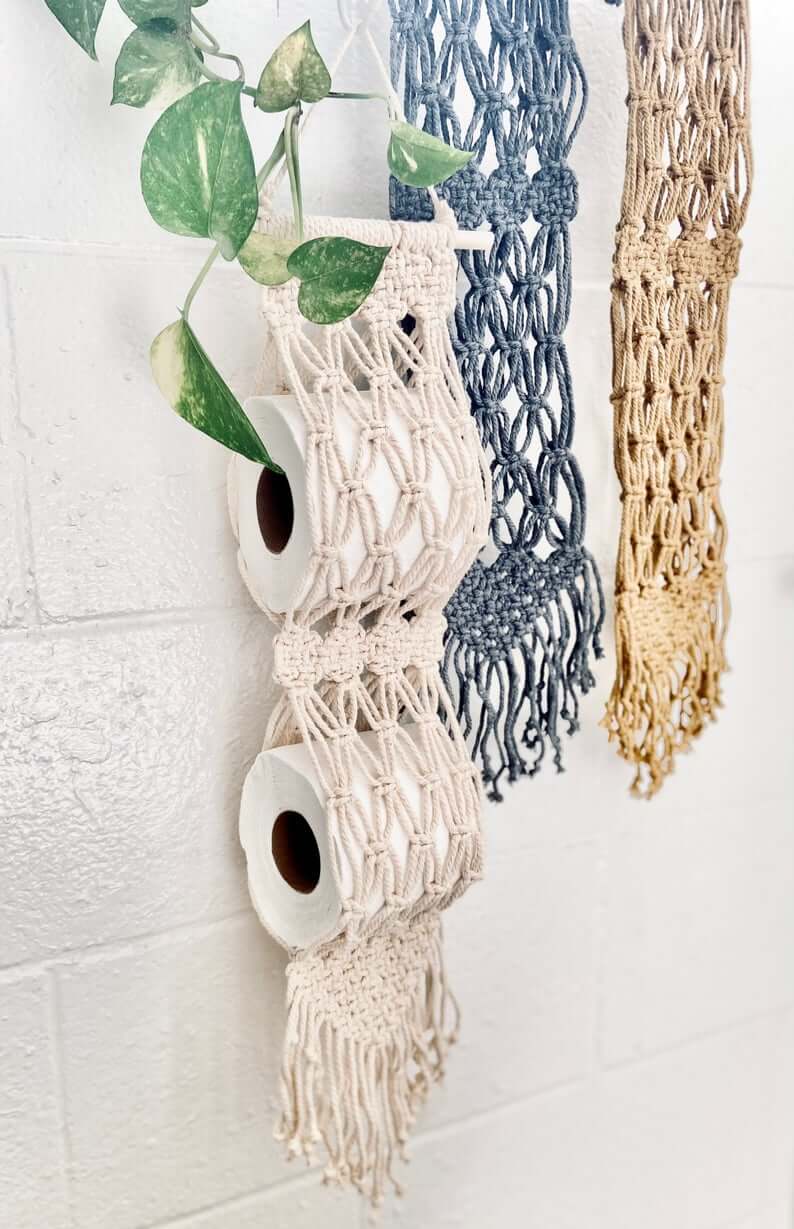 Made with 100% cotton rope, this is a simple and beautiful way to organize toilet paper without it being an eyesore. It's especially effective in a boho-themed bathroom. This is made in numerous colors as well as two different sizes to handle different types of toilet paper. It takes up little room too once hung, saving you more space.
27. Industrial Metal Shelf Toilet Paper Holder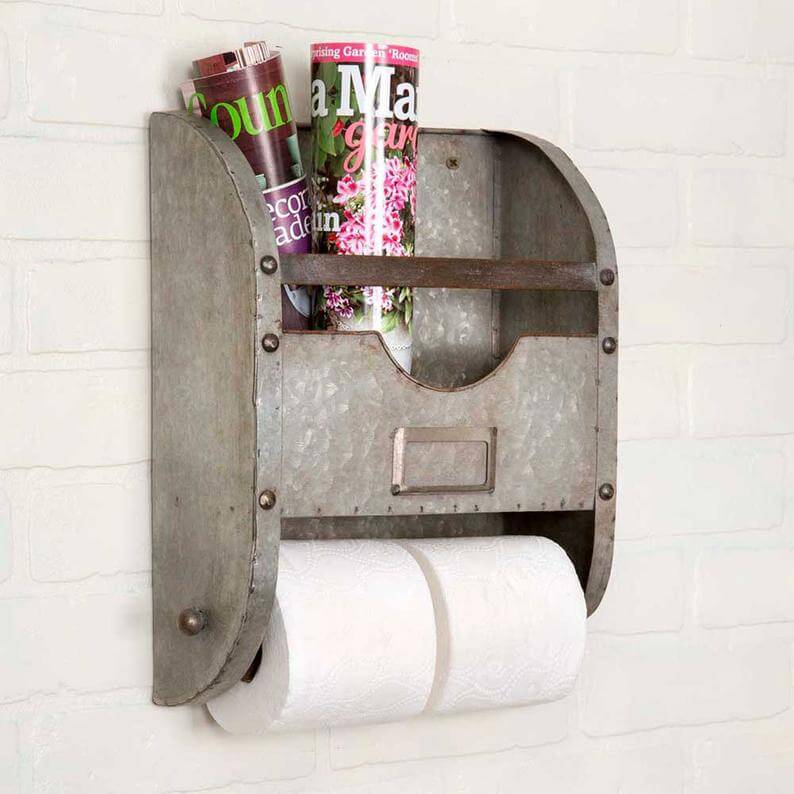 Whether you're aiming for something with a farmhouse style or a vintage theme, this metal shelf is a perfect choice. This is just big enough to fit two rolls comfortably. With how they are hanging, you can set this up closer to store the toilet paper and make them easier to use. There's even a nice section on top to stash magazines.
28. "Beach Bum" Toilet Paper Box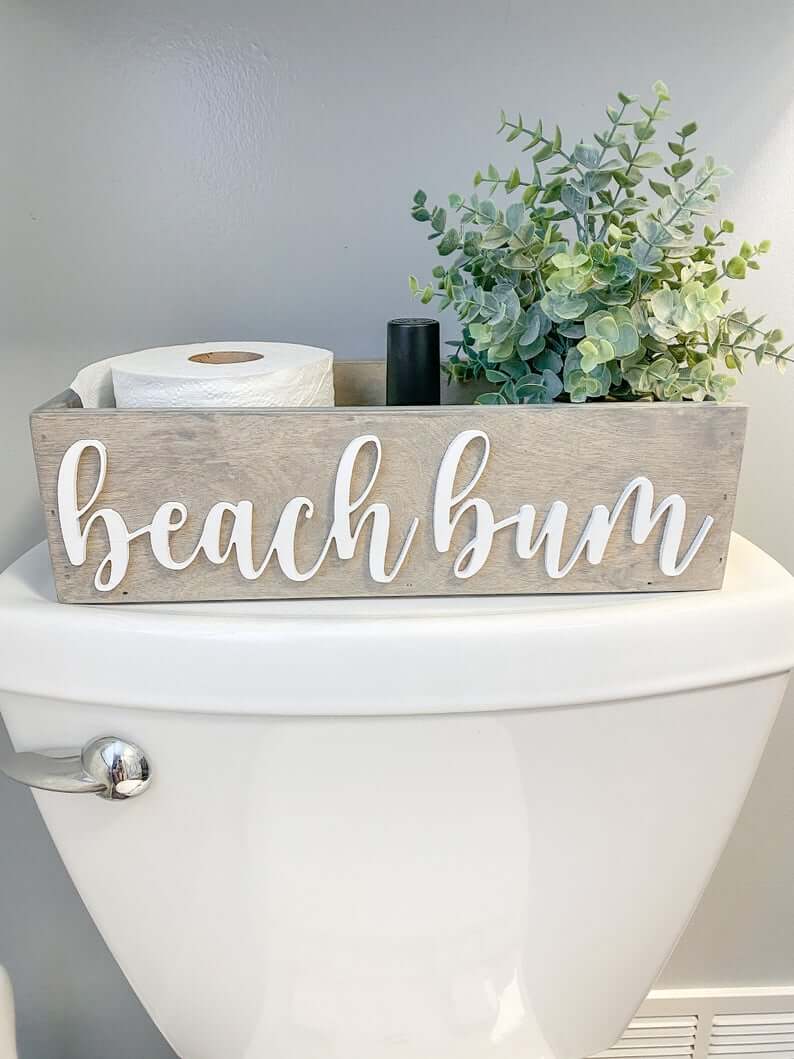 Having something decorative to sit on the back of the toilet can change the overall feel of your bathroom, and this holder is perfect. It's a farmhouse-styled wooden box, and with the use of real wood in each handmade creation, you'll always get something unique. Also, using cut wood for the lettering gives it more texture with a 3D look.
29. Vertical Bathroom Toilet Paper Shelf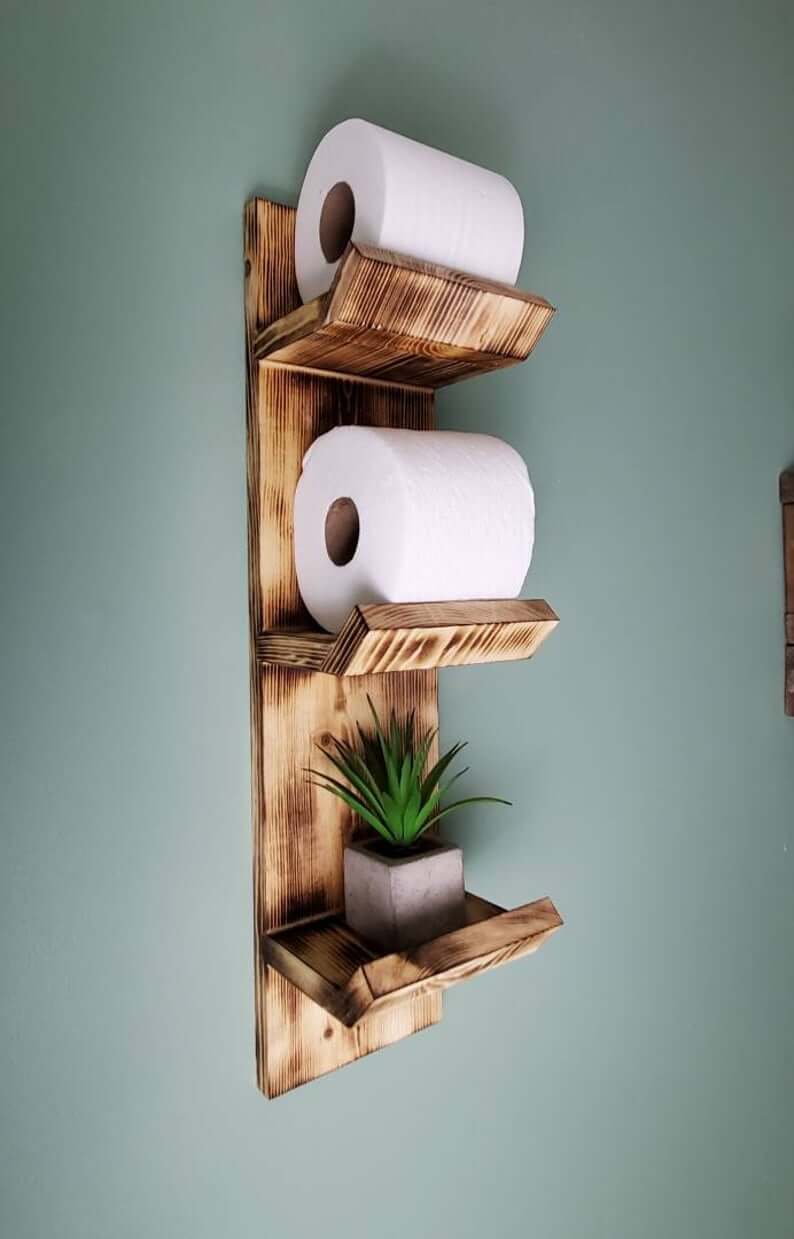 This stunning vertical shelf will add a distinctive touch to any bathroom style. There is room to rest three rolls of toilet paper each on their own shelf, or you can use a shelf for an added decorative item. The wood alone helps this stand out more as you can get this shelf made in more than a dozen different finishes, allowing you to personalize this to your specific décor.
30. Cast Iron Toilet Paper Holder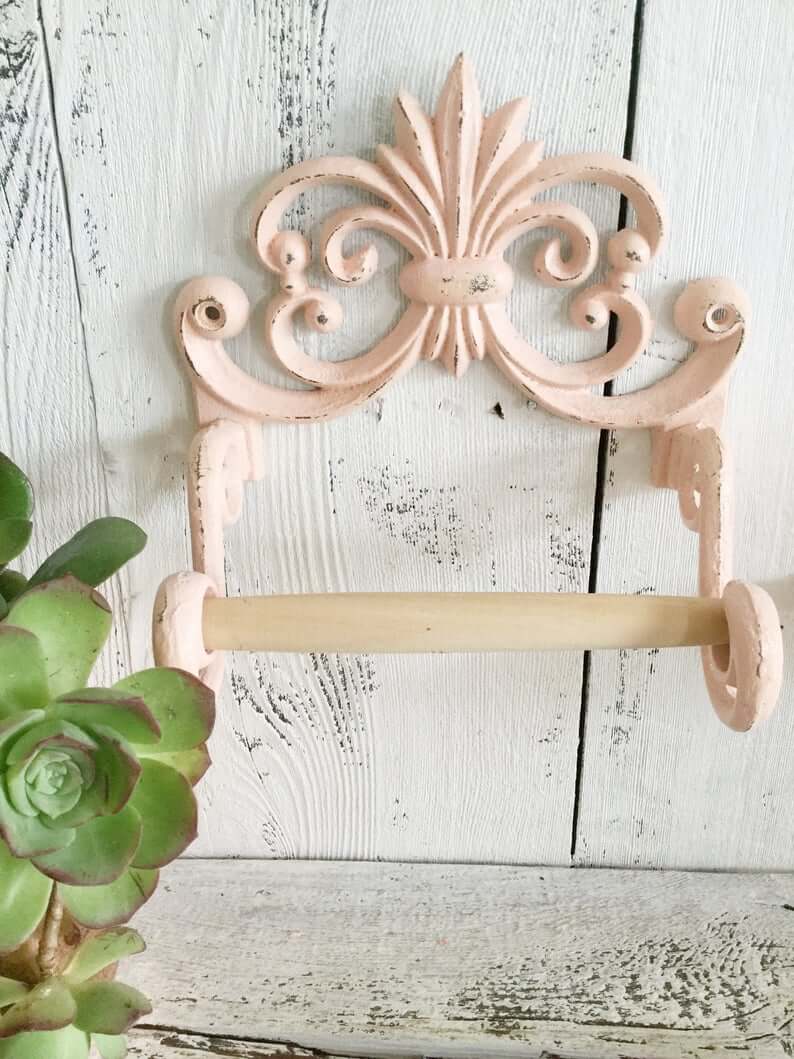 For those looking for a shabby chic style, this cast iron toilet paper holder can be the best choice for your bathroom décor. There's a slight pattern to this piece with its swirly design. It can easily leave more of an impact on your bathroom, proudly standing out so that you have something with more personality to house your toilet paper. You can select various colors too from the paint chart.
31. Decorative Wrought Iron Toilet Paper Stand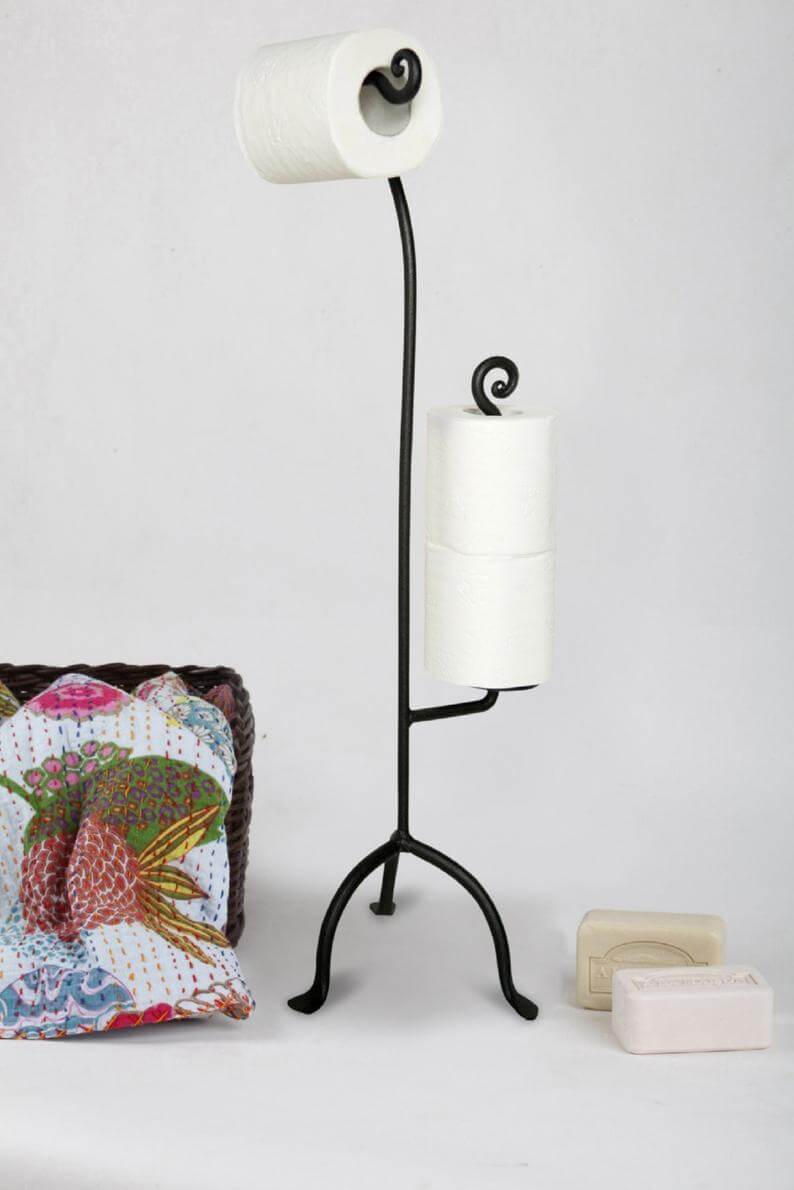 A different way to set up your toilet paper is with this cool decorative wrought iron stand. This handmade piece has a small footprint, making it an ideal choice for minimalist-style décor. It effortlessly blends functionality with beauty as it not only looks good, but it's useful in storing up to three toilet paper rolls. Extra toilet paper will always be within reach.
32. Wooden Industrial Toilet Paper Stand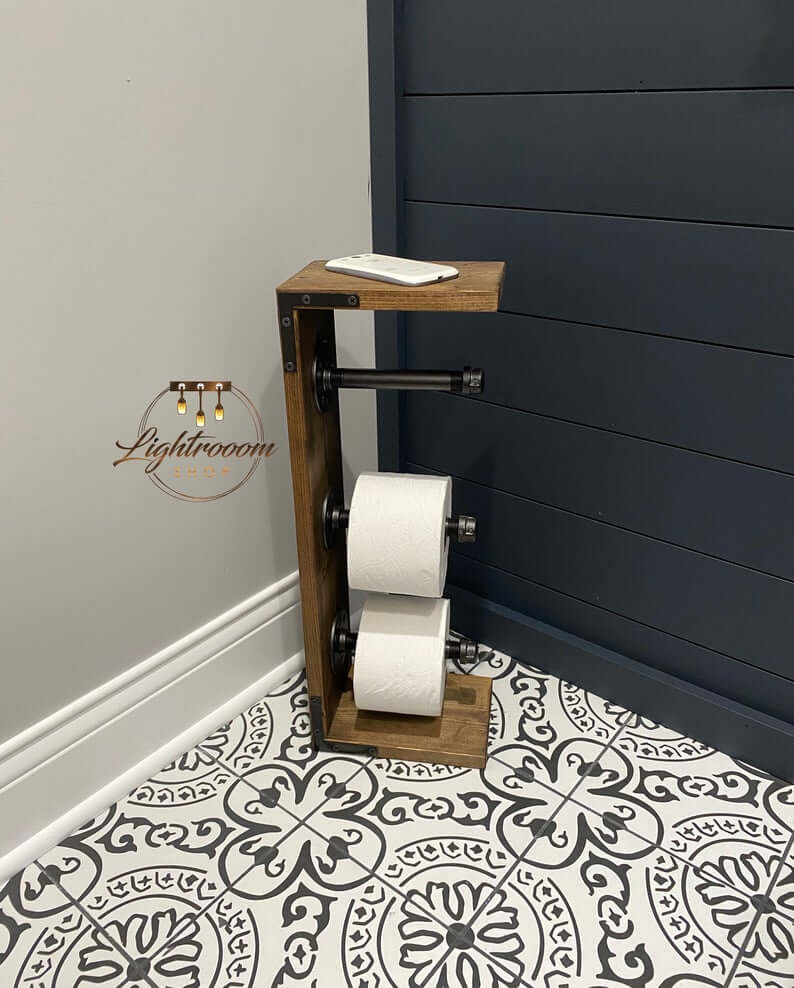 With this freestanding toilet paper stand, you can keep that much-needed tissue nearby. Not only that, but this stand is perfect for a rustic, industrial-style bathroom. There are nine different finishes to choose from too so you can find the best fit for your specific décor. This one has enough room to store three rolls of toilet paper and even some room on the top for additional small items.
33. Simple Olive Bucket Toilet Paper Holder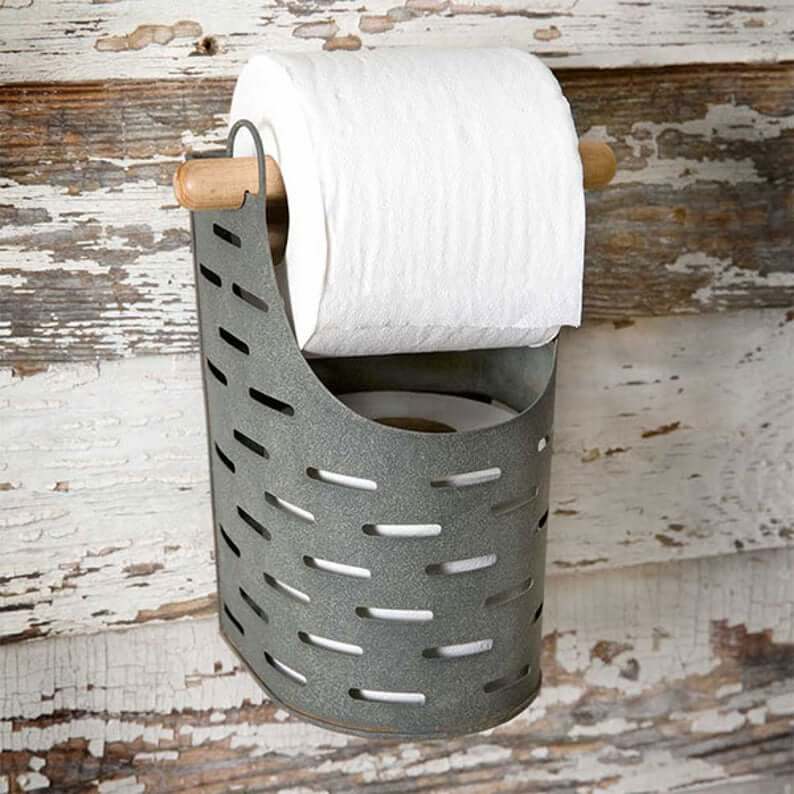 For smaller storage options, consider this lovely olive bucket toilet paper holder. It's designed to stand on its own or to be wall-mounted. The inside can easily hold a single roll of toilet paper, while another roll will sit on the wooden dowel to be used. It's easy to remove the dowel too to replace the toilet paper when needed.
34. Hanging Macrame Toilet Paper Storage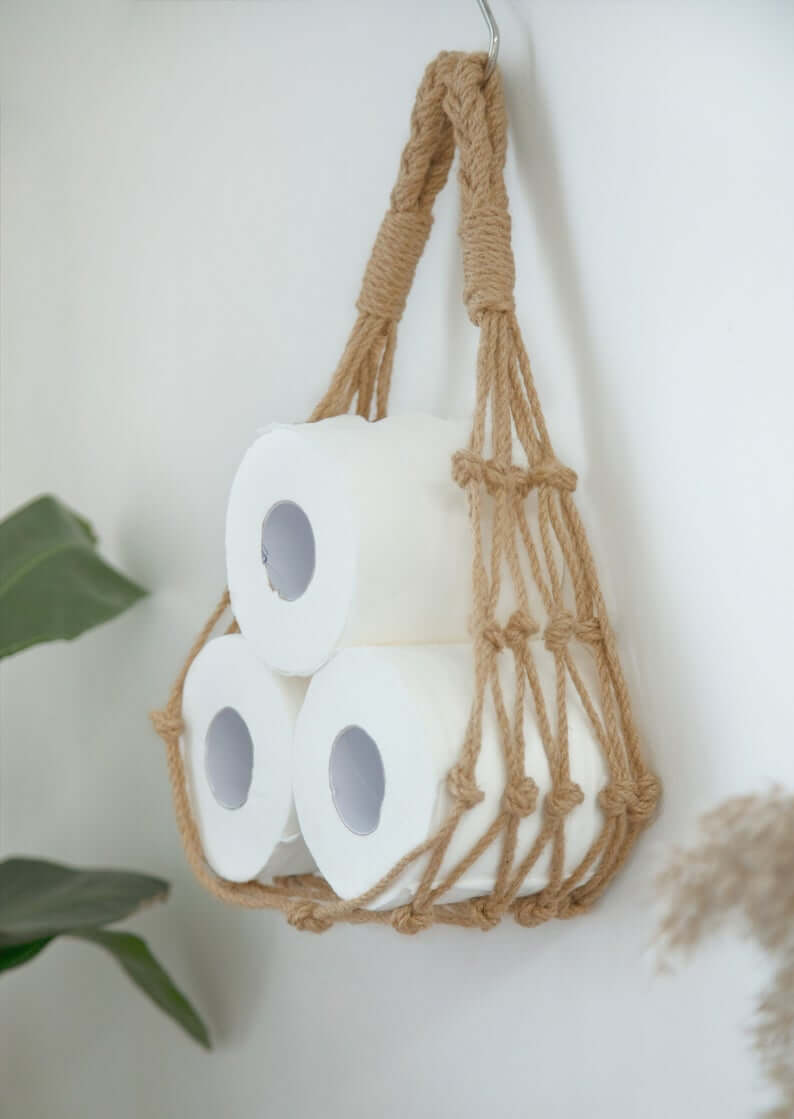 A cute way to stash extra toilet paper is with this hanging storage design. Using jute and cotton material, this utilizes macrame in an effective way to create something that has function and style. There is a good range of colors to pick from as well, but no matter which color you choose, this hanging storage maintains its boho look.
35. Rustic Bathroom Storage Shelves Set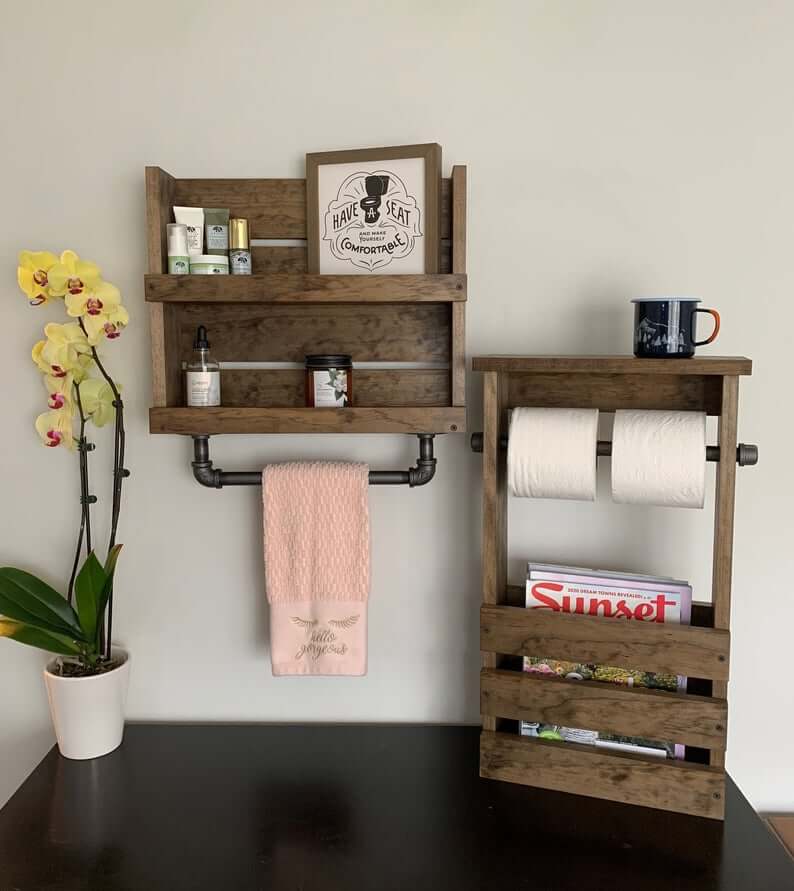 This piece is perfect when you're looking for ways to store multiple items in your bathroom for greater organization. It takes a rustic, industrial approach to storage. The shelf features two levels along with a towel holder. Meanwhile, the other storage has room to hold two toilet paper rolls on the bar and magazines below. There are twelve finishes to choose from.
36. Farmhouse Style Toilet Paper Wall Shelf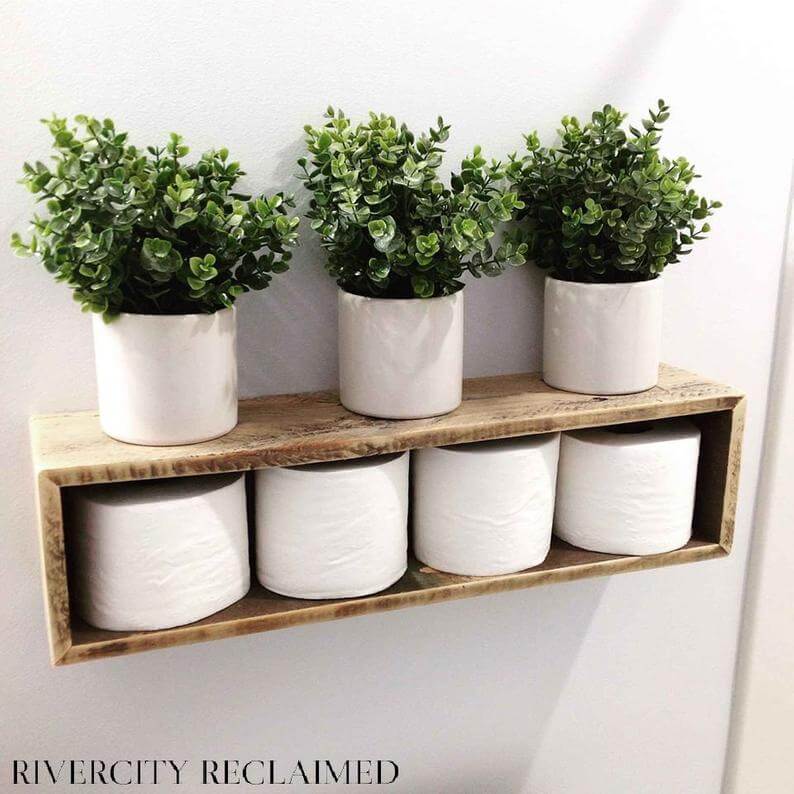 The use of reclaimed wood for this wall shelf helps it nail down that farmhouse theme. You can change the style a bit by choosing to leave it in its regular staining or having it finished instead with a dark walnut stain or a white distressed stain. Inside the shelf, it can hold four regular rolls of toilet paper. You can stash more on top or use the area to add more decorative items.
37. Modern Knitted Toilet Paper Storage Basket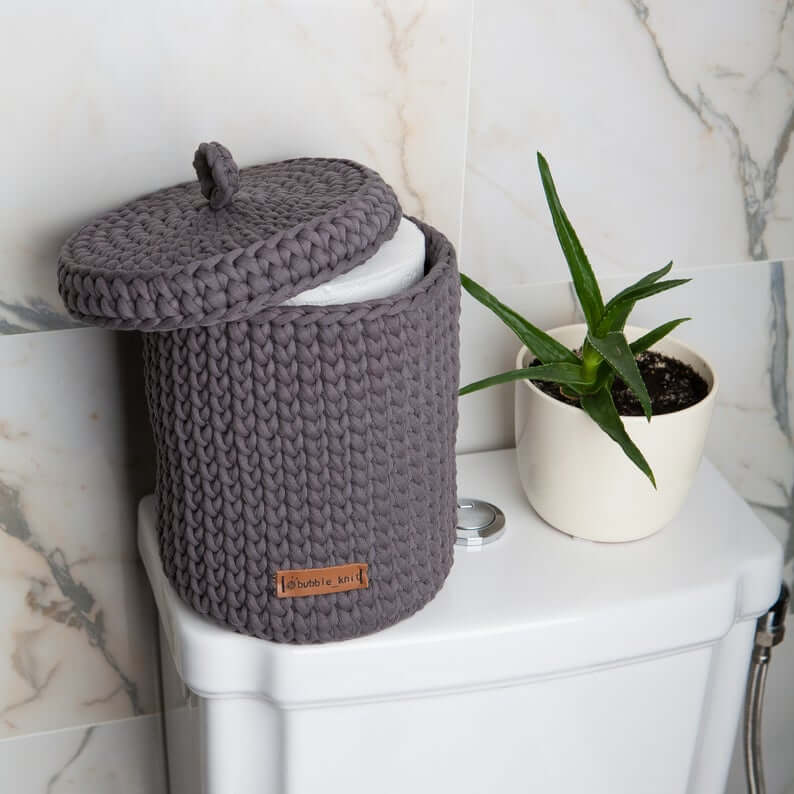 Available in three colors, this knitted basket is a cute touch to add to any bathroom. It takes a unique approach to bathroom storage, and thanks to it being compact, you can fit it on the lid of the drain tank on the toilet. This lets you easily reach for a replacement roll when needed as the basket can fit two rolls.
38. Tic Tac Toe Bath Roll Holder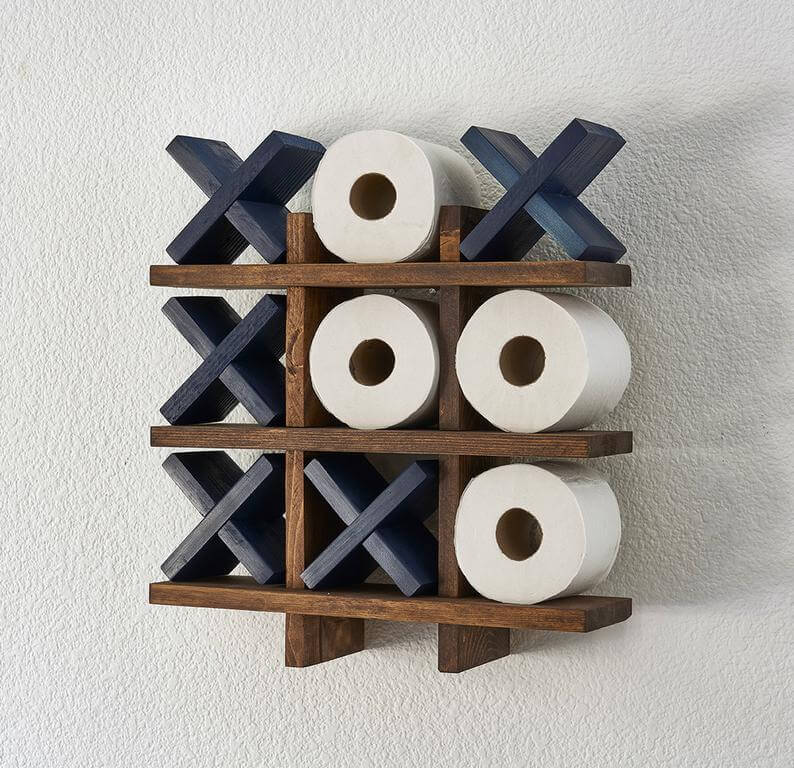 With this tic tac toe holder, you'll have something hanging in your bathroom that will instantly get attention. There are five hand-painted "X's" that come with the holder, leaving room for you to store four toilet paper rolls. You can make a game out of setting up your storage too. Depending on your bathroom's décor, the "X's" come in three different colors or their natural wooden design.
39. Industrial Shelf Pipe Toilet Paper Holder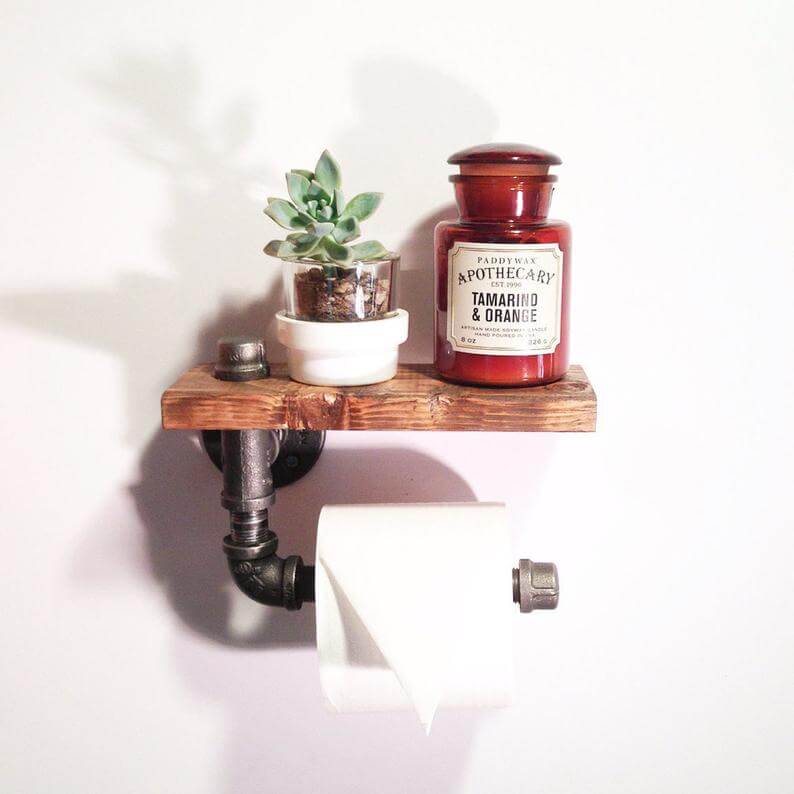 This toilet paper holder is perfect if you want a rustic or steampunk-themed bathroom. The holder achieves that look by balancing the use of gorgeous wood with the large industrial pipe. Everything you need to install it comes with the piece too so you can set it up right away. There's space to hold a single roll of toilet paper or you can use the wooden shelf for further storage.
40. Funny "Spare Squares" Bathroom Storage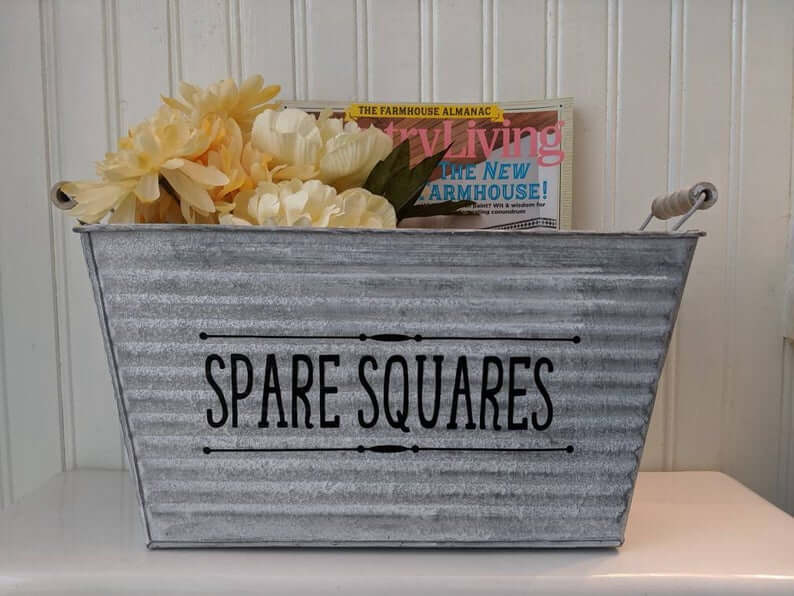 Any Seinfeld fan will get a kick out of this storage container. This makes sure you never run out of spare squares. There is enough space to hold two toilet paper rolls. If you want, you can even use the industrial-like basket to hold other items for the bathroom like magazines.
41. Jute Rope Toilet Paper Holder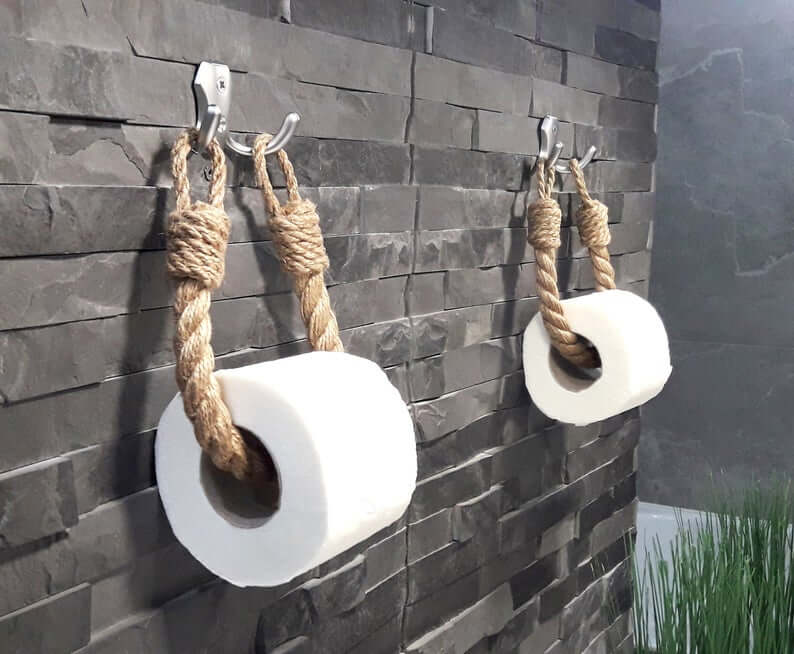 For something unique that lends itself closer to a nautical theme, this jute rope toilet paper holder can be a great choice for your bathroom. The hook gleams brightly, working well against the more rustic appearance of the jute rope. If you don't want the jute design, you can always choose to get this holder using a cotton rope instead. This even comes in different hook color patterns.
42. Victorian Theme Toilet Paper Holder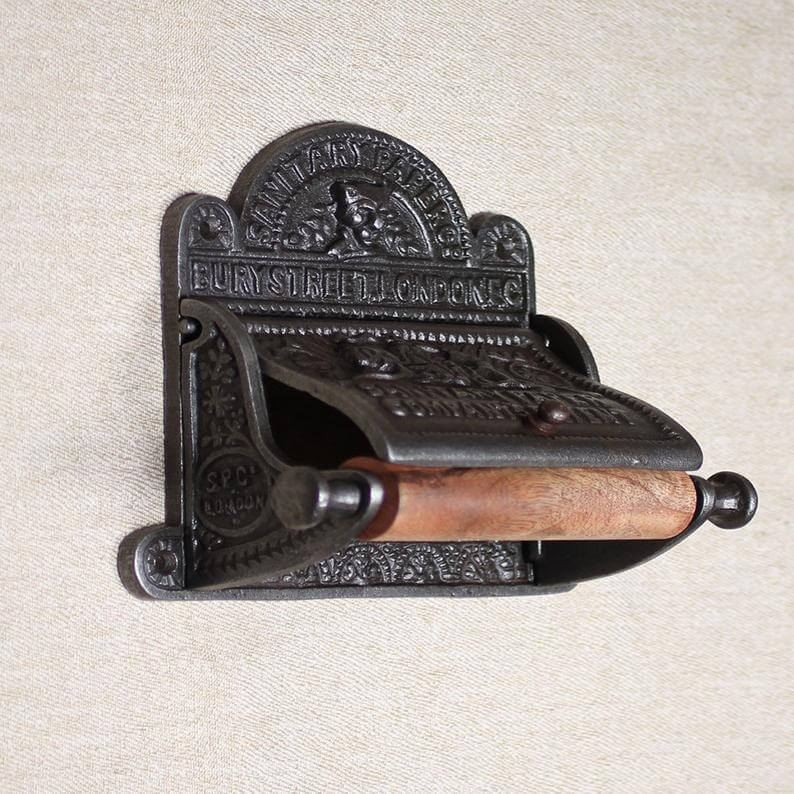 If vintage is more your thing, then you'll love this Victorian-themed toilet paper holder to elevate your tissue storage. With its cast-iron appearance and lid design, this holder will add more personality to your bathroom. It is a lovely unique choice that will capture anyone's attention who comes into the bathroom.
43. Octopus Designed Toilet Paper Holder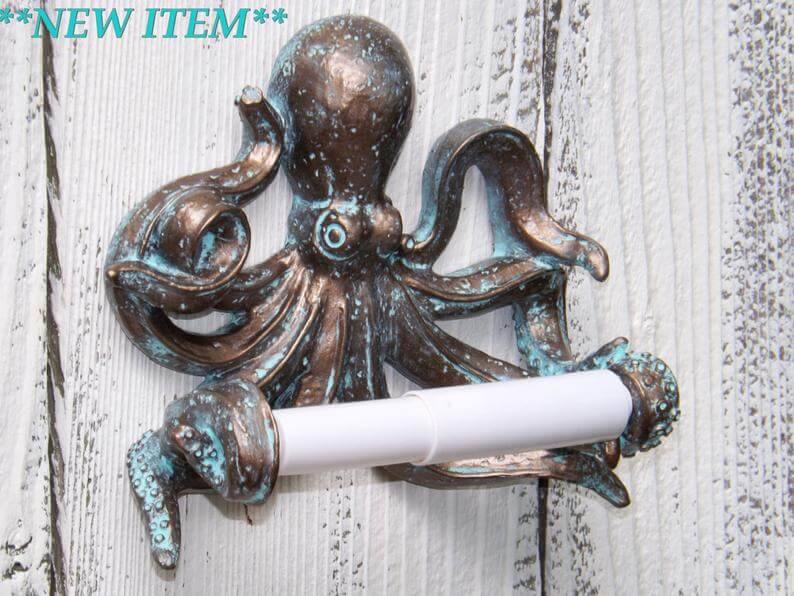 When you're going for a beach-themed bathroom, you can't go wrong with this octopus toilet paper holder. It's well made, featuring enough details for the animal to be instantly recognizable. There are dozens of colors to choose from too, letting you personalize it to better suit your bathroom. Also, you can get this in a solid color or a distressed finish.
44. Rustic Wall Shelf Toilet Paper Holder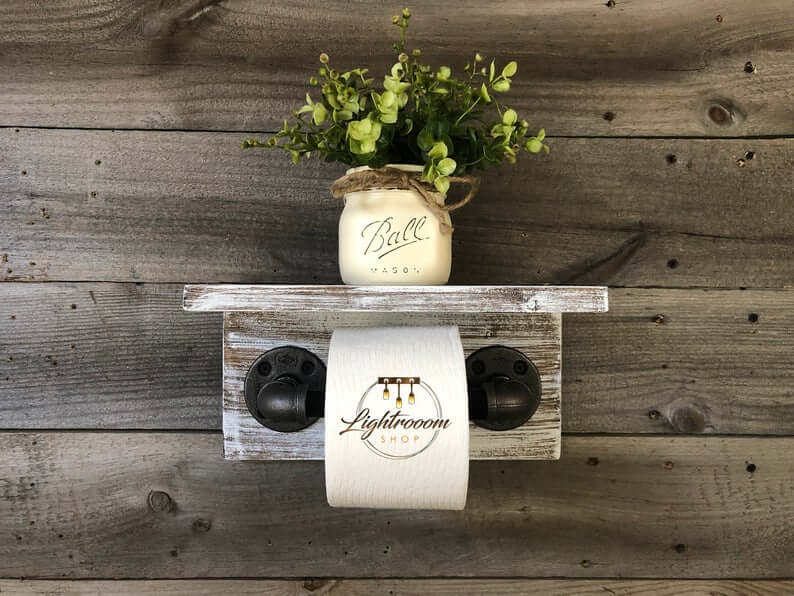 Elevate your bathroom storage with a rustic, farmhouse flair with this wall shelf. With the mounting hardware included, you can immediately set this up and display your toilet paper with an industrial vibe. Meanwhile, the shelf can be used to house other toilet paper rolls or additional décor. The wood and the pipe come in several different colors.
45. Horseshoe Railroad Spike Toilet Paper Holder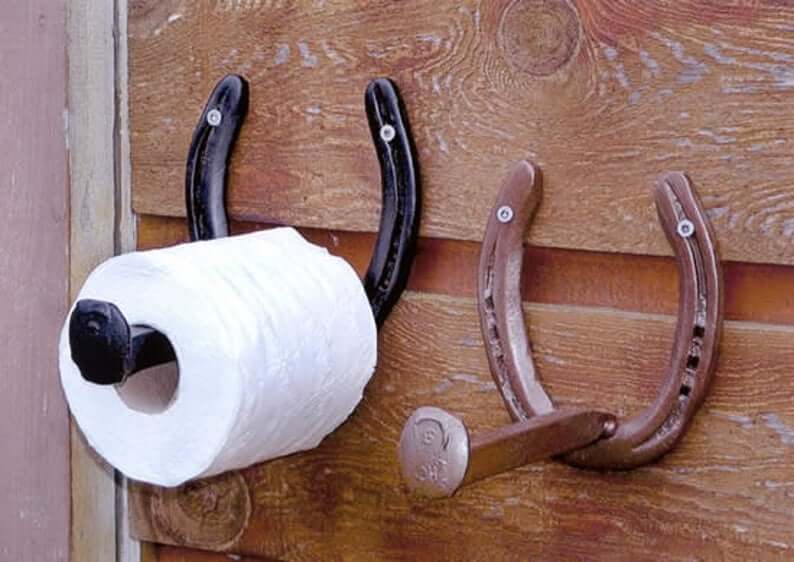 Nothing has quite a country theme like this awesome horseshoe railroad spike holder. It's handmade using a genuine railroad spike and a new steel horseshoe so you have something authentic and long-lasting. It's so simple, yet it still manages to easily stand out as a more unique piece of functional décor for your bathroom. You can purchase it with or without nails, and it even comes in numerous color styles.
46. "Hello, Sweet Cheeks" Wooden Holder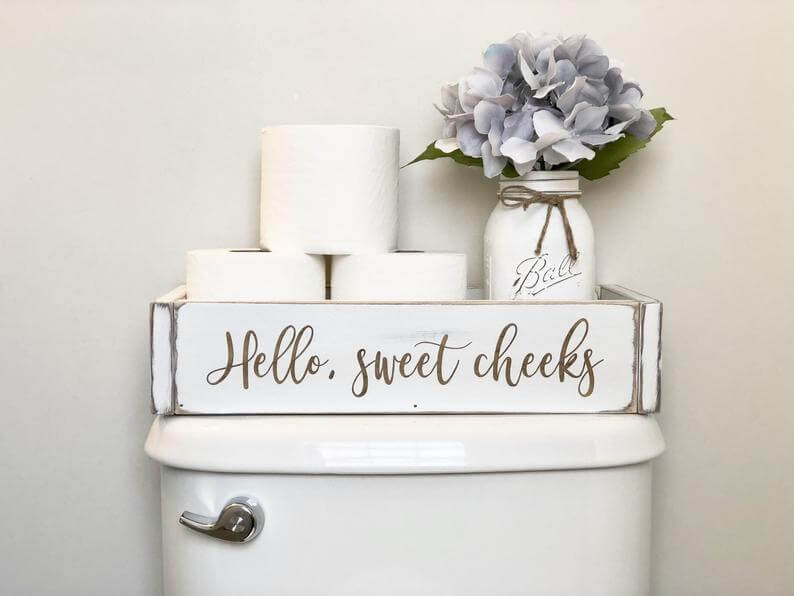 A nice wooden box is all some people need to effectively store their toilet paper and add to their bathroom décor. This holder is perfect as it features a "cheeky" saying that will give anyone a laugh who comes into the bathroom. It's plenty spacious to hold two large rolls of toilet paper. You can get it with just the box or choose it to come with the mason jar and flower combo.
47. Swedish Vintage Toilet Paper Holder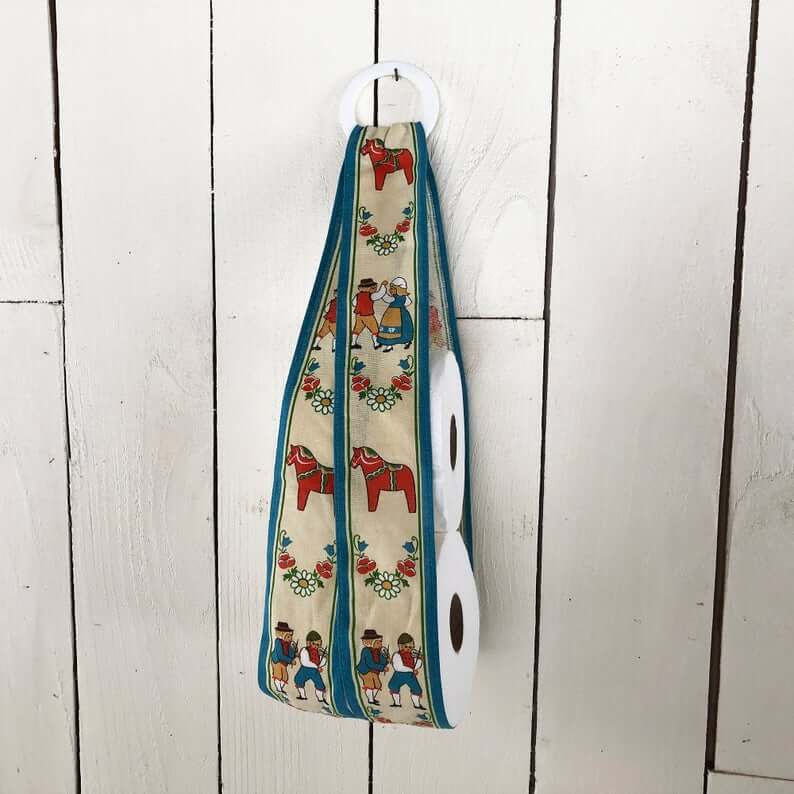 Whether you simply like the design or you want to pay homage to your roots, this Swedish toilet paper holder is perfect when you're looking to emphasize a Scandinavian theme. It has beautiful folk art printed all over, giving a brighter look to your bathroom décor. How many toilet paper rolls it can hold depends on how large they are.
48. Epic Godzilla Toilet Paper Wall Holder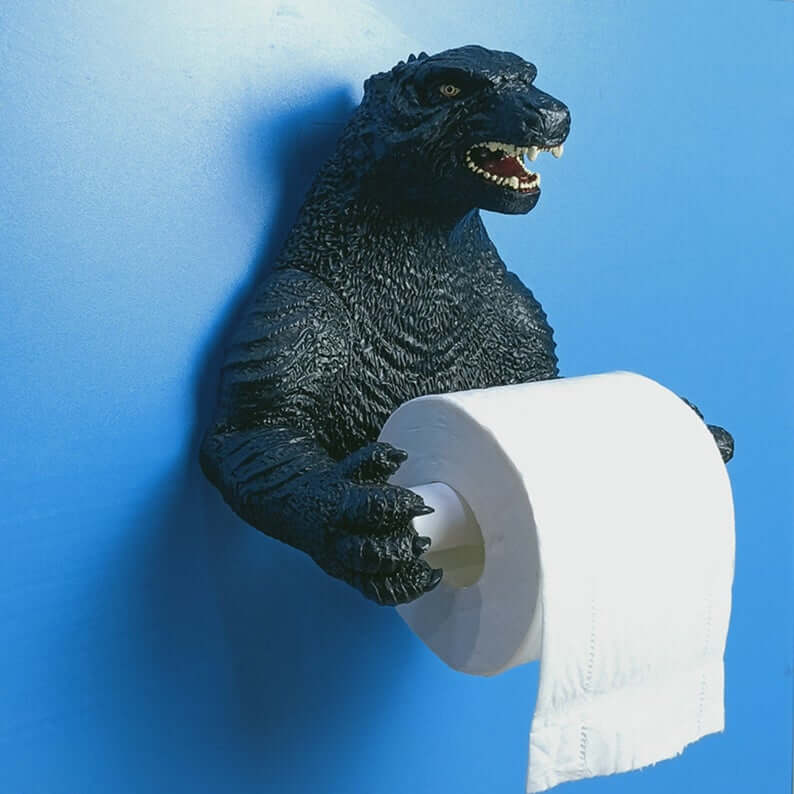 From kids to adults, many Godzilla fans will jump for joy with this cool toilet paper holder. The ferocious creature grips the toilet paper, always leaving you with a smile on your face when you enter and leave the bathroom. Due to its design, it can work out with different types of décor, freeing you to use it with just about any type of theme.
49. Unique Brass Toilet Paper Holder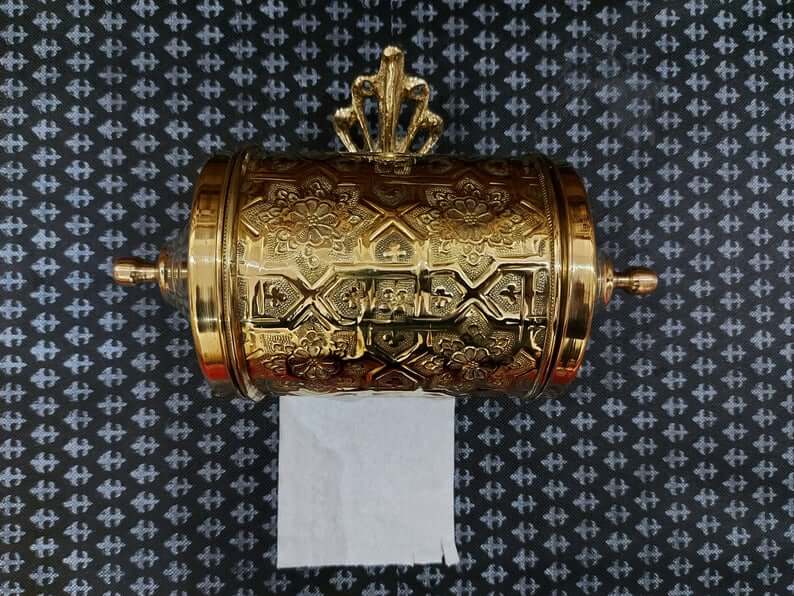 This is a beautiful choice for a toilet paper roll holder as it features a stunning Moroccan design that adds a sense of royalty to your bathroom décor. You can have it in its bright gold brass color, or you can decide to purchase it in a lovely silver color. Either way, you are left with a stunning piece that gives your toilet paper a more elegant place to rest.
50. Rustic Anchor Themed Tissue Hanger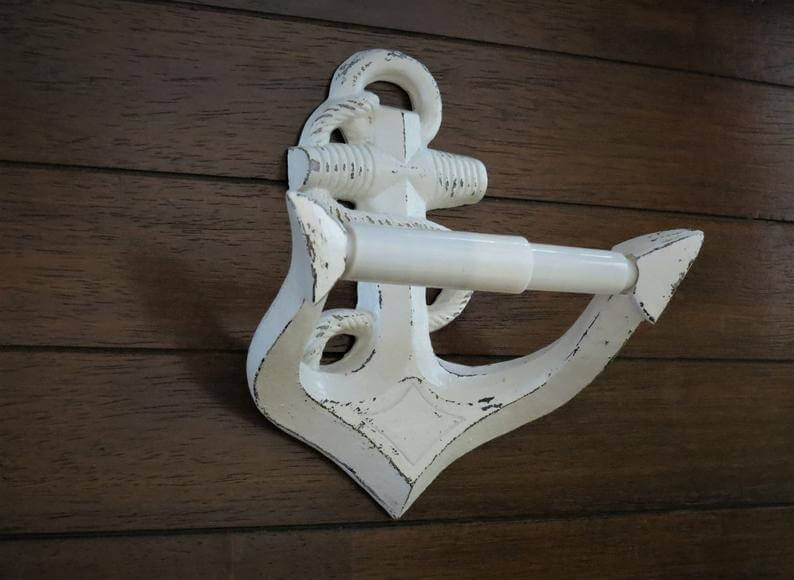 For a coastal or beach-themed bathroom, this anchor effortlessly adds to the overall style. It's a stylish piece that looks simple at first glance, but upon closer inspection, you'll readily notice the intricate design along with the anchor. This comes in several different finishes so it's easy to find the right one for your bathroom décor.
51. T-Rex 3D Printed Tissue Holder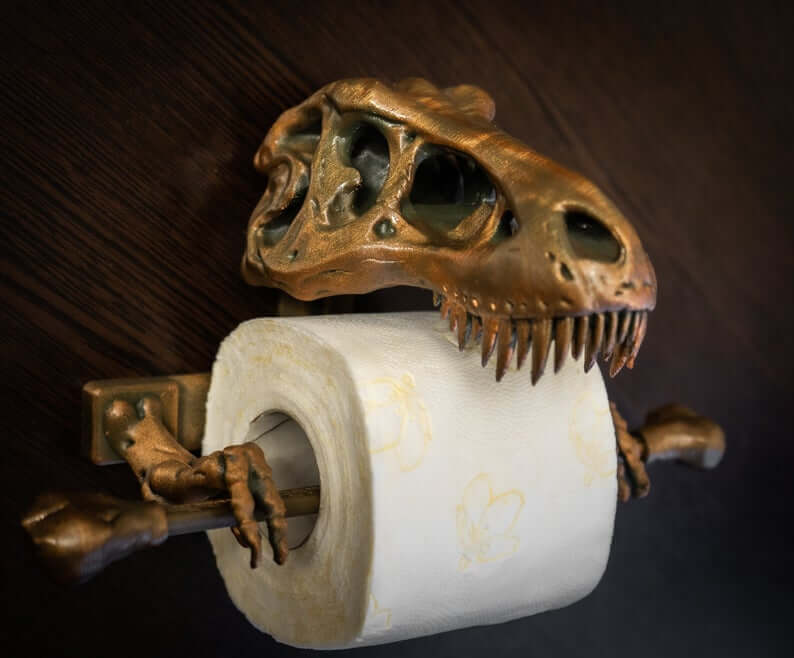 Any fan of dinosaurs will appreciate this stunning T-Rex toilet paper holder. Made on a 3D printer, this epic piece has plenty of details to proudly stand out whether used in an adult or a child's bathroom. There are more than a dozen colors it can be made in as well so you can capture a specific vibe that works best with your room.