Modern sleeper sofas today have evolved so much in terms of sofa design that they will add an extremely contemporary touch to your home decor. This new type of contemporary convertible couch has such an ultra-modern, sleek appearance that no one would ever know that there is a bed hiding inside it. These inventive and sofas can add a super-now touch to your home, providing you superior cushioning and comfort as well. You can bet you will be eager to curl up on the beds—or couches, for a quick nap or a Game of Thrones binge.
Today's modern sleeper furniture folds out into lounging chairs with a backrest, or futons with a head rest made out of the sofa top, giving the look of an ultramodern bed when folded out. These plush sofa-loungers are as comfortable as they are classy, stylish, and modern looking. With plush mattresses hiding within them, these promise to be the epitome of comfort and quality sofa design.
What to Consider when Selecting Sofa Beds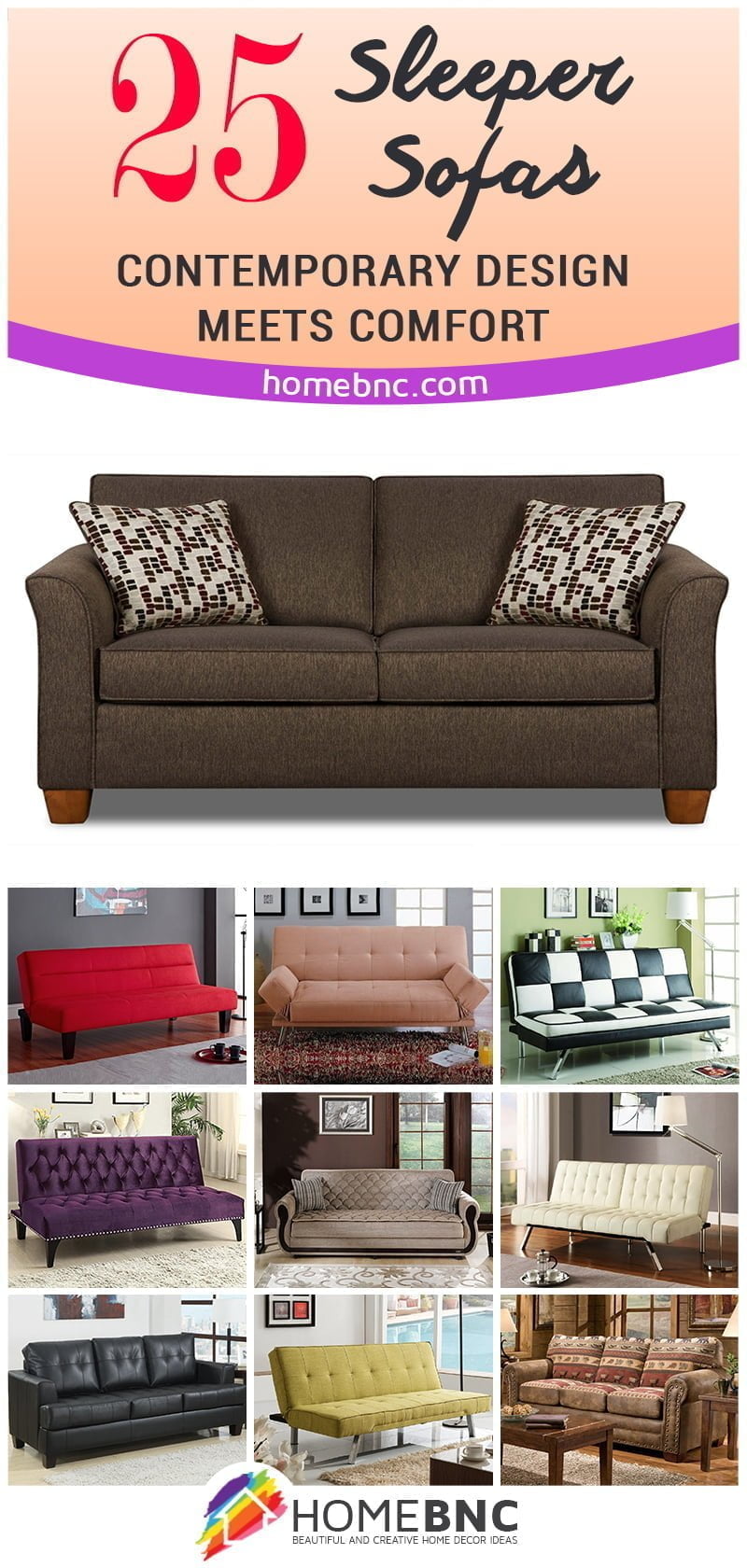 Play With Colors and Fabrics
When choosing sleeper furniture to accent your home decor, you want to pay attention to both color and fabric choices. For instance, couches with upholstery in smooth mono-toned fabrics might contrast nicely with blended, textured plaid-rattan-ish furniture. A bright pop of red in a sleeper couch, might pair nicely with other room furniture that is all monochromatic neutral colors such as gray, brown, black, or white. Bright oranges, reds, and blues are all the rage right now when one is seeking an accent piece. Be in your color selection and you'll continue to be experience joy in your living space for years and years to come – and it will never look drab.
Function
Knowing whether the sleeper sofa will be used primarily for sitting or sleeping/ lounging is also important. Why? Well, you want to make certain that cushions are comfortable enough for you and your guests to sit and visit or watch movies for hours comfortably for entertaining—and you want to make sure the couch turns into a very comfy bed if you are going to be sleeping on it often.
Form
There are different types of convertible couches available—one type is the fold-out kind of sleeper sofa, in which the sofa folds out into a bed by either leaning the headboard back or pulling the seat a big forward. The other is a trundle-type sofa, where the bed pulls out from underneath the sofa.
This sleeper sofa is hugely popular with both apartment owners and homeowners who want both a couch and a great place to lie down and chill after a long day at work or home. These sleeper-couches are a fantastic alternative to guest bedrooms, since friends can sleep on these comfortably for a night to a week.
Many sofa furniture companies offer you modernity and cool but at the price of comfort, because often the mattress in the sleeper sofa is very thin or uncomfortable. Not with these models, however. The 25 convertible couches I've chosen to showcase to you offer both comfort and style like crazy. If you want a statement piece that provides both beauty and comfort, one you can actually use to for sitting, visiting with friends, or lying down or sleeping in comfort either alone or with your S.O., these are the sofas you want.
Let's see what made the list for the 25 Best Sleeper Sofas in the World
1. DHM Convertible Sofa in Vanilla
Wow, what a wonderful contemporary accent piece this is. This piece is the epitome of sofa design and is both a couch and a comfortable lounger or bed. The couch sleeper easily folds out with what DHM calls "click clack" technology. The design is super-sleek and would add a modern touch to any bedroom, den, or study. This particular sleeper couch has faux leather upholstery that makes for easy cleaning and wiping off. Being that it comes in such a light color, ladies, this is important, especially if you have little ones. It is also available in black and also navy or gray linen. The price is highly affordable. [Around 189.00].
2. DHP Sola Convertible Sofa with Storage in Black
With this creative sleeper furniture option, modernity meets necessity. What I love about this choice is it's a sofa, a bed, a recliner all in one, plus a great storage space with two huge drawers for blankets and other necessities and gadgets that litter the room. Can you picture the possibilities? If you are like me, gals, you probably have a room you really live in – and it's littered with all your creature comforts. Now you have great hidey-hole drawers to stash those necessities easily in reach and neatly out of the picture. This sleeper sofa comes in black microfiber with chrome legs and a multi-position back with three positions –flat, reclining, and upright. Most reviewers give this product four to five stars for comfort and style. This is highly affordable as well. [Around $169.00]
3. Futon Sofa Bed in Modern Red Great And Comfortable For Entertaining Guests or A Quick Nap
Every house needs a statement piece or accent piece of some kind—in fact each room should have something that immediately draws the eye– and this red sofa would be a great pop of color in any "it just needs-something" kind of room in your house. This beautiful sofa design from Kebo comes in an eye-popping red apple color that would be a unique addition to any living room, bedroom, den, or study. This futon–like sofa bed is convertible to a comfortable full size bed with a thick mattress with just a pull. The sofa has super- durable microfiber upholstery that is easy to clean as well. If you seek comfort as well as creative design — plus a jazzy color to boot—here it is in all its comfy glory. [At an affordable price of somewhere around $199]
4. Modern Contemporary Upholstered Quality Sleeper Sofa Futon in Grey-Brown
If you need an affordable sleeper sofa that is beautiful and easy to assemble (even if you're alone), and one that will easily complement any living space—this is your sofa. This neutral gray piece is more like a couch than a futon and those huge fluffy pillows easily tuck into drawers that are hidden neatly underneath the cushions. The more-gray-than-brown poly-blend upholstery is easy to wipe clean with a wet cloth. The huge storage space underneath would be great for winter blankets or to stash daily necessities like your favorite pillows, remotes, a Nintendo DS, or a teddy bear. And you cannot beat the price. [It's only around $124 dollars].
5. Coaster Futon Sofa Bed with Removable Arm Rests, Brown Vinyl by Coaster Home Furnishings
This sofa is an interesting choice for people who want cushions for head rests quickly available when you make a bed out of the sofa because they remove easily and are comfortable enough to tuck under your head. Reviewers tout that this sleeper sofa is beyond comfortable, and the upholstery is made of super easy-to clean vinyl. Also, this couch is supposed to be one of the easiest couches to assemble in the world. The sofa design is ultra modern and the only thing you might need to know about the color is that it is more brown than black—making it even easier to coordinate with other pieces in your room. For customers who want a bed as comfortable as the sofa, this is your model. [Around $199].
6. DHP Vienna Sofa Sleeper with 2 Pillows
For great interior design potential, you will want this elegant sleeper sofa that will take the beauty of your home up a major notch. This piece would look great in any interior because it is a light ivory-tan color that will coordinate easily with your space. The super supportive dark brown legs are finished to a gleam and the slipcover is made of luxurious linen. Its amenities, such as two storage pockets on the faux leather arm rests and throw pillows that match the slip, make it a lovely addition to any home — and you won't have to shop for extra features such as remote holders or throws because they're all right here. For comfort and stylish design, this is a great selection. [Around $244]
7. The HomCom 61″ Folding Futon Sleeper Couch Sofa Bed in Blue
While a typical convertible couch measures about 71 x 78 inches, this sleeper sofa is merely 61 inches long, making it a great choice for small homes and living spaces. Coming in the color of the season, bright blue, this piece would make an artistic addition to any room in the home. This sleeper futon is lightweight, easy to assemble, and has a foldout mattress for comfortable sleeping or sitting. It has a thick, full-size mattress that can comfortably allow two to sit or sleep on it or to lie back and watch a movie together. The sofa selection is slightly more expensive than other sleeper furniture, but with this elegance and home decor potential it is well worth it. [Around $259]
8. Tan Microfiber Sofa Bed
This is my favorite sofa model of all. Super contemporary, this tan microfiber sleeper sofa bed by AtHomeMart is sleek, inventive, and creative in design. With diagonally placed armrests, and a sturdy stainless steel frame, this post-modern looking couch will definitely bring a very ahead of the curve touch to your living space. This sofa is just as comfortable as it is stylized with a super-thick, comfy mattress that would be ideal for naps, TV binges, and all-night sleeping. Customers love this sofa for both its comfort and its beauty. And even though the price is slightly higher, it is well worth it for a designer piece like this. [Around $299]
9. Coaster 300212 Home Furnishings Sofa Bed
This inventive and beautiful sofa bed by Coaster sleeps or sits two alternatively – because it allows one person to sit up and one to lie down because of its vertically split mattress. In bright blue, one of the season's hottest colors, this creative, wave-designed couch is highly popular with customers, who love it for its comfort and modern design. This super-to easy fold down futon/bed will take any home design to a new level and add a unique piece to your home as well. If you want a stylish piece that is comfortable, easy to assemble, and perfect for getting some sleep or relaxation, this is the choice for you. Like most sleeper furniture that provides a good mattress, this choice is a little pricier than some options. [Around $259]
10. Sleeper Sofa Bed with Stainless Steel Legs Living Room—Green
Wow, the kiwi-lime color of these creative sleeper sofas by Nova will add something special to any home design. This modern, sleek, armless sofa in linen, promises easy fold-down comfort and super design options. The style of this sleeper sofa is very contemporary and features stainless steel legs that gleam in silver. The mattress is thick, super comfortable, and converts easily to a sleeper with just a lean back. When extended, the bed measures about 70 inches long, making it perfect for slightly smaller living spaces. If you want super comfort, combined with ease of assembly, easy of fold-down, and unique elegance—this is most definitely the choice for you. Like most fine sleeper / futons, this one runs a little more dear in price. [Around $299]
11. Coaster Sofa Bed in White
This is the premium sofa bed for refinement, style, elegance and super modern design. With a plush mattress that is super thick and comfortable, this pricey-looking model is the epitome of function and beauty. This convertible couch by Coaster Home Furnishing,, is pricey, but is certainly worth it for a showpiece like this. Customers across the globe be are giving it four and five stars and rave about the convertible arms, comfort, and ease of assembly, as it comes fully assembled except for the easy to attach legs. This lovely couch will add something special to your home decor, especially with its lovely, creamy-white faux leather upholstery that will easily coordinate in any room interior. It is also an affordable piece for something so ultra-chic. [Around $414]
12. Coaster 500235 Home Furnishings Sofa Bed, in Purple
This opulent velvet-looking sleeper sofa bed comes in a plummy purple in hand-rubbed leather. This piece is a vintage-styled piece that is extremely elegant. These sleeper sofas by Coaster will go fabulously with high end looking pieces and classy wallpaper or could be a funky addition to a neo-modern space as well. This sofa is most definitely a showpiece, with a diamond accented nailed back and a deeply cushioned mattress. It also has stylish studs that surround the sofa bottom and elegant wood legs in a deep mahogany that contrasts well with the purple velvet. This beautiful showpiece is a little pricier than some options, but well worth it. Customers love it for its expensive looks, durability, and beauty—and velvety surfaces are often easier to clean than others. [Around $350.]
13. DHP Sienna Sofa Sleeper, in Gray
This grey linen sofa will add a classically modern touch to your home design. This convertible couch will be beyond comfortable with its textured upholstery and tufted cushions. Its tapered black wooden legs add an elegant touch as well. This piece has a tailored look that is actually a reinvented mid-century design. This piece would look wonderful in a living room or especially an office space because it is classy, all business, and easily converts to good bed because of its bountifully stuffed mattress. You can easily fold down the seat, for a quick nap at home or in the office. The detailing on this piece gives the couch a sophisticated look, making it suitable from spaces from a lawyer's office to your den. For superior sofa design—this is a well-crafted piece that fits the bill. It is also affordable, running around three hundred dollars. [Around $311.50]
14. Baja Convert-a-couch and Sofa Bed, Multiple Colors (Khaki)
This five-star reviewed convertible sofa gets kudos from hundreds of impressed customers for its softness and comfort. Just think of how comfy this couch will be since the cushioning looks it has the fluffiness of a down comforter or feather bed. For people who prefer a soft mattress, this is the sleeper couch for you. Customers rave about how quickly they can fall asleep on this—probably because it features a 10 inch pillow-topped mattress with an independently wrapped coil system. Also, with a touch of the hand, the couch easily converts to a comfy pillow-y bed that promises a good night's sleep for two persons (and even a pet or two!). The upholstery is 100% resilient and easy to clean polyester. And this subdued khaki color will go easily with any room's color scheme or design. This sleeper sofa bed is a little higher priced but well worth it according to all the customer reviews I read! [Around $349.]
15. Coaster Sleeper Sofa Bed
Blend the boldness of contemporary design and retro simplicity together with these black and white checkered sofa beds. The piece features easy-to-clean vinyl upholstery and folds out into a full sized bed, that can easily fit two people. This stylish piece also features shiny silver chrome legs. Even more importantly, the majority of reviewers rate this selection five stars for comfort, appearance, ease of assembly, and ease of conversion to a bed. The bed sleeps comfortably with thick mattress that promises comfort. The price is somewhat high on this, but with rave reviews like this, you might consider it for its sturdy, lasting construction and easy to clean vinyl cover –guaranteeing a clean, gorgeous, and lasting sofa for years. [Around $400]
16. Sofa Bed in Blue
If you loved the purple sofa I discussed above but are hesitant about such a regal color, check out this stunning blue velvet sofa design from Coaster Home Furnishings. This vintage style, luxurious couch folds down easily into a super comfortable bed. This selection features a deeply pocketed and riveted back and riveted chrome nail accents, giving it an ultra-posh appearance. It is also an investment piece as well, as it is upholstered in real velvet. making it a bit pricey but definitely worth the investment. This high end looking sofa sleeper easily reclines into a full sized bed, and the thick velvet mattress promises a warm, plush surface to sleep on—or you could cover it with a slip cover (I would) and preserve this gorgeous cerulean velvet. This beautiful blue hue is definitely the color of the season—have you seen all the blue suede Mary Janes and sandals for sale lately? [Priced around $550]
17. Carlington Leather Vinyl Storage Sleeper Sofa
These luxury sleeper sofas by Hokku Designs are a deep, rich brown leather vinyl and are tufted all over, promising the height of luxury and comfort. You cannot even tell it holds a bed within it, can you? In fact, it looks like a very expensive brand of leather sofa. This sofa is a big seller too because of the huge compartments hidden inside for you favorite blankets and pillows to curl up with. This sofa is larger than many others at a whopping 84 inches wide and it folds out into a full-sized mattress, easily able to sleep two. It is a hugely popular choice, especially for dens, offices, and extra bedrooms. [Around $559]
18. PerfectChoice Living Room Simple Adjustable Futon Sleeper Sofa Bed Trellis Pattern Fabric Color Mustard
This yellow sofa sleeper with white trellis patterning and white piping is the height of fun and casual style. The sofa also comes in teal, navy blue, and grey as well. This easy-to-assemble fold out sofa features a super-sturdy frame constructed from kiln-dried hardwood. The couch is only 69 inches wide, making it perfect for smaller spaces such as efficiency and smal apartments. Perfect for reading, study, watching movies or playing games by day and functioning as a double bed at night, this makes the perfect addition to any home wanting an unusual accent piece to liven up their home. Priced affordably as well. [Around $300].
19. IDO Furniture Miami Modern Sofa Bed PU-Leather White
Do you like taking home design from the postmodern to the futuristic? Then this is the ultimate sofa for you. This white, super-modern sofa sleeper is edgy and ˆcomfortable. Just one glance at this sofa, and you can tell it will bring both super comfort and classic cool to your living space. The easy-to-clean and maintain upholstery is made of quality leatherette material that resists stains and tears. The stainless steal legs gleam in silver and the frame is super sturdy. Also, the reclining feature on this sofa adjusts to multiple positions – and that cute arty cut-out in the back does not show when you fold it out into the bed position. There is no assembly required except for attaching the legs of the sofa. These sofa beds are the epitome of modern functionality and craftsmanship. This showpiece is slightly pricey but will last for decades. [Around $650]
20. Coaster Home Furnishings Contemporary Sleeper, Black
If you want a sofa sleeper that adds class, elegance, and style to your home design and décor, and that would be perfect for a bedroom, den or office, this is the perfect selection for you. It is also the ideal choice for someone who either lacks an extra bedroom or needs a big bed in a small space, as this sofa folds out into a huge queen-sized bed. The sofa is super comfortable and has received hundreds of four and five star reviews. Customers love the tufted cushions, providing super-comfort, and the super-plush mattress that makes other convertible couches pale in comparison. This sofa also comes in cream, black, or dark brown bonded leather upholstery. This showy convertible couch is a little more expensive than others, but also more plush and sturdy. [Around $830]
21. Simmons Chenille Chocolate Fabric Full Size Sleeper
The Simmons chenille sofa is a classy traditional convertible couch that comes in full, queen, or twin sizes, enabling you to select your model based upon space and usage needs. The chenille fabric is soft to the touch and safe for spot cleaning with mild soap and water (only a little soap, ladies!) This sofa is ideal for a living room, den, or bedroom. Reviewers state that the chocolate is actually an ebony brown, and most people prefer this darker color anyway because it fits in easily with other furnishings. This couch is a perfect size for virtually any room at A great size t 73 inches wide. It is affordably priced as well. [Around $700]
22. American Furniture Classics Sierra Lodge Sofa
This sofa option received FIVE STARS from every reviewer! This lodge-inspired sofa will bring a rustic feel to your home decor. In fact, customers adore this sofa and say it is even more attractive in person. After reading all the reviews, I have to say that this is the highest rated sofa sleeper furniture I've researched. This super sturdy couch, all exclaim, will provide decades of comfort. A more comfortable-than-usual mattress stored inside gets rave reviews as well. Perfect for reclining with friends or as a sleeper for two, this is the couch for any space that needs a homey-laid-back feeling –great for dens, living rooms, or more casual offices. Although its price is higher than most models, after reading these reviews I believe its highly worth it. Slightly higher priced, from reading reviews it is well worth it. [Around $850]
23. Argos Zilkade Light Brown Convertible Sofa Bed by Sunset
This newly featured upscale sofa sleeper by Sunset would be perfect for entertaining or for showcasing anywhere you want a statement piece. The fabric is a luxurious chenille fabric that has delicate scalloped accexnts of espresso stitching throughout. This couch sleeper features super plush padding, and curvy contours which gives the couch a lovely and unique look. The mattress on this sofa is extremely comfortable. This longer sofa sleeper (91") that houses a full-size comfy mattress, is perfect for guests or a nap while watching TV. An impressive option for you if you lack a guest room, because you'll rest assured that they're comfortable and pampered in this high-end convertible couch. [Affordably priced at around $800].
24. Zuo Pax Linen Quilted Sleeper Sofa in Red
This is a modern, elegant piece in the color of love — red! — could become a conversation piece in virtually any room of your house. The couch sleeper features a unique quilted design for super comfort and will sleep two quite comfortably since it features a full sized mattress within. The upholstery is easy-to-clean poly-linen fabric. The base is fully stainless steel, meaning a long lasting product. This playfully colored sofa would be a great sofa lounging with a friend, children's sleepovers, or entertaining guests. The sofa is 78" long, promising enough room for you and your S.O. This sofa is a little pricier than some options—but the base is completely stainless steel! [Around $853]
25. Donnell Granite Color Contemporary Top-grain Leather Queen Sofa Sleeper
Super-plush cushions on both the back and seats of this gorgeous, sleek sofa sleeper make it a fan favorite. Customers are bowled over with both the style and comfort of this convertible sofa. Plus, the sofa features top grain leather with matched DuraBlend upholstery everywhere else. The sofa converts to a beyond comfortable queen sized bed with a very thick mattress. The sofa gains a contemporary and classy feel from jumbo stitched details as well as brushed pewter nail accents. In cool, classy granite—this is an excellent choice for pairing with any décor. At 90 inches in width, this sofa sleeper can be a great lounger or sleeper for you, a friend, and a pet or two even! [Around $1690]
Fantastic Convertible Sofa Beds You Can Buy Affordably
Any one of these gorgeous pieces of sofa sleeper furniture can bring class, elegance, and comfort and a fashion-forward vibe to your home. Try one of these stylish couch sleepers and you'll never want anything but a convertible couch in the living space where you do the most living—I promise. I love them because I'm a movie buff, and when I really get into a film and lie down and stretch out my back for a bit, a quick pull provides me with a comfy bed without go to a different room or miss one second of the movie.