42. Expressive Colors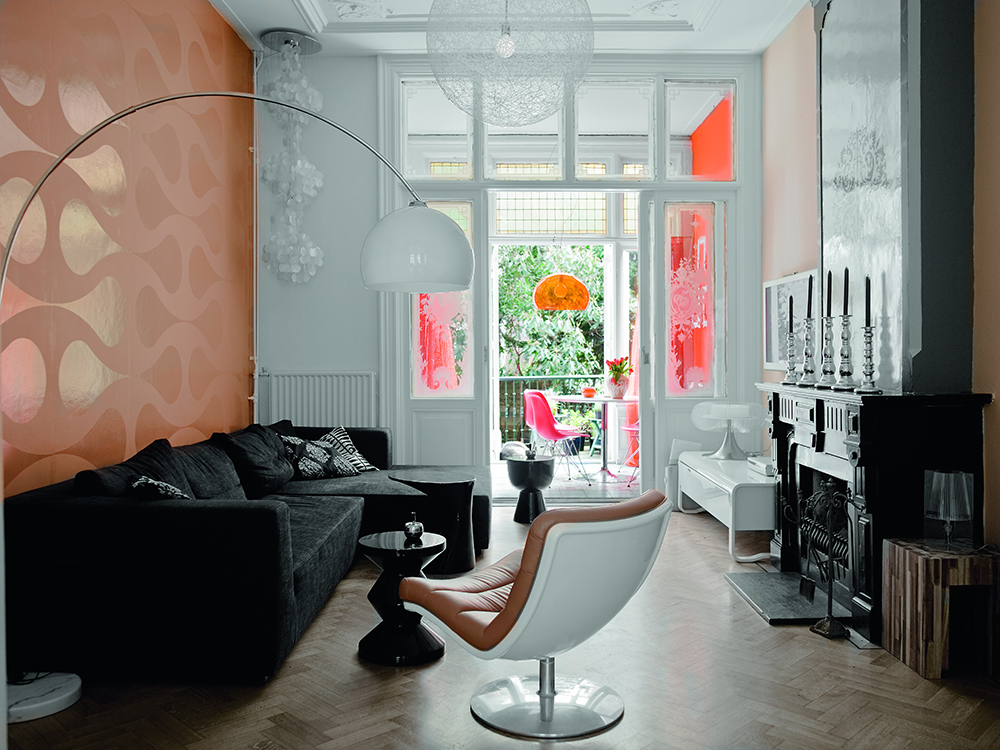 Color is a crucial element in home decor, and the home of Danish couple Reinier and Nirvana is no exception. Color can be an indicator of your personality, and people with particular personalities gravitate toward certain colors on their own. For example, outgoing people like Nirvana tend to use brighter colors like orange, while intellectual people like Reinier often prefer blue. This is why home designers incorporate seemingly odd combinations of colors into their designs: to articulate the multifaceted personalities of their clients. Merging your family's color preferences can be tricky, but the result will be more than worth it.
43. Sophisticated Color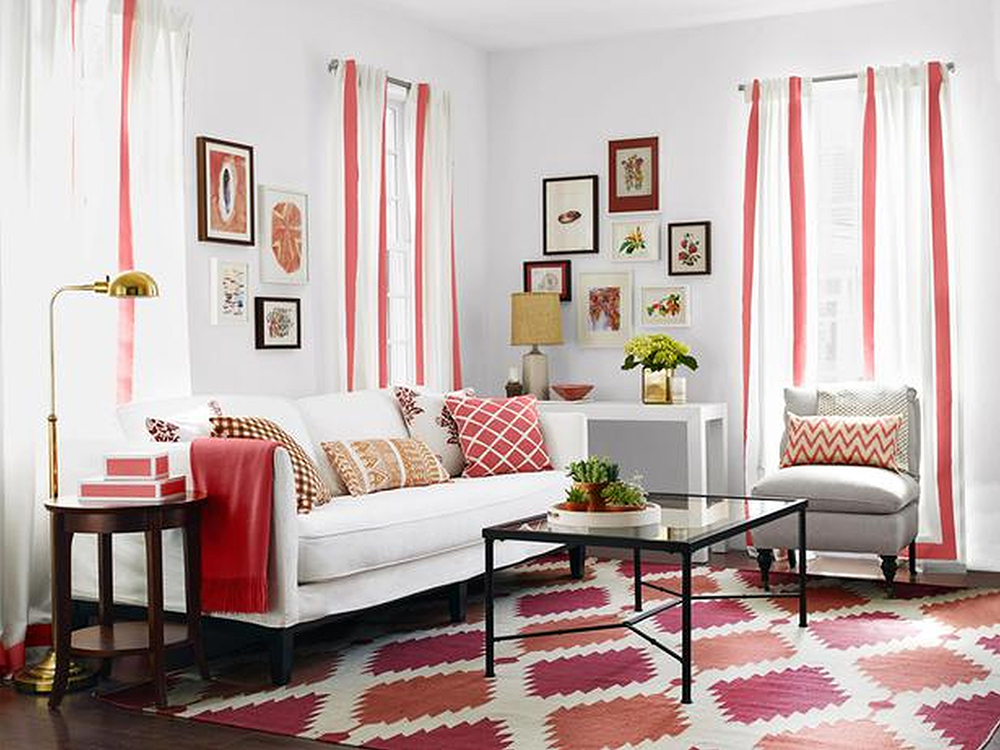 This colorful and modern small living room interior is another shining example of why color choice is important. Not only is it contemporary and sleek, but it's also feminine and down to earth, which is a set of descriptors you rarely see at work in one room. Orange and pink is not usually a positive combination of colors but in this case, they work surprisingly well together. The white furniture and walls complement the room's natural lighting as well, adding to the bright and happy atmosphere. Even the patterns at work are lovely, with some of them mimicking the carpeting.
44. Modern Familiarity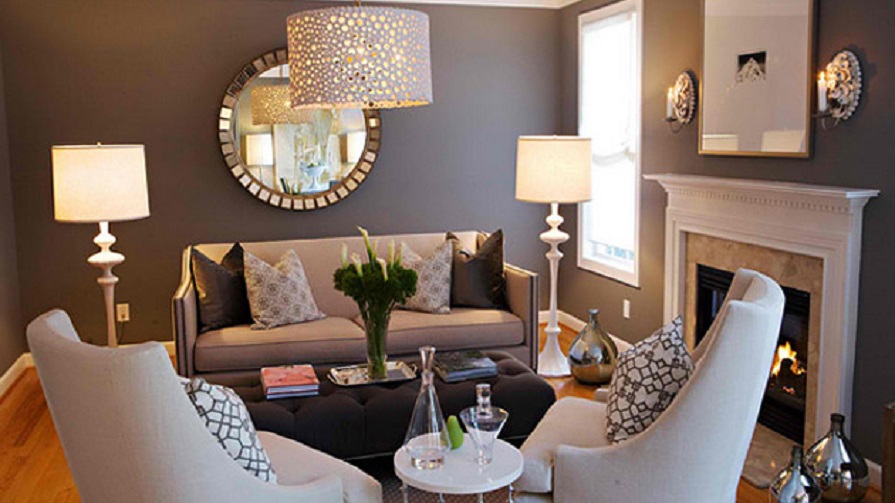 This room proves that living room designs for small spaces don't necessarily have to conform to a specific style. While this living room could be considered modern, its design is far from being futuristic or minimalist as with most modern designs. Bucking the trends can sometimes be a good thing, as it could result in an inviting little space like this one. This is an especially worthwhile practice if you're not a fan of the eclectic look but still want to try something new. Having a room that looks the same as everyone else's defeats the purpose of interior design.
45. Cherry Cordial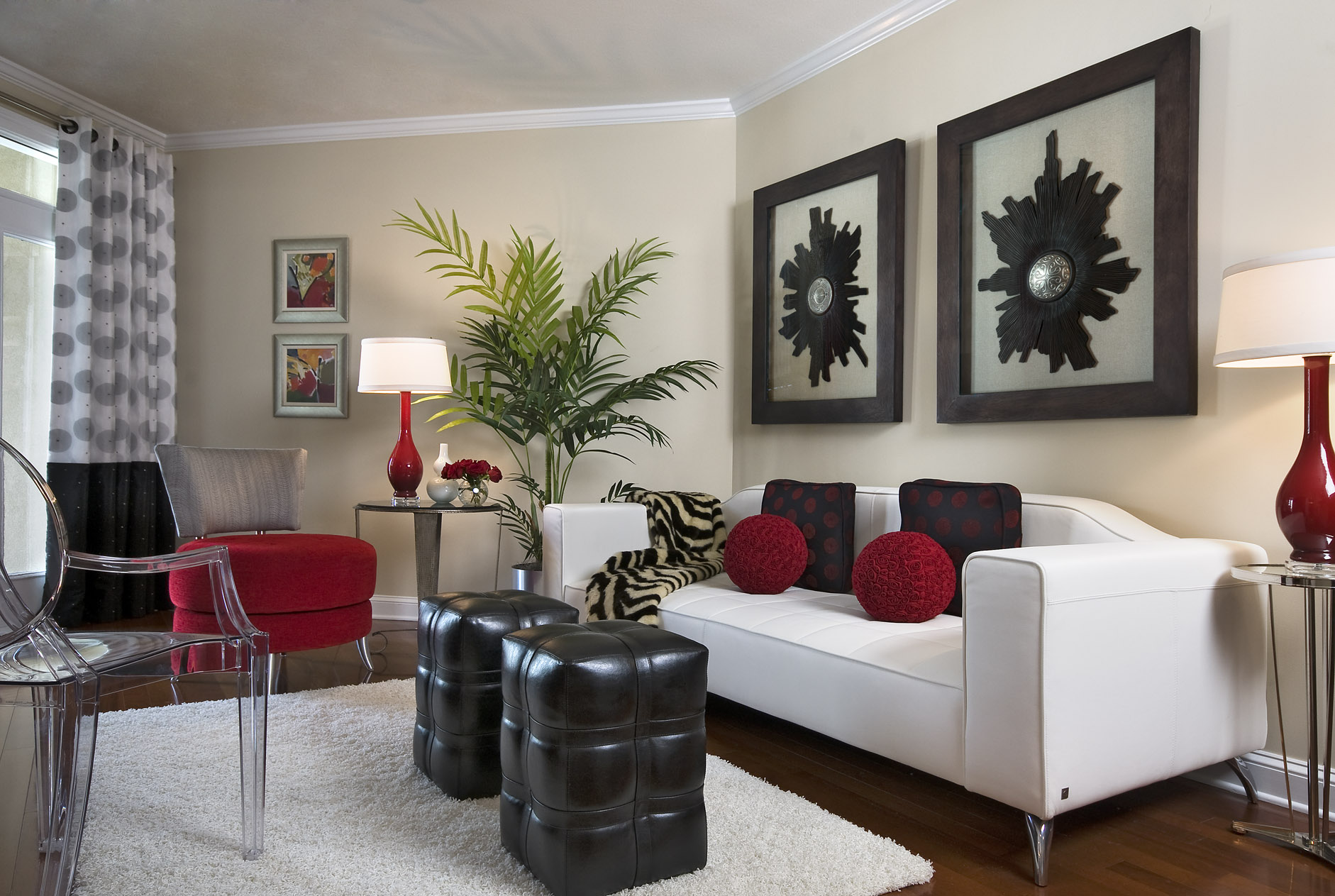 Here is another modern beauty that makes excellent use of its open and airy layout and gentle innate lighting. One look at this room demonstrates why small living room organization is crucial to any design. In this room's case, pay attention to the seating; everything is available without being forced. The ottomans and chairs are both small and manageable enough that they can be rearranged any which way without any fuss. Each piece feels distinct without being in the way. Even the houseplant in the rear is tucked away such that it still has presence but doesn't crowd anything out.
46. Textures Matter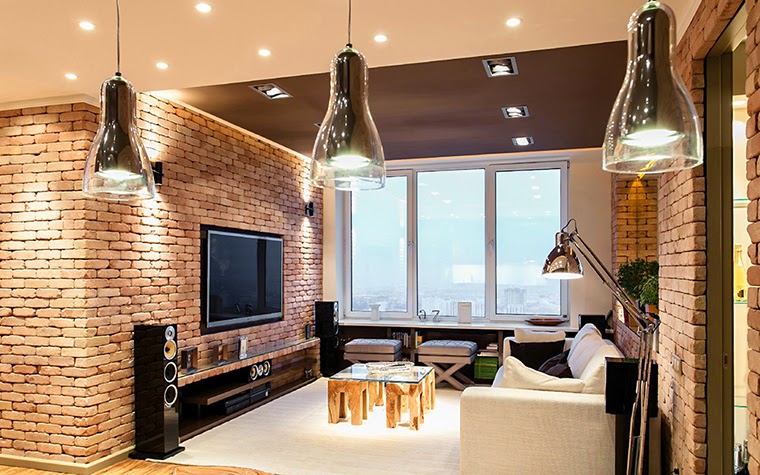 Textures can be just as beautiful as colors in small living room designs and this room is a shining example of why that is. The room makes such brilliant use of texture that you feel as though you could reach out and touch the brick walls. The coffee table is an exquisite marriage of rough and smooth, featuring hewn wood legs and a smooth glass top. The room's lighting only enhances the appeal of the textures, nestling little flecks of light and shadow in every nook and cranny throughout the room. This room truly is a feast for the eyes.
47. Mellow Yellow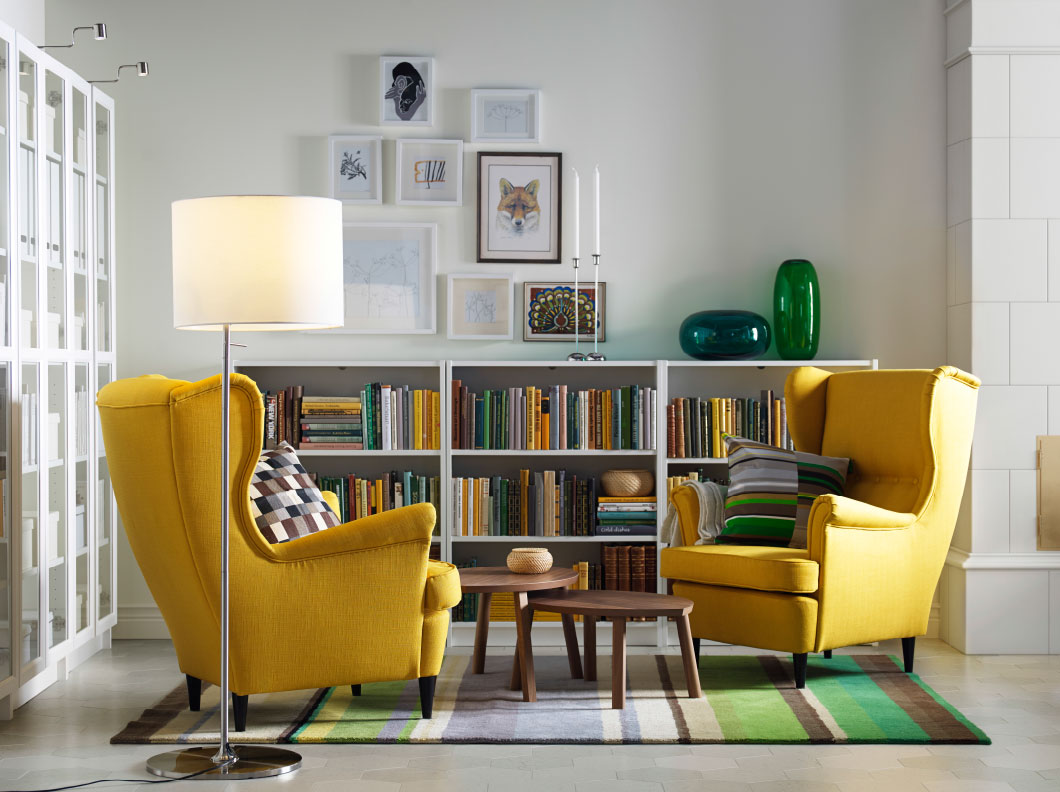 When all you need is a good reading place, nothing beats a small living room like this one. This room serves its purpose well, with plenty of natural lighting for daytime reading and a sleek and simple lamp for nighttime reading. While yellow may seem invasive to some people, this particular shade is actually rather mellow and comforting. The shelving unit on the left also features small and out of the way lighting to help find a particular book at night without lighting up the whole room. When designing your own space, always keep that space's main purpose in mind.
48. Strategic Design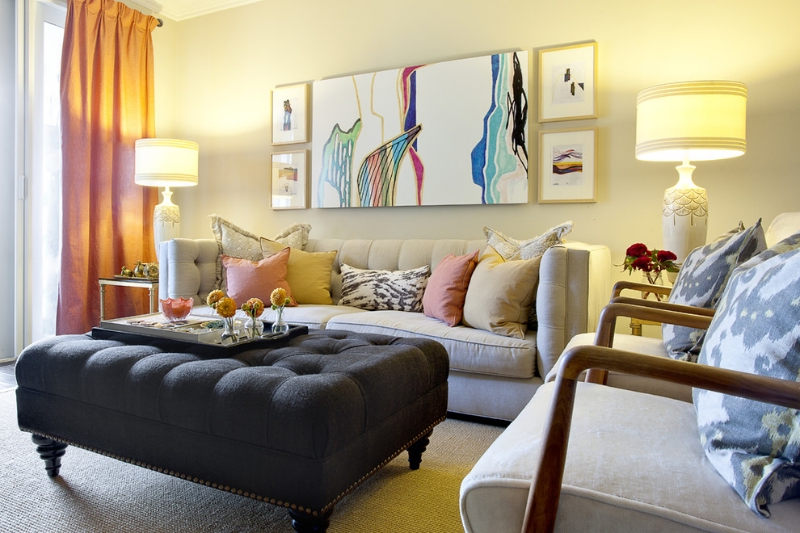 The designer of this next space had a vast array of small living room ideas in mind when they created this room. One technique used in this room is that the room's sofas and chairs are arranged in in a "P" shape to promote interaction with guests. Another design element used in this room is to keep chairs and sofas facing toward a door rather than away. The reason for this is actually quite fascinating. Guests would actually feel less safe in the room if they couldn't see a way out, even though they wouldn't realize that they felt so.
49. Weathered Bliss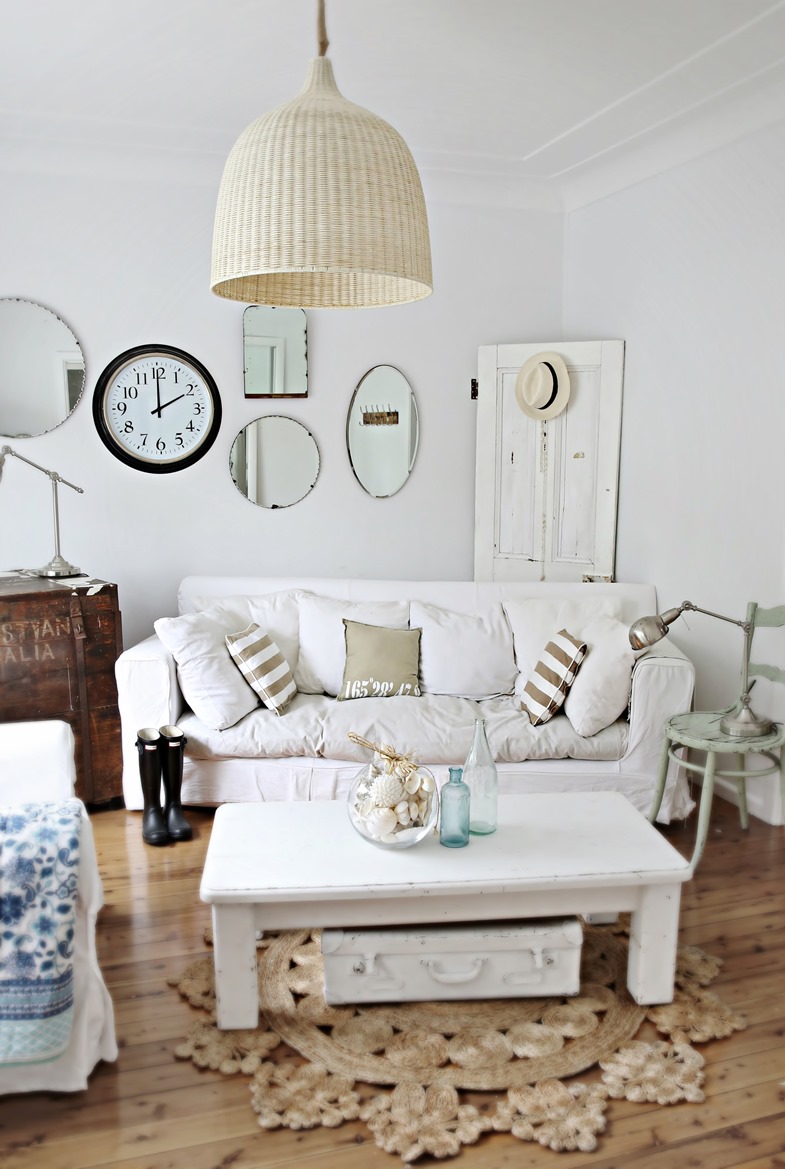 This charming seaside abode proves that interior design for small living room does not have to be expensive to look amazing. Pulling together garage sale finds, an item or two from Ikea and some vintage accents, this room's designer takes full advantage of what is available to her. What is truly appealing about this space is that each piece has its own story to tell. This lends it tremendous personal depth while still having practicality. While a variety of textures may be missing in this space, the character and lived-in quality of the space more than makes up for it.
50. Mustard Seed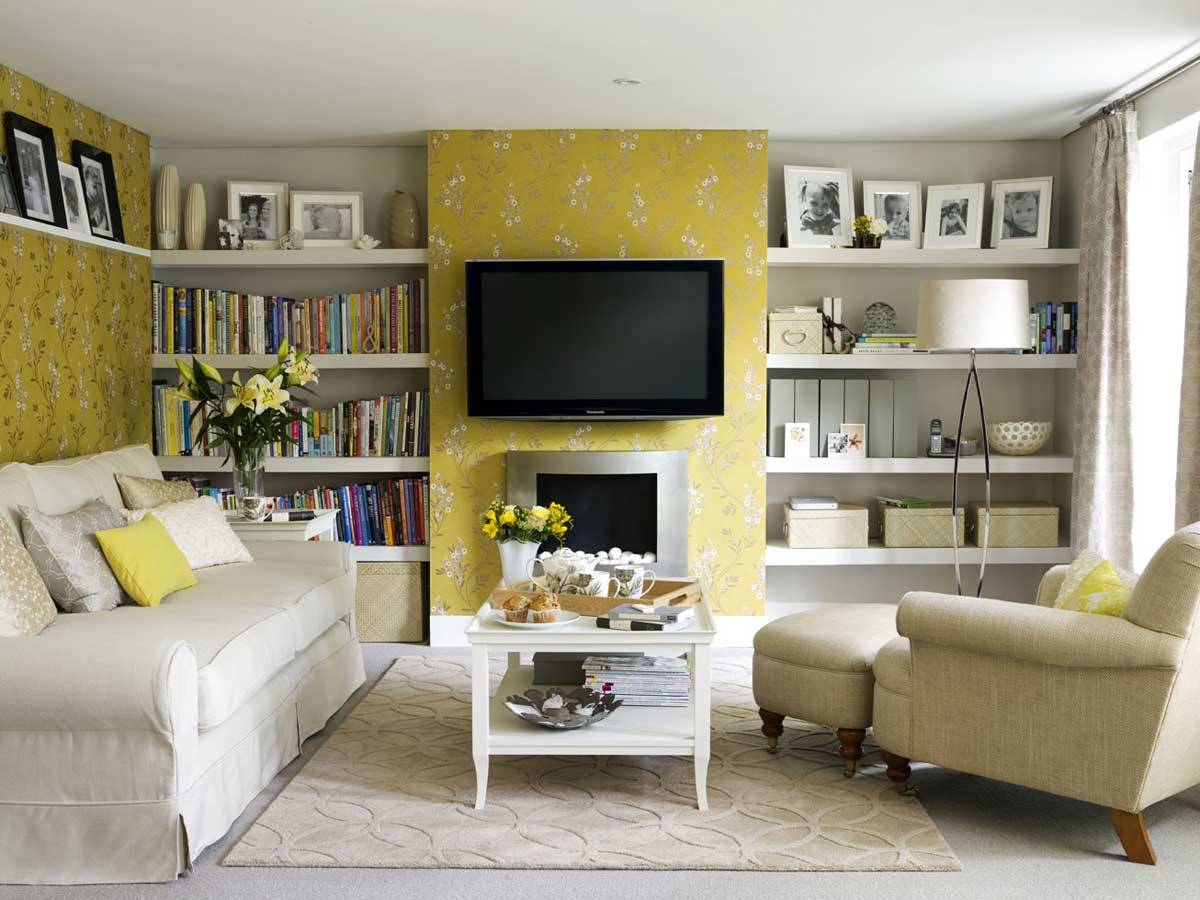 In the last of our living room ideas for small spaces, we have this bright and unique room. This welcoming little space makes you feel right at home the moment you step inside. Family photos are proudly displayed at the very top of the shelving, while the television and fireplace stand ready to entertain guests. The charming wall color also enhances the room's abundant natural lighting, which focuses its attention on the creamy white sofa adorned with a variety of fun and colorful pillows. This fanciful room embodies what a home should always aspire to be: comfortable, welcoming and personal.
As this list of living rooms shows, your space is what you make of it. With a little design know-how, some personal touches and a bit of common sense, living room designs for small spaces can look warm and inviting. The right furniture makes a difference, too. You don't have to suffer with tiny and uncomfortable furniture. Don't be afraid to get creative and experiment, as it could yield some wonderful results. You only know if you try.
50 Living Room Ideas for Small Spaces
However you choose to design your living room, don't forget its main purpose. It is where your family gathers to relax, it is a place to entertain guests, and it is a sanctuary at the end of a long day. Let your room represent who you and your family are and the rest of the living room's design will fall into place. As long as you balance the colors, lighting, textures, sizes and shapes at work, your own room will look spectacular. All it takes is the right color scheme or the right visual interest piece to take a room from bland to mind-blowing. No matter what, keep this advice in mind when designing your own small living space: be yourself.