When you pair your style with the best stenciled wall ideas, prepare to hear lots of compliments about your exquisitely-decorated home. Many times, stenciled walls are actually indistinguishable from expensive and difficult-to-remove wallpaper. Using stencils and paint also allows for a great deal of customization so that your space can truly feel like your own. As you begin your stencil wall painting journey, there are a few exciting decisions ahead of you.
19 of the Best Stenciled Wall Ideas for Home Renovations of All Sizes

First, you will get to decide what kinds of stencils are right for your vision, your budget, and your comfort level. Aesthetic design is probably the first aspect you will notice about any stencil. From intricate lace to sleek modern geometrics, there are a wide variety of pre-cut stencils available. If your vision is too big or your budget too small for a pre-cut stencil, there are plenty of ways to successfully make your own stencil. If you are new to painting walls via stencil, you might decide that a single-use stencil with adhesive backing is the right approach for your comfort level.
Before beginning your project, color is another important decision. There are at least two colors to consider: the base color under the stencil and the color you paint over the stencil. Should you desire, you can spice up your design by choosing multiple paint colors for either of these options. In general, the higher contrast your colors are, the more dramatic the final effect will be. If you are looking for layers of subtle detail, similar hues are a better option. A few of the ideas can even be achieved with permanent markers if paint is too big a step right now. With patience and persistence as you apply your favorite stencil wall painting ideas, your project will become a work of art.
1. Botanical Stencils for a Peaceful Bedroom Sanctuary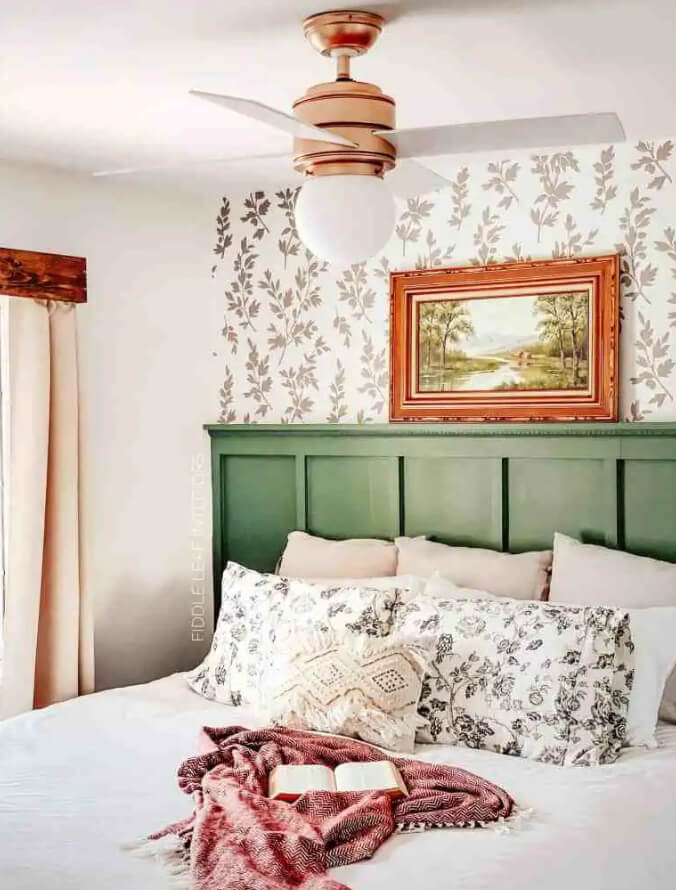 Olive branch stencils might not be the focal point in this restful retreat, but they certainly help develop a therapeutic ambiance. These olive branches are actually stenciled onto a textured wall. Close inspection will show a few blurred lines, but this adds a vintage charm to the overall effect. If your style demands perfect edges, stick to stenciling absolutely smooth walls. Of course, cohesive room design goes beyond how crisp the stenciled lines are. In this bedroom, botanical pillow cases tie the stenciled leaves into the room while warm wood and red accents create a space that feels altogether inviting.
2. Successful Stencil Design for Accent Walls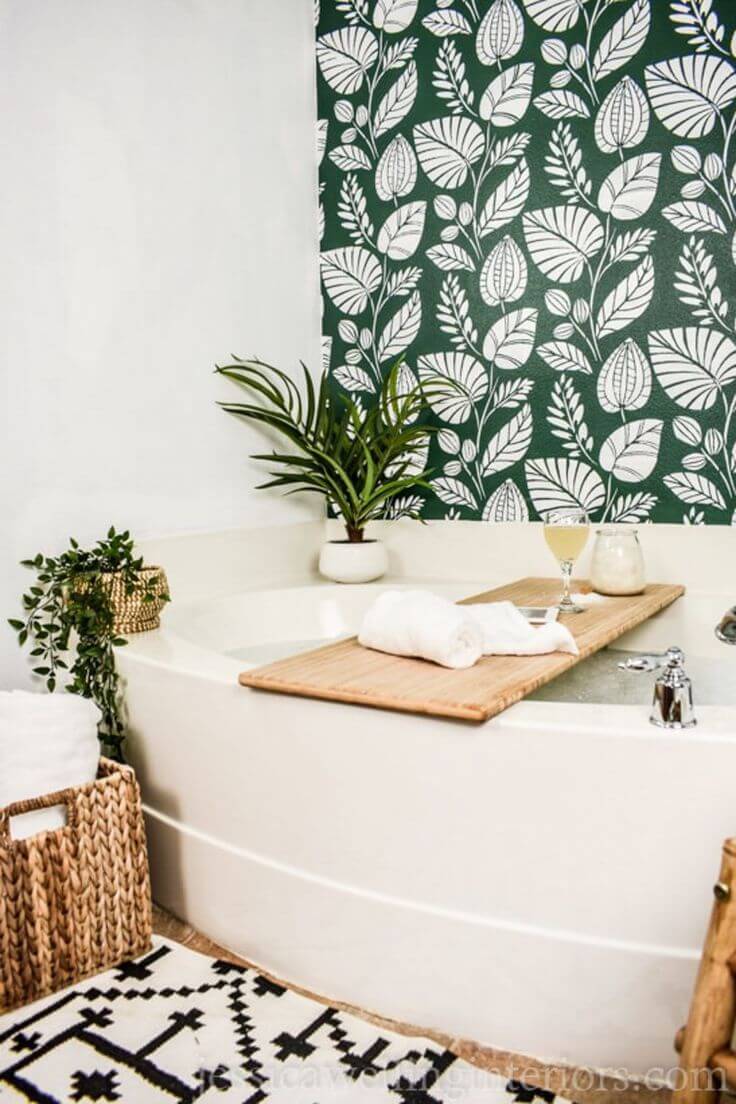 Choosing which wall will star as the focal point is the first step in effective stencil design. An intimate alcove above a bathtub is a great candidate, but each space offers unique opportunities. By using a soothing rich green base color and refreshing white stencil color, this example cultivates tranquility. Because the rest of the bathroom is white, the dramatic green is the perfect counterbalance. Deciding what base color approach is right for your space often depends on determining whether the rest of the room is primarily filled with restorative lighter tones or laden with an abundance of bright colors.
3. Best Stenciled Wall Ideas for Freeform Layouts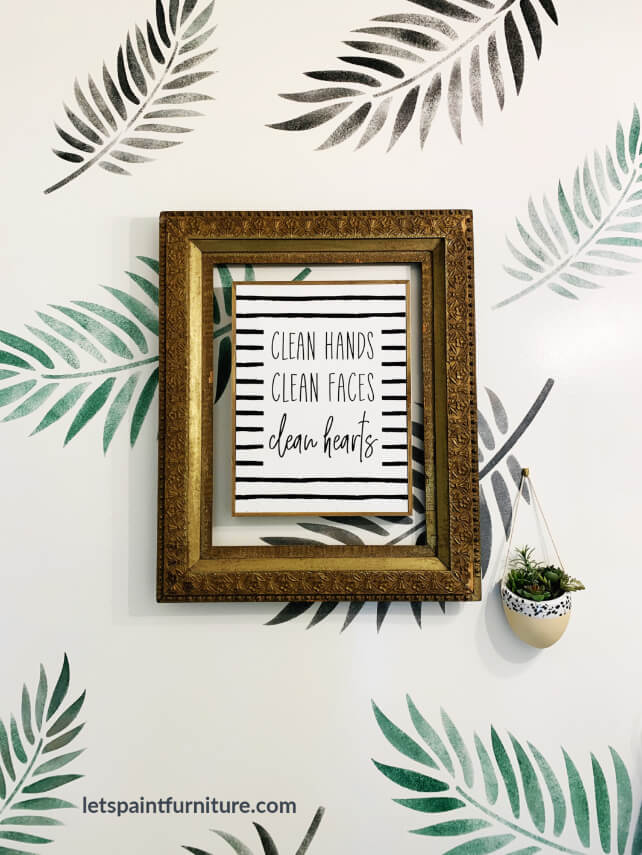 While most of the stencil ideas included in this list are for patterned stencils that must be lined up with each other, this palm leaf approach allows for some artistic freedom. In this technique, you can skip the measuring and simply position the stencil where you think a palm leaf should go. Two stencil sizes and two paint colors ensure variety. By not completely covering the leaves with color, a textural effect is achieved. This also means that no two leaves will look identical. Use this strategy with classy botanicals, cool ocean-inspired motifs, or any pattern that works with your vision.
4. Stencil Wall Painting Ideas to Develop Drama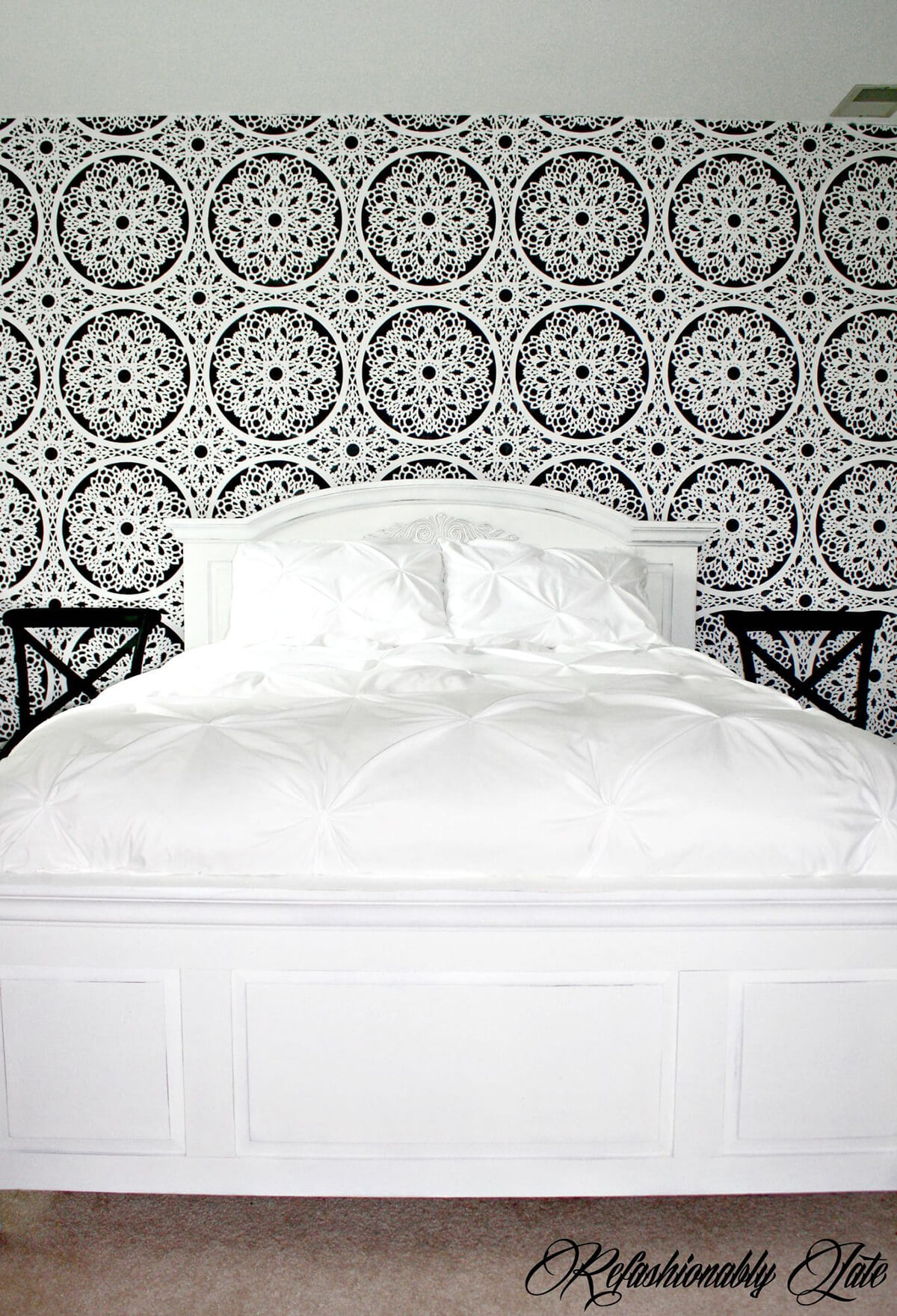 If you are looking to create instant drama, draw inspiration from this example. Beyond the classic color scheme, all the intricate detail creates a natural focal point. However, to ensure the accent wall does not compete with other design elements, keep the rest of the room simple. If the stark contrast is too much for your design plan, you can still harness lace's sophistication via different color choices. Milder colors cultivate a softer feel. For a sunny, inviting room, imagine using a cream base color with a peach stencil color. To achieve a cool, coastal chic try aqua and silver.
5. Best Stenciled Wall Ideas for Textured Walls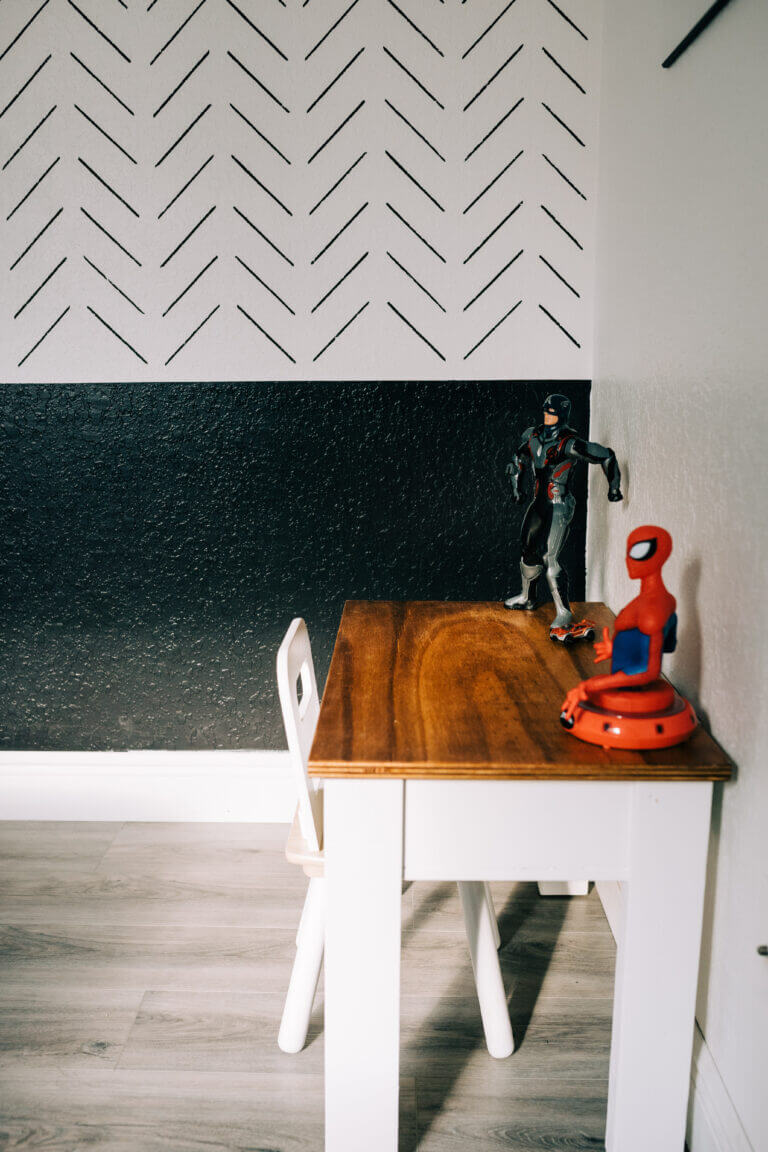 Using stencils on a wall with texture might seem intimidating, but it does not need to be. Follow this step-by-step tutorial to discover how easy it is to paint and then apply a stenciled pattern. If you cannot find a stencil pattern that matches your vision, do not be afraid to create your own. The slender herringbone pattern shown here offers a graceful counterpoint to the solid black portion of the wall. Of course, chunkier lines might look better in your space. If the classic combination of black and white does not fit your aesthetic, try any imaginable color combination.
6. Creating a Tropical Oasis with Polychromatic Pineapples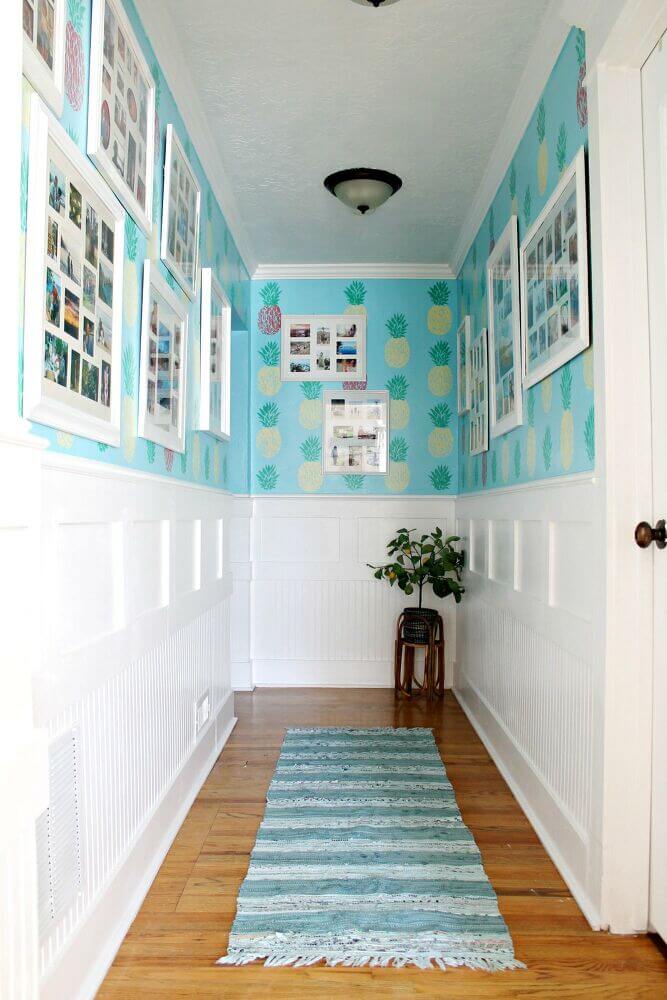 Although applying multiple colors with a stencil is a time commitment, this cheerful Hawaiian-inspired wall is a testament to what a little patience can achieve. For a more hand-painted look, this tutorial recommends using sponges instead of brushes. Random red pineapples break up the monotony. Of course, if you prefer a more sophisticated look, stick with a single shade of paint like white or gold to create a room steeped in tropical bliss. Depending on which colors you choose, pineapples can be welcome additions to any room from a brightly-colored nursery to a chic dining room.
7. Instilling Elegance with a Classic Stencil Pattern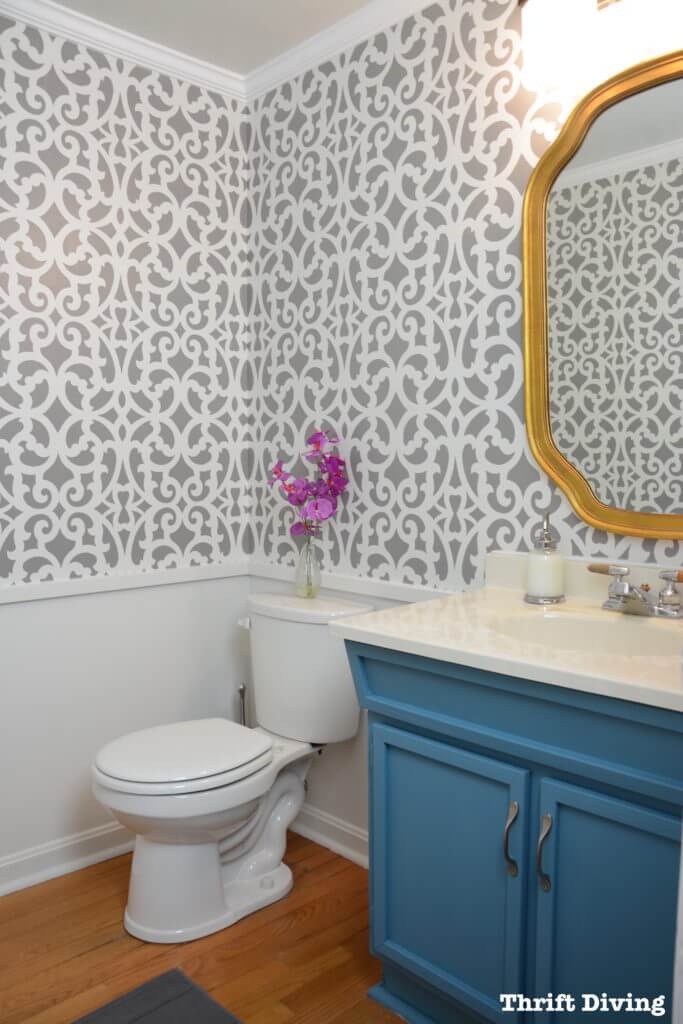 Gray and white may seem like an unassuming color combination, but, as seen in this example, can become a bold design statement. While this is partially due to the shade of dark gray used to paint the stencil, it is also because of this pattern's large scale. However, instead of being brash, this stencil is rooted in the sophistication of traditional metalwork. Exquisite swoops and swirls imbue this bathroom with a sense of stylish Parisian chic. If you are after a more regal feel, experiment with rich blues or royal purples along with your favorite metallic.
8. Using a Small Stencil to Maximum Effect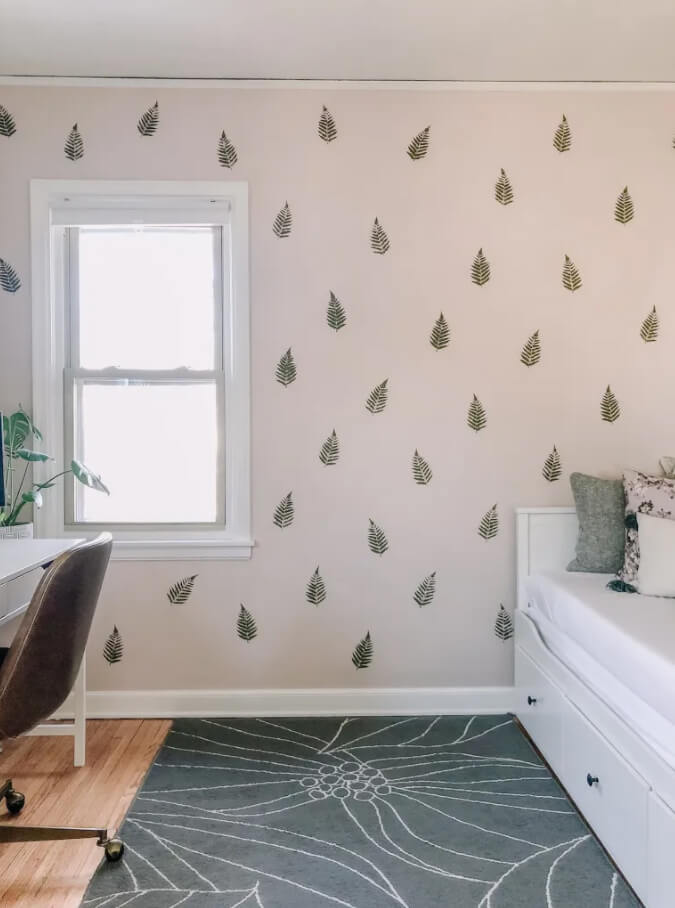 Yes, even small stencils can look great when applied correctly. This image uses an incredibly intricate fern-leaf stencil in loose diagonal rows for a casually cascading botanical effect. All that detail looks great at the close inspection but does not overwhelm from afar. By pairing the small ferns with a large-patterned rug, this home office shows how successful contrast can be. Because this small stencil is not an interconnected pattern, you could arrange the fern leaves in a heart, initials, or nearly any simple pattern. To build a cohesive room, you could even use the stencil in furniture makeover projects.
9. Simple and Sweet Honey Bee Stencil Idea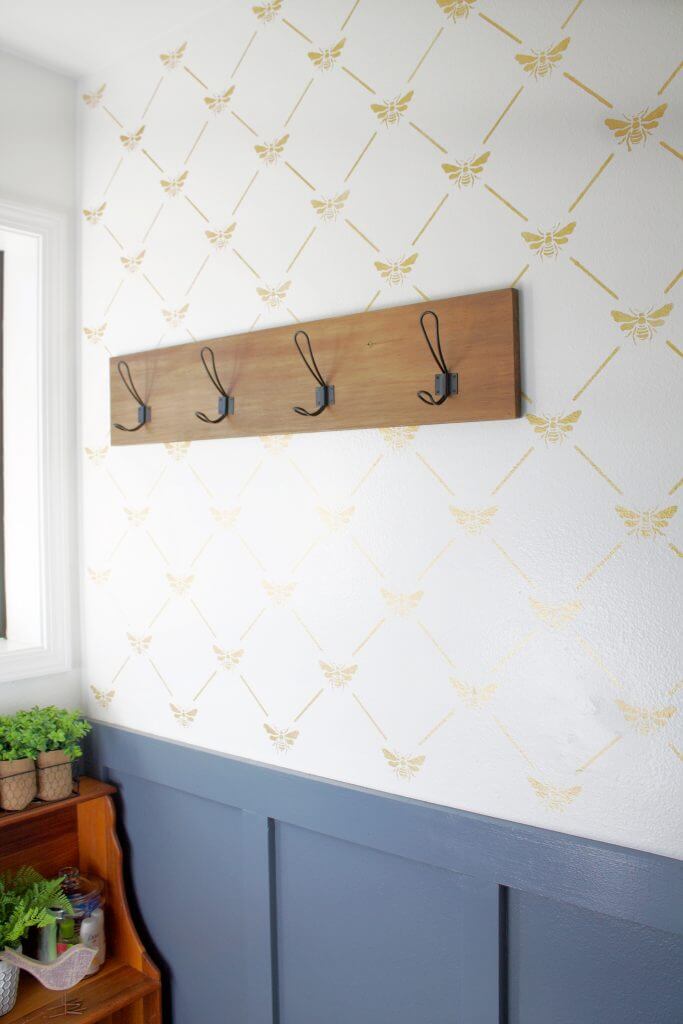 No matter which room you are redecorating, a honey bee motif adds a cheerful burst of energy. While this example uses navy wainscotting and natural wood for a farmhouse-inspired bathroom, you could use this stencil design in a wide variety of aesthetics. For a touch of modern chic, imagine golden bees dancing across a black base color. If your home is filled with subtle neutrals, try spicing up your space with white honey bee silhouettes on a gray background. To build your own nature-inspired retreat, try sparkling bees against a lush emerald background. The possibilities with this pattern are endless.
10. Subdued Buffalo Check Stencil Wall Painting Ideas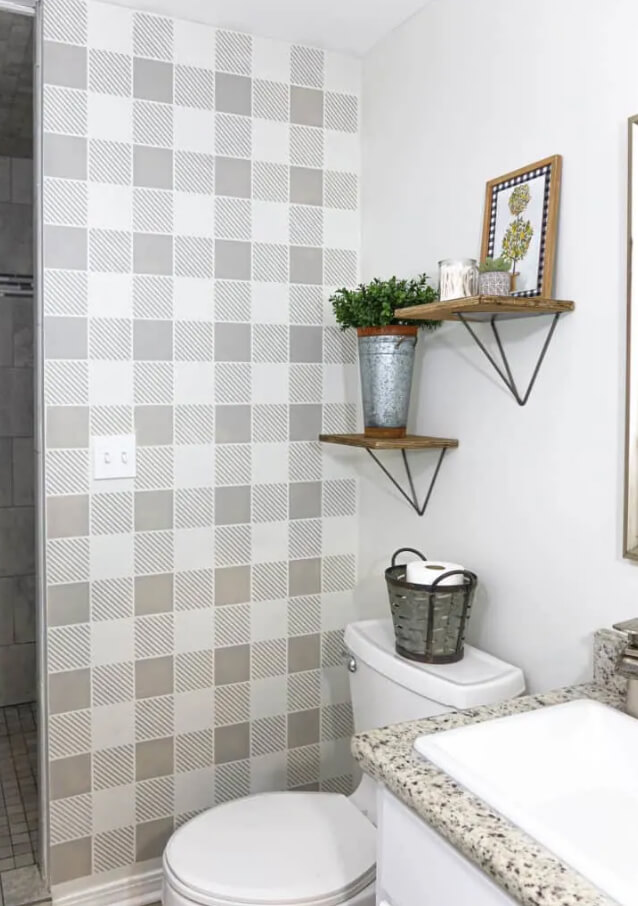 Because buffalo check involves an abundance of fine lines, applying with crisp edges can be a challenge. However, this tutorial clearly explains the best practice methods to achieve a clean buffalo check wall. If your home is farmhouse-inspired and decked out in neutrals, draw inspiration from the colors and patterns shown here. If you would prefer a more traditional black-on-red buffalo check pattern, that is also achievable. However, be aware that the higher contrast between the two paint colors, the more challenging the project becomes. Anyone using stencils loaded with intricate details will benefit from the knowledge shared in this tutorial.
11. Glittering Gold as a Unique Design Feature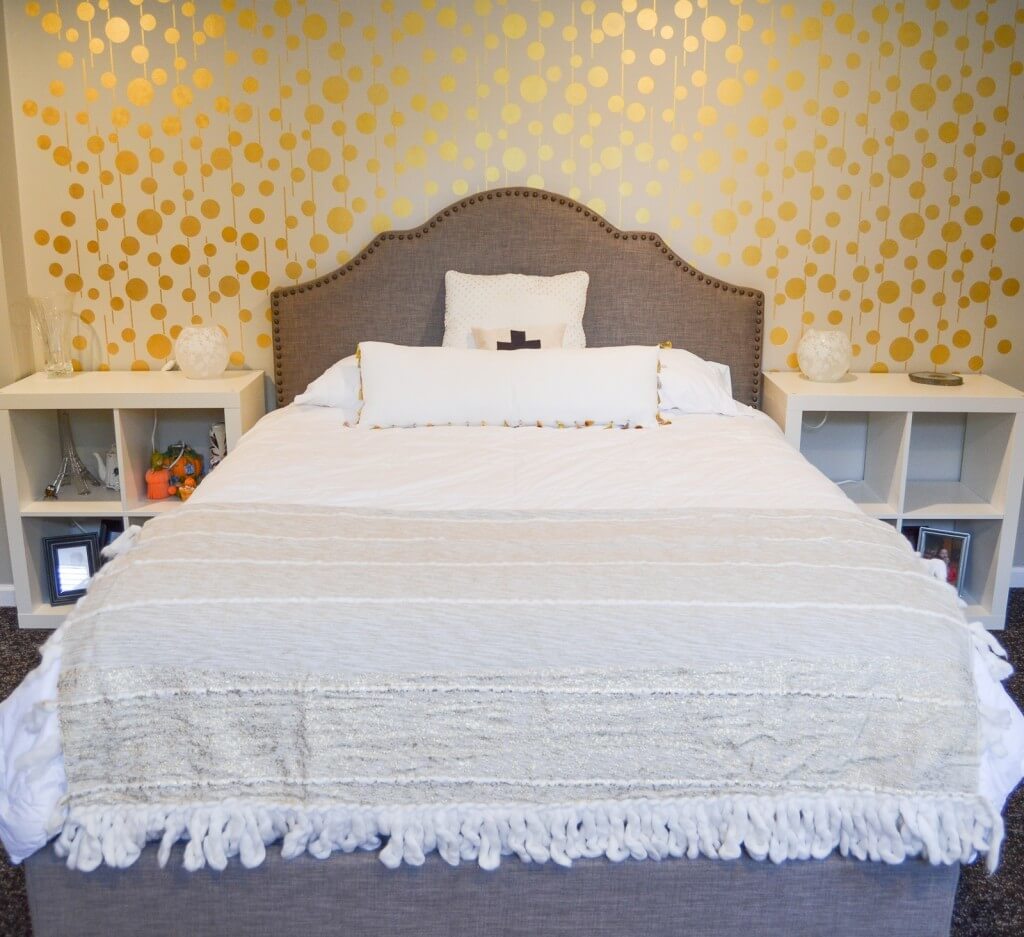 When applied over a matte base, reflective gold paint is one of the fastest ways to build an unforgettable atmosphere. While this example features a romantic round stencil shape, you could add some glamorous energy with a different pattern. From there, the magic happens in how you style your space. A dark brown focal point like the headboard shown here brings out the warmth in these paint colors. Meanwhile, white furnishings keep this bedroom feeling bright and spacious. To build a bedroom fit for a princess, use elements bursting with glamor. For a rustic chic ambiance, experiment with wood and textured fabric.
12. Chevron Stencil Design above Board-and-Batten Paneling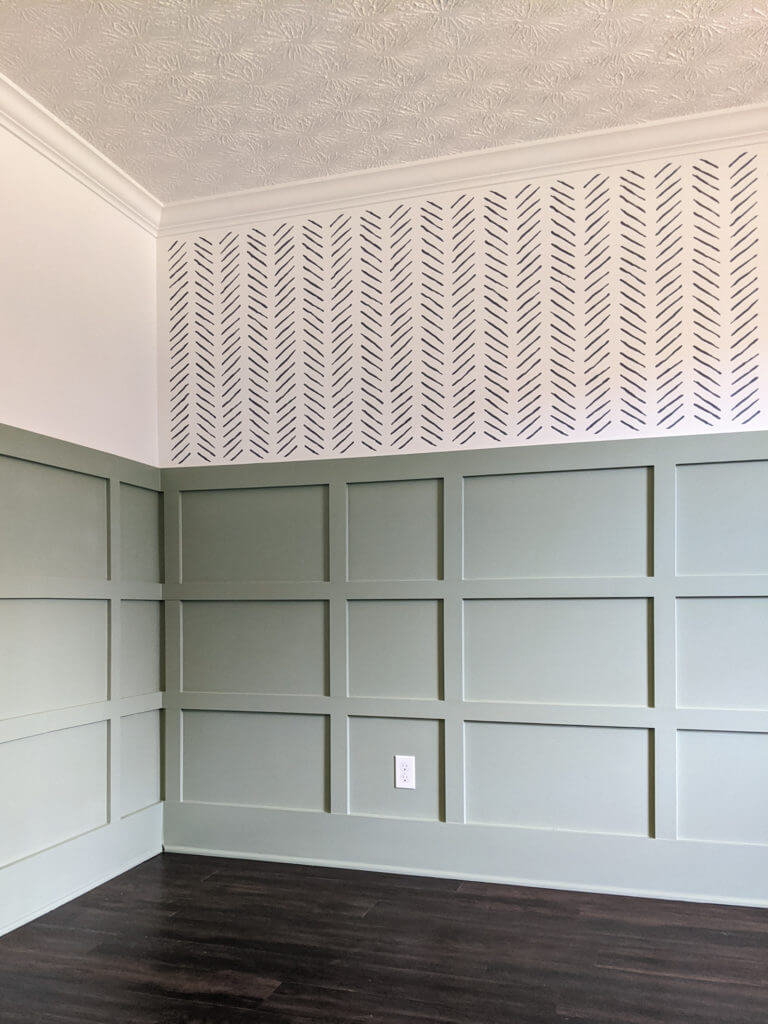 As a creative alternative to hanging copious amounts of expensive wall art, a wall stencil can attractively fill large amounts of blank wall space. This example showcases a simple chevron pattern in a subdued sage that fills the room with an exhilarating personality. That energy pairs perfectly with the classic board and batten. Using two design features not only breaks up the monotony but also imbues the room with dimension. By using the same color for both the stencil and board and batten, the space feels cohesive. However, if you wanted to develop a little more contrast, try switching up the paint colors.
13. Using a Stencil to Perfectly Mimic Wallpaper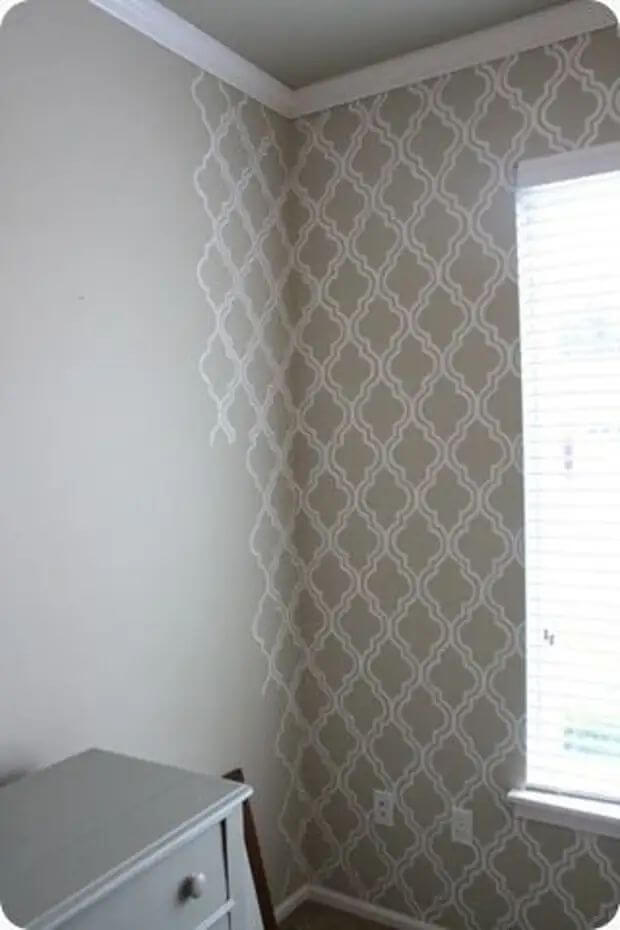 To bring a taste of the French countryside into your château, use a pattern like the one shown in this image. The double-lined pattern offers equilibrium between uncomplicated simplicity and luxurious extravagance. Because of its deceptively simple design, you can accessorize the room without it feeling cluttered. Jazz up this design with the colors you have been dreaming about, and imagine all the ways you will be able to enjoy this sophisticated pattern. To emphasize the glamor, furnish your space with damask, silk, and solid wood. If you love the farmhouse feel, try inverting the colors.
14. Subdued Neutrals in an Energizing Chevron Pattern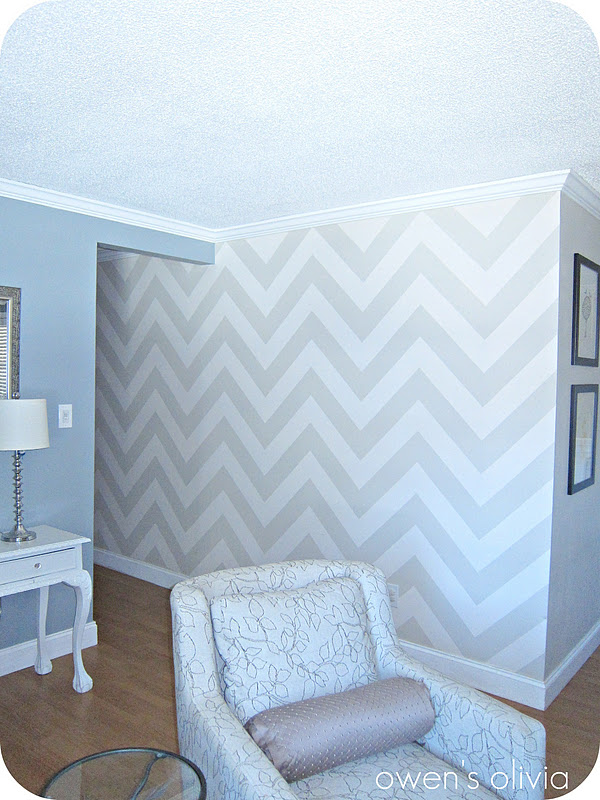 Check out this straightforward chevron if a pre-made stencil is not the right approach for you. Instead of using a piece of flimsy plastic that needs to be cleaned, this zig-zag hallway was made with a cardboard template, pencil, painter's tape, and, of course, paint. This approach takes a little more preparation than other techniques but achieves great results. Beyond application, chevron's crisp angles naturally draw the eye. To keep this long hallway from taking over, low-contrast neutral paint colors were chosen. A palette like this also means that you are able to hang wall art.
15. How to Handle Stenciling in a Corner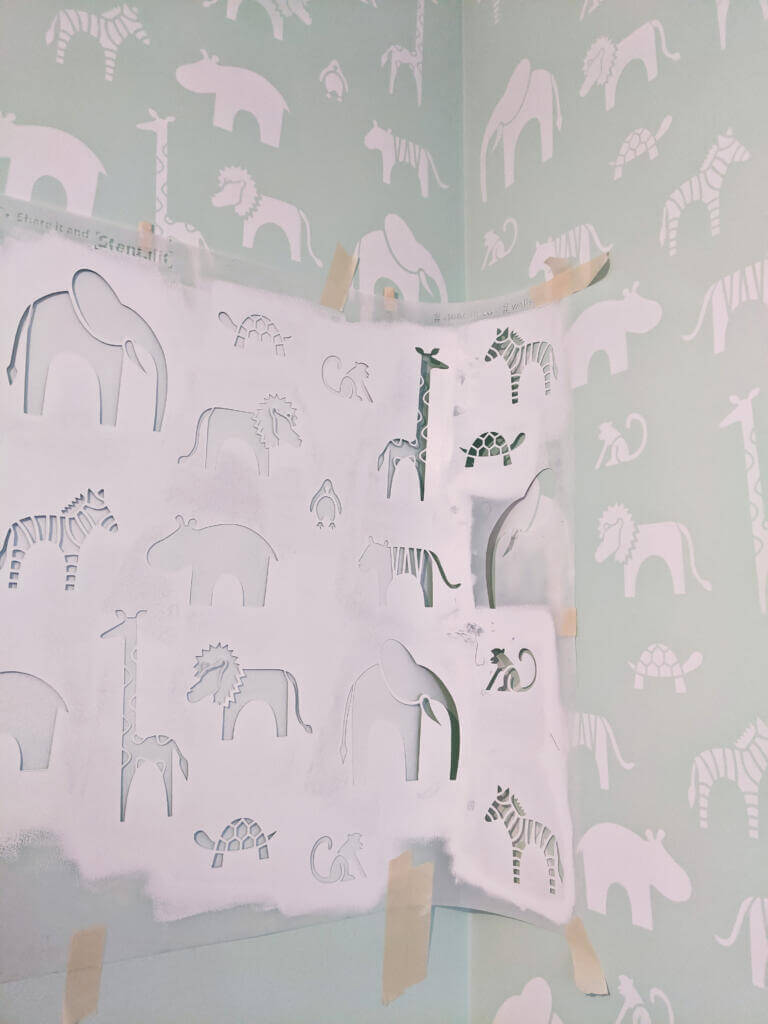 No, you do not need to let corners stop you from achieving your ideal stencil design. While stenciling around a corner does add some time and complexity to a project, it results in the seamless flow of your desired pattern. By their nature, most stencils are flexible enough to bend as shown in this image. However, in some spaces or with some patterns, this is simply not feasible. You may need to start fresh on the new wall. Because this pattern features individual animals instead of an interlocking pattern, it lends itself to painting around corners.
16. Budget-Friendly Permanent Marker Stencil Idea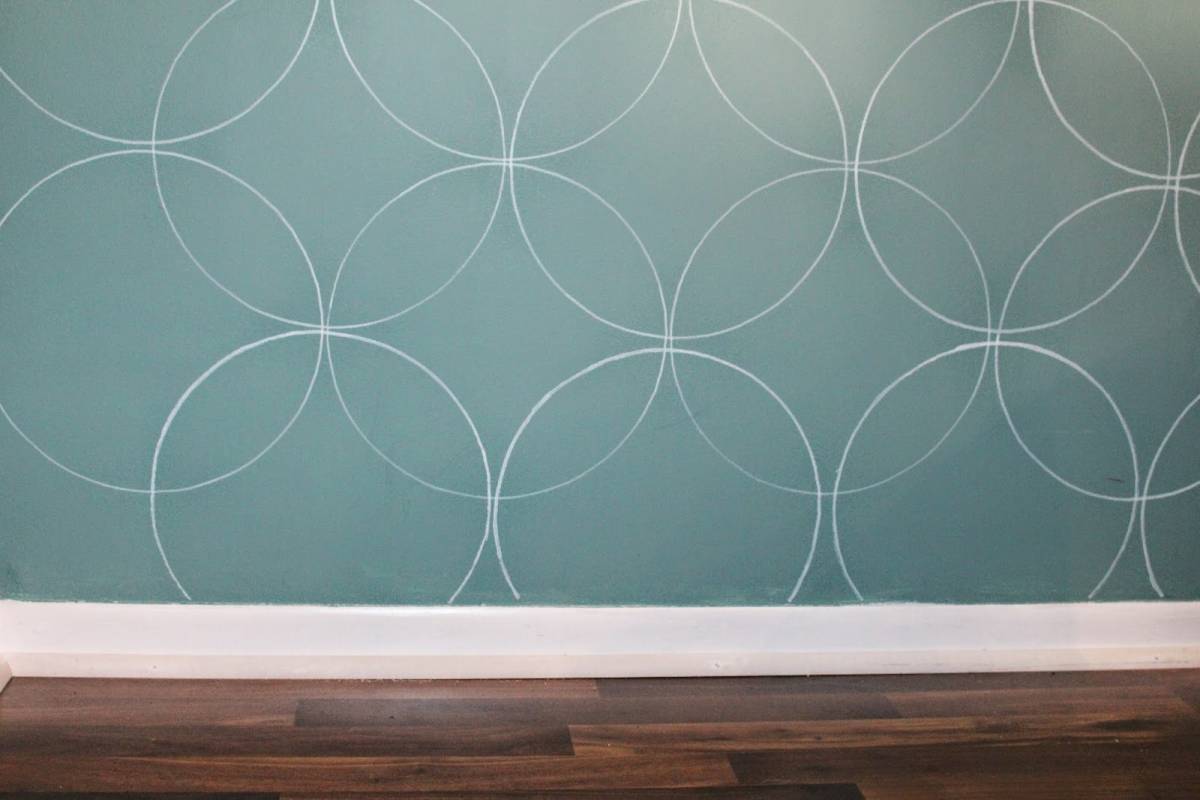 If all the planning, measuring, taping, and painting is not your style, this unique stencil idea might be right for you. All you need to make this stencil-inspired dream come true are a piece of cardboard to act as a stencil and an oil-based paint marker in the color of your choice. While this tutorial cuts the cardboard into a circle, you could achieve similar success with any simple shape. Imagine a modern motif filled with squares, diamonds, or triangles. Of course, if you stick with circles, it will be much easier to hide any gaffes.
17. Geometric Stencil Design Perfect for Borders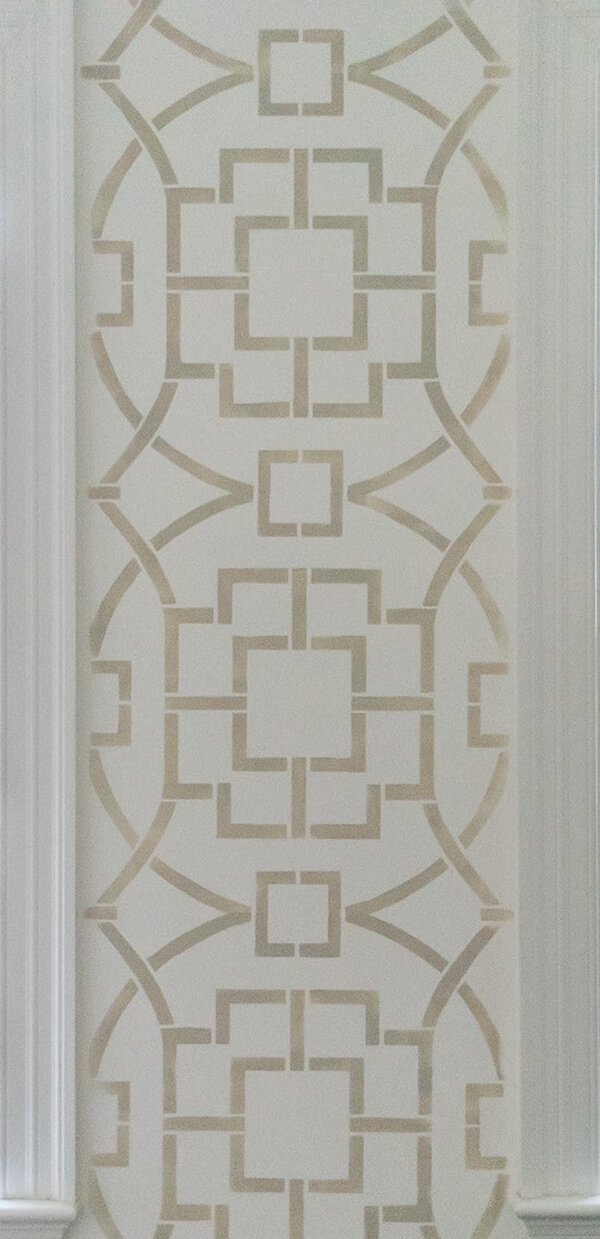 Choosing a larger-scale geometric pattern like the one in this image is versatile and can help a small space seem more spacious. Although this repeating pattern looks great across an entire wall, it can be used in a single line as a border to emphasize design features like doors or windows. Paint color and surroundings can change how the stencil feels. If paired with a mosaic floor and other classical elements, this stencil produces a Greco-Roman elegance with a modern twist. Use a dark base color with a reflective paint color for a "Roaring 20's" ambiance.
18. Lavish Lace Stencil Wall Painting Ideas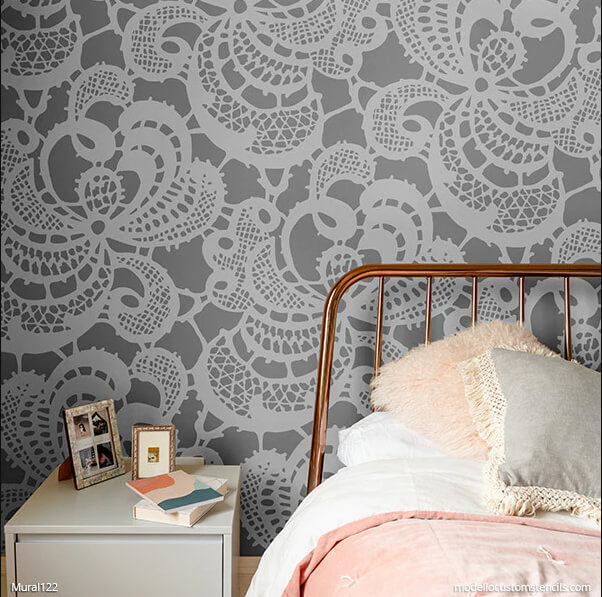 Whether your style is regally glamorous, shabby chic, or moodily Victorian, this large-patterned lace stencil is a fantastic way to bring a little bourgeoisie flair into any space. For a seamless application experience, this one-time vinyl stencil set comes with its own adhesive backing. This design eliminates the need for taping and lining the same stencil up repeatedly. Of course, you will not be able to reuse the stencil. How much impact this pattern has depends on which colors you choose. For a more subtle appearance, choose colors that are close cousins. If you love dramatic design, select paint colors with striking contrast.
19. Bold Brushstroke Stencils Perfect for Beginners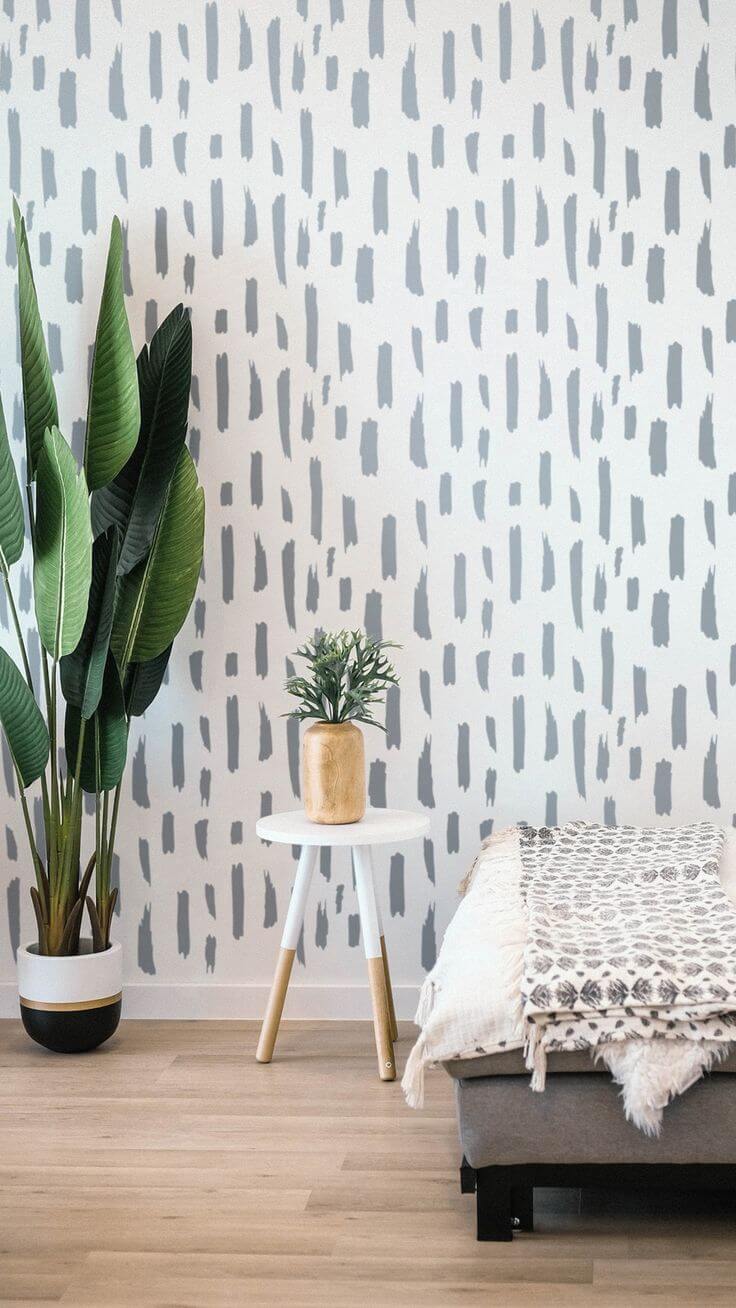 With these stencils, you can create a whimsical waterfall of perfectly-formed brushstrokes. Because they are intentionally unrestrained, you do not need to worry about making a few mistakes. In a more geometric design, a little paint smudging along the edges would be seen as a blemish. In this modern motif, however, it would give the room a more hand-crafted feel. For a more glamorous take on this contemporary pattern, try using your favorite hue of metallic paint. Because of its artistic ambiance, this brushstroke pattern is also well-suited to more colorful hues. Although more time-consuming, you could also experiment with ombré gradients.
19 Unique Ways to Harness the Best Stenciled Wall Ideas to Bring your Dream Décor to Life
With so many electrifying ideas, it can be difficult to narrow your decision down to a single possibility. Luckily, one of the best parts about stencils is that many of them can be reused. Other potential projects include additional wall renovations or furniture facelifts. Because you are the one bringing your stencil wall to life, you can mix and match any of the ideas above. Although each stencil is different, there are a few tips for success that hold true for nearly all stenciling strategies. Before painting, you will want to make sure your stencil is straight. This is best achieved by using a level. Because many ceilings are not exactly straight, skipping this step can lead to crooked designs.
As you paint, use as little paint as possible. It is always possible to add more paint, but too much paint at once gets under the stencil and causes sloppy-looking smudging. Because built-up paint on your stencil can also contribute to this smudging, keeping the stencil clean leads to crisp edges. Of course, if you are looking for a more organic, Bohemian-type vibe, the smudges might be a desirable effect!