Nature makes the best décor for your home which is why we're sharing some of the best tree branch centerpieces for your table. With the rustic and farmhouse theme that's been trending over the last few years, it's easy to see why people are bringing the elements of the outdoors inside the home. This trend is also far from going out of style anytime soon. From wall mounted frames to rustic lamps and chandeliers, these creative and unique tree branch centerpiece ideas are sure to inspire your next home décor project or purchase.
26 of the Most Unique Tree Branch Centerpieces for Your Table

There are so many stylish ways to decorate with branches that will not only add charm to your home, but also provide an affordable option to stay on trend and decorate on a budget. Using natural materials in your home is a great way to spruce up your space organically. Often, those organic touches add a bit of unenforced elegance that's unique and creative to your personalized space.
The lovely thing about decorating with nature is that you often have access to tons of DIY materials right outside your door. There are so many branches, twigs and limbs that you can collect and create remarkable works of art for your home. If creating a centerpiece yourself isn't feasible, there are also several options available online which we'll also be sharing below.
Tree branches are simple, yet symbolic. The tree branch symbolizes good luck, growth and new life. You can use them for a multitude of purposes and they truly make a big impact in the home. Using tree branches as centerpieces for your table is a great way to add texture, style, beauty and interest into any room of your home. Branches that retain its original bark with natural knots and grooves provides a one-of-a-kind look that can easily transform into gorgeous furnishings for your next tabletop décor. These next design inspirations and creative ideas will inspire you to incorporate this beautiful, natural woodsy look you'll be anxious to stick on your table.
1. A Beautiful Tree to Decorate All Year Long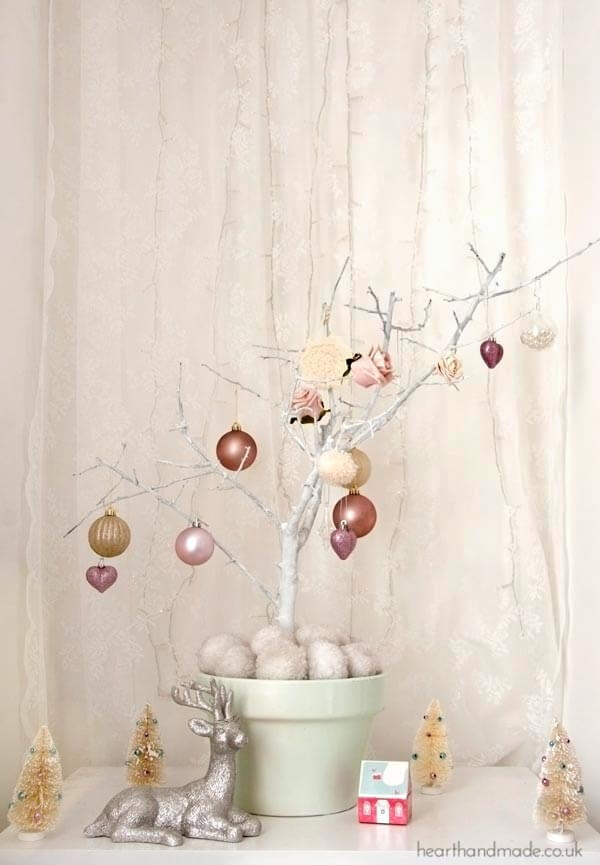 Decorate your dining room or end table with a beautiful tree that you can switch up all year long. Paint the branches of the tree or keep them natural to fit any style of decor. Place them inside a pot of your choice and decorate however you choose. During Christmas, you can add colorful ornaments or even fairy lights. During Valentine's you could hang little felt hearts or place chocolates inside the pot for an even more festive touch. When Spring arrives, place pastel flowers or hang miniature eggs from the branches. The sky is the limit with this beautiful tree branch centerpiece.
2. Simple, Snowy Tree Branch Centerpieces for the Winter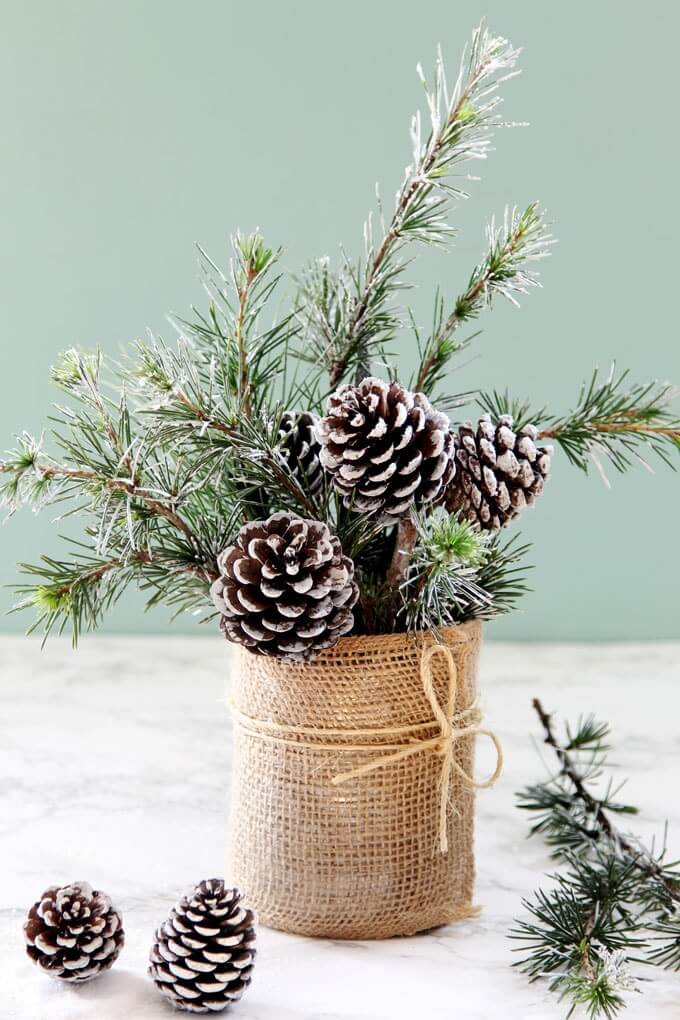 This enchanting little bundle is the perfect table centerpiece for the winter and upcoming holiday season. The base is wrapped in burlap and tied with a jute thread while little tree branches from a pine tree have been added for height, texture and festiveness. Decorate the tree branch centerpiece with pinecones of various sizes and spray on a little fake snow or white spray paint for a snow-like scenery. This is such an easy centerpiece to create yourself using natural items found right outside your home. Take the kids along and hunt for pine branches and pinecones for a family craft that's decorative and festive for the wintertime.
3. Pussy Willow Branches with Rainbow Buds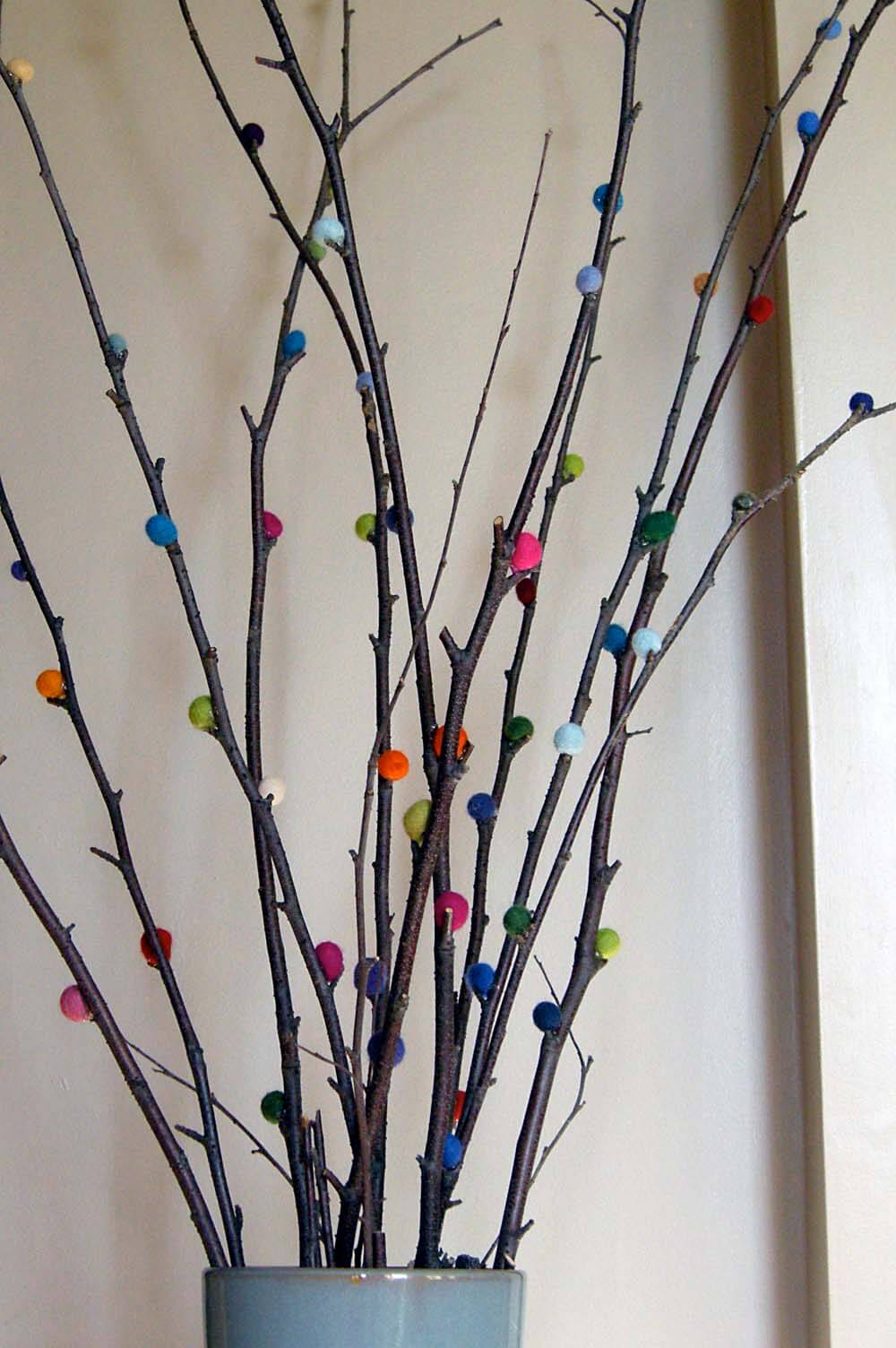 The pussy pillow tree is admired for its strong, spreading stems and they produce soft, purplish-brown catkins in the Spring. This creative centerpiece idea features several small branches with colorful felt balls to act as the pussy willow buds. If your décor isn't as colorful as this, you can use the same concept, but with white, grey or black felt balls to fit your existing décor. For a more farmhouse feel, you could even use cotton balls and hot glue them to the tree branches to look like a cotton plant. This tree branch centerpiece is sure to brighten up any space you place it in.
4. Rustic Candle Holders for a Woodland Table Theme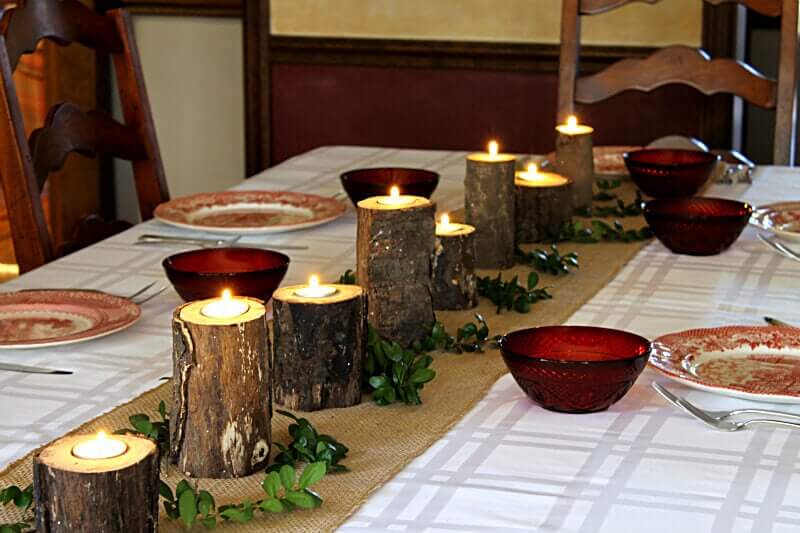 Add the feeling of warmth and coziness right to your dinner table with these beautiful and rustic wooden candle holders. Made from thicker pieces of logs and branches the centers are hollowed out just enough to fit a little tealight candle inside. Add various sizes to your dinner table to add height while also creating a stunning visual for everyone sitting at the table. You can also use tinsel, leaves, greenery, burlap or any other natural elements to surround the candle holders to create a decorative scenery that accommodates whichever season you are in, especially during the fall and winter months where warmth and cozy vibes are always appreciated.
5. Using Tree Branches for a Beautiful Tabletop Decoration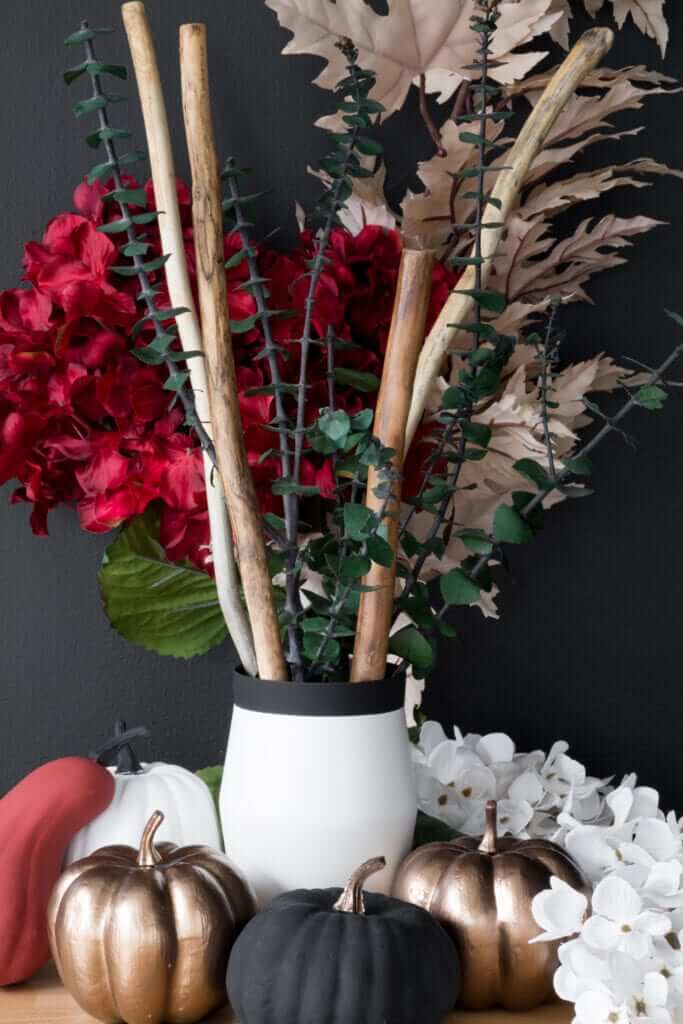 If you're looking to put together a gorgeous table arrangement using tree branches, look no further. Find your favorite planter and start gathering up some sticks. Thick branches will really make a bold statement, especially when paired with your favorite flower stems. If you're looking for a warmer color theme, choose darker flowers with a pop of white. For a cooler, summertime theme, consider choosing flowers that are bright and colorful. Don't forget to add in a little greenery and play with the height variations to finish off this Pinterest-worthy tree branch centerpiece. Soon, you'll have everyone asking where you purchased it from.
6. A Gorgeous Vase with a Tree Branch Bouquet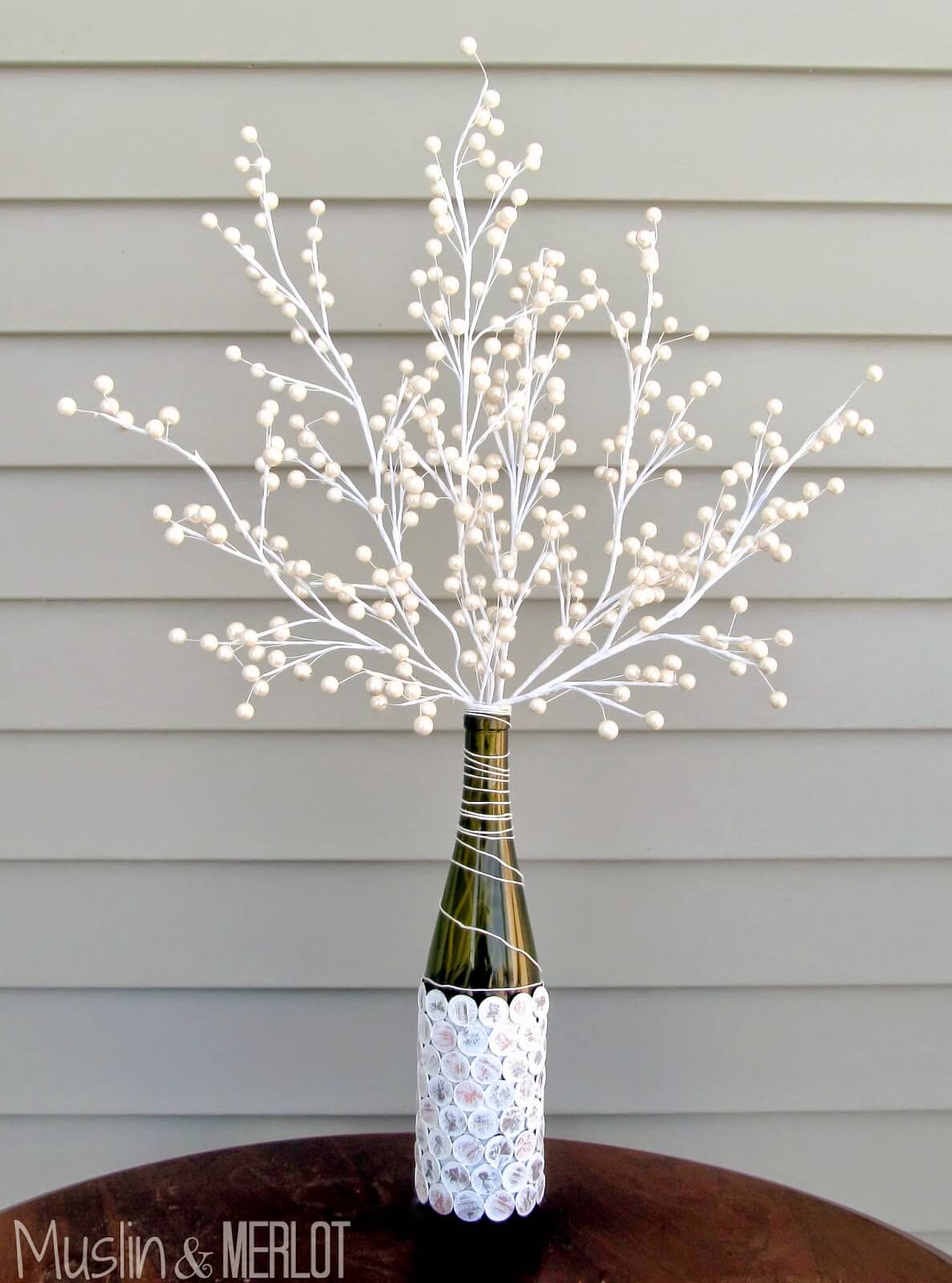 A little creativity can go a long way when it comes to crafty home décor pieces. This unique penny vase uses household items along with a few pennies glued to the bottom of the wine bottle. It's a simple, yet chic way to display your flowers or oak tree branches on your dining or end table. Grab an assortment of branches from outside and customize them to fit your own unique style and personality. These tree branches had little barberries attached which were also painted for a super cute and chic design that pairs well with the painted white pennies.
7. Birch Log Centerpiece with Plants and Succulents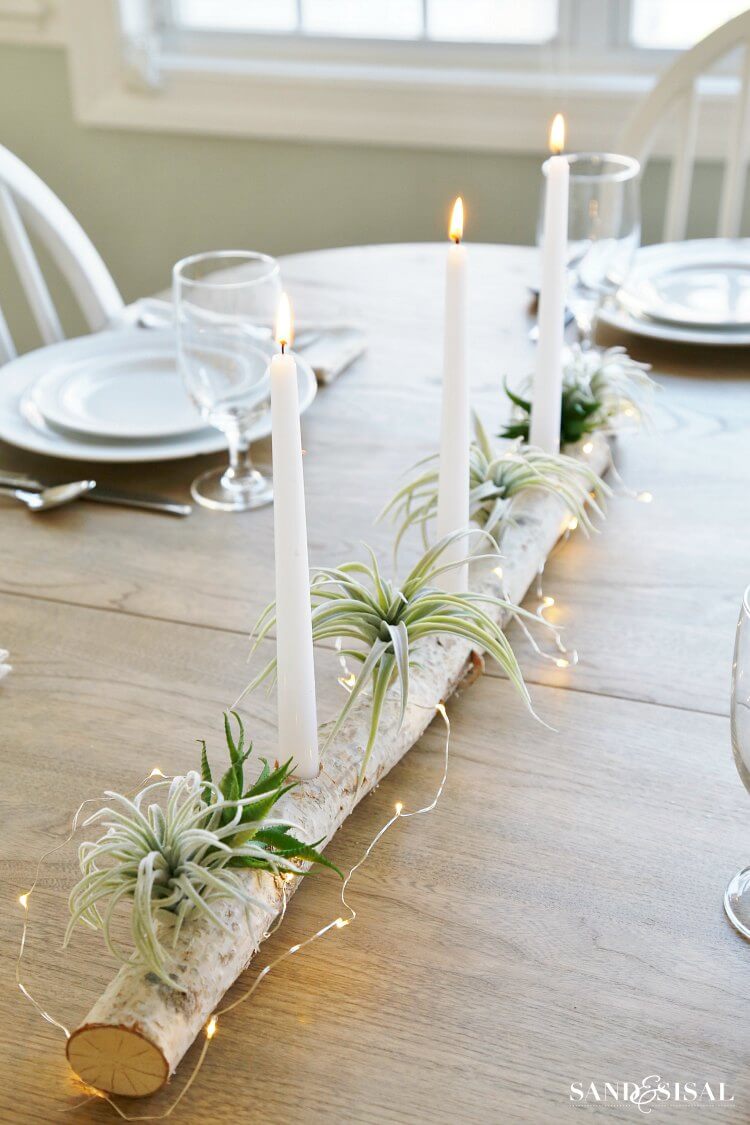 There's something about a long birch long used as a centerpiece on the table that really gives off a warm and inviting feel to the space. By using a lightly colored wood or even a painted white log, it instantly adds a sleek and sophisticated look to the overall space. Drill holes and place miniature faux succulents or air plants inside each hole for a charming look that can be utilized all year long. This centerpiece has such a sleek shape and low stature, so it won't obstruct the view from across the table. Replace some of the succulents with tall candlesticks for a more romantic vibe or even add fairy lights to really bring in the charm.
8. Sweater Wrapped Vase with Rustic Cotton Stems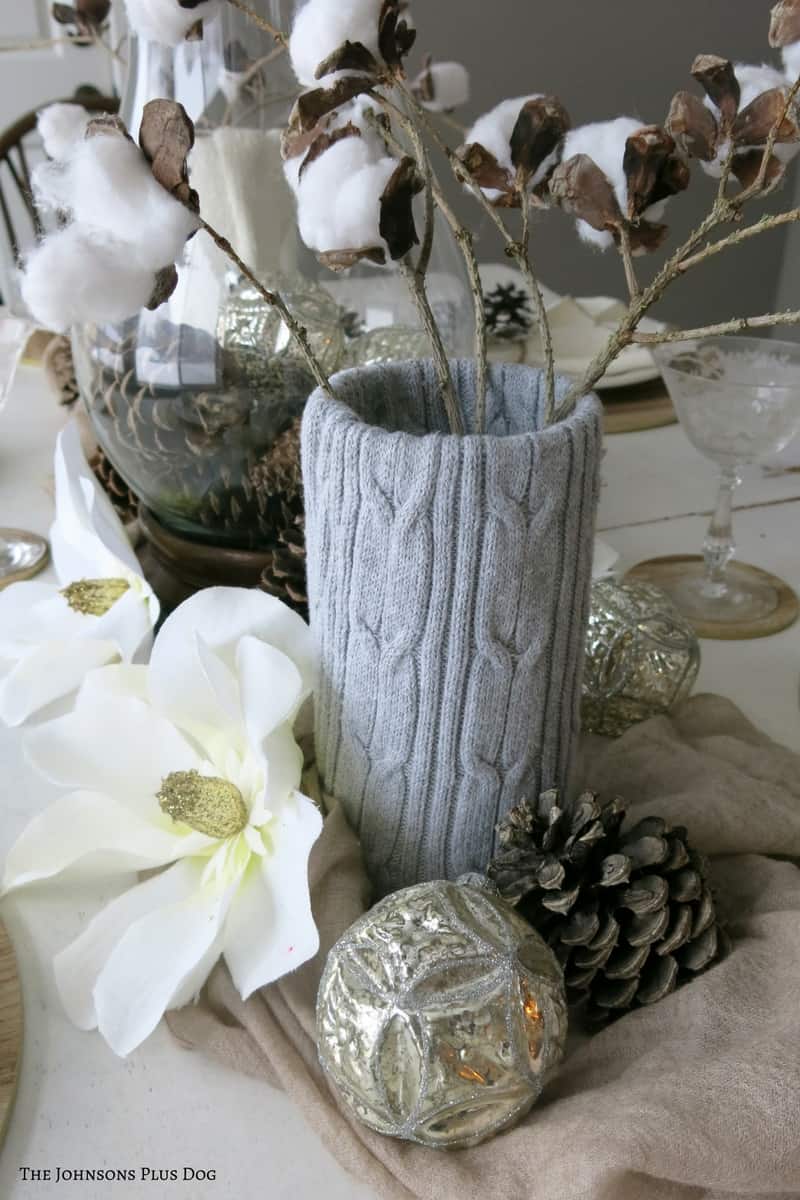 You'll never let an old sweater go to waste once you see this creative centerpiece idea. For a beautiful winter table scene, wrap a vase with one of your old sweaters. Maybe it's an old Christmas sweater and you're decorating your table for a fun Ugly Sweater Party or maybe you just have a simple grey cable knit collecting dust that you can put to good use for a rustic display. Once you've wrapped your vases with your scraps from an old sweater, you can fill them with nearly anything you'd like. These skinny tree branches give this table top a rustic, fall-like feel with the cotton stems and brown leaves.
9. Table Branch Centerpiece to Show Your Thanks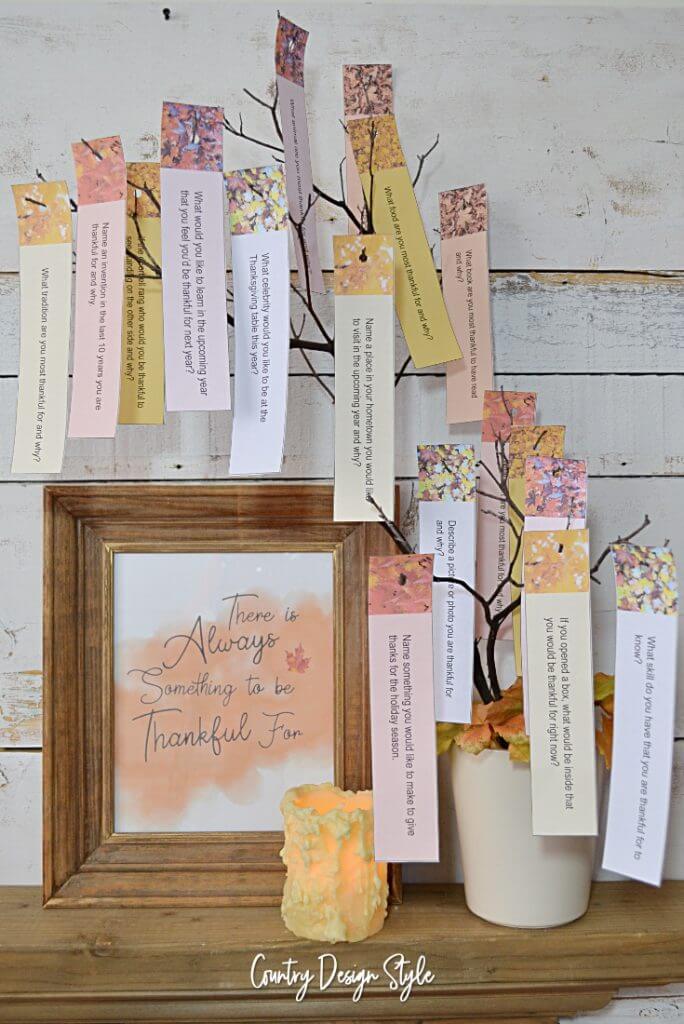 This tree branch centerpiece will be a hit with your family and can be used nearly any time of the year, but especially during the month of November when everyone is encouraged to share what they are thankful for. One idea for this thoughtful centerpiece idea is to gather branches or twigs and print out little pieces of paper. Your family can write down what they're thankful for and stick it onto a branch on the tree. It will be so nice going over what everyone is thankful for and keeping it on the dinner table for everyone to see.
10. Sprucing Up Twigs with Flowering Branches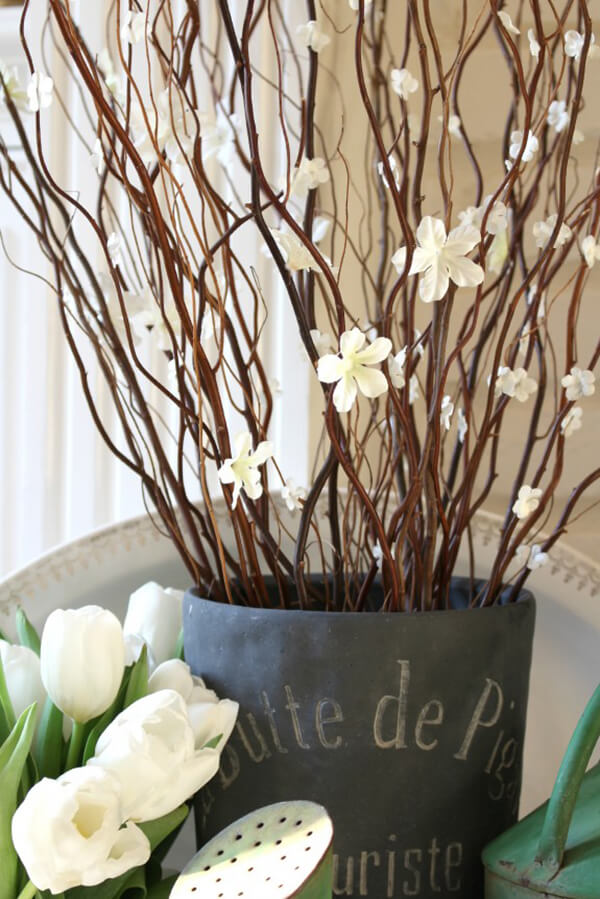 A vase of twigs, stems and branches can look great by themselves, but by adding a little something like flower petals for instance can transform the tree branch arrangement from simple to elegant. These real tree branches have received an upgrade simply by gluing little white flower petals all around the stems. You can choose a solid white flower petal to keep things rustic or add in bright or pastel petals for a more vibrant and spring/summer vibe. The possibilities are endless since you can choose nearly any flower petal you want to glue onto the tree branches.
11. DIY Leaf Centerpiece for the Fall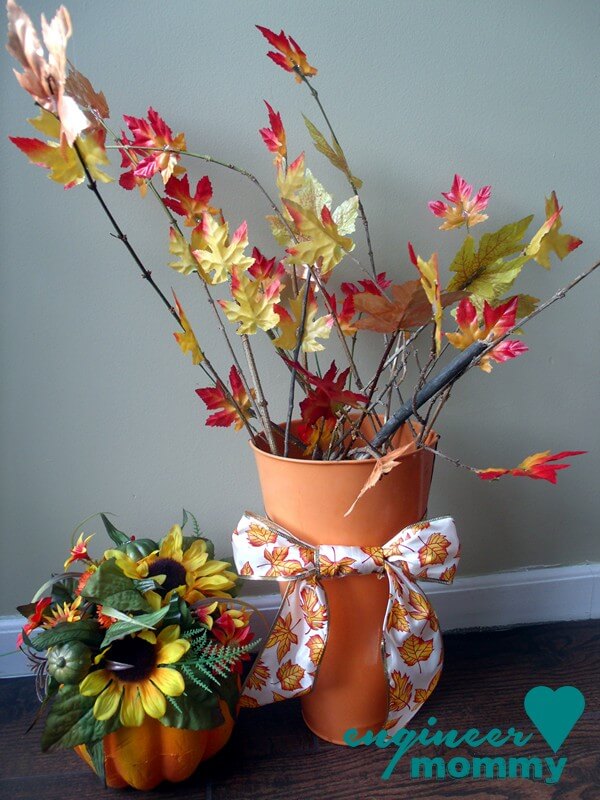 When we think of fall, we instantly think of all the pretty leaves changing their colors from green to red, yellow and sometimes even purple. This DIY fall centerpiece idea uses sticks and branches found right outside the home placed directly into a bucket or pail. The pail can be a solid metal tone to fit your farmhouse décor or a vibrant color like red or yellow to really take in all the colors of fall. You can use real leaves or faux leaves and glue them onto the tree branches however you wish. If you do choose to use real leaves, you'll want to research how to preserve them first, so they don't dry out or break on you.
12. A Seasonal Branch Centerpiece with Lots of Life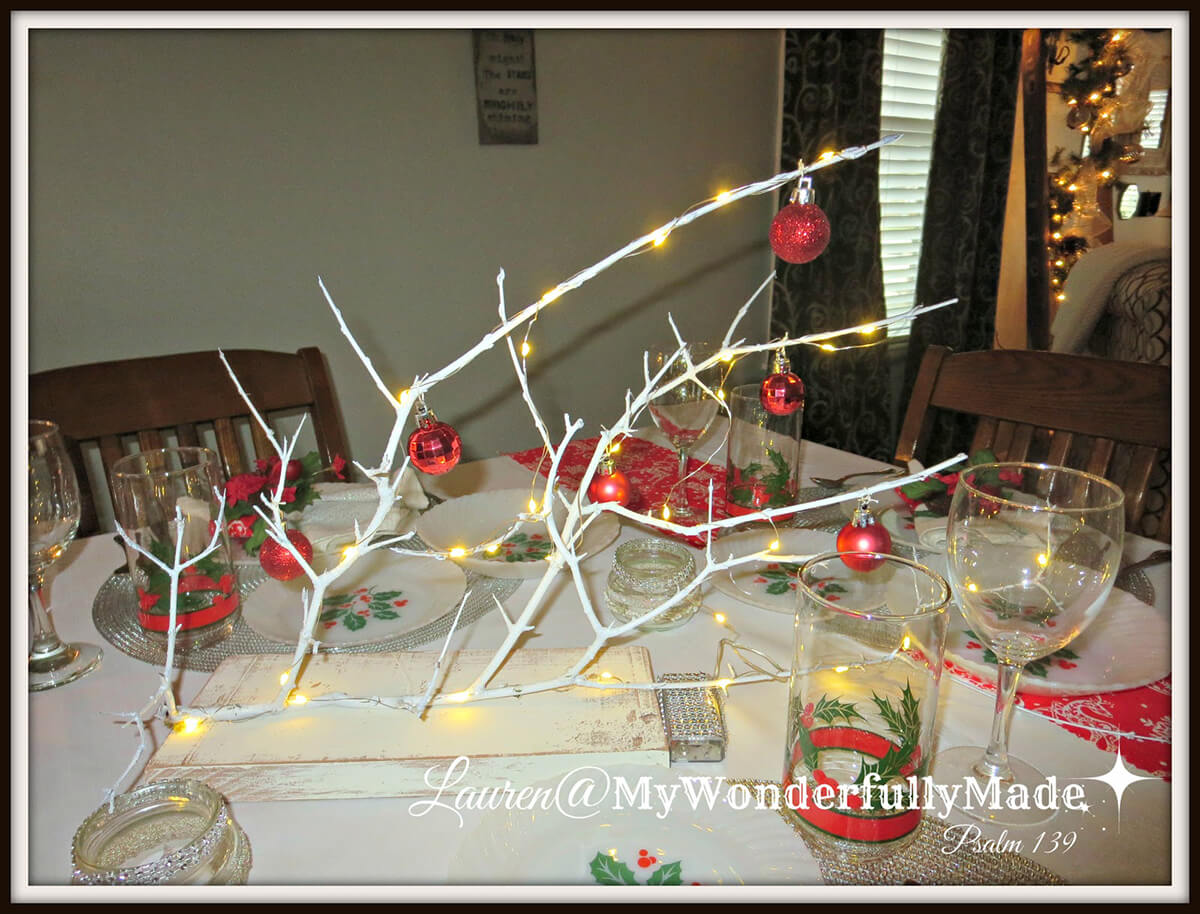 No matter what season or holiday that's approaching, this clever and unique tree branch centerpiece will be the talk of the table. With just a scrap piece of wood and a branch with stems, you can have the ultimate tabletop accessory that's both beautiful and involves minimal decorating effort. Choose to leave your centerpiece natural or give it a little sprucing up with a paint color of your choice. Next, add festive accessories and fairy lights to fit the upcoming holiday. This centerpiece means little effort with the changing holidays since essentially you only need to swap out the decorative pieces that are on the branches.
13. A Gorgeous Lush of Greenery at Your Table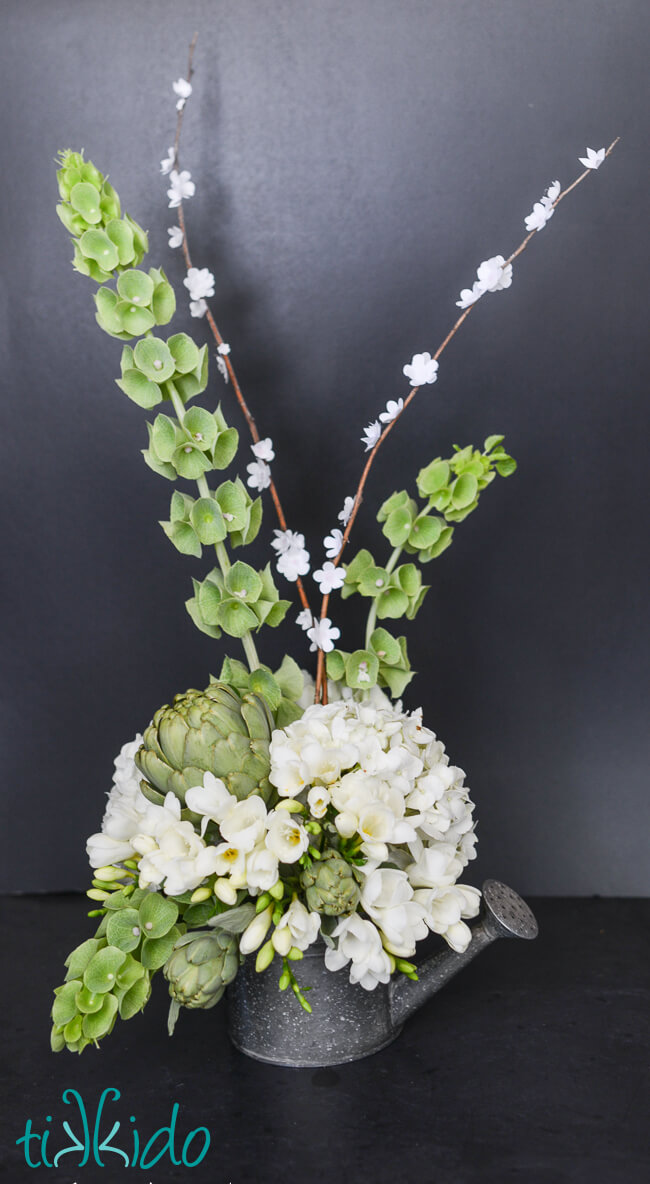 A beautiful branch arrangement can be as unique and decorative as your heart desires. Using any vase, planting pot or watering can of your choice, you can add in gorgeous lush greenery and tree branches to make a stunning statement for your dinner table. Gather some of your favorite floral stems, branches, leaves and any other natural materials of your liking and start placing them inside your vase. You can use a Styrofoam base inside your can to hold your arrangements in place. Don't forget to incorporate various heights and sizes to really make your lush green centerpiece stand out.
14. A Simple Stem Arrangement Perfect for the Table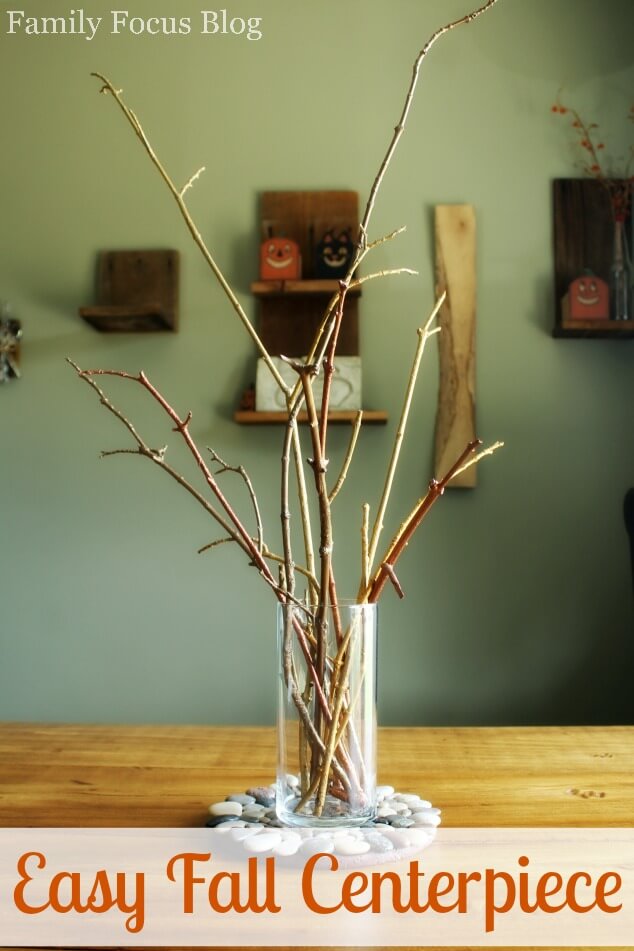 It can be so much fun decorating for each season. It can also be a hassle for those who already have a lot on their plate. This easy and simple stem arrangement for the table involves minimal effort yet looks great no matter what time of the year it is. By bringing in a few branches from the outdoors, your space is instantly enhanced with nature vibes and budget-friendly décor. With a few twigs, you can leave them natural or paint them any color you wish. White is often a great color choice if your home is bright and airy with a farmhouse décor style. Black is also a great color choice for wood for a more industrial look. Place all your twigs into a jar or vase and there you have it. You can even accessorize your new tree by adding festive décor such as mini string ornaments for Christmas or hiding eggs inside for Easter.
15. Recycled Plastic Bottles with Elements of Nature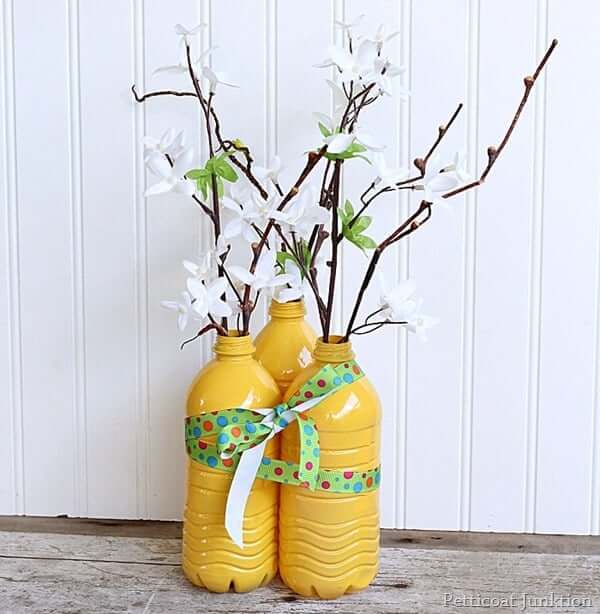 Looking for ways to upcycle those old water bottles? You can easily recycle water bottles and turn them into a decorative accessory for your table. Spray paint them any color of your choice and add a few twigs, stems or branches inside for a creative and unique table centerpiece. These would be perfect for wedding centerpieces or when you're on a tight budget for new home décor pieces. Yellow would be a great color to paint your bottles during the spring and summer and red or orange would be great during the fall and winter. You can even make them a bit sleeker and more sophisticated by painting them silver, white, gold or even adding a little glitter to them.
16. Table Décor with Pom Pom Tree Branches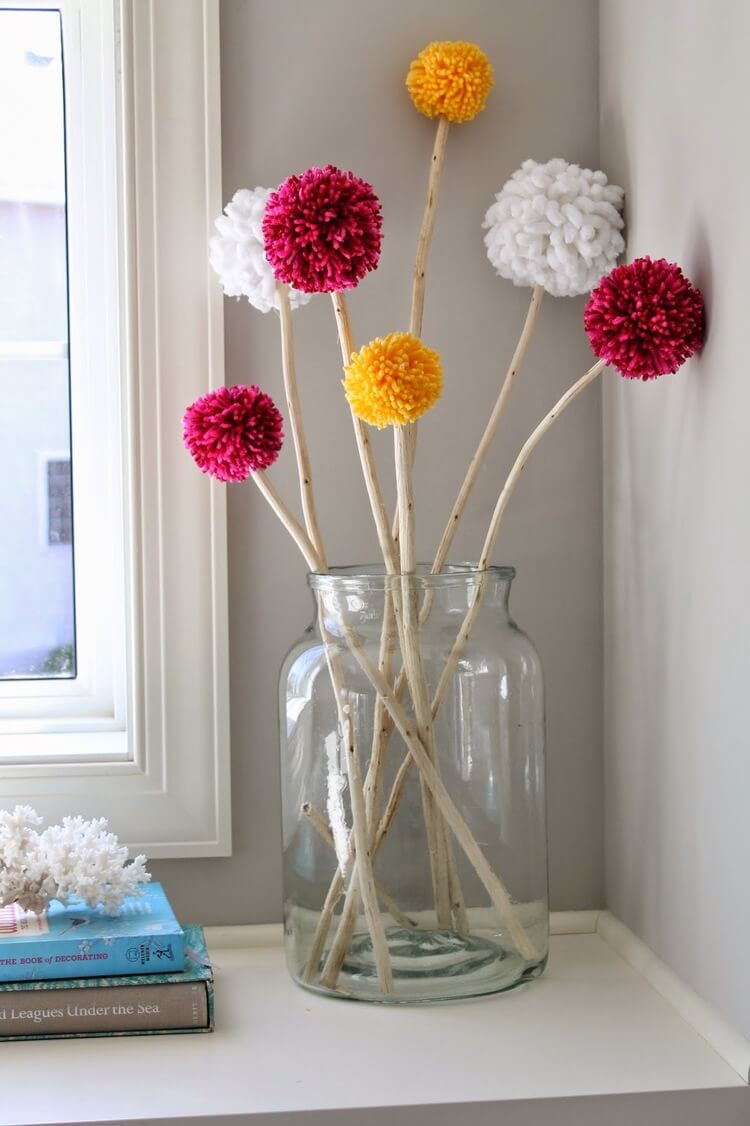 This adorable pom pom table décor piece is one the little girl in your life would absolutely adore. Often, we look at our tabletops, end tables or even shelves and struggle finding the perfect addition to add without going overboard. This is where a clear jar and tree branches can come in handy for a variety of décor options. There's something about a clear jar and placing tree branches inside that really gives off that minimalist, yet rustic and chic look without even adding anything extra. These adorable pom poms are like icing on the cake and give this centerpiece a youthful, more vibrant touch.
17. A Non-Traditional Christmas Tree Centerpiece Idea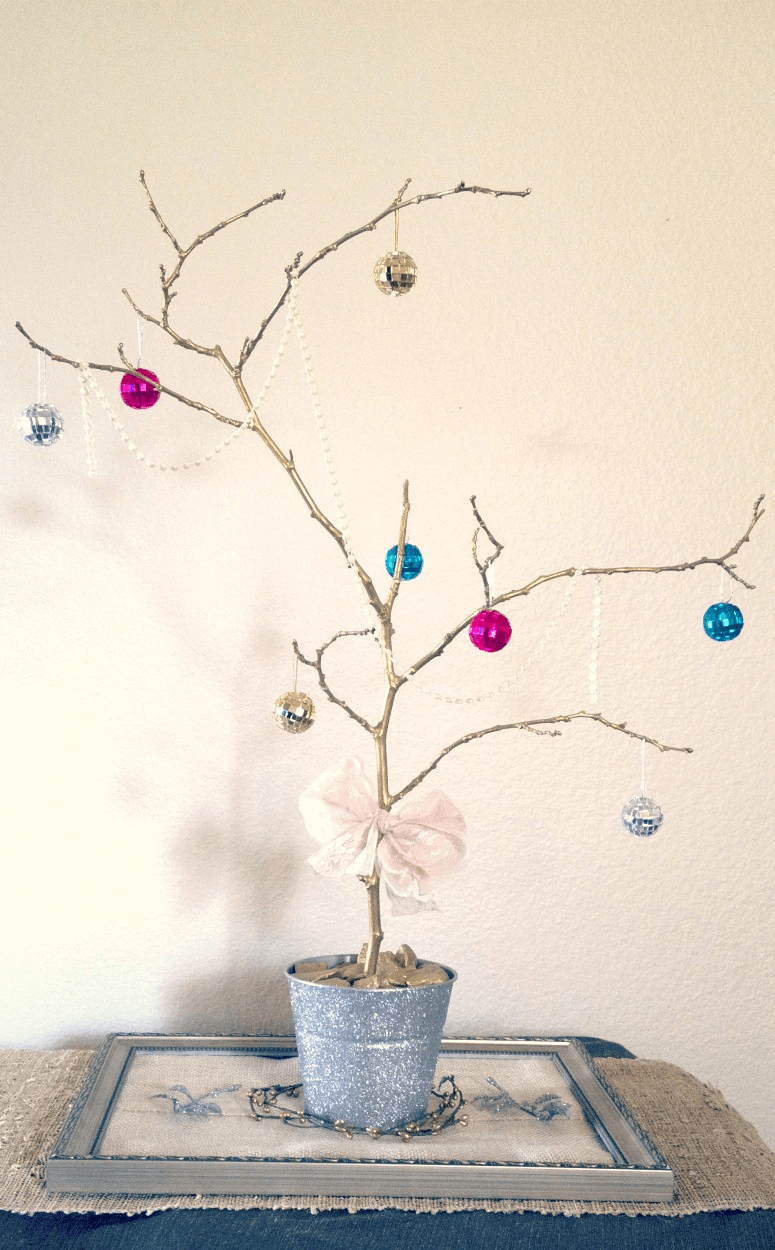 Finding the perfect branch is all you really need for this next centerpiece idea. The branch you'll want for this project should be sturdy and have various branches stemming out to look like a miniature tree. Paint your new mini tree a color of your choice or leave it as it is for a more natural and rustic feel. Once you have it in your pot, you can add your ornaments or other festive decorations. Use this awesome centerpiece idea as a replacement Christmas tree in a smaller home or add several of these mini trees throughout your home to create a warm, holiday welcoming for all your visitors this holiday season.
18. Lighted Birch Tree Forest Centerpiece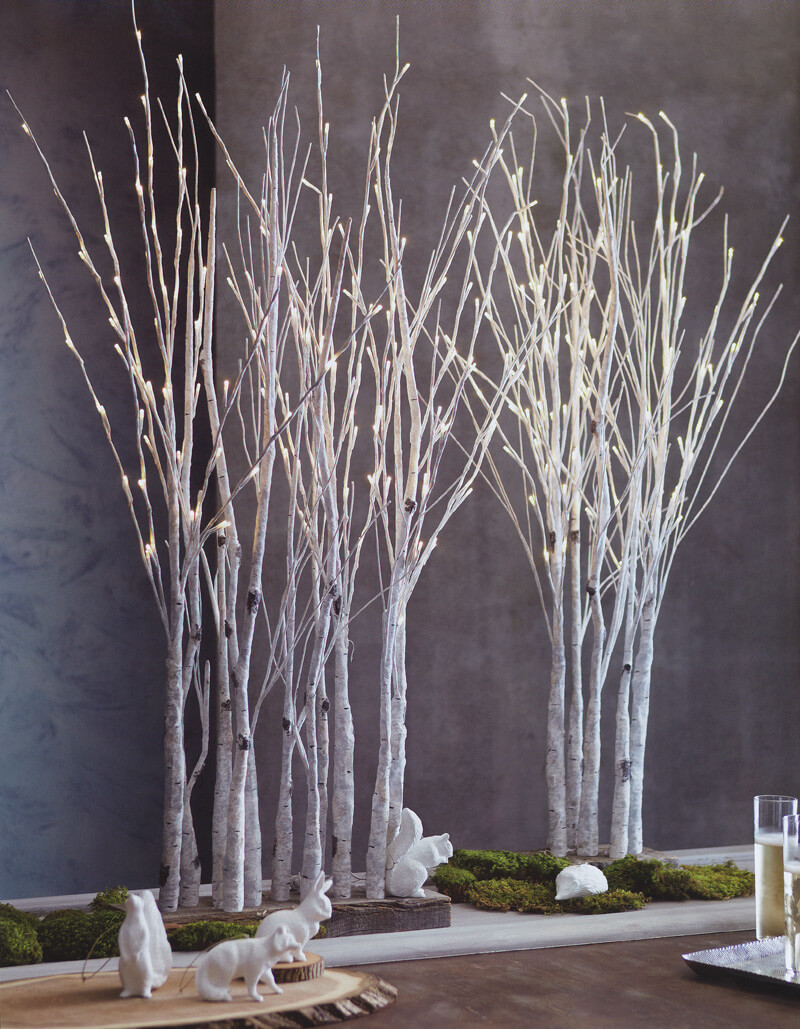 This lighted birch tree forest centerpiece is simply stunning. Use a scrap piece of wood for the base or insert your branches into a Styrofoam brick to allow your branches to stand straight up. Add fairy lights to the tops of the branches to turn your tabletop into a rustic winter scene. This would make a wonderful addition to your home décor not only during the holiday season, but also at other times of the year. Add a few trinkets around your lighted tree arrangement to fit the season perfectly. Think about how beautiful this will be during the evenings when the lights are off and everything is quiet.
19. Pom Pom Christmas Tree Centerpiece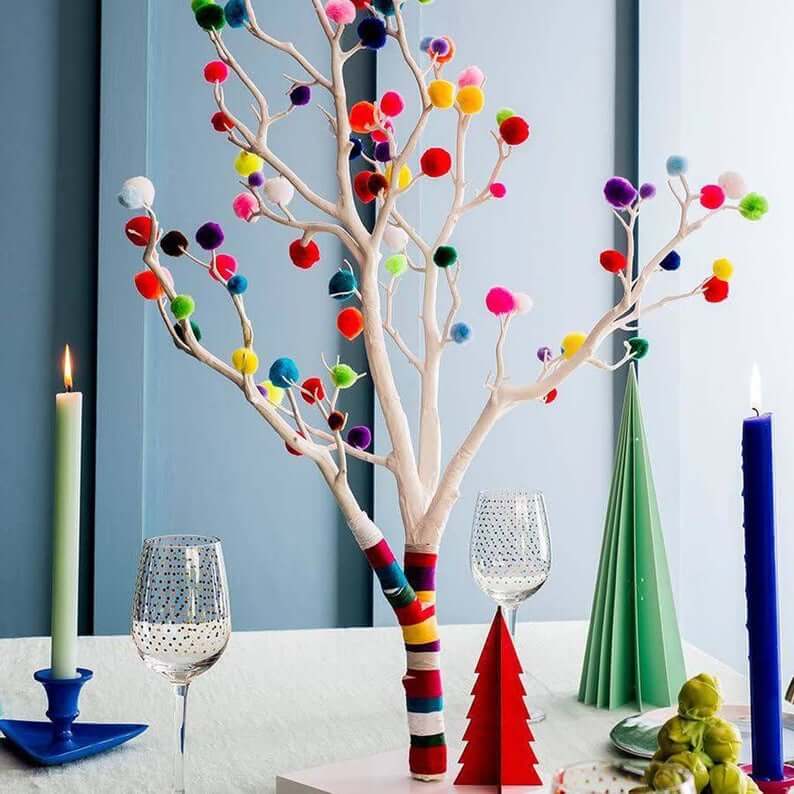 This modern alternative to the traditional Christmas tree features pom pom yarn as ornaments in red, green and white for a festive touch. Use this unique tree idea as your Christmas tree if you don't have the room for a real one or simply use it as a table centerpiece. This festive tree makes for a great conversational piece and can be used throughout the year by simply changing up the pom poms for whichever season lies ahead. For Easter, you could hide little Easter eggs in the tree or for the Summer, you can decorate the branches with brightly colored flowers. The design and style possibilities are endless with this tree branch centerpiece.
20. Handmade Artificial Gold Berry Branch Decoration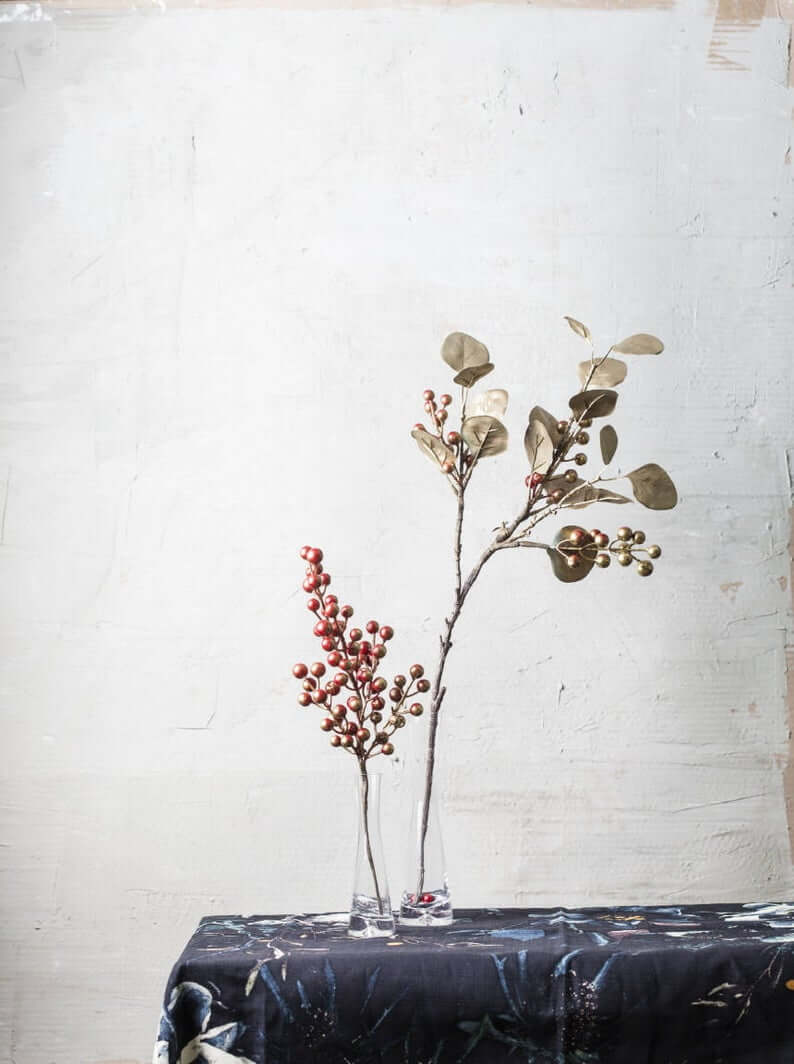 This perfect winter decoration for the table is simple, yet stunning. It features one gold berry branch that measures approximately 12.5 inches in length. Place this decorative branch in any size vase as the stems of these branches are made of bendable wire which allows you to change its shape. The wire stems are wrapped with dark brown papers for a more realistic and natural look. To enhance your tabletop décor, consider purchasing a few of these affordable gold berry branches and arrange them in a set to display right on your dining room table.
21. A Pop of Color with Hot Pink Glass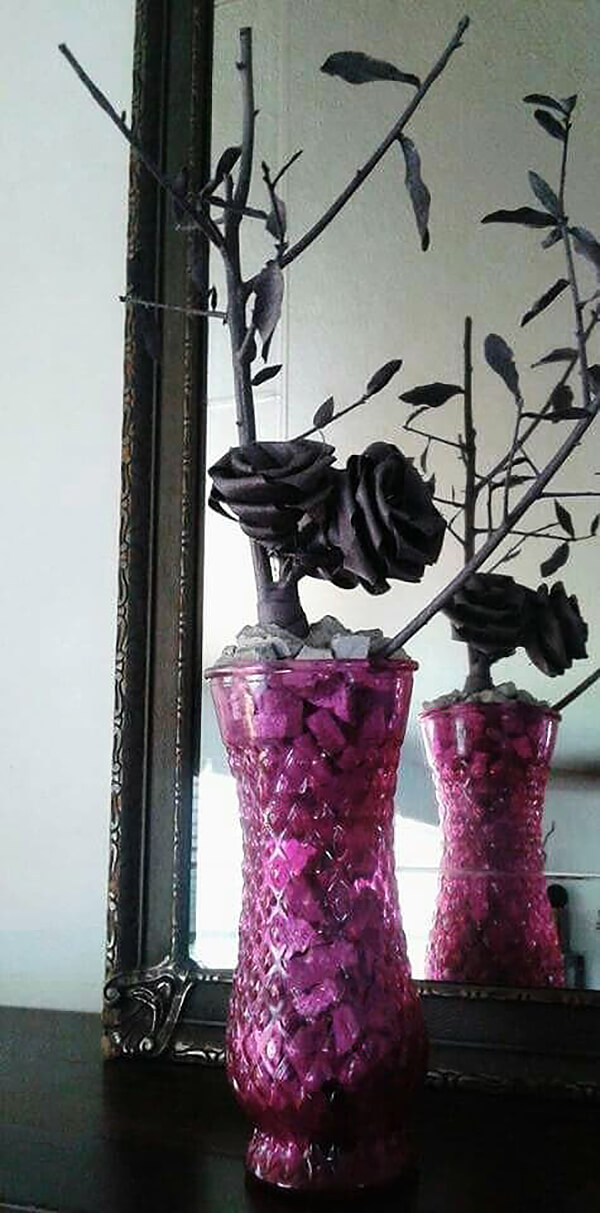 Is your home décor style a little more fun and funky rather than more modern and traditional? If so, then this hot pink retro arrangement is just for you. This hot pink vase measures 20×10 inches and is paired with natural palms and branches. The branches are painted with metallic flecks of iridescent glitter and will add tons of retro flare to your tabletop. Some may use this arrangement during the fall or when decorating for Halloween, while others will use this retro arrangement all year around. This is a style that's so unique and adds loads of personality to your space.
22. Sea Art Mossy Branch Centerpiece Arrangement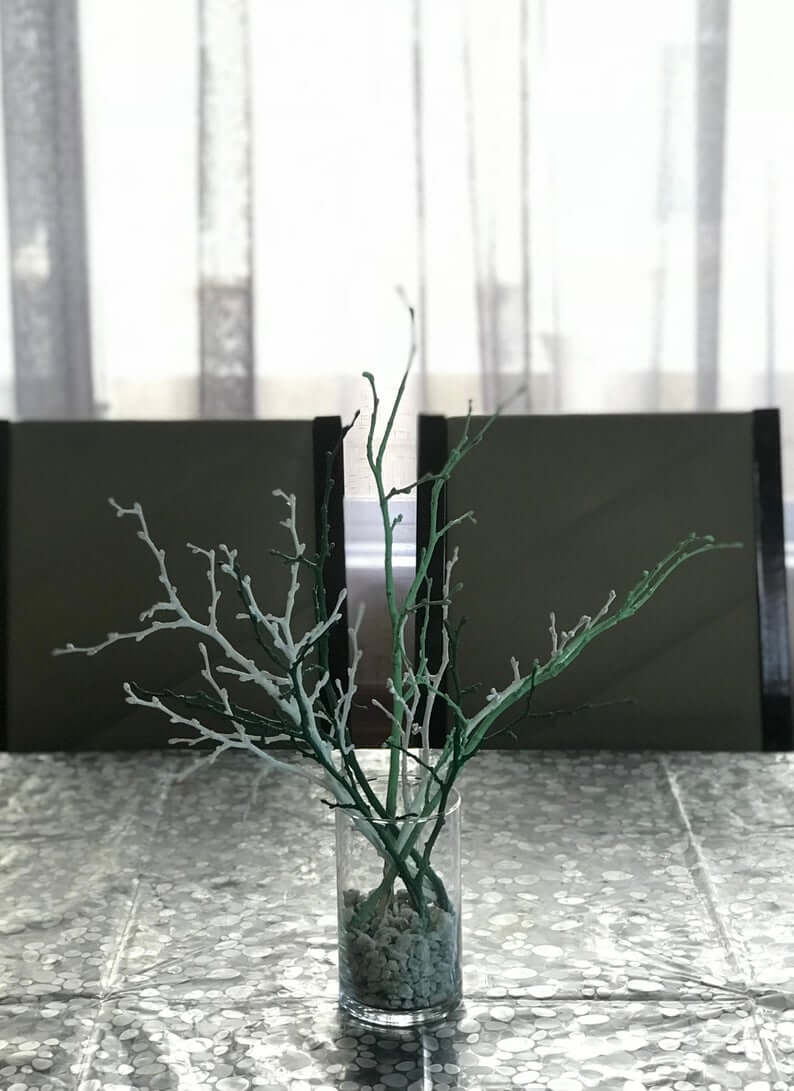 Looking for something a bit more nautical? This under the sea arrangement features a simple and minimalist style that's perfect for a table centerpiece. The tree branches are hand-painted a green and teal color that almost looks like moss or seaweed straight from the sea. Place the branches into a clear vase to admire their natural and unusual shape. The branches are short, which is great for decorating smaller tables and spaces. You can also add a variety of accents to the bottom of the vase like rocks, colorful pebbles, sand, faux moss or simply leave the vase empty.
23. Fairy Light Centerpiece with Lighted Twigs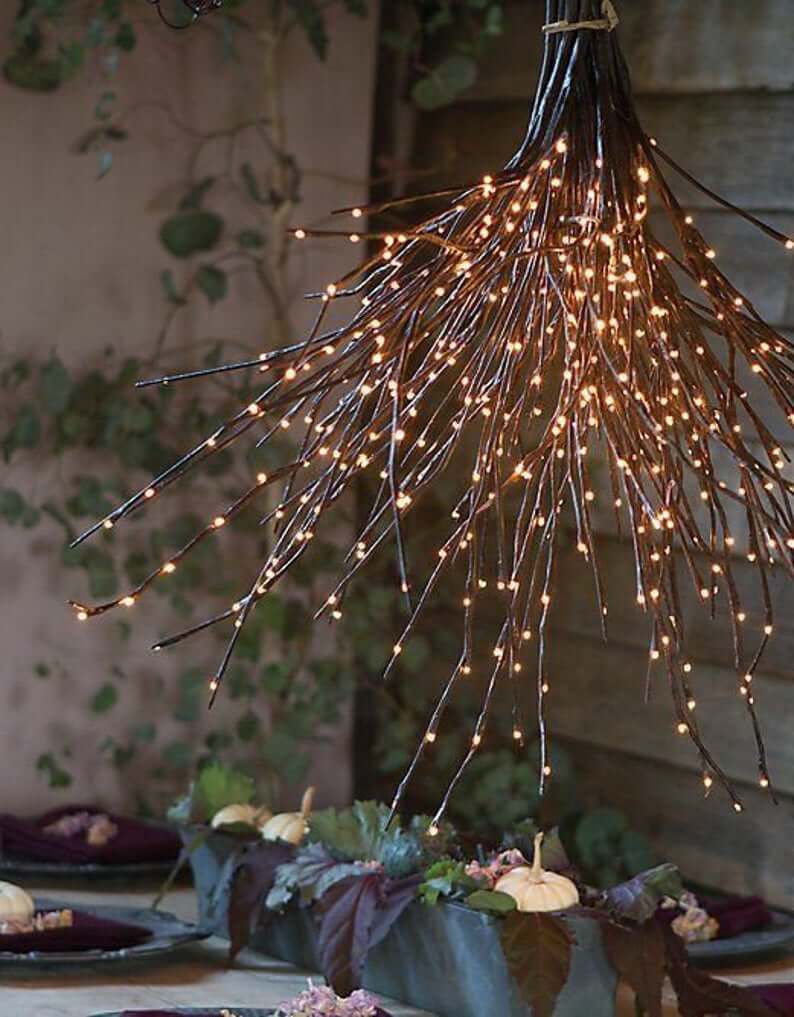 Fairy lights are becoming a popular trend when it comes to interior decorating. Fairy lights are a great way to make a space feel cozy and completely magical. Whether you hang them along your bedframe, along a shelf or use them to decorate bare branches like in this case, they are simply fabulous and can be used in more ways than you can imagine. These twigs have become enlightened with fairy lights and will add a magical touch to your table. You can even bundle the sticks and hang them upside down for a unique centerpiece idea that will illuminate the whole table.
24. Rustic Twig Candle Holder Set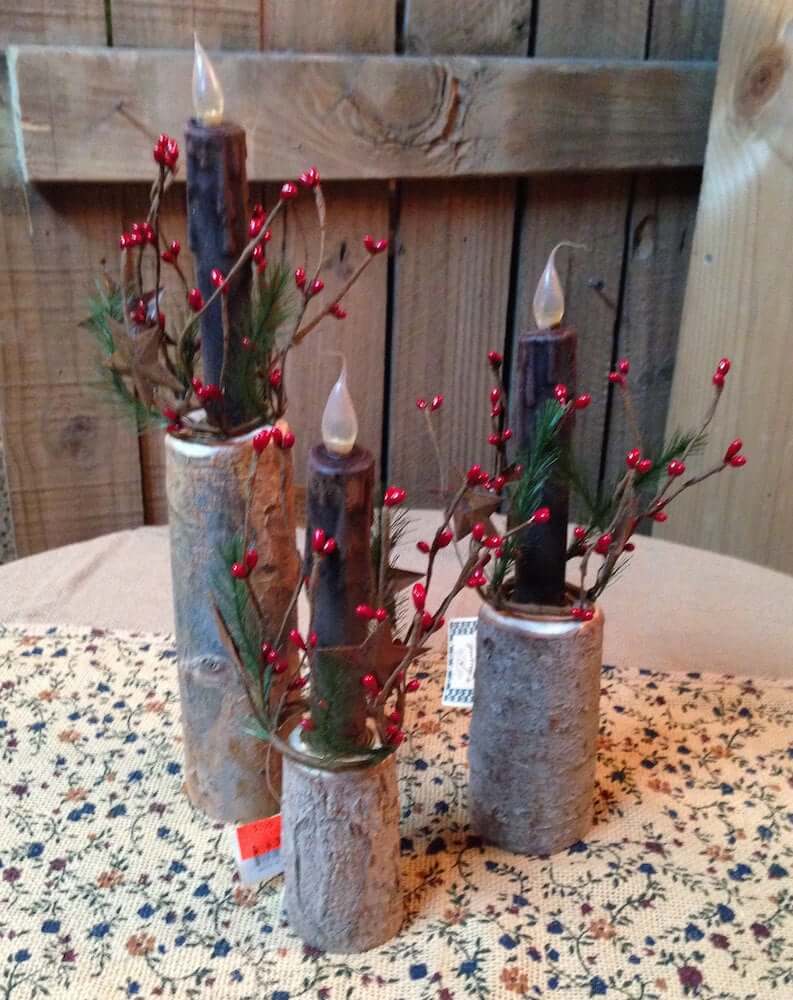 This listing includes a set of three rustic twig candle holders in various sizes. These handmade candle holders are made using the ends of branches and drilled to hold 7/8 taper candles. They will also work with LED candles and can be arranged as a centerpiece statement piece for all to admire. Think of all the variations and uses you can get out of these gorgeous rustic candle holders. Add a ring of decorative branches with faux berries for a festive Christmas touch or surround them with leaves during the fall months. The natural flame from the candles will ideally match the warm and cozy atmosphere at your dining room table.
25. A Beautiful Wishing Tree with a Floral Arrangement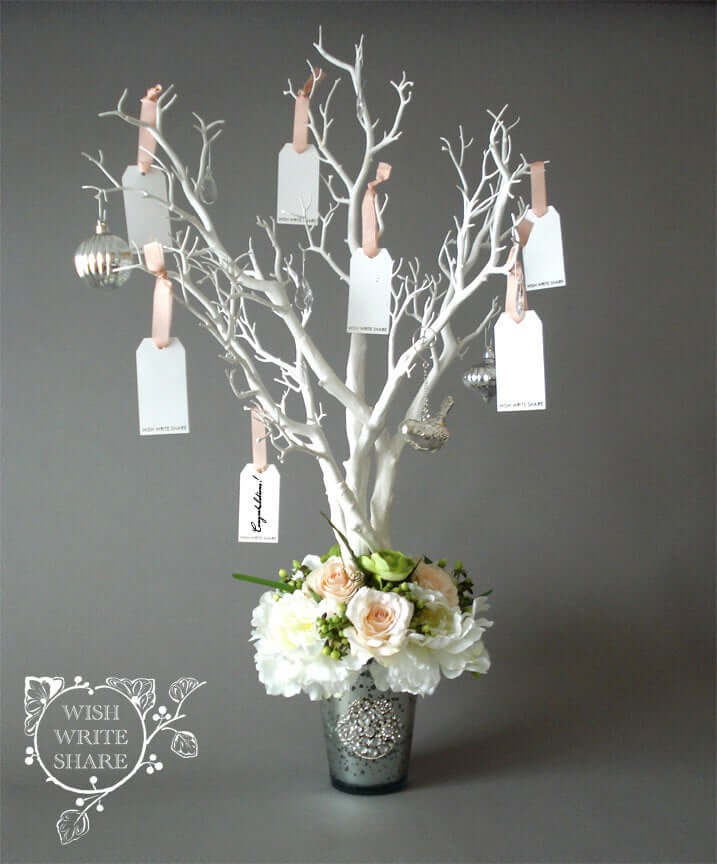 This beautiful arrangement not only makes a great tabletop centerpiece, but also serves as a great keepsake. This wishing tree features ten bling ornaments with an assortment of silk flowers for the base of the tree. It's perfect for a wedding, shower or other special occasion. It can also be used and embellished in other ways such as hanging thankful notes during Thanksgiving, mini Christmas ornaments during the holidays, hiding Easter eggs during the Spring or strung with lights for a magical tree centerpiece. The tree stands approximately 35 inches tall with flexible branches inside a mercury vase.
26. Beautiful White Tree Branch Centerpieces with Endless Creative Possibilities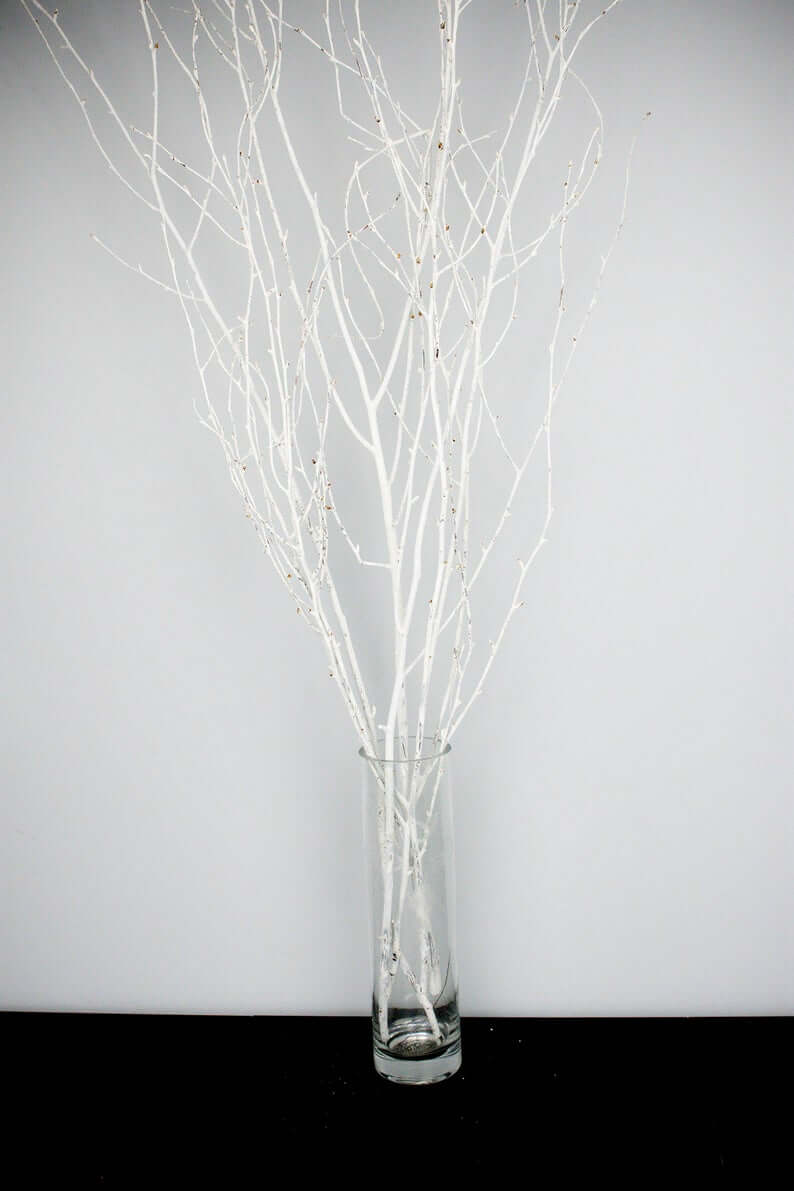 As we all know, tree branches can be used in a variety of ways. These real natural branches are hand-painted white for a rustic touch and comes with a bundle of 4-5 branches. Place your fresh white, rustic branches inside a vase to make an effortless, yet elegant centerpiece for your table. The branches are approximately 35-40 inches long, but if you want them shorter you can simply cut them from the bottom. Leave your new centerpiece as is or decorate it throughout the year with every changing season and holiday. These branches also come safely packed to keep them from breaking since they are real branches from real trees.
The 26 Best Tree Branch Centerpieces that will Add Charm to Your Table
With trees being some of the oldest and longest living things, why not preserve their beautiful growth and upcycle them into gorgeous holiday décor? Most people discard fallen tree branches or random sticks in their yard, but these little sticks can be put to good use in a variety of ways. From candle holders and miniature tree centerpieces to hanging wall art and wreaths, you can easily repurpose those fallen branches and create something beautiful for your home.
When crafting with tree branches, you can choose to leave them in their natural state which will not last as long, or you can choose to preserve them to use as decorative accents for years and years to come. To preserve a tree branch, you can simply spray them with a polyurethane varnish or other preservative spray and let them sit overnight to completely dry.
Tree branches make such a unique and creative focal point, especially when displayed on a table or shelf. There are so many decorative possibilities as well whether you are decorating for the holidays or just everyday home décor. Trees are naturally nature's art, so no matter how you use them they'll make a statement and create a cozy atmosphere in your home.
Our Favorite Farmhouse Furnitures to buy on Amazon