24. When Less is More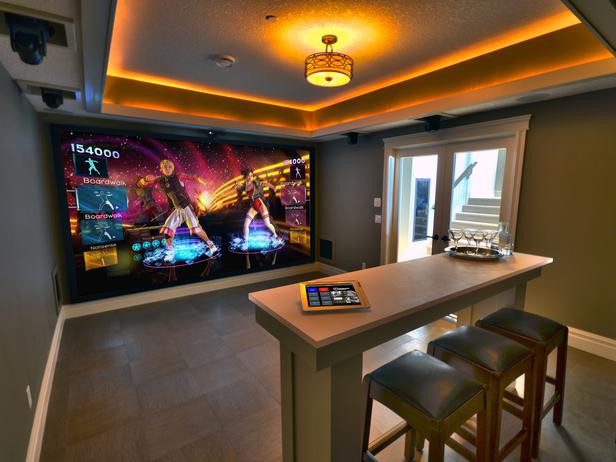 Many gaming room setup ideas have to contend with the necessity of having interior spaces be available for mixed use. In this photo, a couple of stools and table help keep this room minimally cluttered, while an enormous wall-mounted screen allow for an immersive play experience. Recessed ceiling lighting and minimal natural light allow for plenty of ambient illumination without overwhelming the action on the screen. Ceiling-mounted speakers also help make this room instantly ready to be transformed for other purposes, while remaining ready for the next round of game play.
25. The Classic Games Room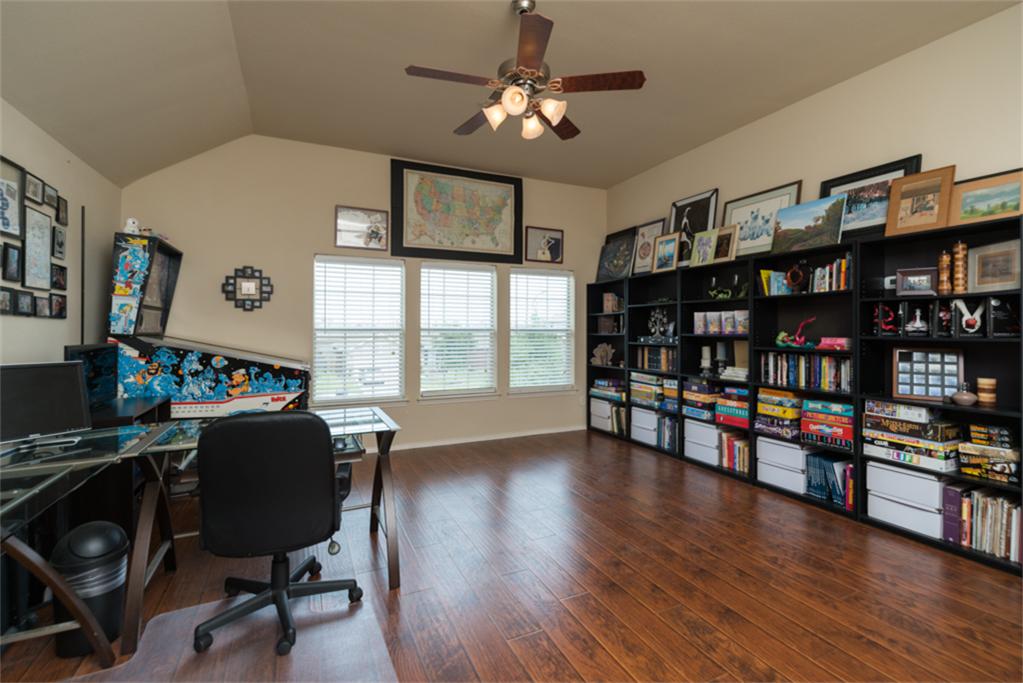 Source: Pinterest
Not all game room ideas are centered around the use of electronic games. In this photo, a generous series of shelves house a variety of classic board games, while an unused corner space is dedicated to a machine from the classic era of pinball games. The rest of this large room is left open and uncluttered, allowing for rapid transformation to whatever gaming experience is desired, while plenty of framed pictures and prints add a subtle stamp of personality. Windows with blinds, in combination with overhead lighting, allow for flexible adjustment of ambient lighting, while the light walls and multiple windows allow for full natural light when the room is being used for work purposes.
26. The Home Pub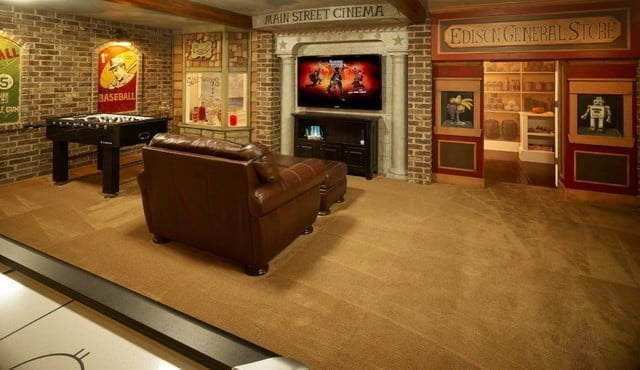 Source: Pinterest
In this room, the gaming theme has been uniquely transformed to match the decor of a classic pub, or local sports bar. Antique signs hung high near the ceiling nicely match the framed prints of toys and games below. One area of the room is dedicated to more traditional games, smartly indicated by old-timey sports prints, while the center of the room is adapted for more modern forms of play. An old fireplace has been refurbished to accommodate the large screen without interfering with the open spaciousness of the room.
27. The Minimalist Approach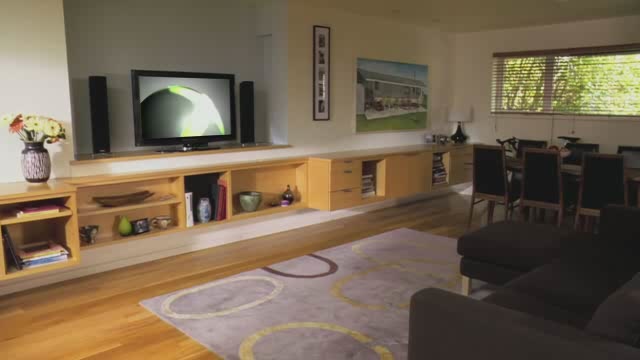 Not every home has the budget or ability to focus an entire interior space on gaming. In cases where gaming is best maintain discretely, it is possible to camouflage the use of the space by adapting it to the existing room structure in place. In this photo, you can see how a large living room and dining room give no outward indication that gaming takes place, yet upon further scrutiny, the entertainment nook is ready to be used at a moment's notice for exciting game play.
28. Using Dark Colors Intelligently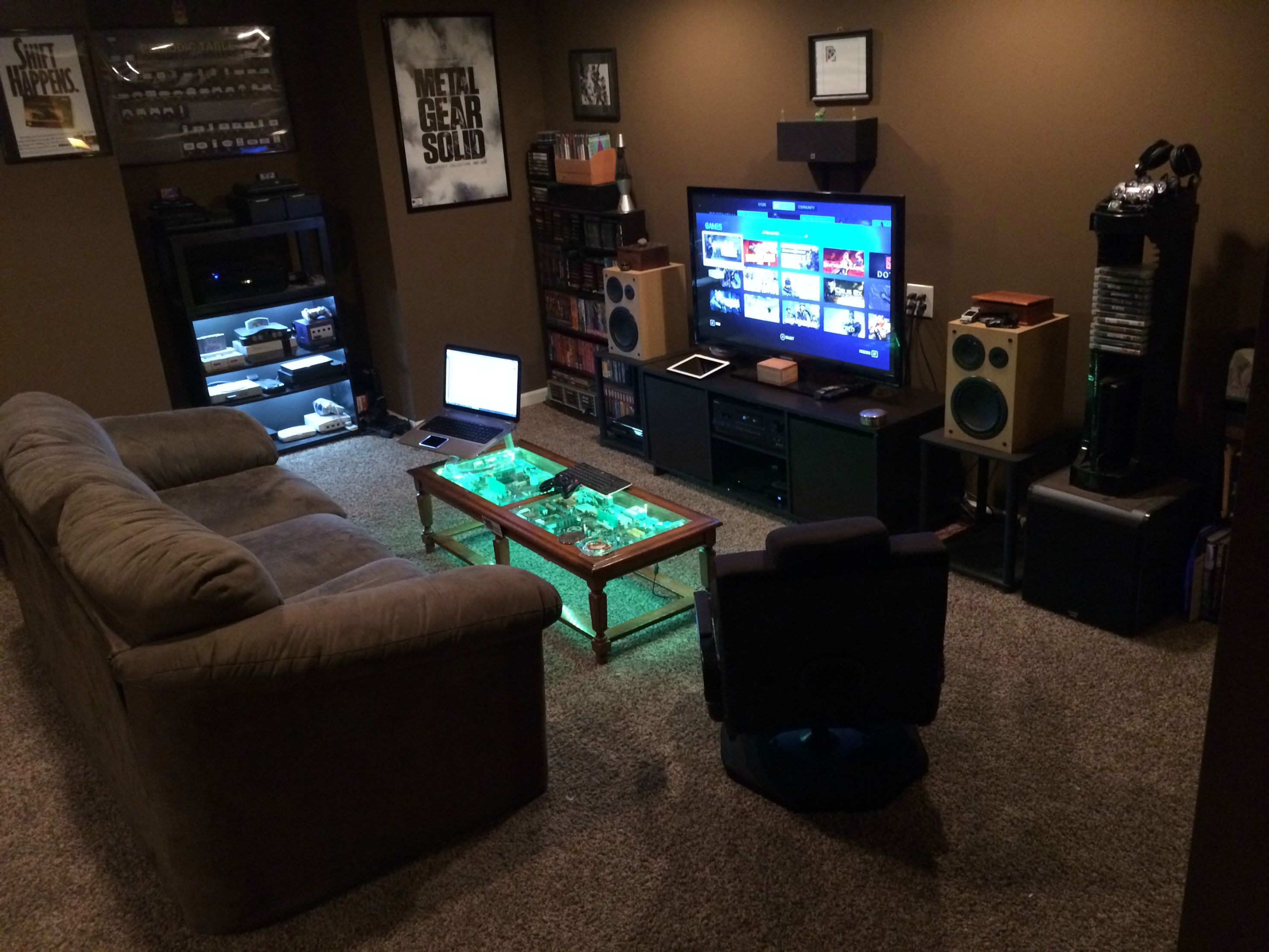 Source: Pinterest
One of the great challenges for designing a room for game play is how to come up with adequate ambient background illumination. In this photo, dark-colored walls and furniture create a strong negative space, which can easily overwhelm the eye with strong lighting coming from the main screen. But the clever use of recessed lighting in the shelving and recessed spotlights on the ceiling nicely serve to add intimacy. The illuminated coffee table is an especially useful idea, as it helps add background light ambience while simultaneously aiding players in seeing the keys and buttons on the game controls.
29. The Bedroom Gaming Lair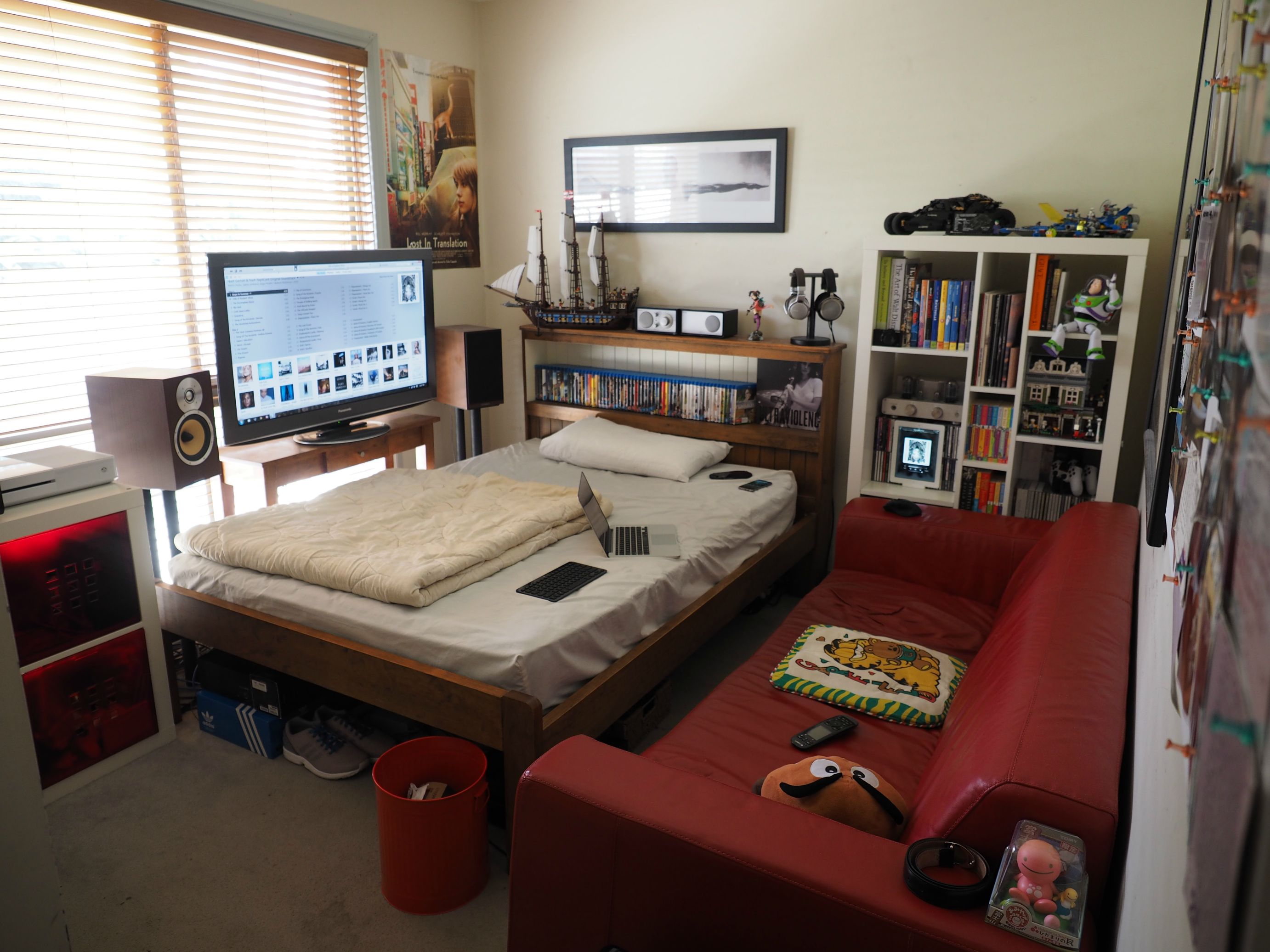 In some circumstances, a dedicated gamer may have no other available space than the bedroom in which to set up the necessary equipment for play. In this photo, the necessary existence of a large bed has been bypassed by framing it with the couch on one end and a large viewing screen on the other, transforming the bed into a virtual table during game play. A few gaming-related collectibles and theme items on the couch and nearby shelves add further emphasis to its function as a place for enjoying video games.
30. The Importance of a Coffee Table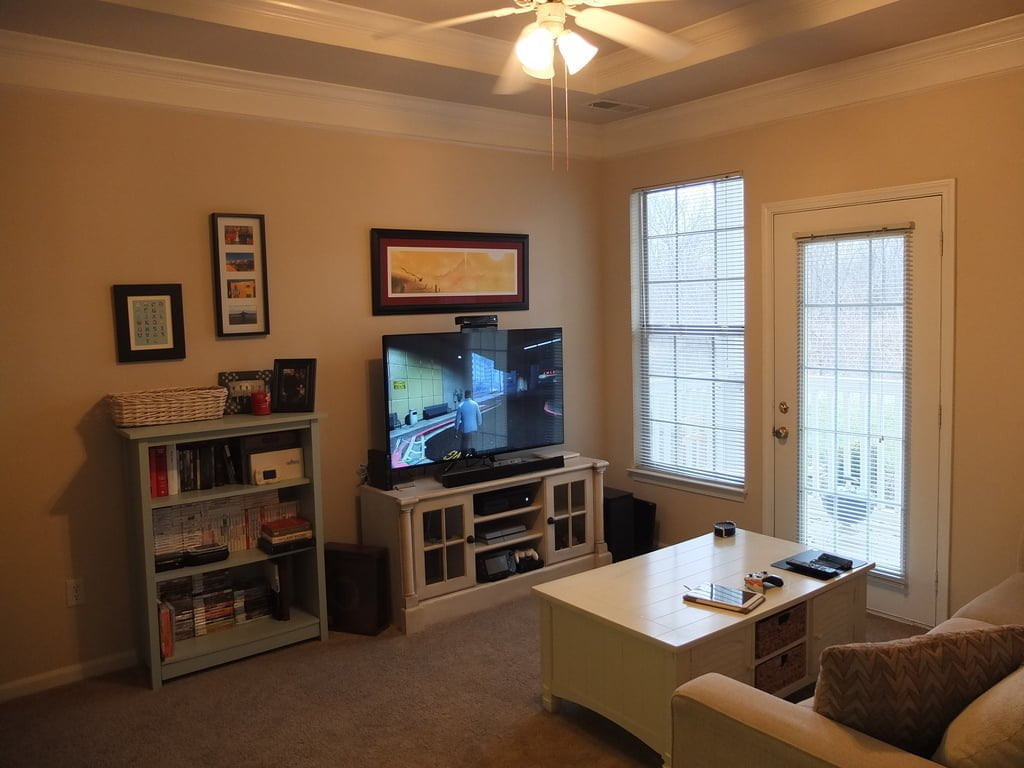 Many gamers have no other choice but to piggyback their play equipment to existing media centers in multi-modal rooms. In this photo, the exterior end of a living room has been established as a common viewing space, with a comfortable couch and nicely matched furniture. By using the coffee table as a mixed-use piece of furniture, perfectly adapted to hosting visitors or to lay down gaming controls, the room is instantly ready for single or group game play without compromising the neutrality of a space designed for public use. Elegant media center cabinetry keeps clutter and games out of sight, while non-gaming decor completes this space with a homey, welcoming tone.
31. Making the Best of a Basement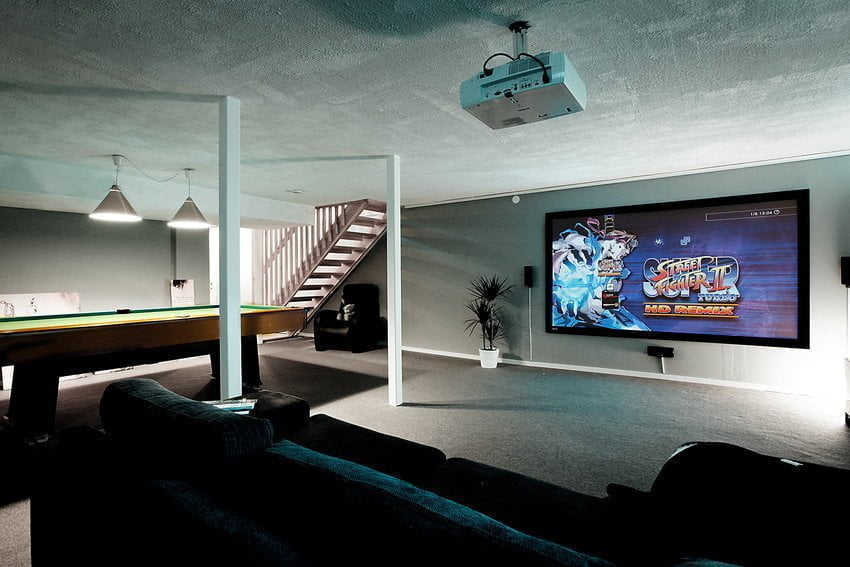 In this photo, the basement area has been transformed from a neutral, poured concrete space to a sleek and modern area adapted for exciting game play. Traditional games like billiards occupy one end of the large space, while an overhead projector allows for more modern play without making the room feel cluttered or messy. Plenty of matching furniture allows for group fun, while the wall-mounted speakers ensure that the rest of the household won't be disturbed by electronic noises. The underground space is given a further boost by the use throughout of white and light colors, making the room feel intimate and airy.
32. The Semiotics of Play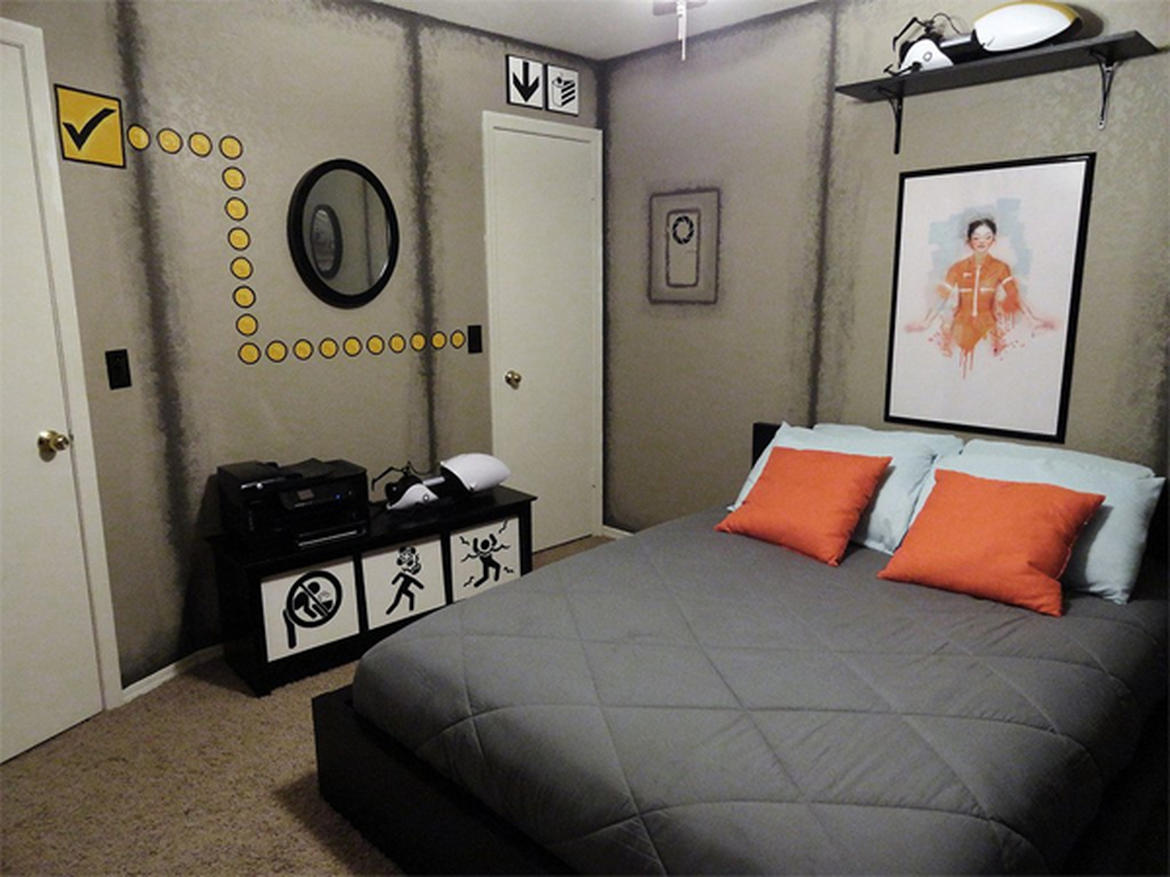 Source: Pinterest
In some cases, game play may necessarily occur elsewhere in the house, but gamers want to decorate their own personal space with motifs, signs, and symbols that demonstrate their love of play. In this photo, whimsical symbols have been placed on free vertical spaces, using contrast and color to add rather than to subtract from the simple color tones in use in the room. A large watercolor print above the bed, in addition to futuristic paraphernalia, reinforce that the occupant is an enthusiast of games created overseas.
More video game room decorations on the next page…