As you are deciding what to do with that empty space in your backyard, check out some of the best Zen garden ideas and designs that will get you started on the right foot.
Before we dive full-on into the ideas, let's talk about Zen gardens for a moment. Traditionally, they were an area of contemplation and meditation created by the monks to aid them. Nowadays, many people still use them for their original function, but they also serve as a place for connecting with yourself, with others, and with nature. It's common to see them in people's yards, and they can blend in with a typical garden, serve as an addition to it, or stand-alone in its own space.
12 Incredible Zen Garden Design Ideas and Items to Transform your Backyard

When you're in the midst of creating a Zen garden for yourself, you have to think about a few things. First, consider the space you have. Do you have room for something extraordinary or something more low-key? Also, keep in mind exactly what you want to get out of this garden. If you will be the only one in it, then perhaps you don't have to consider a lot of seating. Otherwise, if you want it to be a place where people get together, you can leave room for things like outdoor lounge chairs and couches.
Another important consideration is the shrubbery seen in Zen gardens. You can keep to traditions and use minimalistic greenery, or you can personalize it more and throw in a few pops of colors with different types of flowers. Since this is your backyard, you have the utmost freedom to adapt this type of garden to best suit your desires and needs. It is for this reason that we made it a point to include a good variety of design ideas and items so that you have a host of options to explore throughout your journey.
The items and ideas addressed below contain a mixture of making something that is fitting for a family to something that only you will like to sit down in and relax. Some offer a sense of shelter while others rely on natural shading from the trees in your yard. We even ensured to find some ideas that are fitting for smaller spaces. So, if you are ready to get a jump on your next backyard deck DIY project, then check out some of the best Zen garden ideas and designs that will help you completely transform your yard.
1. Cozy Zen Garden with Natural Shading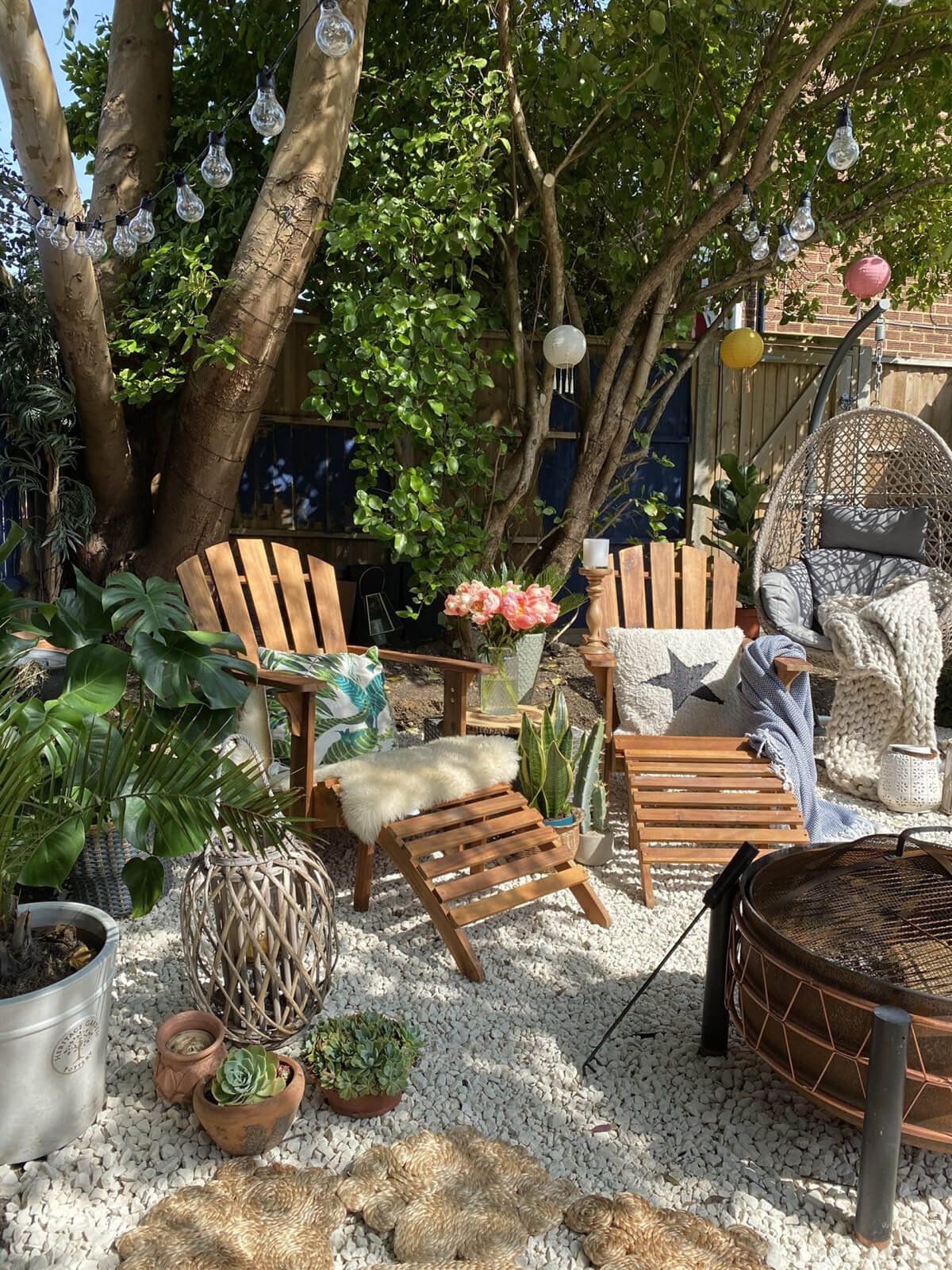 As you are deciding where to set up your garden, consider the lighting that hits your backyard. Rather than build something, you can opt for more natural shading if you have trees close by. This can help you stay more connected to the nature around you. Merely fill it with other great cozy items like lounge chairs, cushions, and a couple of throw blankets. With the trees in place, it's only fitting to add potted plants all around as they can easily blend into the environment. In no time, you will have a place that's worth relaxing in at all times throughout the day.
2. Small Space DIY Zen Garden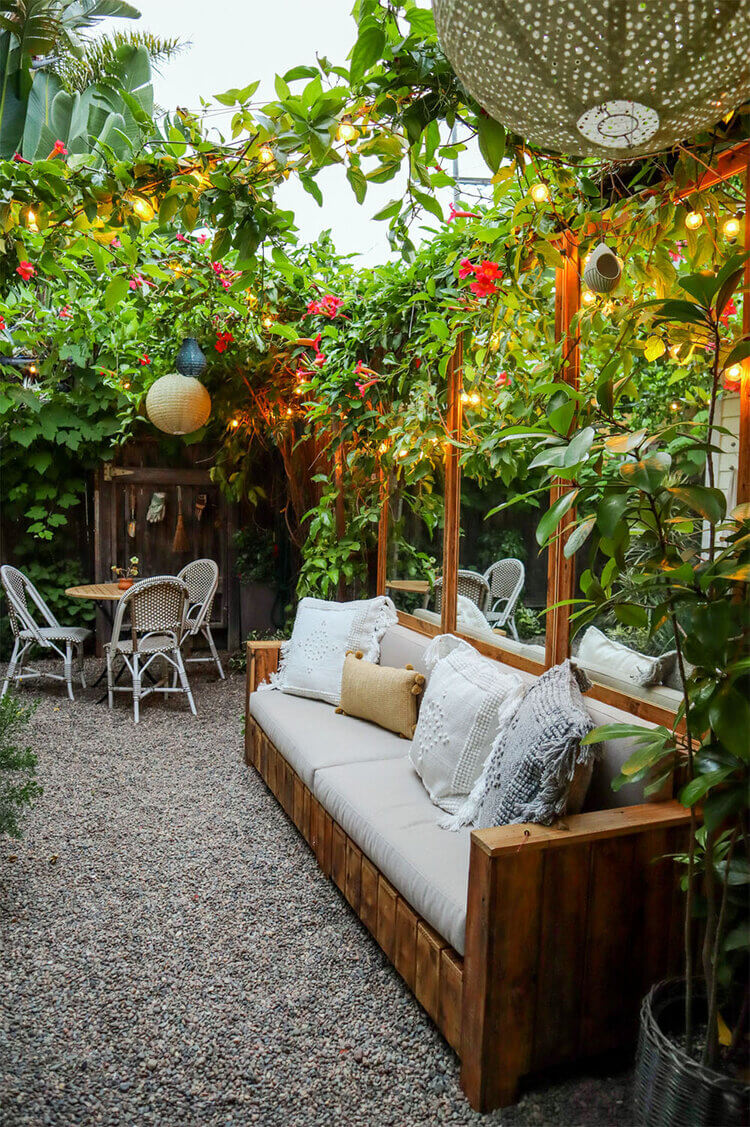 Even if you only have a small footprint to work with, you can still create a beautiful Zen garden area that anyone will love hanging out in. In fact, with the right materials and setup, you can make that space appear far larger than it actually is. A single sofa is a good start when it comes to creating a sitting area. It can be long enough to support multiple people without getting in the way of the rest of the garden. If you have the means to, you can add a small dining-like area off to the side for more guests.
3. Beautifully Fun Zen Garden Playhouse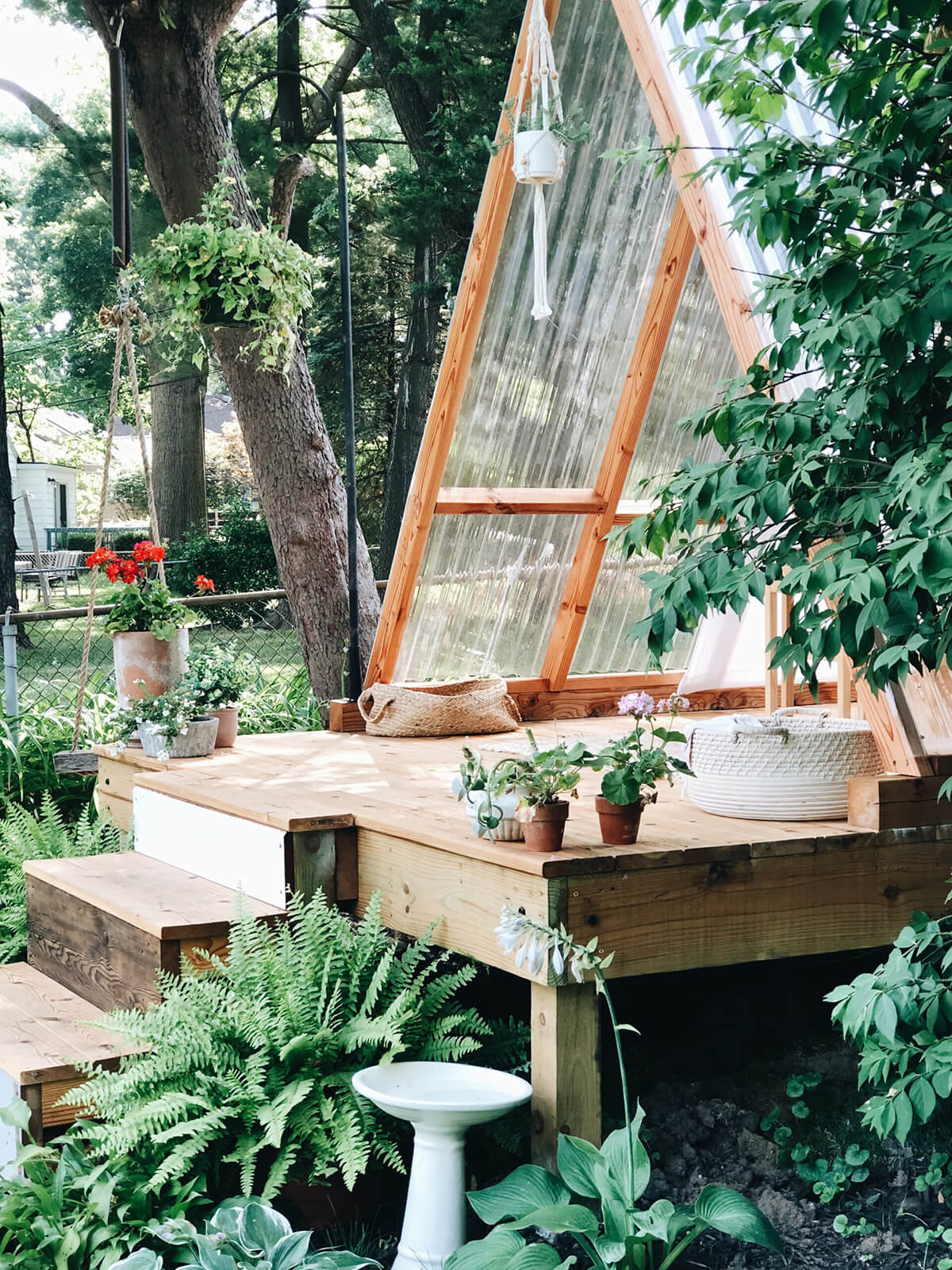 So, you find yourself in a situation where you want to have a peaceful Zen garden but you also need room for the kids to have fun in too. You don't have to choose one or the other as this Zen garden design idea gives you the best of both worlds. It effortlessly combines the aesthetic of a playhouse with room to sit and have fun activities with the overall relaxing feel of a garden with various greenery set up all around it. The stairs leading up into the outdoor house creates a fantastical sensation that kids of various ages will absolutely love.
4. Flower Paradise Zen Garden Firepit Retreat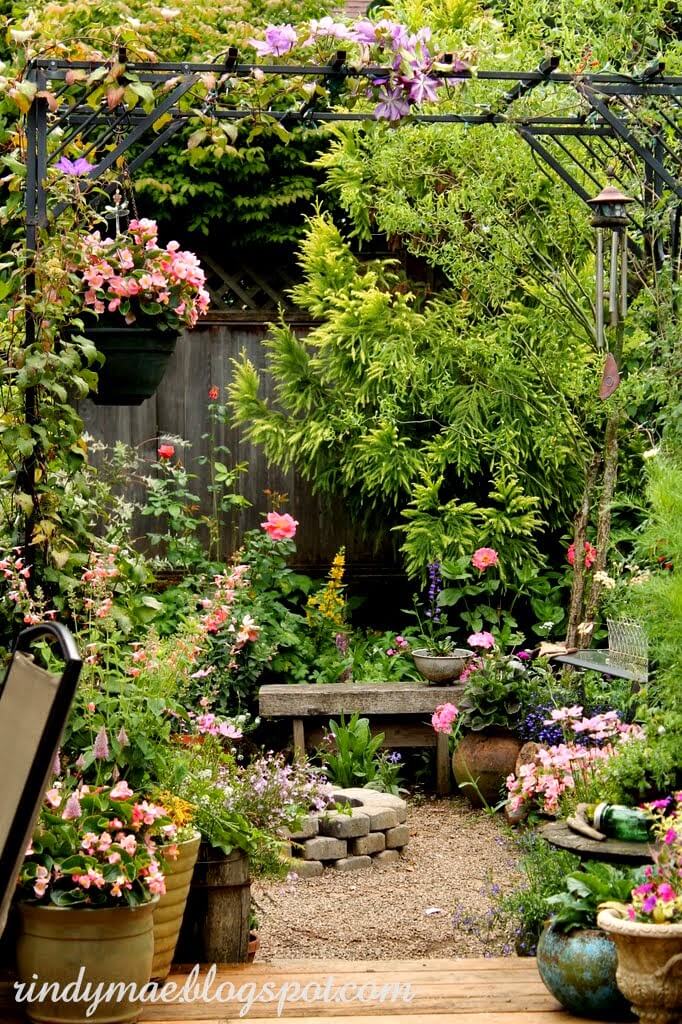 When you're creating a Zen garden, it is simple enough to fill it up with numerous greenery that's large and small. While you're doing that, consider adding in various pops of color along the way. This can come easily come from using a range of different flowers. As they blossom, they can create a gorgeous rainbow-like effect in your garden. This works well if used to surround a sitting area with a fire pit in the center. It makes for the perfect escape and hang-out area for you and your family as well as any guests that come over.
5. Beautiful Stone Path Garden Idea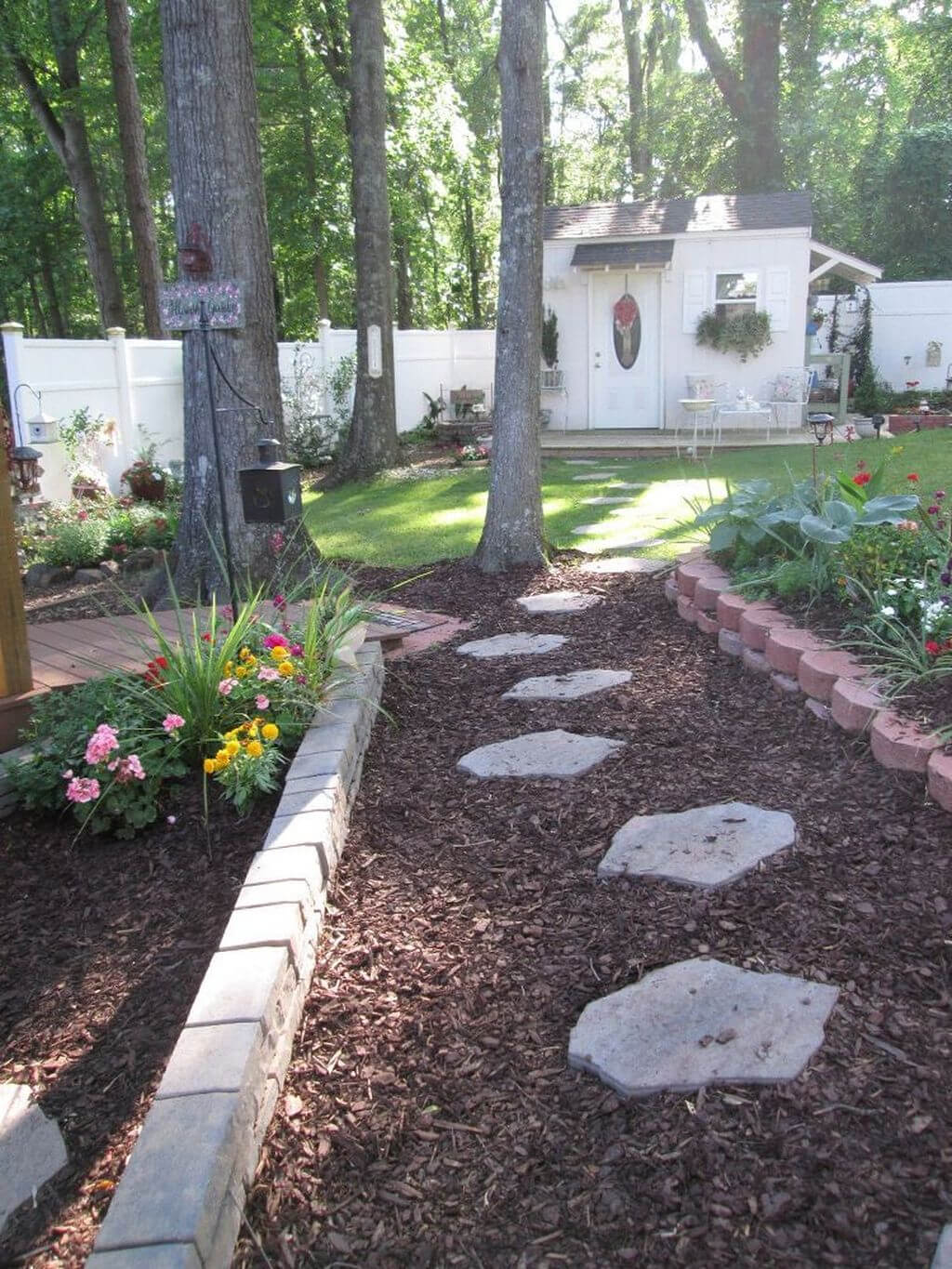 As you're building your outdoor paradise, it's important to look at different Zen garden decor. This will further help the area stand out and elevate your backyard. Creating a beautiful path is an awesome idea in this case. It makes the walk into the garden just as lovely as the garden itself. If you already have mulch or dirt laid out, consider adding in some spacious stone slabs to make room to comfortably walk on. Having a garden on either side filled with gorgeous plants makes the journey that much more pleasant.
6. Stunning Rock Zen Garden Creation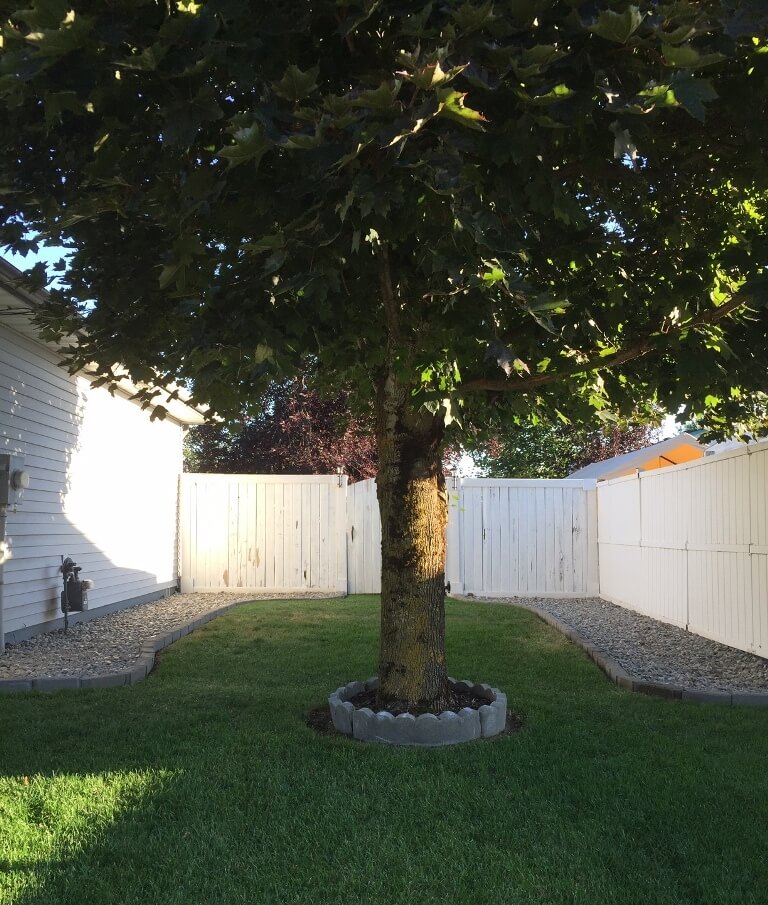 Some of the best Zen garden ideas and designs have a beautiful simplicity about them. Look at this rock garden, for instance. It takes advantage of the open space in a backyard and transforms it into a place of tranquility. This can be especially effective if you have a tree in the center. The tree does a perfect job at standing tall and adding in that natural bit of shade all around the garden, leaving you room to relax in the grass and take it all in. It's a unique minimalistic approach to creating an effective Zen area.
7. Cool Raised Backyard Zen Garden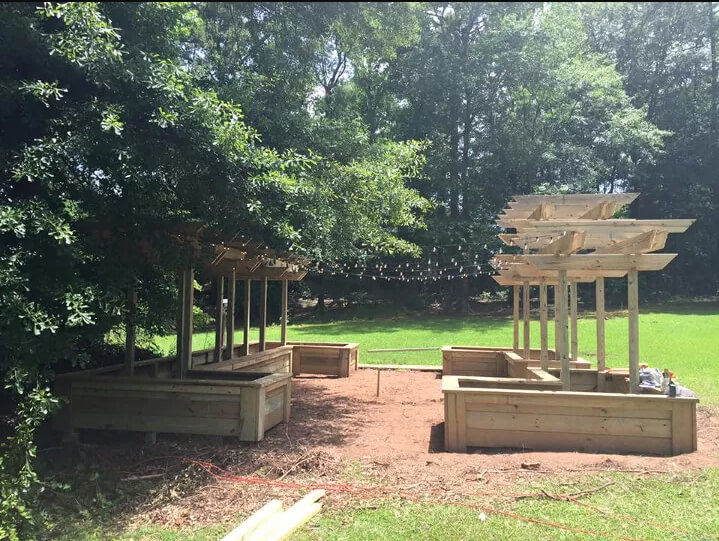 If you want a complete DIY Zen garden, then consider building a raised garden for your potted greenery. This is the type of work that instantly captures attention, and if you have windows facing the outdoor area, it serves as a welcoming sight whether you're indoors or outside to admire it up close. This allows you to create quality shading for you and visitors while still allowing the greenery to receive the necessary sunlight to survive. It is also a great design that lets you view and manage the potted plants with ease since they are off the ground a bit.
8. Boho-Style Macrame Wooden Tree Swing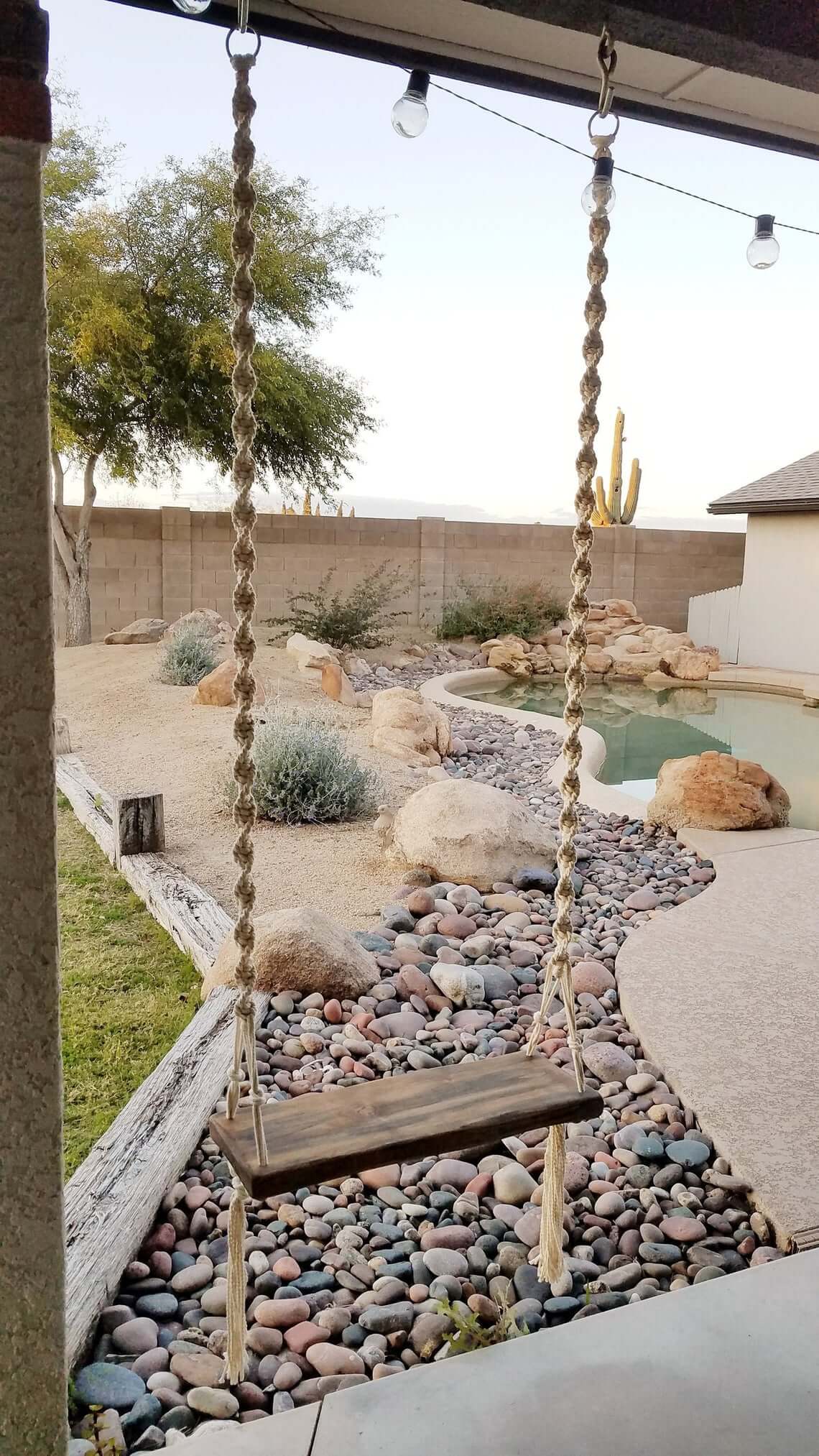 Perhaps your Zen garden is craving that whimsical touch. A tree swing is an awesome idea in this case. It's handcrafted using natural wood material for the seat, and you can opt for a brown weathered staining or a dark gray weathered staining. There are numerous heights to choose from as well. It also features a macrame cord with metal rings, but the hanging hardware must be purchased separately. When you do, you don't have to just hang it from the tree in your garden. It can hang from other areas like a deck if it's nearby the garden.
9. Lovely Equisetum Hyemale Miniature Bamboo Plant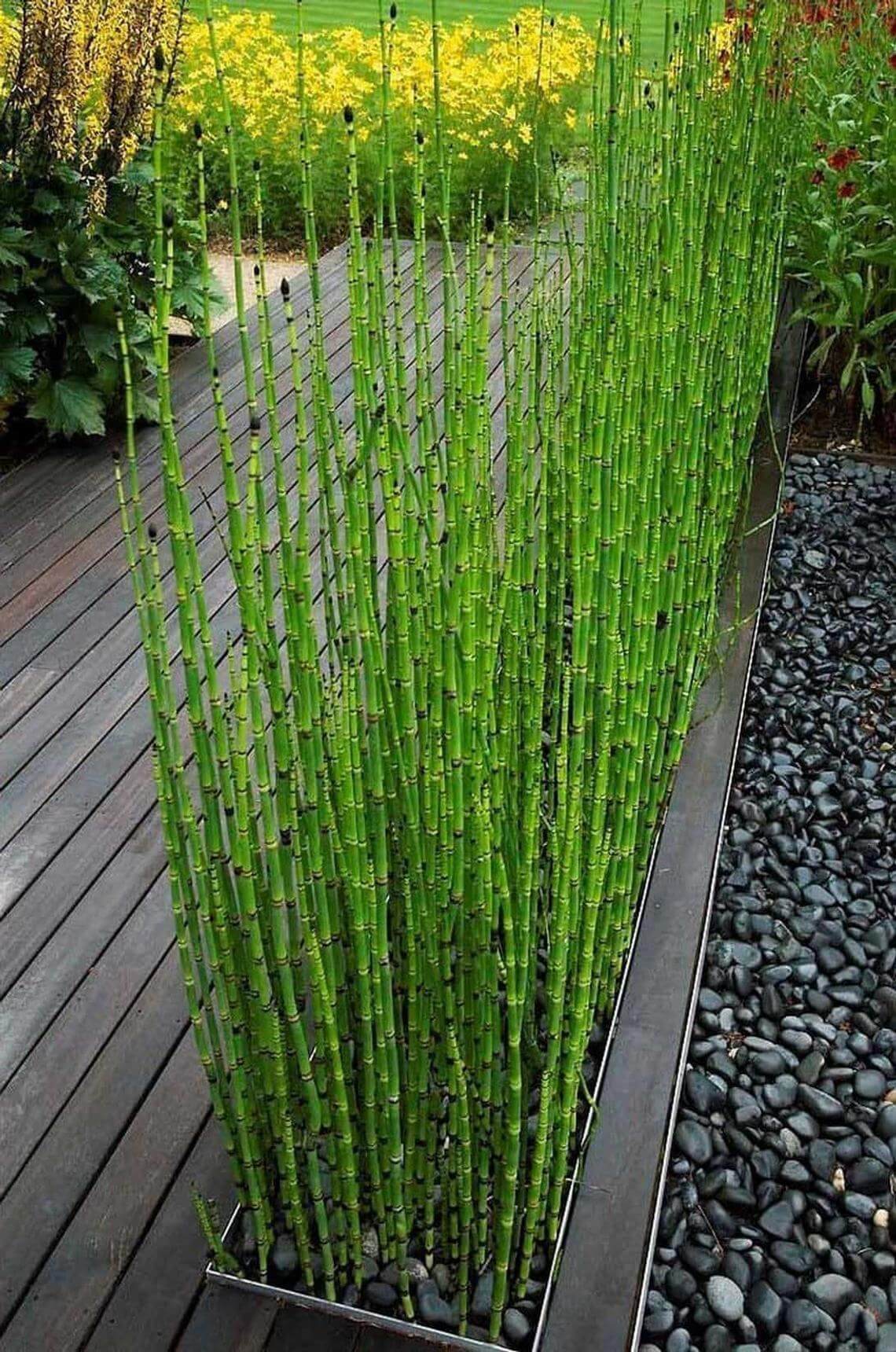 Maybe you're looking to add a touch of bamboo to your DIY Zen garden, but you might not have the means or room to care for it. That is where this gorgeous miniature bamboo plant comes into play. It can fully give off the vibe of an Asian-themed garden but require minimal maintenance from you to manage. By their design, they can readily fit vertically into tighter spaces like walkways, giving you the freedom to set them up as you please to enhance your Zen garden. You can order this in a bundle of 10 or 20, and they will arrive at you bare-root.
10. Cute Pure Copper Fish Rain Chain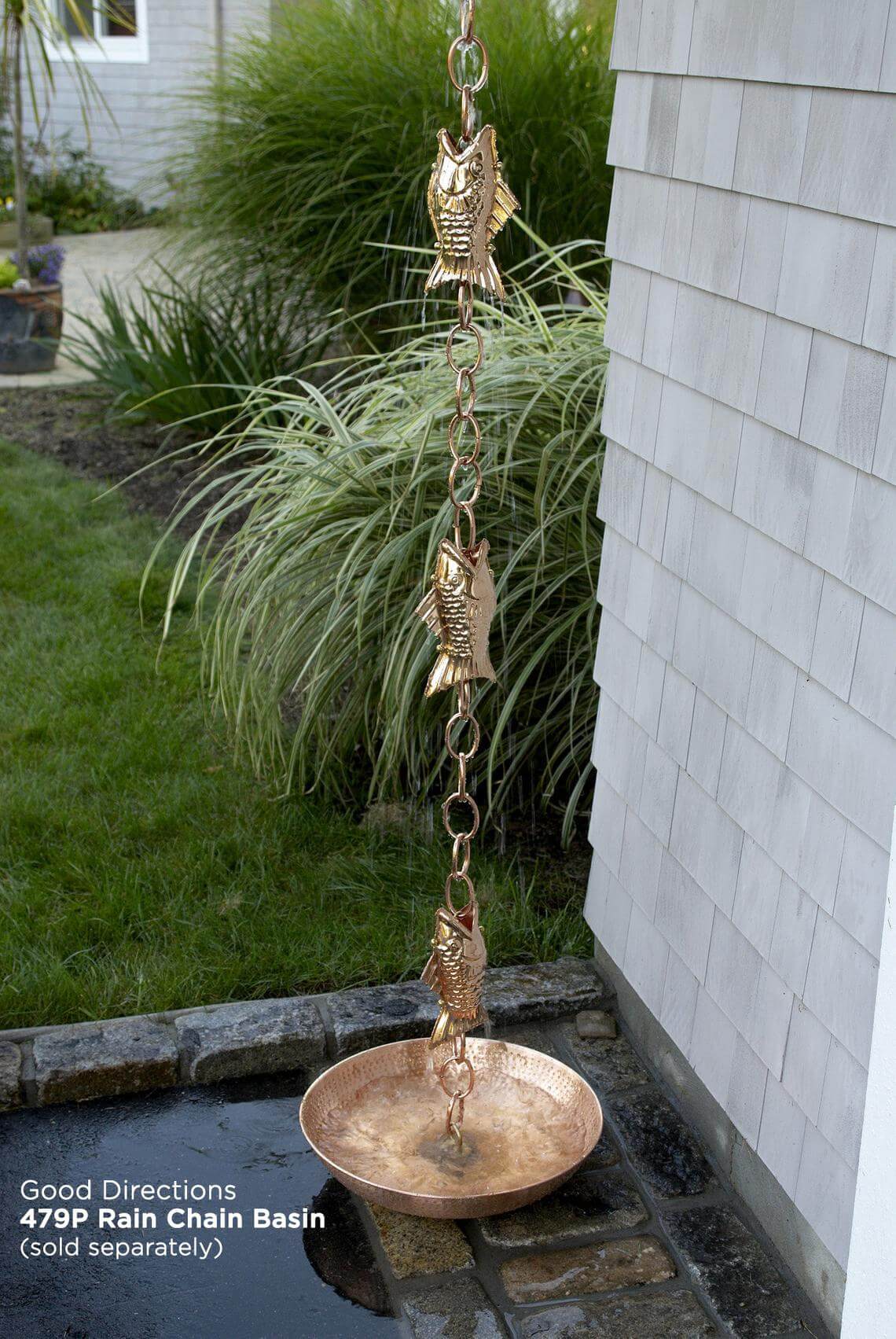 Directing the rain to flow where you want it to from your gutters has never looked so appealing as with this fish rain chain. It is made from pure copper, and it features elegantly designed fish. It stands at 8.5ft. tall, giving you ample space to set it up to your gutter. This even includes a gutter clip for faster installation. It serves as attractive Zen garden decor that can look exceptionally lovely once it starts to rain and you witness that water cascade down in a more flowing pattern.
11. Unique Terracotta Belly Pot Set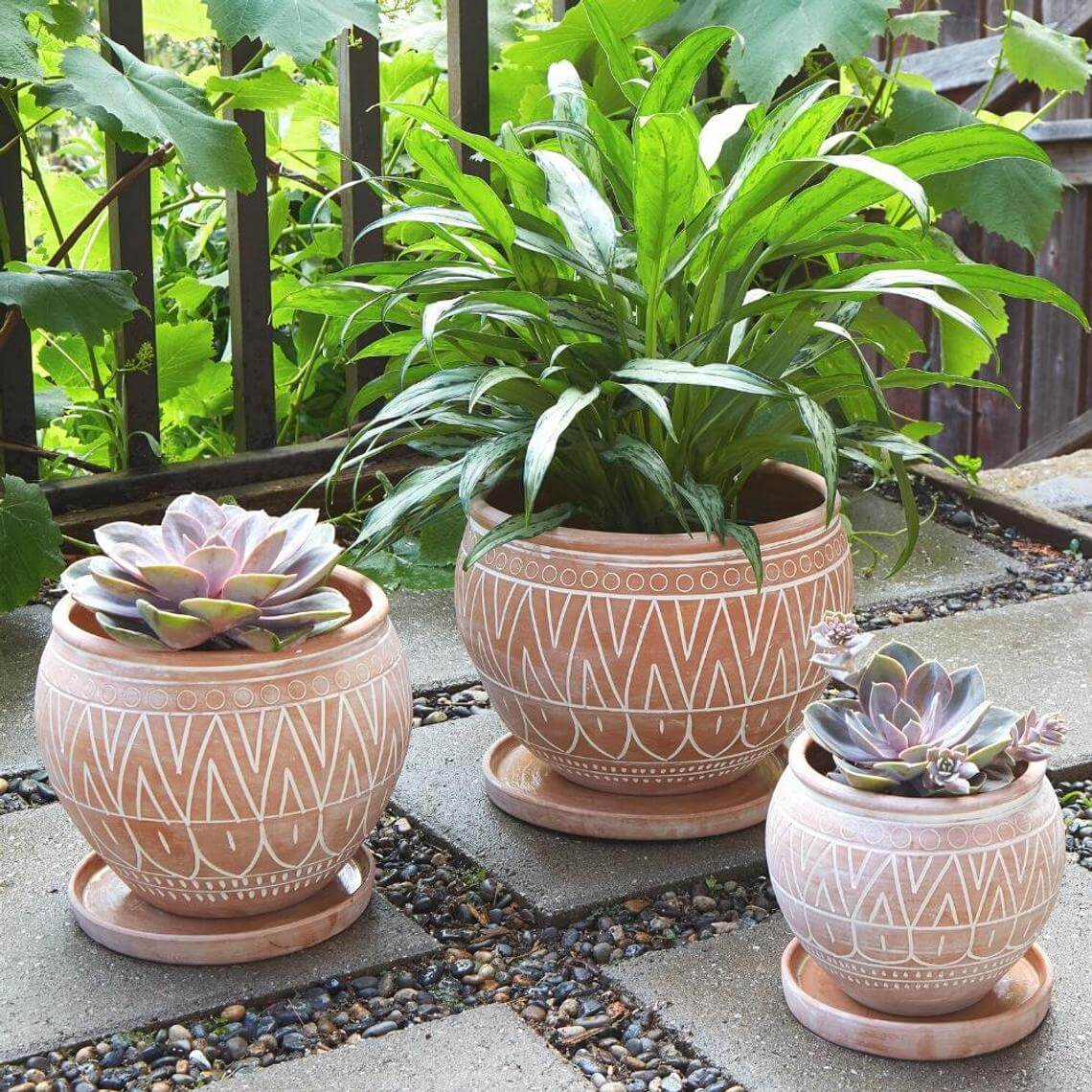 As you're coming up with your Zen garden design idea, you need items that will blend into the aesthetic you're aiming for. These terracotta belly pots are cool choices in this case. They are handmade and feature a beautiful whitewash finish along with intricate geometric detailing etched all around them. These are made in three different sizes too so that you can use them for a variety of plants. They are a wonderful way to set up your potted plants in style, giving them even more life while adding to the overall decor of your garden.
12. Decorative Outdoor Metal Privacy Screen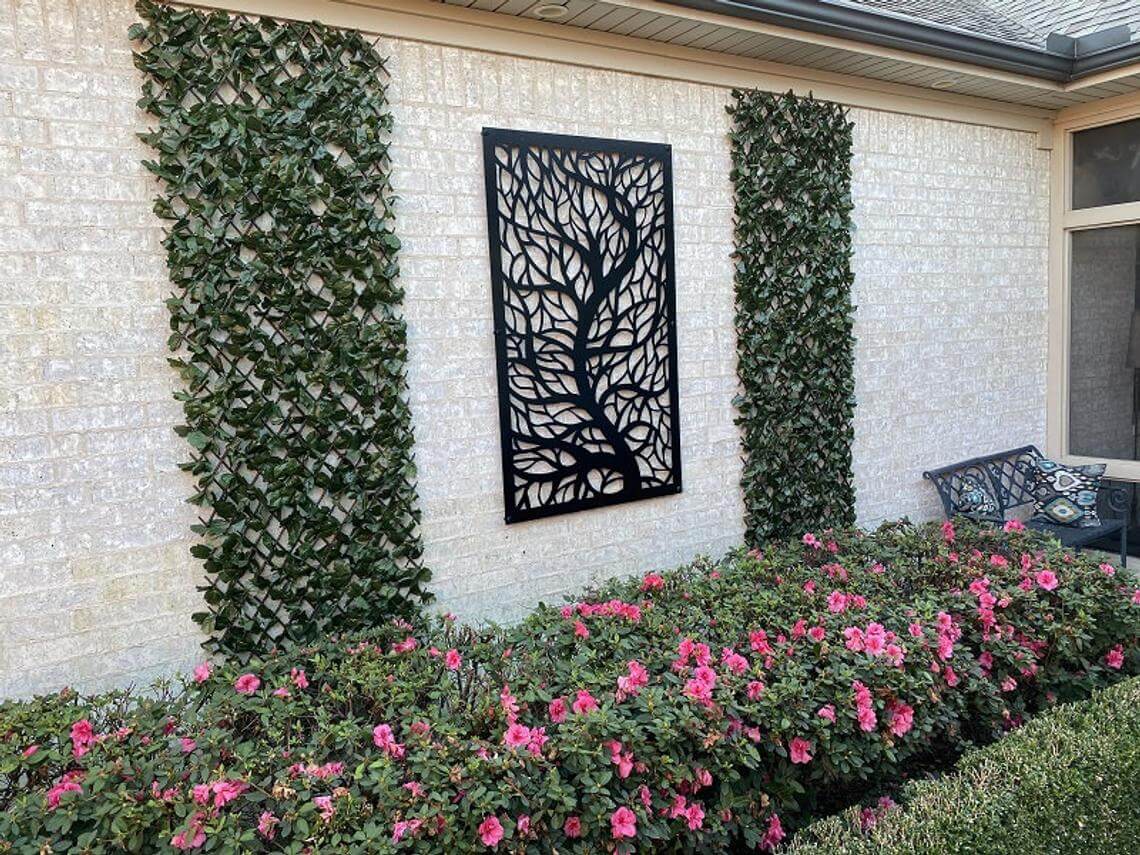 Some high-quality Zen garden decor items don't always have to be directly in the garden. Instead, it can simply lead to the garden as is the case with this metal privacy screen. It can be connected to a fence or even used as paneling to create a sense of walls surrounding your garden. No matter how you use it, the fence itself features a gorgeous tree-like decorative design that boldly stands out. It comes in numerous sizes to suit different uses. Also, this is made in several different colors so that it will better suit the specific theme of your garden.
12 Unique Zen Garden Items and Ideas to Breathe Life into Your Yard
Building a Zen garden can be an exciting and rewarding experience. Not only does it look good, but it is the perfect place to walk through or sit down in to instantly feel calmer and more connected to nature. Another fun aspect about this type of garden is that there are so many routes for you to take when it comes to creating it. You can go for a simpler approach and utilize a rock garden with maybe a touch of greenery here and there. Or you can go for a more colorful experience with several plants surrounding the area.
The options are near-limitless, in fact. There are several decorative items you can place into the garden that makes it truly unique to you and your home. The area doesn't just have to be for you alone either. You can build something that feels welcoming for the whole family and guests with various seating arrangements so everyone can take in the wonderful sensation of the garden. With the best Zen garden ideas and designs laid out above, we hope you find yourself a good starting point to creating a lifelong calming retreat right in your backyard.