43. Dried Oranges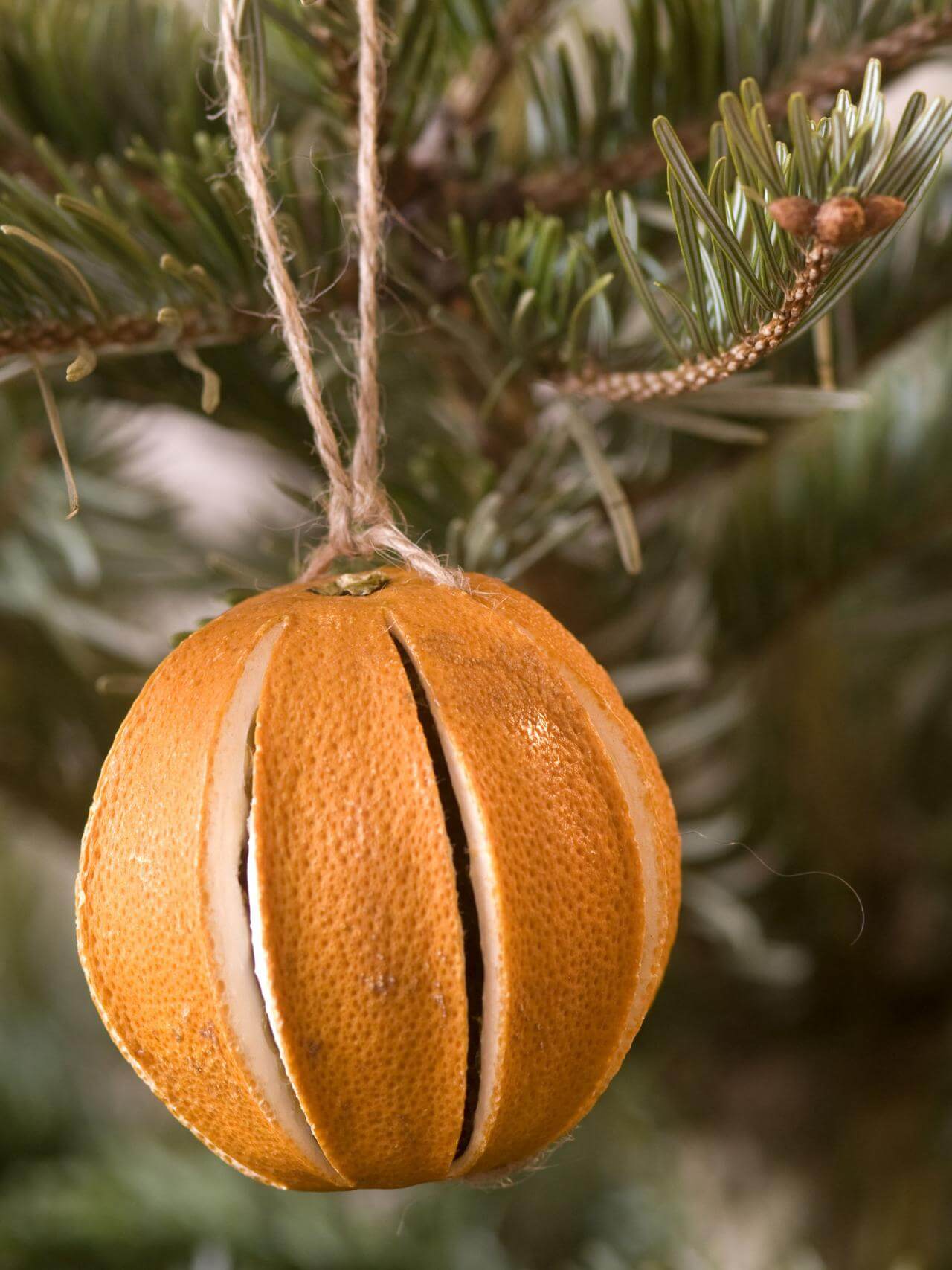 If you're a purist and don't like to fiddle with paints and glues, these dried orange ornaments are a must try. Cheap, simple, and extremely creative, you will love the holiday smells that a citrus fruit ornament will bring to your home. Using a variety of fruits, many of which you may already have on hand, you merely score the orange, bake it, and hang it. Assort them in a bowl for display for a holiday potpourri. Tip: Be sure to hang these high if you have animals or young kids in the home. You don't want to tempt them!
44. Wooden Slates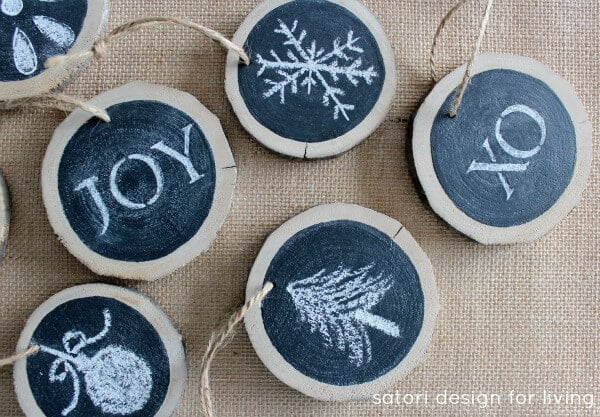 While you may be the kind of DIYer that wants to go out and find their own branch, cut it in slices with a miter saw, and drill the holes for these wooden chalkboards (good for you, that's awesome!) they should not be hard to find at the store. One you've got those secured, all you need is some leftover chalkboard paint from your Chalkboard Baubles (see #17) and a little chalk and you are good to go. Make a few dozen and create a "Merry Christmas" or "Happy Holidays" garland above your door or fireplace. A strong, hot-glued magnet on the back makes a great decoration on the fridge.
45. Winter Terrarium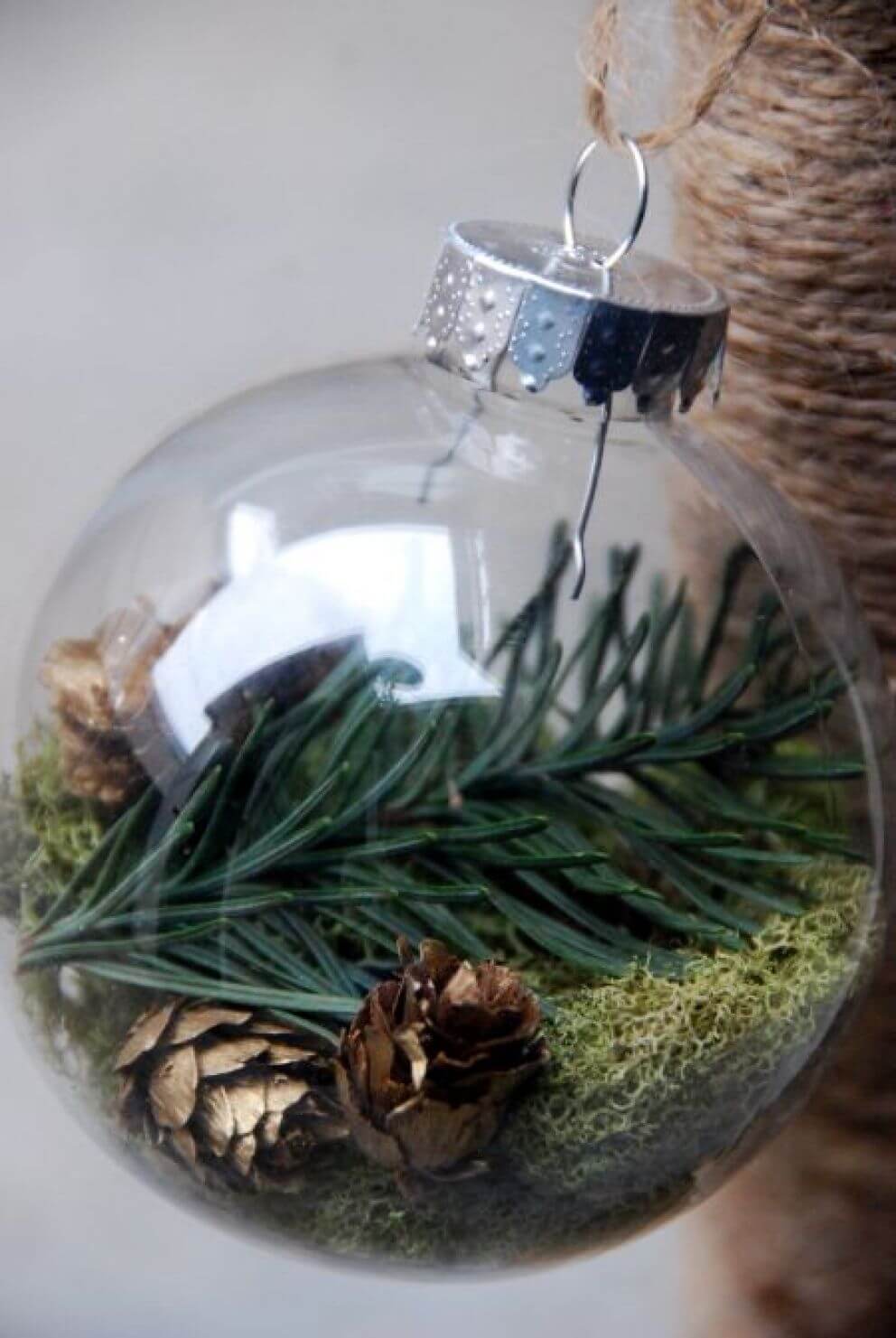 Using some found objects from the yard and a pack of versatile clear ornaments, you will be able to create a tiny winter wonderland to be enjoyed indoors. Customize your terrarium with whatever is found locally in your area, but remember, it has to be able to fit through the mouth of the ornament, so think small! Tweezers will be your best friend here. See what fun mini items are at the craft score or at an antique store that might look festive.
46. Lace Ornament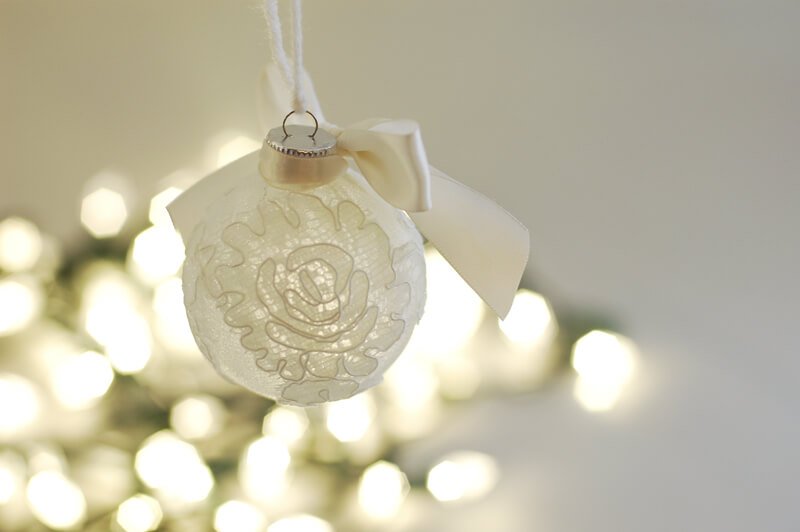 Attention all fabric lovers, this one is for you! This is a terrific gift idea if you have, say, inherited a special piece of clothing, a hankie, or a doily that has seen better days but you still want to keep it for the memories. Perhaps your wedding dress wasn't properly preserved and is beyond salvaging and you want to repurpose the fabric. Break out your scissors and your Mod Podge and start creating ornaments. Regardless of what color lights you put on your tree, you will love the way it shines through these sophisticated little ornaments.
47. Tiny Hands in Salt Dough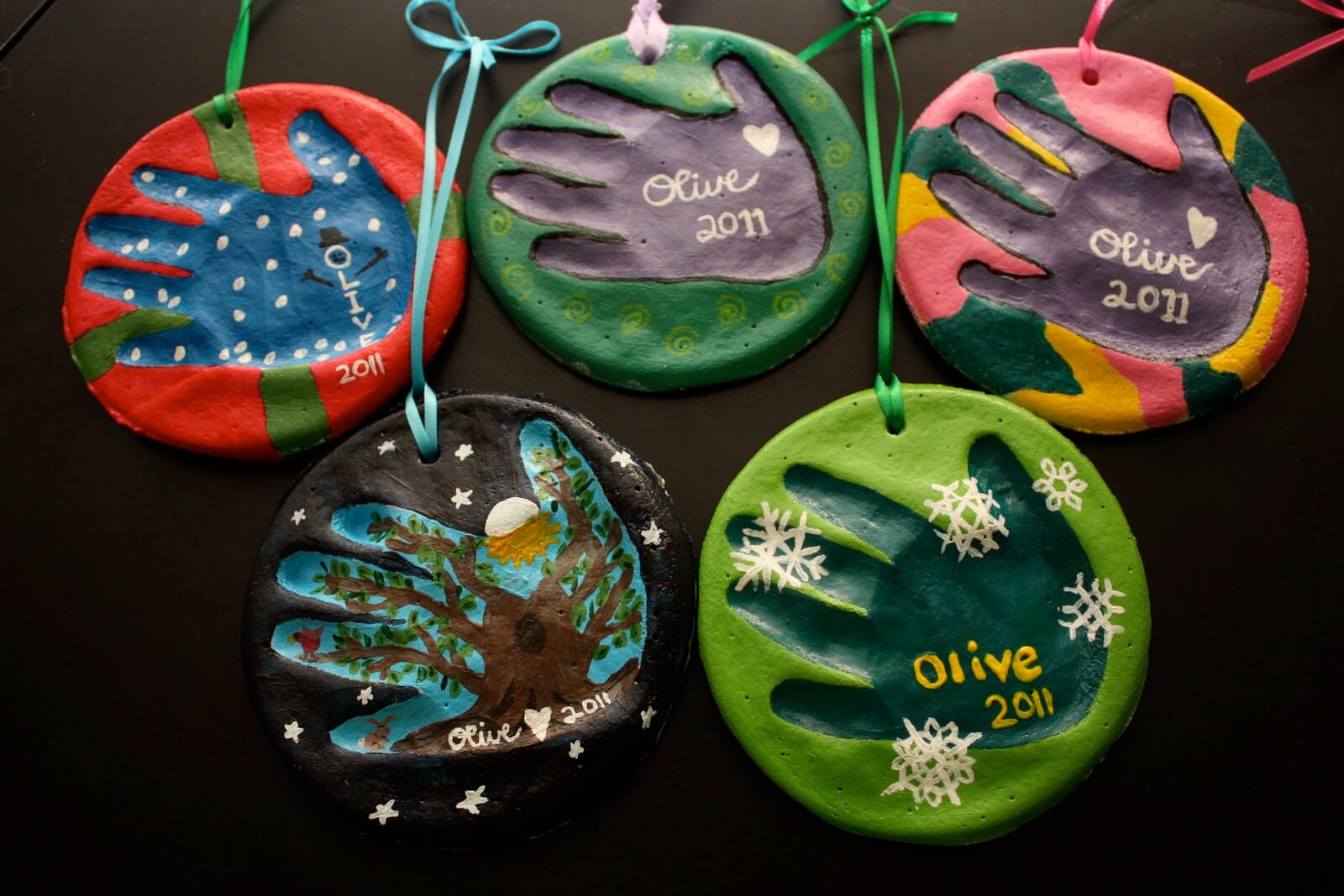 If you are searching for an awesome grandparent gift this holiday season, this one is sure to bring some smiles. Even better, the dough is made easily, and very cheap, with just flour, salt, and warm water. Older kids can help knead the dough and shape the circles. If you want a more polished look, feel free to paint the ornaments yourself or use some stenciled patterns. Otherwise, let your homemade pride really shine through and allow your kids to paint their own. If you happen to make them too heavy for the tree, they are also cute as wall hangings and paperweights.
48. Cork Reindeer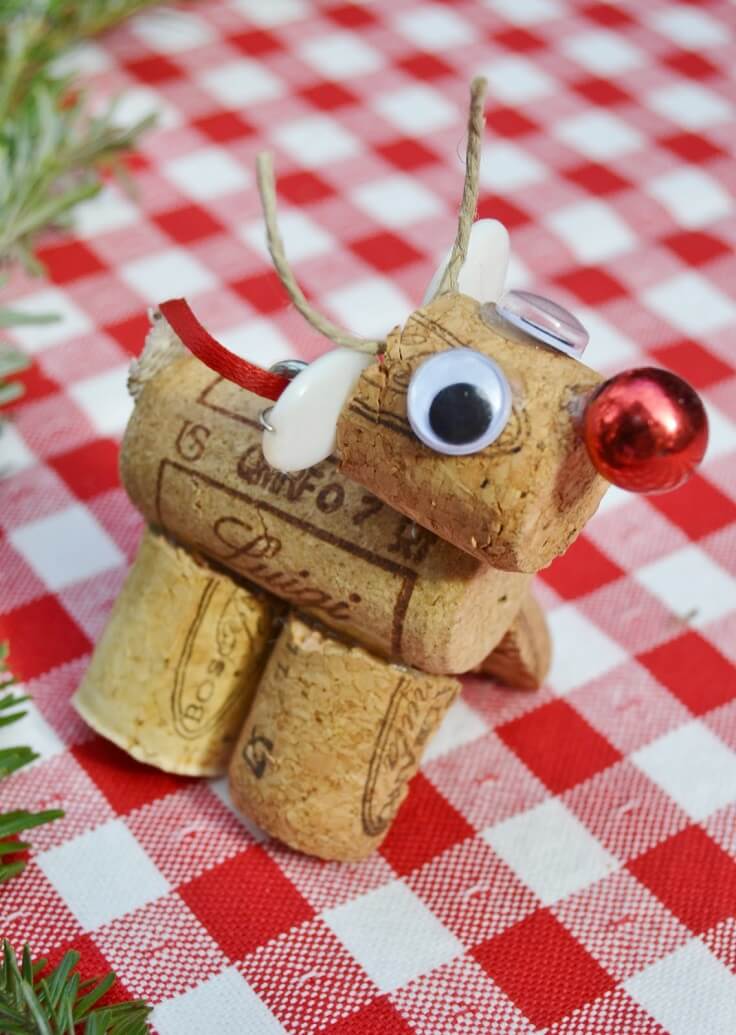 There's a wine snob in every family or group of friends, so this year delight them with these reindeer ornaments. If you know their favorite wine, snag a few corks to customize the decor. Using your hot glue gun and some patience, you will love the finished product of this adorable little Rudolph. Plus, think about all the fun you'll have collecting the corks you'll need to create it! (Who doesn't want to take down a few glasses during the holidays?) Make several at once to throw in with a bigger gift or decorate your table.
49. Copper Twine Ornament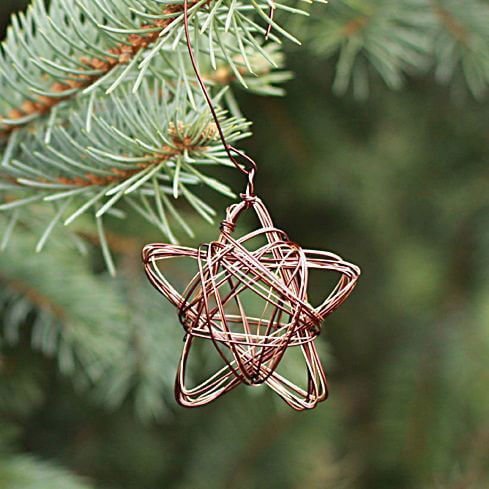 With a single material, wire, and a basic template of wood and nails, you will be able to pump out a large amount of these Cooper Twine Ornaments while watching your favorite holiday movie. What's nice about these homemade Christmas ornaments is that they are lightweight so they won't bend gentle branches when hung on the tree. These can also create pretty nice window hangers or a festive mobile. And because they are so lightweight, you can easily slip some in with your Christmas cards to give something extra special to your loved ones this holiday season.
50. Christmas Sweater Cloth Ornaments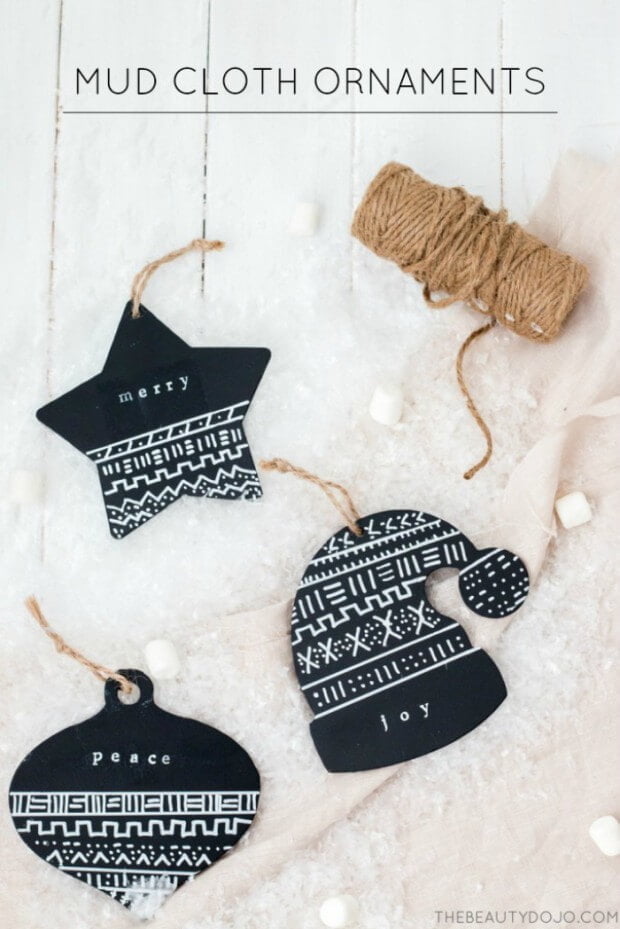 You may not want to actually wear that tacky Christmas sweater from your Great Aunt Beverly, but use the theme and your drawing skills to make some unique home decor with these cloth ornaments. The white marker pops nicely on the dark fabric and this is also the perfect ornament to make with leftover or extra cloth napkins in your buffet or using some solid fabric. Don't be afraid to freehand these and implore your most artistic side. If you do them big enough, maybe you could even create holiday placemats.
50 Amazing DIY Holiday Ornaments
Hopefully, you've been inspired and are ready to get started on your very own DIY Christmas ornaments. Remember, great Christmas decor doesn't have to clean out your wallet. Save some bucks this holiday season and put yourself to work on some unbelievable homemade Christmas ornaments that will be cherished for years to come. Your friends, family, and coworkers will be thrilled that you thought of them with the personal touch of a special homemade Christmas ornament. Have fun!