When it comes to Halloween party decor, you don't have to spend a small fortune at the stores. Whether you're entertaining discerning adults or active children, the right party ideas can help set the tone and ensure that your gathering is a huge hit. These Halloween party decoration ideas are perfect for giving your house that spooky touch that it requires. You can make most of the cute crafts on your own, or you can do the activities during the party to help pass the time. In addition to dressing up the living room and party space, you can also take your front walk and powder room to a fresh new level.
Make Your Halloween Party Unforgettable with These 50 Spooky and Creative Decorations

Use these party ideas to find inspiration for your gathering, or decide on your theme ahead of time and then see what fits. What's important is that you create a safe and attractive environment where your guests are sure to have fun. A cute theme is perfect for younger kids, but a gathering of teenagers may want something that leaves them shivering. If you're focusing on adults, then you may opt for a sophisticated look that speaks of Dracula and the classic horror movies.
1. Mummy Candy Cans for Take-Home Treats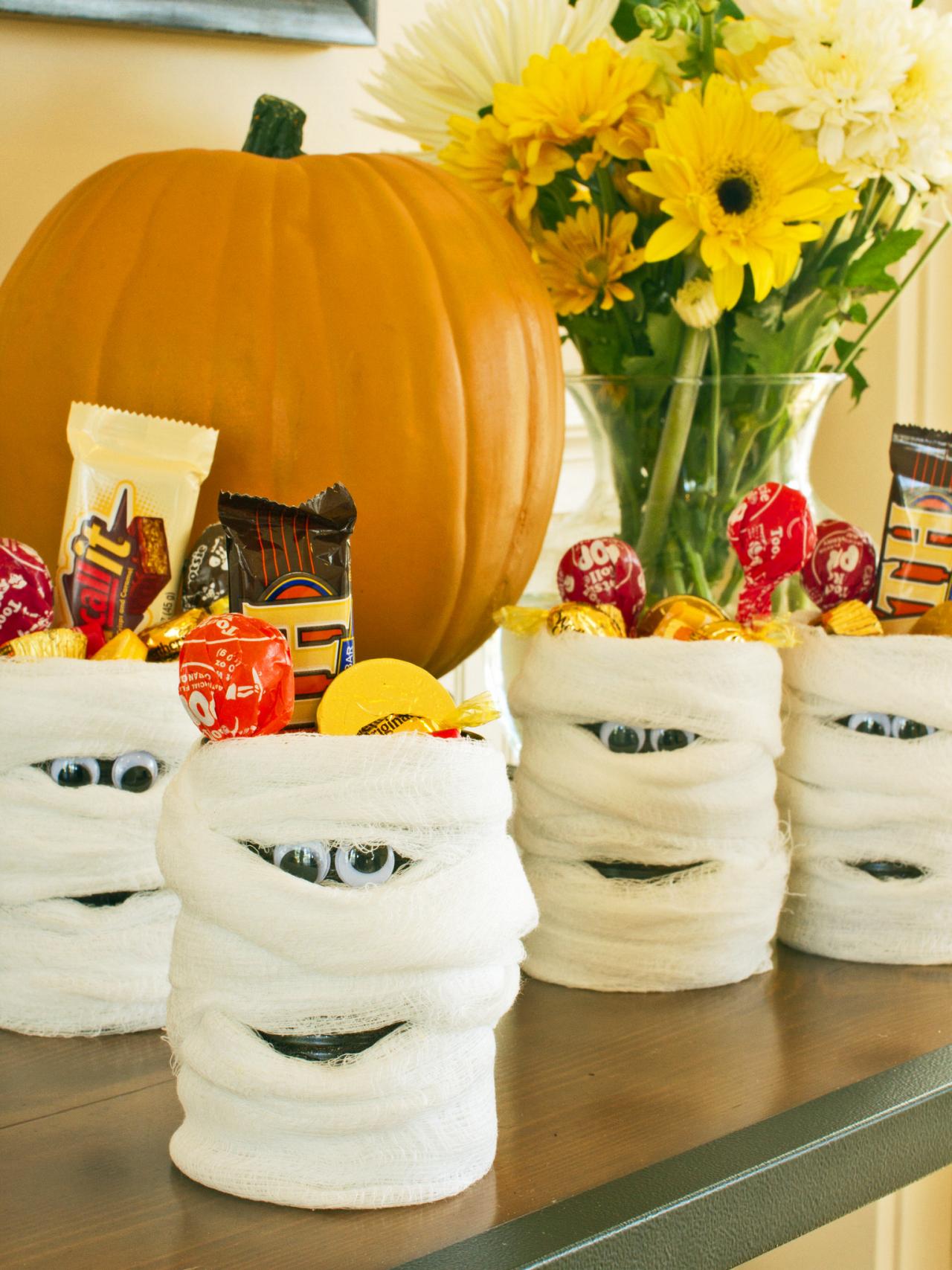 Everybody will love these candy cans. The best part is that you'll save by recycling tin cans, and the other materials are really inexpensive. Cheesecloth is positioned around a black tin can so that it looks like a mummy. Googly eyes and a little opening for the mouth are the perfect finishing touches. Use them as party favors that will put last year's brown lunch bags to shame. If you don't want to make that many cans, then just use a few as a focal point in your foyer. Your visitors can grab some candy when they want a little snack, and you'll add a festive touch to this forgotten spot.
2. The Cutest Pinata

The problem with store-bought pinatas is that they just won't break. You don't want to have the kids frustrated and holding a stick, so make your own piñata that's sure to satisfy. This pumpkin shape is so easy because it works with the natural round balloon shape. The orange pumpkin has a green cupcake liner for a stem, and black and white construction paper give him a face. You can make yours fun or scary depending on the crowd. It's so much fun to do that you might want to make an extra one that can sit on the coffee table during the gathering.
3. Child-Size Cornhole that's Entertaining and Adorable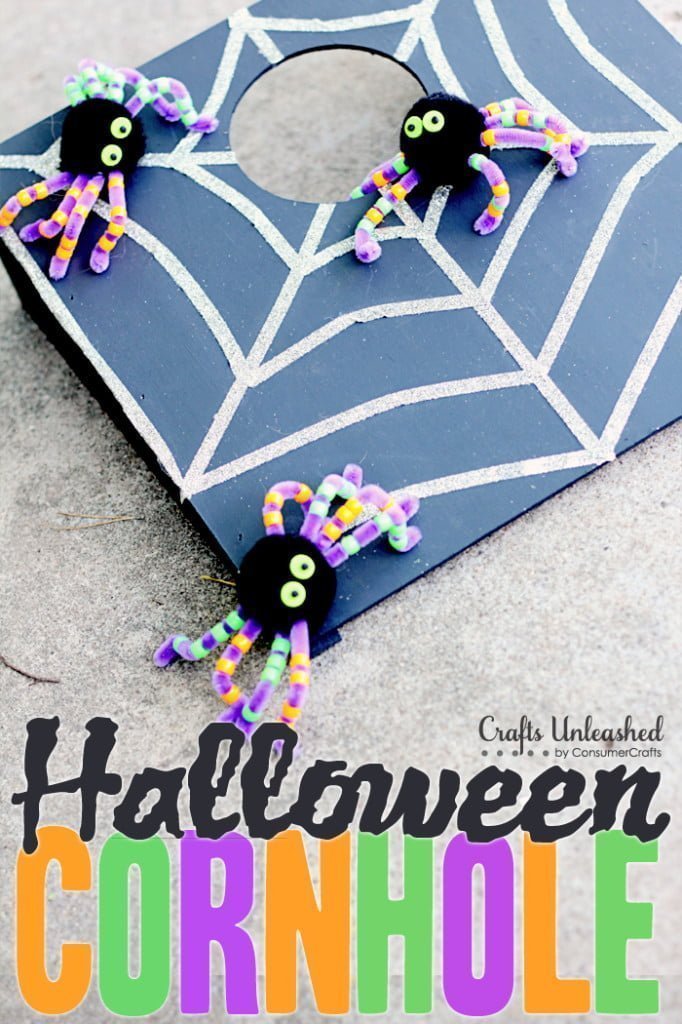 Kids love games, and the best parties have games that the kids can do on their own. The weather in October may not be conducive to playing corn hole outside, but you can make a game for the living room. The black boards are finished with glittery spider webs, and the bags are made to look like spiders. You can make the boards ahead of time, and then let your kids help you put together then beaded spiders from a Foamies kit. It's a Halloween party decoration idea that serves double duty as a game.
4. A Formal Dinner Fit for Dracula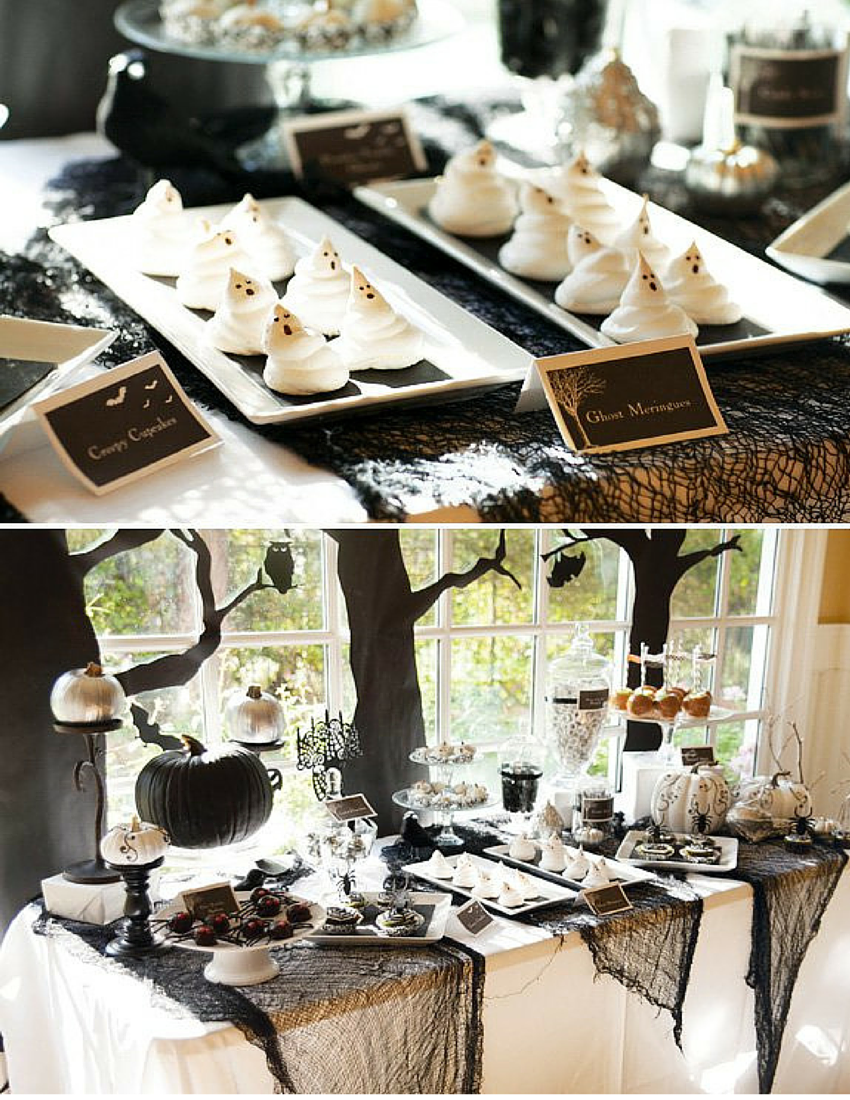 If you're doing some more serious entertaining, then you'll want to turn your focus to the dining table. Start with a black tablecloth to set the tone, and then round up your orange candles for your crystal holders. Some black dishes set on orange mats will help tie everything together, but you can take it a step further. Use tiny little skulls to hold the name cards, and hold your napkins in place with a creepy, bony hand. Delight your guests with a Halloween chalkboard that shows off the delicious menu to come, and you'll have a table setting that's sure to delight everyone.
5. Cheering for Monster Cupcakes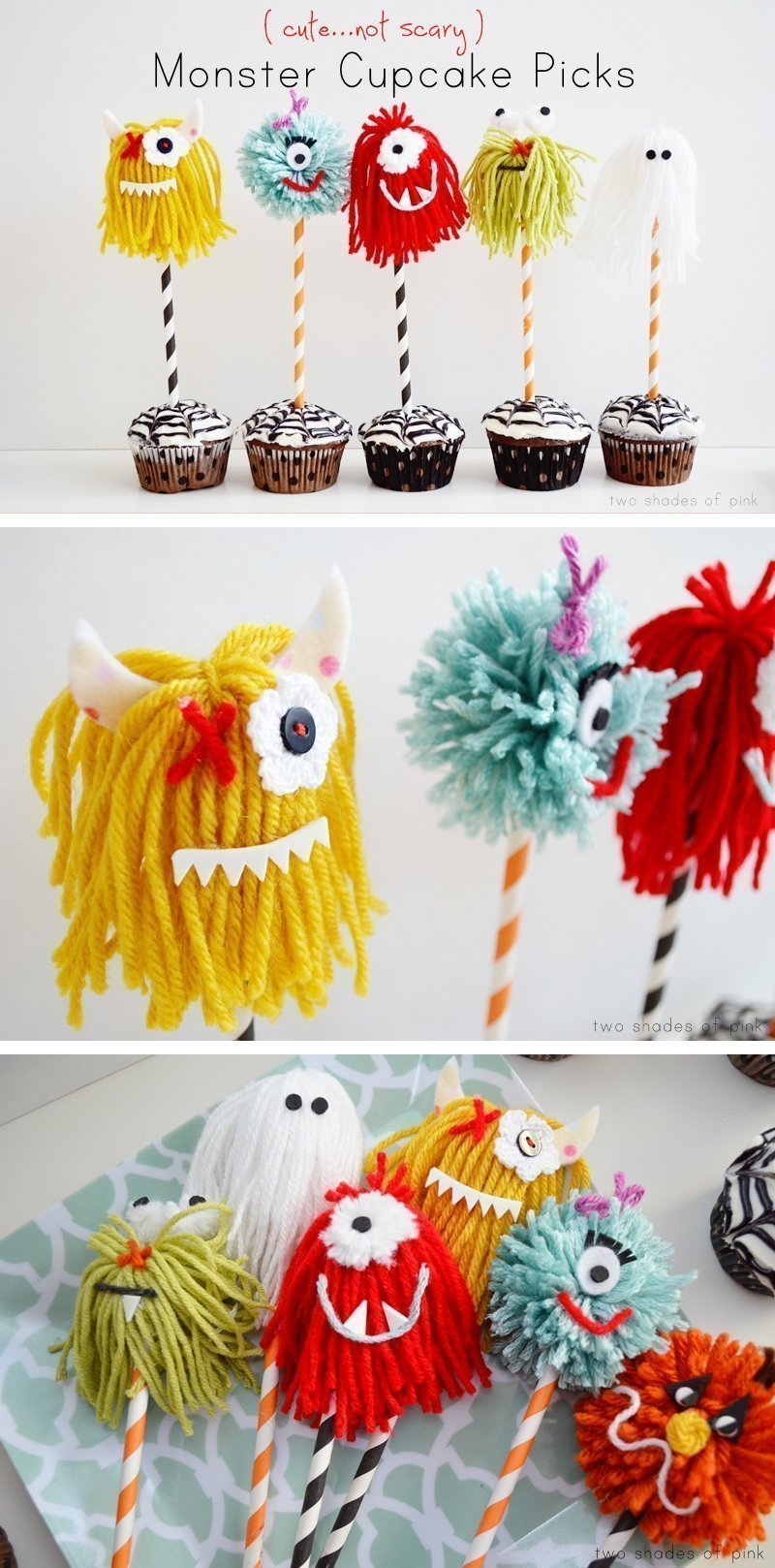 Pompom monsters perch atop straws to make these cupcakes stand out. Simple white cupcakes are taken to a scary new level with a spider web finish. The pompom monsters themselves have yarn bodies strategically placed over Styrofoam, so you can choose colors that match your theme. Put your guests' names on the cupcakes and use them at the table, or cluster them in the middle for a monster family that will delight your guests. Their height makes them a great centerpiece that you can surround with smaller items.
6. Light Up the Room with Spiderwebs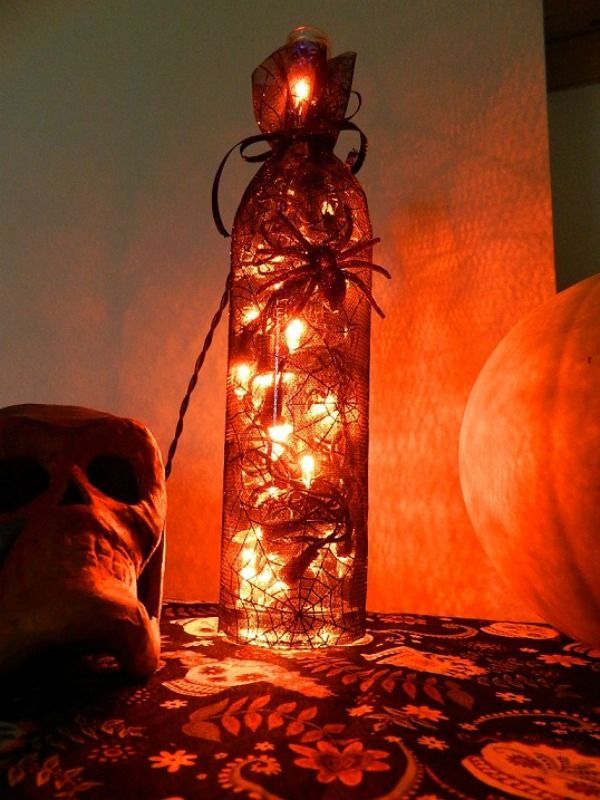 An empty wine bottle filled with orange lights can illuminate any corner of your home. Topped off with spiderweb fabric, it will cast spooky shadows on the nearby walls. If you have wide windowsills, then you can set these in front of your windows to give your party a ghoulish feel that the guest will love. Use one in the bathroom as a nightlight so that visitors can easily find the switch. If you have an open kitchen concept, then you can leave the main light off and set a few of these on the counter to help tie the space in with your party.
7. The Working Monster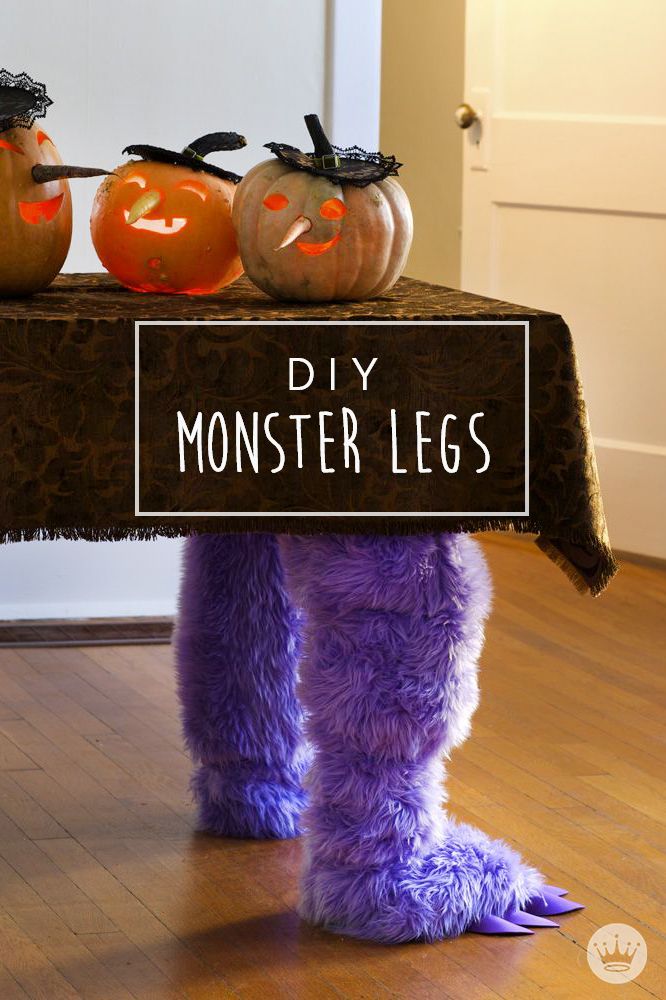 Put the neighborhood monster to work holding up your tables. Some colorful fake fur is easily transformed into legs and feet so that you can add a fun element to your party. This is ideal for parties with younger kids because you can ask the little ones where the rest of the monster is. This is a fun idea for your coffee table, the dining room, and any place where you want to add a little humor. It's Halloween party decor that's unexpected and delightful.
8. It's the Great Pumpkin Patch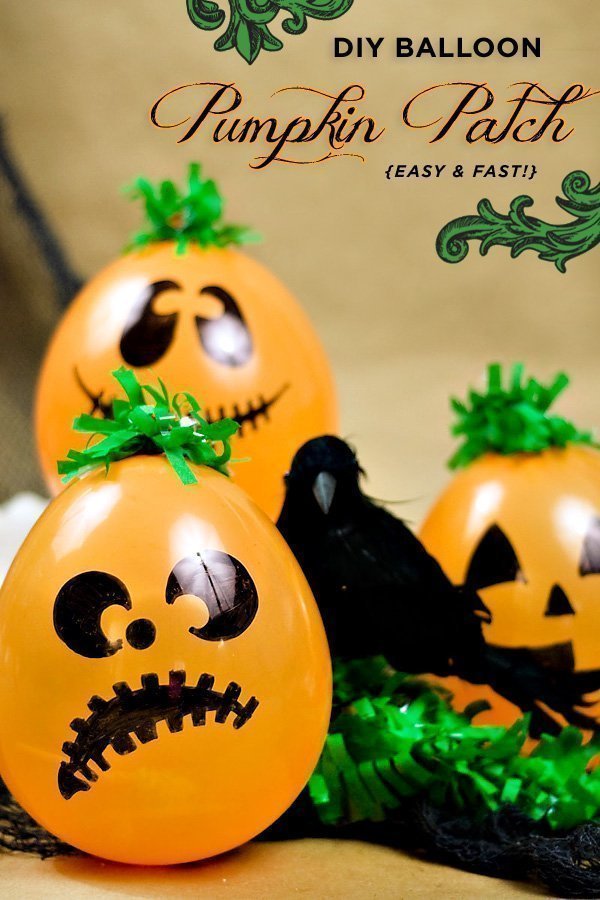 Make your own pumpkin patch using balloons. You can actually make this a craft for the kids because they're so easy to make. As the children finish their pumpkins, they can mark their name on the back and add them to the patch. Situated on the kitchen bar near the treats, they're sure to add interest and delight your guests. Pick up a few accessories ahead of time, like a black scarf and some fake crows, to make your completed patch a little spookier.
9. The Spiders are at Home

Give your spiders their own spooky home by making some nests out of yarn. You can then hang the spider sacks in some unexpected and fun places. Let a few drape down over the bathroom sink, and tuck one or two into the hallway. Add them to your foyer, and have them drop down in front of the television to keep the focus on the festivities. Use glow-in-the-dark yarn and then drape the sacks in front of your windows for a fun look that's just a little scary.
10. Orange Solo Cup – I Love You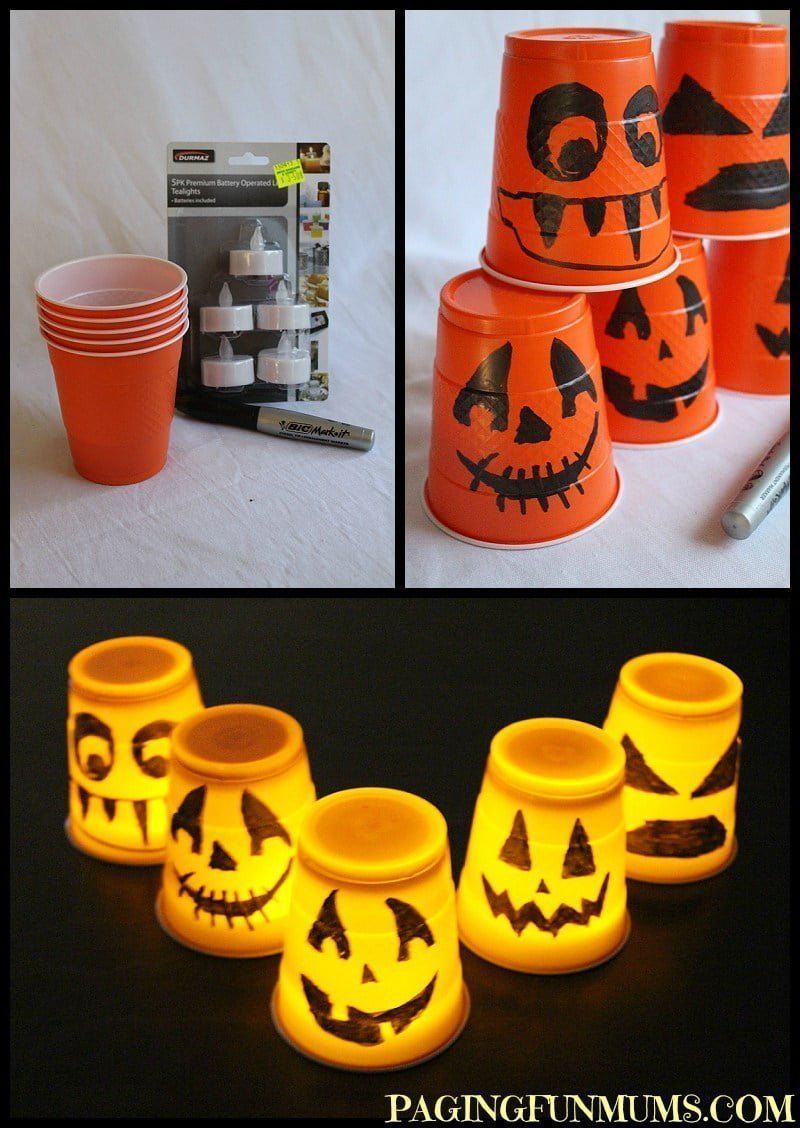 This Halloween party decoration idea is so easy that even young kids can help you set it up. Solo cups come in all types of colors now, and you can use them for some fun and creepy décor. When they're decorated and set upside down over an LED tea light to create a cool glowing Halloween party decor. If it's not too windy, you can use them outside on your front porch. Group them on a table or make a pyramid near the door to greet your guests and help set the tone. This is also a great option for a bathroom nightlight so that your visitors won't have to walk into a dark room.
11. Witches Brooms for Every Room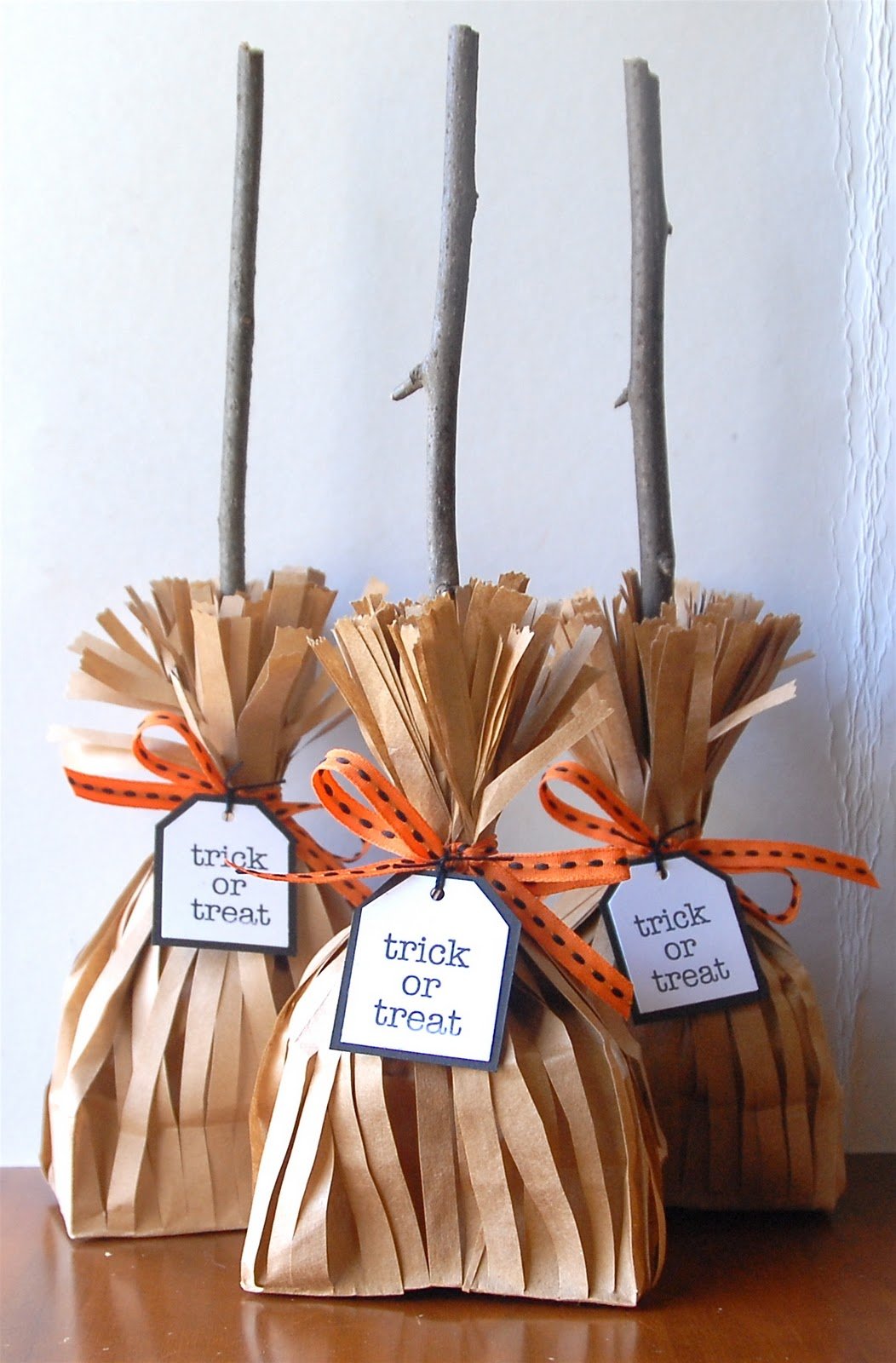 Make some witches brooms that have a mind of their own. These clever brooms can be decorated with different phrases and set in the corners of your home. Before you tie off the tops of the bags, add some treats that your guests will enjoy later. You can also put some simple weights in the bottom and then line your driveway with the brooms to welcome visitors.
12. The Freaky Brew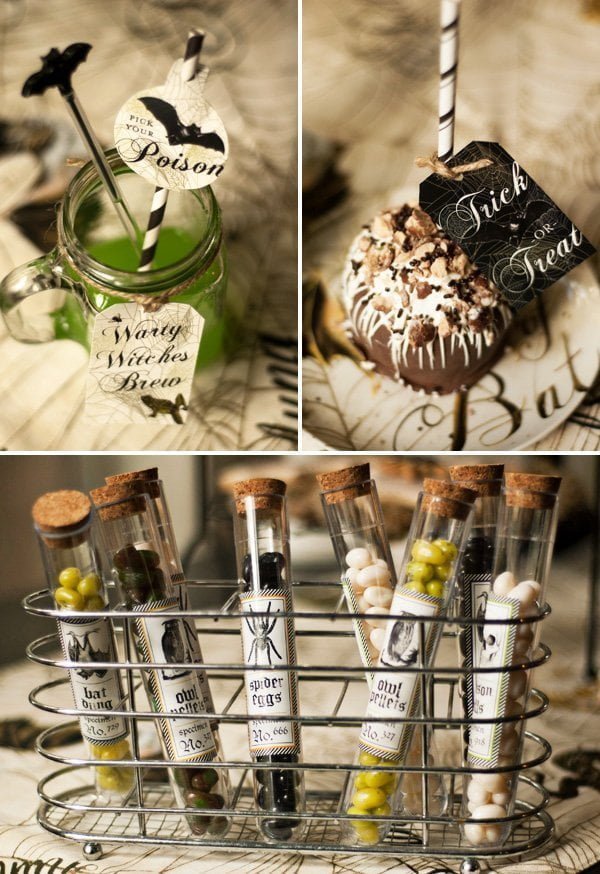 When focusing on party ideas, remember the drinks and refreshments. Witches are known for their creepy brews, and you can delight your guests with your own ingredients. Set the collection out on the kitchen counter so that your guests will believe that they're interrupted you in the middle of an important dish. When you serve drinks, add a straw marked with the potion's name and tell your guest to drink slowly so they can savor the flavor for the maximum benefit. You can even put a menu of different "dangerous" potions and have your guests try out different flavors throughout the night.
13. Pumpkin Treats for Guests of All Ages

The décor sets the tone, but your food is the finishing touch. When setting out snacks, it's easy to reach for bags of candy, but you may want something a little more unique and healthy. Go with Jack-o-lantern painted mandarin oranges for a decorative treat that everyone will love. Put a bowl of them out on the counter, or leave it on the table so that your early guests can have a little treat. These oranges are also be added to elegant Halloween flower arrangements for visual interest.
14. Batty Balloons

Three-dimensional balloon bats are the perfect addition to a bare wall or even the ceiling. Turn them into a full colony by adding some bat cutouts in different sizes. You can also get a helium tank for the balloons and just let them float randomly around the room. Be sure to include a few in the doorways so that they can greet your guests as they move around the house. For a little scary touch, finish off the bats with some tiny red eyes.
More Halloween party decoration ideas on the next page…