15. Banners of Pumpkins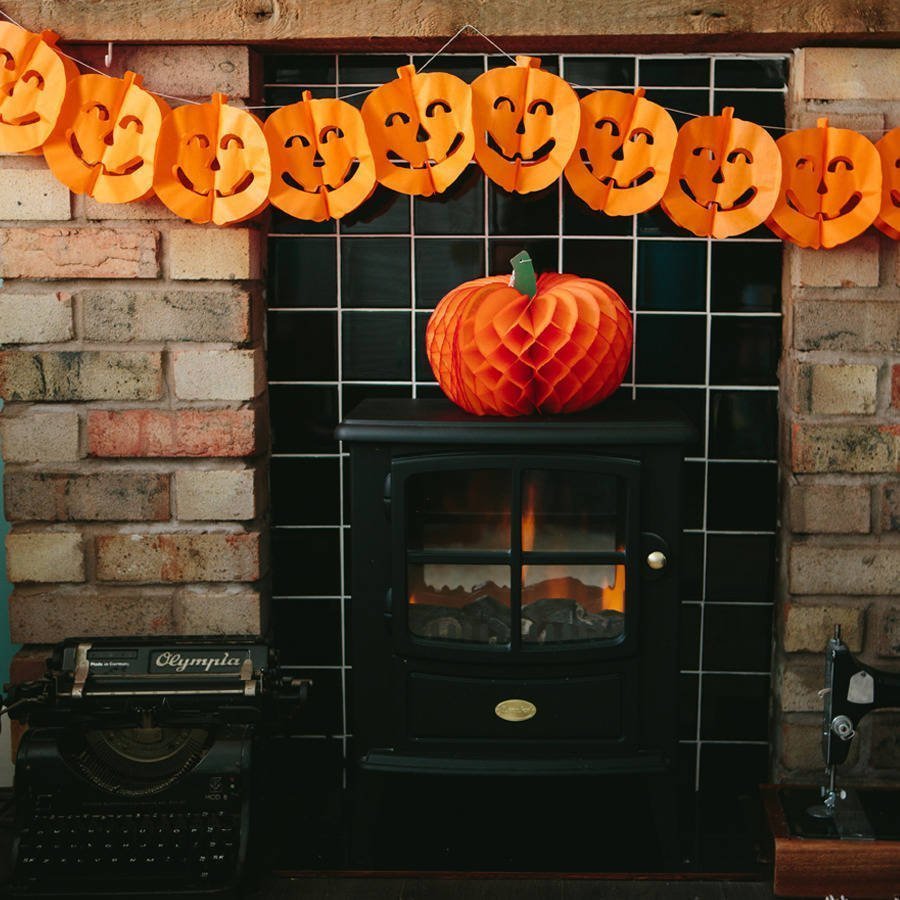 Make your house easy to find with some fun garlands. These pumpkins can be hung over the front door, across the front patio, and even in front of the garage. They have the same pattern on each side, so you can even drape them from the ceiling right in the middle of the room. They're the perfect addition to any lighthearted party, and kids of all ages are sure to be impressed with this Halloween party decor.
16. Mummy Ball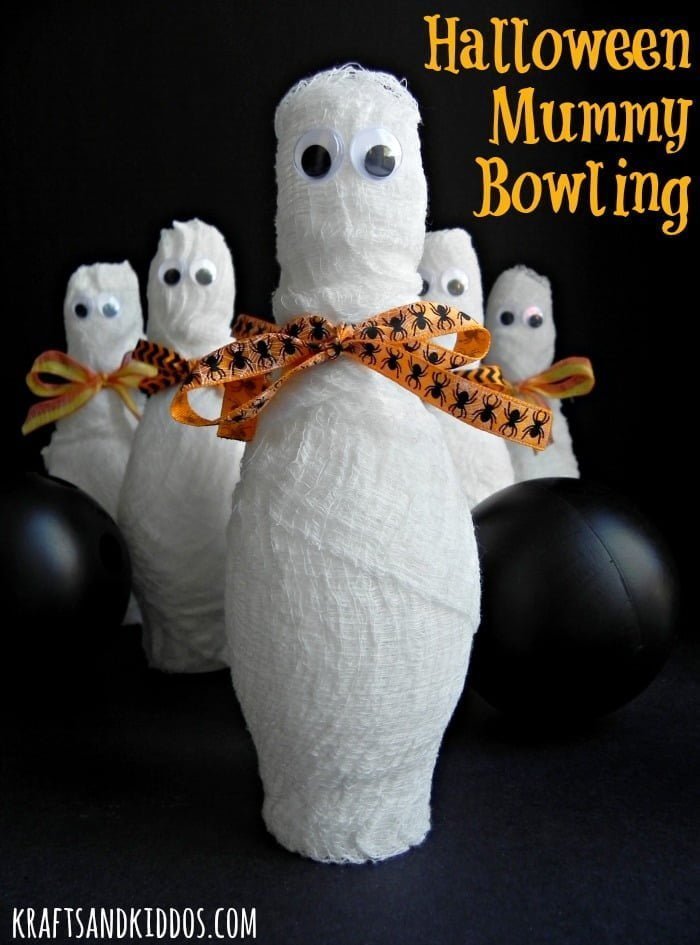 If you're looking for a kids' game that's sure to be a hit, then break out the mummy ball. Set up the pins in front of your fireplace in even in a corner. They can serve as a decoration when the party first gets underway. Later, when the kids and adults start looking for something to do, you can bring out the balls and start keeping score. Be warned, however, that the pins are so adorable that some guests may not want to see them knocked down.
17. An Eerie Good Spread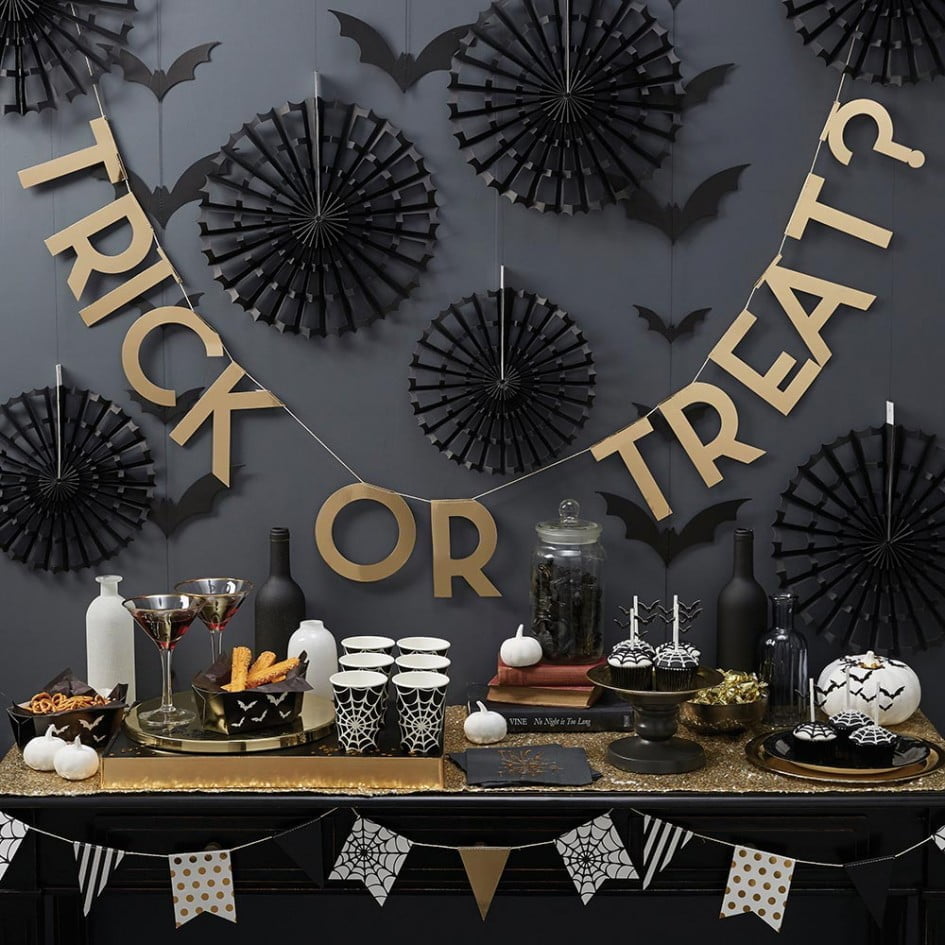 Dress up your buffet area with black pinwheels, flying bats, and bold letters. With Halloween-themed banners and plenty of dark tones, you can make your banquet area as attractive as the rest of your home. Include some spooky decorative touches like the black wine bottles, and give it an elegant touch with white pumpkins and other contrasting shades. Put everything on a gold tablecloth to make your entire spread more impressive.
18. Goblin Juice to Go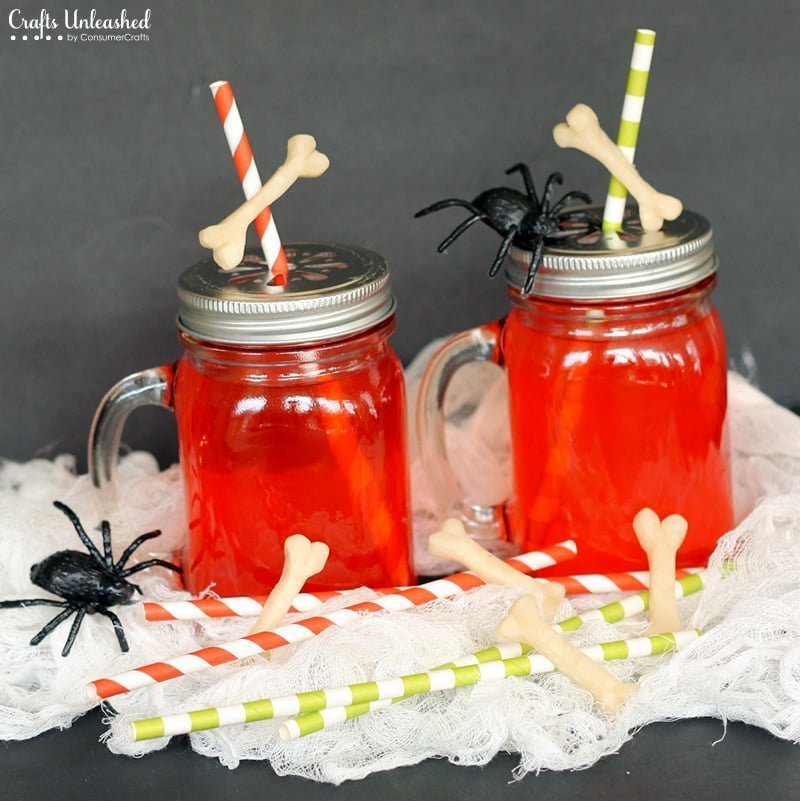 Let your guests relax and keep mingling by providing them with adult sippy cups. Mason jars with decorative cut lids can easily hold a straw, and you can add a sinister touch with plastic spiders and bones. Whether you're serving up Witches Brew for the adults or a basic mummy punch for the kids, everyone will appreciate the fun little mason jars. Stack up a few near the punch bowl to dress up the area and make it easy for people to serve themselves.
19. The Witches' Lair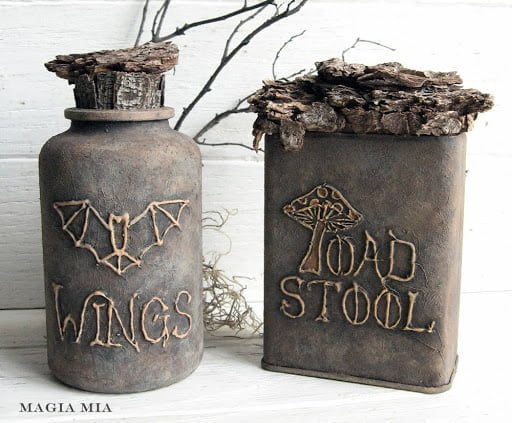 Turn simple bottles into witches potions and then display them in key areas of your home. When your guests come in and find bat wings, raven's claws, and toadstools sitting next to a cauldron on your kitchen island, they'll know they're in for a good time. Put some dry ice in the cauldron so that you can add to the mood and really keep everyone guessing. You can also use smaller bottles and then set the concoctions in the bathroom. After all, some snake oil and eye of newt is perfect for softening a Halloween witches' skin.
20. Batty Friends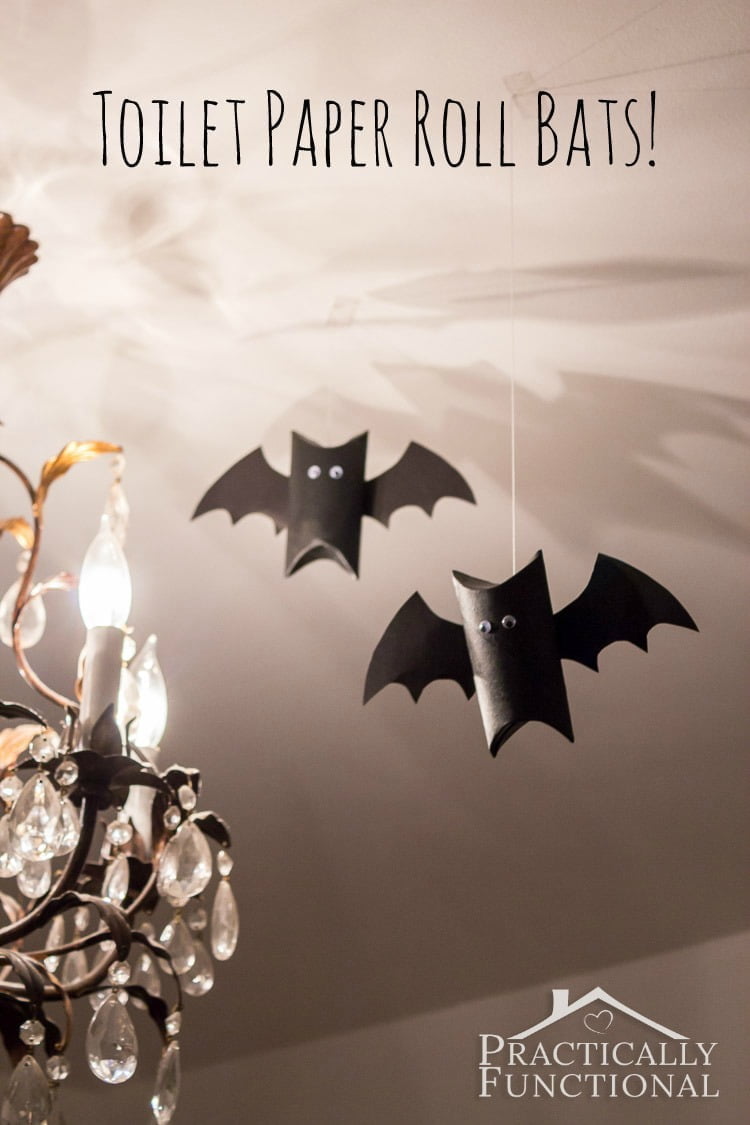 Recycle toilet paper rolls to make fun flying bats that can hang anywhere in the home. If your guests will be going up and down the stairs, then put a colony in the stairwell. You can also hang several of them over the serving table. Let them drape down to different levels to keep it random. You can also put several under your kitchen cabinets to help dress up this neglected space. The craft is fast to do and easy enough that you can even make it an activity for a child's party.
21. The Abandoned House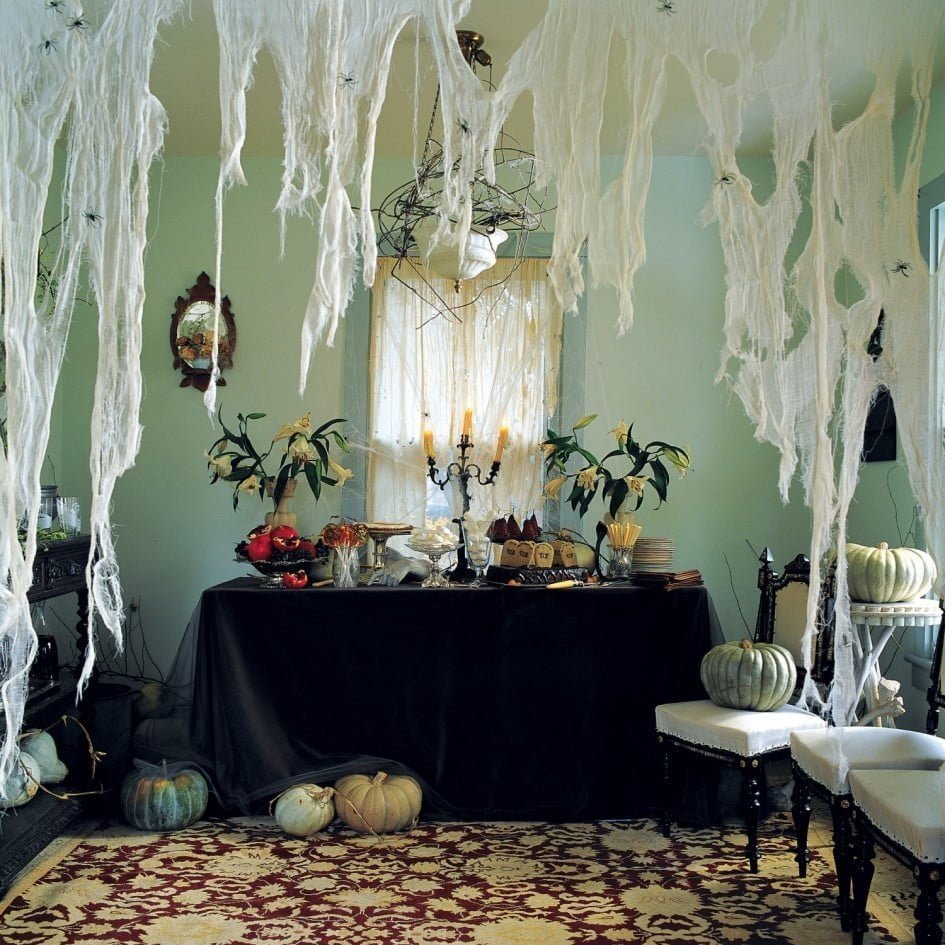 Contrasting colors and styles can create a memorable look, so combine elegant touches with an abandoned feel. After draping torn cheesecloth or gauze from the ceiling of a room, use elegant crystal and silver to dress up your serving table. A few classy pumpkins lend an elegant air to this room, but the overall effect is one of abandonment and even fear. It's a spooky design that you'll be proud to show off throughout the season. This type of theme is perfect for adult parties and more formal dinners.
22. Glamorous Looks with Brilliant Colors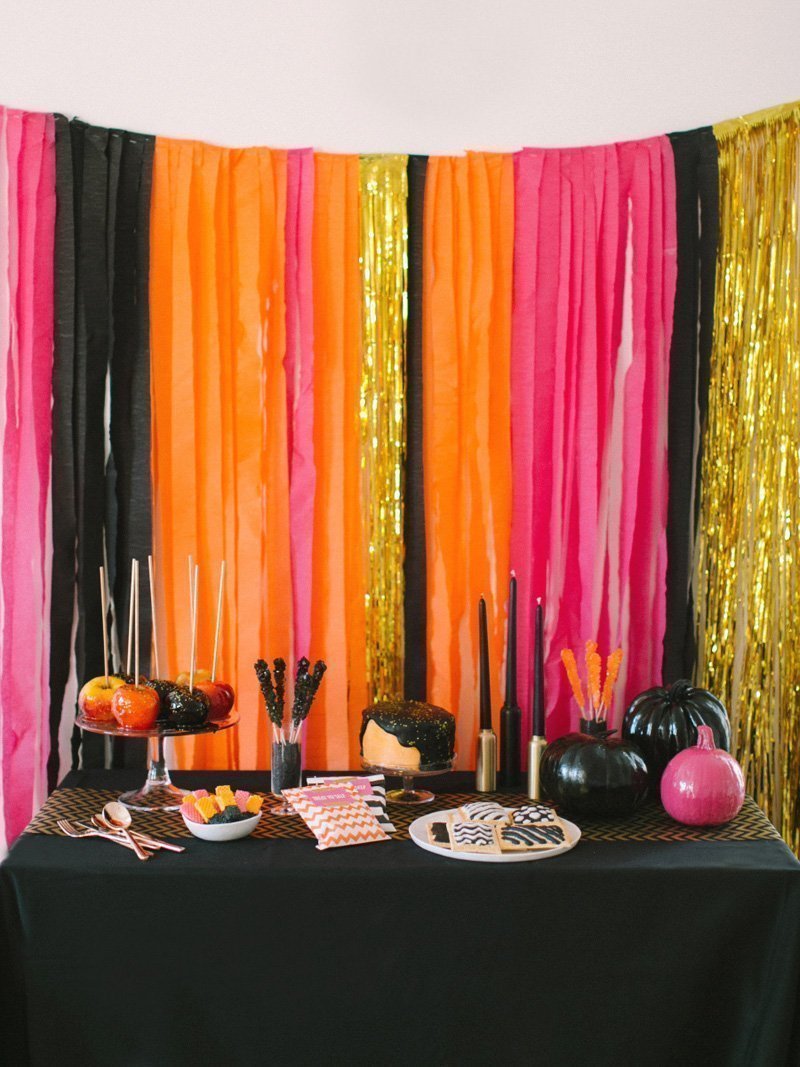 Halloween colors aren't limited to black and orange. Bright pink and neon orange are perfect additions to any party. Teenagers will appreciate the neon pink, fluorescent orange, and bold black backdrop for their serving areas. Keep the colors going in the candy apples and treats to delight your guests and ensure that the party is a hit. This is the perfect option for any gym or gathering hall where you won't have much time to decorate and need to make a big impact.
23. Elegance Fit for A Queen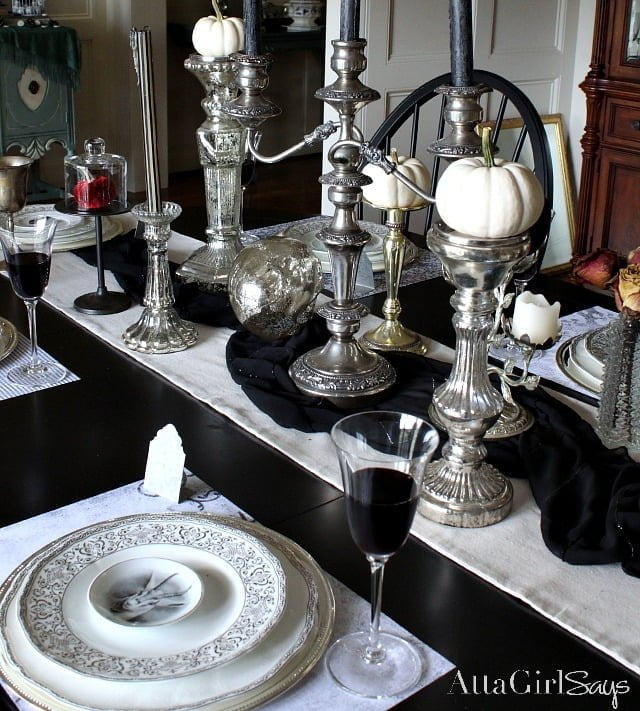 Set a table that's fit for a queen by focusing on the rich elements. When you chose silver and crystal candle holders paired with fine white china, you're halfway there. Add white runners and place settings highlighted with black napkins and some glittery fabric for contrast. White pumpkins maintain a monochromatic finish with the silver and crystal, so you can be sure that your table will impress all your guests. Whether you're serving the family or honored guests, you're sure to love the ensemble. Give it a final bit of Halloween flair by adding a crystal skull or a bony white hand.
More Halloween party decorations on the next page…