Perhaps one of the most recent ideas in gardening is the idea of balcony gardening. This idea has helped many people who were previously unable to garden because of their lack of yard space. Many live in a condo or apartment, yet even single family homes can sometimes lack the yard space required for a garden. People across the world are now transforming their balconies into gardens. This relevant concept gives new hope to aspiring gardeners and master gardeners alike!
50 Gardens You Haven't Thought of this Year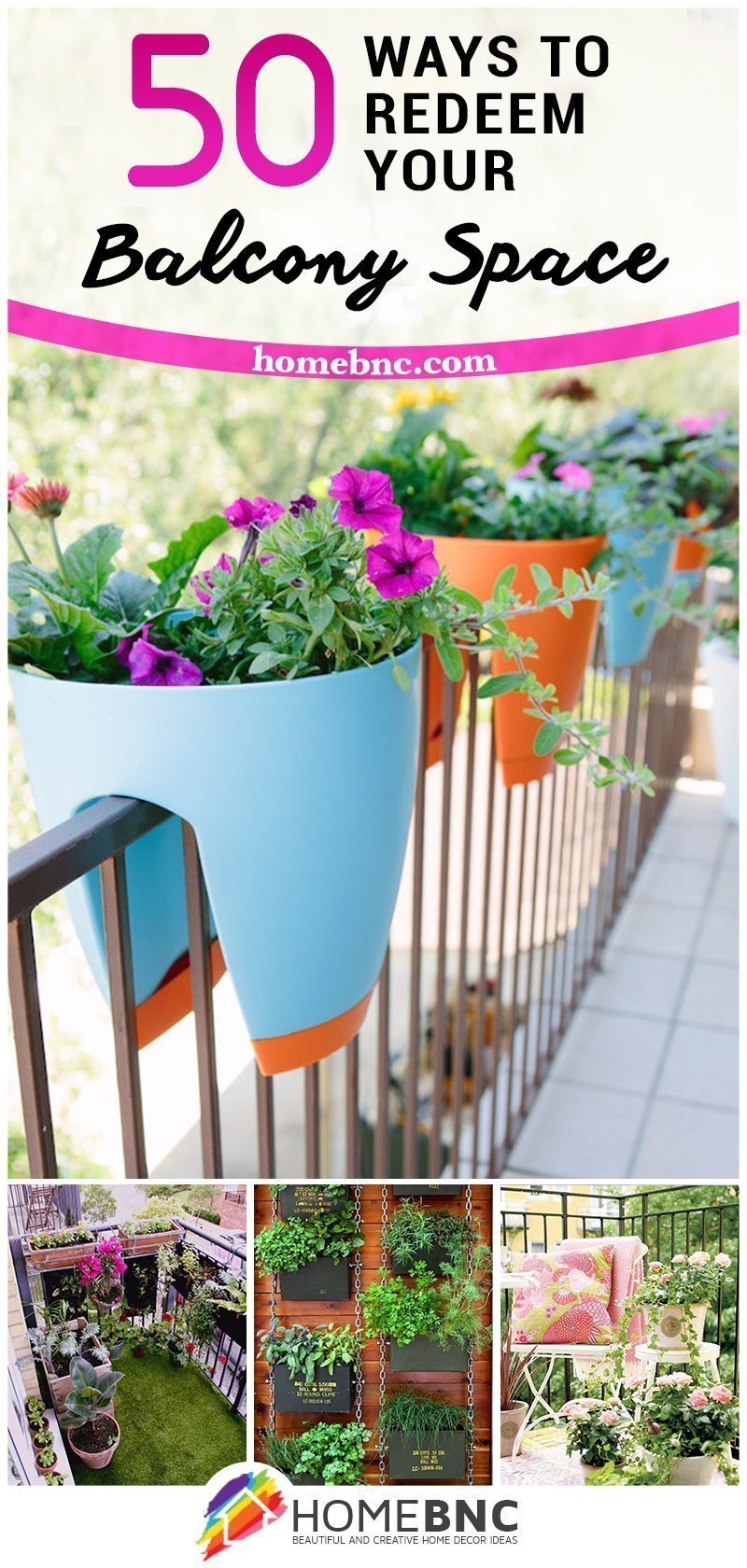 Creating a balcony garden can be fun and fulfilling. However, sometimes the hardest part is getting started. Below are some amazing balcony garden designs. As you look through them, pay close attention to the designs you are drawn to. It may be helpful to have an idea of how you want to use your balcony space. Do you want a flower garden, vegetable garden, outdoor living space, or all of the above?
Some balconies are created to compliment the existing home design and decor. One factor to consider is your available budget. With many balcony garden ideas, you can create a fabulous space without spending much money! Another thing to think about is how much sunlight your balcony receives. This can help determine the plants you choose. Finally, what time of the day will you use your new space? For a balcony used mainly in the evenings, you may want lighting on your balcony. With adequate planning, you can create a beautiful balcony garden designed to serve your gardening needs.
1. Sunny Side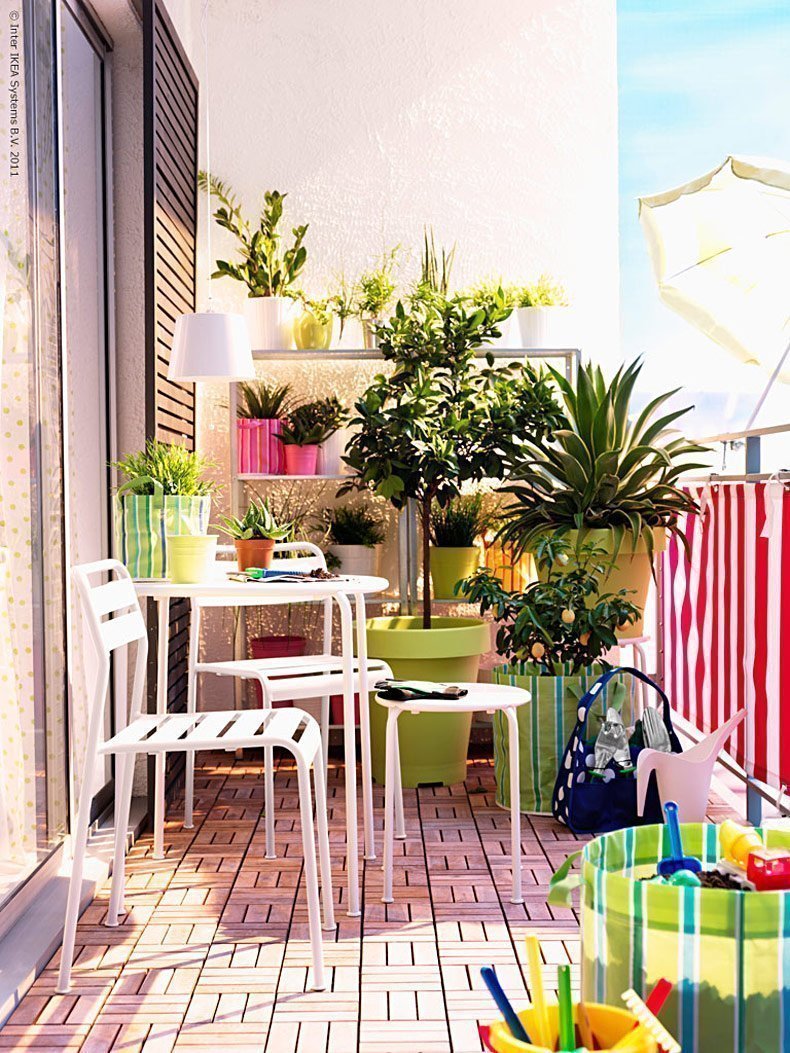 This balcony garden is sunny and bright! Citrus trees love the sun, making a sunny balcony the ideal location for growing your own fruit. This creative balcony garden proves you do not need matching pots to be a stunning area. The plants are offered protection from the sun by the white umbrella secured to the balcony railing. From the collection of play toys to the red and white striped fabric shade, this is also a space to share with a child. The addition of the hanging light over the café table allows this balcony to be used even at night!
2. Scrap Wood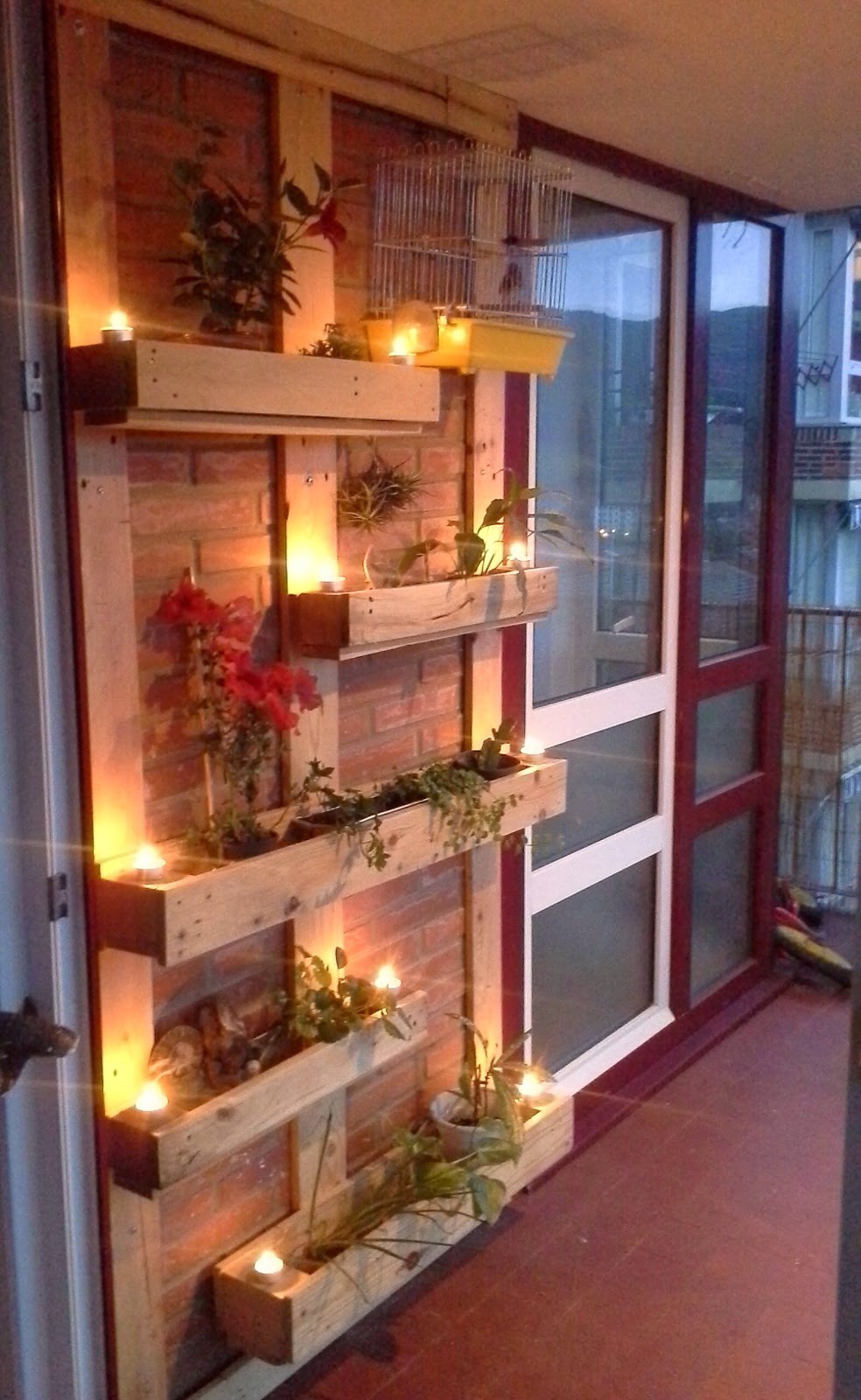 Simplistic and rustic describe this balcony garden. Using the vertical space, this garden combines rustic wood elements with light creating a cozy space. This design can be replicated with two wood pallets or even scrap wood from previous projects. Simply repurpose the wood for flower boxes! Since this design uses only the wall, it allows the balcony floor to stay clean and saves valuable floor space. The tea light candles invite warmth and romance into an otherwise boring space. Depending on your skill level and home decor, this balcony garden may be the perfect design for your home's balcony garden.
3. Micro-Park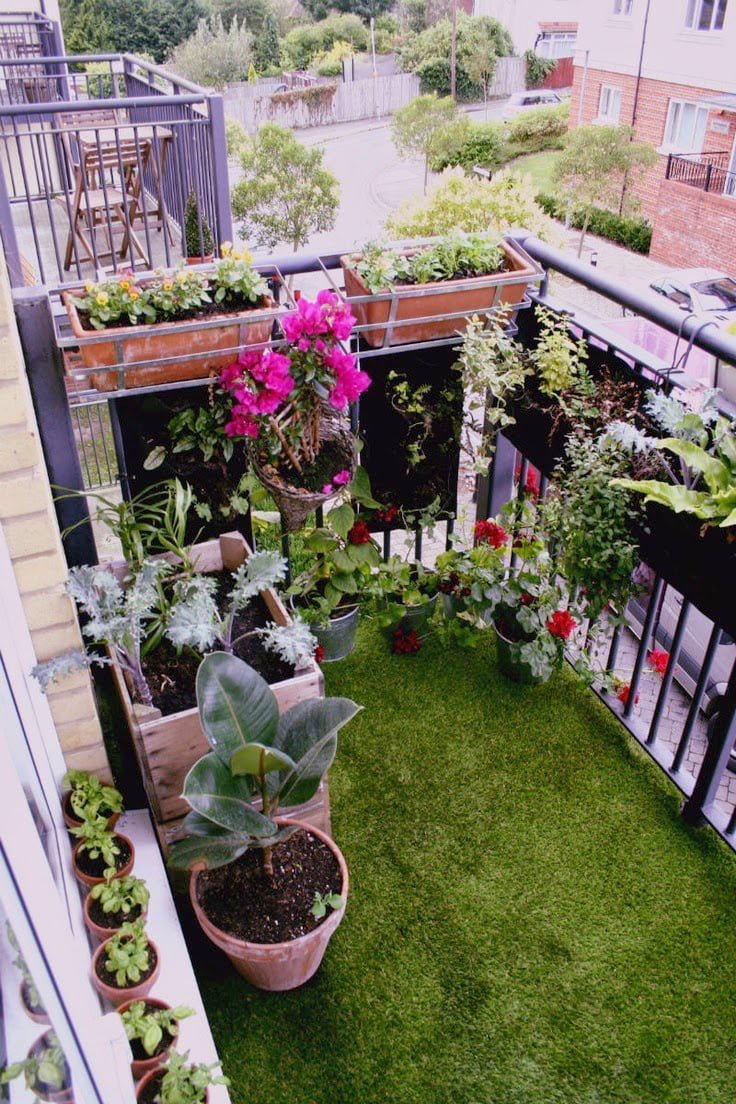 Is a tiny yard and garden on your balcony possible? When creating a balcony garden design you can have both! Using AstroTurf on your balcony floor, you are able to create a yard in the city or on your apartment balcony. Colorful, yet edible kale is showcased in wooden crates. Hanging garden boxes provide additional growing space on the balcony railing in this design. With the predominantly green landscape, the pop of fuchsia color from the flower is a nice addition. Even the tiny herbs have a home in the small terra cotta pots lining the side of this balcony!
4. Vertical Terra Cotta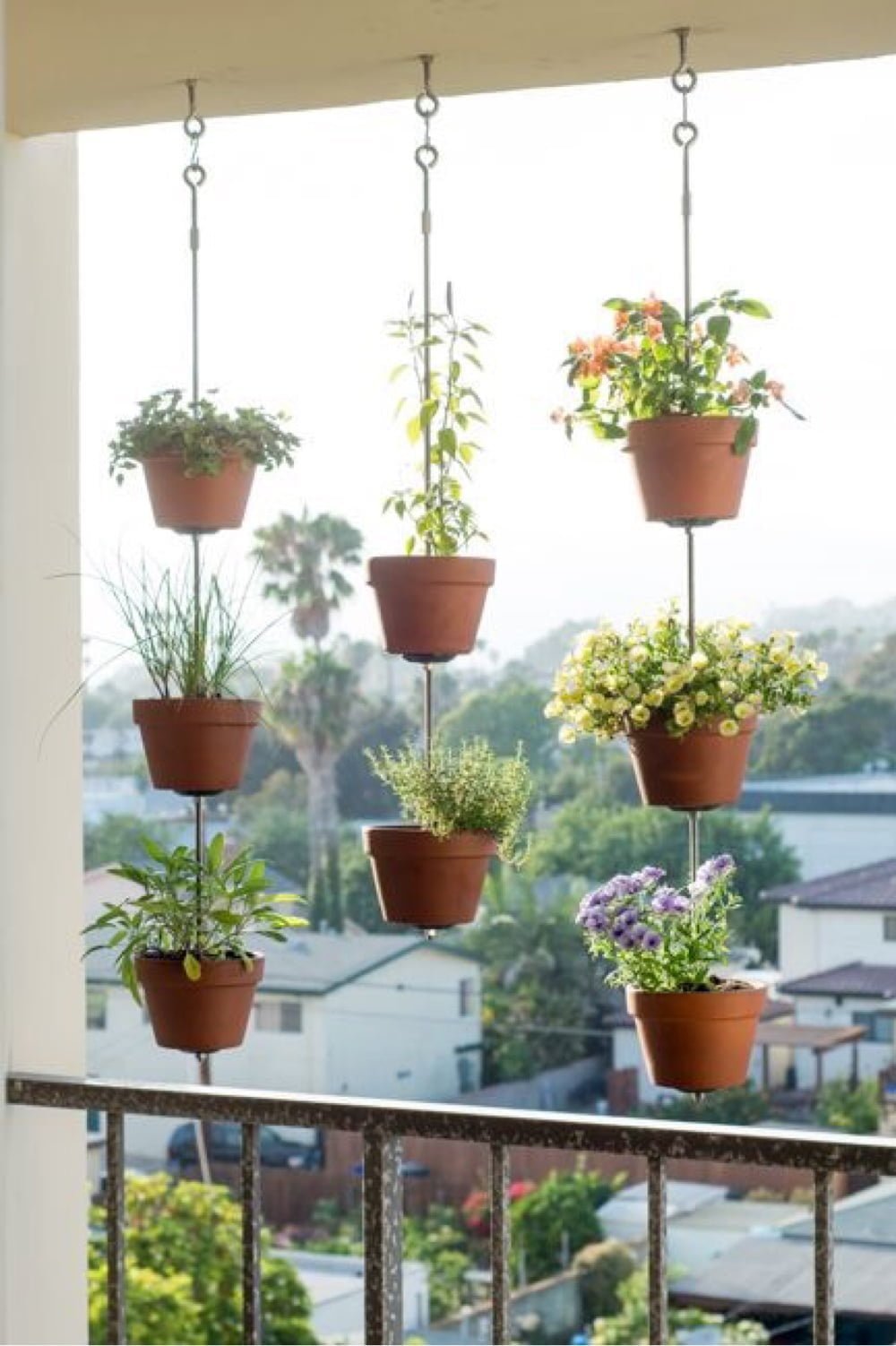 Never underestimate the power of hooks when balcony gardening. They are great for hanging baskets or hanging terra cotta pots. This design uses simple eye hole hooks and connects the pots using metal rods, washers, and bolts. The beauty of this design is found in staggering the pots to add visual interest. The metal rods create a sort of rain chain between the pots allowing the water to flow from the top down. Therefore, by watering the top, you can save water from draining out onto the ground. This design would work equally well for flowers or herbs.
5. Modern Comfort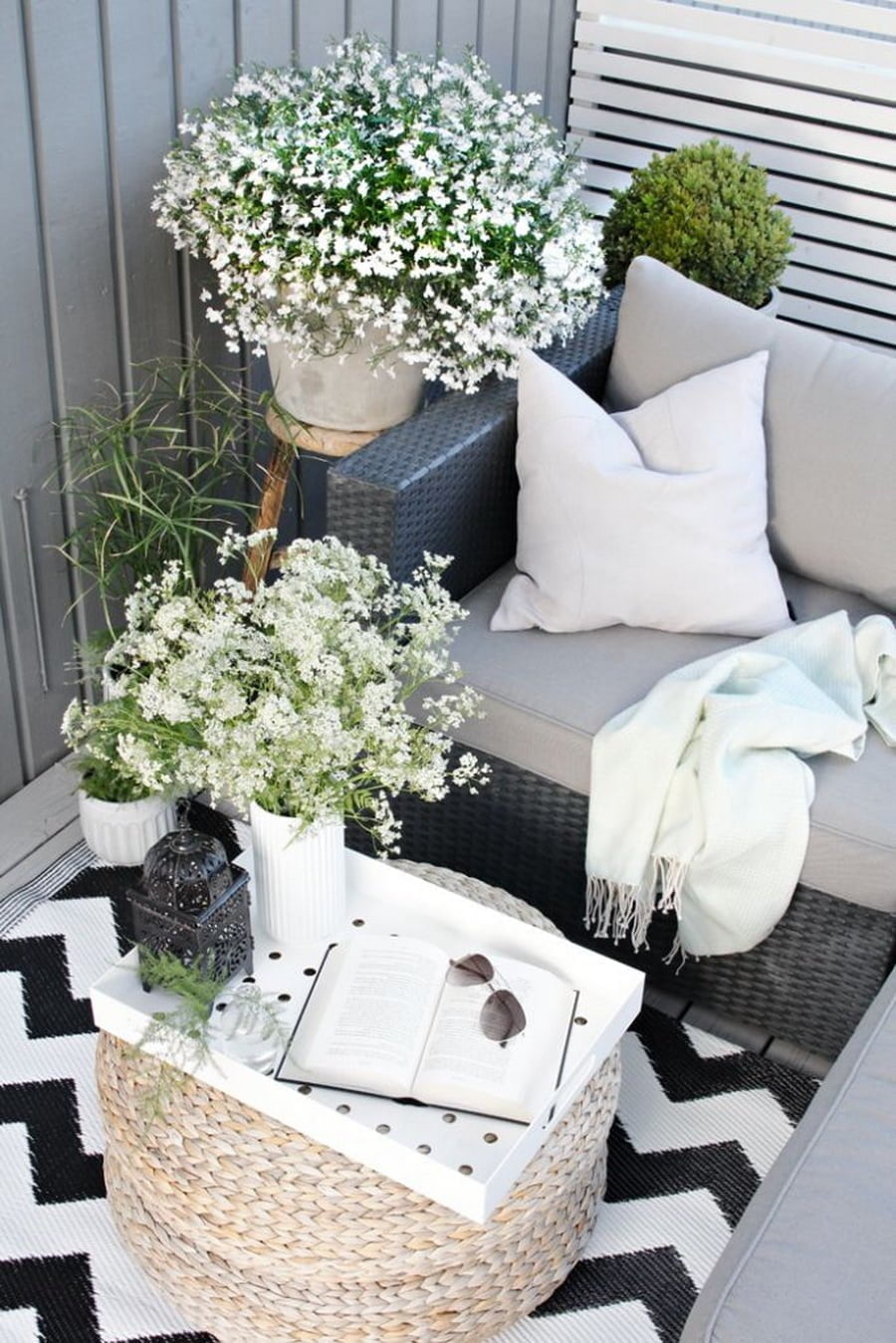 Modern meets comfort in this beautiful balcony garden decor. Elements of home design have been carried through to this balcony. When combining home design with the outdoors, it's important to bring home décor to the space. With the pillow, blanket, and serving tray this balcony garden has done just that! Aside from the wicker chair, this space doesn't feature typical outdoor furniture. A stool is used as a plant display and a rope covered ottoman keeps the home décor feel alive. Keeping with the theme, the rug breaks up the modern gray on this balcony adding yet another visual element of comfort.
6. Culinary Creations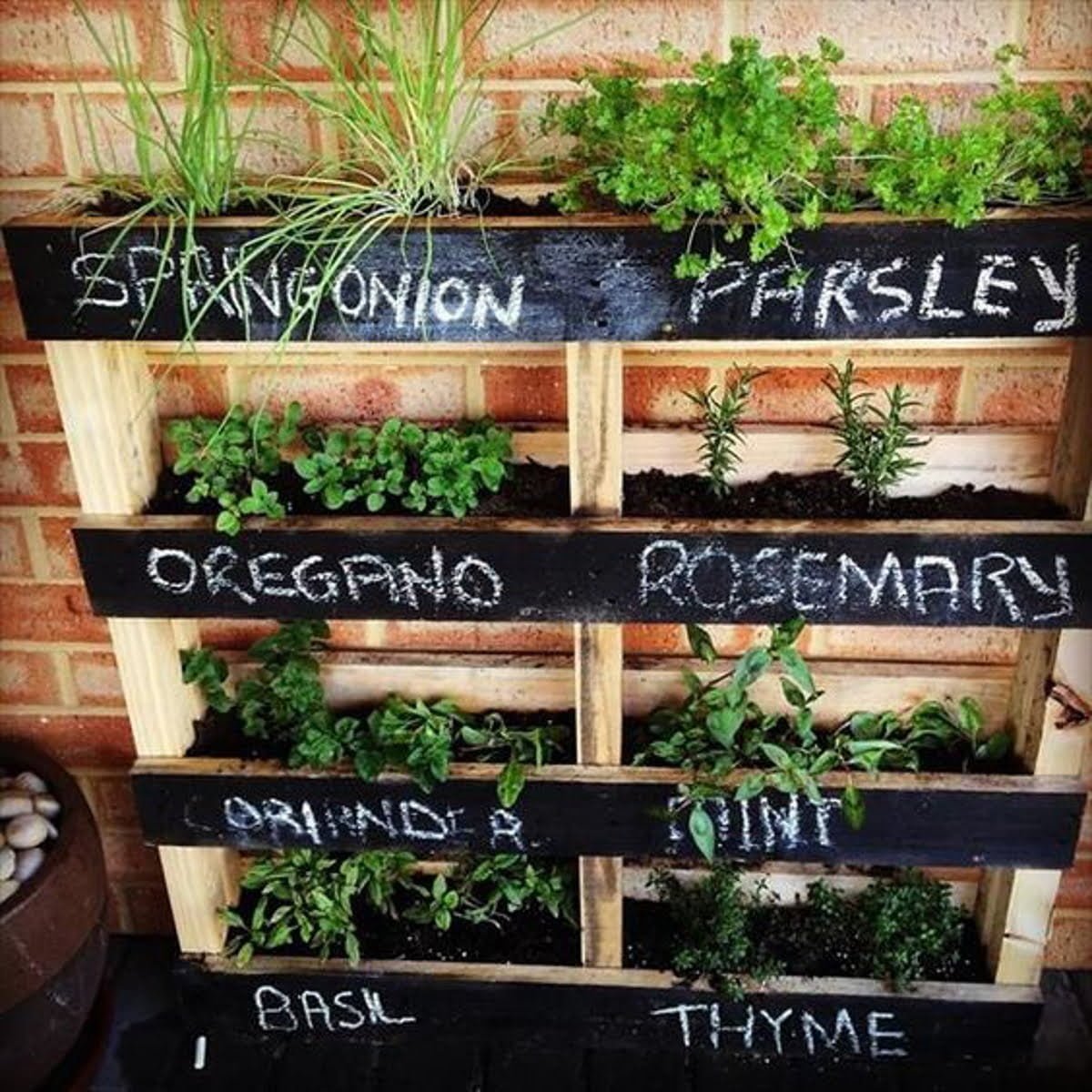 This balcony garden idea proves you can grow a wide variety of edible food and herbs in a small space. Using a wooden pallet and chalkboard paint this culinary creation can be at your fingertips. When planning a vertical balcony garden, be sure to drill holes in the bottom of each level to allow water to pass through. This simple revision will keep your plants from developing root rot and prolongs the life of the wood. Also, when using pallets for edible gardening, make sure the wood hasn't been treated with a wood preservative as this can leach into your plants.
7. Tiny space, Big color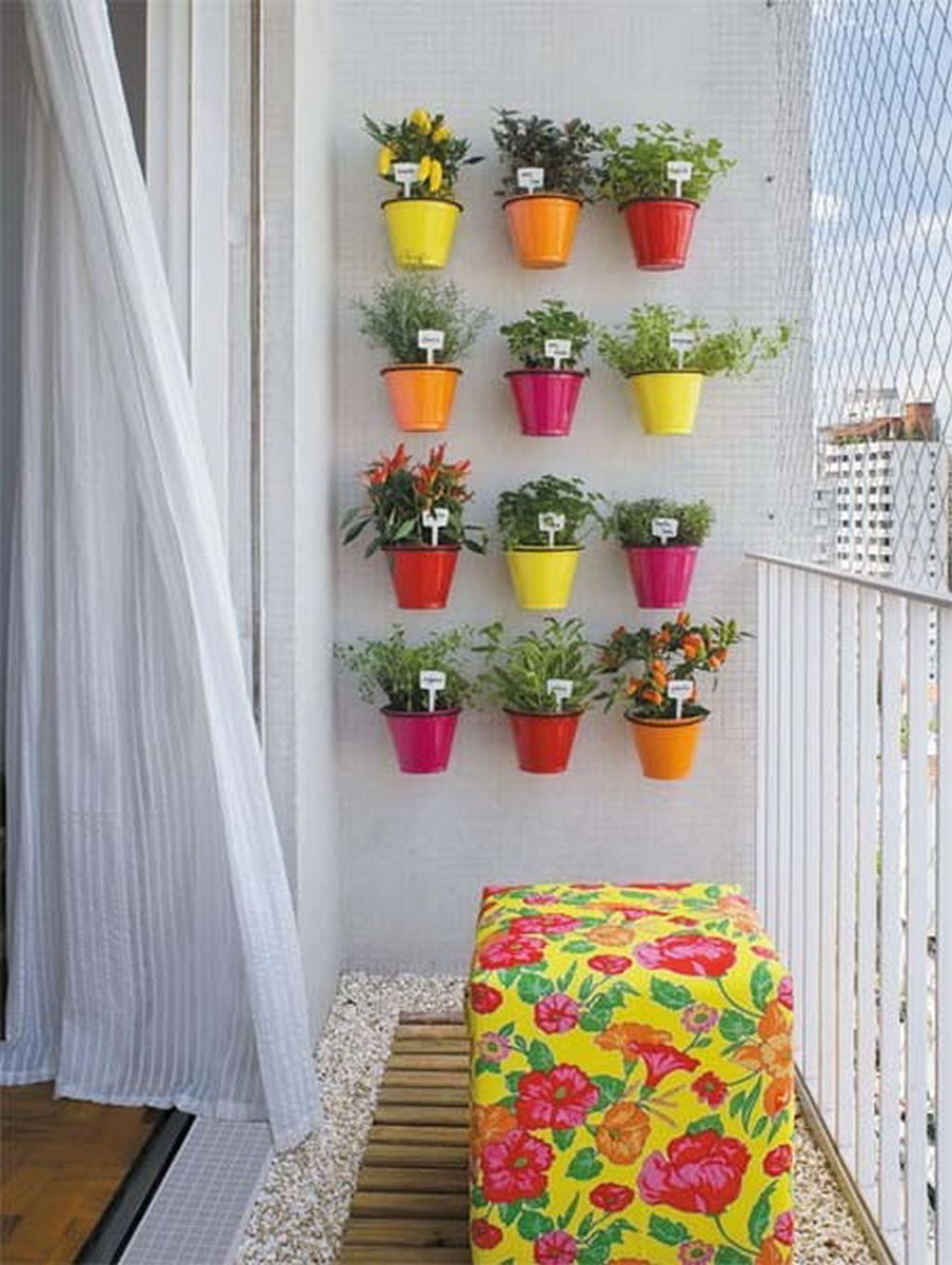 Bright colors bring emphasis to this tiny balcony garden design. This bland wall was transformed into a creative work of tangible art using well placed colorful pots. Matching plant markers keep the plants organized without attracting too much attention. The wood on the balcony floor visually blends with the home's wood floor bringing the home's design outdoors. A brightly colored ottoman blends perfectly with the pots further enhancing the home's décor. Furthermore, a net around the balcony allows the door to be open ushering in fresh air and an unobstructed view from the home, without the fear of birds or leaves flying in.
8. Private Oasis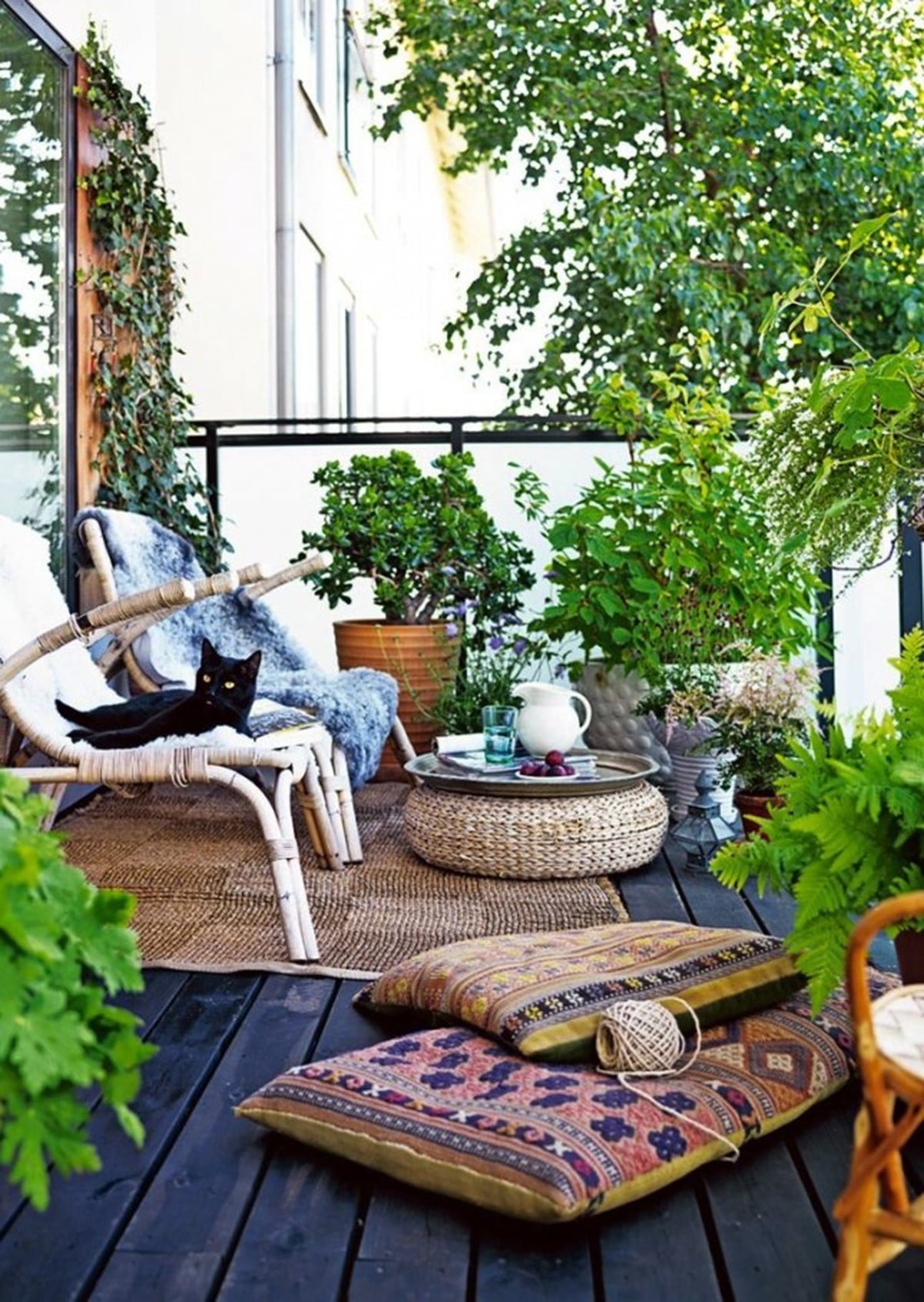 This private oasis was constructed using a creative balcony garden design. Placing the plants around the balcony edge in taller pots creates privacy while taking advantage of the existing tree. By bringing floor pillows and a blanket into this design, this balcony becomes an extension of the home. The rattan rug and rope covered ottoman compliment the bamboo chairs. Using these complimentary pieces conveys an island feel in this secluded balcony space. The wood has been stained a dark gray providing the perfect canvas for the balcony garden decor. And, of course, the water pitcher is an invitation to sit and relax.
9. Upcycled Garden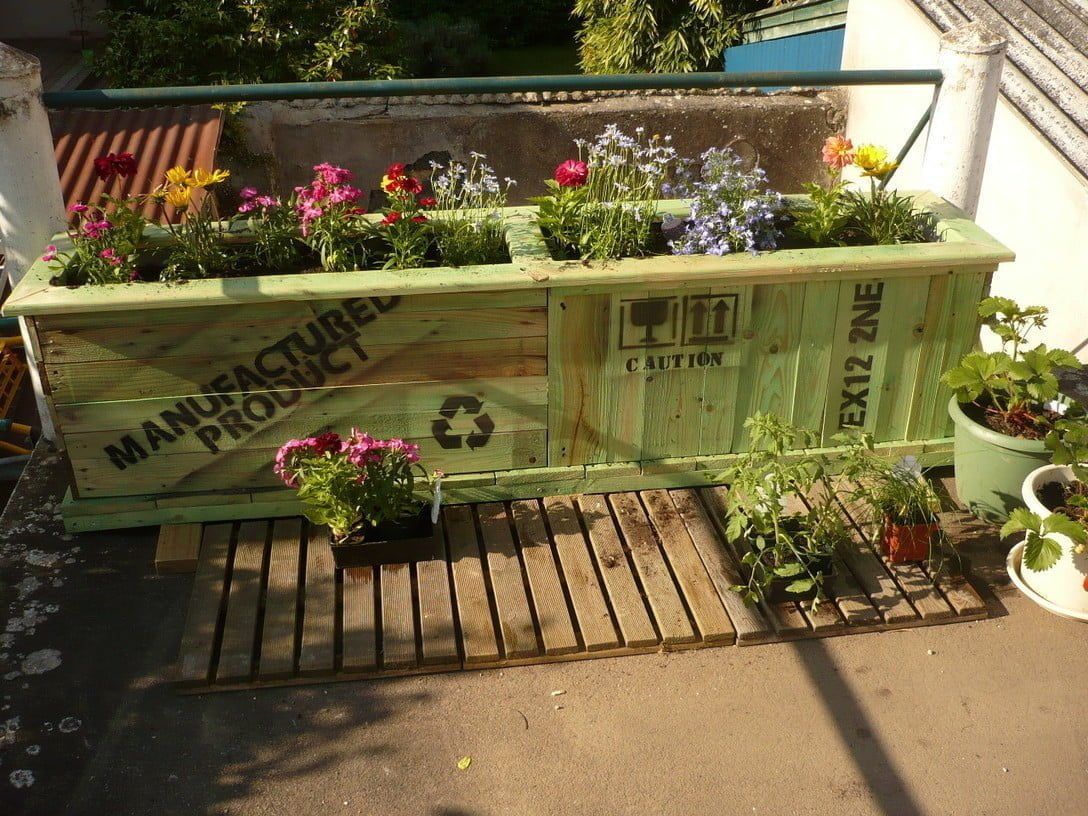 A raised garden is created here using a repurposed wooden crate. The height allows for easy care of the plants without bending. With a few simple modifications, you can have a nice raised garden on your balcony. To find free wood crates you can check with small automotive, motorcycle, lawn and specialty shops. They usually have parts shipped in them. Grocery stores also use food crates for produce and wine. By filling the lower half of the bed with empty milk jugs, two liter soda bottles, or unusable pots, you can save money by cutting down on the amount of dirt you need.
10. Home Extension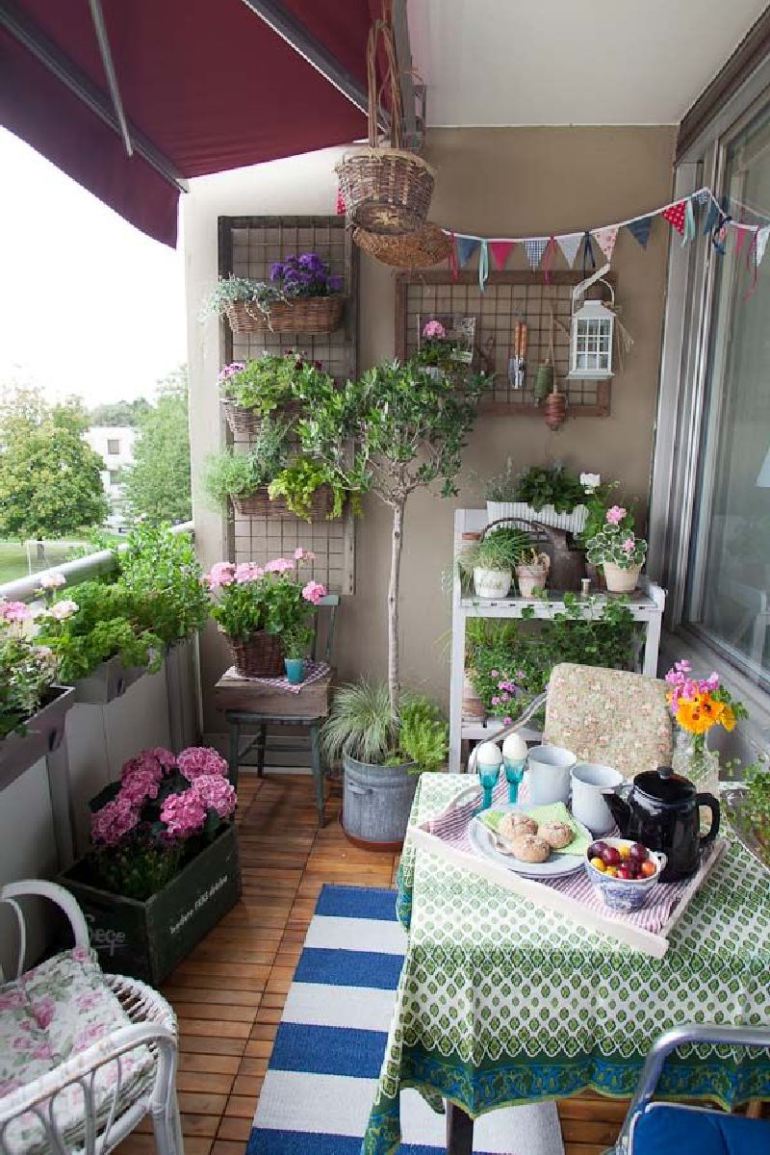 Functionality at its best describes this balcony garden idea. Bringing traditionally used indoor pieces to this space gives this balcony an indoor room feel. Flowers are grown in baskets as well as garden boxes. A citrus tree is growing in a metal bucket and flowers are blooming in the recycled wooden crate. Herbs and flowers are decorating wooden shelves and an old wooden chair seats a beautiful pink flower in the corner. Small home decor touches such as the tablecloth and vase of flowers give this balcony a café feel. The extension of the awning adds to the tearoom ambience.
11. The Secret Garden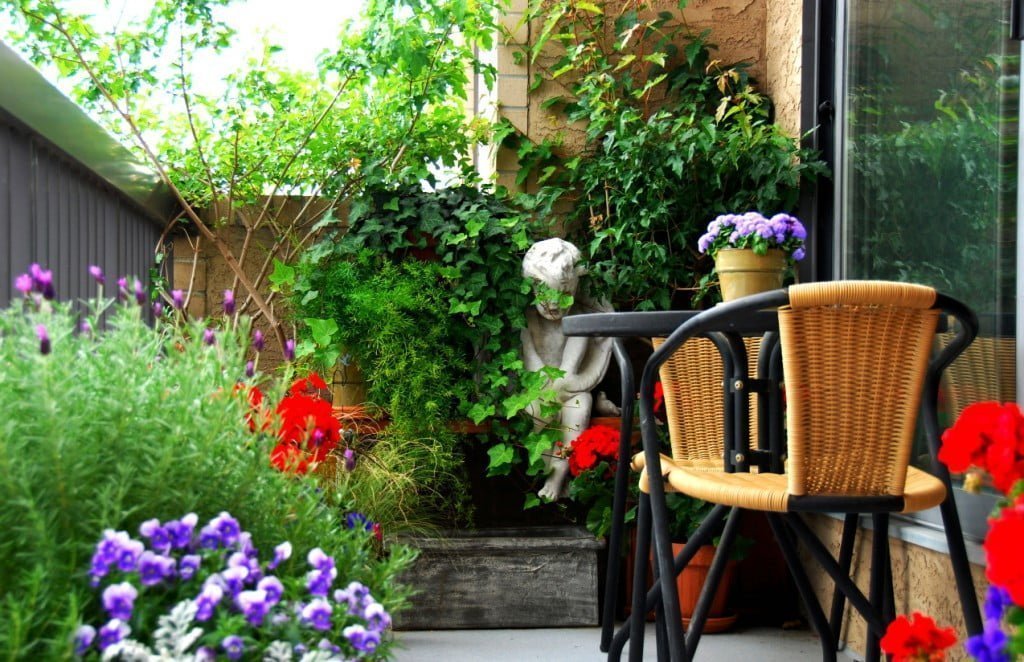 Sometimes you need a retreat you can escape to. This serene balcony garden is reminiscent of a secret Victorian garden with the ivy growing along the stone wall. Including a stone angel statue further confirms the feel. Growing trees in pots is a great way to add vertical elements. This design also incorporates stacking pots for added height. In this balcony garden design, rosemary is in bloom creating a delightful smell as well as adding a touch of purple color. The modest café table ensures a nice place to sit for coffee, tea, or simply a place to rest.
12. The Hanging Garden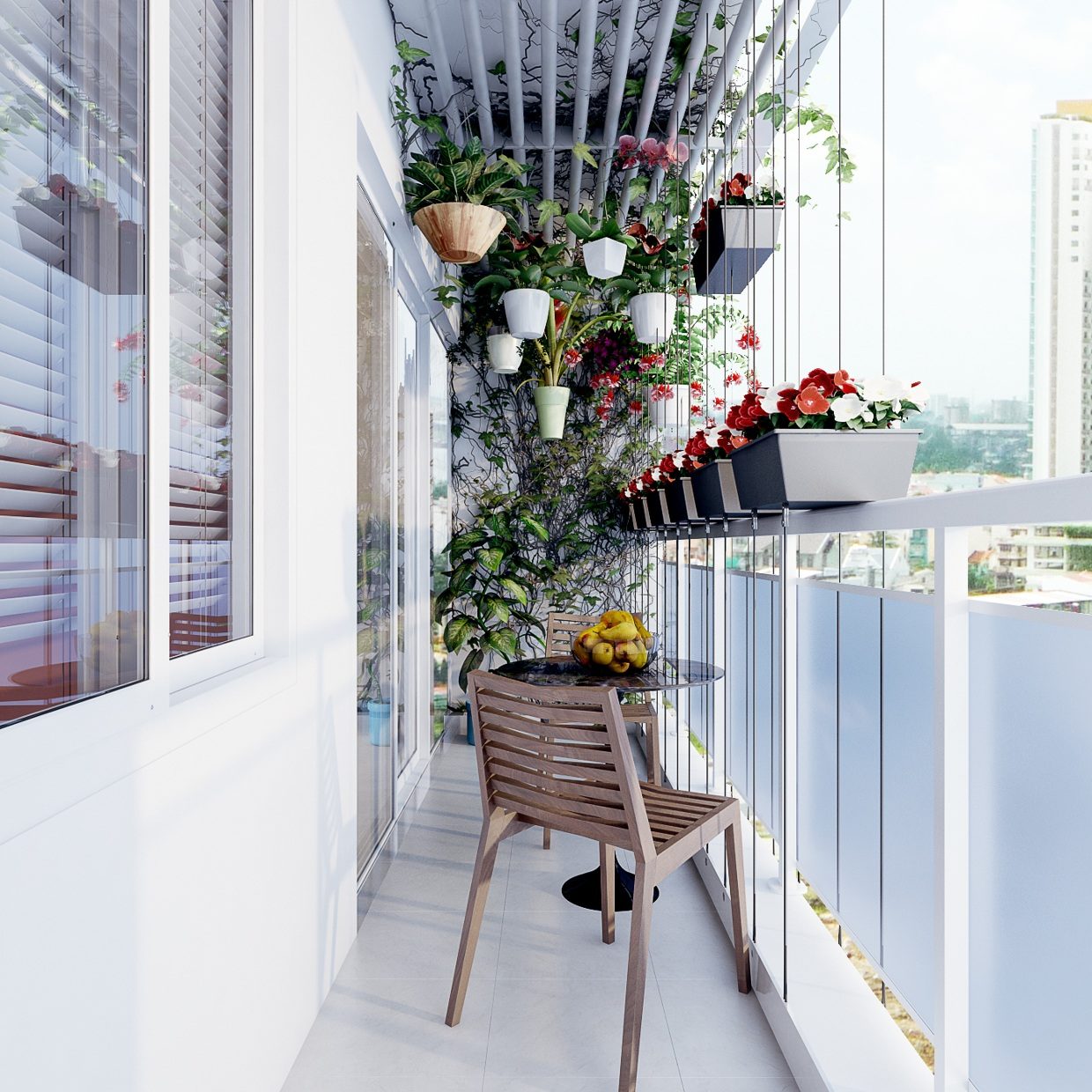 Garden balconies do not require a large footprint to be effective. When creating a balcony garden in a narrow space, hanging pots and baskets are key. This design allows many plants to grow in often neglected overhead space. Attaching planters to the balcony railing is another brilliant idea as it doesn't require additional space. The end of this balcony has been reserved for floor space with a few pots on the floor. Because most of the garden is grown above and on the side of this balcony, there is room for a set of chairs and table maximizing the usefulness of this small space.
13. Italian Flair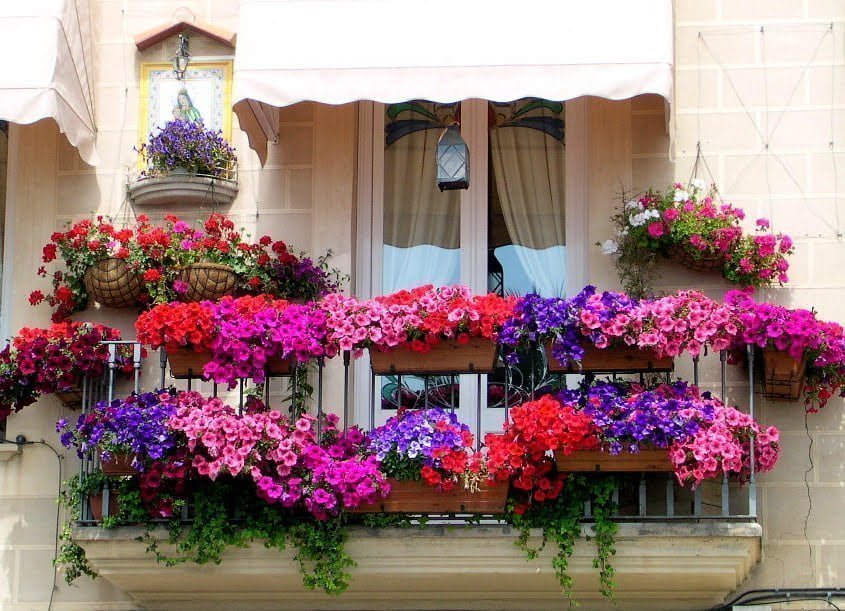 Inspired by an Italian window garden, this colorful balcony proves you can make a dramatic impact in a small space. Although there isn't enough room for a table or chairs, this beautiful display of showy petunias is a showstopper. Window boxes are hung on the outside of the balcony where they can easily be seen from below. This design incorporates smaller pots on the inside of the balcony floor to grow greenery. By adding the greenery, a nice backdrop is provided for the petunias creating a seamless flow. Even the wall behind the balcony was used to display the beautiful flowers.
14. Deck Balcony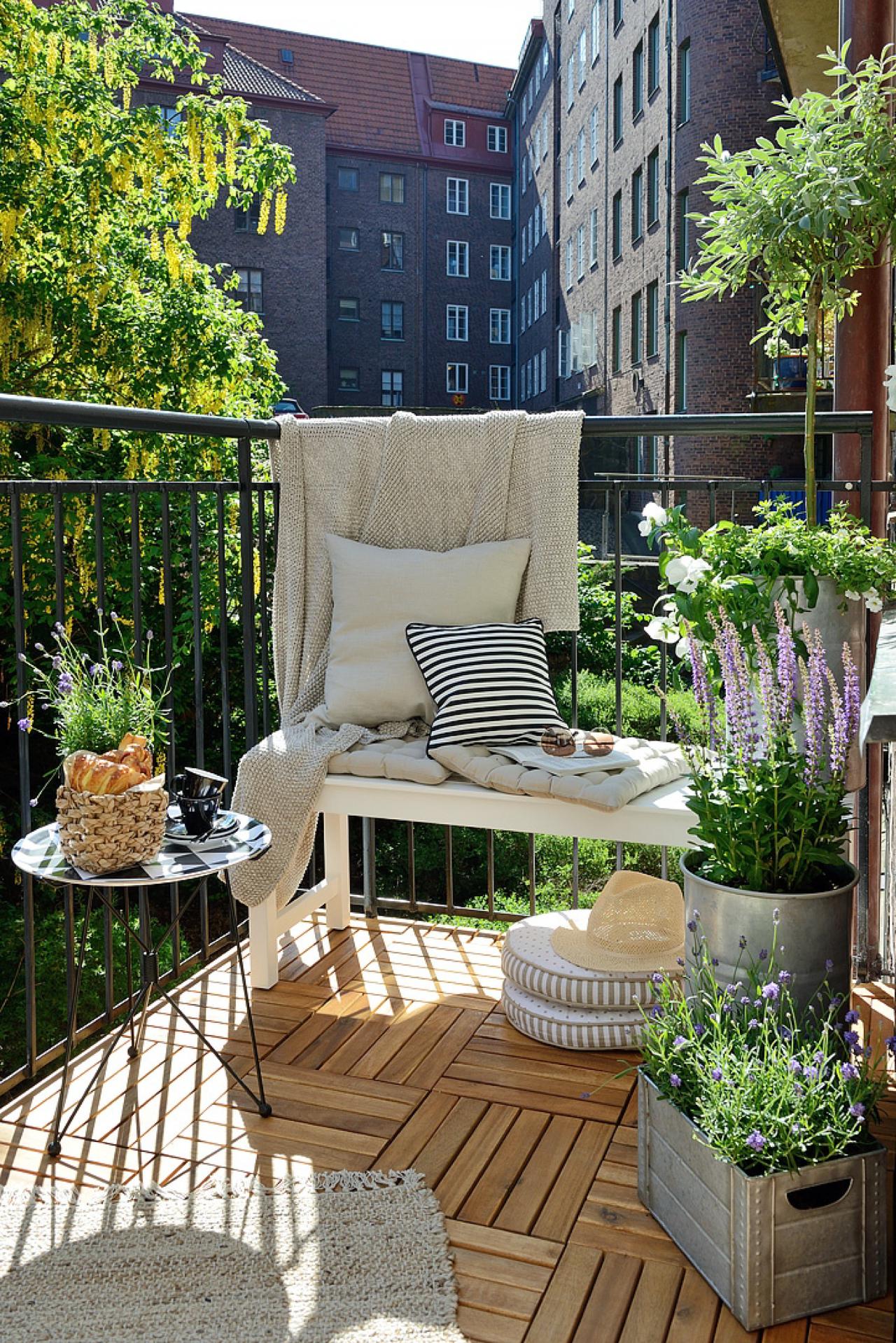 If a deck is what you desire, consider adding wood deck tiles to your balcony garden design. This can be installed over your existing balcony floor with relative ease by a DIYer. Using neutral tones and different textile textures maintains the integrity of this peaceful, low key space. The patio fruit tree growing out of the galvanized can proves everyday objects can make fabulous planters for your balcony garden decor. By adding only one shade of purple flower to this design in matching galvanized containers, this balcony garden has a light and airy feel to it.
More balcony garden design ideas on the next page…