15. Rail Garden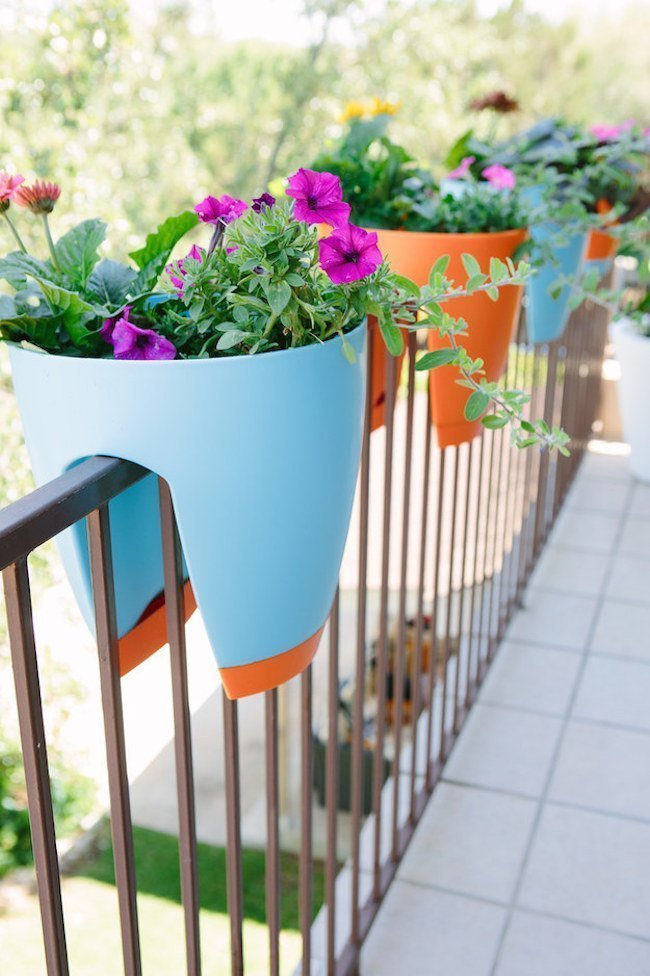 If instant color with minimal work is what you are hoping for, you may want to check out the balcony rail planters. They use no tools or skills to install and are available in different colors. Simply decide on what flower, herb, or vegetable to plant and you are done! Besides the ease of these planters, the next best thing is their portability. If you have an area that receives too much hot sun mid afternoon, you can move the planter to the other side of your balcony. You also have the ability to bring the planter indoors to water it.
16. Petite, Yet Hardy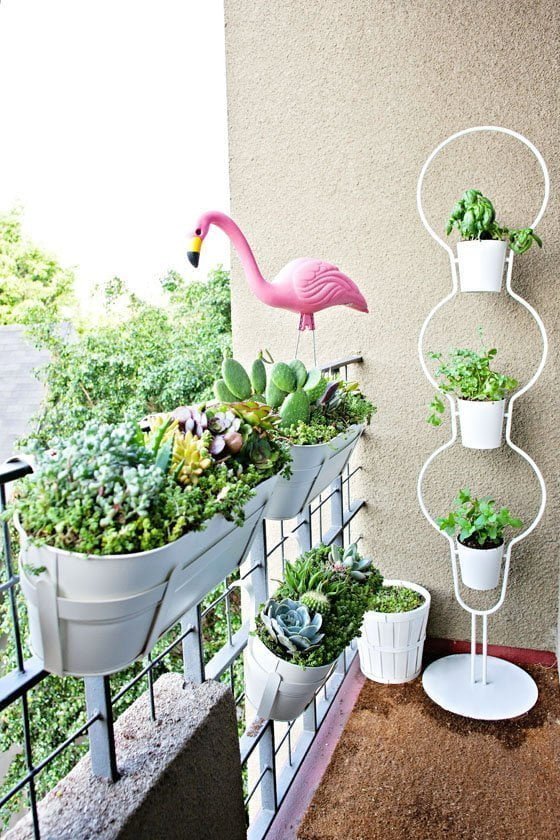 Bigger is not better in this petite garden balcony. If you like plants, yet have a hard time keeping them alive, you are not doomed to raising artificial plants! Try growing succulents and cactus. They are both hardy, drought tolerant plants. This design is unique in that the planters are facing towards the home allowing for viewing from inside. If you are looking for edibles in your balcony garden, try growing basil, mint, and cilantro. They are hardy type herbs that require minimal maintenance. The pink flamingo is incorporated into this balcony garden decor adding just a pop of fun color!
17. Economy Friendly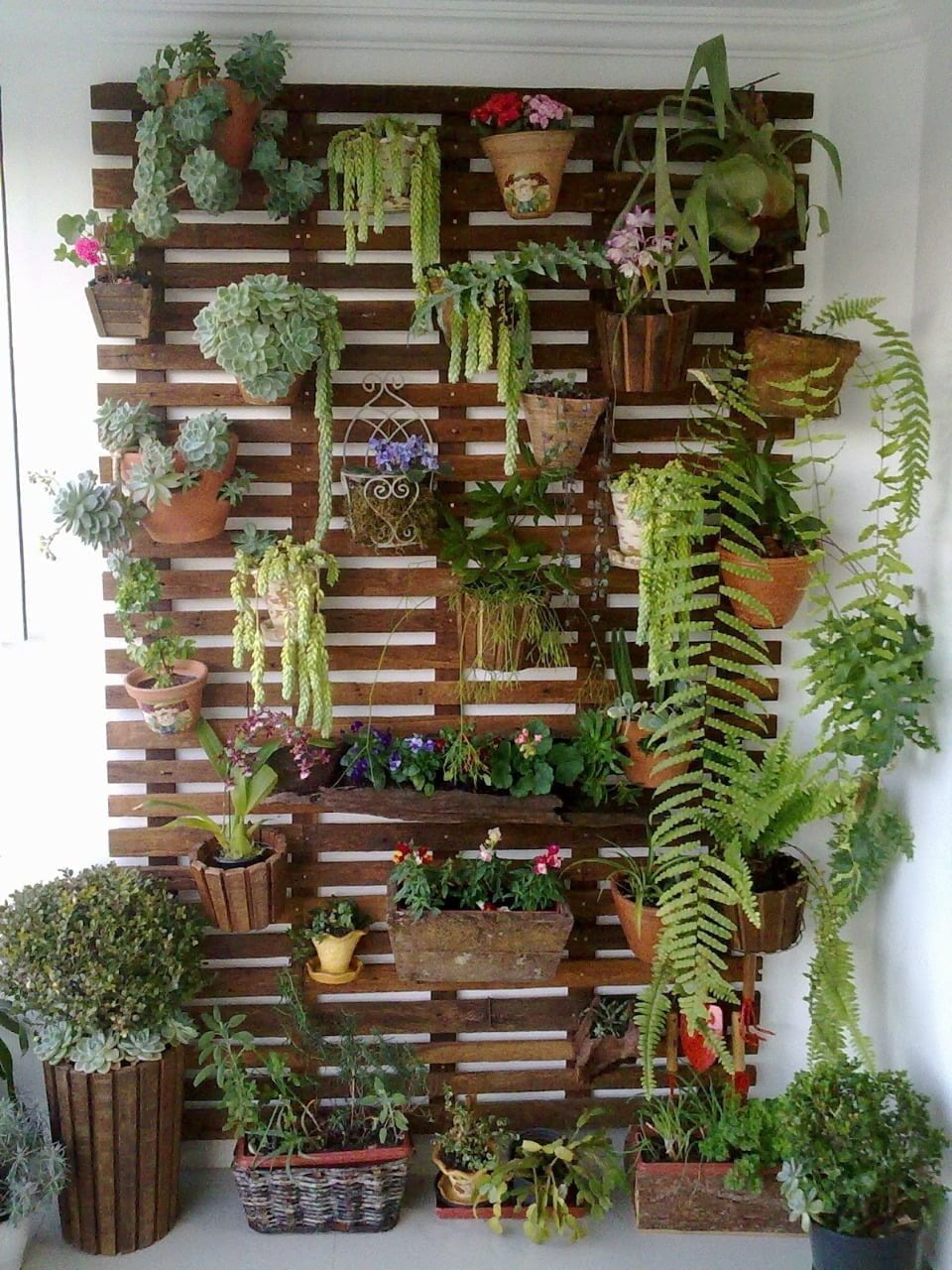 If your balcony garden vision is more rustic, consider using wood boards as your canvas. They can be stained any color and to your liking, creating a custom look. This garden looks exceptional when the home's design is rustic. By using many wood covered planters, the decor element is uninterrupted. This garden balcony uses ferns, succulents, and greenery as its foundational pieces. The occasional sprinkling of color keeps this garden balcony interesting and is a visually welcomed surprise. Resembling a forest floor, this design takes on the form of a living wall and can compliment the home's preexisting decor.
18. Colorful Shade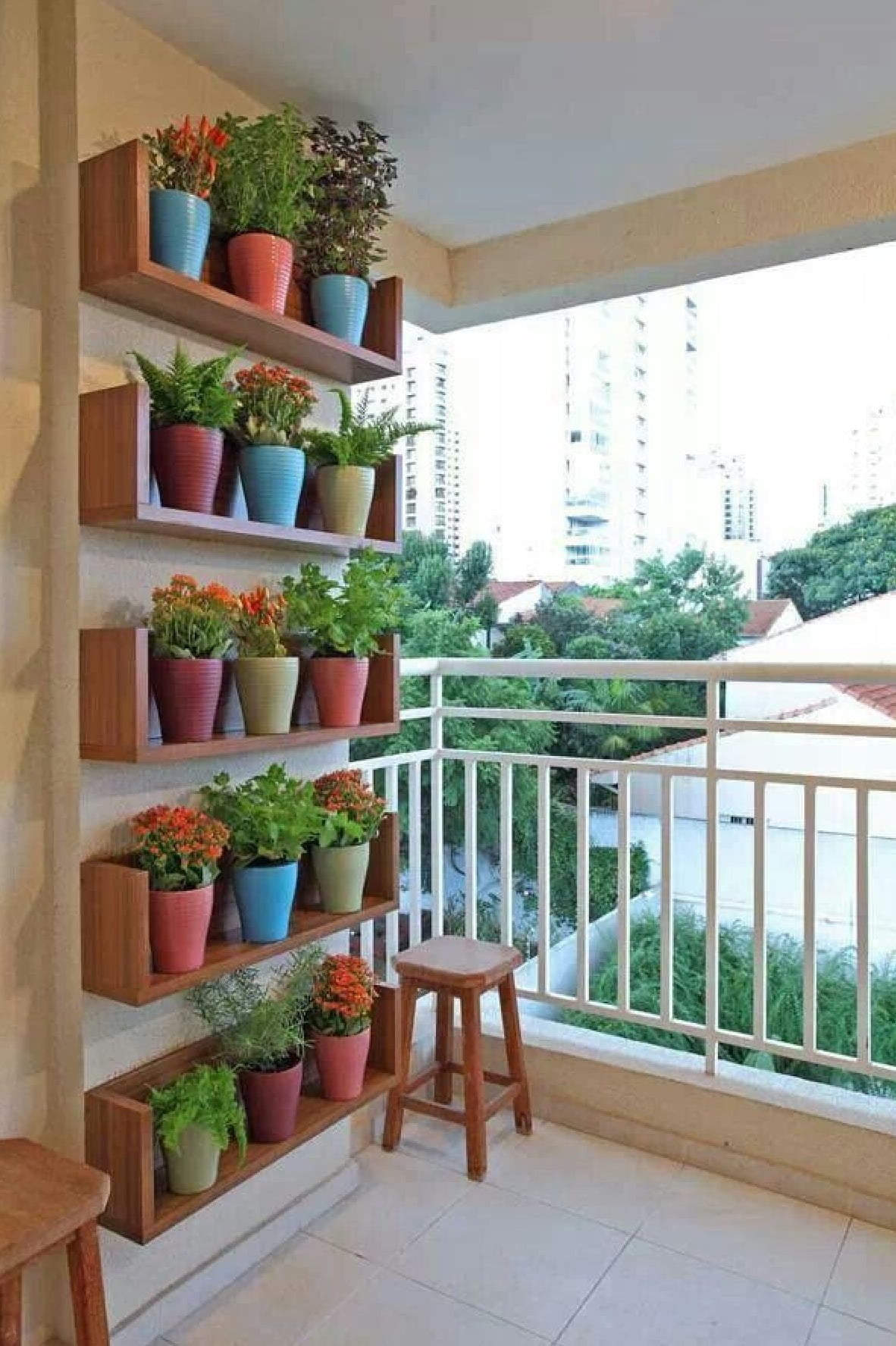 For a clean look, try shelving on your balcony. Shelves can keep your pots symmetrical and orderly. If you choose to have a cleaner look, be sure to pick out pots with a similar style. The pots on this balcony garden give the balcony a nice element of color without being overbearing. Take into account the amount of sunlight your plants will receive when choosing plants for your balcony garden. If your balcony is fully covered, shade lovers may be your key. The tile on this balcony only enhances the clean, orderly look while the stools on either side of the shelves seal the symmetrical design.
19. Zen Garden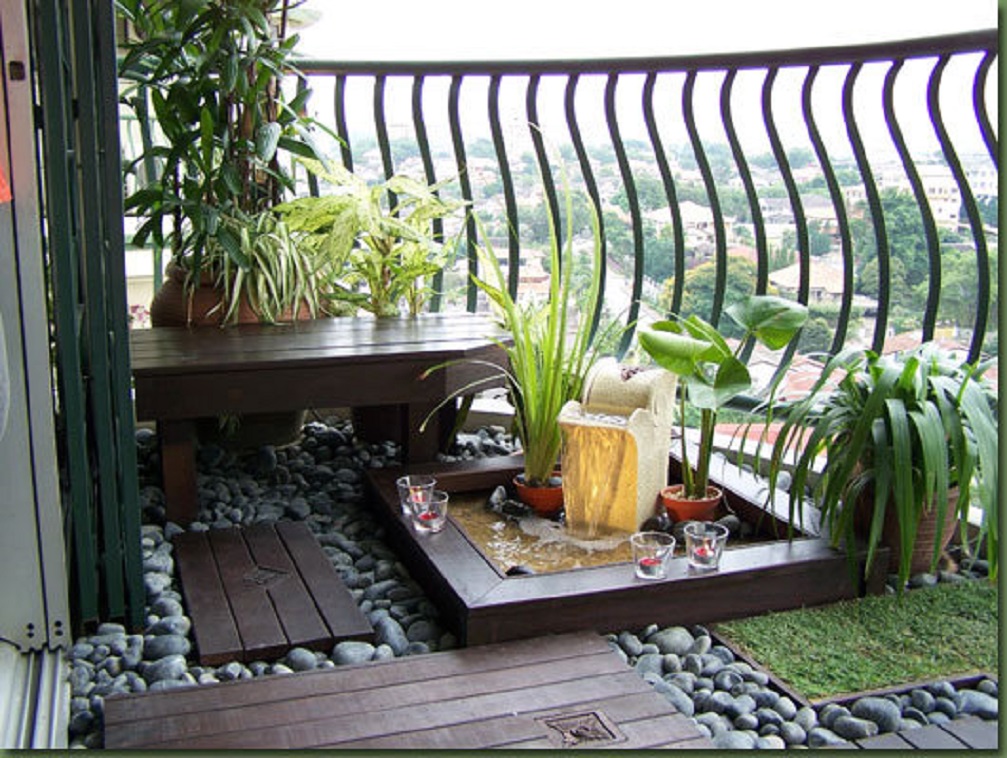 This peaceful balcony garden idea incorporates water as its focal point. Incorporating water into your balcony garden gives you a refreshing retreat. By using only green plants on this balcony, the mind is not overly stimulated. Bringing the elements of rock and wood into this balcony garden provide a sense of stability and earthiness. The dark bench blends in with the rest of the wood providing a nice place to sit without distracting from the water feature. This design uses simple candlelight to seal the peaceful ambience making this a relaxing space during the day or at night.
20. Entertainment Balcony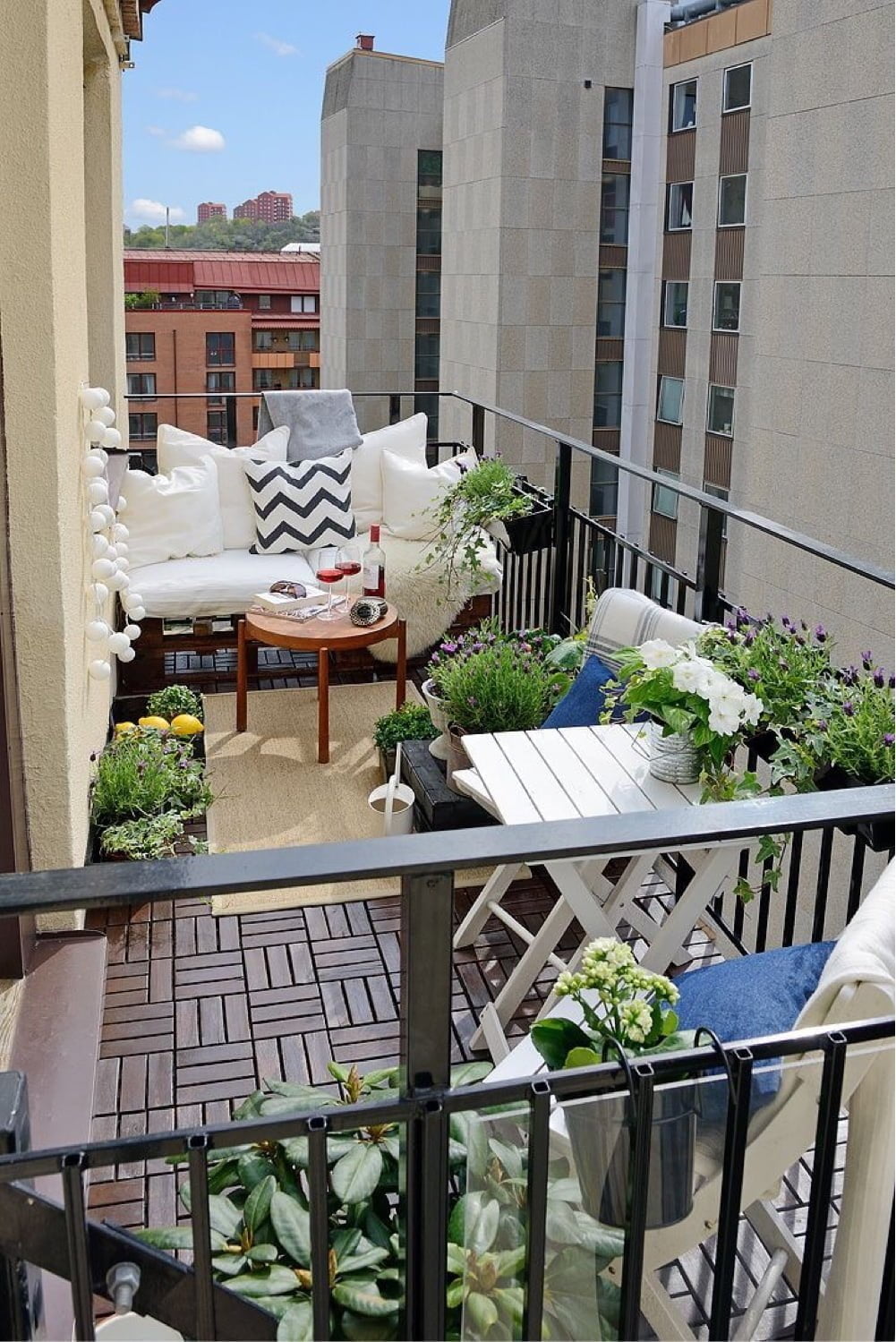 If your idea of the perfect balcony garden includes a fun space to entertain guests, then this design may be for you. Providing several seating choices, complete with a table to set drinks on, is key for entertaining. This balcony garden decor combines several styles of furniture. However, by using white and a few bursts of color, the appearance is more shabby chic than mismatched. The rug is a nice addition to anchor the space and the wood tiles provide a nice contrast to the white furniture. Hanging railing planters and a few pots help complete and soften this entertainment space.
21. A Touch of Country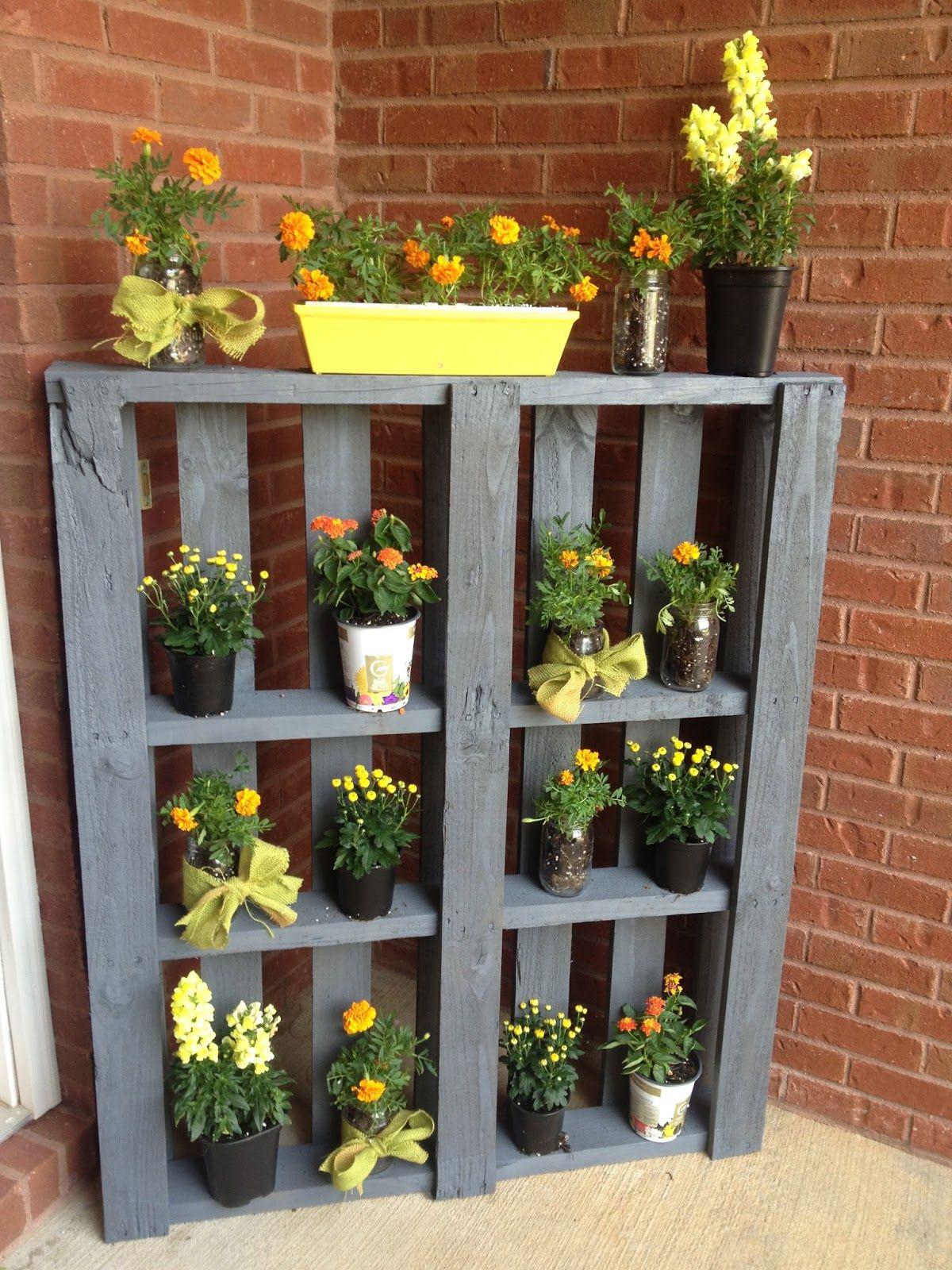 This adorable balcony garden decor transforms an empty corner into an area that conveys home. This cozy corner also proves you don't have to spend much on pots to create a nice area. Tying ribbon around the mason jars help dress them up a bit. Yet even the black nursery pots are at home here. For shelving, simply paint a wood pallet. You can find them free at many lumber yards and grocery stores. Or, you can try building your own. Color is key here. This country design works because of the selection of like colored flowers that compliment the shelf.
22. Black and White Simplicity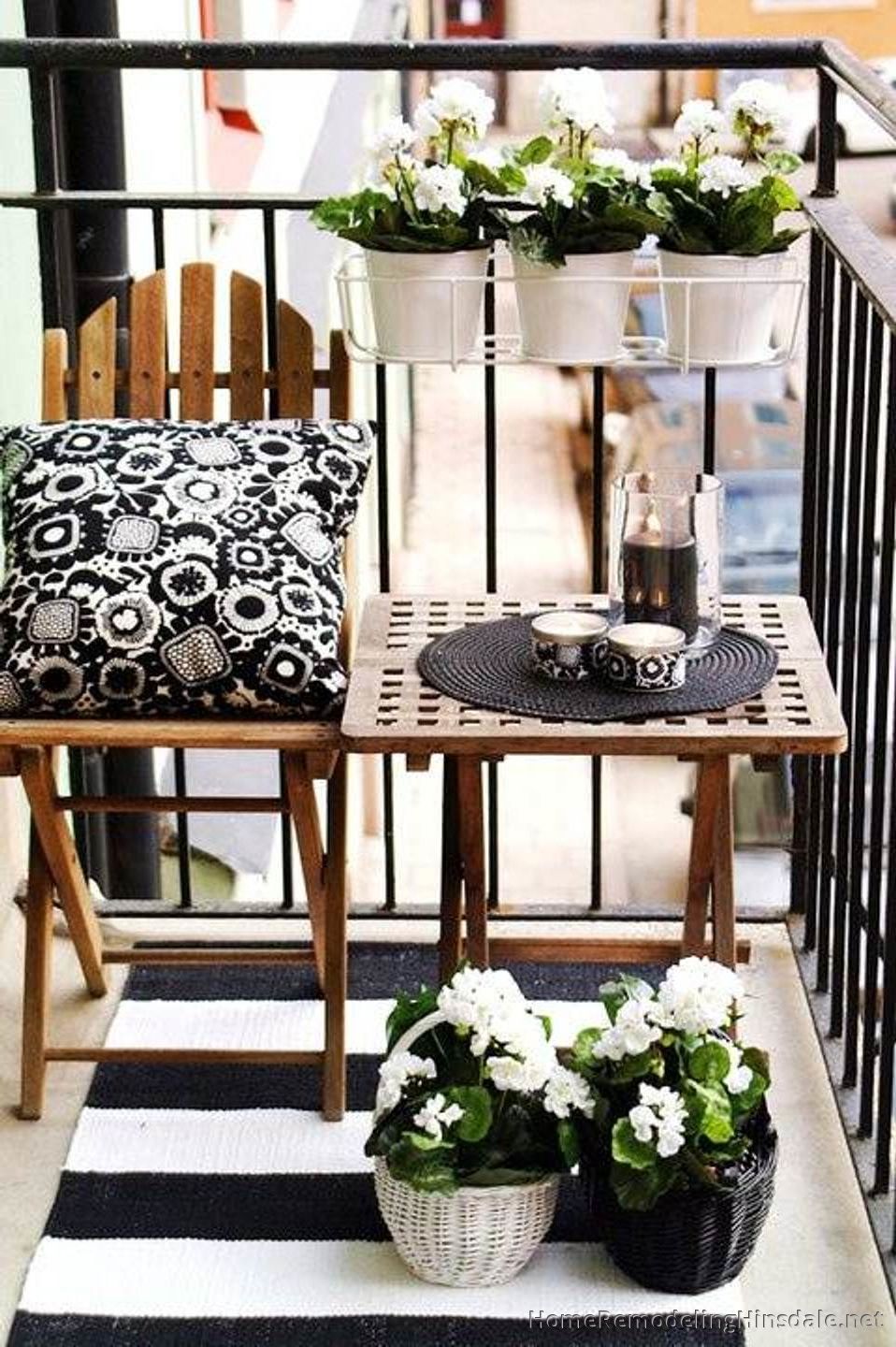 For a sleek design, try using a monochromatic color scheme. This allows the eye to rest. While not using much color, a monochromatic design is far from boring. Because the brain is not visually stimulated, it provides a sense of rest. Black is often associated with elegance while white conveys cleanliness. When combined they offer a dramatic contrast. Painting the balcony floor white gives the illusion of more space while the striped rug grounds the area for a sense of stability. Even the white flowers and planters keep with the monochromatic scheme for a sophisticated design.
23. Private Cabana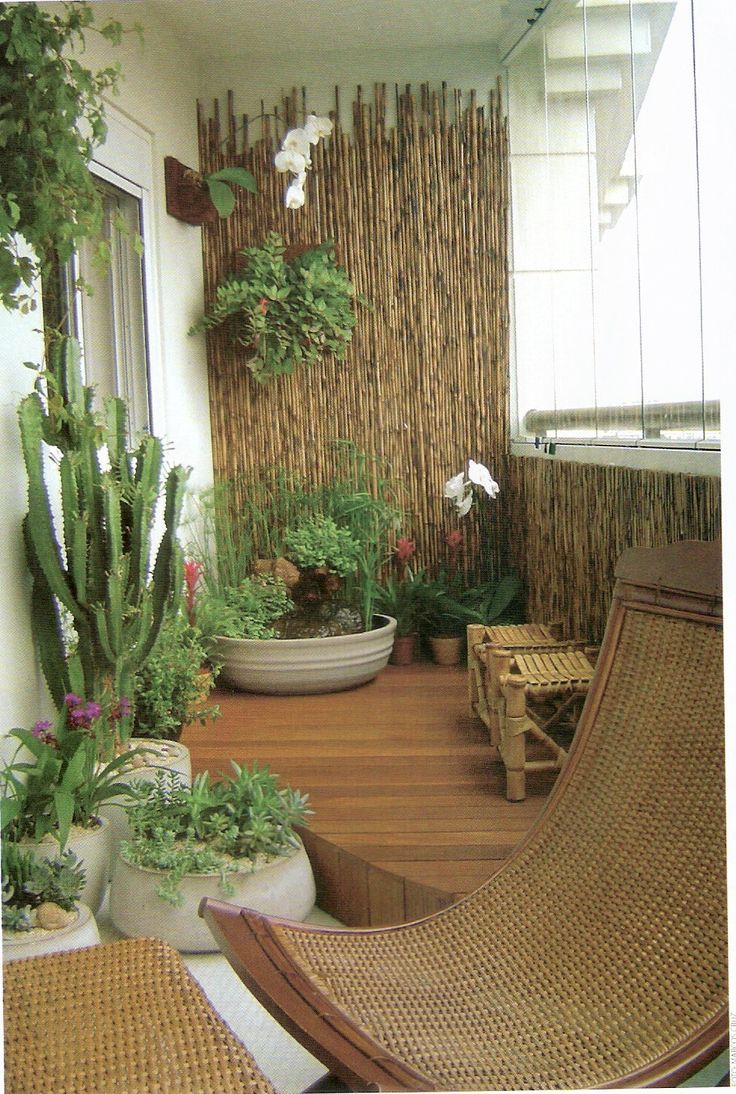 Who doesn't dream of a private cabana? Cabanas are not just for the beach anymore as this garden shows us. The back wall is covered with a bamboo roll that carries over to the front of the balcony. Bamboo rolls are relatively inexpensive and can be found at most home improvement stores with fencing. The deck adds both height and a sense of a separated space on this balcony while the greenery gives color and contributes to the cabana feel. The bamboo stools and woven reed furniture provide different textures and make a great place to relax with a book or a drink.
More balcony garden decoration ideas on the next page…