24. Tropical Privacy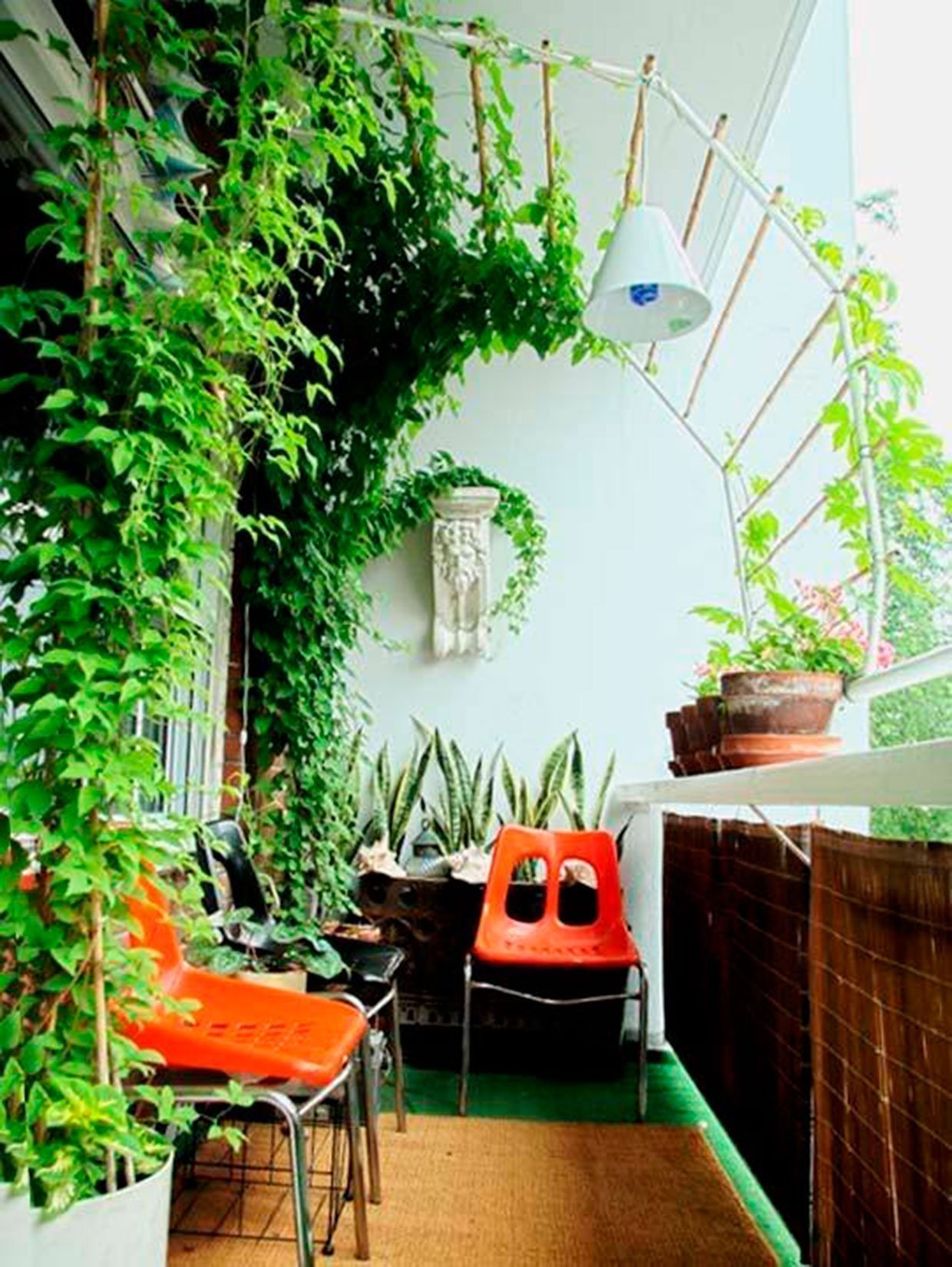 Privacy is high on this tropical balcony. Vines are growing from pots and trained to grow on an overhead arbor constructed using PVC pipe and bamboo. Once fully enclosed this balcony will have even more of a tropical feel. The addition of a bamboo roll across the balcony railing further ensures privacy. The orange chairs bring color to this space and an overhead lamp provides a warm ambiance at night. The upright plants on the back wall offer vertical gardening interest . Even the white decor sconce has a home here giving the eye a stopping point in this tropical space.
25. Victorian Garden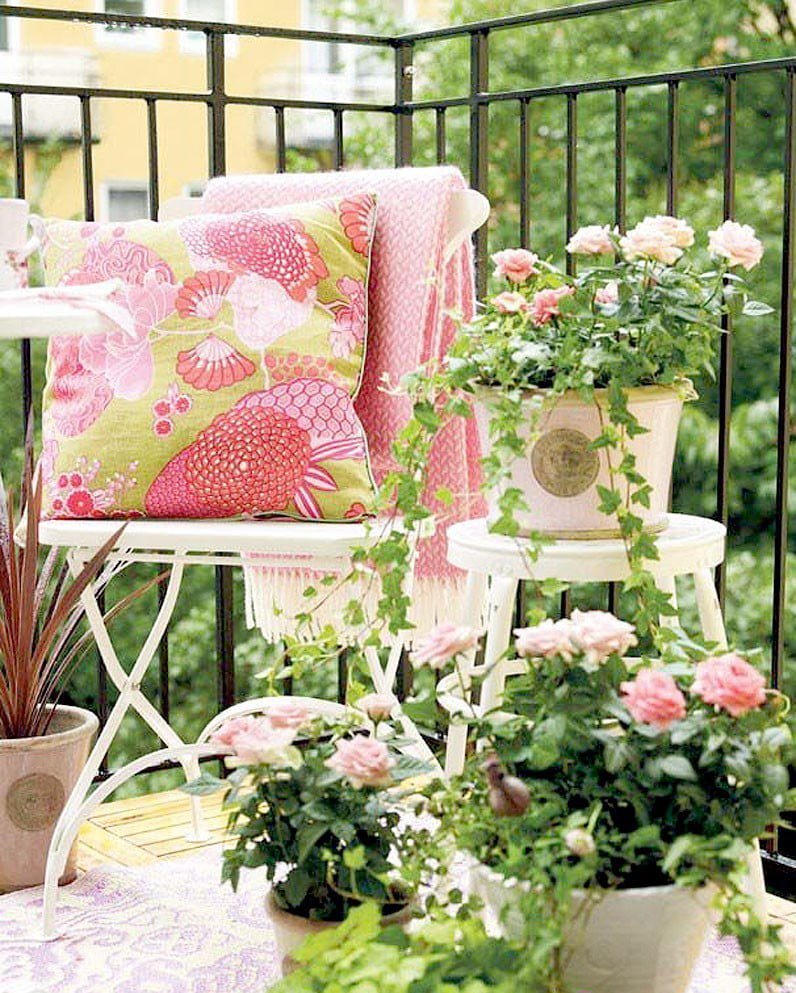 For a more feminine balcony garden, try using a Victorian approach. The color pink is perfect in this setting providing a sweet and soothing effect. The pink roses set in Victorian style pots provide stability in this quaint space. The English Ivy flows out giving this garden an informal, comfortable feel. Adding a soft pink blanket and fun pillow provide not only comfort, but the design element of texture. A stool showcases the pot of roses adding height to this beautiful little garden. A modest white table and chair provide the perfect spot for morning coffee or afternoon tea.
26. Yard Balcony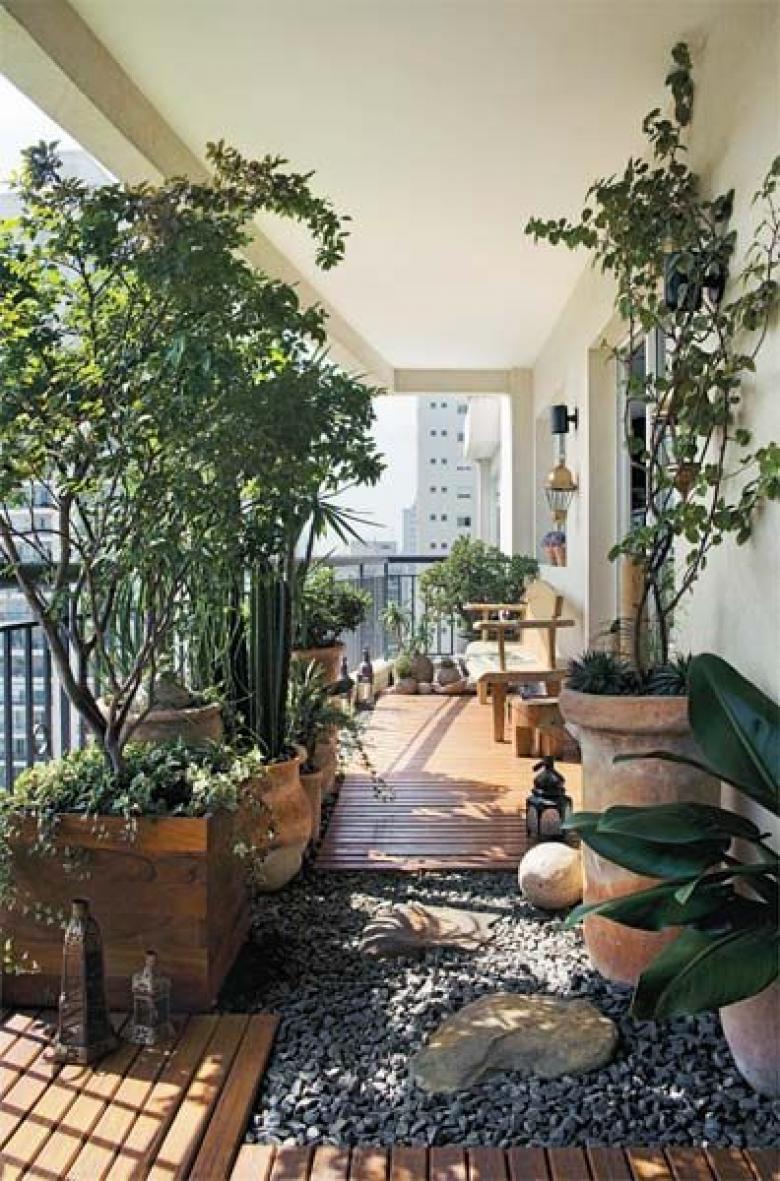 If you've ever had the desire to walk out of your door and into a park, then this balcony is for you. Different sizes of pots showcase the variety of plants chosen for this space. It appears even a cactus has made its way into this park like design. Clearly no plant is off limits. Potted trees create a park atmosphere while the rocks around the decking keep this design grounded and authentic looking. Shrubbery planted along the balcony railing keep the park feel flowing throughout. This garden design is complete with a park bench and stepping stones.
27. Vegetable Garden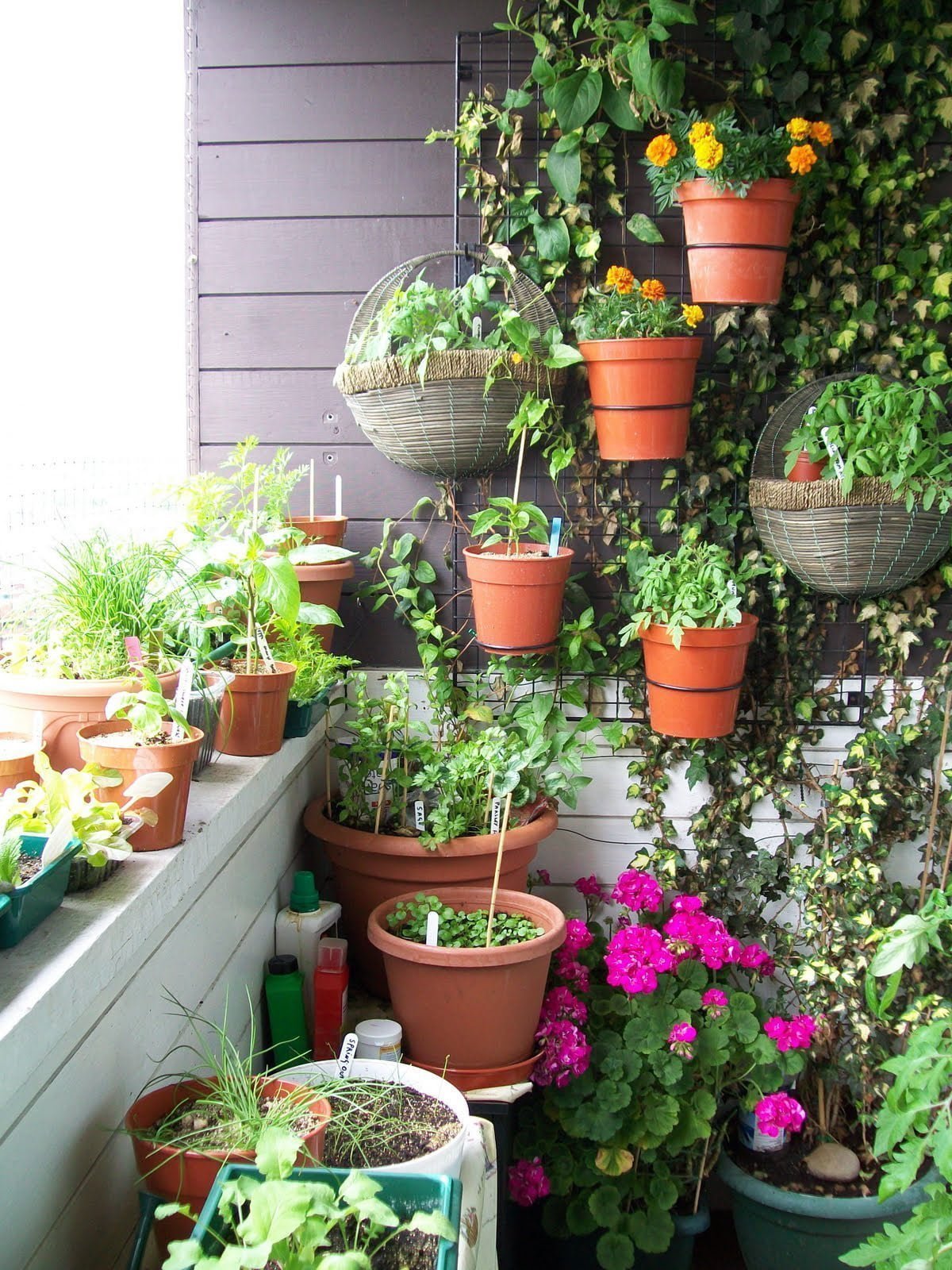 Growing vegetable gardens is a favorite pass time for many avid gardeners. What better way to have vegetables at your fingertips than to grow them on your balcony garden! Terra cotta pots line the rail of this balcony. Each pot houses its own herb. This gardening idea uses the wall to hang plant pots maximizing space. The design uses companion planting on the wall; growing tomatoes and marigolds together is a natural pest deterrent. This wall also is the home to pepper plants. A large pot of geraniums adds a splash of color while emitting citronella oil to keep the bugs at bay.
28. Ammo Garden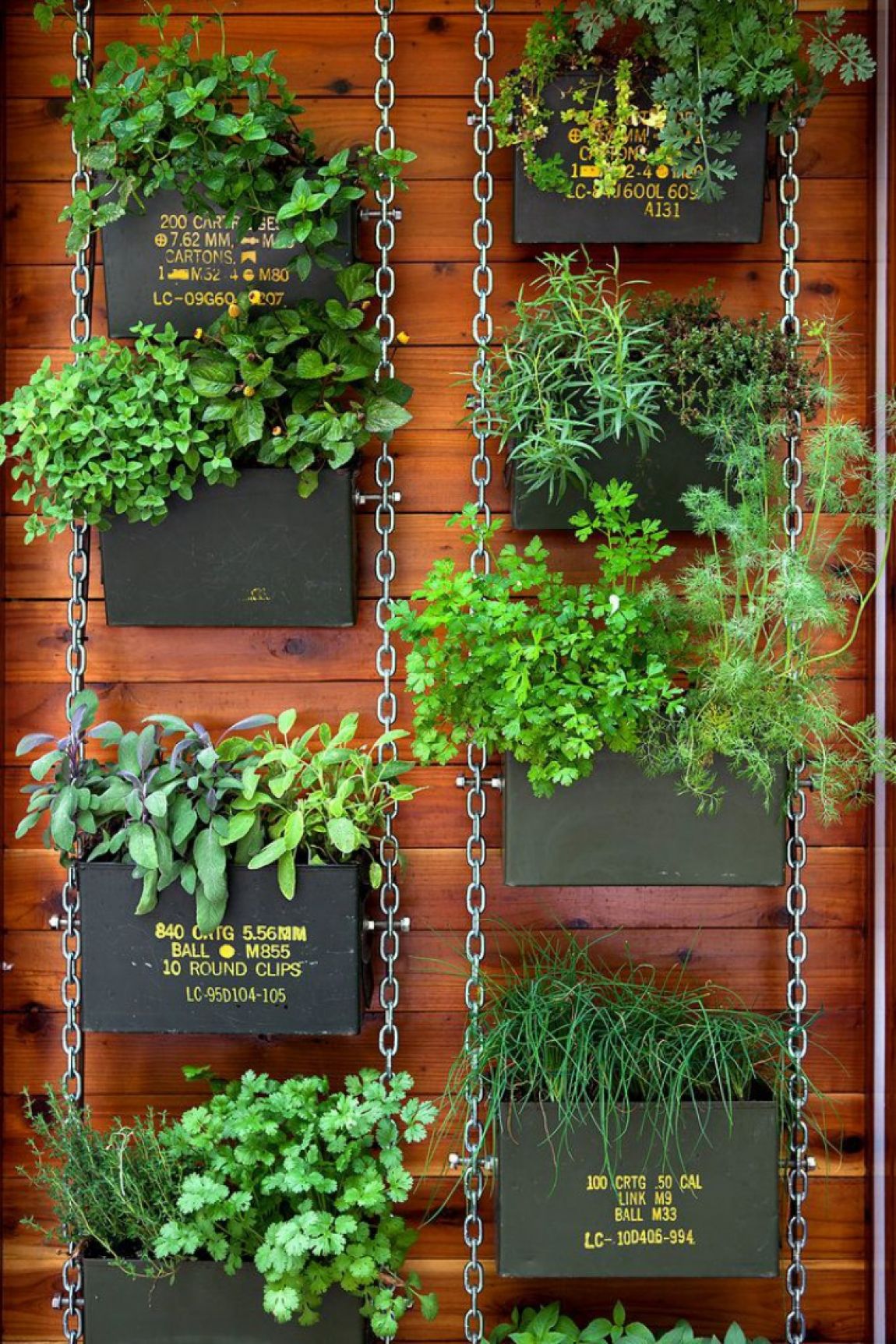 Sometimes it pays to think outside the box. But not this time. Fabulous looking herbs are growing in ammunition boxes in this balcony garden. Chains are hung from eye hooks on the balcony ceiling and ammunition boxes are secured to the chain by drilling a hole in each side of the box. They're attached using a washer, screw, and bolt. Of course drain holes need to be made to prevent root rot. The wood paneled wall provides the perfect backdrop for this display. If you like the idea but are not fond of the rustic appearance, you could always brighten the boxes up using spray paint.
29. Tranquil Blue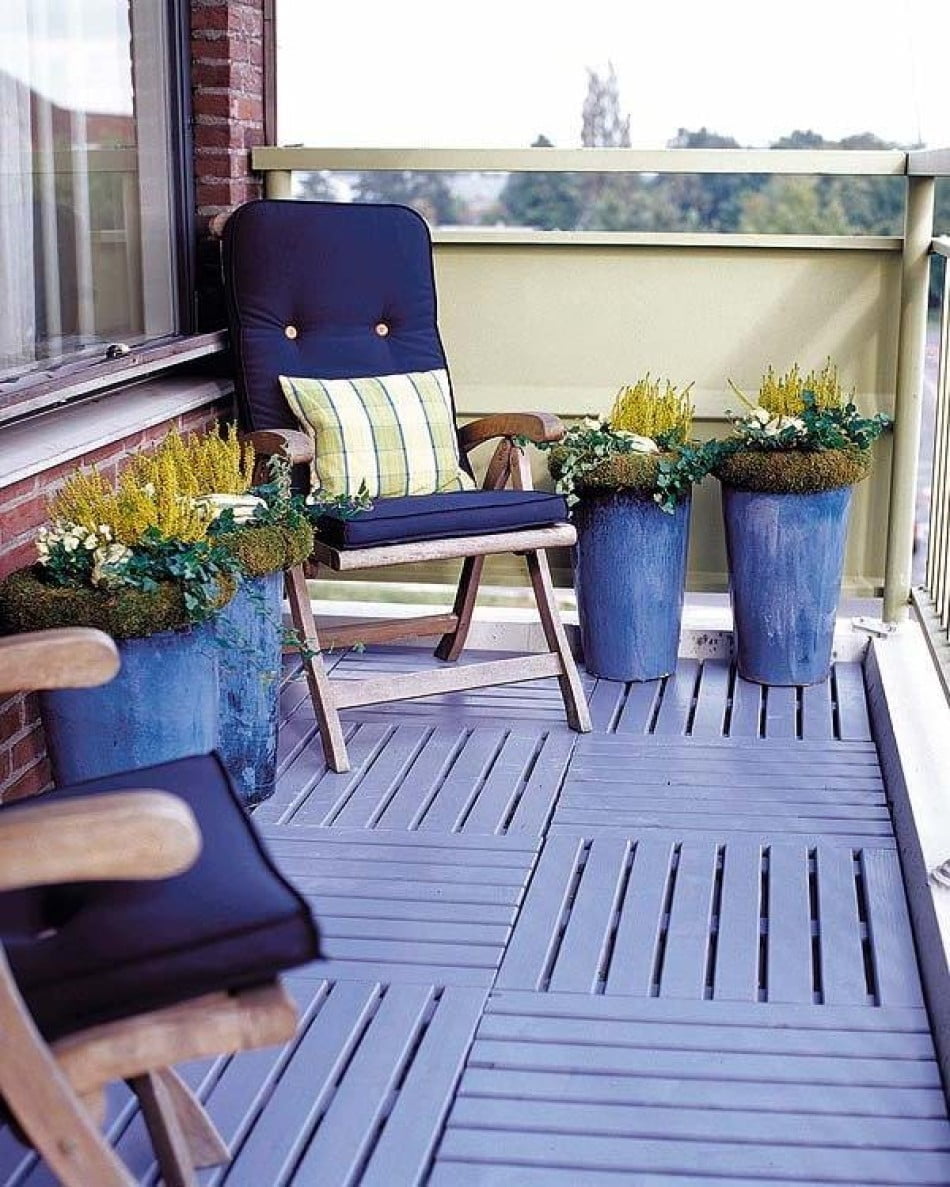 Nothing says peaceful like the color blue. It has been proven to lower our blood pressure and heart rate. In this balcony garden, blue takes center stage. The painted wood floor tiles draw your immediate attention giving this balcony an extra dose of tranquility. Matching blue planters keep this design uniform and the pop of yellow breaks up the blue. Thick navy chair cushions and neutral pillows provide comfort ensuring a relaxing experience. The color blue has been used from nurseries to royalty. With this design, it can now be found outside your balcony door.
30. Tiny Garden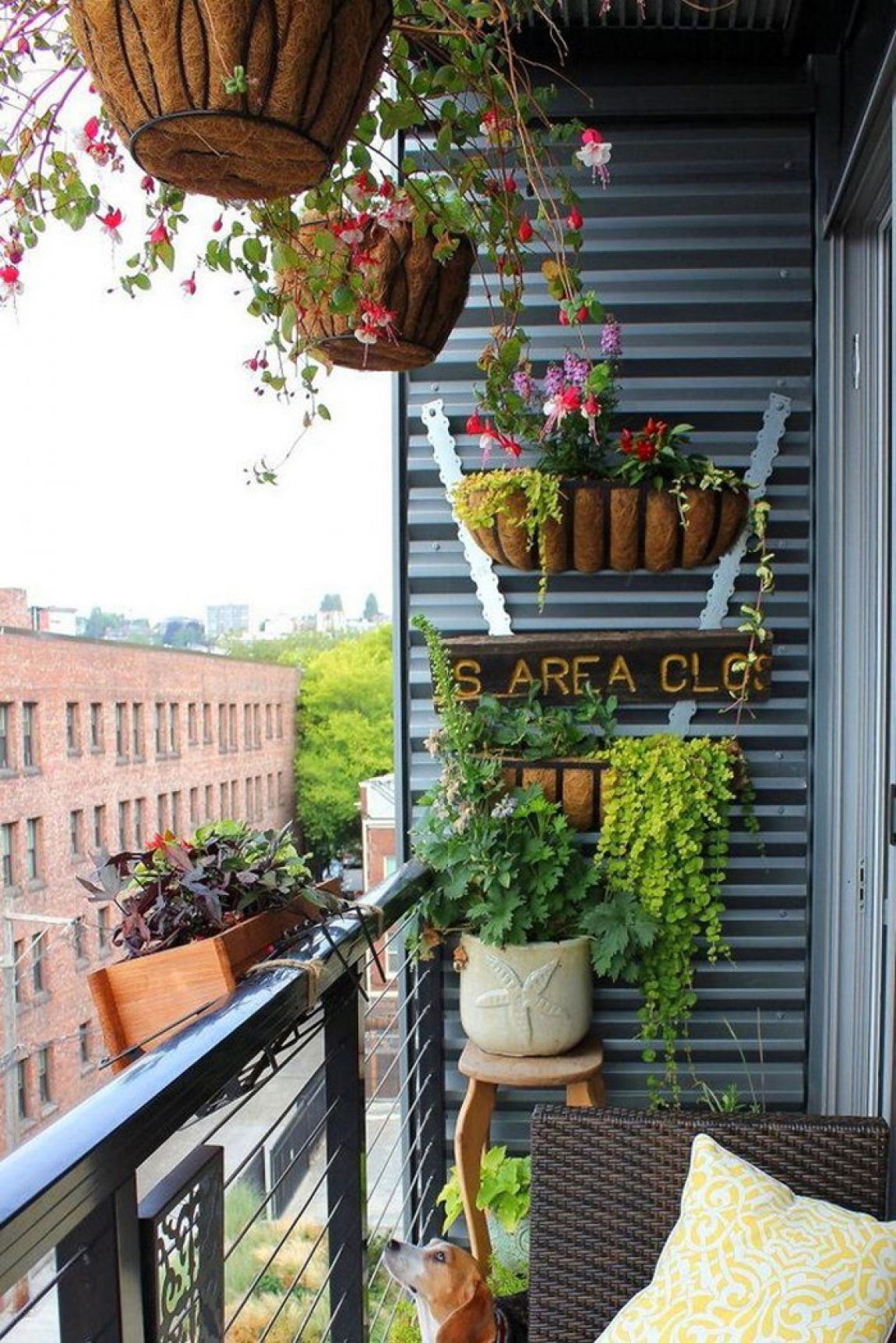 Sometimes you just need your own space. You can have it even if you have a small balcony. In a smaller balcony, using overhead and wall space is key. However, a metal wall can pose a challenge when trying to use vertical gardening space. With the right tools you can easily mount metal bars to your wall and attach a few planters. In this garden balcony, peppers, sweet potato vines, fuchsia, lavender, basil, sage, and lemongrass are grown creating a delightful aroma and offering edible advantages! The use of the stool, pillow, and decorative sign create an extension of the home's decor.
31. Dinner Garden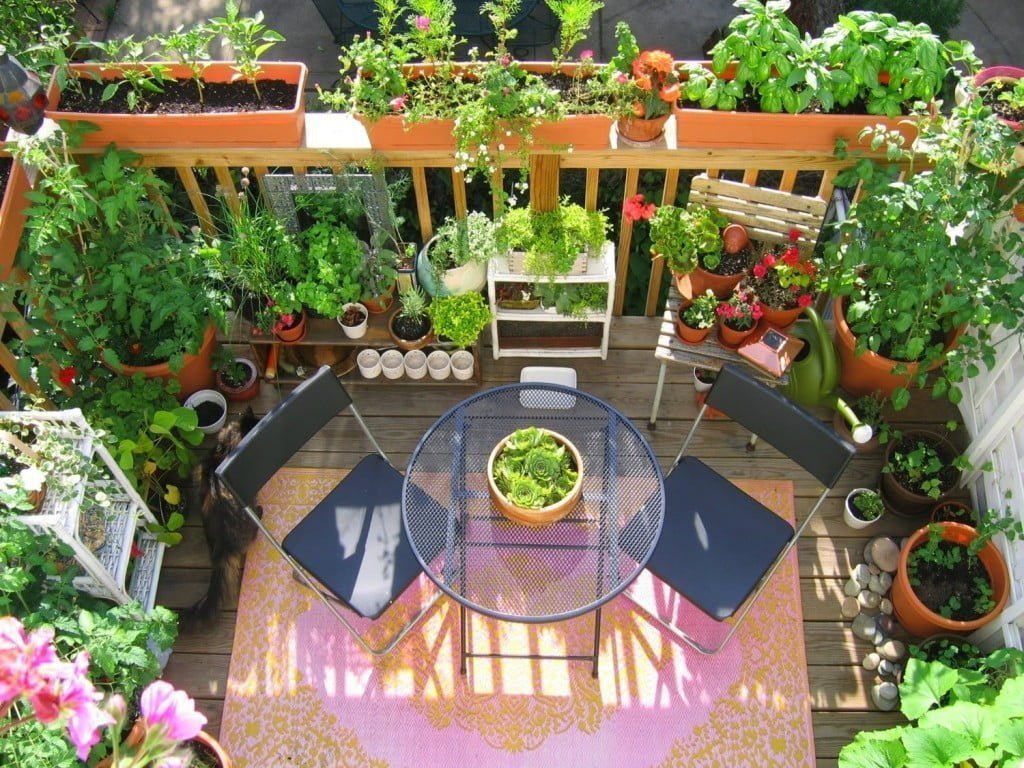 This balcony garden showcases container gardening at its best. Using only pots, this design utilizes all of the balcony's outside space allowing for a complete garden. Tomatoes are grown in the corners while peppers and basil line window boxes on the balcony's edge. Geraniums are also home here keeping pests at bay. Several shelves are used to layer and maximize the space. A complete herb garden is incorporated into this balcony garden. Even a chair holds edible arrangements! The best part of this design is the ability to still enjoy this balcony. The rug showcases the patio table and chairs creating an intimate balcony garden.
32. Outdoor Room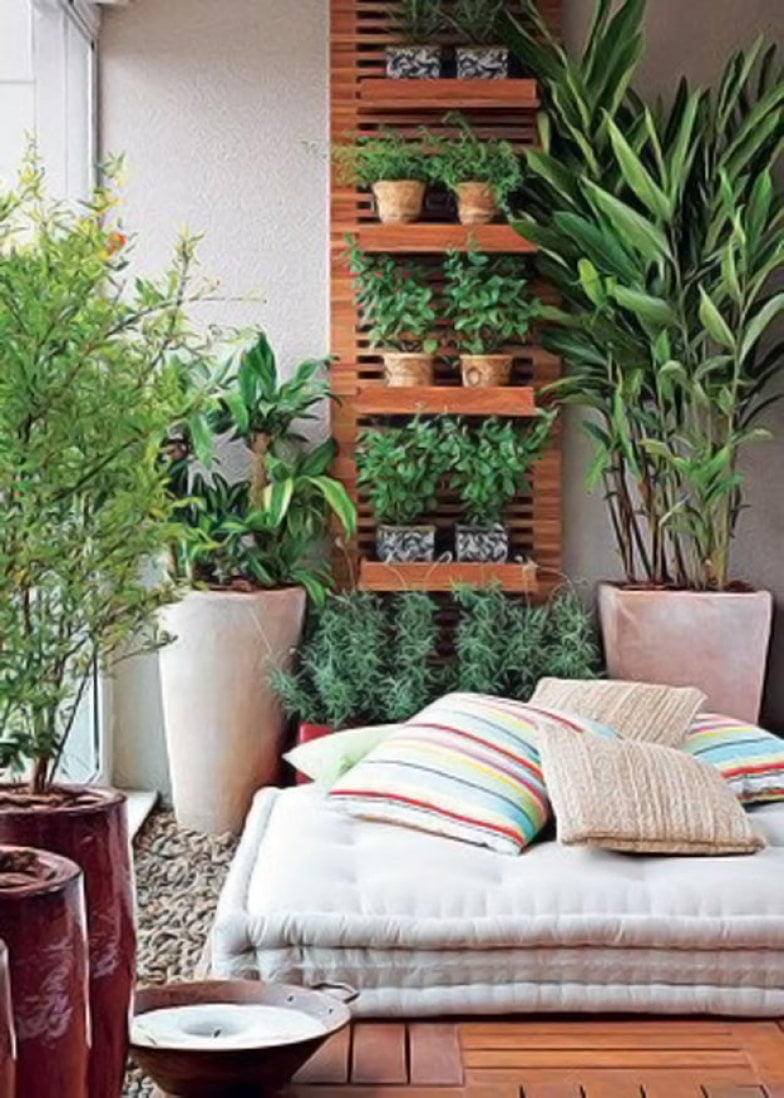 This garden design serves two purposes. One is a balcony garden. The other is an outdoor room. An outdoor mattress is the focal point in this space. The numerous pillows help to make this garden comfortable. Tall plants, coupled with the wood shelving, give this balcony garden a tropical feel. Of course, even in a tropical design, there is still room for herbs as seen in matching pots on the shelf. Wood floor tiles accent this comfortable space. The large candle in a copper bowl resembles a camp fire and casts the perfect amount of light for evening use.
More balcony garden decorations on the next page…