33. In a forest? Or on a balcony?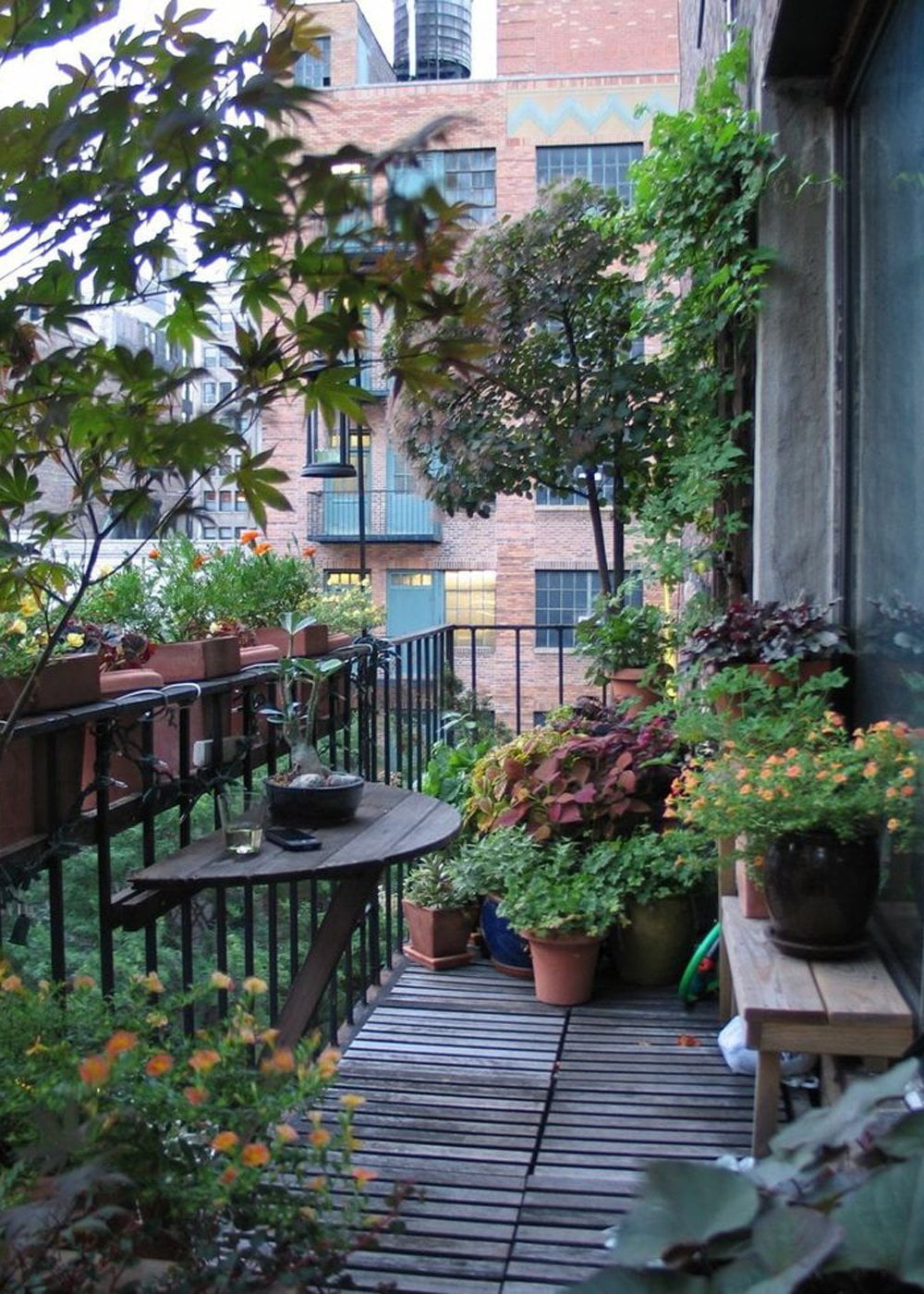 Potted trees and a wide variety of staggering planted flowers transform this balcony into a forest feel. Dwarf Japanese Maples make excellent potted tree choices for a balcony due to their size and color. The built in table is a nice addition providing a work space without sacrificing limited floor space. Another unique touch is the shelf built on the outside of the balcony rail. This shelf not only concurs with the space, but provides additional planting room in an often overlooked area. A lantern hung on a shepherd's hook is right at home here completing this wooded balcony garden.
34. Simple Color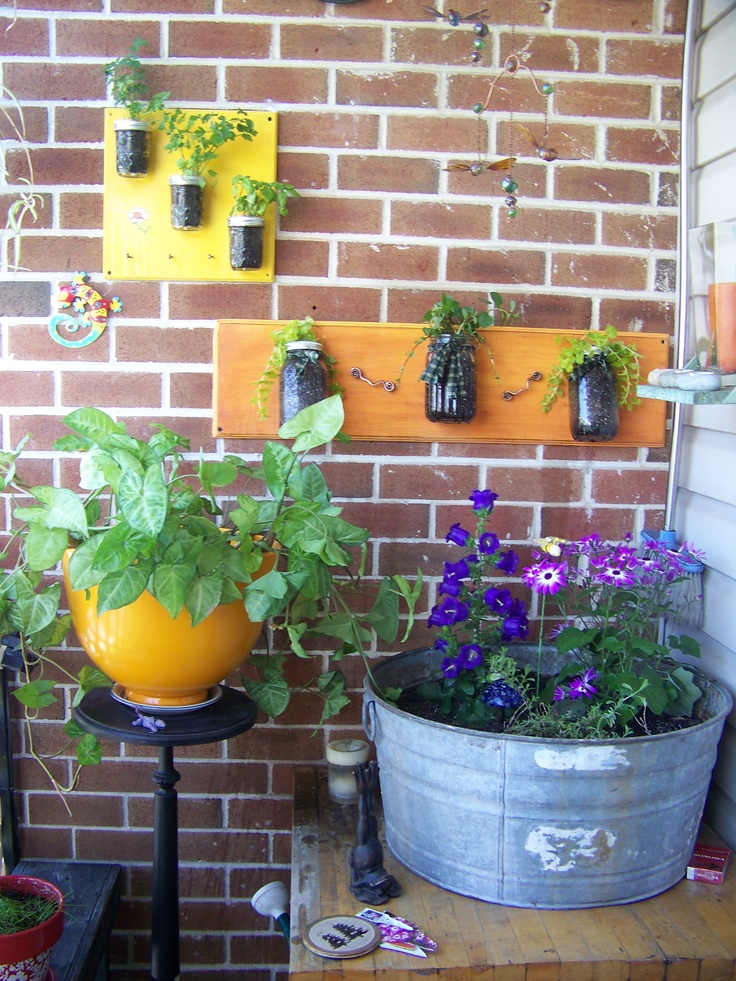 Oftentimes the best planters are in plain sight. Sometimes they are even part of our home decor. For this simple balcony garden idea, mason jars are used for growing herbs. The key to using mason jars as planters is to avoid overwatering. The see through design allows you to gauge this fairly well. A metal wash bucket, sitting on a repurposed end table, has been transformed into a rustic planter. A healthy Arrowhead plant is beautiful on the plant pedestal. The plant's vibrant pot coordinates well with the mason jar hanger while a fun metal lizard on the wall compliments this space.
35. Highlighted Wood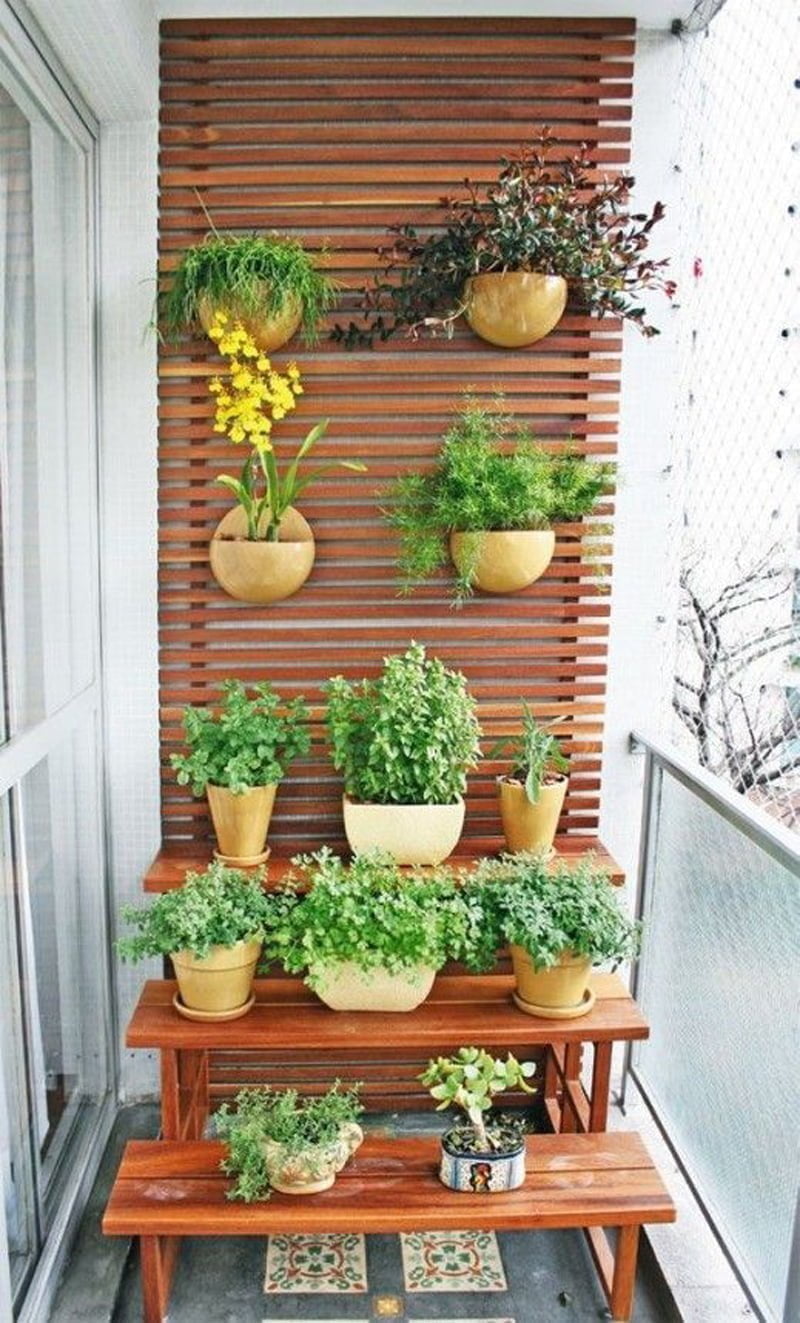 When using your balcony for culinary purposes, you will generally be growing lots of greenery. Because the pots are neutral colored, the natural element of wood is highlighted here. This culinary design uses the wood as a growing area in this garden. From the stair step shelves to the horizontal wood slats, there is enough space for many varieties of herbs. This idea also incorporates a few pops of color keeping this garden from becoming too boring. To protect your edibles from birds or other creatures, consider installing netting along your balcony. After all, your garden is a labor of your love!
36. Outside the box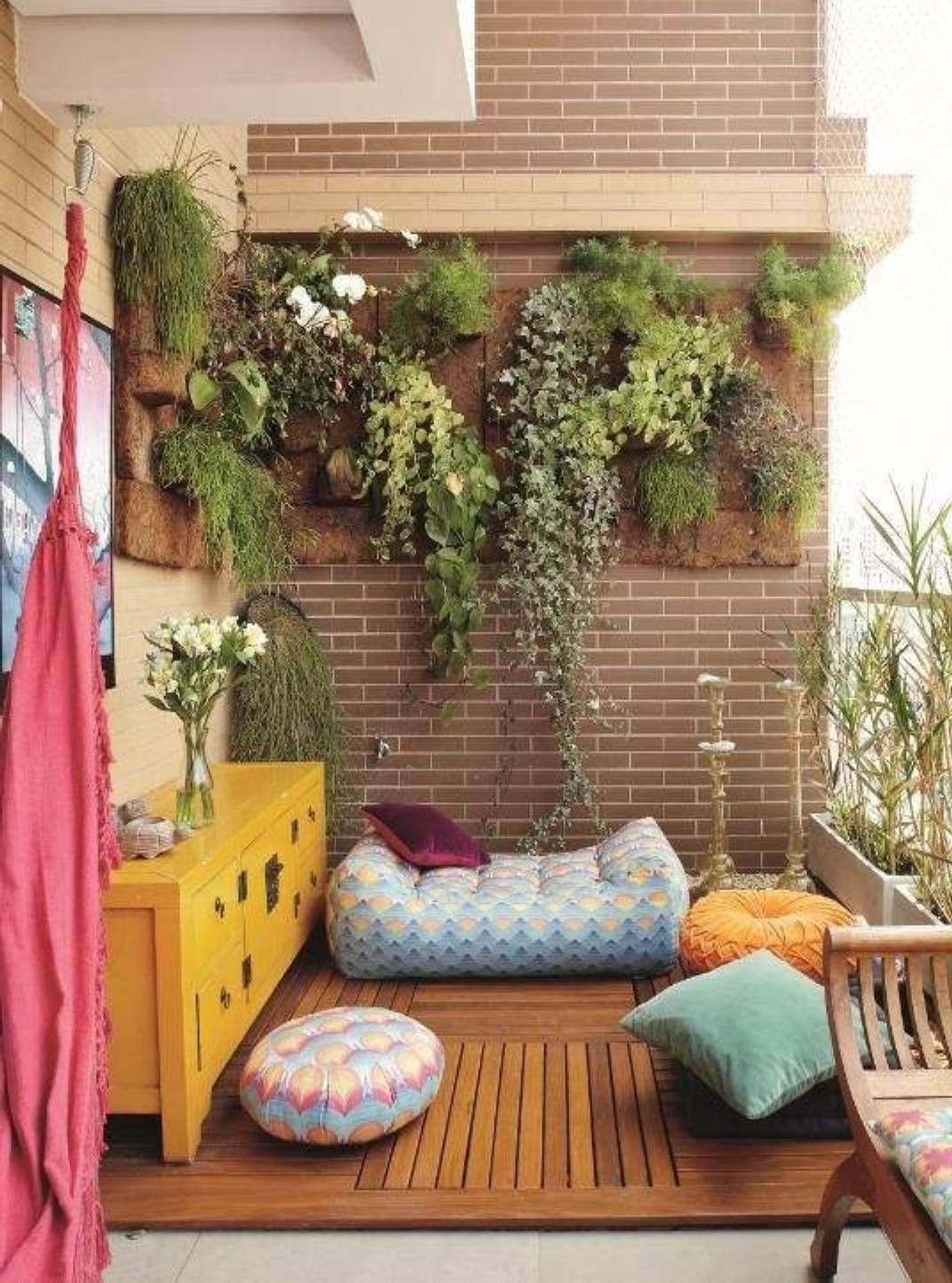 If you crave a place to rest or even look at the stars, this balcony garden idea may be ideal for you. Complete with a living plant wall, this balcony is enclosed with screen protection. The hammock makes a perfect place to nap or read a book. This balcony also has a home design element incorporated into it, complete with wood tiles, providing the perfect outdoor room. When using home decor to decorate an outdoor balcony, think outside the box. This design uses a dresser, art work, tall candle holders, and overstuffed pillows to marry the indoors with the out.
37. Succulent Garden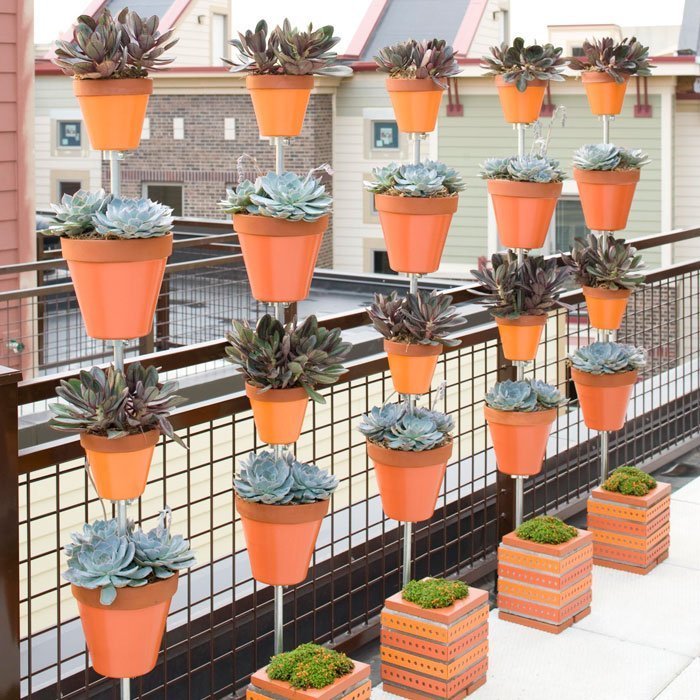 Perhaps one of the easiest plants to grow are succulents. They grow in poor soil conditions, tight spaces, and are drought resistant. If you want to have plants, but can't seem to grow them or you are seeking a low maintenance garden, this is one to try. This design is simple using the same color terra cotta pot with the same type of plant. The consistency in this design keeps it orderly. The pots are joined together with metal rods. In keeping with simplicity, you can take advantage of gravity by watering the top and third row pots thoroughly.
38. Stepping Stones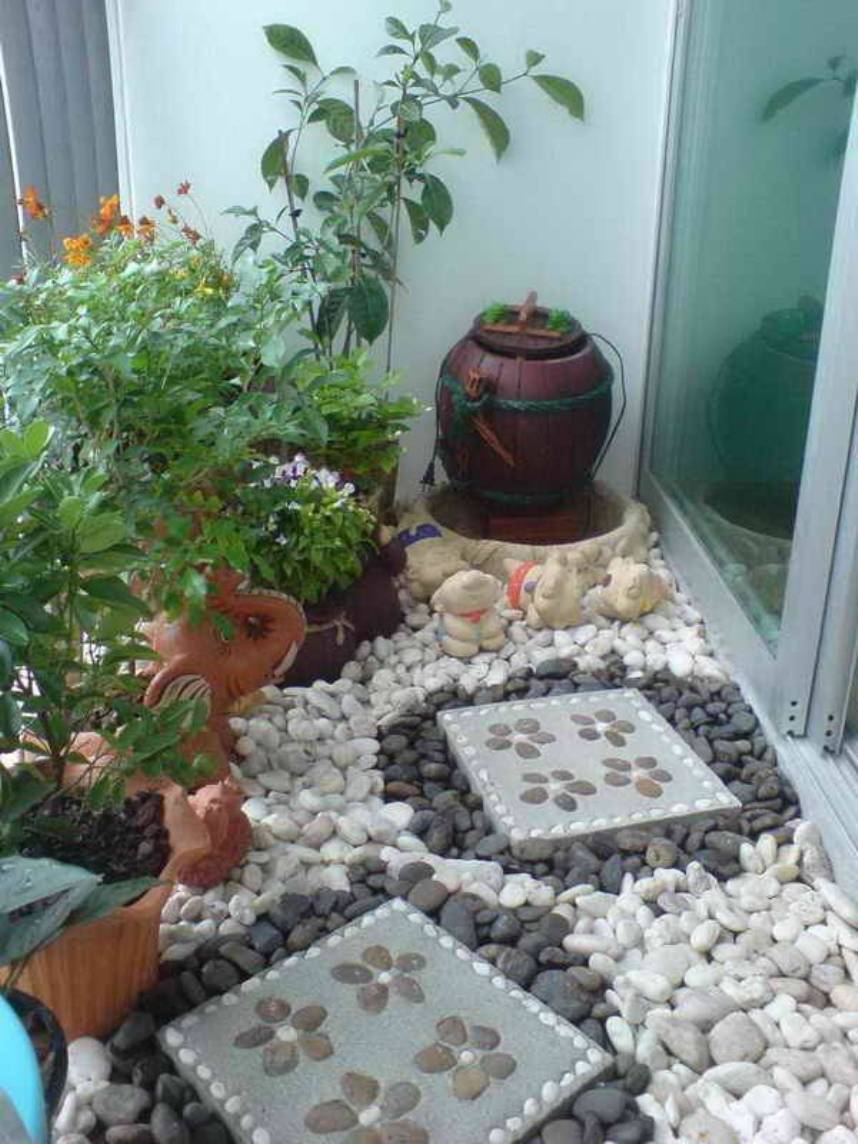 For an authentic garden feel, try using garden rocks on your balcony floor. Stepping stones are framed here by using darker rocks. The stepping stones guide your feet while adding color and fun. You can even purchase stepping stone kits to create and design your own. Potted plants are right at home on this balcony as well. The fountain in the corner includes the use of water which is both soothing and visually appealing. When decorating your balcony, search for fun pieces such as the elephant flower pot. These details help create a garden that is uniquely yours.
39. Energizing Balcony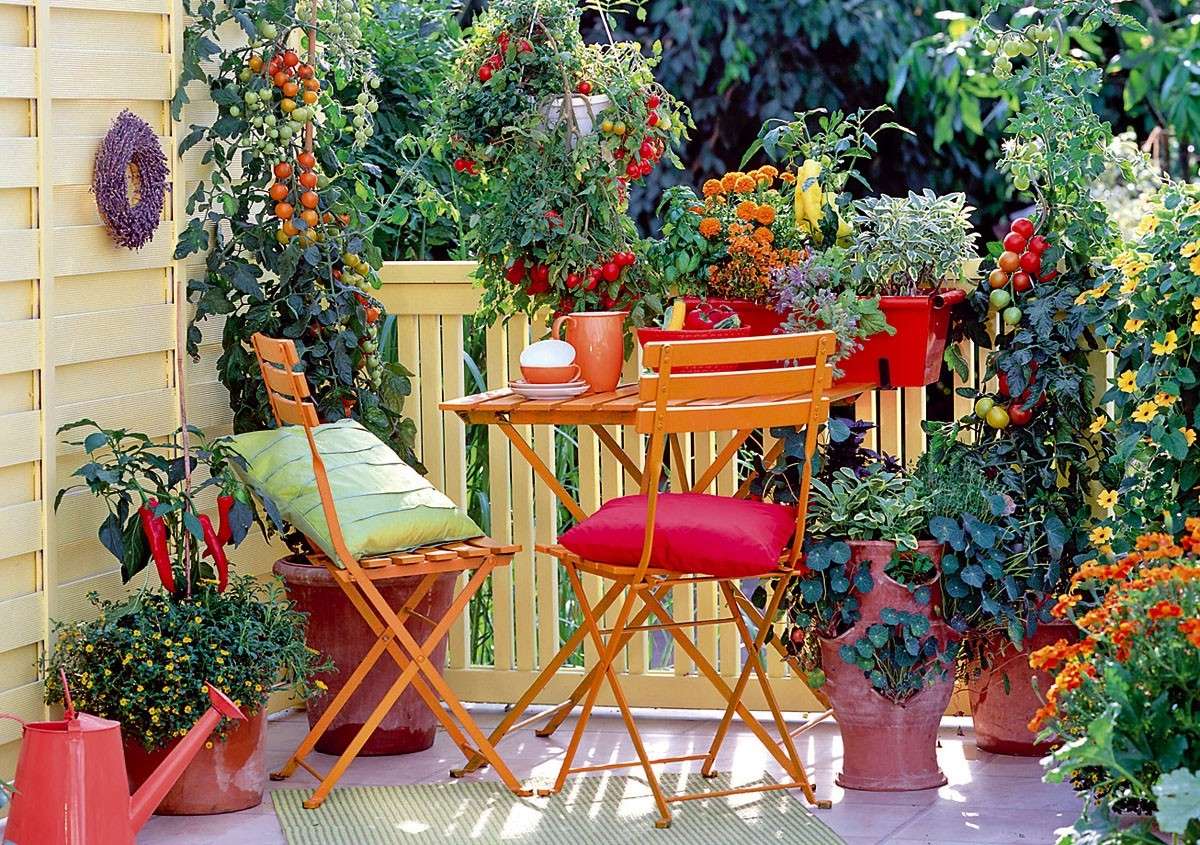 For an energizing balcony, consider using bright colors. Red, orange, and yellow create a cheerful balcony garden. Tomatoes are staked and grown in large pots. Peppers and basil have also found a home in this vibrant garden. Companion planting marigolds with the tomatoes provides excellent color as well as pest protection. Even the patio table and chairs are bright and fun on the tiled balcony. However, what makes this design flow so well is the yellow painted railing and wall. By starting with a bright canvas everything else seems to fall in place complimenting the fun color.
40. Bakers Rack Garden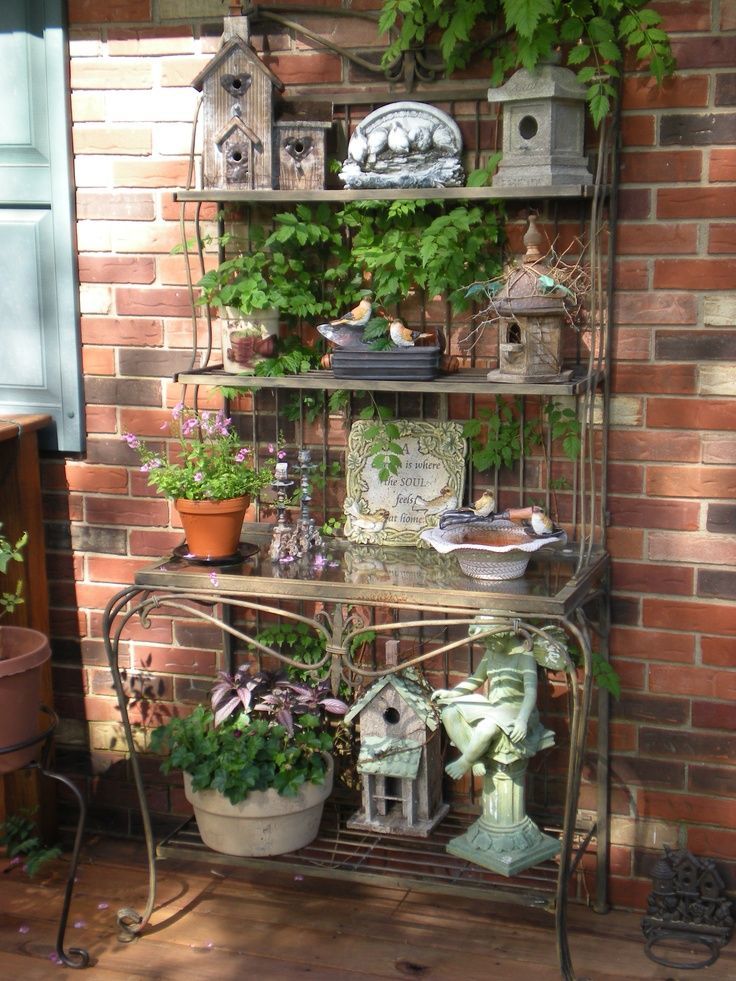 Repurpose a bakers rack by giving it a new home on your balcony. By adding a few plants, you can have an instant garden. Herbs and flowers alike are welcome here and greenery helps soften the edges creating a seamless design. The brick wall provides a nice back drop and a touch of French country. Adding home decor pieces keep the bakers rack from looking out of place. This is a great area to display your bird collection or your birdhouses. You never know, in an area this cozy and quaint, you may attract new residents!
41. Wall Garden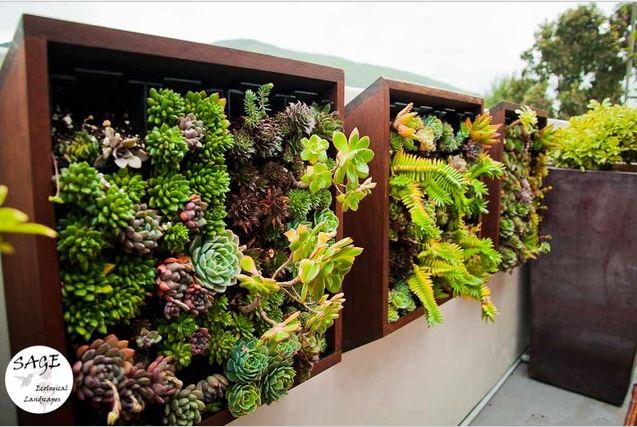 Hanging wall gardens are increasing in popularity. Most are created using succulents. They are a process to get started, but once established, they are virtually maintenance free. To construct a hanging garden, you need to build or purchase a box with a backing. Fill your box with dirt and wire or plastic mesh. This holds the dirt in. Next, plant your small succulents or other plants in between the mesh. Water and leave laying horizontally for several weeks to allow the roots time to establish. If this seems too intensive or you are short on time, consider a prefabricated kit.
More balcony garden décor ideas on the next page…