15. Wintery Whites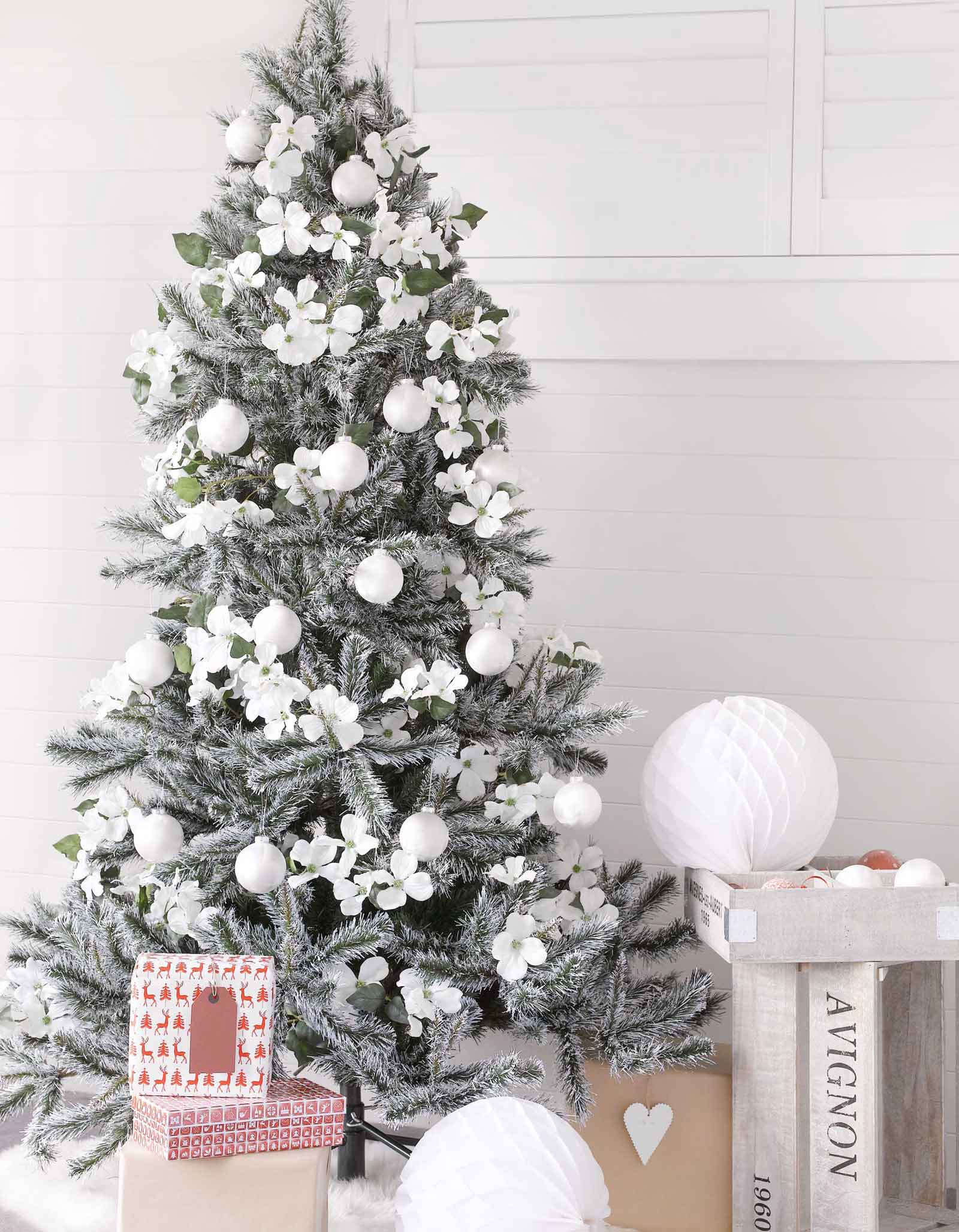 The style of the tree is as important as the Christmas decor that gets placed on it. It's difficult to make neutral ornaments stand out against a flat white tree, so the perfect solution is a green tree frosted with fake snow. "Flock" the tree outside to keep the mess to a minimum, and work in layers if you're assembling an artificial tree like the one in the picture. Decorate with solid white baubles and flowers to contrast the green branches and accent leaves. The furry tree skirt adds a touch of warmth and coziness to the cold winter style.
16. Kid-Friendly Alphabet Fun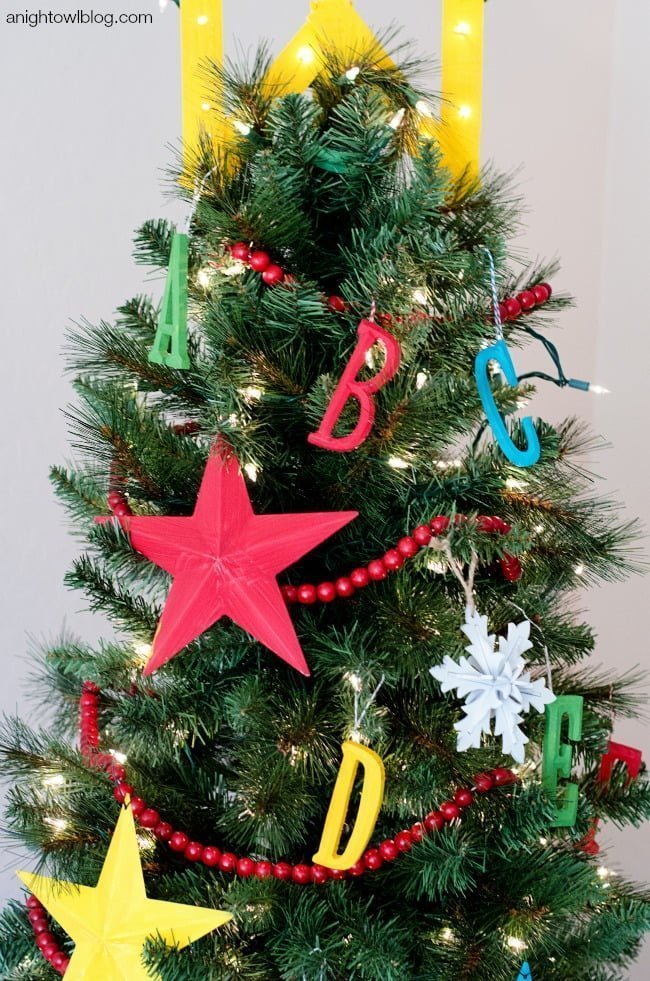 Parents and elementary school teachers often avoid breakable ornaments that the kids may be tempted to pull off of their Christmas tree. The kids can actually get involved painting letters and stars to match with this fun DIY style decor. Bright blue, yellow, and red craft paint added to plain wooden ornaments is an easy project that the family or a classroom of young students can enjoy together. The red beaded strand in the tree has a sleek look, and it is a cleaner alternative to tinsel or a flowing garland. A bundled burlap tree skirt secured with a red and white ribbon is a cute alternative to simply placing it on the floor.
17. Whimsical Color Explosion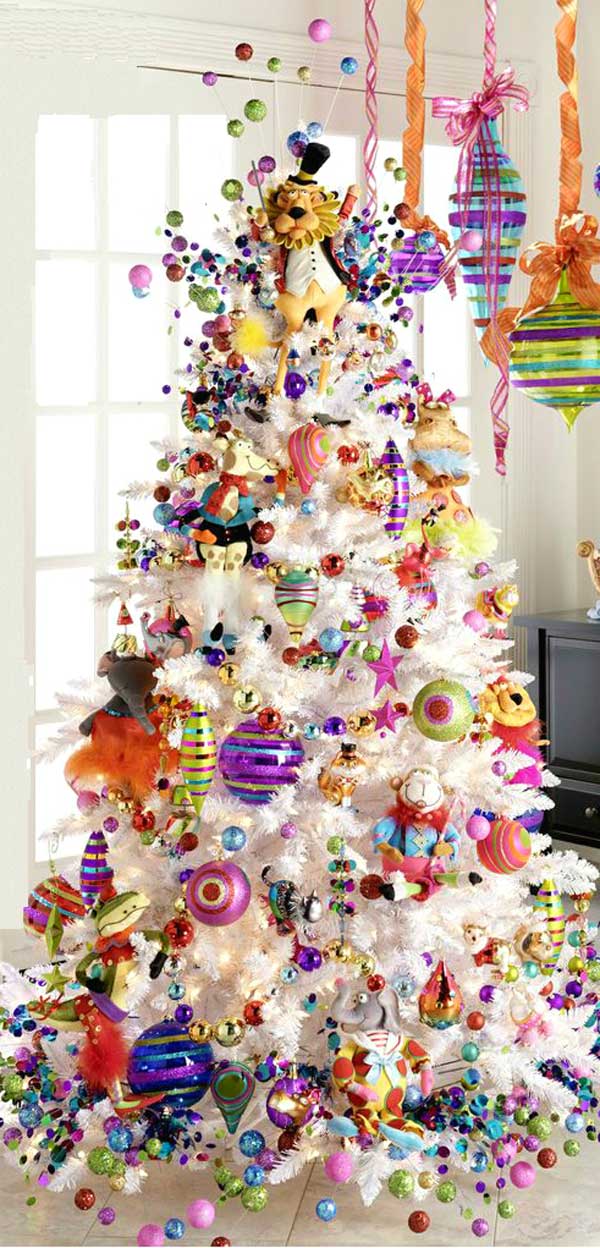 Picking a color theme can be tough when decorating a Christmas tree, so why not include them all? A plain white tree is the perfect base to begin an exciting display of different colors and shapes from top to bottom. Hidden in the tree are a variety of circus animals that pair perfectly with the lion topper set in front of a fireworks explosion of colorful balls. This is an easy DIY if you already have a few stuffed animals laying around the house. No skirt is necessary with dangling baubles that almost reach down to the floor.
18. Budget-Friendly Sophistication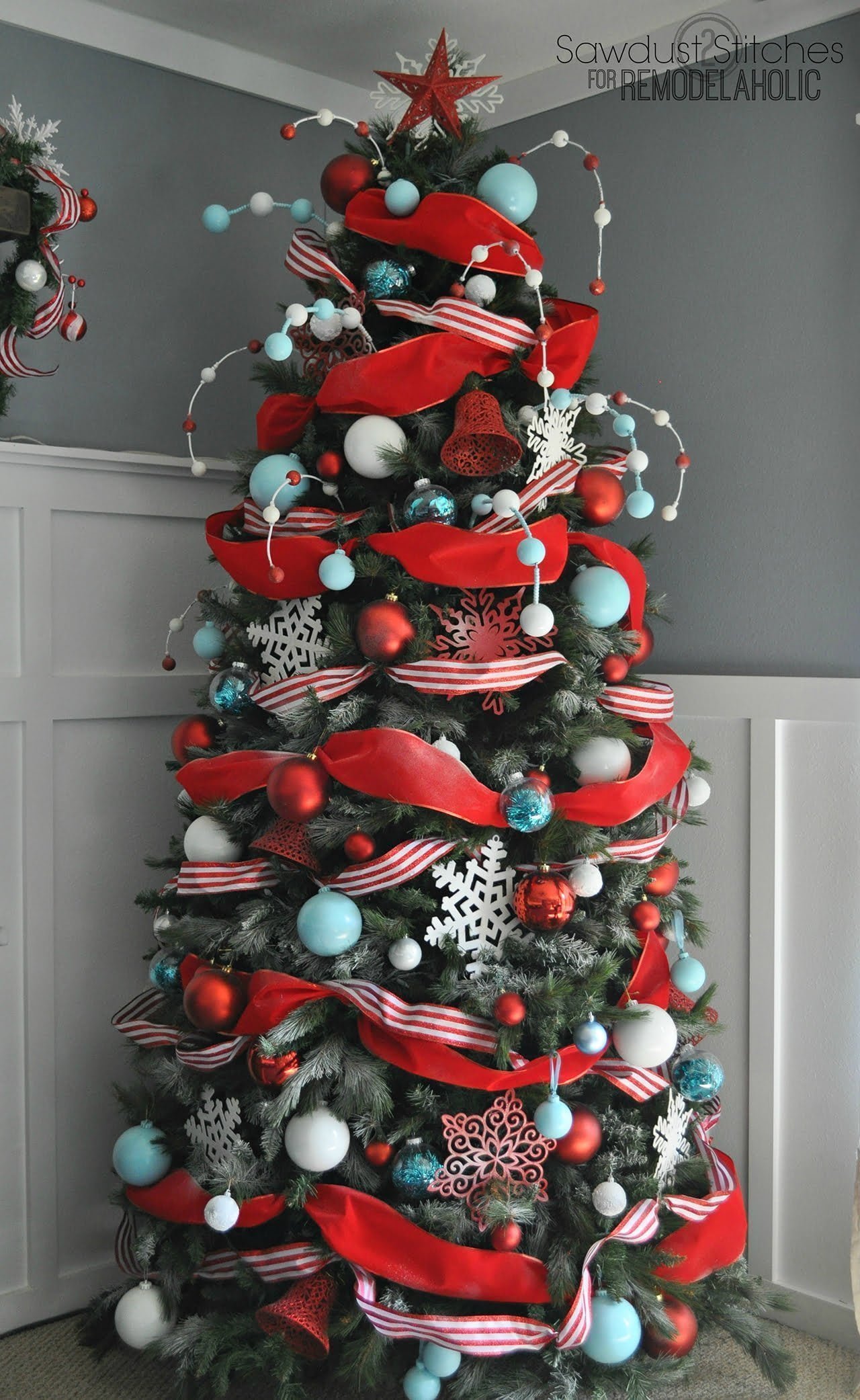 Unique decor ideas often implement solutions that are friendly for any budget because gift shopping can get expensive. Dollar store shoppers are delighted to find garland, decorative ribbon, and gorgeous ornaments at a price that anyone can afford. The ribbon used as garland on this tree is gathered every few inches to secure it effortlessly to the branches. Extra large decorations like the glitter bells and snowflakes are added first to begin a nice decor base. Bright blue balls that add a touch of color are actually an inexpensive combination of empty clear balls filled with pieces of garland that can be changed every year.
19. Industrial Ornaments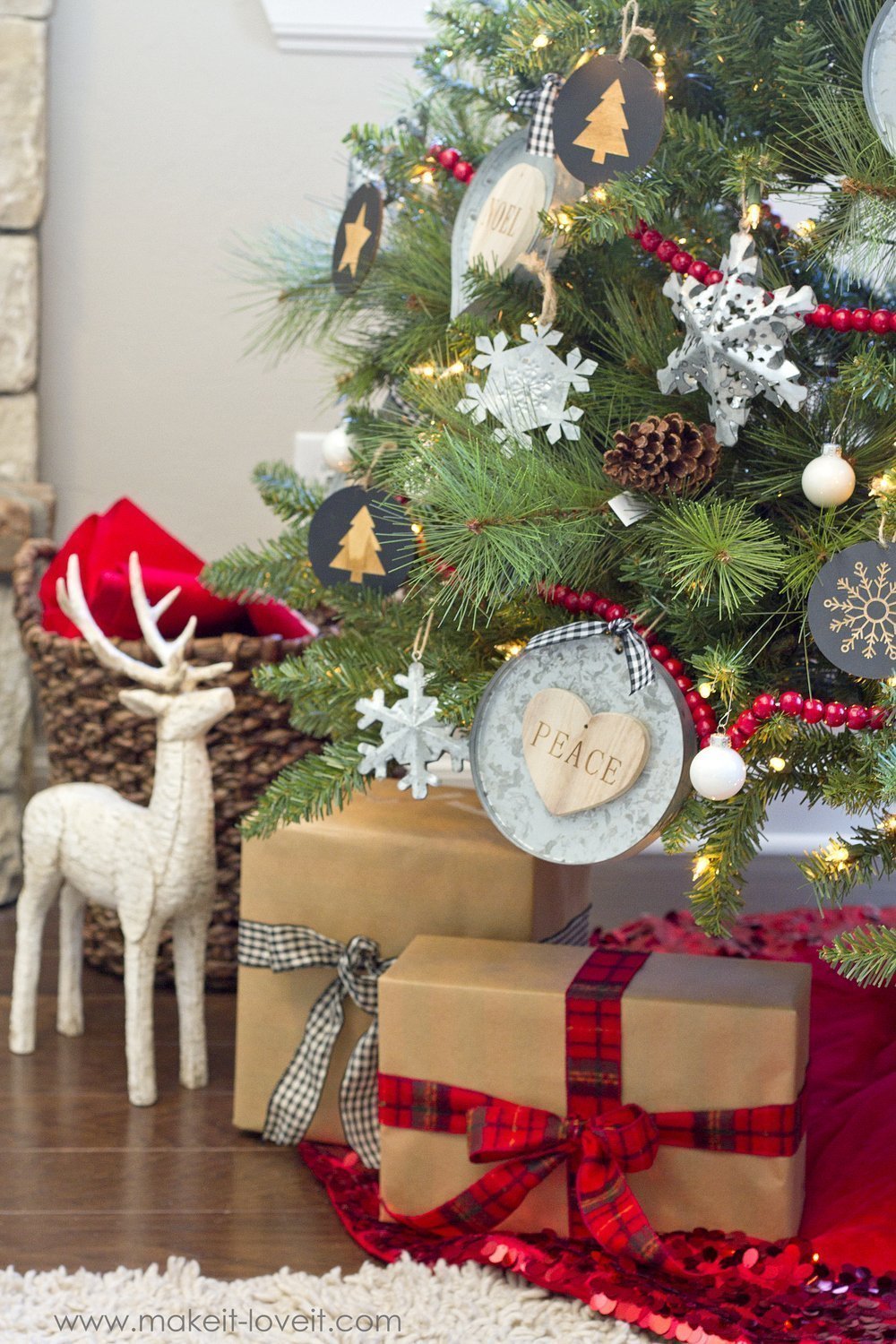 Metal is not be the first thing that comes to mind when thinking about traditional Christmas tree decorating. Rustic is a trending style that has carried throughout the last few years so it's fun to find new ways incorporate rugged materials. The over-sized metal ornaments are a bit too basic alone, so gluing wooden shapes into the center adds another dimension to the design. 3-dimensional stars and snowflakes cut from metal stand out against the red beaded garland that provides a touch of Christmas color. The perfect topper to this unique creation is in the style of a vintage marquee sign.
20. Refreshing Turquoise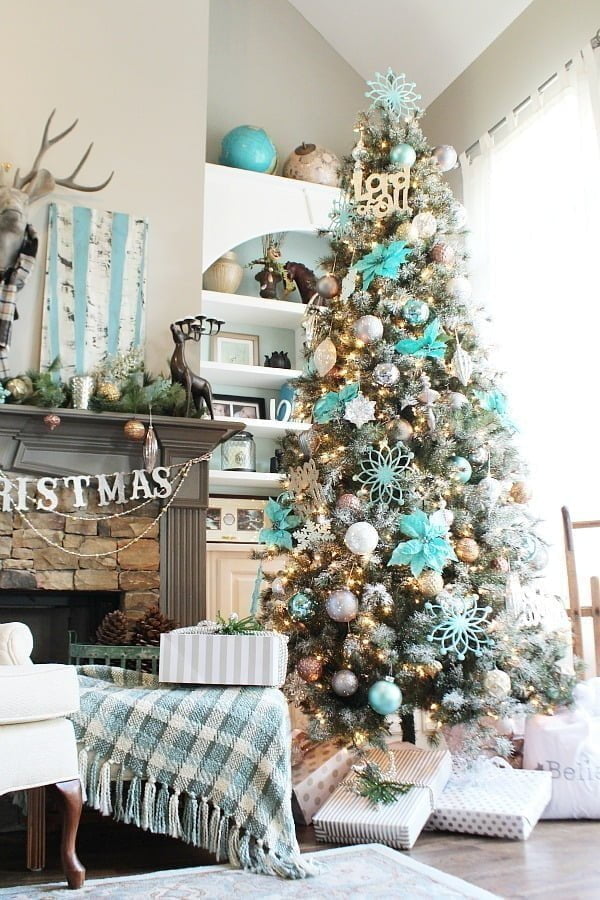 Pairing classic neutrals, like silver and white, with a splash of turquoise sets the perfect tone for a festive holiday tree. Crisp baby blue tones featured in the silk poinsettias are a lovely complement to the hanging balls and snowflakes. Beautiful plastic snowflakes are placed throughout the tree, and one is used as a simple topper. The tree is lightly frosted with fake snow to add to the chilly feel of the turquoise color scheme. Fullness of this decor is an easy way to eliminate the need for the garland that is often used to mask empty spaces.
21. Gingerbread Dream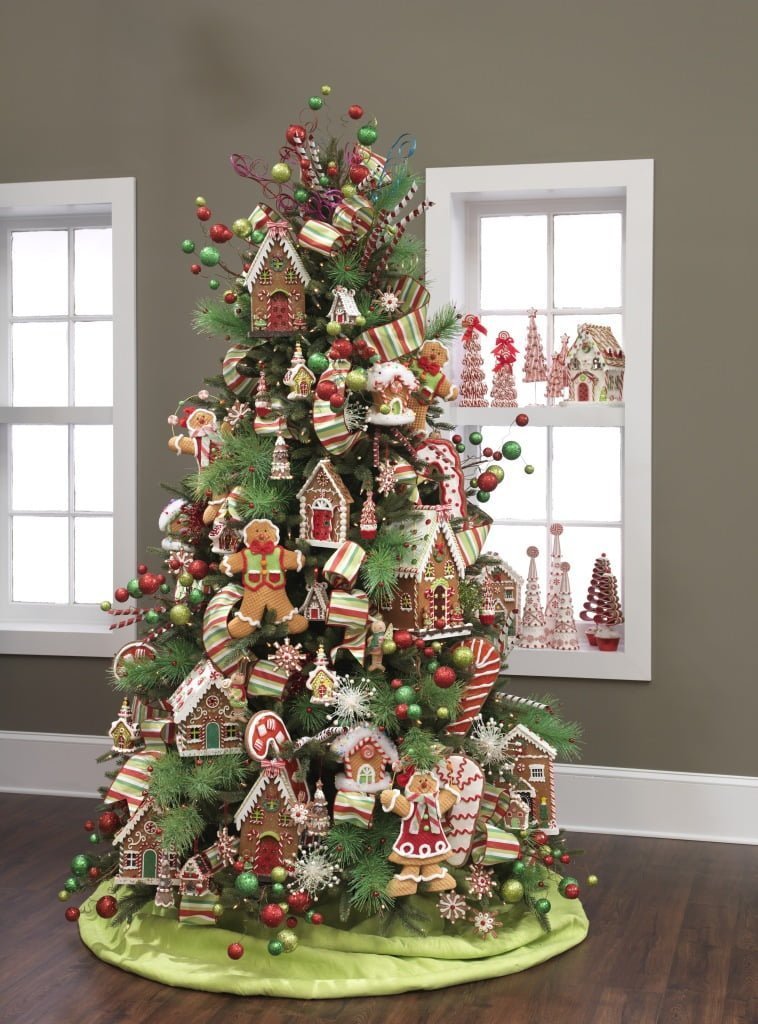 A combination of Candy Land meets the Gingerbread Village for a delightful Christmas tree decoration. The grass green velvet skirt is a cute base for building a playful scene of gingerbread homes, ornate snowflakes, and a striped ribbon that resembles holiday hard candy. Happy gingerbread people stand next to giant candy cane-shaped cookies that look good enough to eat. Green and red ball sprays add a touch of the traditional Christmas coloring to make the tree appear fuller. The top is adorned with fireworks of colorful balls and whimsical ribbon curls that suit the theme perfectly.
22. Traditional Red and White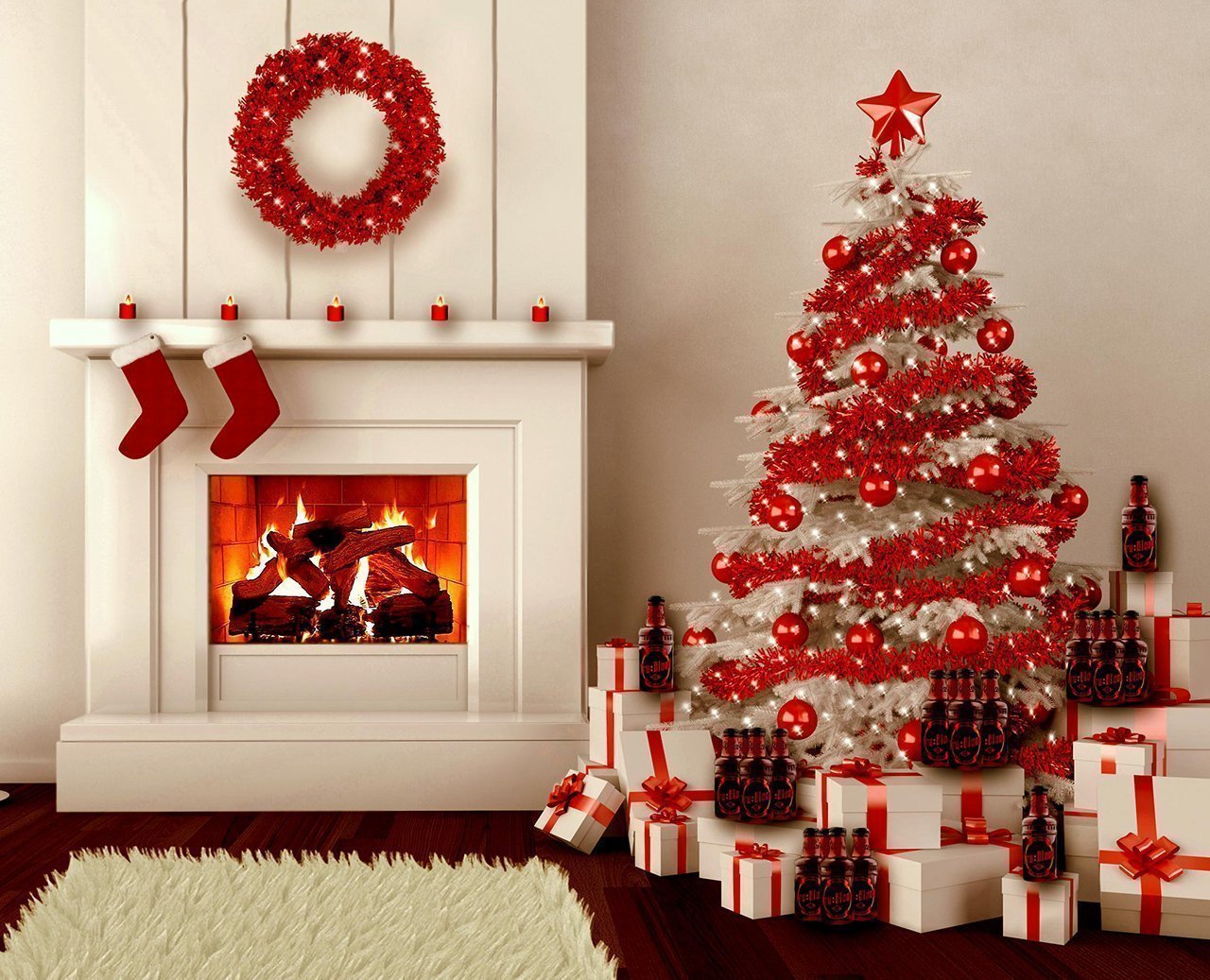 The perfect scene of crisp, clean colors is set with high-contrast red Christmas decor on a snow white tree. When placed against a neutral background shade, the pop of candy apple red balls and a matching garland invokes a sense of warmth. In a room with a fireplace, it's possible to use a more mellow white light within the tree to illuminate the ornaments. Topping with a solid plastic star allows the entire decoration stand out equally instead of drawing a focal point. Creating such a captivating, basic design makes it easy to match other festive elements throughout the home.
23. Royal Purples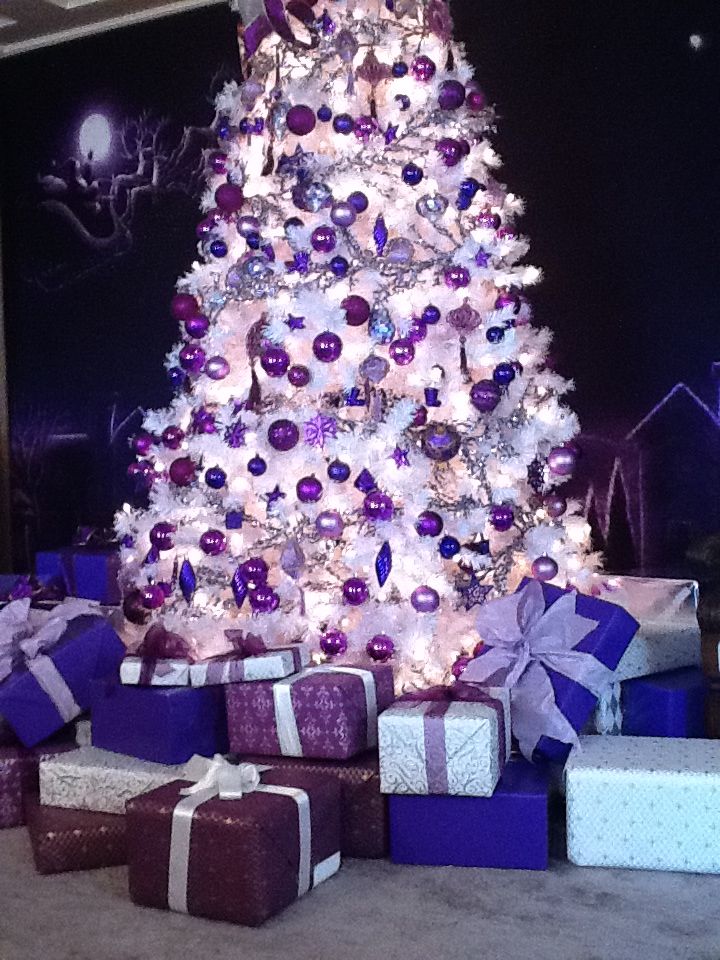 Although purple isn't recognized as a common color used in Christmas tree decorating, it is a refreshing change. Solid white trees are timelessly fashionable and easy to pair with any shade that catches your eye. A variety of purple, blue, and silver balls and finial ornaments take on a regal appearance when back-lit by the bright bulbs. This style incorporates stars and snowflakes to fill empty space with shape variations. By avoiding the use of a specific purple shade, it's possible to match gift wrapping and additional home decor to the different colors featured on the tree.
More Christmas tree design ideas on the next page…