24. Retro Bedside Tabletop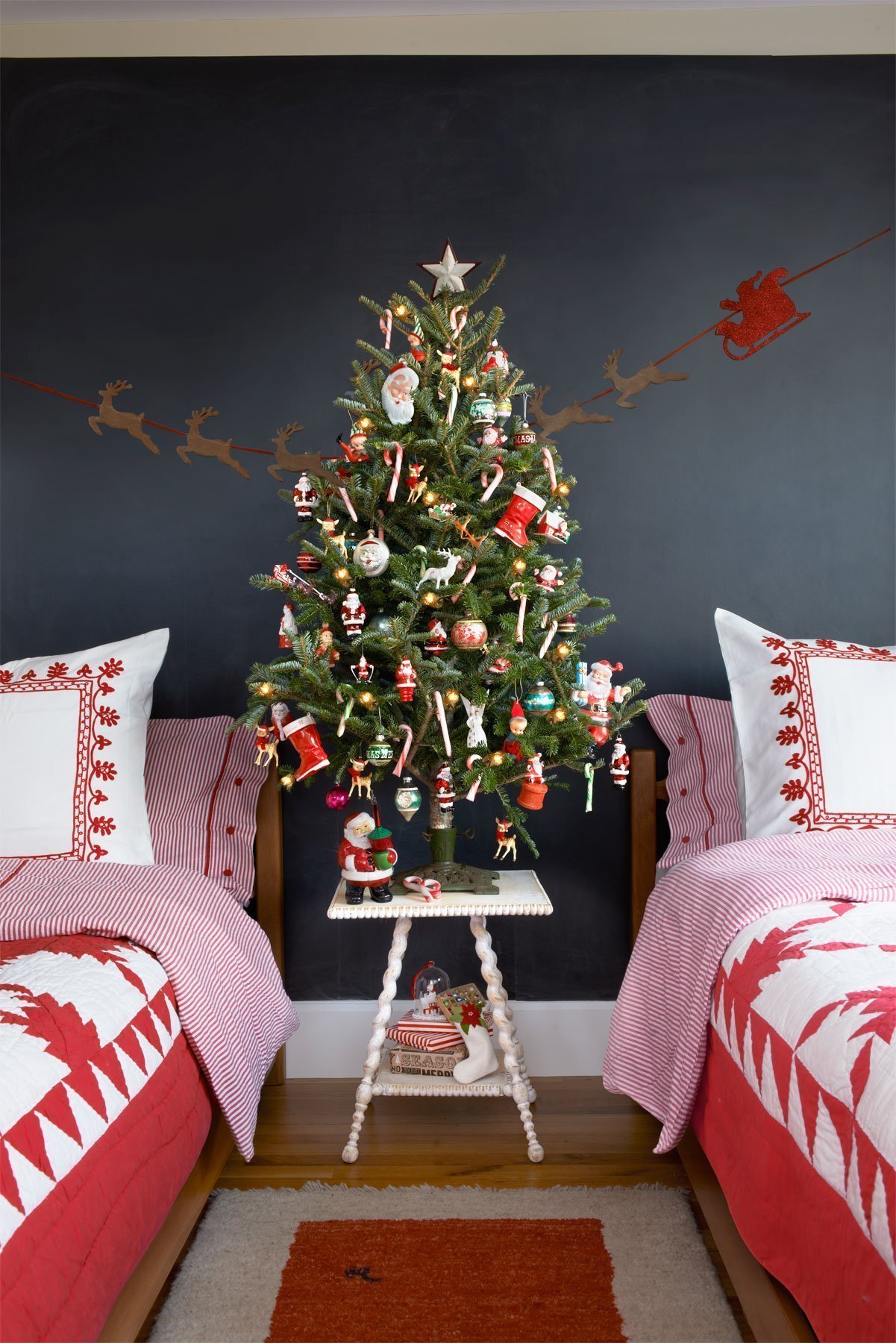 Bedroom Christmas decor like a tree on the bedside table is a festive way to wake up every morning. A small tree decorated with a variety of vintage Santa ornaments, reindeer, and classic candy canes provides a nostalgic feel to a modern room. A few yellow lights give the tree a gentle glow without being too bright when it's time to go to sleep. It is advised to avoid using a real tree close to bedding or in an area that has carpeting because the sticky needles tend to shed. This charming little tree is on a plain white table, but additional decorations like the a standing Santa and small wrapped gifts tie the design together.
25. Modern Opulence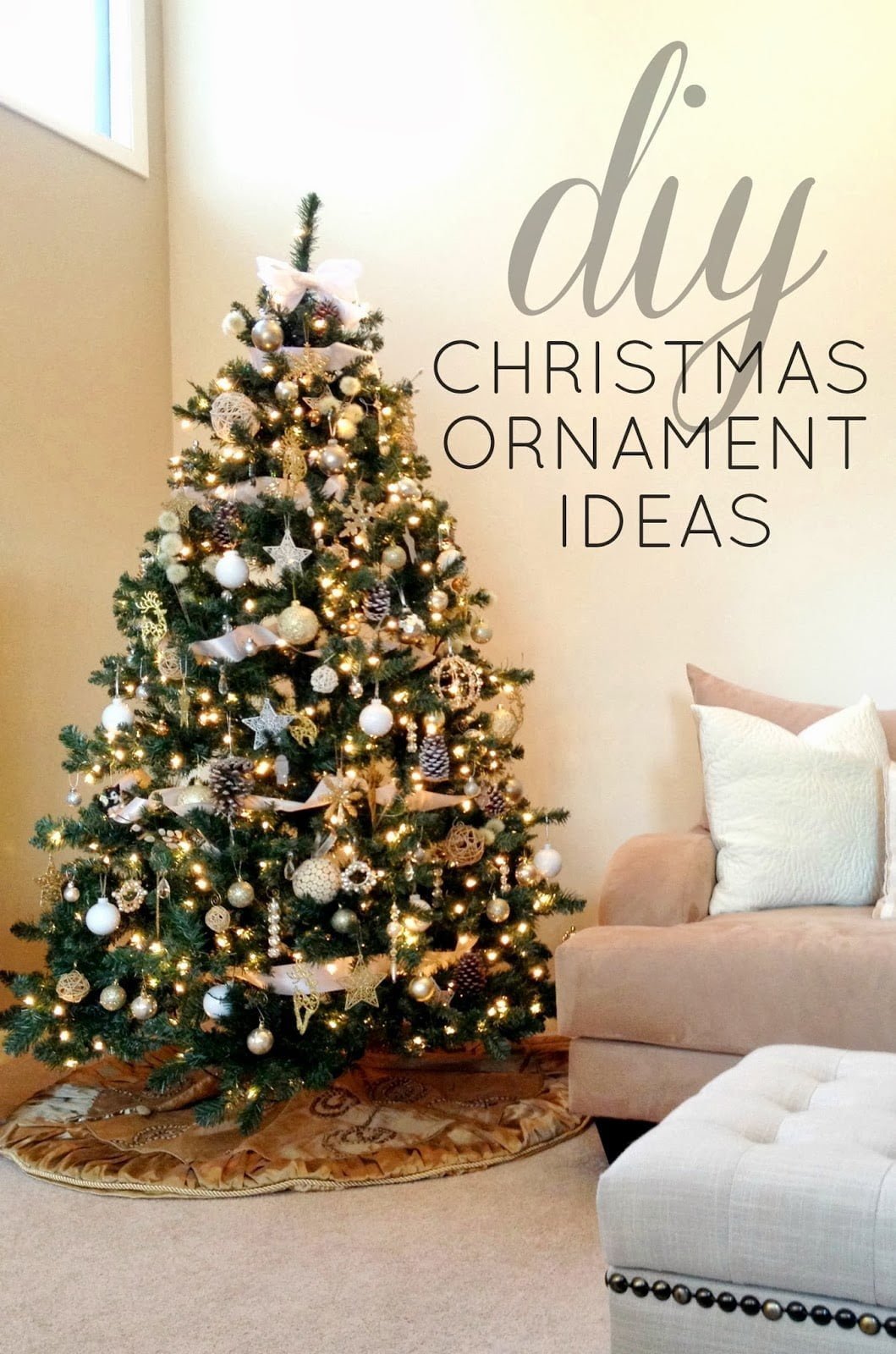 Twig balls, gold glitter snowflakes, and silver baubles seem to be staple elements in Christmas tree decoration. There's nothing wrong with sticking to traditions, but there's nothing wrong with adding a few personal touches. Larger trees tend to look boring if the designer sticks with a single color or ornament shape, so it's smart to experiment with different shades and textures. Fluffy pom-poms, frosted pine cones, and large bead strands offer an unusual look to break up the monotony. A pristine white ribbon wraps around the entire tree to finish the top with an elegant bow.
26. Miniature Potted Possibilities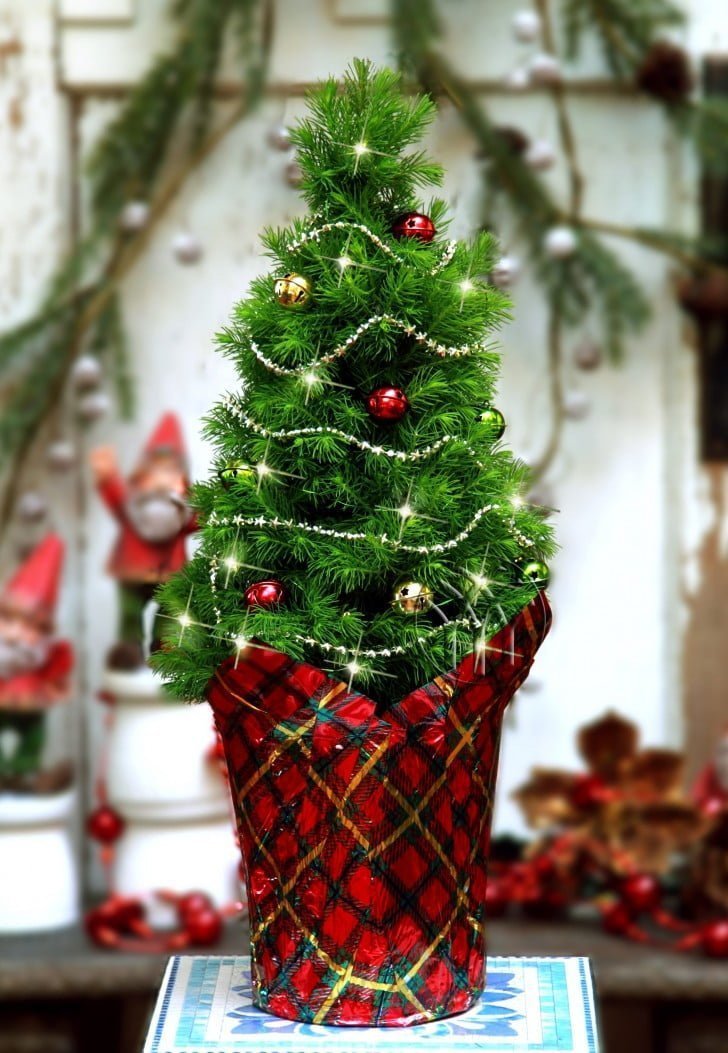 Limited space in an apartment or office shouldn't prevent the spread of holiday cheer through festive Christmas decor. Miniature potted trees are easy to care for, and the design possibilities are only restricted by the imagination. Traditional plaid wrapping around the base will hide the pot and feature the lush greenery of the actual tree. Tiny bead garland featuring silver stars paired with red and gold jingle bells is a very classic look. No topper is featured on this simple tree, but keep in mind that weight must be a factor in choosing miniature decor.
27. Santa Clauses Galore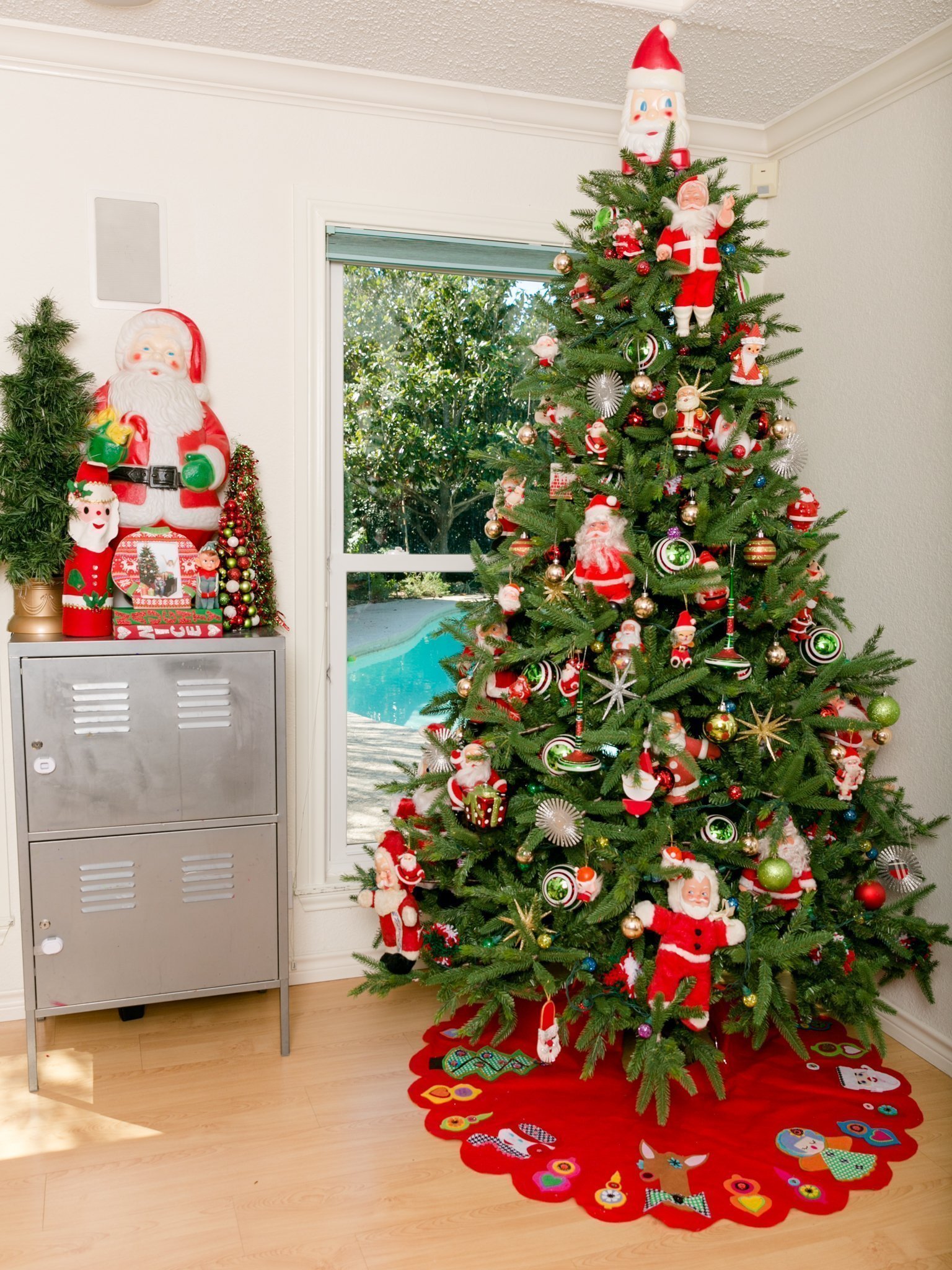 Perhaps the only thing better than decorating a Christmas tree with Santa Clause is using a variety of different figures. More than a dozen stuffed, plastic, and glass Santa decorations adorn this fun playroom tree from top to bottom. There are a few colorful glass balls and other unusual shapes added as filler throughout the tree. A large plastic head that is reminiscent of outdoor Christmas decor is the perfect look for the top. The DIY red skirt at the base features simple felt shapes of angels, ornaments, reindeer, and a few other common Christmas shapes.
28. Playful Christmas Bears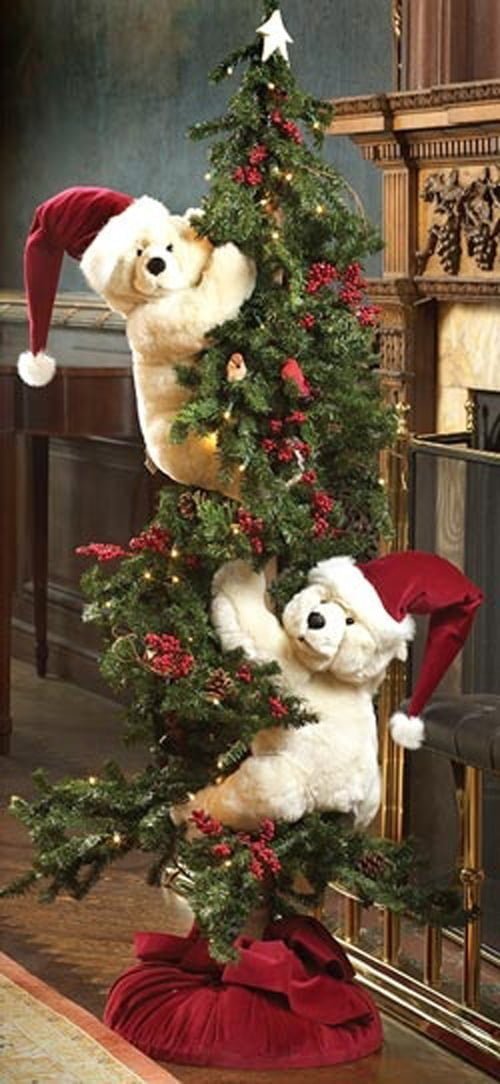 Inexpensive teddy bears are easy to find at thrift shops, flea markets, and just about any store that sells holiday gifts. Christmas polar bears are a fun addition that can significantly cut down on the time it takes to decorate a tree. Artificial trees require fluffing out of the box, so it's easy to bend the branches to accommodate soft holiday animals. The bears are placed on opposite sides to balance weight and appear as though they're playing together. Faux holly berries add a pop of color to complete a DIY Christmas design that is perfect for indoors or outside.
29. Golden Wishes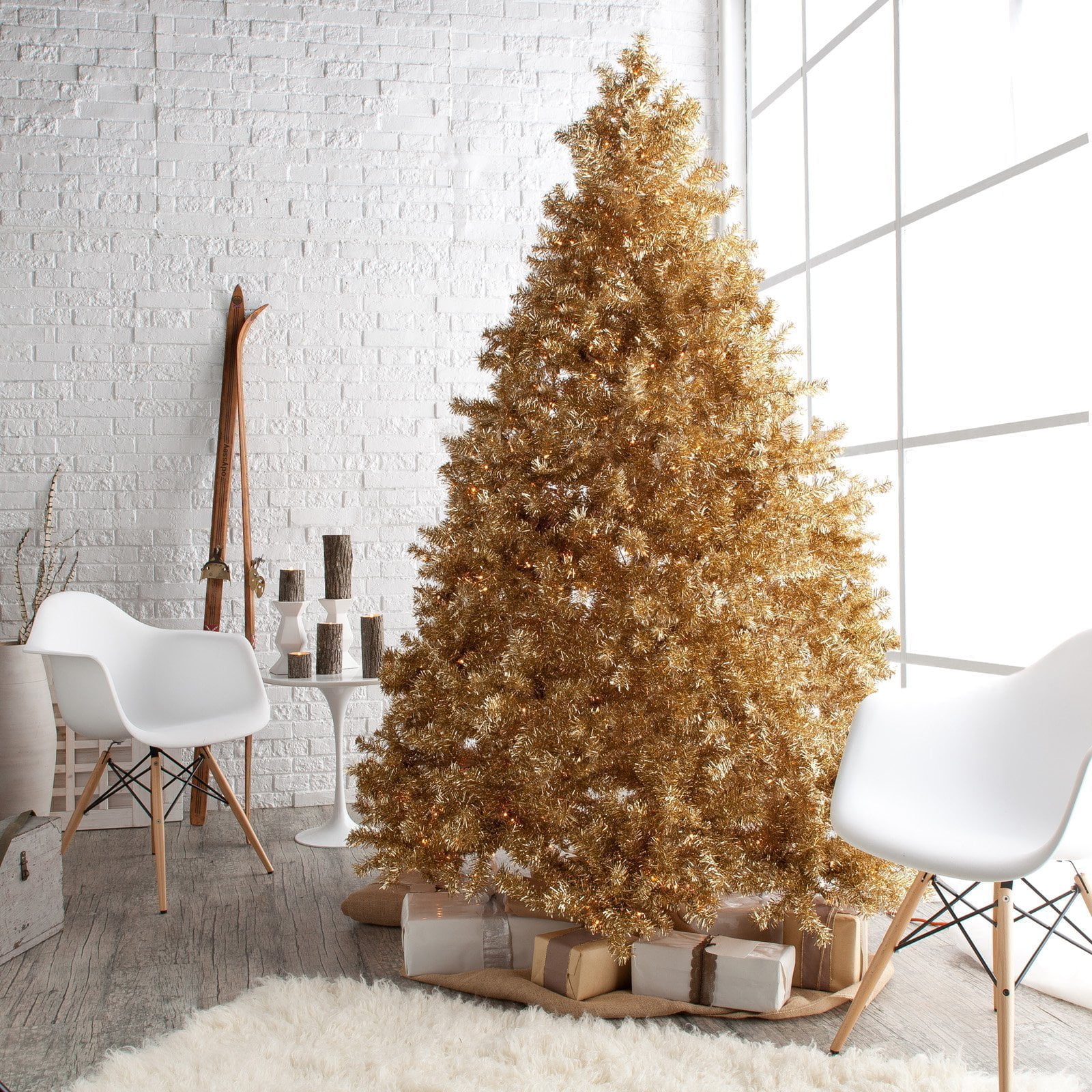 Hanging dozens of festive ornaments in the right spot can be a tedious process that takes hours to accomplish. Minimal Christmas tree decorating is needed with the extravagant look of solid champagne gold branches. A simple burlap skirt at the bottom is the perfect neutral tone that doesn't distract from the beauty of the regal coloring. Gentle lights are hidden within the tree creates a subtle, warm glow to accentuate the classic pine shape without being too flashy. The minimalist look is completed by the plain white and tan look of the gift wrapping and surrounding decor.
30. Velvet Poinsettias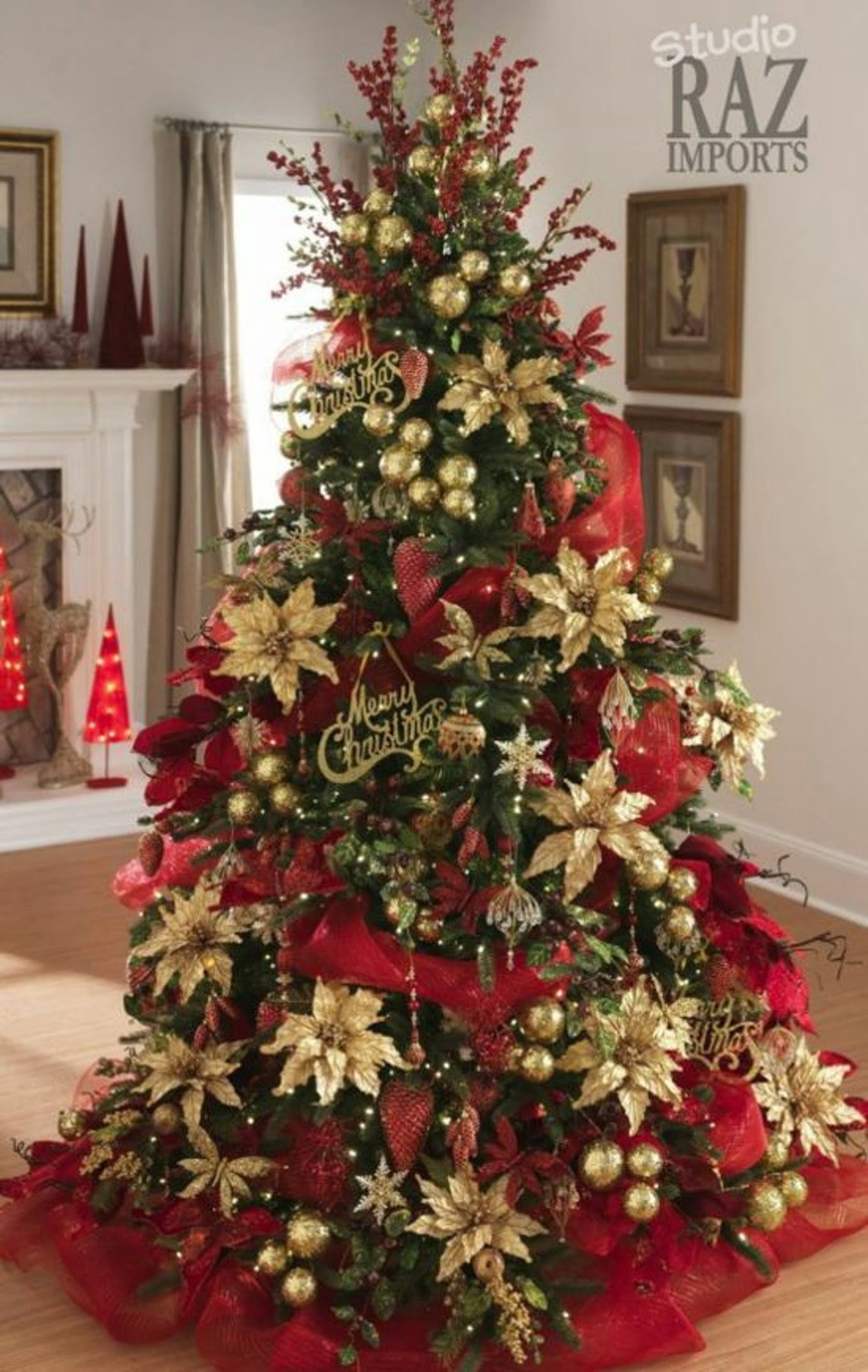 Decorating a Christmas tree is similar to creating an arrangement of flowers because it requires planning and an eye for detail. Incorporating golden velvet poinsettias correctly looks like the flowers are actually growing out of the tree. Gold ball clusters and red berries flowing at the top add a few inches of height to the design. A red mesh wraps around the tree to enhance the fullness of the body, and it flows down to the base in place of a traditional skirt. One unique addition hidden within the tree are the hanging red pine cones that are an easy DIY colored with craft paint.
31. Bows and Pearls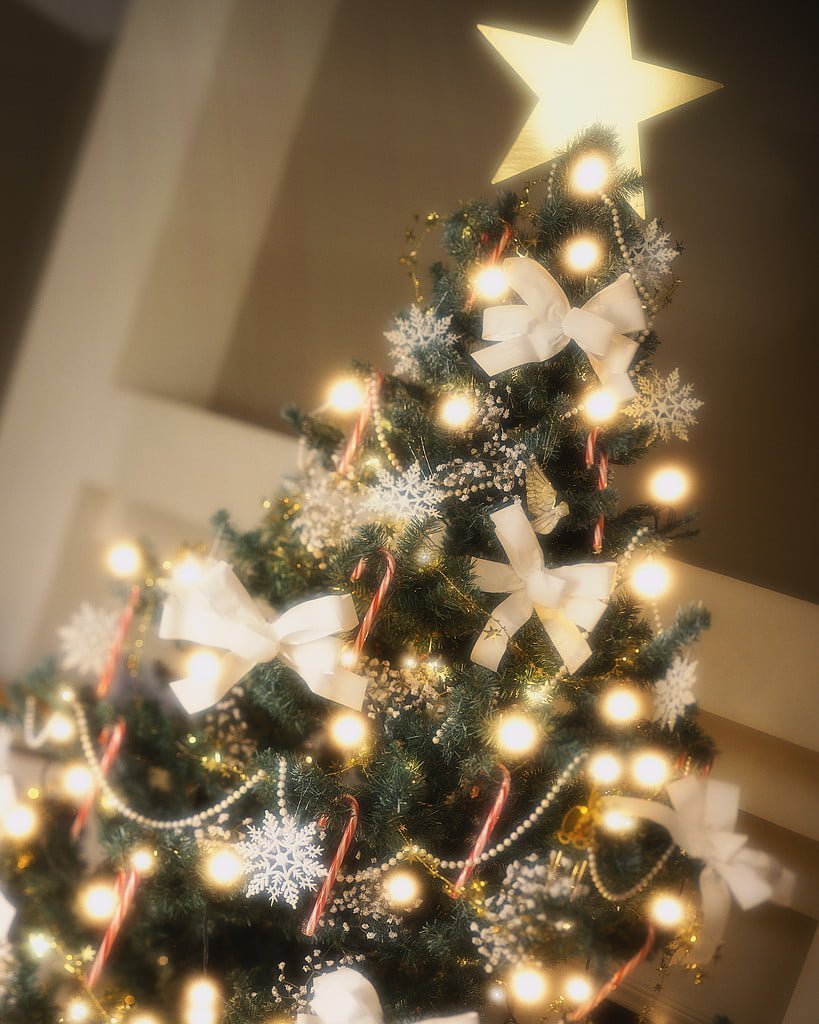 Glowing lights are a primary feature of Christmas tree decoration because a beautiful tree should be illuminated. Bows, on the other hand, are a far less common feature in modern Christmas decor. Crafting beautiful white bows from silk ribbon gives a touch of elegance to the design featuring solid white snowflakes and a classy string of pearls. Real candy canes are the perfect variation of color, and kids also enjoy the chance to sneak an occasional treat off of the tree. The solid gold star on the top of the tree is a nice way to incorporate tradition into such a classic design.
32. Sparkling Lights With Simple Mesh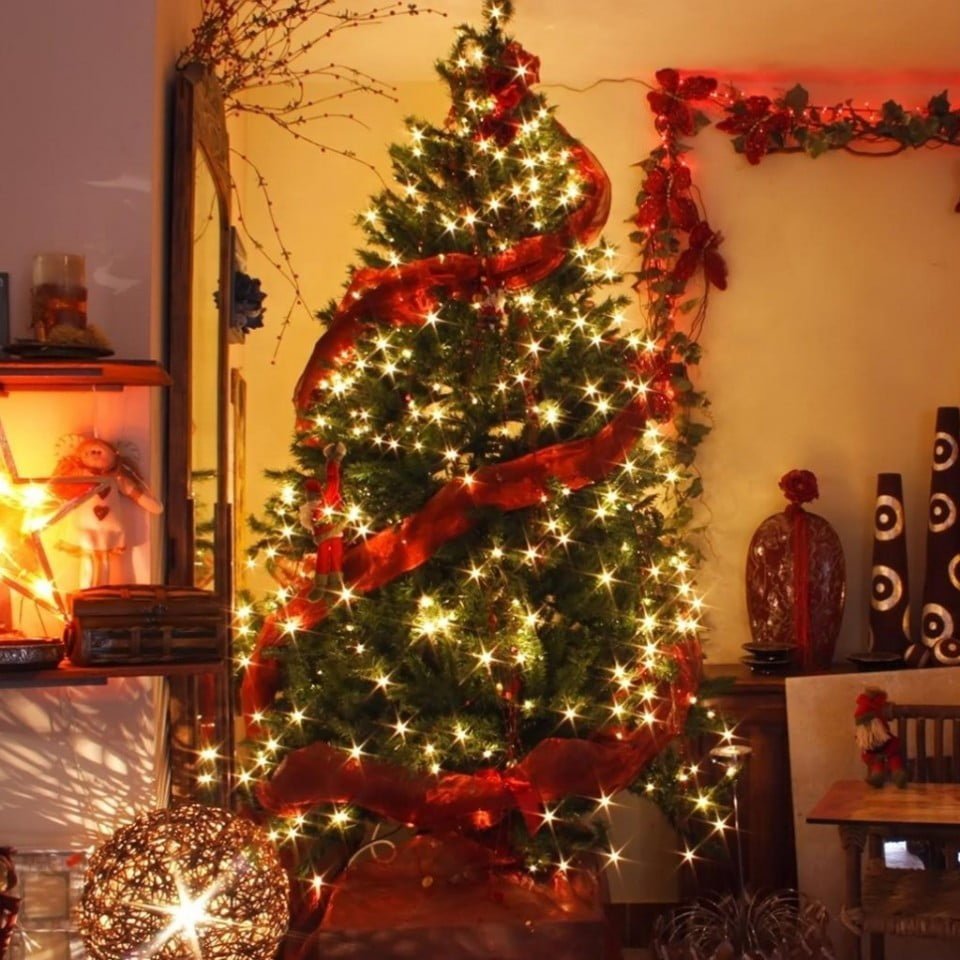 Setting the perfect indoor scene often entails more than just decorating a Christmas tree and calling it a day. Not much is needed on any tree that has adequate fullness because ornaments are often placed to fill empty spaces. Plentiful bright lights bouncing off of a shiny mesh garland cast a soft glow onto the walls and surrounding holiday decor in the room. The hidden Santa Clause figure hanging from a branch is an adorable accent piece. Recreate this look by adding an ornament hook or discreet string to the hand of the doll so that it can be attached anywhere on the tree.
More Christmas tree decorations on the next page…