33. Bright Colors on Snowy White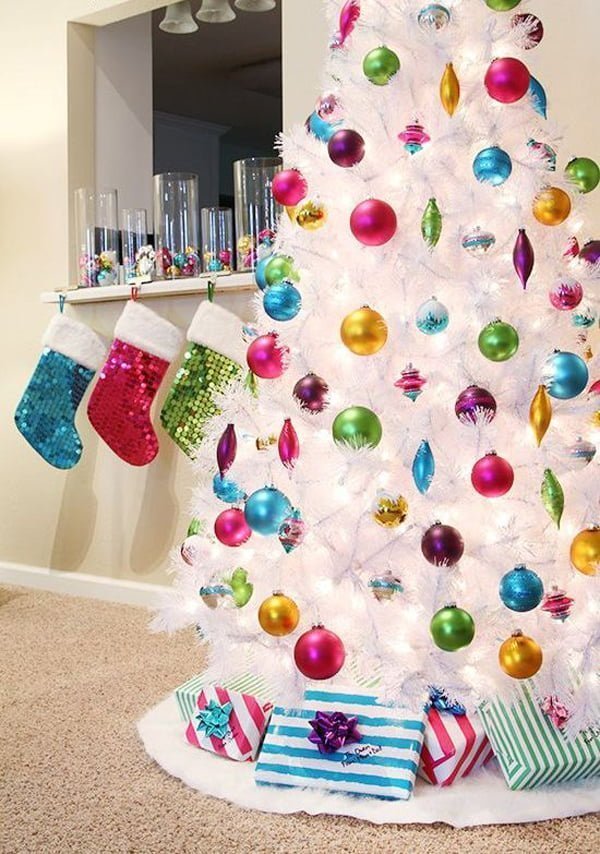 An artificial white tree is like starting out with a blank slate as far as choosing the theme of decorations. There's no pressure to find complementary colors or stick with a specific shade, especially if you love a variety of playful colors. Bright blue, green, pink, and gold are featured throughout this tree in round baubles and teardrop ornaments. A fluffy white skirt provides a neutral setting to make the candy striped gift wrapping stand out below the tree. Placing extra ornaments into clear vases is a smart way to continue the theme throughout a room.
34. Shining Luxury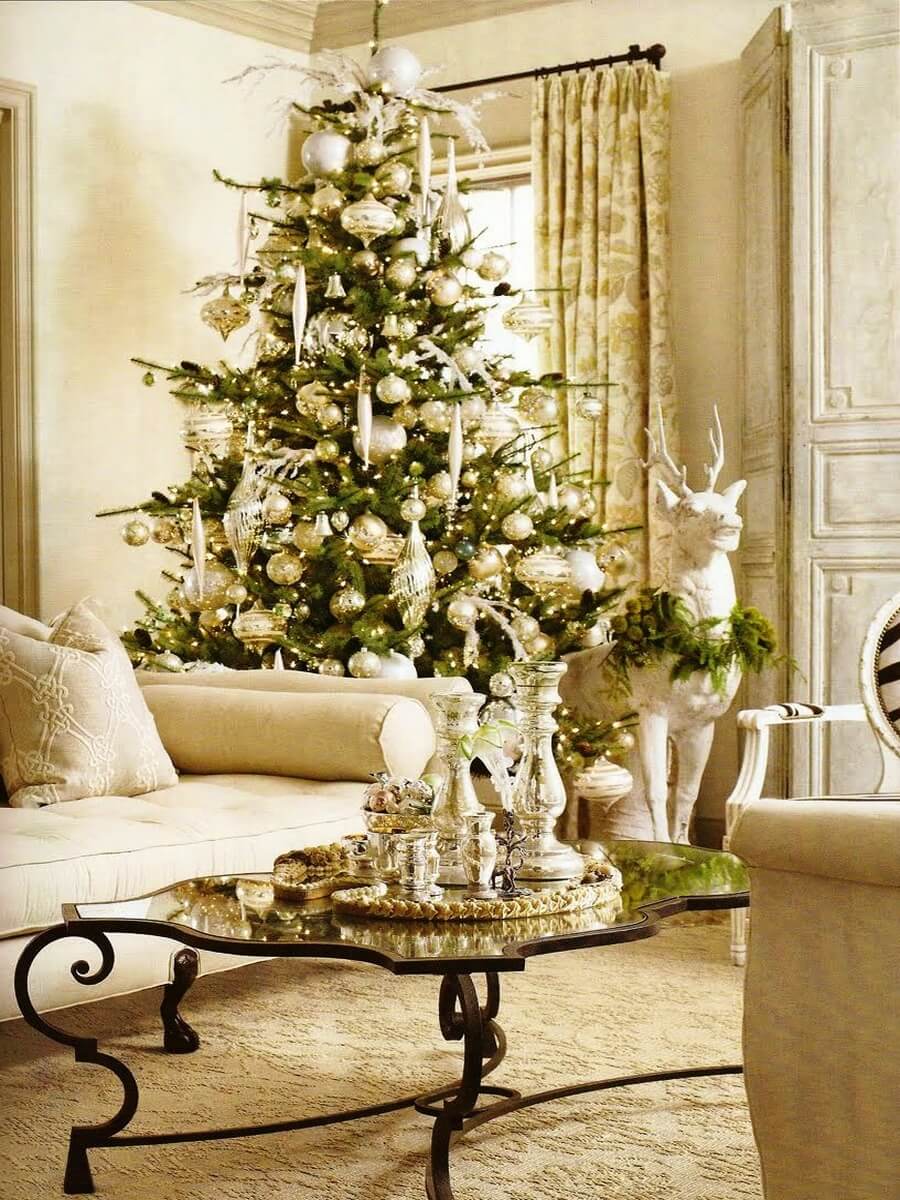 Every guests that enters a home during the holiday season is going to be drawn to the beautiful Christmas tree. One thing to always keep in mind is the general style of the existing decor because a complementary shades decor ideas will seem more inviting. Neutrals create warmth so sparking gold, silver, white, and beige ornaments never fail to impress. Rather than adding garland or ribbon, distributing the decorations around the entire tree will establish fullness. The crystal spray flowing from the top of the tree is a stunning substitute for a star or angel topper.
35. Silver, Gold, and Red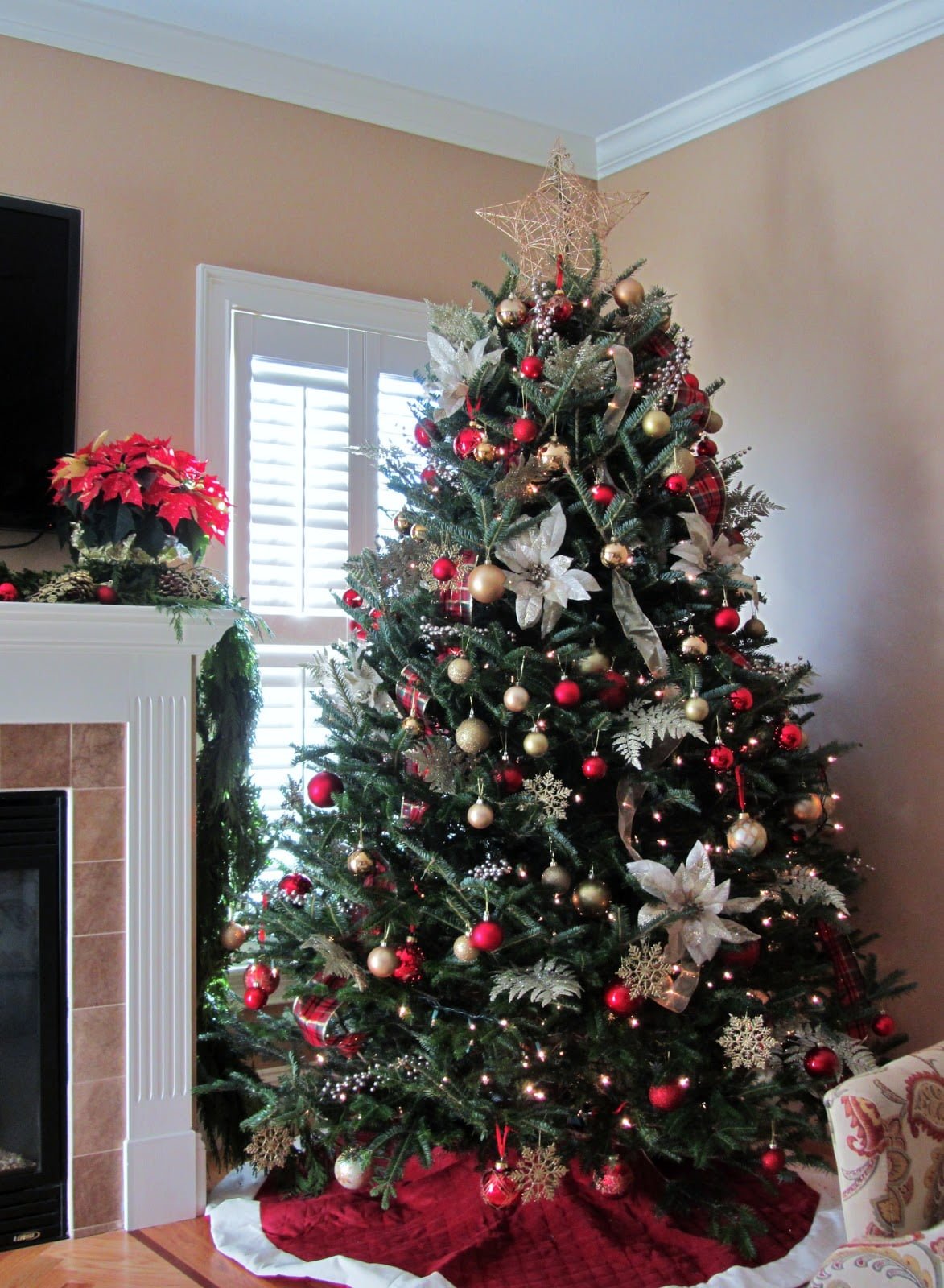 Incorporating classic holiday colors with a modern design can be tricky, but this tree accomplishes a beautiful aesthetic. Silver berries, leafy inserts, and white poinsettias are a perfect marriage of elegance and the rustic theme. Selecting unnatural colors for these items ties them into the color scheme with a creative touch. Drapes of ribbon flow in and out of the tree vertically to attach below a trendy twig star topper rather than wrapping horizontally. Adding nature elements to the Christmas decor surrounding a tree helps to tie everything together, especially when accompanied by a few rustic ornaments.
36. Classic Candy Canes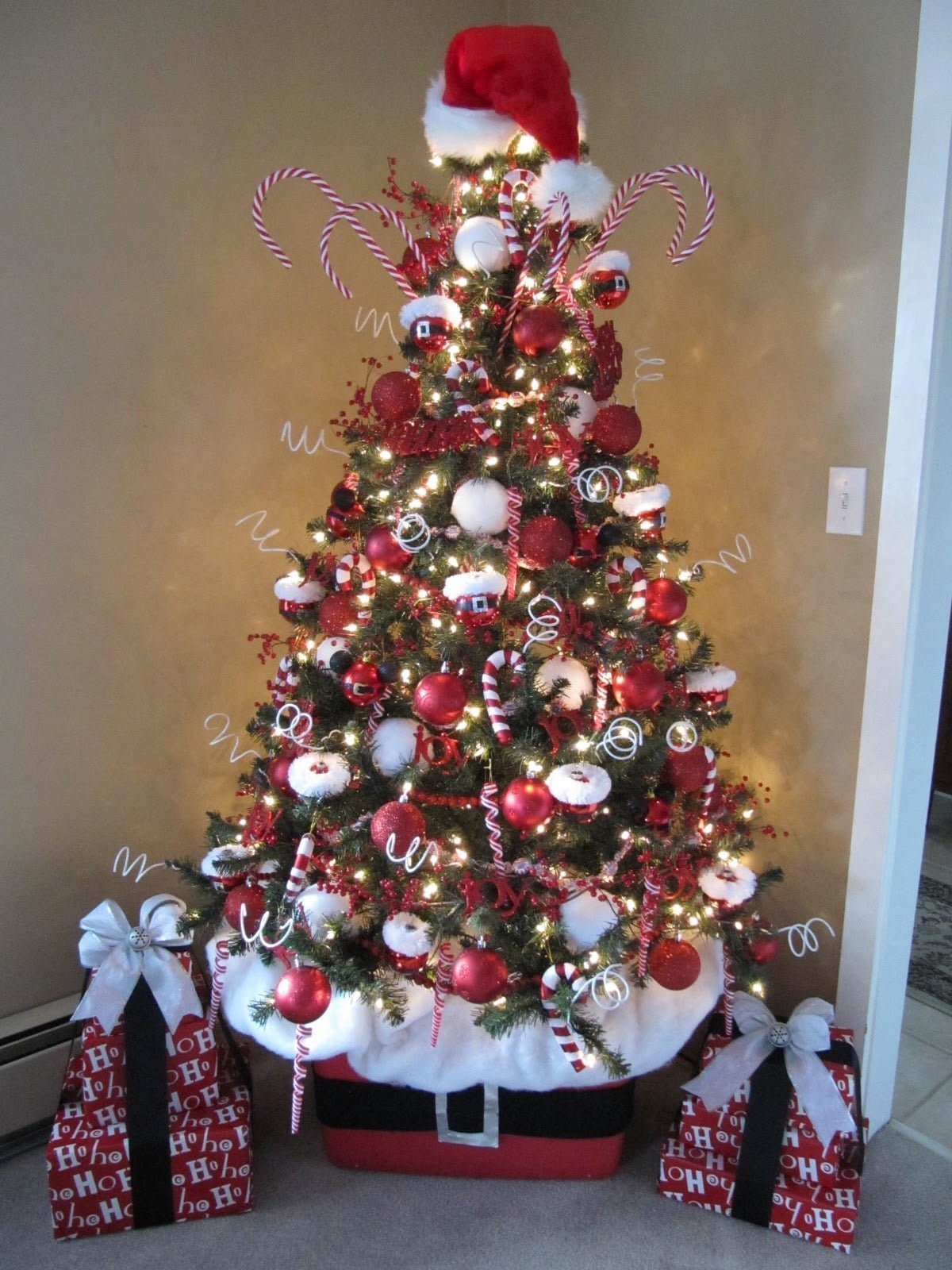 A Santa Clause themed base sets the tone for a cheerful selection of candy canes. It's perfectly fine to go a little over-the-top when decorating a Christmas tree because the goal is for it to stand out, regardless of size. Candy cane ornaments range from hanging corkscrew spirals to oversized sticks surrounding the Santa hat topper. Red berry sprays, a cranberry beaded garland, and classic red balls serve as filler to make the tree appear thicker. DIY painting a black belt onto a few of the red balls is a creative idea that ties the body in with the unique base.
38. Waterfall of Ribbon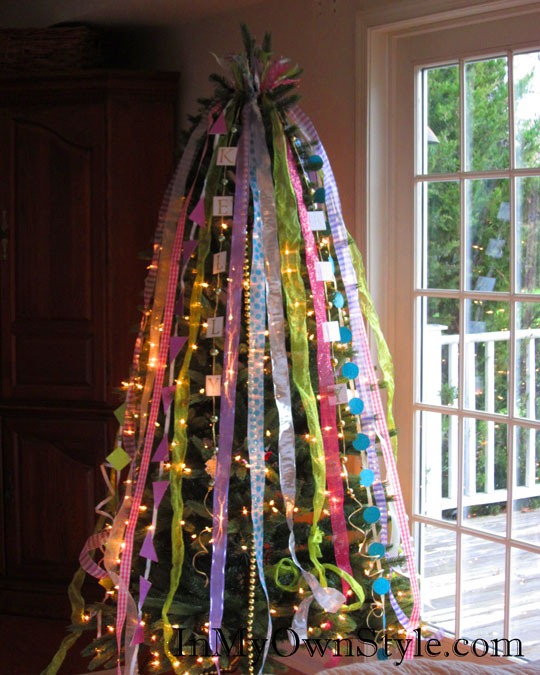 Craft stores are always brimming with rolls of holiday ribbon, but most DIY decorators limit the accessories to gift wrapping. Decorating a Christmas tree with a variety of ribbons is easy, and there's no need to search for an appropriate topper. Select an assortment of textures, patterns, and widths that represent a specific holiday theme or color palette. Measure out the length of the tree and cut the ribbon with an excess of 6-inches to accommodate the top. Tie each piece to an embroidery hoop that suits the top of the tree so that every ribbon will properly cascade vertically down the sides.
39. Felt, Pom-Poms, and Friendly Critters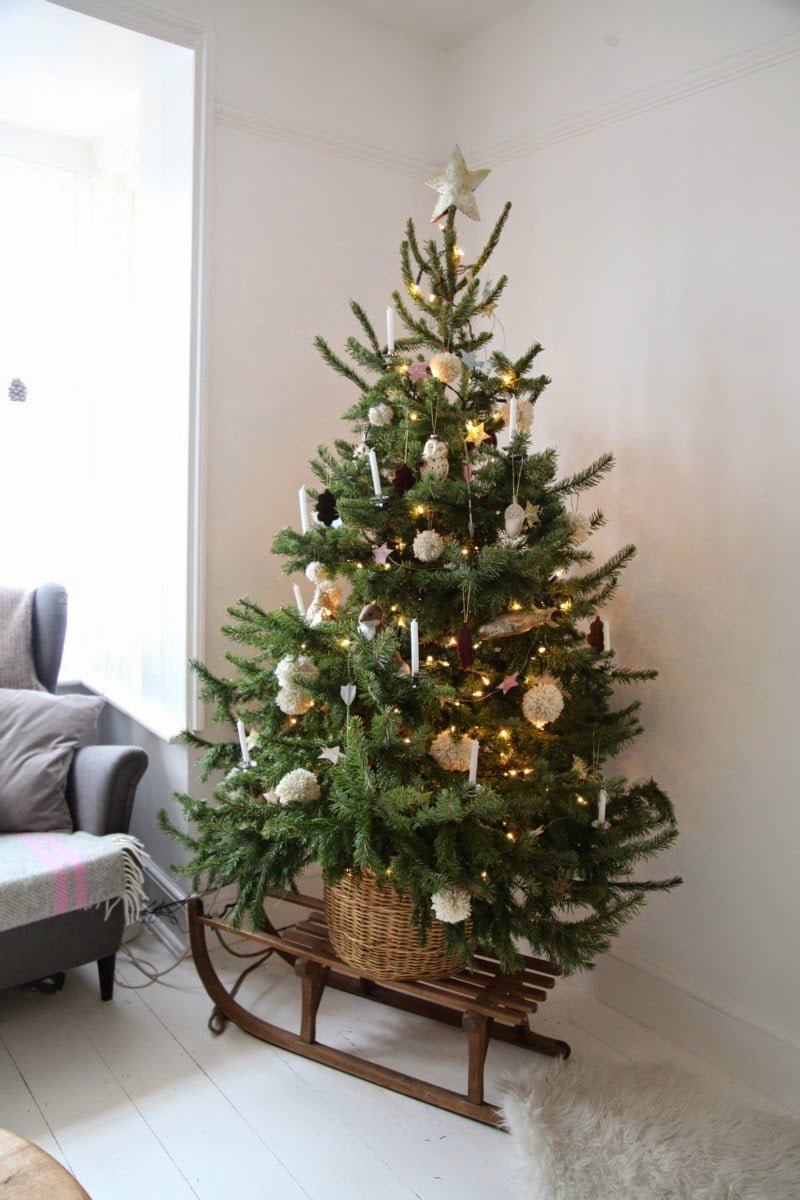 Minimal Christmas tree decorating is best accomplished with a variety of interesting ornaments. Placing the potted tree on a festive sleigh adds a few extra inches to a smaller tree, and it is a nice touch of traditional holiday decor. Neutral hanging pom-poms and stick candles don't distract from the felt leaves and critters hiding within the branches. The beautiful star topper is actually created using scrap cardboard and a coat of shiny gold spray paint. Star garland twisting around the tree is another money-saving item crafted with wallpaper and a plain white string.
40. FaLaLa Tinsel Fun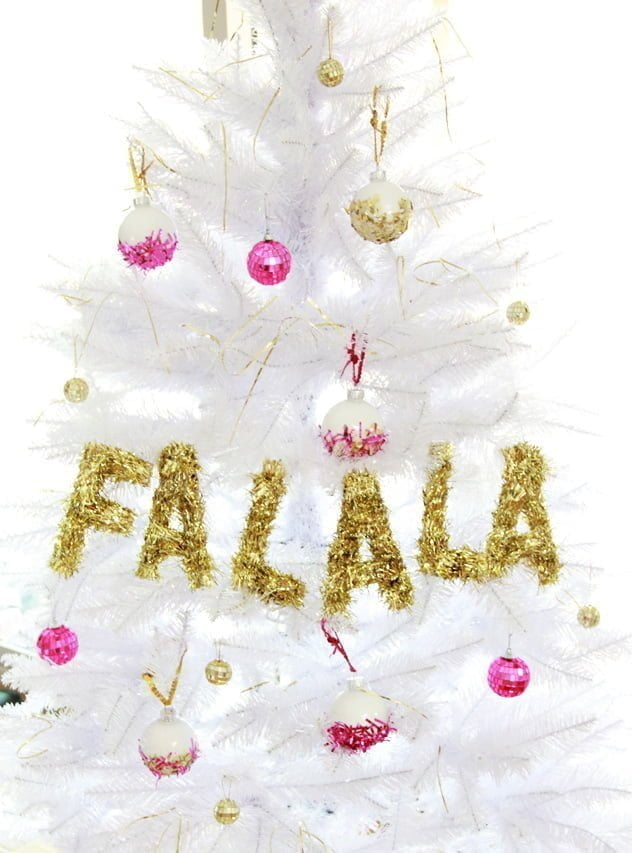 A glittering, glamorous tree doesn't necessarily entail spending an extravagant amount of money on ornaments. The sparkle of disco Christmas balls stands out on a pristine white tree, especially if a string of lights is added. Lettering on the tree is the true star of the show, and it's a pretty straightforward craft project that can be accomplished with basic items. Cut a festive word or phrase out of scrap cardboard, or purchase wooden lettering in a size that is suitable for the tree. Wrap a long strand of miniature garland around the letters before securing with a staple or drop of hot glue.
41. Craft Store Creativity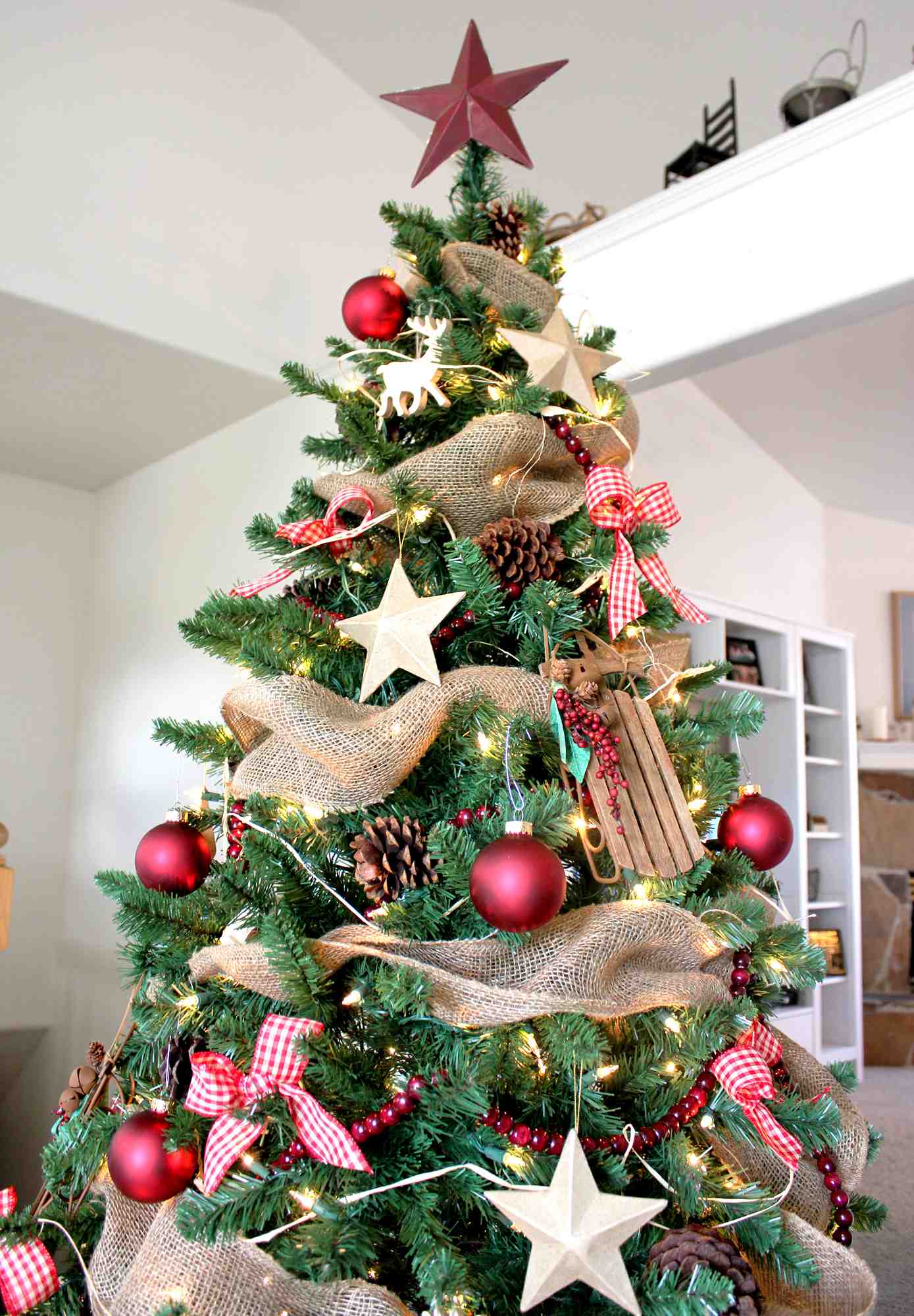 Compiling a variety of craft store items can become a confusing mess without first defining a theme. It's fun to bring the outdoor aesthetic inside by decorating a Christmas tree with rustic elements and big statement pieces. Cranberry garland is a nice touch of freshness that runs around the body of the tree along with burlap mesh. Pine cones, red checkered bows, and cherry red balls are placed evenly throughout the tree as a festive filler. The bigger focal points on the tree are craft store wooden ornaments in the shape of a snow sled, stars, and reindeer.
More Christmas tree décor ideas on the next page…