Outdoor living spaces can add a lot of value to your home, not to mention all the extra space for entertaining, enjoying the beautiful summer weather, and just relaxing and taking a few minutes to yourself. But if your backyard gets baked by the sun, you might find that a few minutes are all you want to spend out there!
22 Amazing DIY Backyard Sun Shade Ideas You Won't Believe Are Homemade

If you'd love to get more use out of your outdoor spaces without a scalding sunburn, these DIY backyard sun shade ideas might be just the ticket. Whether you're looking for something portable that can be moved around the yard to suit your current mood or a big, bold, statement piece like a pergola that's as functional as it is stylish, you'll find there's a backyard sun shade that suits your design sensibilities, budget, and DIY skills, whether they be sewing, carpentry, metalwork, or something else altogether!
These nifty projects do more than just keep off the sun. Use shade panels to define outdoor seating areas, or add privacy from nosy neighbors around your pool or backyard deck. Keep in mind that adjustable panels are the most useful; you can always remove or retract them if you decide you need more light, or if heavy wind threatens to damage them. Ready to beat that sweltering summer heat? Check out these DIY backyard sun shade ideas that will have you spending your entire summer outdoors.
1. Easy DIY Canvas Shade Sails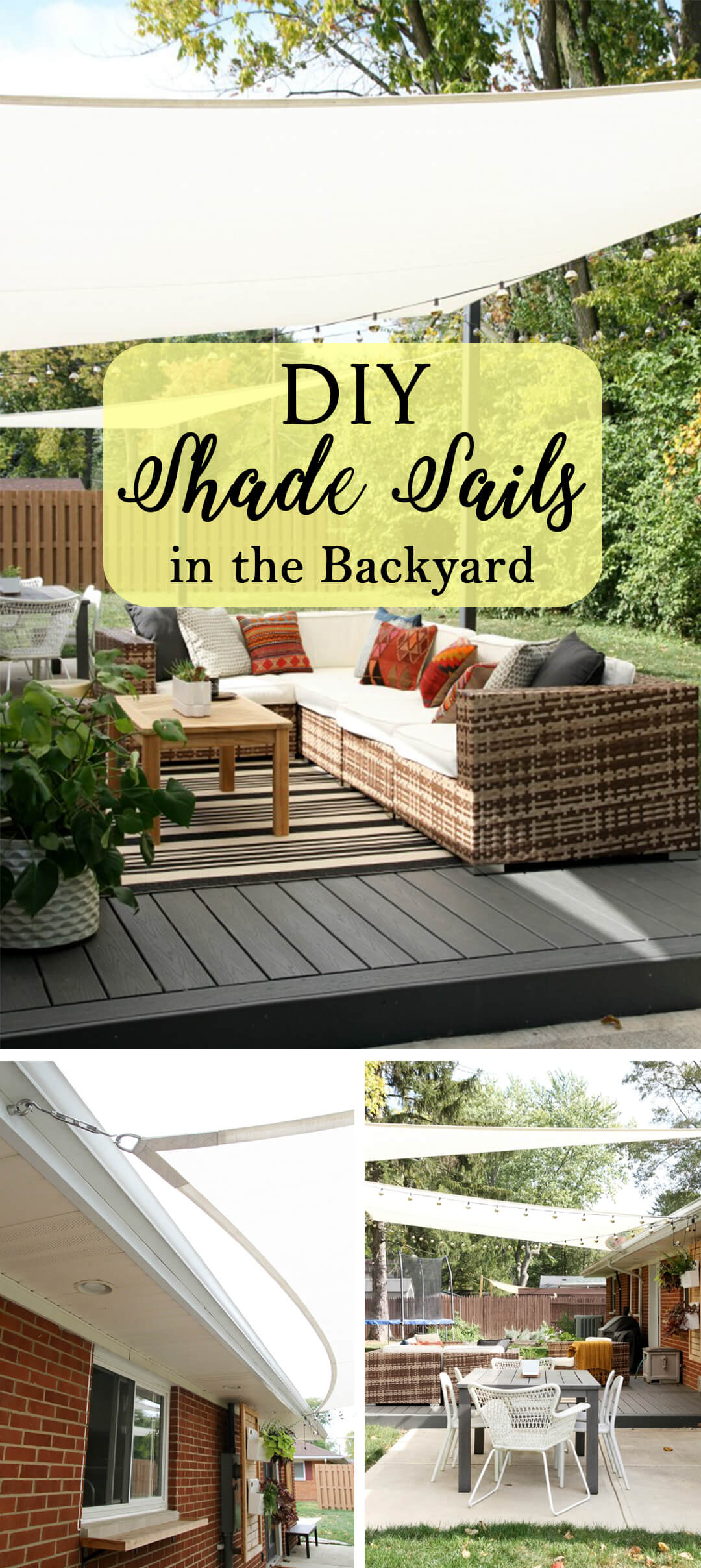 Home improvement projects are usually complicated especially if you are thinking of designing your outdoors and need shade. Shade Sails are one way to go because they are aesthetically pleasing and complement your property's architecture. When done, they look amazing with a playful design, cost less, and are easy to set up and maintain.
2. Roman-Style DIY Pergola Canopy

If you are looking to design your outdoor space, a Pergola is one way to do it. A Pergola Canopy, especially a Roman design, is stylish and gives your outdoor living space a unique look. They are designed to protect from sunlight while providing fantastic ventilation. The billowing shades easily slide and can be retracted.
3. Outdoor Living Space with Sheer Curtain Divider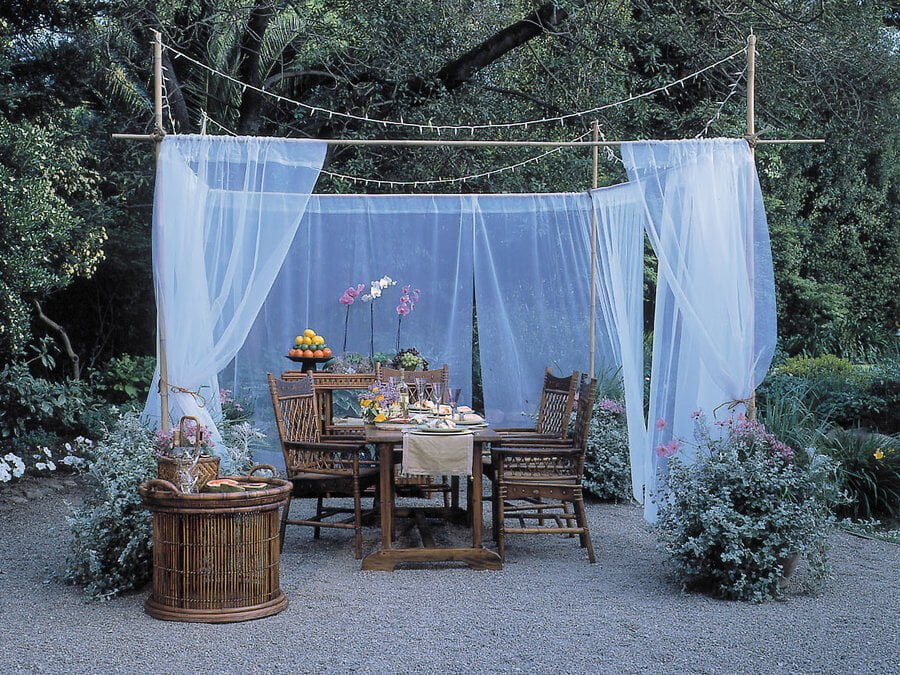 There are many ways to design your outdoor living space. Using sheer curtains as room dividers allows you to use imagination to decorate your outdoor living space. They are easy use and cheap to install.
4. Quick and Easy Retractable Awning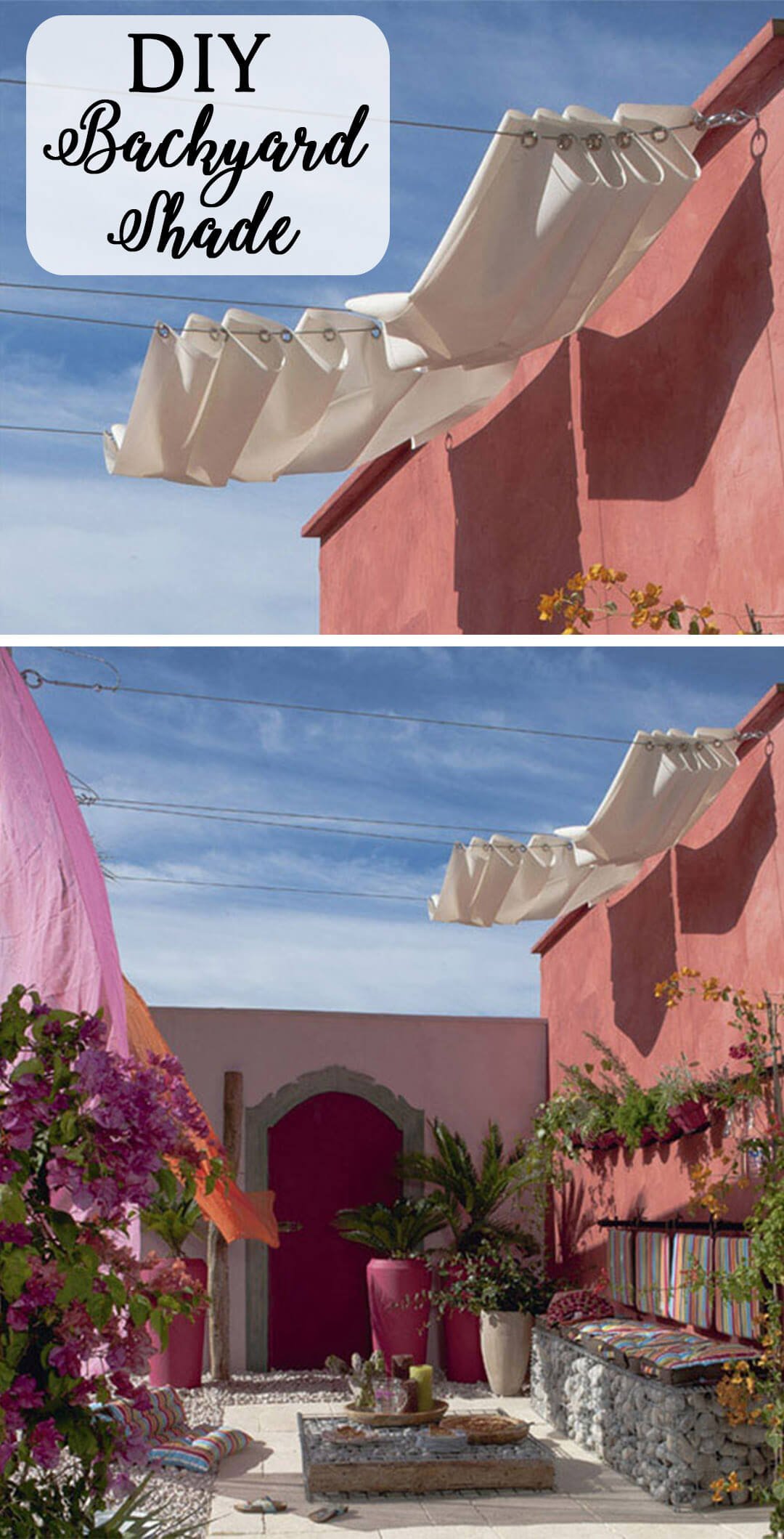 If you are considering an awning for your outdoor space, a retractable awning is a way to go. They are convenient and attractive compared to the more traditional awnings, making your patio temperature cooler. They are less susceptible to damage during windy conditions because they are easily folded.
5. DIY Breezy Outdoor Room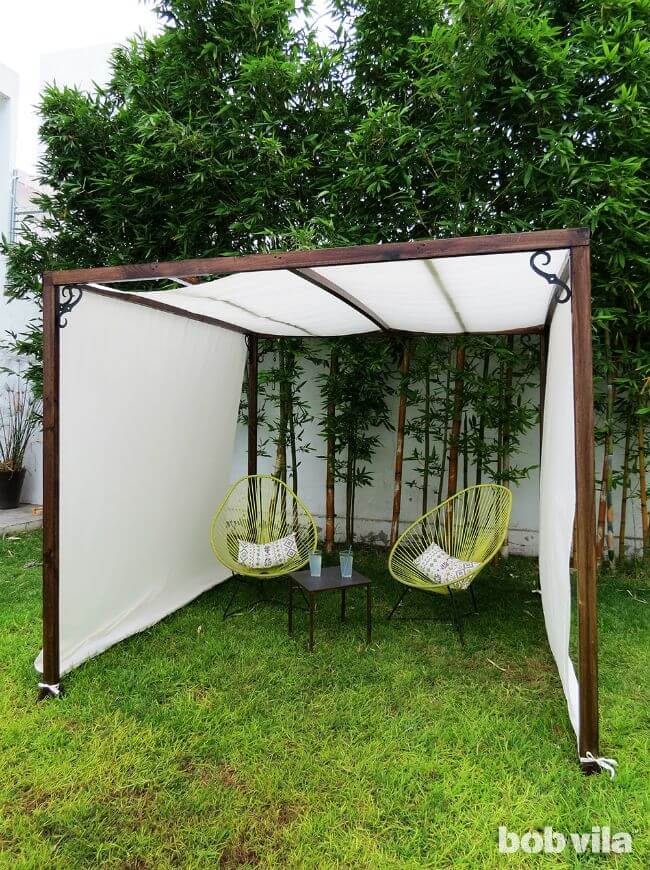 Do you enjoy spending time outside in your backyard? Building an outdoor room can be one of the ways to achieve this. You will need an outdoor canvas and wooden planks, and you can easily design one for yourself and decorate it after you are done.
6. Upcycled Sun Shade from an Old Sail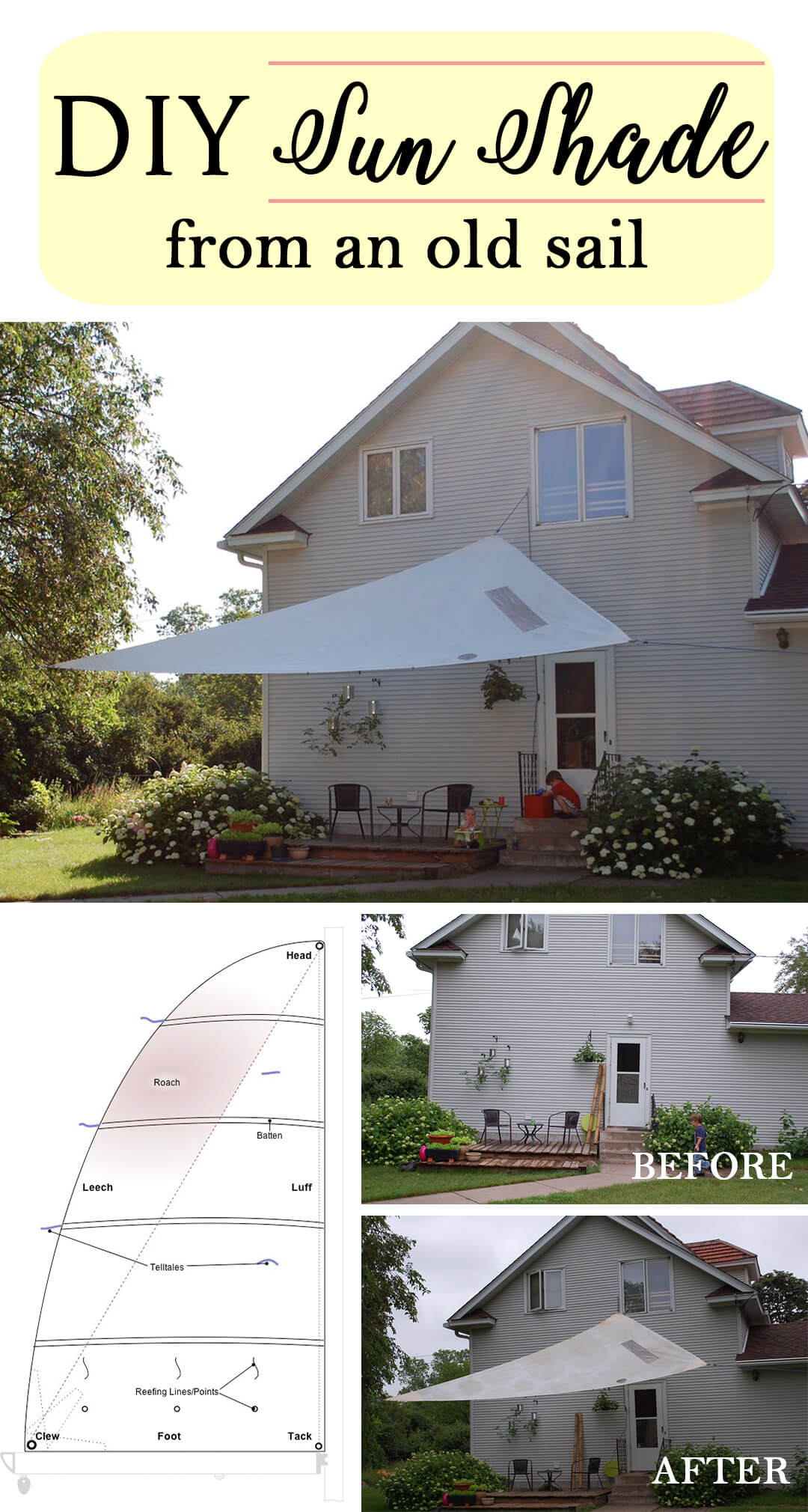 You could design your sun shade from an old sail. It is unique, and you can construct it in a way you can put it up when you need to and take it down when you don't. Note boat sails aren't made to withstand UV radiation.
7. Moveable Backyard Sun Shade Hoops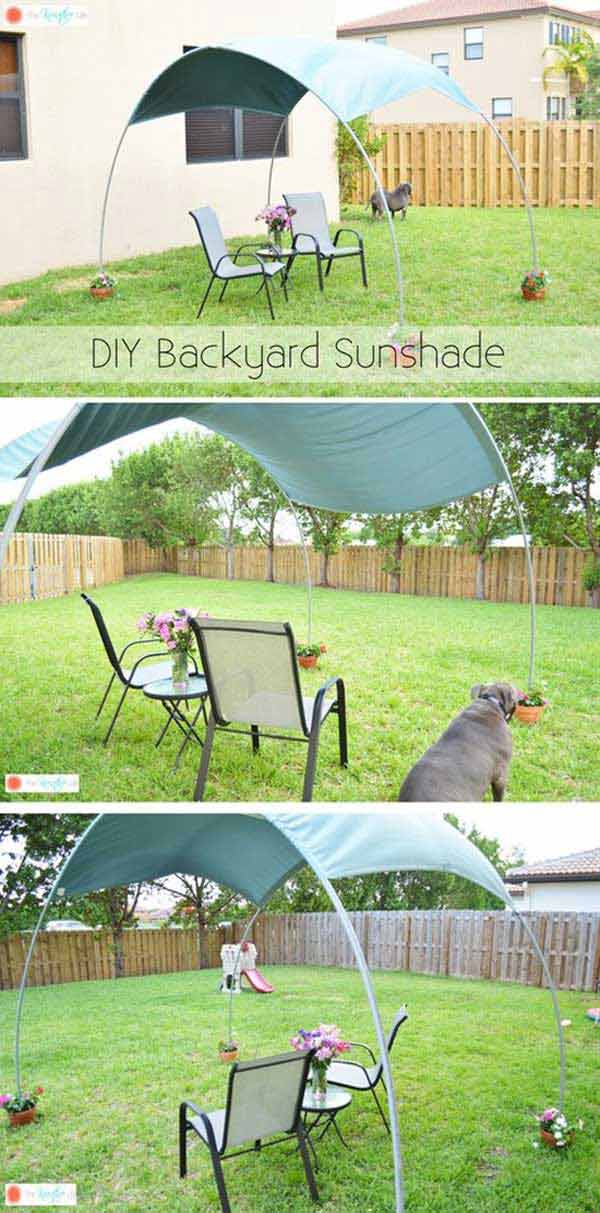 Imagine being able to make your outdoor shade in just an hour. All you need is rebar posts, PVC pipes, and curtains. You can decorate with flowers and have a place to sit and enjoy your backyard while protecting yourself from the sun.
8. Luxurious Hanging Shade Curtains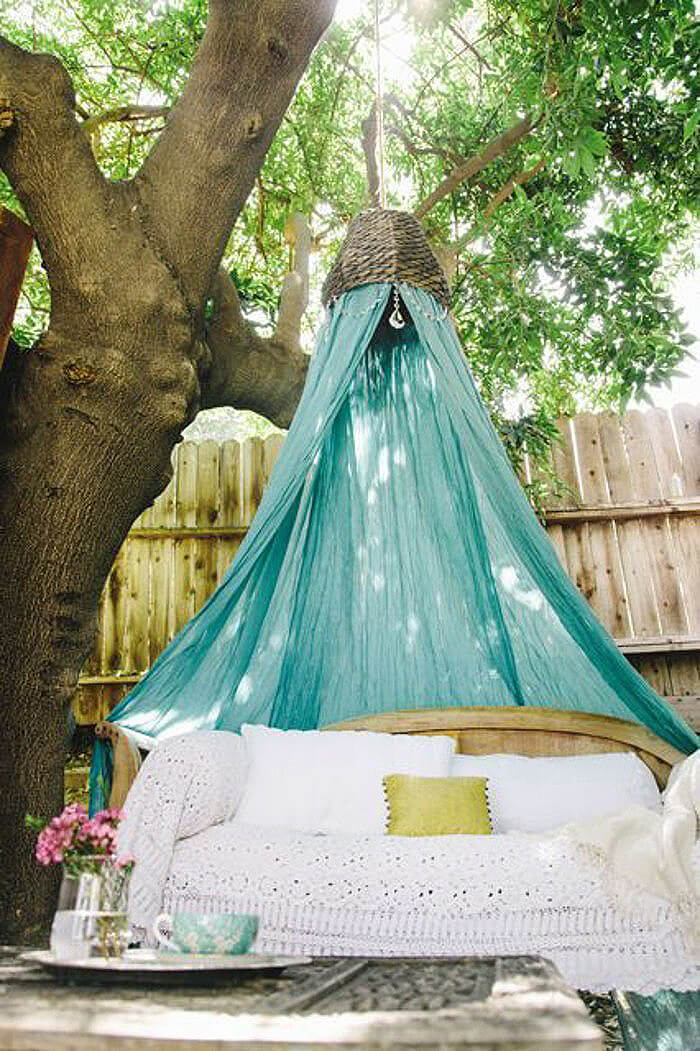 Some of us never know how to use natural shades in our backyards. One of the easiest ways to do it is with just a pair of luxury curtains nicely hanging, a nice couch, and pillows to relax on, and no more spending time indoors. It is very easy to put up and looks amazing.
9. Easy Tent-Style Awning with Milk Can Anchors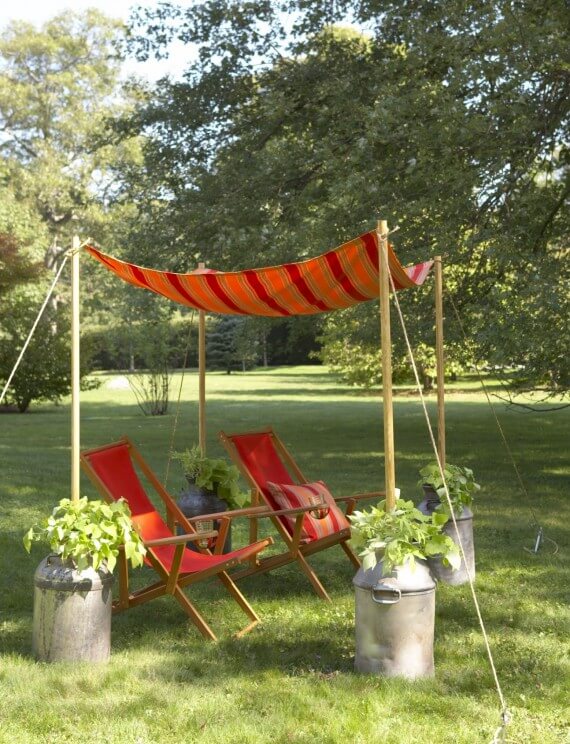 You can repurpose milk cans and frames as anchors to support your awning to create a sun shade in your backyard. It's easy to construct, cheap, and doesn't need maintenance. Decorating it with flowers gives your sunshade a more elegant look.
11. Fun and Funky Outdoor Seating Shade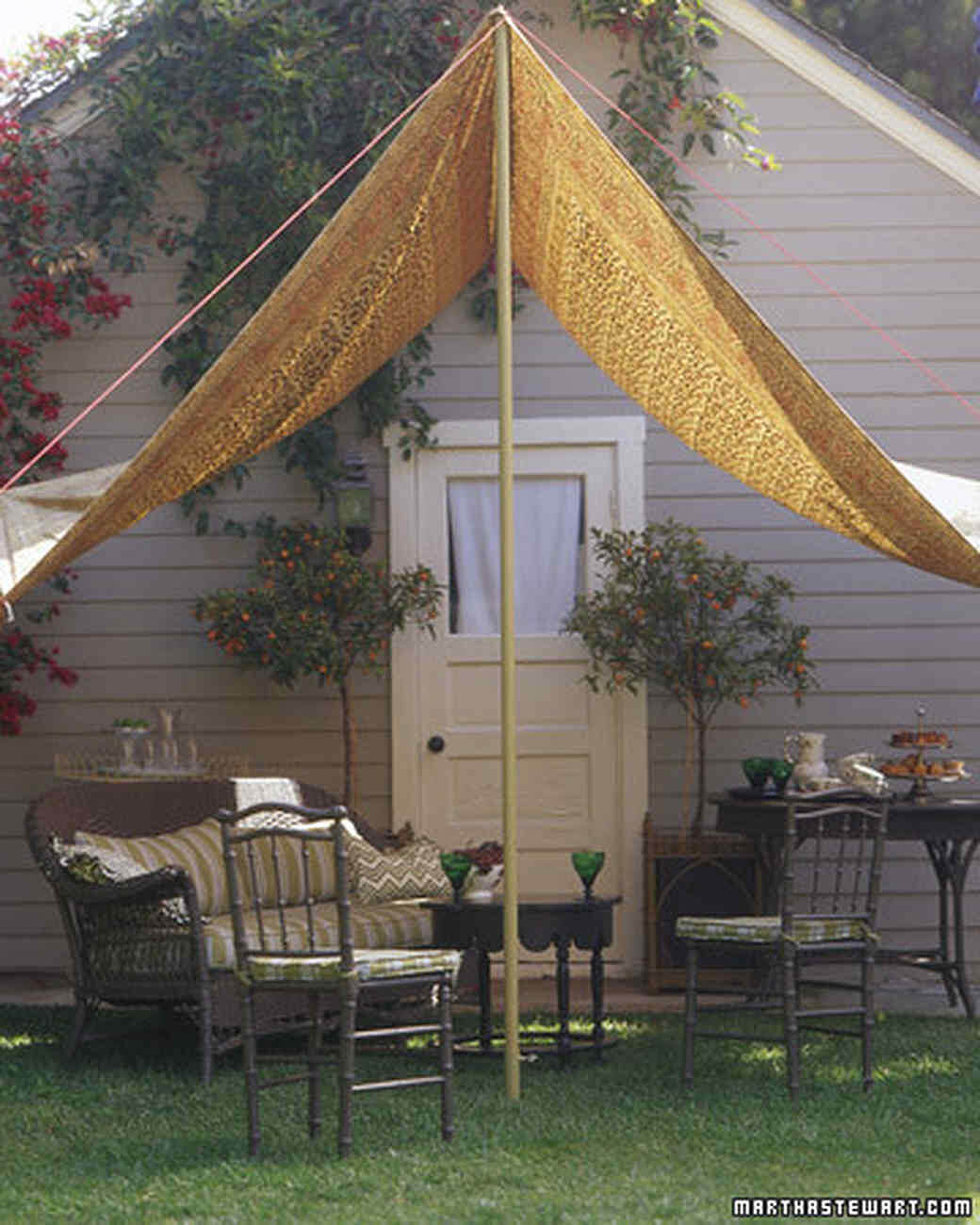 Unlike a patio umbrella that requires you to give up permanent space in your backyard, this type of sunshade is easy to make and requires very little time, material, and tools. You can put it up anywhere you prefer in your backyard and take it down once you are done.
12. Hanging Shade-Cloth and Outdoor Lighting Combo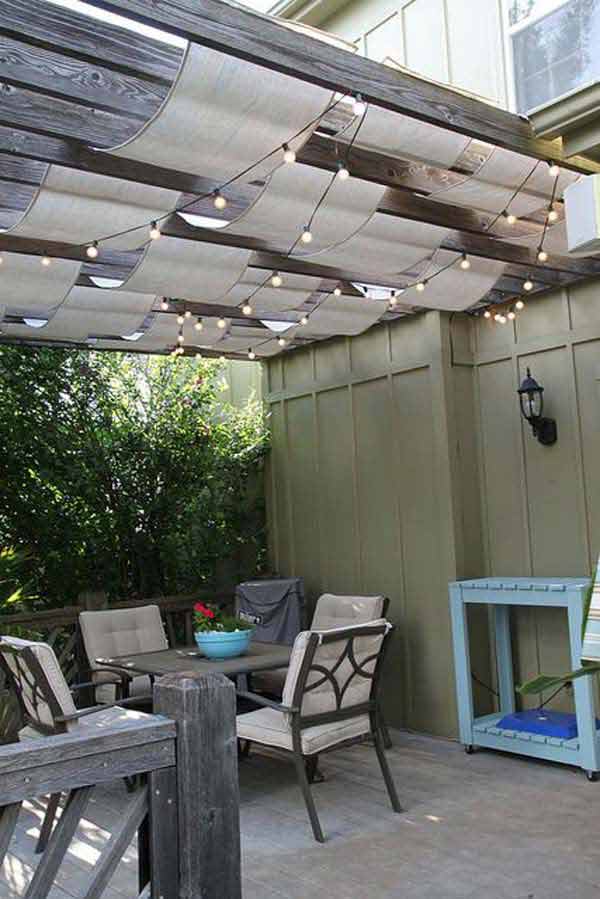 Sometimes you would like to spend evenings outside, maybe with your loved ones or alone. You could hang outdoor shades on your patio or backyard. Decorating the outdoor shades with lights can offer ambiance and look fantastic.
13. Simple Aluminum-Pipe Framed Backyard Canopy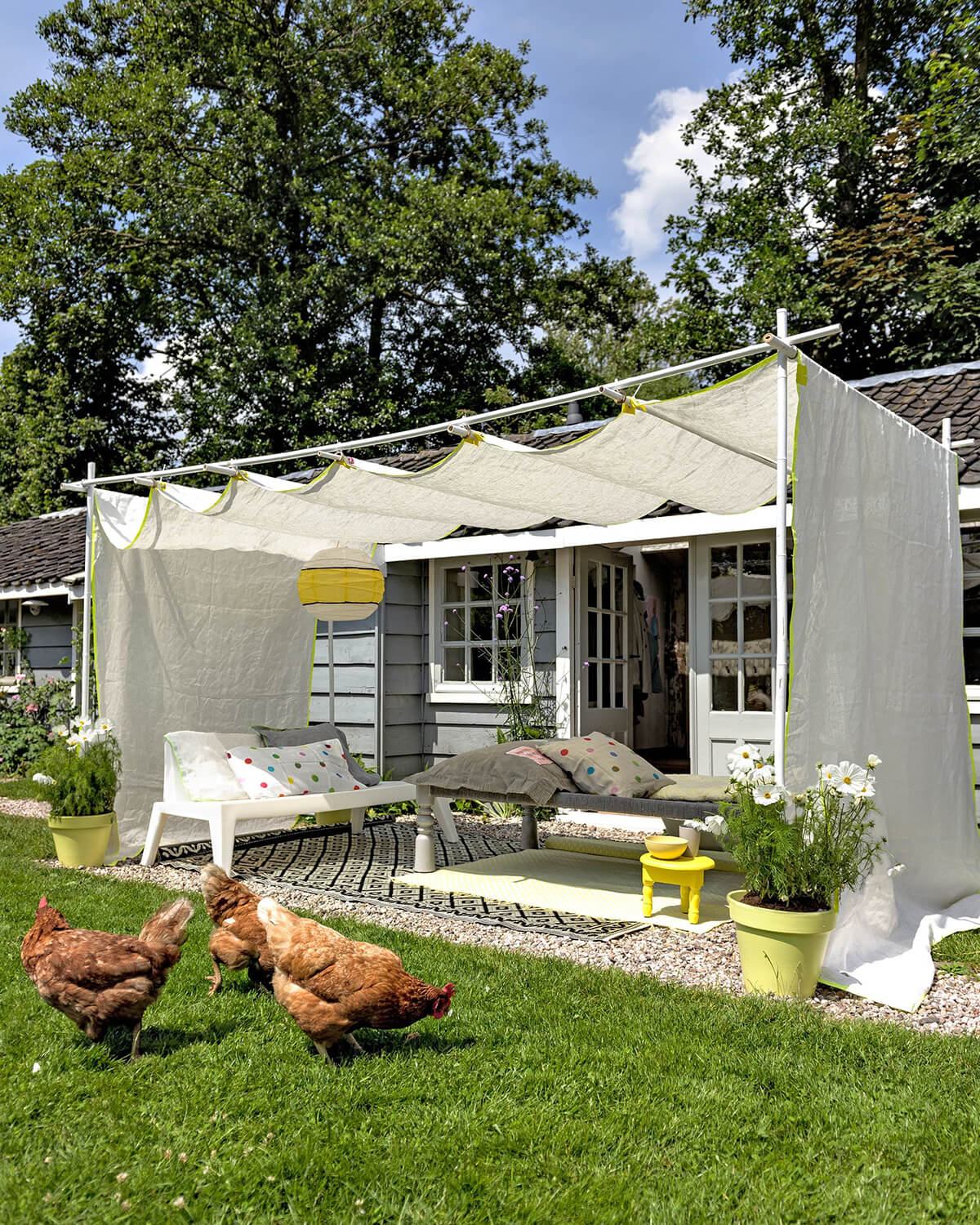 A sunny canopy protects you from direct sunlight when chilling outdoor. It provides an incredible cooling effect, especially on a sunny day, is easy to construct, and is not expensive. Aluminum pipes are used to hold up the canopy, and all construction materials needed are readily available.
14. Rustic Draped Canopy from Natural Fibers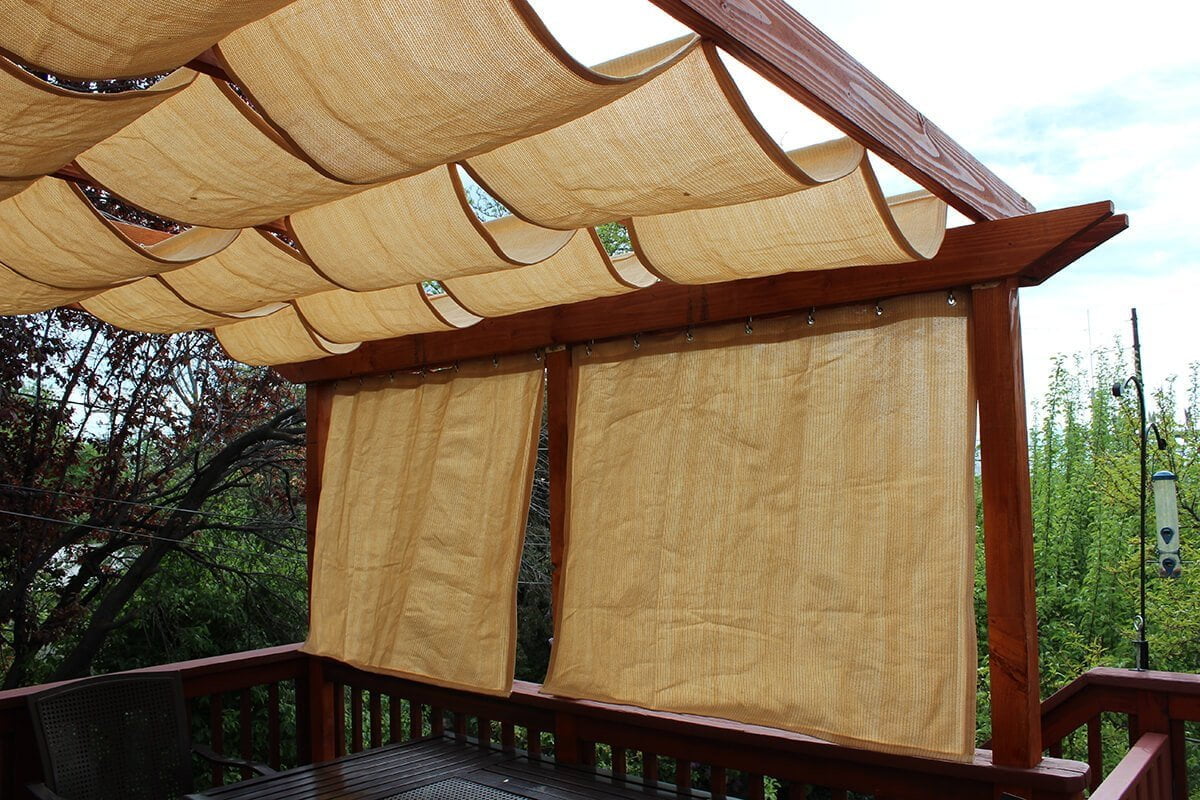 Combining a rustic draped canopy from natural fibers and a finished wooden pergola design can produce exquisite outdoor shades in your project. Its retractable curtains offer shade when needed and are slid open when there is no sunlight.
15. Elegant DIY Pool-Side Cabana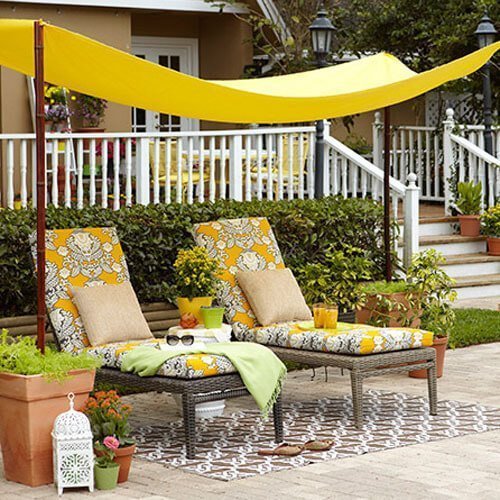 When starting your home improvement project poolside cabanas are very essential. They protect you from sunlight. You can elegantly design them with sun loungers and decorate them with flowers.
16. Brilliant DIY Tent Frame from PVC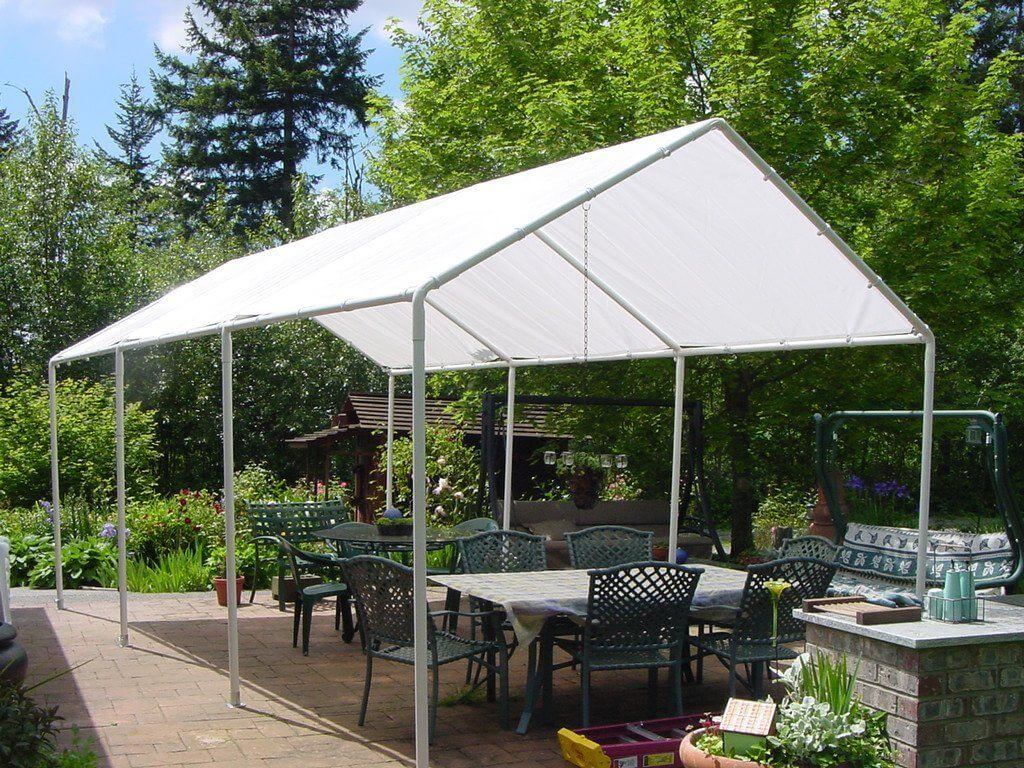 Tent frame PVC is easy to fix and can be placed anywhere in your outdoor. You can have them in different sizes and are easy to handle. One in your home can be handy, especially for outdoor activities like birthdays.
17. Relaxing Pergola Sitting Space with Shade Curtains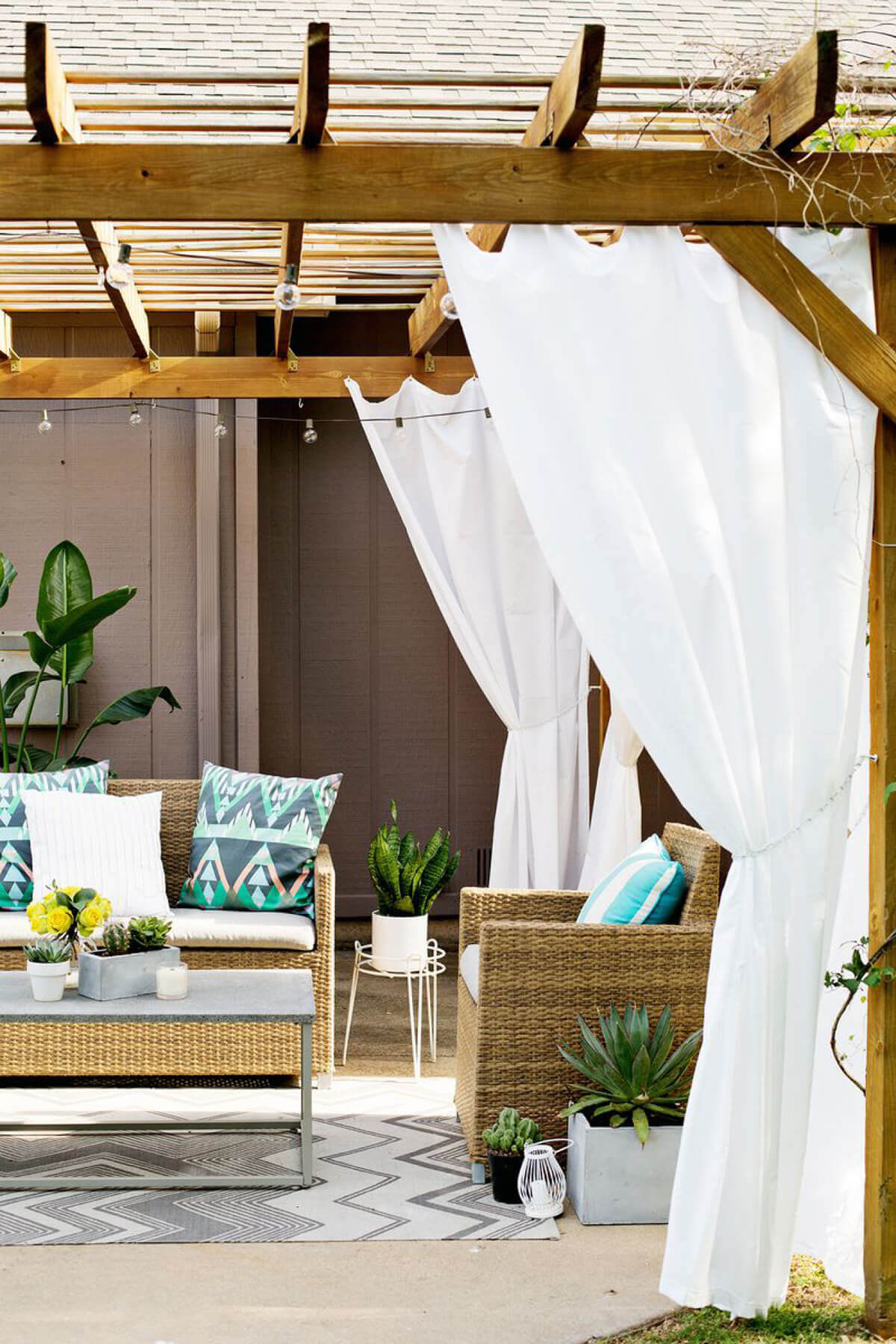 Adding curtains to your pergola boosts its elegance and ambiance. All you need is the curtains and a chain to tie up the curtains. You could design the curtains in whatever way you like.
18. Wall-Anchored DIY Backyard Sun Shade Ideas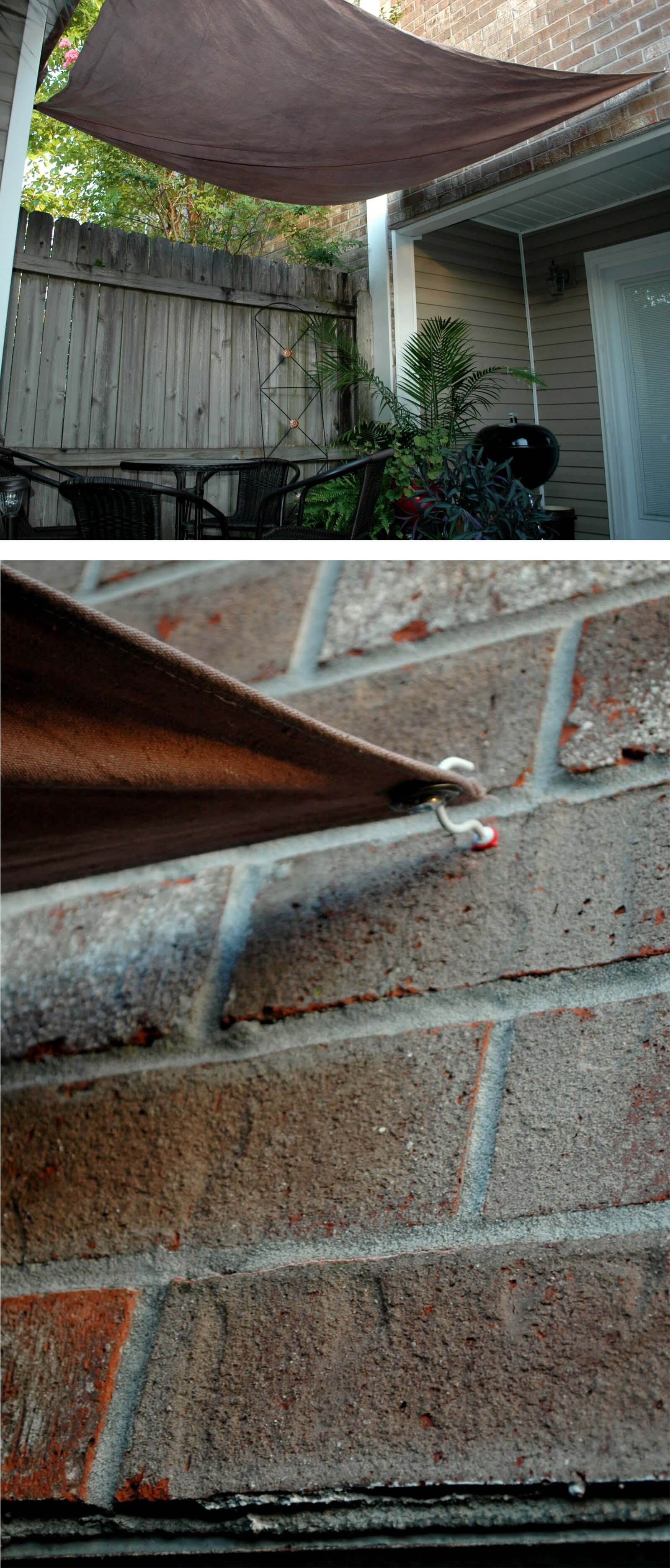 Anchoring your canopy on your wall is one of the easiest ways to create your outdoor shades. You have to select the side you want to have your shade on and use hooks inserted into your wall to hold up your canopy.
19. Simple Fabric Sun Shade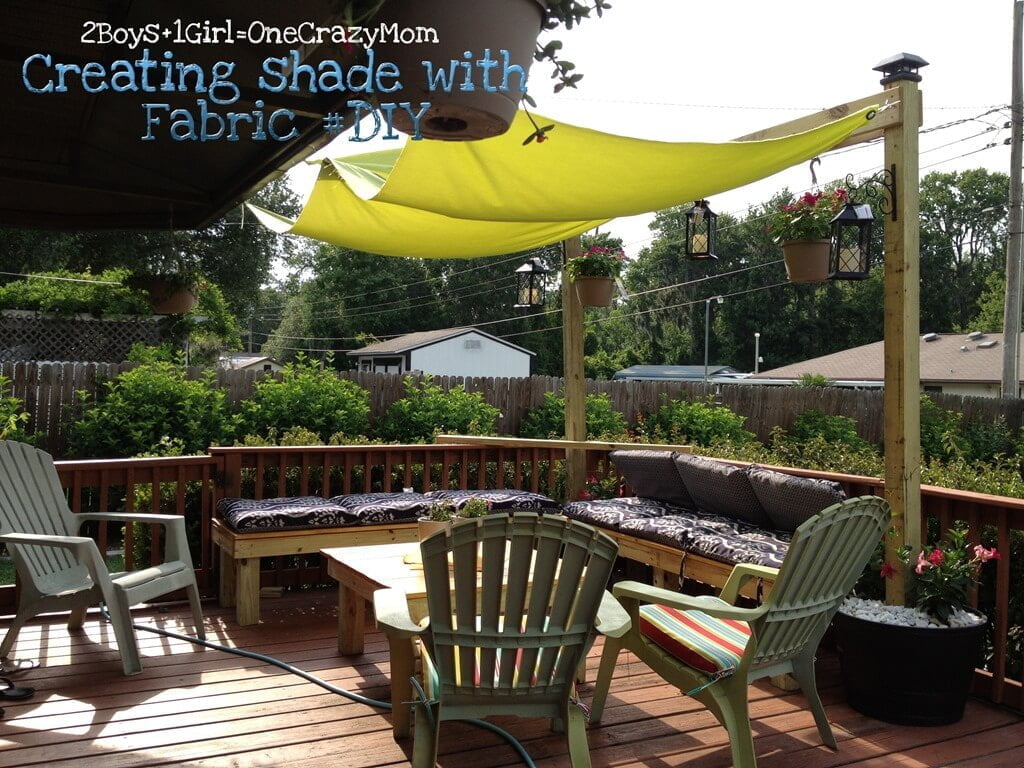 Outdoor fabrics can create a shade in your backyard or deck, especially where patio umbrellas cannot fit. They are cheaper than sailor fabrics and easy to set up. You can get them at your online store.
20. DIY Back Deck Pergola Design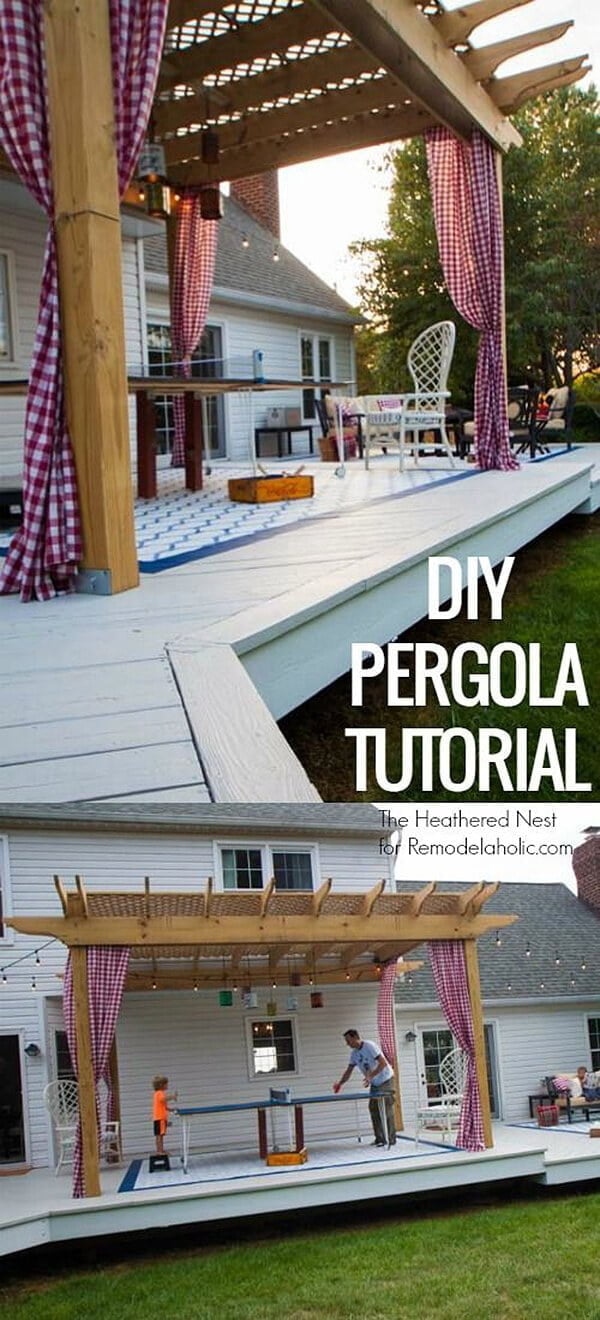 Building a pergola on your deck offers shade from sunlight while maintaining that feeling of being outside. It can be designed with retractable side curtains depending on the sun's direction.
21. Easily Adaptable Backyard Shade Curtains

Direct sunlight can be disturbing, especially when you want to chill on your deck. Setting up UV light adaptable shade curtains can be a solution. All you need are rails to install the curtains so you can slide them when there is direct sunlight.
22. Overlapping Backyard Sun Sails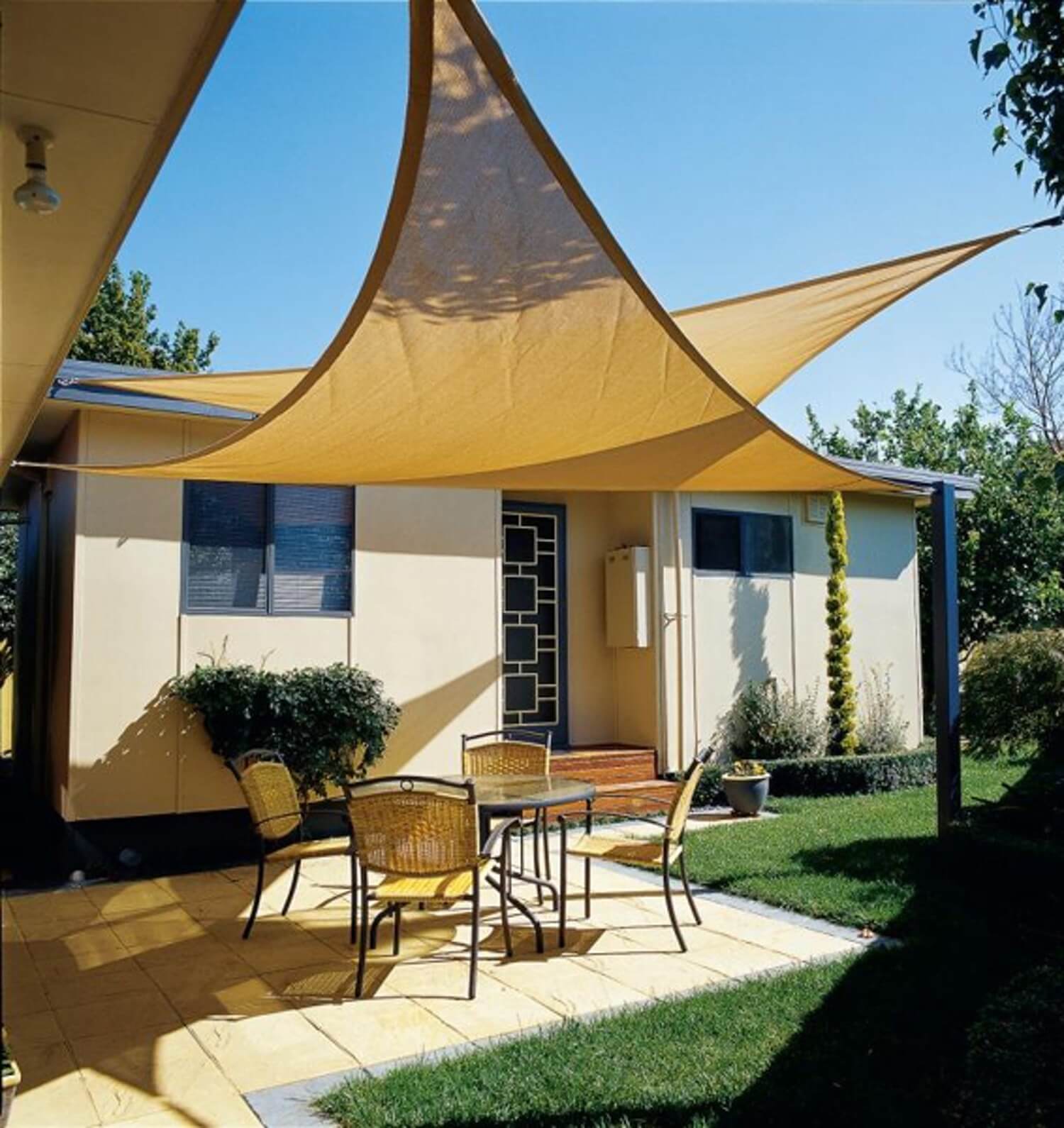 Setting up overlapping sun sails for your patio or backyard can help shelter you from sunlight and heat. Using different colors and designs compliments the architecture of your backyard and makes it look unique.