Unlike many interior trends, something about the country aesthetic never falls out of fashion. The homey textures and eclectic mixture of furniture and antique accents all perfectly blend to produce a personal space that is both comfortable and timelessly on-trend. More and more designers and decorators alike are turning to the farmhouse motif this season, and what better place to start than in the bedroom?
39 Country-Fine Farmhouse Bedroom Design and Decor Ideas That Are Every Designer's Dream

Country bedrooms are all about personal comfort punctuated by those little touches that make it one's own: a milk-jug-turned-vase, heirloom quilt, or repurposed wooden window frame mirror, to name a few. Thrift store finds and flea market treasures are the perfect farmhouse compliments, and with these 39 farmhouse bedroom decor ideas you can experiment and implement in the manner that suits your unique style.
Whether you're looking to add a touch of country chic to your urban boudoir, or ready to transform your bedroom into an old-fashioned retreat, there's something for everyone in these dreamy farmhouse bedroom design ideas.
1. Lady Grey Farmhouse Bedroom Decor Ideas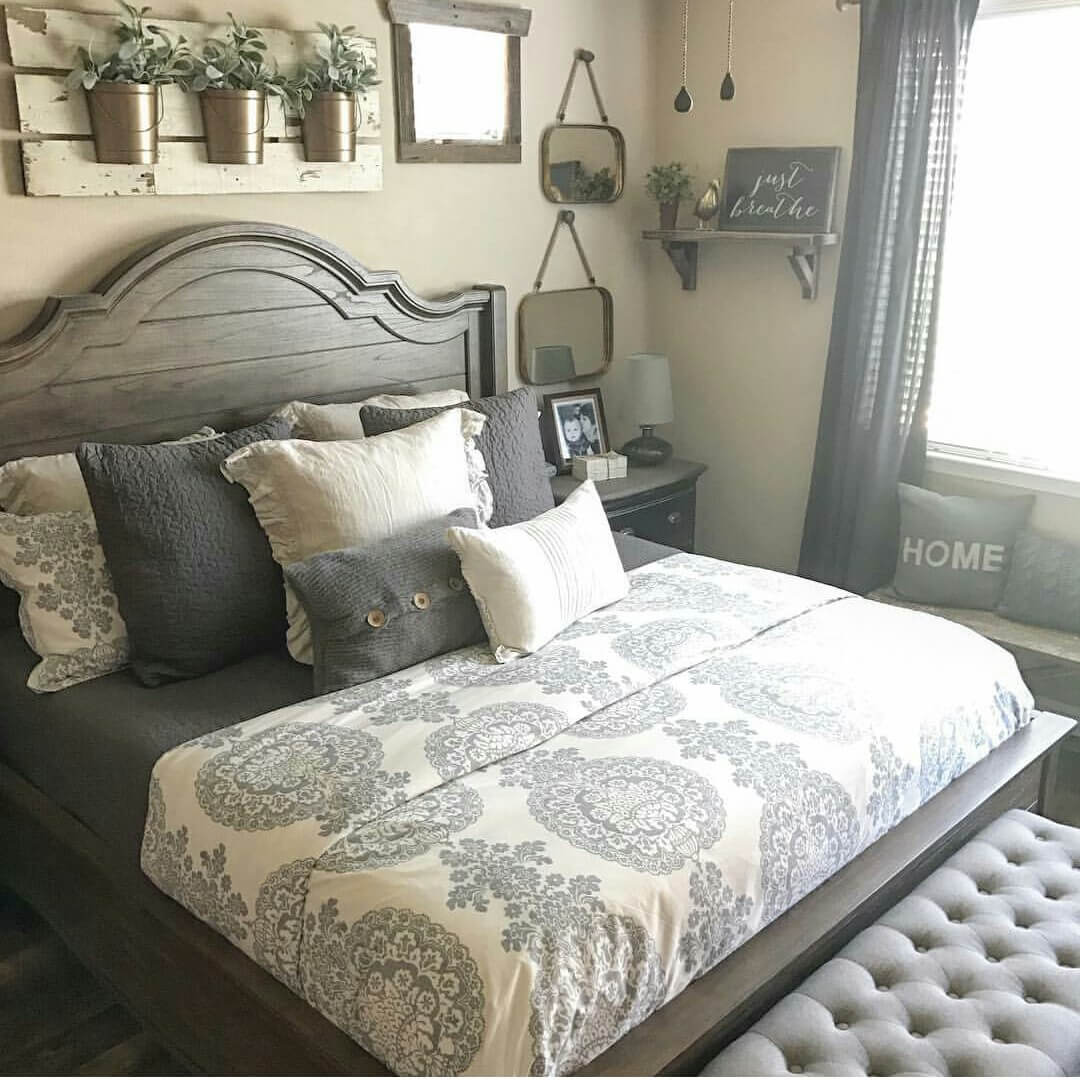 Give your bedroom a soft, homey touch with a grey and white color scheme. Pretty throw pillows make the room feel cozy, while potted plants add a touch of freshness from the outdoors.
2. Farmhouse Safari Fusion Bedroom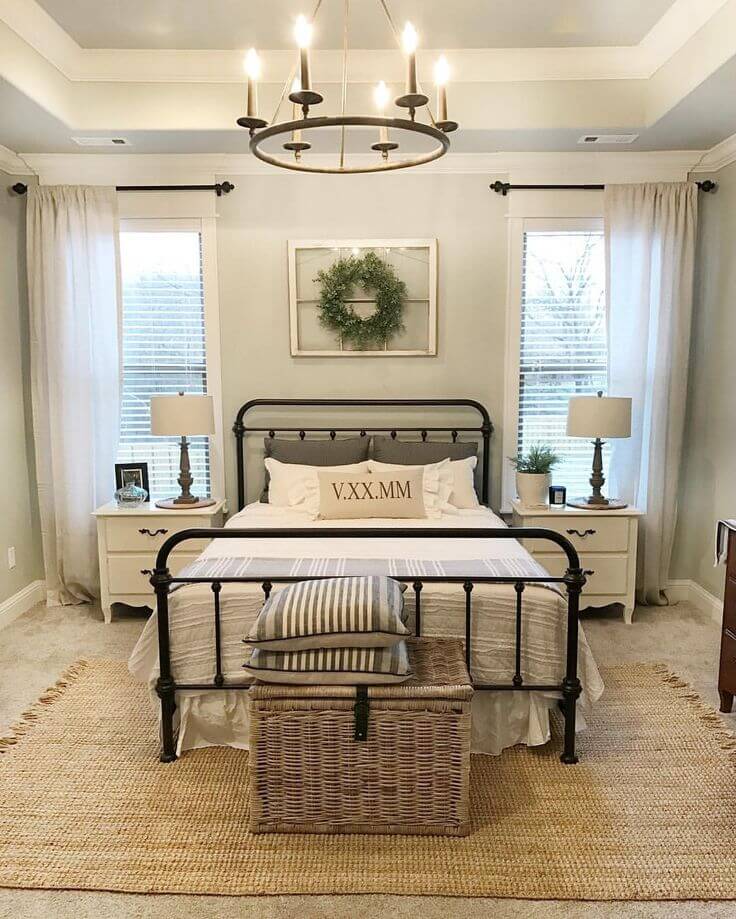 Far from the shabby chic farmhouse vibe, this bedroom uses wicker and straw details to achieve a more outdoorsy safari look. The dark metal and soft neutrals give this room a soothing feeling, perfect for sleeping.
3. Repurposed Barn Wood Love Sign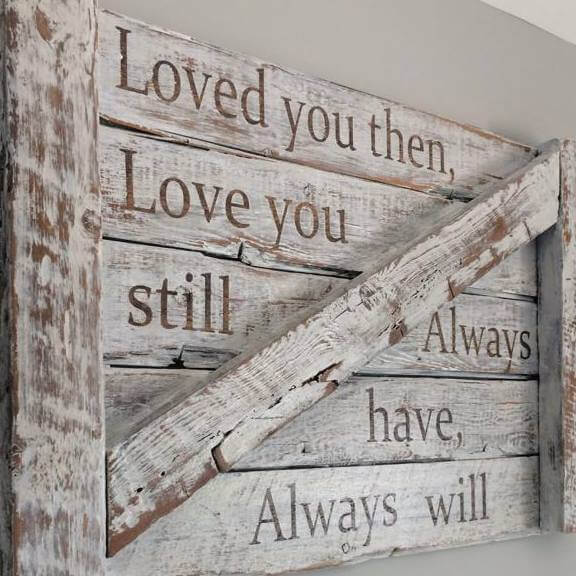 The sweet love quote on this sign makes it ideal for any bedroom: adults, babies, or kids. The repurposed barn wood gives it rustic charm. This easy DIY will fill your bedroom with happiness!
4. Window Into Love Antiquated Picture Frame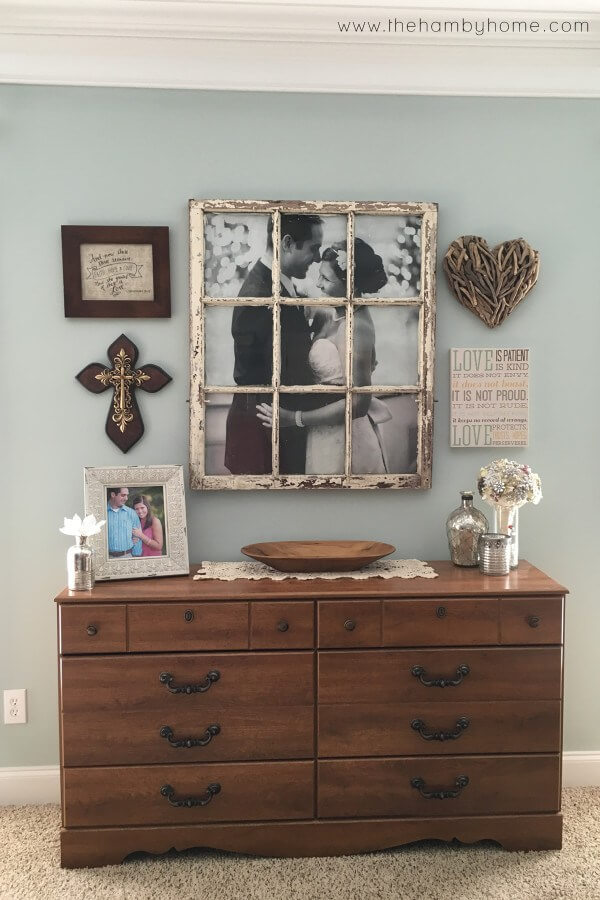 A sweet gallery wall makes the perfect decoration for a newlywed bedroom. Grab an old windowpane at an antique store, then place it over a wedding print for a beautifully rustic focal piece.
5. Railway Crate Headboard Piece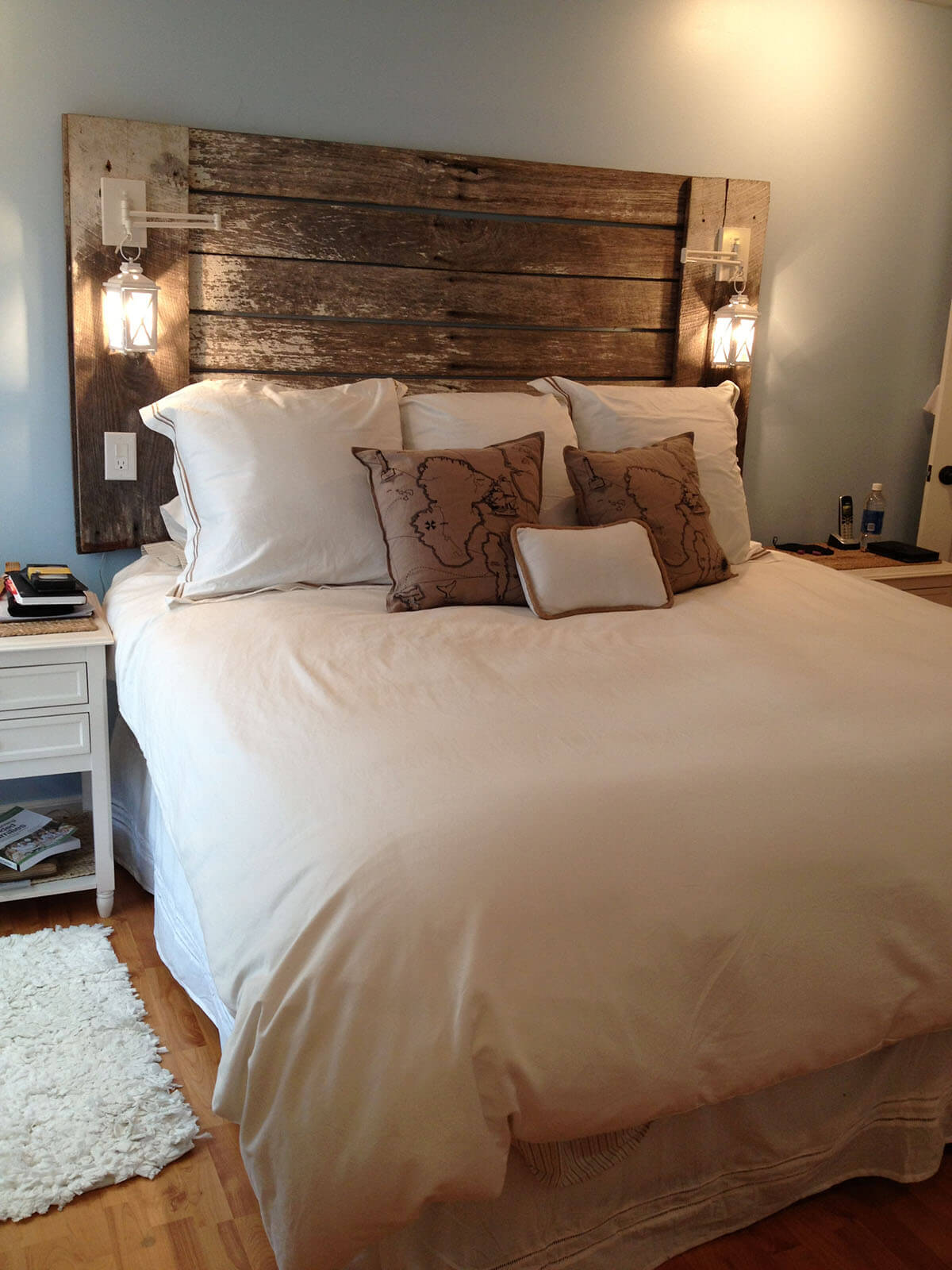 Add a subtle railroad vibe to your bedroom with this DIY headboard. The repurposed wooden crate features pretty white vintage metal lanterns, adding a warm glow to cozy up beside.
6. Snowy Gable Bureau and Windowed Mirror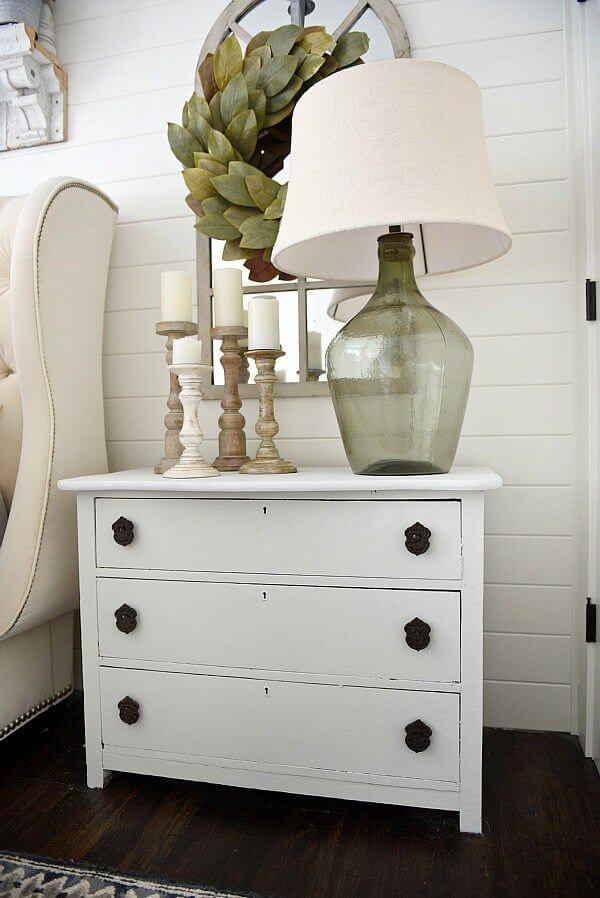 The imperfect white paint and vintage metal hardware give this dresser the perfect farmhouse vibe. Kick it up a notch by adding mirrored glass to an antique windowpane for a pretty DIY mirror.
7. Robert Frost's Walk Vanity Accents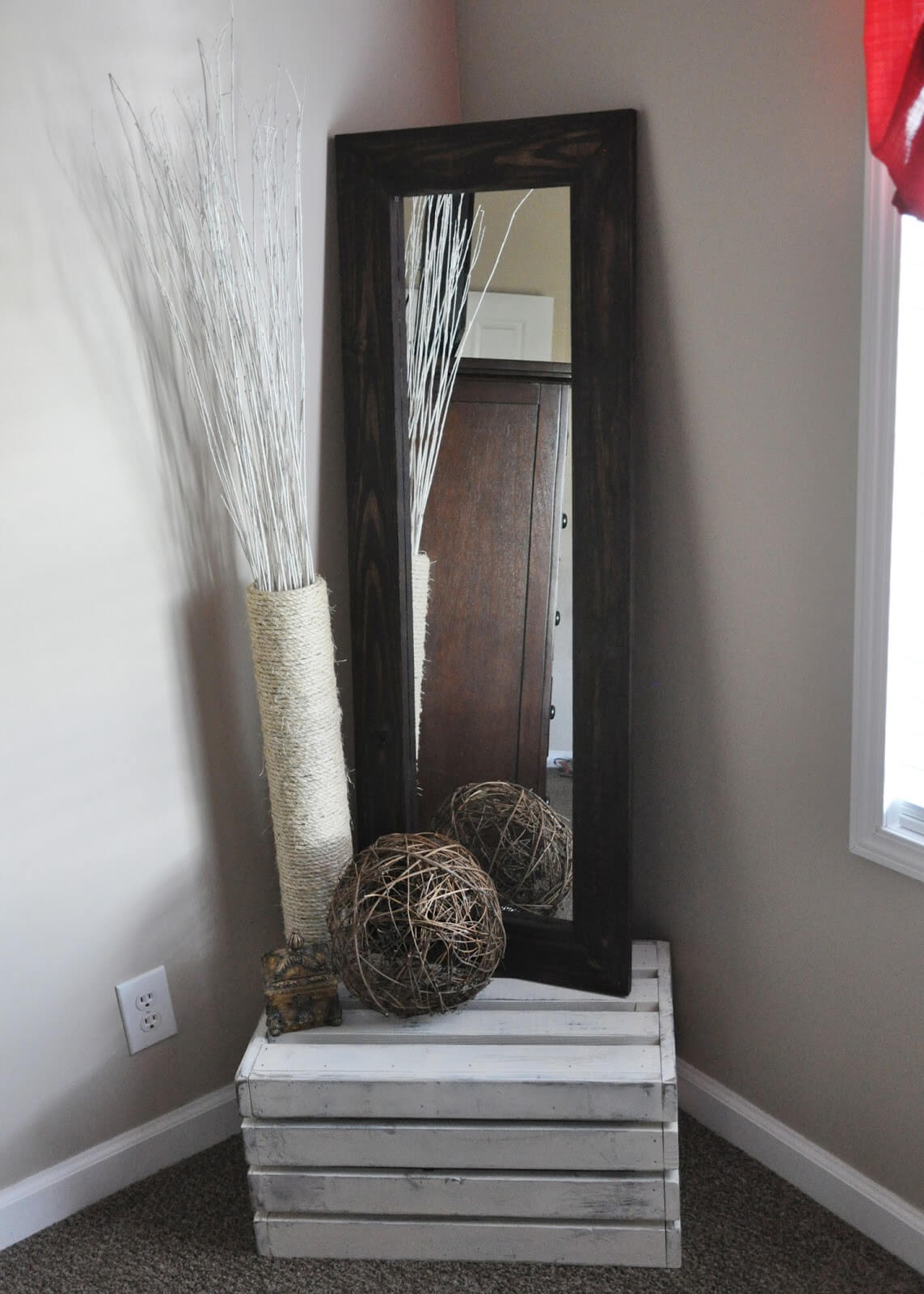 Paint an old fruit crate soft grey to create a unique vanity. Add a full-length mirror, wicker ball, and a sheath of decorative twigs to bring the beauty of the outdoors in.
8. Royal Country Farmhouse Bedroom Design Ideas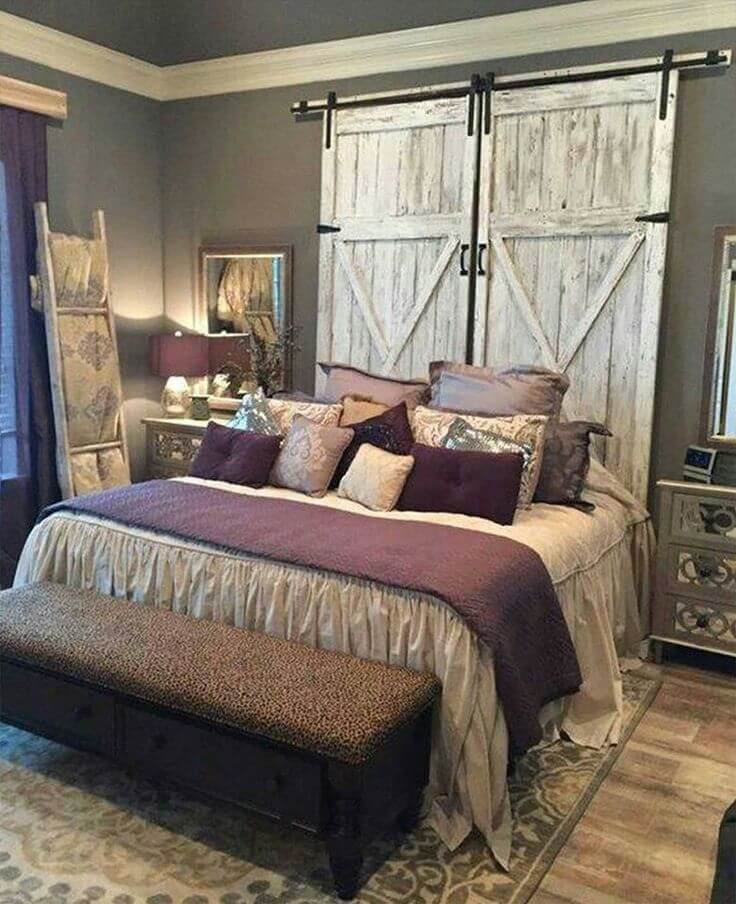 Give your bedroom a true country chic vibe by creating a DIY headboard from sliding barn doors. The whitewashed wood contrasts beautifully with dark, rich colors elsewhere in the room.
9. Workman's Ladder Picture Frame Display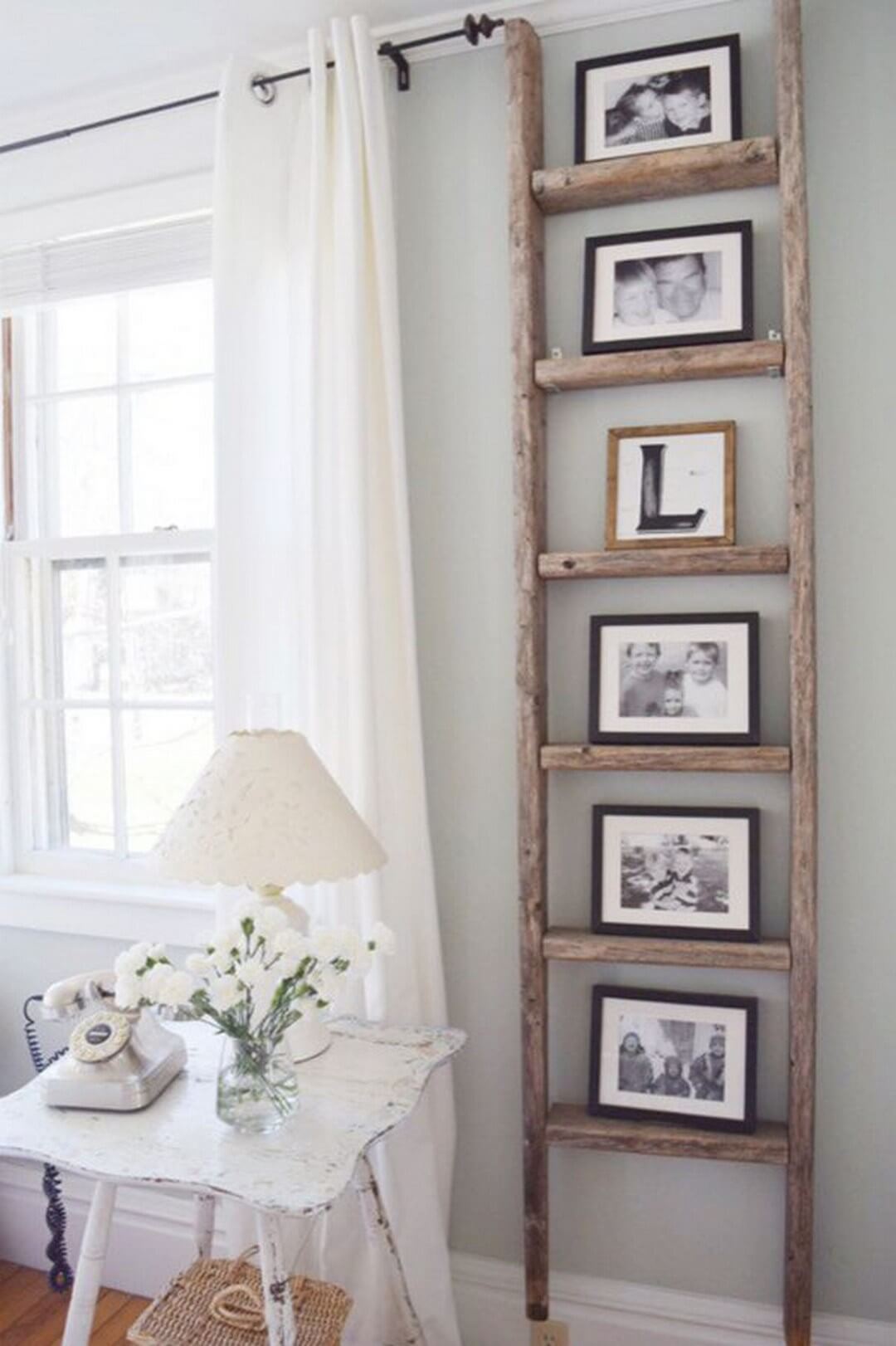 Repurpose an old wood ladder by turning it into a rustic photo display. Rest framed black and white pictures and artwork on each rung for a farmhouse chic décor piece.
10. Sweetheart Initials Wooden Wall Letters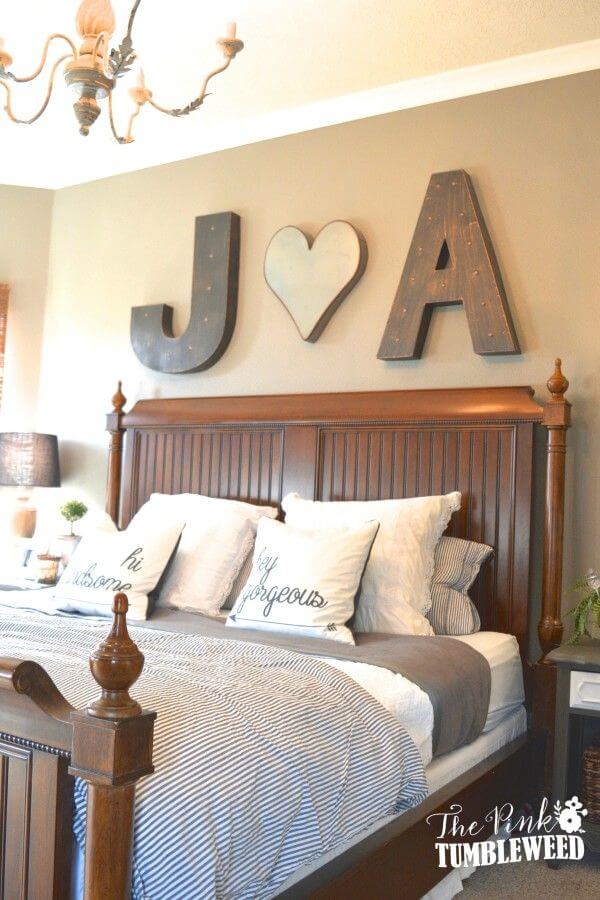 For a cute and easy bedroom décor piece, hang giant wooden letters above the bed. Place each lovebird's initial above their side of the bed with a heart in the middle.
11. Midnight Lantern Wall Fixtures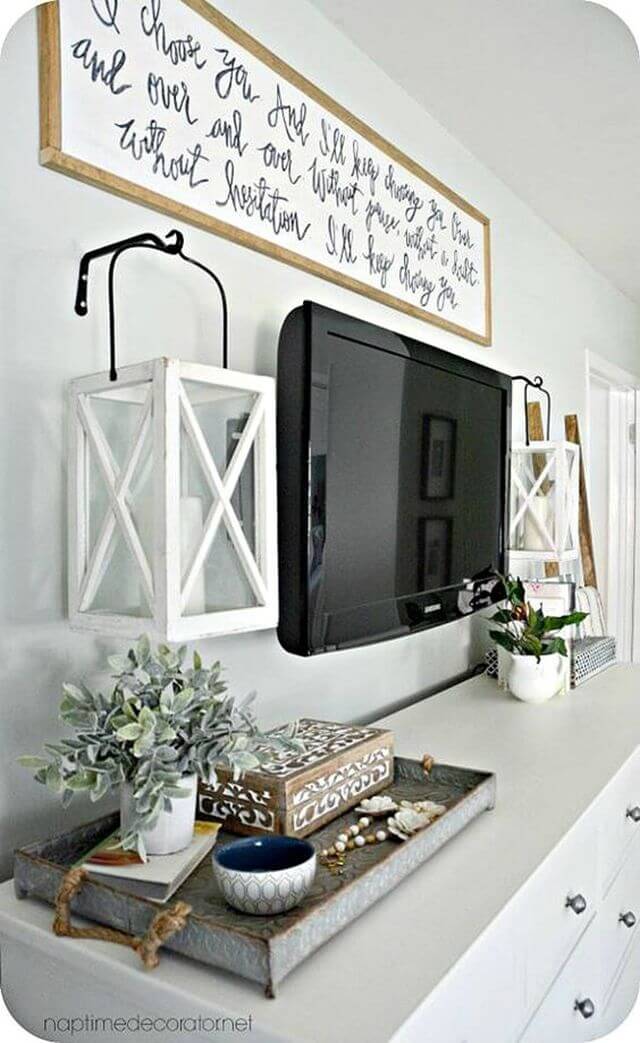 Nothing says "farmhouse" like vintage candle lanterns. The crisp black and white color scheme gives these lanterns a rustic yet modern vibe. Hang them near the TV so you can watch with the lights out at night!
12. Bed and Breakfast Bedroom Abode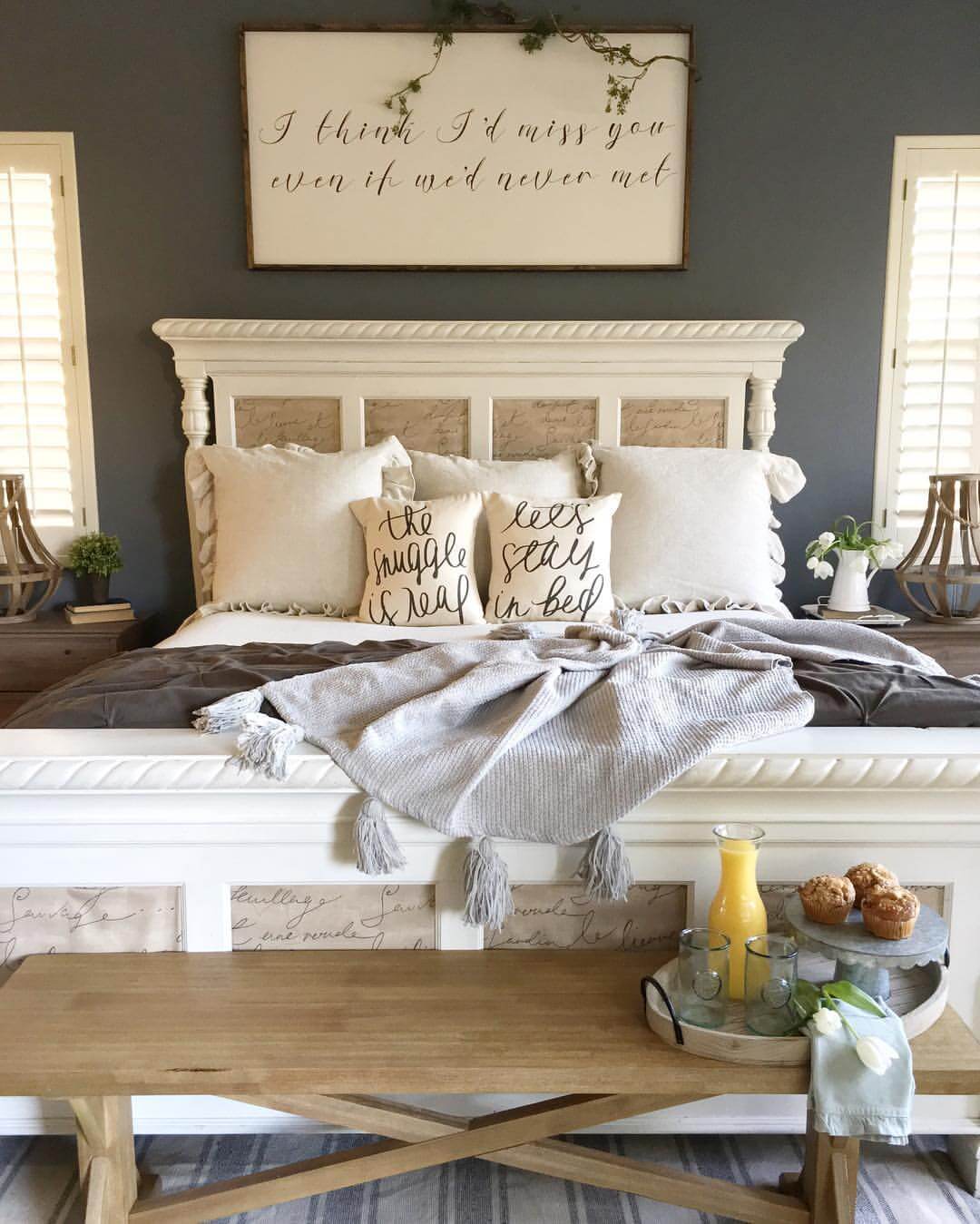 If you think words speak louder than pictures, this bedroom style is for you. Artwork, pillows, and even the headboard feature sweet sayings in a pretty cursive font. The neutral color scheme keeps the room from feeling too busy.
13. Fleurs Françaises Provincial Bedroom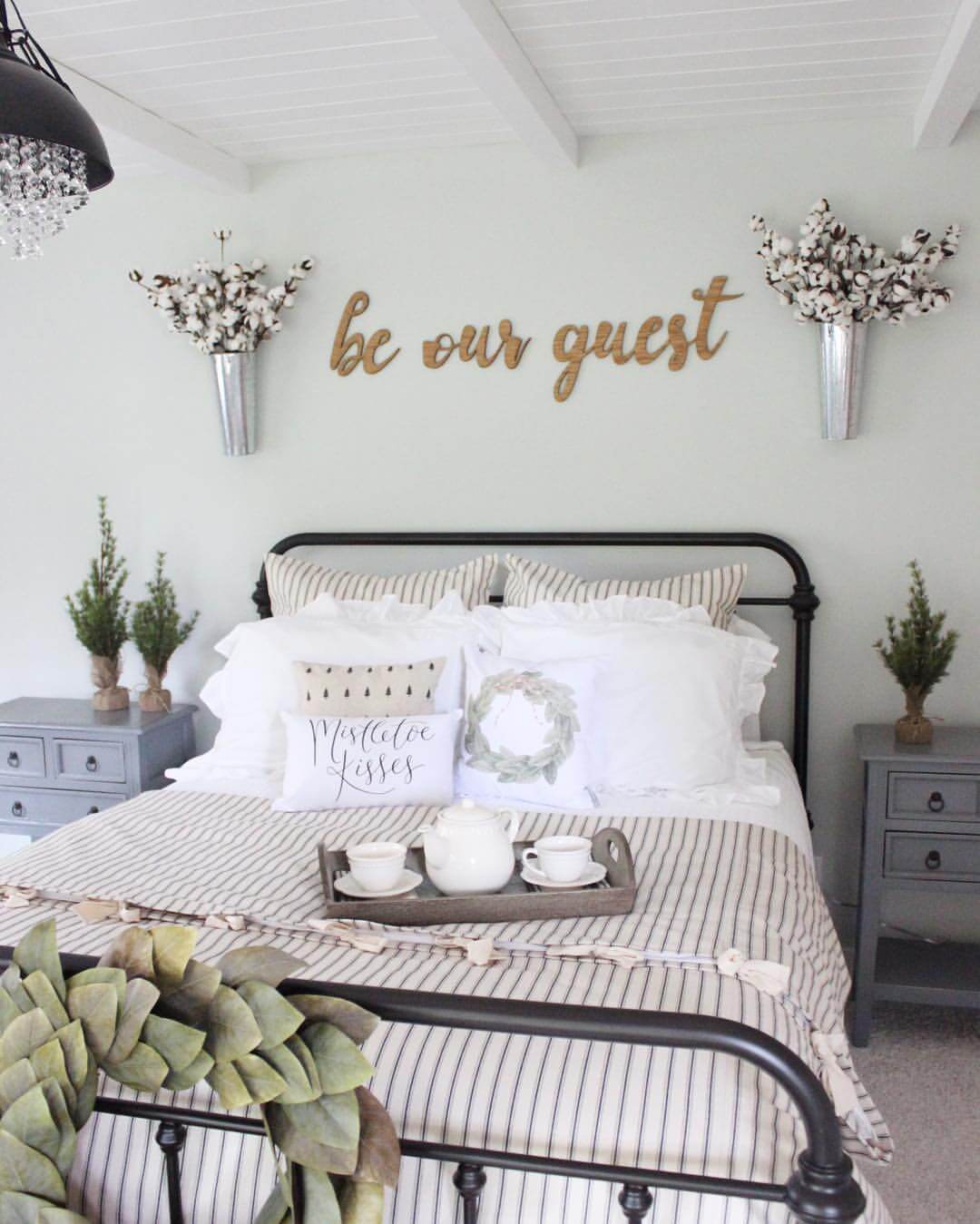 Cotton branches hung in galvanized metal buckets give this room a crisp, clean, plantation vibe. The soft blue-grey tables and striped bedding feel like you're back at your grandma's house in the country.
14. Plank and Ladder Bedside Shelf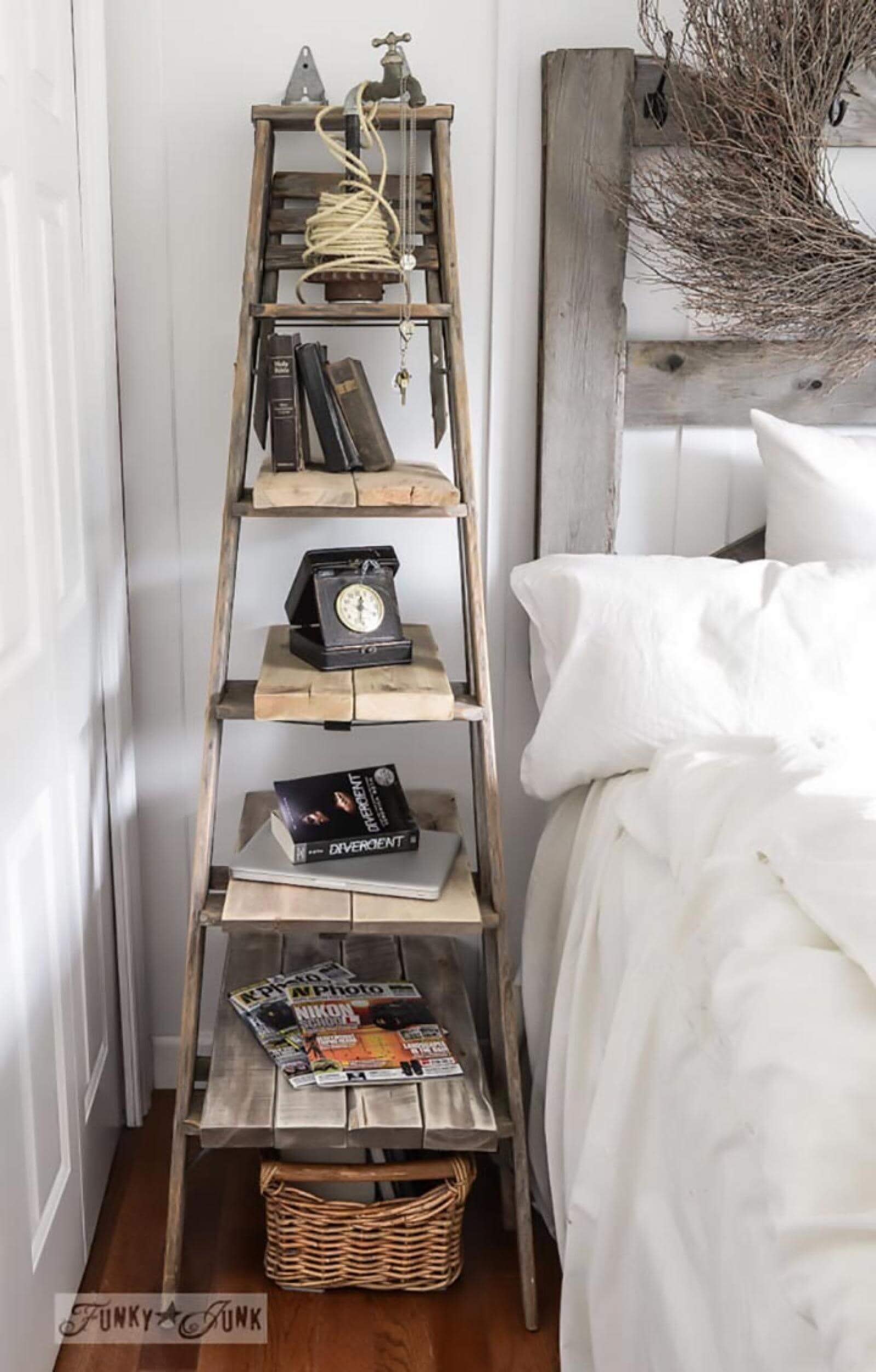 An old ladder and wooden planks can come together to create a unique display shelf. Add books, magazines, and knickknacks to this piece to make it both decorative and functional.
15. Nature Promenade Farmhouse Bedroom Decor Ideas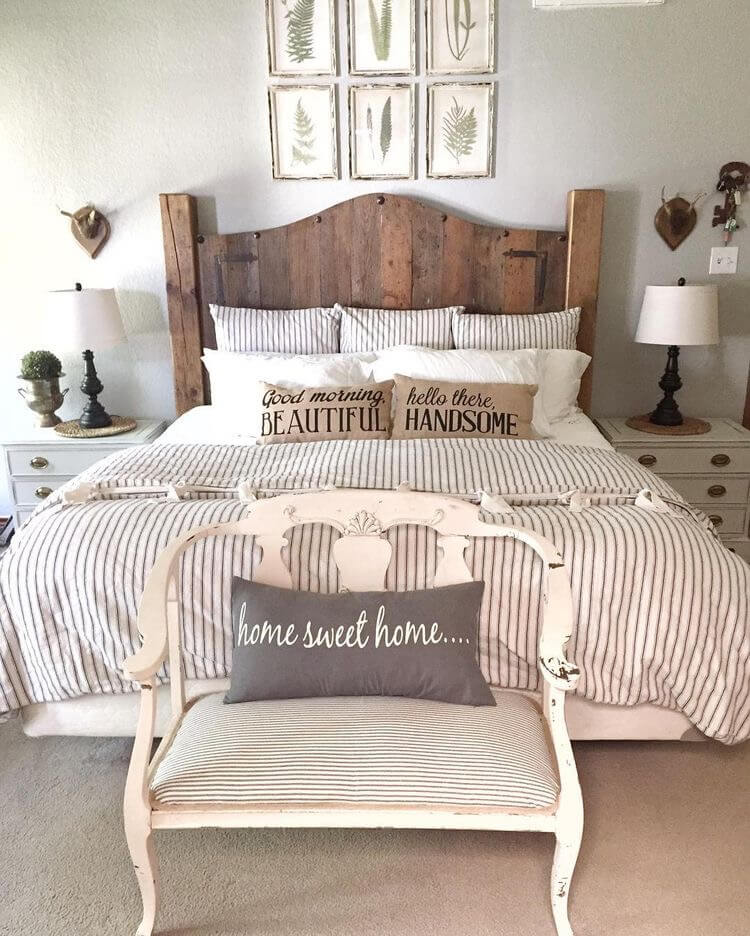 Give your bedroom a woodsy, outdoorsy feeling with a natural wood headboard. Add leaf art prints and antlers and you will feel like you're in a rustic cabin. A pretty bench and sweet throw pillows add feminine softness.
More farmhouse bedroom decoration ideas on the next page…