Unlike many interior trends, something about the country aesthetic never falls out of fashion. The homey textures and eclectic mixture of furniture and antique accents all perfectly blend to produce a personal space that is both comfortable and timelessly on-trend. More and more designers and decorators alike are turning to the farmhouse motif this season, and what better place to start than in the bedroom?
45+ Country-Fine Farmhouse Bedroom Design and Decor Ideas That Are Every Designer's Dream

Country bedrooms are all about personal comfort punctuated by those little touches that make it one's own: a milk-jug-turned-vase, heirloom quilt, or repurposed wooden window frame mirror, to name a few. Thrift store finds and flea market treasures are the perfect farmhouse compliments, and with these 45+ farmhouse bedroom decor ideas you can experiment and implement in the manner that suits your unique style.
Whether you're looking to add a touch of country chic to your urban boudoir, or ready to transform your bedroom into an old-fashioned retreat, there's something for everyone in these dreamy farmhouse bedroom design ideas.
1. Fabulous Farmhouse Shiplap Wall and Metal Bed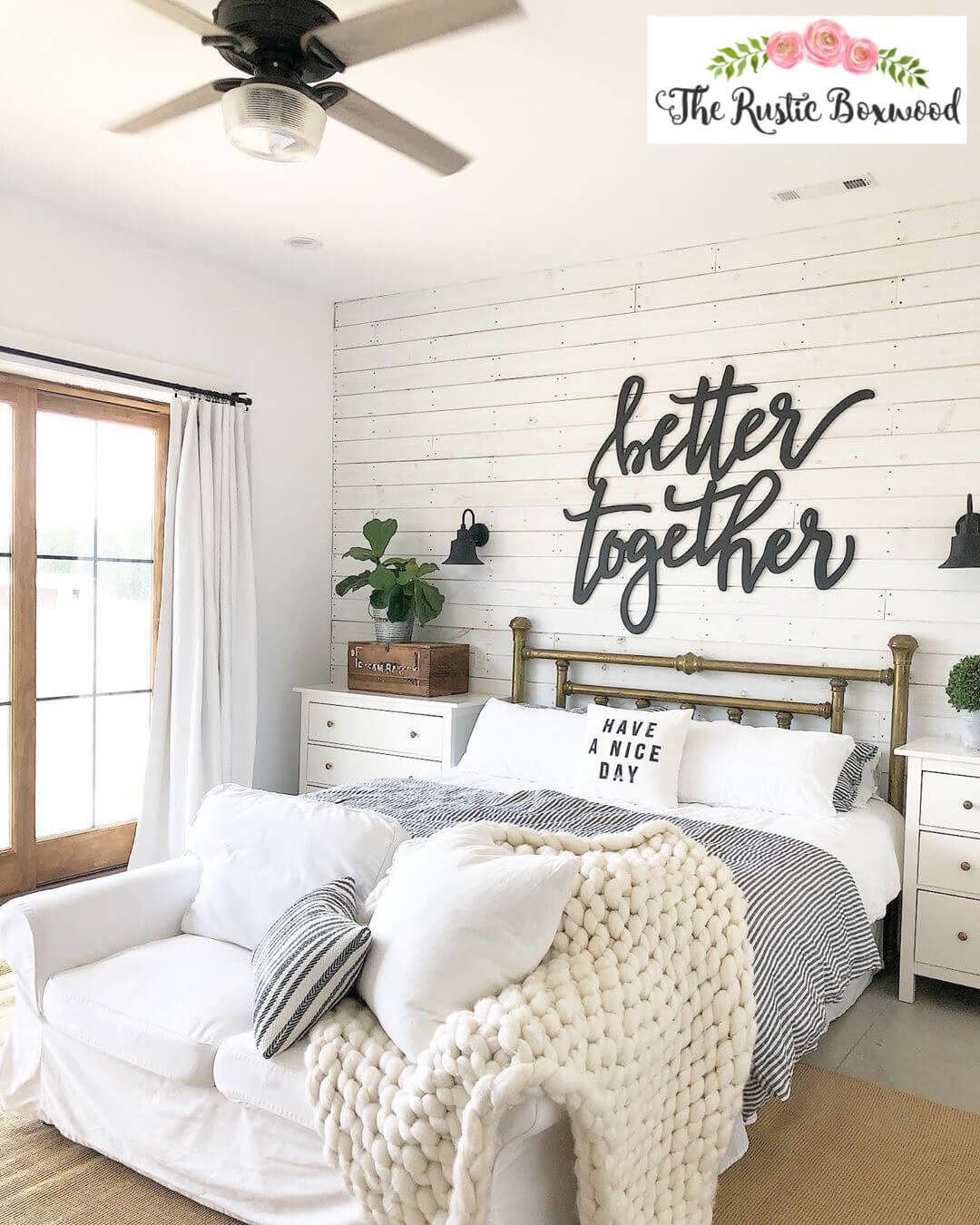 Bring the wow factor into your farmhouse bedroom with a statement wall of shiplap! It adds an element of texture and style to any space. Laid as a statement wall behind your bed, it makes the perfect accessory for your vintage-looking brass bed. Get cozy with a love seat and oversized throw for that perfect couple's nest.
2. Weathered Wood and Layers of Love Bedroom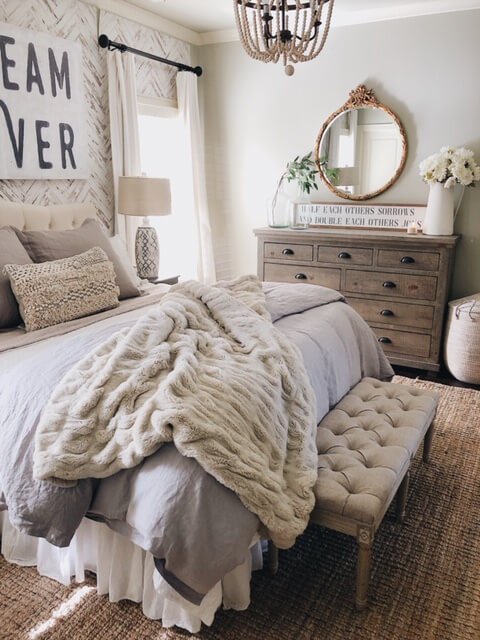 Pile on the love as you layer your master bed with super soft blankets and pillows. Add to the farmhouse charm with a weathered wood dresser below an antique mirror. Keeping it neutral is the way to go!
3. Flowers, Textures, and Sparkle Equal Gorgeous Bedroom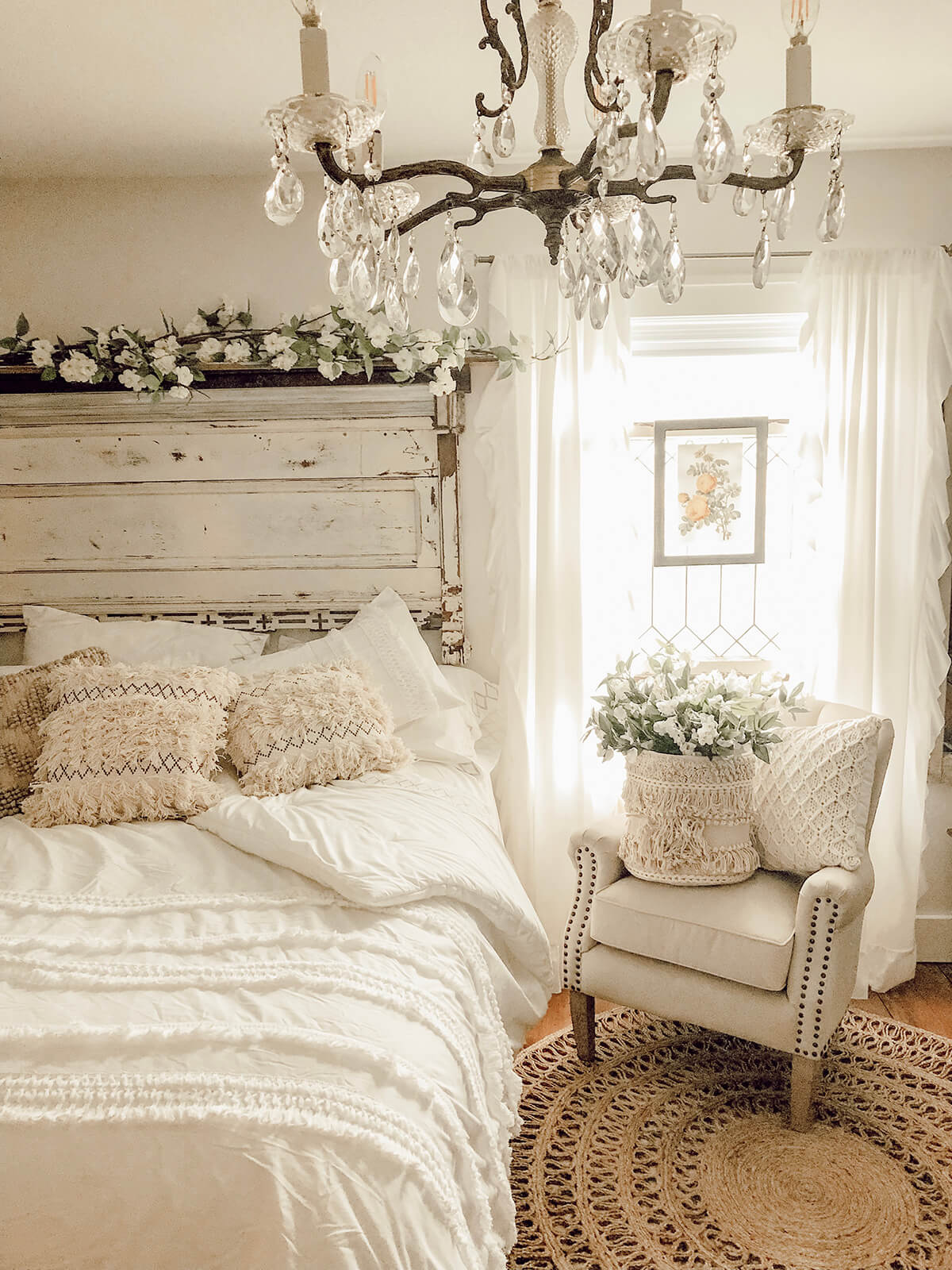 Light and airy describes this white wonderland farmhouse bedroom. The gorgeous vintage chandelier ties the entire room together and the flower vine atop the distressed headboard gives the space character.
4. Picture Perfect Soulmate Farmhouse Bedroom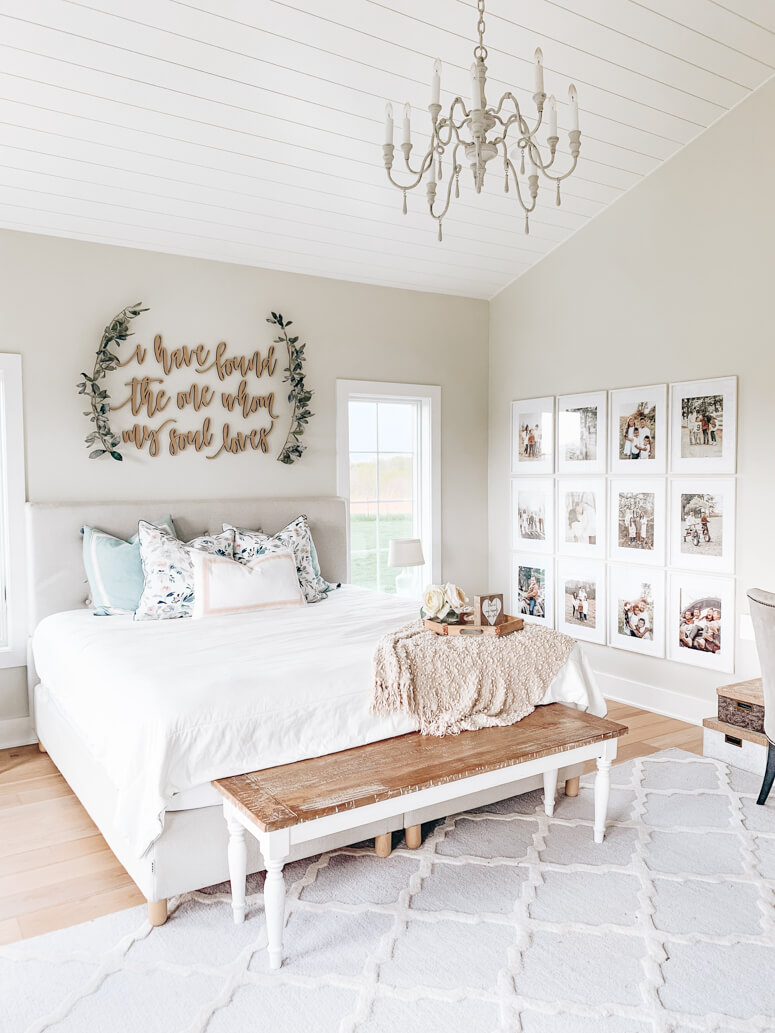 Arrange all of your favorite family photos on a gallery wall to create seclusion of solitude in your bedroom. The sentimental soulmate phrase hanging above the bed is just the icing on the cake for this farmhouse chic design.
5. Chalkboard Photo Gallery Farmhouse Bedroom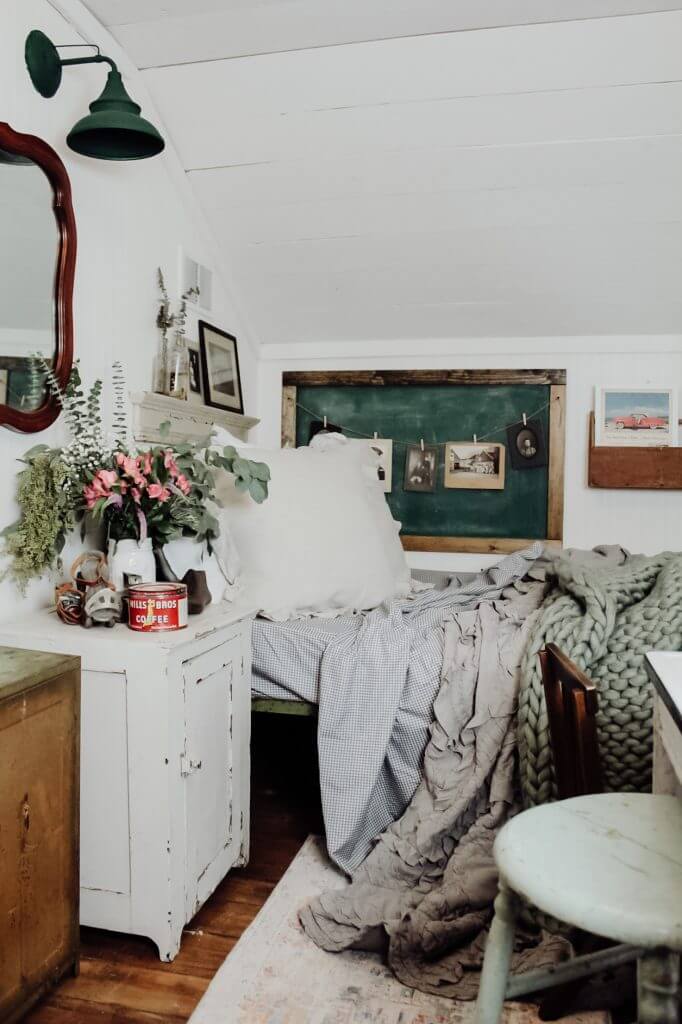 Green and gray give your farmhouse bedroom the subtle touch of color it needs. Placing an old chalkboard on the wall exudes some character and creates a unique picture displaying a piece.
6. Bicycle and Brick Wall Farmhouse Bedroom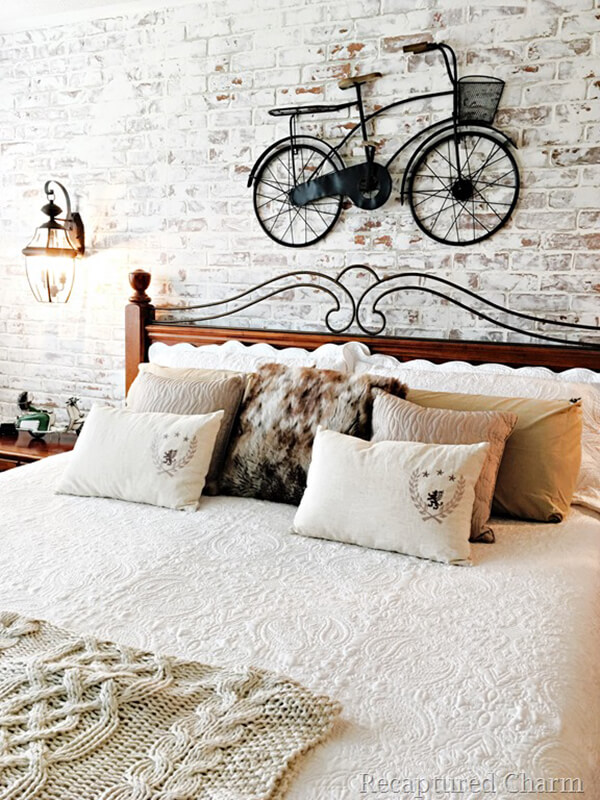 An exposed brick wall makes a gorgeous background for your master bed and hanging a decorative metal bicycle is the perfect accessory. Place a glass lantern to the side to give some extra charm and shed a little light for nighttime reading.
7. White and Wooden Sweet Dreams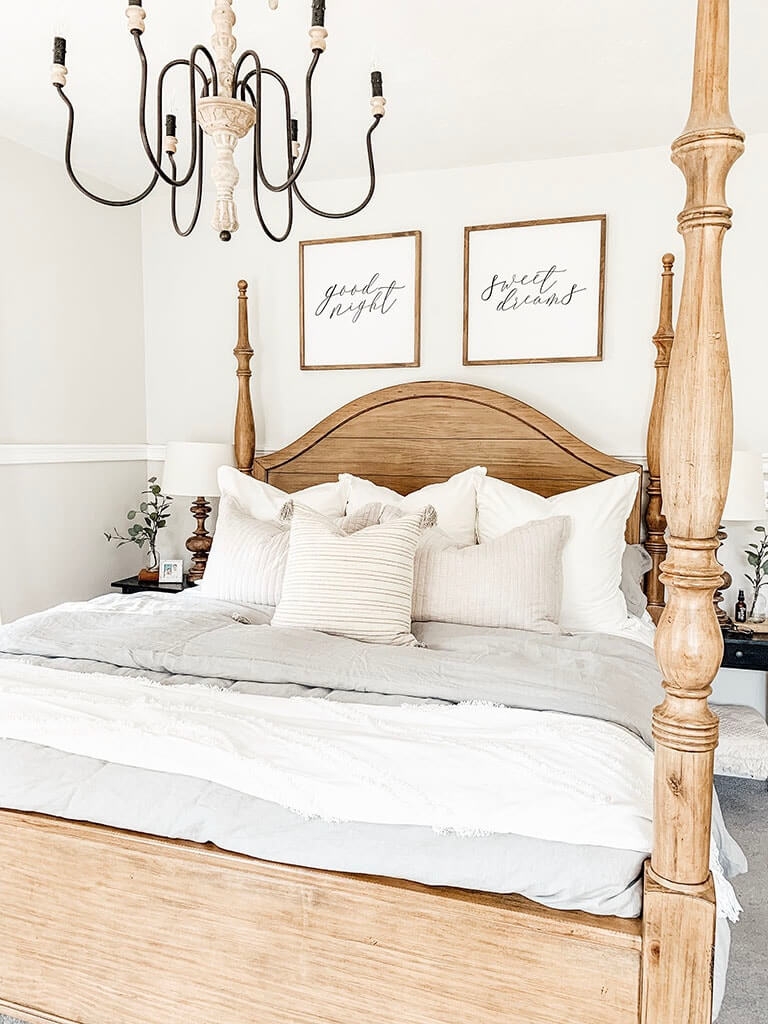 Natural wood and white decor create coziness in this farmhouse bedroom. The simple good night and sweet dreams wall art along with the four-post wooden bed are a winning combination.
8. Modern Farmhouse Gray and Black Metal Bed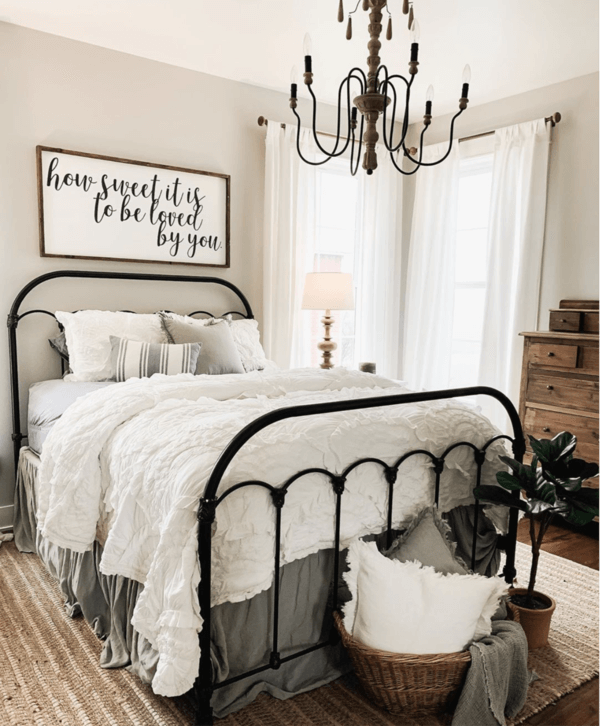 Make your modern farmhouse bedroom come to life with this dark metal bed. It coordinates perfectly with the black lettering in the sign. To complete the look, a decorative metal chandelier hangs above the bed as a focal point.
9. Multi-Textured Side Table Dream Space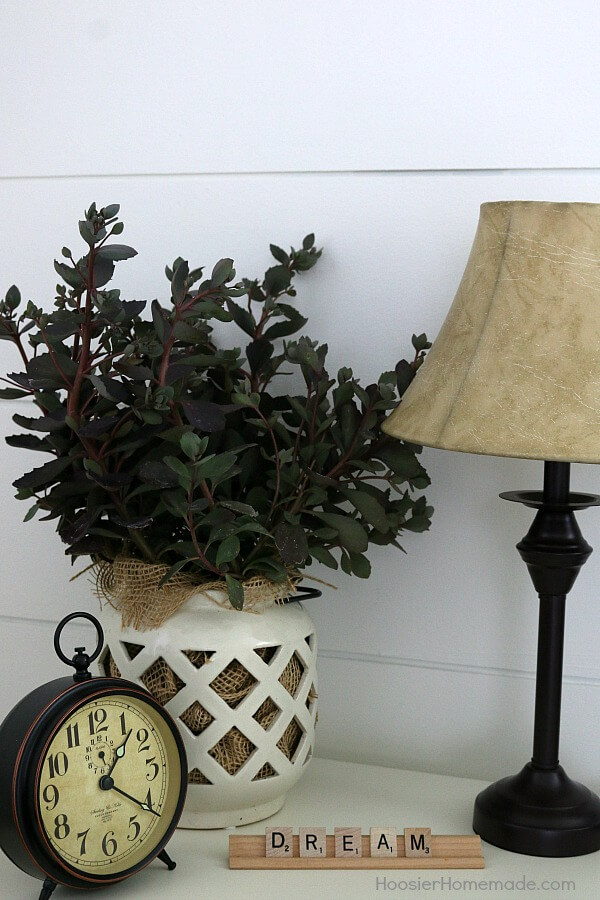 Tons of textures add to the dreamy space as they nestle together on your bedside table. From burlap around the greenery to the metal and leather of the lamp, this side table channels charm as it spells out your nighttime mantra- a dream.
10. Bring the Outdoors In with Farmhouse Decor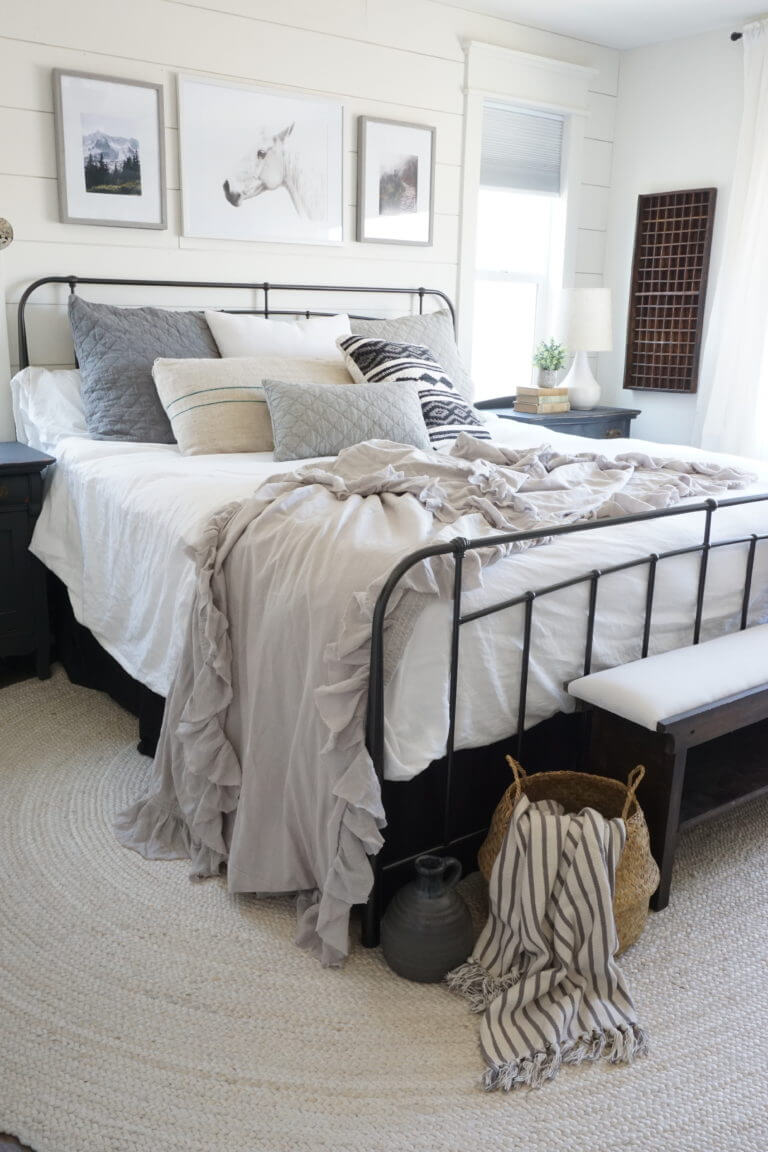 Source: The original source is not available anymore.
Start with a large, white shiplap wall and add some breathtaking outdoor pictures feathering mountains and horses. A southwest printed pillow in black and white anchors in the farmhouse charm.
11. Simply Woven and Wooden Farmhouse Bedroom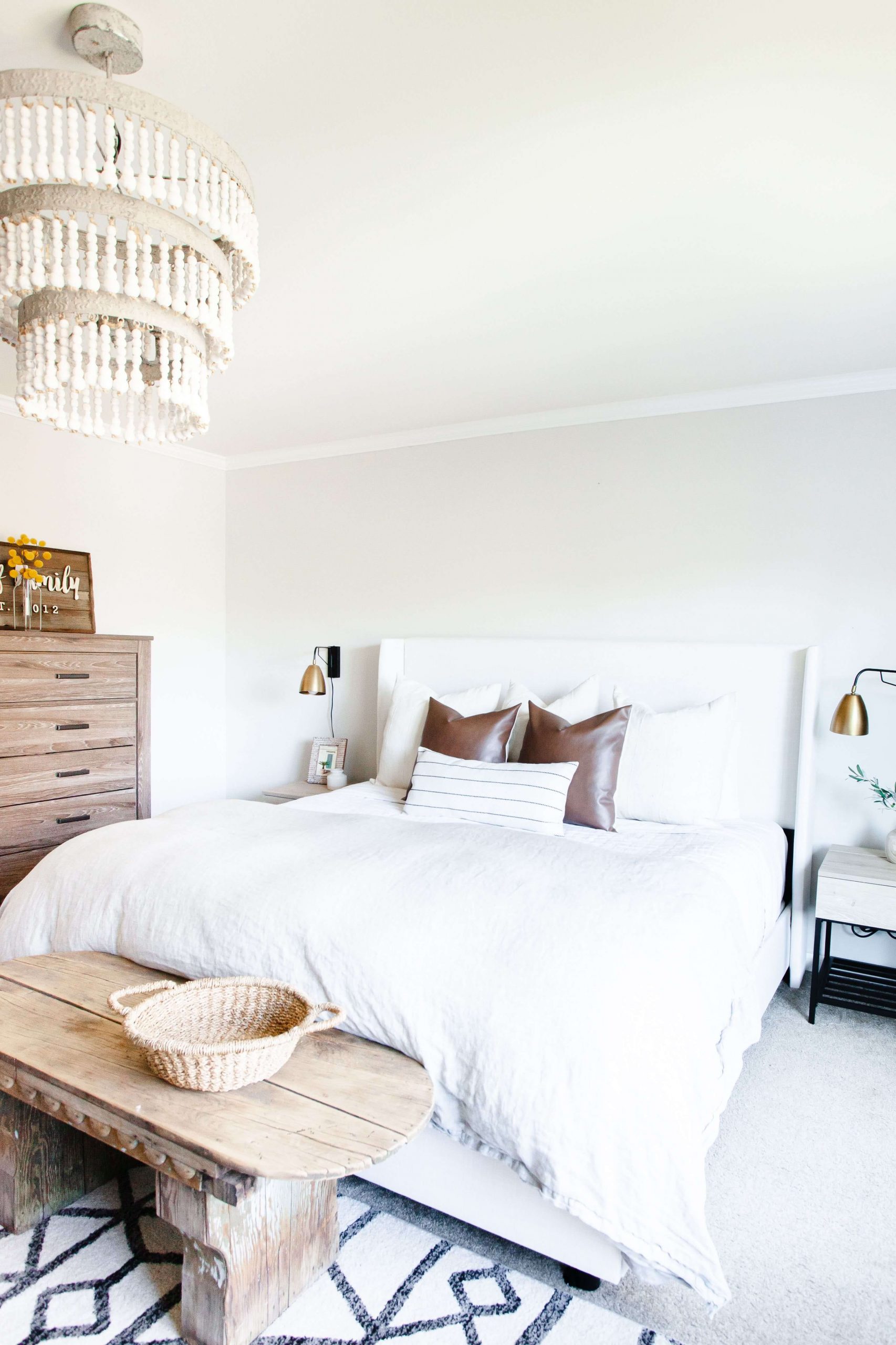 The white space is the perfect foundation for the wooden chest of drawers and bench at the foot of the bed. Tie it all together with textured pieces like the woven basket and the tasseled pendant light fixture.
12. Mid-Century Meets Modern Farmhouse Design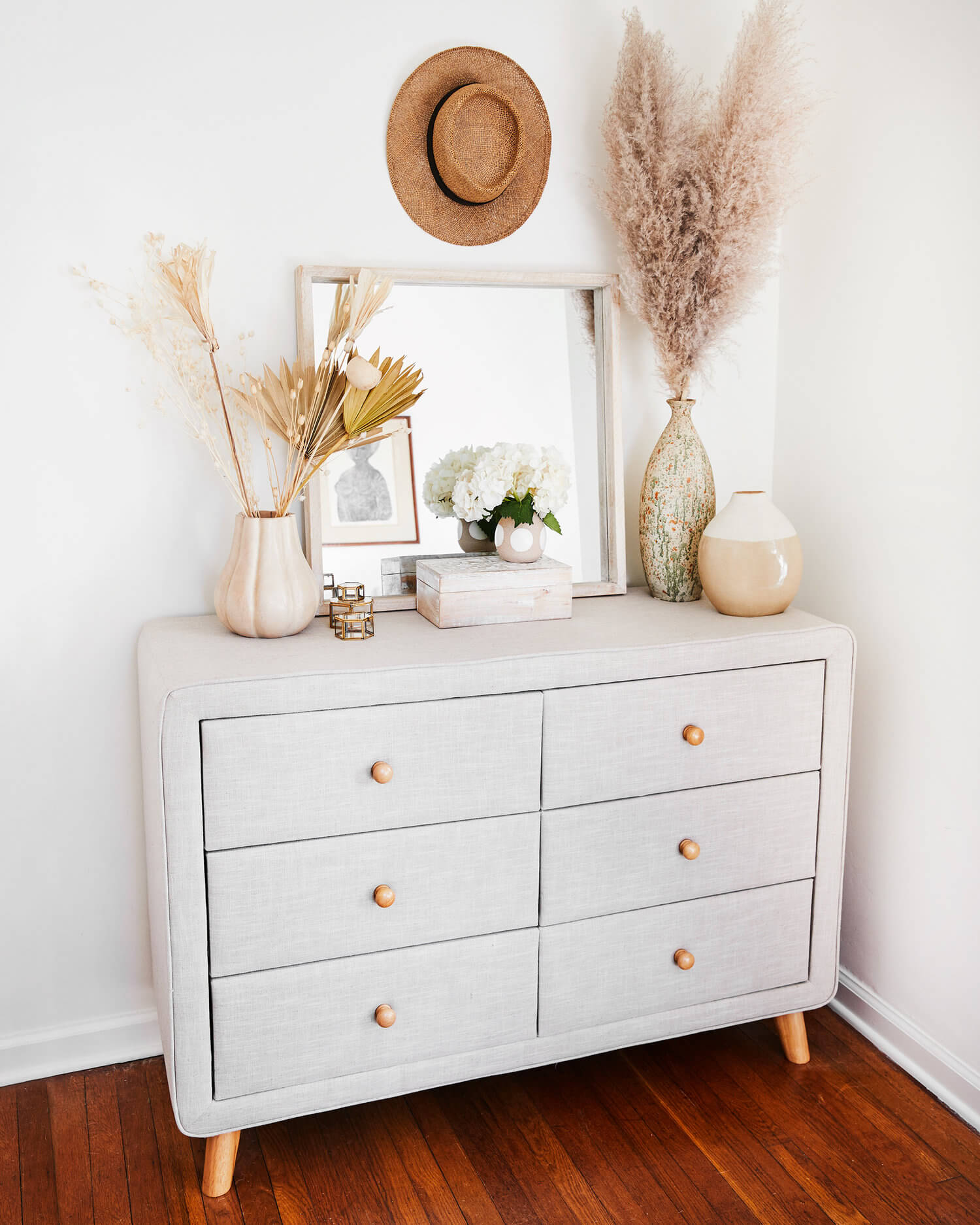 Source: The original source is not available anymore.
Pair the mid-century modern legs of this linen gray dresser with some neutral decorations and you can transition into a modern farmhouse design. The pottery vases and straw hat are a fun touch for a farmhouse feel in the bedroom.
13. Rustic Wreath Headboard Farmhouse Decor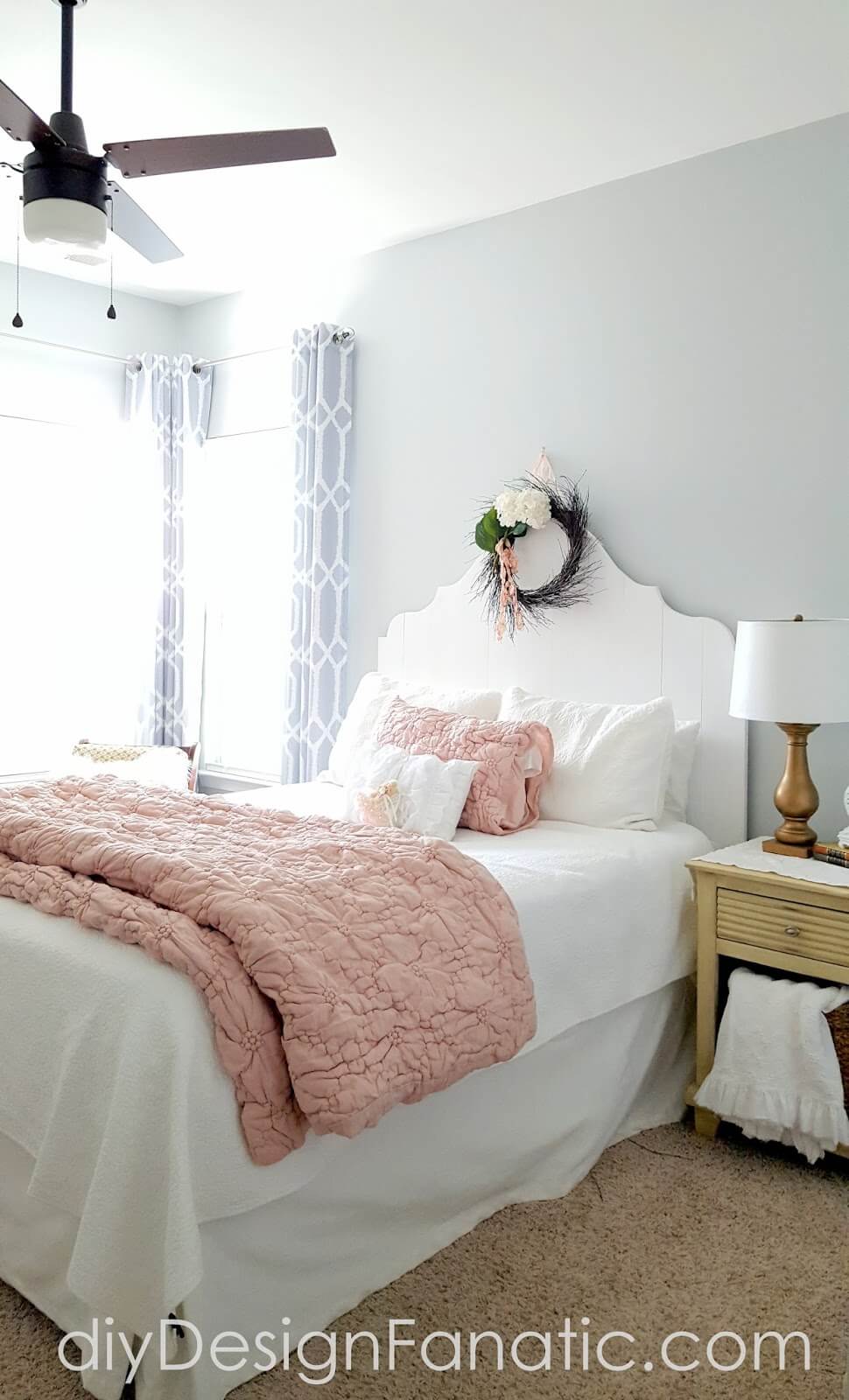 Re-think your wreath and hang a rustic one on your upholstered headboard for some farmhouse fun. It incorporates the blush hue into the neutral design without overpowering the simple elegance of the bedroom.
14. Light, Airy, and Purified Air Farmhouse Bedroom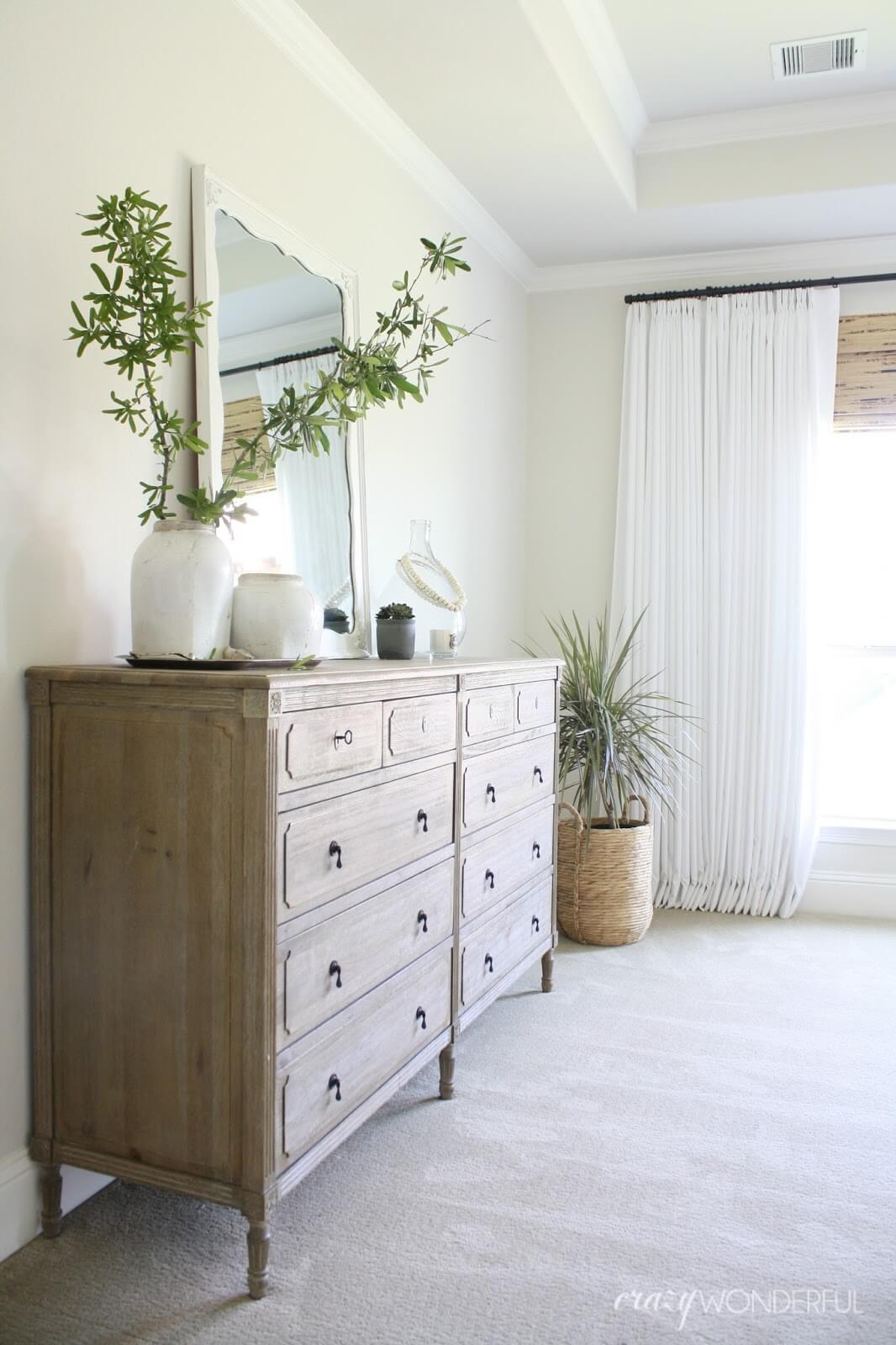 Let the natural light flow and grow your beautiful green houseplants that work double duty as decorations and air purification systems. They look great and get all the sunshine they need in this cozy space whether on the floor or on the wooden dresser.
15. Pretty Pottery from Kitchen to Bedroom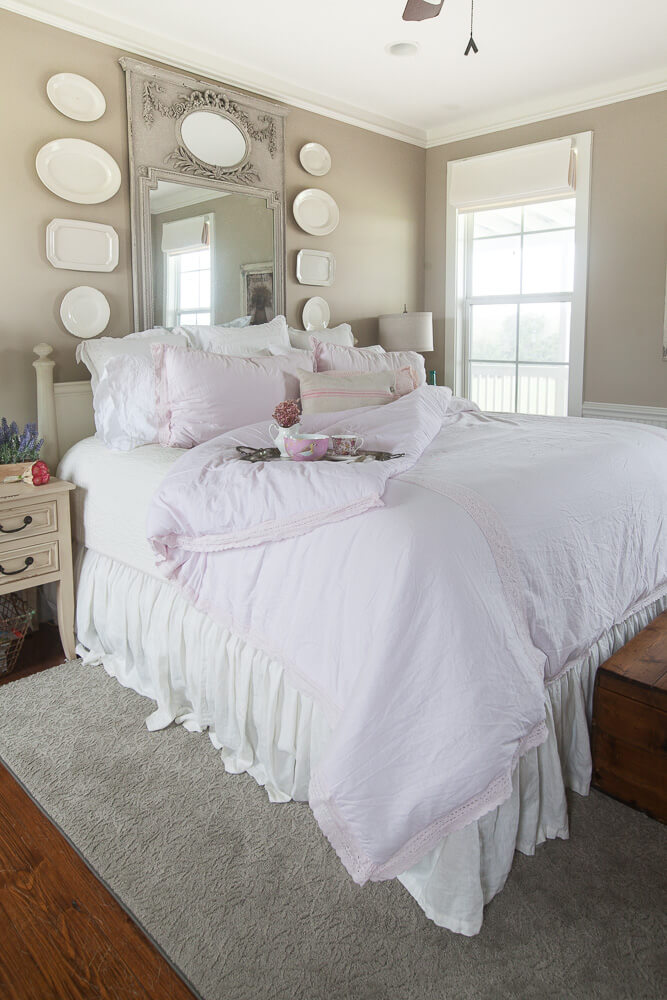 Breathe new life and fresh purpose into those unused kitchen pottery pieces by placing them on the wall in your farmhouse bedroom retreat. Arranged together around an old mirror, they make a dramatic display that is dream-worthy.
16. Repurposed Doors and Fan Plate Farmhouse Decor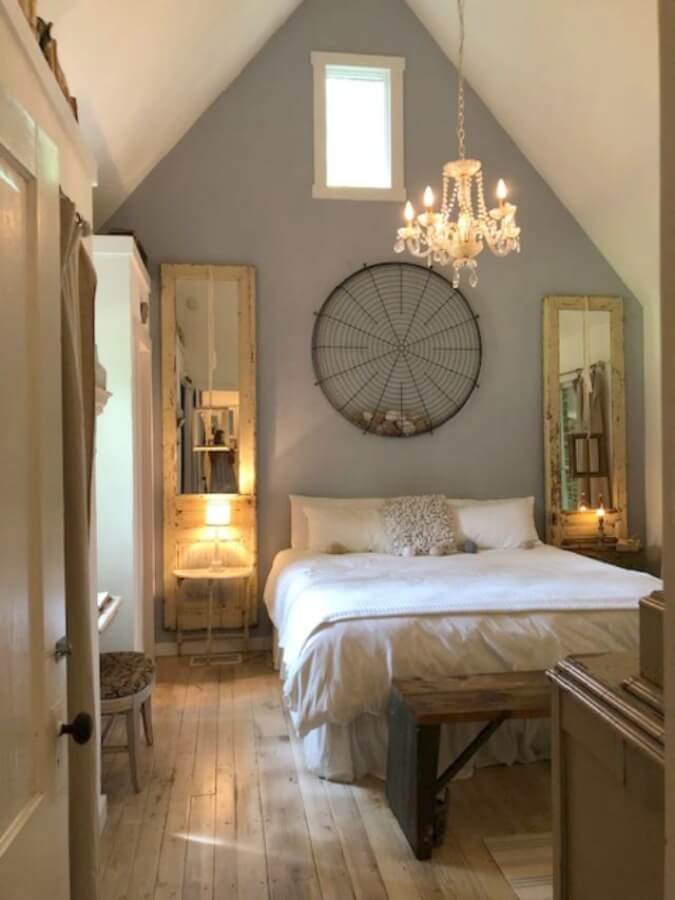 Think outside the box when decorating your farmhouse bedroom. These old doors are perfect for framing your bed space and the fan plate creates a unique wall art piece for the head of your bed.
17. Farmhouse Lantern with Edison Bulb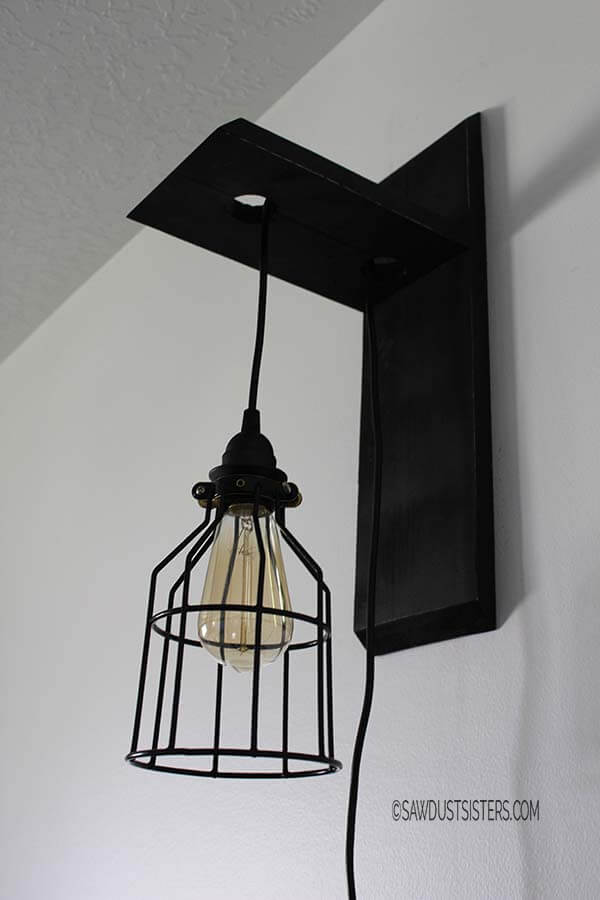 Rustic meets farmhouse in this DIY black wooden lantern light fixture. The metal caged frame houses an Edison bulb to fill the room with light and charm at the same time.
18. Short on Shiplap Master Bed Headboard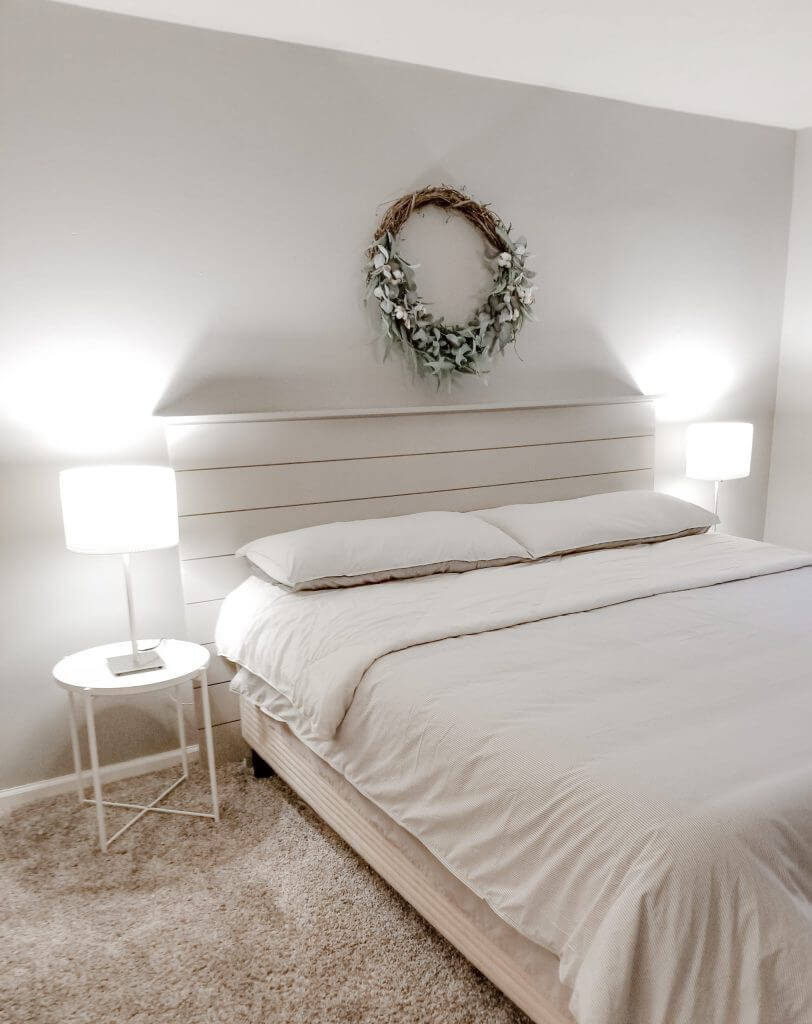 Keep it on a small scale and use your shiplap as a headboard. The continuous white space necessitates this dominant textured piece. Light it up on both sides and add a whimsical rustic wreath to call it a day.
19. Seaside and Vintage Farmhouse Bedroom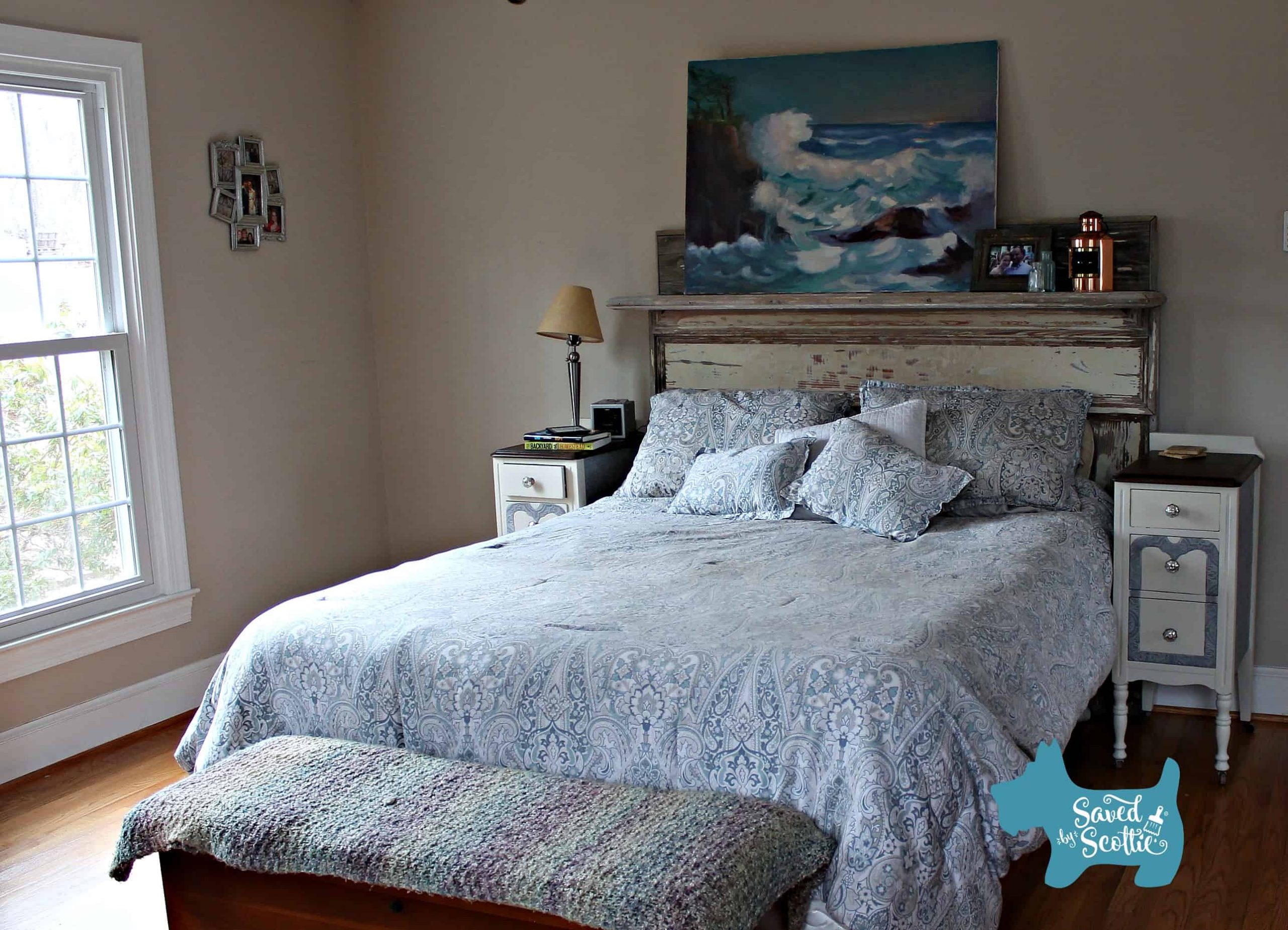 Eclectic style loves incorporating designs especially like farmhouse and shabby chic near the sea. The oversized distressed white headboard makes a perfect mantel for the hand-painted seascape while the farmhouse nightstands complete the room.
20. Shabby Chic and Chenille Farmhouse Bedroom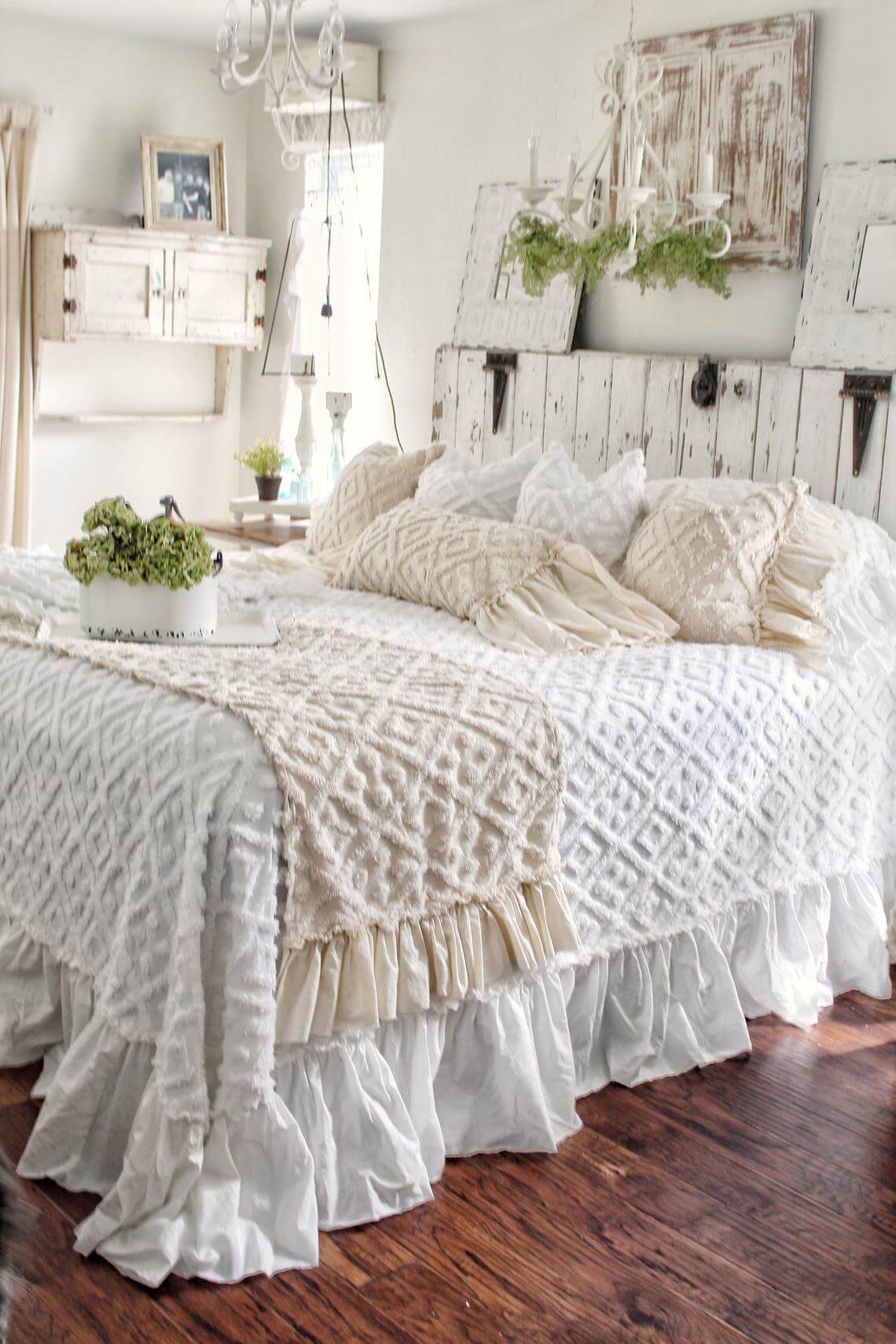 The vintage appeal of chenille bedding along with a repurposed door turned headboard lead the way for the farmhouse shabby chic design of this bedroom. With a pair of chandeliers and a white wooden cabinet, a little charm goes a long way in this master space.
21. Waiting for Each Other Farmhouse Bedroom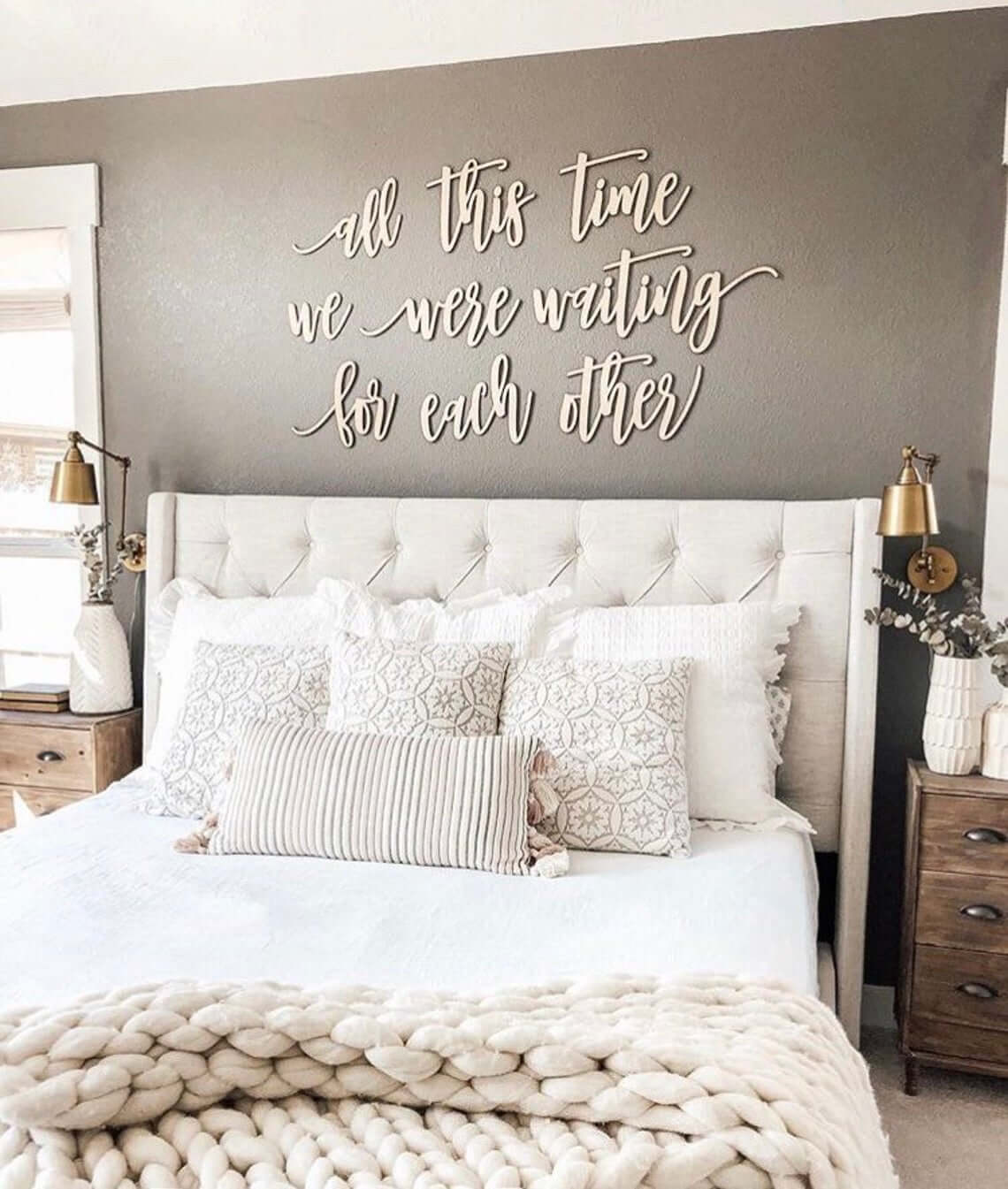 Position an upholstered headboard below this "waiting for each other" sign and you set the stage for an inviting bedroom. The symmetry of the gold wall sconces and nightstands are perfect along with the arrangement of accent pillows on the bed.
22. Shabby Chic with Chandelier and Ruffles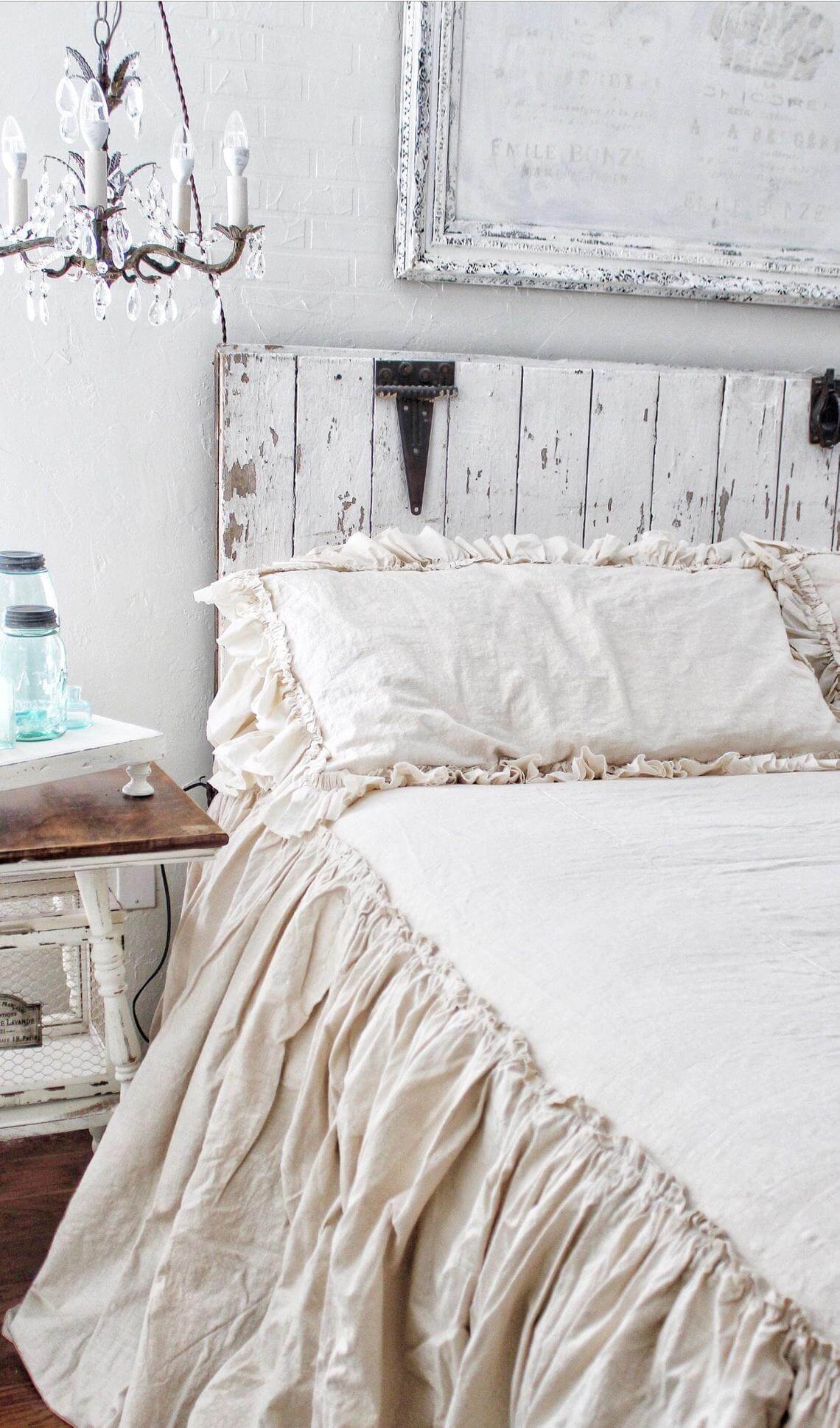 Put white on white as you add layer after layer of character in this shabby chic farmhouse bedroom. The soft frilly bedding is the perfect contrast for the distressed and rough old wooden door headboard.
23. Decorative and Dreamy White Hearth with Shiplap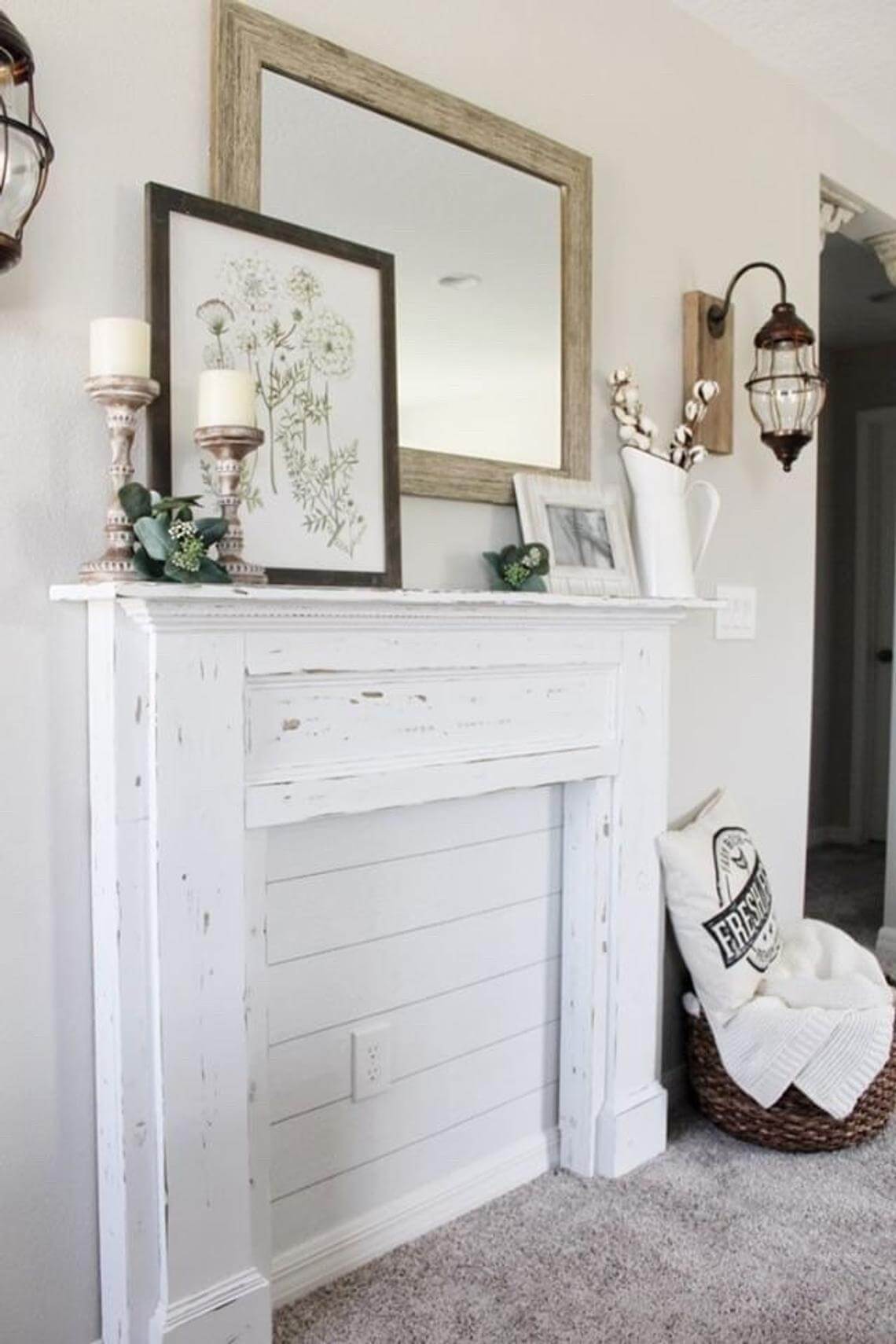 Cozy and warm without the mess is what you get with this decorative and dreamy hearth. Full of shiplap and no messy ashes, this hearth houses your favorite farmhouse decorations including your sprigs of cotton for an earthy appeal.
24. Love Your Home Cozy Farmhouse Bedroom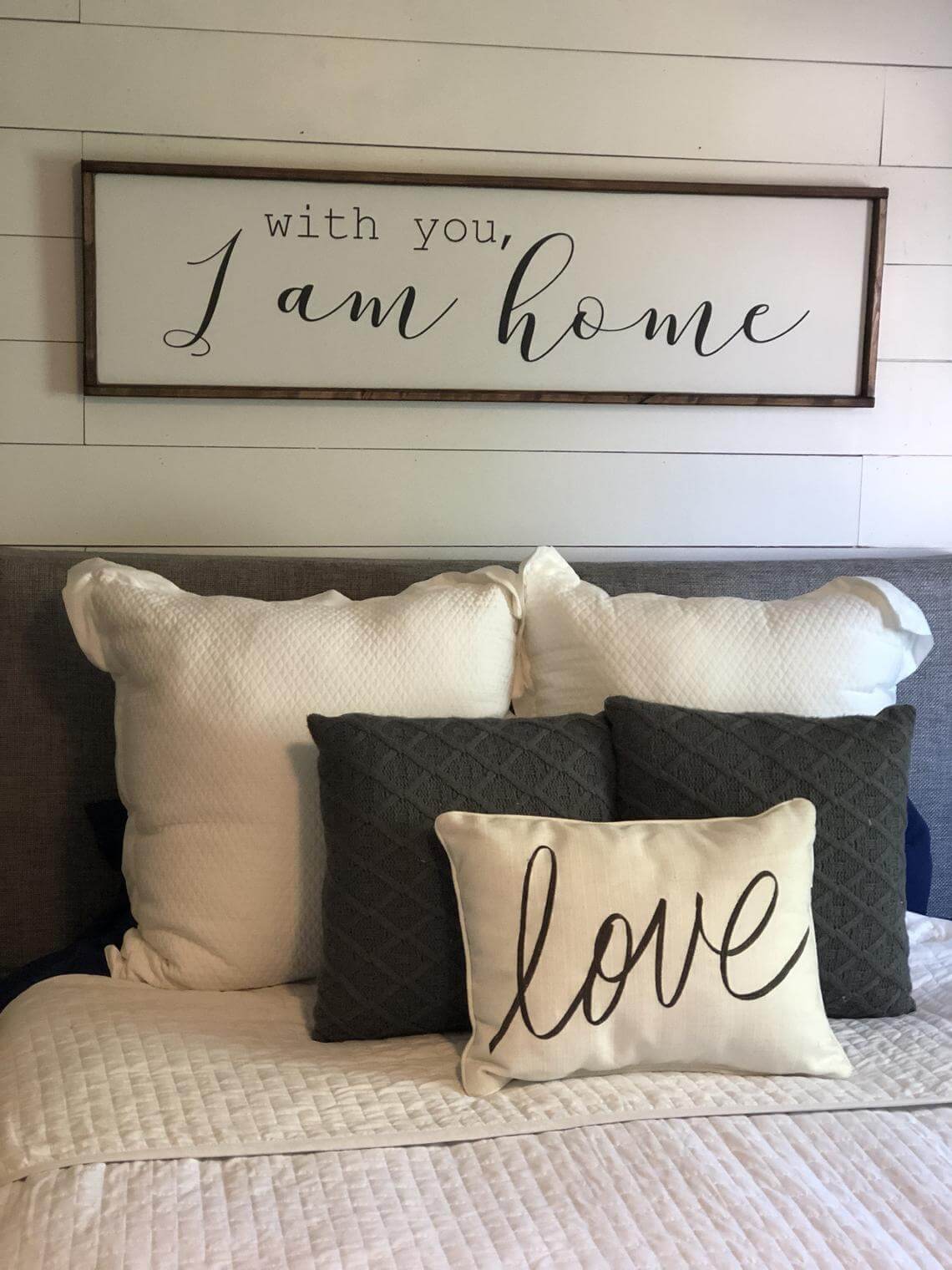 Simple and sleek go hand in hand in this modern farmhouse bedroom. Black and white join forces in this bedding display and the large sign over the bed.
25. Welcoming Window Pane and Lantern Charming Bedroom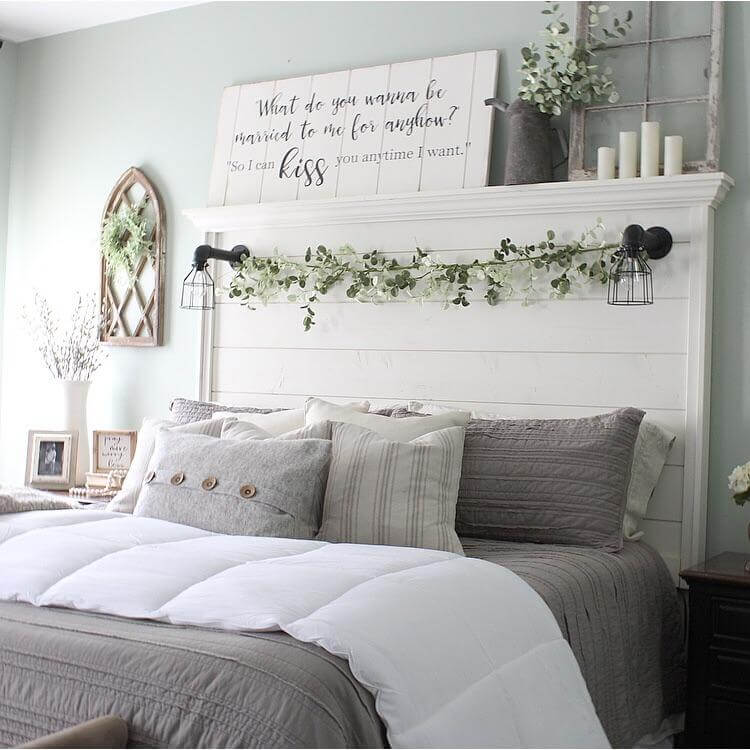 Rejuvenate old window panes as gorgeous decor in your farmhouse bedroom. Add a feminine touch of flowers with some lantern lighting to finish off the look.
26. Always Kiss Me Goodnight Charming Modern Bedroom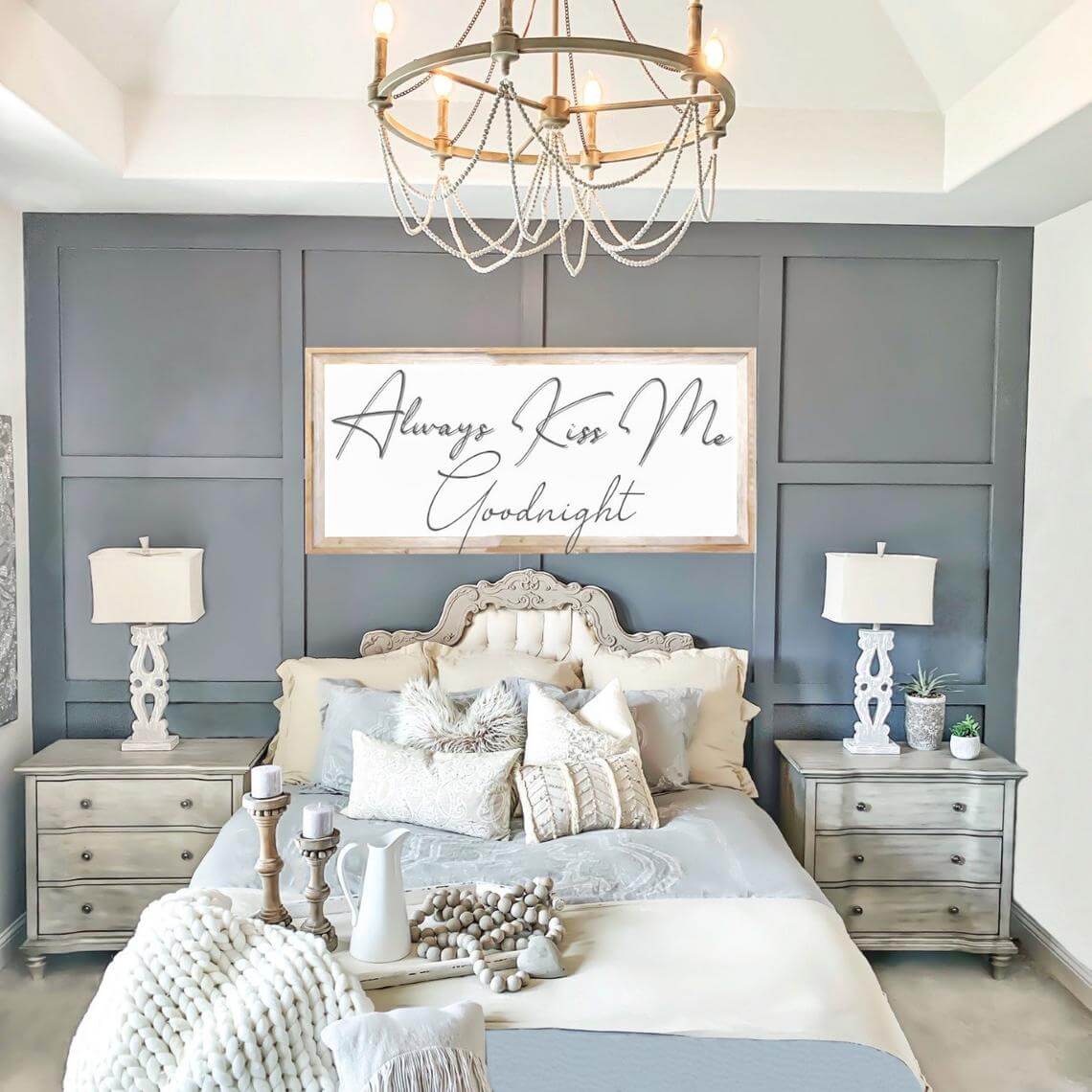 The perfect mix of colors and textures create an inviting design. Use the bed as the foundation for your design by arranging pillows and blankets amid a serving tray of love.
27. Charming Church Window Inspired Wall Art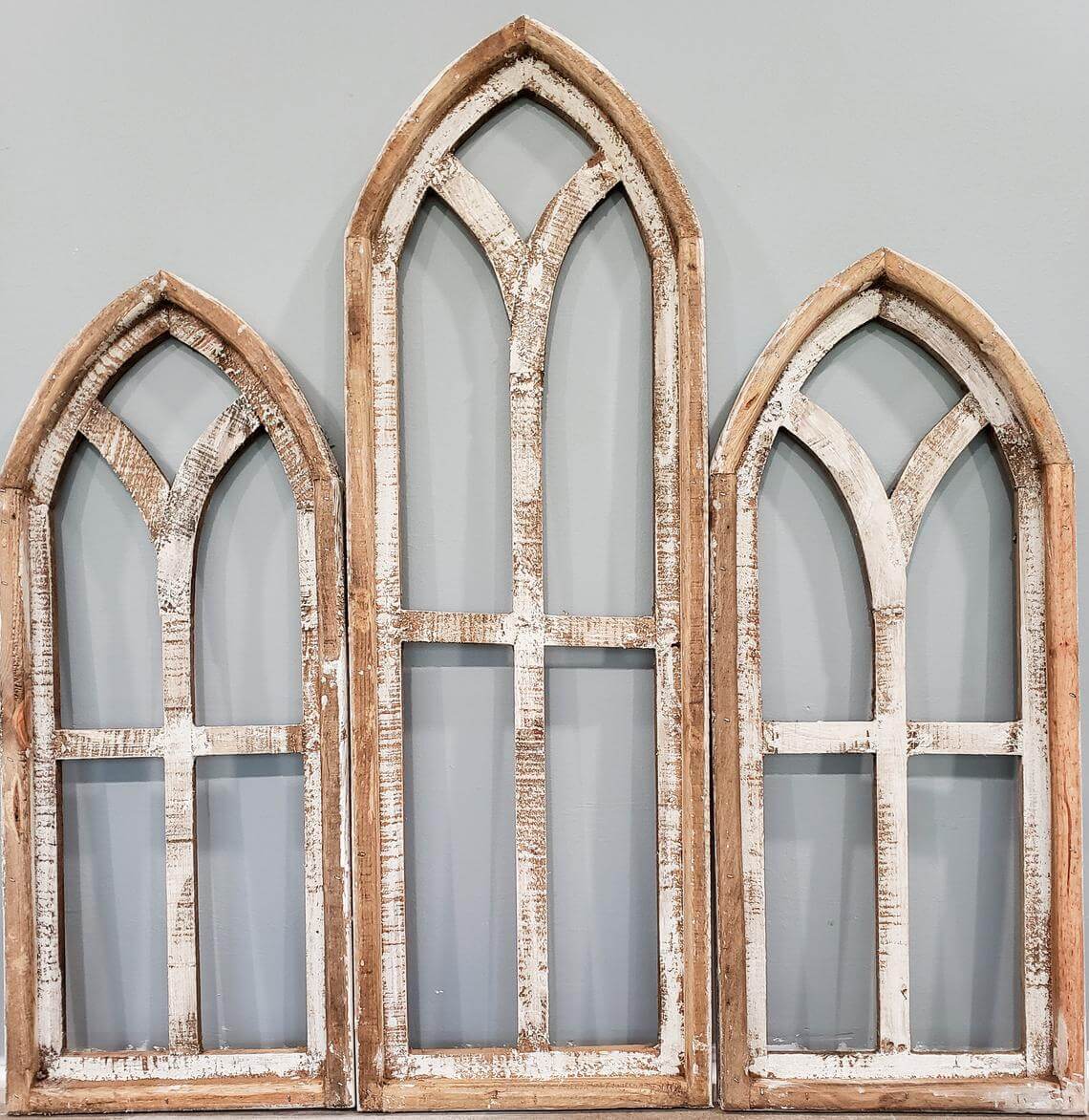 Rustic charm abounds in these church window inspired wall art pieces. Place them together to create a bold focal point above your bed. Weave some fairy lights or greenery for a special added touch.
28. Lady Grey Farmhouse Bedroom Decor Ideas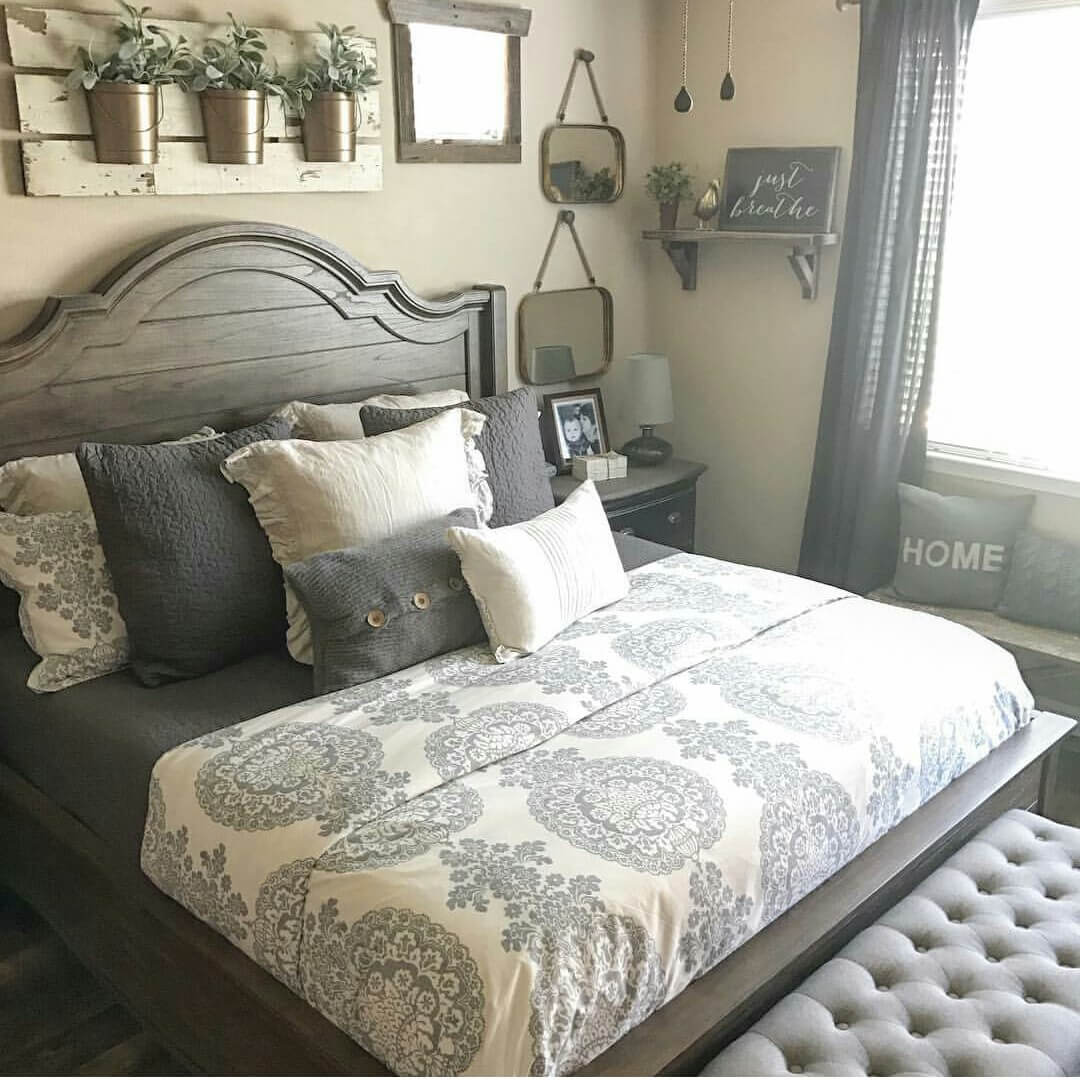 Source: The original source is not available anymore.
Give your bedroom a soft, homey touch with a grey and white color scheme. Pretty throw pillows make the room feel cozy, while potted plants add a touch of freshness from the outdoors.
29. Farmhouse Safari Fusion Bedroom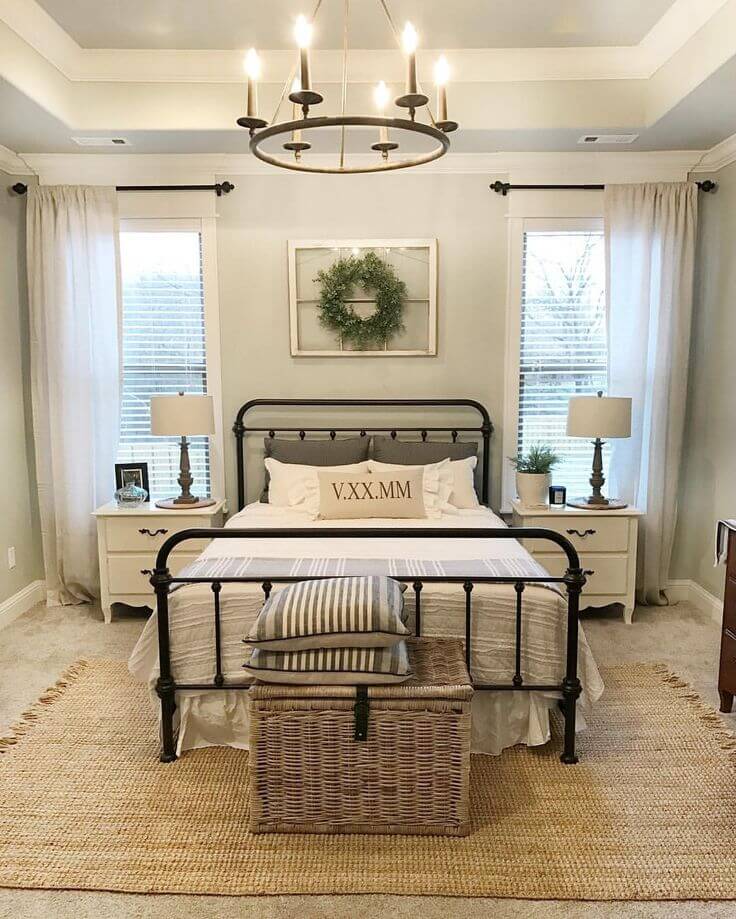 Source: The original source is not available anymore.
Far from the shabby chic farmhouse vibe, this bedroom uses wicker and straw details to achieve a more outdoorsy safari look. The dark metal and soft neutrals give this room a soothing feeling, perfect for sleeping.
30. Repurposed Barn Wood Love Sign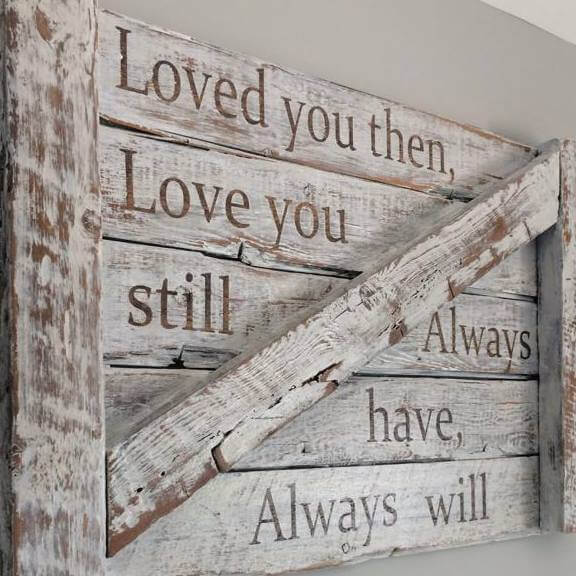 Source: The original source is not available anymore.
The sweet love quote on this sign makes it ideal for any bedroom: adults, babies, or kids. The repurposed barn wood gives it rustic charm. This easy DIY will fill your bedroom with happiness!
31. Window Into Love Antiquated Picture Frame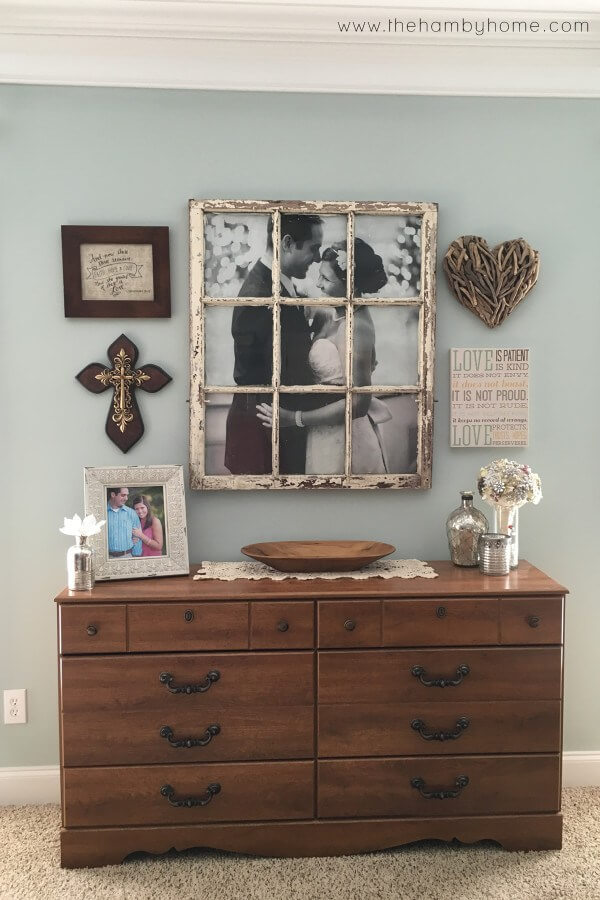 A sweet gallery wall makes the perfect decoration for a newlywed bedroom. Grab an old windowpane at an antique store, then place it over a wedding print for a beautifully rustic focal piece.
32. Railway Crate Headboard Piece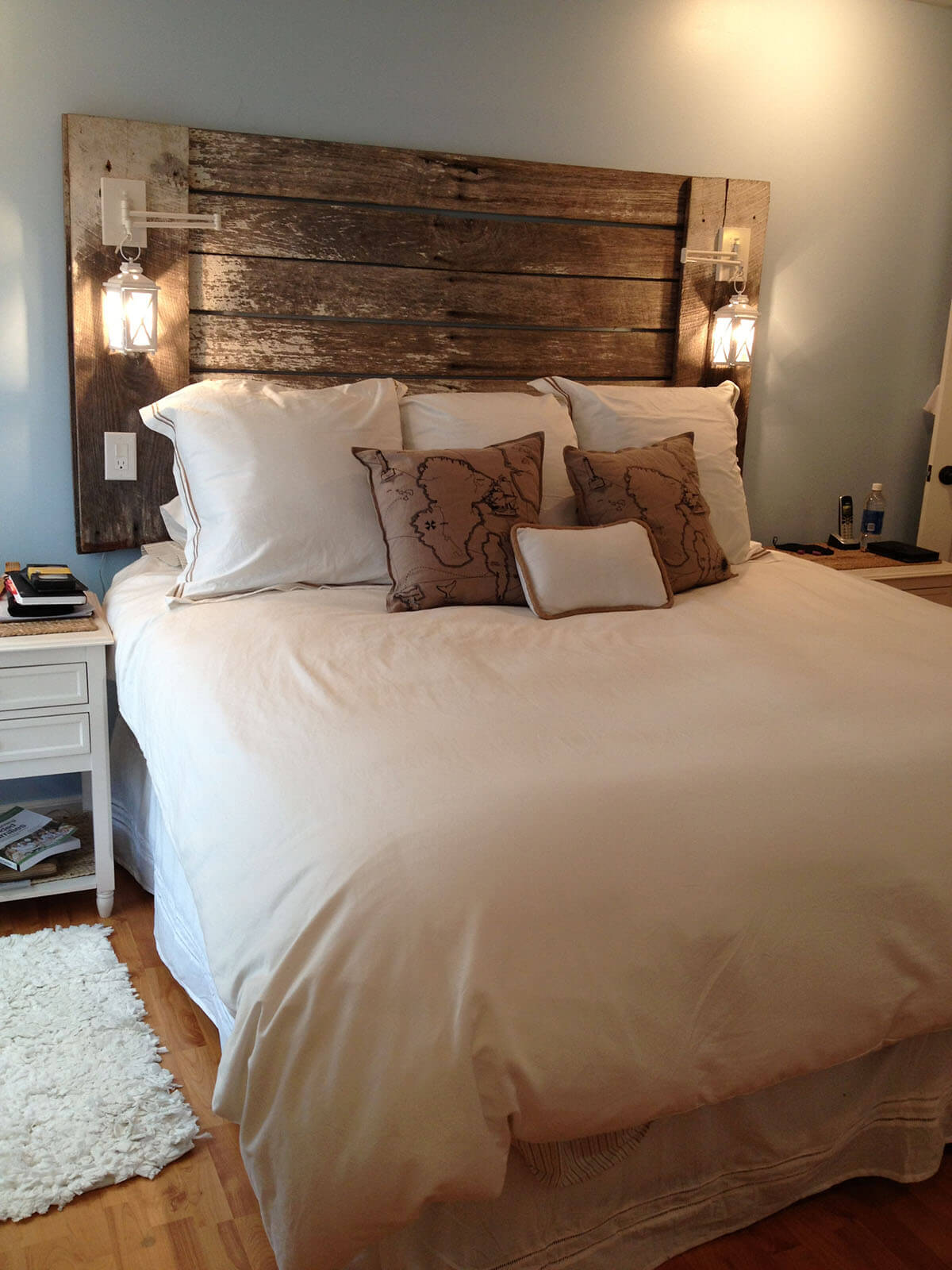 Add a subtle railroad vibe to your bedroom with this DIY headboard. The repurposed wooden crate features pretty white vintage metal lanterns, adding a warm glow to cozy up beside.
33. Snowy Gable Bureau and Windowed Mirror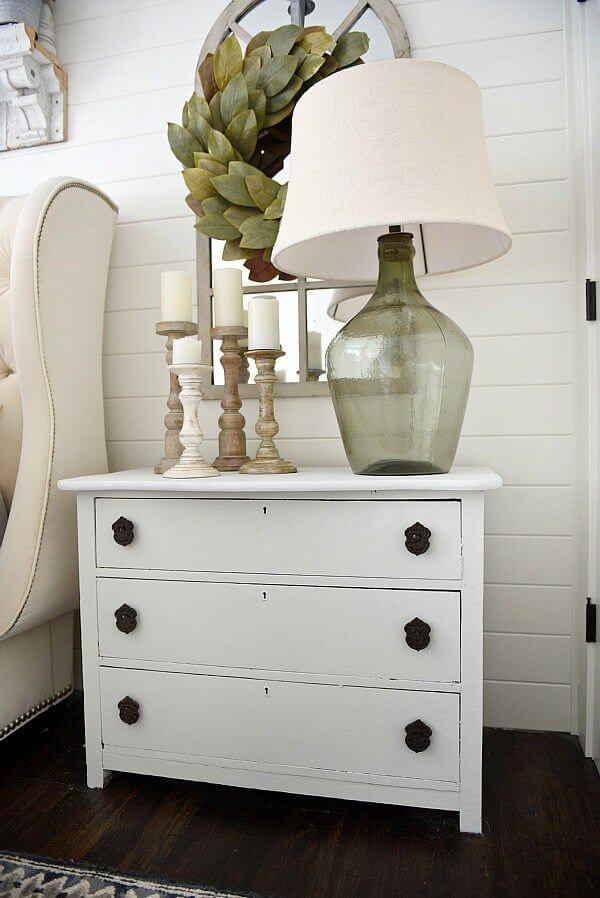 Source: The original source is not available anymore.
The imperfect white paint and vintage metal hardware give this dresser the perfect farmhouse vibe. Kick it up a notch by adding mirrored glass to an antique windowpane for a pretty DIY mirror.
34. Robert Frost's Walk Vanity Accents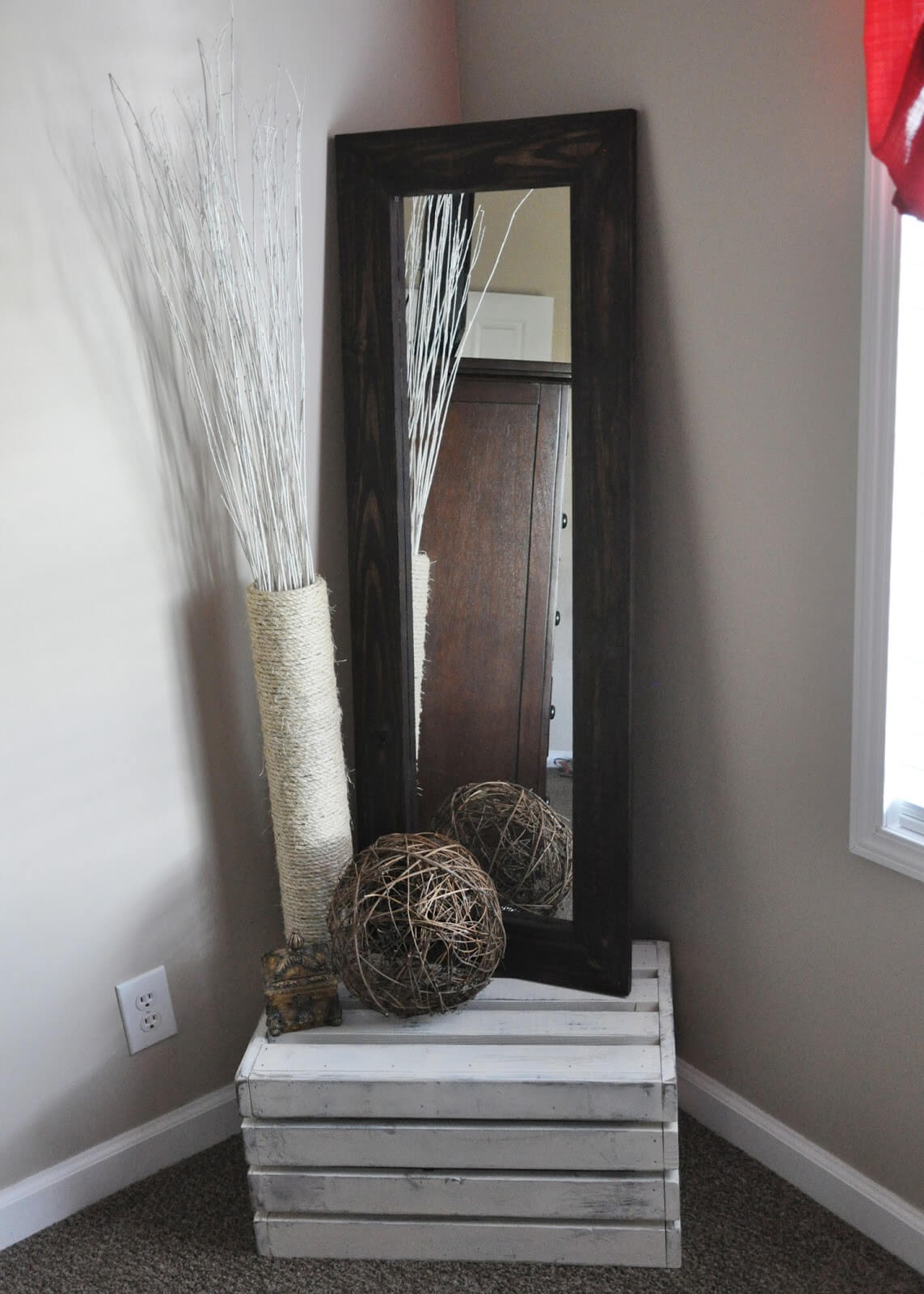 Source: The original source is not available anymore.
Paint an old fruit crate soft grey to create a unique vanity. Add a full-length mirror, wicker ball, and a sheath of decorative twigs to bring the beauty of the outdoors in.
35. Royal Country Farmhouse Bedroom Design Ideas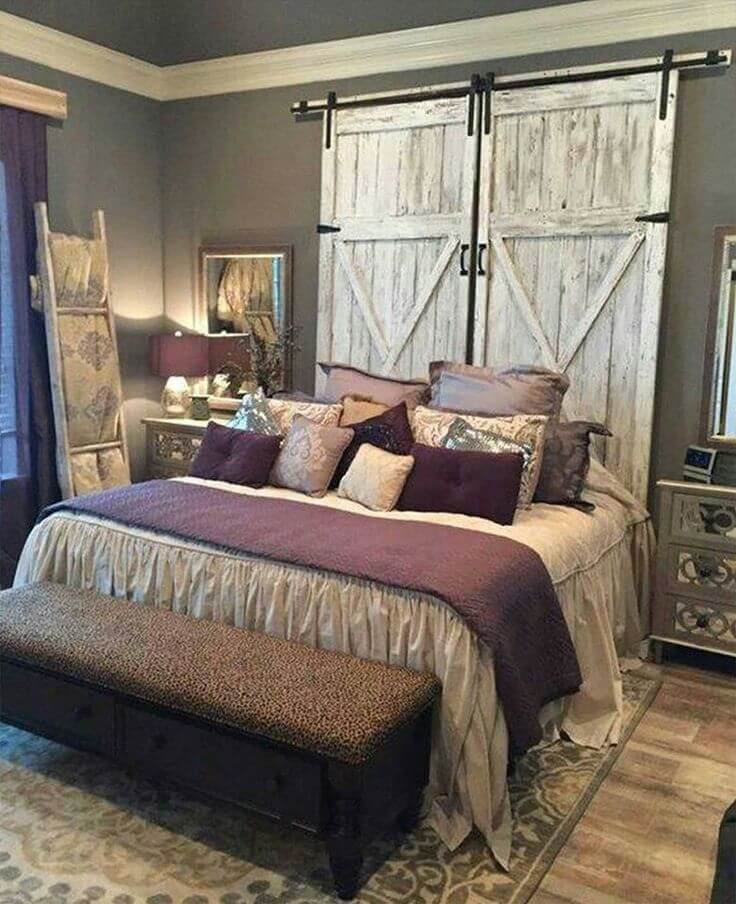 Source: The original source is not available anymore.
Give your bedroom a true country chic vibe by creating a DIY headboard from sliding barn doors. The whitewashed wood contrasts beautifully with dark, rich colors elsewhere in the room.
36. Workman's Ladder Picture Frame Display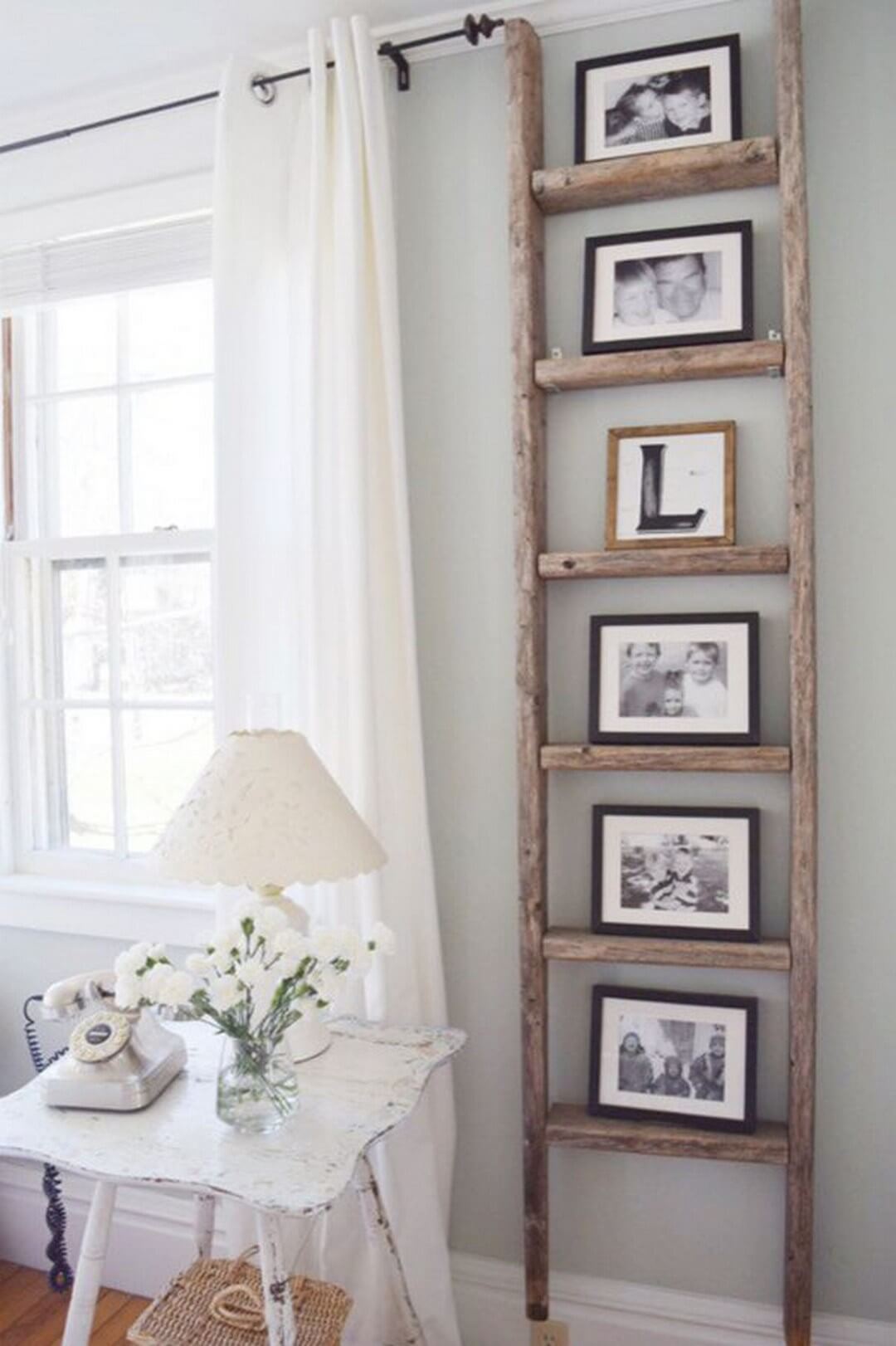 Repurpose an old wood ladder by turning it into a rustic photo display. Rest framed black and white pictures and artwork on each rung for a farmhouse chic décor piece.
37. Sweetheart Initials Wooden Wall Letters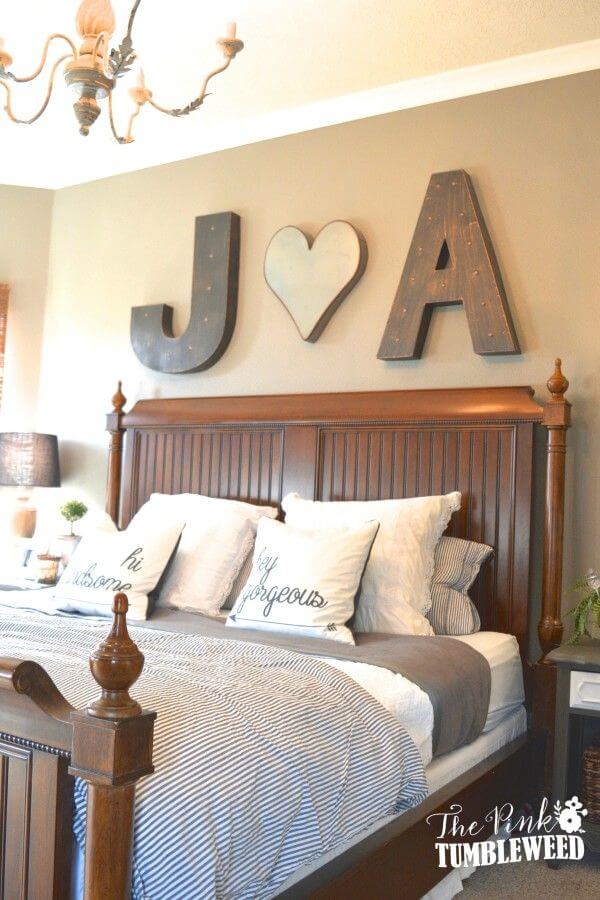 Source: thepinktumbleweed.com
For a cute and easy bedroom décor piece, hang giant wooden letters above the bed. Place each lovebird's initial above their side of the bed with a heart in the middle.
38. Midnight Lantern Wall Fixtures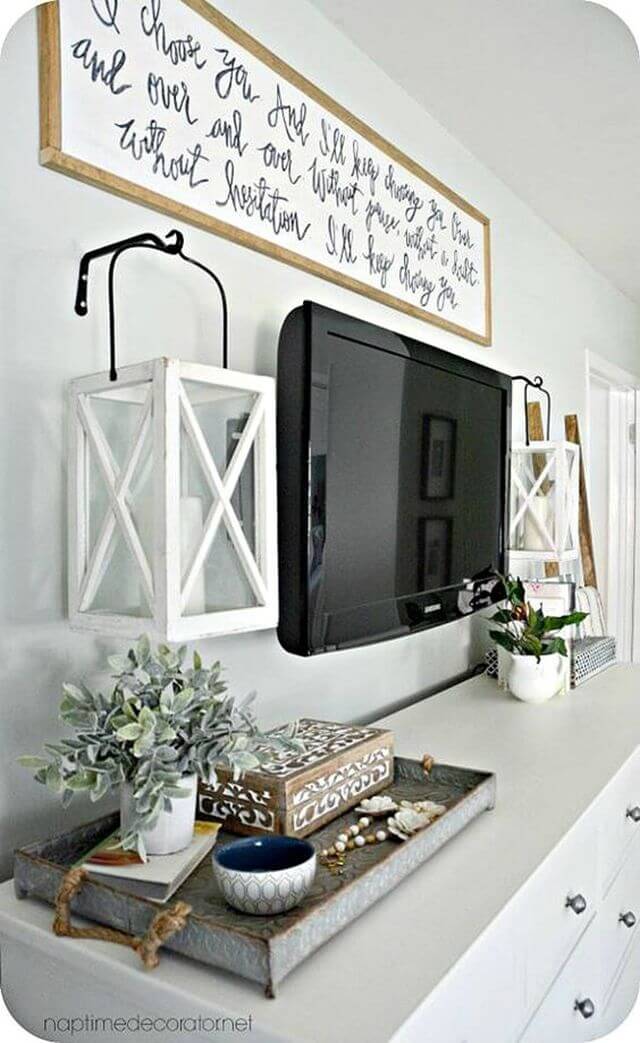 Nothing says "farmhouse" like vintage candle lanterns. The crisp black and white color scheme gives these lanterns a rustic yet modern vibe. Hang them near the TV so you can watch with the lights out at night!
39. Bed and Breakfast Bedroom Abode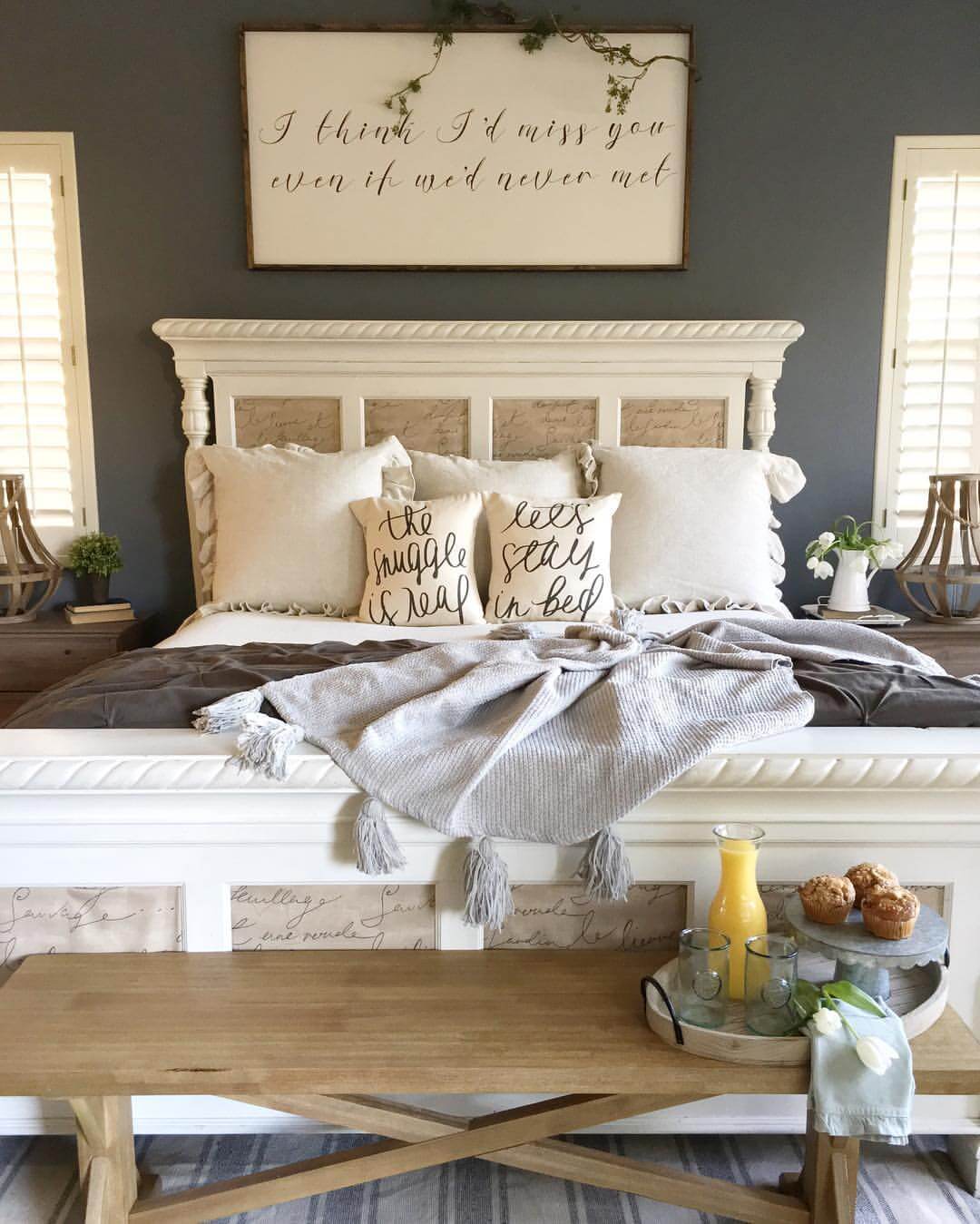 If you think words speak louder than pictures, this bedroom style is for you. Artwork, pillows, and even the headboard feature sweet sayings in a pretty cursive font. The neutral color scheme keeps the room from feeling too busy.
40. Fleurs Françaises Provincial Bedroom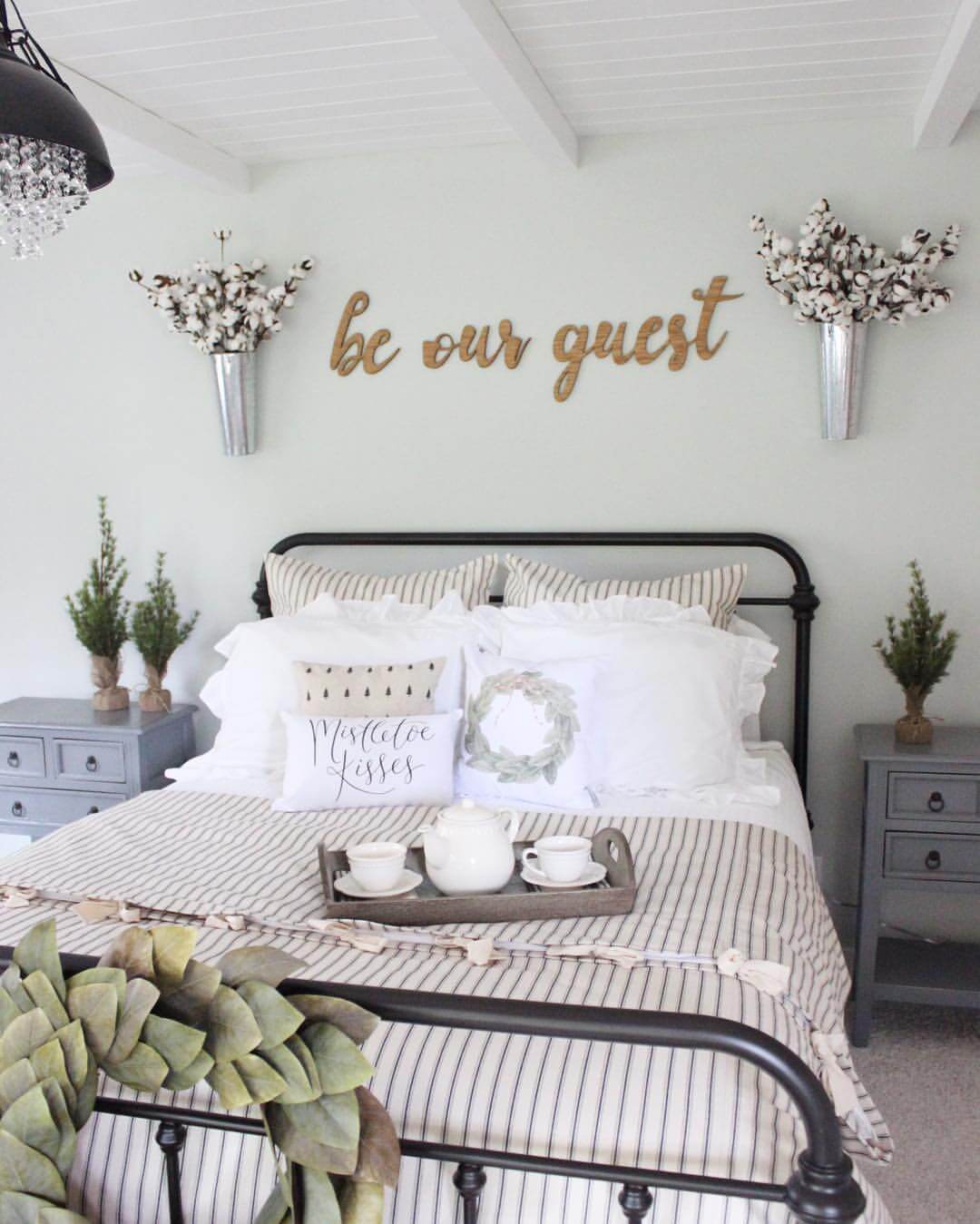 Cotton branches hung in galvanized metal buckets give this room a crisp, clean, plantation vibe. The soft blue-grey tables and striped bedding feel like you're back at your grandma's house in the country.
41. Plank and Ladder Bedside Shelf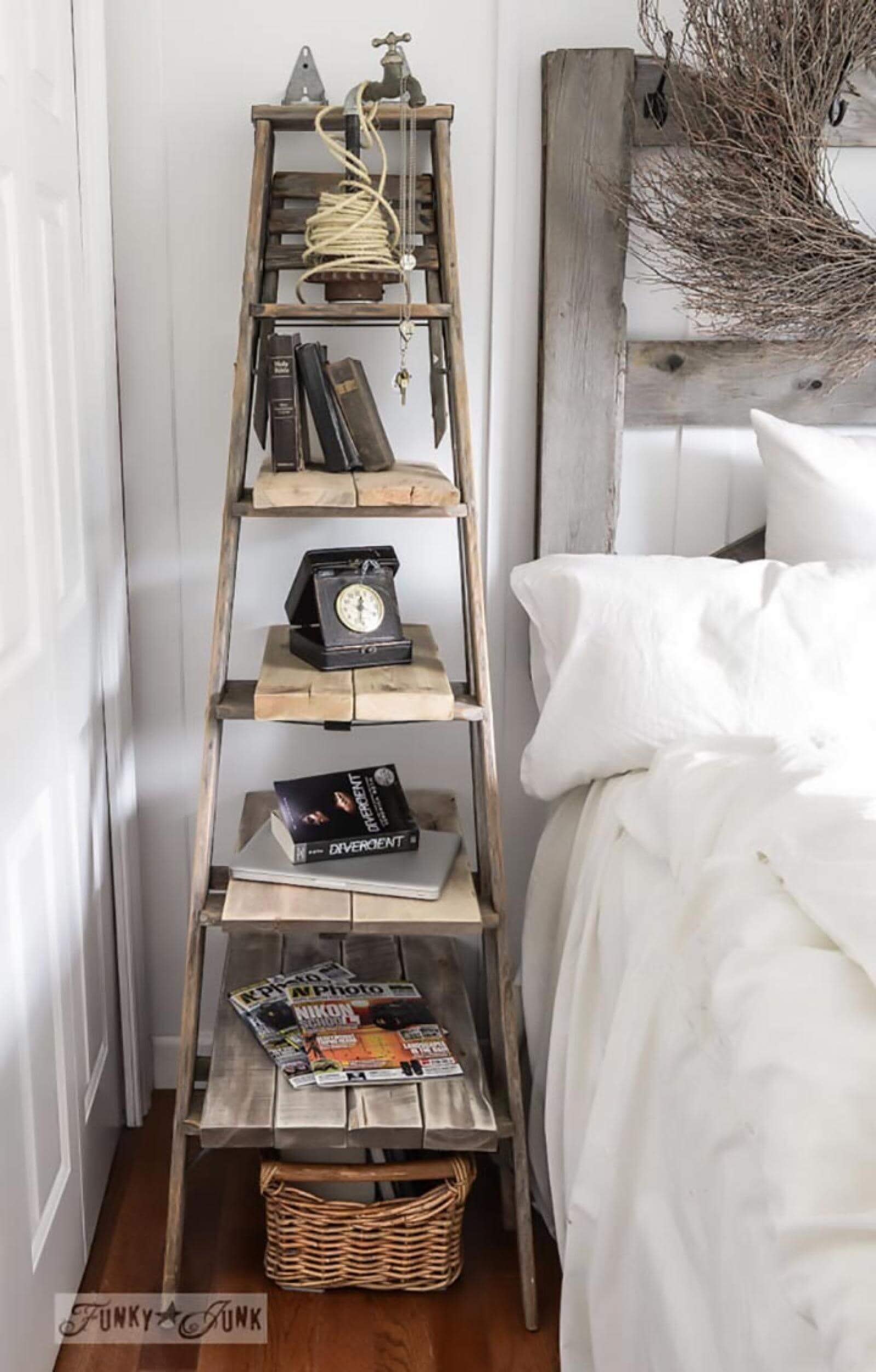 An old ladder and wooden planks can come together to create a unique display shelf. Add books, magazines, and knickknacks to this piece to make it both decorative and functional.
42. Nature Promenade Farmhouse Bedroom Decor Ideas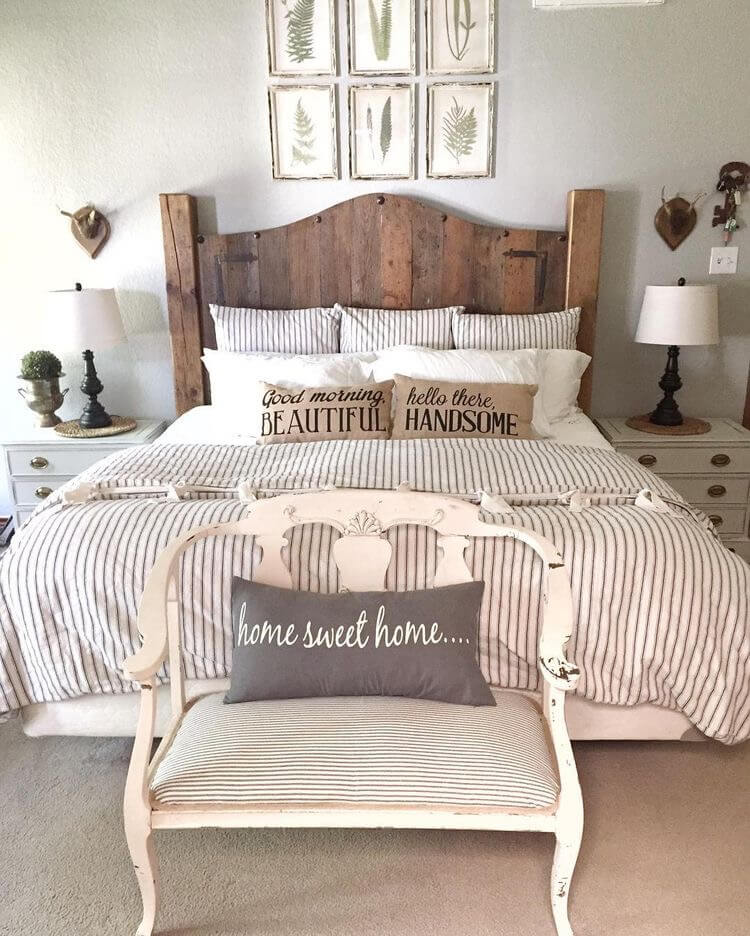 Give your bedroom a woodsy, outdoorsy feeling with a natural wood headboard. Add leaf art prints and antlers and you will feel like you're in a rustic cabin. A pretty bench and sweet throw pillows add feminine softness.
Choose Rustic Wall Decor Ideas to Make Your Home Warm and Inviting

43. Petite Milk Jug and Sweetheart Tableaux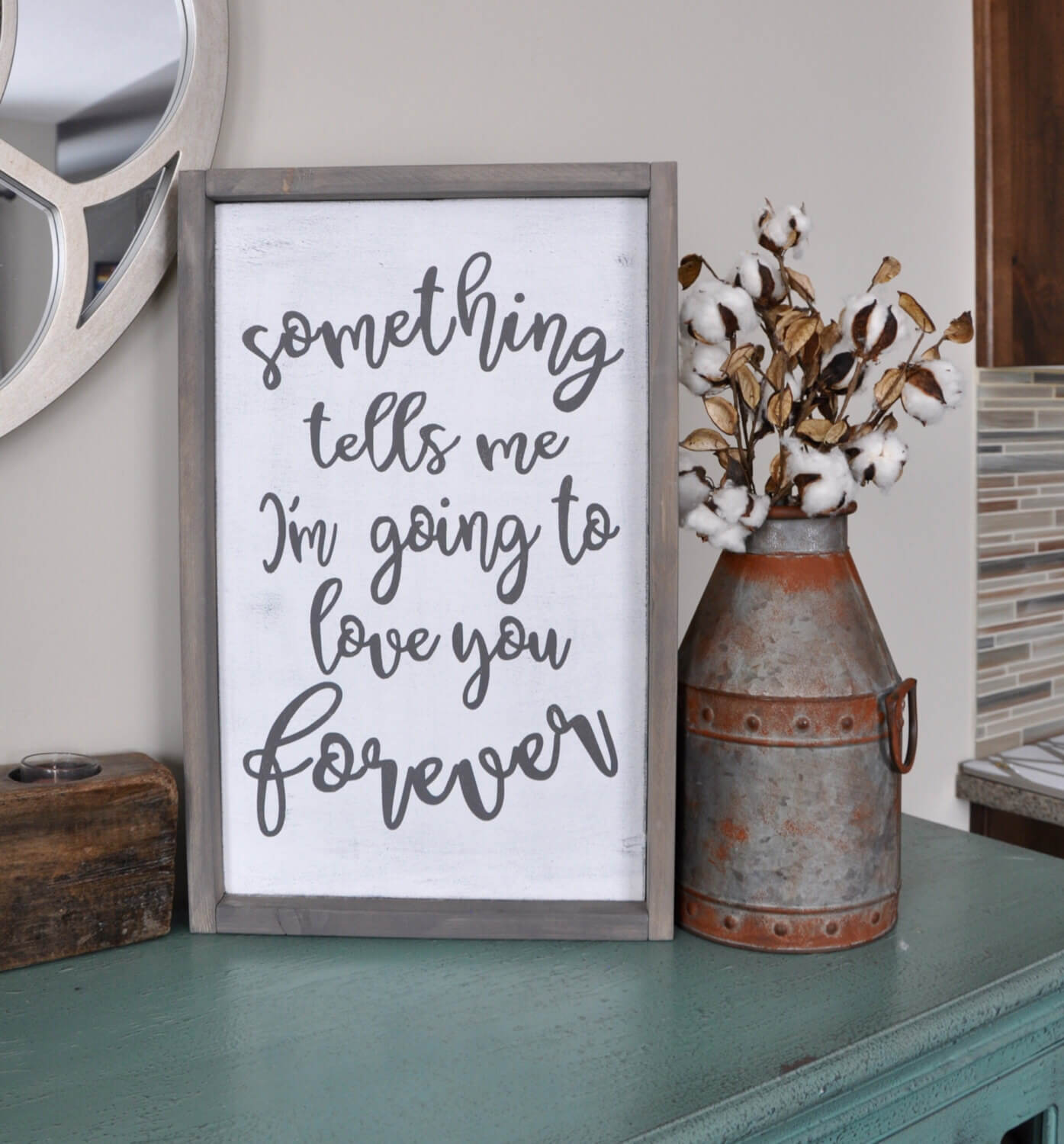 If you want just a small farmhouse touch in your bedroom, try one of these décor pieces. Rough wood, rusty metal, and faux flowers give any home a rustic, loving vibe.
44. Country Bachelor Gentleman's Bedroom Scheme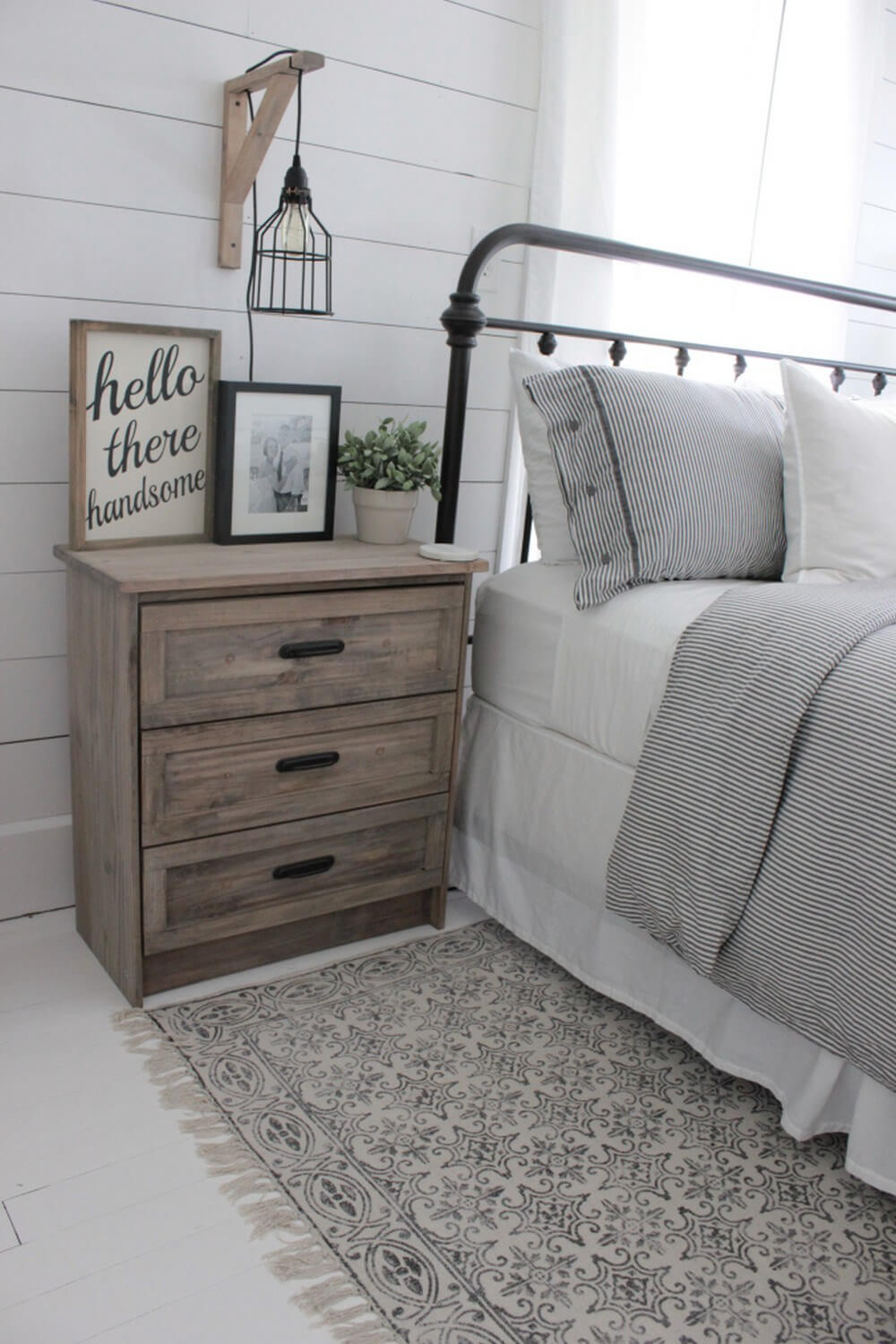 Source: The original source is not available anymore.
Spruce up the top of your dresser with these ideas. A framed print of a love quote reminds you not to go to bed angry. Add a cotton branch to a small antique metal milk jug for a farmhouse feel.
45. Cozy Colonial Farmhouse Bedroom Design Ideas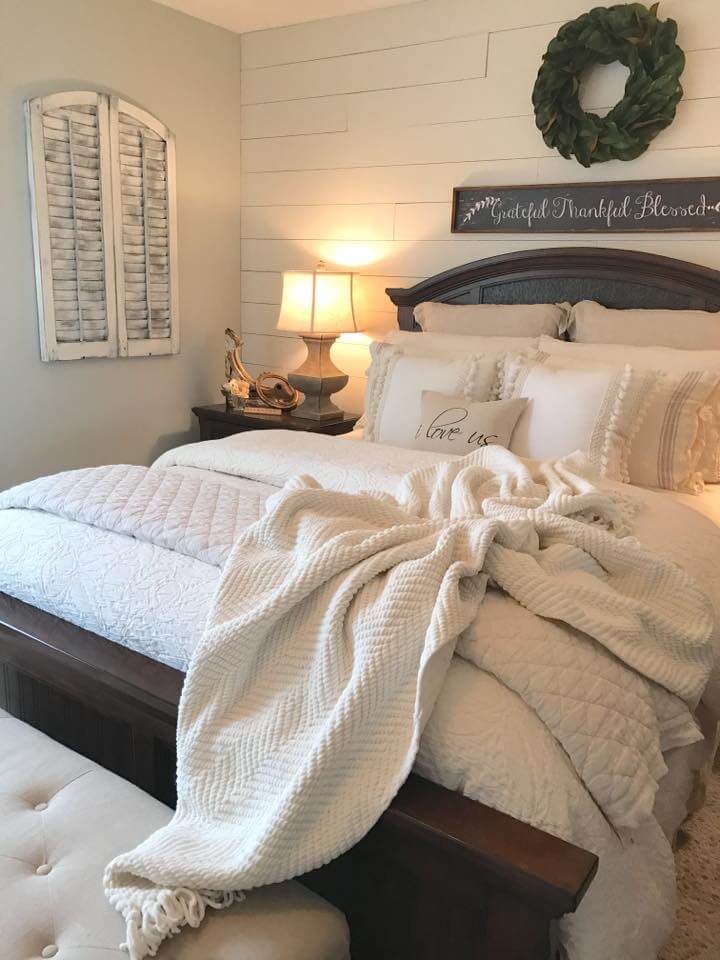 A simple black metal bed frame with grey and white bedding looks great in a bachelor's bedroom. Add a pretty rug and some framed art to make it more stylish and less bachelor pad.
46. Hundred Acre Wooden Board Shelves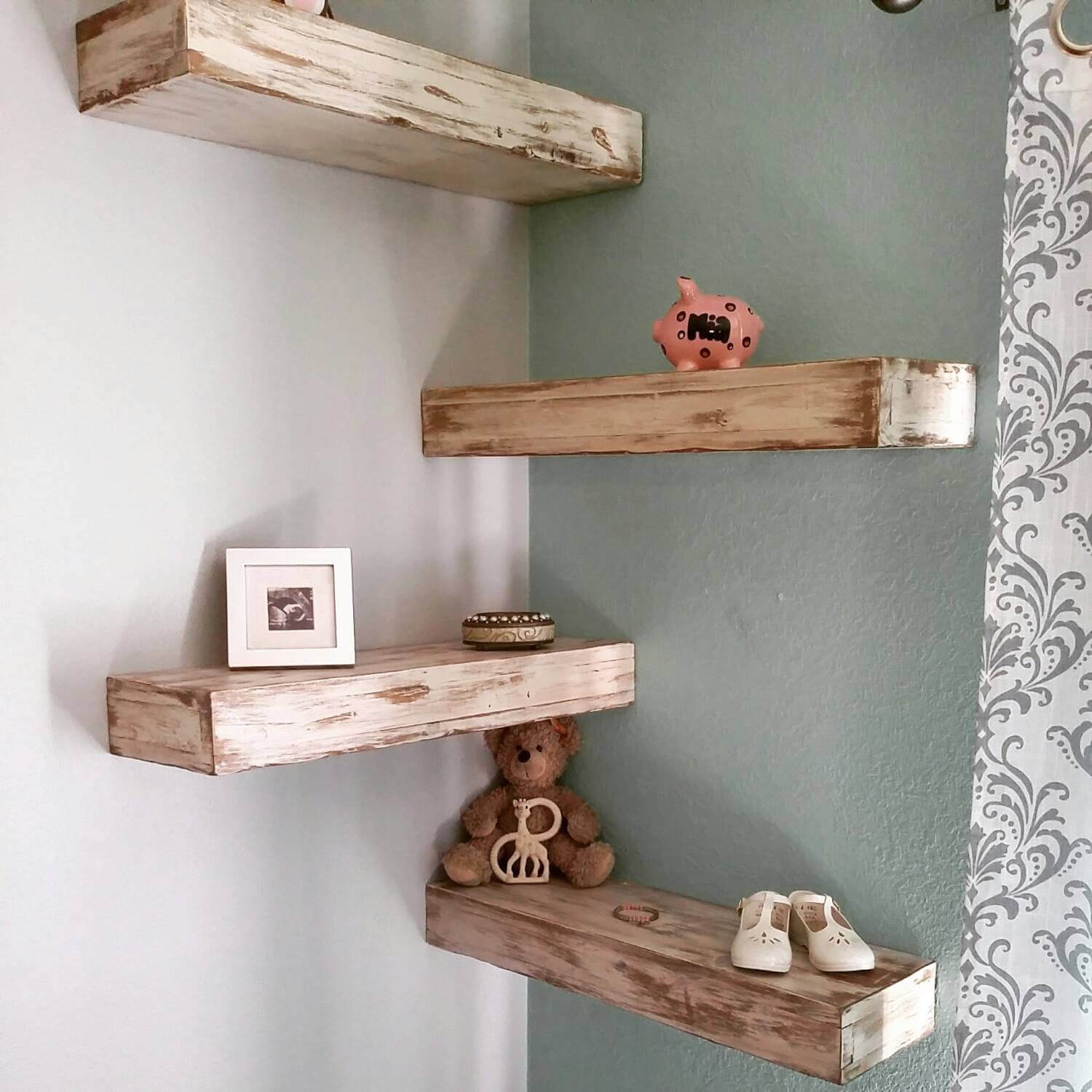 Source: The original source is not available anymore.
Shades of white look cozy, not stark, when you add different textures. Quilting, chenille, and pom-poms on the bed and wood on the walls give the room a feeling of being clean but not too pristine.
47. Corner Door Repurposed Farm Shelf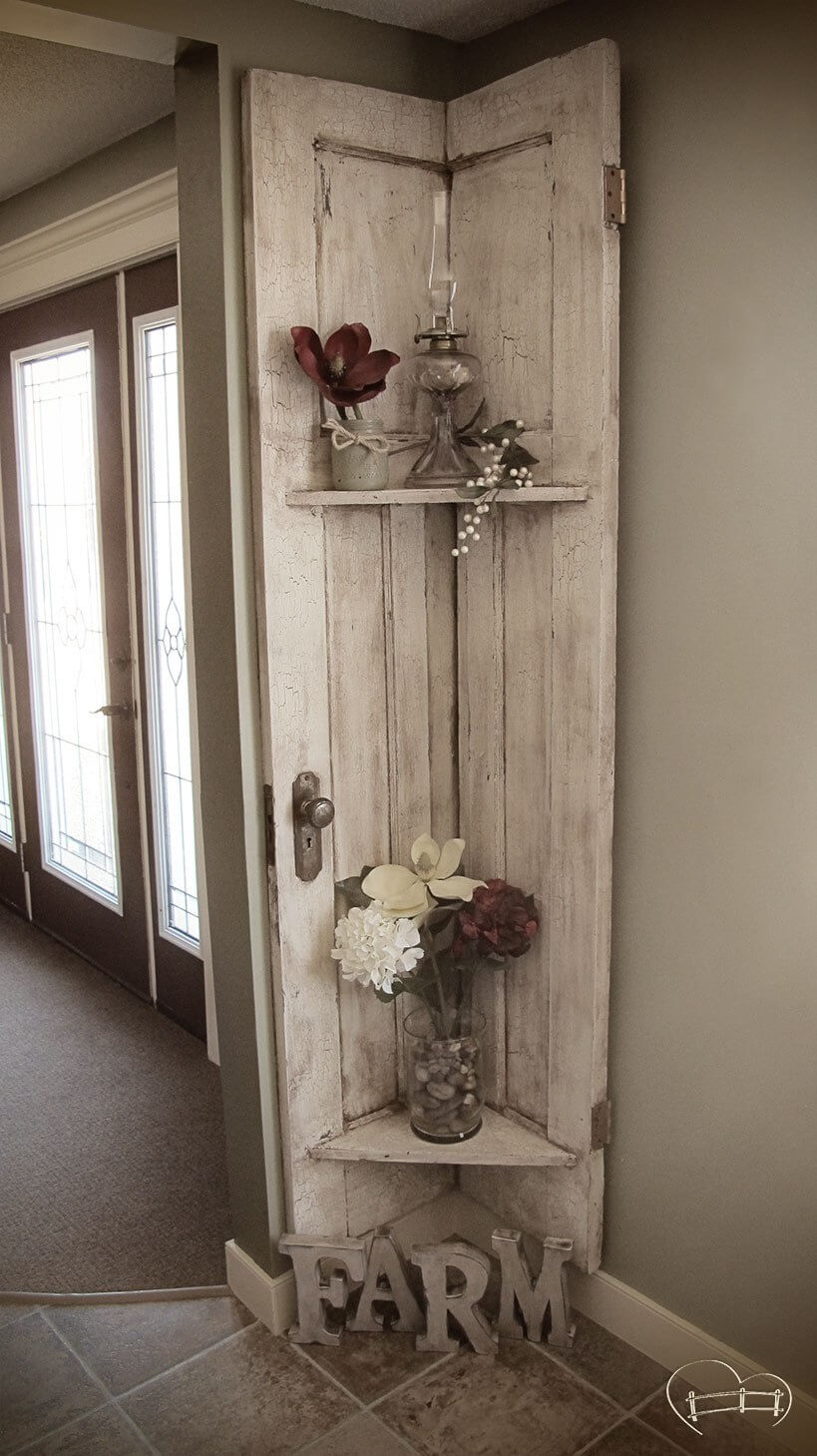 Source: The original source is not available anymore.
Create super simple DIY shelving by attaching thick wooden boards to the wall. The distressed white paint adds a shabby chic vibe. They can be used in any bedroom to display photos, toys, and trinkets.
48. Hook, Line, And Sinker Curtain Beams

Utilize all your home's space with this DIY corner shelf. Cut an antique door in half, mount it to the walls, then add shelves. Crackle paint, an old doorknob, and wooden letters complete the farmhouse look.
49. Far And Away Country Room Idea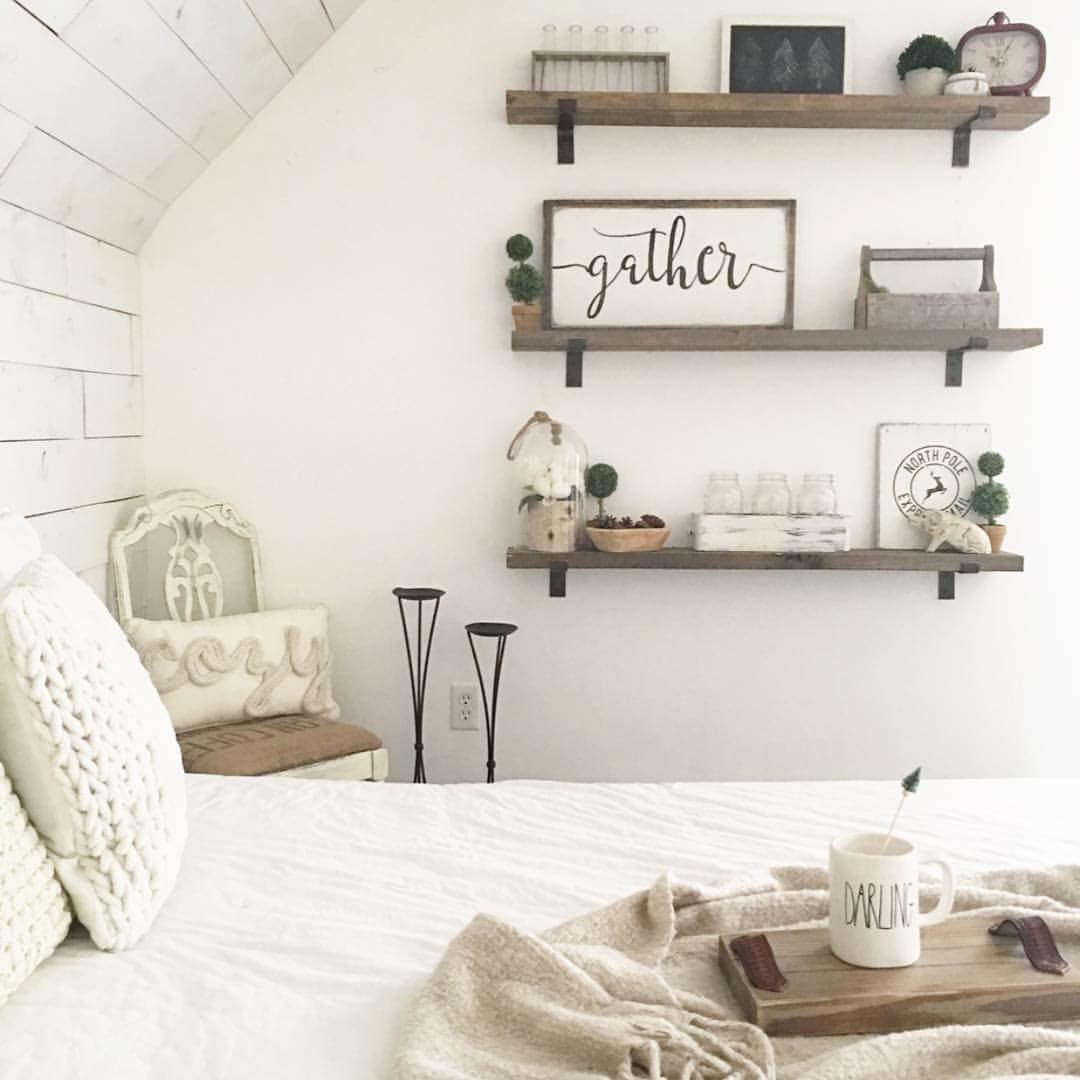 Upgrade from your boring curtain rod with this farmhouse chic DIY. Add a line of metal hooks to a repurposed wooden board for a pretty way to hang sheer curtains.
50. Grocer's Ladder Bathroom Bar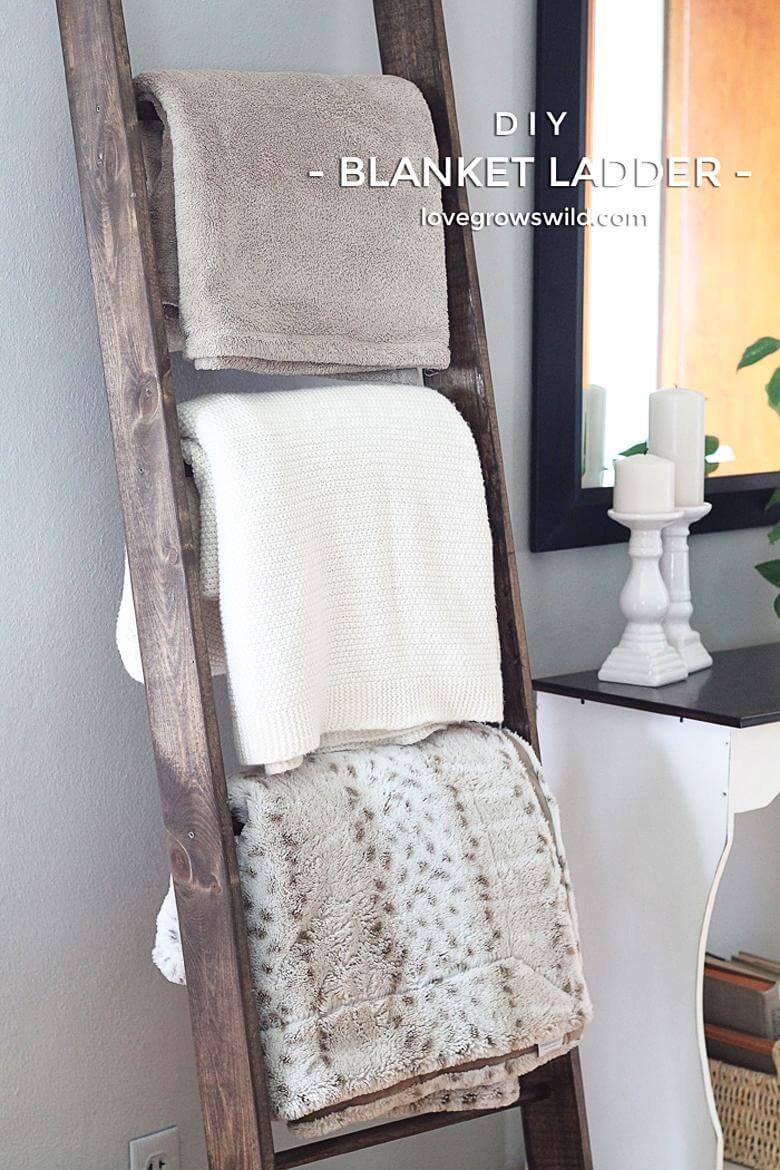 Give your guest room a soft and cozy feeling with chunky knits, distressed wood, antique knickknacks, and faux plants. Tie it all together with a white and grey color scheme.
51. Prince Edward Cast Iron Bed & Garland Decor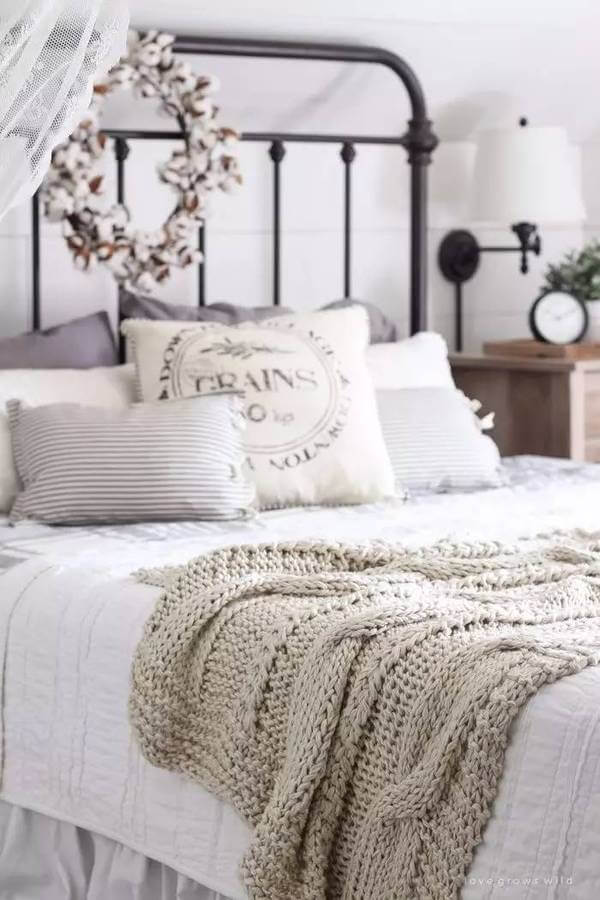 Lean an antique ladder against the wall for an easy DIY organizer. Use it to hang towels and drying delicates in the bathroom or snuggly extra blankets in the bedroom.
52. Dorothy "Gingham" Gale Bedroom Linens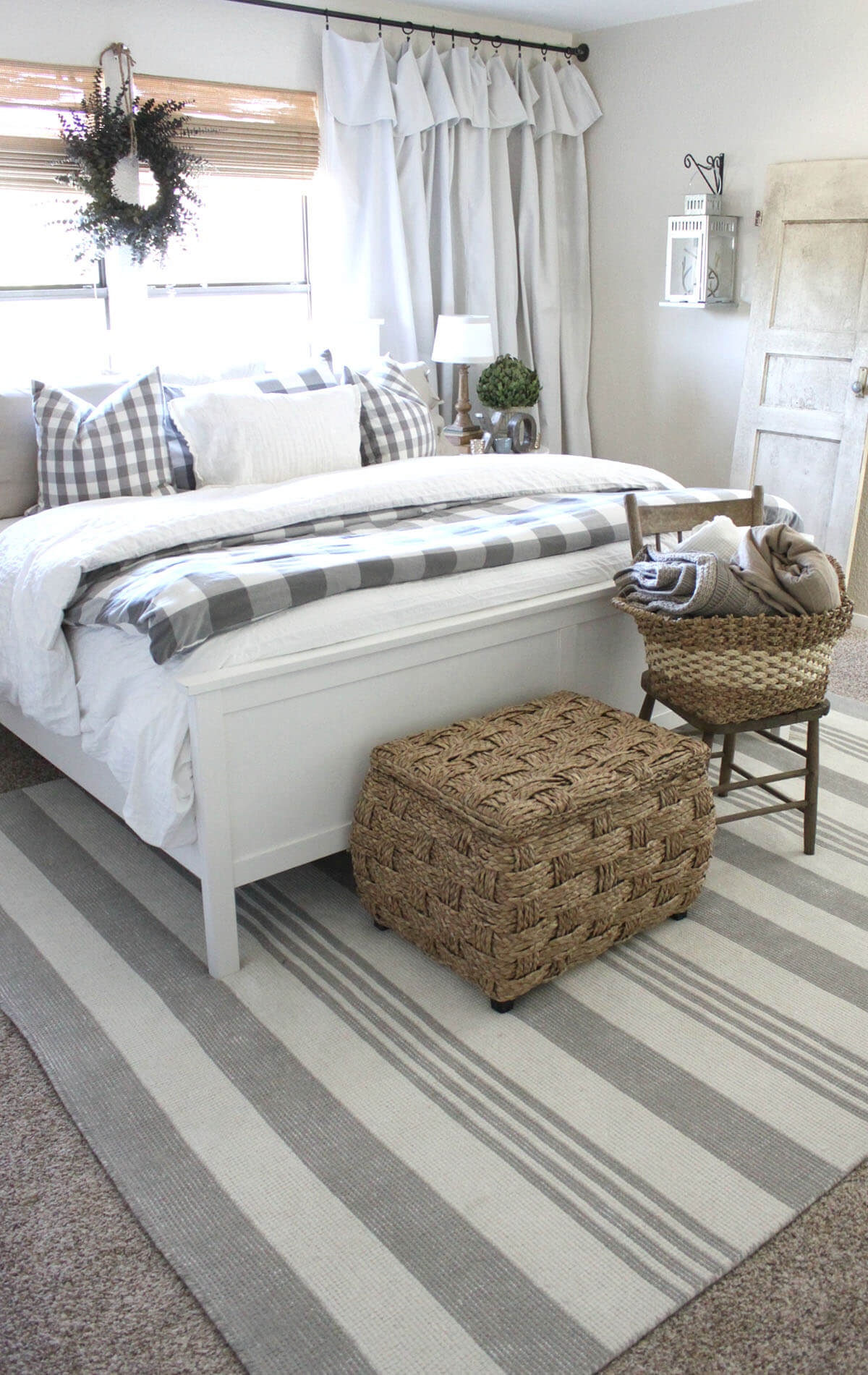 Soften the look of a cast iron bed frame with white accents. A delicate lace curtain, chunky knit blanket, and cotton boll wreath create a bedroom look that is both rustic and soothing.
53. Naturalist's Study Farmhouse Implements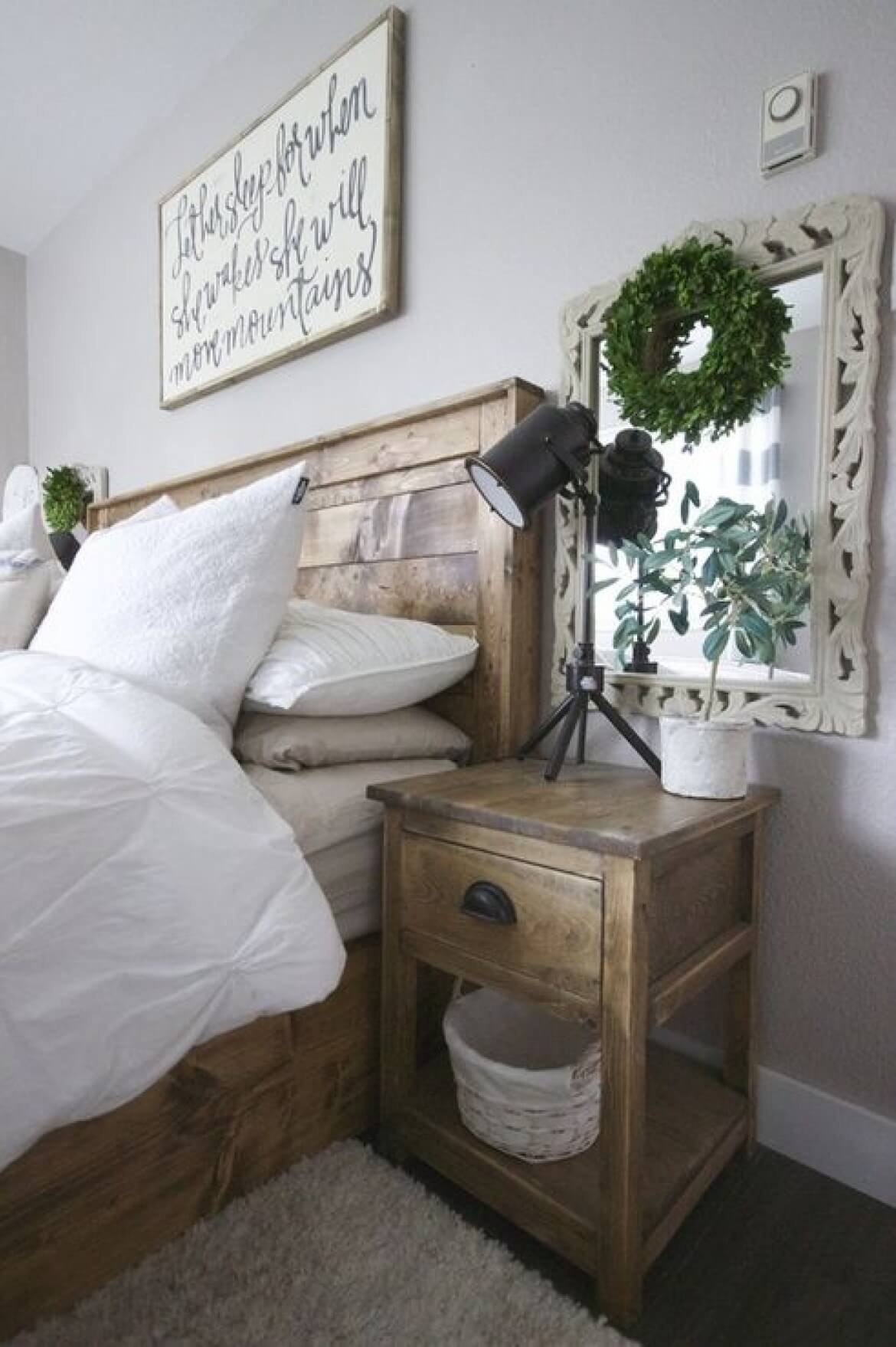 Gingham bedding, wicker baskets, and a white wooden bed give even a city bedroom a farmhouse feel. Add soft curtains, fake plants, and an antique lantern to complete the country chic look.
54. Huntsman's Arrows DIY Wall Decor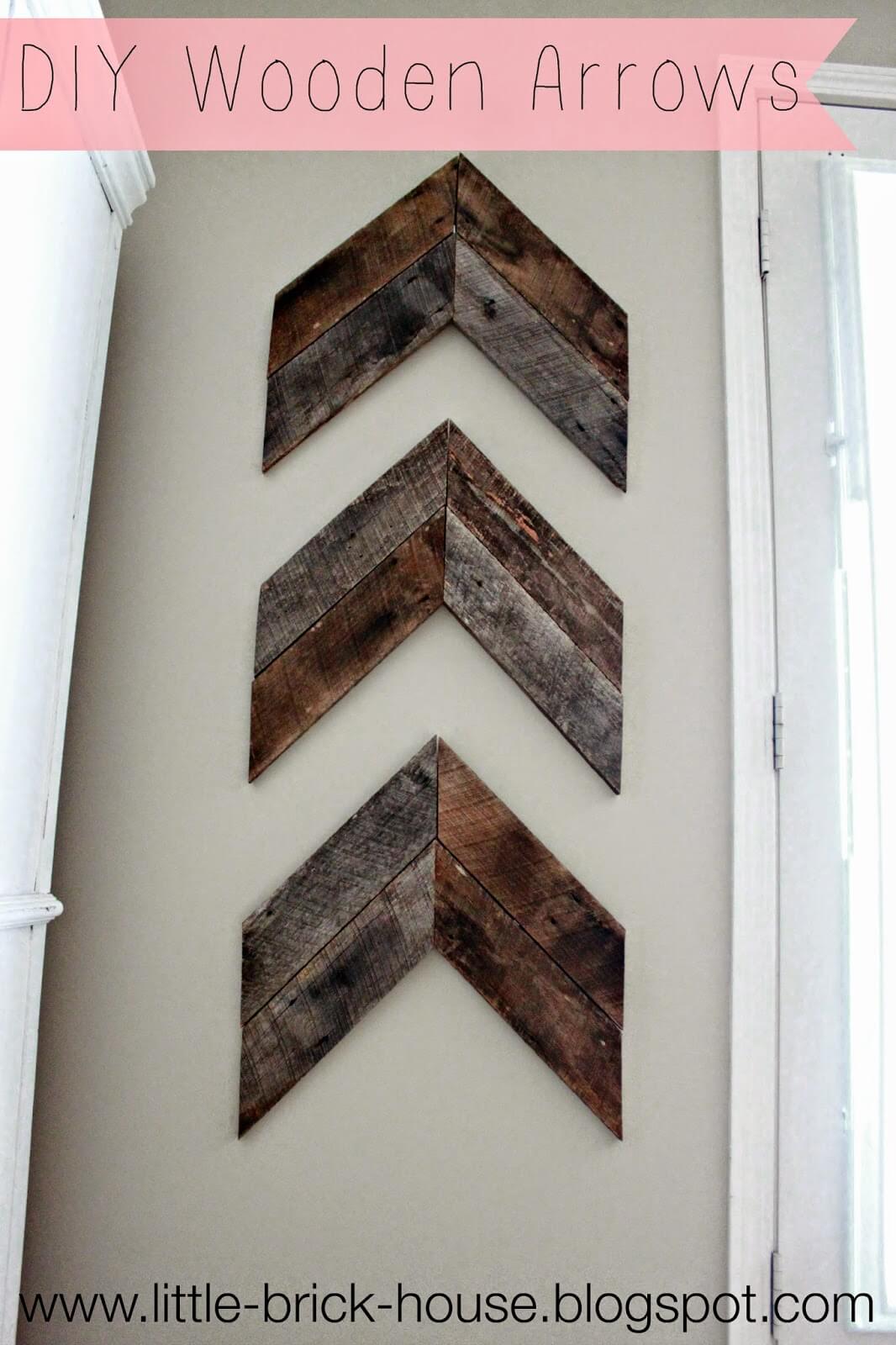 Natural wood furniture and bright green plants (whether real or faux) bring nature's beauty indoors. Add crisp white bed linens and a pretty vintage mirror to keep it from looking too rustic.
55. Edison's Manor Wooden Chandelier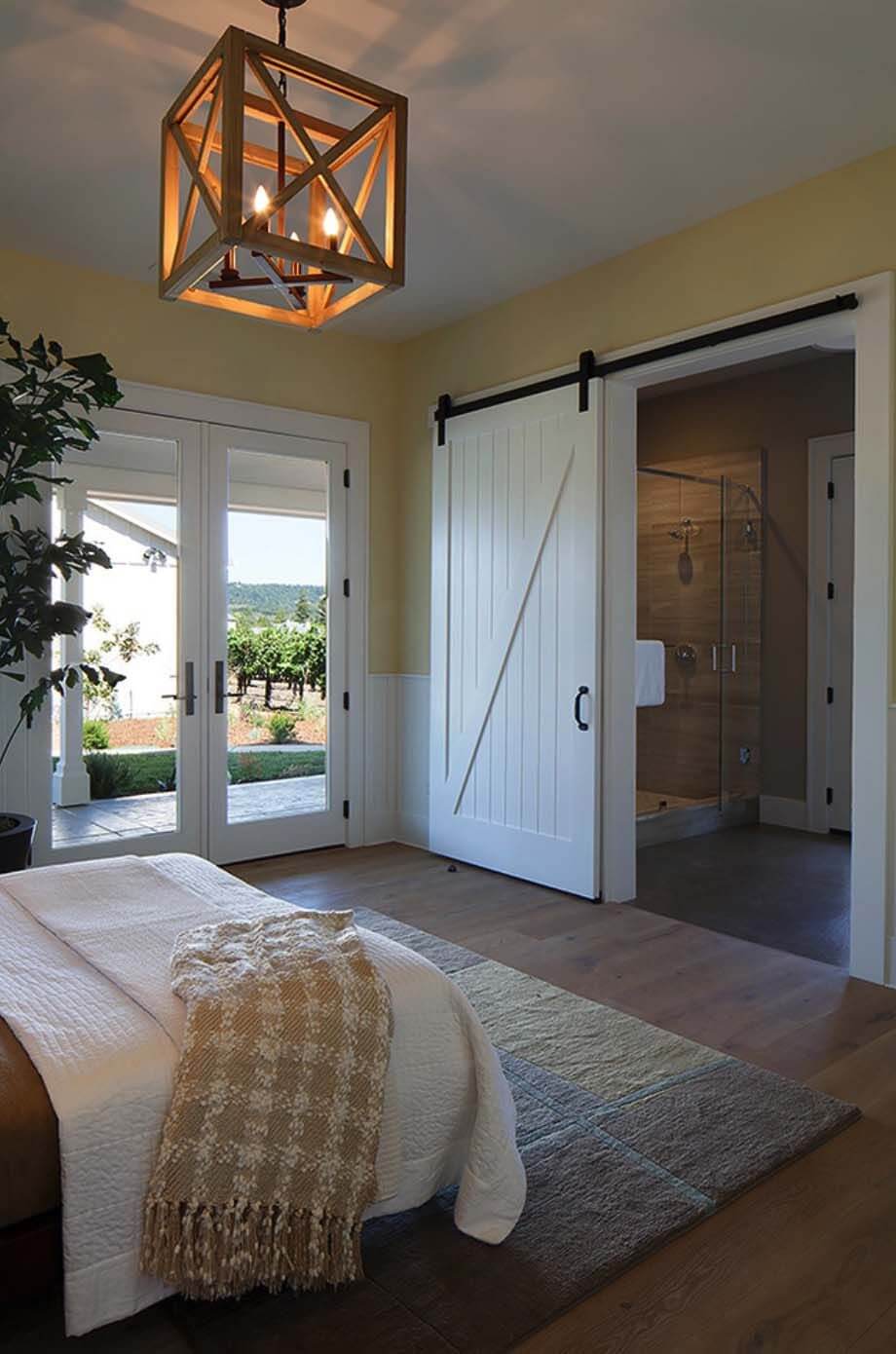 Arrows are a chic addition to any decorating scheme. Make them fit your farmhouse aesthetic by creating some out of repurposed wood! Simply cut 4 pieces and arrange them in a double point pattern.
56. Secret Garden Style Bedroom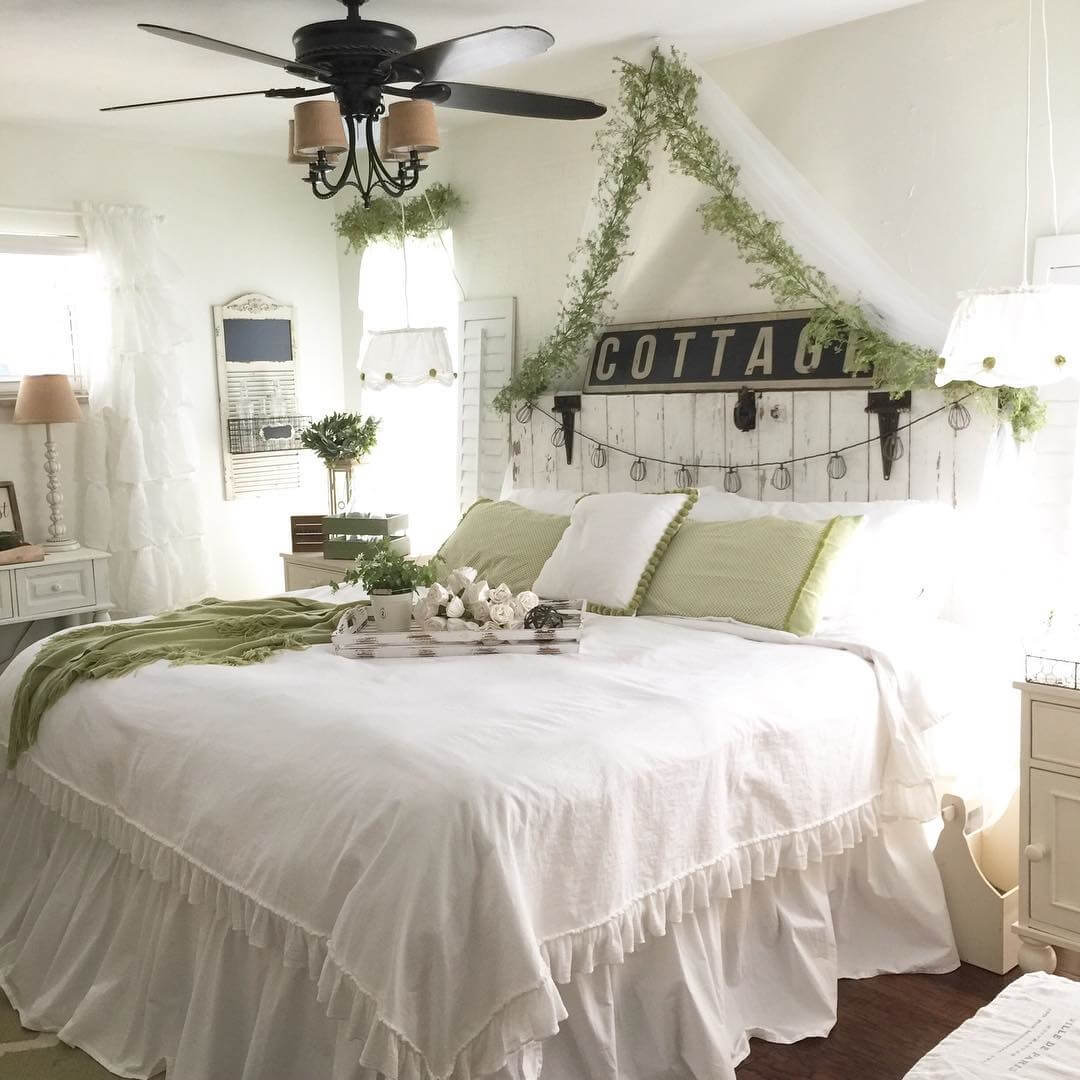 Create a unique light fixture perfect for a farmhouse out of wood. The open box design looks beautiful and allows a lot of light to flood the room. This DIY would look amazing in an entryway, bedroom, or dining room.
57. Old Town Laundry Bureau Top Decor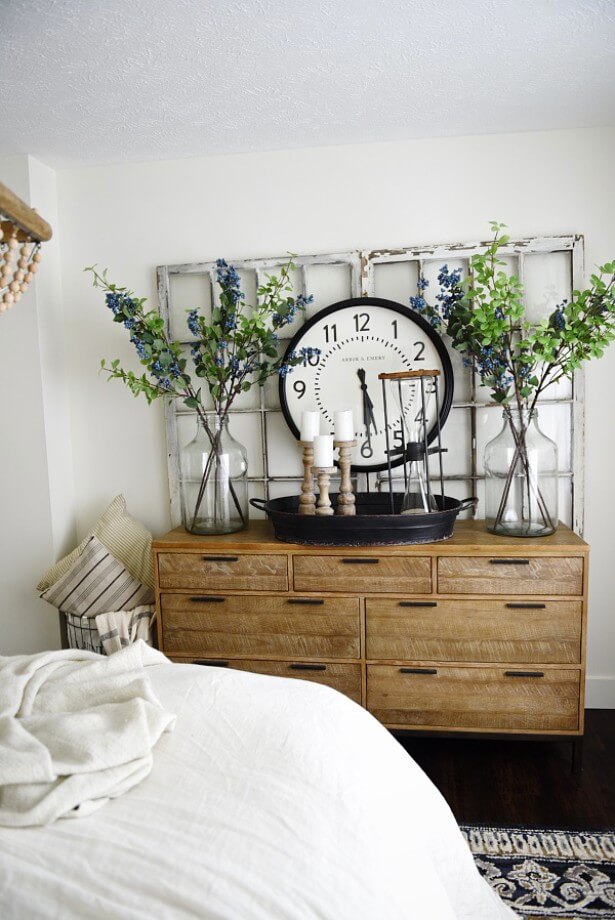 Give your bedroom the feeling of a country cottage garden with a few simple steps. White bedding and lampshades with leaf green accents reflect the pretty plants outside. Add some fresh greenery and fairy lights to complete the look.
58. Farmhouse Hotel Sweet and Simple Bedroom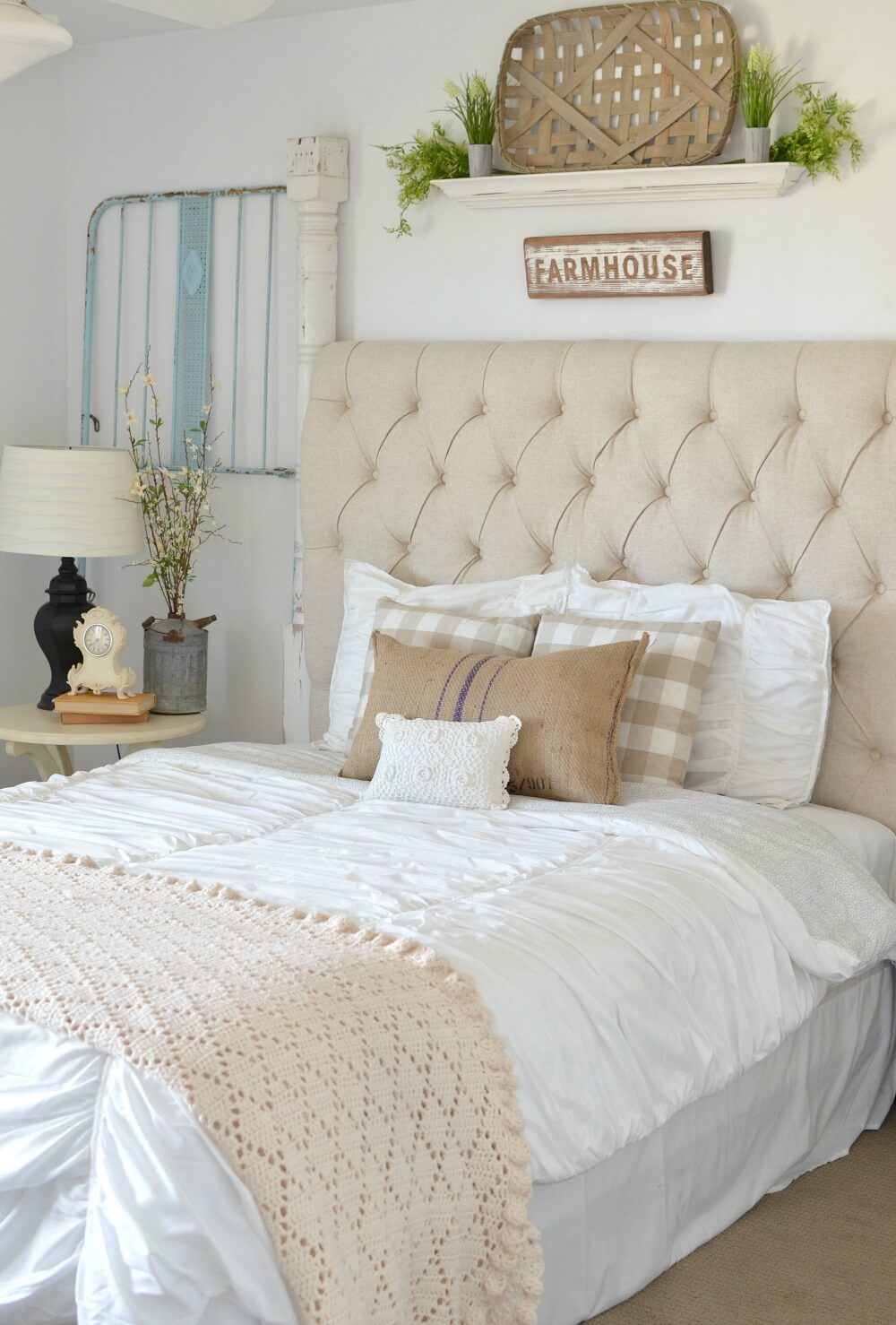 Fill up that space on top of your dresser with some farmhouse chic pieces. A huge clock, candlesticks, and plants in vases are farmhouse staples. Add an antique windowpane in the back to act as wall art, too.
59. Country Parlor Picture Scheme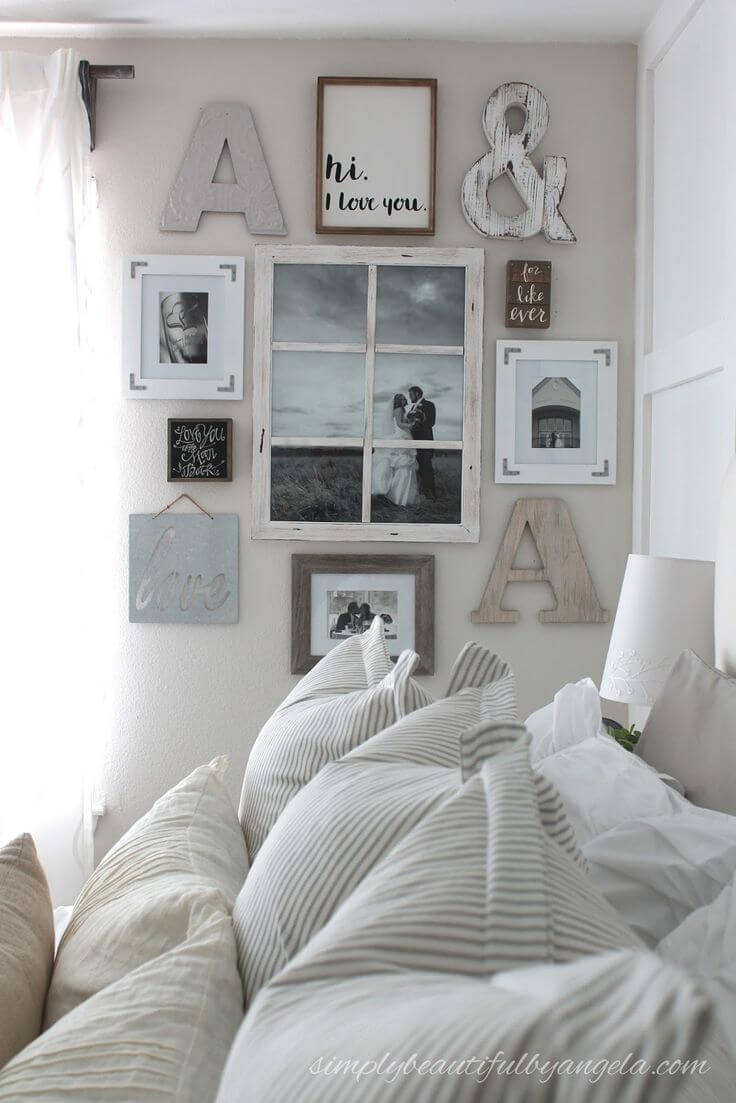 This room says "farmhouse" without going over the top. Gingham throw pillows, a wicker basket, and a tiny metal milk jug all add a country feel but could easily be switched out if you want a new look.
60. Behind The Curtain Partitioned Country Bed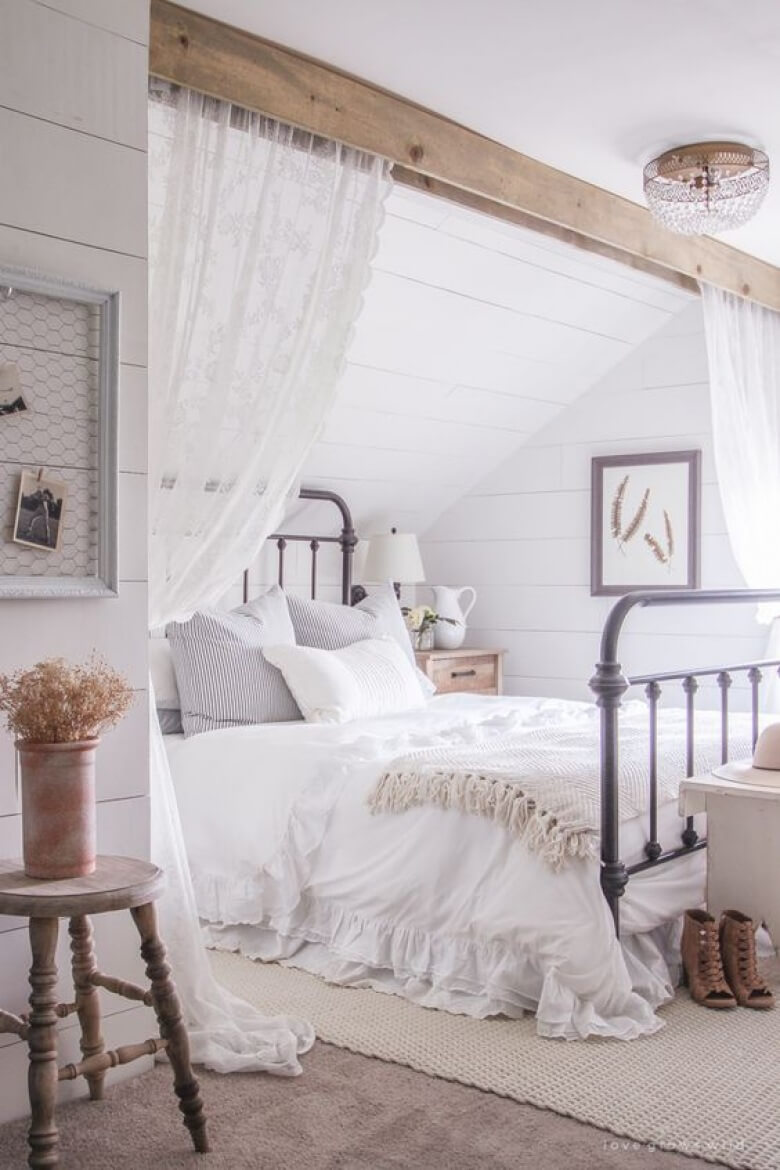 This eclectic, shabby chic gallery wall adds a personal touch to your bedroom. A mix of framed photos, love quotes, and distressed wooden letters in matching colors look perfectly imperfect.
61. Tin Sign Solo-Standing Letter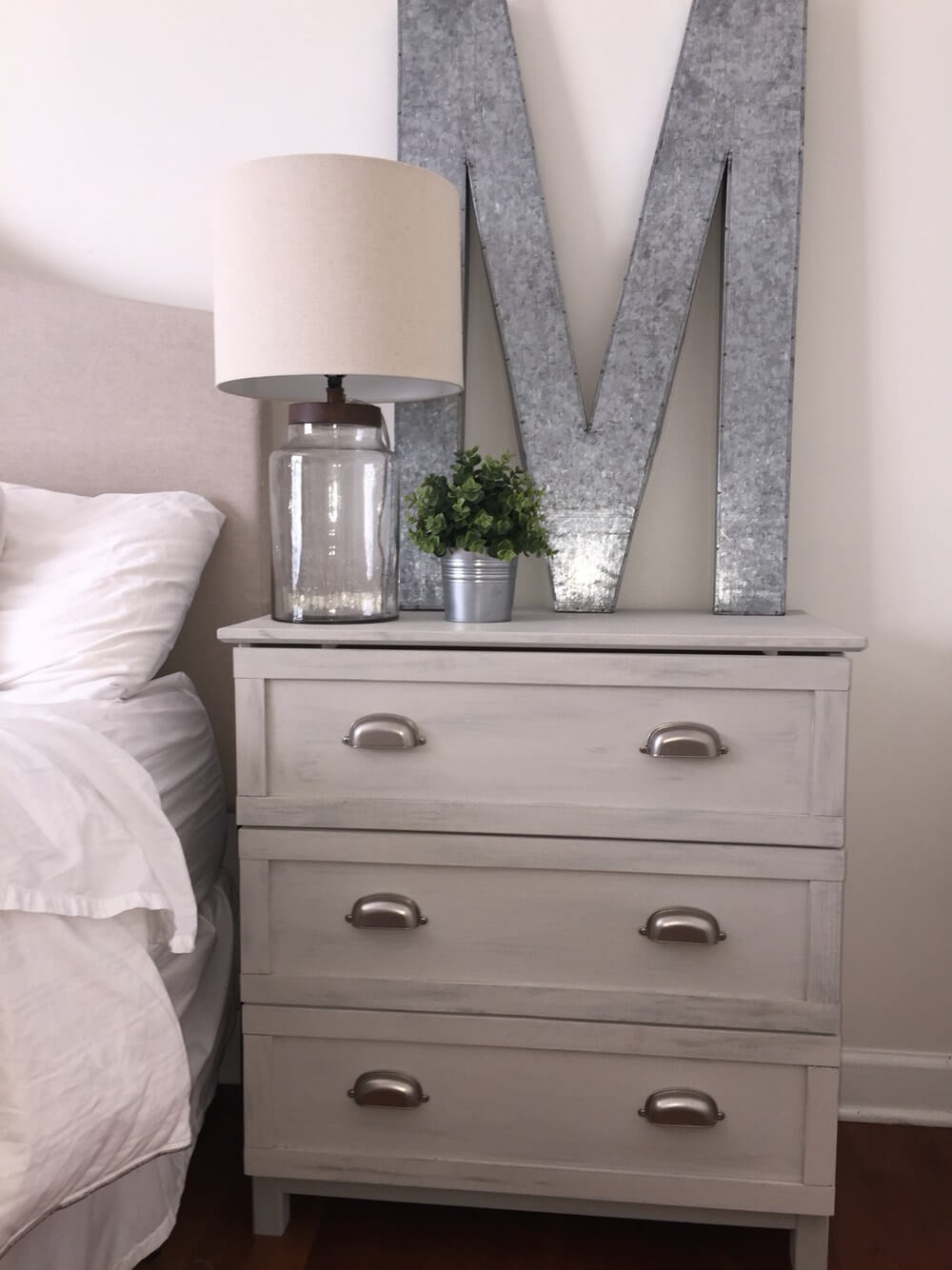 Pretty lace curtains give you extra privacy in bed while adding a feminine farmhouse feel to your bedroom. Hide the curtain rod with wood boards for an even more rustic look.
62. Castaway Memories Beam & Wire Picture Display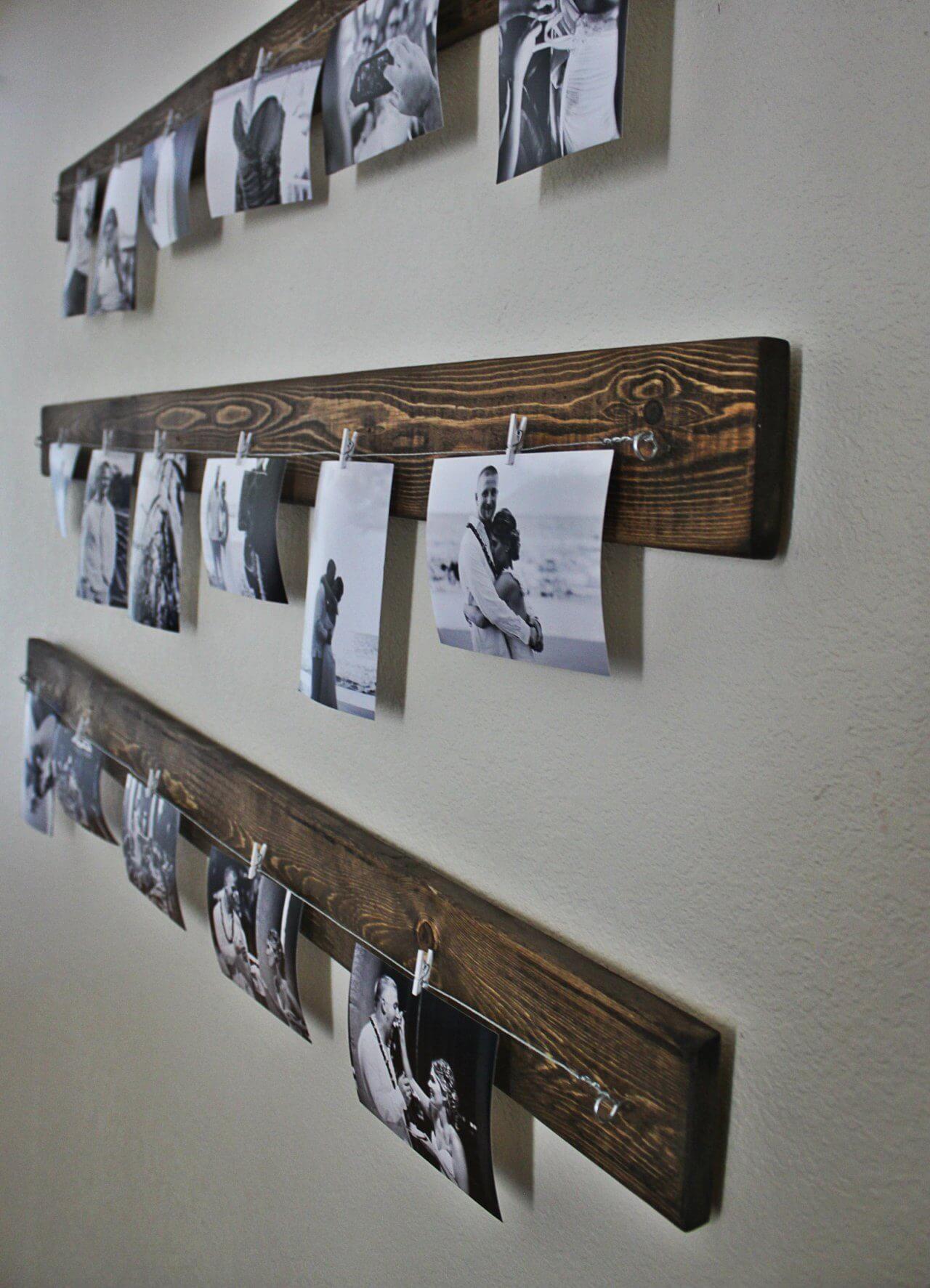 Just married? Add your new monogram to your bedroom with this DIY art. One giant galvanized metal letter is reminiscent of the farmyard but looks chic in this artistic format.
63. Rustically Yours Handwritten Wooden Love Sign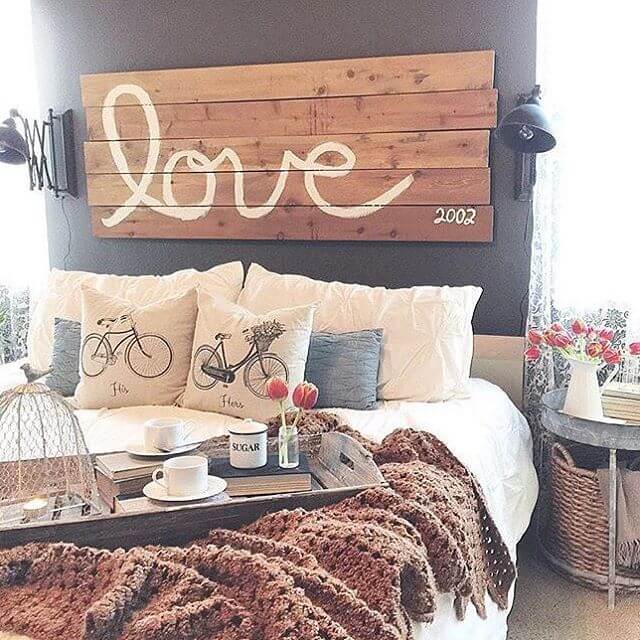 If you swap out the photos on display in your home often, try this DIY. Attach fishing wire to wood boards, then add tiny clothespins. Attach photos or mementos with the pins and change then whenever the mood strikes!
64. Greenbelt Lodge Adorable Room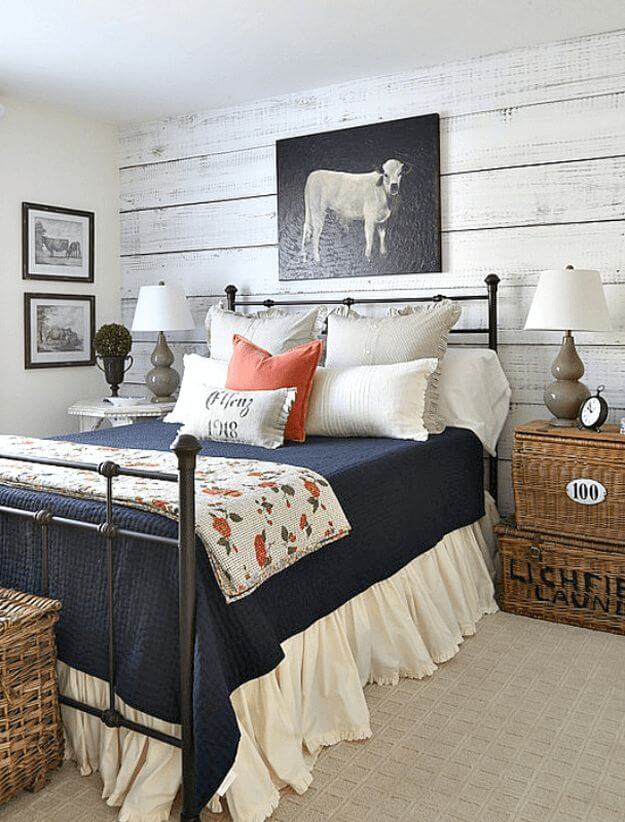 Source: The original source is not available anymore.
Paint the word "love" and your wedding year onto repurposed wood boards for a personalized art piece. This DIY would make a great addition to a newlywed bedroom or a wedding gift!
65. Ebony and Ash Palatial Farmhouse Bedroom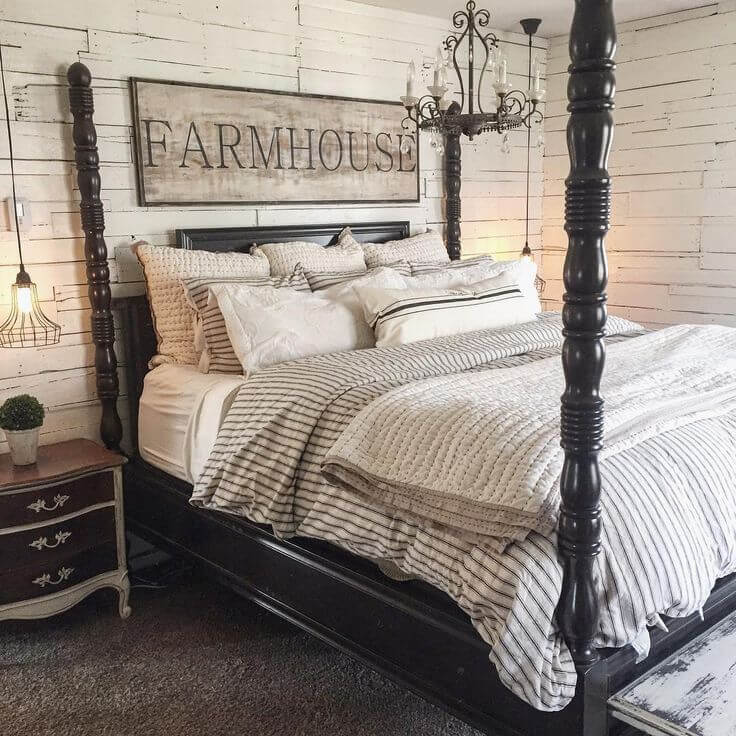 The best part of a farm is the animals! Show your love for them with some vintage cow prints. Keep the look chic with pretty quilt, ruffle, and wicker accents.
66. Shabby-Chic Beach House Retreat Bedroom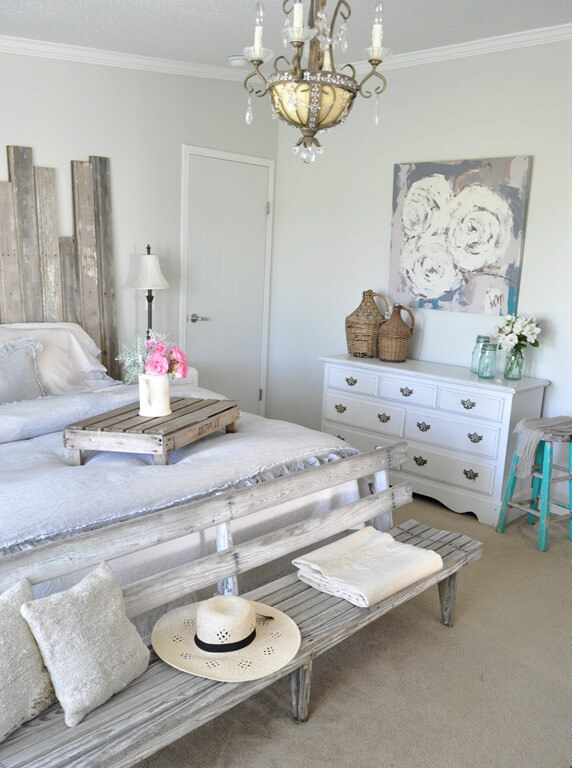 This room is the perfect mix of fancy and rustic. The upscale chandelier, regal end farmhouse table, and giant poster bed look homey when paired with shabby chic linens and distressed walls.