Gone are the days when a beautiful home was an untouchable home. Now the hottest trends in interior decorating are warm and lived-in looks. The rustic aesthetic has never been more popular, incorporating everything from the time-honed patina of wooden primitives to shabby chic accents that look like they're fresh off a farm in the French countryside.
45+ Ways to Make Your Home Breathtaking and Cozy with Rustic Home Decorations

Our gallery of 45+ rustic home decor ideas offers something for every room in your home. Discover clever new ways to hang your favorite family photos, and be inspired by grandiose contemporary statement lighting that takes the cottage style to a whole new level. Farmhouse wood abounds, as does distressed chalk paint and repurposed windows.
Whether you want to perfect an all-rustic interior or are simply looking for a way to make a bare corner look a little more cozy, we've compiled a wonderful group of editorial-ready rustic home decor ideas. If you like smart country-inspired repurposing projects, whitewashed wood, and other bright and breathy decorating ideas, then you're going to love this list.
1. Country Cottage Inspired Entryway Design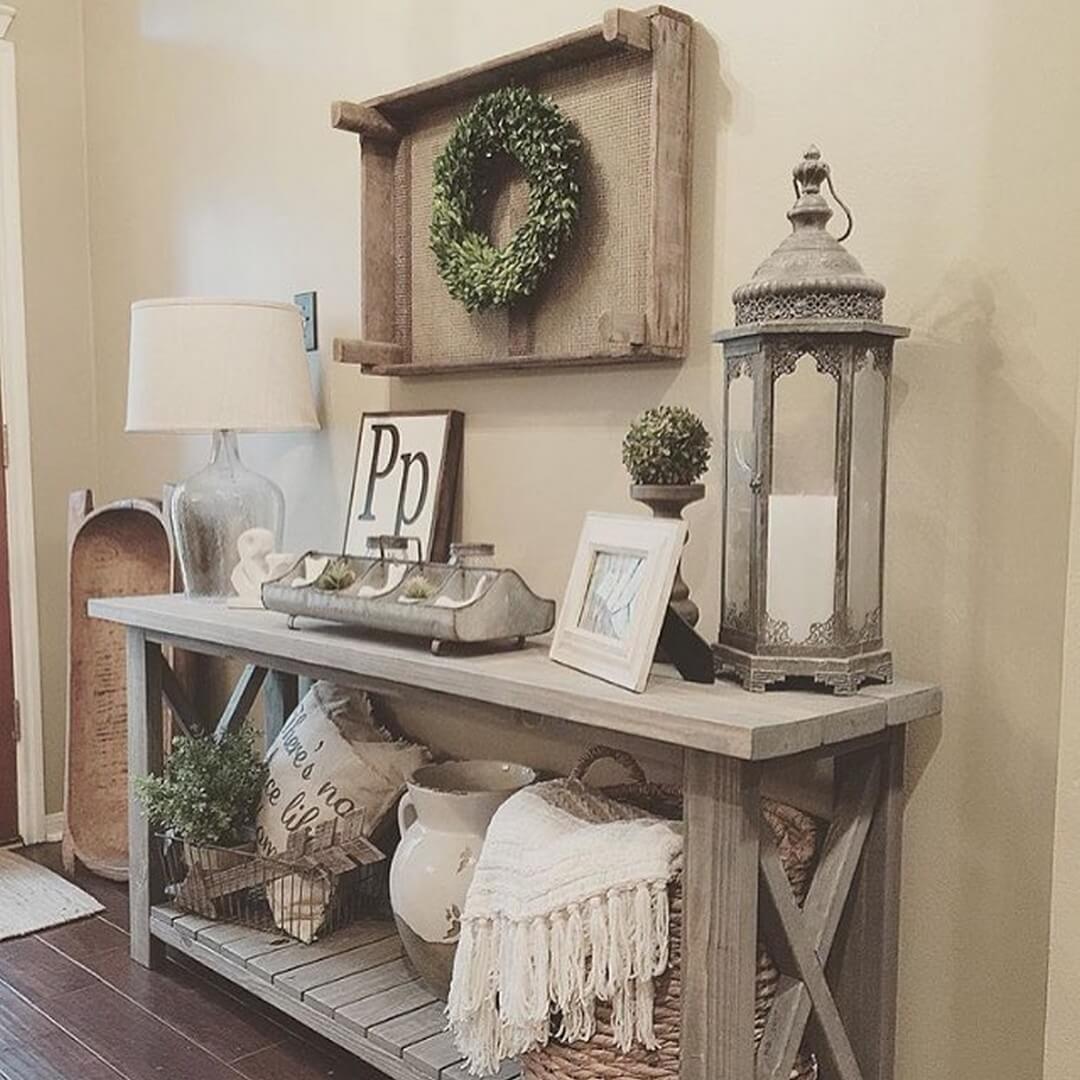 2. Distressed Milk Paint Picture-Hanging Rod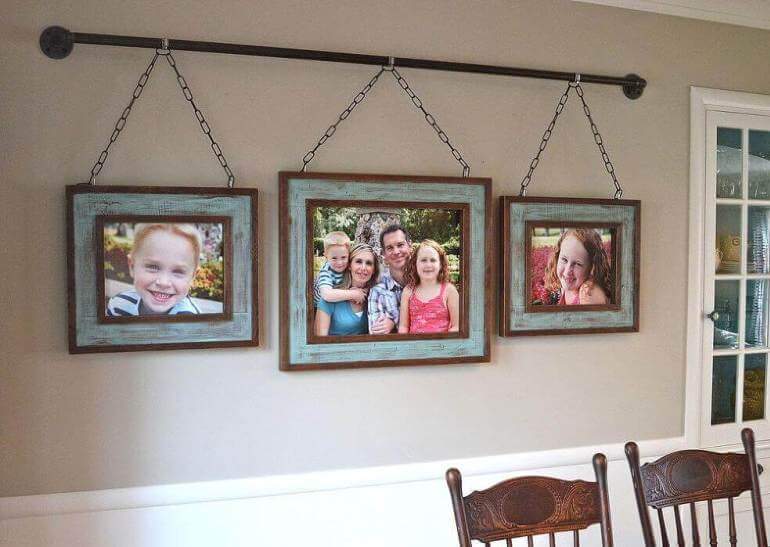 3. Chunky Baluster Leg Farmhouse Work Bench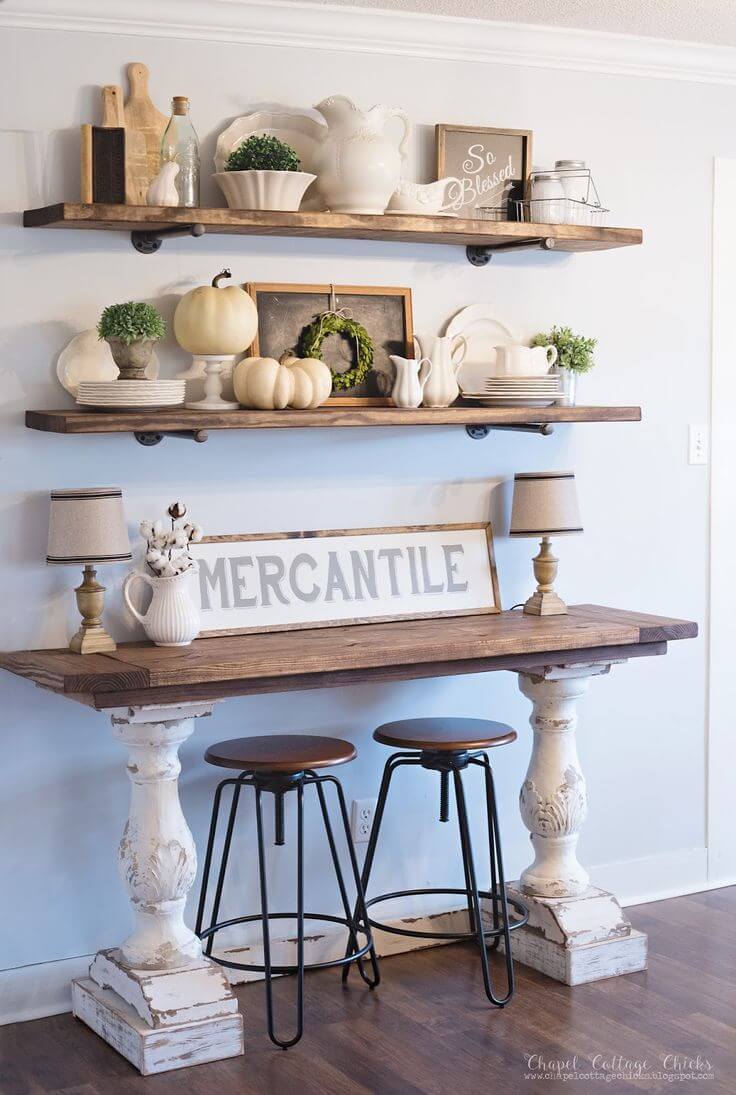 4. Shabby Chic Flower Trough Centerpiece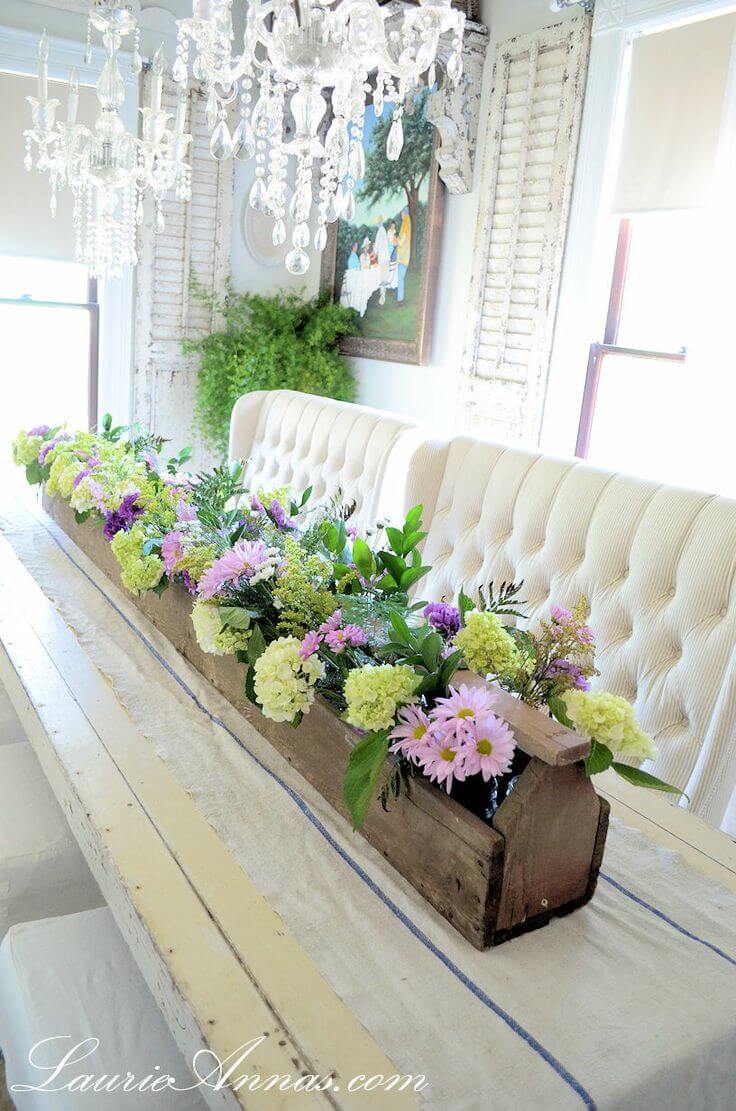 5. A Birdhouse Assemblage and Barnwood Door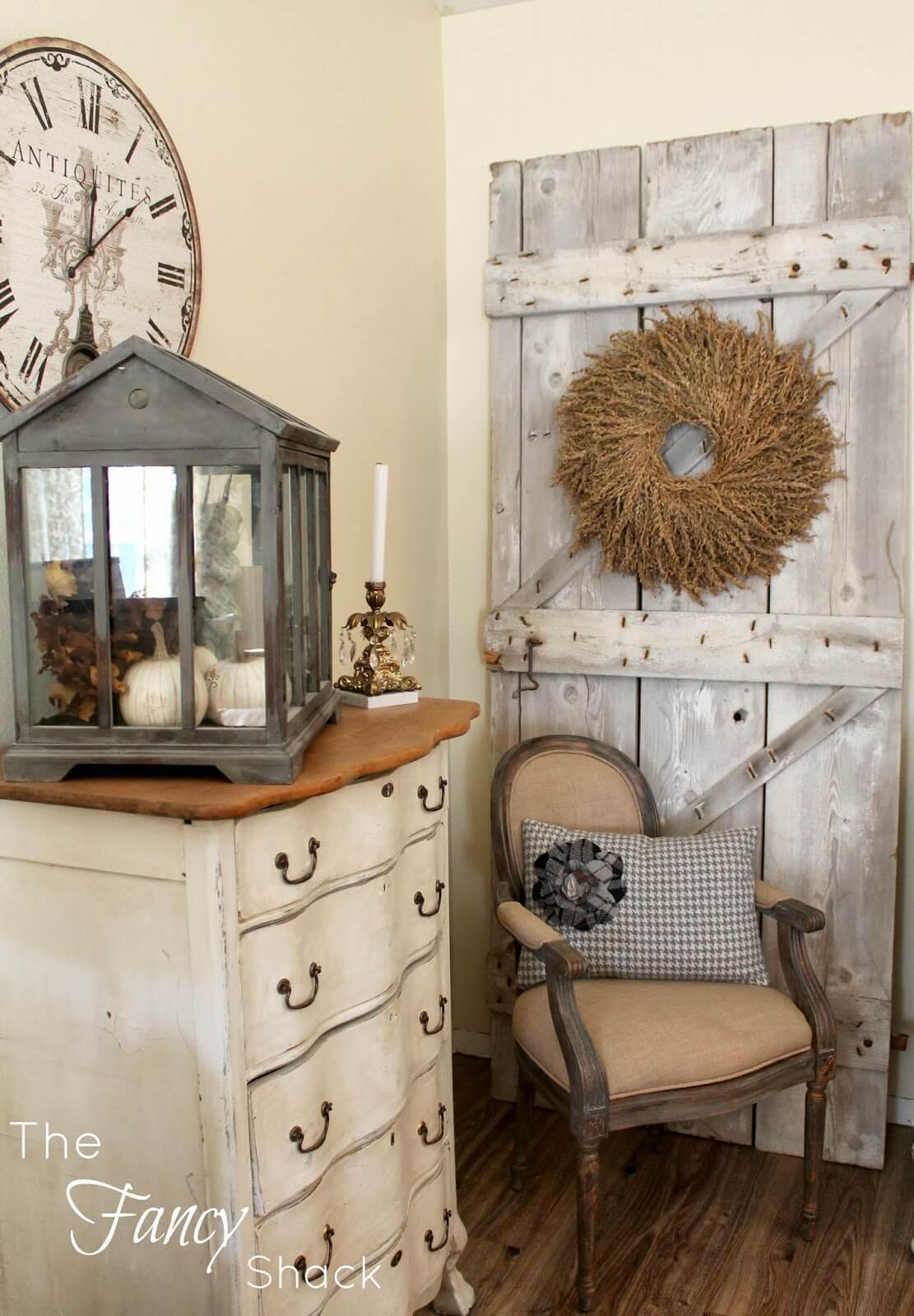 6. Rustic Home Decor Ideas for Wall Shelves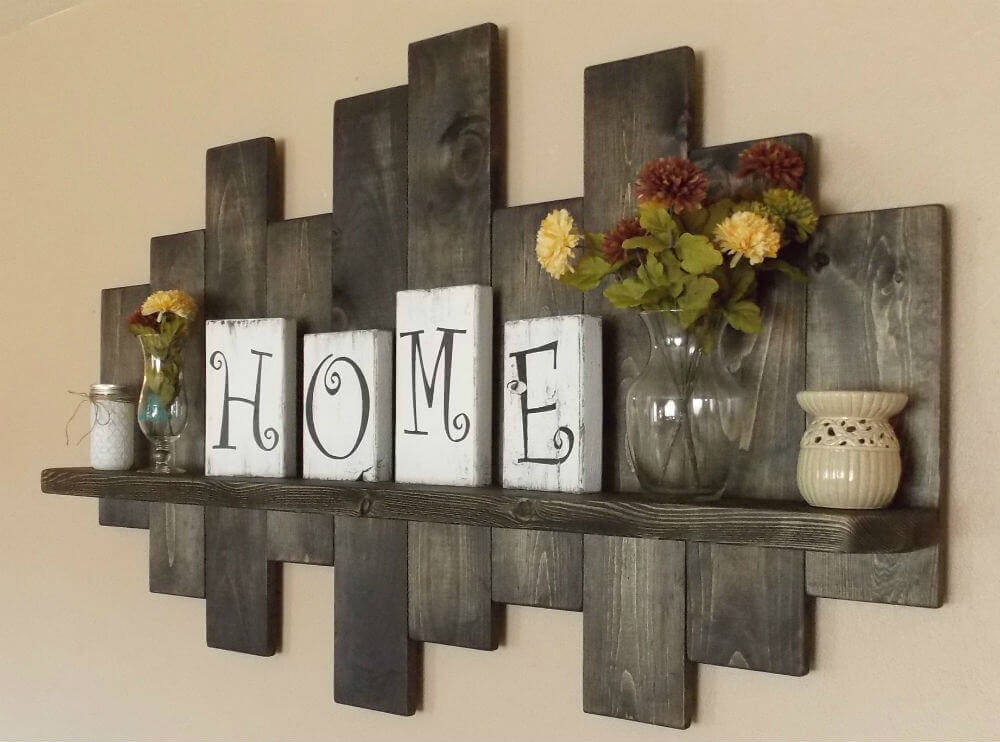 7. Floor to Ceiling Whitewashed Country Kitchen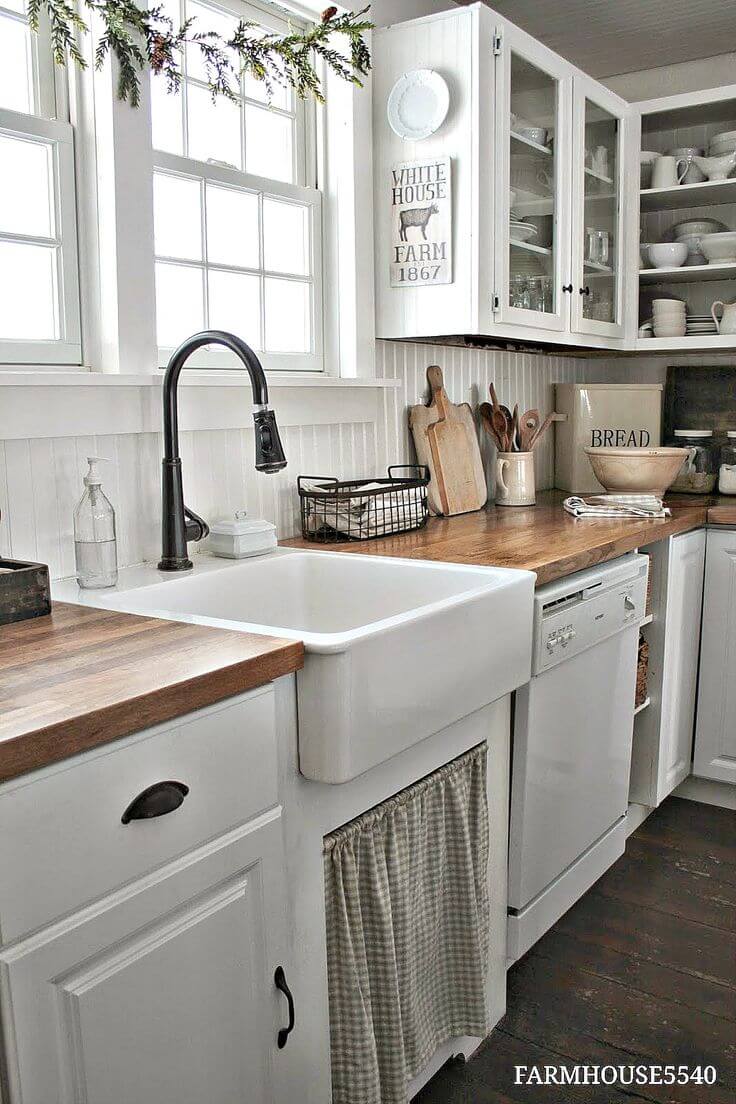 8. Industrial Stacking Crates Side Table Concept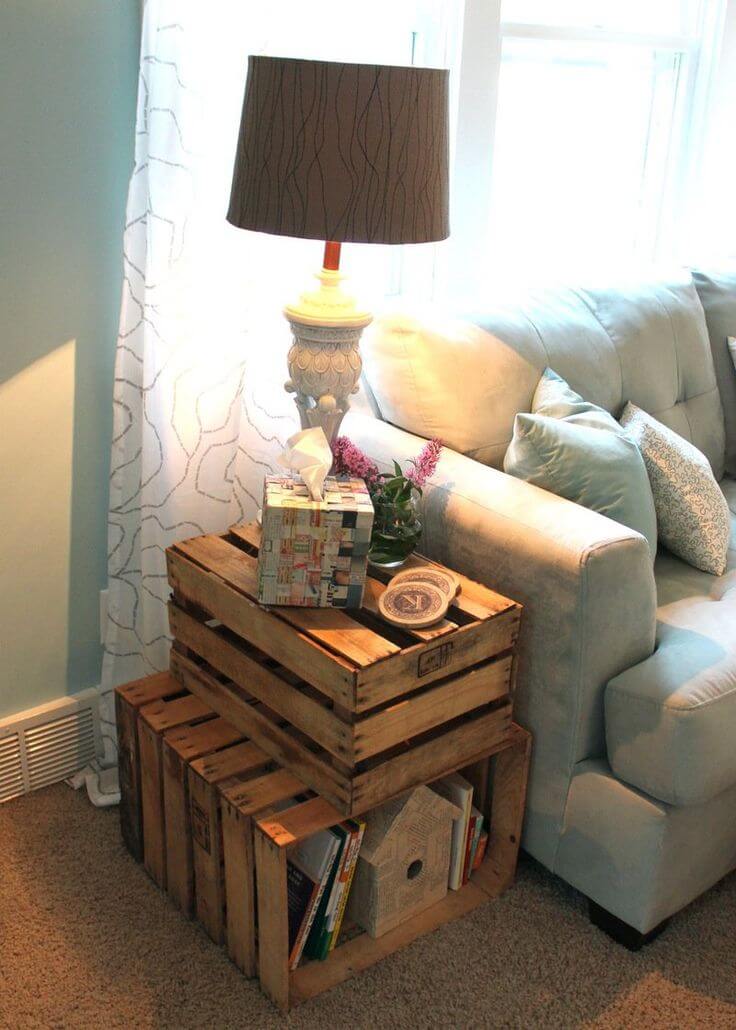 9. Bathroom Ladder Toiletry Organizing Baskets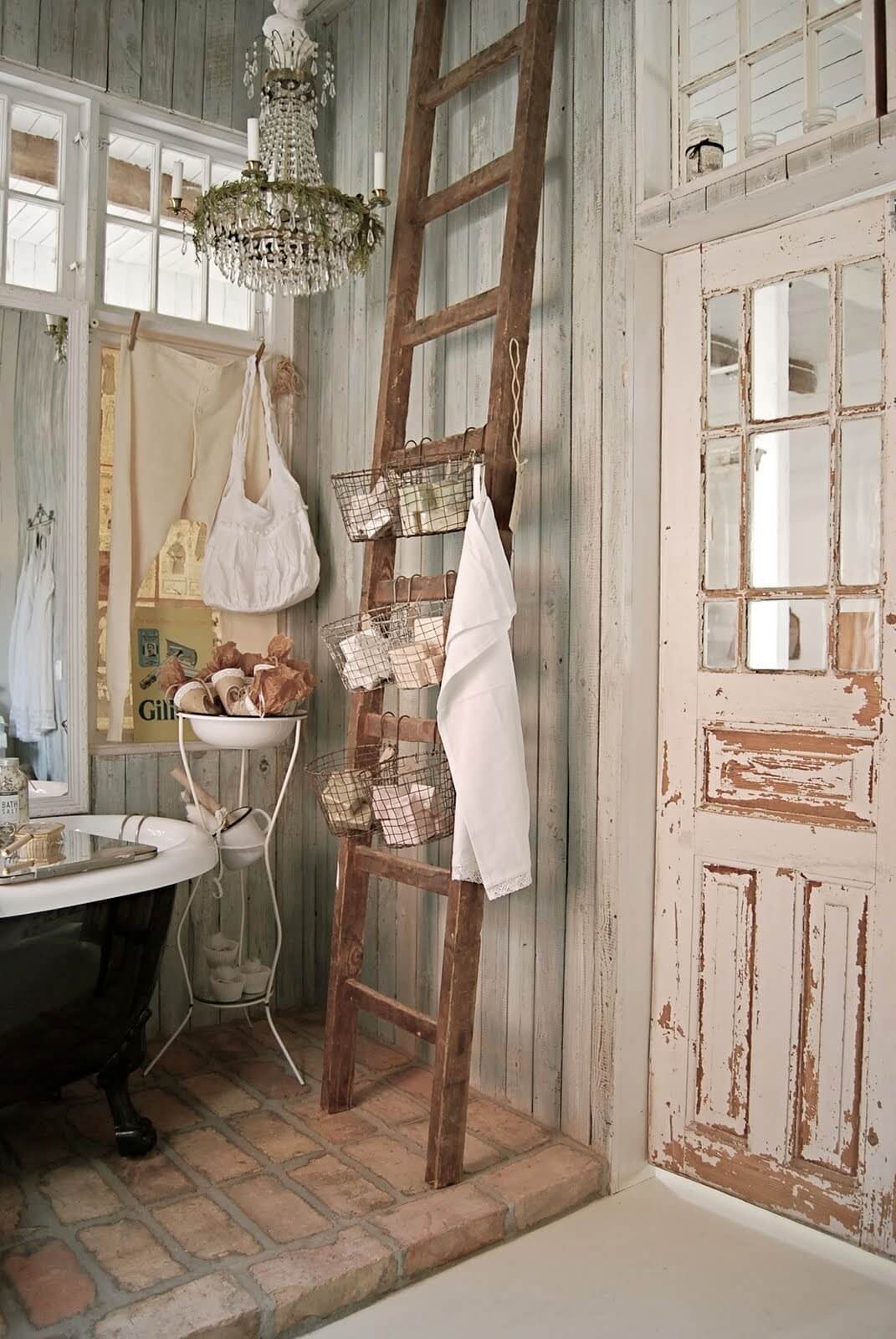 10. French Sign and Repurposed Window Shutter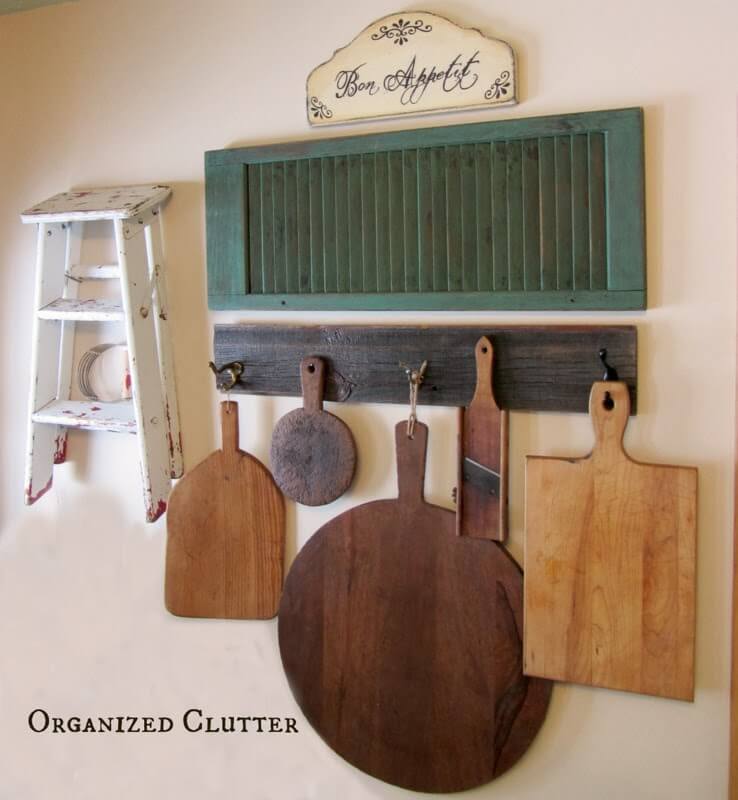 11. Wood and Wrought Iron Arch Accents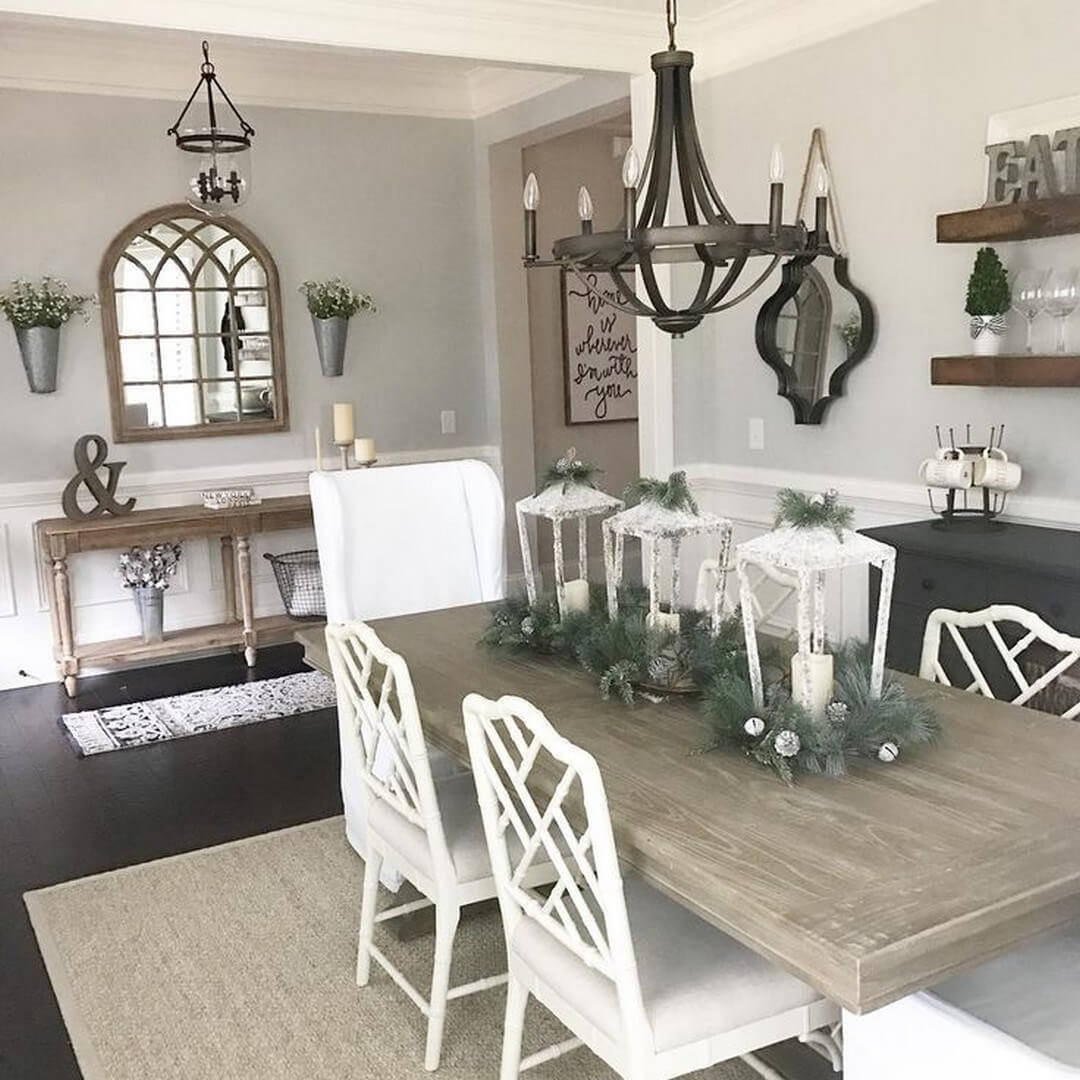 12. Chalk Paint Makeover with Primitive Apple Crates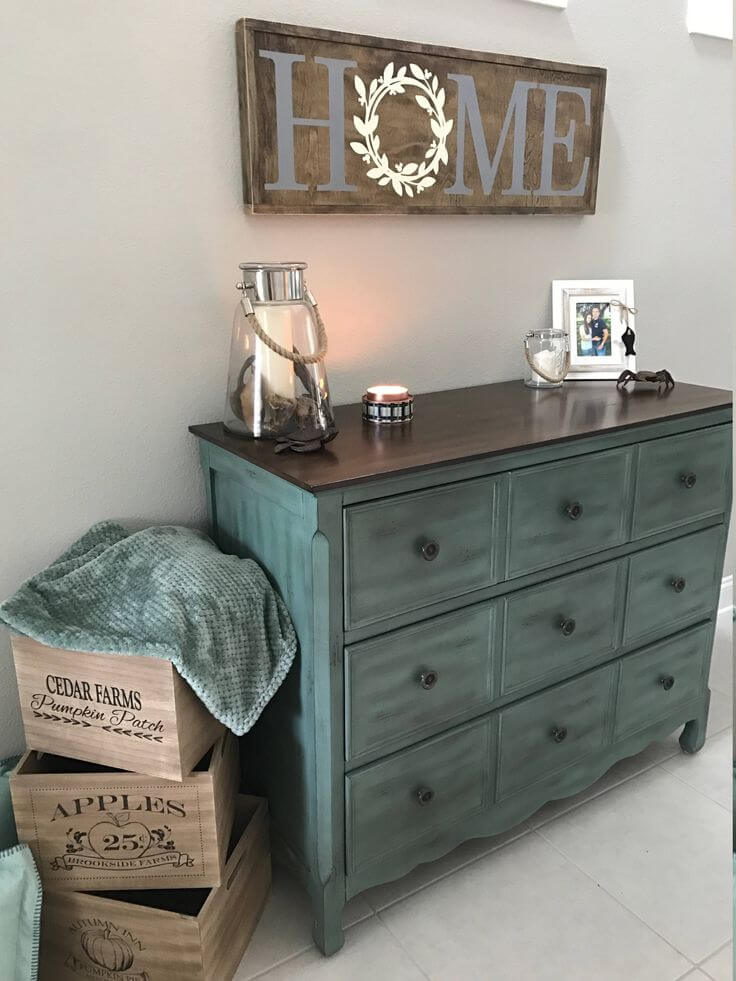 13. Barn Wood Headboard and Statement Wall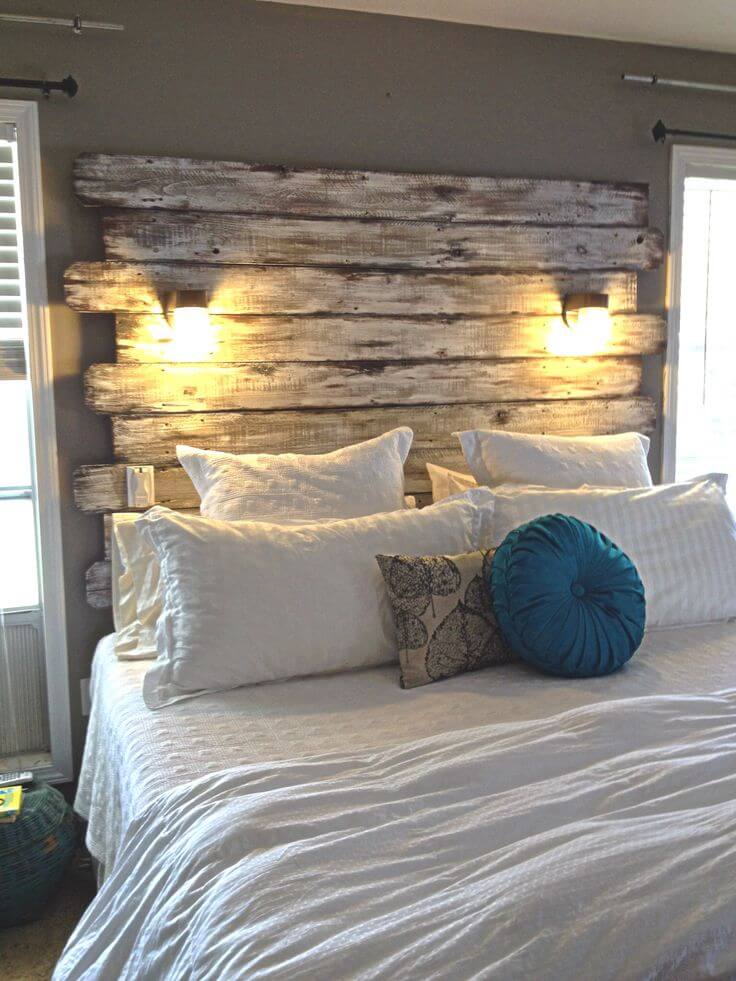 14. Steel, Iron, and Plank Plant Hangers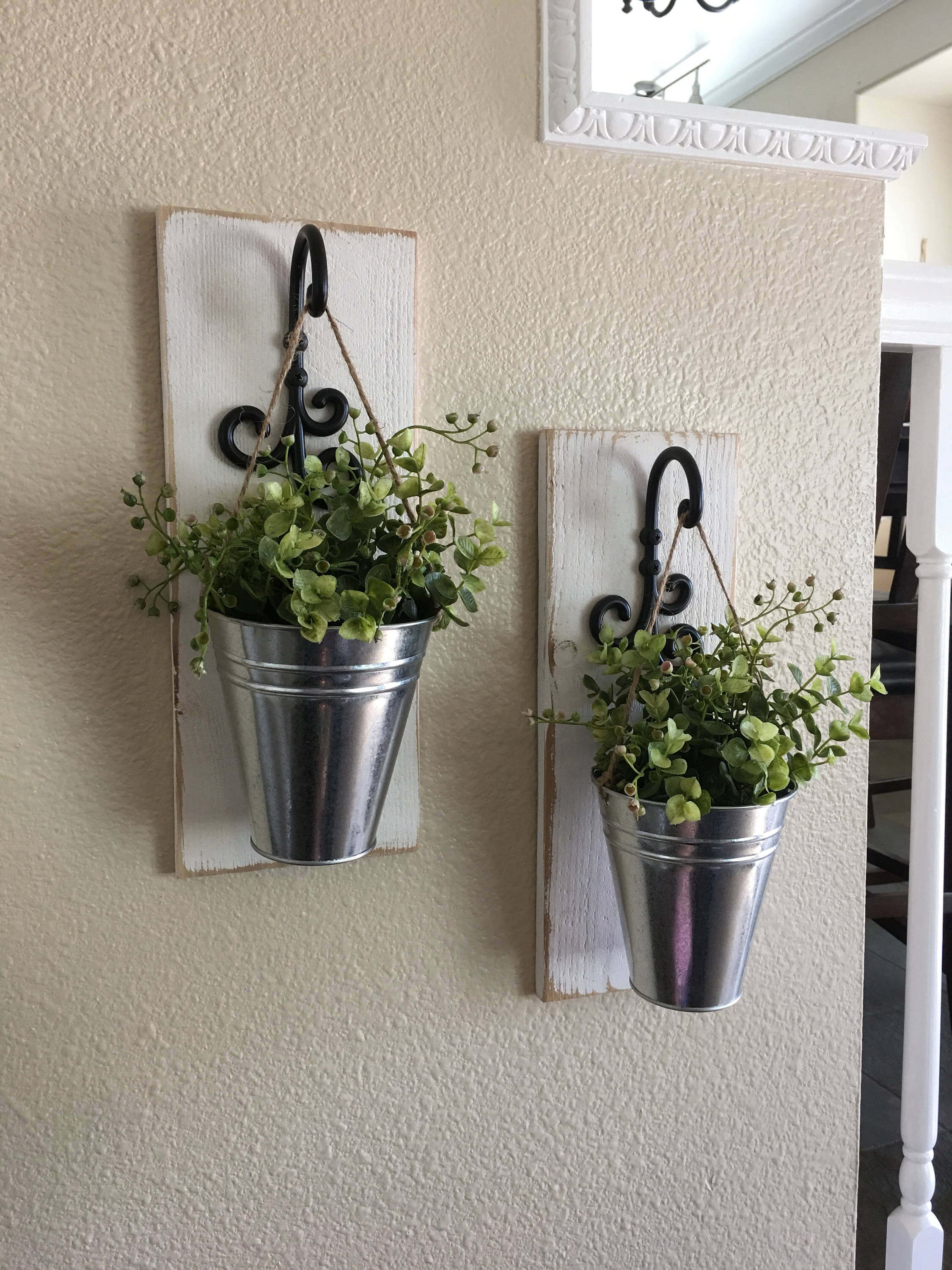 15. Exposed Beams on the Walls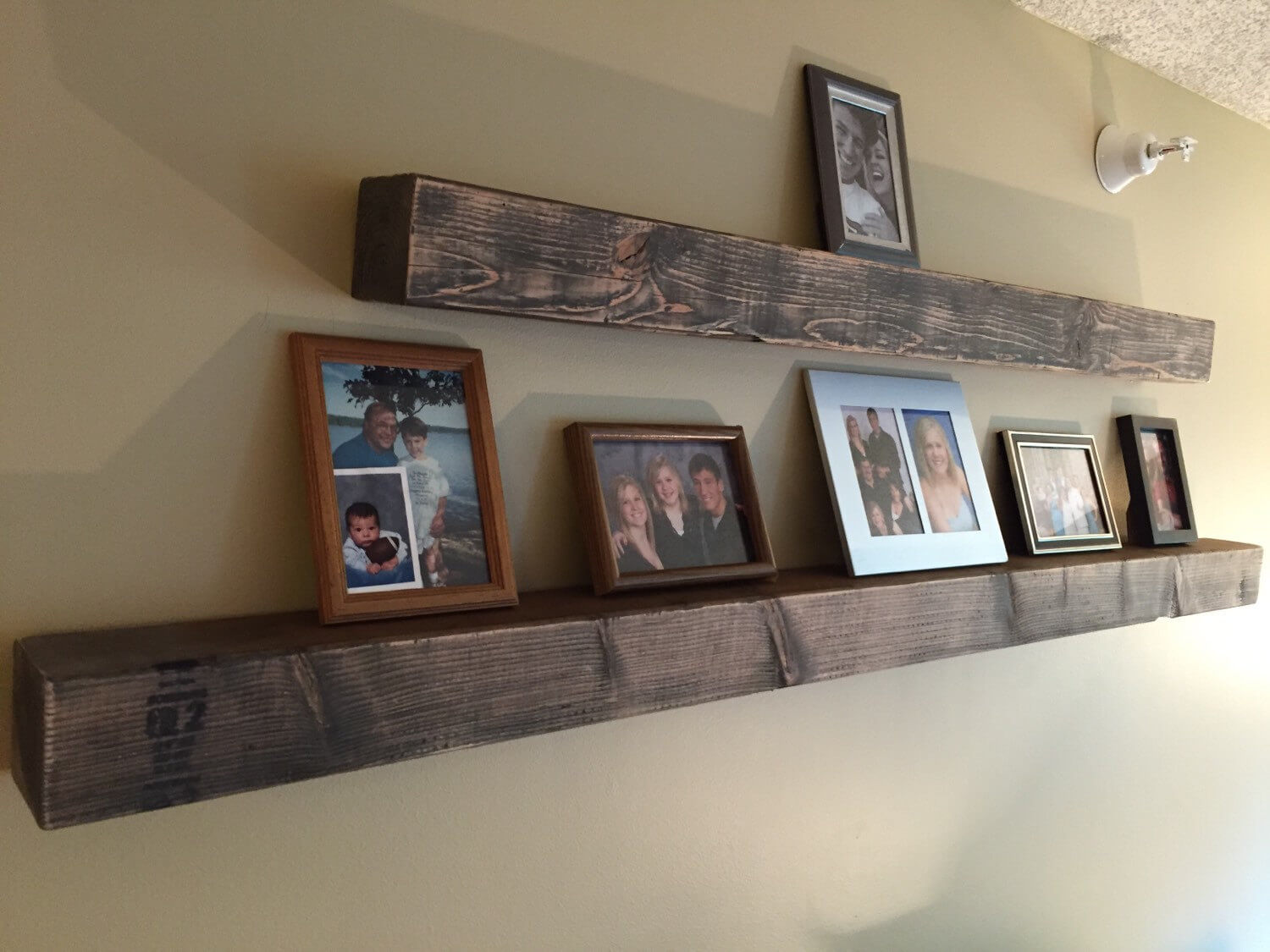 16. Homey French Door Floral Décor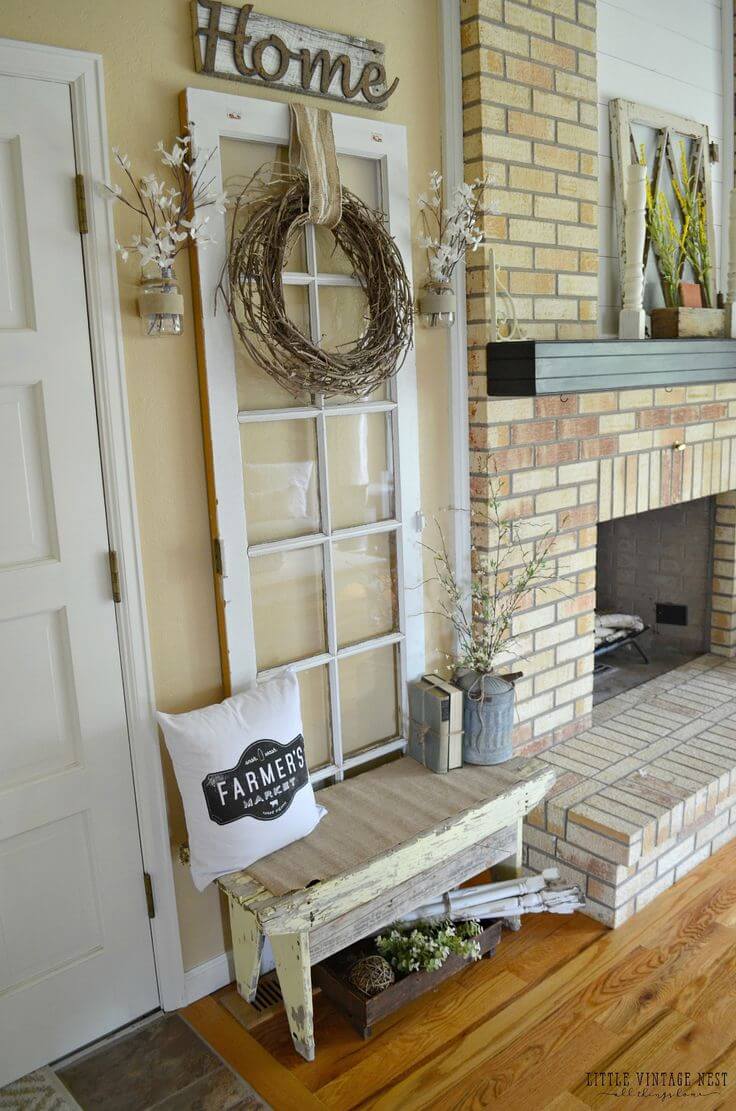 18. Halved Wood Spool Hallway Table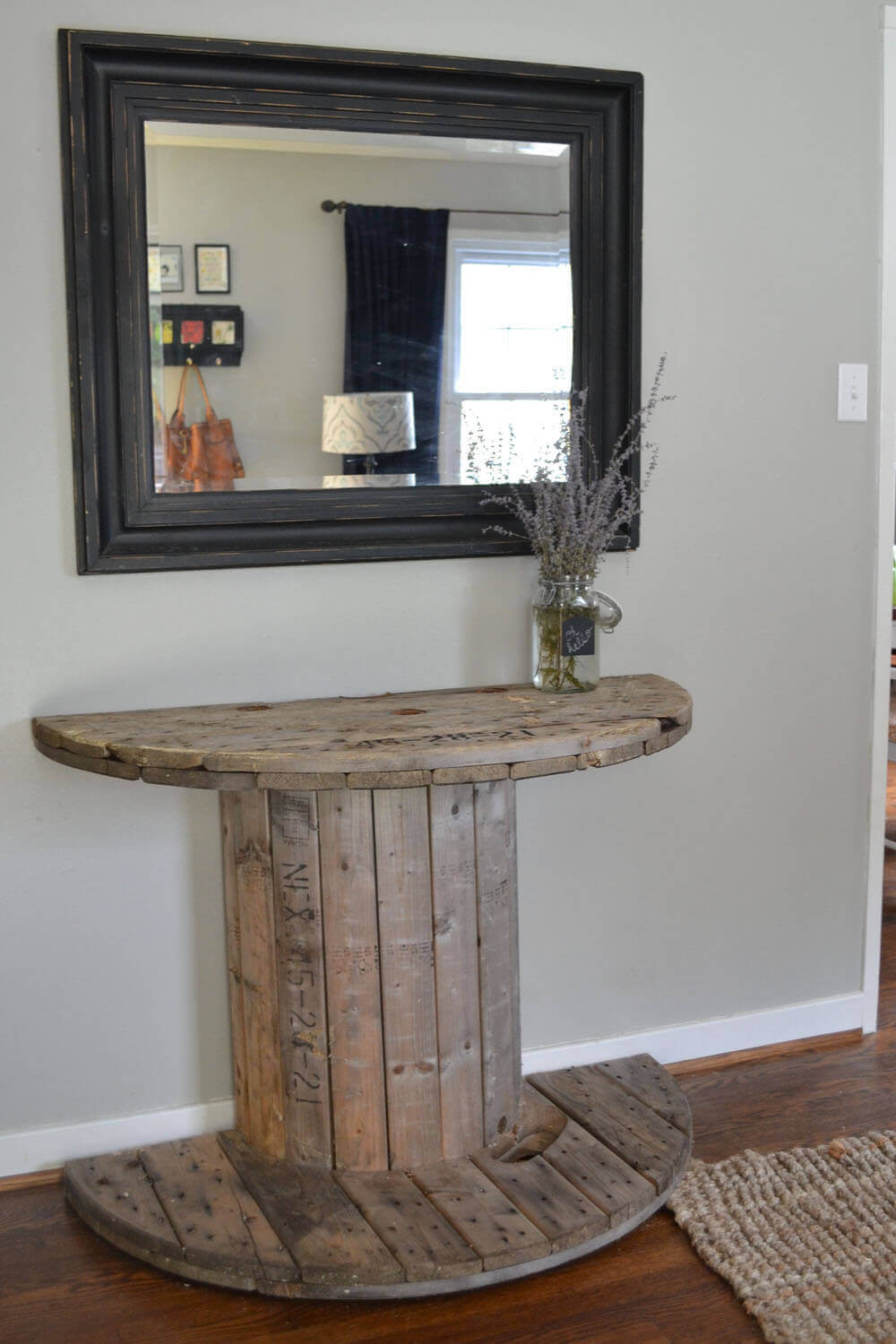 19. Milk Paint Sofa Table with Potted Lavender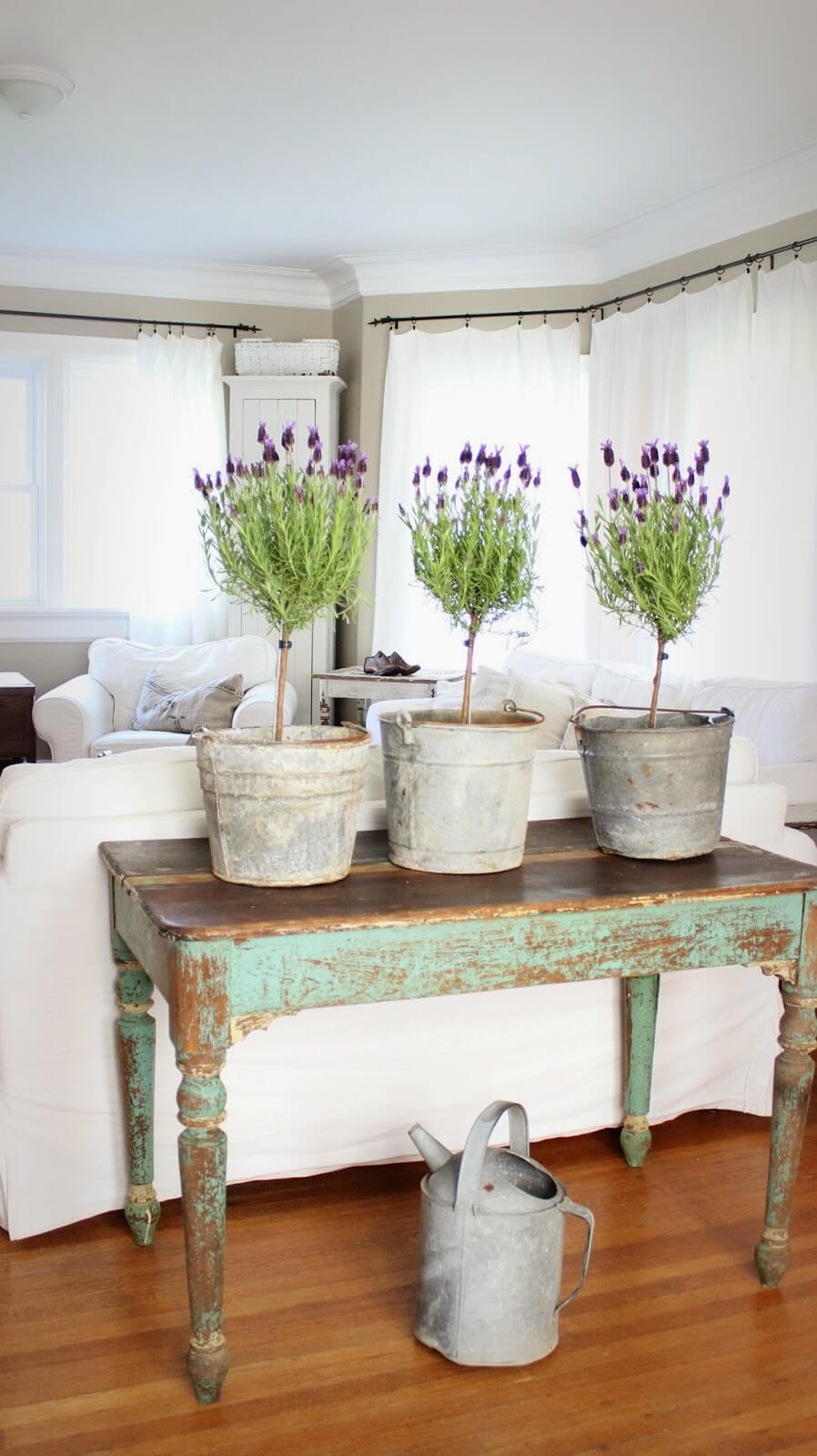 20. A Window to Your Living Room's Soul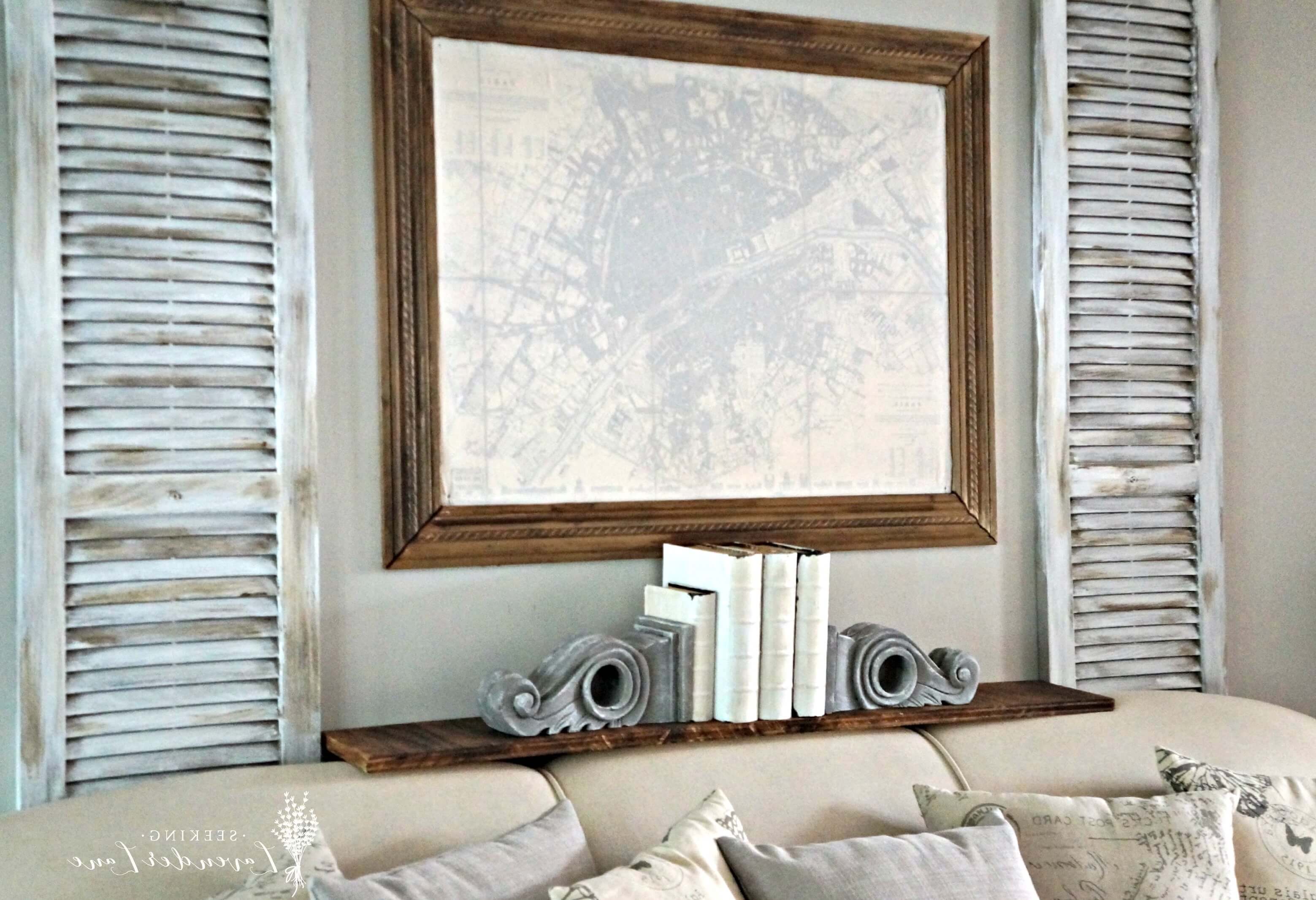 21. Rustic Home Decor Ideas for Palettes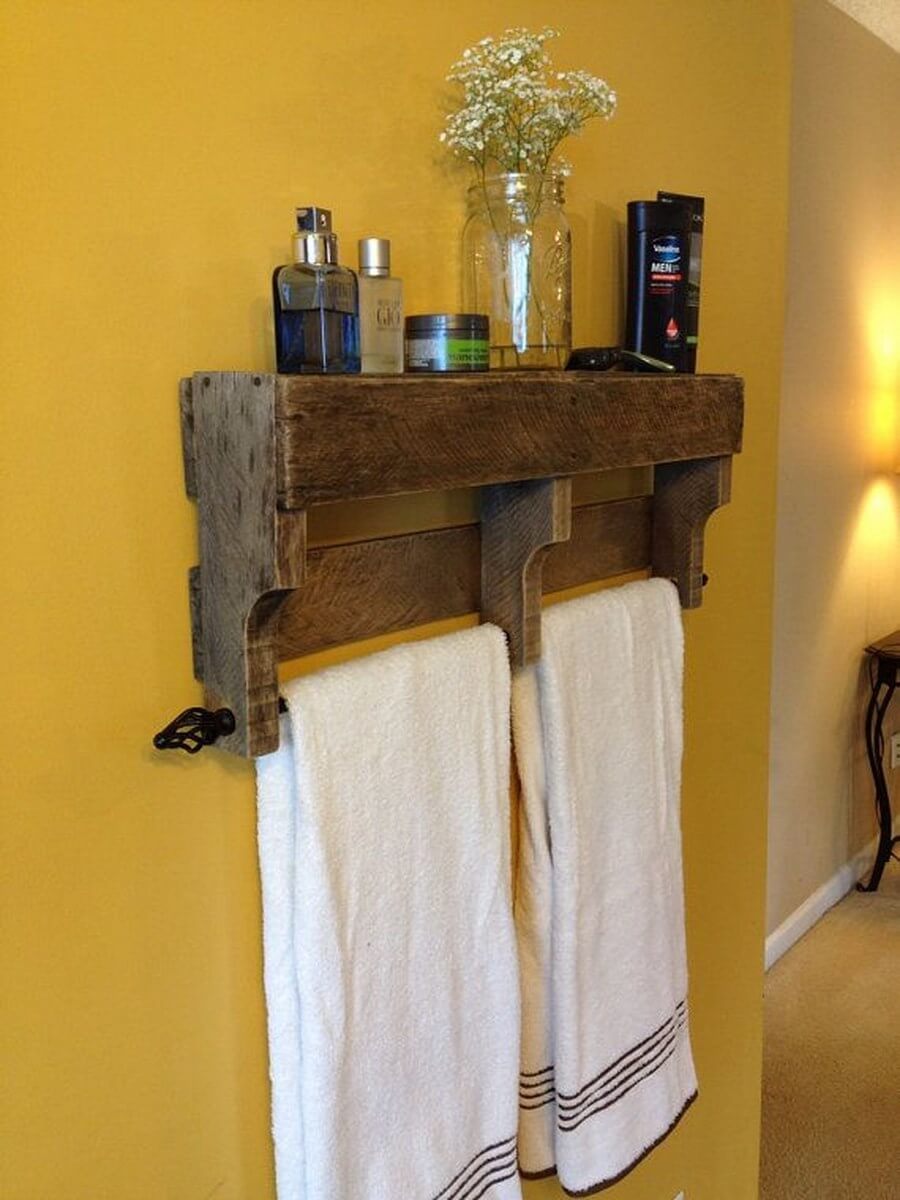 23. A Trunk Makes an Ideal Coffee Table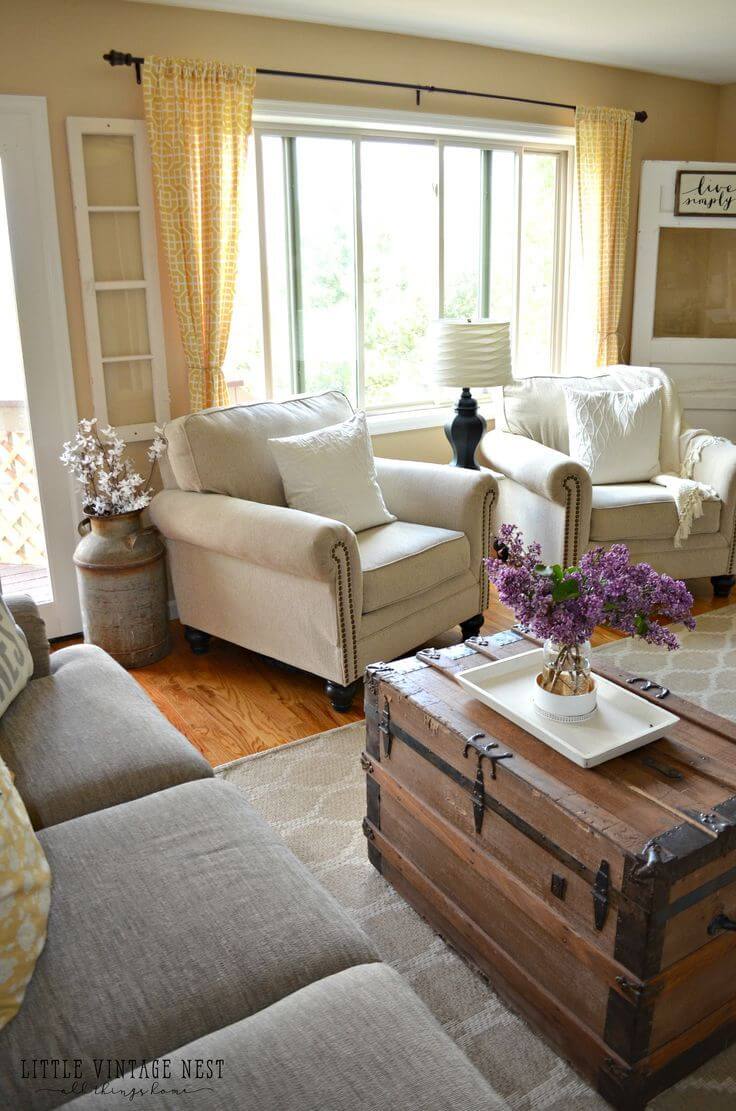 24. Inspirational Morning Mantra Bathroom Wall Art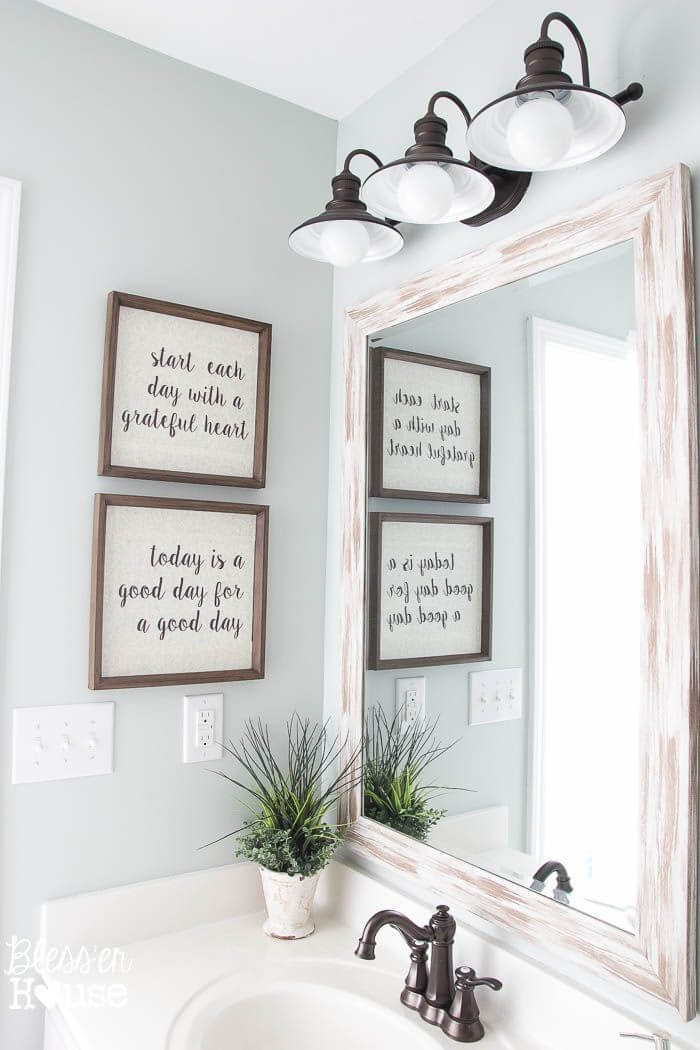 26. Oak Bench, White Pumpkins, and Cow Prints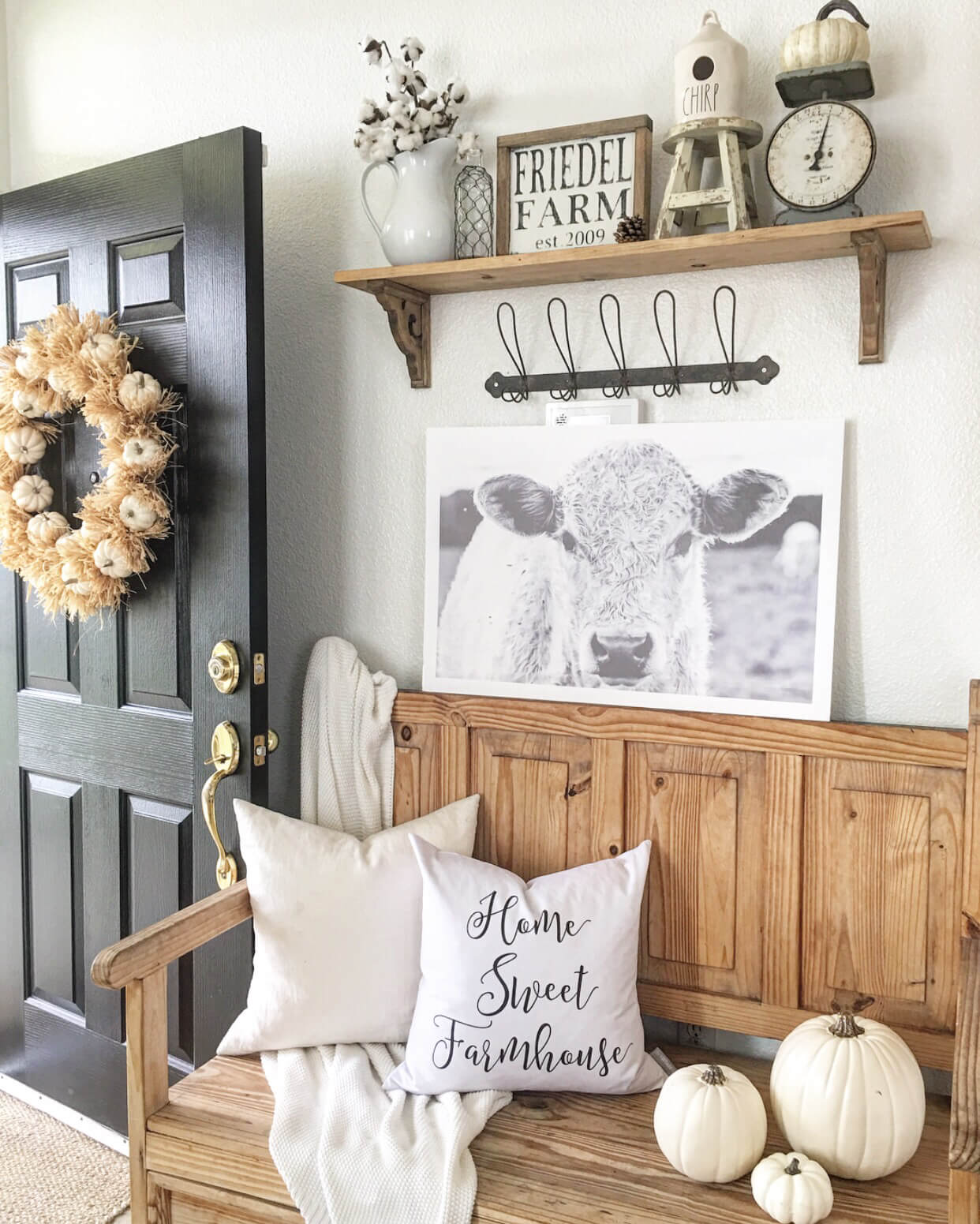 27. Wonderfully Rustic Laundry Room Workspace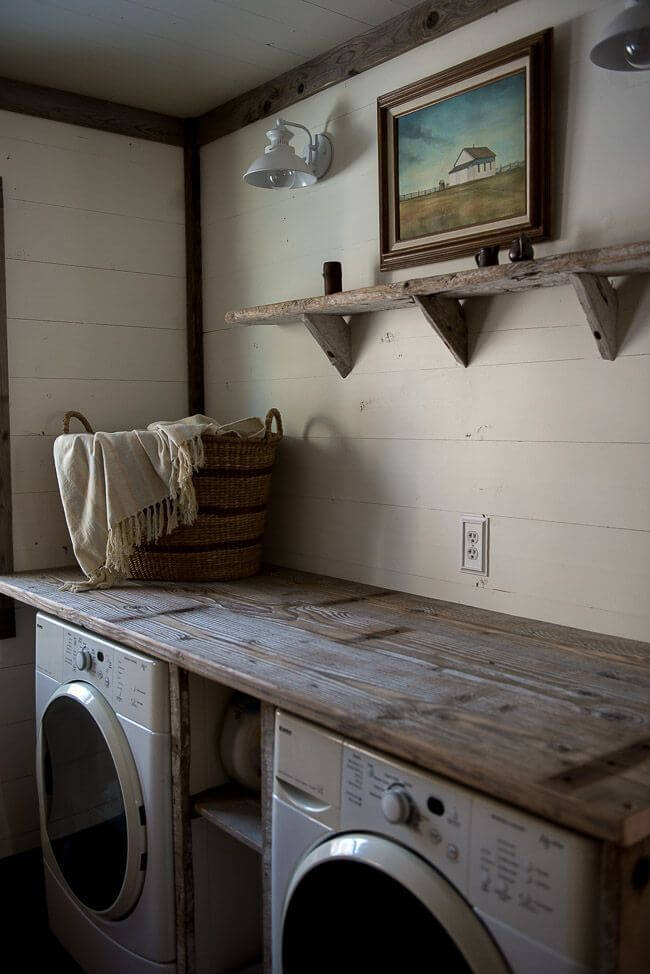 28. A New Way to Hang a Door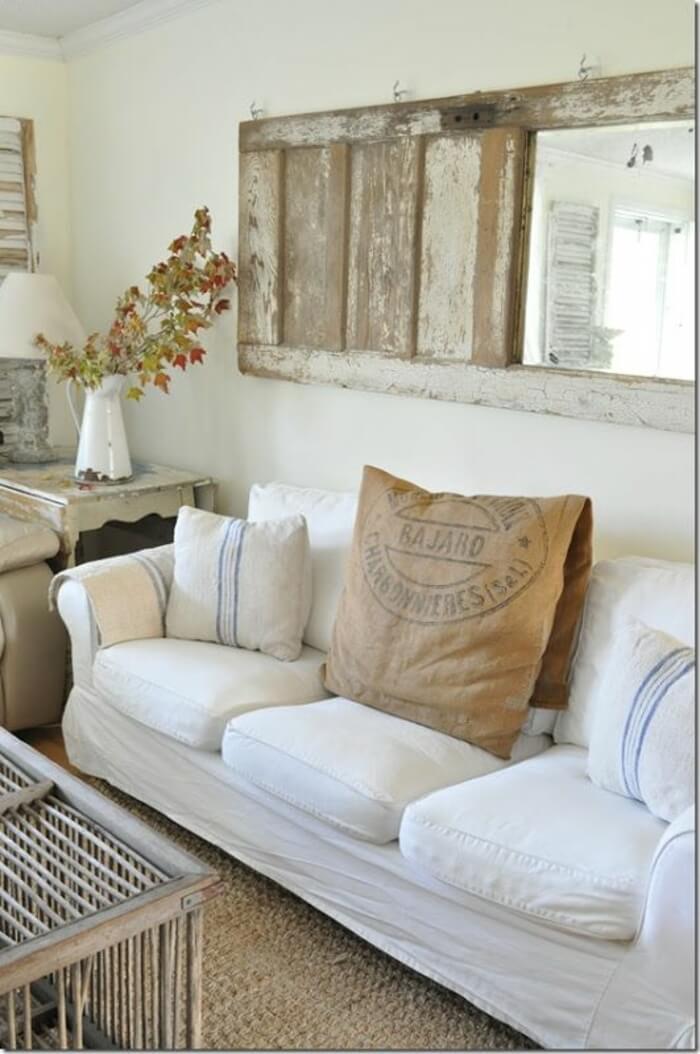 29. Staggered Canning Jar Plant Holders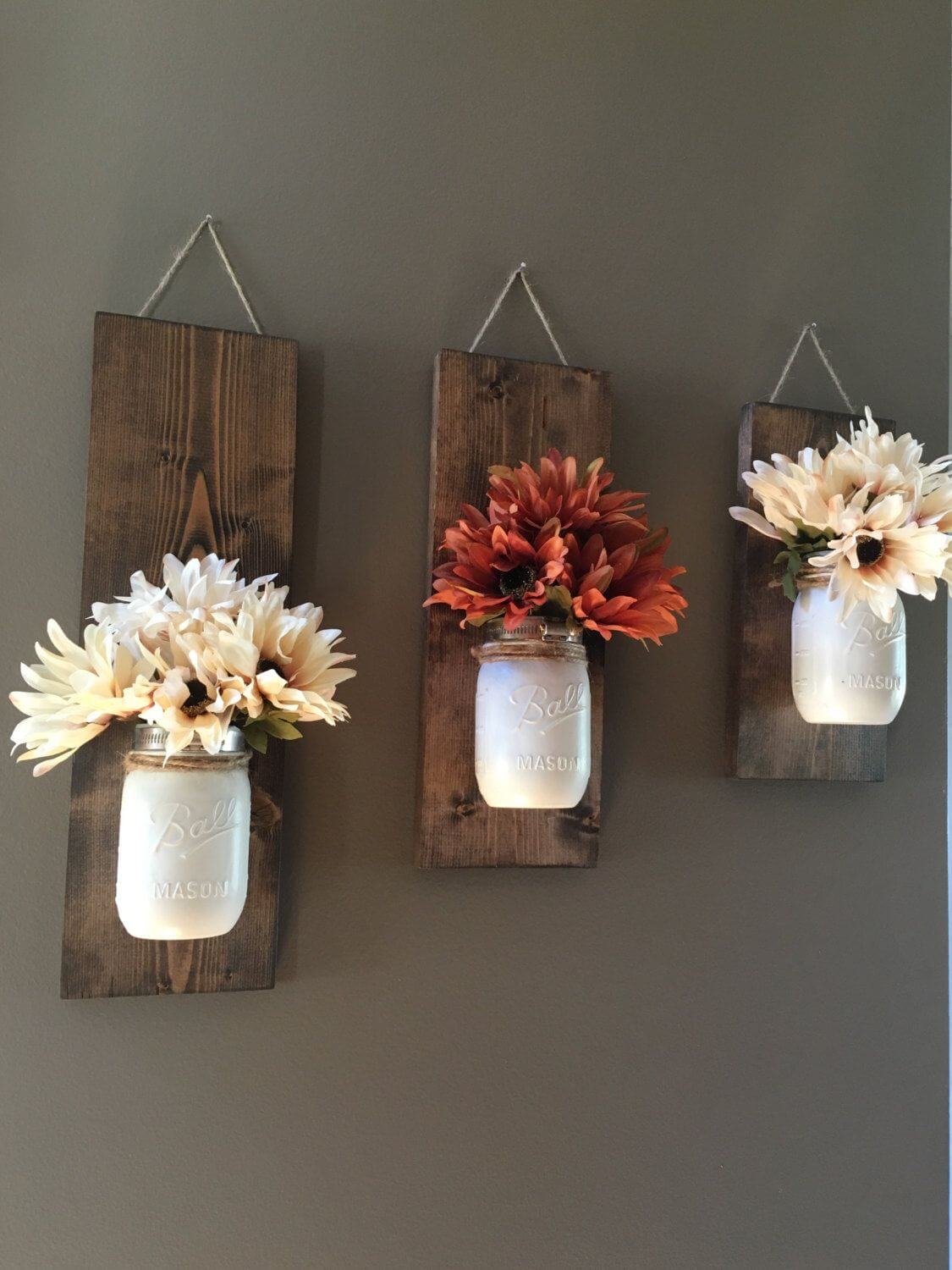 30. Nest Sign, Rattan Baskets, and TV Table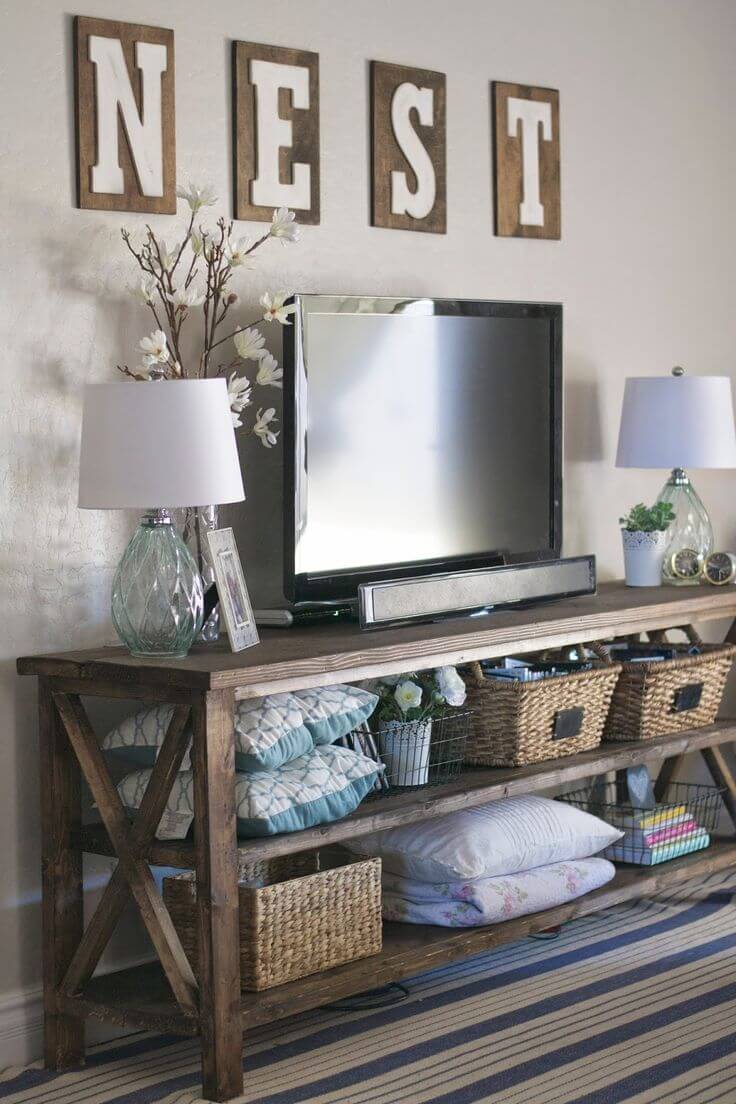 31. Wood Is for Wine Lovers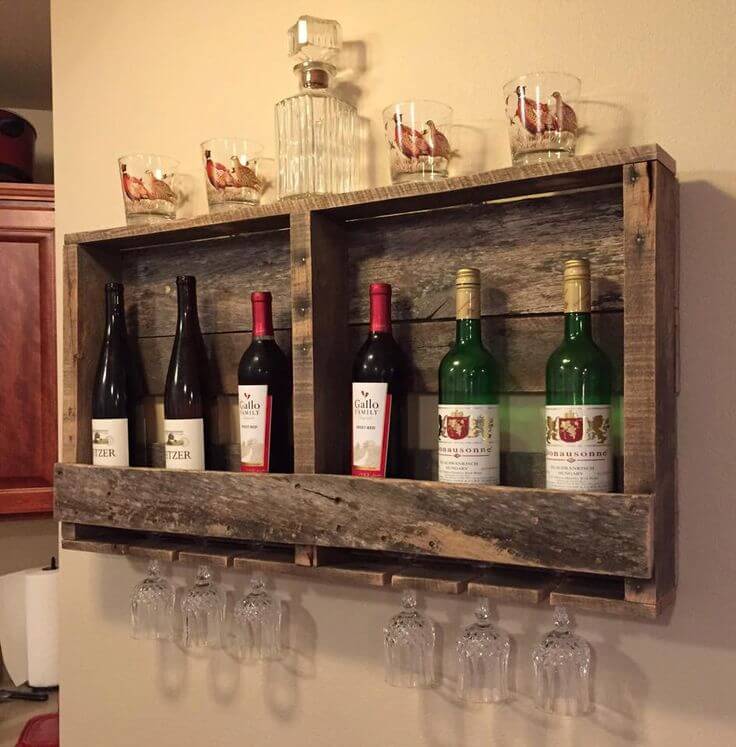 32. Pumpkin Patch Perfect Corner Display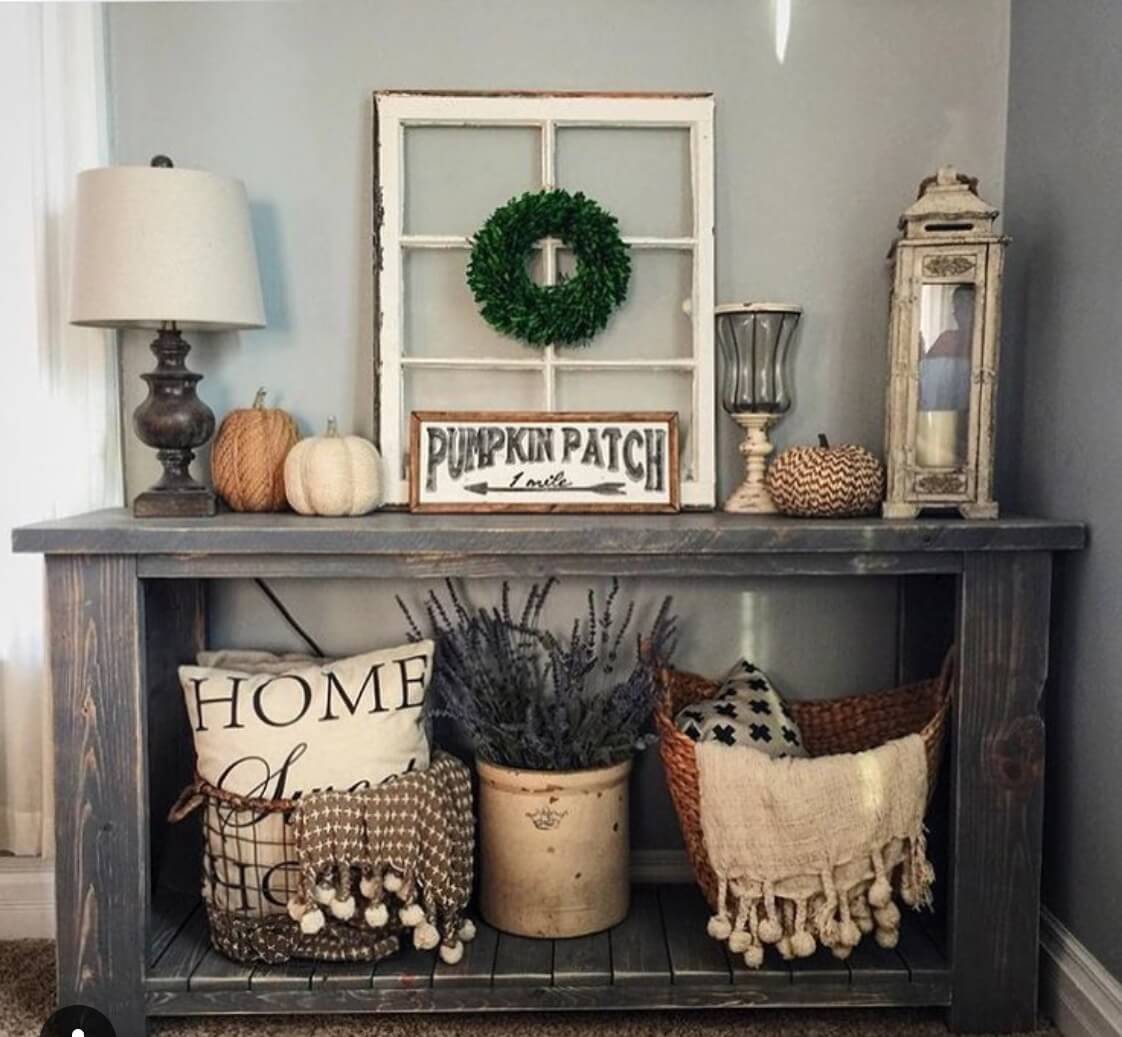 33. Stone Daisy Hanging Home Sign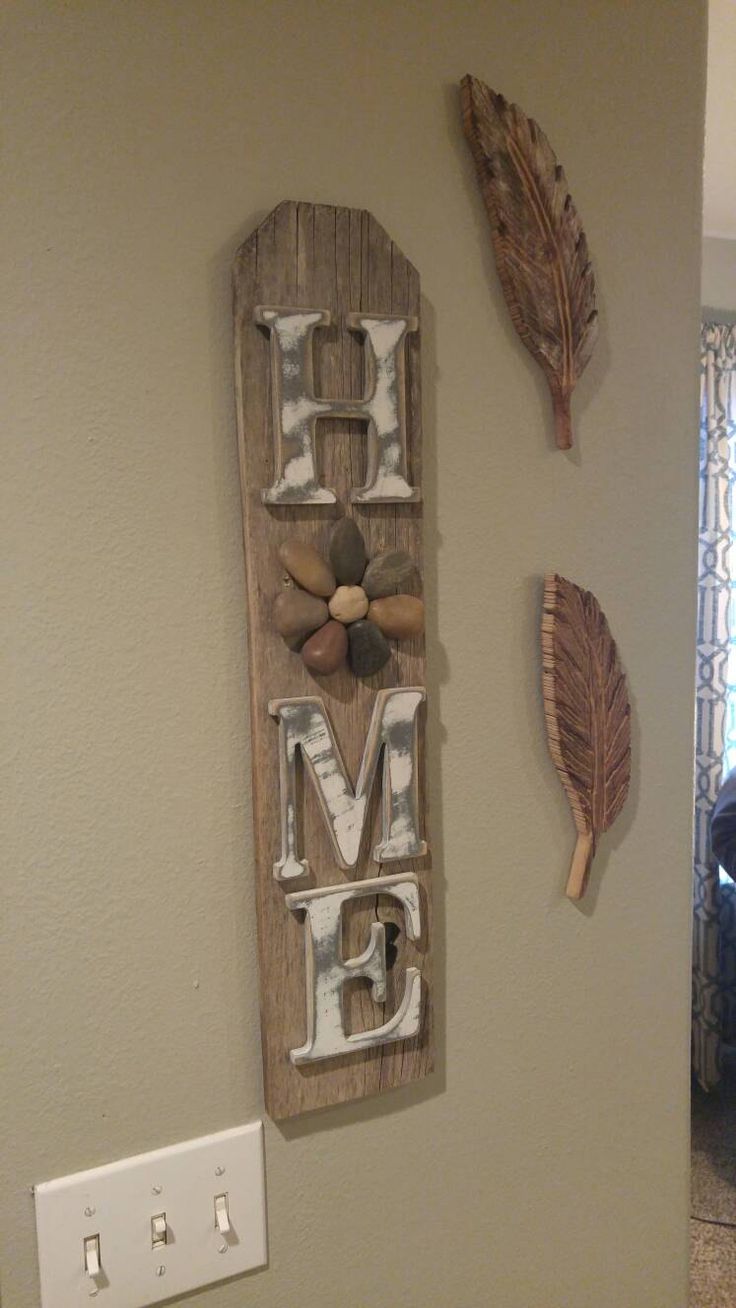 34. Lush but Lived-In Bedroom Suite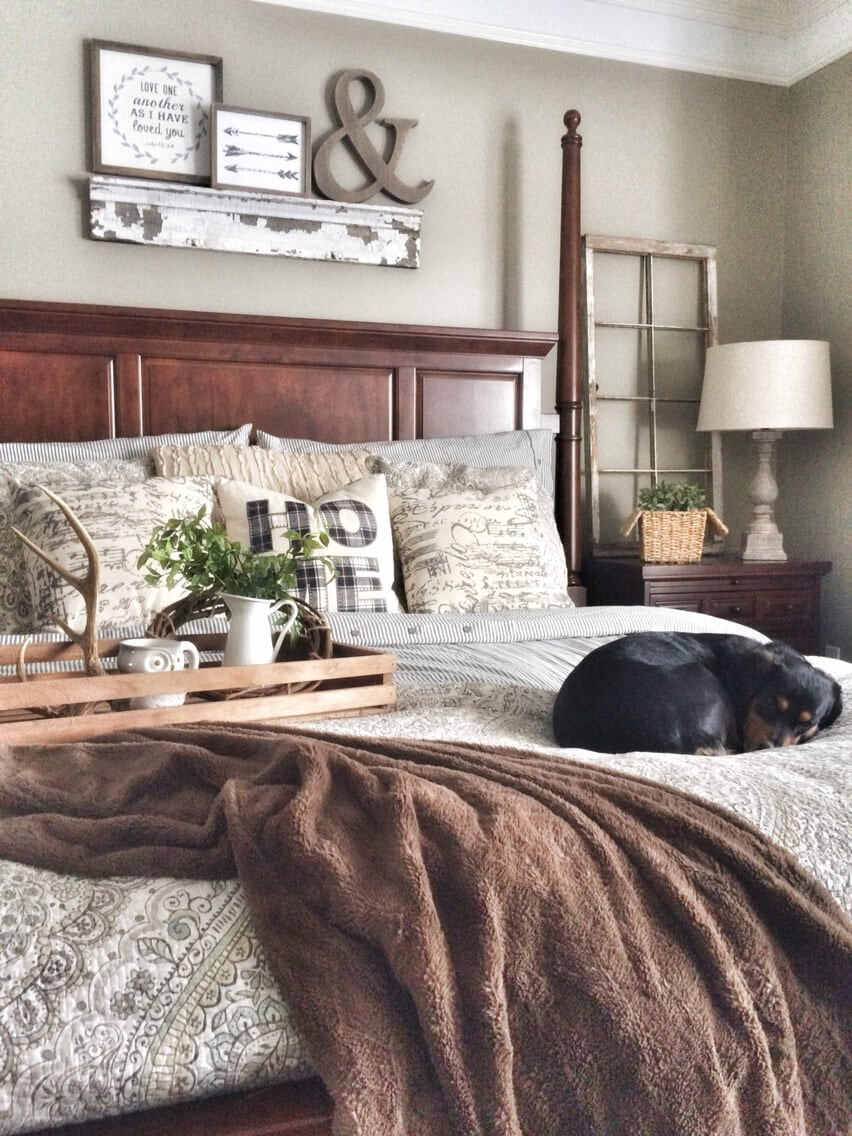 35. Paper Succulents and Old Milk Pails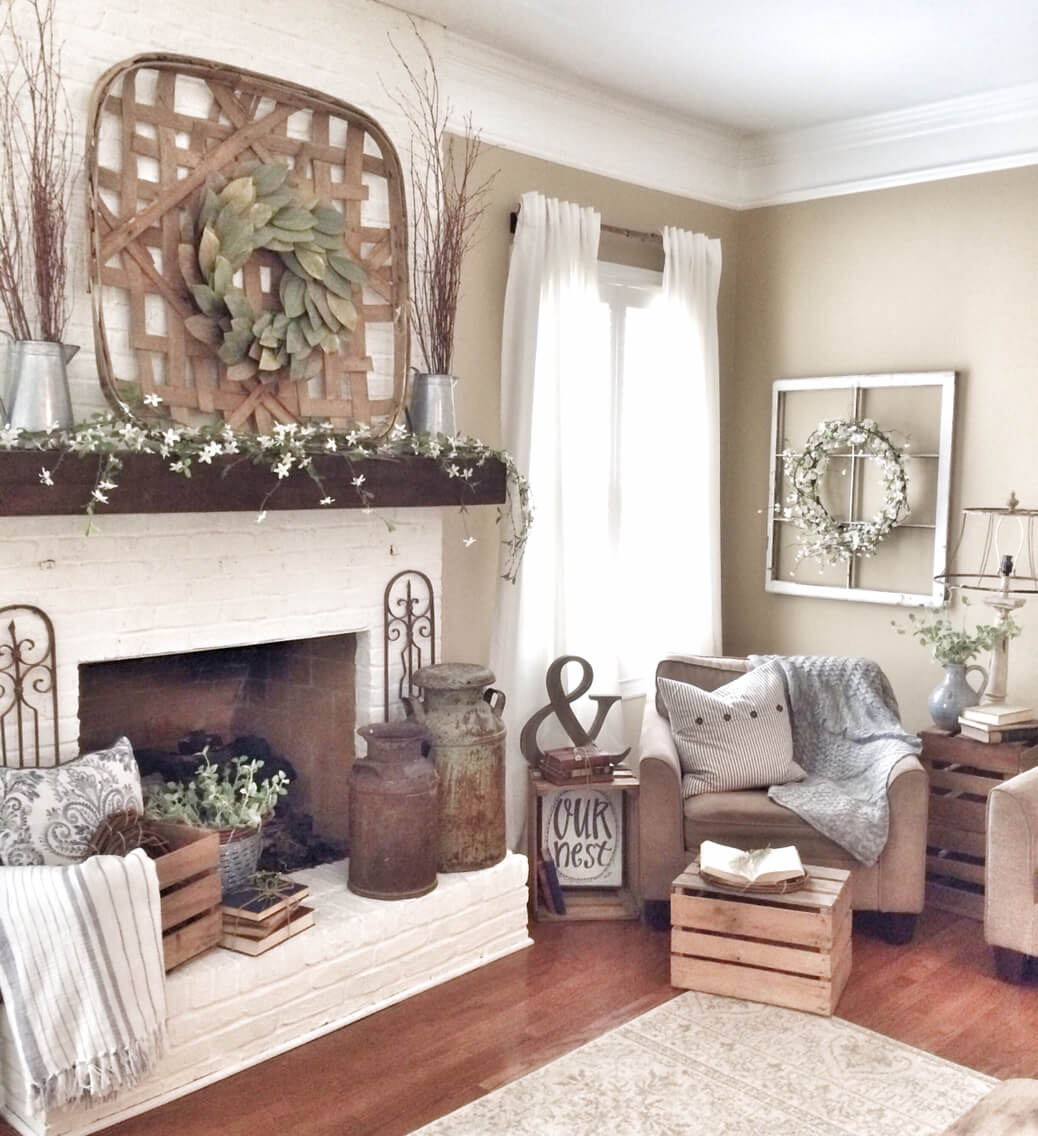 36. One of a Kind Driftwood Mirror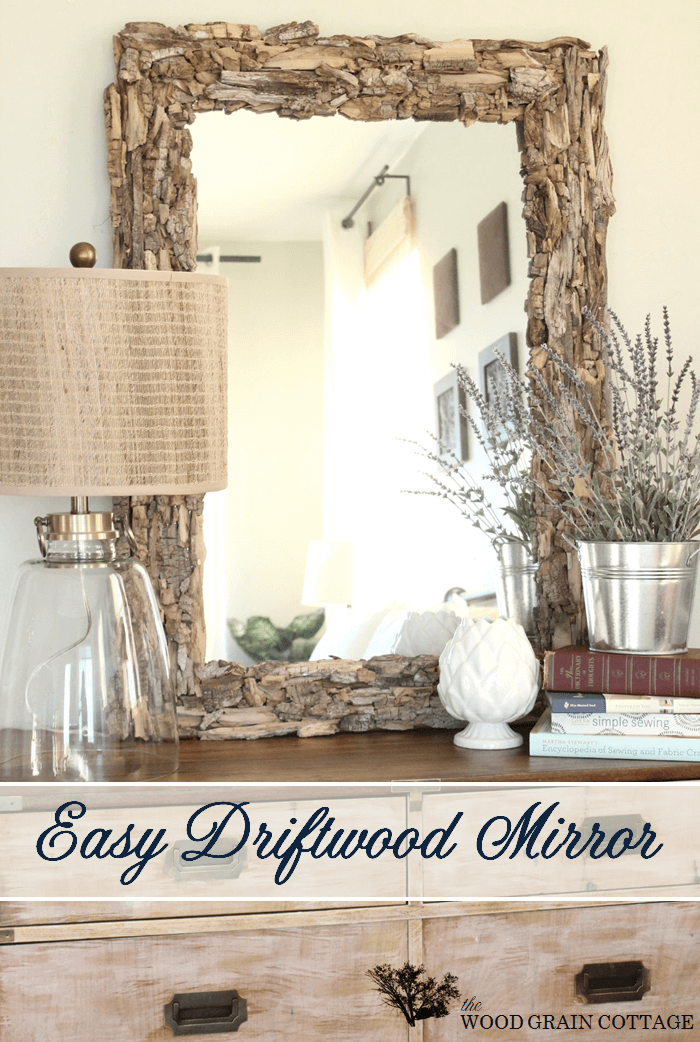 37. Warm Wood with Black and White Botanicals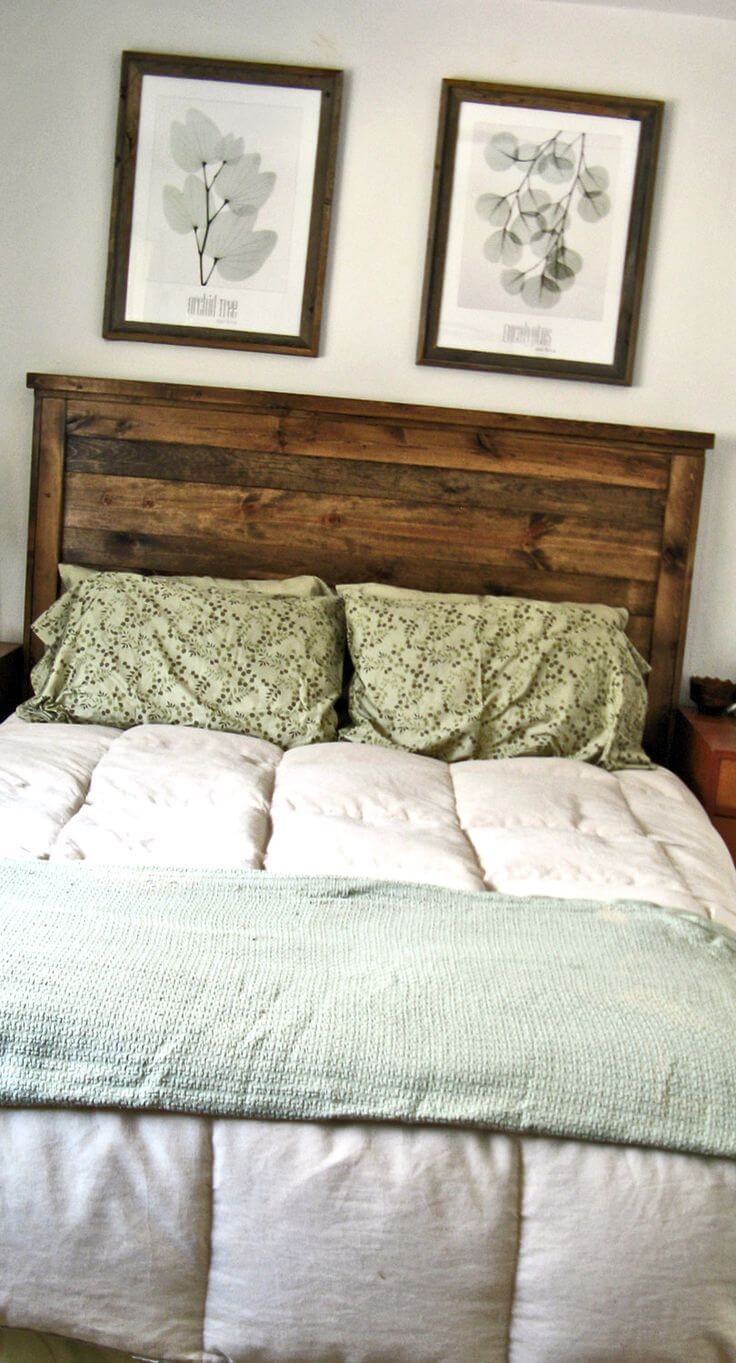 38. Country Cube Hanging Statement Light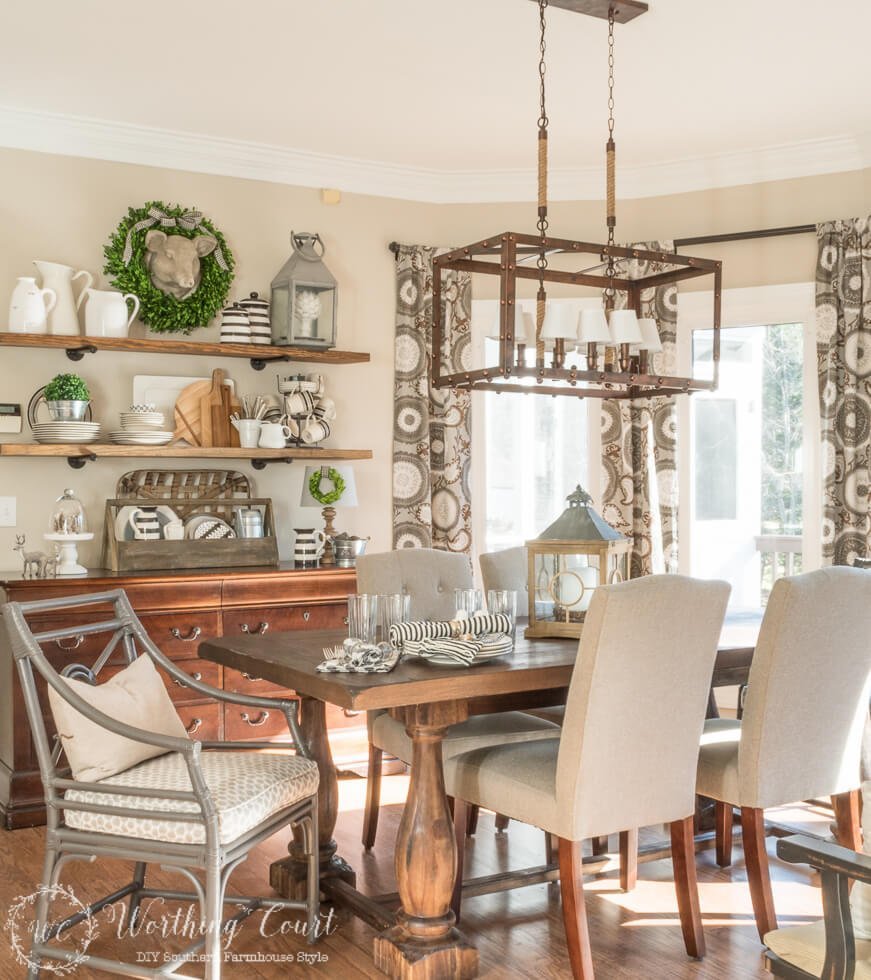 39. Elegant Gothic Revival China Cabinet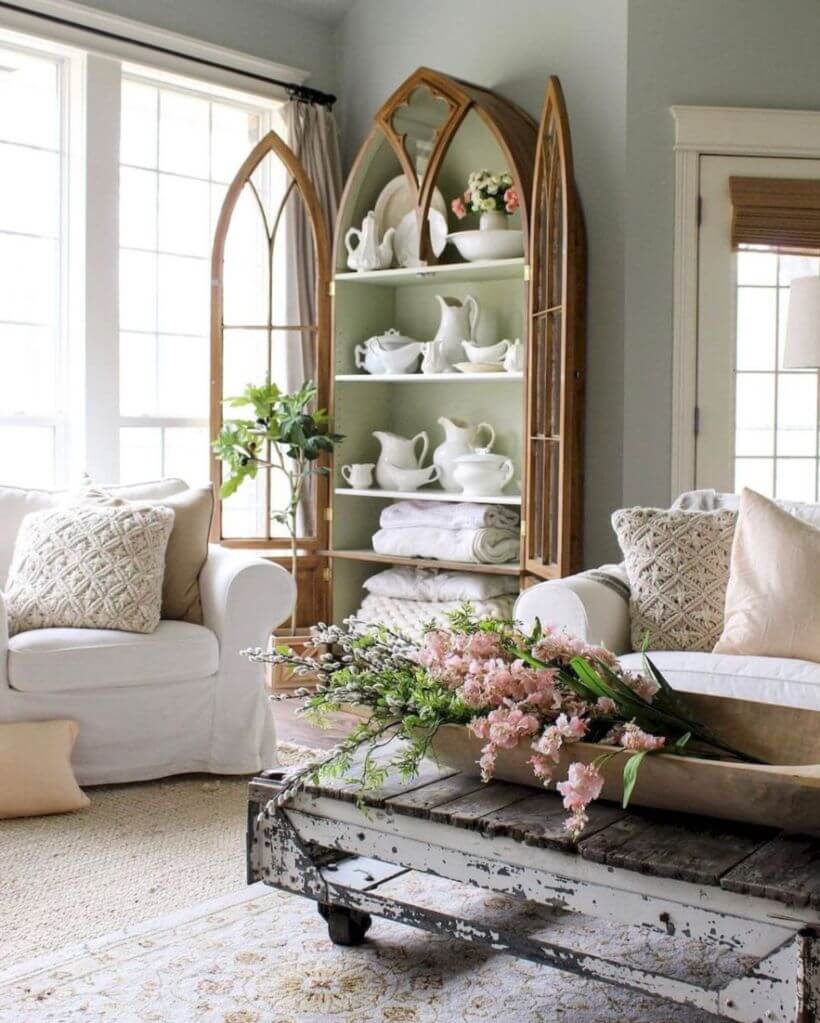 40. Shabby Chic Chandelier, Crochet and Roses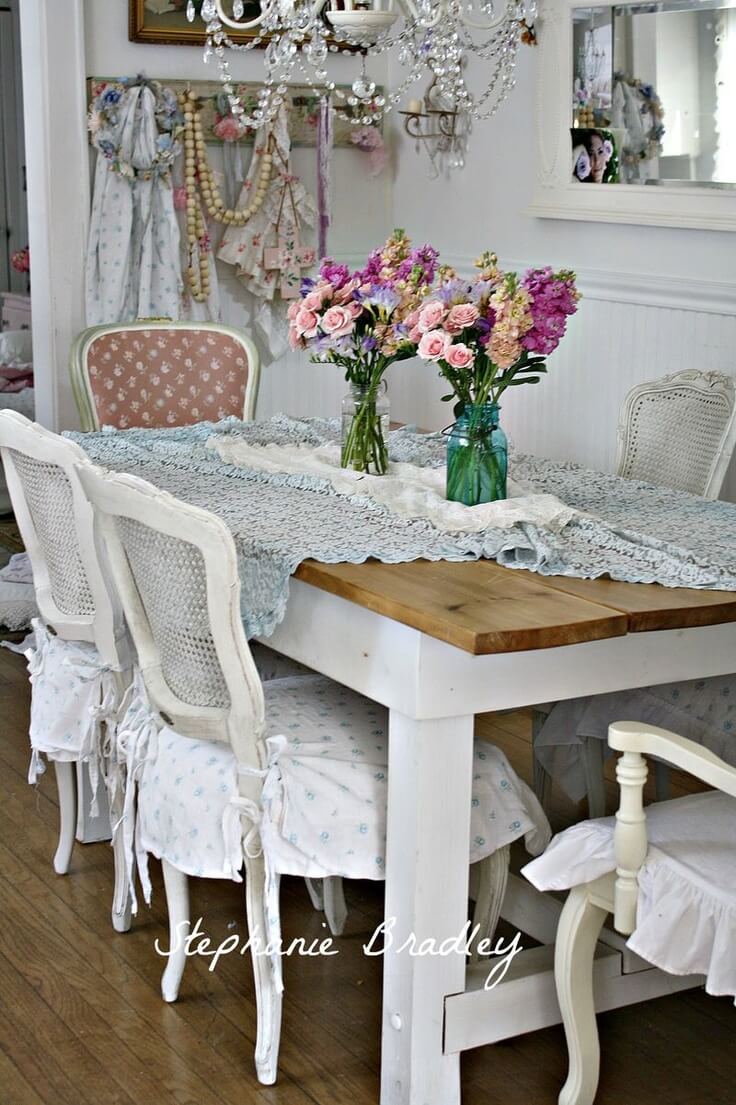 41. Full-Length Rectangular Barn Wood Mirror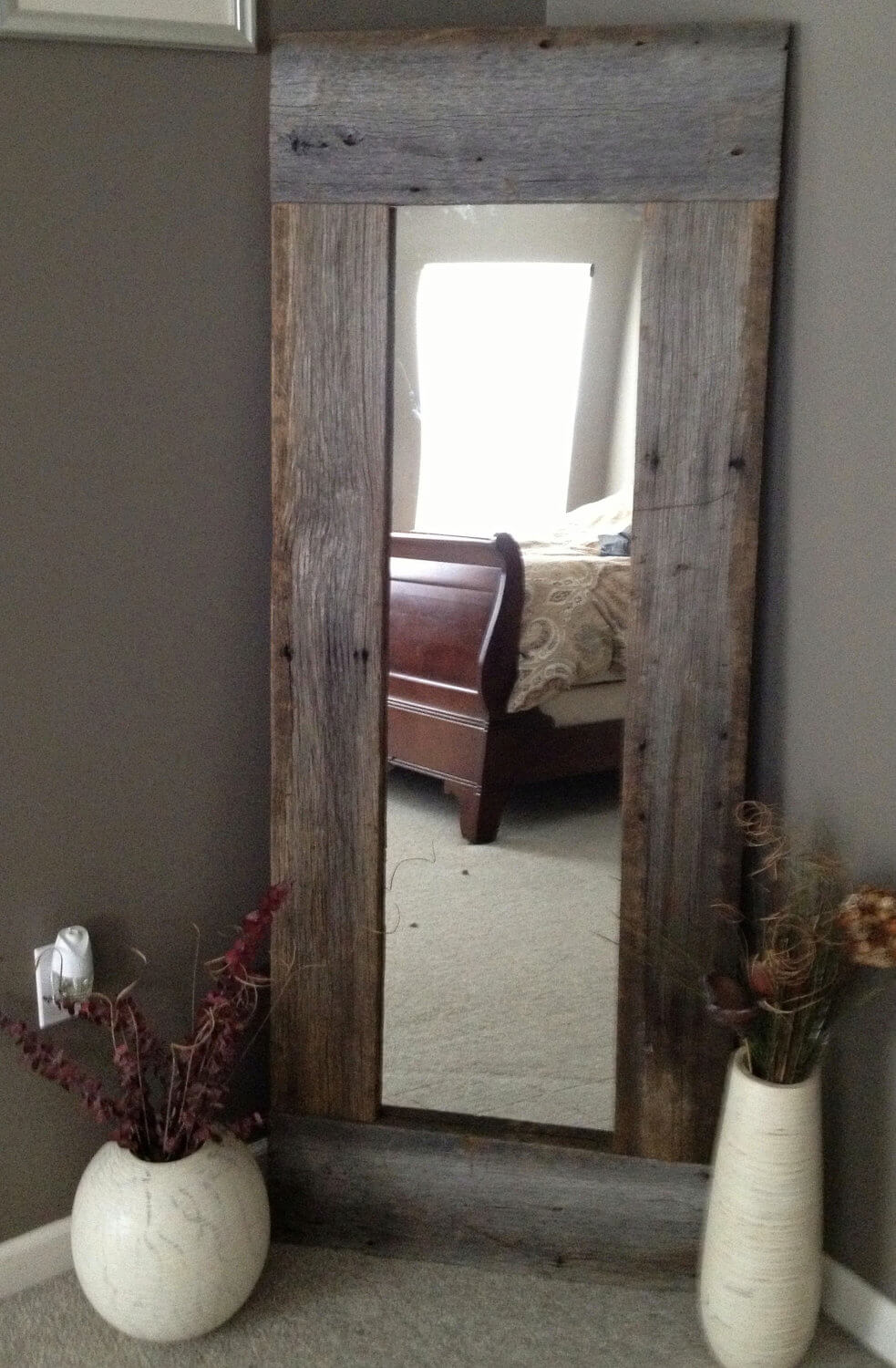 42. Chalkboard and Chalk Paint Family Photo Display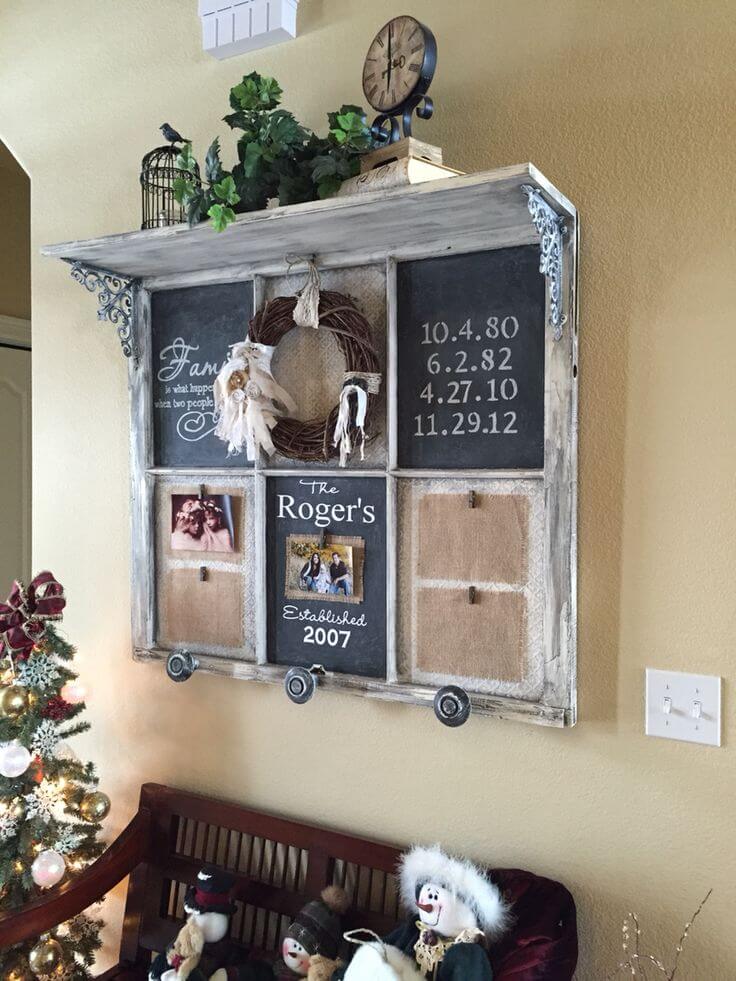 43. Rustic Farmhouse Family Sign Dining Room Display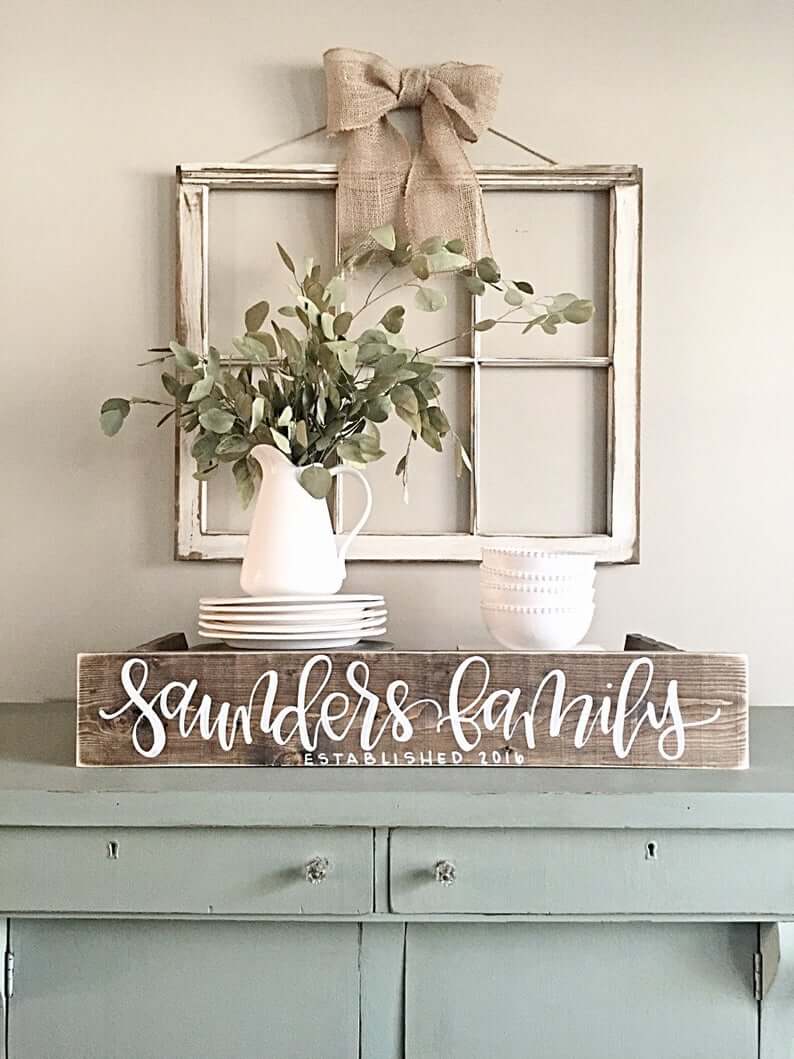 Dress up your dishes in the dining room with a quaint table dedicated to them. Displaying them with some rustic farmhouse pieces infuses a lived-in and loved-on mindset for everyone gathering at the table. With an old window pane hanging behind, you'll love the hand-made wooden family sign resting front and center of this beautiful dining room display.
44. Tiered Tray Full of Rustic Charm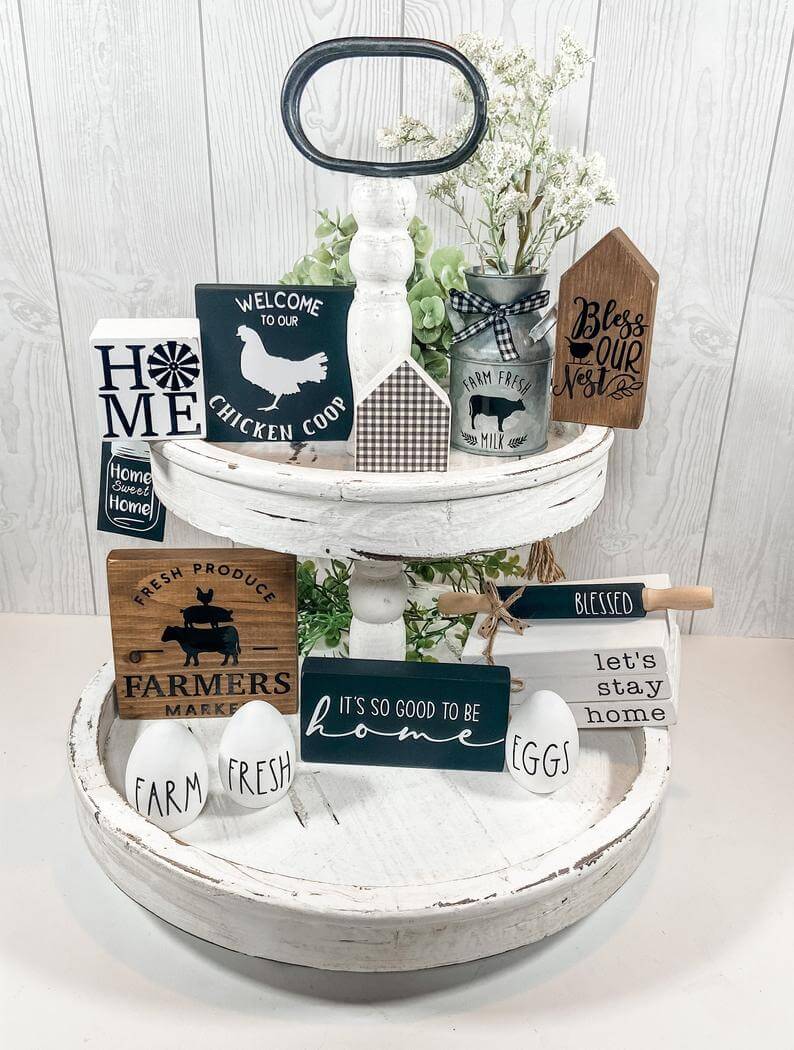 Decorating your tiered tray for the seasons is fun, but you can always choose to keep the look full of the rustic and country charm you love with these fabulous farm decorations. A few Dunn-style wooden eggs blend right in with the chicken coop and windmill signs. Adding several of these small square farm-friendly signs bestows the beauty and simplicity of life on the farm into your home. They make perfect gifts for any occasion to give friends to add to their tiered displays no matter the season.
45. Shabby Chic Interior Window and Shutter Decoration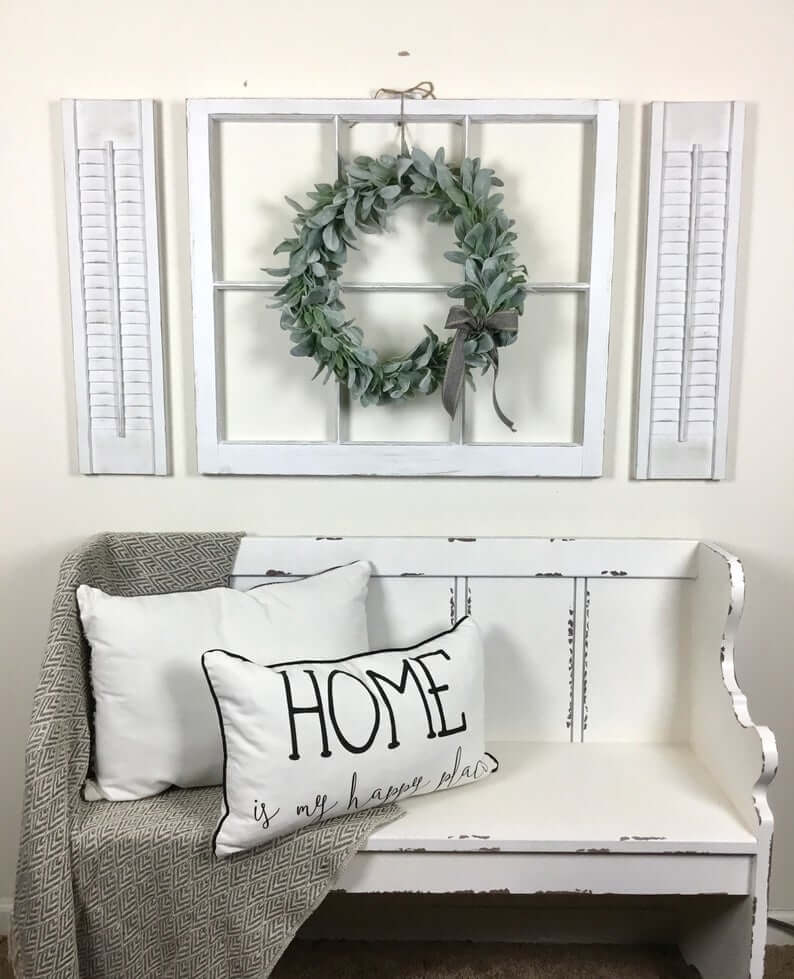 You can add a lot of charm with a single-window and set of shutters to create an amazing wall art display on an interior wall of your home. Hang a wreath on the window for even more cuteness as you create a nice look for decorating overhead the bench in your entryway area. Greet guests as they take off their shoes with this charming shabby chic look that gives a more polished presence to a rustic design.
46. Wooden Flower Box of Burlap Hydrangeas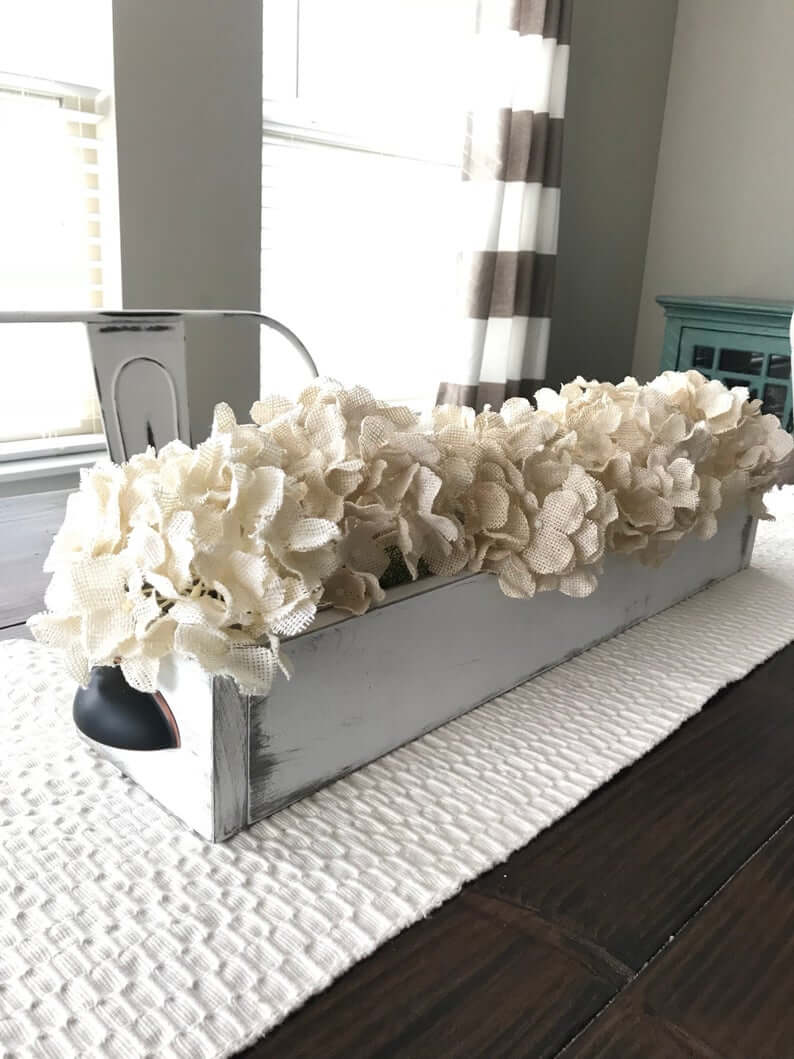 Creativity and country collide in this rustic, yet pretty unique centerpiece. Gorgeous hydrangeas are formed out of pieces of burlap to add beauty and interest to a distressed white flower box on your kitchen table. Even the textures of the petals perfectly contrast with the smooth metal handles and painted sides of the box to increase the appeal and character of this design.
47. The Days We'll Remember Farmhouse Decor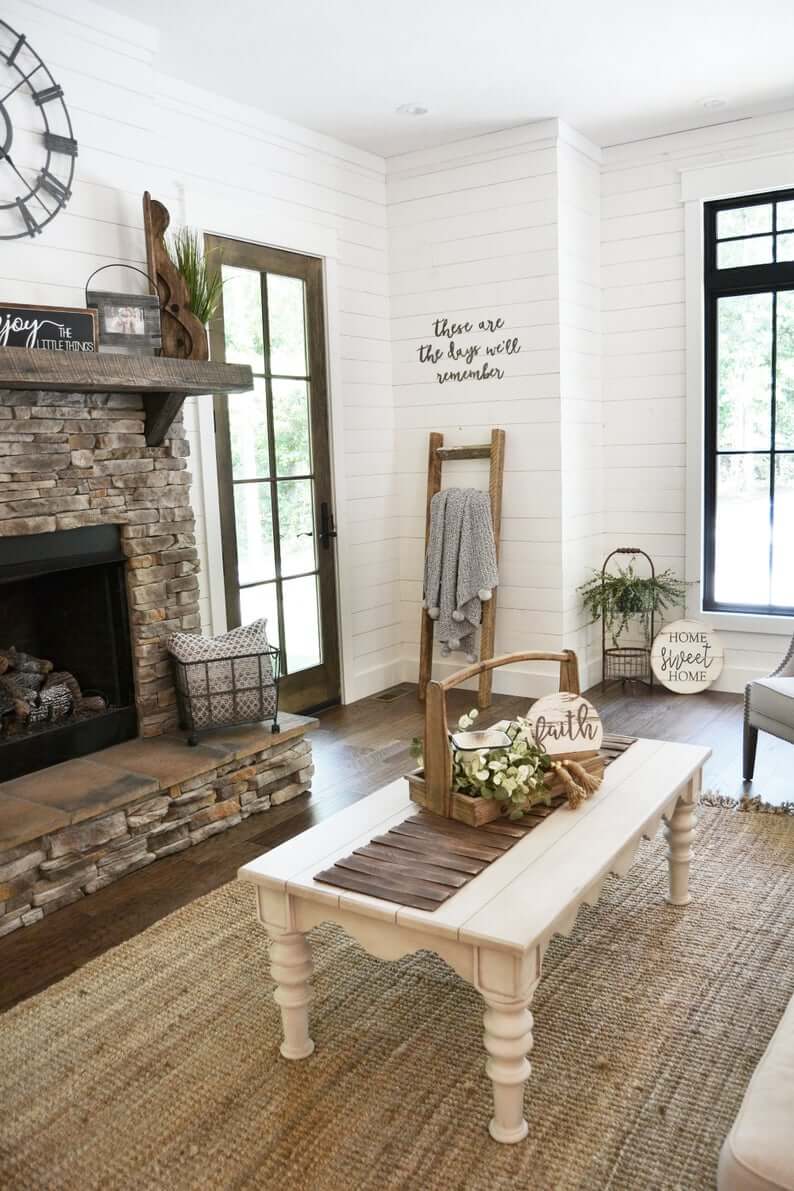 Focus on what really counts in your home by referencing the importance of family in your design. From sentimental signs of "home sweet home" to scripted wall art that reminds you that the little things are the ones, we'll remember, everyone who enters this space will feel right at home. Enjoy a nice fire in the fall or open a window in the spring to have a touch of nature fill this space with love.
48. Laundry Station Rustic Farmhouse Wall Sign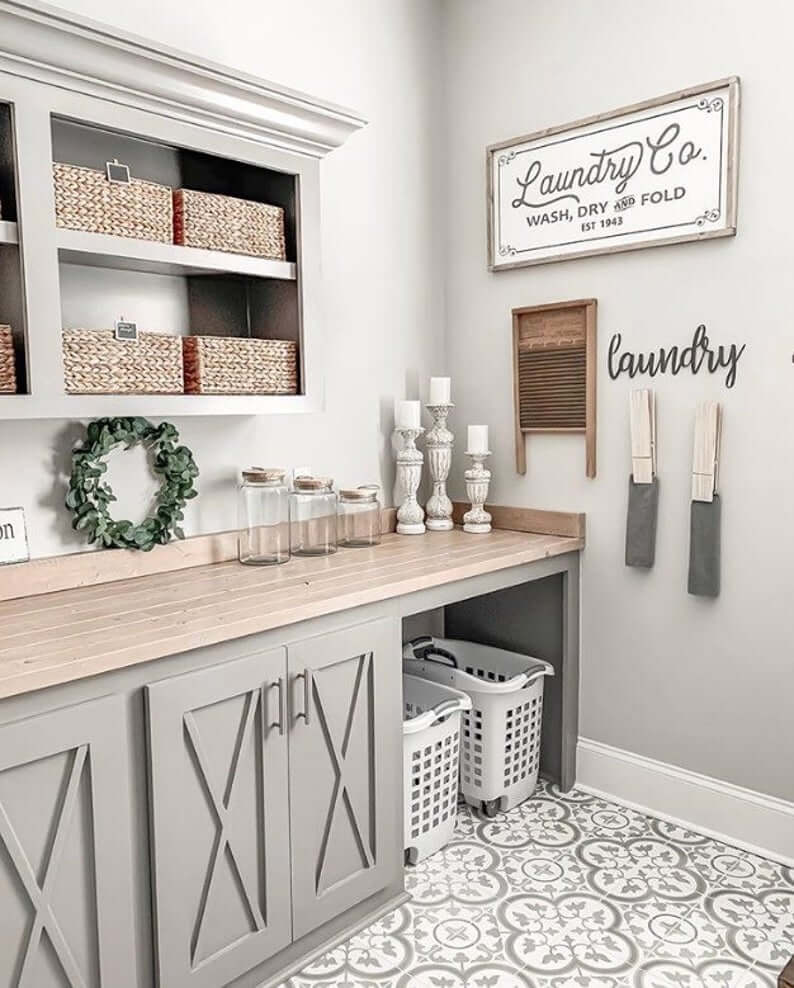 Nobody wants to do the laundry, but creating a carefully designed laundry station will make the chore a little more fun. Oversized clothespins on the wall give a place to hang items, while the wealth of storage in bins, baskets, and cupboards keeps everything neat and tidy. Tie the entire look together with this pretty laundry company sign that highlights the three main aspects of laundry life.
49. Humorous Wash Your Hands Bathroom Sign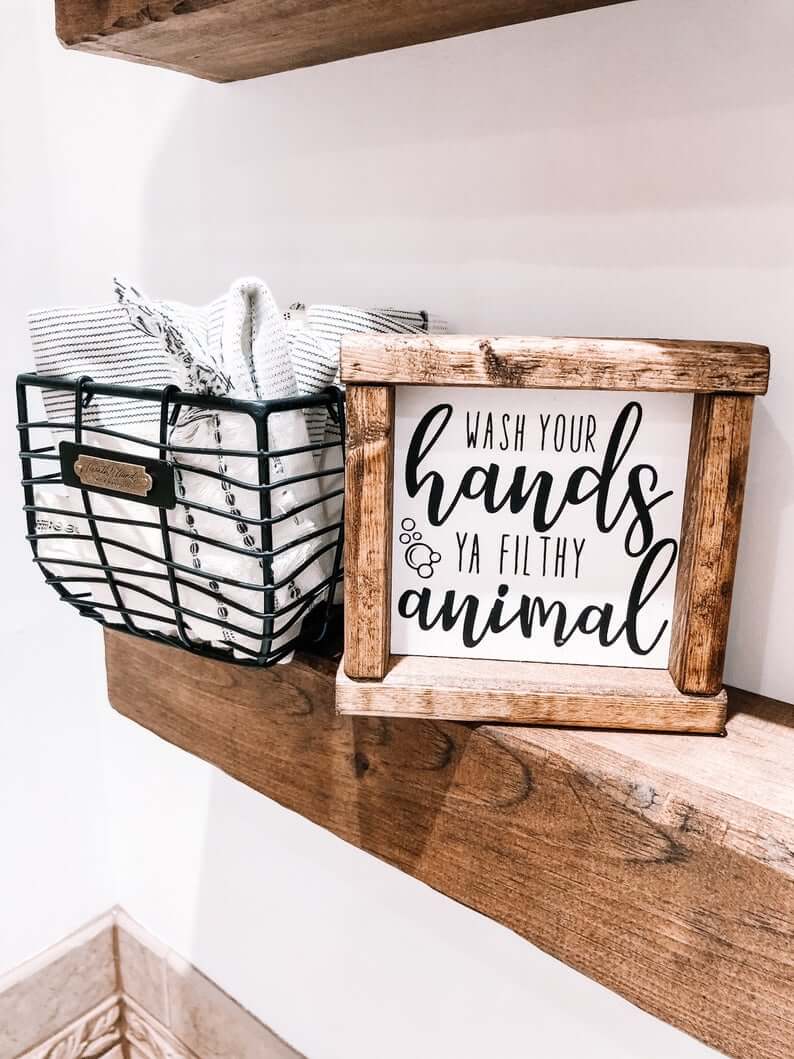 Don't forget to include a little laughter into your home as you decorate with your magnolia inspired decor. This cute tiny square sign gives a quick smile to everyone as it reminds them to wash their hands. Kids and adults alike will enjoy this rustic framed farmhouse sign adorning the bathroom sink.
50. Cathedral Window Pane and Wreath Home Decoration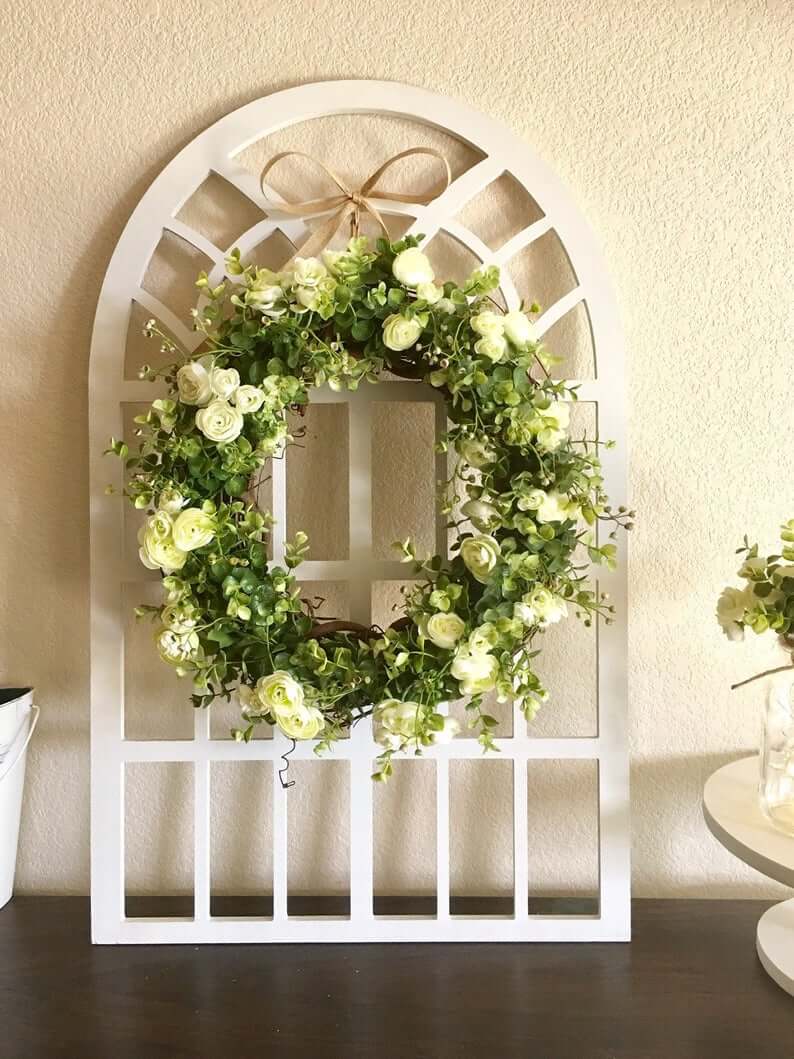 The rustic charm of an old church window becomes a focal point in your home with this charming wreath display. It makes a bold statement in an entryway or at the end of the hall to fill up a wall without any extra accessories needed. You can swap out the wreath each season to freshen up the look too.
51. Rustic Wooden Shelf Set for Decorative Displays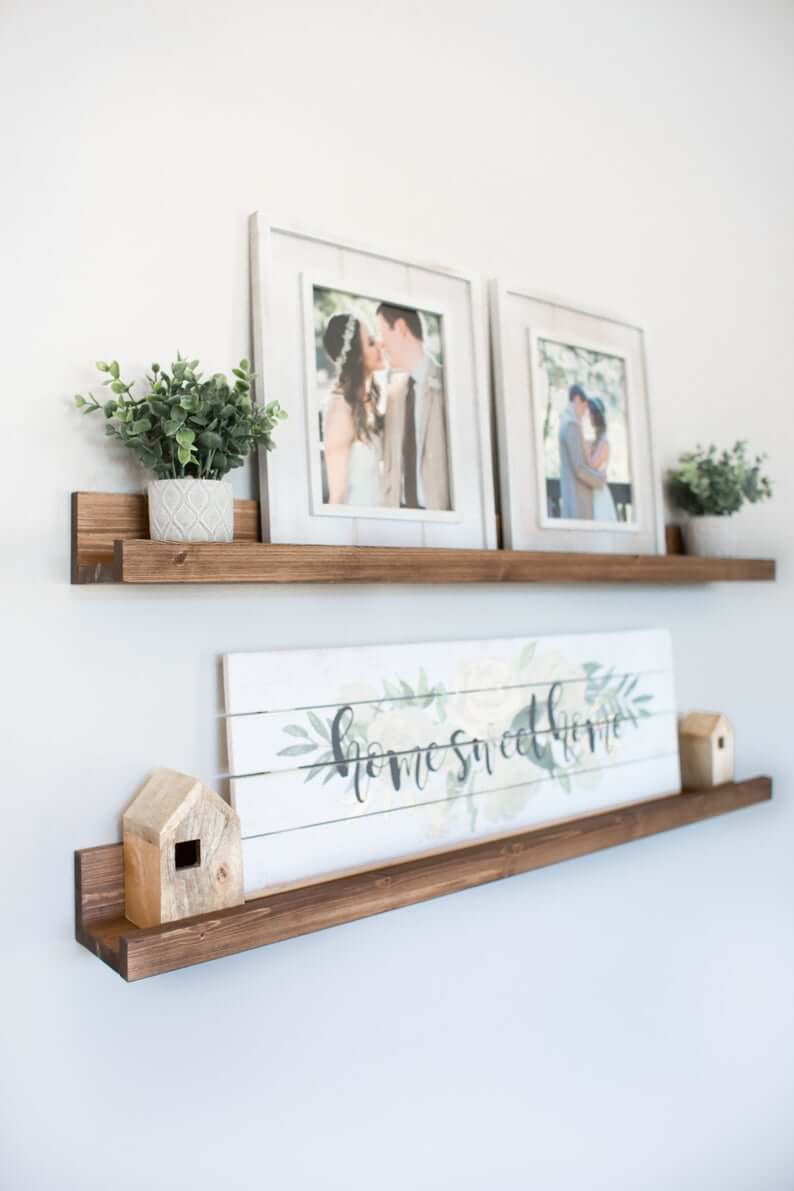 Looking for a place to show off your new wedding pictures and homemade signs? Look no further than this dynamic duo of rustic wooden ledge shelves. They are the perfect size to fit above your side table or sofa. With a two-inch depth, they conveniently hold your treasured prints, signs, and most any decorative accessories you desire.
52. Decorative Home Sweet Home Vintage Book Trio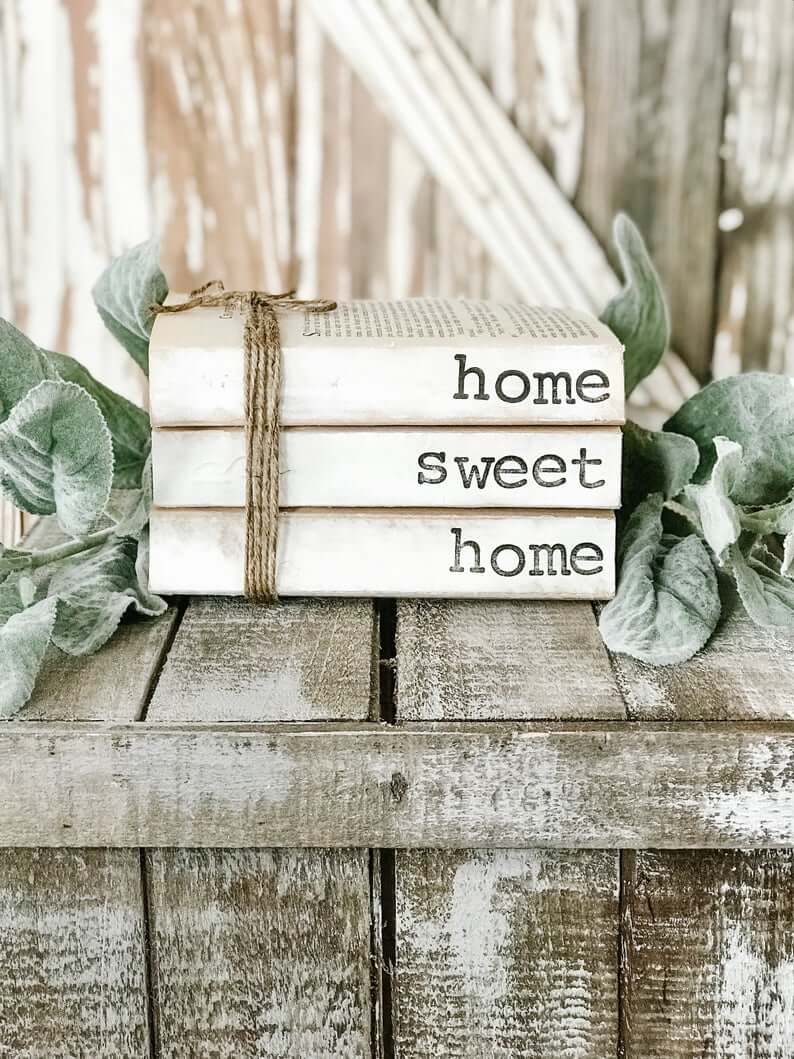 Give your favorite bookworm the perfect gift with this vintage-looking decorative book display. Tied in twine, this trio is a cute accent for a nightstand or nearly any spot in your home. It's a personal present that speaks to the soul of a hearty book lover and has a rustic shabby chic design that blends well into the home's decor.
53. Chicken Wire and Wood Flower Tin Decoration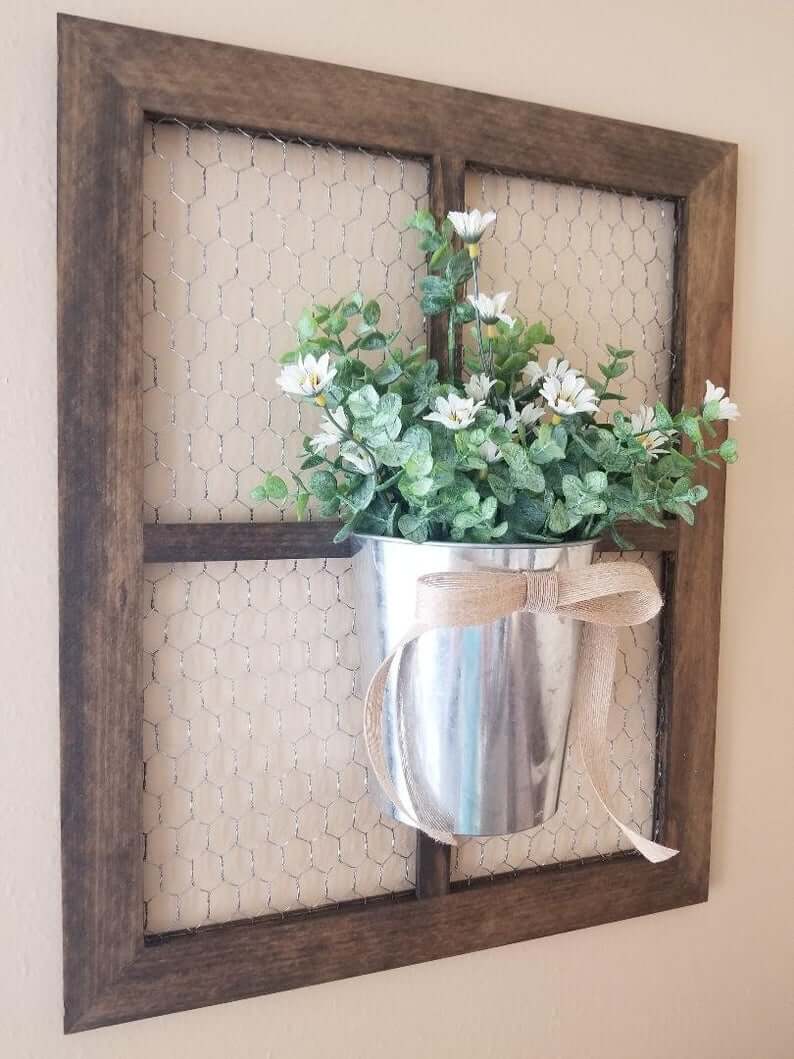 Bring a piece of the farm into your home through your interior design with this rustic beauty. A plain tin can makes a perfect vase for a large bouquet of your favorite flowers. Placing this farm-style backdrop with it further adds to the character of charm in creating a cozy country home in your modern farmhouse. This wall artworks in any room of your home and would even look fabulous hanging on an interior door.
54. Large and Chunky Live Edge Wood Shelf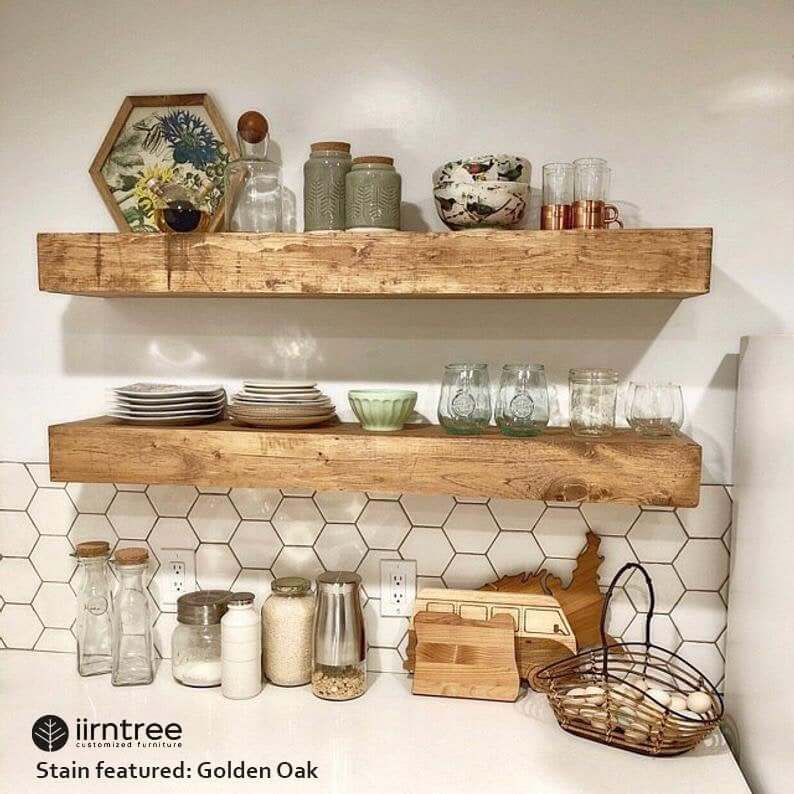 What's sturdy enough to hold any dish in your kitchen while doubling up as a nice decorative element on your wall? This live edge wood shelf is the answer. Its thick and chunky girth gives plenty of stability to all of your pottery pieces while showing off its rustic charm in its natural state. With all the buzz about open shelving in the kitchen, consider this as a decorative update that's both practical and pretty.
55. Distressed Fork and Spoon Kitchen Wall Art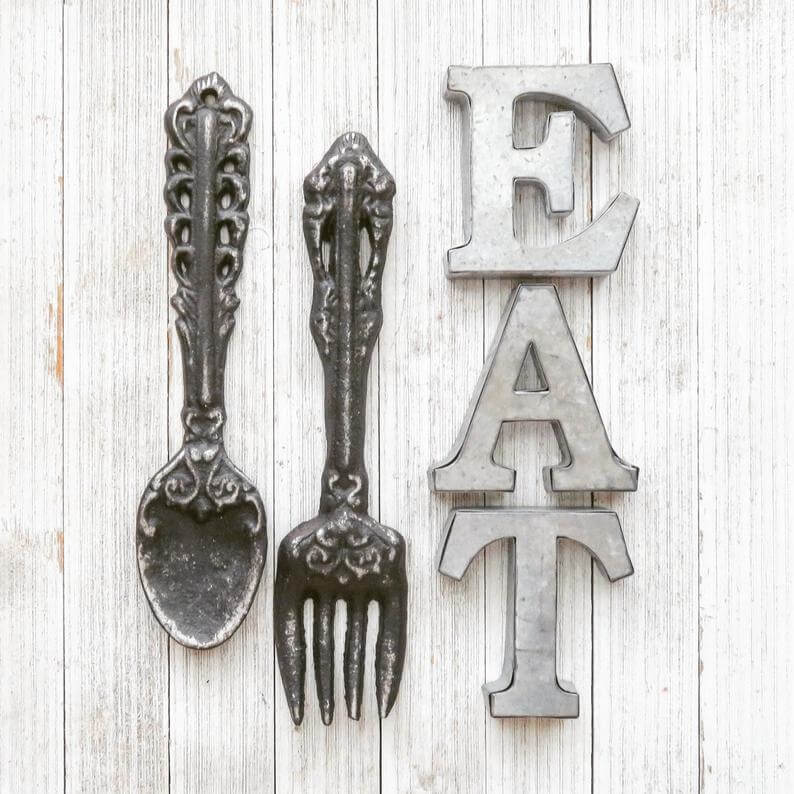 Feast your eyes upon these iconic kitchen necessities as you sit down for dinner. You'll enjoy their distressed and vintage appeal in their finish and admire their simplicity as part of your rustic farmhouse decor. Hang them alongside galvanized letters that spell out "eat" to continue the theme of the heart of the home where everyone loves to come together.
56. Rustic Barn Wood Shutters and Window Mirror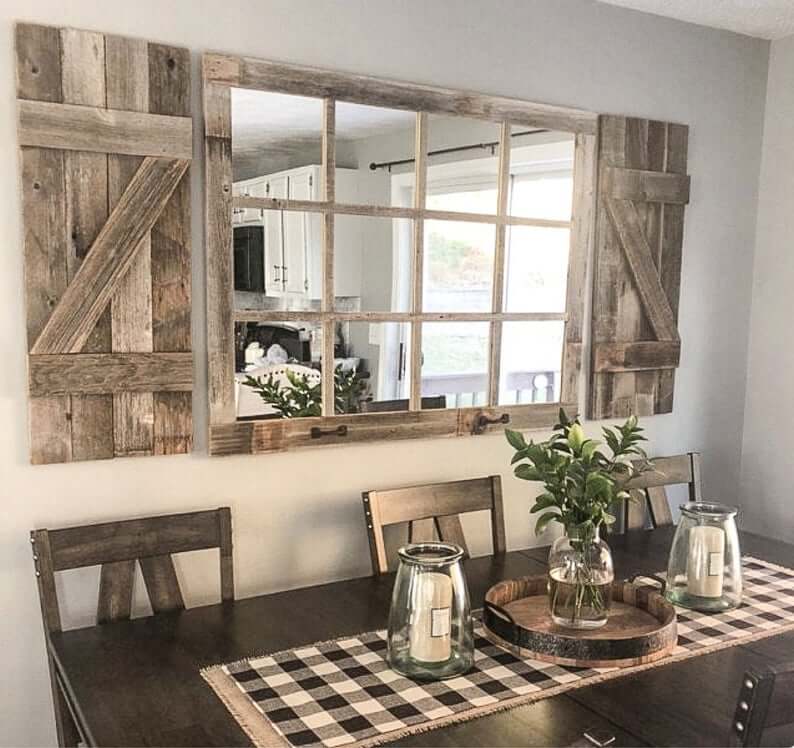 Check out the amazing color of these barn wood shutters and window pane mirrors. The patina echoes the wind and weather that's worked wonders on forming this coveted color. Your dining room will be the perfect place to hang these so everyone at the table can enjoy them during mealtime. And the mirrored panels will reflect the light increasing the warmth and love within your home.
57. Industrial Pipe and Rustic Wood Shelf Set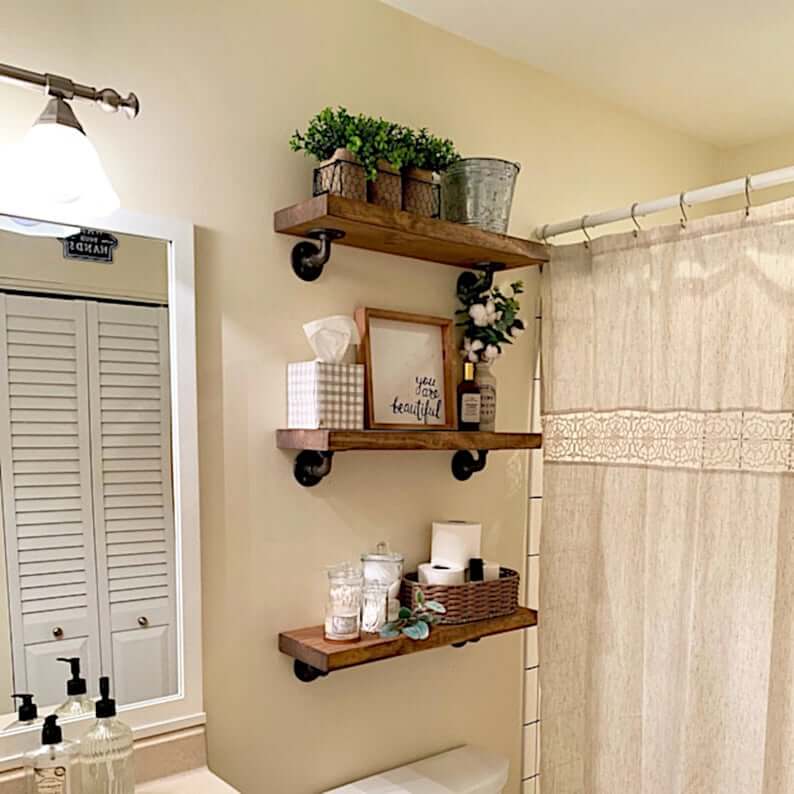 When rustic and industrial design collide the result can be cause for celebration. In this set of shelves, industrial pipes are the base of the live wood slab shelves to offer a contrast in texture and design. Metal with wood is a winning combination as evidenced in this storage shelving set that's a wonderful fit over the toilet in your bathroom or above your countertops in the kitchen.
58. Decorative Bathroom Rules Toilet Top Box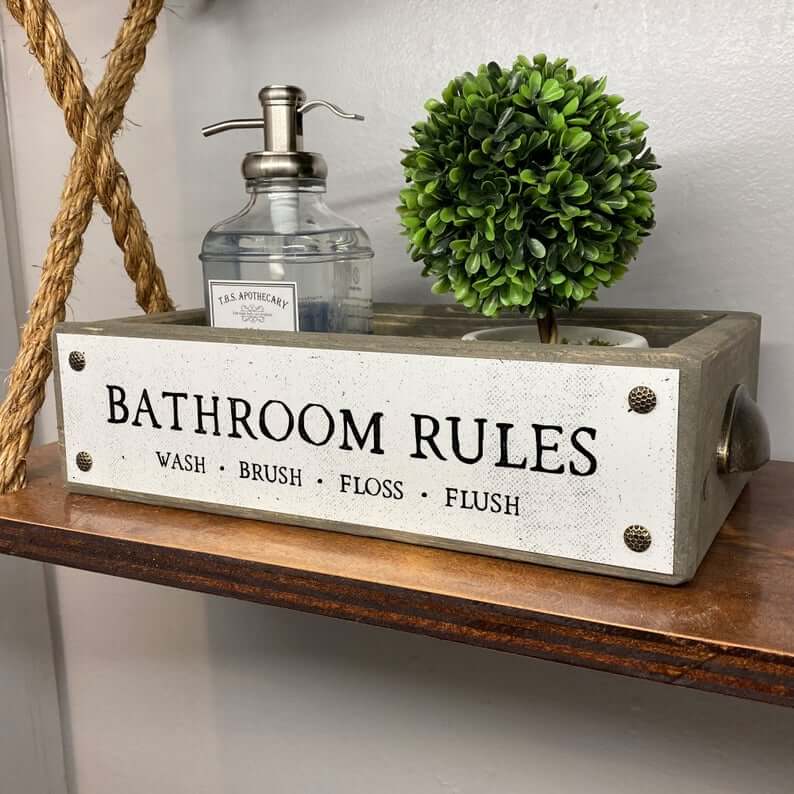 Gather some small decorative items or a few rolls of toilet paper to fill this decorative box that's made for your bathroom. Created in the perfect size to fit on top of the toilet or even between your double sinks on the vanity, this box offers a bit of storage with a lot of humor. The metal handles on the ends and the studded corners of the sign on the front give even more interest to the overall design.
59. Shabby Chic Rustic Church Cathedral Window Panes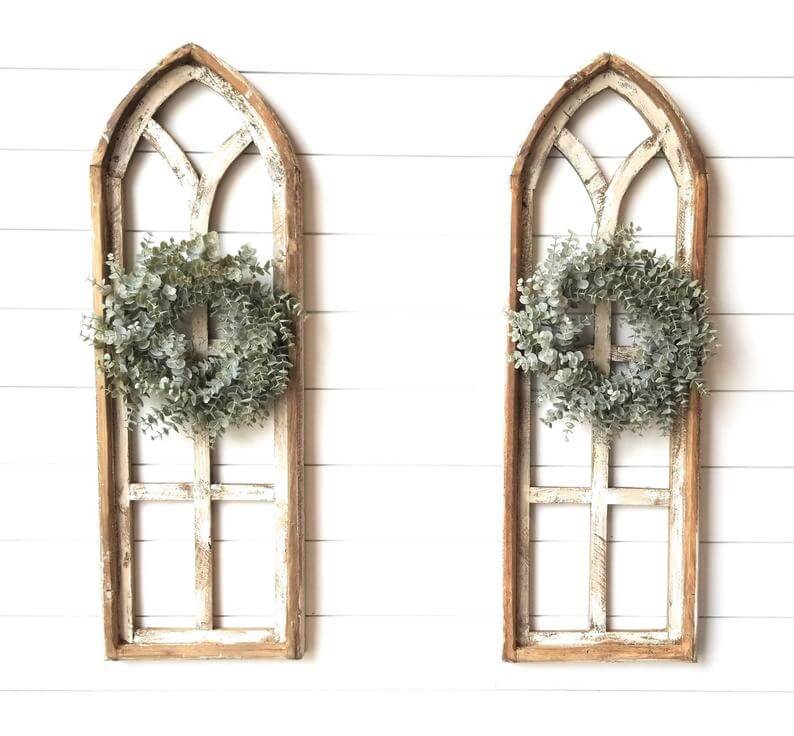 If you're looking for some charming wall art that's not too small or too large, then give these church cathedral window panes a second look. Their medium size makes them a great option for hanging as a set or as part of a larger wall grouping and their distressed and vintage shabby chic finish gives them a great backdrop for adding a small wreath. In the bedroom or main living space, you'll find this pair looks perfect in your lovely rustic home.
60. Oh Hello Decorative Container Box Centerpiece Idea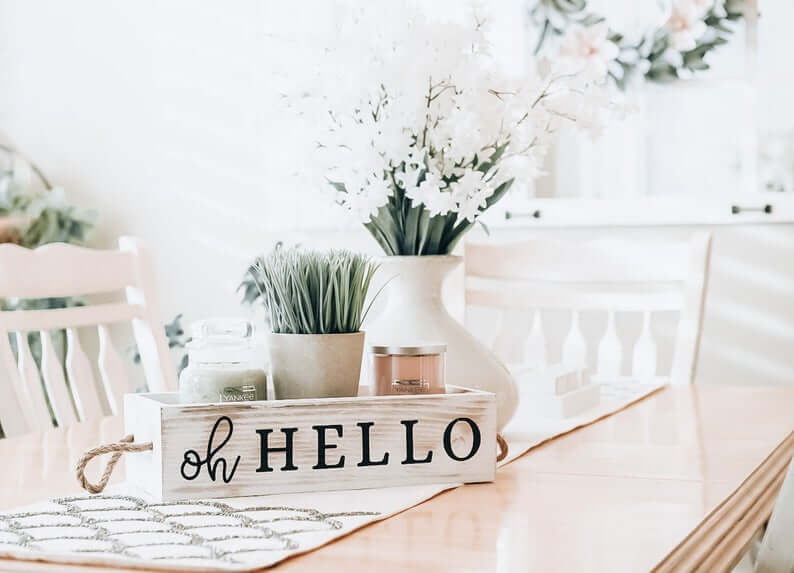 Centerpiece displays are so much more than a bouquet of flowers nowadays. Make yours unique by adding a decorative container box to it. Not only is the box cute on its own merit, but it serves as a stylish hub for housing some of your favorite trinkets that really make your centerpiece design come alive. This decorative "oh hello" box would also be a fun addition to a teen girl's bedroom or even on the vanity in your bathroom.
61. Modern Farmhouse Spiritual Christian Song Lyric Sign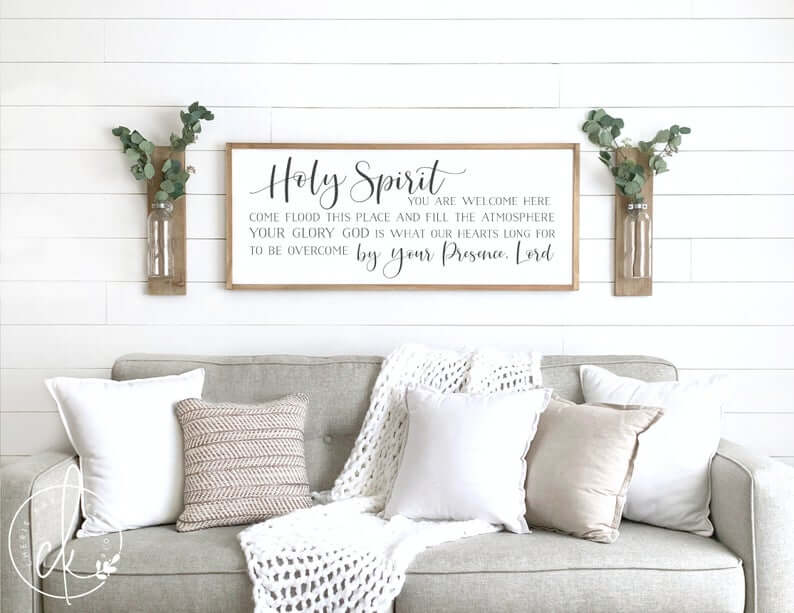 Long and large is the way to display this spiritual reflection of the Holy Spirit in the setting of your home. It looks great hanging above the couch, dining buffet, down the hall, or even in the kitchen. Every room in your home is touched by His presence so hang this song lyric sign wherever you please and it will be right at home.
62. Rustic Galvanized Bucket Home Decoration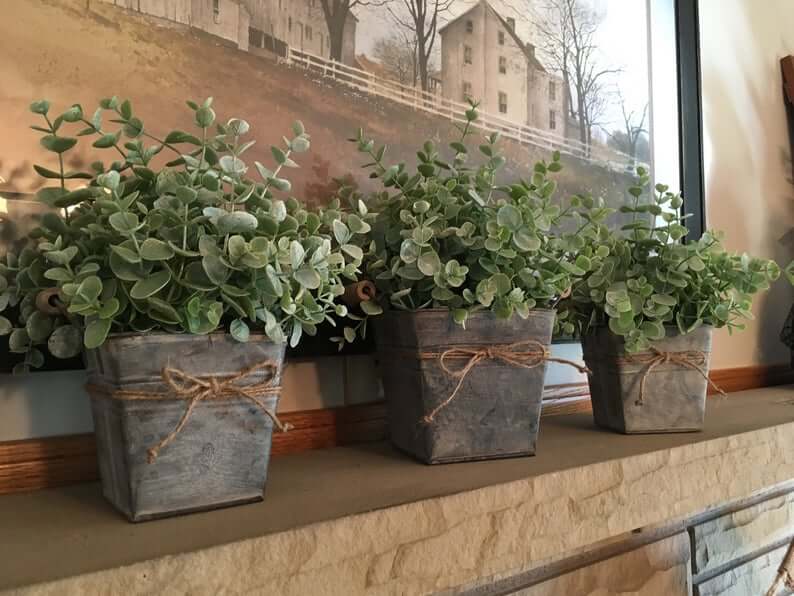 Upon your mantle or as an accent to your coffee station, you'll enjoy the rustic beauty of these galvanized bucket home decorations. Tied with a twine string, their charm is a perfect accessory in any room of your home. Place some meandering eucalyptus in them to add some natural beauty to the room or let your favorite succulents call them home. They would make a nice gift in lieu of a hanging basket or potted flower since they can be enjoyed on the interior of your home all year round.
63. Distressed White Personalized Wooden Flower Box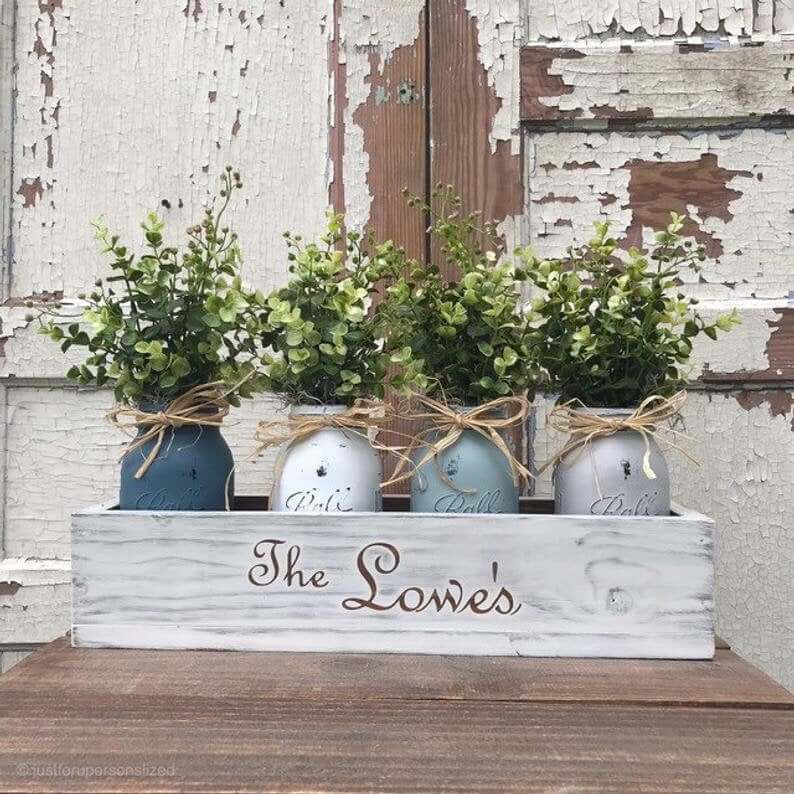 Coral your collection of mason jar vases into a central hub with this charming white flower box. Include the family name on the front to make it a fabulous gift for a friend or family member. Fill the jars with flowers, toiletries, or candies depending upon the recipient. This would make a great desk organizer as well with a place for pens, scissors, and paper clips to keep your office items easy to find.
64. Rustic Farmhouse Coffee Table with Storage Bins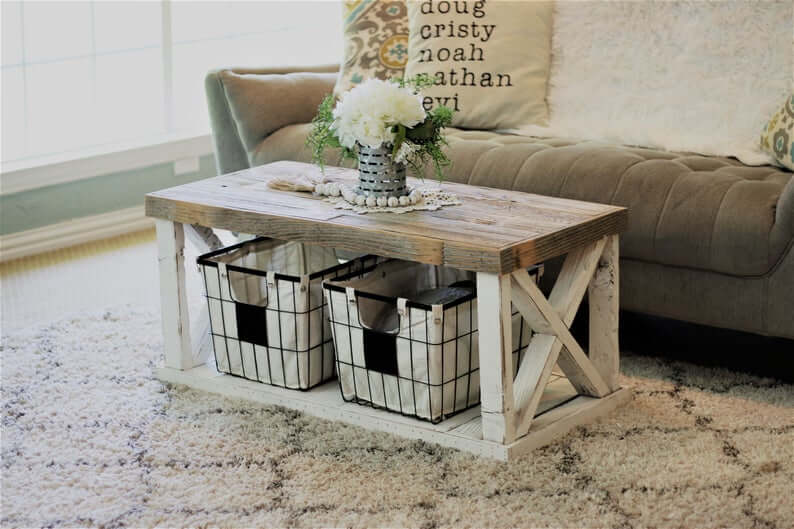 What's not to love about the new look of this outdated coffee table concept? Not only does it deliver in terms of design style, but it offers plenty of storage with the built-in wire baskets housed below. Make it easy for the entire family to keep the living room neat and tidy with this amazing and stylish storage system. Keeping everything in its place never looked so good or felt so easy.
65. Reclaimed Wood Patchwork Rustic Master Headboard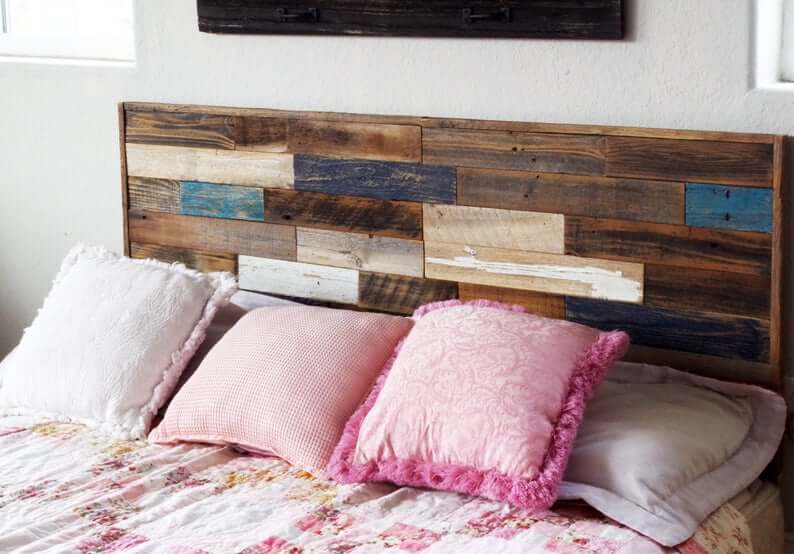 Give some love to your master bedroom with this one-of-a-kind and very distinct patchwork headboard. A variety of reclaimed wood forms a unique and quirky wooden quilt to add some dramatic design into this private couple's retreat in your home. Full of natural grains and rich hues, the wood pieces are brought to life in a newly mastered work of art to give your bedroom the update it deserves.
66. Hanging Painted Mason Jar Vases on Hooks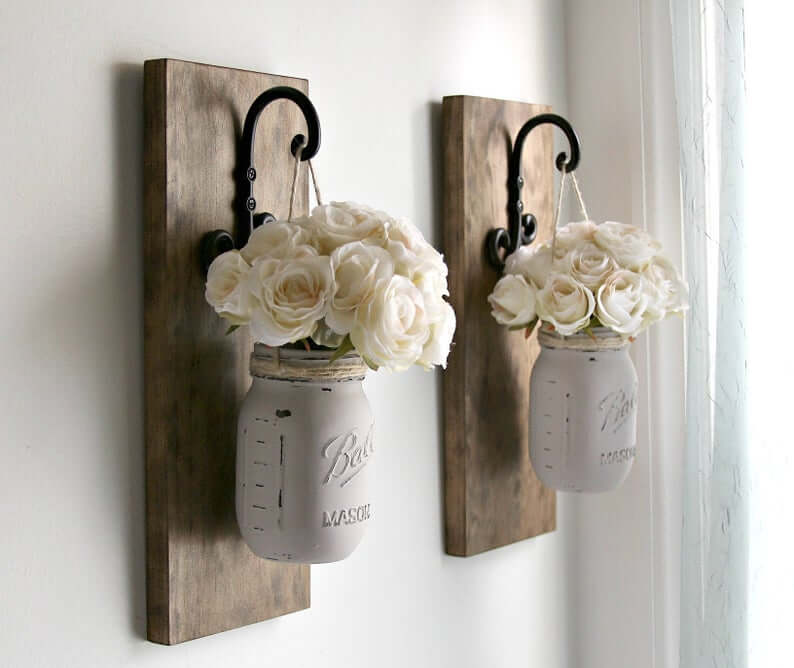 Continuing the mason jar vase craze, this set of hanging hooks is the perfect hangout for your latest mason jar creation. Blending the smooth glass of the jars with the rugged wood and industrial feel of the metal hooks, your home will adore this decorative addition to the main living space. Position this set on the sides of a larger piece of wall art or arrange them side-by-side in a bi-level manner to add even more appeal.
67. Square Kitchen Secret Ingredient Sign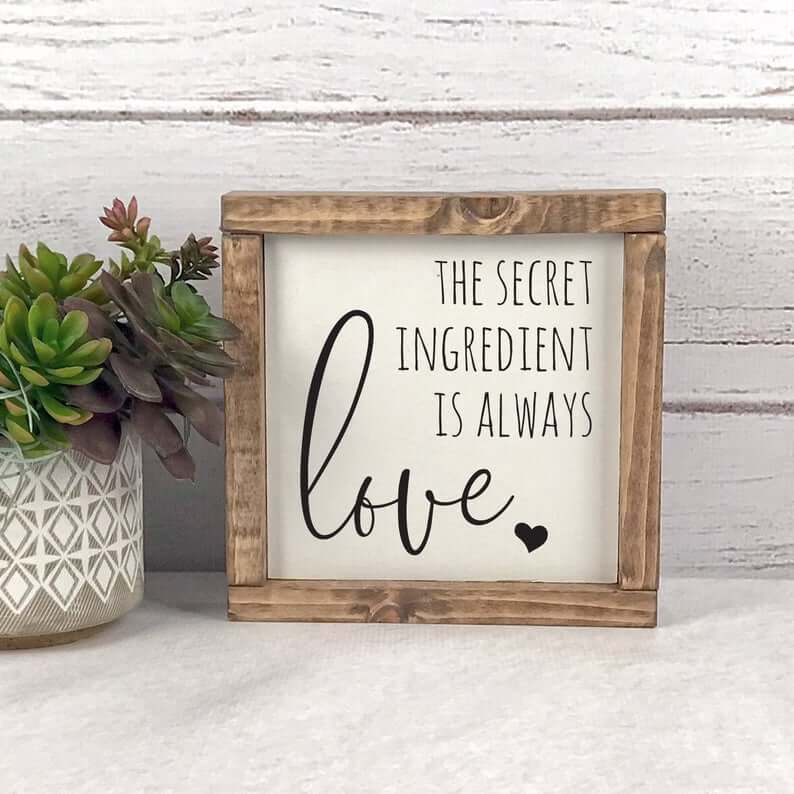 Most chefs keep their hidden ingredients a secret forever, but not the one that's added to every dish. Keep the love alive in your home, namely the kitchen, with this decorative farmhouse sign that's a fun play on words. Both love and the kitchen are the heartbeats of the home, so cherish yours by displaying this cute square on the windowsill above your farmhouse sink.
68. It's Good to Be Home Wooden Sign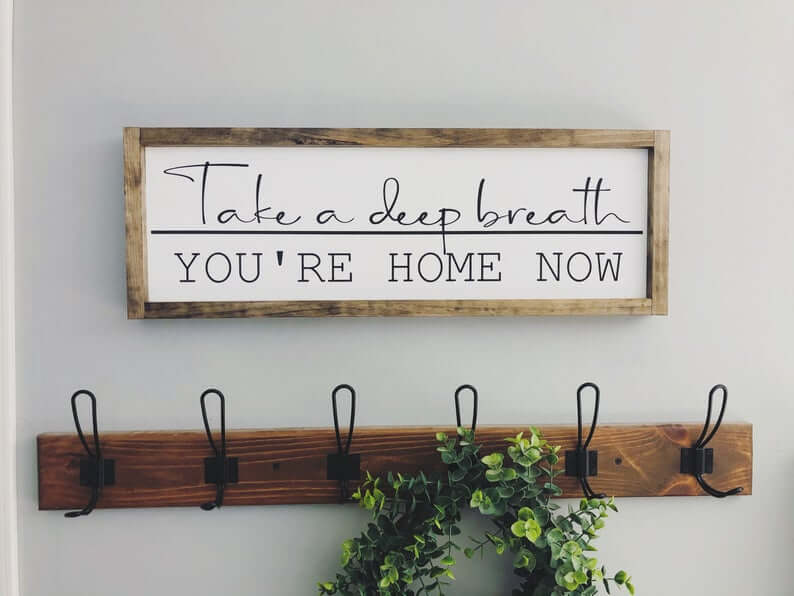 Take off your shoes and unwind after a long day in the comfort of your family's mud room. This wooden sign is simply a reminder to leave your cares at the door and relax into your personal family haven. A deep breath in and all the worries out as you embark on an evening of peace and love with the ones who make life worth living.
69. Charming Farmhouse Decorative Scripture Sign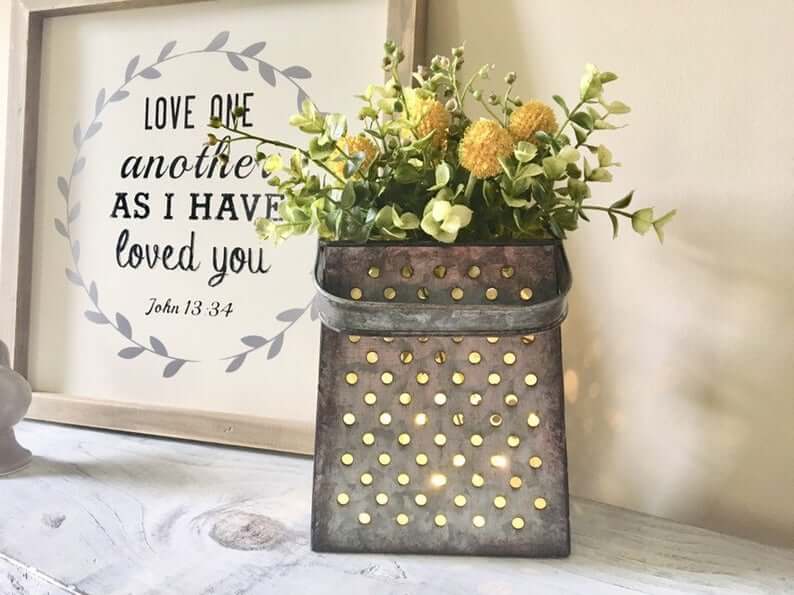 Add this charming farmhouse scripture sign to your existing home decor. It speaks to your spiritual side while being a nice and stylish sign. Propped up against the wall on a tabletop spread or hanging above, everyone will love the sentiment behind this caring Bible verse that places love at the forefront of everything.