42. Bold Colors from the Classic Era of Gaming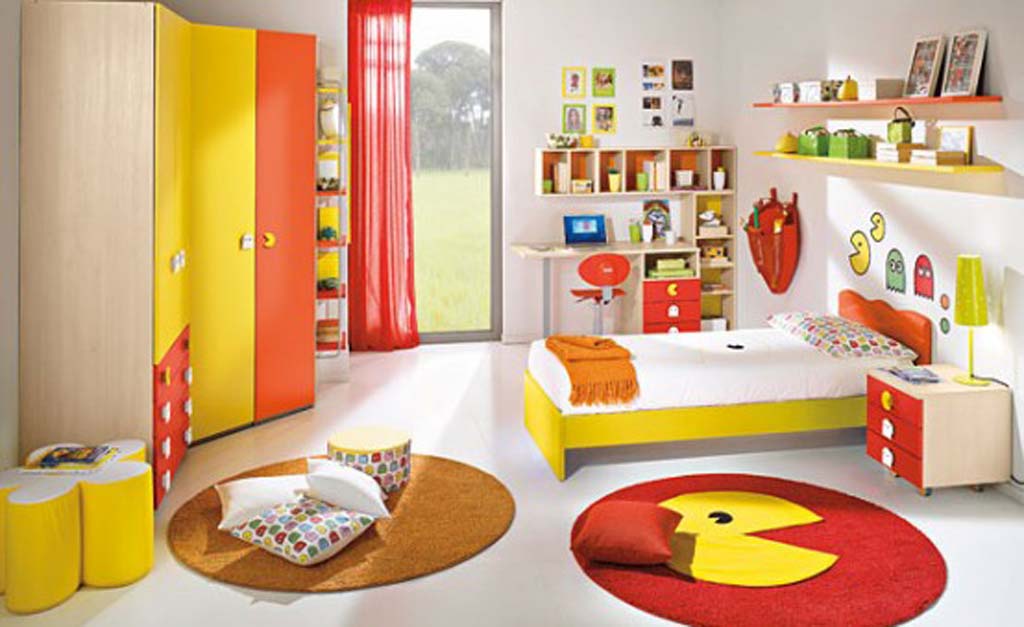 Source: Pinterest
In this room, a single repeating motif from one of the legendary games of the classic era add a fun, fresh energy to the space. A homemade felt decoration adds life to an otherwise simple circular floor rug, while craft stencils and custom shelving knobs further amplify the theme. Where the game's red and yellow is not present, light colors and plenty of open space help keep this room feeling light and spacious.
43. Using Blocks to Create Depth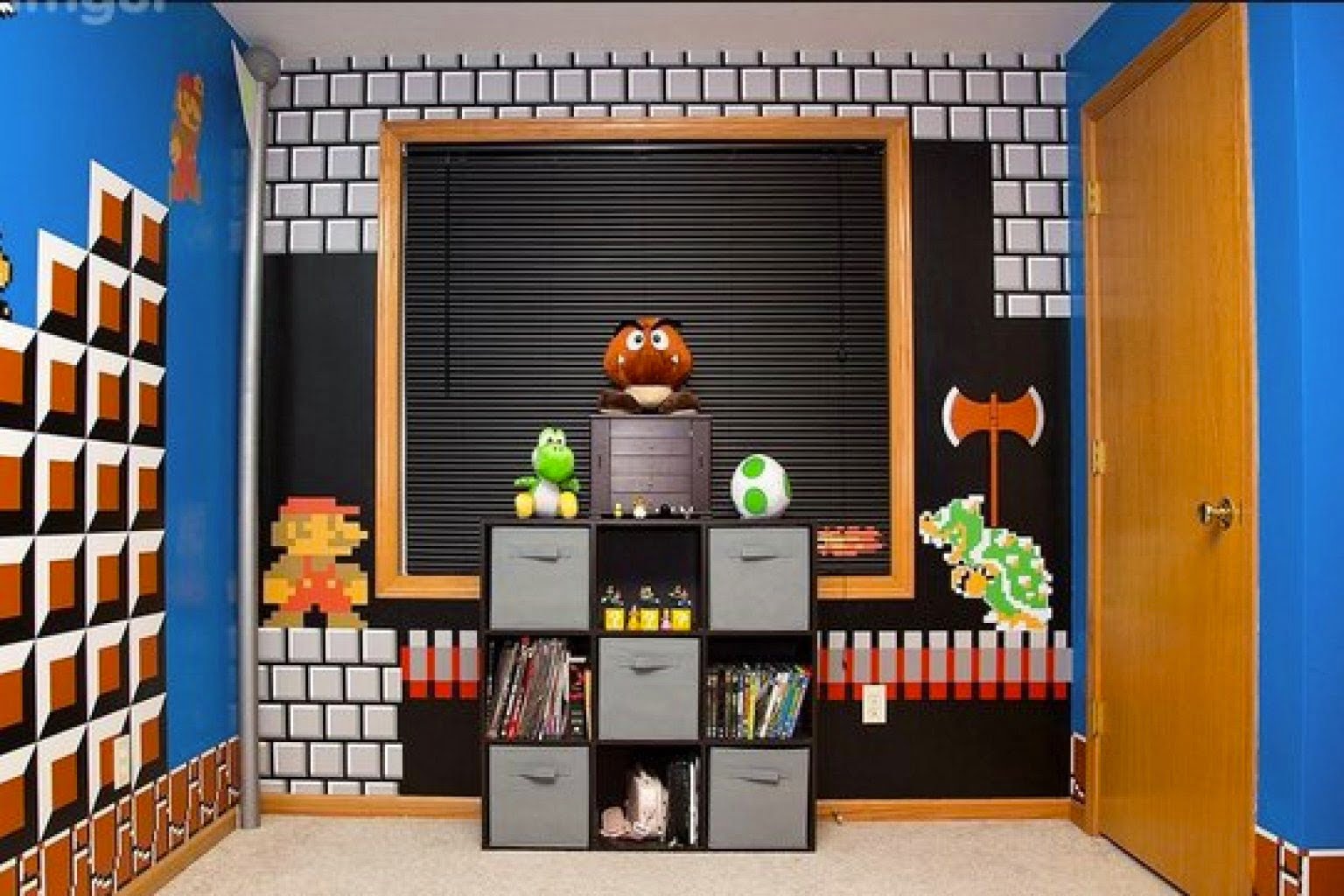 Source: Pinterest
There is little evidence of actual play going on in this room, but it is abundantly obvious that the occupant is a gaming enthusiast. By smartly using staggered geometric shapes inspired by a classic game, this tiny space is given tremendous visual depth. Plush paraphernalia from the game neatly compliment the similar-sized visual representations on the wall, blending seamlessly together to make the space feel immersed inside the world of game play.
44. A New Hope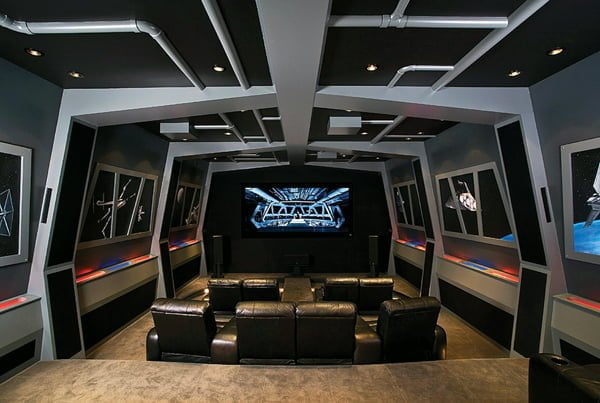 Source: Pinterest
This room makes strong use of horizontal space to recreate the penultimate scene of a popular movie, smartly using printed frames from the film to simulate windows. The elaborate use of space gray and simulated bulkheads further reinforces the illusion of a tunnel, with the eye inexorably drawn towards the play unfolding on the large central screen. Multiple spotlights and colorful futuristic simulacra add plenty of ambient lighting, with abundant furniture in place to welcome spectators and fellow players.
45. Daytime Play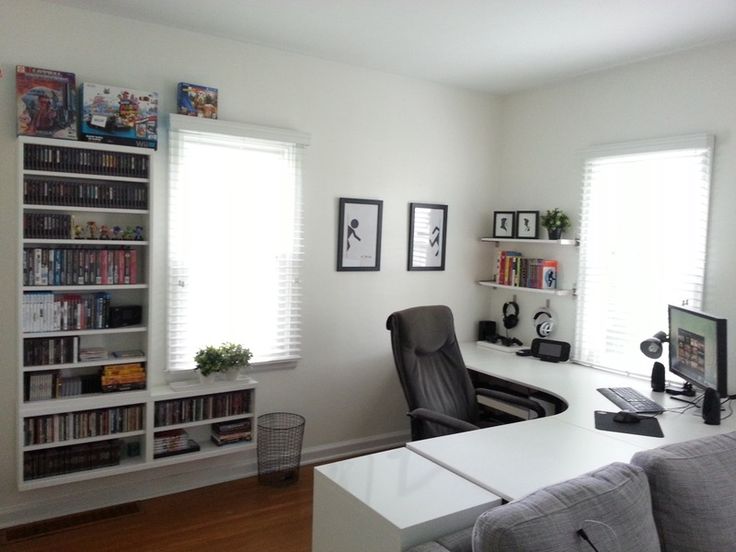 Some gamers prefer to indulge their passions during the daytime, choosing a brighter, more airy approach in contrast with cozy, intimate spaces. In this photo, the abundant use of white throughout, in combination with bountiful natural light, helps keep this somewhat limited space feeling clean and spacious. A single desk corner is enough to store the gaming equipment, with adequate shelving discretely storing additional titles and paraphernalia.
46. Framing for Focal Effect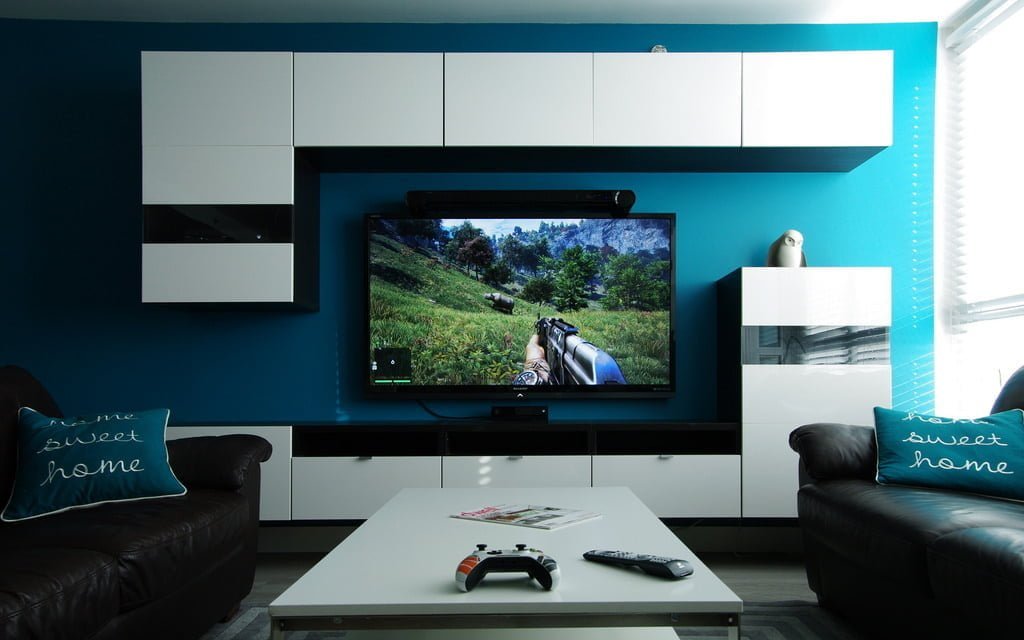 A large screen provides plenty of focus on the action at hand, but the clever use of framing helps further reinforce the screen as the visual apex of the room. The dark color of the screen is further reinforced by the smart use of a dark primary color for the wall, and the contrasting white of the custom shelving to add even more emphasis. A few matching throw pillows and abundant seating allow for plenty of group enjoyment, either as spectators or competing players.
47. Using Flooring to Add the Illusion of Space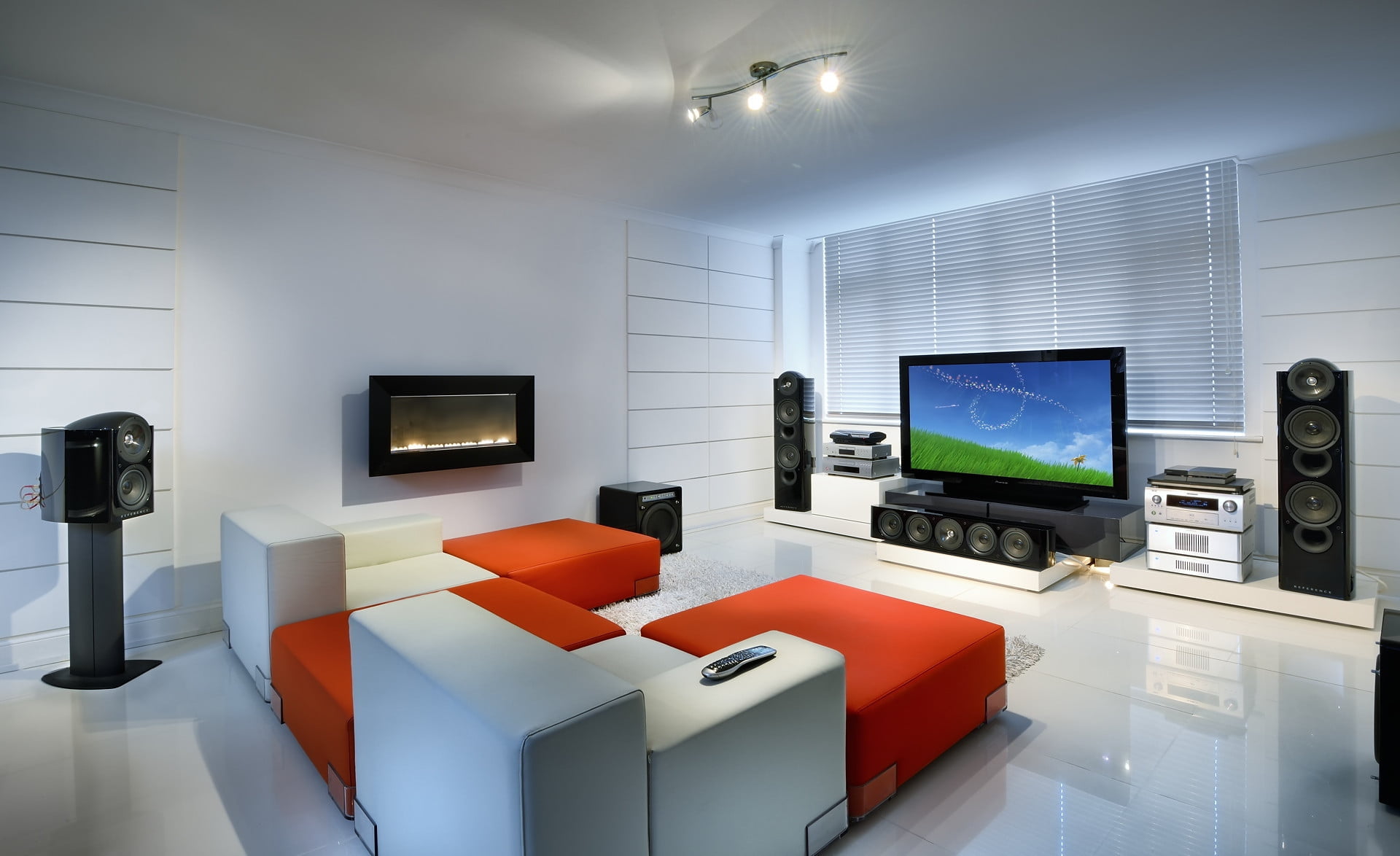 Source: Pinterest
This somewhat small space has been given the appearance of additional space by the smart use of a light colored, reflective flooring, functioning much like a mirror to add greater visual depth to the room. Modular furniture adds futuristic yet functional comfort to the game play experience, while a second screen adds liveliness and ambient light to the room. Dark colored speakers surrounding the seating area help anchor the room while simultaneously amplifying the immersive aspect of the game play experience.
48. Simple but Beautiful Gamer Room Idea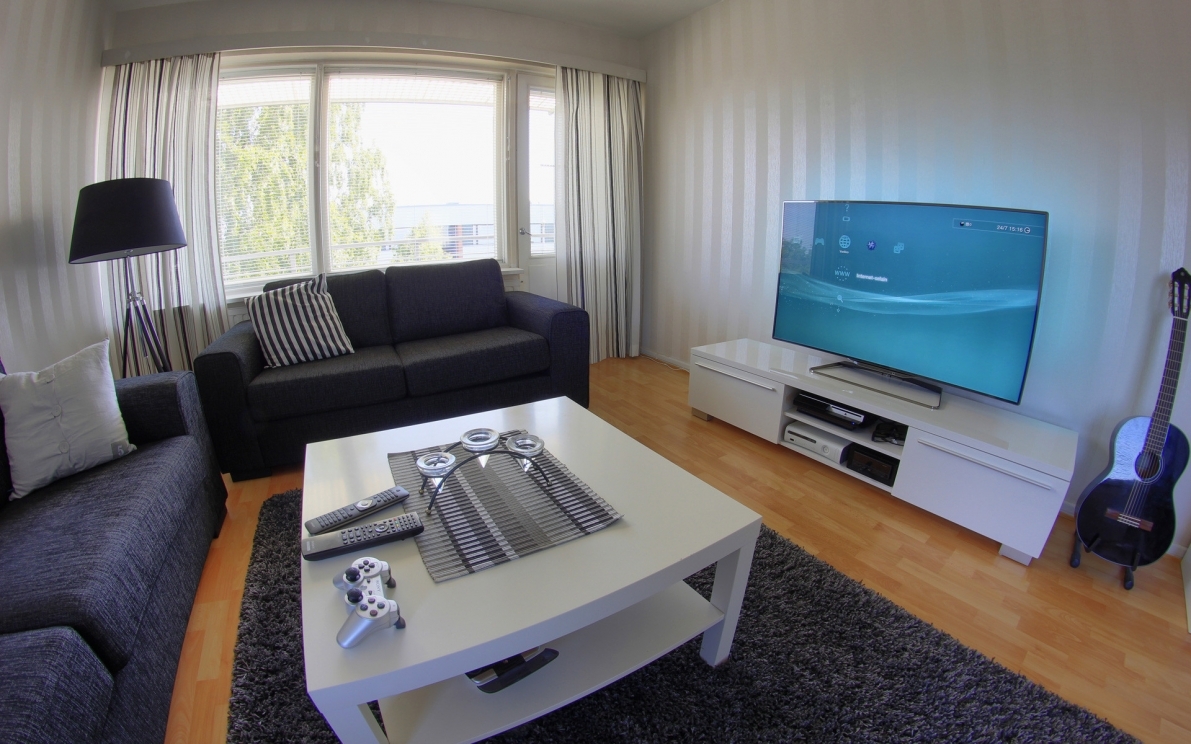 Not all game spaces need to be boldly thematic, with strong motifs about game play. In this room, tasteful contemporary decor naturally lends itself to the accommodation of a media center, with a white coffee table allowing for the discrete storage of remotes and controllers. Abundant seating allows the room to be used for a variety of purposes, while a musical instrument on a stand denotes that the space is intended for entertainment.
Summary
Setting up a room dedicated to video games can be a lot of fun, so be creative! You can choose a theme based on your favorite game, or incorporate some other elements that you love like a favorite movie or book series. Some video game room designs focus more on the individual player, while other gamer rooms are set up to incorporate multiple players and spectators. Most people spend a significant amount of time in their video game rooms, so it's worth taking the time to arrange the decor, coloring, and overall theme to truly impress.
Regardless of your budget, designing a play room can be a lot of fun, allowing you to truly express your creativity in crafting video game room ideas. Unlike other interior spaces in the house, games room ideas can be centered around viewing screens, giving you plenty of unique opportunities to work with custom lighting designs. Open windows and a lot of sunlight are anathema for most game room designs, so focus on novel ways to provide enough background and theme lighting to maximize your gaming experience.