Whether its an impromptu gathering of friends, a family party, or a planned event, your centerpiece sets the tone for your celebration and serves as the focal point for your table. You can create a DIY flowerbox centerpiece to highlight any occasion from formal to fun while adding a homey touch.
For fun events, think of bright colors and flamboyant flowers. Ribbons tied in bows are naturally festive, and they add volume to your arrangement. Velvet, grosgrain, satin, and cotton ribbons add different textures. You can even use ribbon to add a print to your centerpiece.
17 DIY Flowerbox Centerpieces to Set the Tone for Your Gathering

These flowerbox centerpieces can fit any décor. For a formal look, try metallic finishes and elegant flowers. Small flowers like baby's breath and lilies of the valley and delicate ferns work well as fillers for formal arrangements. To create a contemporary centerpiece, try neutral flowerboxes in gray, greige, or black with white flowers. To add interest, texture, and a rustic look, don't forget sprigs of leaves, bare branches, twigs from berry bushes, autumn leaves, grasses, pussy willows, and money plant.
If you are creating the centerpiece for a celebration of one of life's milestones, consider placing an arrangement of silk flowers or live plants in your flowerbox so that you can present it to the celebrant as a commemorative gift. If the occasion honors more than one person, create a grouping of centerpieces. They don't necessarily have to be identical. Each can be linked by color or type of flower but also contain something that links it to the person it honors.
Start with these seventeen ideas and let them inspire your own DIY flowerbox centerpiece. Create one that perfectly reflects your décor or your occasion.
1. Elegant Wedding Flowerbox Centerpiece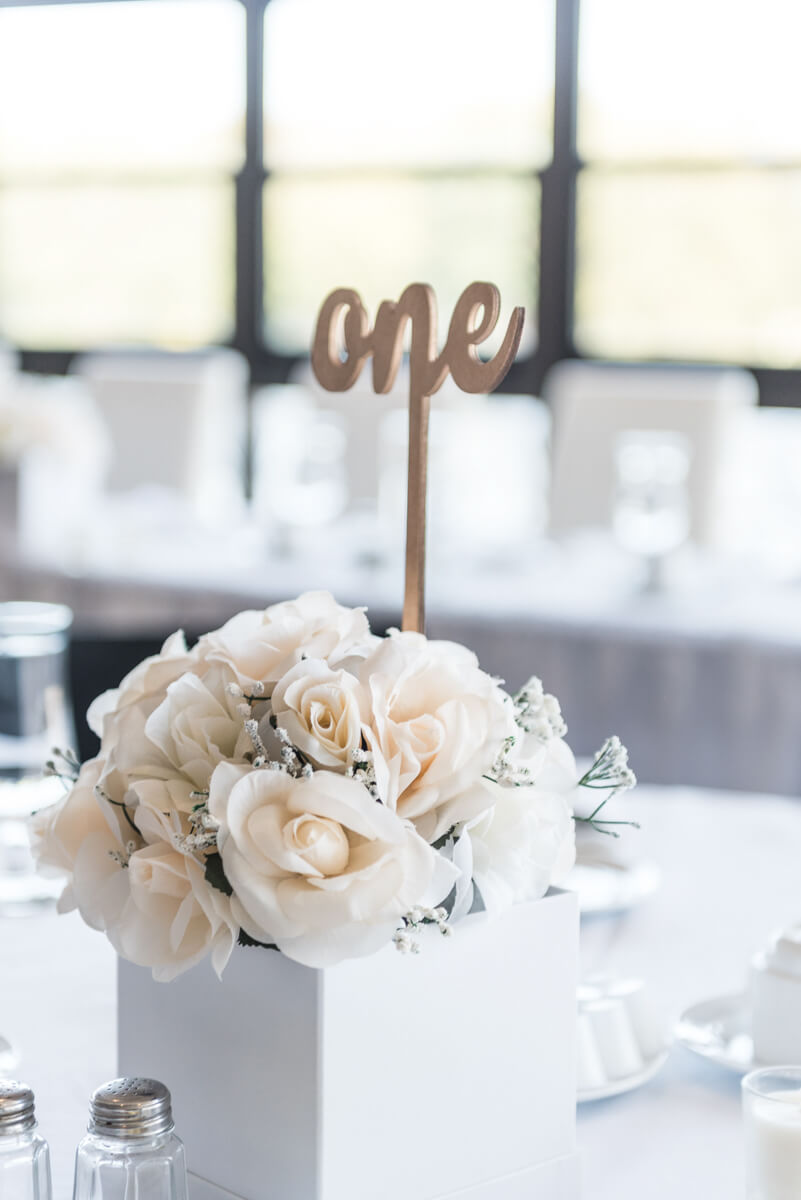 This flowerbox sets an elegant tone but retains country charm. Try a silver flowerbox silver for a twenty-fifth anniversary or gold for a fiftieth anniversary. A black flowerbox with white flowers, a white tablecloth, and black dishes creates a tuxedo color scheme. You can fill the flowerbox with Christmas ornaments, Easter eggs, shells, candy, noisemakers, or whatever.
2. Multi Shades of Pink Rustic Flowerbox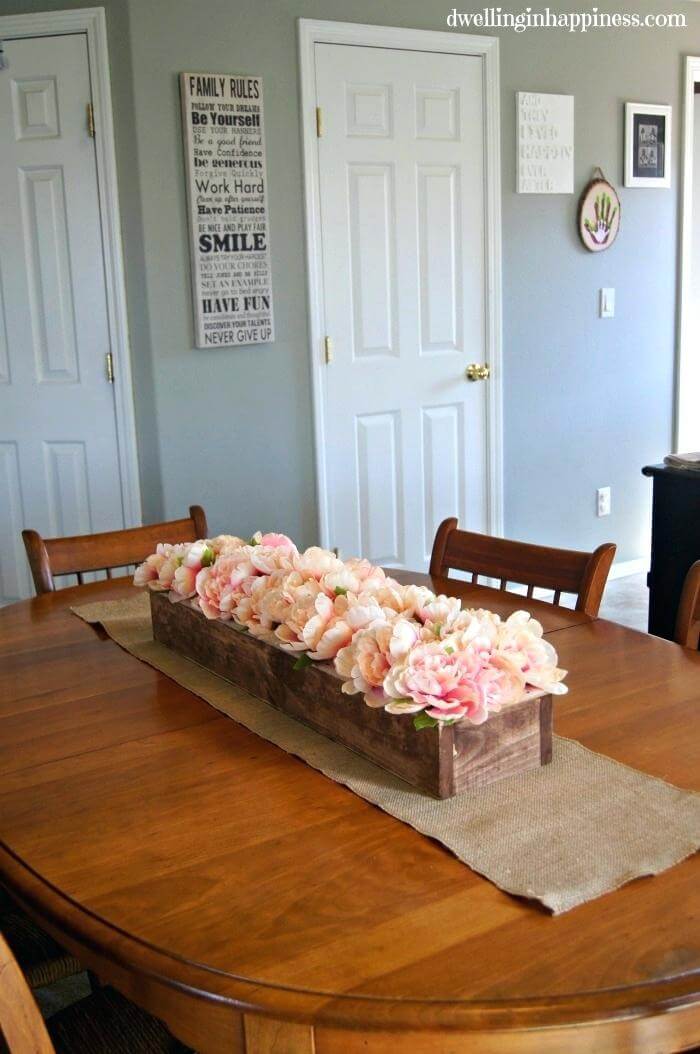 This flowerbox planter would be lovely for a spring gathering, a girl's sixteenth birthday party, a bridal shower, or a baby shower if the baby is a girl. Switch to blue flowers if the baby is a boy. Use vivid flowers for warm weather, sprays of autumn leaves for fall or Thanksgiving, or poinsettias for Christmas.
3. DIY Stenciled Scrap Wood Flowerbox Centerpiece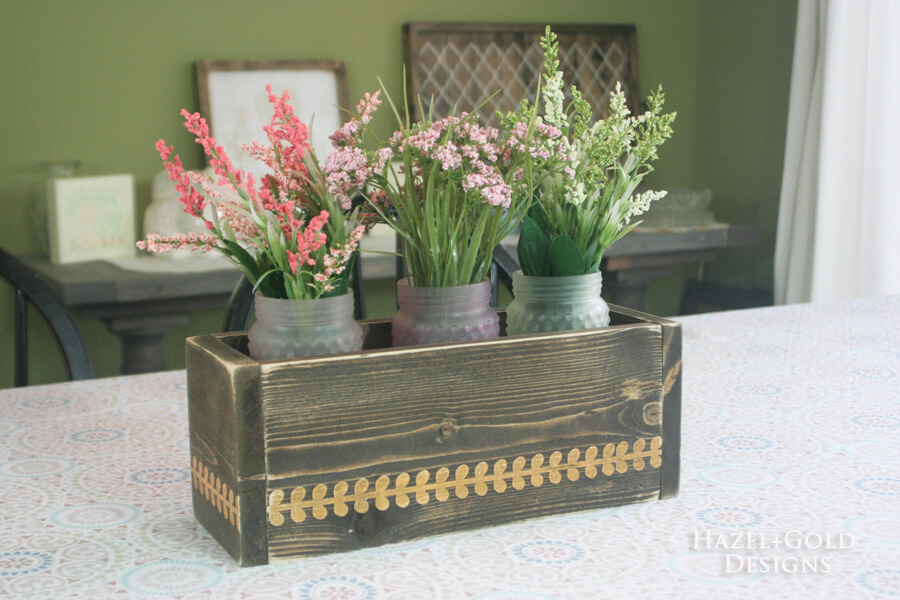 This versatile flowerbox can be decorated to suit almost any occasion — try snowflakes for winter, small flowers for spring, leaves for fall, a sun medallion for summer, or hearts or roses for Valentine's Day, an engagement, or a wedding. Seashells would add a contrasting texture to the flowers, leaves, and flowerbox. Twine would create a rustic, coastal look.
4. Painted Mason Jar Flowerbox Centerpiece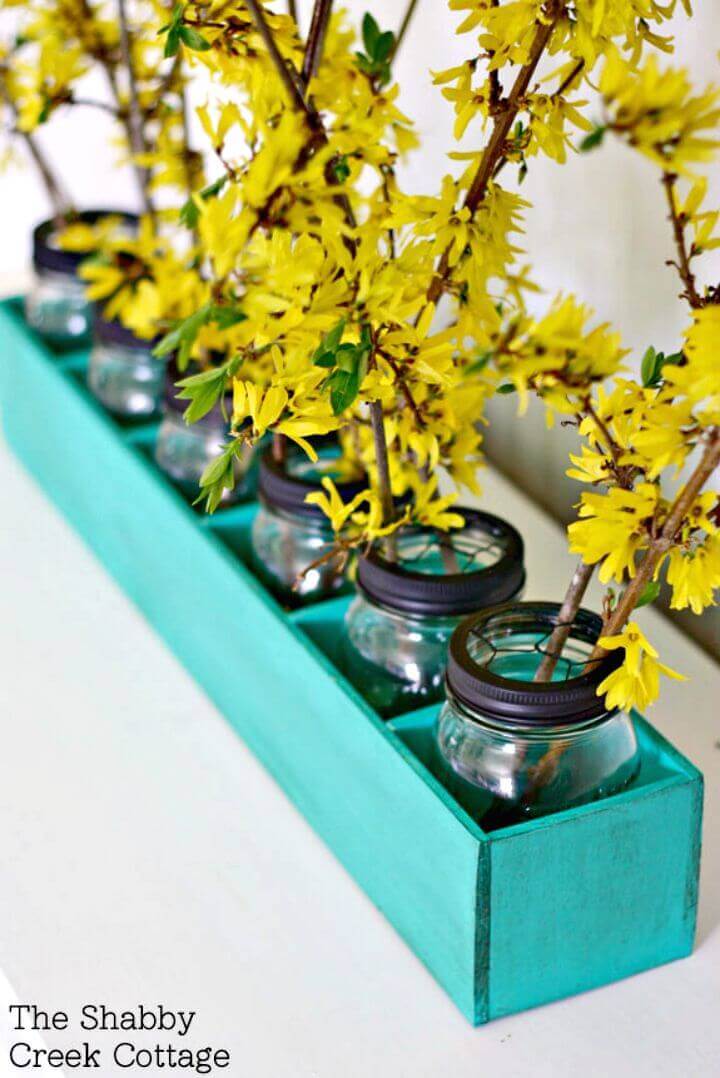 This flowerbox also can match any décor and fit anywhere in your home. Make more than one and use them to decorate your front porch, deck, or patio. Use fresh cut or silk flowers. Pussy willow branches, irises, or snap dragons would look great. For a neutral color scheme, try money plant or cattails. For a fall centerpiece, use bittersweet.
5. Decoupage Tissue Box Flowerbox Centerpiece
This flowerbox design uses a cardboard tissue box as the base, but you could use any box, large or small. Large corrugated cardboard boxes could be used as planters that sit on the floor. Two matching planters on either side of a door could create a dramatic entrance to a room. Line the boxes with plastic and place live plants in them.
6. DIY Flower Drawer Flowerbox Centerpiece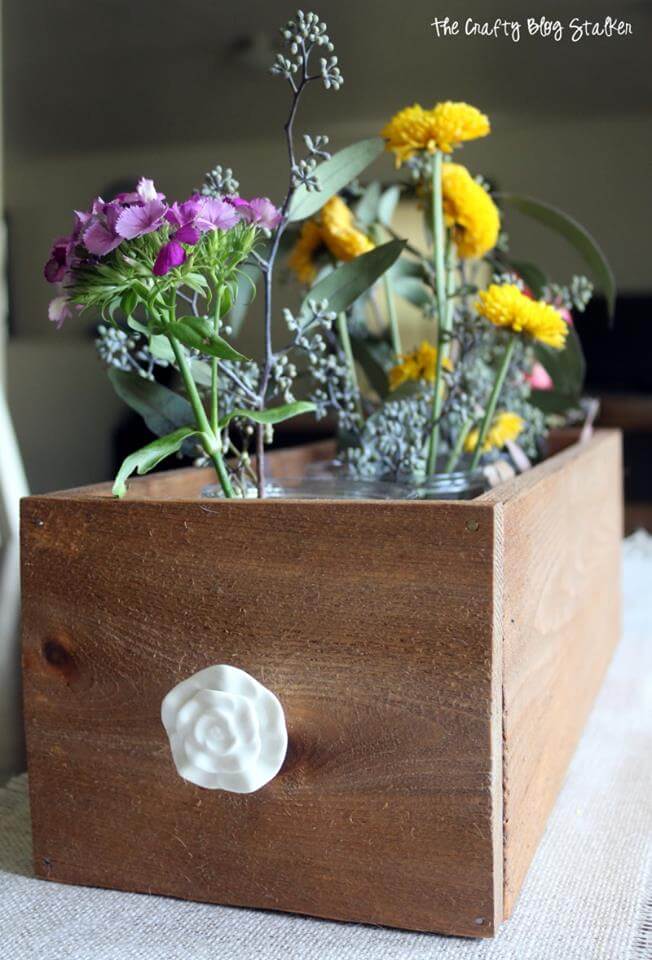 This flowerbox with its drawer pull knob could bring flowers into a home office or a kitchen. For a kitchen, you could decorate the sides with recipes or pictures of herbs of fruit. Pasta shells or wheels would add texture and whimsy. Seashells, again, add texture and fit in with a coastal décor.
7. Found Container DIY Flowerbox Centerpiece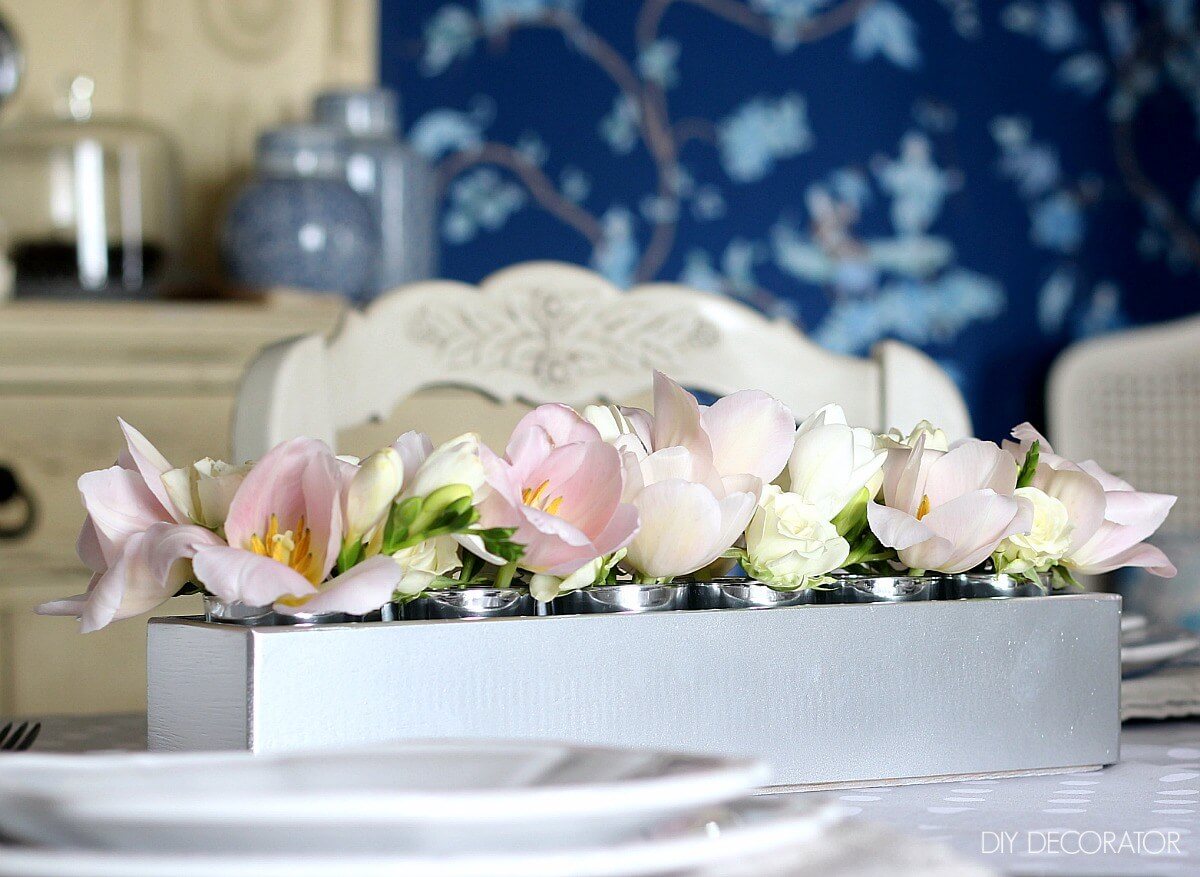 Found containers of any size provide a quick way for anyone to create a flowerbox centerpiece, even if you aren't famous for being handy or crafty. Decorate them with yarn, twine, or ribbons and fill them with silk flowers or floral picks. A flowerbox filled with kitchen gadgets could be a house warming or bridal shower gift.
8. DIY Portable Flowerbox Centerpiece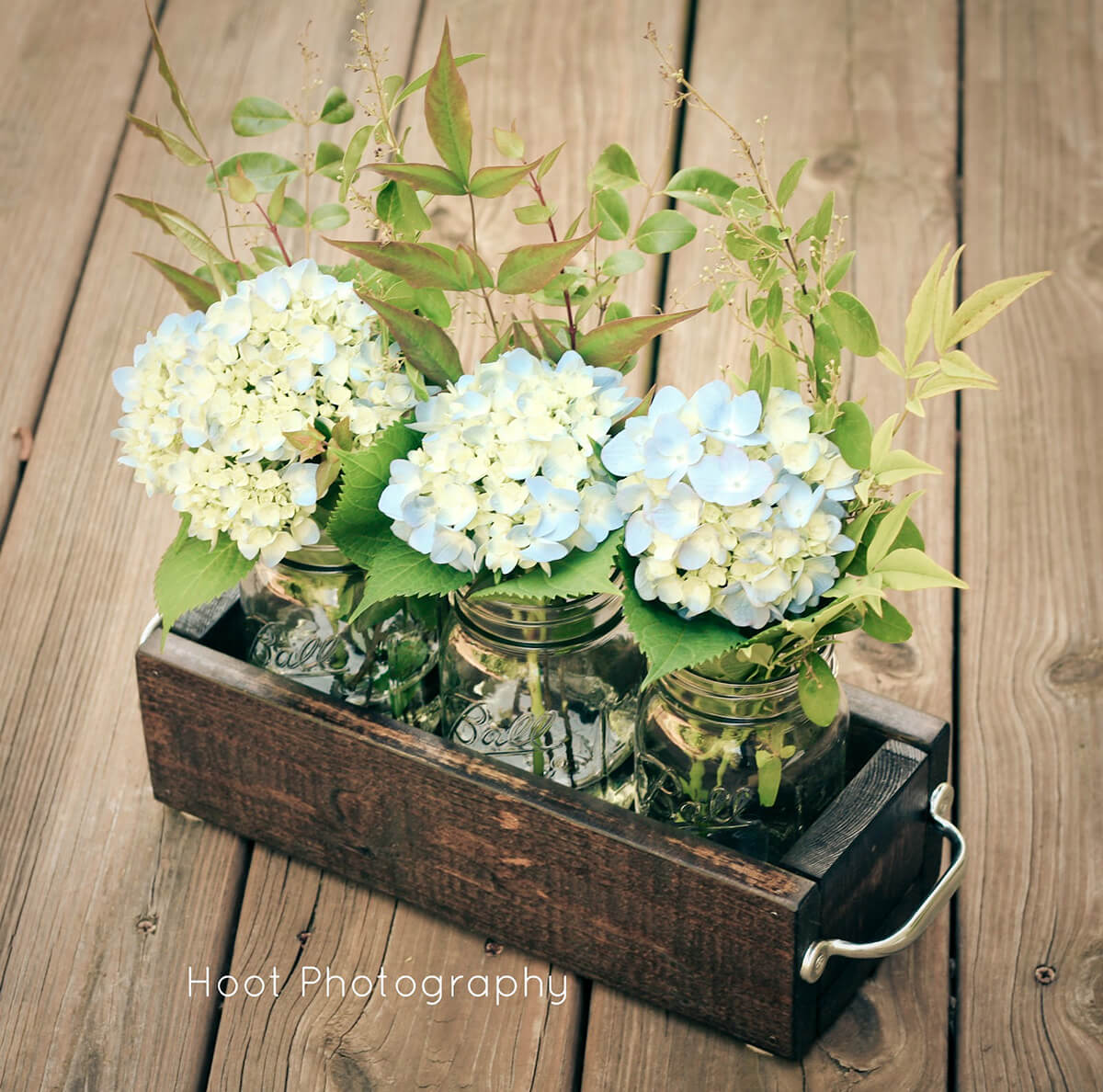 The handles on this flowerbox let you transport it wherever you want with the flowers still inside. You can move it to the dining room table when you want to use it as a centerpiece but have it anywhere else the rest of the time. For a larger planter, you could add wheels to the bottom of the flowerbox.
9. DIY Tiered Flowerbox Centerpiece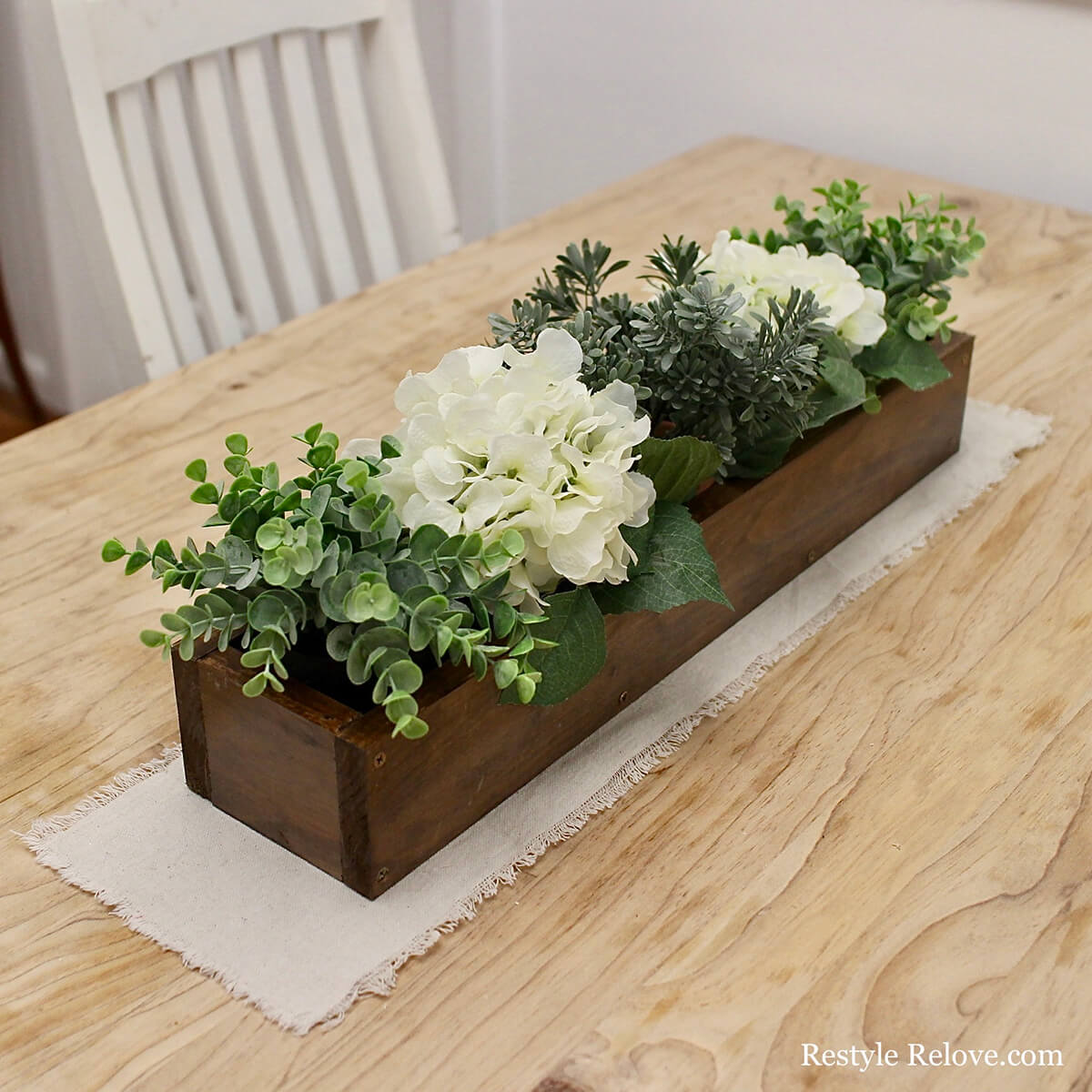 This tiered flowerbox lets you add interest with a high-low floral arrangement. You could place the highest level at the center or have two higher levels one-third of the way from each end. The high points serve as natural focal points for your arrangement which could be flowers, foliage with patterned leaves, pine cones, faux gems.
10. Foliage and Flowers Flowerbox Centerpiece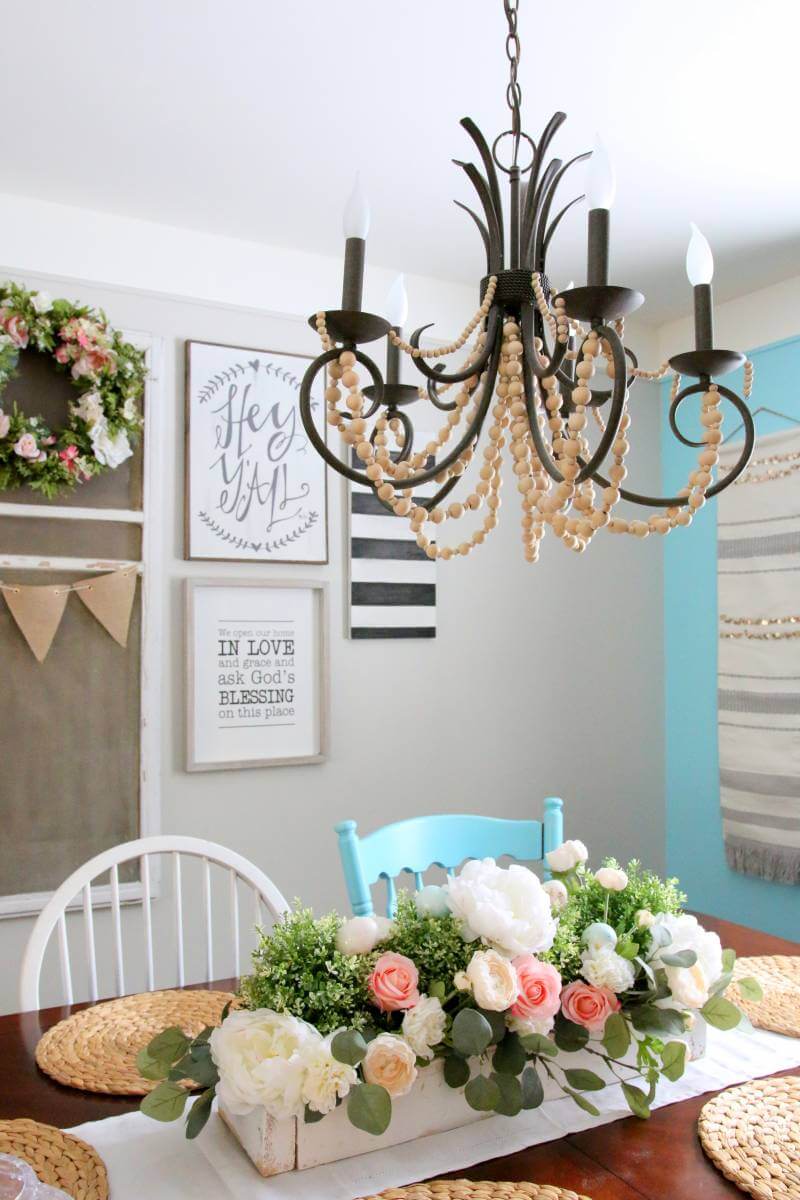 As this arrangement demonstrates, you can mix foliage with flowers to add texture as well as color to your arrangement. Using foliage as a background lets the flowers you choose pop. Using foliage plants or floral picks with patterned leaves creates a more subtle look that places the emphasis on pattern rather than color, or substitute colorful foliage for flowers.
11. DIY Wine Bottle Case Flowerbox Centerpiece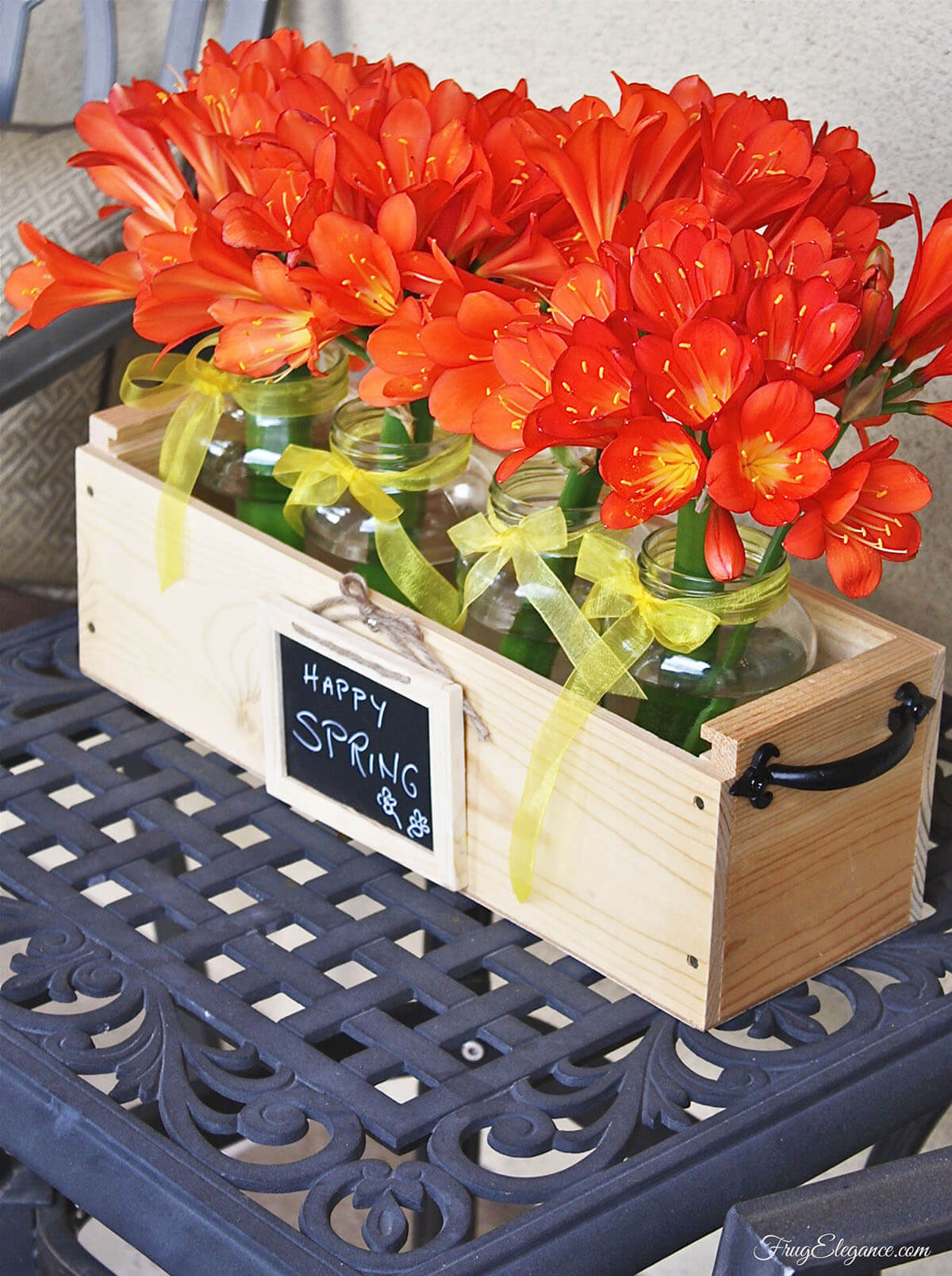 This wine bottle case flowerbox is another idea for those who are less handy or crafty or who need to create a unique centerpiece in a hurry. Leaving the wood raw adds to the rustic charm of this centerpiece. For whimsy, you could place your floral arrangement in wine bottles, wine goblets, or champagne flutes.
12. DIY Cedar Fencing Flowerbox Centerpiece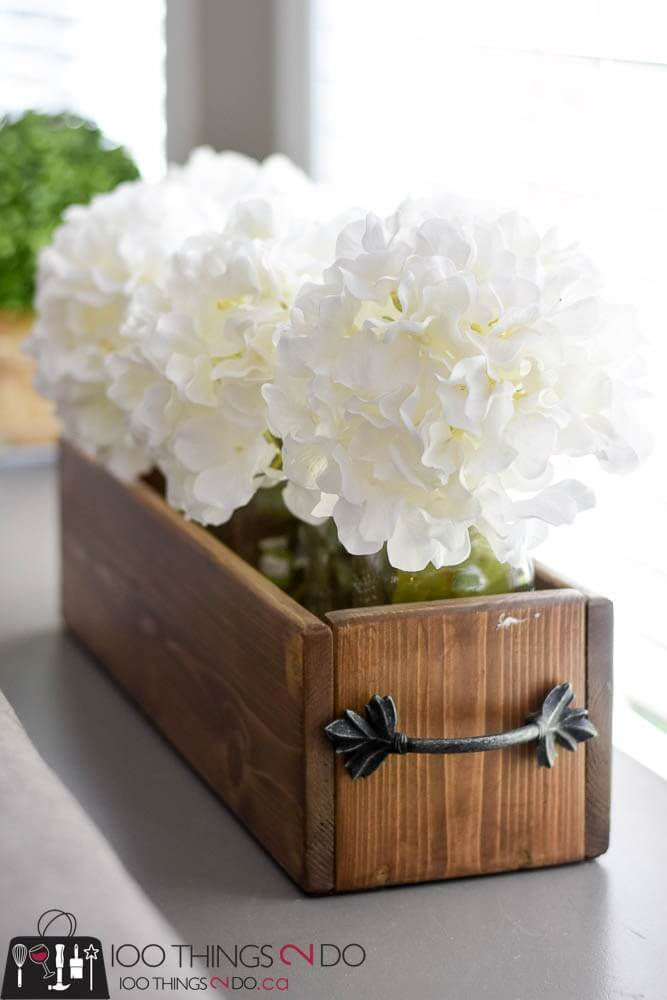 This box made from planks of cedar fencing is especially versatile. You could make a centerpiece sized flowerbox or a large ones to use as outdoor planters. You could use smaller cedar flowerboxes as organizers for your bedroom, bath, or kitchen. You could even use them as window flowerboxes for herbs or small plants.
13. Rustic DIY Wood Slat Flowerbox Centerpiece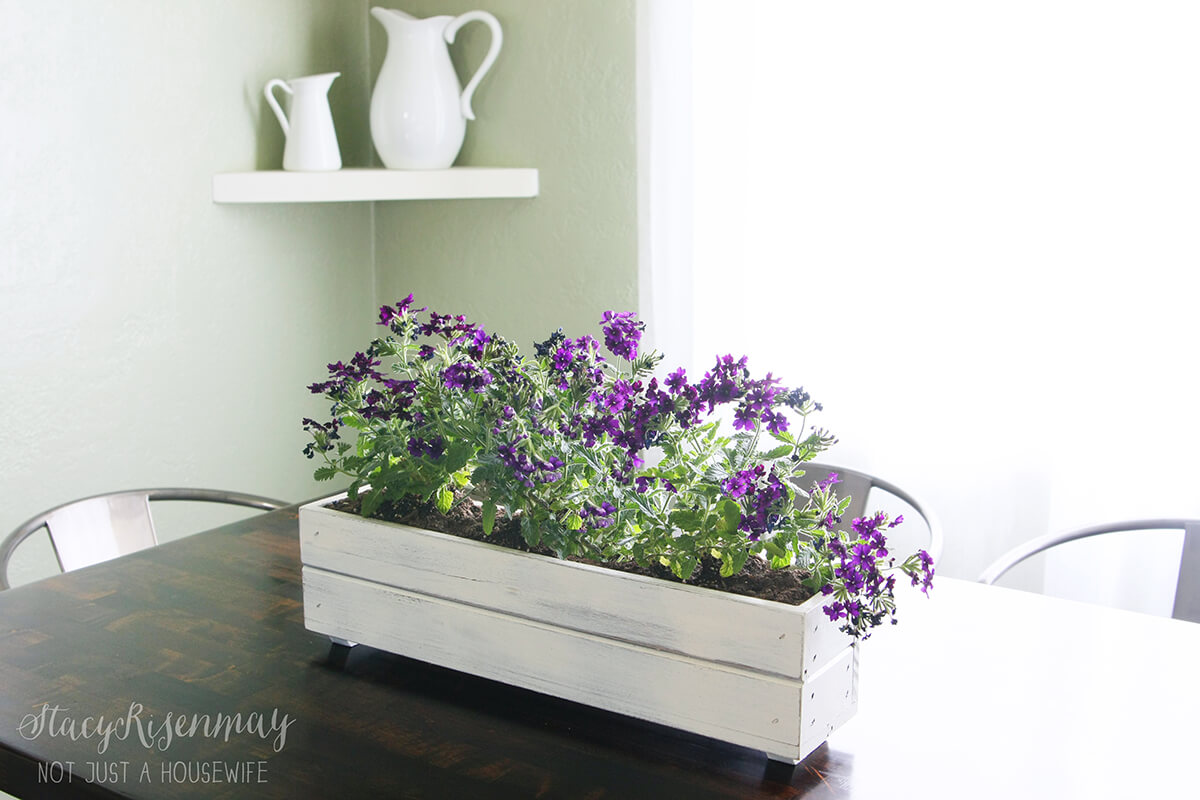 This flowerbox centerpiece adds to its rustic charm by letting the spaces between the wood slats show. You can fill it with cut or silk flowers, potted flowering or foliage plants, or cattails, bittersweet, pussy willow, or money plant. You could also use it as a magazine and newspaper rack. A large one could hold board games.
14. DIY Rustic Barn Wood Flowerbox Centerpiece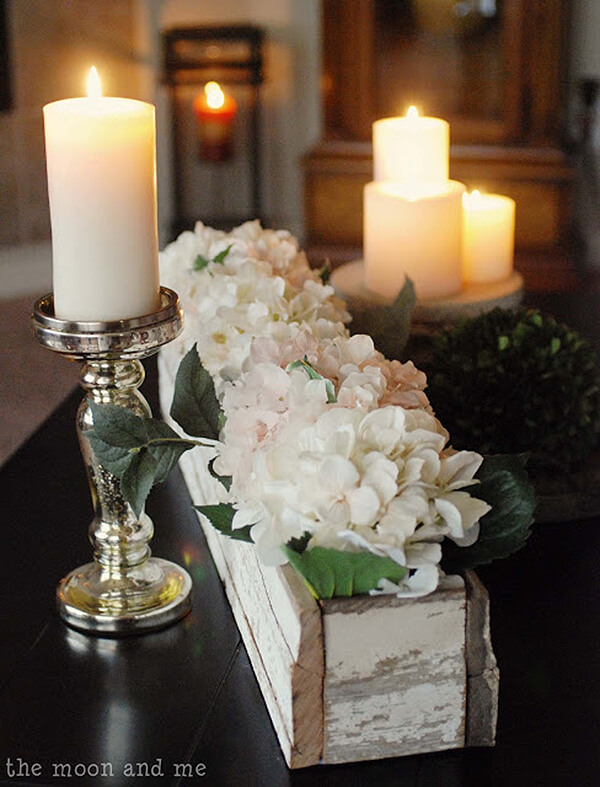 Use this barn wood flowerbox as a planter in your living room or great room or on your front porch, deck, or patio. Add branches of autumn leaves and include it in a fall arrangement with a scarecrow or pumpkins It also could hold decorative pillows, chair throws, or organize video games, movies, or toys for your kids or pets.
15. DIY Birch Bark Flowerbox Centerpiece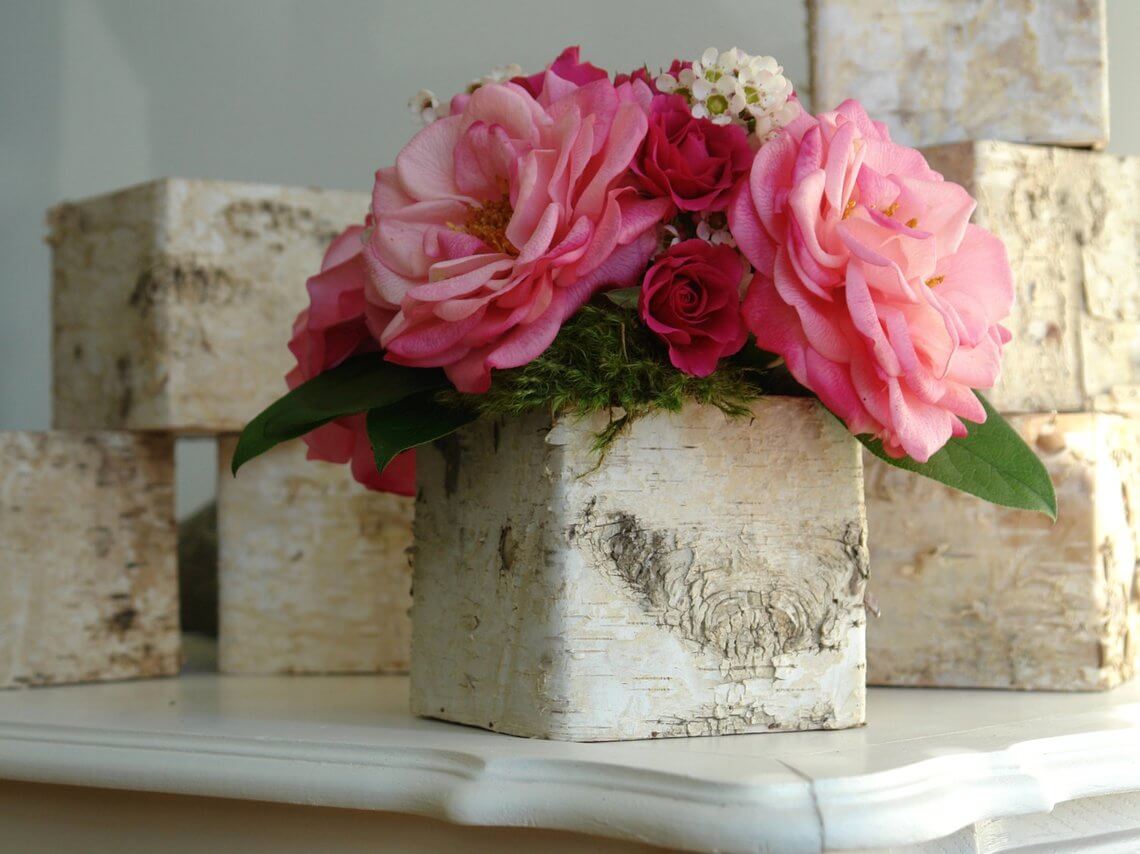 This birch bark flowerbox combines natural texture with a sophisticated black and white or gray color scheme. Use it for silk or cut flower arrangements or to hold potted plants. You could place several of these on a table runner down the length of a long table or place single flowerboxes on individual tables.
16. DIY Toolbox Flowerbox Centerpiece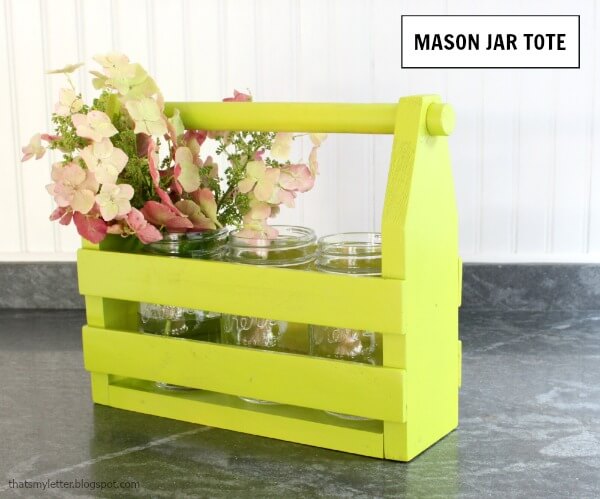 This toolbox flowerbox would be a perfect accessory for the home of a do-it-yourselfer. Place Mason jars in the toolbox to hold long-stemmed flowers or fill it with forsythia, pussy willow, bittersweet branches, or pine branches. You could also fill it with potted vines and train them to grow around the handle and wood slats.
17. DIY Quick Wood Box Flowerbox Centerpiece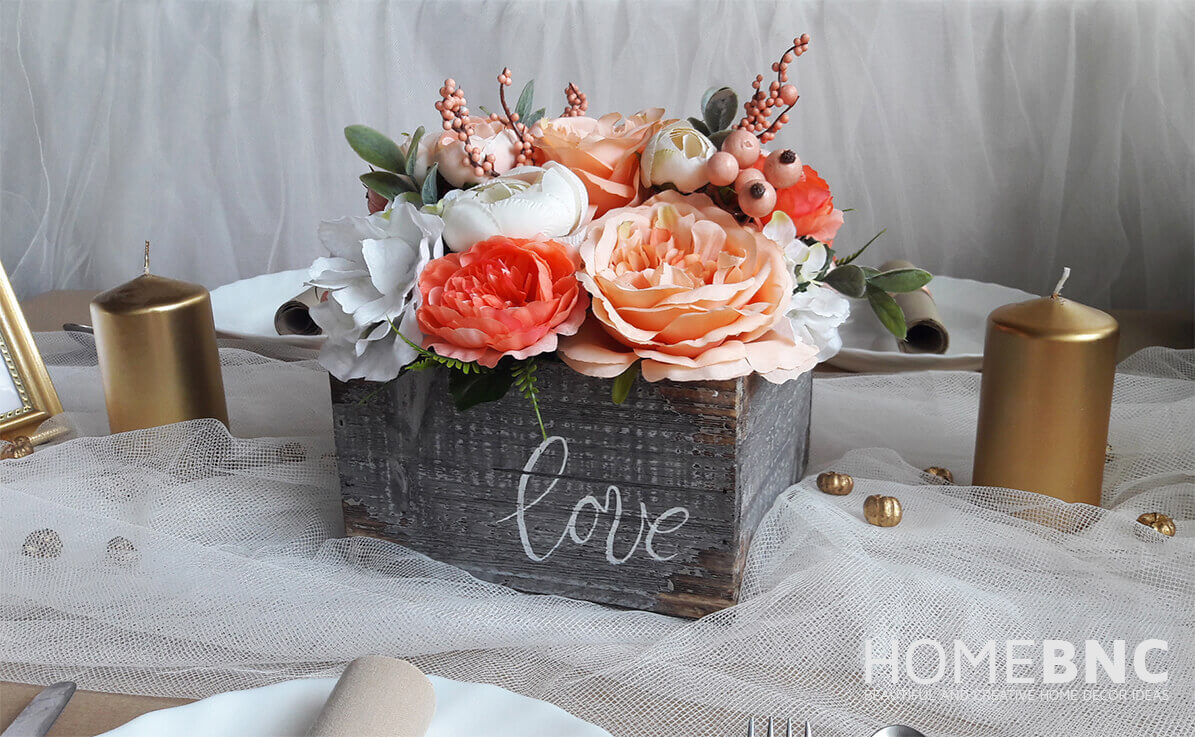 This is another found container flowerbox for those who aren't handy with woodworking. Personalize it with the name of the birthday person, the graduate, or the couple it honors. You could insert photos or objects that reflect the person or couple among the flowers. You could also fill it with candy canes, noisemakers, Easter eggs, sparklers (if legal), or cookies.