40. DIY Glow In The Dark Pumpkins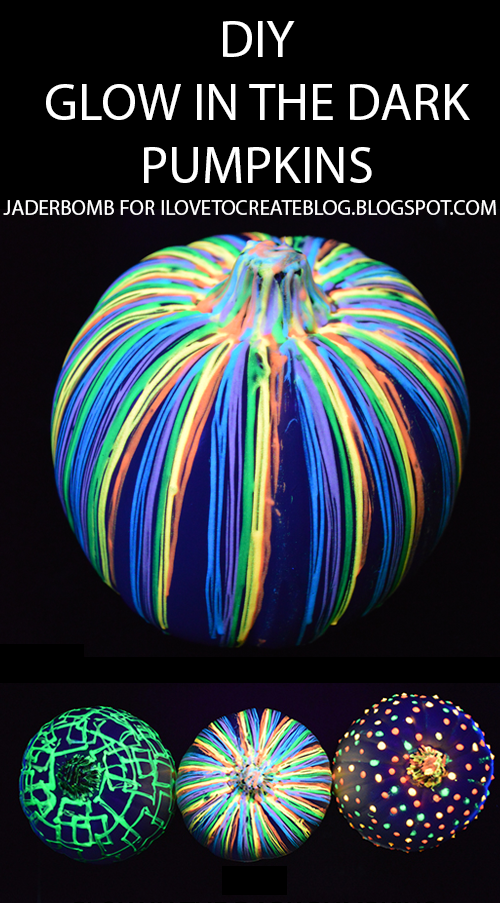 Add this idea to your cool halloween decorations where you are utilizing a black light. These interesting and glowing pumpkins can be created with some imagination and a supply of glow-in-the-dark paints. Show off your artistic abilities with a few pumpkins and a supply of glow paint under a black light. The number of different color combinations and pattern designs are only limited to your imagination. Whether you prefer one theme color or a mixture of all of the colors available, these original decorations will be the focus of the conversation at your Halloween party.
41. Day and Night Pumpkins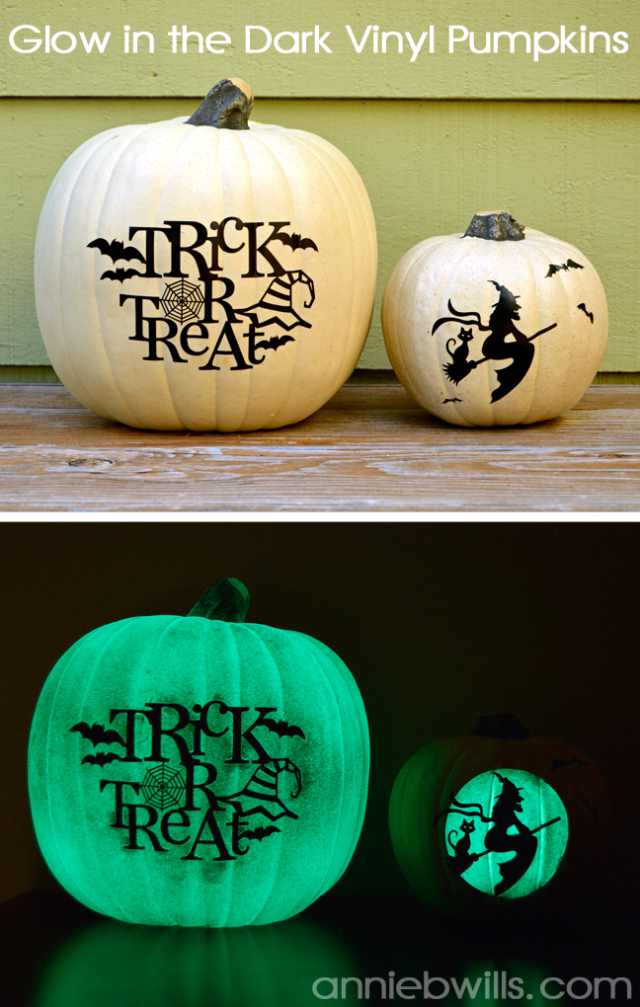 Too many of the Halloween displays that are used are only able to be viewed during the daylight hours. These day and night pumpkins are the perfect answer to this dilemma. Materials for this project consist of light colored or white foam pumpkins, glow-in-the-dark paint, and your choice of vinyl stick on appliqués. The process for creating this Halloween decoration consists of painting the pumpkin with the glow-in-the-dark paint, applying the vinyl transfers, and waiting for the sun to go down. Place these pumpkins strategically throughout your landscape for visual interest in your landscape both day and night.
42. DIY Halloween Pumpkin Balloon Crafts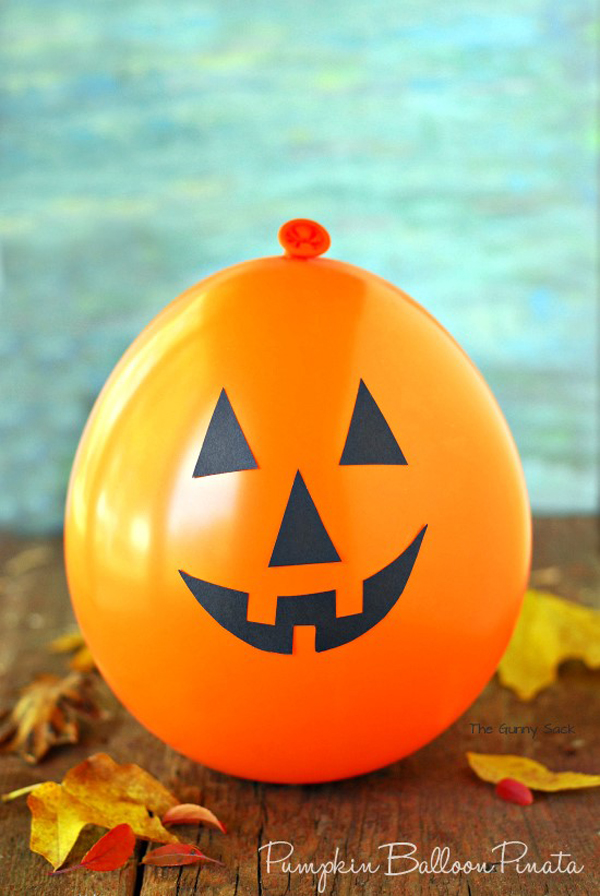 This Halloween indoor decoration is great for kids parties and limited budgets. The materials involved include a bag of orange pear shaped balloons, some green paper grass (or a paper grass hula skirt available at party stores), and a magic marker. This halloween project are great for the kids to get involved in; especially the blowing up of the balloons! After the kids are out of air, have them draw funny or scary faces on the balloons with the magic markers. With some invisible tape, attach a portion of the gathered green grass to the top for hair and you are ready for party time. The best part about this Halloween DIY decoration is that if one gets broken it is no problem. Enlist another little gobblin to blow up a new pumpkin head.
43. Google-eyed Gauze Ghost Luminaries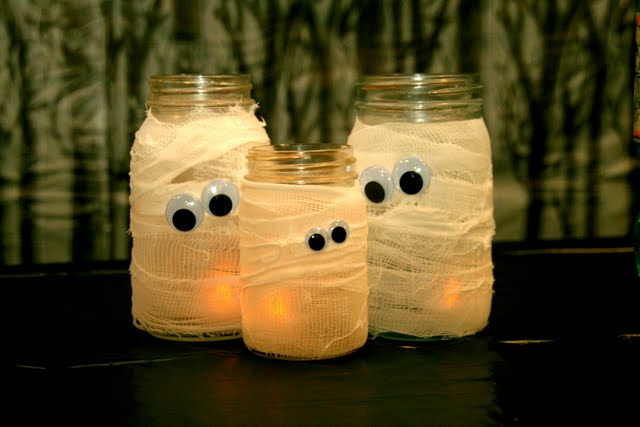 Some of the best DIY outdoor Halloween decorations are those that are the easiest to construct with the fewest materials. These glowing ghost luminaries are one of those projects. With a little gauze, some no-flame or regular candles, and some glued on google eyeballs, you can create your own goofy Halloween lighted jar decorations. These easy and inexpensive decorating elements are perfect for a quiet corner or as a centerpiece on the dinner table. Fast, easy, inexpensive, and child friendly, this is the perfect holiday project for you to call the kids in to help with.
44. "Fireflies" In A Jar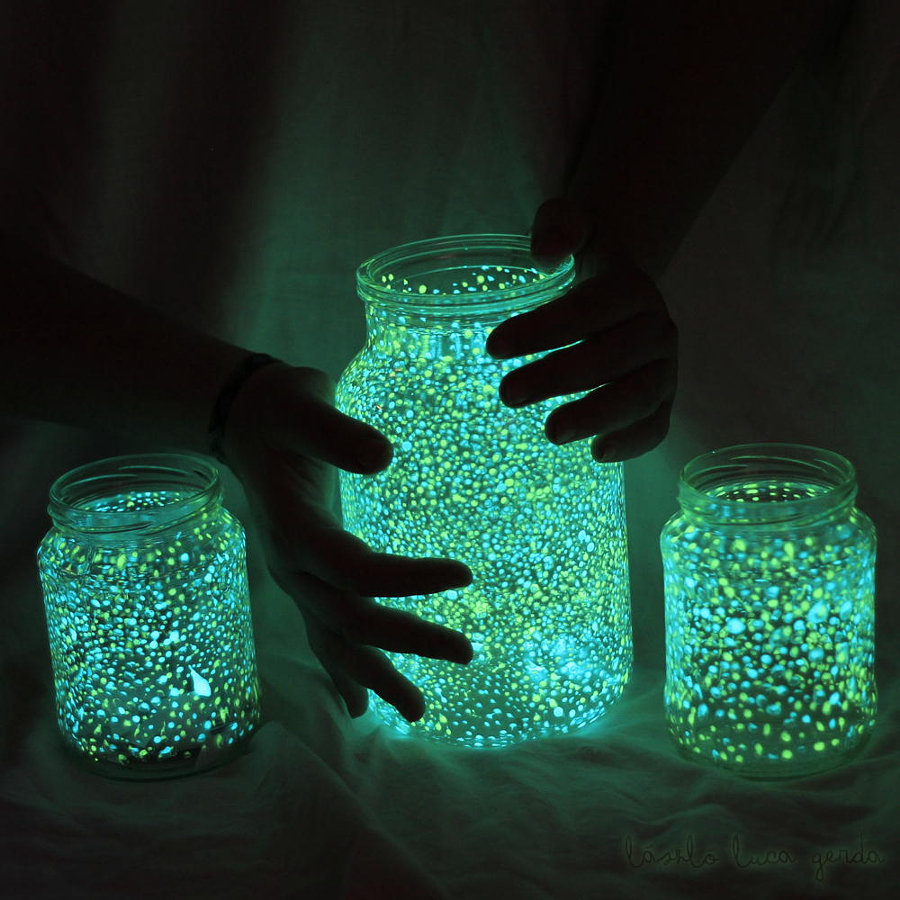 Summer brings about many changes in nature including the introduction of insects every year. One of the less aggravating of the insects is the firefly. Children have spent countless hours chasing these tiny insects to catch them in jars so they can marvel at their ability to light up in the night. You can recreate this childhood memory in massive style when you create these glow-in-the-dark jars. Use the paint to dab spots of color to the inside of the jars in the pattern and colors of your choice. Fill with water and enjoy the show when the lights go out.
45. Startled Stray Cat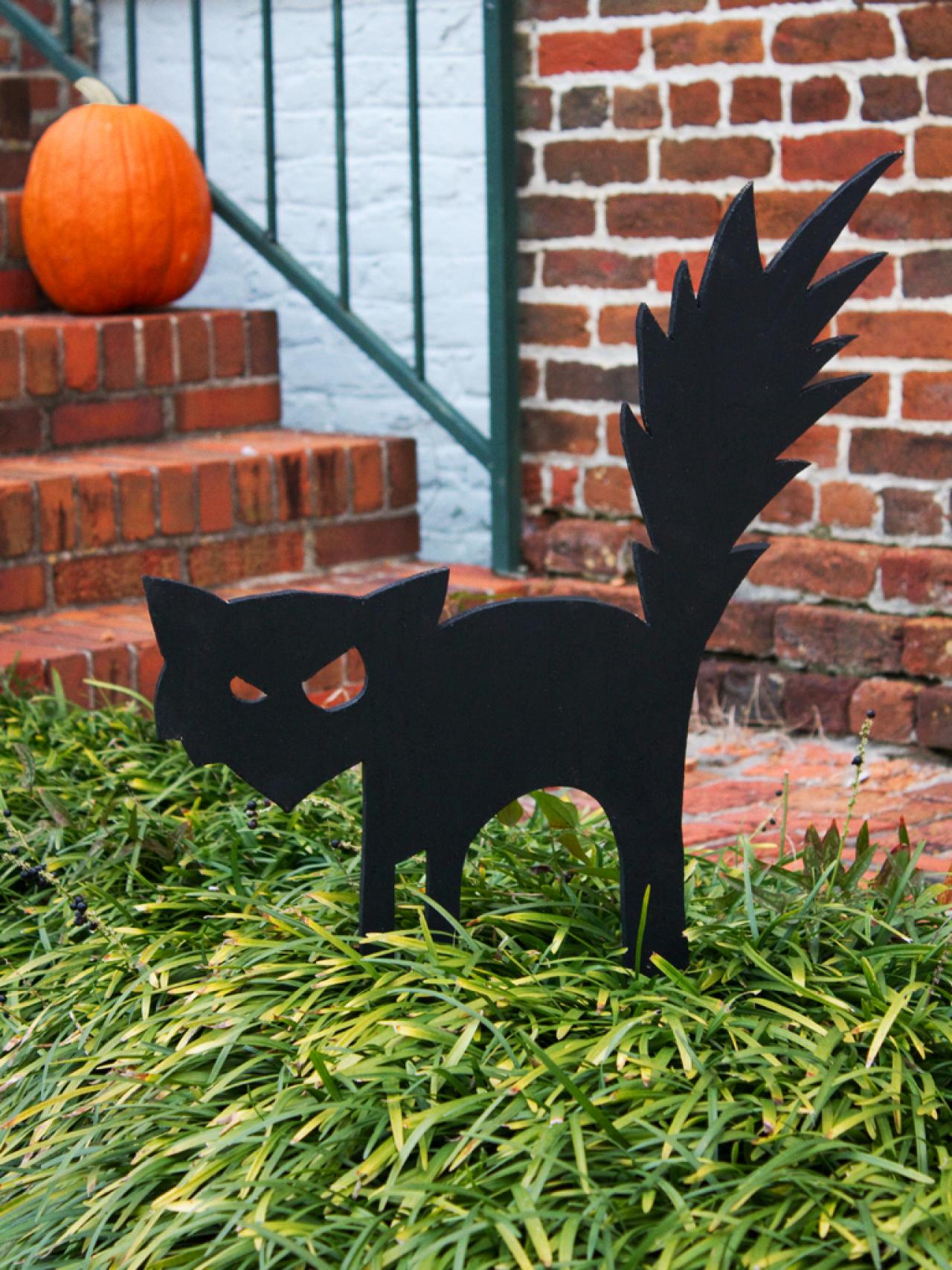 Add a little scare to your yard or walkway with one of these arched black cat spooky decorations. Made from plywood, landscaping stakes, and paint, this Halloween decoration is easy to create using a downloadable template or free-hand your own version. Easy to trace, easy to cut, easy to paint, and easy to assemble, these holiday decorations are perfect for flower beds, entryways, and even around or in trees and shrubs. Give your Halloween visitors the scare they deserve with these hair-raising black cats protecting your candy bowl on this All Hallows Eve.
46. Broom Company Sign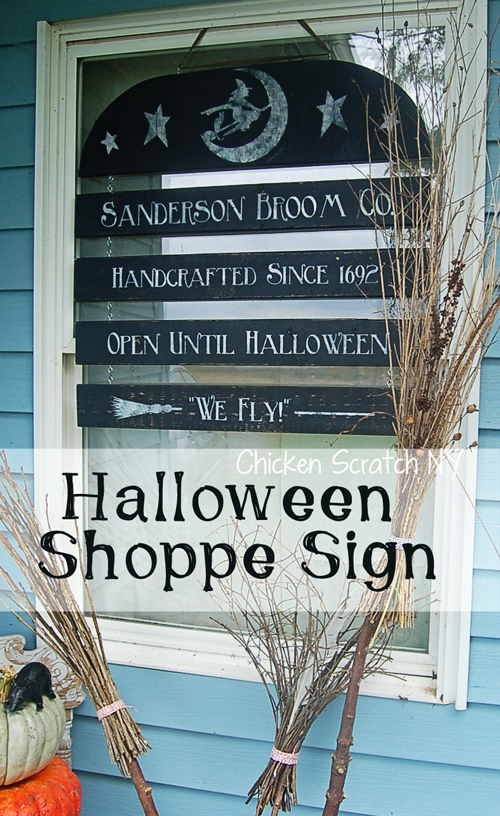 Advertise your skill in homemade halloween decorations with this sign for your Halloween art. You can easily create this hanging sign with some lengths of wood, black spray paint, a template for the stencils, some lettering paint, and a few minor pieces of hardware. Create your very own home-based Broom Company sign to give your home the welcoming feel of a genuine witches shopping stop. You can hang this sign on the side of your home, in a window, at the entrance to your property, or wherever witches in need of a new broom will take notice.
47. Menacing Pumpkin Man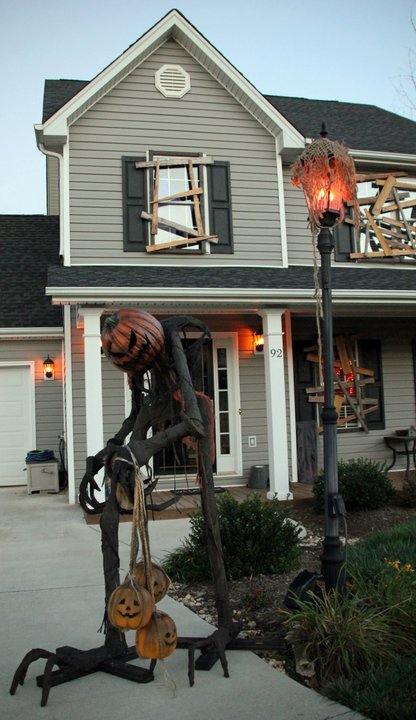 Towering over your Halloween visitors, this addition to your outside Halloween decorations may just cause some trick-or-treaters to be wary. Constructed from simple materials such as a wooden frame, some rope, a few foam pumpkin heads, and black wrap makes this character a very ominous addition to any yard. The long curled fingers and toes give this beast an otherworldly look and lends to the illusion and the height of this member of your scary halloween decorations. Placed on a porch, under a tree, or right in the walkway, this disturbing figure will certainly turn heads.
48. Creepy and Colorful Cemetery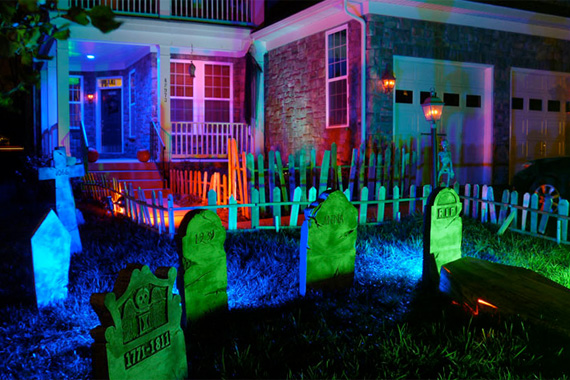 Who says Halloween has to be all about black and dreary? Fill your yard with these colorful outdoor decorations. Create these headstones from blocks of foam or purchase them pre-made from craft stores and Halloween stores. Add an assortment of different colored floodlights with LED technology. Place the lighting on the ground to create a creepy and shadowy home for your coffin, skeletons, or ghosts to hang out in. These outdoor decorations will light up your landscape and cause passing traffic to stop and take note of your creepy display.
49. Monster Mail Call Halloween Craft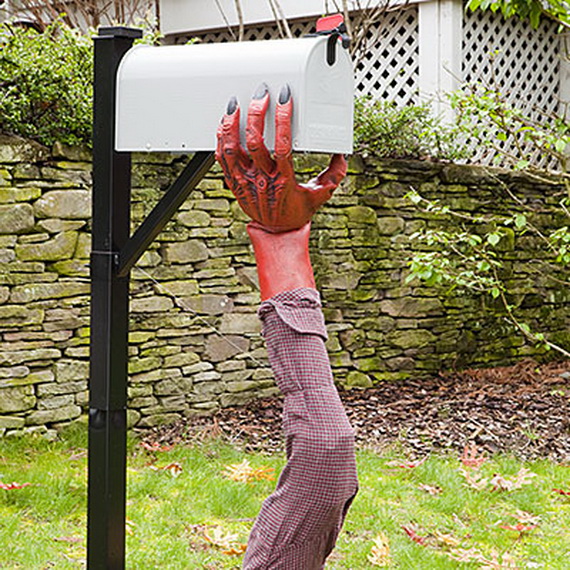 When it comes to checking the mail, no one does it better than the mail monster. Add this ghoulish looking arm to your mailbox to give the mail delivery person and the street traffic something to think about before opening your mailbox. You can create this menacing looking body part from a rubber monster glove, pipe insulation, newspaper, an old shirt, a dowel, and a few other small items that you can find around your home. This creepy looking arm will extend your Halloween house decorations right to the street, ready to startle all who dare pass.
50. Shuddersome Spider Webs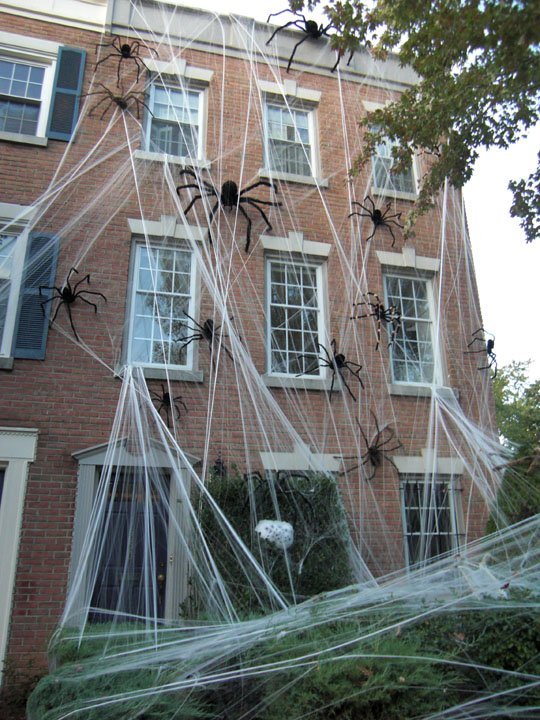 These outdoor decorations are an arachnophobia sufferers worst nightmare. With spiders large enough to eat the trick-or-treaters, visitors will beware of ringing the doorbell. Taking Halloween to an extremely large scale with larger than life menacing spiders climbing down the walls, human skeletons wrapped in spider webbing, and lengths of webs spanning the open spaces to the ground, these halloween decorating ideas are sure to draw a crowd. The menacing red eyes of the enormous spiders gives them an ominous look that will definitely deter even the most daring of your Halloween group.
More DIY Halloween outdoor decoration ideas on the next page…