51. Gourdy Ghosts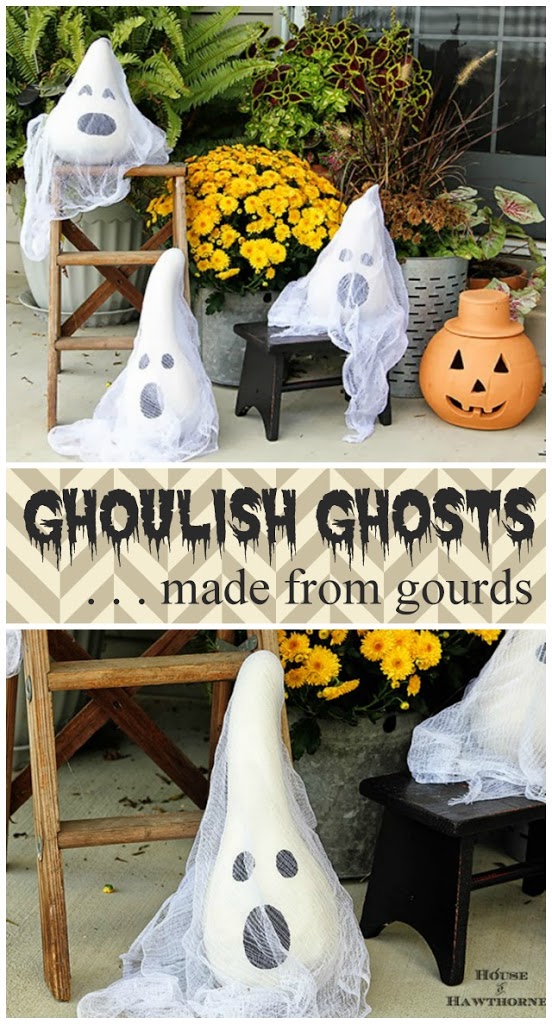 Add a touch of whimsy to your halloween decorating with these adorable little ghosts created from gourds. To create these little decorative apparitions, simply spray paint some dried gourds with white paint. After drying, paint on their faces using a black paint and your own unique facial expressions. When all paint is dry, a small piece of cheesecloth over the top of the ghosts will give them the illusion of a flowing ectoplasm. Set these halloween crafts on a shelf, as a centerpiece on a table, or in a window to create a spooky display.
52. Tattered Tormenters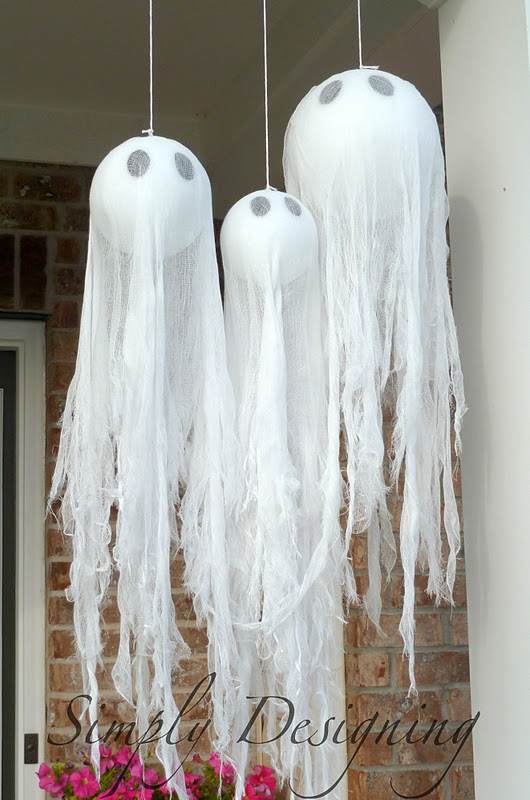 This example of DIY Halloween decorations is an extremely simple and inexpensive way to scare the pants off of your Halloween visitors. Created from simple materials such as a styrofoam ball, a black marker, hanging hooks, and some cheesecloth, this Halloween craft can be constructed in a matter of minutes. Hang these flowing ghouls from trees in your yard or use them to adorn the open areas of your patio or entryway. Regardless of where you decide to hang these floating apparitions, they will sway with the wind in an eerie dance to the Halloween beat.
53. Haunting Halloween Bag Luminary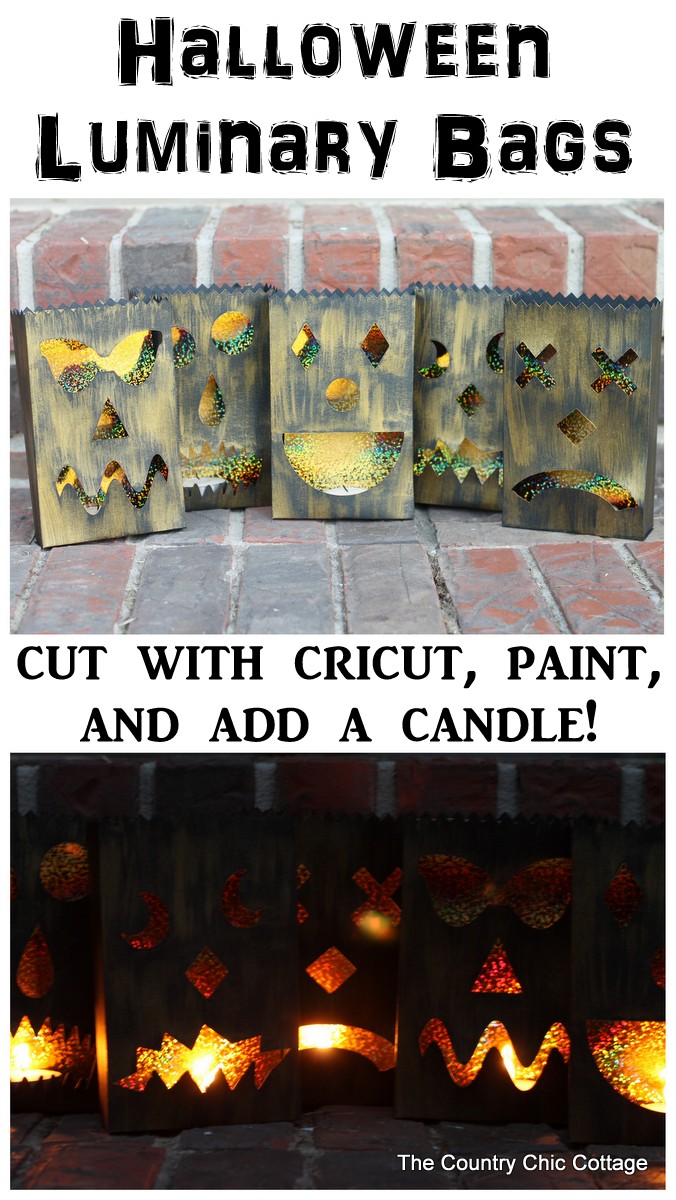 Get away from the same old pumpkin carvings to light up your walkways and entryways. For only a few dollars, you can create these original works of DIY outdoor decorations. The materials involved consist of black cardstock, gold iridescent poster board, gold paint, pumpkin faces (you can either free hand or download a template), and battery operated tea lights. Create these highly reflective and spooky bags in a matter of hours and use them to light up any walkway, entryway, patio, or outdoor path. Use these non-flammable luminaries in your halloween house decorations to light up stairways or as a nightlight.
54. Gruesome Ghost Host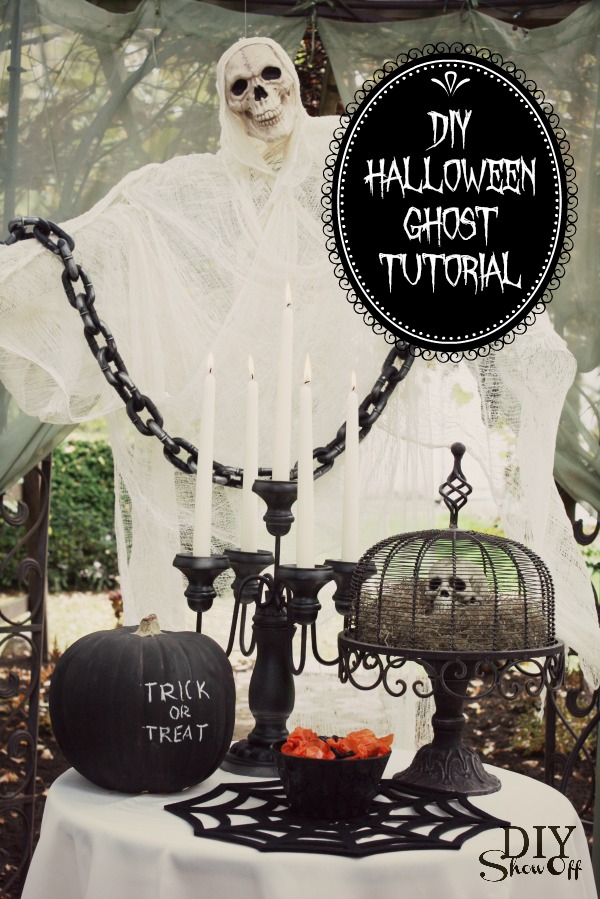 Welcome your guests into your Halloween party with this larger than life cheesecloth ghost. You can create this scary addition to your party with a few materials such as cheesecloth, chicken wire, spray adhesive, some hardware, and a fake skeleton skull. With some time and patience, your Halloween decor will be adorned with this enormously eerie being. Add an old chain and arrange your cheesecloth ghost overlooking your display of food or candy at your next party. This cool halloween idea will keep an eye on your hors d'oeuvres and your candy dish for you.
55. Halloween Window Silhouettes Decoration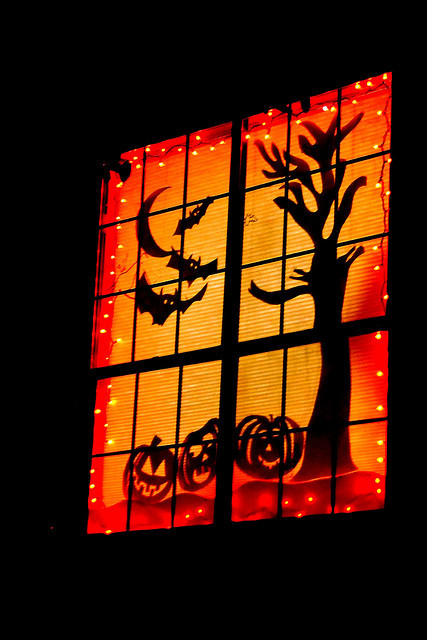 Add extra spookiness to your home decorations with this window scene of spooky elements. Create this chilling scene for only pennies from some black cardboard or card stock. Draw out the images that you desire on the paper or cardboard, cut out with a sharp scissors or box cutters, and attach to the inside of your windows. When the lights in the house are turned on, the cut outs will show eerily against the backlighting. This creative and curious decoration idea is fast, easy, inexpensive, and will dress up any window in your home.
56. Halloween Tin Can Party Game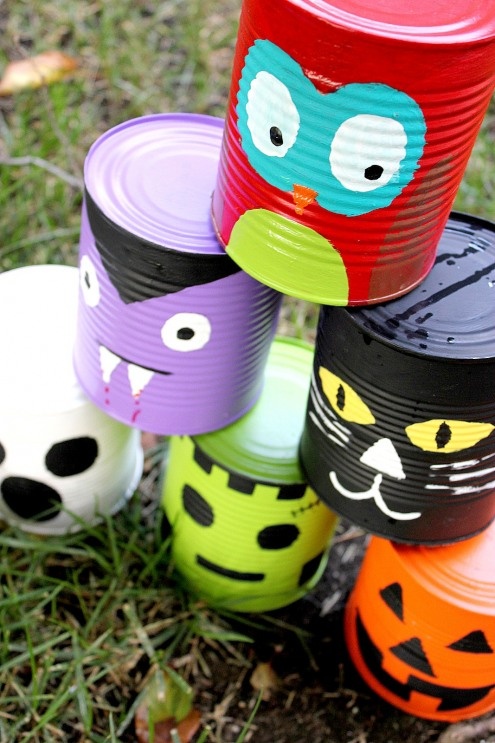 Halloween is the perfect time to get the neighborhood together or to throw private parties. When it comes to activities for the party, dust off your creative hat and paint up some tin cans for a ball toss game. Using clean and empty tin cans, paint the outsides of the cans the desired colors for each character. Ideas include a black cat face, a vampire face, a ghost, a pumpkin, Frankenstein head, an owl, and any other character you can envision. Arrange these characters in a pyramid form and get your diy outdoor Halloween party game on.
57. Spine-chilling Pumpkin Scarecrow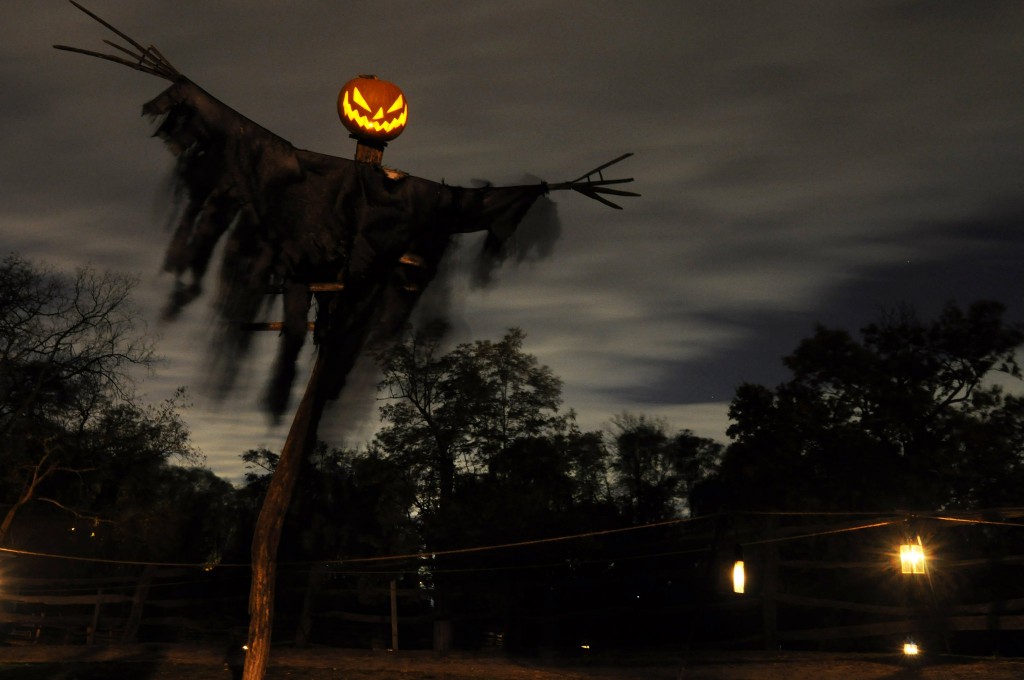 For an over-the-top dramatic effect, give life to this creature that towers high above the heads of your Halloween visitors. This pumpkin scarecrow is the perfect example of how to create an eerie visual focal point in your outdoor Halloween decorating. The stick thin body of this scarecrow is assembled on a tall post and adorned on the top with a lighted pumpkin head. It is covered in black gauze material that flows freely in the breeze, giving it a ghostly floating appearance. An electric powered light in the head will keep this demonic looking creature lit up on the darkest of evenings.
58. Wicked Pumpkin Scarecrow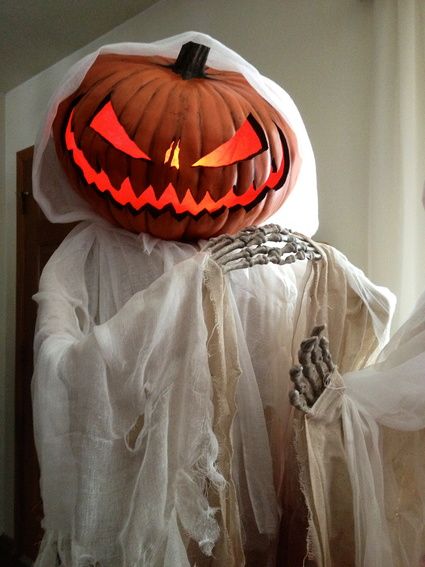 Adding this ominous looking character to your Halloween decorating is sure to get a reaction from your party goers. Created from cheesecloth, skeleton hands, and an angry looking pumpkin head, this spooky character is ready to liven up the party. Place this holiday decoration near an entryway to greet your guests or on a porch or patio as an addition to your holiday spread. Tattered edges and a menacing smile make this diy skeleton a convincing scary element in your home holiday decorating ideas. Create more than one frightening creature to add to the creepiness of the party atmosphere.
59. Wheelbarrow of Bones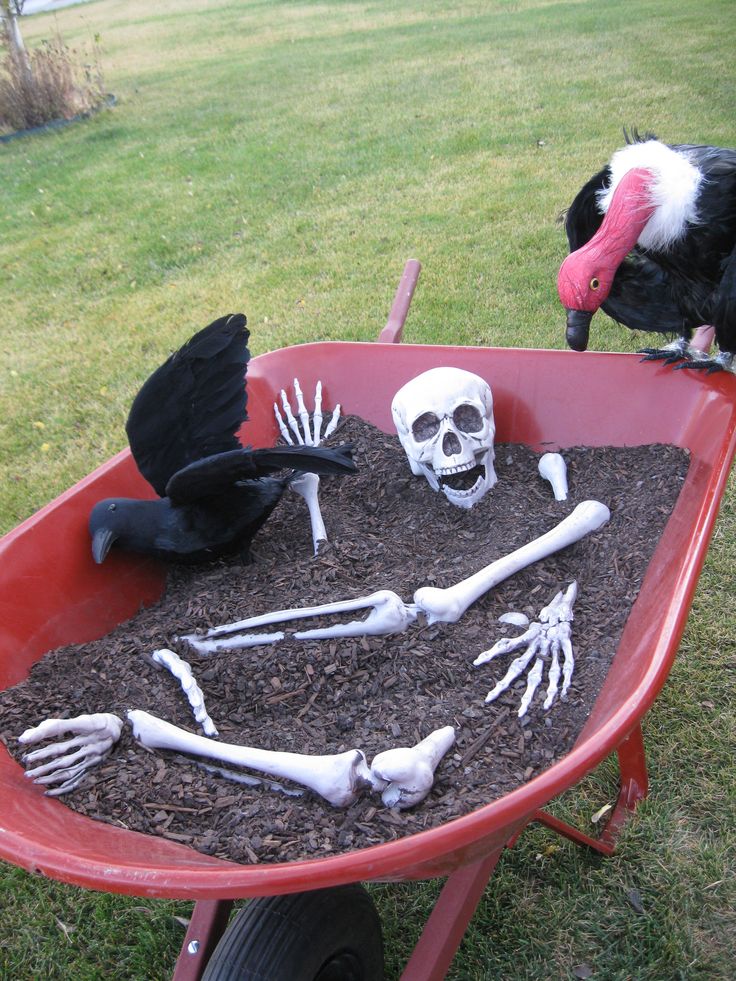 A wheelbarrow, some dirt, a few old skeleton bones, and a few carnivorous birds is all that it takes to create this humorous display for your DIY Halloween decorations. Not everyone has an extra vulture sitting around their house, so you may have to purchase one from a local Halloween store, along with a full skeleton and feathered black crow. The dirt or mulch can be found at many home improvement stores and may be readily available from your own yard.
60. Wicked Witches Brewing Post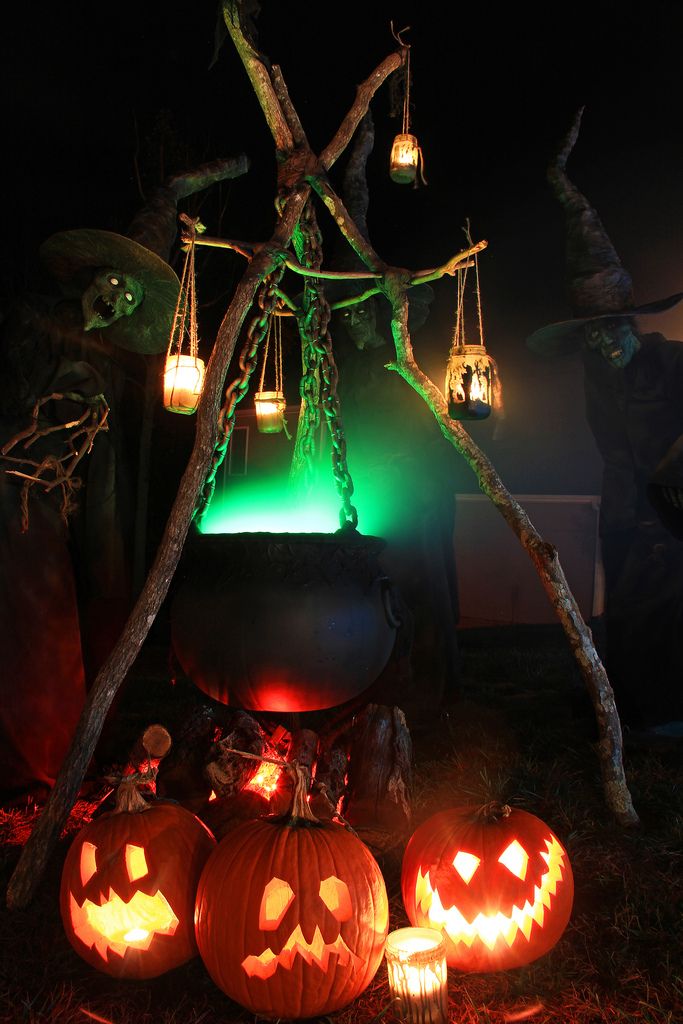 When it comes to elaborate and over-the-top decorating, this scene is one of the best. Using some old stripped tree branches as support, attach some cross branches and a cauldron to create the tri-pod for your witches cauldron. Add some red under lighting, some tormented looking pumpkins, hanging luminaries, and a few menacing witches and you have the makings for a witches meeting. Create an eerie mist coming from the cauldron with some dry ice and a battery powered light inside of the pot. Set this display up in a secluded part of your yard for an authentic brewing hideout.
61. Spying Skeleton Halloween Outdoor Decoration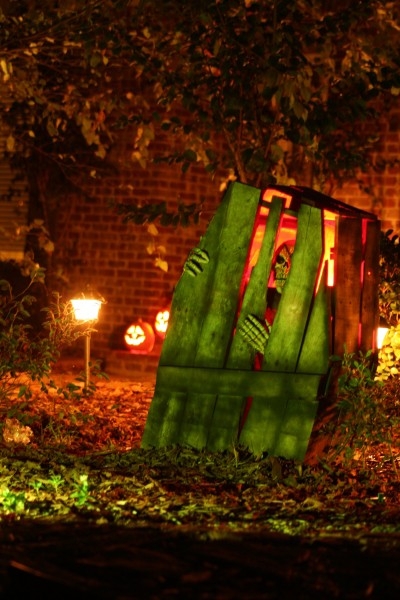 Trap your visitors attention with this spooky looking skeleton emerging from his broken coffin. Creative back lighting adds a sense of spookiness to the broken down coffin. This addition to your Halloween decorating will add a scare factor to any landscape or graveyard setting. Created from old pallet boards and a plastic skeleton, the trick-or-treaters will not be able to tell that you yourself have brought this evil looking character to life. Enjoy the Halloween season and your lighted yard when you create one or more of these scary coffin skeletons for your homemade Halloween decorations.
62. Mega Mean Yard Spider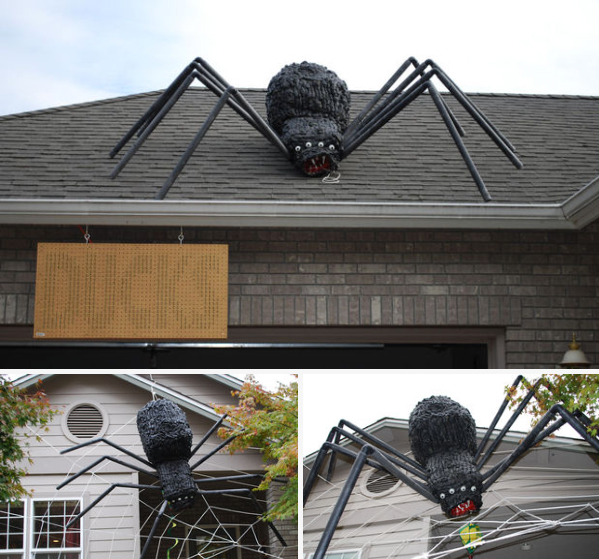 Guard your yard with one of these spider monstrosities. Easily created from PVC piping, a couple of cans of spray foam insulation, black spray paint, some other small accessories, and the handyman's fix-it-all tool; duct tape. Use the PVC piping and joints to create the legs and skeleton for the spider, packing material for the body base, and spray foam to create the "hairy" texture. Attach the legs to the spider and spray black. Create a number of these spiders in different sizes to give your yard that creepy infested look.
More DIY Halloween outdoor decorations on the next page…