DIY wood crate projects offer endless possibilities for upcycling and repurposing. They are an inexpensive, versatile medium for you to add functionality to your home with a personal touch.
You can find simple instructions and tutorials to turn crates into furniture, such as bookcases, tables and benches, or storage solutions, like toy boxes and stools. Wood crates can be re-envisioned for home décor too. There are many inventive ways to turn them into wine racks or shelving.
45+ Brilliant DIY Wood Crate Projects to Make Your Home Cooler

DIY wood crates can be customized to fit your design style—from modern to shabby chic to rustic. The wood is easy to stain, paint or decoupage. Vintage crates can be preserved and sealed for an eclectic addition to your space.
An added benefit of DIY crate projects is that they can be done quickly for a low cost. Wood pallets are frequently offered for free over the Internet, particularly on sites like Craigslist. You can also ask local grocery stores, liquor stores, warehouse stores and home improvement stores for crates or pallets for free. Craft stores, such as Michaels Craft Stores, Hobby Lobby and Jo-Ann Fabric and Craft Stores, sell several sizes of crates for a minimal cost. You may even have some around your house. See some of our favorite DIY wood crate projects below!
1. Stunning and Stained Crate Storage Center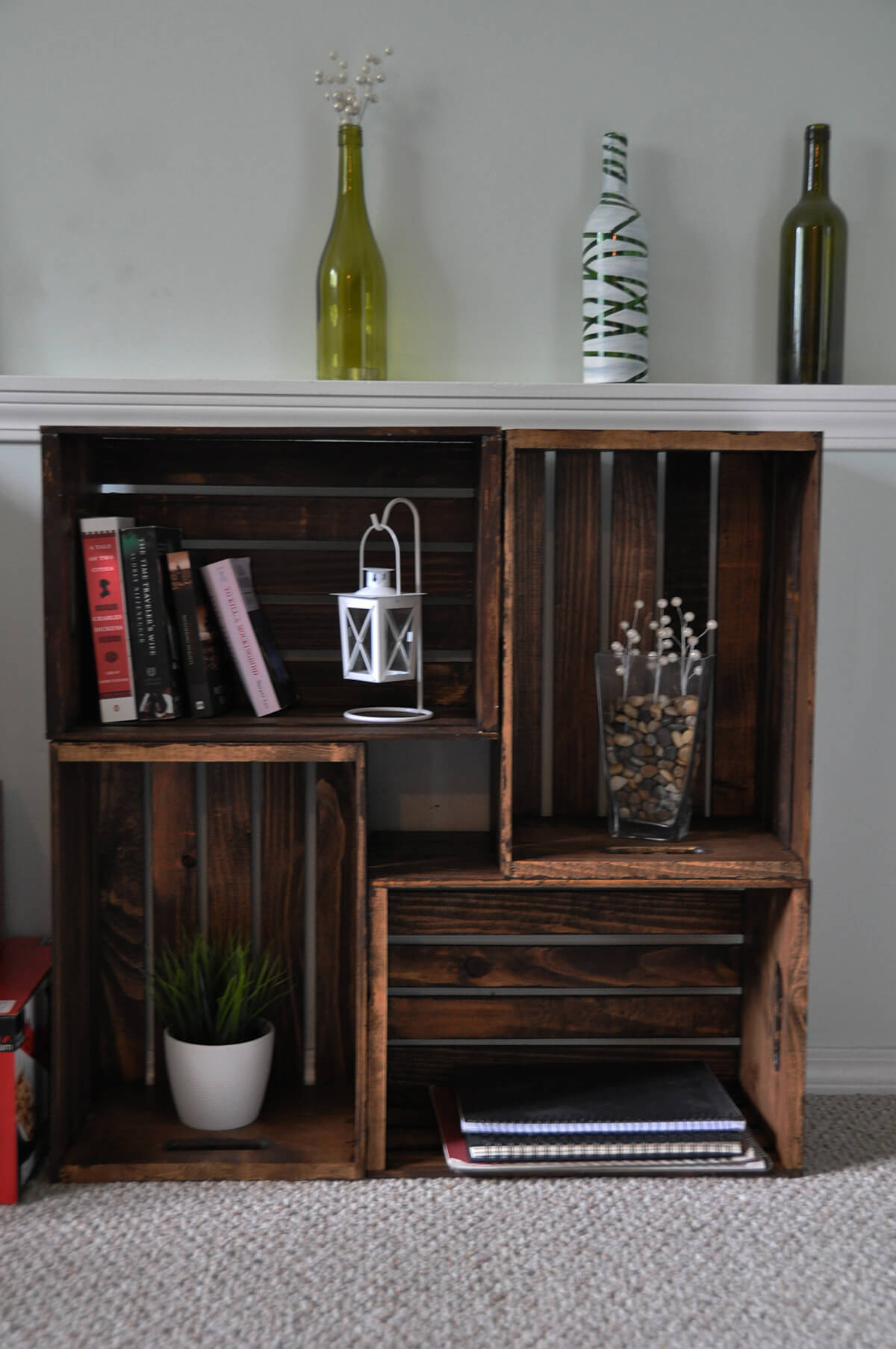 With a little stain, you can completely transform the look of the trendy crate storage bin. In a deep and rich brown, the warm colors create a luxurious feel to your organization idea. With two turned on their sides and the others standing tall, they create a unique square design with a small opening in the very center. Even if you're short on space, this is a great way to add some useful storage into any room of your home. You'll have a perfect place for all of your reading materials along with some cute home decorations all in one spot!
2. Crate Creations Stacked TV and Storage Stand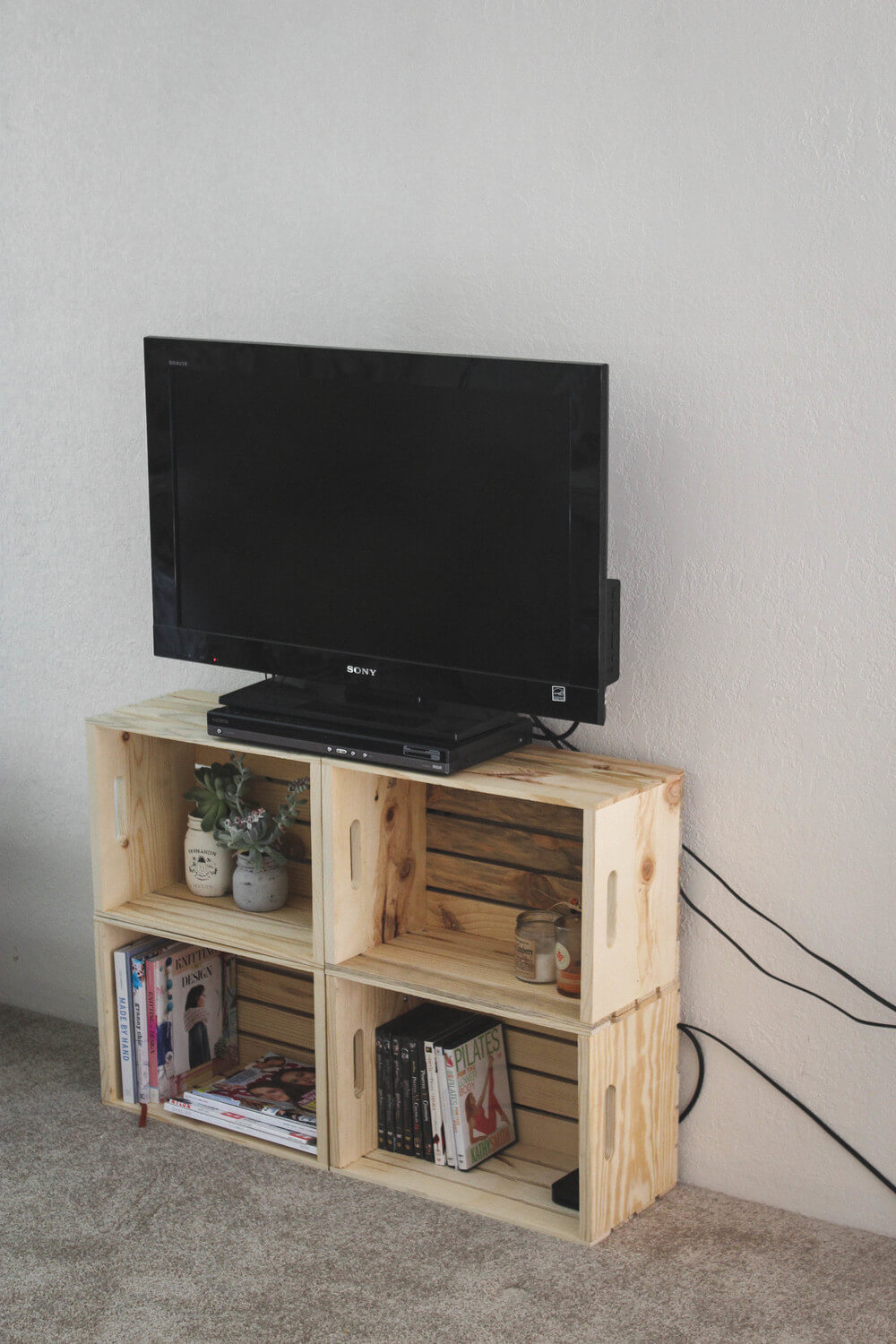 Give your TV a place to call home that includes built-in storage space that's easy to access. This collection of four crates come together to create a TV stand that's sturdy enough to hold your screen without taking up a large amount of space in your home. An added bonus is the open crates offer plenty of space to store your DVDs and books while also displaying some cute home decorations. This creation is a cheap way to add a small and thrifty home entertainment station to your home in the main living room or within a bedroom too.
3. Diner's Delight Painted Vintage Crate Organizer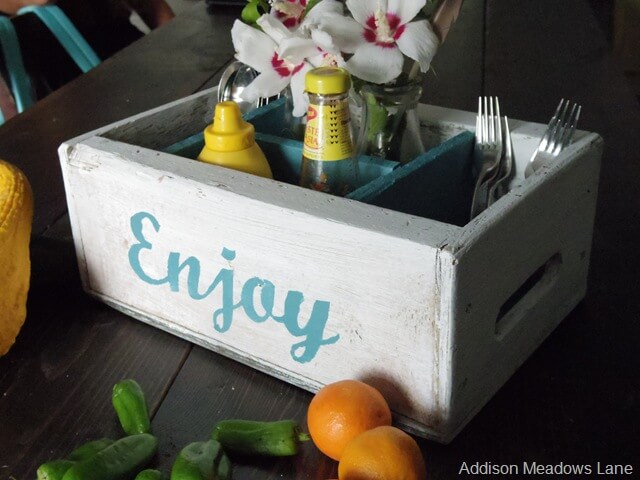 Freshen up an old cola crate with some paint as you reinvent it in a dining organizer masterpiece! With built-in dividers, this wooden crate is a great way to house your utensils, napkins, condiments, and a small vase so you have all you need to set the perfect table. And since it has handles, it's easy to carry from kitchen to dining room and vice versa. Taking your meal outdoors makes sense with this crate caddy that makes al fresco dining easy. Grab and go to enjoy a modern picnic with the family!
4. Creative Wood Crate Stand for Hobby Storage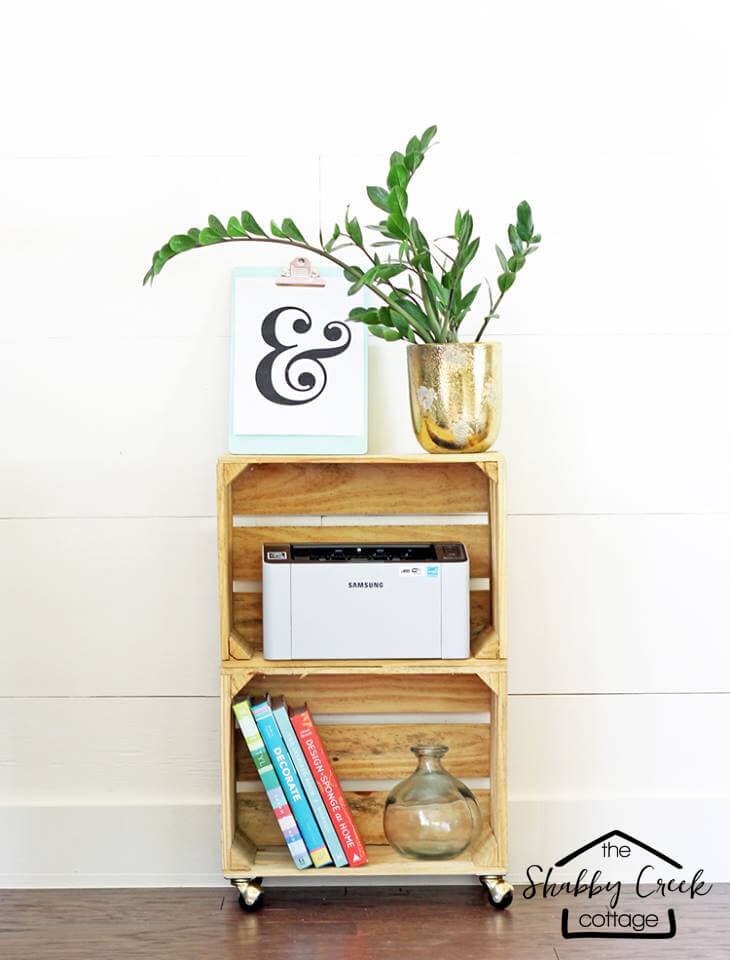 Do you like reading books or collecting stamps? Get inspired by an open display of your hobby. This repurposed wood crate can fit in any room without consuming much space. The twin shelves create enough space for multiple hobby storage. Since it is homemade, you can paint it any color to match your interior décor. The topmost part can serve as a storage area for frequently used items such as car and house keys. If you're in love with nature, this space can accommodate about one or two potted artificial plants.
5. Beautiful Wooden Crate for Interior Accents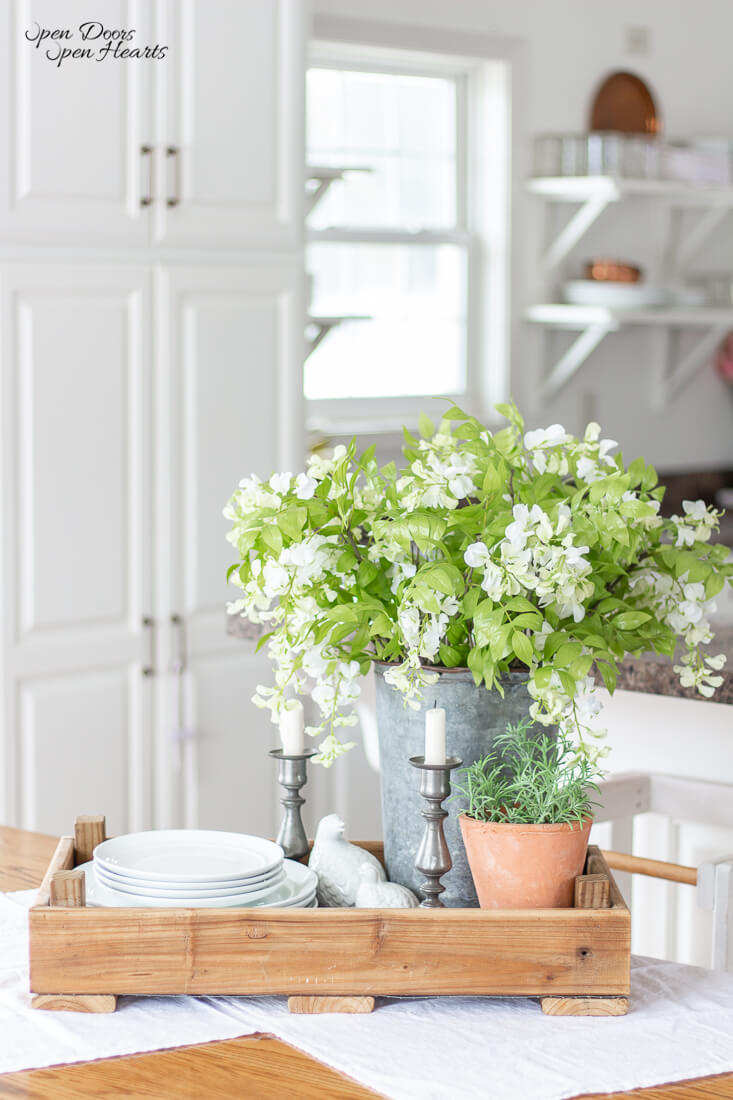 The choice of interior accents is purely aesthetic, but how you display them has to be appealing to anyone visiting your home. You want a display box that shows the absolute beauty of the accents but still keeps things organized. You can craft this wooden crate from your old pallets. You only need to cut a sizeable height that keeps your accents together without downplaying their aesthetic purpose. This wooden crate can be a perfect display box for your artificial plants, artifacts, plaques, and other gifts that reflect your illustrious career journey.
6. Outdoor Coffee Table with Storage Space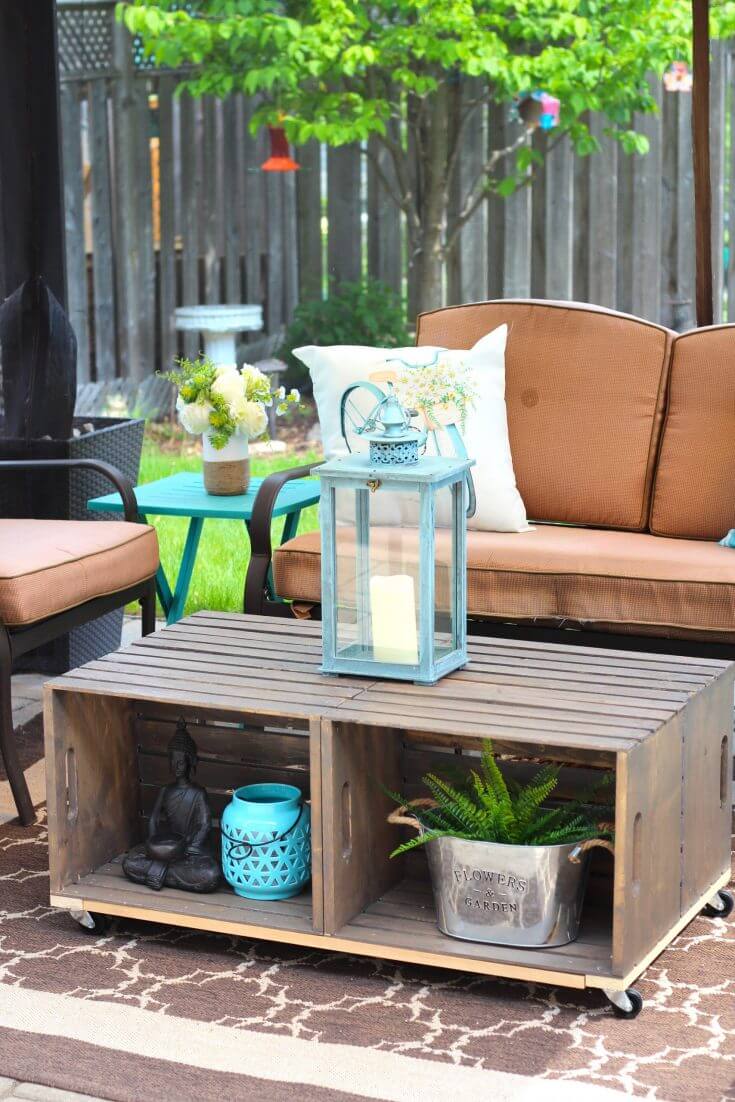 Nothing is as refreshing as relaxing on a beautiful lawn after a day's hard work. Since you often bring out your grill during the weekends, why not a coffee table for the weekdays? This table comes with storage space if you want for your other drinks and snacks. You can bring books and magazines to transform that space into an outdoor working environment. Some homeowners may also prefer to add artifacts and shrubs for floral scents. Either way, the storage space is ample enough for flexibility.
7. Indoor Plants Holiday Gift Box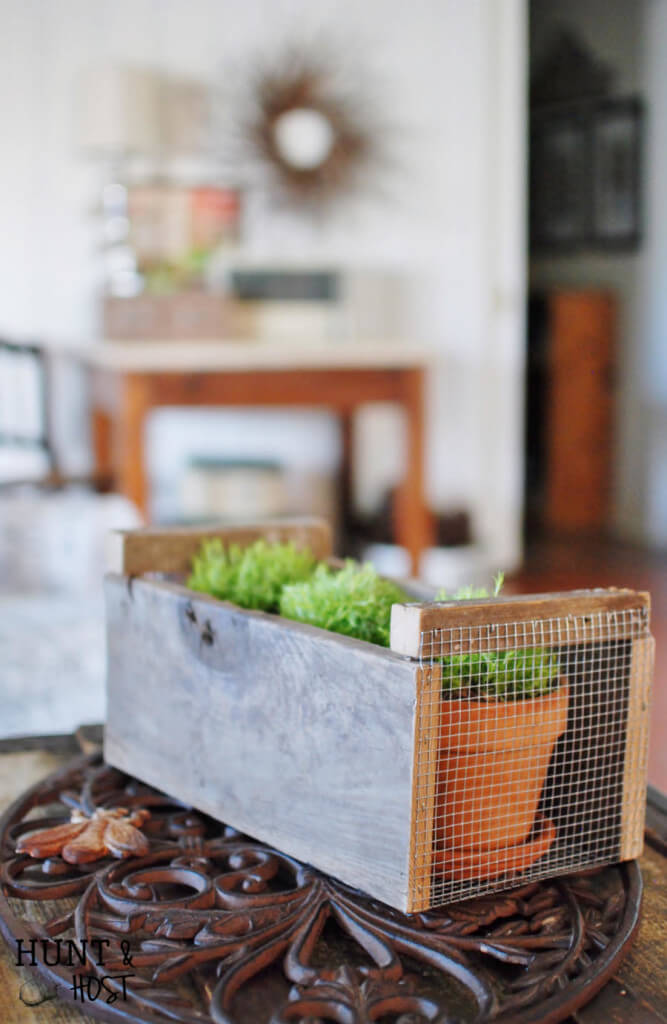 Have you ever sent a gif box to your favorite couple-friends? Take your time to create a handcrafted holiday gift box that can serve any purpose, including holding indoor plants. Make your friends always remember you as they enjoy a fresh nature ambiance in their living room. To spruce things up, you can send it all together with the shrubs inside. This gift box makes a unique present that will foster a stronger relationship for ages. Depending on how fast you are, you can make it in a day!
8. Make a Shelf Statement in Your Living Room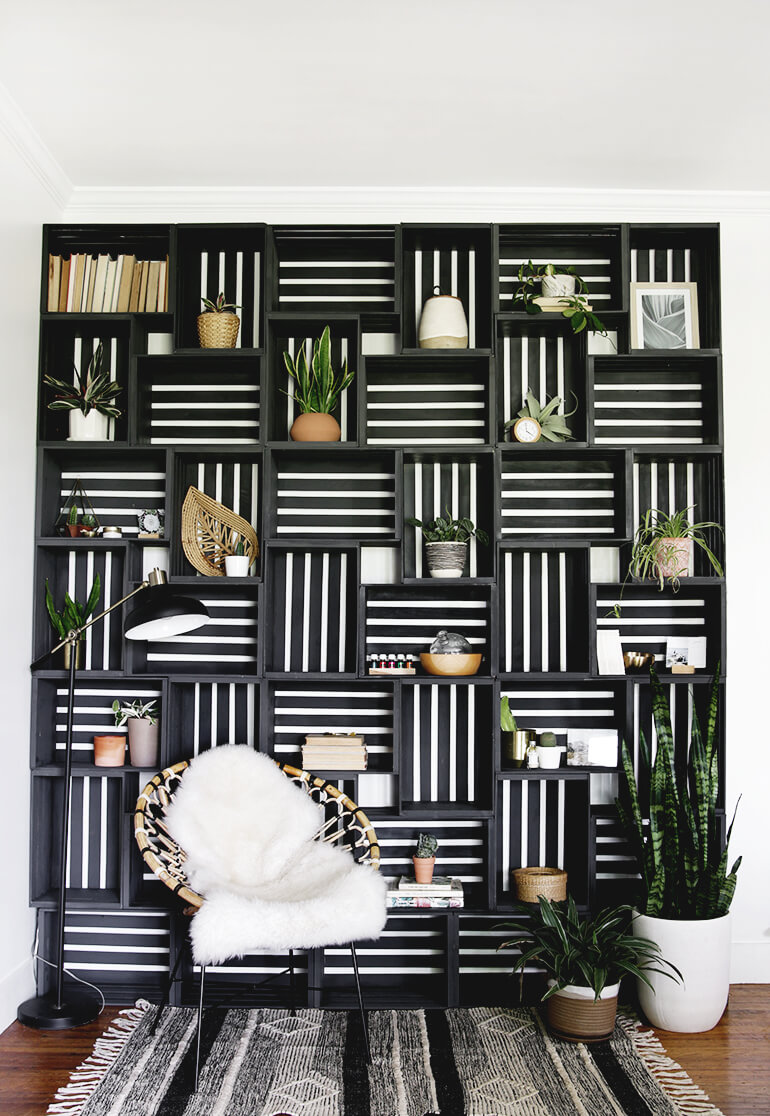 Many homeowners would appreciate multiple indoor plants and accents in their living room without consuming an unnecessary bigger space. Combine your old crates into a cabinet-like structure to display all your interior accents. You can place this wooden structure next to a window to give the plants access to natural light. If you have no time to water and prune indoor shrubs, you can opt for artificial plants. You can also add books and plaques to the top shelves for a luxurious statement.
9. Creating a Movable Laundry Crate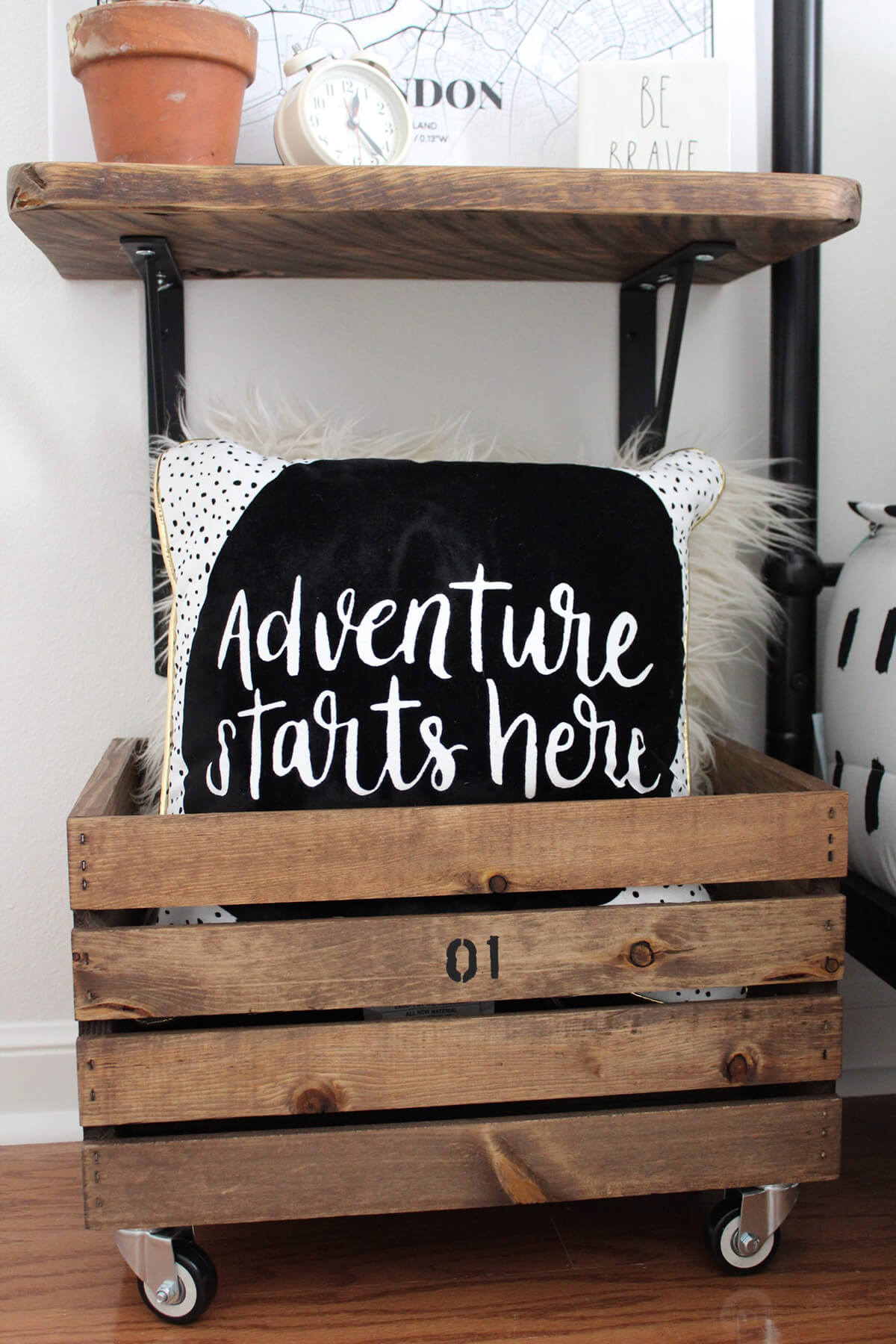 Keeping up with untidy clothes has never been easier, especially if you're a career woman. Sometimes the clothes even get too heavy to carry all of them into the laundry area. Build a movable laundry crate like this one using old wooden boxes. The bigger storage space than in typical laundry baskets keeps all your clothes in one place. When it's cleaning day, you swiftly wheel your clothes and bedding to your favorite laundry spot. However, it will help if you keep it downstairs, as it can be relatively heavy when fully loaded.
10. Wine Storage Crate for Your Wet Bar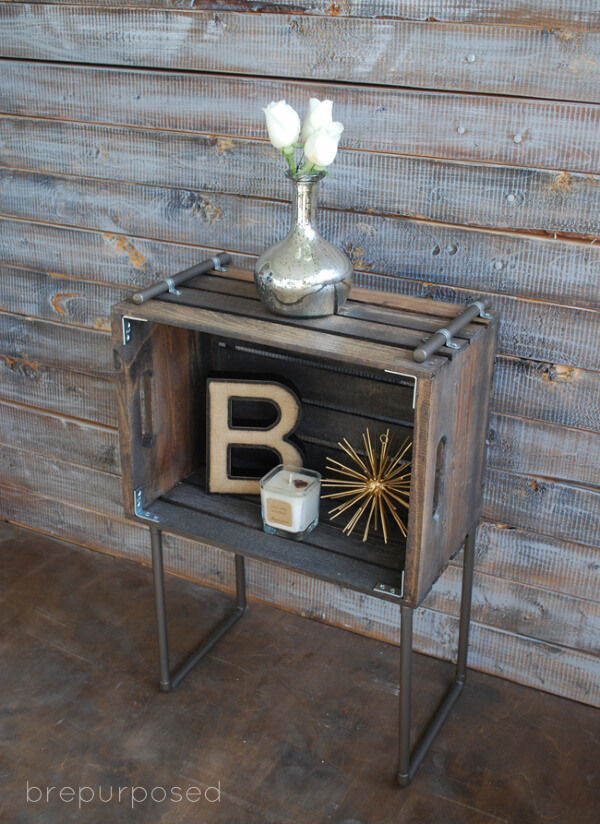 Constructing a wet bar can be pretty expensive, especially if you choose to install an inbuilt home theater system. Your entertainment and luxury experience may also not be complete without a perfectly aged bottle of wine. Save the wet bar furnishing costs with this DIY wine storage. It is big enough to hold about 24 bottles, which is enough for an indoor bar unless you're hosting several friends. The raised legs keep your wine away from the ground to enhance the correct storage temperature. The hardwood finishing adds a touch of luxury behind the countertop.
11. Creative Storage and Lighting Elements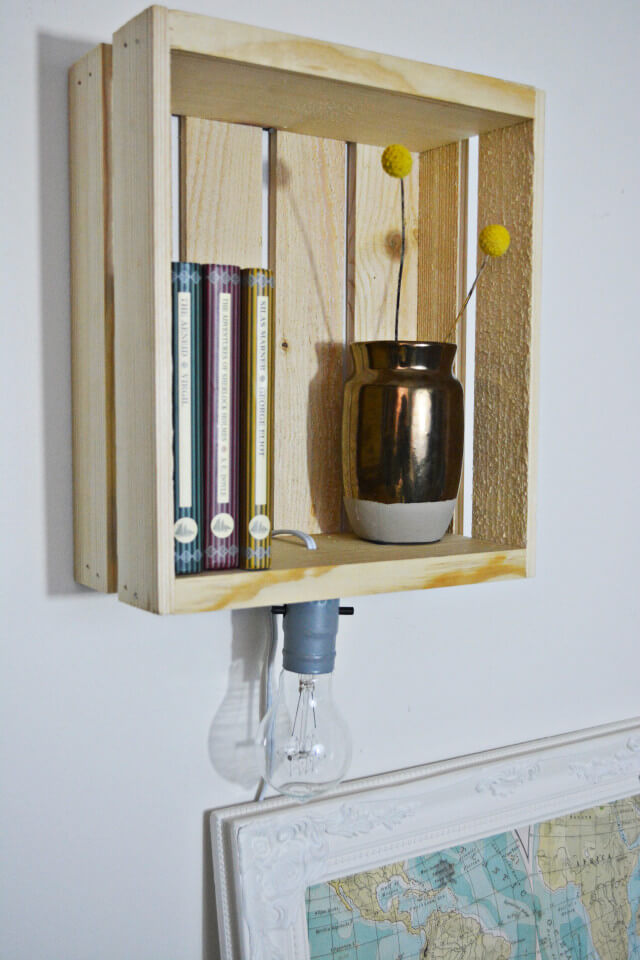 Enhance your living room's aesthetic appeal with this DIY hanging storage box. It doesn't consume any floor space because you'll drill it into the wall. You can be a little more creative to add some lighting accents at the top or bottom. It doesn't have to be a lighting bulb, as indicated in the picture. Go for LED lighting patterns if you like to host your girls over the weekend. You can also choose colored bulbs for thrilling moving nights. The storage space can hold books or interior accents.
12. Innovative Living Room Book Shelf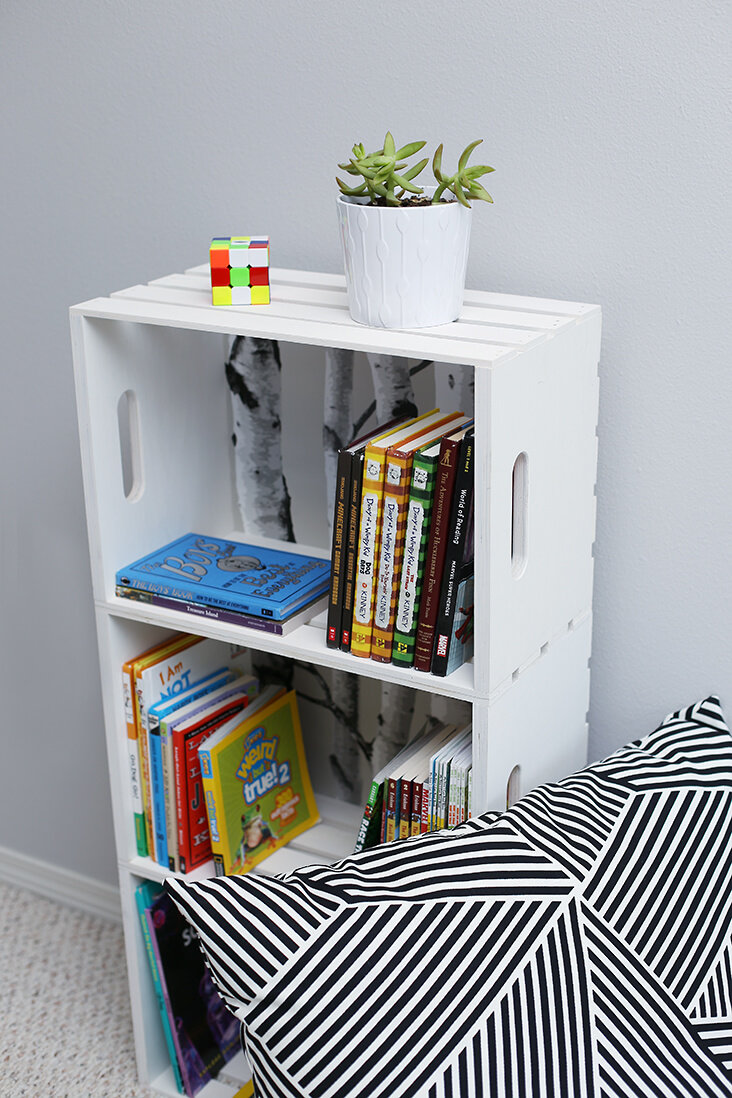 Do you have to go to the main study area every time you want to grab a book or magazine? Turn your living room into a knowledge hub with this DIY bookshelf. You can have up to three shelves in the entire cabinet. You'll space the shelves depending on how big your books are. The top part can hold your stationery and other items you often use, such as car keys. It will also be more appealing if you add a flower vase at the top to inspire your reading sessions.
13. Cozy Winters with a Bigger Firewood Storage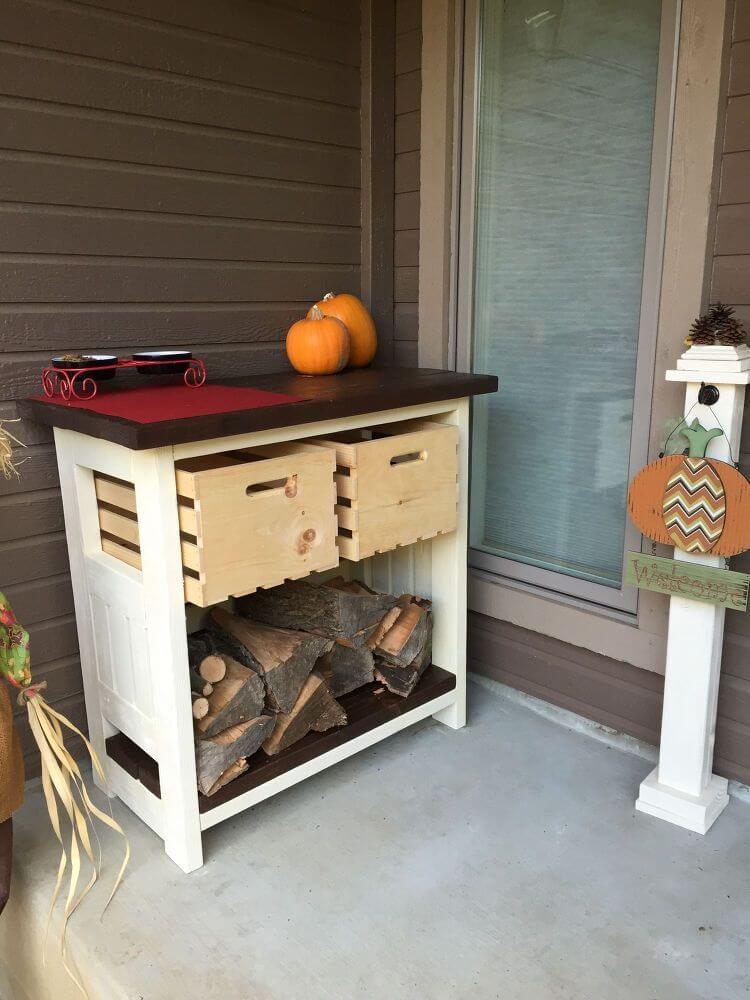 Winters can be pretty stressful unless you have a reliable heat source. Electric heaters can perfectly do the job but not when there is a power outage. You can convert your wooden crates into firewood storage and place them next to the fireplace. The spaces on the side preserve the firewood by discouraging moisture even with high humidity. The best thing is that you can arrange the woods in a beautiful pattern to enhance your fireplace area's aesthetic appeal.
14. Fruit Crate Floating Display Shelf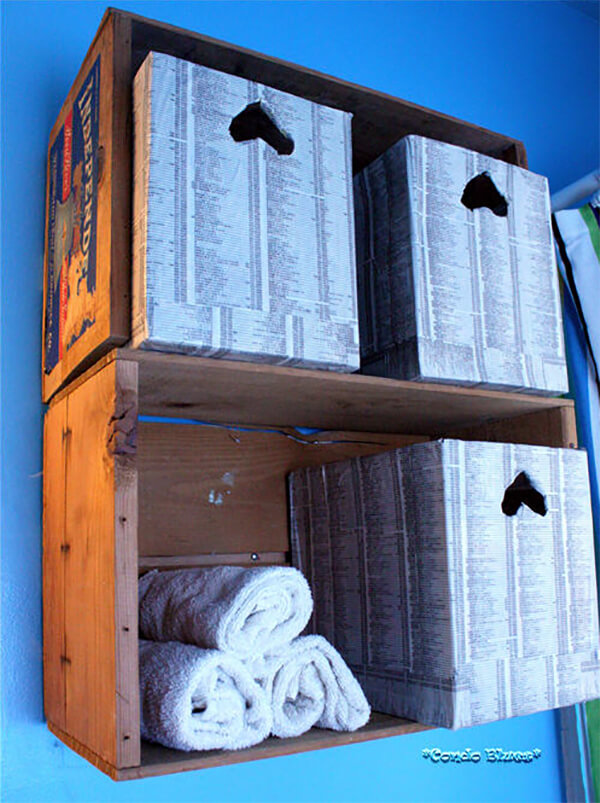 Do you have a smaller kitchen space and wonder how to upgrade it to stock more groceries next summer? Don't look further, or worse, think about moving to another place. You can quickly customize old wooden crates into floating kitchen shelves. Drilling this shelf into the wall means that you'll hardly use any floor space unless you opt for bigger boxes. The shelf can store other kitchen items like utensils and lightweight appliances such as blenders. You can make the crates and hire professional installation services if you don't want to cause much damage to your wall paints.
15. Customized Wooden Shoe Rack Built from Scratch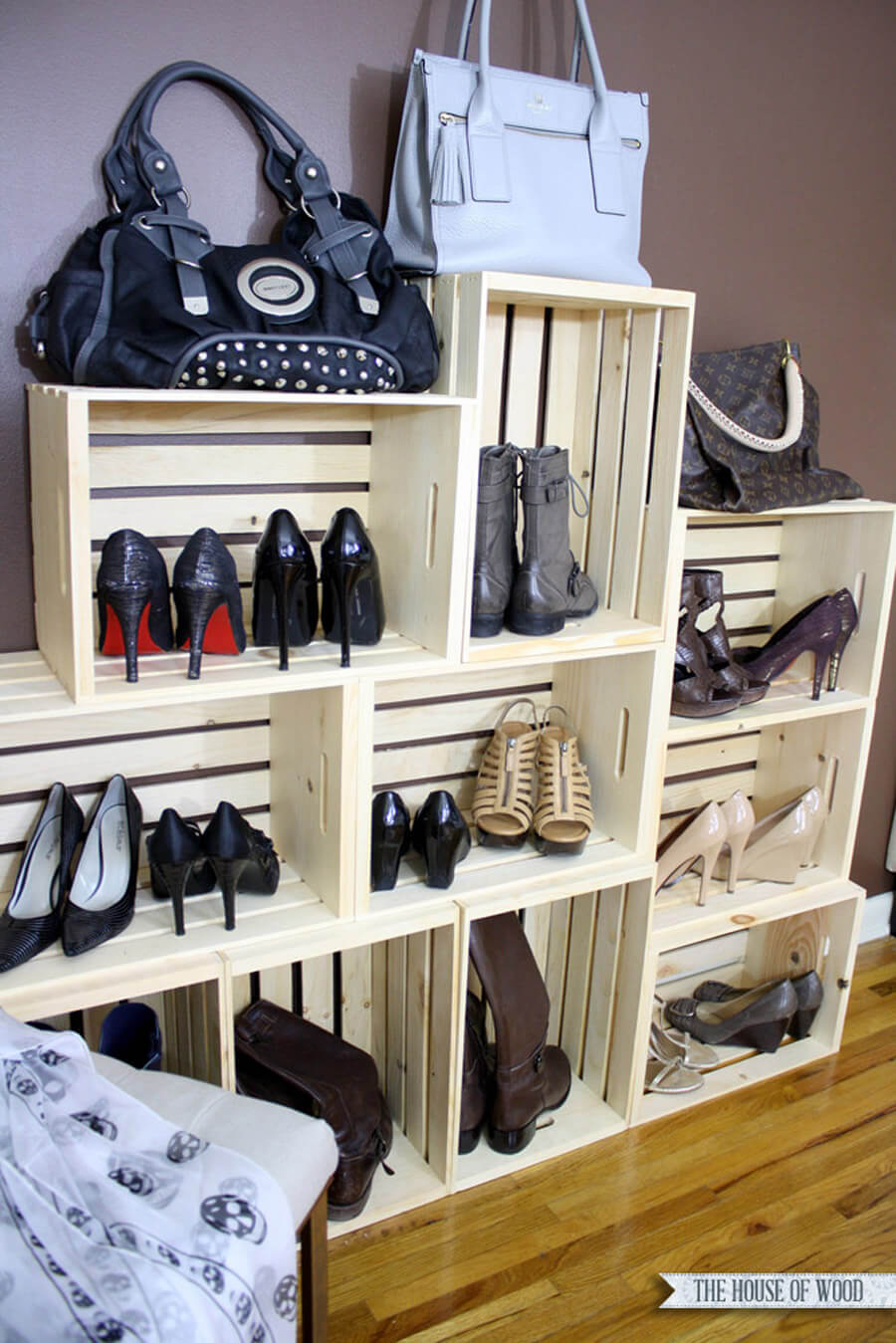 Implement the no-shoe inside the house rule with this customized wooden shoe rack. You get to build it from scratch and include all those beautiful color patterns you can think about. You can make the frame compact enough to fit in the hallway, especially for visitors' shoes. In your bedroom, it enhances the aesthetic beauty without complicating your décor. However, you'll need to take accurate measurements for a sturdy structure. You don't want a rack that will give in to shoe weight and crumble, creating the mess you're trying to avoid.
16. Holiday Rolling Storage Ottoman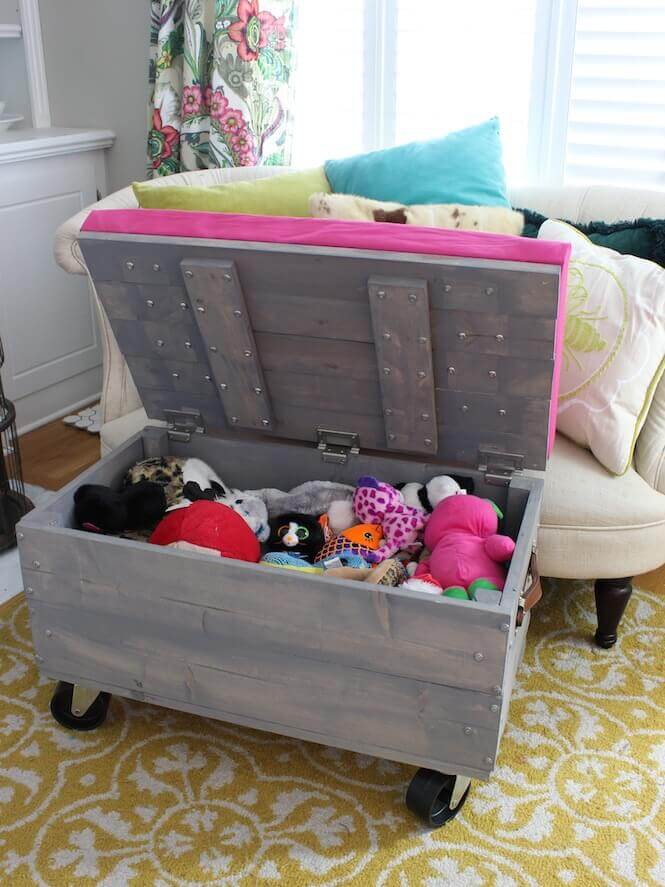 As the holiday kicks in, kids get more playful as there is no more homework to keep them busy. You end up with many items thrown anyhow, which makes your place look disorganized. This rolling storage ottoman makes it easy to move around the living room as you collect messy items. If you want a place to put your snacks and gadgets when watching a movie, you can add padded finishing at the top to convert it into a side table. Your kids will also find it fun rolling it around while helping you to keep the place tidy.
17. Repurposed Living Room Side Table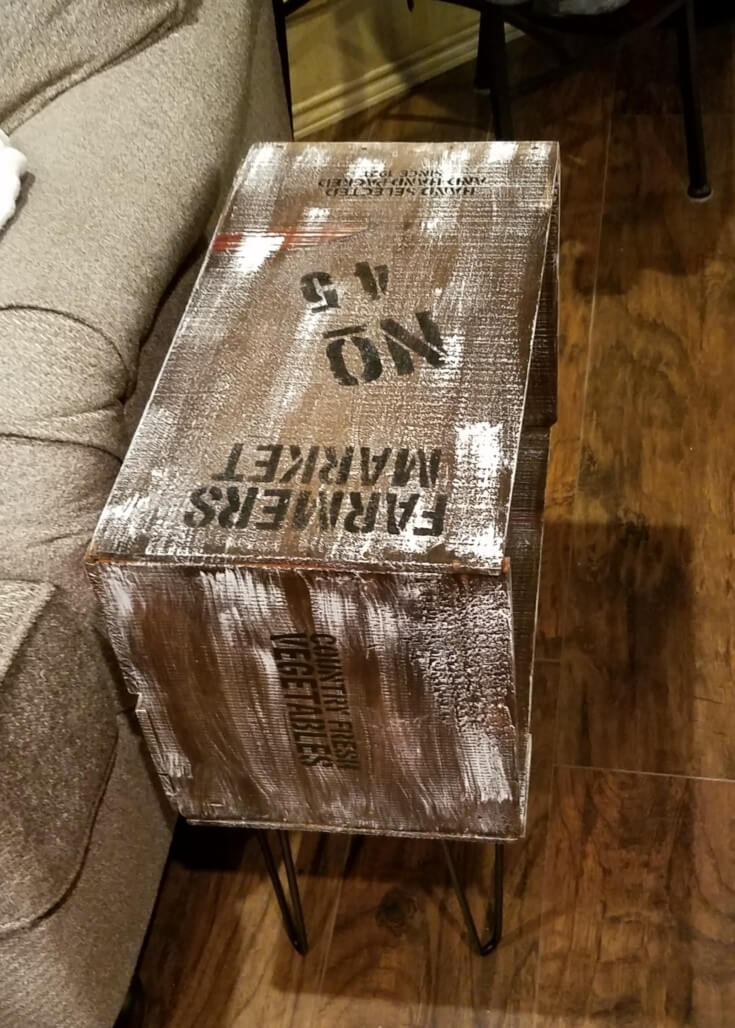 Side tables may not be the most attractive piece of your living room, but they play a crucial role in tying up space together, especially if you have many couches. Add this homemade side table to your living room to create some shine and texture. Break the monotony of straight-line patterns and a bulky coffee table that is hardly moveable. Moreover, you can use about two crates to create a coffee table cluster if you have none in the first place.
18. Accessorize Your Bedroom with Portable Standing Shelf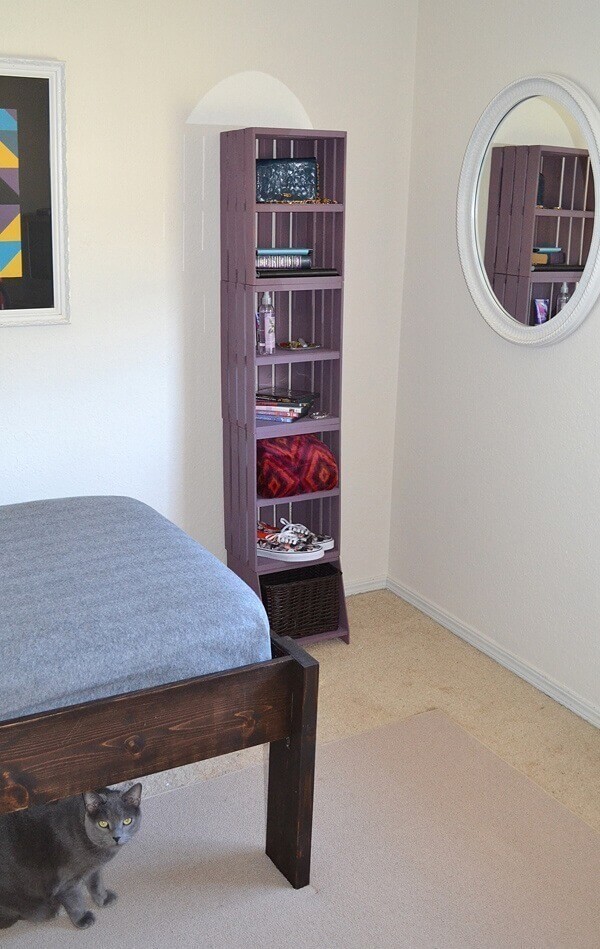 Waking up to a clean, organized bedroom can be a perfect way of starting your day with a rejuvenated spirit. Besides adding beauty to your bedroom, this portable standing shelf will be a ready-to-access storage area for your jewelry and handbags. You can save a lot of time that you waste in the mornings looking for earrings all over the place. Depending on the size of crates that you'll pick for your DIY standing shelf, you can add mirrors at the ends to convert it into a temporary dressing table when you're in a hurry.
19. Portable Crate for Indoor Shrubs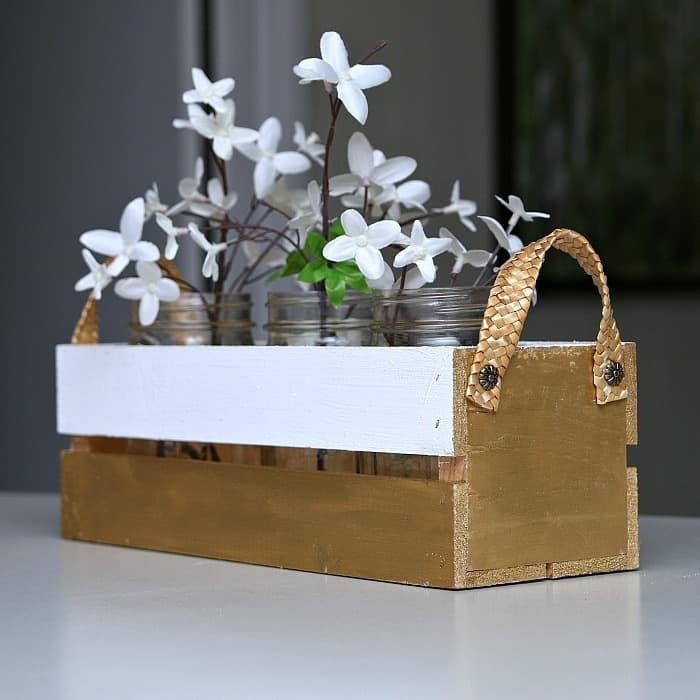 Indoor shrubs create a luxurious ambiance free of pollutants and foul odors. Potted plants may not look that beautiful when they stand alone. Use this portable crate to grow multiple potted shrubs. These plants will form a beautiful indoor thicket to enhance air circulation in the living room. The crate's portability means that you can shift it to different spots depending on weather and sunshine. Remember, these plants still need natural light access, and sometimes it may include bringing them out in the sun.
20. Exotic Wood for Interior Décor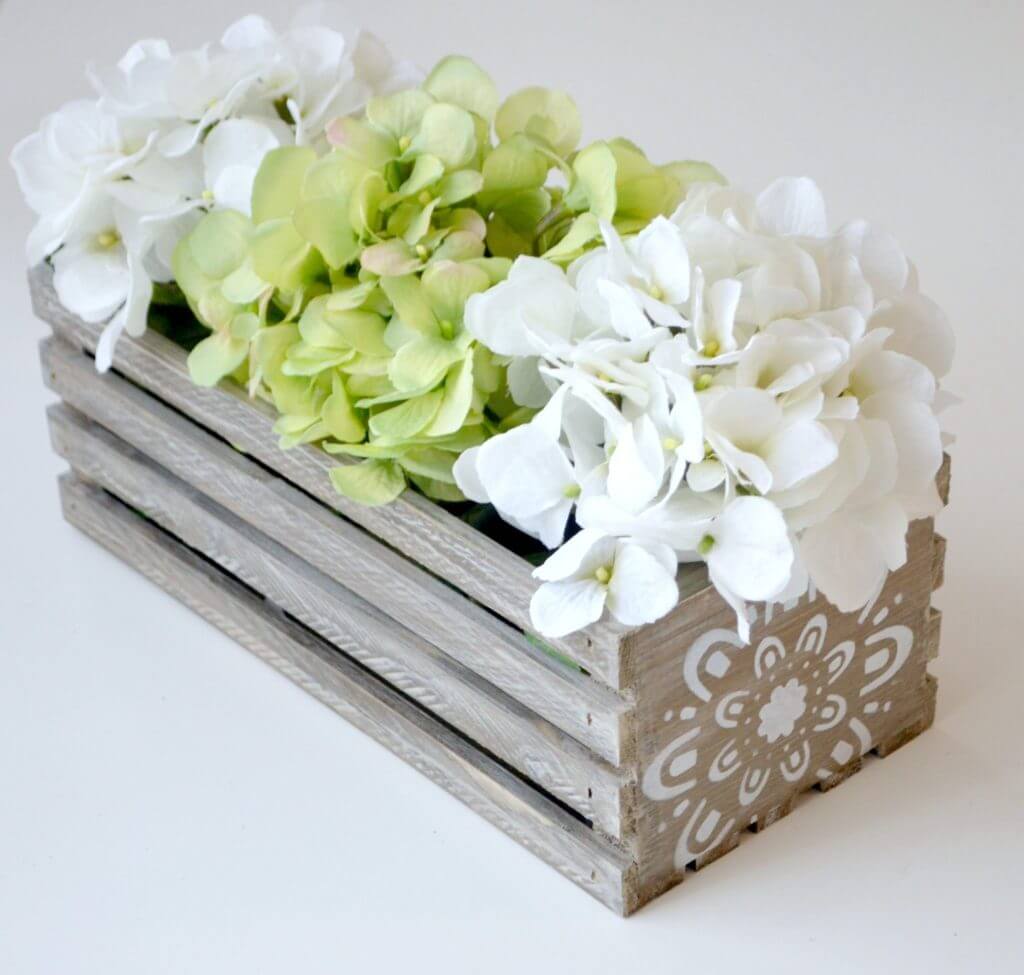 Many people associate wooden furniture and décor with luxury. You don't have to ship wooden storage boxes while you can craft that used pallet with hardwood finishing to turn it into beautiful interior décor. You can also choose to play with colors and match your wall's décor. The storage area can hold all interior accents you can think about, including exotic shrubs. You only need to get high-quality organic pots that will enhance plant growth's natural processes in your living room. The size of the crate is purely aesthetic.
21. Free Your Bookshelf with a Stylish Storage Box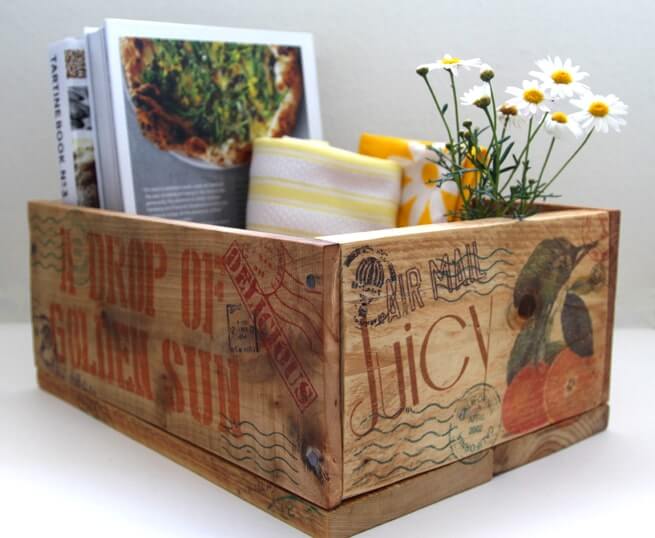 This recycled pallet makes a stylish storage box for your books without causing distraction in the living room. The storage space is bigger enough to accommodate ornamental aspects like a flower vase. However, it will help if you opt for artificial flowers because moisture can present favorable conditions for mold to grow on the books. You can turn this beautiful storage box into a fruit crate when hosting many visitors. It is easy to clean and will look irresistibly attractive by the dining table.
22. Multifunctional Storage Box for Organization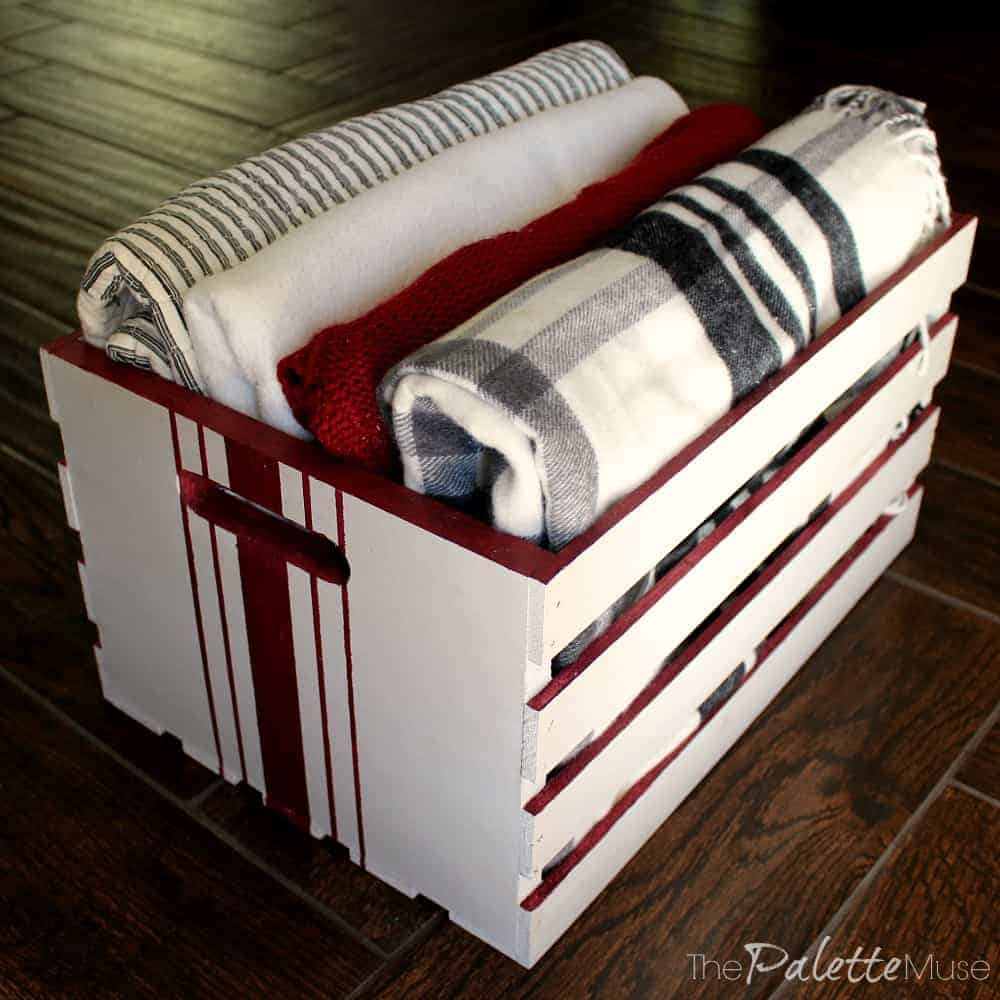 Do you like to cuddle yourself inside warm blankets when catching a movie on the weekend? Carrying these blankets and pillows upstairs can be a daunting task because you're always tired after dinner and a few episodes of your favorite movie. Use this DIY storage box for your living room blankets. A sizeable box can accommodate up to four folded blankets and a throw pillow at the top. This storage box is multifunctional and will help you with the general living room organization.
23. Exotic Wooden Snack Box for Kids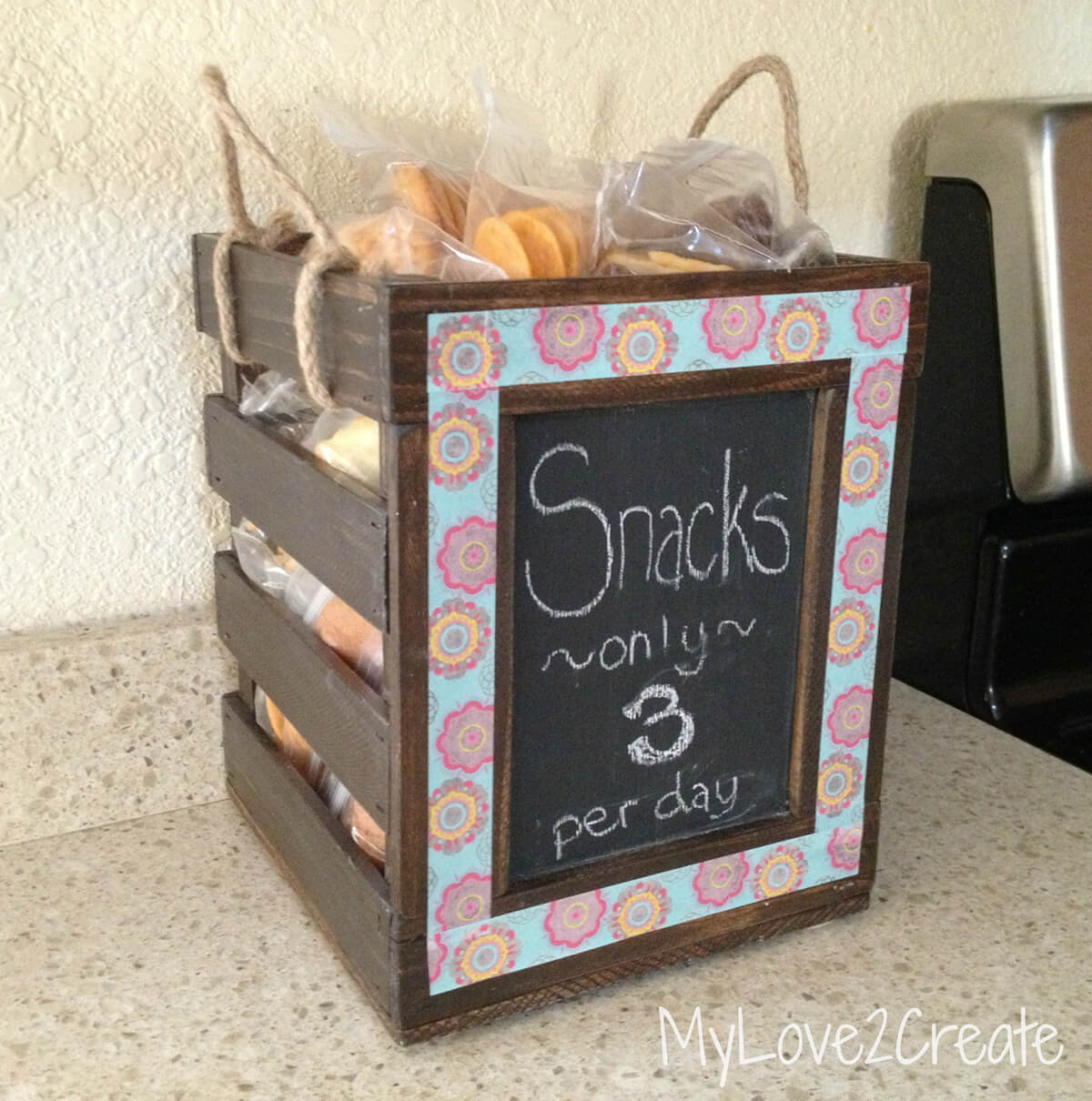 Make your kids more comfortable when you're not around. Inasmuch as kids love toys and gifts, there is nothing that beats snack moments. This remodeled snack box is easily accessible, given its sizeable height. You can add wheels to the bottom for the kids to push it around when playing. Kids appreciate having their snacks next to their playing spot. This wooden snack box limits the kids from going into the kitchen when you're not around. While they can access more food from there, some electronic appliances pose a danger to children.
24. Gardening Project DIY Plant Box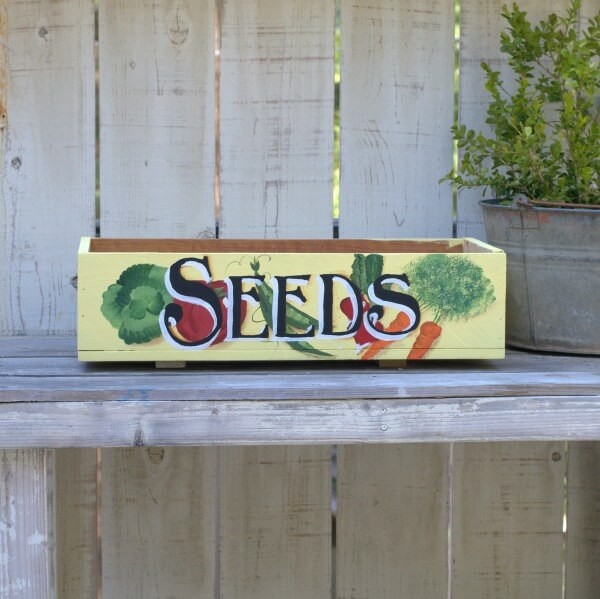 An outdoor garden adds value to your property. It purifies the surrounding air by enhancing the natural processes of green life. A recycled wood crate like this one creates a perfect plant box for your gardening project. To grow more leaves and yield beautiful flowers, plants need tender care right from their seedling stage. The open sides ensure enough circulation of air and exposure to sunlight. You can also easily water the plants as excess water drips through the bottom and side spaces. With this plant box, you'll never be wrong about your dream kitchen garden.
25. Movable Toy Bin for the Kids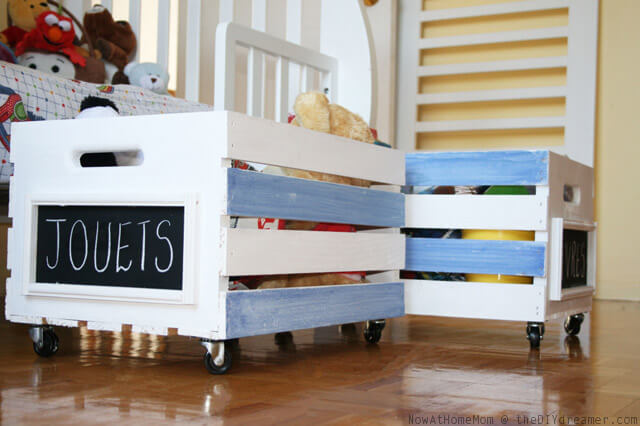 Don't let kids and pet toys litter your living room while you can easily convert that pallet in the backyard into a movable toy bin. You can paint in bright colors so that the kids don't have to spend the whole day looking for it when you're not around. More toys may need about two of these toy bins. Remember, the design should be compact and lightweight so that the kids can quickly push it around when playing. You know how kids are; they would want to "drive" it across every room.
26. Cozy Sleeping Crate for Pets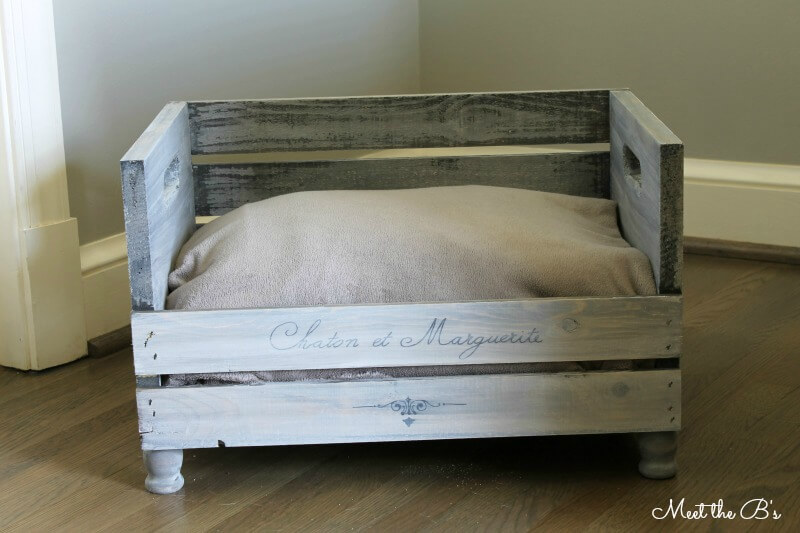 Pets also appreciate a warm sleeping space after a day of endless runs in the lawns. Sometimes, you also need to restrict your pet's movement when they wake before you. This remade sleeping crate is big enough to sneak in some pillows and cozy beddings for your furry friend. You can cut one side to create easy access. If you like it, you can still use the cut piece to make a lockable door to keep your pet from wandering. Depending on your car trunk's size, you can also carry this sleeping crate to camping sites.
27. Upcycled Elegance: a DIY Coffee Table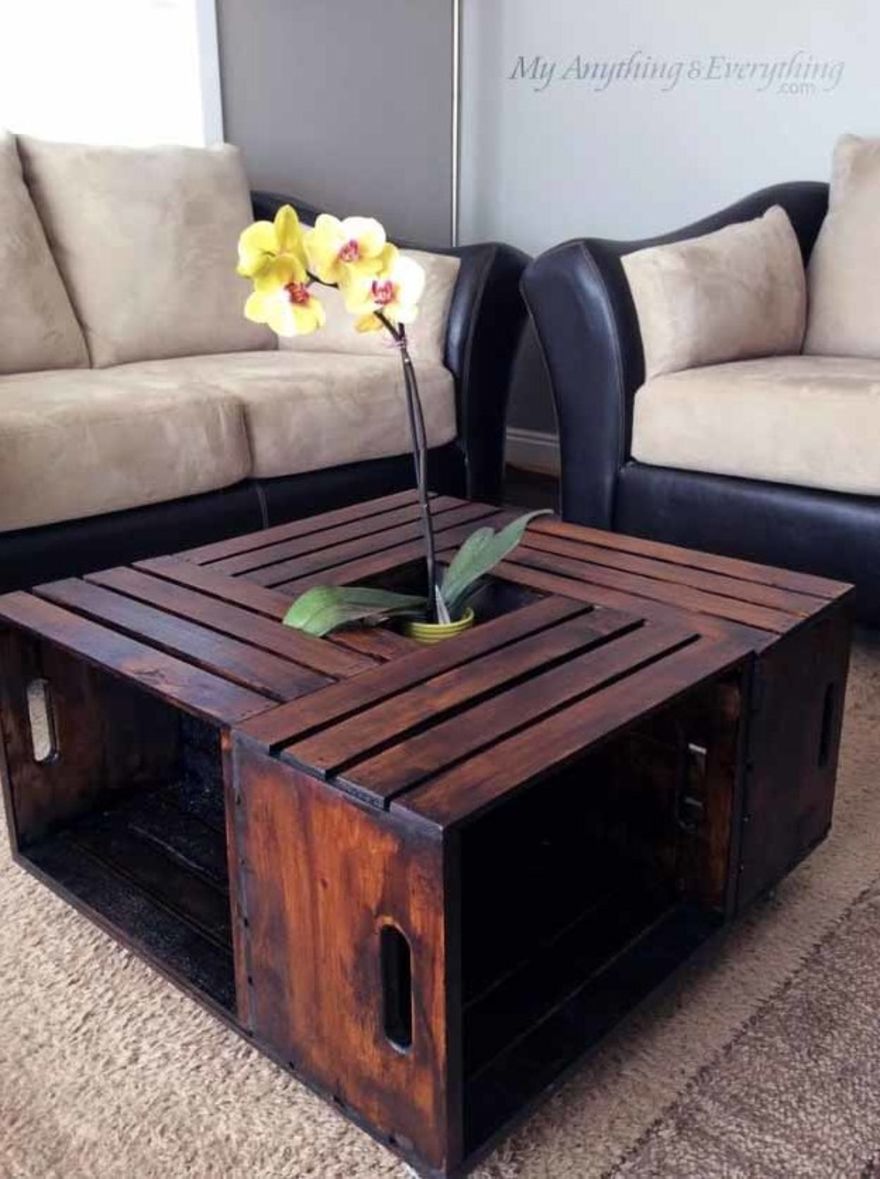 No need to sigh for that out of reach industrial living room table any longer. With a few tools, you can create this rustic DIY coffee table that has a charming farmhouse flair without the hefty price tag. Its castor wheels give it that industrial look that is so popular in stores like Arhaus and Pottery Barn. The dark stain disguises these inexpensive wooden storage boxes, and gives this piece a fabulous patina. The clever design with a recessed center panel lends itself well to seasonal decorations, from a springtime orchid, to a miniature Christmas tree or even a bowl of scented pine cones.
28. Functional Furniture: Crate Bench Project

Decorate your home with this wooden storage crate bench and watch your friends grow green with envy at your creative talent. Perfect for storing boots, shoes, books and bags, the list of uses for this bench is endless! Imagine filling it with chic baskets to tidy up a play room. Organize that mud room or awkward foyer with this cheery rustic bench. The red wash on these storage crates is easy to apply, and really enhances their farmhouse appeal. Coupled with a few extra boards and some industrial looking bolts, this design is easy to execute, but rates high on appearance and creativity.
29. Simple and Versatile DIY Wood Crate Bookcase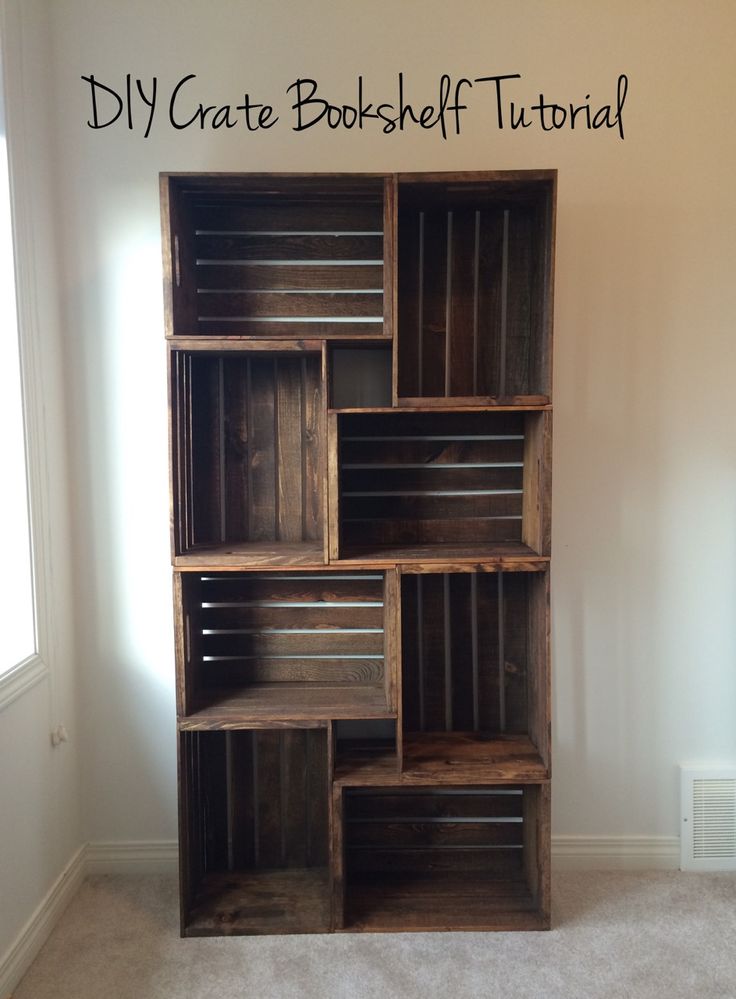 Have you given up on your kids' bookshelves not looking like a hurricane just hit them? This creative wooden crate idea is perfect to help little ones and teenagers alike keep books, beloved projects and backpacks looking tidy. This shelf is incredibly versatile, because you can set up the wooden storage boxes in whatever shape best fits with your existing furniture. It doesn't even require plywood, simply collect some wooden crates, screws, a drill and your choice of finish and you're set! With this much Pottery Barn appeal, though, you may just want to keep it for your own room. Friends will be calling you for help with their decorating dilemmas when they see your farmhouse chic creations.
30. DIY Shabby Chic Side Table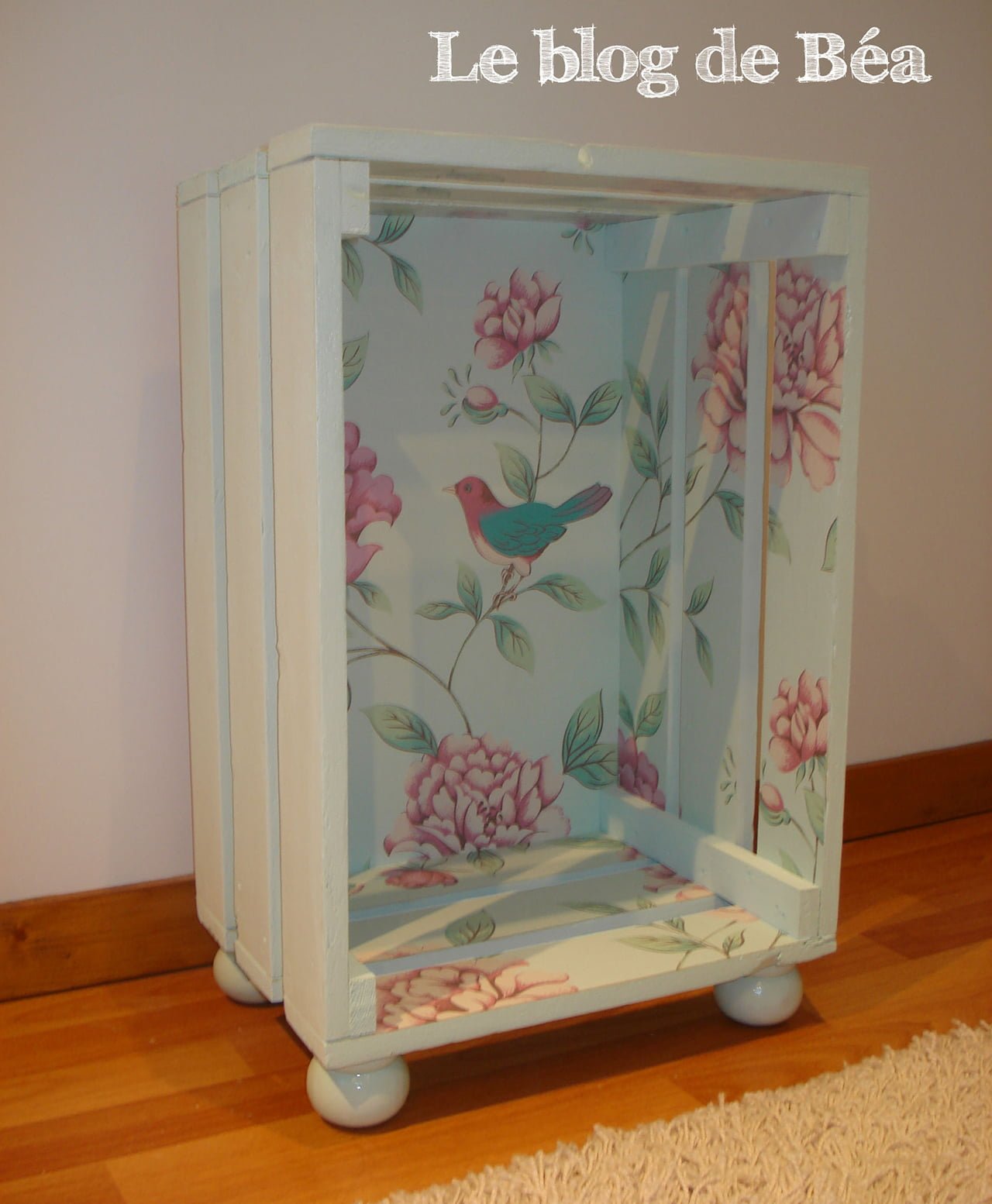 This made from scratch wooden crate is beautifully crafted with a decoupage interior. If you love French country decorating, this little table is a fabulous use for those gorgeous floral wallpaper scraps that are too small to use but too pretty to throw away. A quick sanding, coat of paint, and wallpaper application, and you'll be ready to assemble this custom crate. Perfect for decorating baths and bedrooms, accent your existing color scheme with luxurious patterns and rustic characteristics of this decoration with wooden crate. Fill this crate with some rolled towels, or hang it as a floating shelf to display your treasures. Attach ball feet and use it as a diminutive night stand.
31. The Ultimate Upcycle: Wood Crate Desk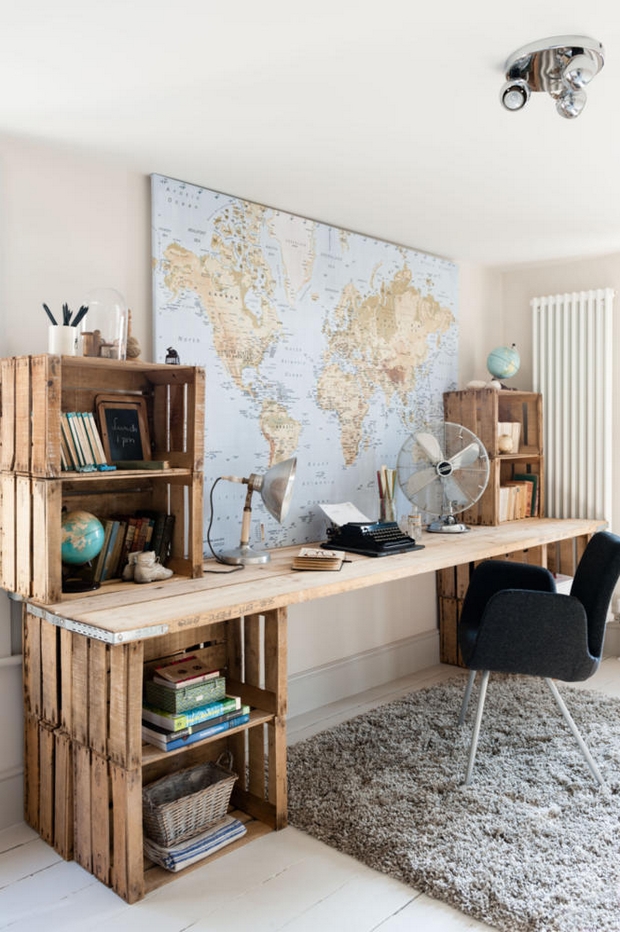 We've seen many of the kids' projects, how about a modern country computer desk for yourself, though? Wooden storage boxes bring farmhouse charm to your home office, and save you a bundle in the process. This simple, but sturdy, desk features metal brackets for a decorative touch and gently distressed wooden crates. You'll find the best crates for this project at architectural salvage yards, antique shops and flea markets, and the more worn they are the more unique and distinctive this project will look. Either choose to create this desk with a variety of vintage crates or use antiquing medium to give brand new craft store crates a timeless look. The best part of this project is the fact that it's completely customizable to your space.
32. From Crates to Console Table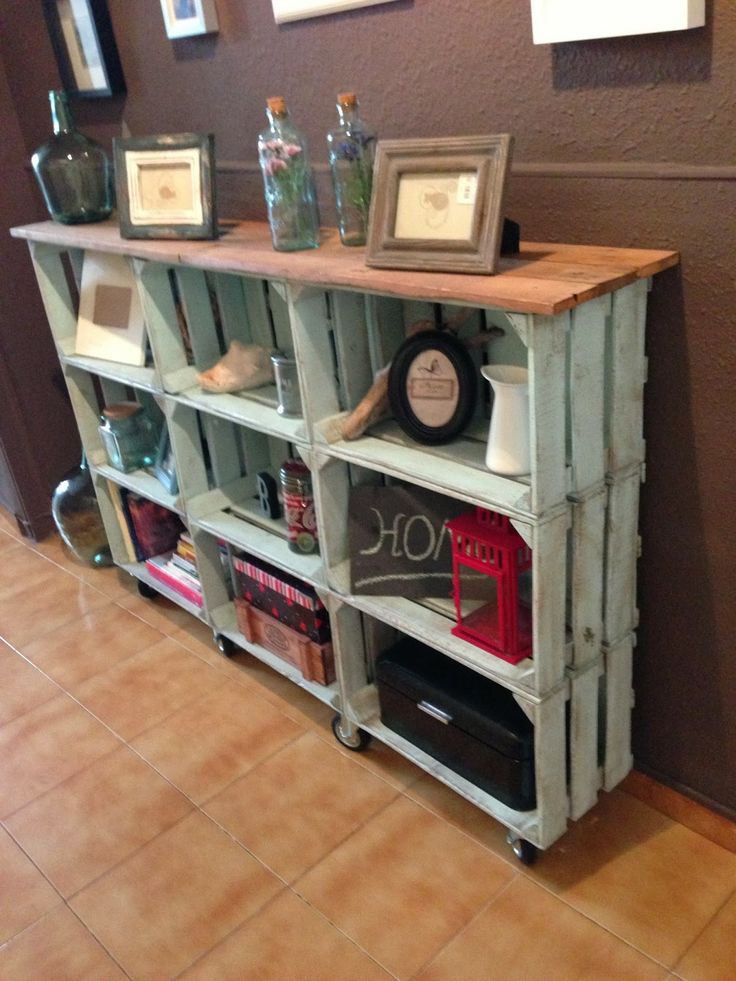 This rolling shelf has such a perfect combination of cottage charm and modern practicality. The contrast of the blue wash on the crates with the dark wood top brings so many themes to mind, from beach-y bungalow to farmhouse flair. Built on caster wheels, move this organizational piece from room to room with ease. Use it in the foyer for storing snow boots, hats, scarves and mittens during the cold, winter months and then switch it to a playroom for summer sand toys and beach towels. You may want to fill the boxes with baskets, but my guess is that you won't want to cover up too much of the gorgeous, sky blue finish.
33. Creating a Stool with Storage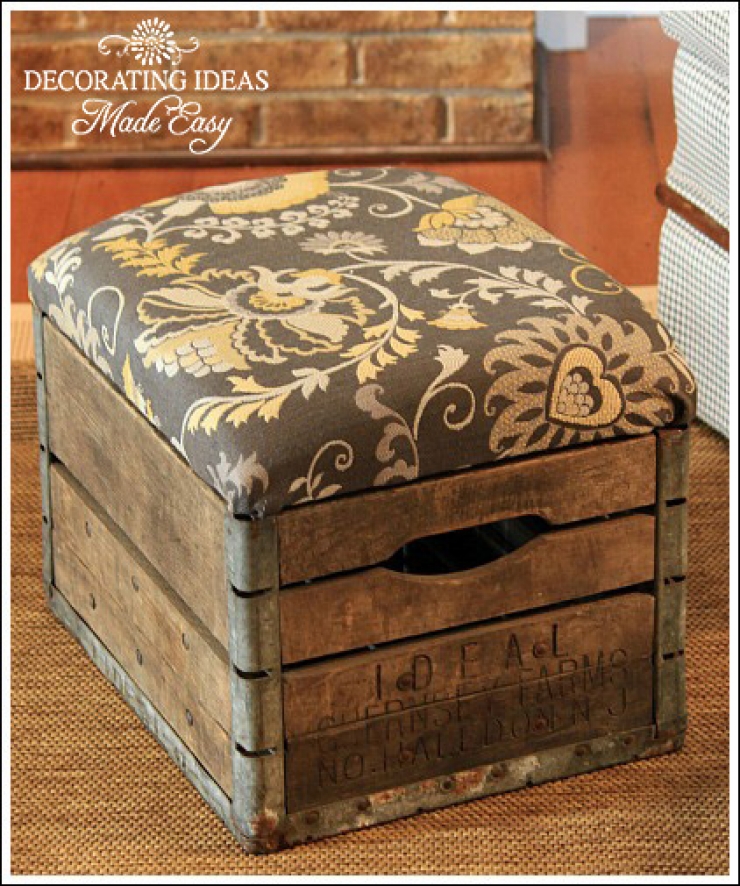 Your friends are going to drool over this up-cycled wine crate! This particular project really does need a special crate, so you may spend some time at flea markets or yard sales looking for that perfect, authentic wooden box with a little patina. However, the finished upholstered ottoman is a piece of cake to put together. With the step by step directions, you'll have this piece ready in no time. It only requires a square of plywood for the base, batting and a remnant of upholstery fabric. Really, the fun in shopping for the crate and your favorite shabby chic fabric will make this project seem more like play than work.
34. DIY Colorful Mud Room Cubbies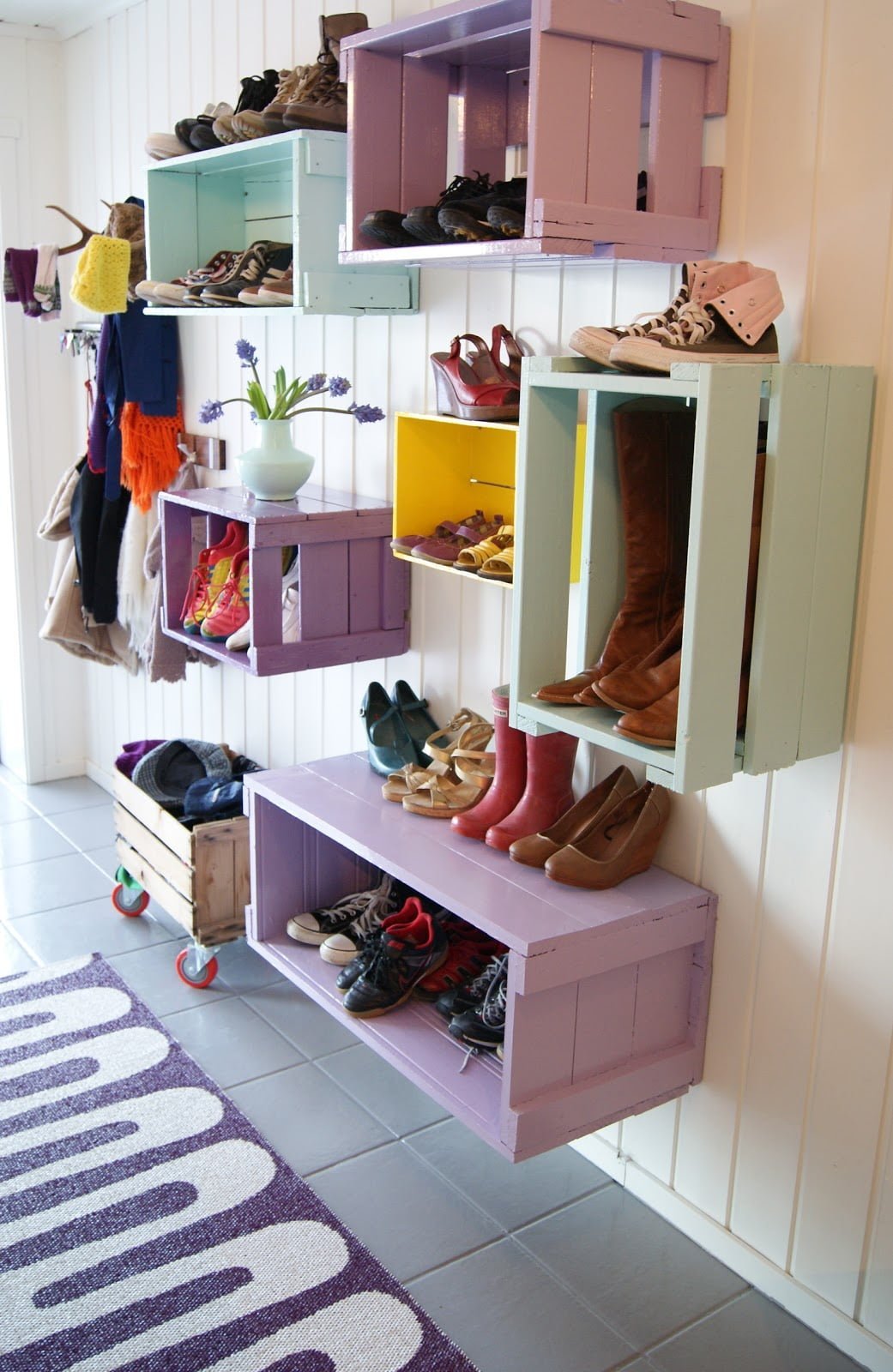 Is your entry way limited on floor space? These decorative, stacked, wooden storage boxes create the perfect, space friendly organizational method for cramped quarters and high traffic areas. The color scheme is key to this decorating hack, because these wooden crates offer both functionality and tie a room palette together. Coordinate your shelves with the colors of a favorite throw rug, photo frames, or even the predominate palette of your home. Imagine these boxes painted in calming hues of grays, blues and beige, the options are limitless for this floating wooden crate idea. Finish off your space with a new throw rug and a few accessories, and you'll feel like you've upgraded an entire room.
35. Creative Kids' Car Collection Storage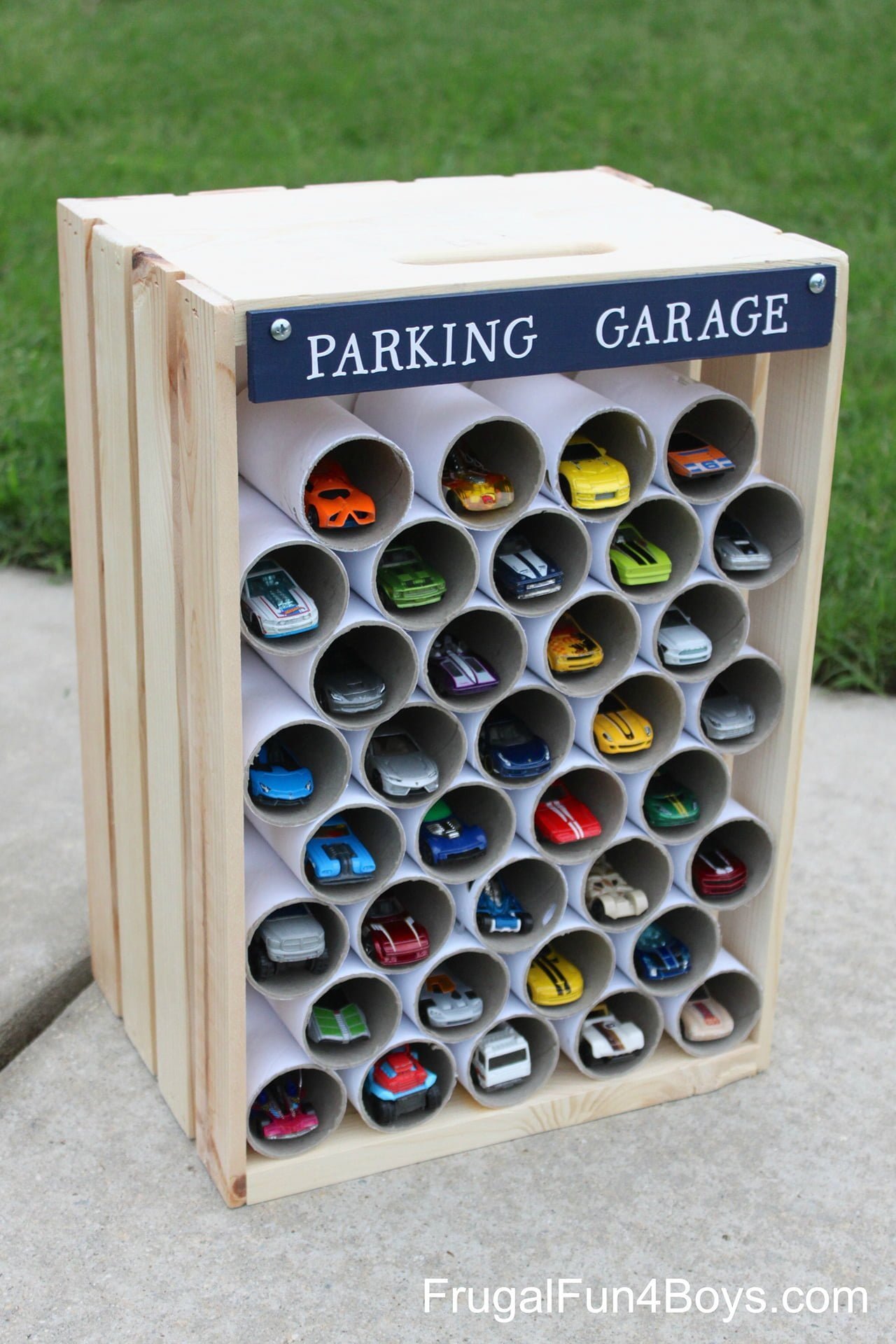 Who hasn't wished for a way to justify buying gorgeous, vintage hardware at thrift shops and flea markets? Usually the best pieces are too random to use on dressers and vanities, but they have so much decorative potential. This clever wooden crate idea is the perfect way to put them to use while organizing jewelry, keys and anything else that hangs. Style this wooden crate hack by your judicious eye for antique metal pieces. You can customize these boxes by choosing themes from flowery French provincial pulls to rough, blocky, industrial looking bolts. With just a drill, some distressed wooden boxes and some elbow grease, you can bring farmhouse chic to your jewelry display with this rustic, wooden crate makeover.
36. Inexpensive and Stylish Side Table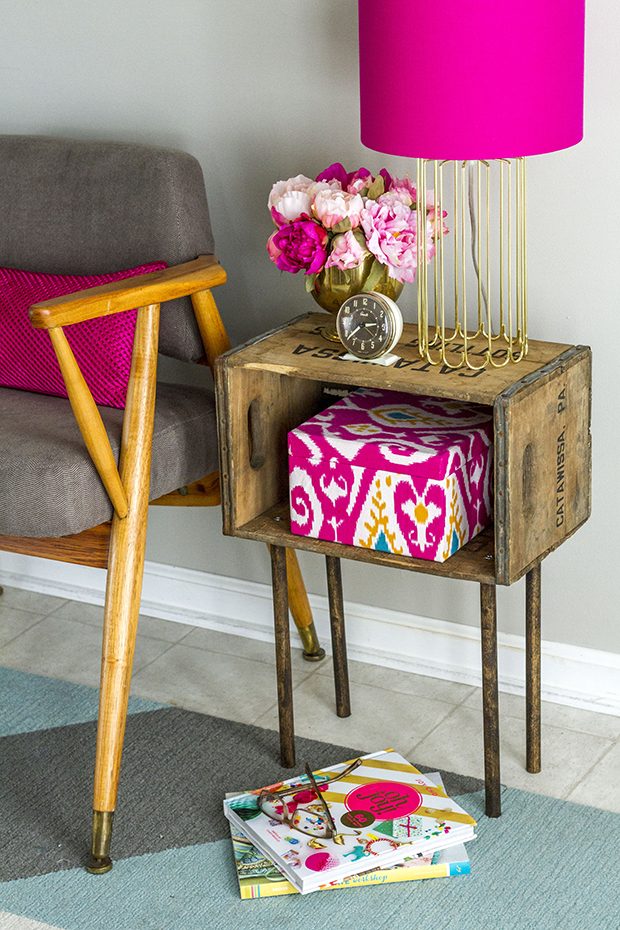 End your search for a chic side table with this up-cycled wooden crate idea. You may be fooled by the appearance of copper legs, which gives this design an industrial look that complements décor from minimalist midcentury modern to frilly French country. Instead, however, this table is constructed with dowels stained with a faux finish. You could easily put this unique table beside a masculine leather sofa, or a velvet accent chair. The key to composing a beautiful room is collecting pieces that contrast with each other while engaging an overall theme. Classy doesn't have to mean complicated, and this decoration with a wooden crate shows off simplicity and style.
37. DIY Toy Box on Casters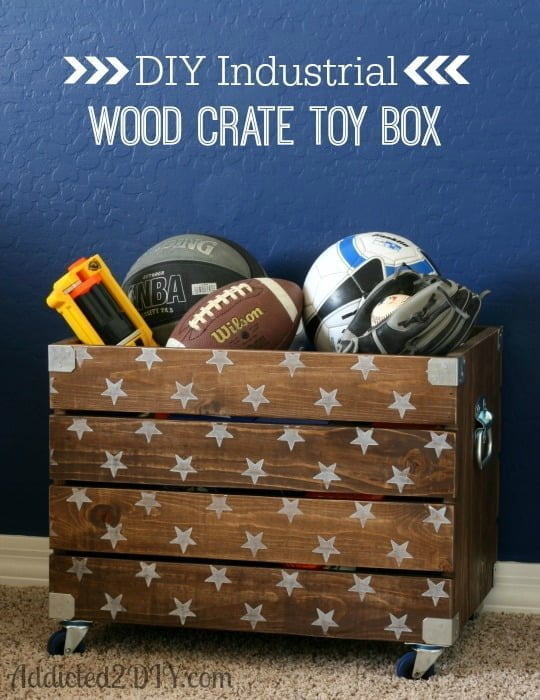 No need to shop around for a wooden storage box, make your own custom-sized crate with this detailed step-by-step tutorial! Perfect for toys, equipment or supplies, this rolling box can be customized with whatever style of stencil you choose. From stars for a sports-loving child, to scrollwork and flowers for your own craft room bin, there are so many ways to make this practical piece look as creative as you are. You'll find this handmade wooden crate ultra-sturdy and finished with wheels and pulls, so it's easy to move. Put this custom DIY toy box on your honey-do list for the weekend!
38. Durable DIY Pet Bed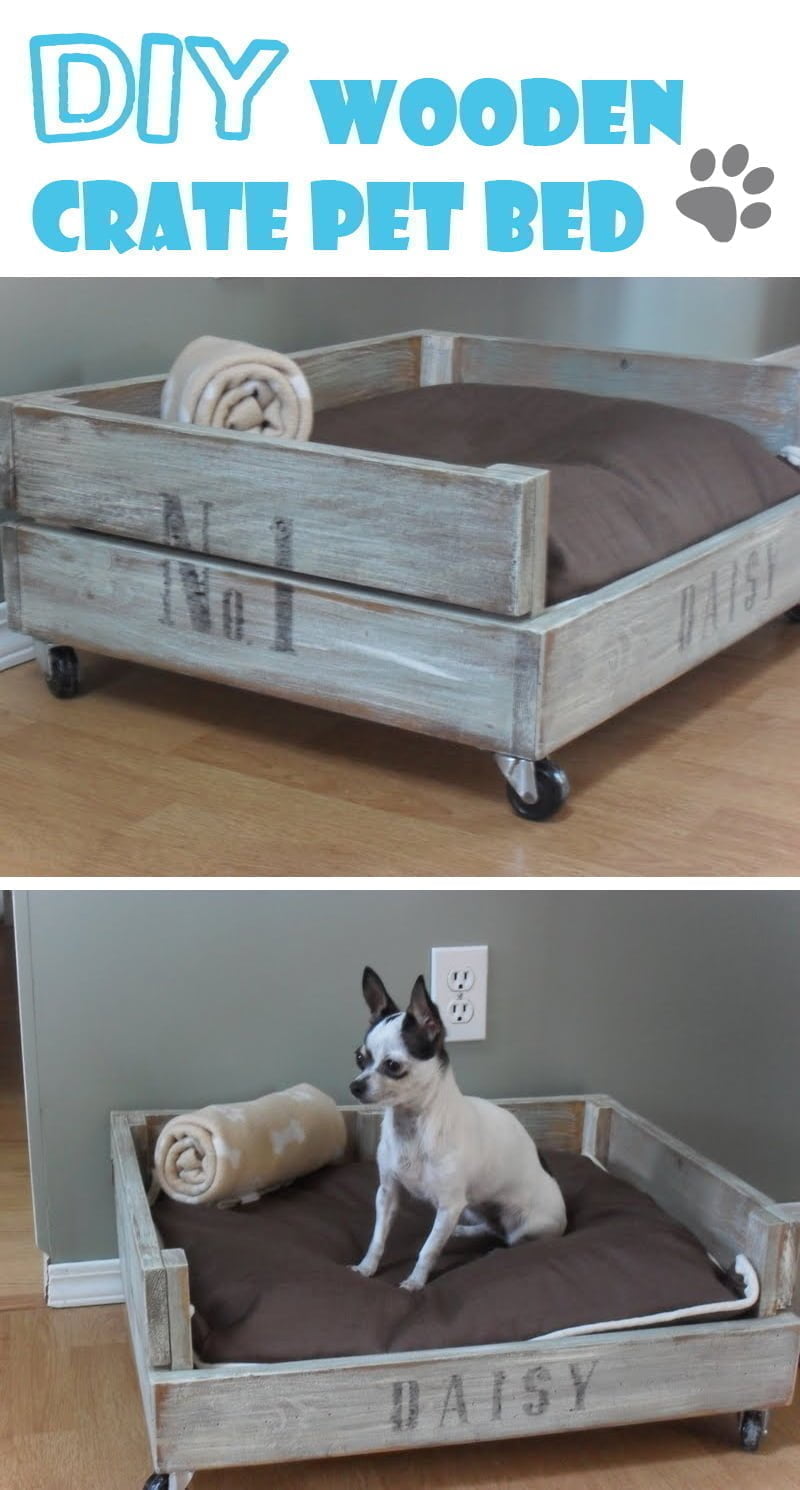 We all love our pets, but we usually don't enjoy decorating with their accessories. Not so, with this European country pet bed. You'll find every DIY distressed finish tip you could hope for on this adorable decoration with a wooden crate. With just some steel wool and vinegar, you'll give brand-new boards a vintage, antiqued look that will rival any Pottery Barn furniture. Follow the freezer paper lettering hack to give this bed an authentic packing crate look. Customized with your own pet's name, this wooden crate idea make a perfect Christmas gift for Fifi or Fido. This distressed finish pet bed will look just as amazing in your living room as your own furniture.
39. Wood Crate Stacked Entryway Shelves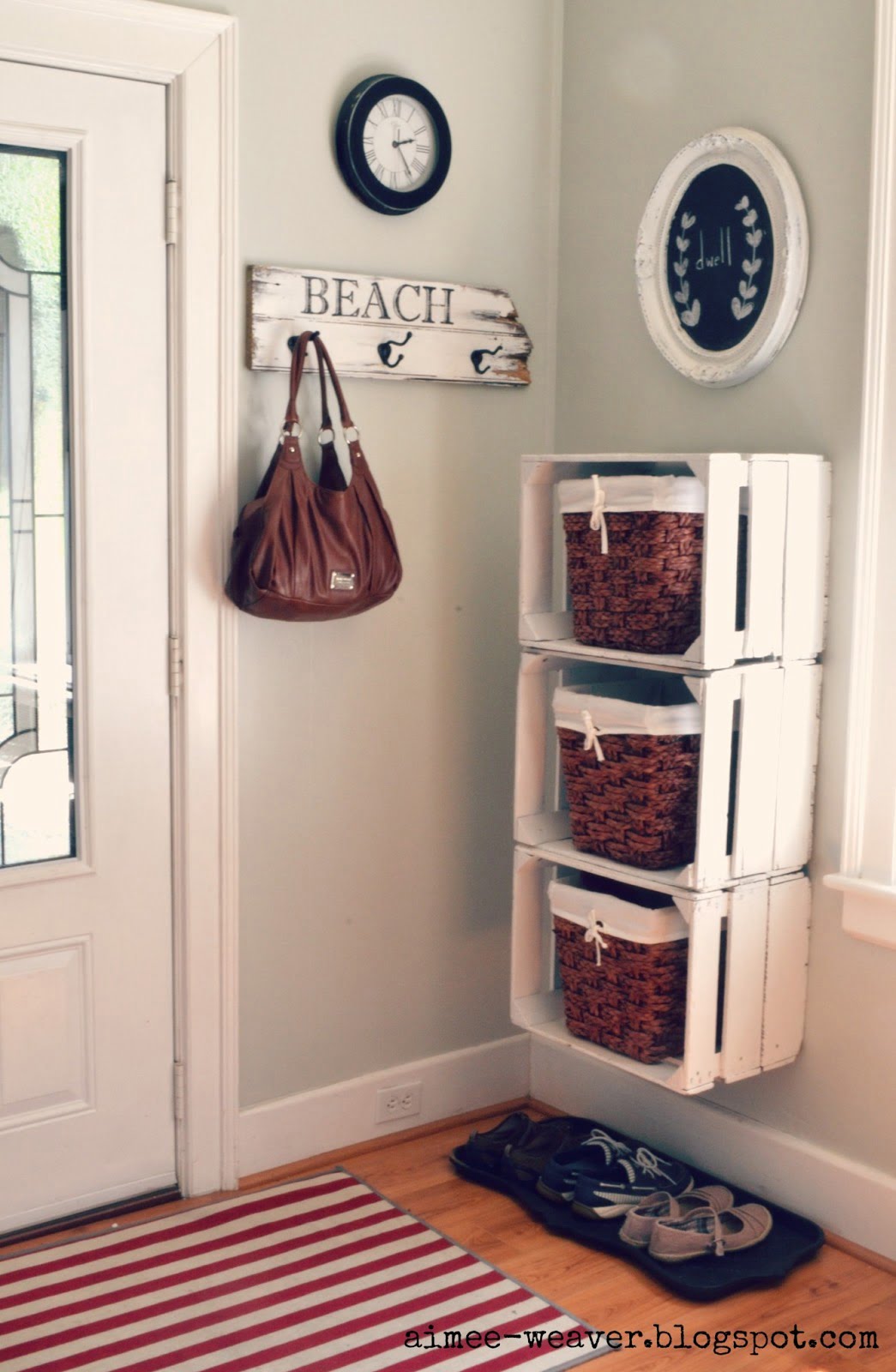 Say YES to this great entry way storage unit. The key to this small space concept is creating harmony by using a single, calming white for all of the pieces. Any neutral color would accomplish the same harmonious look; you could imagine this look in a dove gray, pale blue, or distressed greige. This combination of wooden storage boxes is so simple to create with thrift shop finds, your friends will never know it just cost pennies to complete. With a few metal brackets and some spray paint, renovate that messy corner and bring peace and tranquility to your entryway.
40. DIY Cabinet with Sliding Crate Drawers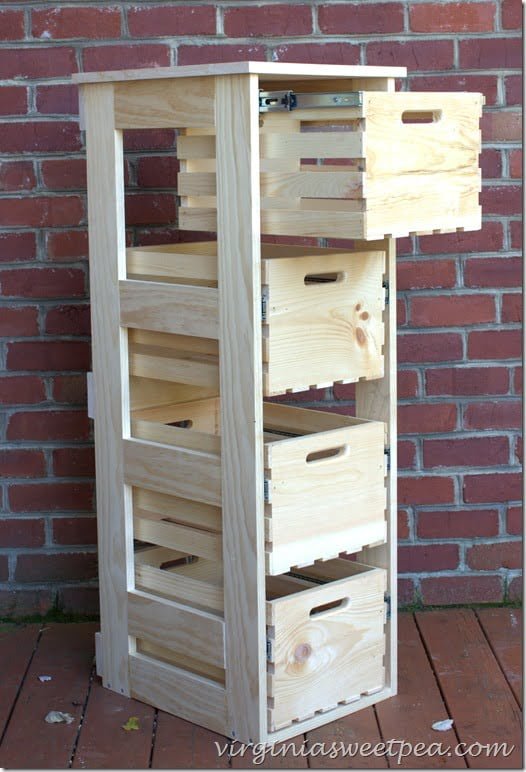 Bust out a sliding crate cabinet with these incredibly detailed step by step instructions. The metal grooves keep your country, wooden storage boxes sliding smoothly in and out of the rustic cabinet frame. Keep the natural finish, or use an antiquing medium or stain to bring out the wood grain and natural charm. Imagine using this in a farmhouse pantry or kitchen. It could also function as a home office filing cabinet, a bathroom organizer or even to hold diapers and baby supplies in a nursery. This cabinet requires more carpentry skills than most of the projects in this list, but the visual instructions will help you get through the process, and you'll love the results.
Our Favorite Farmhouse Baskets and Bins to buy on Amazon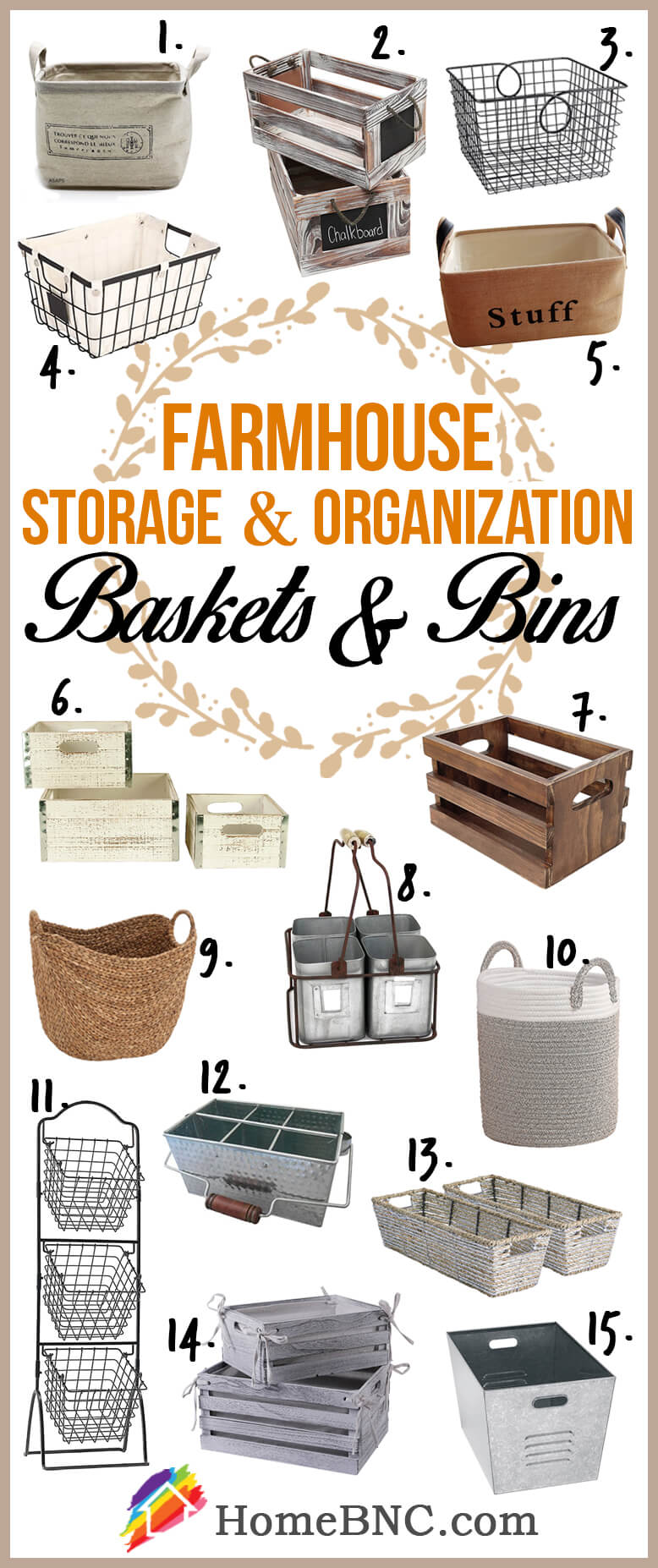 More DIY wood crate project ideas on the next page…