42. Stone Double Sink and Barn Wood Paneling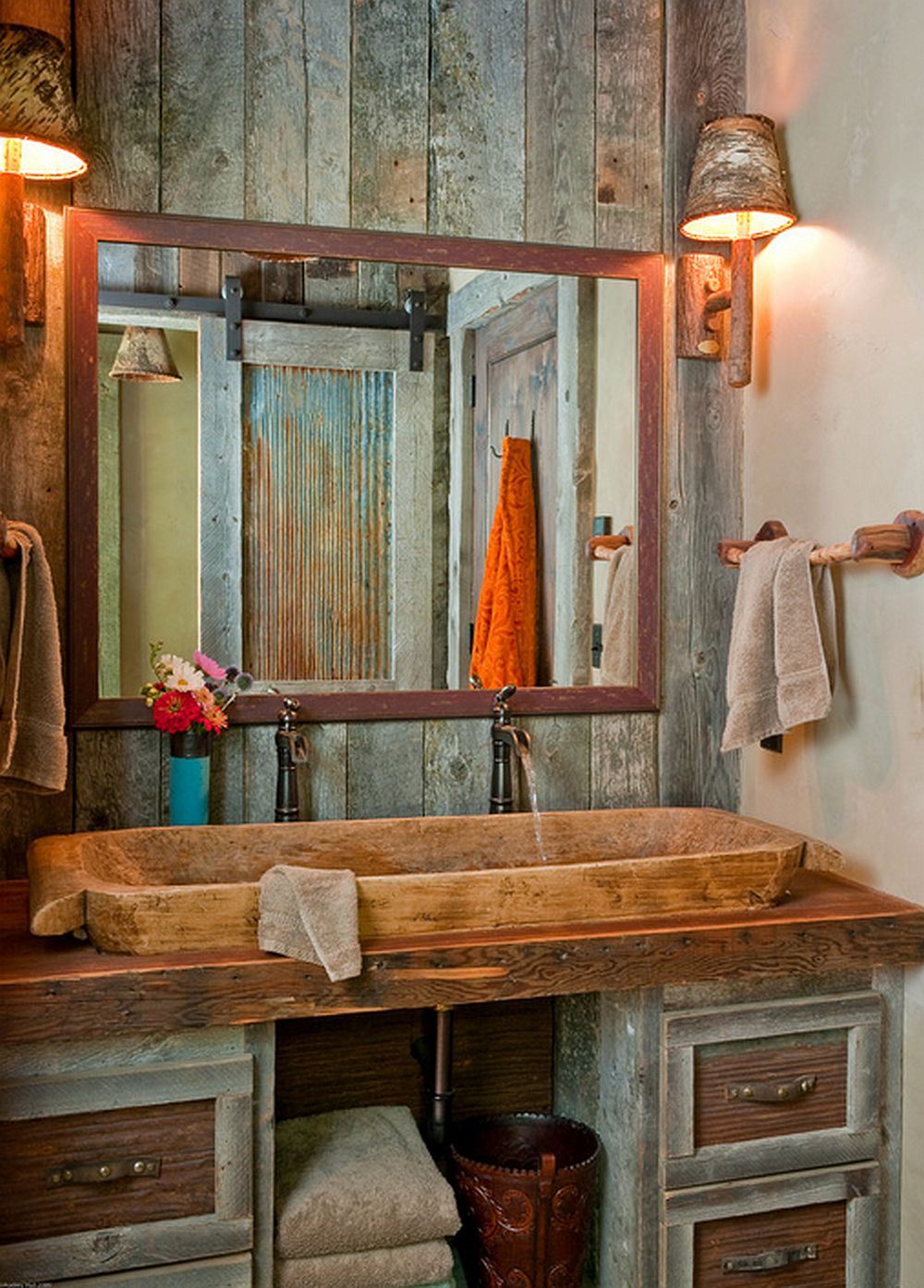 This bathroom uses contrasting shades of weathered wood and rusted metal to make a statement. This rustic bathroom idea features some of the most popular trends in rustic home decor including a sliding barn door, this one with washboard style tin as a center panel, and wood plank walls. The varying shades of wood and metal in this design create architectural interest and keep the design from being monotone and boring. A natural wash basin with twin retro centerset waterfall faucets and leather handles on the cabinet drawers add an additional touch of the past to the room.
43. Luxurious Rustic Bathroom Decoration Ideas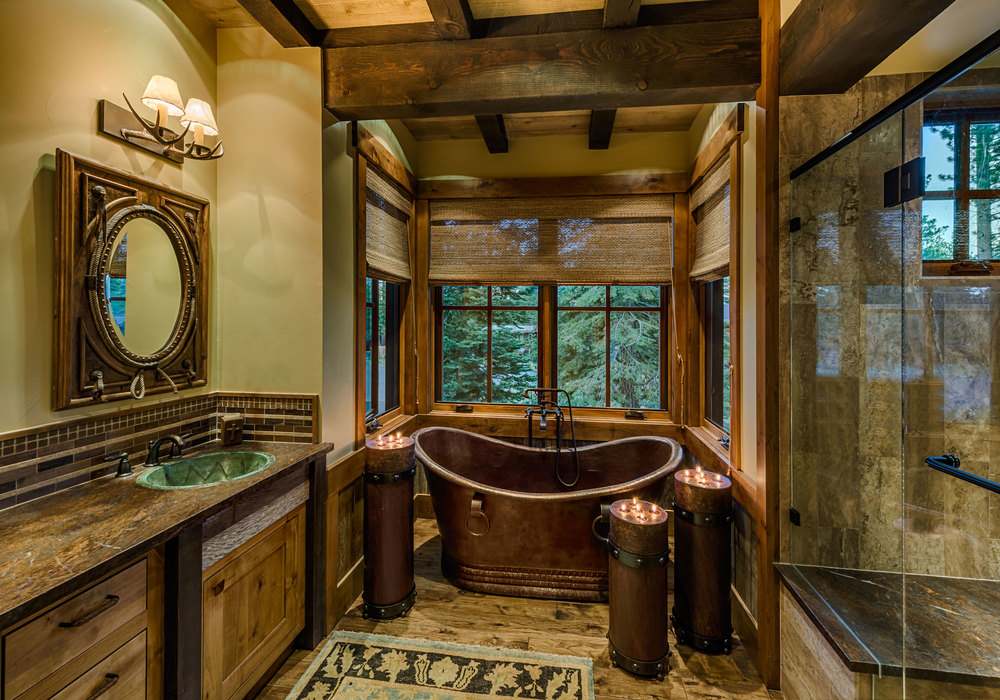 Exposed wood beams in the ceiling, antlered sconces, and a copper bathtub surrounded by windows with a view of nature result in the beauty that is this rustic bathroom design. The clean, straight lines are broken once your eyes reach the curved bathtub in its nook at the back of the room. Wood, natural stone, and a warm neutral paint all work together to bring warmth and harmony into this luxury bathroom design. The cylinder copper stands around the tub covered in candles make this into a room you want to relax in every night.
44. Vintage Wooden Framed Storage Shelves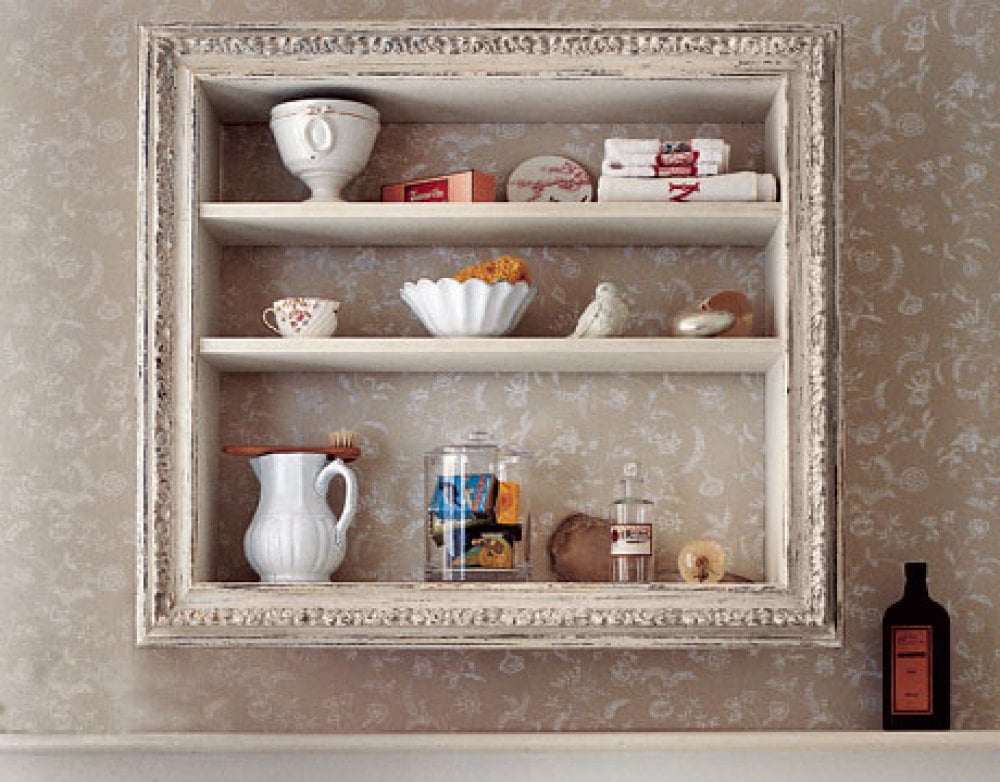 Rustic bathroom decor doesn't have to be a natural wood tone to be considered rustic. This picture frame was used as the border for shallow shelving unit. It was painted white and distressed to bring out the design detail in the woodwork. This is a great way to add a touch of rustic design and storage space to any bathroom. The wallpaper on the wall makes a great background for items you wish to display on the shelves. Distressing of the white paint on the frame softens the look significantly and makes it more feminine.
45. Hanging Shelves with Wrought Iron Hardware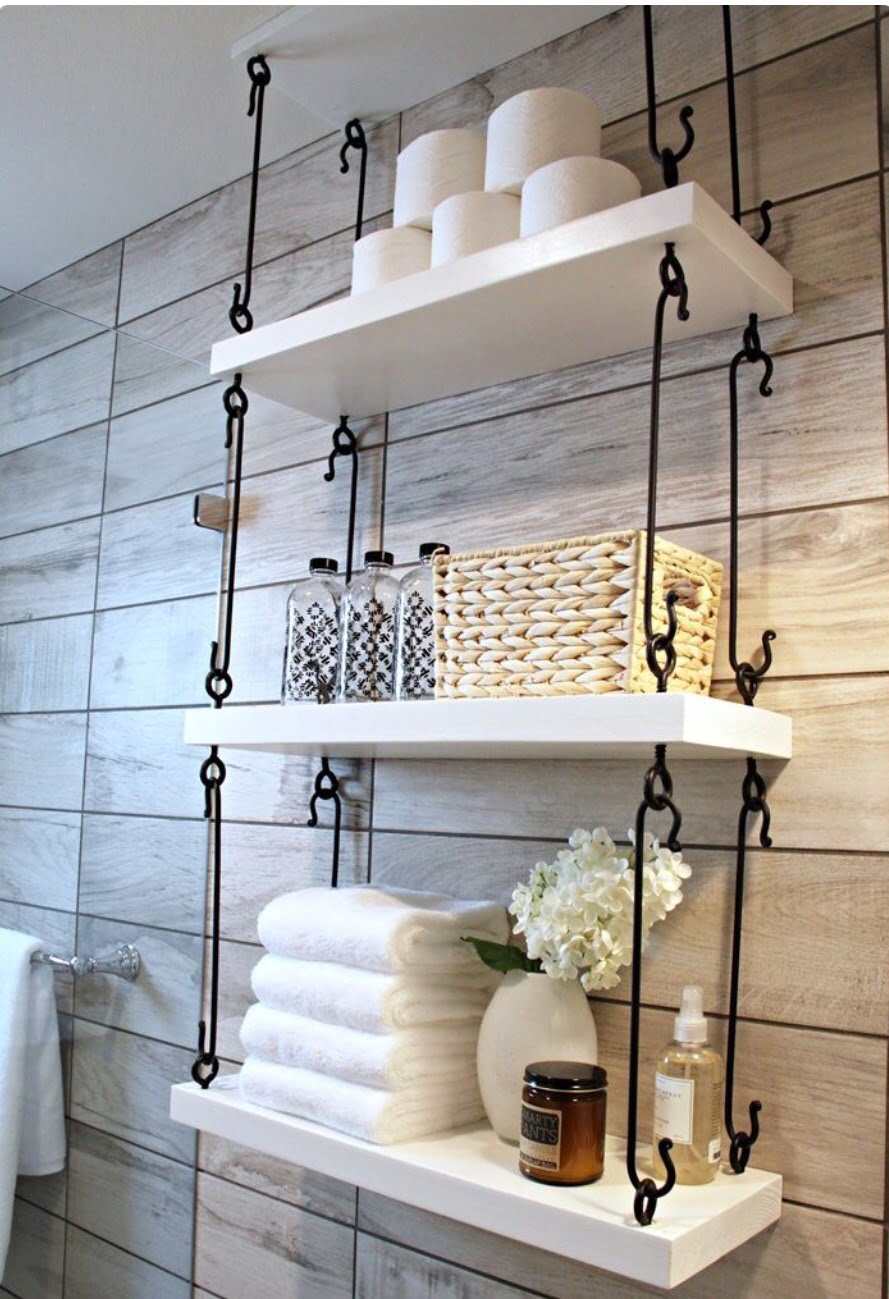 Rustic bathroom design doesn't have to be old or weathered. In this case, rustic hardware made out of iron is used for a simple hanging shelf unit. A series of eyepins are installed through each corner of the white shelves and into the ceiling mount. Iron hooks are then used to link the shelves together and suspend them from the mount. If you are low on floor space in your bathroom or just want to try something different and slightly rustic that catches the eye, this idea is perfect for you. It is a simple and effective way to make a visual impact and solve a storage space issue.
46. Giant Half-barrel Soaking Tub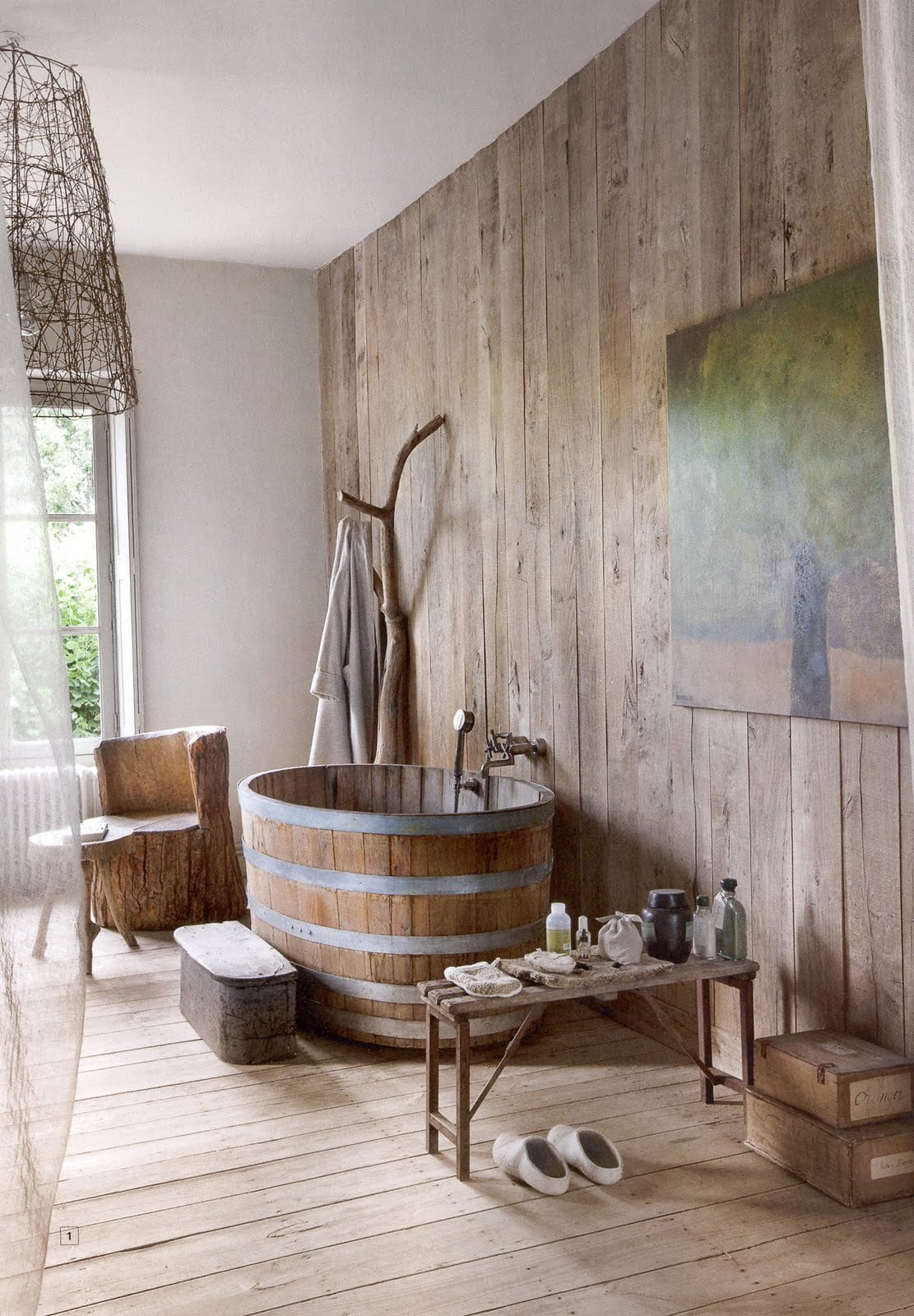 This rustic bathroom idea involves several elements of rustic design. A chair and table are carved from a log, wood plank walls and wood floors that envelop you, and a light shade woven from sticks combine to create an earthy, but pleasant feel. The only hint that this room is a bathroom is the large barrel style bathtub in the center of the picture, which immediately catches your attention. The plumbing hardware is kept traditionally rustic and a natural style coat rack holding a robe makes you feel like you've stepped back in time, but also gives you the benefit of modern day luxury.
47. Double Sink Converted from Galvanized Washtubs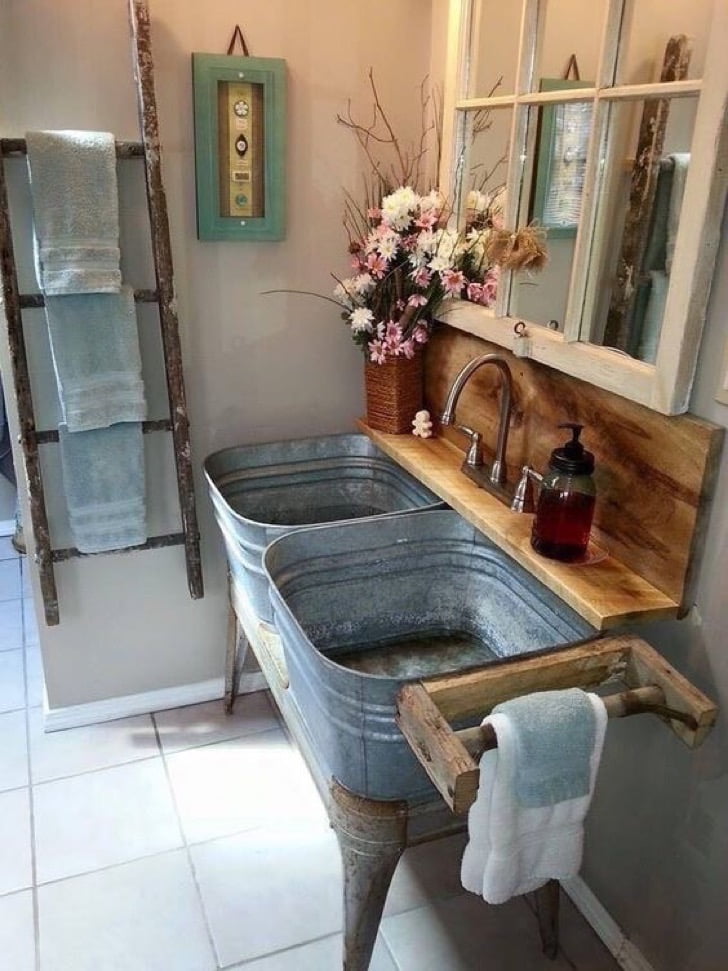 Galvanized steel tubs are the first thing you notice in this bathroom. Once your eyes wonder a bit, you realize the towel rack is really an antique ladder that has been repurposed. Then, you notice that the mirror was once a window frame that has found a new life. These little surprises found in rustic bathroom design ideas are just part of the appeal of rustic bathroom decor. The ingenuity used in this design completely distracts you from the modern elements of the bathroom, such as the baseboards and ceramic tile. These elements will make you feel as if you could be in a countryside cozy cottage instead of a modern home in a subdivision or a city apartment.
48. Dark Paneled Vanity Backsplash with Vintage-style Double Mirrors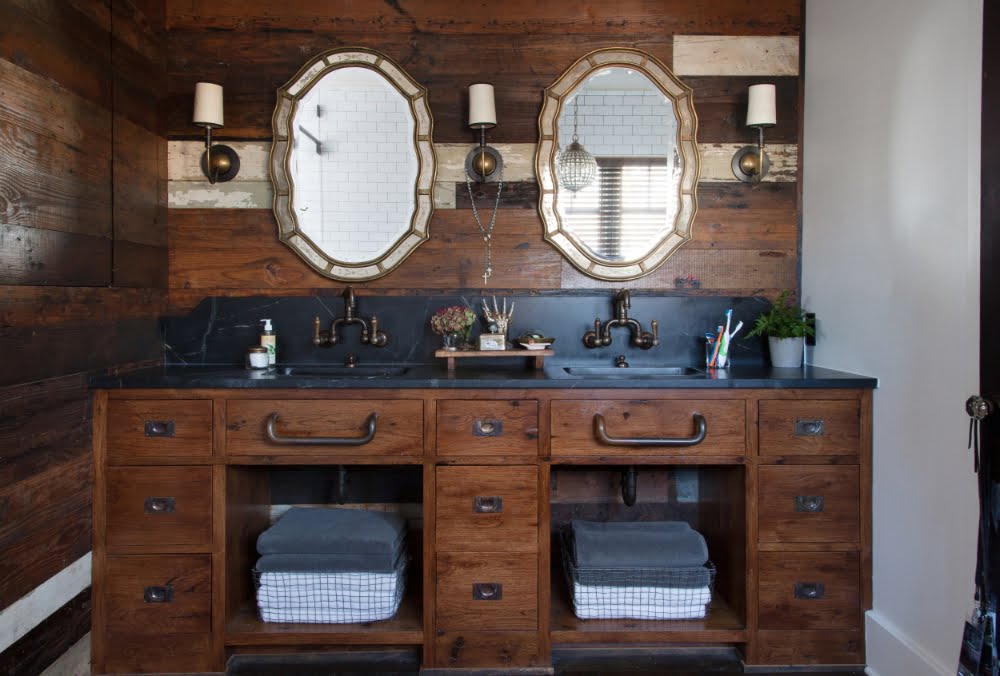 This rustic bathroom idea is very masculine. It features dark stained wood plank walls, cabinets that are stained the same color as the wall, a dark marble countertop, and rustic plumbing fixtures and hardware. There are a few things that work to brighten up this dark room. The mirrors reflect light, one wall is painted white, and the white lamp shades carry that white contrast to the darkest area of the room. The gray and white towels that are folded in baskets beneath each sink also catch the eye and add a little extra contrast and softness to the room.
49. Three-tiered Metal Storage and Display Rack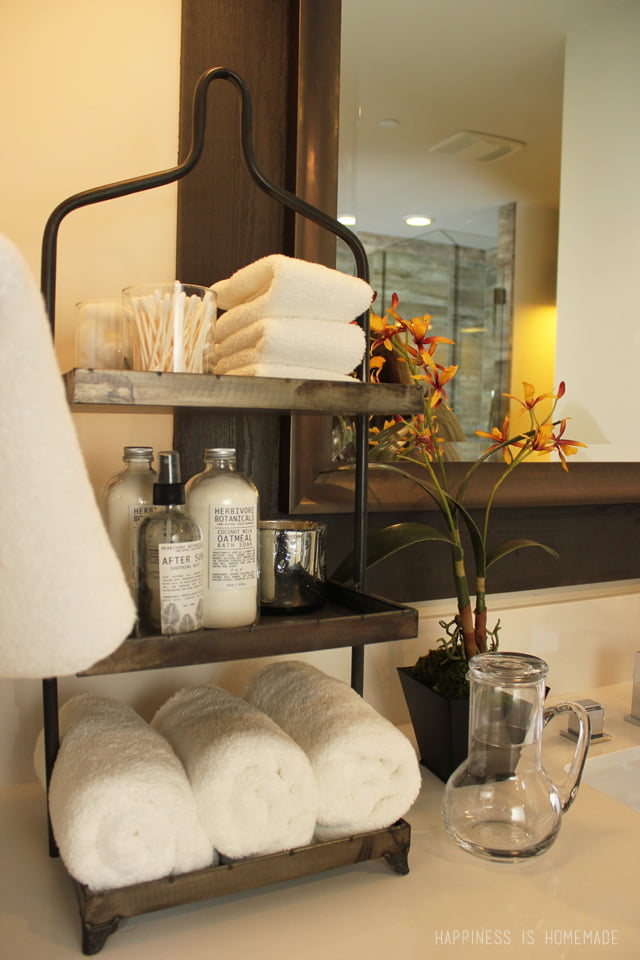 Modern design and rustic accessories work well together in this large luxury bathroom. Rustic bathroom decor provides contrast to the warm, creamy walls, bronze mirror frame, and orchid on the countertop near the sink. The rustic wood uses colors of the stonework that are visible in the mirror and carries it to the other side of the room. The shelves of the caddy also add vertical storage space to prevent the countertop from becoming cluttered and will make it easy for guests to locate towels and toiletries. Simple glass jars with plain labels and silver accents keep this design clean and classy.
50. Mixed Stone Cabin Bathroom with Walk-in Shower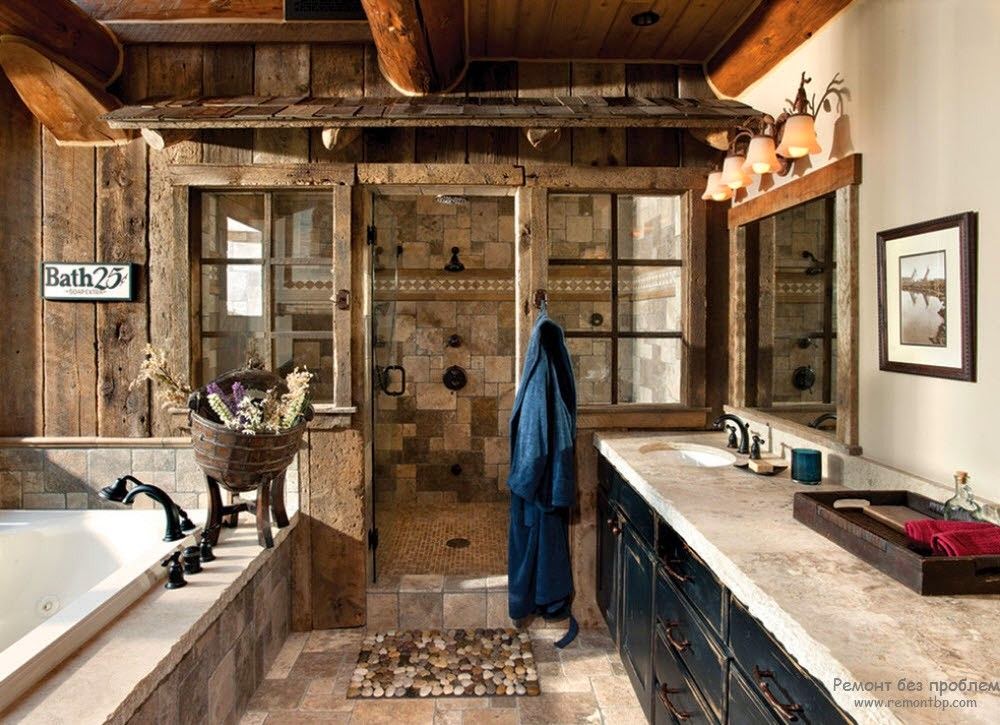 Bathroom design ideas can come from anywhere. This room gives you a barn-like feel but offers modern luxury too. Exposed wood beams, weathered wood plank walls, and stonework create rustic and natural elements in this beautiful bathroom. The modern bathtub and shower look right at home, nestled into the design. Small things help give this room character. A vintage sign hangs over the bathtub and a basket stands at the corner of the bath with fall decor. A picture above the countertop on the right uses all of the colors in the room and brings them together in perfect harmony.
More rustic bathroom design ideas on the next page…