51. Rough Stone Accent Wall With Solid Beam Vanity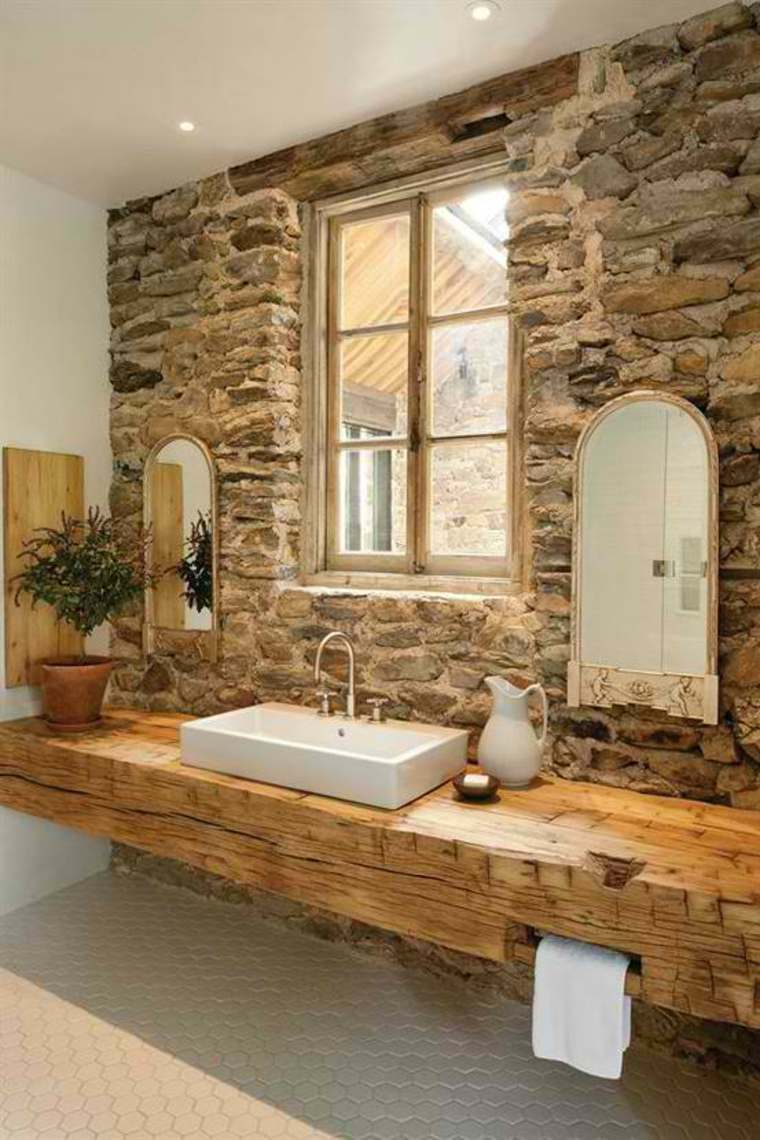 A stone wall and wood countertop make this rustic bathroom idea stand out in an otherwise bland white bathroom. The wood is kept a very natural maple shade that picks up the color from the stonework. A white, modern rectangular sink draws the eye under the window. Mirrors are framed with the same natural wood and reflect light and brightness from across the room. A white pitcher and hand towel work together to bring some of the crisp white color to the accent wall and unite the design of the room.
52. Distressed Vanity Cabinet and Wood-framed Mirror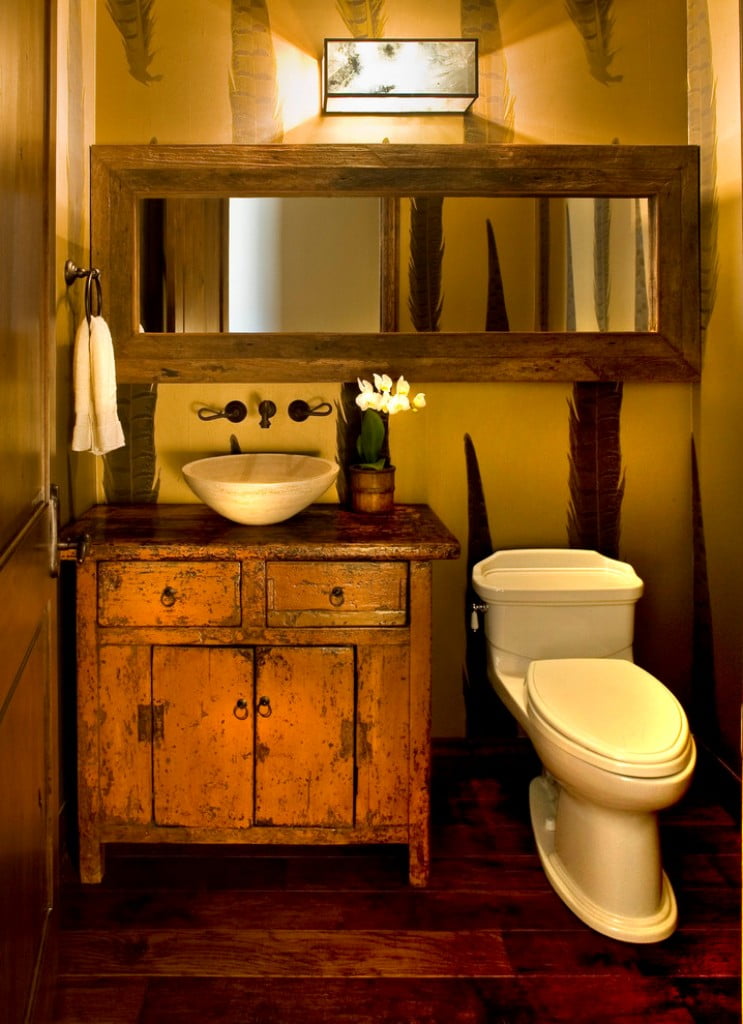 A recycled cabinet and rustic mirror frame bring all of the elements of this design together. Rich warm woods provide the foundation for this design while a leaf themed wall paper adds a bit of nature to the room. Pops of white from the modern elements and flowers in the room provide the contrast needed to pull off this design. If you need some bathroom design ideas, don't be afraid to look to nature for cues on how to bring all of the design elements together into one harmonious vision. Rustic design often involves natural finishes, which welcome additional natural details like the leaves on the wallpaper or the orchid near the sink.
53. Antique Basket Converted to Hanging Storage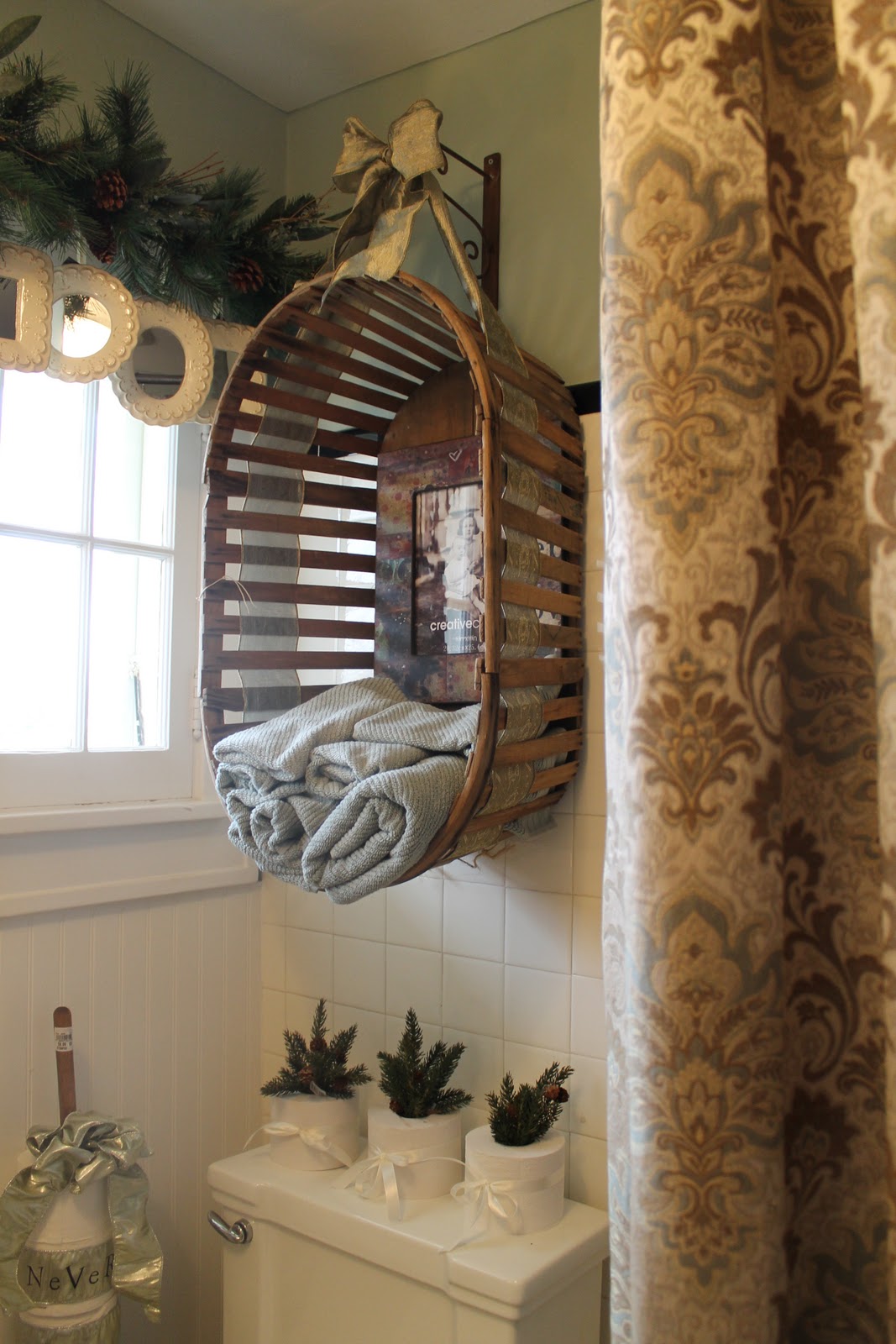 An antique laundry basket hung in an area where space is limited makes a great place for additional storage and helps a modern bathroom use rustic decor to make a statement. Rustic design doesn't have to be complicated to work. The idea of hanging a basket or crate on a wall and using it for vertical storage is a simple, yet effective design decision. Any wood basket or wooden crate can make a similar statement. You can also be stain them any shade that you like in order for them to work with your pre-existing bathroom decor.
54. Masculine Bath with Dark Stone and Walk-in Shower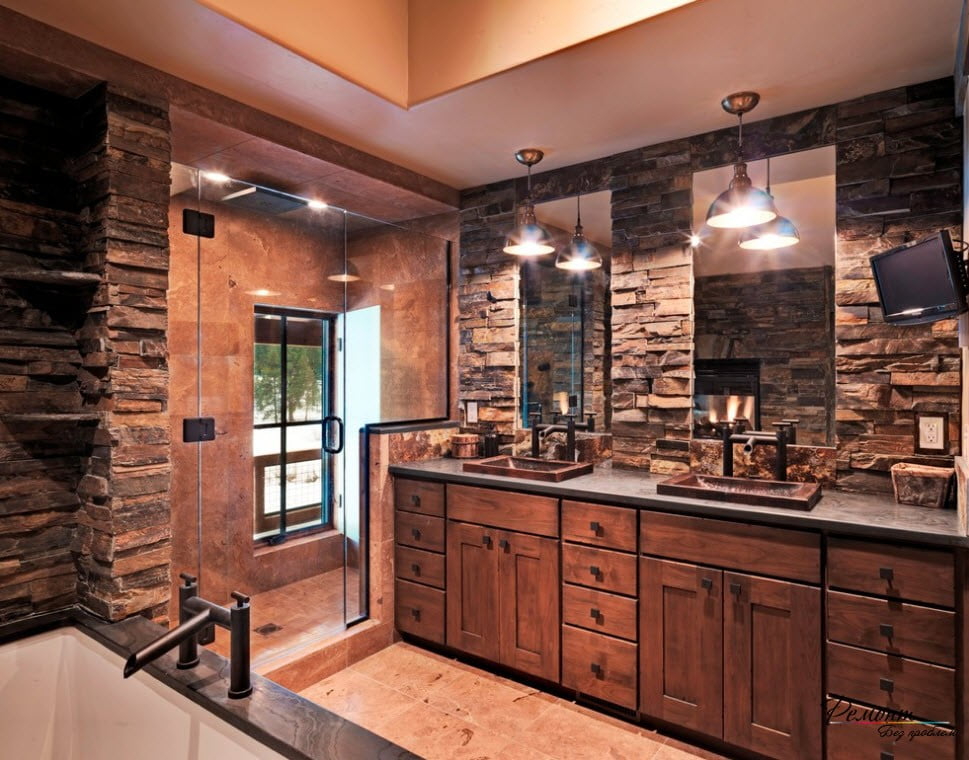 Although this bathroom is decidedly rustic, it is also clearly modern and full of modern luxury. Natural stonework is used on the walls, while rich, wood cabinets draw from the color of the stone. Inset shelves in the area of the bathtub are made using natural rock in the masonry design. Rustic bathroom design ideas don't have to avoid modern luxury. That is the theory behind this example. All of the elements work so well together that you hardly notice that there is a television in the room so that you can watch it from the bathtub or shower.
55. Upscale Boathouse Bath with Shiplap Paneling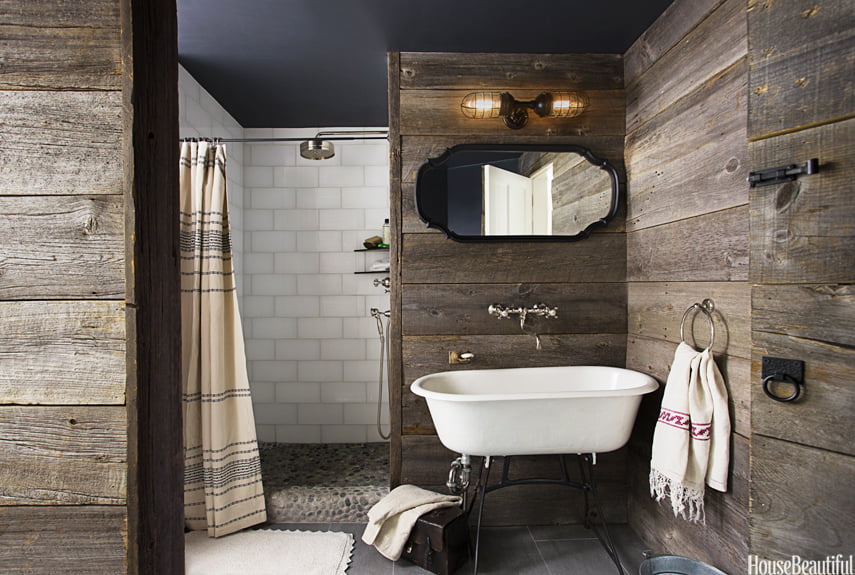 Weathered lumber in a gray tone is used in this rustic bathroom idea. It gives the room a much more rustic vibe, but creates a comfortable foundation where you can kick back and relax. The antique marine light fixture above the wash basin is a perfect industrial touch. It is not something you would expect to see, but is a great addition to this room. Stainless steel plumbing fixtures in this bathroom create a bit of a modern touch to this rustic room. Dark hardware and subway tile round up this bathroom design and make it feel very old, yet warm and inviting.
56. Pipe-fitting Toilet Paper Holder with Shelf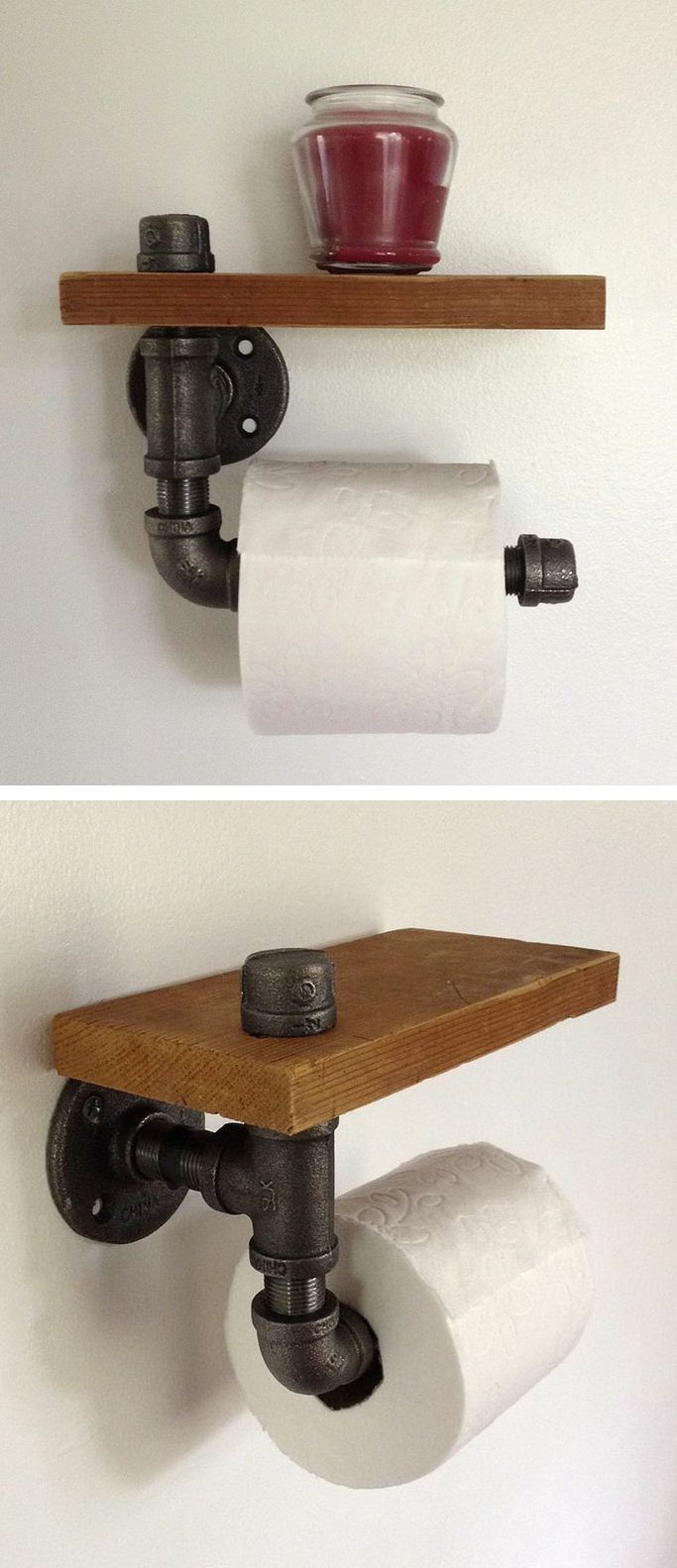 This toilet paper holder and shelf is another great, yet simple way to add rustic decor to your bathroom. A simple wood shelf is fitted with plumbing pipe for a rustic industrial feel. It will definitely make an impact with your guests and catch their eye. The dark color of the pipe and richness of the wood really make this piece pop. This rustic piece also very functional and provides a small shelf where you can store air fresheners or candle where you need them most.
57. Rustic Bathroom Decorations with Honey-toned Wood and Dark Stone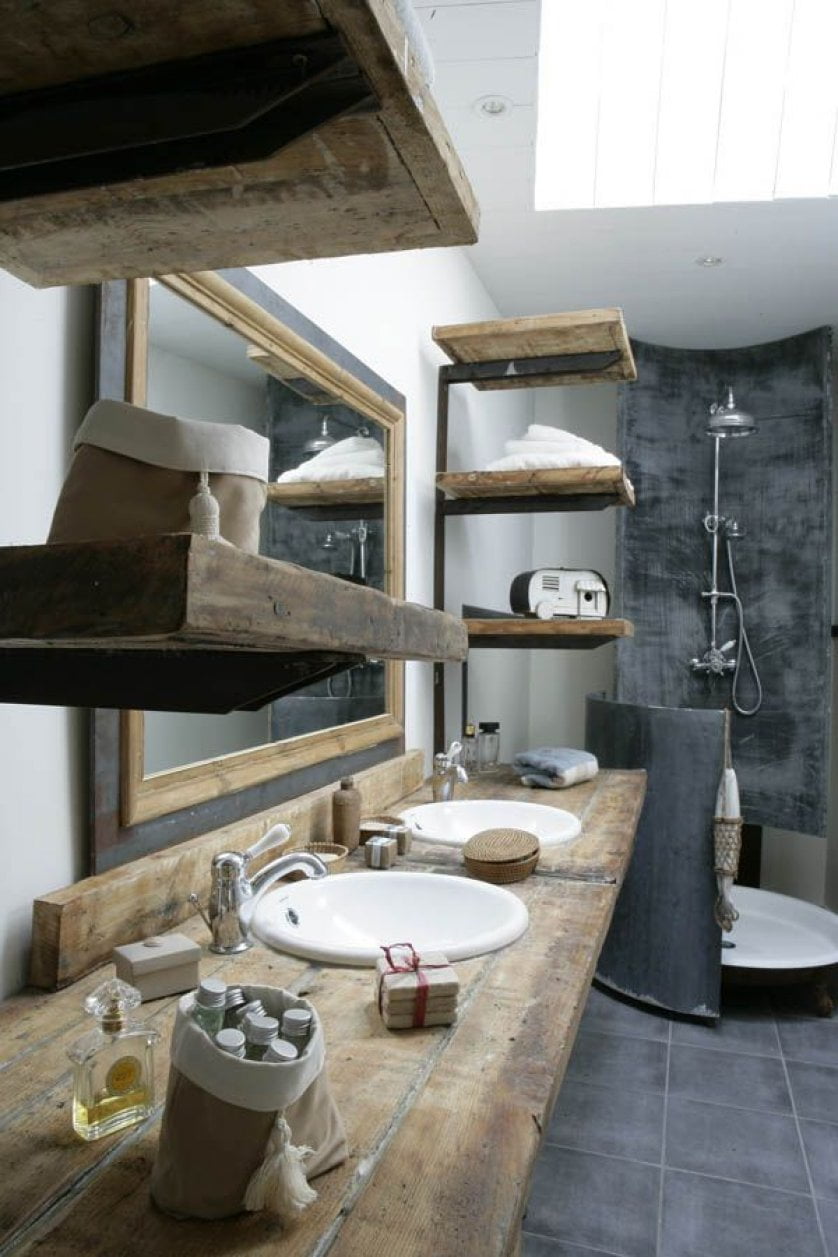 This room incorporates rustic design and creates another very masculine rustic bathroom idea. It uses a weathered wood to provide interest to what would otherwise be a very modern and cold, industrial bathroom. The wood stands apart from all of the gray colors in the room and gives it that needed warmth. The modern, yet rustic hardware used to hang the shelving also stands out in this bathroom, adding additional interest and contrast to the room. The effect is an inviting bathroom that is masculine, but warm and inviting.
50+ Unique Rustic Bathroom Decor Ideas
When considering all of the unique bathroom design ideas that have been shown in these beautiful rustic bathrooms, it is important to understand how you want your final design to look and feel. You will need to understand the intended function of the bathroom as well as the general purpose of your design. Whether you prefer more feminine touches for your bathroom or enjoy a more masculine or modern industrial design, there are different rustic elements to consider. If you want a room that appears very modern, you can still create a rustic atmosphere through the use of natural and antique materials that have been repurposed.
Your budget and bathroom size will also affect the type of design that you will be creating. You won't be able to use a lot of stonework in your bathroom if you have a shoestring budget to work with, so plan wisely and use accessories and accent pieces instead of tackling the entire room. For small bathrooms, a little rustic charm will go a long way.