We all know the struggle of having too much stuff at home with nowhere to put it, so clutter builds up on any available flat surface. This visual disarray can cause us to become stressed and unorganized. Bring harmony back to your home with innovative storage ideas for small places. As an added benefit, many different storage projects can increase the value of your home. Whether you live in a studio apartment, tiny house, or just lack ample storage space, there is the perfect solution for your small-space woes!
50+ Storage Projects to Save Space in your Home

If you're in need of some storage ideas for small places, keep reading for 50+ genius solutions. You will find ways to maximize every inch of storage in areas you've never considered. We've created a post round-up from all across the web including storage ideas for every room in your home. Attractive storage solutions can make your home feel organized and stress-free. Once you've read these brilliant ideas, you're going to want to de-clutter, donate those unused items, and make room for the things you really love. Grab a cup of coffee, pull out a box for donations, and get ready to be motivated by these 50+ amazing storage ideas for small places.
1. Cool Kitchen Shelf Jar Storage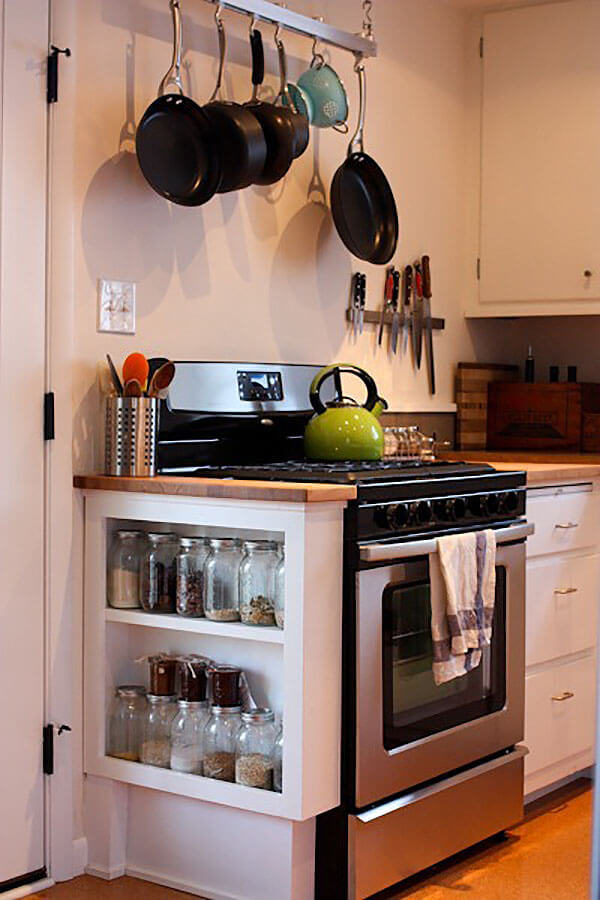 With a small kitchen, it's easy to get overwhelmed when you have numerous spices, rice, sugar, etc. that go in containers or jars and minimal cabinet space to fit them all in. You can readily transform the side of your counter into a compact shelf storage system to tuck aside items while keeping them within reach.
2. Unique Hanging Faux Jewelry Box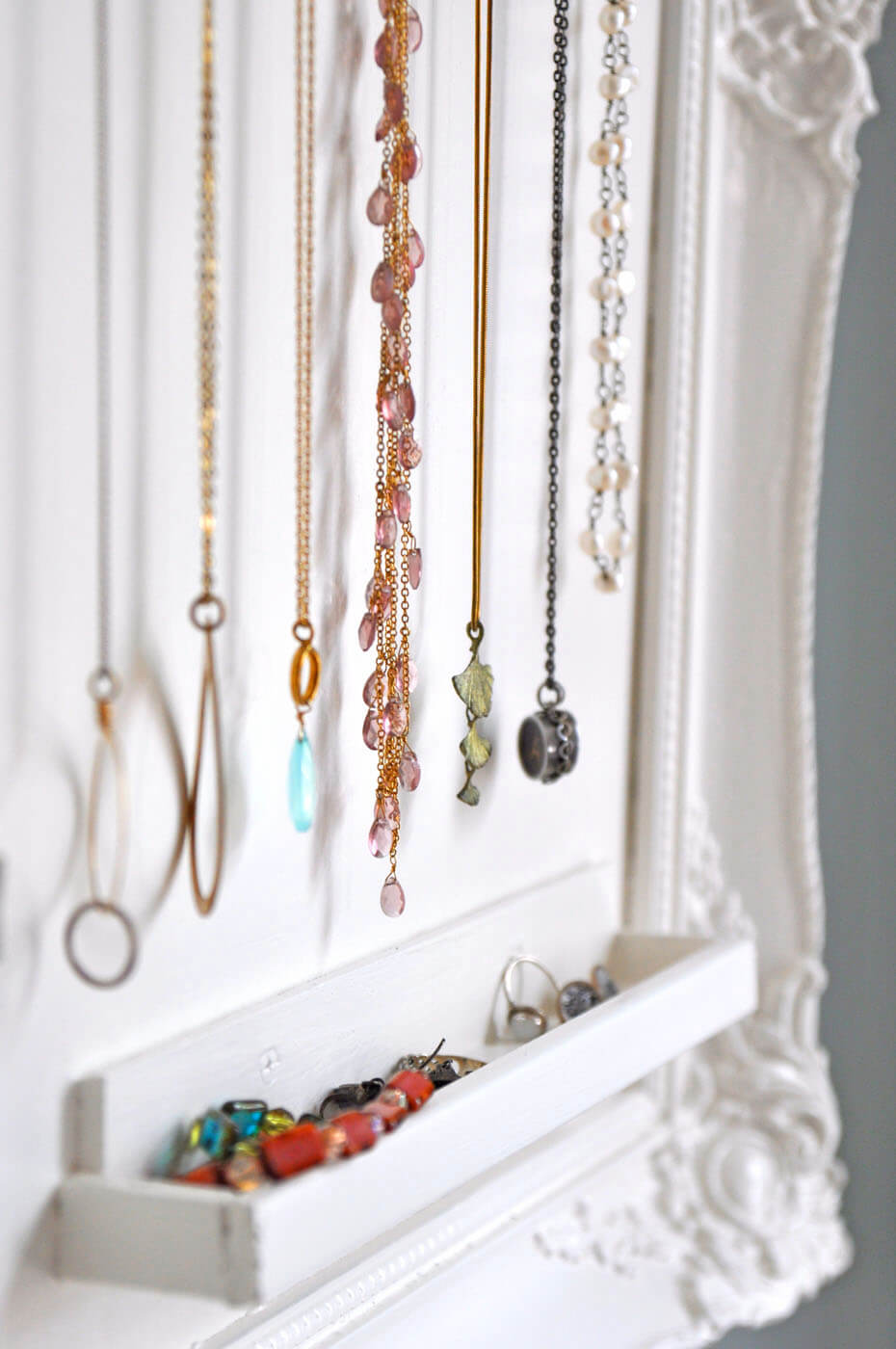 This project takes a fun twist on a classic jewelry box and instead suspends it on the wall to help out those of you who lack surface space. It does this by altering a picture frame, making it unrecognizable as anything other than a hanging jewelry storage frame. This is compact and simple to access.
3. Upcycled Magazine Rack Baking Sheet Holder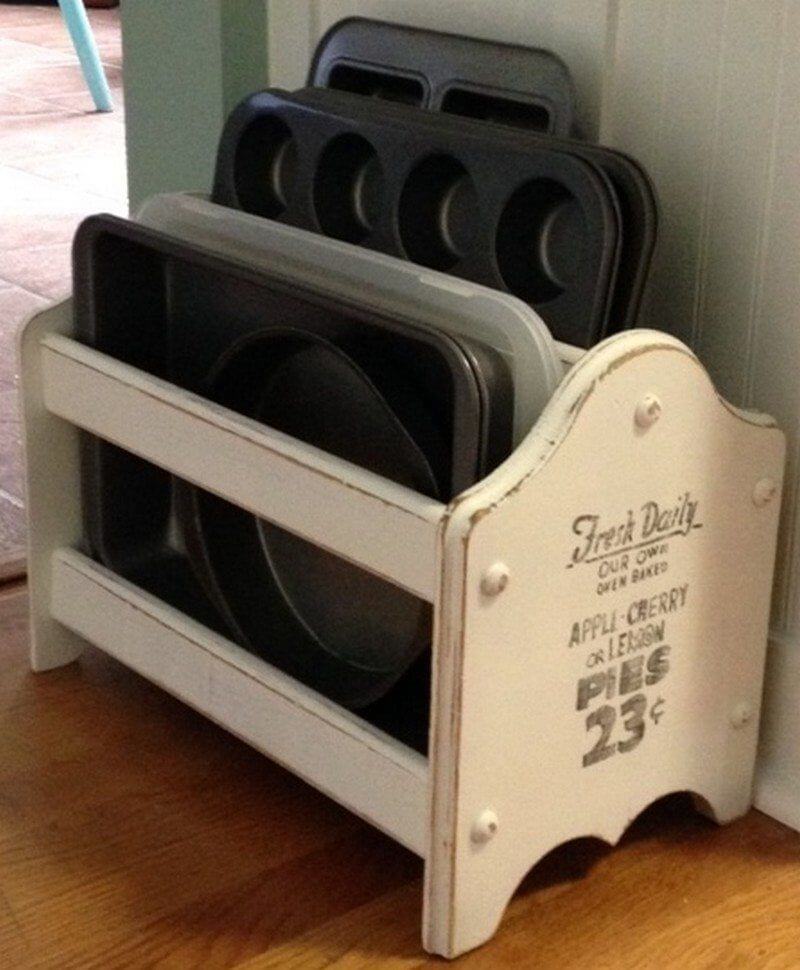 It's easy to collect numerous baking sheets from those used for cookies, to sheets for making cupcakes. However, when space is a concern, it's not so simple to put them all up. With an old wooden magazine rack, you can finally set those items out for display in the kitchen by keeping them all contained. This ensures they stay on the counter for you to grab out whenever you need one.
4. Vertical Cooking Oil Bottle Shelf Holder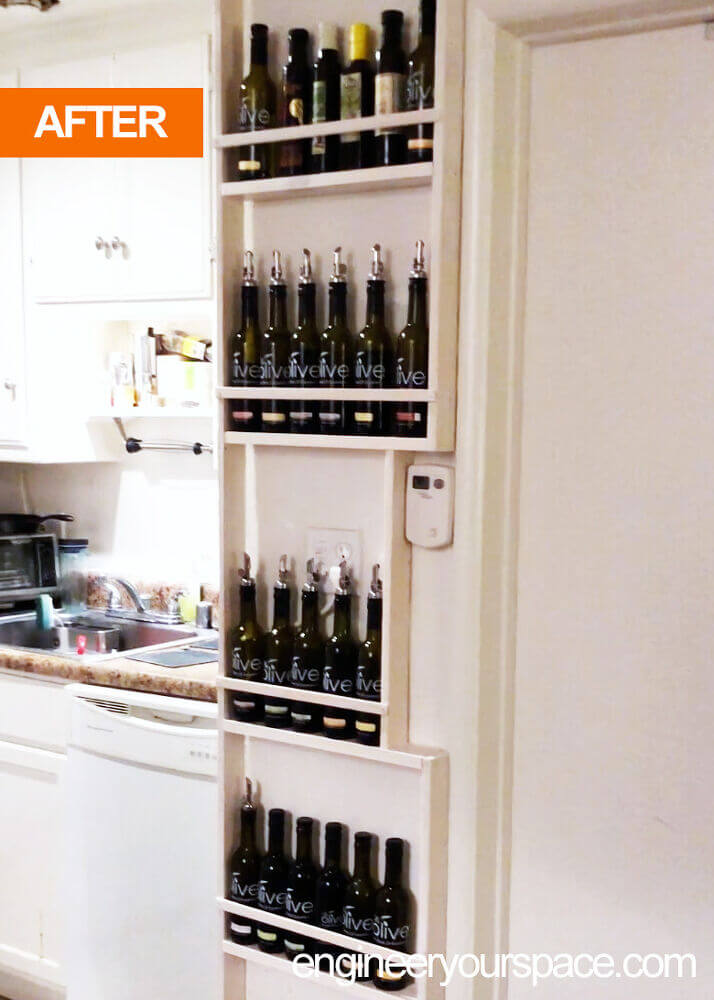 If you find yourself in a situation where you have so much cooking oil but next to no room in the cabinet, then consider constructing this cool vertical shelf setup on a bare wall in your kitchen. The narrow design doesn't take up much space either, providing just enough room to fit several bottles of cooking oil.
5. Expandable Raised Canned Pantry Organizer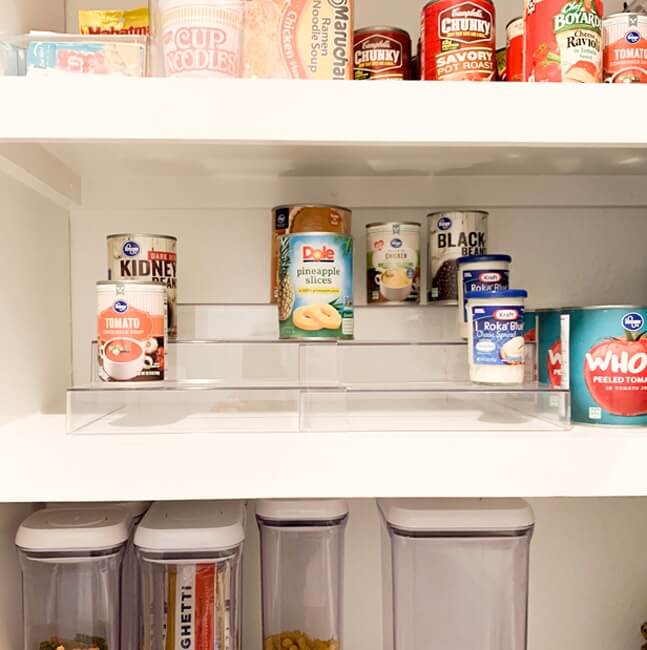 A raised organizer is an awesome idea to make your pantry or cupboard look like it has more room than what it does. It works great with cans, but you can also use it to place anything else with a similar size like jars or simply as a spice organizer. The step design not only helps you save room, but it can give your home a more modern touch.
6. Hanging Multi-Purpose Magnetic Wall Organizer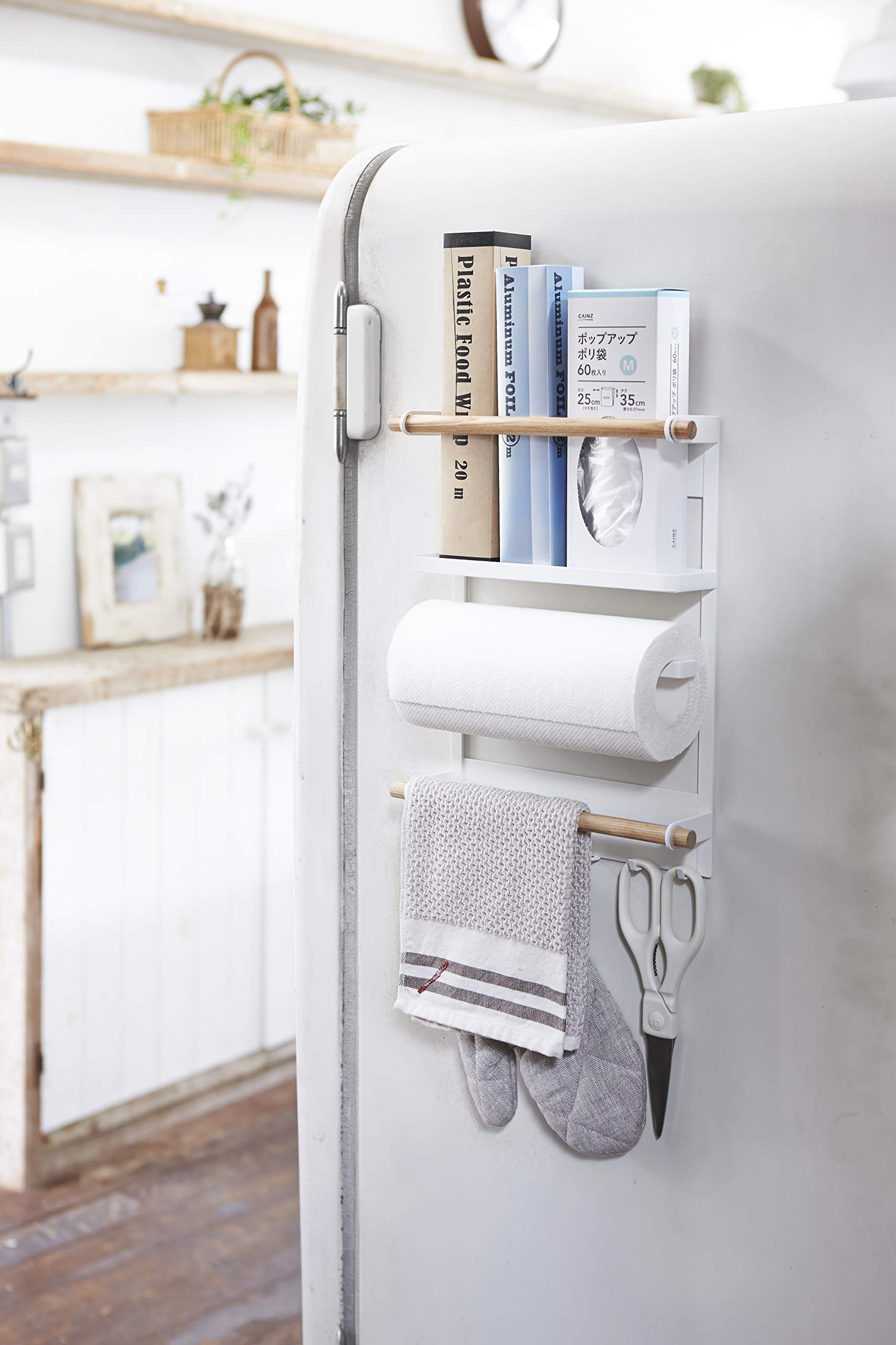 Ideal for the kitchen thanks to its magnetic capabilities, you can stick this right on the side of your refrigerator to generate more room in a tiny kitchen. It's made from eco-friendly wood and iron, and there are versatile sections such as hooks on the bottom, a shelf, and even a paper towel holder so you can place numerous items on it.
7. Tilt Out Double Bin Trash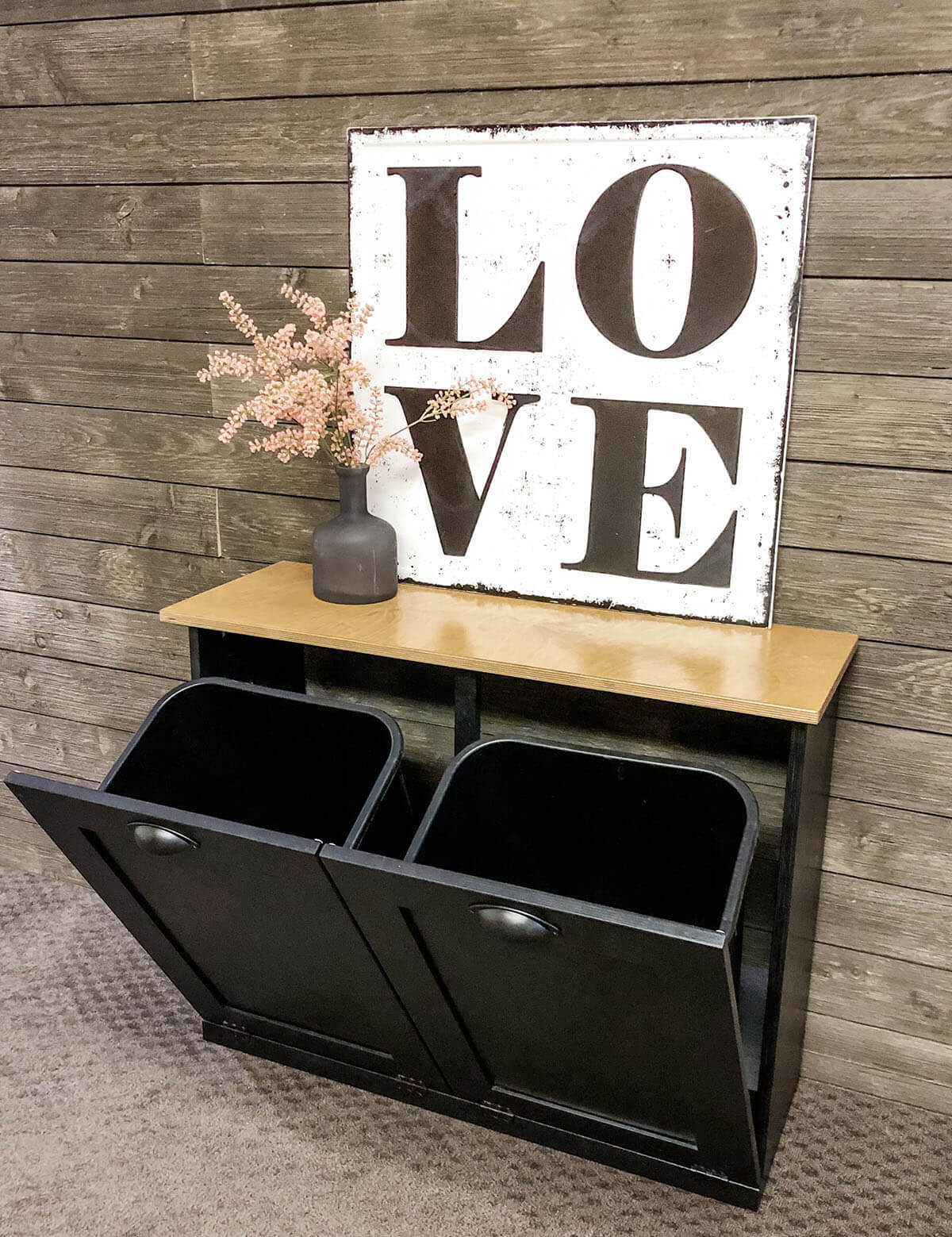 Your trash area may become more obvious in a small space, but this double bin trash container is a great way to disguise it right out in the open. On the outside, the bin looks like any other cabinet. You can personalize it by choosing from six different door materials as well as six varied hardware materials.
8. Whitmor 4-Section Closet Shelving Organizer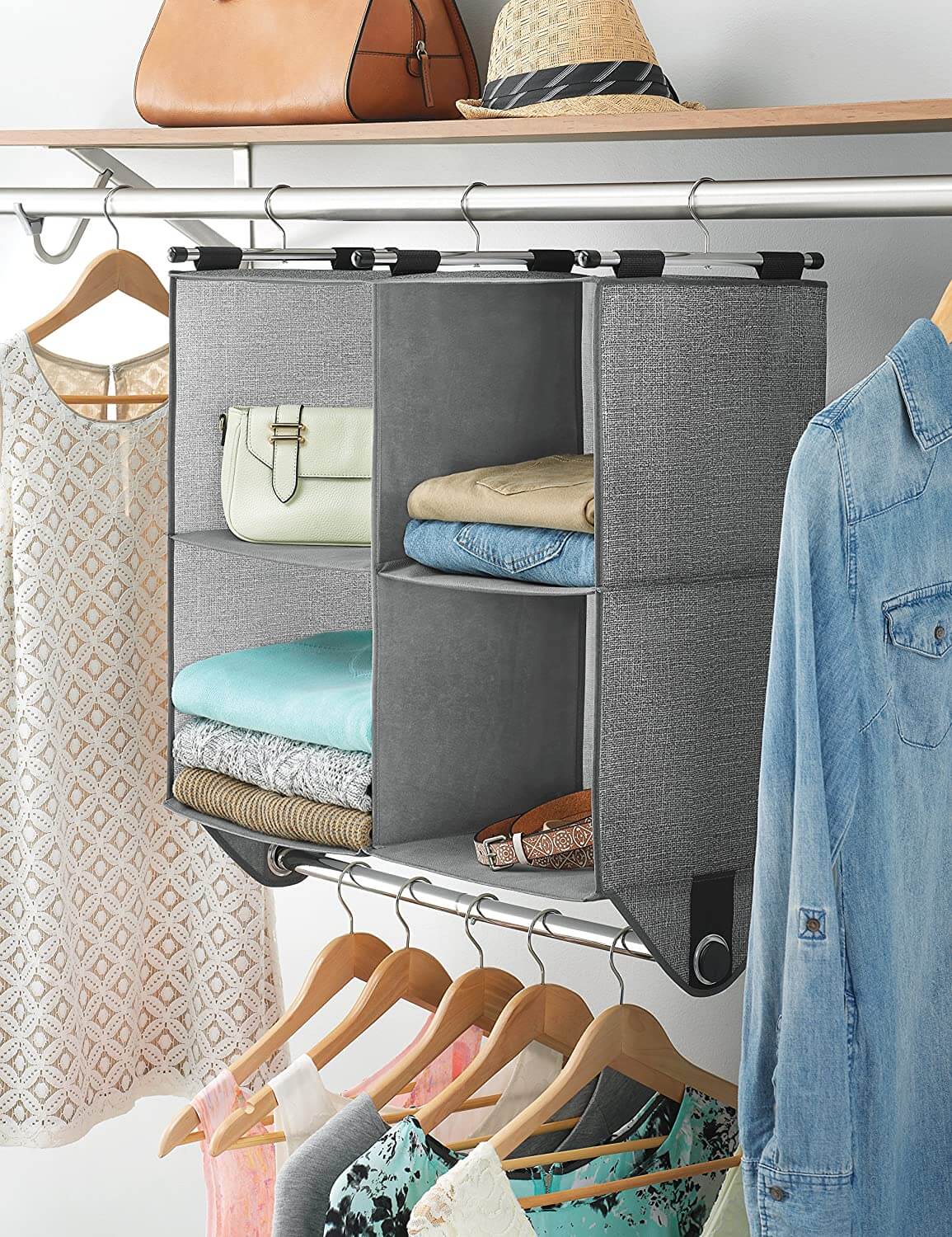 A perfect way to expand your closet space is with this appealing closet organizer shelving unit. There are four large cubbies as well as a metal garment rod underneath so you can store folded and hanging items in one spot. It has three chrome rods on three hooks to support hanging directly on a closet rod.
9. mDesign Shelved Hanging Shower Caddy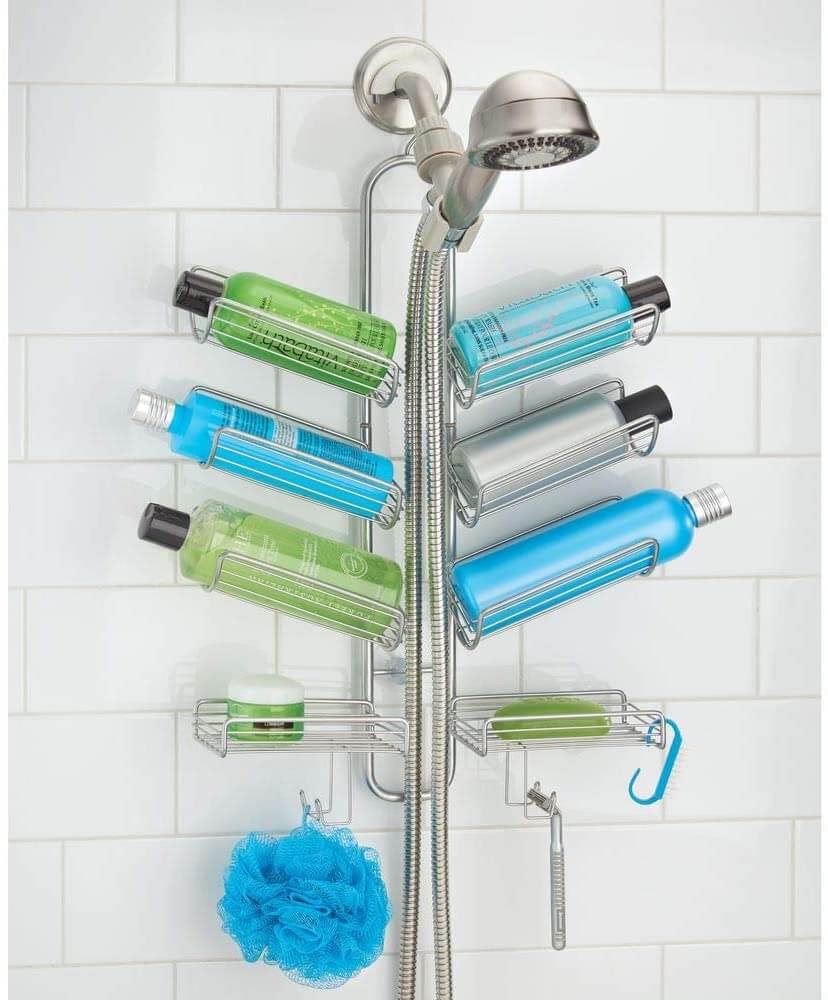 A bathroom is easily a place where you can run out of the room, so a quality shower caddy can quickly come in handy, especially if it's used by more than one person. This one features eight shelves as well as four hooks to keep numerous shower accessories on. The shelves even have a wire base so water easily drips down.
10. Vintage Design Metal Plate Rack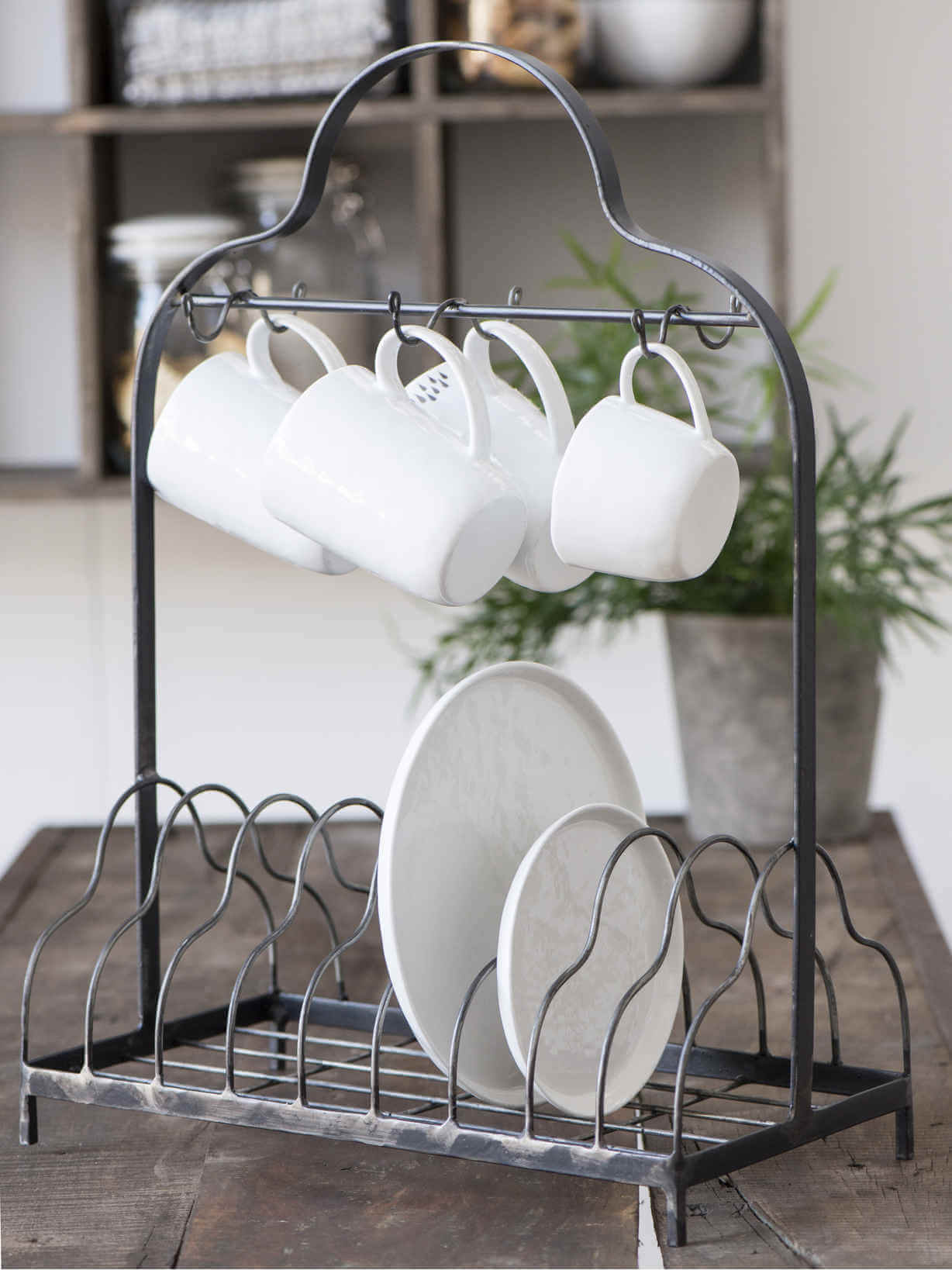 This metal plate rack not only is compact so it can fit when space on a countertop is minimal, but it also has an incredible vintage design to add some style to your kitchen. It has such a compelling layout that it's versatile in what you can store on it from dishes to other kitchen items like chopping boards.
11. Compact Size Mira Storage Basket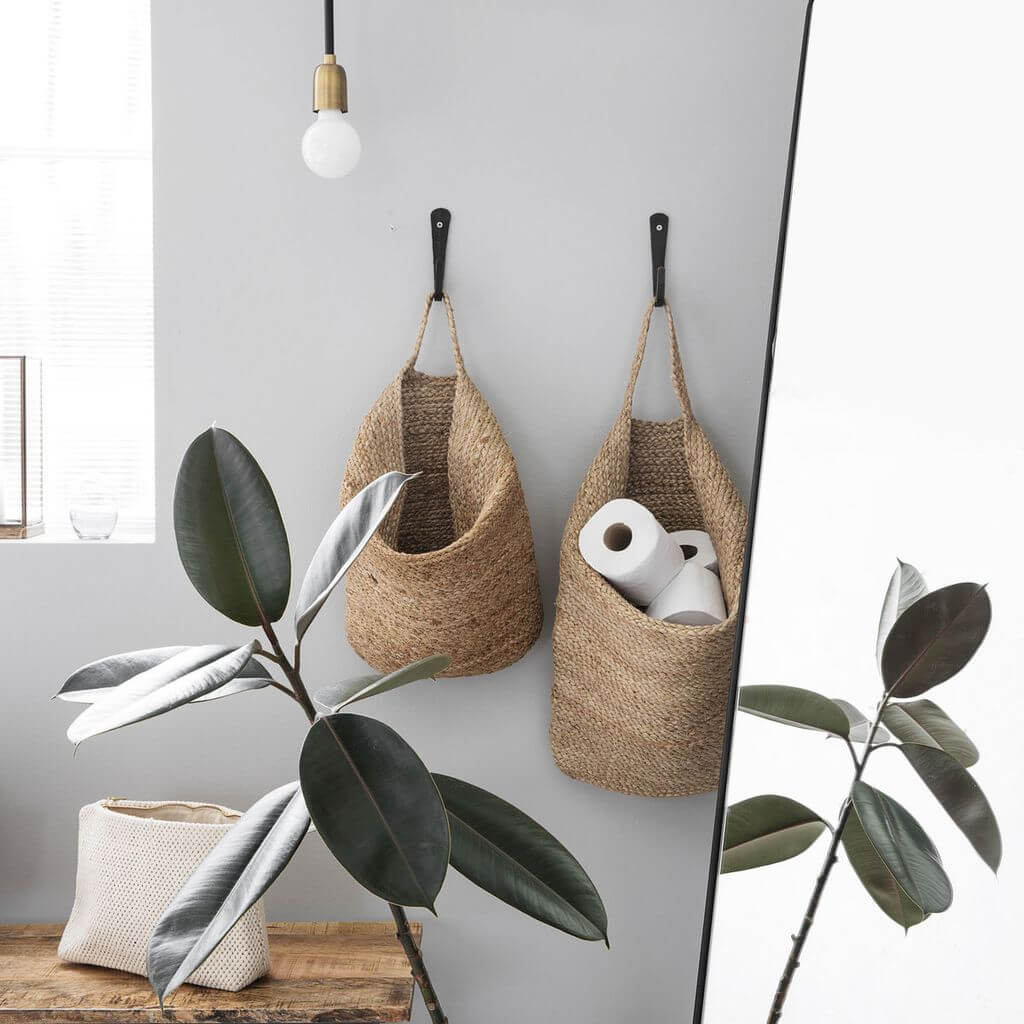 Get rid of clutter and save on space with this beautiful Mira storage basket. It can hang on the wall with ease if you don't have a floor room. This has great flexibility too concerning what you can put inside it thanks to its sturdy design. You can use it in the bathroom or even in the laundry room as a laundry basket.
12. Cutting Board Storage Shelf Rack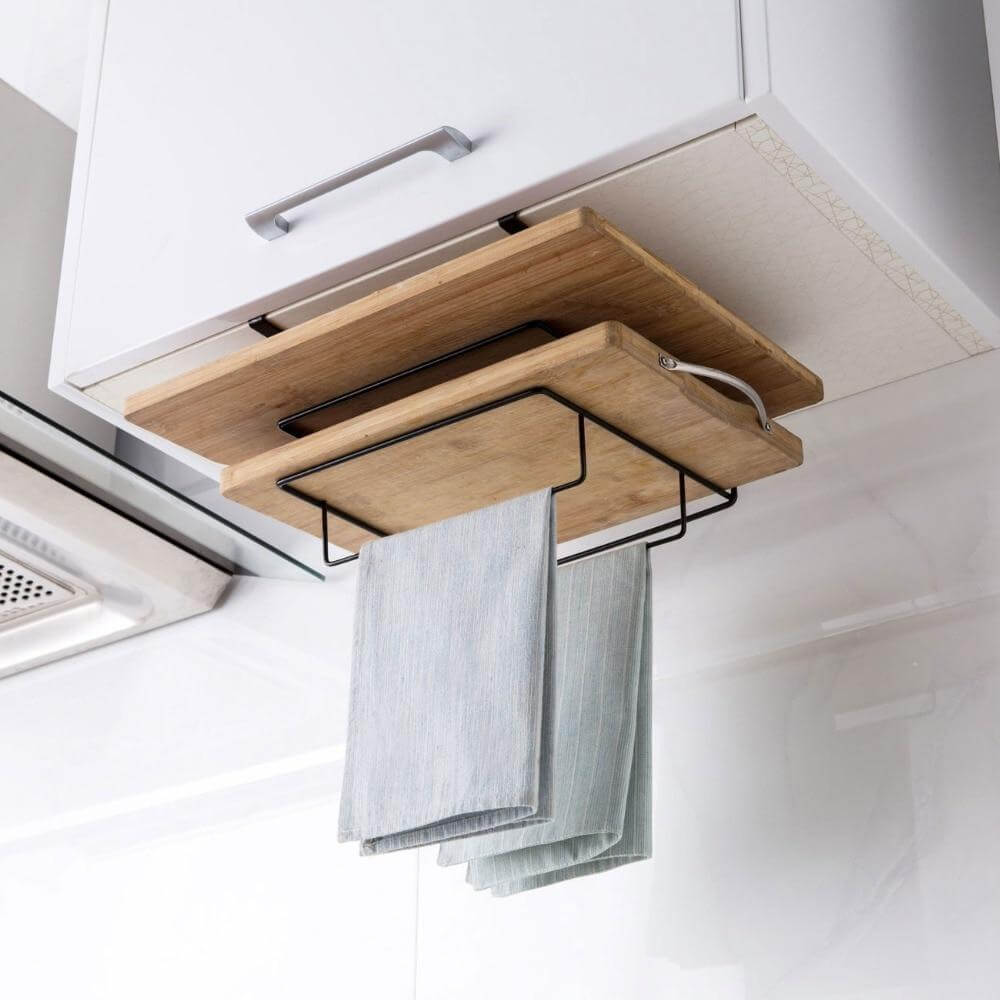 This cutting board shelf rack is a wonderful way to make more room in your kitchen while giving it a distinctive decorative touch. It's multi-purpose too since it has room to hang towels on or even store cooking utensils. Made from a quality metal material, it has a good weight-bearing capacity, and by the way, it's designed, it can hang vertically or horizontally.
13. Over the Sink Dish Drain Rack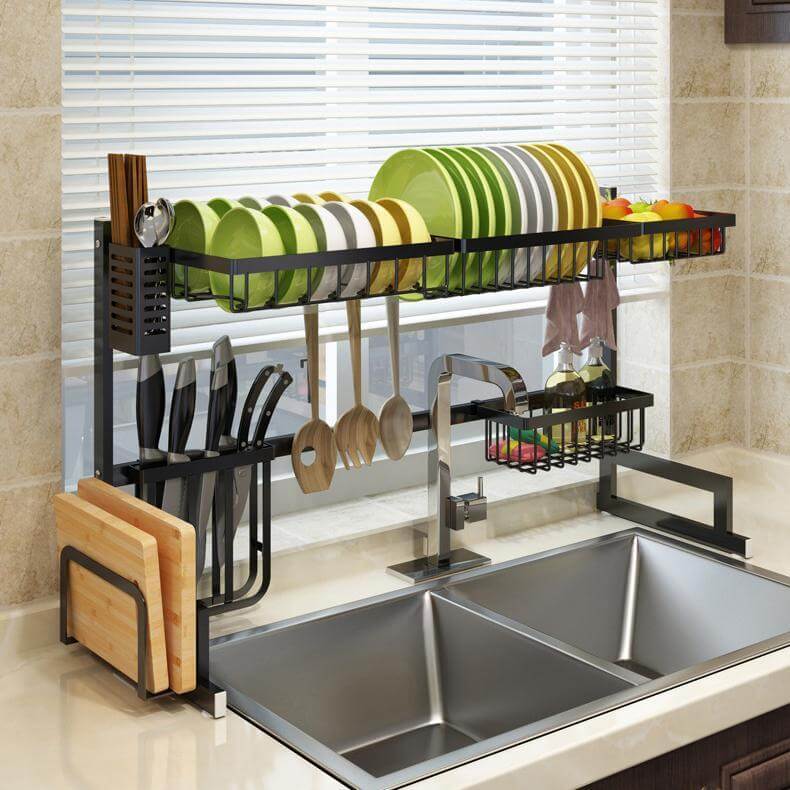 This awesome dish rack rests over the sink, allowing the washed dishes to readily drain back down into the sink so that there's no clean-up required. It's built out of 304-stainless steel for a durable build to hold several different dishes, and this material is also intended to keep the rack rust-free. This is also available in a handful of sizes to fit various sinks.
14. Wooden Metal Nespresso Vertuo Coffee Pod Holder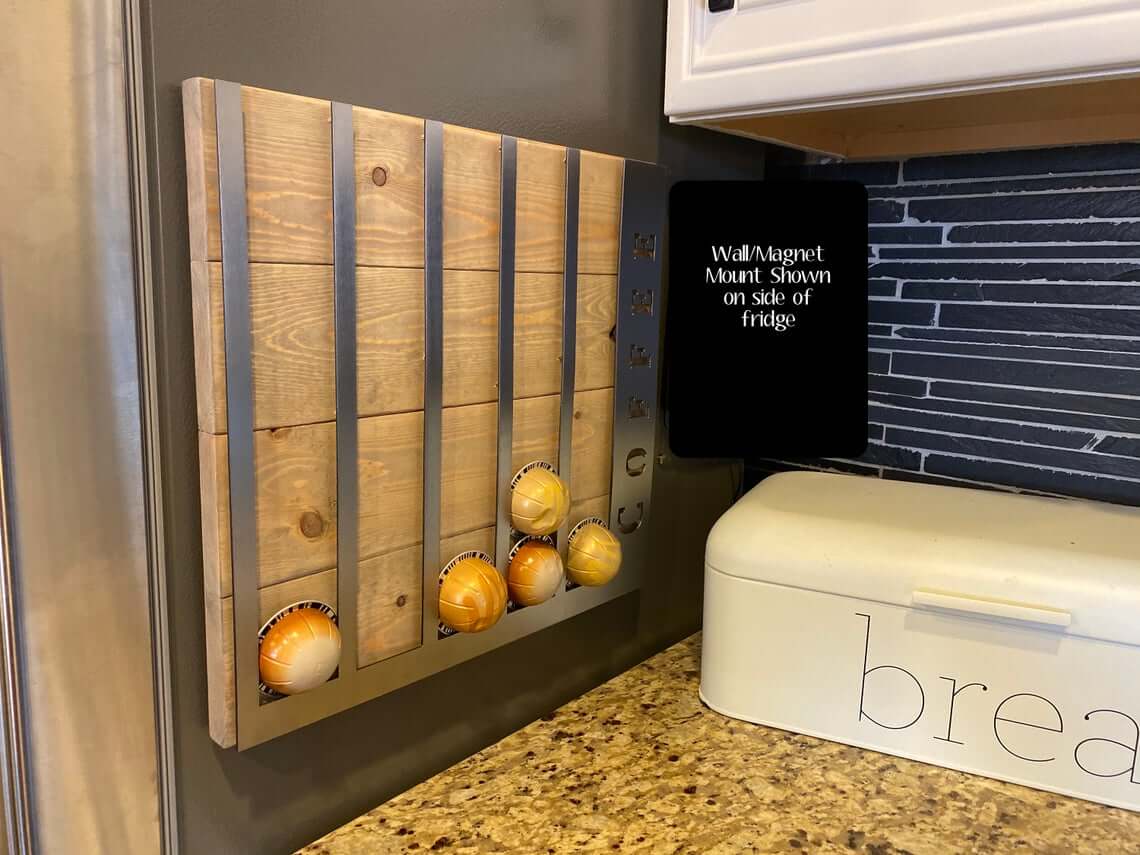 For those of you with Nespresso Vertuo coffee pods, check out this unique storage display made from wood and metal material. It can be a tabletop or wall mount design, and you can choose from different wood stains as well as two different metal finishes. This fits five pods across and six pods high so you can store and display 30 pods in all.
15. Bathroom Wall Mounted Cabinet Organizer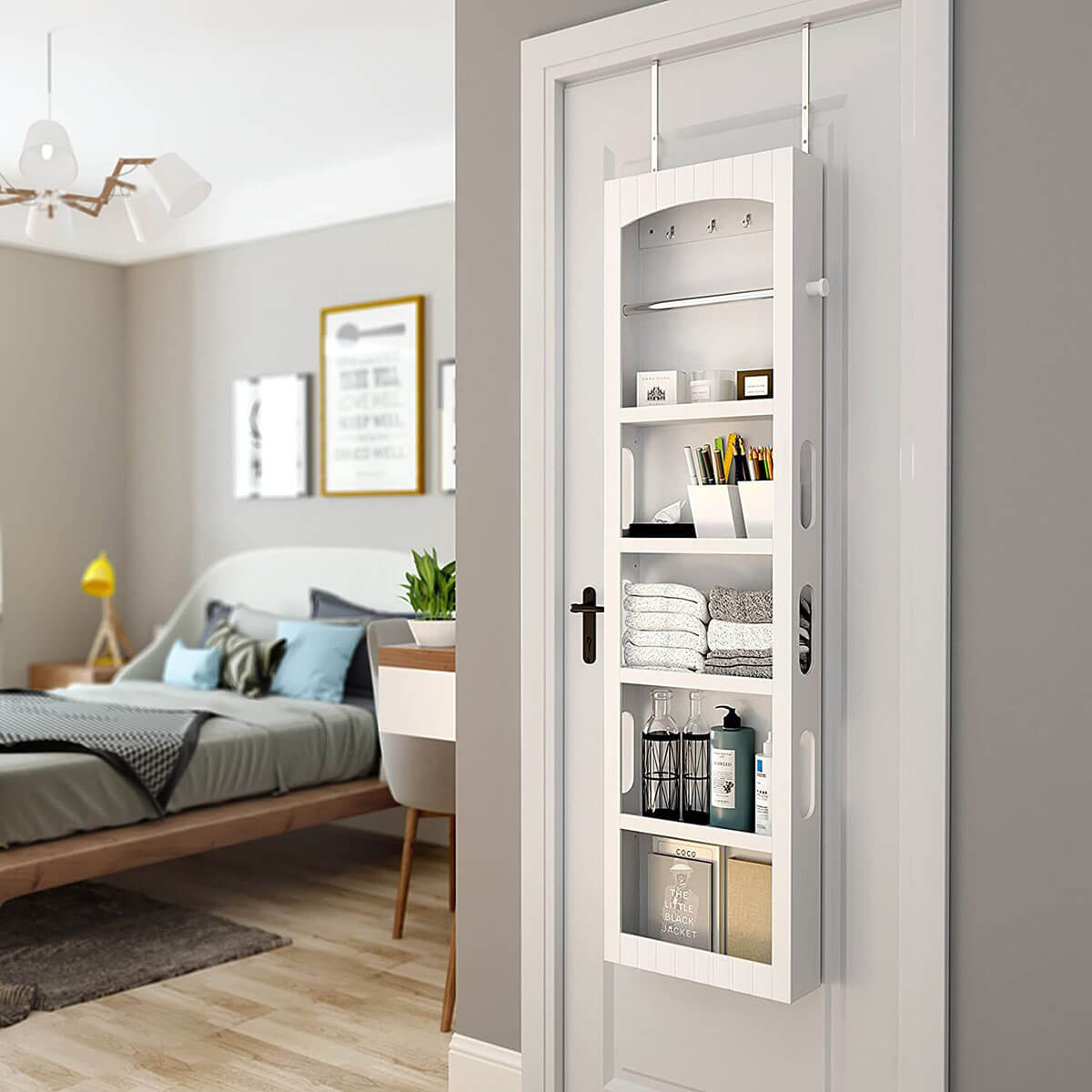 Enhance the storage in your bathroom or perhaps your utility room or bedroom with this multi-tiered cabinet organizer. It can be mounted on a wall or a door, and there are five total compartments to stash a variety of items. Thanks to the openness of the cabinet, you can find and reach what you're looking for fast.
16. 3-Pack Under Bed Wheeled Storage Bin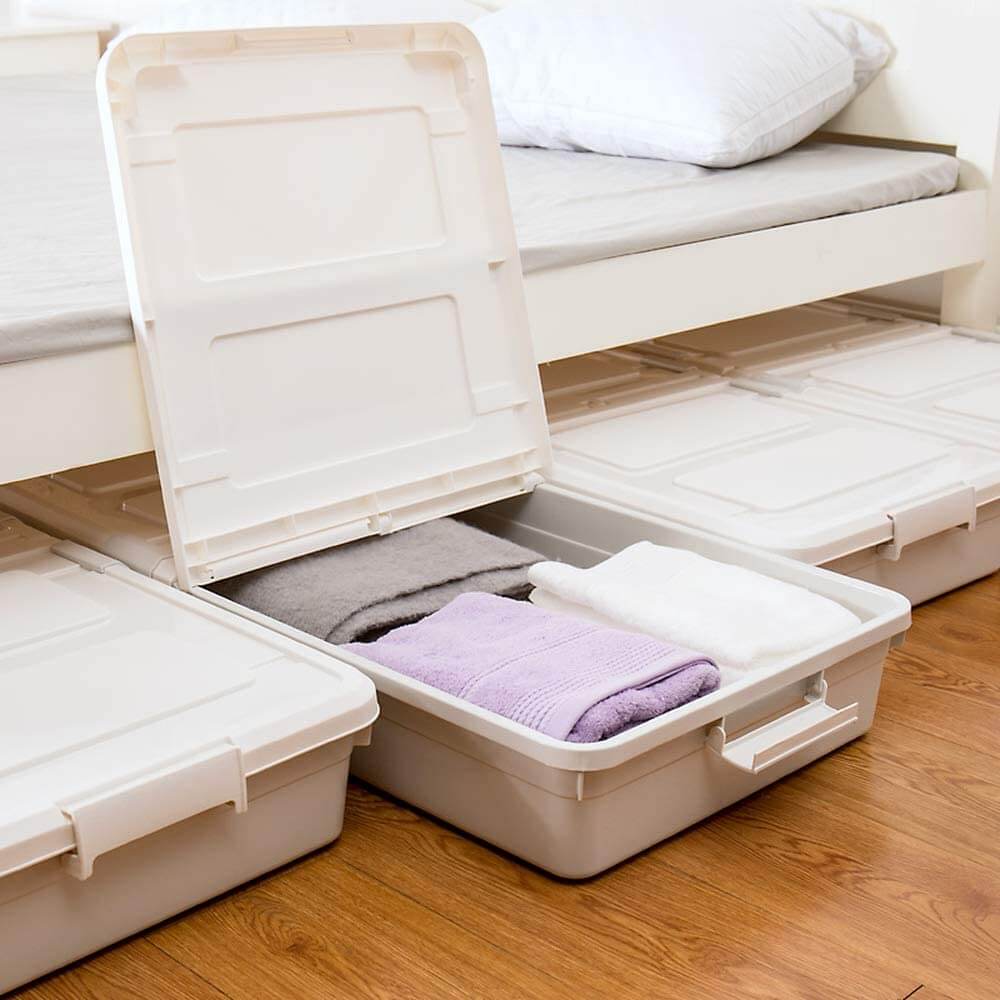 Available in a 3-pack, these under bed storage bins are easy to pull out and in as needed thanks to the attached wheels. There are eight wheels that glide well, and a single handle that's simple to pull on. This can fit different items from clothes to shoes. With the large size, you may fit about four underneath a twin-sized bed and eight under double-sized, queen, or king beds.
17. Open Wooden Storage Shelving Unit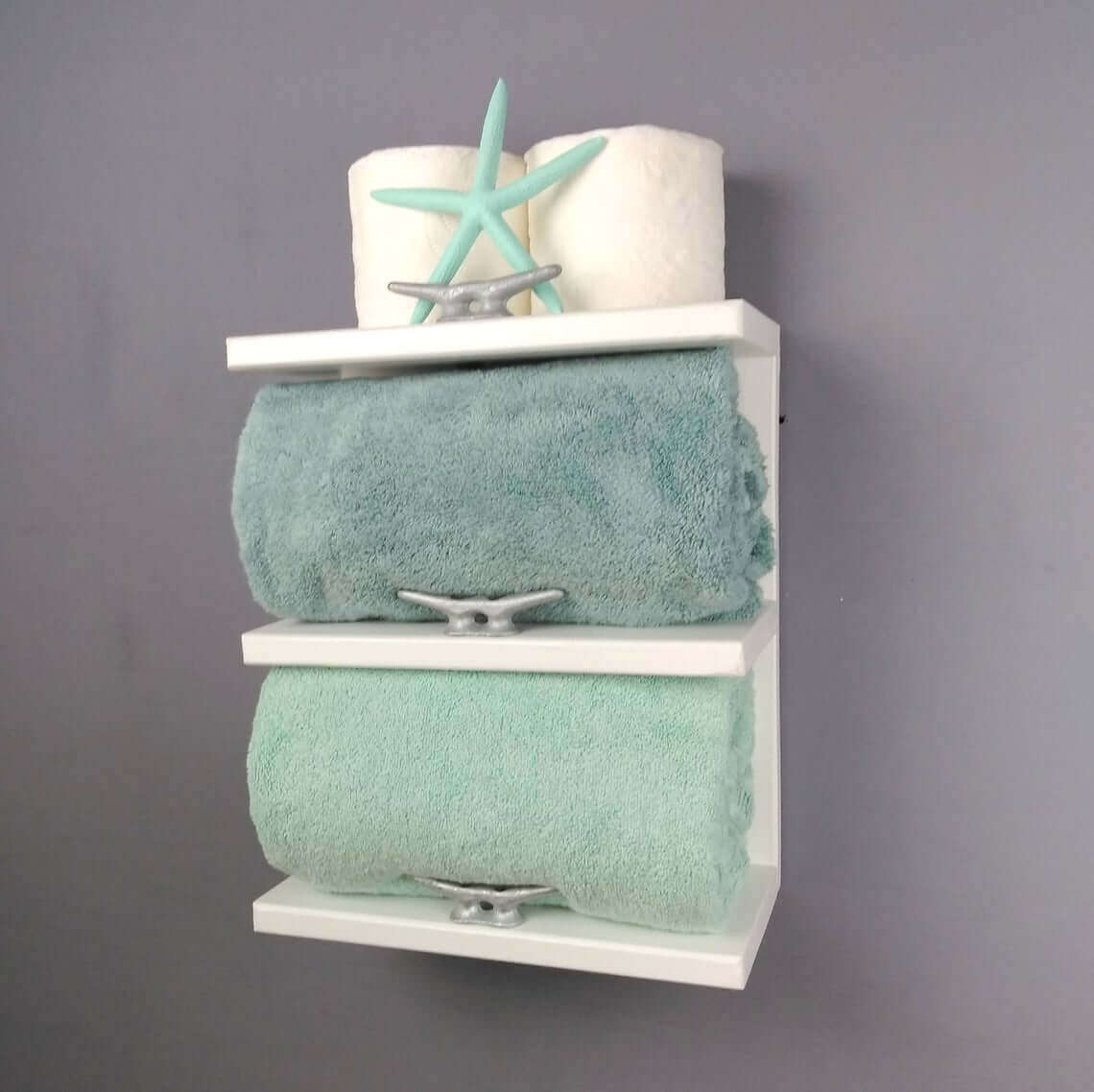 Made from reclaimed wood, this open shelving unit has dock cleats that work well at containing three rolled-up towels. You can use the rest of the space to store other items like toilet paper rolls, or you can even use the top area for decorative purposes. To make it match your specific décor, you can choose a different primary and secondary color.
18. Under Cabinet Utensil Organizer Drawer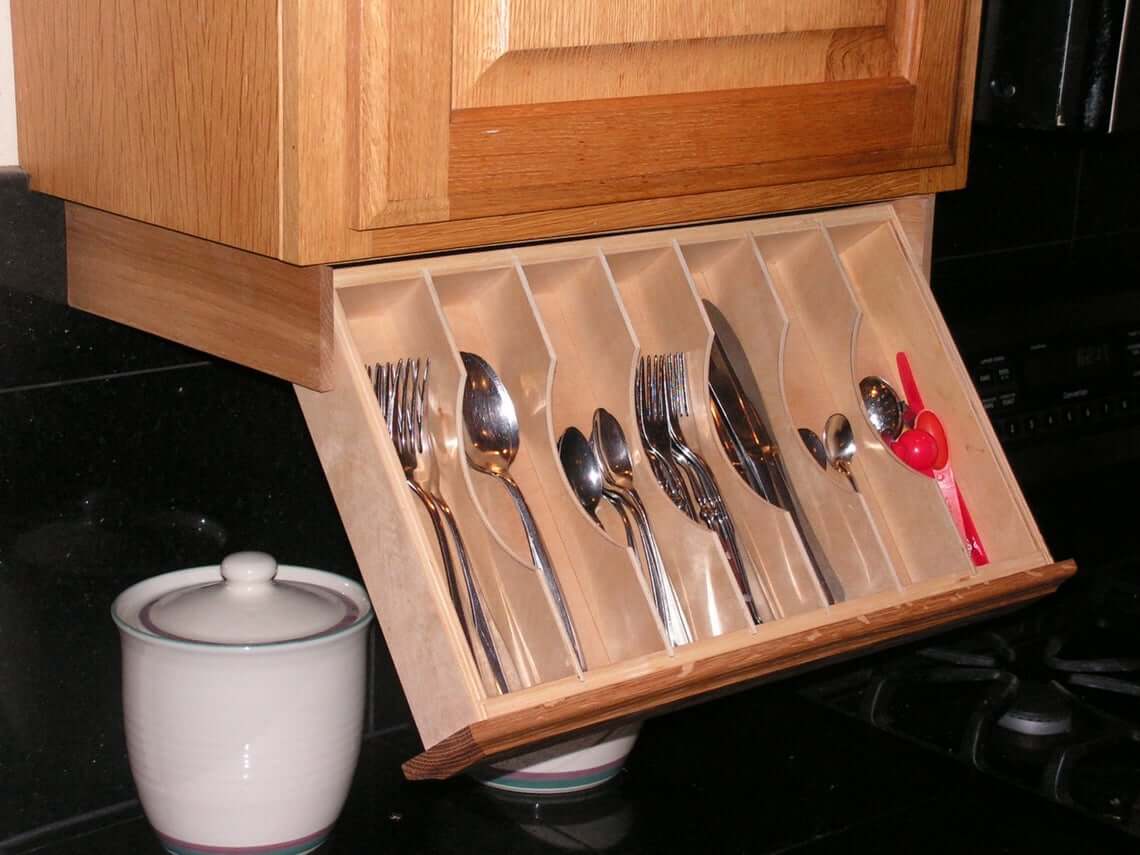 This utensil organizer is a great way to take advantage of space under your upper cabinets. This works well if you have an excess of silverware with little drawer room to stash them in. It's a lovely handmade wooden organizer that pulls out just like a regular drawer, but it also angles downward to give you easier access.
19. Over the Door Laundry Bag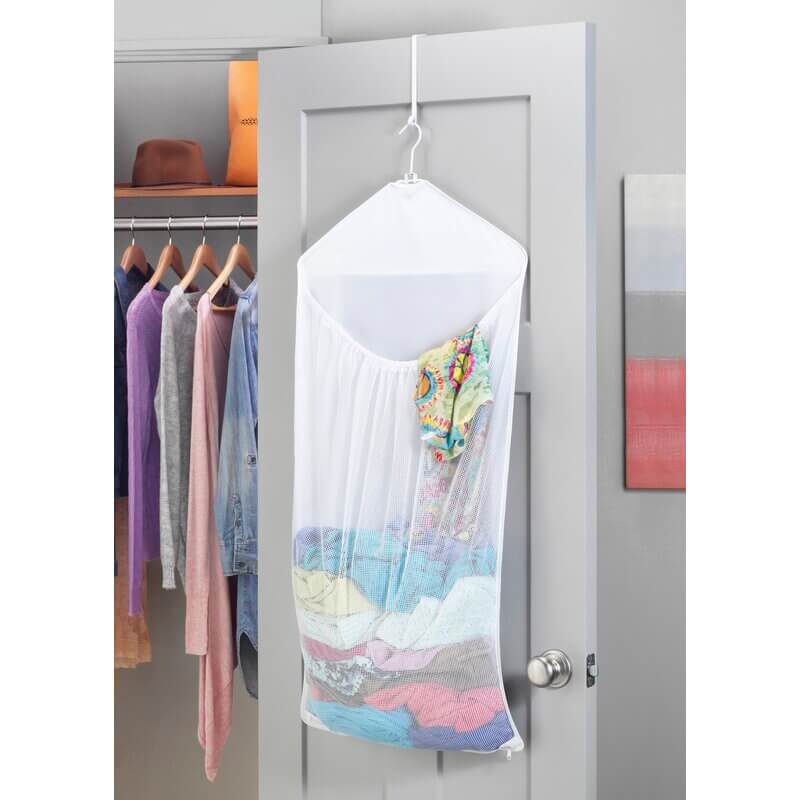 With this mesh laundry bag, you can keep all your dirty clothes off the floor and in a single spot by simply hanging it over the door. It weighs less than a pound, but it's reliably built to hold a number of clothes without falling off the door. This is available in a single white color.
20. Under Shelf Bronze Design Basket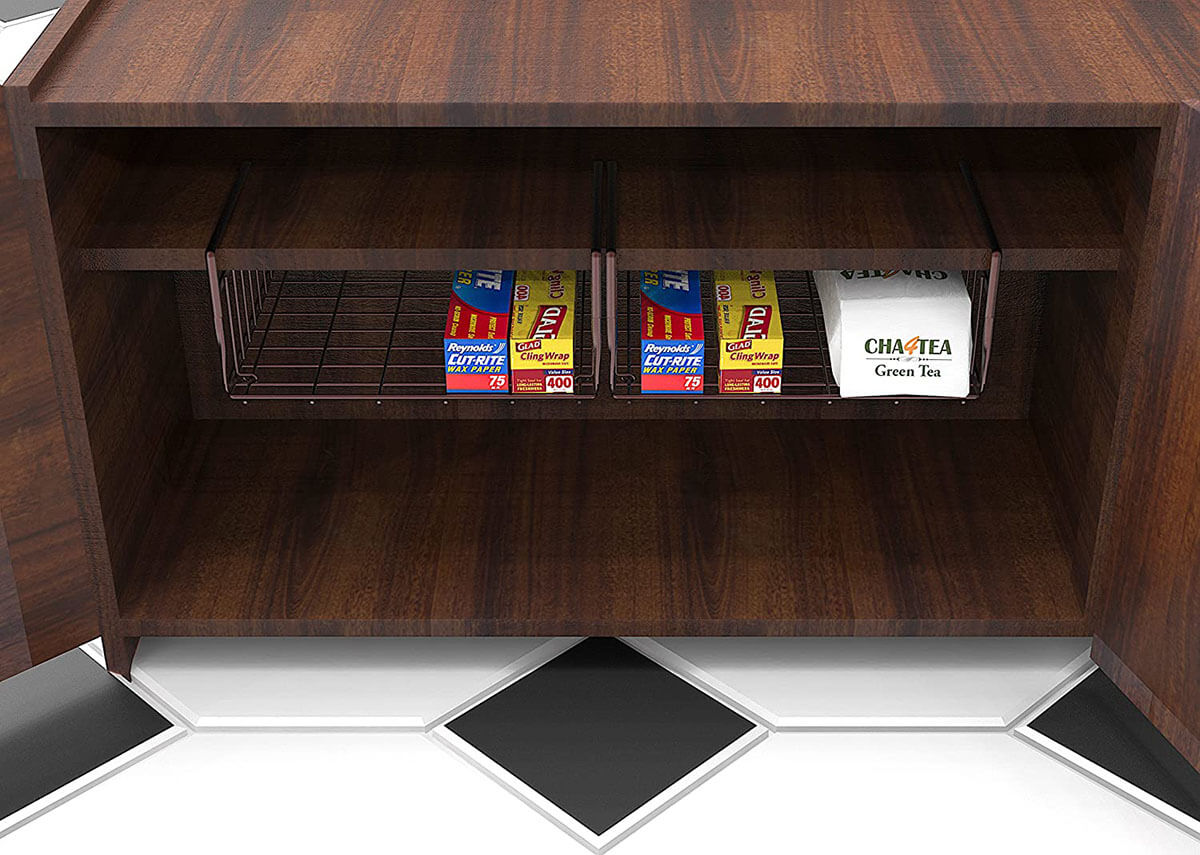 No hardware is needed to install this under shelf bronze storage basket. It's easy and fast to slide it right into your cabinet, and it can be used in different rooms from the bathroom to the kitchen. The basket is great for holding minor items like aluminum foil, dish towels, and more.
21. Corner Floor Storage Bathroom Cabinet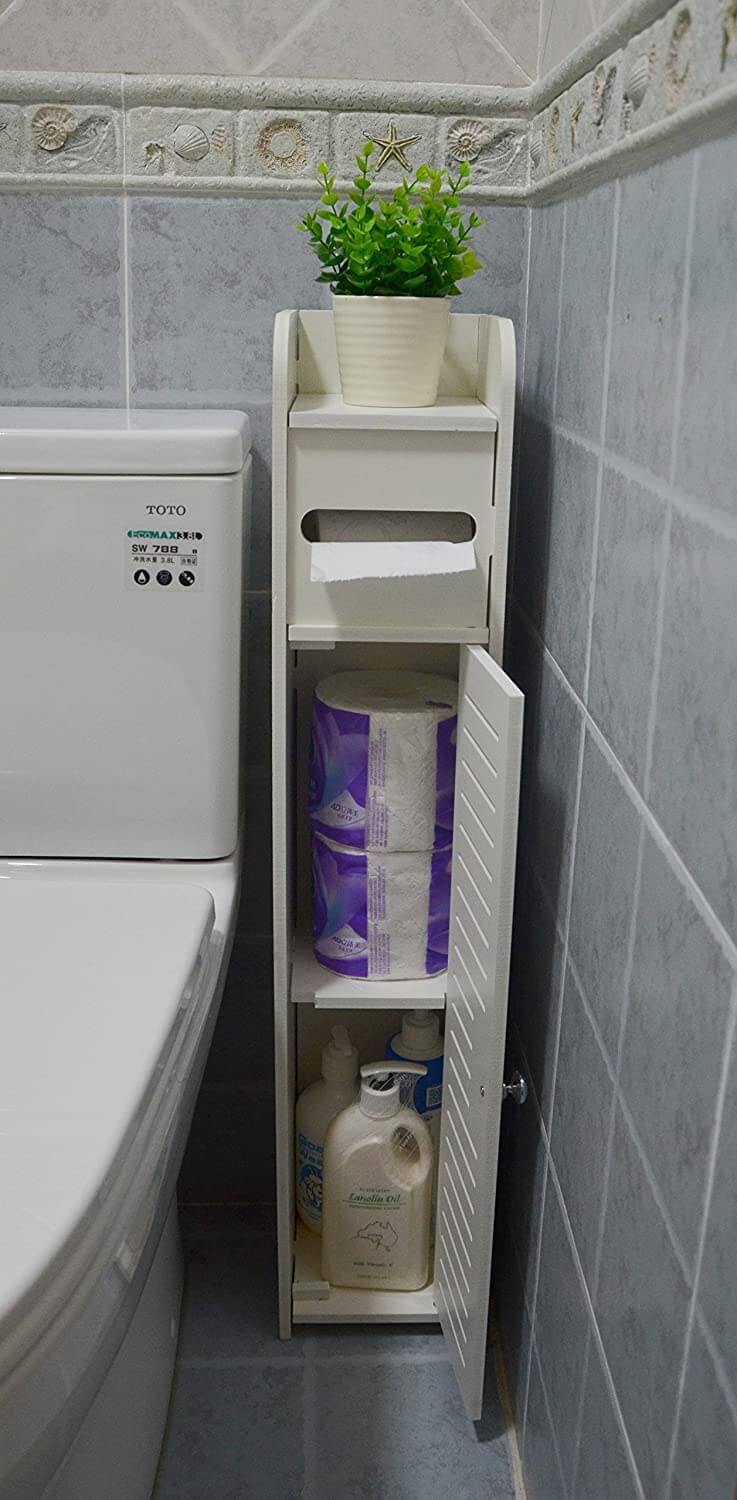 This freestanding corner storage cabinet is an ideal way to modernize a bathroom that's more compact in size or simply lacks a closet. It's narrow enough to fit in a tight spot without sacrificing storage capacity. There's a top compartment that's great as a toilet paper holder. Meanwhile, there's a bottom 2-tier design for extra space. It even has waterproof and moisture-proof material.
22. Shoe Storage Under the Stairs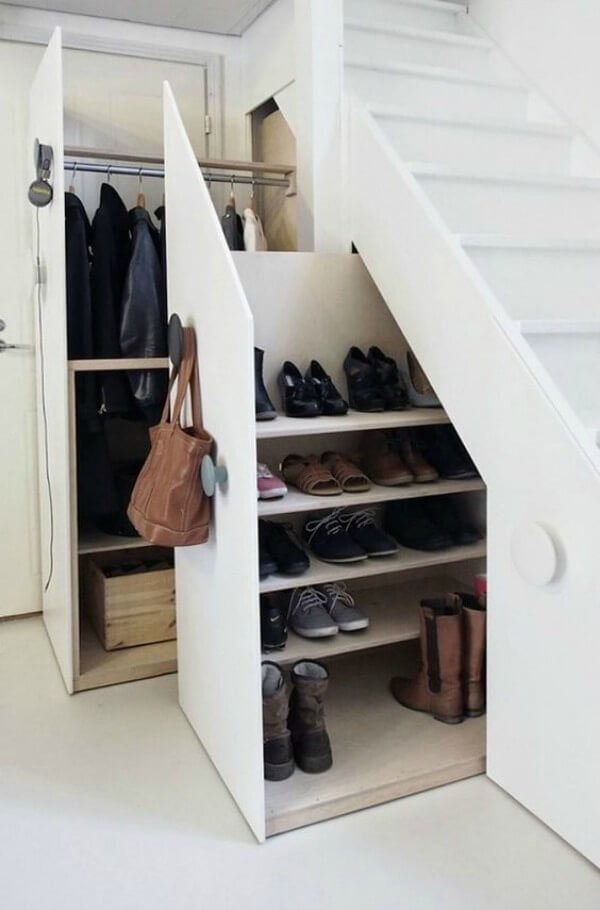 The unused space under your stairs can become extra closet space with a pull-out coat rack and pull-out shelving. A remodeler can safely create this extra storage for you while maintaining the structural integrity of the stairs. After you move coats, boots, and shoes into this new storage area, you can convert the coat closet into shelved storage.
23. Install a Bookshelf Beneath the Bed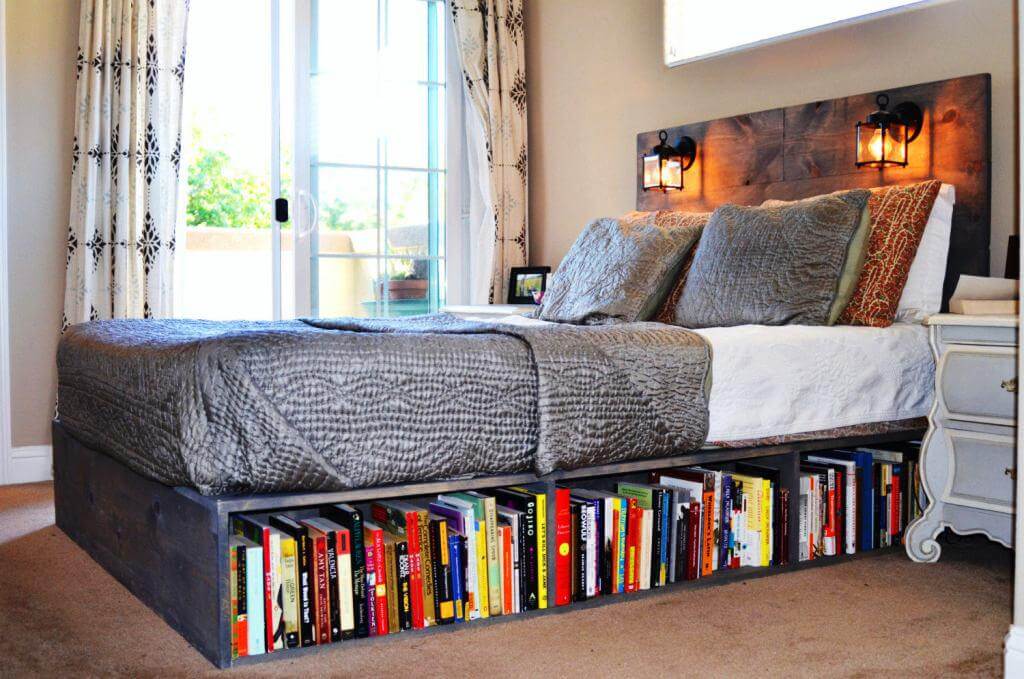 The space under the bed can become more than a place to grow dust bunnies. Creating bookshelves under the bed can eliminate stacks of books in all areas of your home. The books will be organized and easier to find. In addition, the space under the bed will be sealed off preventing any more dust bunnies from growing there.
24. Simple Shower Ring Scarf Storage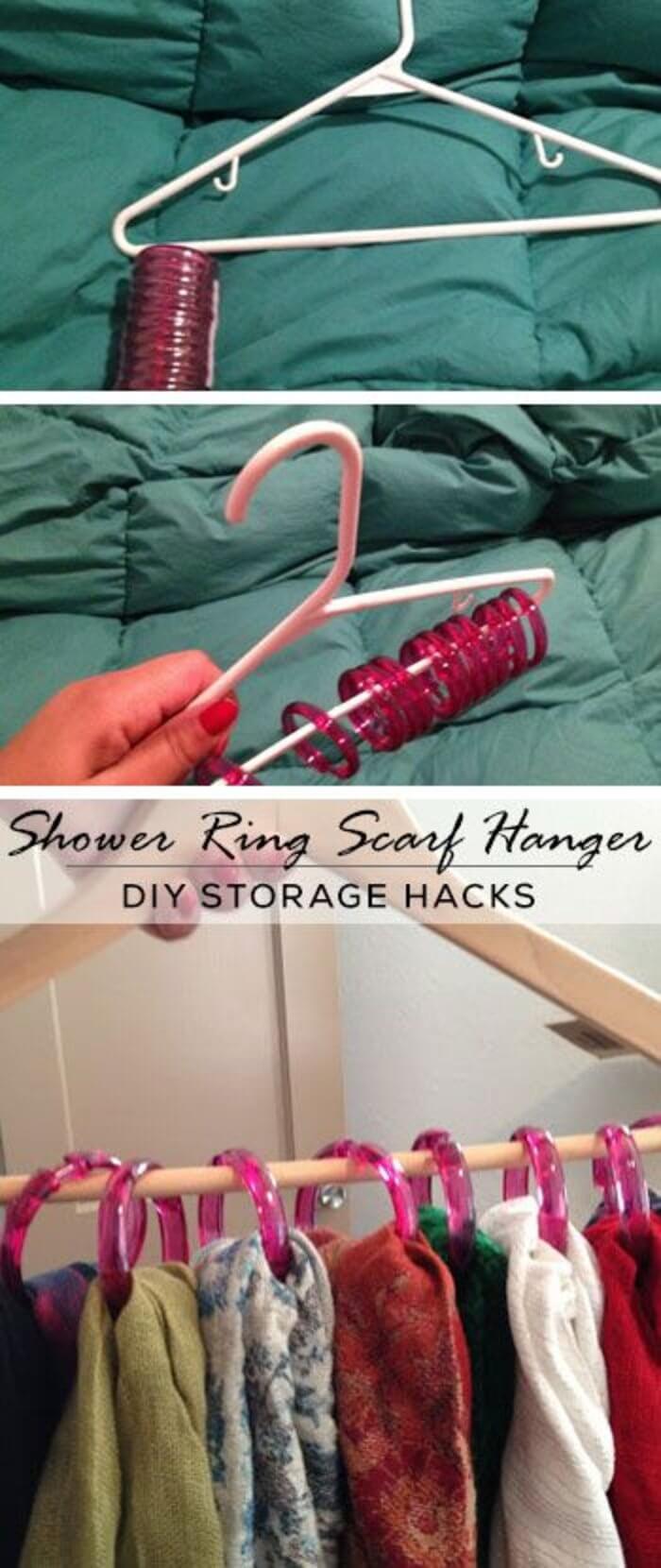 Instead of having your scarves stacked in a drawer or thrown over a hanger where you have to sort through them, you can hook shower rings over a hanger. Your scarves take up less space than in a drawer, and they are separated for easier access than just throwing them over the hanger.
25. Space-Saving Jars Mounted Under a Shelf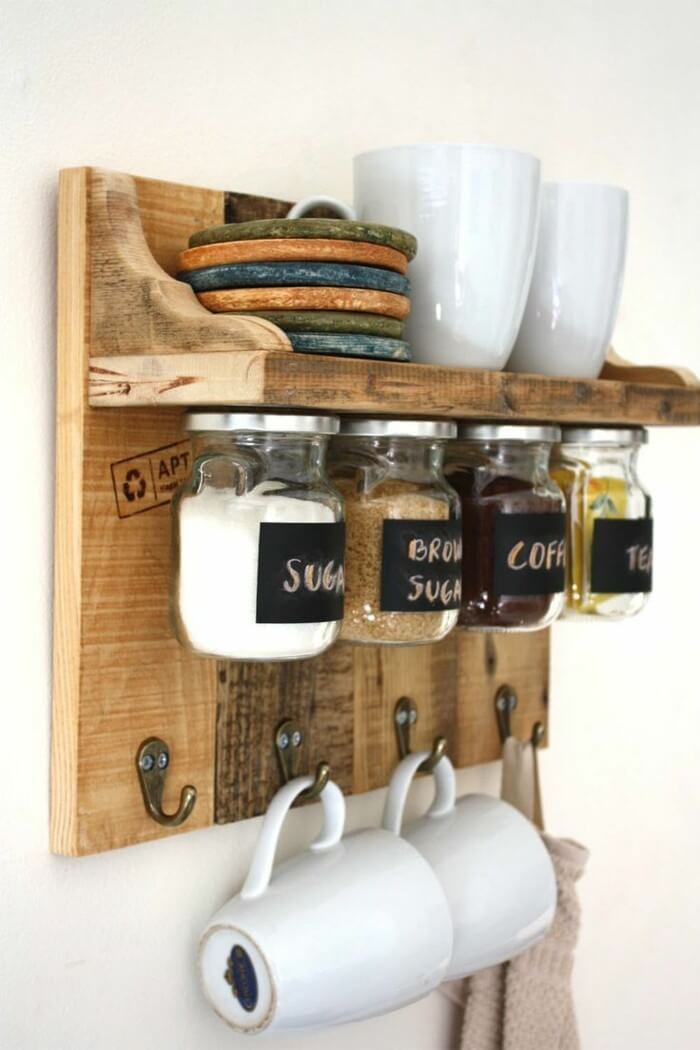 Occupying minimal space on the wall, this shelving unit holds the essentials for that morning cup of coffee or a coffee break. The top shelf holds coasters and coffee cups. Some jars mounted under the shelf hold essentials, such as coffee, tea, and sugar. More cups are hanging at the bottom. This shelving unit adds a rustic look to your kitchen.
26. Hidden Sliding Shelf in a Small Bathroom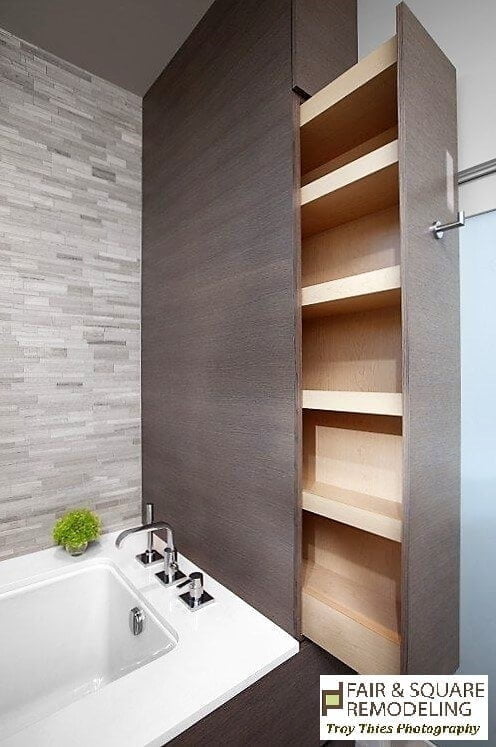 More storage space can be created in the small bathroom by building a pull-out cupboard in a narrow space between the sink and the wall. The cupboard is attractively built to coordinate with the bathroom and fits perfectly in the narrow corner by the door, providing shelving for cleaning supplies, health and beauty aids, toiletries, cosmetics, and towels.
27. Build a Freestanding Bathroom Cabinet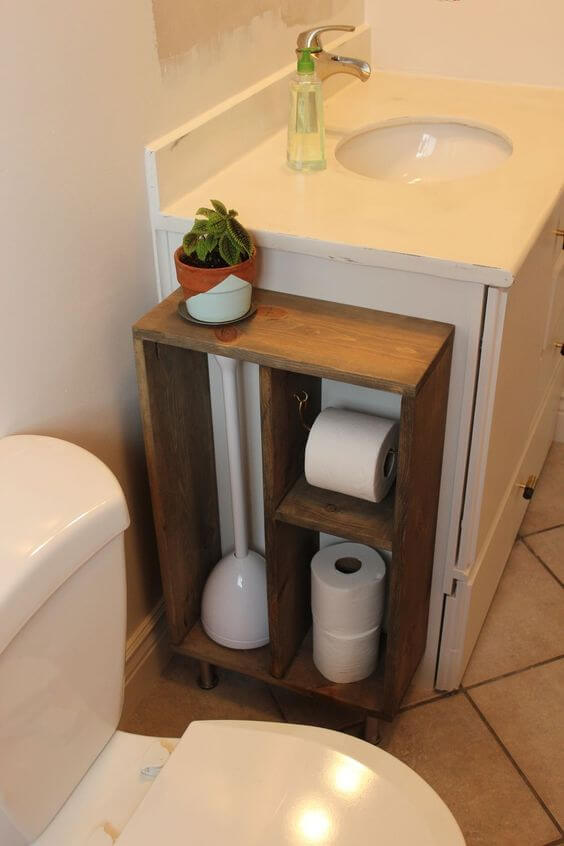 Instead of just having a toilet tissue holder attached to the bathroom vanity, you can add more storage by slipping a freestanding shelving unit in that space. It can hold items for quick access such as a toilet bowl brush and extra rolls of toilet tissue. It can be built to coordinate with any bathroom.
28. Maximize the Space Beneath Kitchen Cabinets

Unused space under your kitchen cupboards can be made into storage space by installing drawers. If you are handy, you can do it yourself or you can hire a contractor. At first glance, this may not seem like a lot of space. However, you could store kitchen linens, cutting boards, cookie sheets, pizza pans, muffin tins, and other larger items in these drawers.
29. Slip a Slender Table Behind the Sofa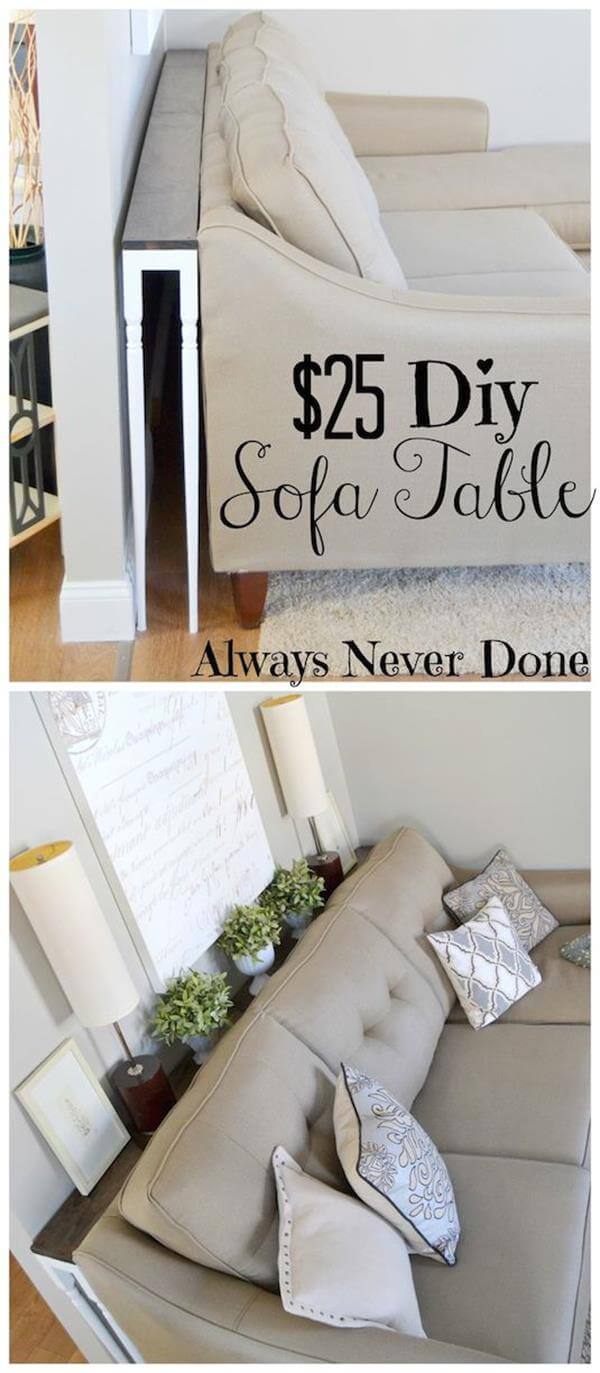 A skinny table behind the sofa can add both decorative and storage space. Lamps, a clock, pictures, coasters, and plants can be placed on the table. Table lamps free up floor space used by floor lamps and avoid holes in walls from wall lamps. Books, a small box for small items, and the remote can be kept on the table.
30. Adorable Hanger Hack for Sandal Storage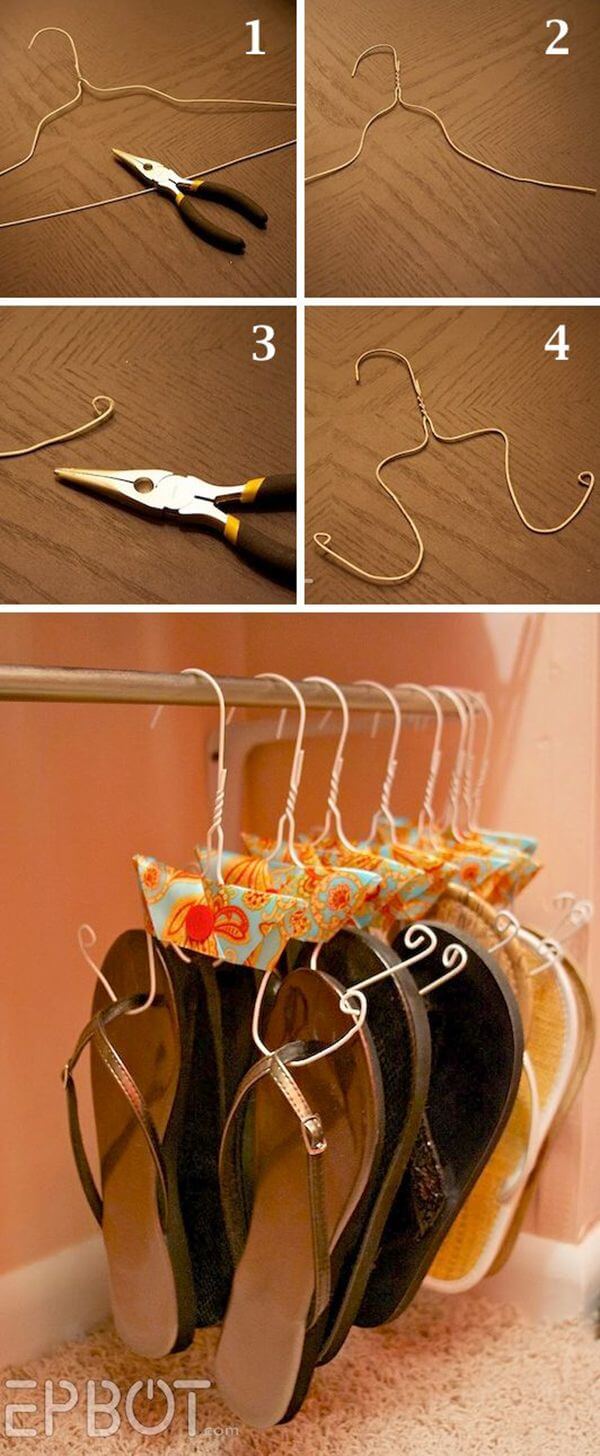 Hanging sandals removes clutter from the closet floor and makes it easier to find a matching pair. Cut wire coat hangers and shape them into hooks. Spray paint them and cover them with fabric or ribbon. Now, you are ready to organize your sandals, and clean up your closet floor.
31. Hanging Shelves Double Cabinet Space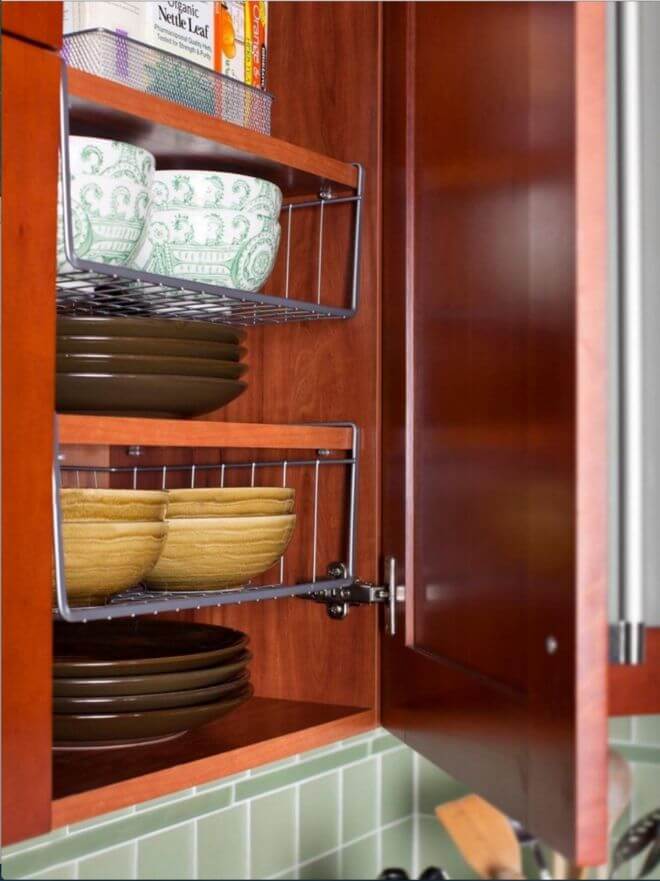 Adding hanging shelves allows you to store items more accessibly without stacking. Stacking items to get everything in the cupboard means you have to remove the items on top to get to the items on the bottom. These hanging shelves hold the items that would be stacked. So, the items that would be on the bottom are easier to access.
32. Rolling Spice Rack Beside the Fridge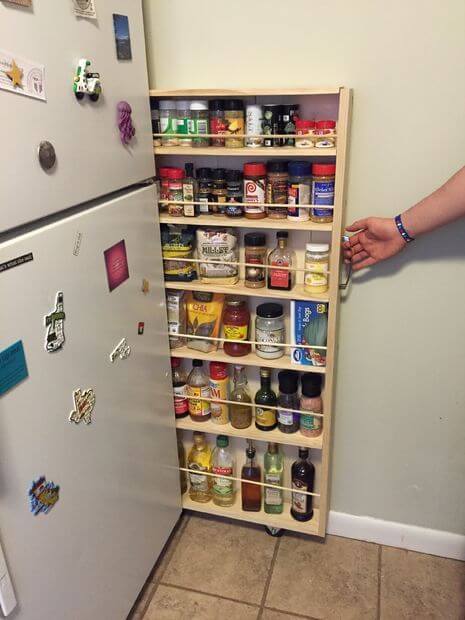 Spices cannot be stacked. So, they end up scattered on a cupboard shelf or in a spice rack that takes up counter space. However, this rolling spice rack uses two good elements for creating space. First, it converts an unused space into storage, and then, it makes it possible to store the spices vertically.
33. Sliding Shelves Mounted Behind Bathroom Mirror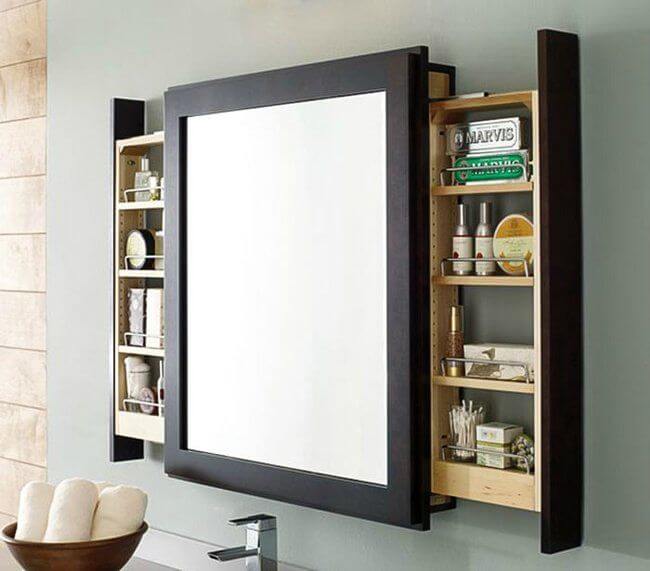 Rather than the traditional medicine cabinet, which has a door that opens out over the sink and is at times in the way, this mirrored storage area has right and left sliding shelves that stay against the wall when open and only pull out half the width of the storage area, compacting the space needed to access items.
34. Free Up Sink Storage with Appliance Hooks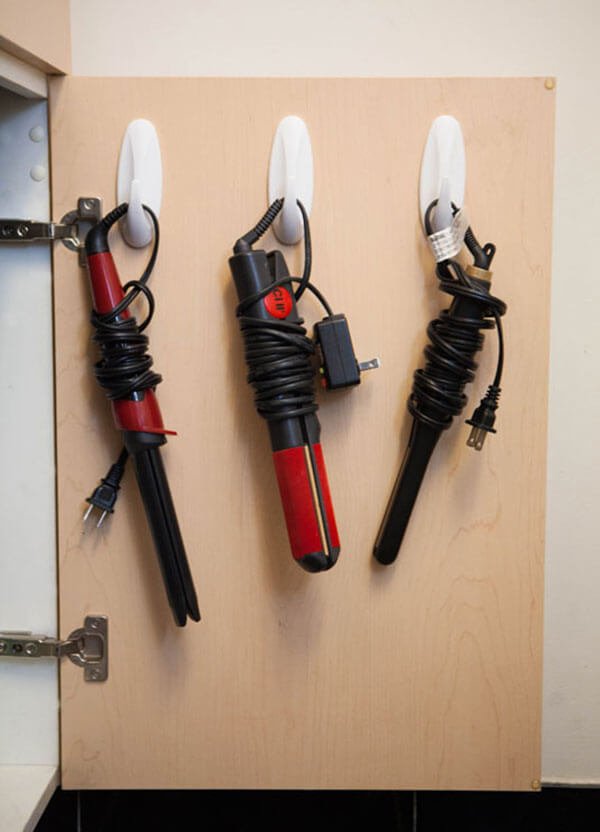 One of the hardest things to store in the bathroom is hair care accessories. They are odd-shaped, bulky, and you have to deal with the long cord. This idea of wrapping the cord and hanging them on hooks on the back of the vanity door under the sink gets them out of the way but keeps them easily accessible.
35. Sliding Drawers Make Sink Storage Simple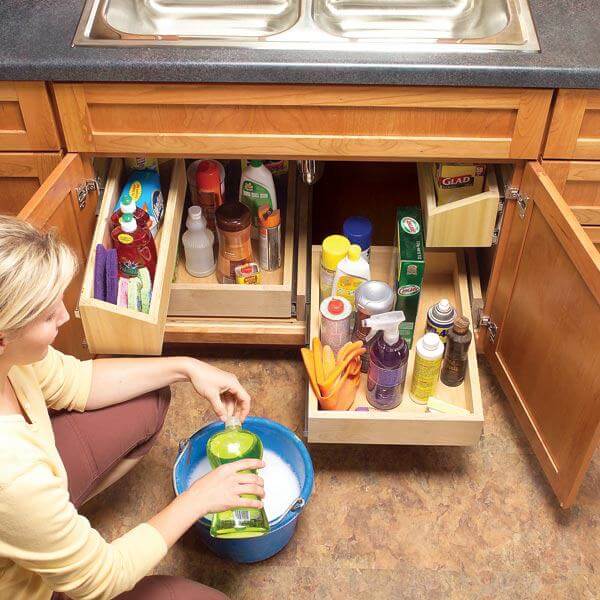 If you open the cupboard under the sink in anyone's home, you will probably find any cleaning supplies that you need. However, you will probably have to scan them or dig through them because they are probably all jumbled together. These do-it-yourself sliding drawers are easy to make and organize your cleaning supplies making them more accessible.
36. Low-Mounted Coat Rack for Entryway Shoe Storage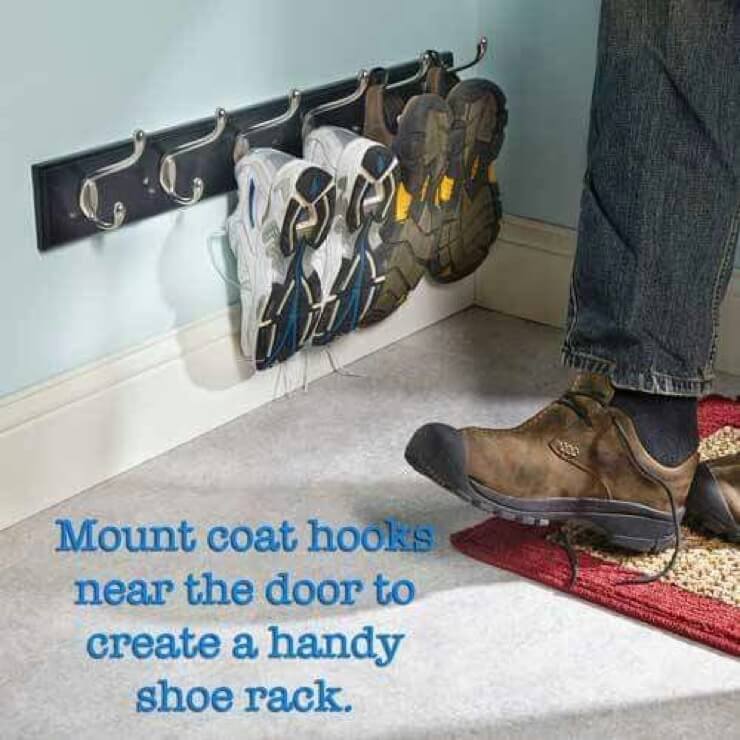 Once you explain to guests that this low-mounted coat rack in your entry hall is for shoes, not doggie sweaters, they will probably want one. Shoes sometimes need to be removed to avoid tracking up the house. This is an easy way to prevent someone from tripping on these shoes and keeps the entry hall from being cluttered.
37. Wire Shelving For Storing Pans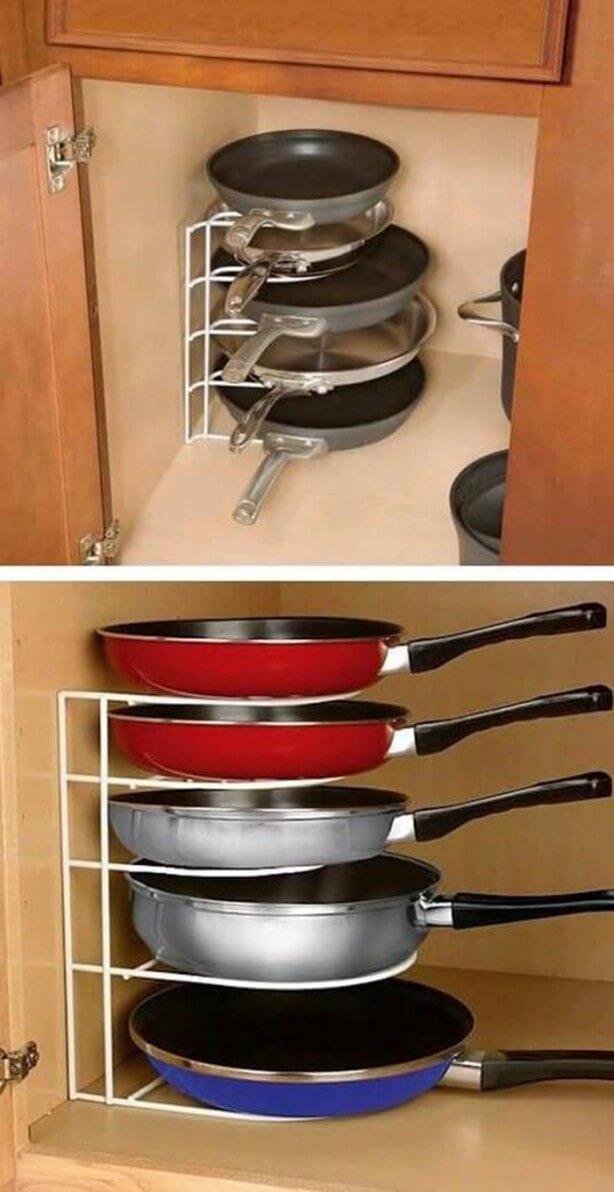 These wire racks apply the vertical storage element to make pans more accessible. Pans are stacked, leaving lots of space above them. However, some pans usually have to be removed to get access to the pan you want. These racks take advantage of the extra vertical space available in the cupboard and separate the pans so that you can just pull out the pan you want.
38. Attractive Shelves Give Floor-to-Ceiling Storage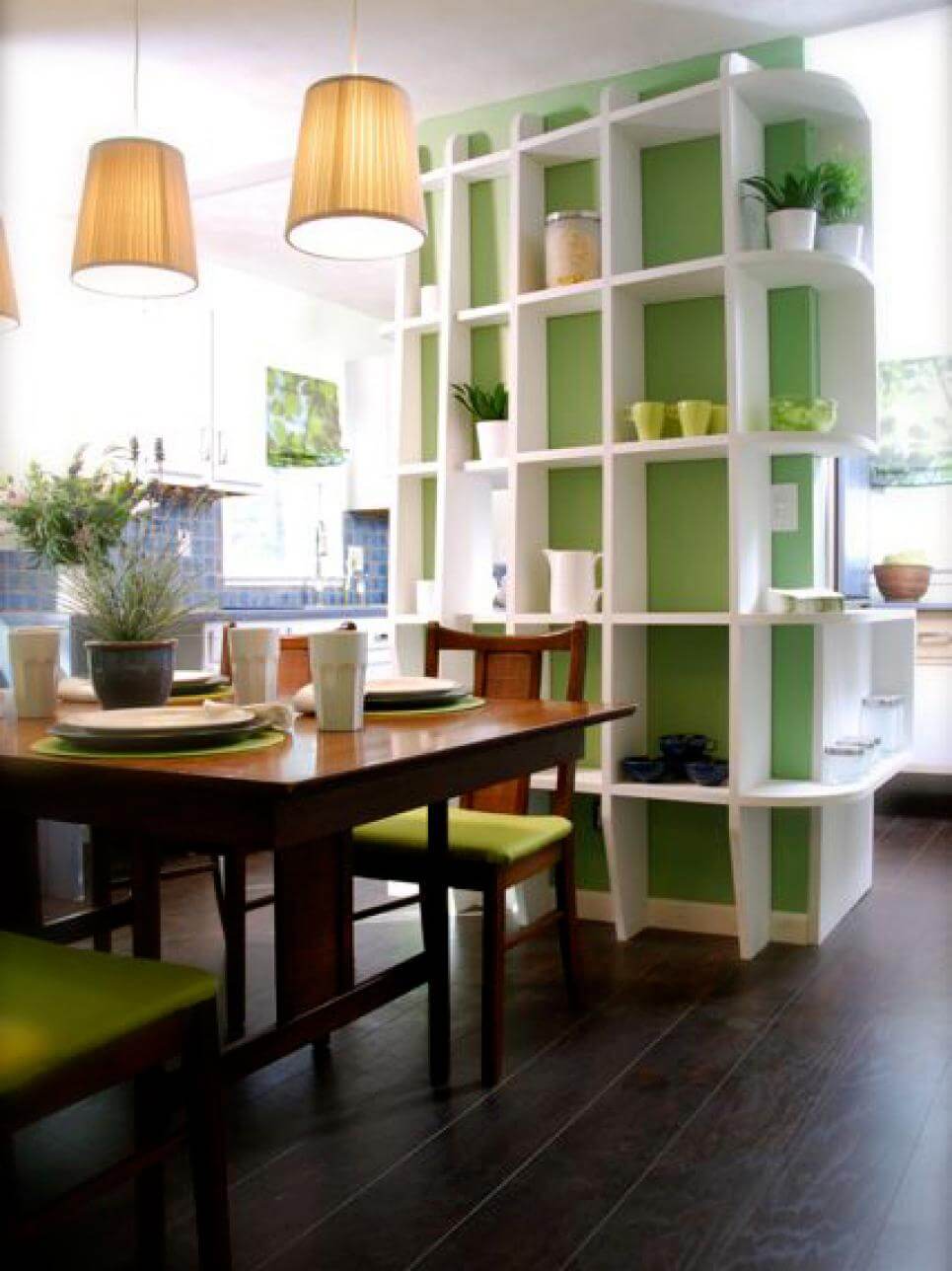 Shelving can add storage, but it can also be a place to add decorative items, even create a focal point in your room. This floor-to-ceiling shelving is not hard to build and can be customized to complement your decor. If you are not handy, you can find lots of shelving choices that will also complement your decor.
39. Add Storage Between Your Washer and Dryer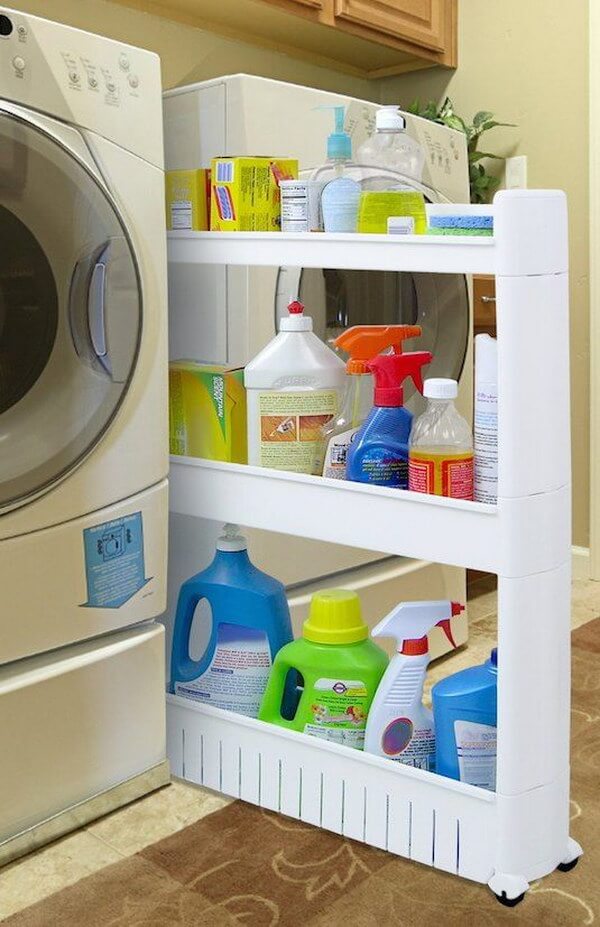 Another narrow, unused space that can be turned into vertical pull-out shelving is between the washer and dryer. This shelving can hold laundry and cleaning supplies. If you have young children, you may want to consider making this or having it made so that it has a frame and can be locked to keep children out of the chemicals.
40. Cabinets Beneath the Stairs Maximize Unused Space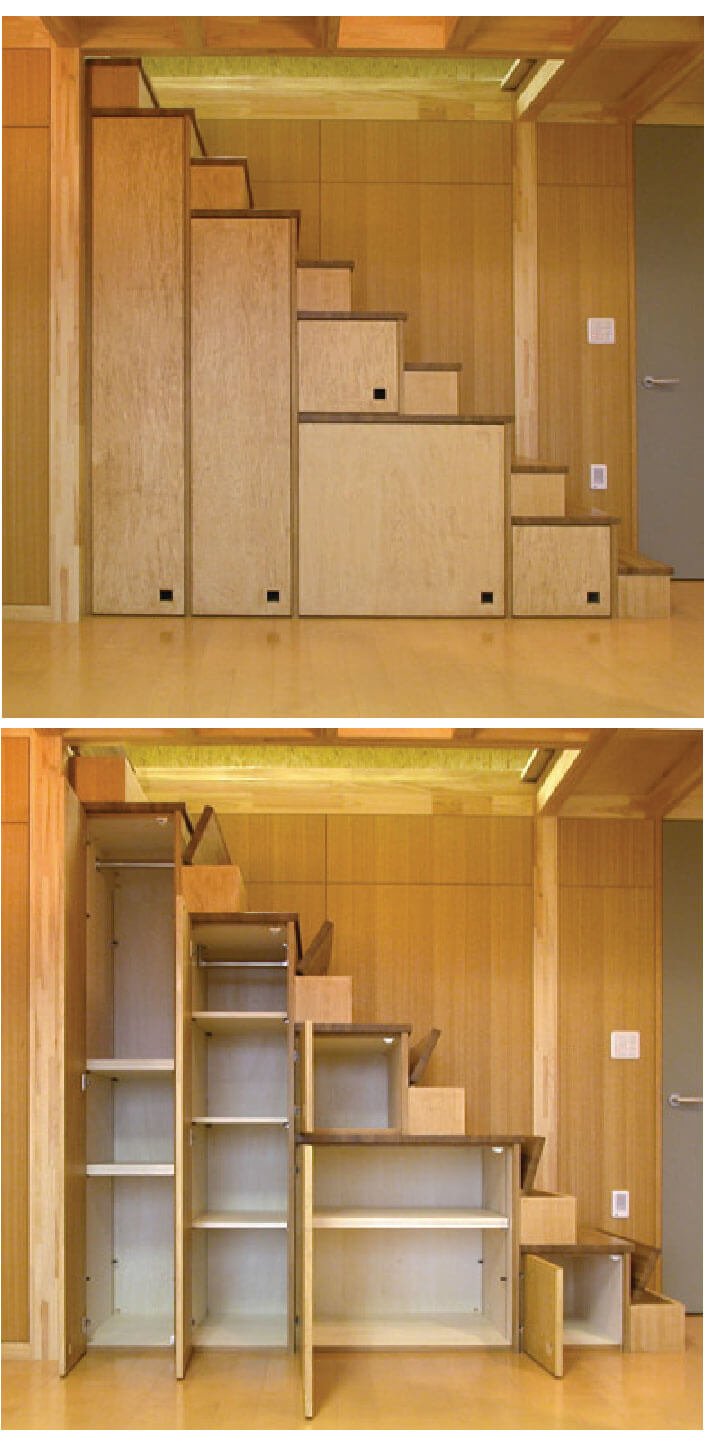 This clever staircase is a set of sturdy cabinets fastened securely together. The cabinet tops vary in height by the height of two risers on the staircase. The steps in between the cabinet tops are boxes with the step being hinged so that the step lifts up to reveal more storage space. The cabinets have adjustable shelves.
41. Pantry Door Transformed Into a Spice Rack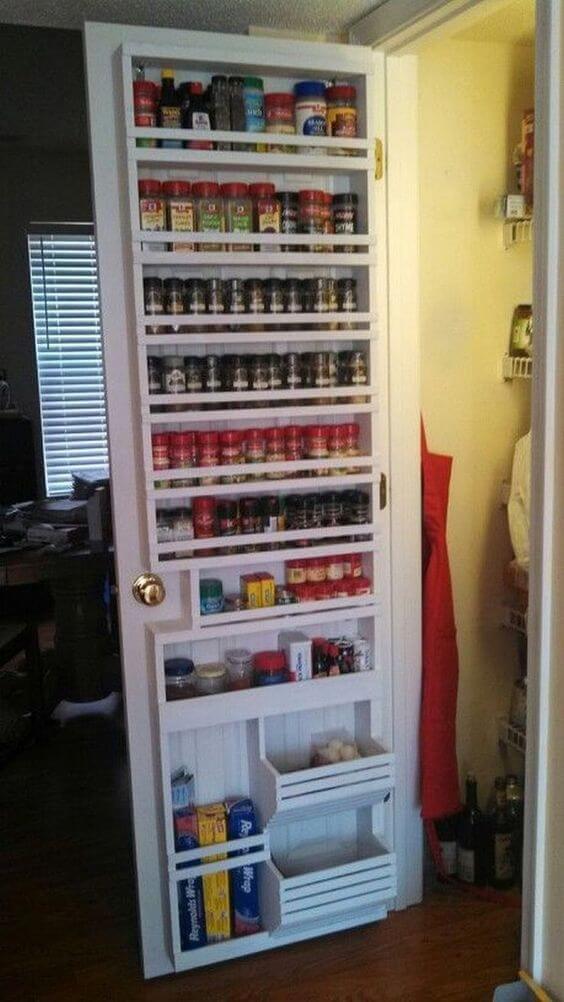 Individual jars are small, but spices can take up shelf space. So, finding unused space where spices can be stored vertically is great. Creating shelving for spices on the back of the pantry door is a perfect solution. In addition to the spices, space was created for food storage supplies and bins were created for potatoes and onions.
42. Shelves Multitask as Storage and Room Divider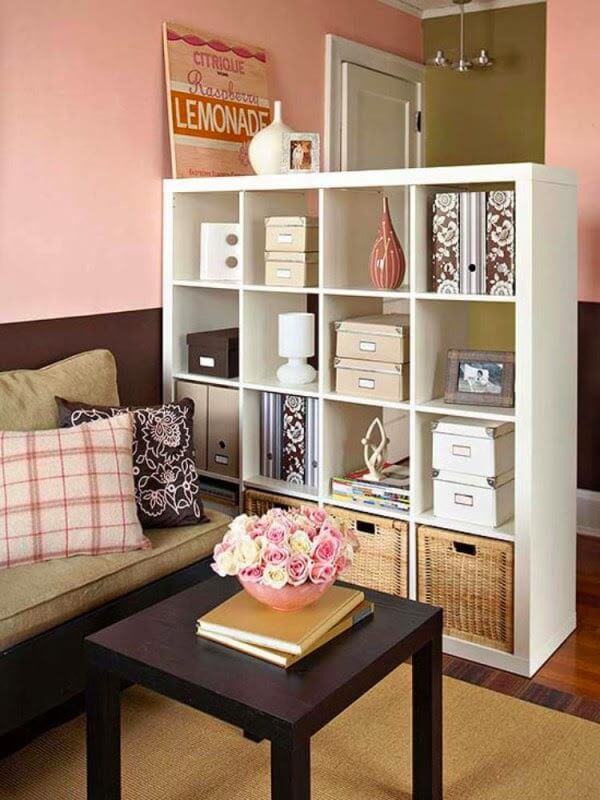 This shelving unit has boxes and baskets that create storage but are also decorative. In addition, it is a room divider and a focal point. It is backless, so items on the shelves can be accessed from either side and neither part of the room is treated as less important decoratively.
43. Mount Colorful Hat Boxes for Bathroom Storage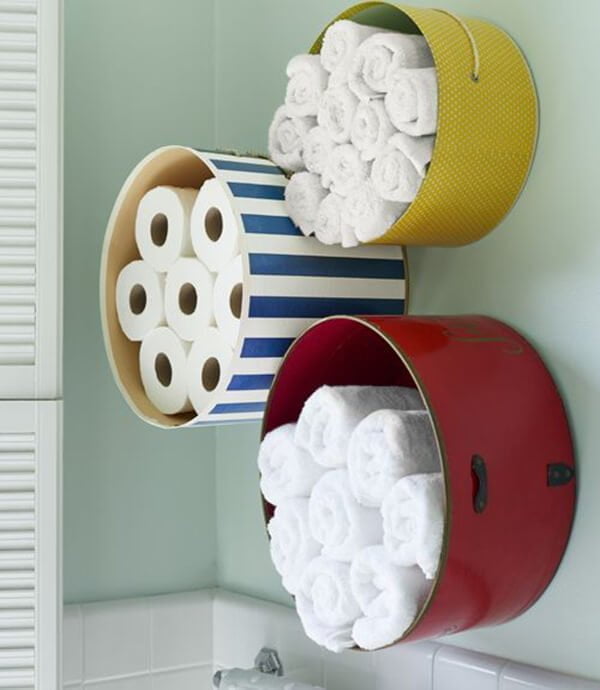 This unique idea adds decorative storage to the bathroom. Attaching hat boxes to the wall and using them to store toilet tissue and rolled towels makes this storage idea a creative focal point in the room. You can use the colors and the designs on the hat boxes elsewhere in the bathroom.
44. Fill a Shoe Organizer with Cleaning Supplies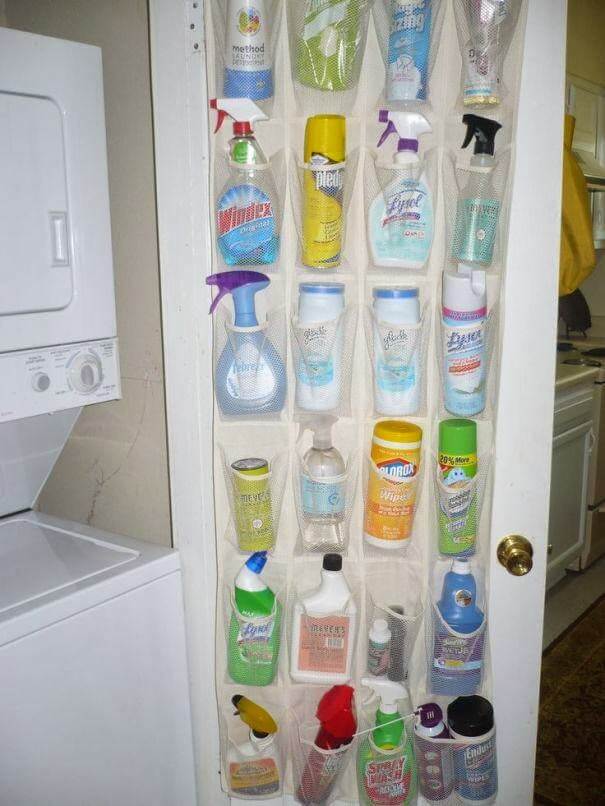 Another idea for those cleaning supplies that are cluttered under the sink is to hang them on the back of a door in a multi-pocket shoe bag. Individual items will be easier to spot, making them more accessible, and if you have young children, you can hang them on the back of a closet door that can be locked.
45. Install Handy Fixtures in Your Island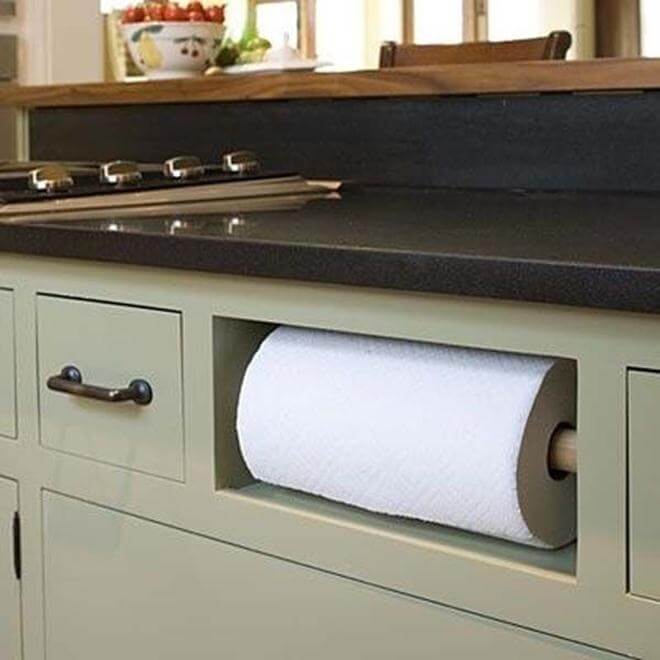 In most kitchens, the paper towel holder is mounted on the wall. However, if you do not want a paper towel holder visible in your kitchen, you can use this idea. Remove a drawer, and replace it with a paper towel holder. The paper towel is still accessible but is out of sight.
46. Commode Shelf Keeps the Necessities Close By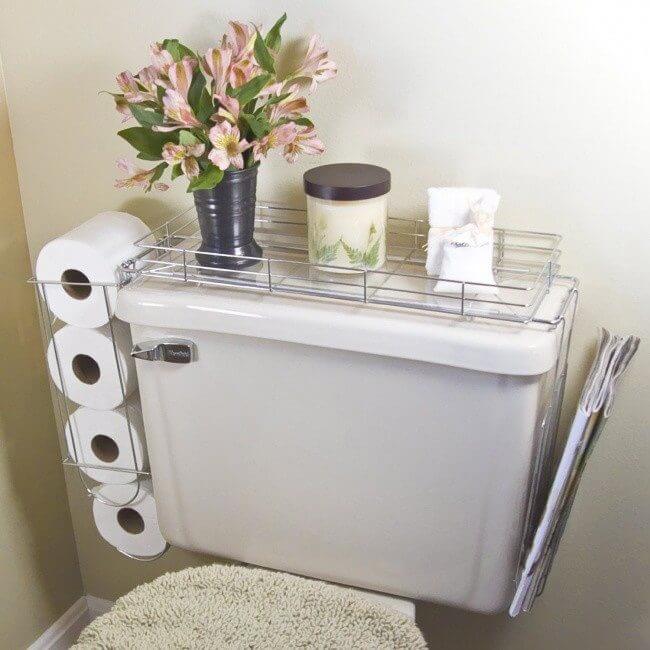 This clever idea can be purchased, or you could create your own version. Start with a tank top organizer that has brackets you can use to hang side organizers. Next, decide what items, such as rolls of toilet tissue, that you want stored by the toilet for easy access. Then, purchase or create storage holders for these items.
47. Angled Shelving Conveniently Holds Laundry Baskets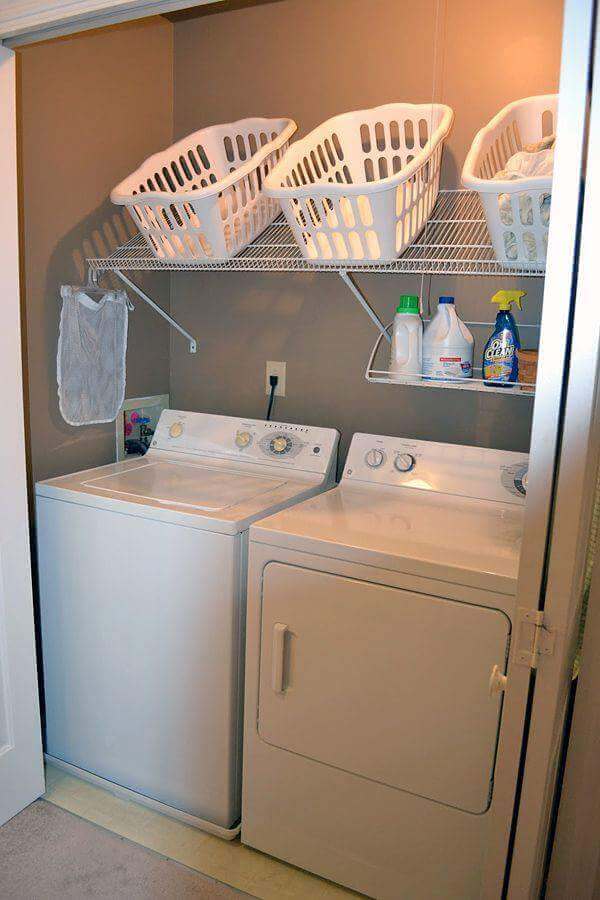 One shelf above the washer and dryer is not unusual, but a second slanting shelf adds extra convenience. The slanted shelf makes it possible to have this shelf above a shelf for laundry supplies. The slanted shelf has a lip, so, that it will hold laundry baskets. The slope makes it easy to get clothes out of the laundry baskets.
48. Shower Curtain Clips Hold Your Beauty Products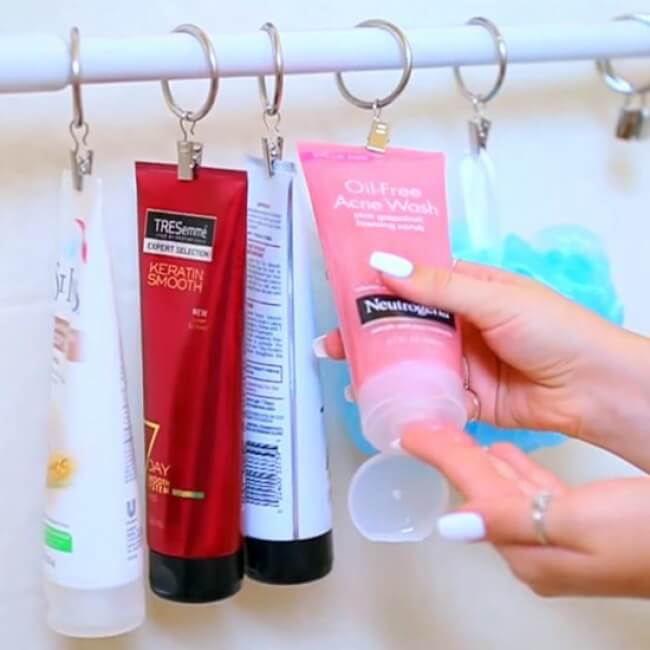 Cosmetics take up space even on a large bathroom vanity. When you have a smaller vanity, you need to be creative. Using shower curtain clips to hang cosmetics that are in a tube helps you organize them and removes clutter from your vanity. You can install an extra towel bar in a convenient spot to hang them.
49. Install a Full-Length Mirror with Hidden Shelving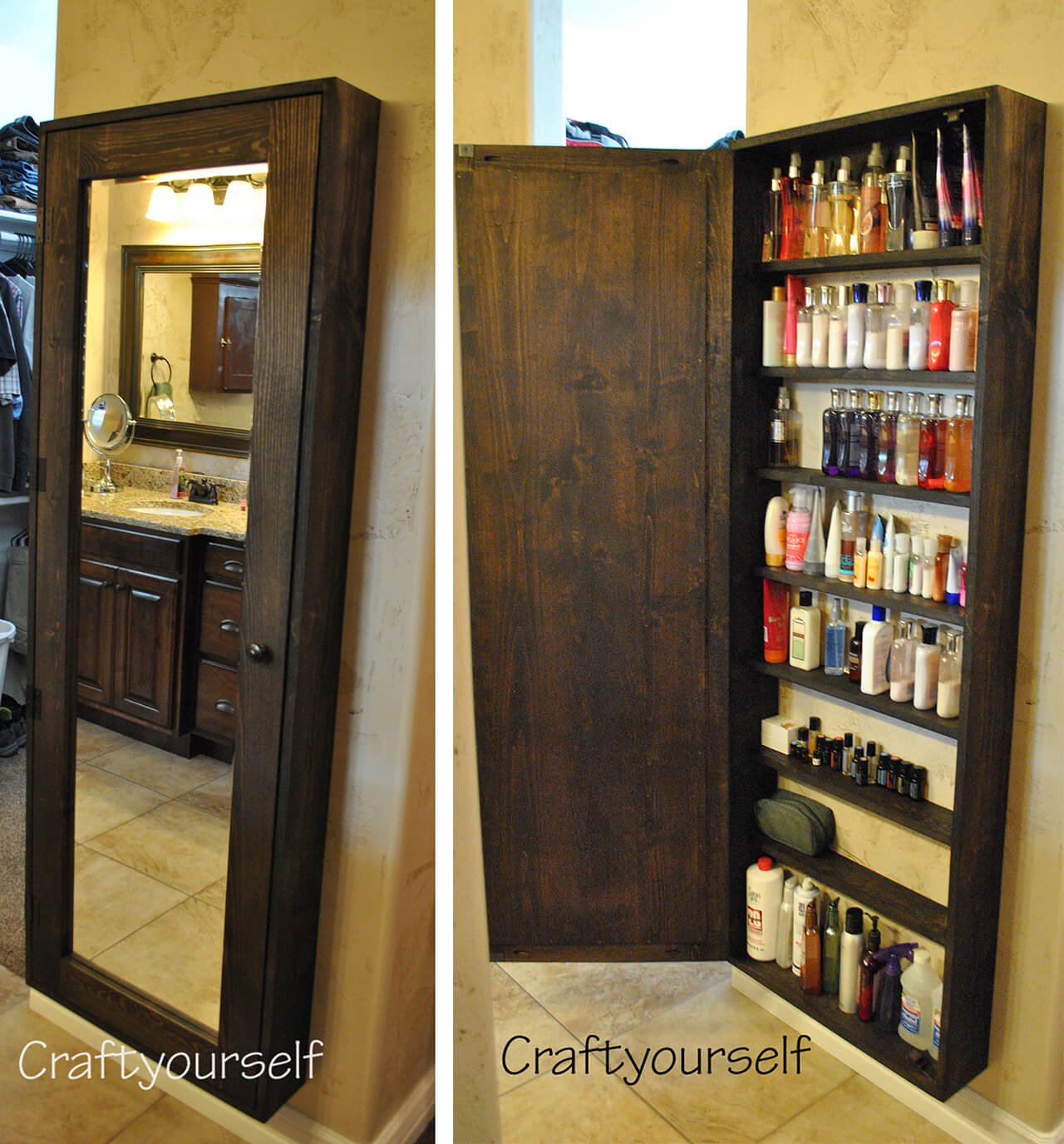 This idea performs double duty. It provides a full-length mirror and hidden storage for cosmetics and other health and beauty aids. Get a full-length mirror and build a frame for it. Add shelving, a knob, and hinges. Stain or paint it to complement your bathroom decor. Then, mount it on the wall.
50. Artwork Transforms Into Fold-Down Table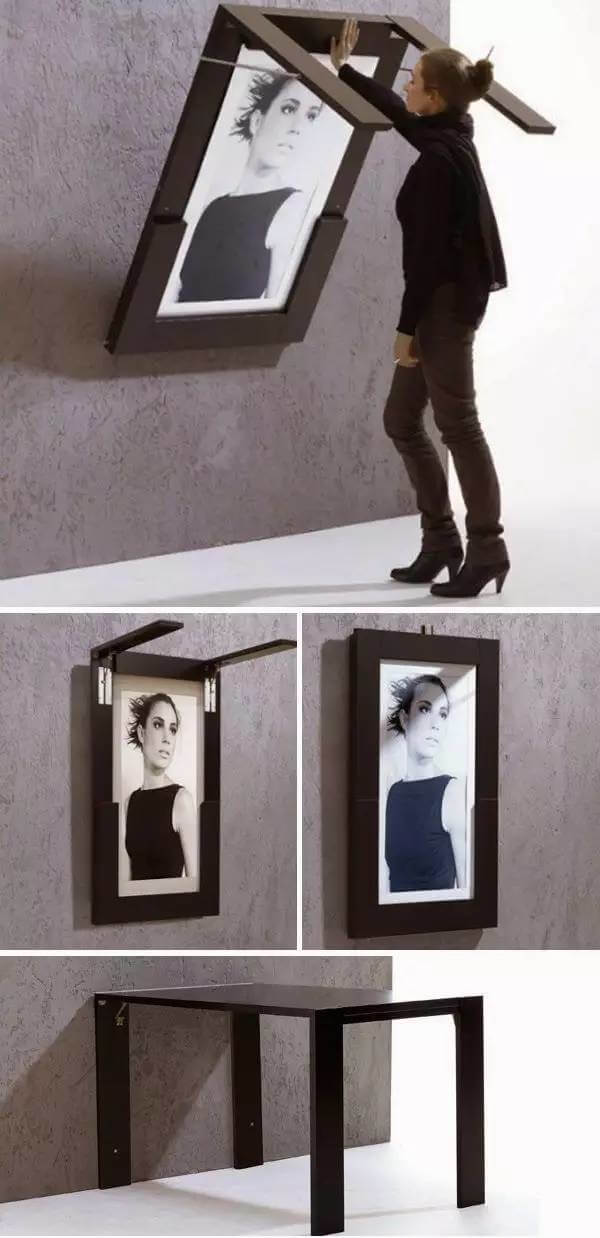 Fold-down tables clear floor space in areas where space is at a premium. However, they usually look like a board on the wall when folded. This table becomes a positive focal point in the room when artwork is added to the underneath side of the table and the folding legs become part of the frame.
51. Gorgeous and Modern Built-In Laundry Storage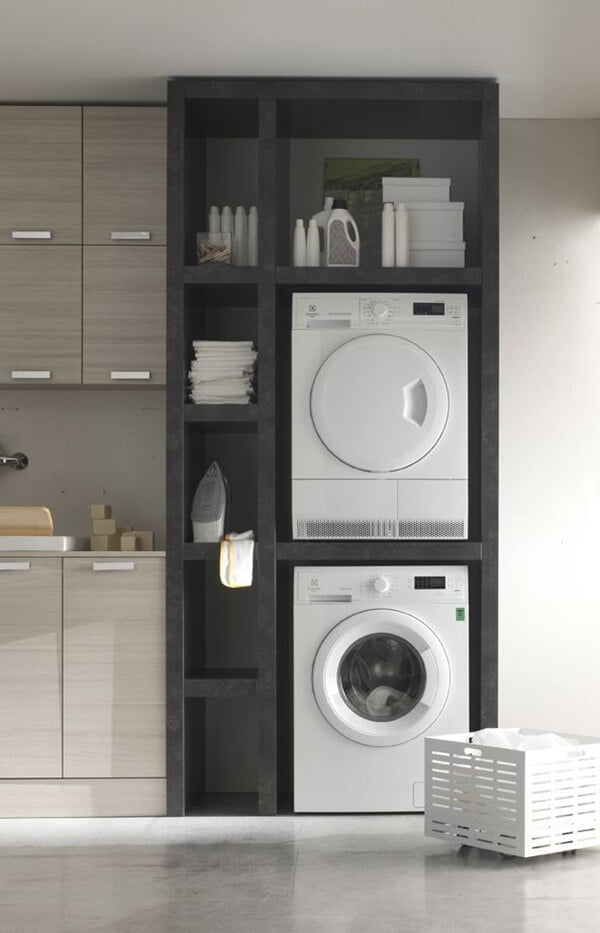 Stackable washers and dryers are space savers in small laundry areas. A do-it-yourself shelving unit built around the stackable washer and dryer gives you a place for your laundry supplies. To hide your laundry nook, add hinges and a door. If you have small children, add a lock. Then, your children cannot get into the detergent and other cleaning supplies.
52. Make Practical Use of Open Wall Space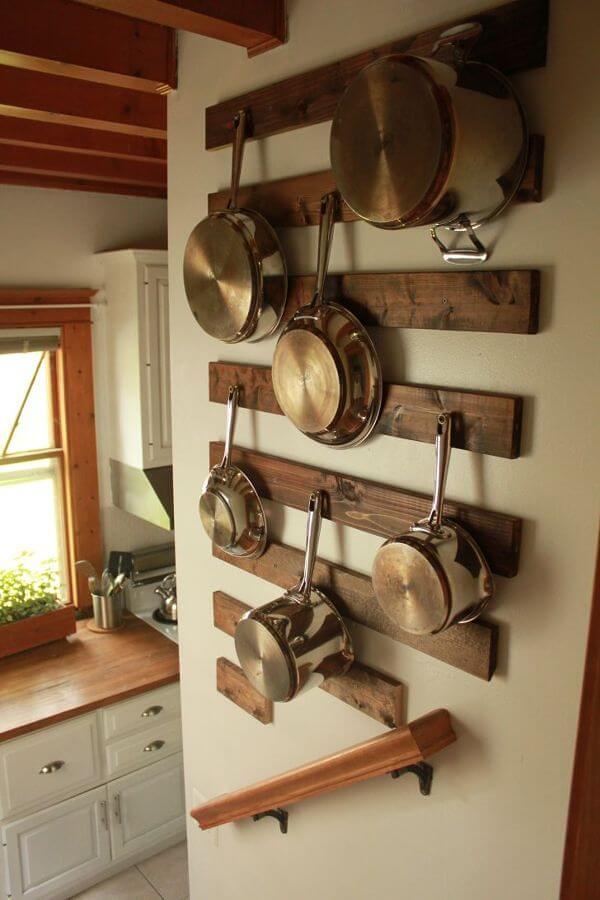 Any empty wall space can be turned into decorative storage. Mount wood on the wall space. The wood can be painted or stained to complement your kitchen decor. Then, decide what items you want to hang. Attach hooks where they are needed to hang your items decoratively. Using the area to hang your pans is great for accessibility and decoration.
53. Turn Your Fridge Into Magnetic Spice Storage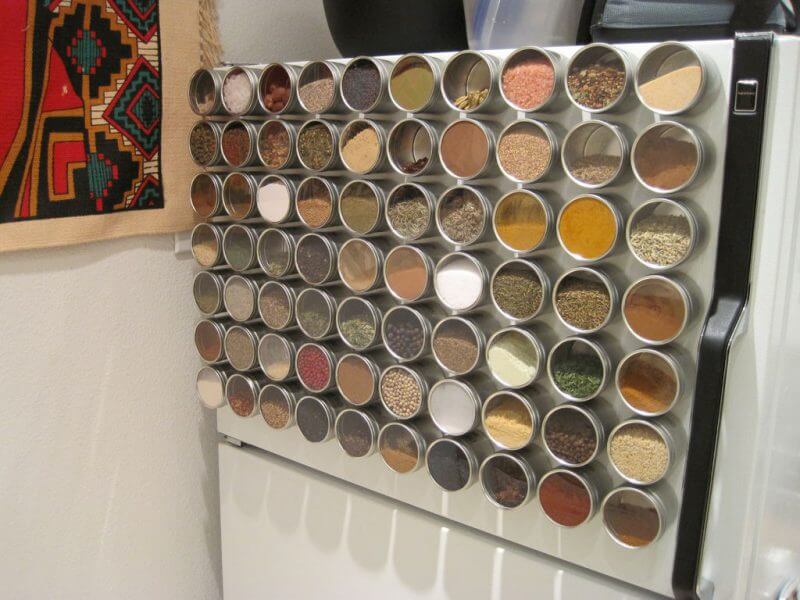 Here is another idea for storing spices in an unused, vertical space. Get small, flat tins with plastic lids. Label the spices on the lids. Attach magnets on the bottom, and arrange on the refrigerator. This makes the spices accessible and clears up a lot of space in the cupboards.
54. Keep Organized with a Stylish Organizer Wall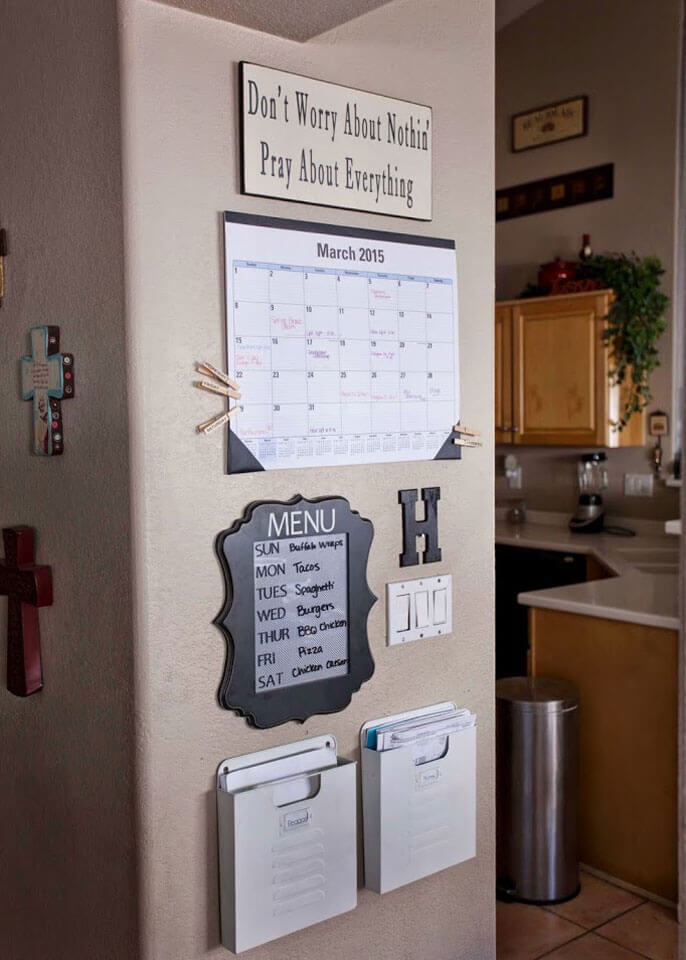 A space on a wall can help organize your whole family. Start with a desk calendar where your family can write appointments. Add a dry erase board for quick messages. Then, add wall-mounted file folder holders for each member of the family where important papers that need attention can be stored. Now, you have an organizational area for your family.
55. Use Every Inch with Rolling Under-Bed Storage

Under-bed storage is a way to convert an unused space. Anyone can manage this idea, even if they are not do-it-yourselfers. Start with a bookcase with adjustable shelves. Paint it or leave it as is. Attach wheels to the back and two handles on one side. Lay it on its back, and you have an instant under-bed storage unit.
Our Favorite Farmhouse Storage Items to buy on Amazon