37. Low Maintenance Mediterranean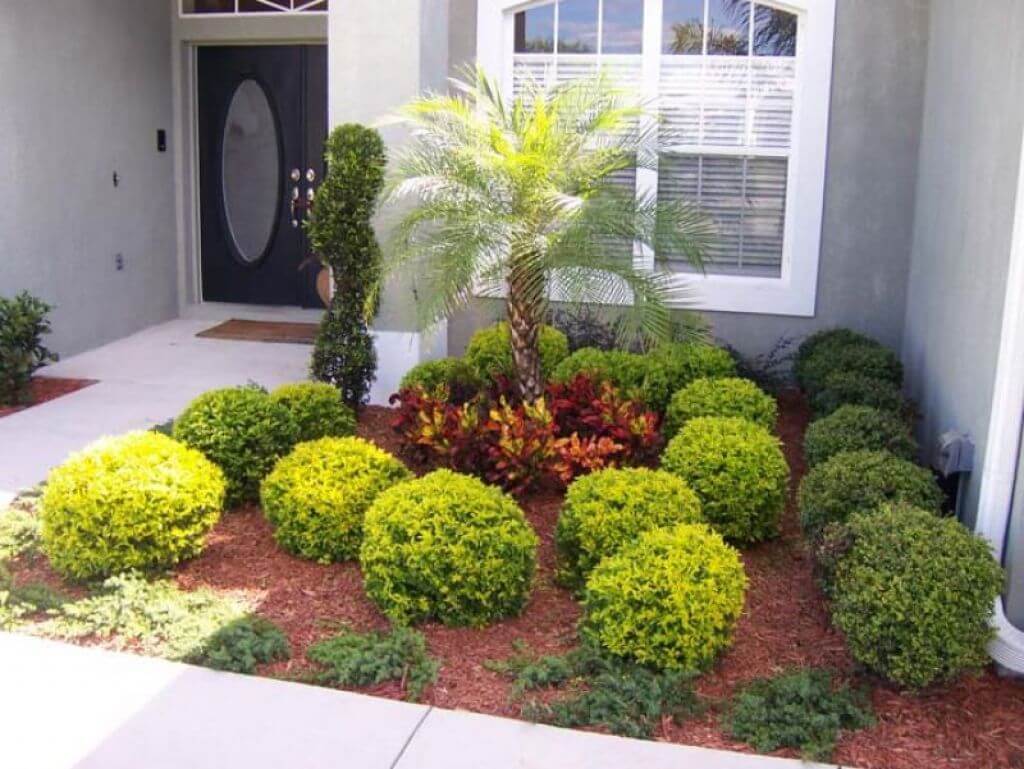 If you live in an area where temperatures regularly soar above 100 degrees, you know how difficult it can be to maintain an attractive front yard no matter how often you water. Many plants – including many blooming annuals – simply cannot survive long periods of dry heat. In these areas, your best option may be to use a low maintenance and water savvy Mediterranean front garden design such as the idea shown here. Hardy evergreens with waxy leaves are better able to retain moisture during heatwaves and droughts. Many palm trees are, of course, well-adapted to hot arid conditions. Finally, low-growing junipers offer an alternative to more delicate leafy ground covers.
38. Heavenly Picket Fence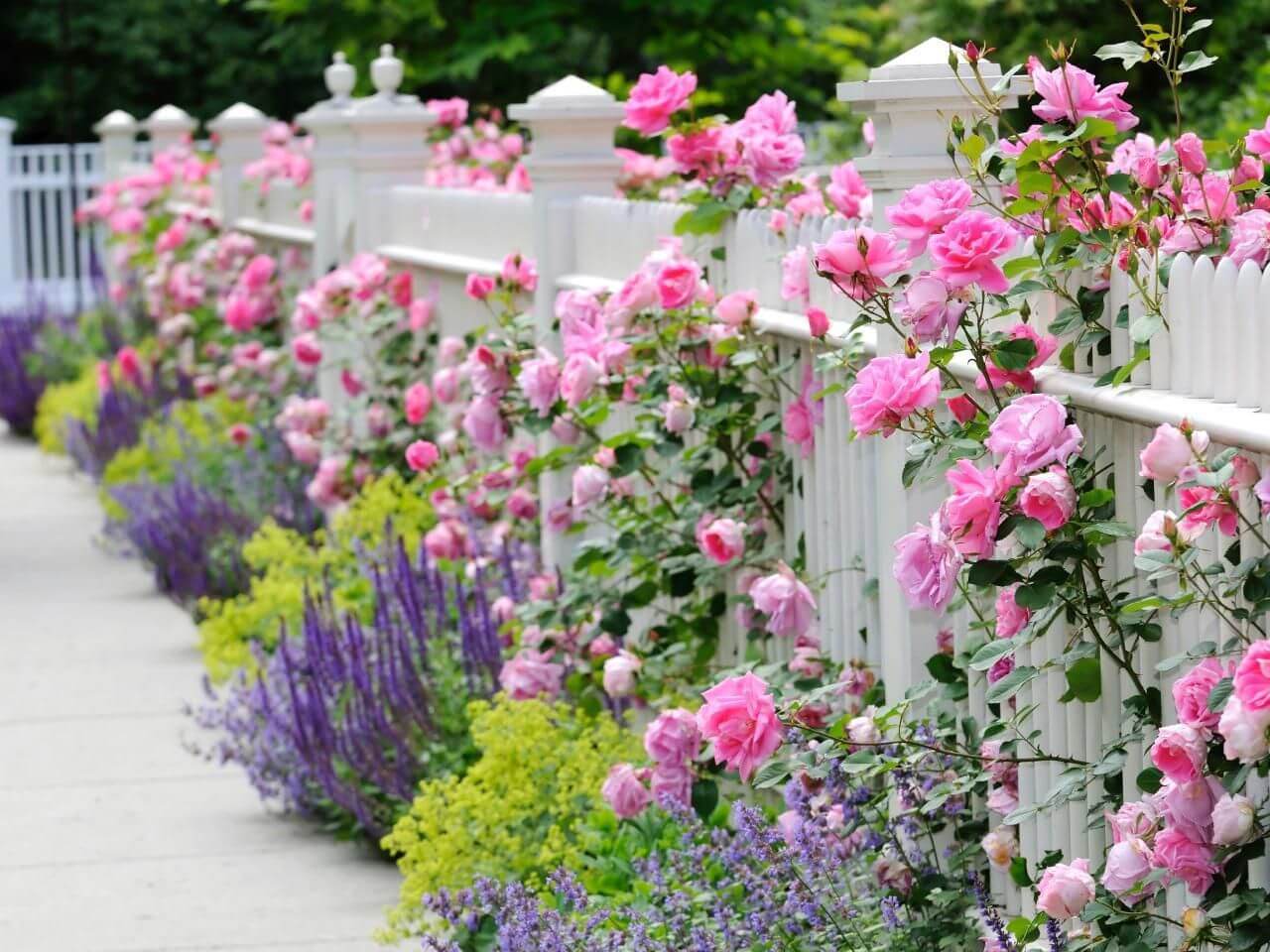 This breathtakingly lovely front yard landscaping idea may seem unachievable at first glance, but if you look closer, you'll notice that the fenceline is planted with a small variety of flowers. By repeating three or four flowers in sequence, you can achieve a simple yet jaw-dropping display which will be the envy of the neighborhood. Hybrid roses tend to be tough and resilient, and with a moderate amount of care, will gain their full potential within a year or two of planting. While you'll need to monitor your roses for insect infestations and disease, long-blooming varieties will provide you with three seasons of flowers.
39. Showy Subtropical Water Feature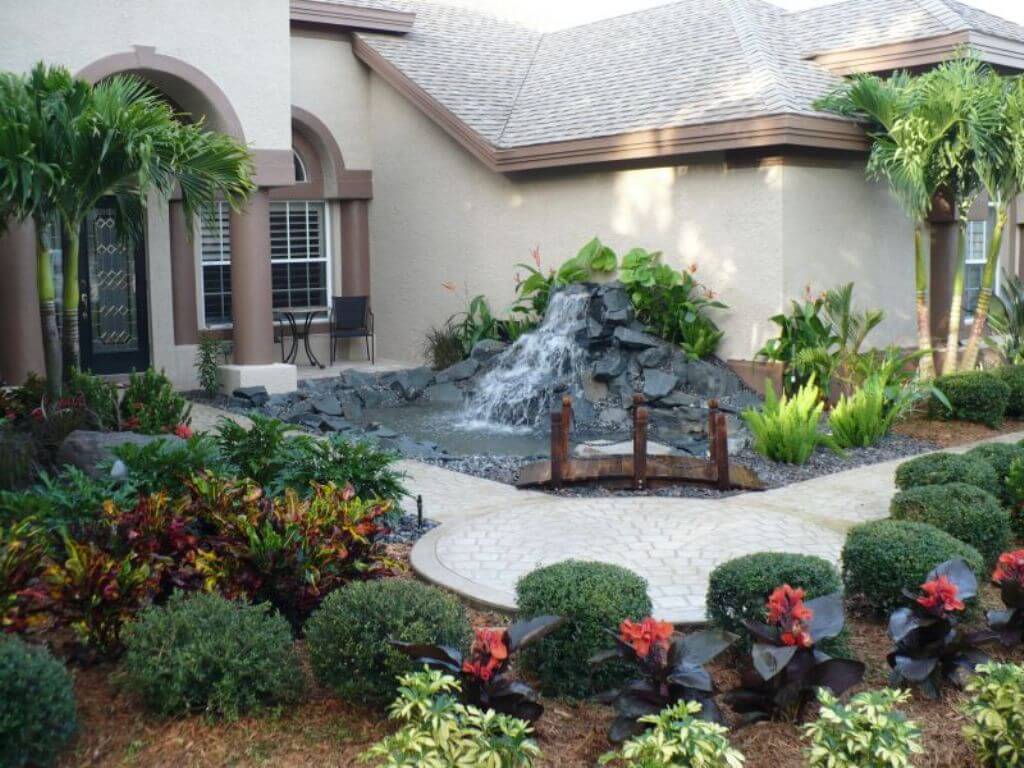 If you're fortunate enough to live in a climate where you can grow subtropical species, consider using this front yard landscaping idea as inspiration for your entryway. A well-groomed line of evergreens is flanked by canna lilies which offer a long-lasting pop of color among the greenery. Palm trees provide some vertical interest to the yard. But the focal point of this design is the large waterfall. In areas where the threat of freezing is minimal, a bold water feature won't need as much care as fountains or ponds in northern areas. Be sure to add a bold spotlight at night to highlight it and to create a sense of drama.
40. The Soft Side of Iron and Stone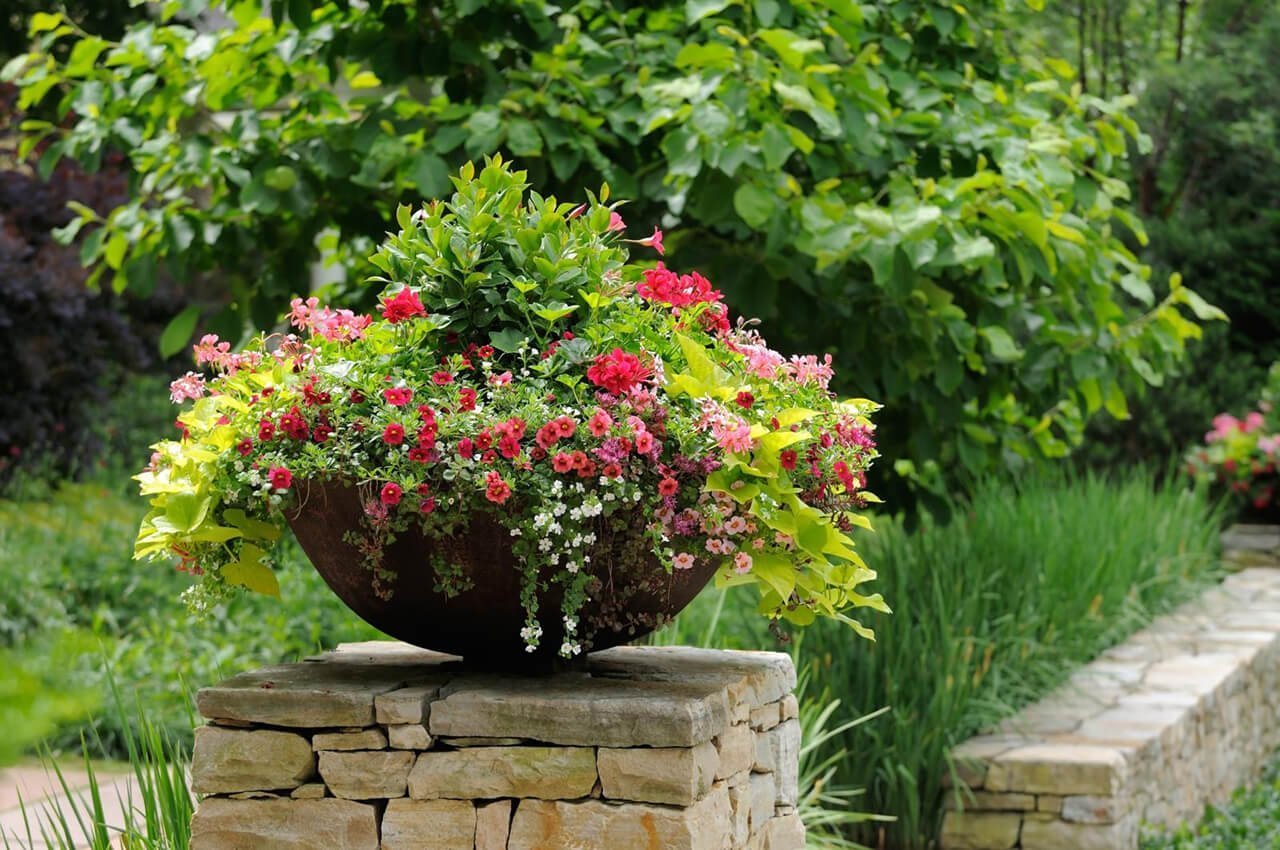 Metalwork and stone may seem like an unlikely base for a pretty arrangement of seasonal blooms, but this front garden idea proves that rusted iron can be beautiful. An evergreen takes pride of place at the center of the planter and is surrounded by trailing flowers and bright green sweet potato vine. Sweet potato vine is a great alternative to ivy and other ground covers, and its leaves are often a bright chartreuse green as seen here. Be sure that metal planters can drain adequately without causing rust stains, and try to place them where full sun will not cause the soil in the planter to overheat.
41. Let the House do the Talking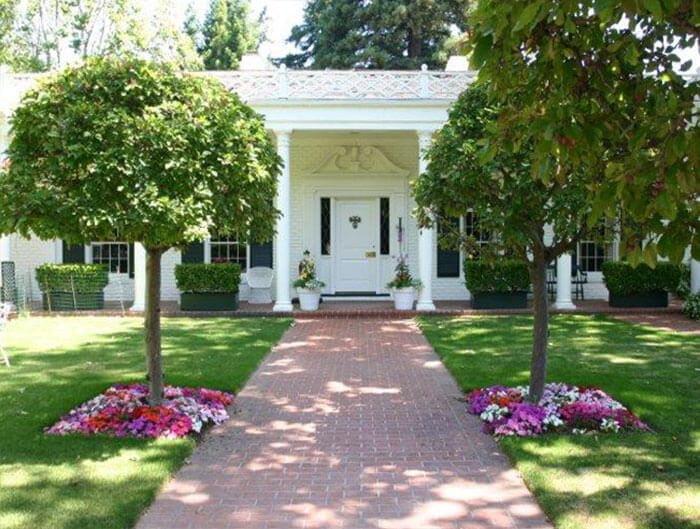 We've covered various forms of landscaping in these examples, but sometimes, it's best to let the house be the focus of your front garden design. A historic home or sharply modern edifice is may be best served by keeping landscaping to a minimum. In this photo, you can see a great example of this less-is-more philosophy at work. Neatly trimmed shrubs in planter boxes help define the porch while two stately trees guard the walkway to the door. Simple square flower beds with bright annuals add a fun splash of color but don't overwhelm the simple landscape design.
42. Affordable Pre-Formed Beds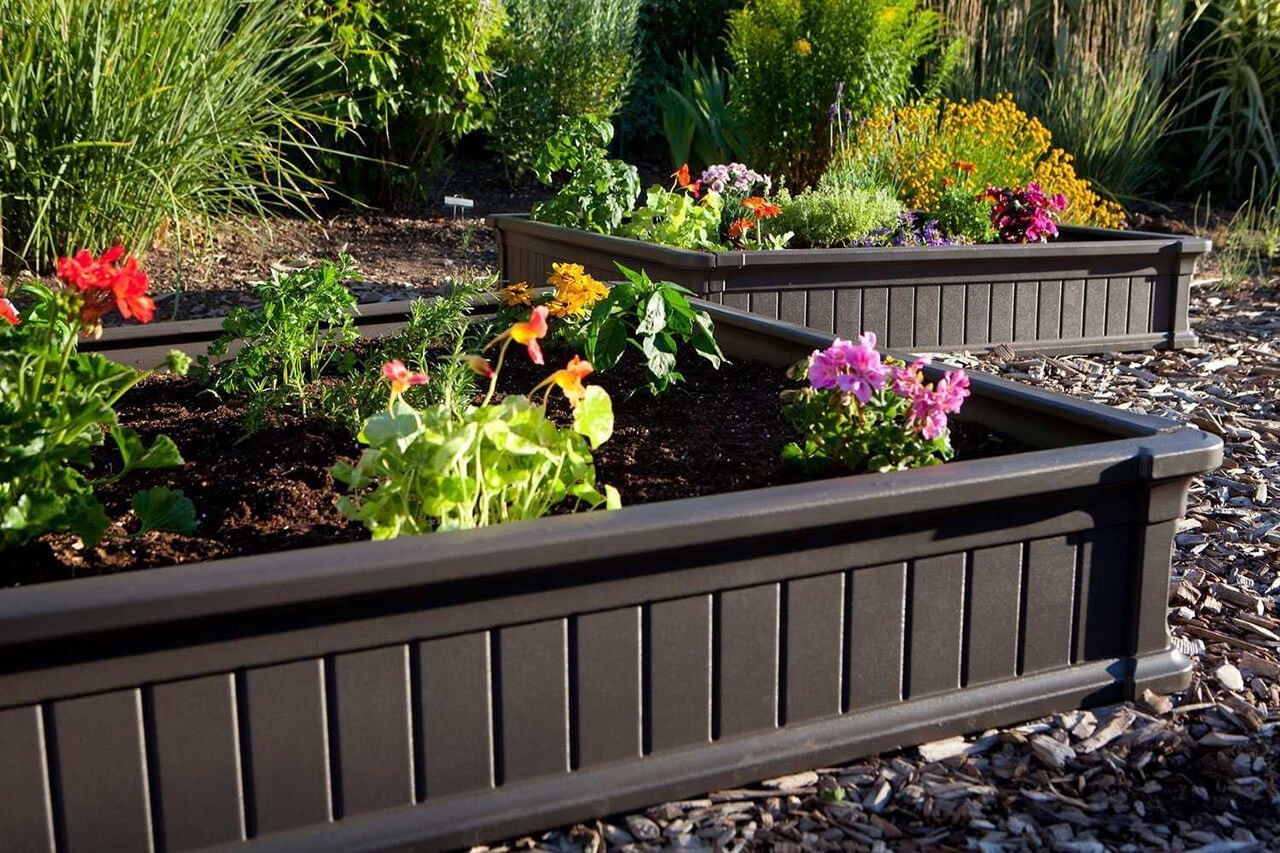 If you're new to gardening, or if you're in search of a quick and cheap way to instantly upgrade your landscape design, consider purchasing these raised bed kits from Ikea. With very little time and a few bags of garden soil, you can instantly create a decorative raised be for shrubs or annuals. Raised beds are also a great option for yards with clay soils which frequently become waterlogged. Alternatively, turn an unused side yard into an herb garden. Not only are herbs typically hardy and easy to grow, they often have beautiful blooms.
43. Continental Style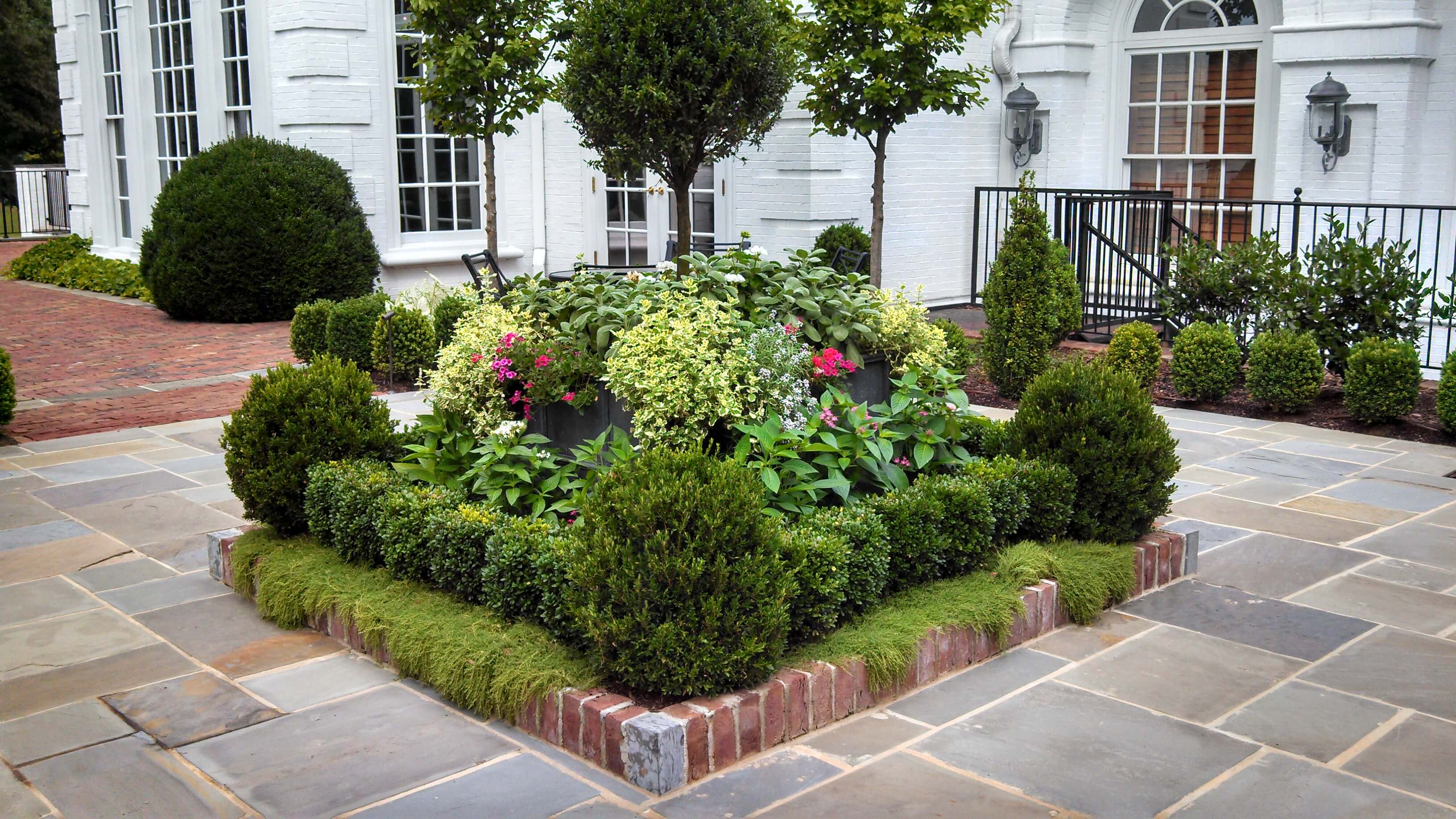 Even if you live half a word away from southern France, you can re-create a bit of the elegance and grandeur of the Old World by creating a multi-tiered and symmetrical planting bed like this one. Looking somewhat like a living fountain, this display has the same purpose: it creates a sense of drama at your home's entryway. The tree at the center is the focal point, but symmetric evergreen shrubs create a sense of order and structure. Muted foliage and flowers are preferable in this kind of planting, and you should always keep the shrubs trimmed to keep the bed looking its best.
44. Desert Oasis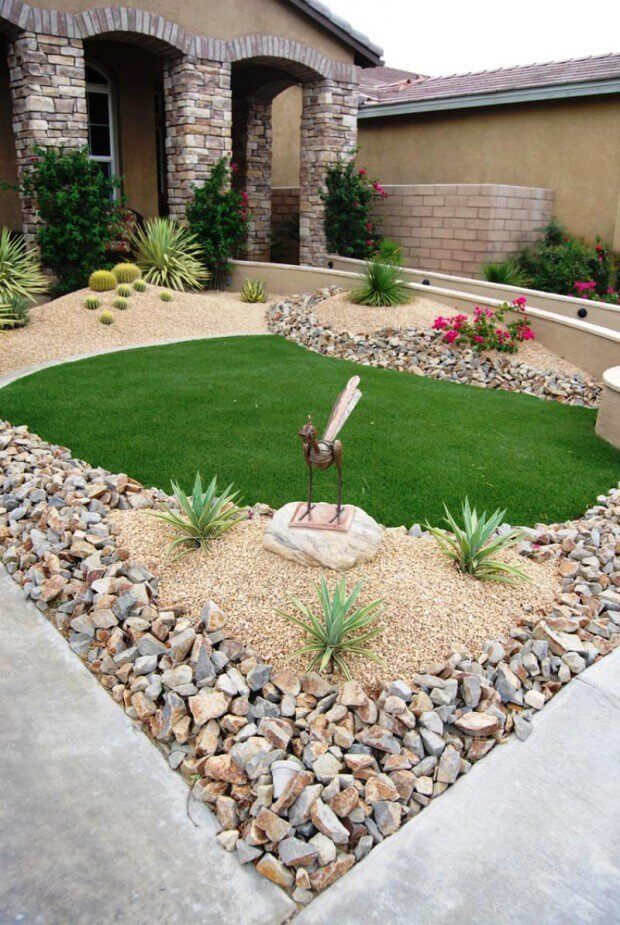 Even in the hottest parts of the world, you can create a colorful and welcoming entryway garden. Suitable for the extreme climates of Arizona and the central valley of California, this design makes use of native cactus and agaves in lieu of standard evergreens for a year-round hint of green. Stone and gravel are a desert landscaper's best friends and are used well here to define a small but welcome patch of lawn. If you can't be bothered to mow such a small area, or if you prefer to be as water efficient as possible, swap living turf for artificial grass instead.
45. Petit Country Estate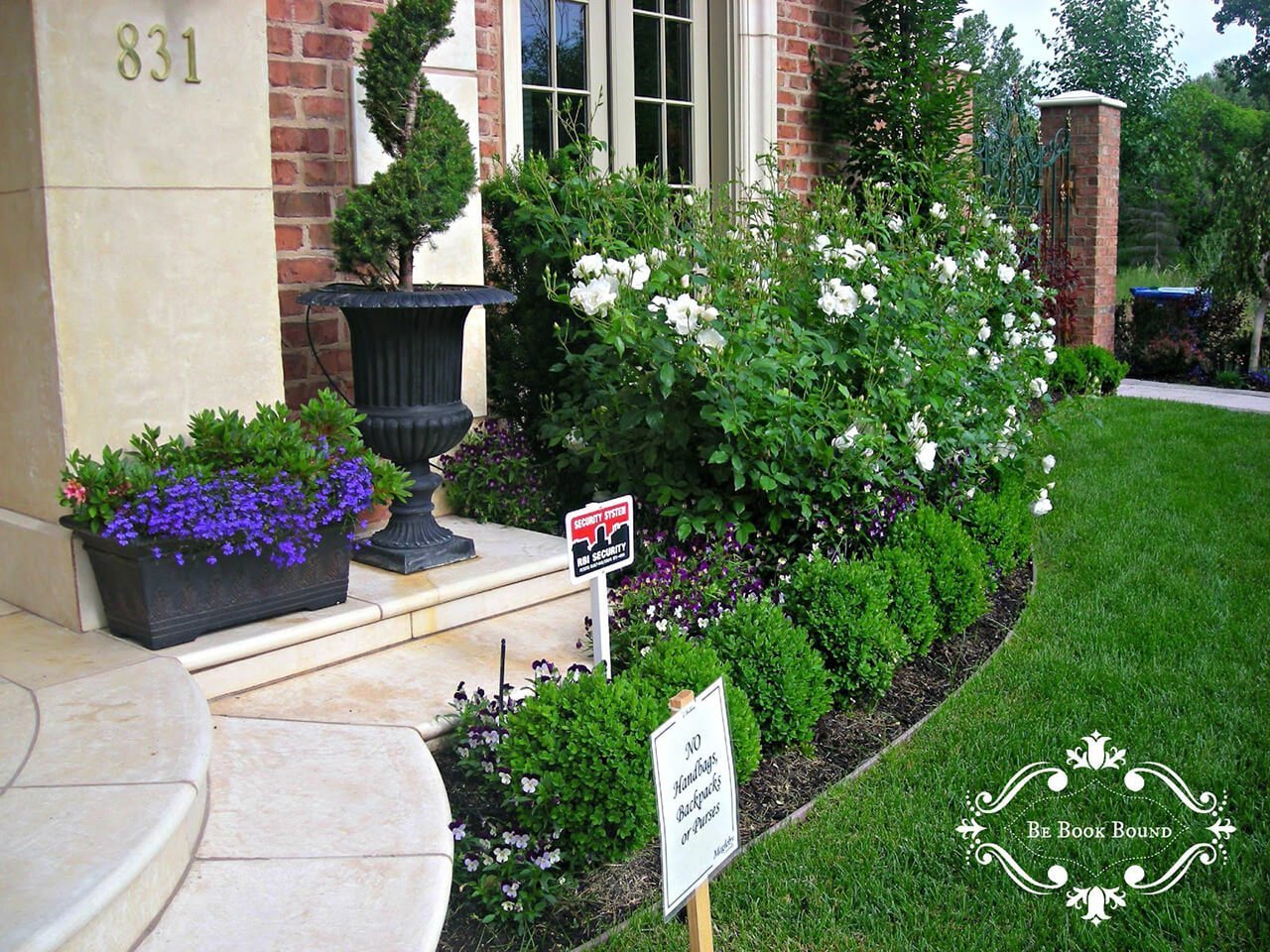 Edged by boxwoods and backed by magnificently tall white rose bushes, this front garden idea is certainly dramatic. Instead of planting pansies in a thin row, this design makes use of a thick carpet of the tiny flowers which form a dense but subtly colorful groundcover. Bright purple lobelia is used only in the planting boxes by the front door which helps to draw the eyes of visitors to the entryway. All in all, this is an effective and grand landscaping idea that can be adapted to almost any home's entryway.
46. Urban Sanctuary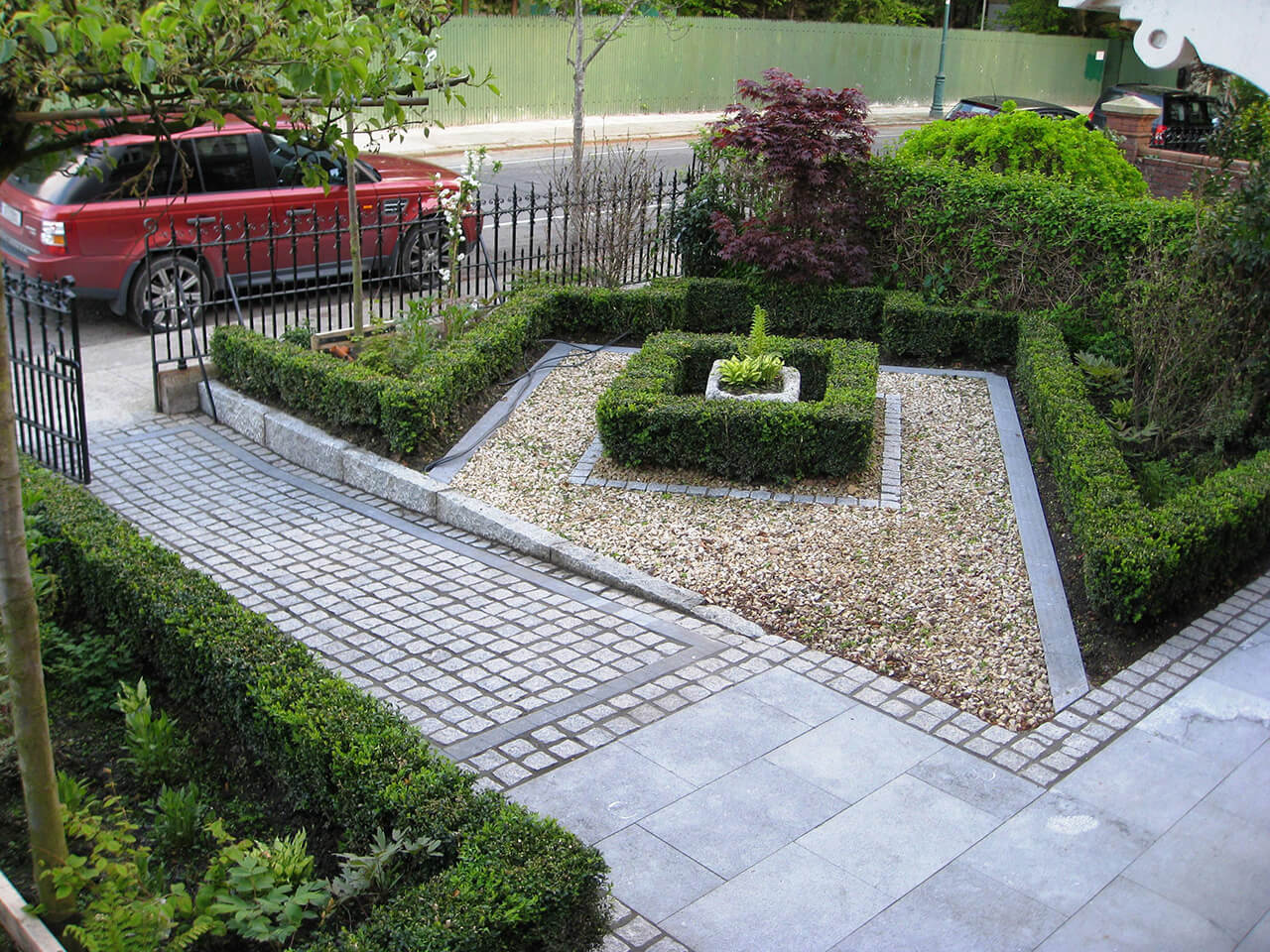 Urban yards can be a challenge to landscape. The small footprint of this front yard is visually increased by creating a geometric hedge and miniature courtyard around a stone planter with ferns. Tucked along the edges of the yard are small trees and perennial shrubs. By pushing the larger plants to the edges of the garden, this design creates a protected closed-in feeling while opening up the center of the small yard and allowing plenty of light in. Even if you live in the suburbs, but have a tiny front garden you can replicate the feel of this garden by using structured hedges and avoiding the use of large light-obscuring trees.
47. Western Water-Wise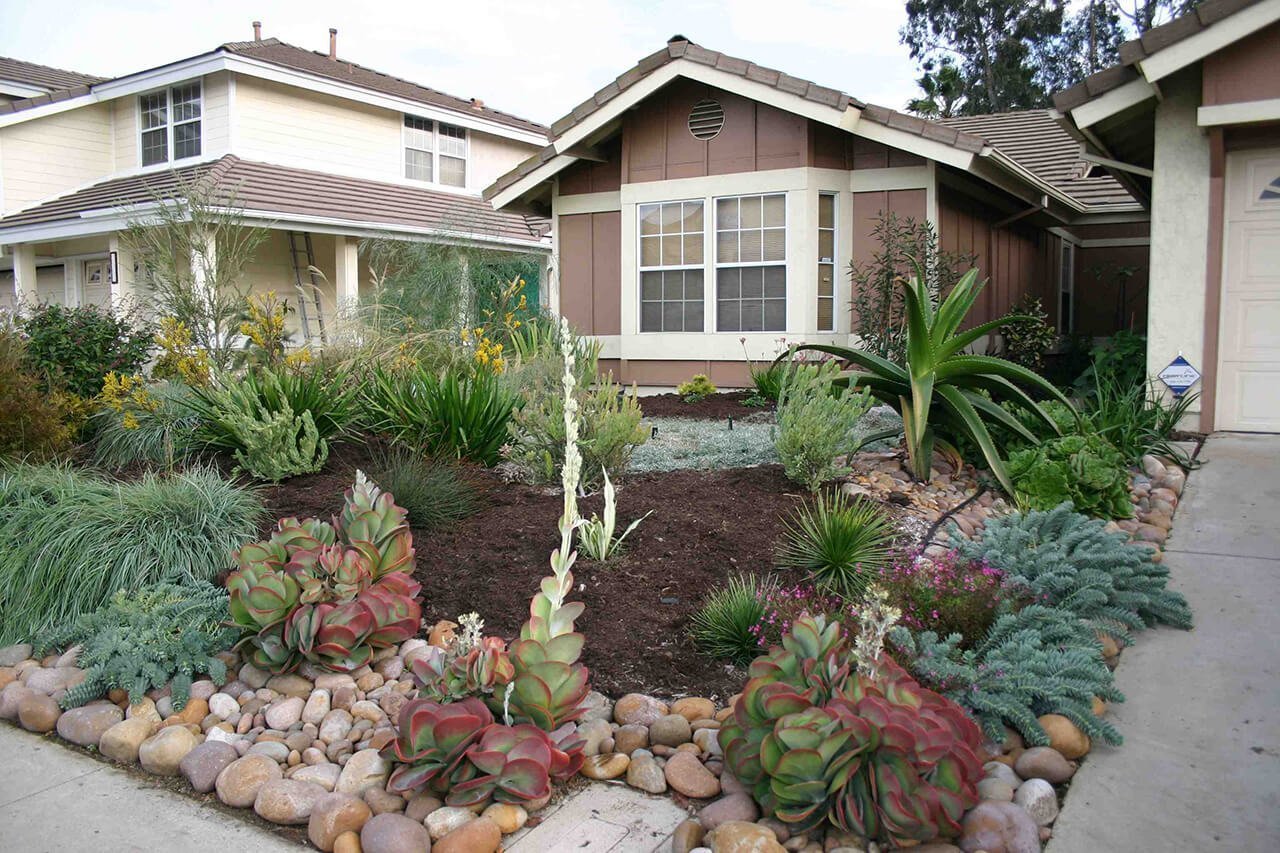 Cactus isn't the only choice for xeriscaped yards. This front garden idea makes great use of colorful succulents and purple lantana. An enormous agave guards the entryway to the home, but also creates the height and drama that a tree normally would. River rock along the border of the yard and heavy mulch are used instead of grass. This not only saves an enormous amount of water but also keeps maintenance to a minimum. Landscapes such as this may become more common in states like California where mandatory water rationing has encouraged many homeowners to re-think their landscaping.
48. Wine Barrel Garden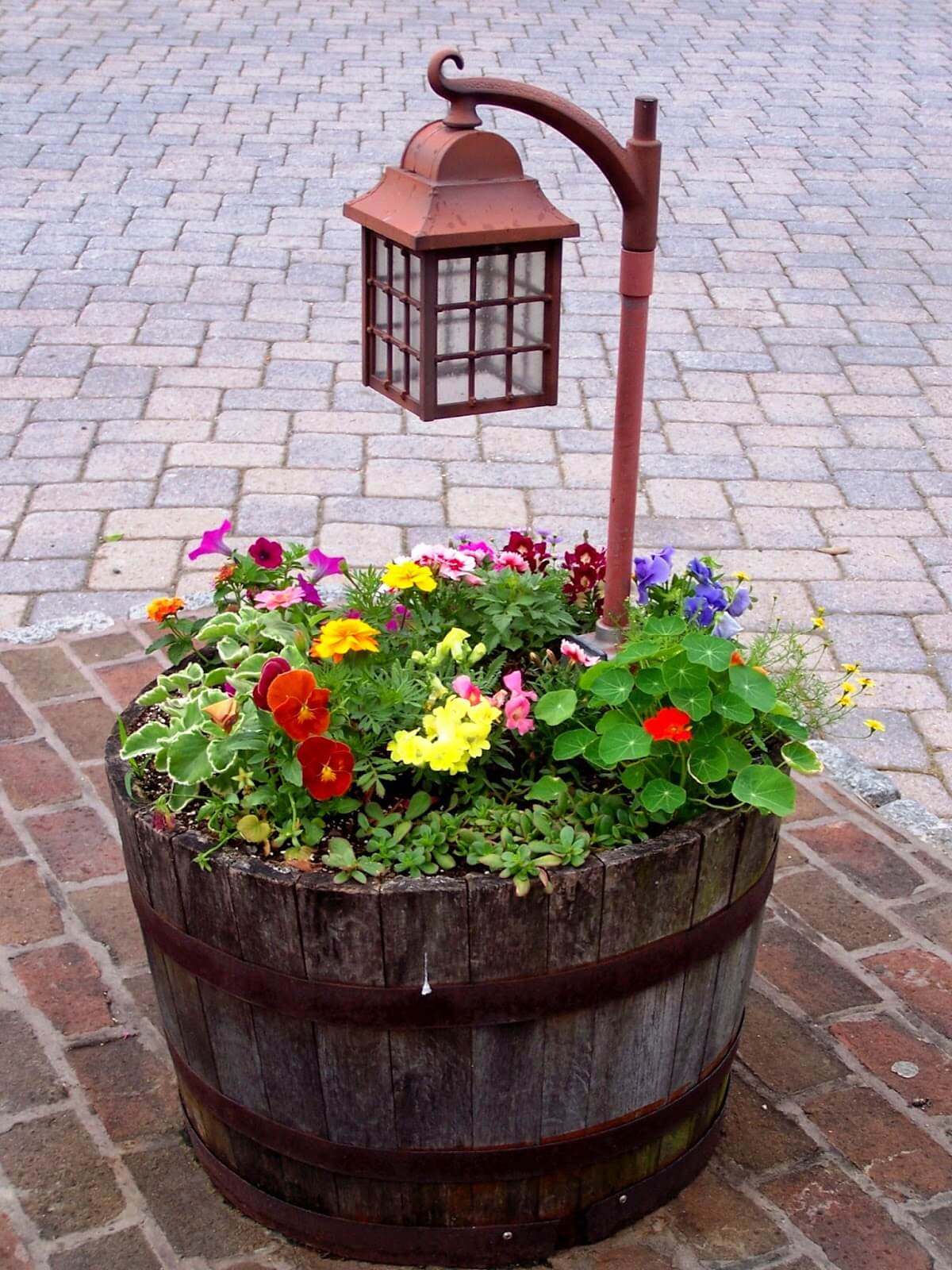 Here is a garden idea that everyone – even apartment dwellers – can make use of. No matter how small your entryway, a half wine barrel filled with potting soil can make a suitable home for cheery annual flowers. Pansies, marigolds, and nasturtiums are tough survivors and can survive even the blackest thumbs. A single landscaping light is the perfect accent for this rustic container garden and will provide a practical source of light to anyone who finds themselves fumbling to find their keys at the door.
49. Wagon Wheel Accent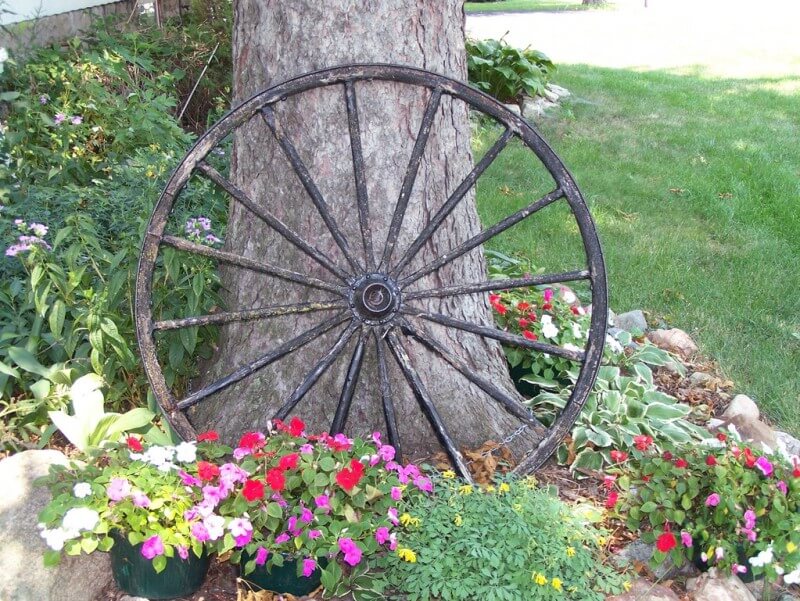 A wagon wheel can add instant western charm to almost any front garden design. As durable yard accents, they work especially well in xeriscaped landscapes, cottage gardens, and western gardens of all kinds. They need not be purely ornamental, though, and make an excellent trellis for a variety of climbing vines and ivies. Lean a single wagon wheel against the side of your house or against a tree or line an entire row of wagon wheels gainst your fence for a truly western display.
50. Spring Cottage Garden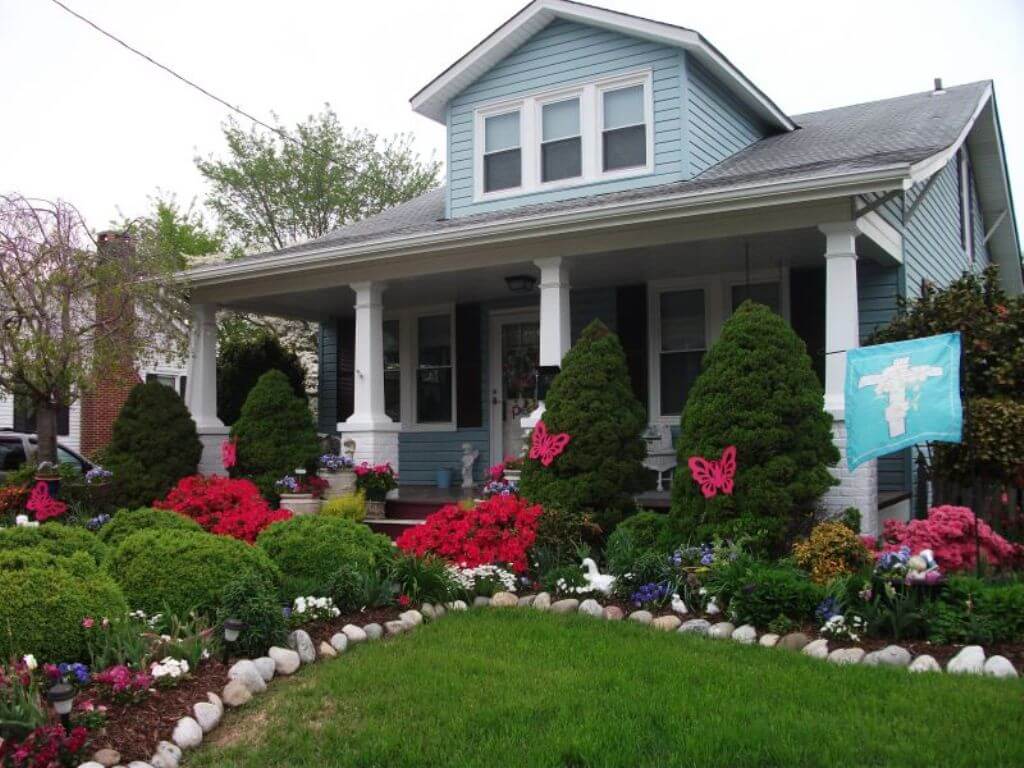 Bulbs and Azaleas are a fleeting but beloved part of spring, and this front yard landscaping idea gives them pride of place. As in other designs, evergreens help provide a year-long structure to the yard, while bright pink azaleas and seasonal bulbs dot the flower beds. A simple river rock border neatly separates the lawn from the planted beds and adds a touch of rustic charm to the well-kept and heavily mulched flowers. Despite the small size of this cottage, the well-proportioned shrubs and immaculate front garden make it feel grander.
50 Appealing Front Garden Ideas for Homeowners
In general, a well-kept front garden will add appeal and value to your home. Even the smallest front yards can become home to verdant seasonal displays of flowers and greenery. By planting hardy evergreens in your landscape, you can create a framework to which you can add climate-appropriate groundcovers, bulbs, annuals, and perennials that can bring color and texture to a plain yard.
Even if you are an inexperienced gardener, have had poor luck with plants in the past, or even if you are currently renting your home, there are cost effective ways to enliven your front yard. If you're uncertain about where to begin, try adding a planter with petunias or a similarly hardy flower to either side of your front door. You'll soon learn through trial and error how often you must care for your plants and which varieties do best in your area. Before long, you'll be ready to revamp your entire front yard.
Gardening is a rewarding past time that allows you to paint and sculpt the landscape with living things. With minimal care and a little planning, you can create a work of art that will impress visitors and will make you smile every time you come home.